It's a new year and we're all thinking organizing and storage!
Here are 25 DIY storage projects you can make from wood to inspire you to get organized.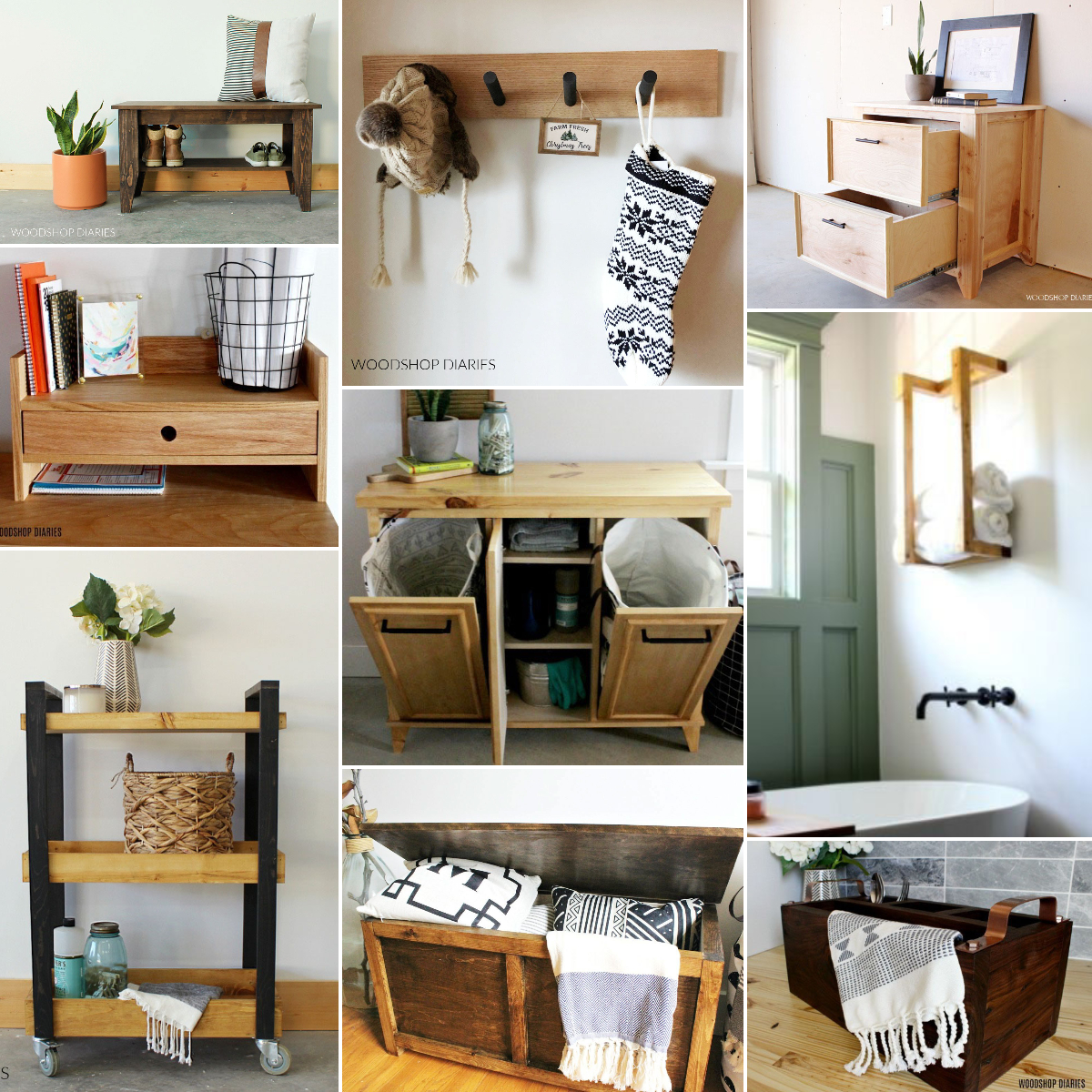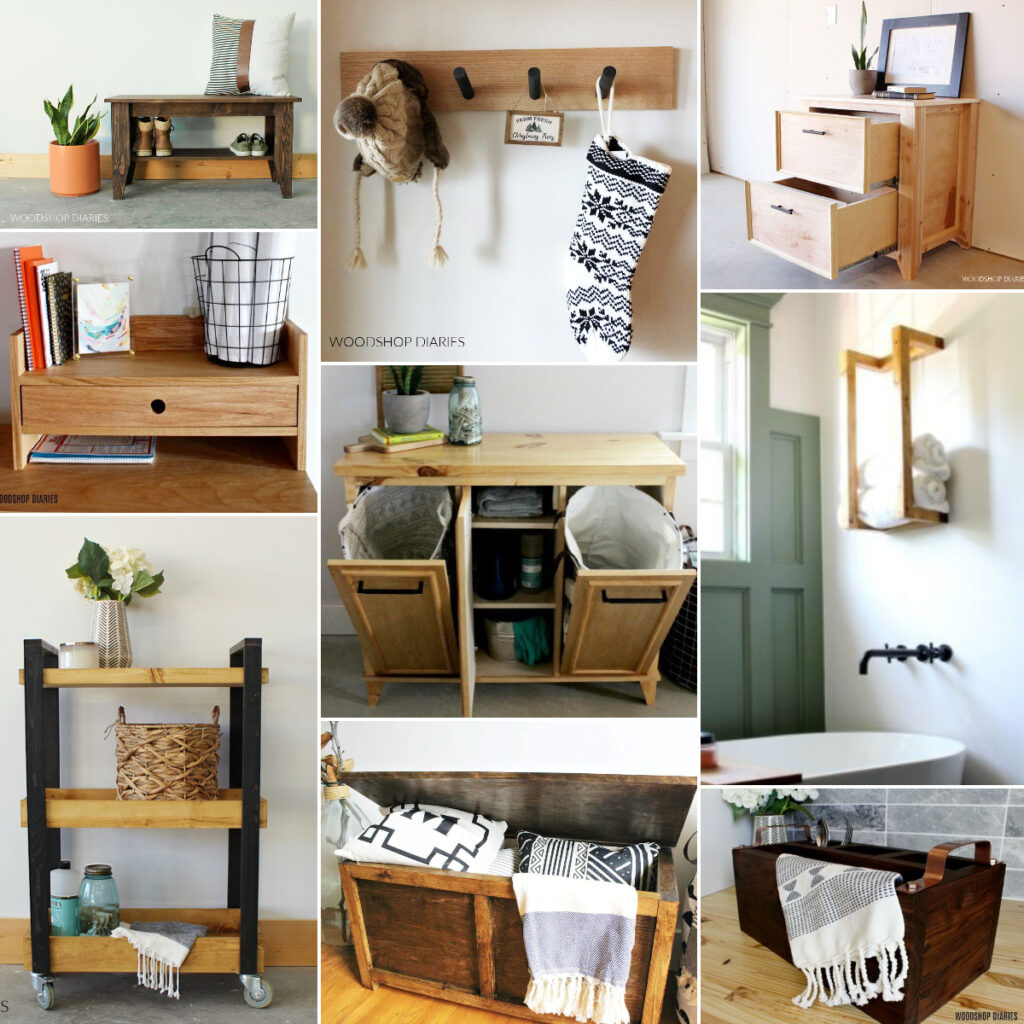 ---
Every new year we all turn our attention to organizing our homes and our lives. Storage, or lack of, can make the process overwhelming.
I have made a lot of DIY storage projects over the years–projects for the bathroom, bedroom, kitchen, and workshop.
I have used scrap wood, plywood, and even just one board to make projects that help me, my friends, and my family with storage.
Let's take a look at 25 DIY storage projects you can make to help get your home organized this new year.
---
DIY Storage projects for the laundry room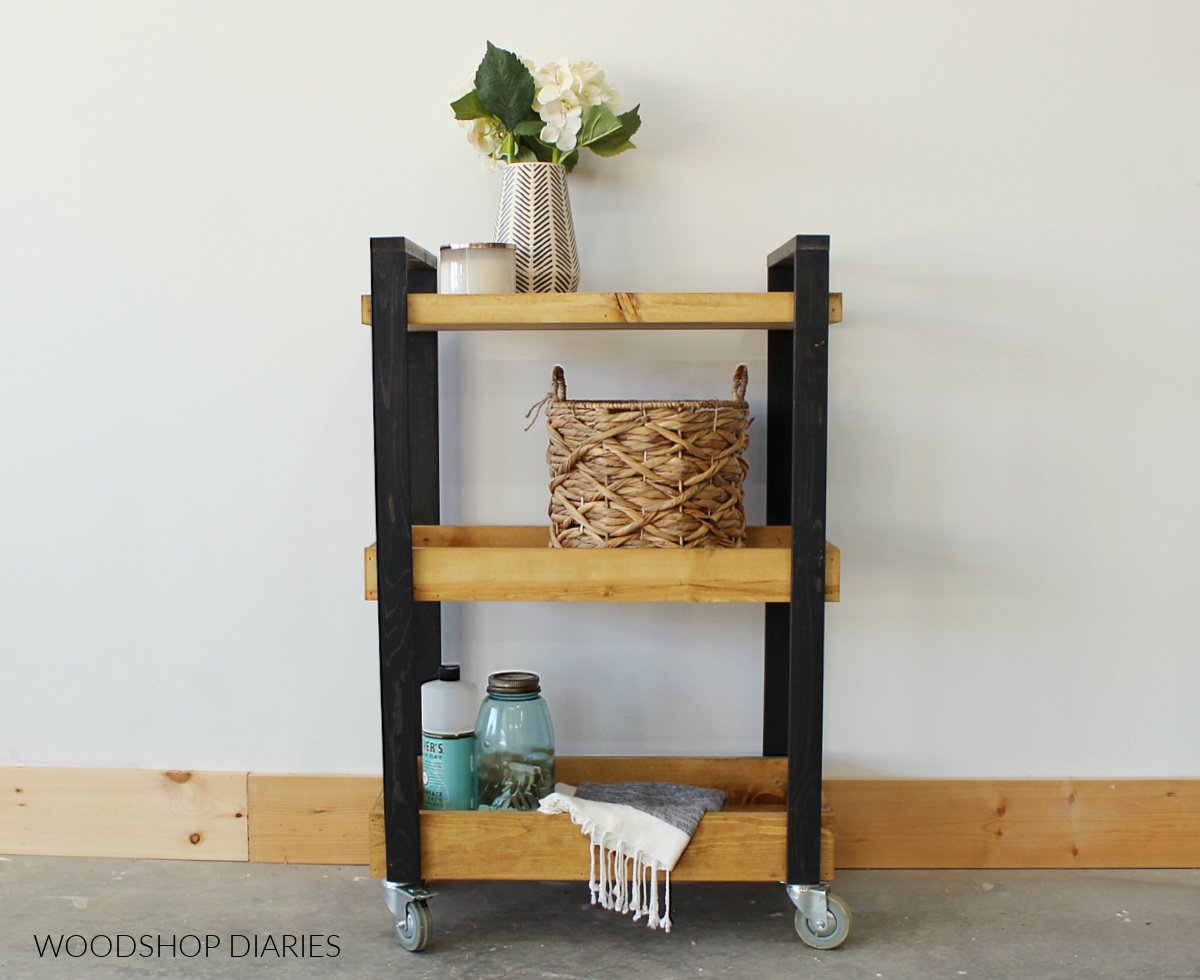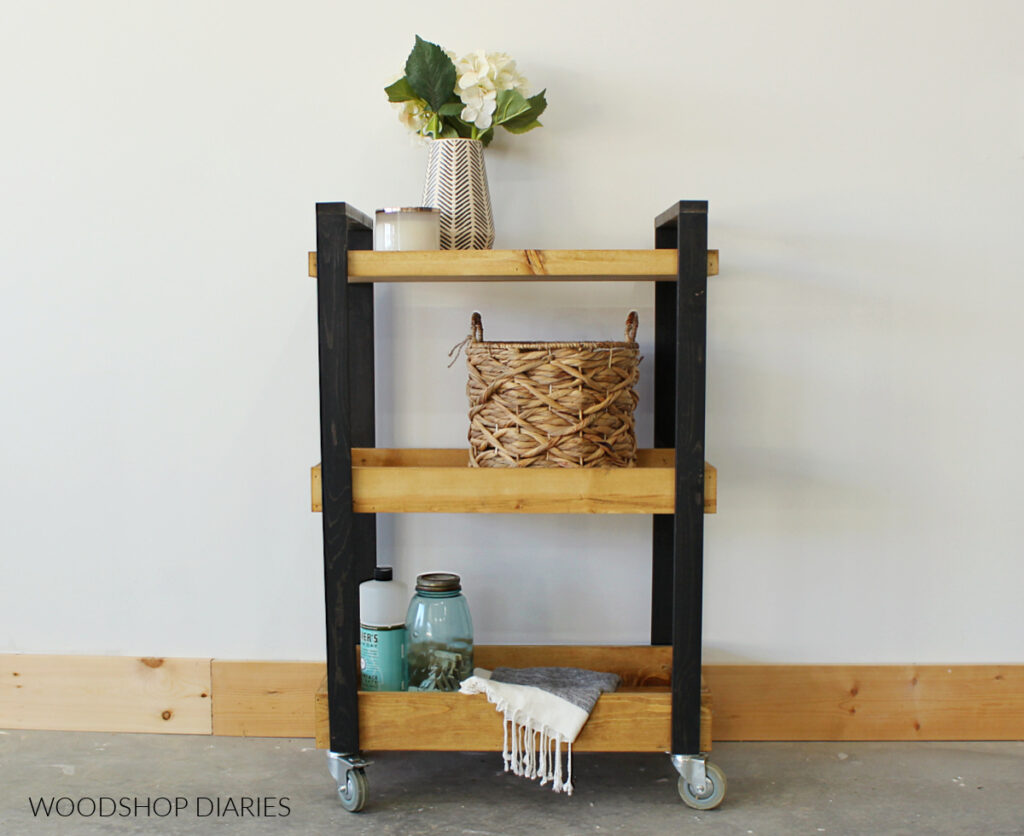 ---
This easy to build mobile wooden storage cart features three shelves to store away just about anything you can think of.
It would be perfect for the laundry room to keep your laundry detergents, and cleaning supplies in. Because it's on wheels you can move it around where ever you need it.
---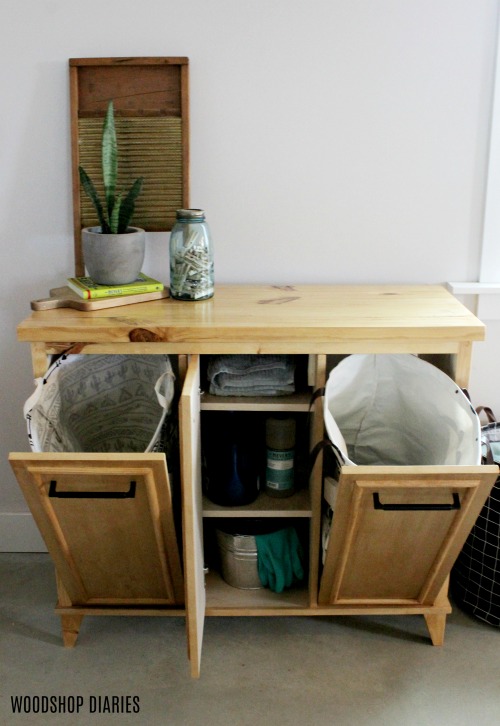 I built this for my mom to help her with extra storage in her small laundry room. She needed a place for hampers (that was out of sight), extra storage for supplies, and a place to fold clothes.
I came up with this laundry hamper cabinet and it worked out great! Tilt-out hamper storage really makes this one of the best DIY storage projects I have ever done.
Looking for more DIY storage cabinets? I have a whole bunch to choose from you can check them out here!
---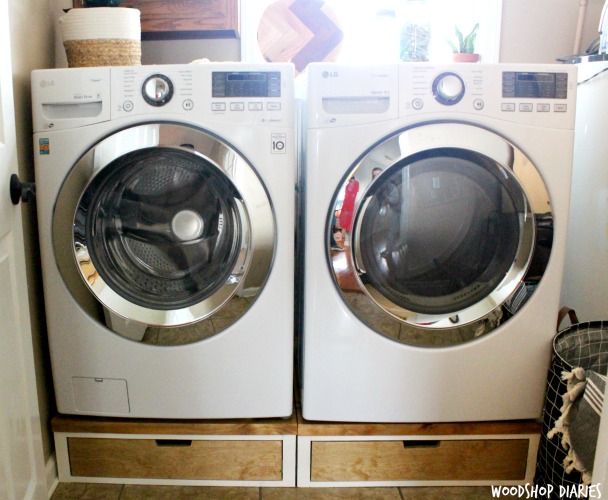 My mom got a new washer and dryer when she saw the price for the pedestals she knew I could make her some a lot cheaper.
---
We came up with a design and I got to work. The things I won't do for my mom…you understand, don't you
---
These DIY pedestals are easy to make and the drawers are great for extra storage in a small laundry room. They definitely make getting into those machines easier!
---
---
DIY Storage Projects for the Entryway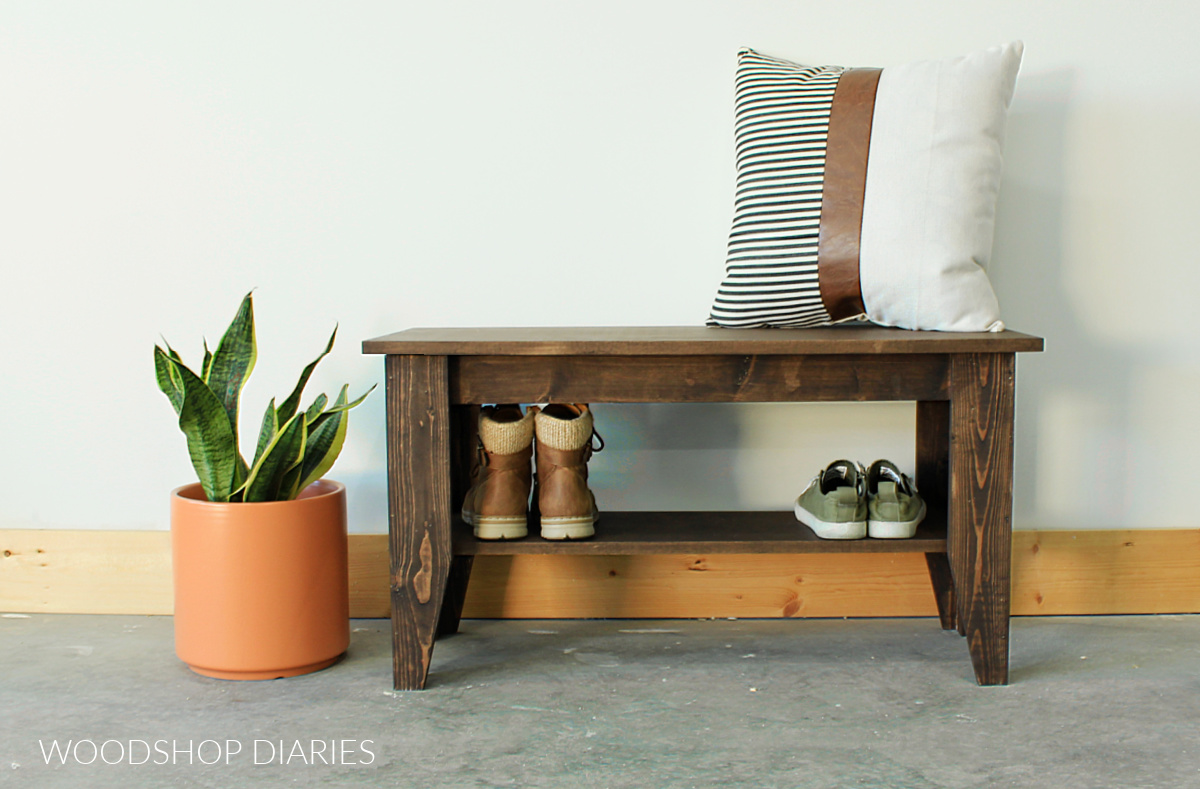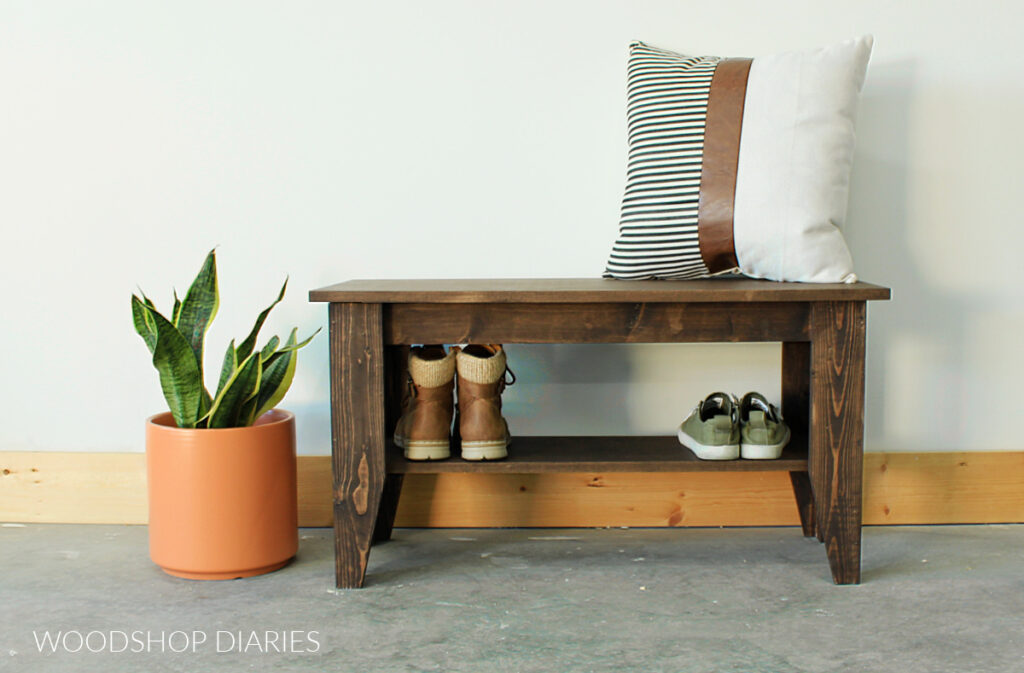 I love this rustic little bench. It's an easy beginner woodworking project that you can use anywhere in your home.
---
This simple DIY bench design would work perfectly for an entryway and you can use the shelf and space underneath to store shoes.
---
I kept the design simple so there isn't any storage under the seat, but you could totally add it if you wanted.
---
---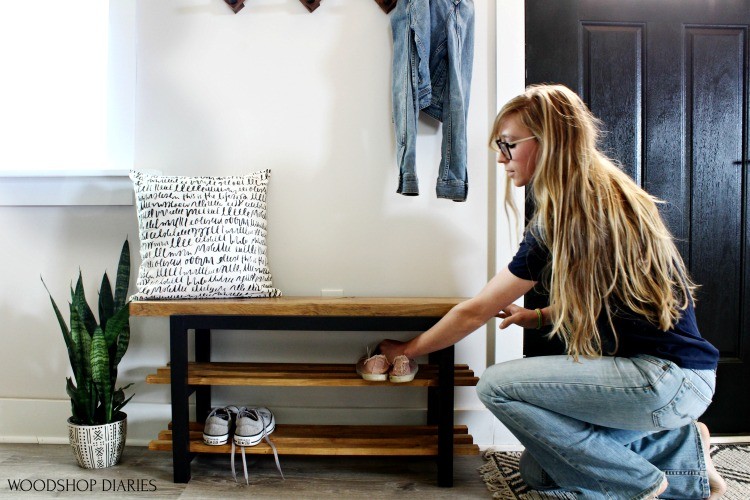 Can you believe you can make this DIY storage project with JUST ONE 2×10 board?! It was about $7 at the time I bought it.
---
I kept the design simple and affordable so it's the perfect budget-friendly project for your entryway. You can make this with basic woodworking tools and have it built in a day.
---
---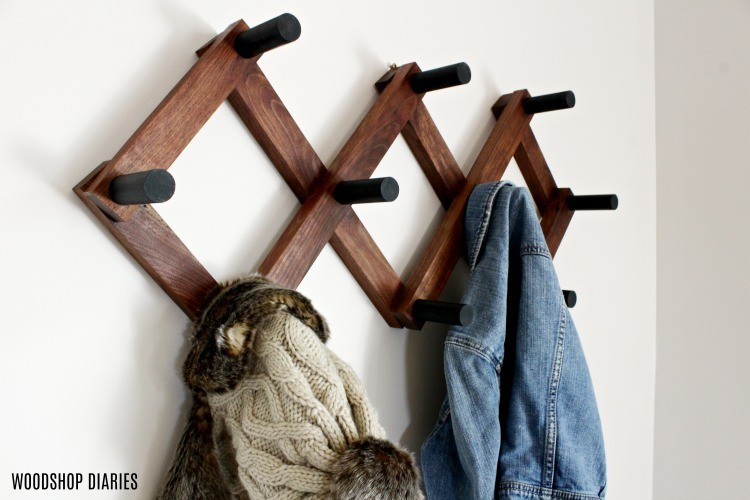 Add some coat storage to your entryway or mudroom with this accordion style coat rack. Use it for hats, coats, umbrellas, or even dog leashes.
---
I made this entirely from scrap wood so it was FREE to make. It's adjustable just like the ones they used to make years ago. So cool!
---
---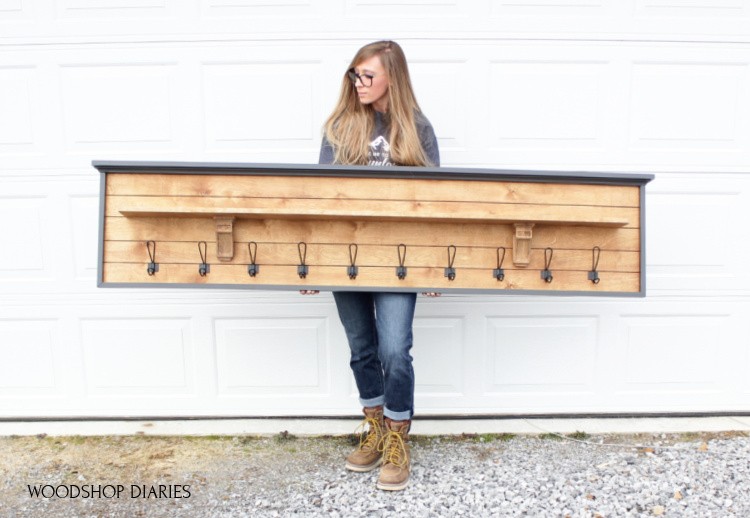 I will admit this is a BIIIIG coat rack. My friend had a long hallway that she needed to add storage to for coats and backpacks, etc. You can definitely make it smaller to fit your space.
---
I used plywood to make the back of this DIY storage project and added a little extra detail to make it look like shiplap. I love how it turned out and so did my friend.
---
---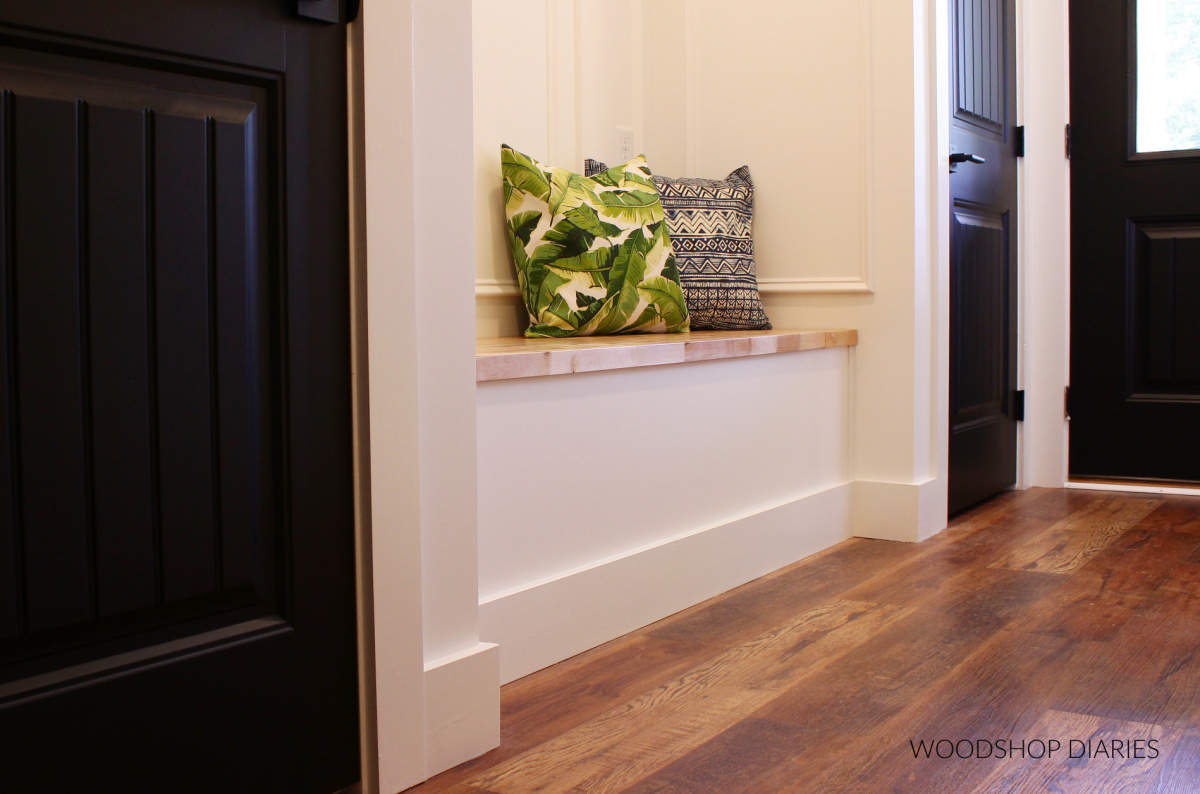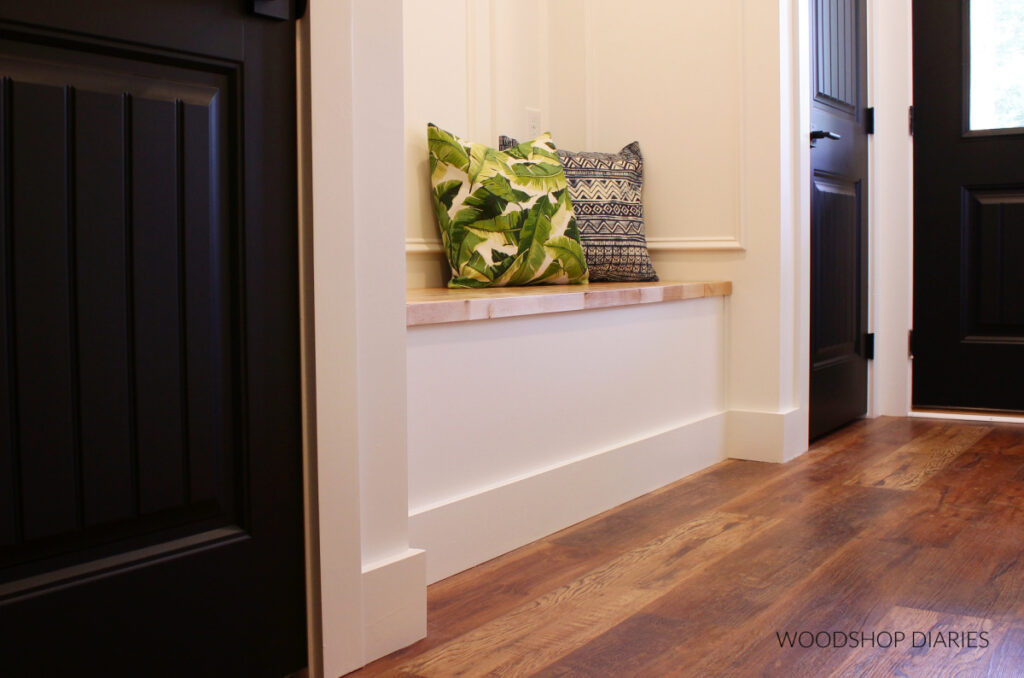 This simple flip top storage bench was part of an overall hallway makeover project where I updated our hallway. Man can you put a lot of stuff in this storage bench!
---
You can make your own built-in storage bench for your entryway or mudroom and I show you how to do it step-by-step.
---
---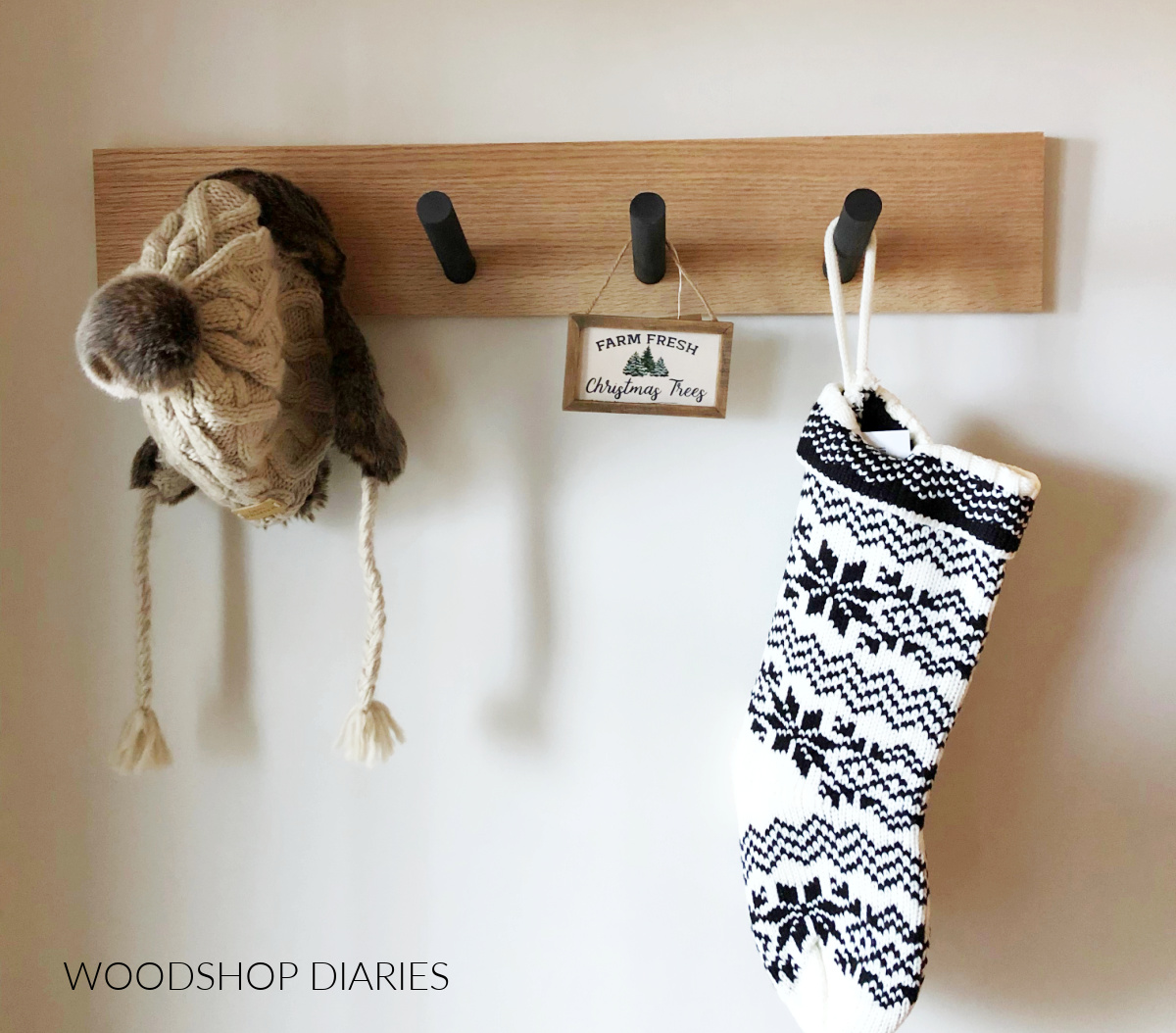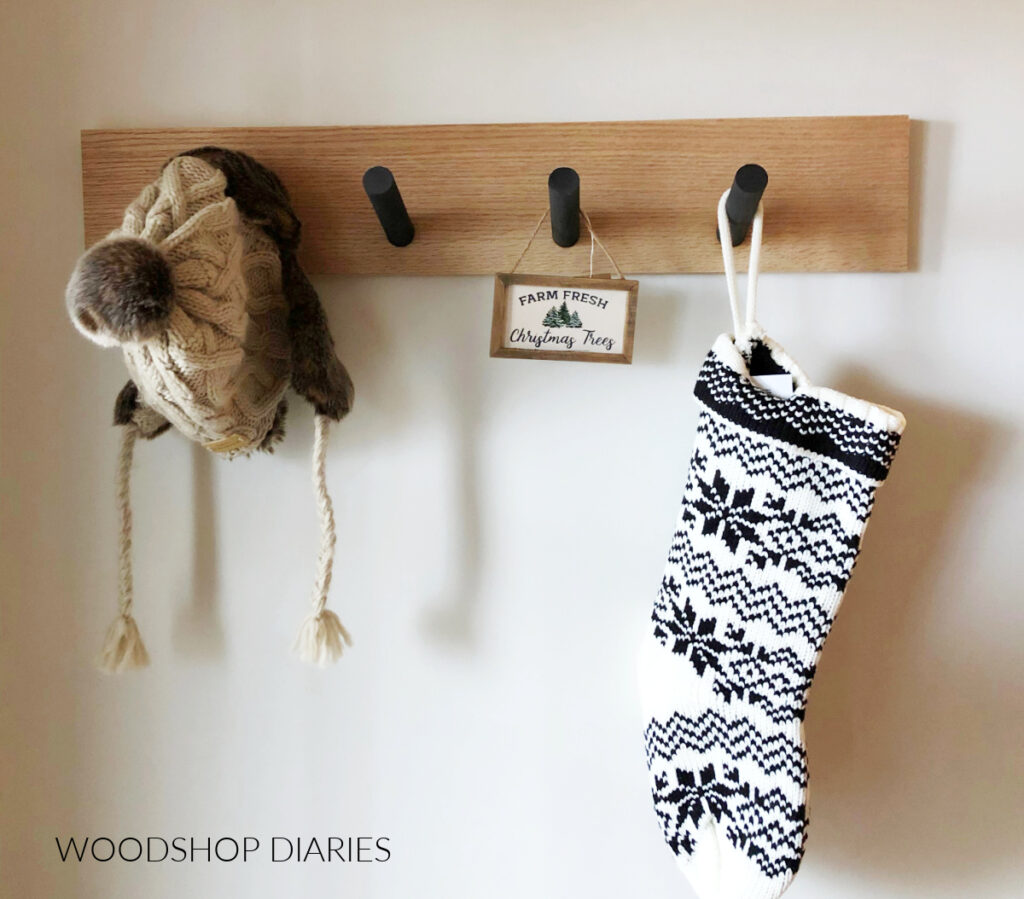 When you're looking for a coat rack with a simple design this is it! You can make this easy woodworking storage project for FREE using scrap wood.
---
It's the perfect storage solution for a small entryway. You could even use it in the bathroom as a towel rack.
---
---
DIY Storage Projects for the Kitchen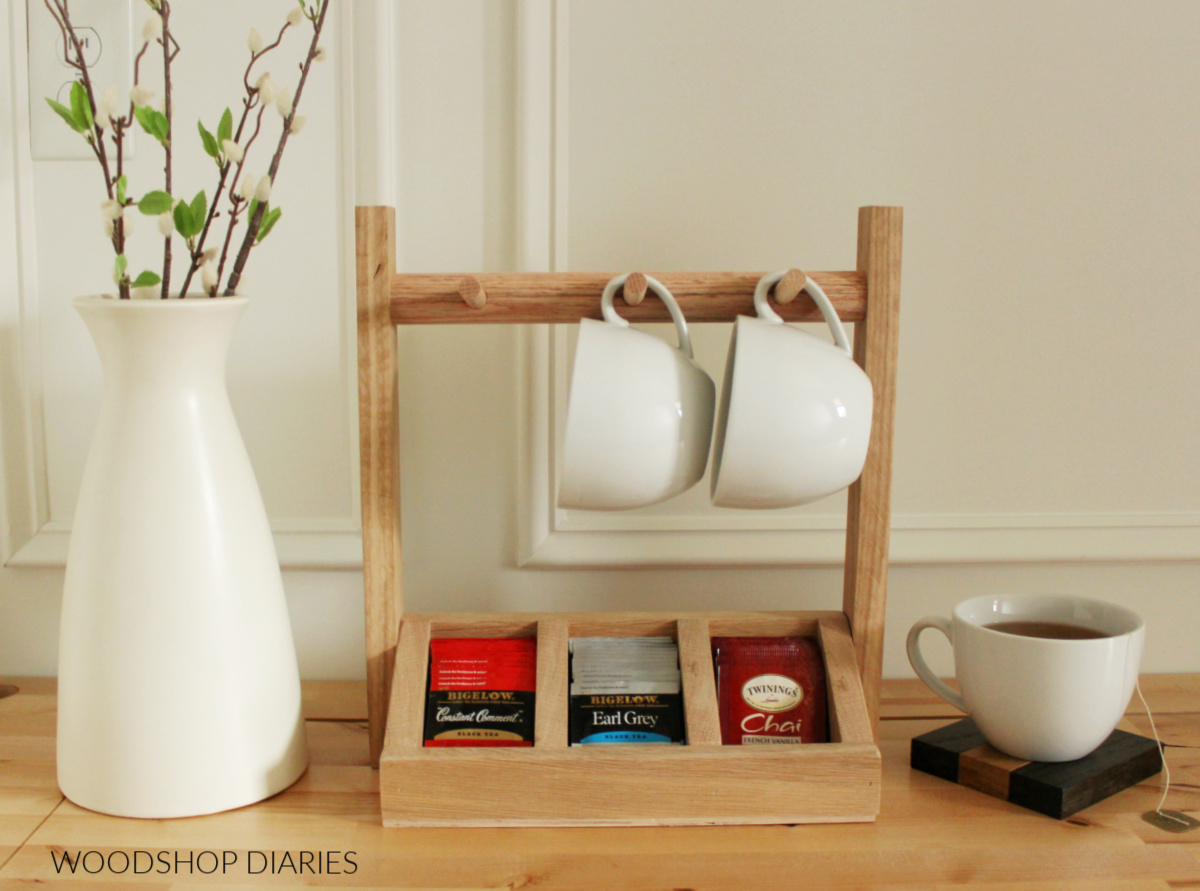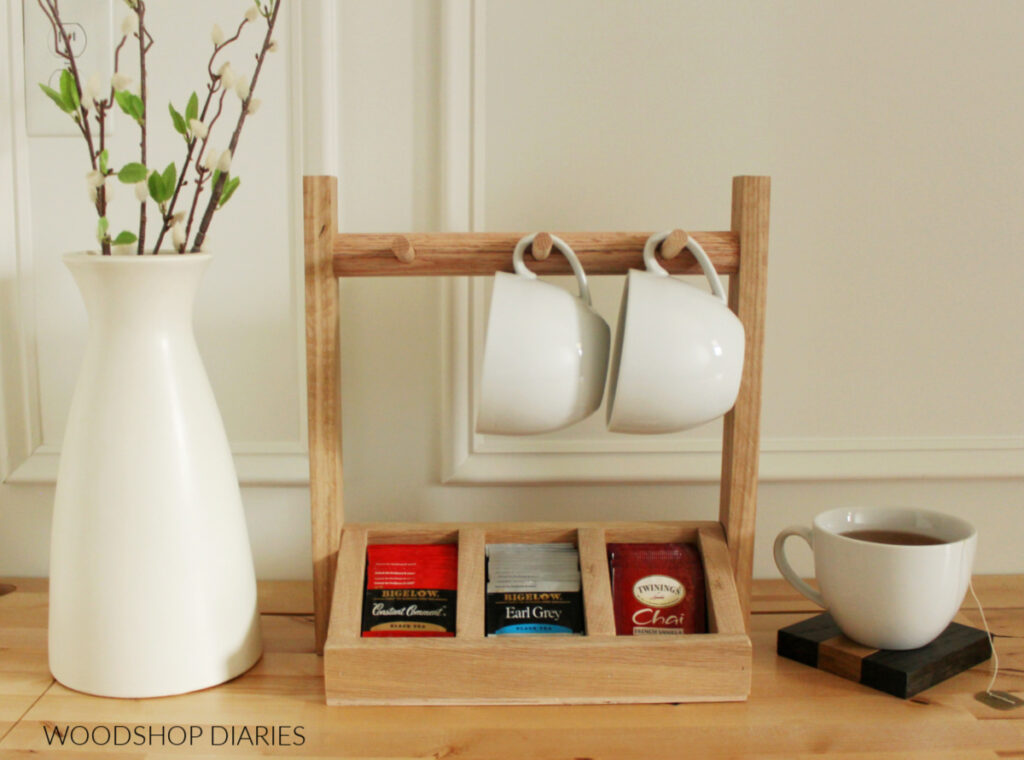 Love a good cup of tea? Organize and store your tea supplies and mugs with this easy woodworking project.
---
It fits perfect on the countertop, in the pantry, or tucked away in the cupboard. The best part is you make this from scrap wood so it's FREE!
---
---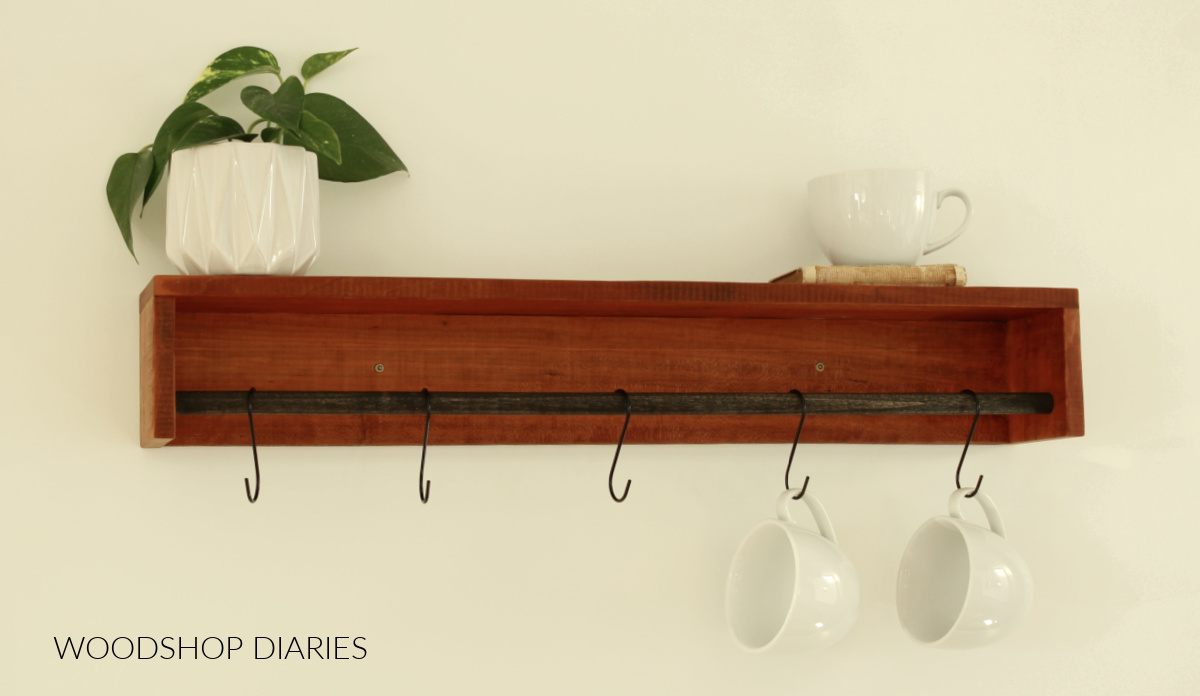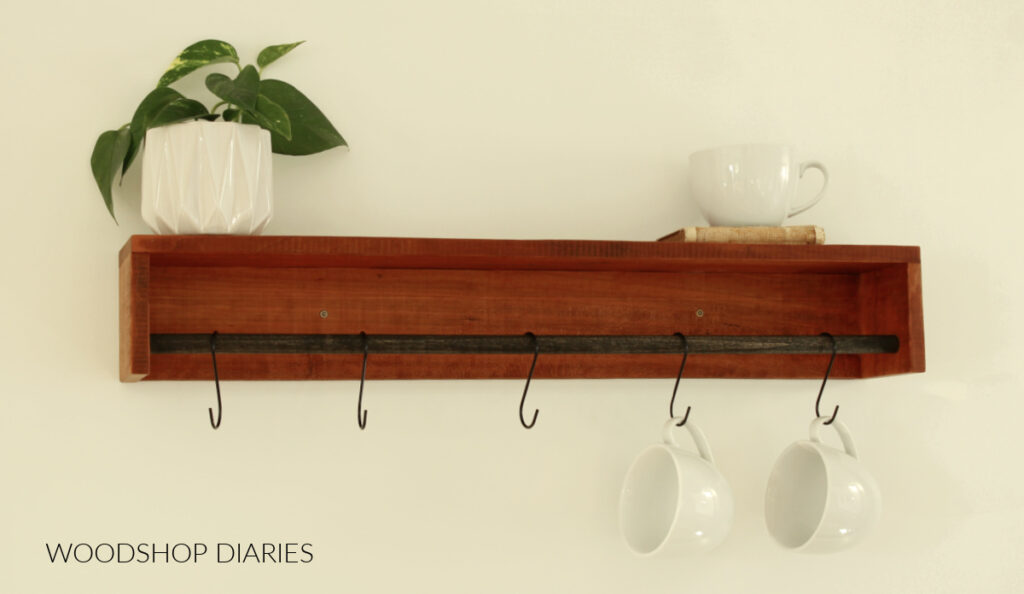 Hang it up for a place to hang mugs or tea towels with a shelf above. Or…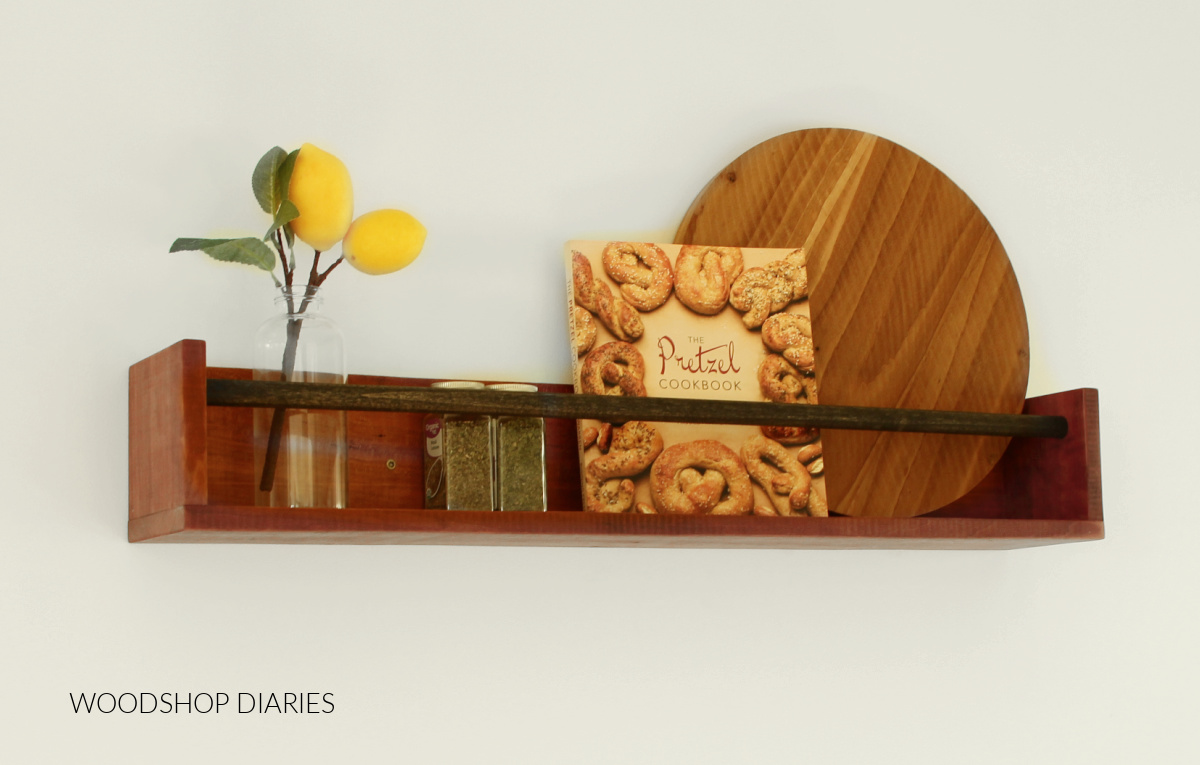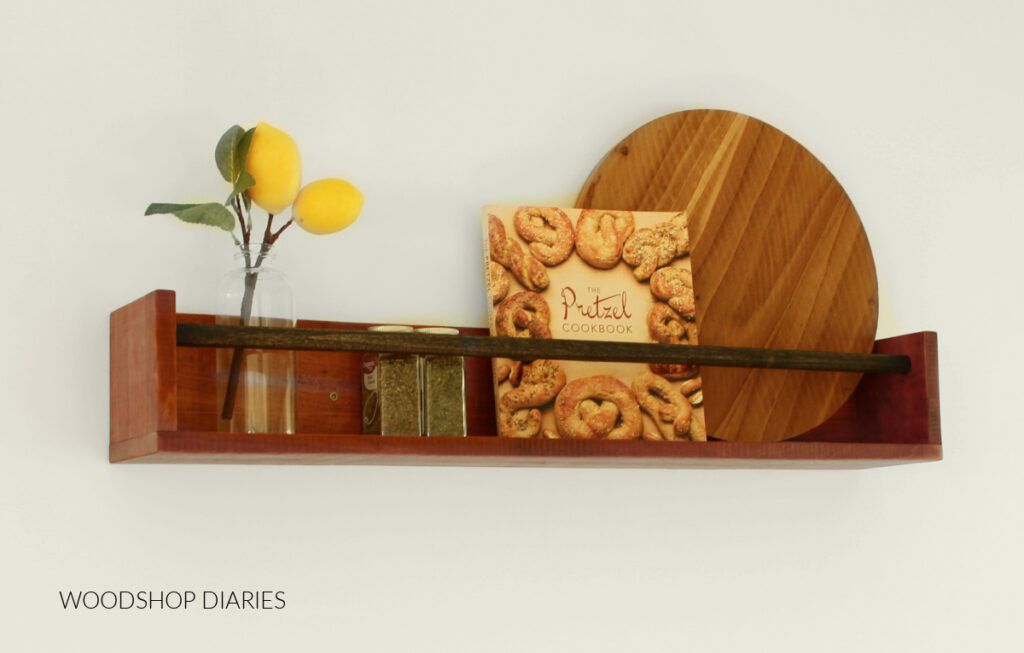 Hang it the other way and use it as a spice rack. It's perfect for holding cutting boards and cookbooks too!
---
This is another scrap wood project, so you guessed it, it was FREE to make. Of course you could make two then you would have them both.
---
---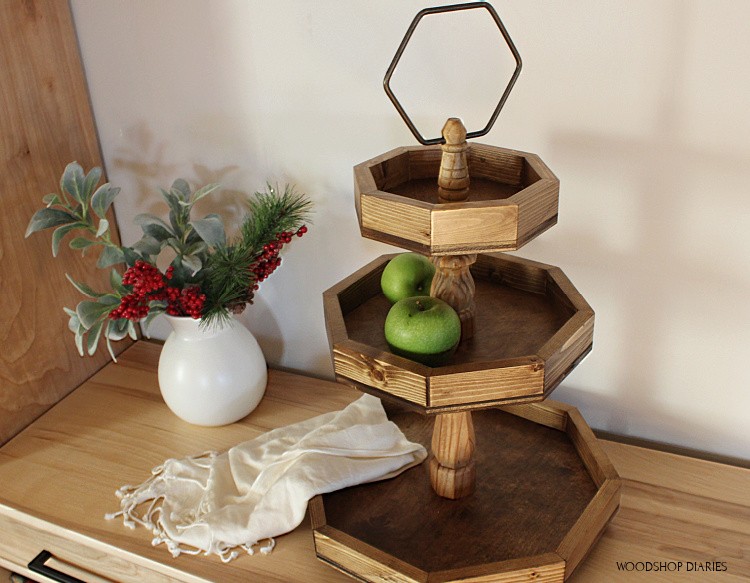 The 3 tier tray–A staple in seasonal kitchen decor. But, you could also just be super practical and use it as a fruit tray, too.
---
Either way, every kitchen needs one of these and this one is really easy to make yourself!
---
---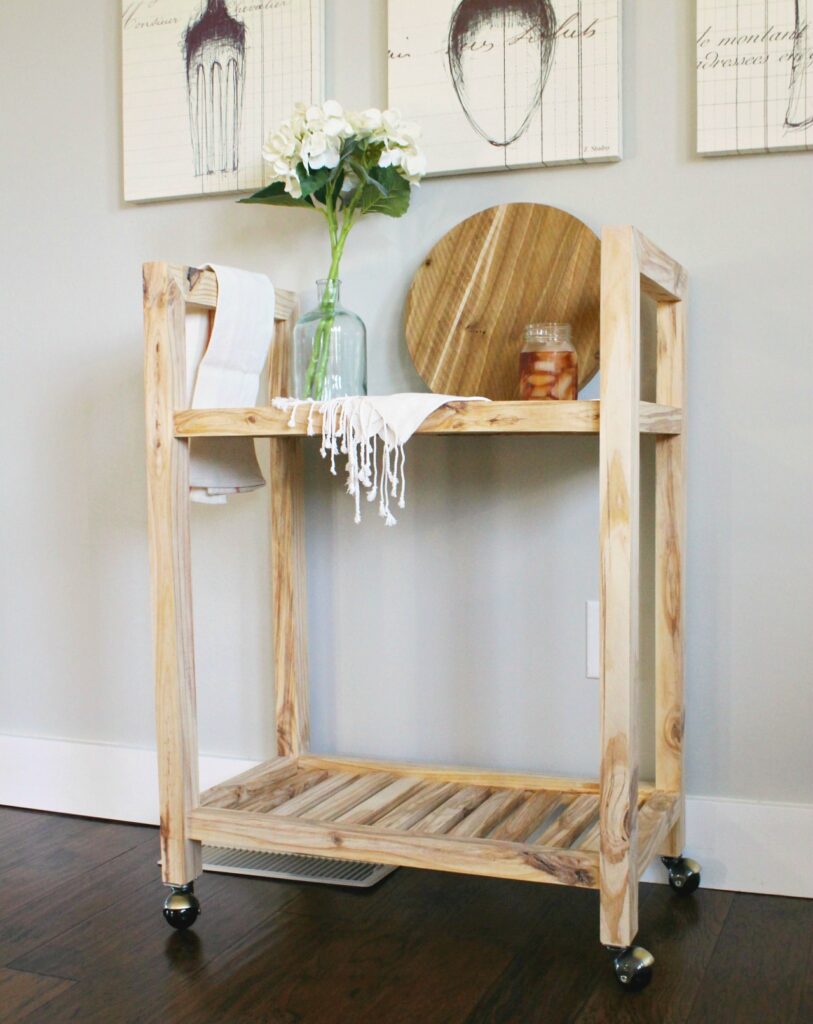 Great to use for entertaining, this DIY bar cart is an easy DIY storage project that can be use for lots of different things.
---
I made this using just one board. Hey, I really like those types of projects. They're budget friendly and beginner friendly projects that anyone can make.
---
Get the plans to make your own!
---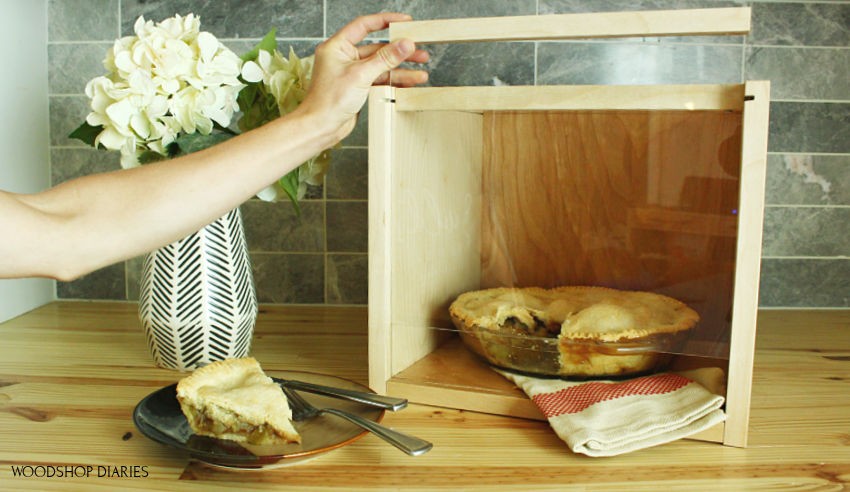 Store your next pie and take it to the next family gathering in style with this DIY pie box. It's easy to make and can be used also as a keepsake box or to display a trophy.
---
You can make this using scrap plywood if you have enough and finish the edges using edge banding for a professional look. You'll just a few tools to make one yourself.
---
---
RELATED: Learn how to finish plywood edges
---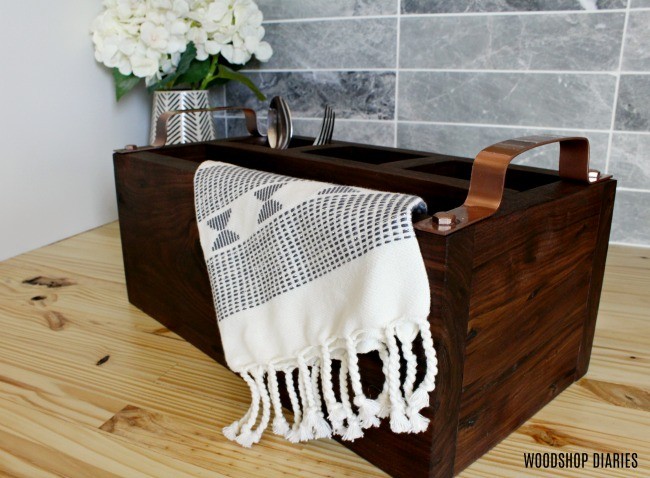 Most normal people probably keep their silverware—you know…forks, spoons and knives—neatly tucked away in a drawer. Of course I have to be the exception, haha.
It's a long story as to why I don't, but I made this silverware caddy to store ours and I really love how it turned out. Bonus is that we don't have to dig in a drawer to find what we need!
Office Storage Projects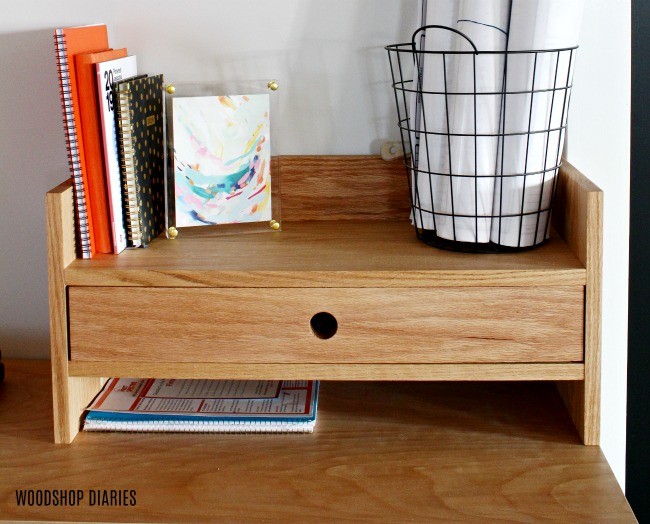 I was tired of papers stacking up in a mess on my desk and having a hard time keeping track of things.
---
I built this simple organizer from the red oak scrap boards to help store away all those receipts and paper I didn't want to mess with.
---
---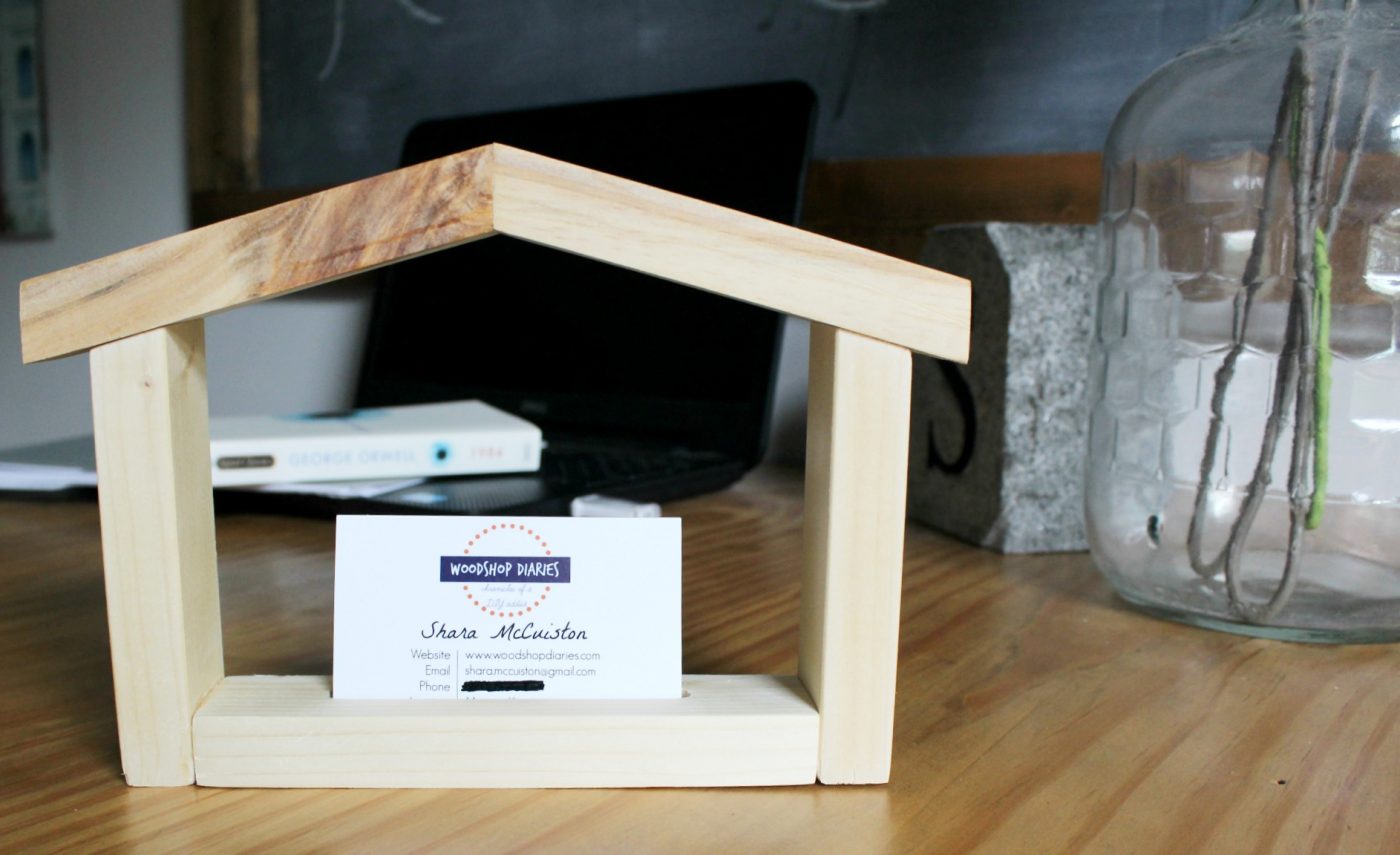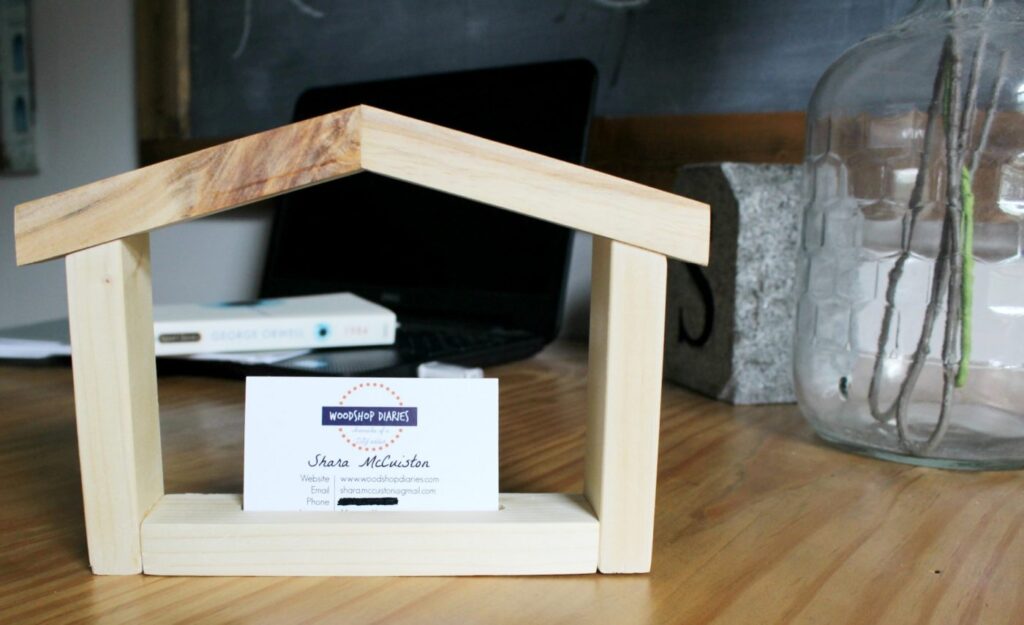 Every business owner needs a business card holder for their desk. It's a much better way to store them than to just have them sitting in a pile in a drawer.
---
This easy DIY storage project is made using scrap 2x2s. You can seriously make one of these in less than 30 minutes.
---
---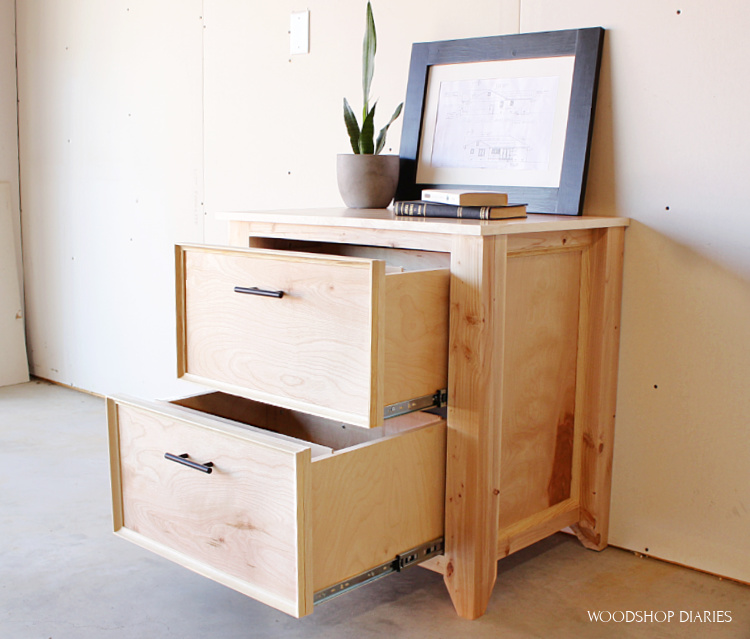 I'm not a fan of metal filing cabinets. They're ugly, they don't hold up well, and they're ugly. Did I say that already?
---
This is a very basic cabinet that works well as a file cabinet, but could also make a nice printer cabinet, or even a side table or nightstand.
---
---
More DIY Wooden Storage Projects
---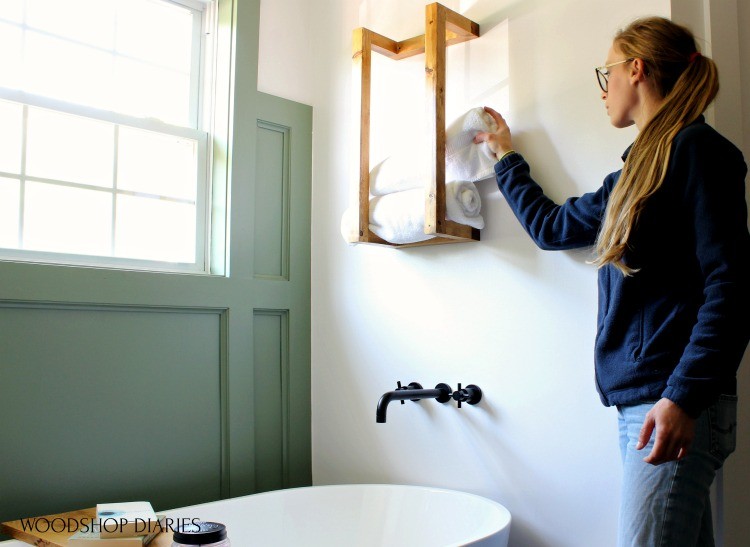 I built a simple scrap wood towel rack to hang over the tub to add some texture and wood tones to a very white wall.
---
You can build your own in just three simple steps with basic tools. Give your bathroom a spa like feel with this easy DIY storage project.
---
---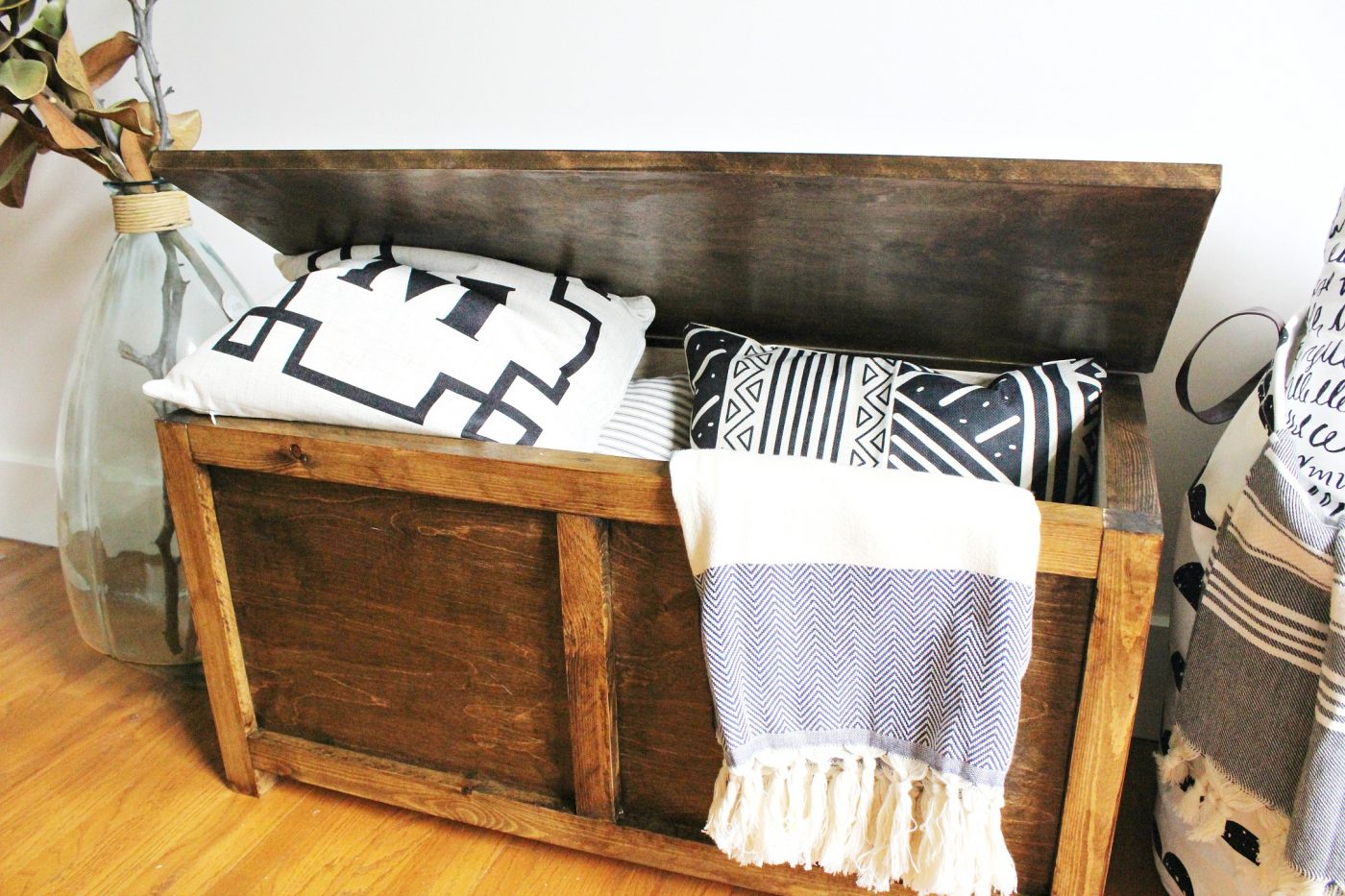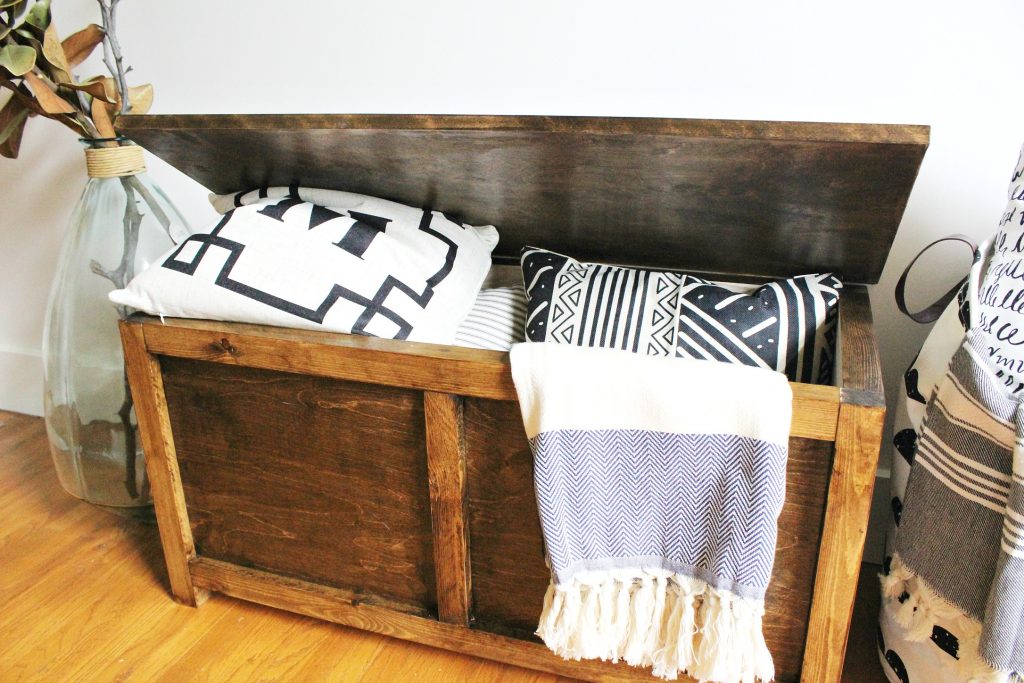 This DIY storage chest is the PERFECT size to use as a small coffee table, entryway bench storage, end of the bed storage, toy box storage, or just for keepsake storage.
---
I made this from ¾″ plywood and 2x2s. It's a great beginner project and this versitile piece will look great anywhere you use it.
---
Build this simple storage chest!
---
You will also love this DIY Wooden Storage Trunk / Hope Chest, this DIY Faux Slat Toy Box, and this Simple DIY Storage Trunk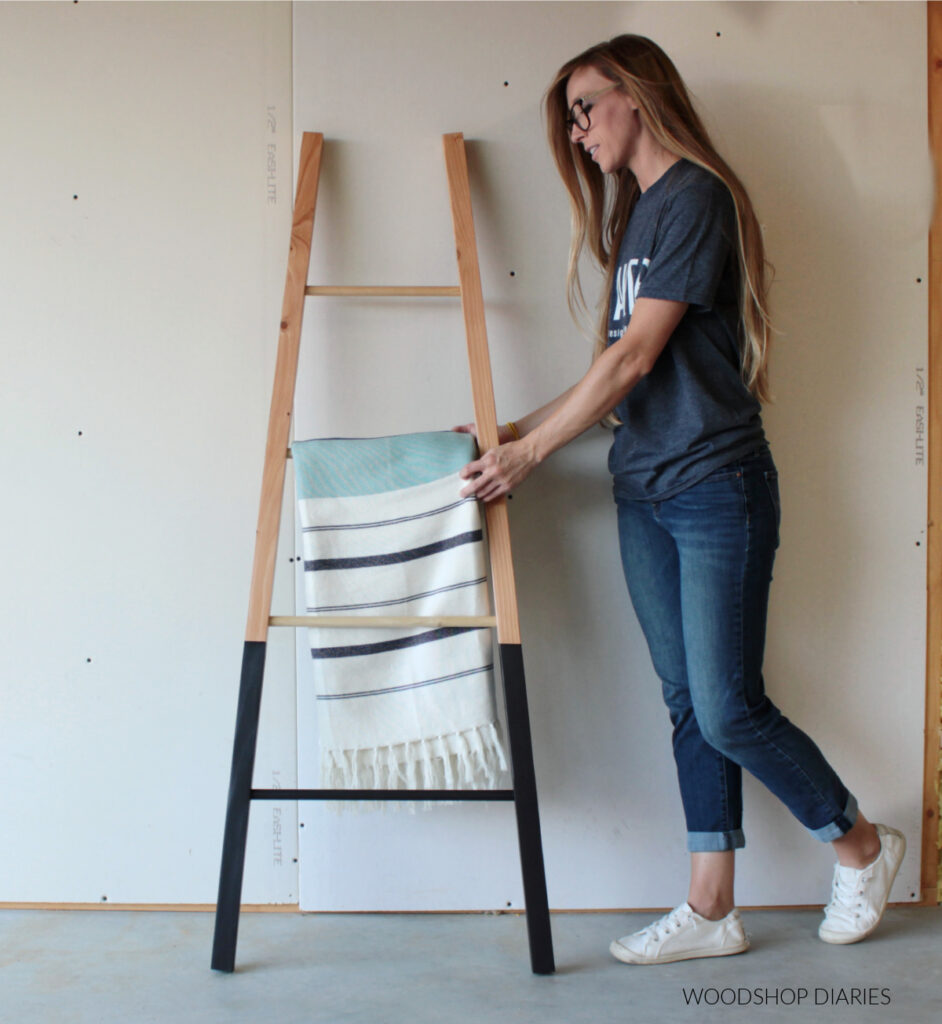 ---
A blanket ladder is a practical, simple, and creative way to add some style, storage, and life to a room.
---
You can use it in the bathroom for hanging towels, the living or bed room for storing and displaying blankets.
---
It's a simple scrap wood project using 2x2s and dowels. You can make it in a couple of hours and be using it the same day.
---
---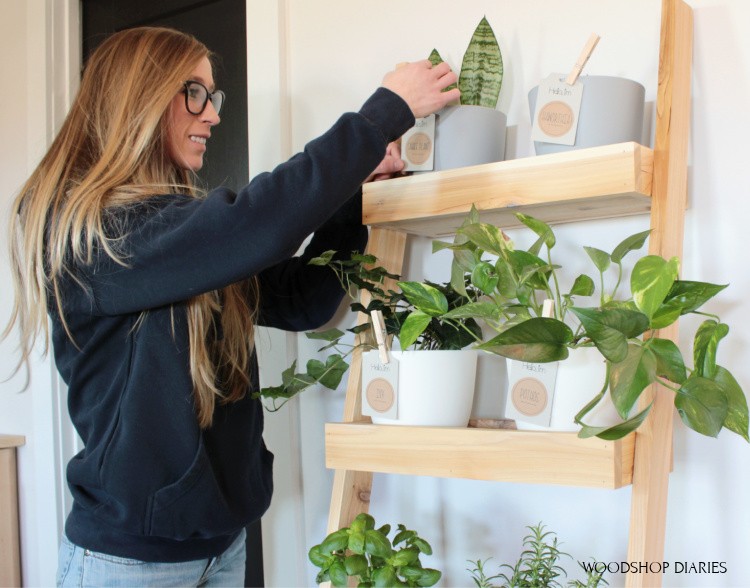 I've been meaning to build somewhere to store all my little plants in one easy to water location.
---
It needed to have a small footprint so it didn't take up a lot of floor space and I didn't want to hang it on the wall. This leaning plant ladder shelf was the perfect solution.
---
You could also use it for books, in your office, or in an entryway for those items you need to grab quickly on the way out the door.
---
Get the plans to build your own!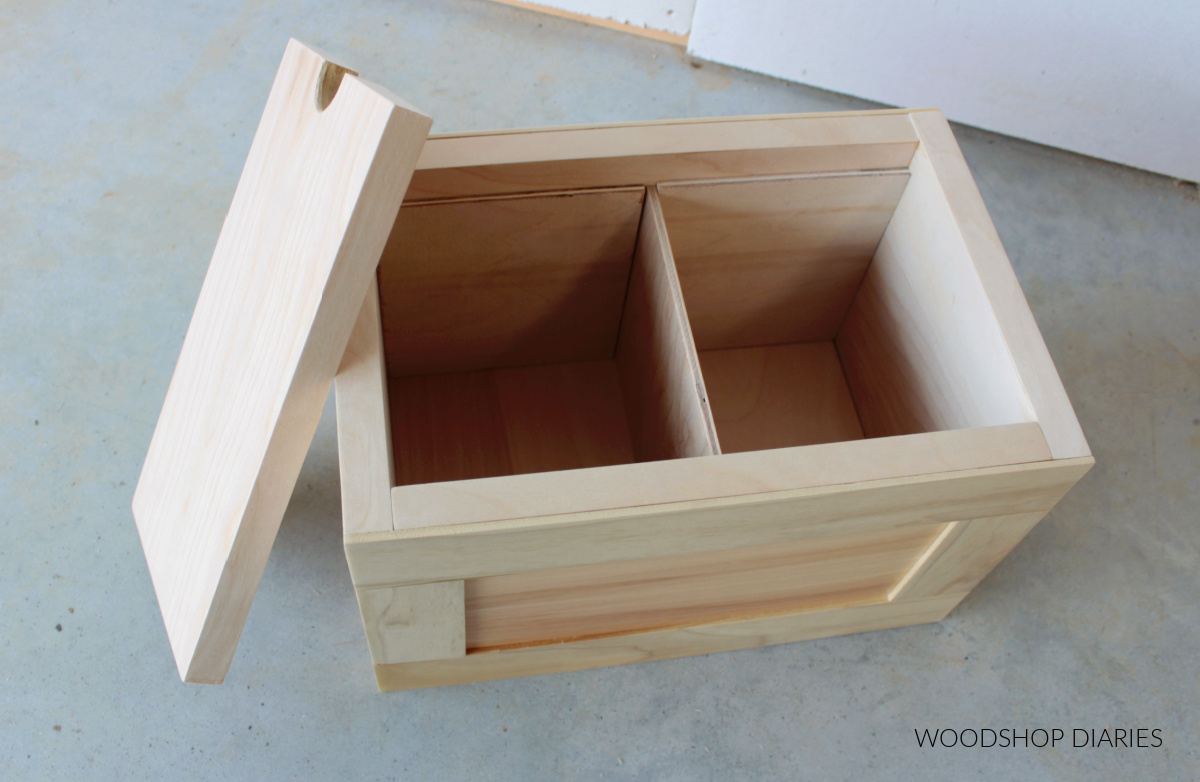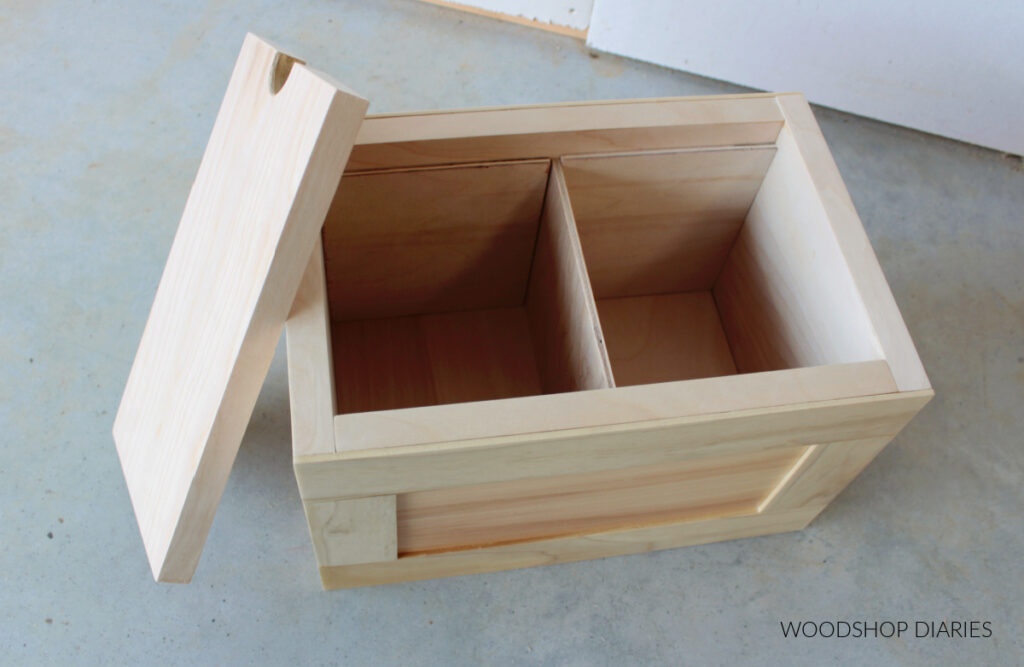 We all have those special momentos, the small things that remind us of a time, a person, an event. Build your own keepsake box to store them and keep them safe.
---
This project is made from scrap wood, so it's another project that's FREE to make! It even has a divider and lift off lid.
---
---
Be sure to check out my DIY Wooden Keepsake Box and this other DIY Keepsake Box from Scrap Wood
---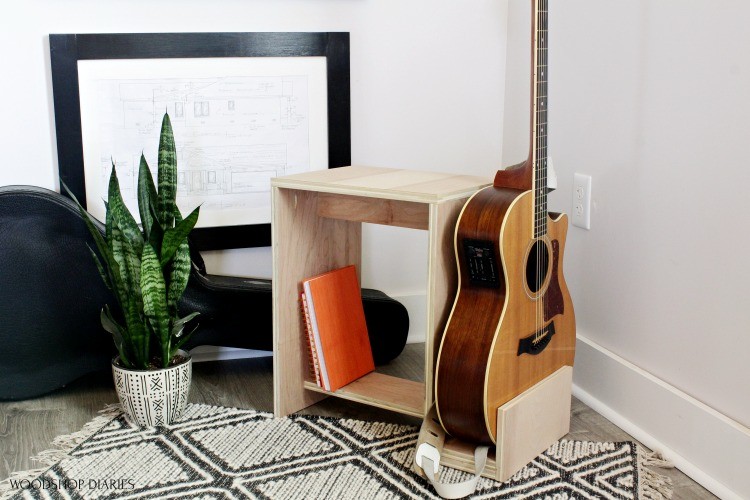 I've been tired of keeping my guitar stuck in its case in the corner all the time and wanted to get it out so it was more easily accessible for playing.
---
I made this DIY guitar stand and stool and added a place to store my music books. It sits perfectly in the corner and I love having my guitar out on display.
---
---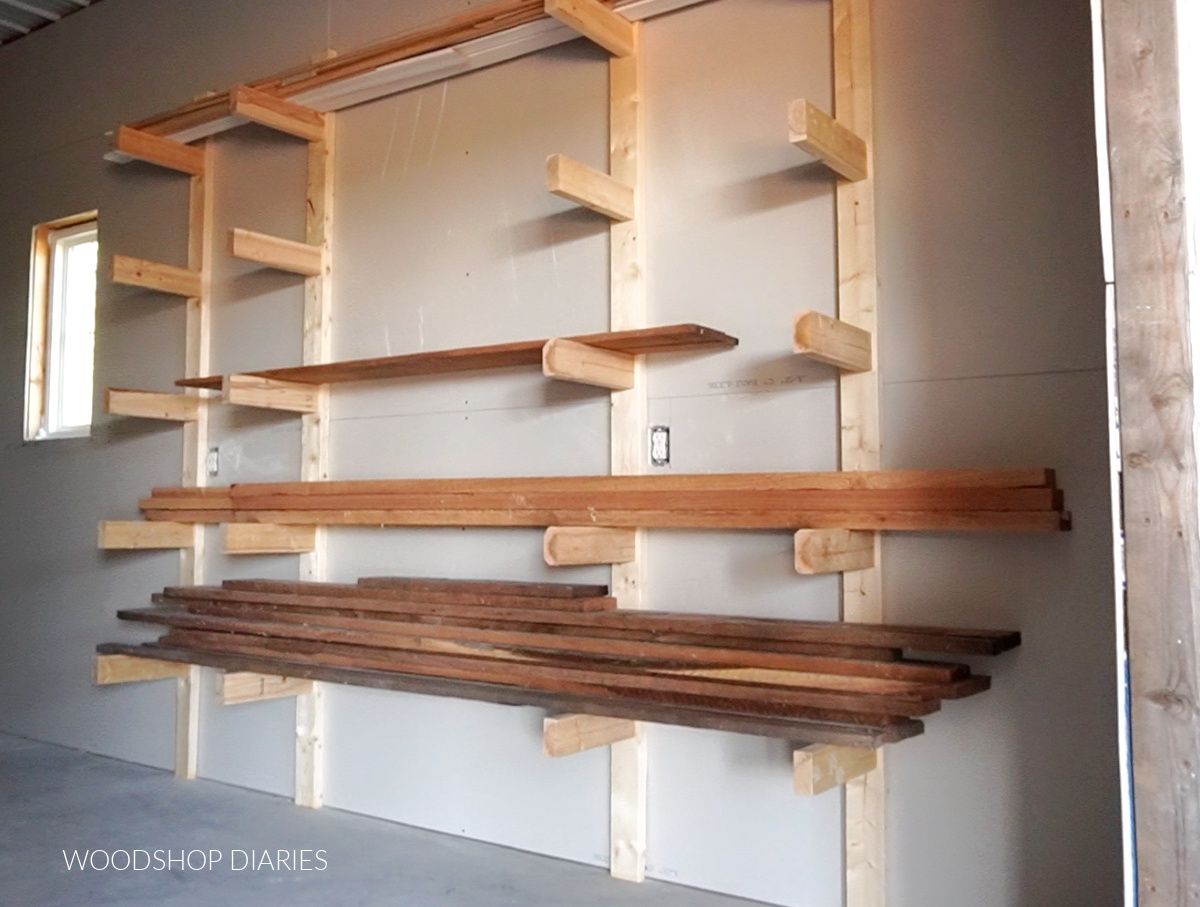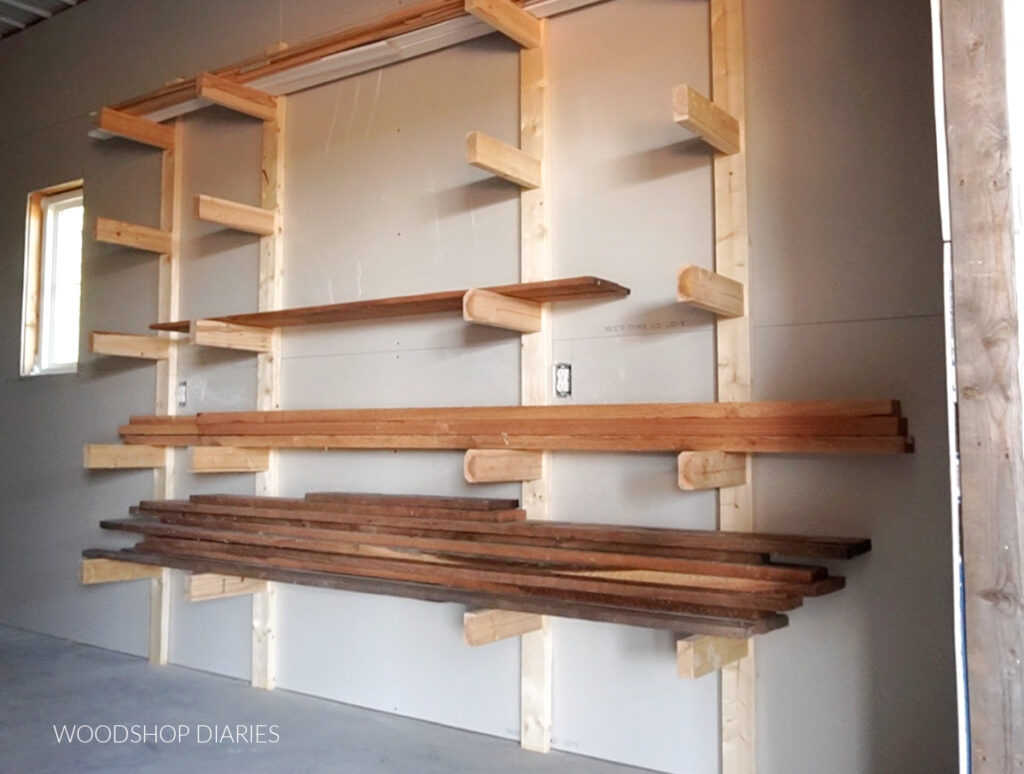 I needed a place to store my lumber. The floor and corner were no longer an option. This simple design is made using 2x4s and wood screws. That's it. Super easy. Super helpful.
---
You can see more workshop storage and organizing projects here.
---
---
This is just a handful of the DIY storage projects you'll find here on the blog. I can't wait to hear what you build first!
---
Be sure to pin for later!