Hi Friend! I mean, is it too soon to call you "friend?" I'm guessing if you've found your way here, then you're probably new and we are just "meeting" for the first time, so maybe I'm being too forward?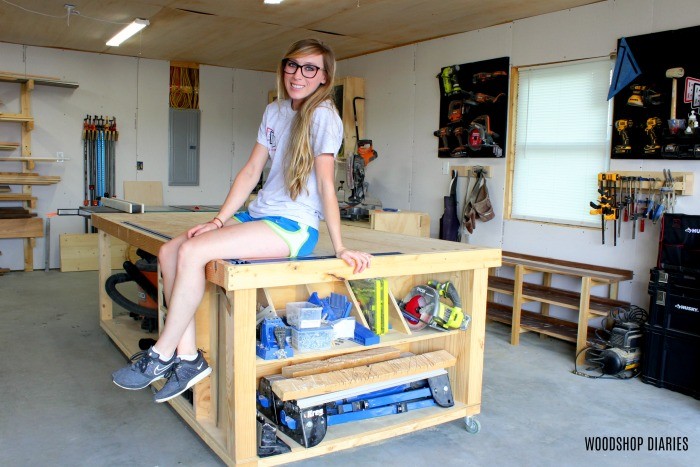 Anyway, whether we are new friends or long time friends, I'm so glad you're here! I'm Shara and I'm the creator, photographer, designer, builder, maker, writer, editor, video producer, and voice behind the blog you are reading 🙂 I wear a lot of hats around here haha.
.
Woodshop Diaries began in 2016 as a DIY/woodworking/home improvement blog where I starting sharing inspiring projects, designs, and tutorials with my readers (that's YOU!).
.
In 2018, I began creating video content regularly to supplement my written blog content. You can subscribe to my YouTube channel here to follow along!
For several years, Woodshop Diaries was my "side hustle" and something I enjoyed sharing just for fun. But after the factory I worked at shut down and I lost my job in 2019, I took on Woodshop Diaries as my full time business.
.
My readers come here to find inspiring, easy to follow, and detailed instructions for building and creating their next DIY project or to find a new design they love. I take pride in being technical, thorough, and detailed in my instructions (It's the former engineer in me) so that both beginner and advanced DIYers can easily follow along.
.
But I also take pride in sprinkling in some sarcasm, humor, and entertainment because the of whole "all work and no play thing"…I don't want to be dull…ha!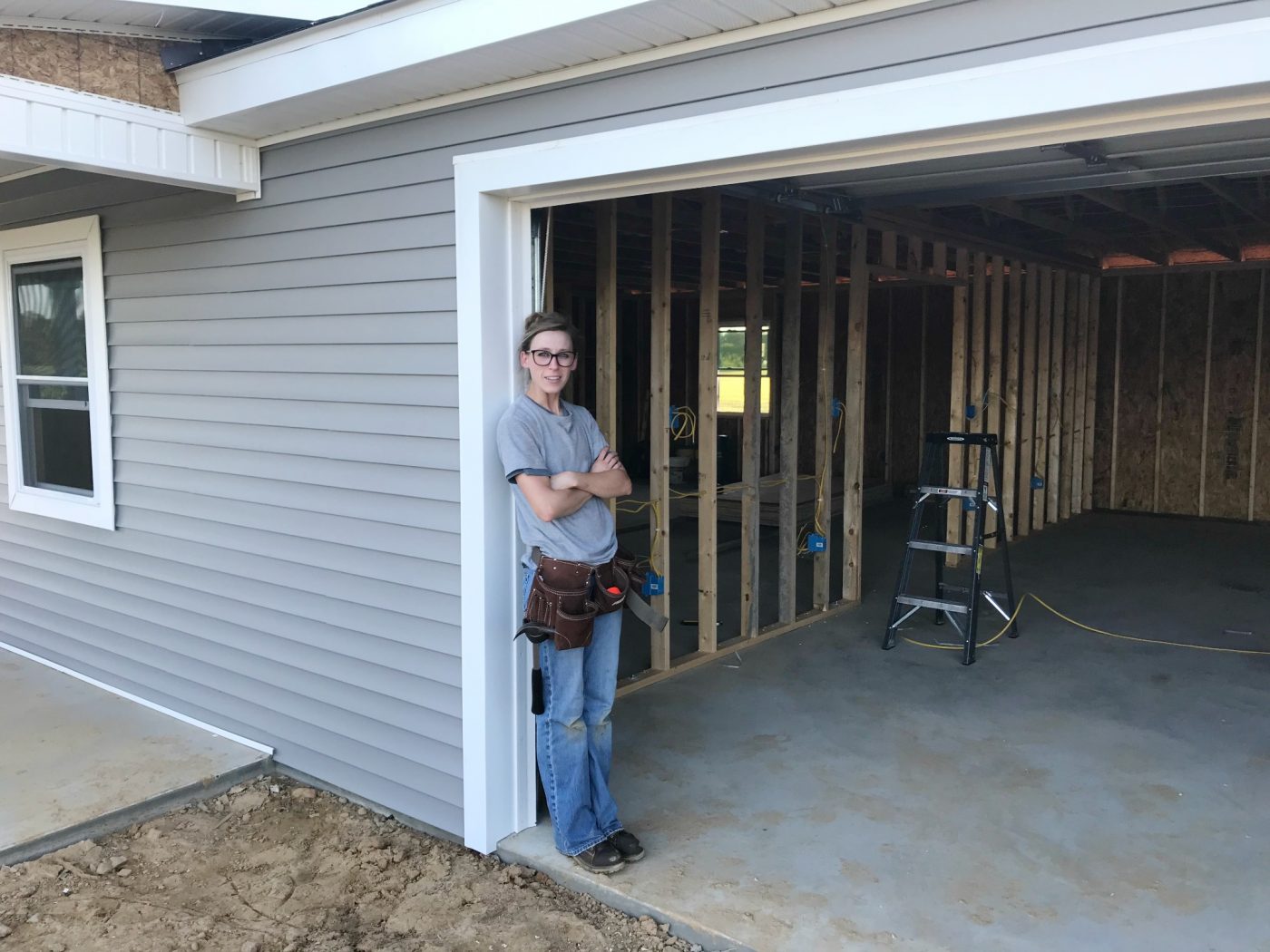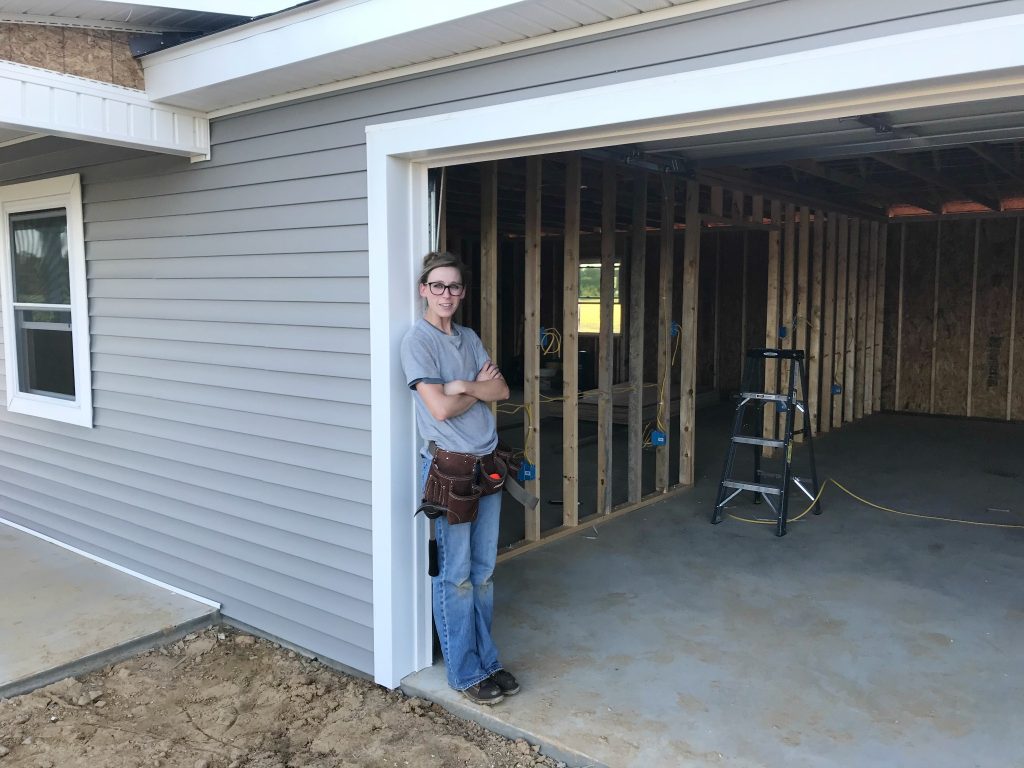 If you are interested in working with me/Woodshop Diaries on an upcoming project, video, sponsored post, etc, please see my new Work With Me page here for details on how we can work together.
.
And that's Woodshop Diaries summed up in a few short paragraphs. If you're curious about what types of projects you can find here, browse my projects page here.
.
And if you want to follow along, be sure to follow over on Instagram for sneak peeks of projects I'm working on or you can also find me on Facebook as well. And if you're into quick tip videos, head over and follow along on TikTok as well.
.
You can subscribe to my newsletter below for priority access to all my latest posts and updates as well (I typically send out an email a week, so I promise not to bombard you with a ton of emails…I know how annoying that can be)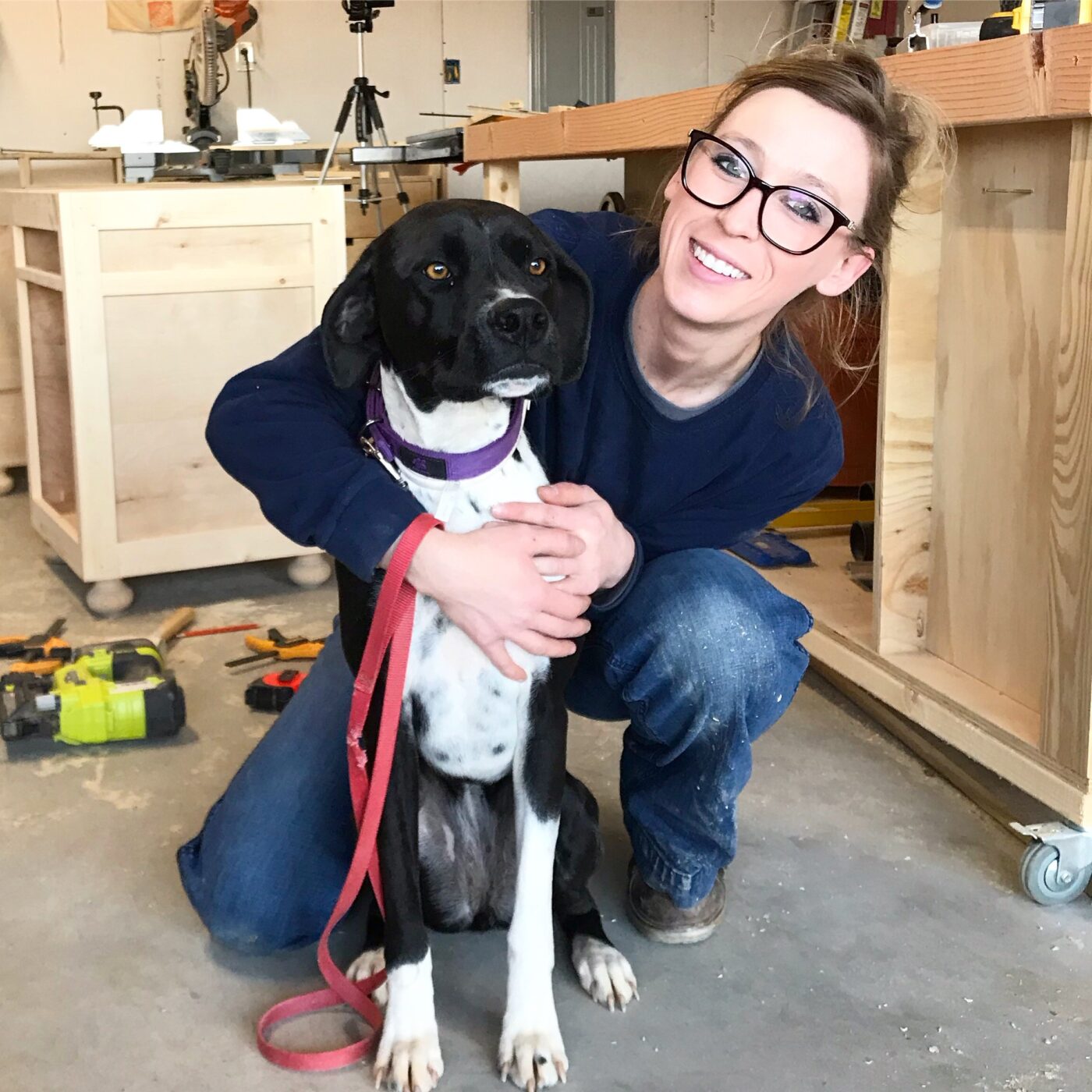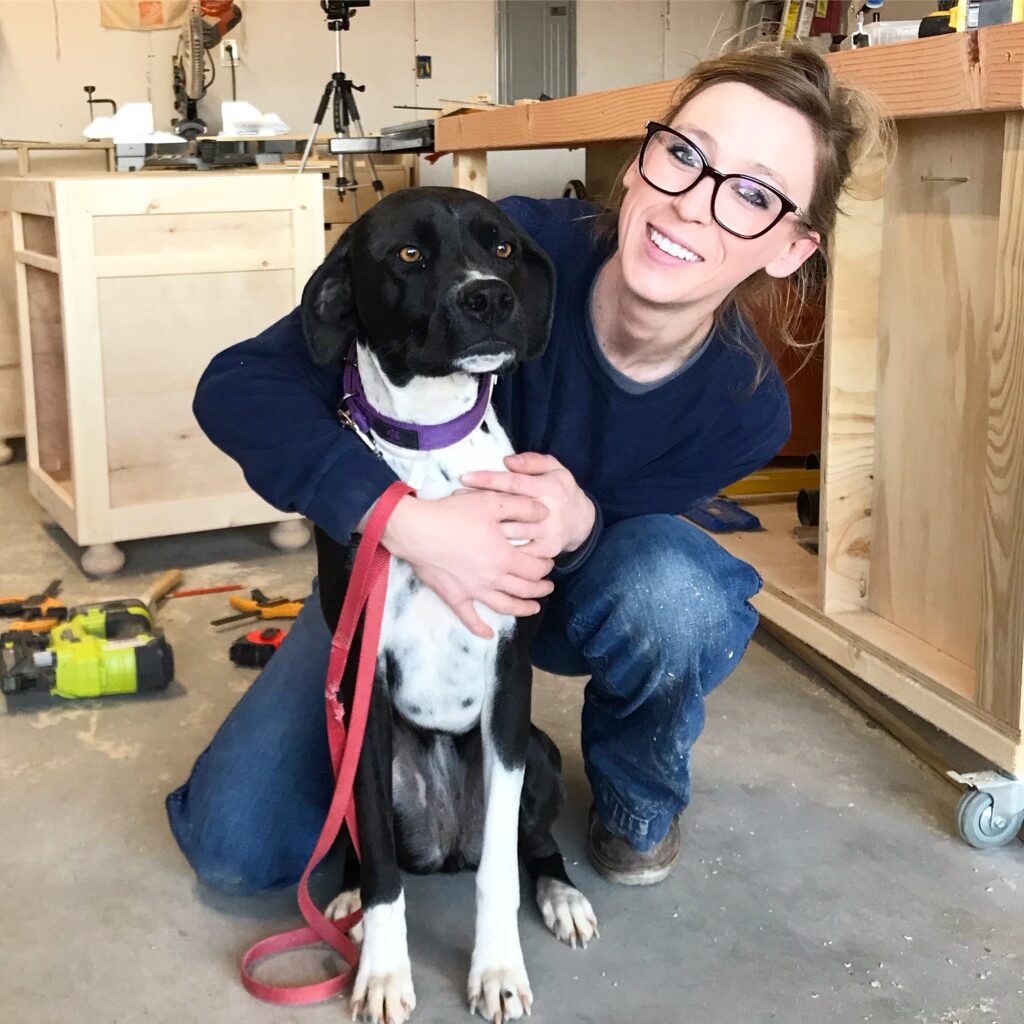 If you're curious to know a little more about the voice behind the blog, here's a few random facts about me so you can get to know me a little better 🙂
1. I used to work in a factory at my day job.
.
I also modeled safety equipment on the side. Here's a glamour shot of me in my hard hat and pink safety glasses to prove it. (Steel toe boots not pictured.)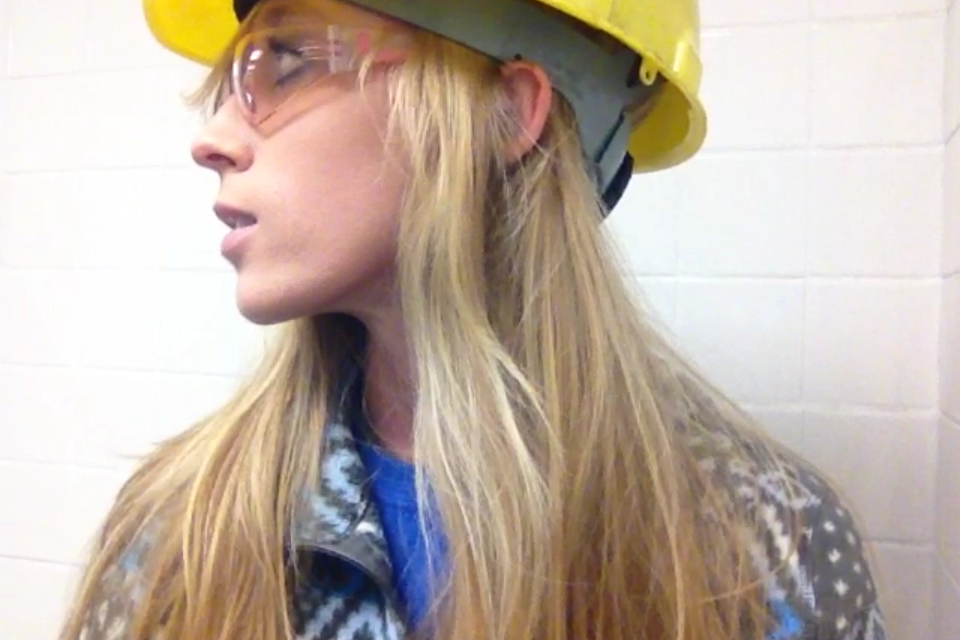 Just kidding…I don't model safety equipment. But I did work in a carbon plant for about 5 years and wore a hard hat every day. Then I worked in an engine factory and me and three men over 50 (one of these things doesn't seem to belong, amiright? haha) designed, built, installed, programmed, and maintained automated stations on our assembly line. It was pretty fun.
.
But, fall 2019, they announced the plant was closing and I lost my job. I started Woodshop Diaries full time and I'm seeing where it takes me.
.
2. My husband, Danny, and I built our house in 6 weeks.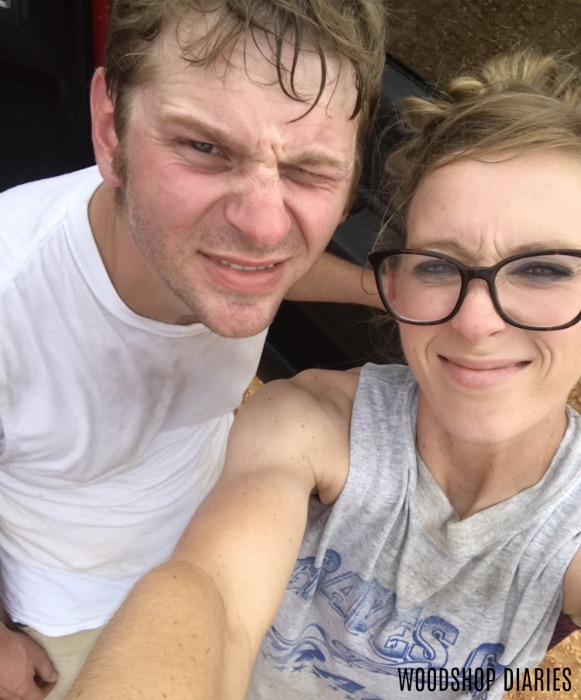 Not kidding. We live in a garage apartment currently. We bought a bean field, paid a garage builder to put up four walls and a roof and we came in and finished the entire inside in 6 weeks. It was pure chaos…we are talking electrical, plumbing, drywall, cabinets, bathroom, heat and air…the whole deal. Oh, while we both worked full time in two different factories.
.
But, we won a big renovation challenge because of it and it was totally worth it. You can read all about it here and here.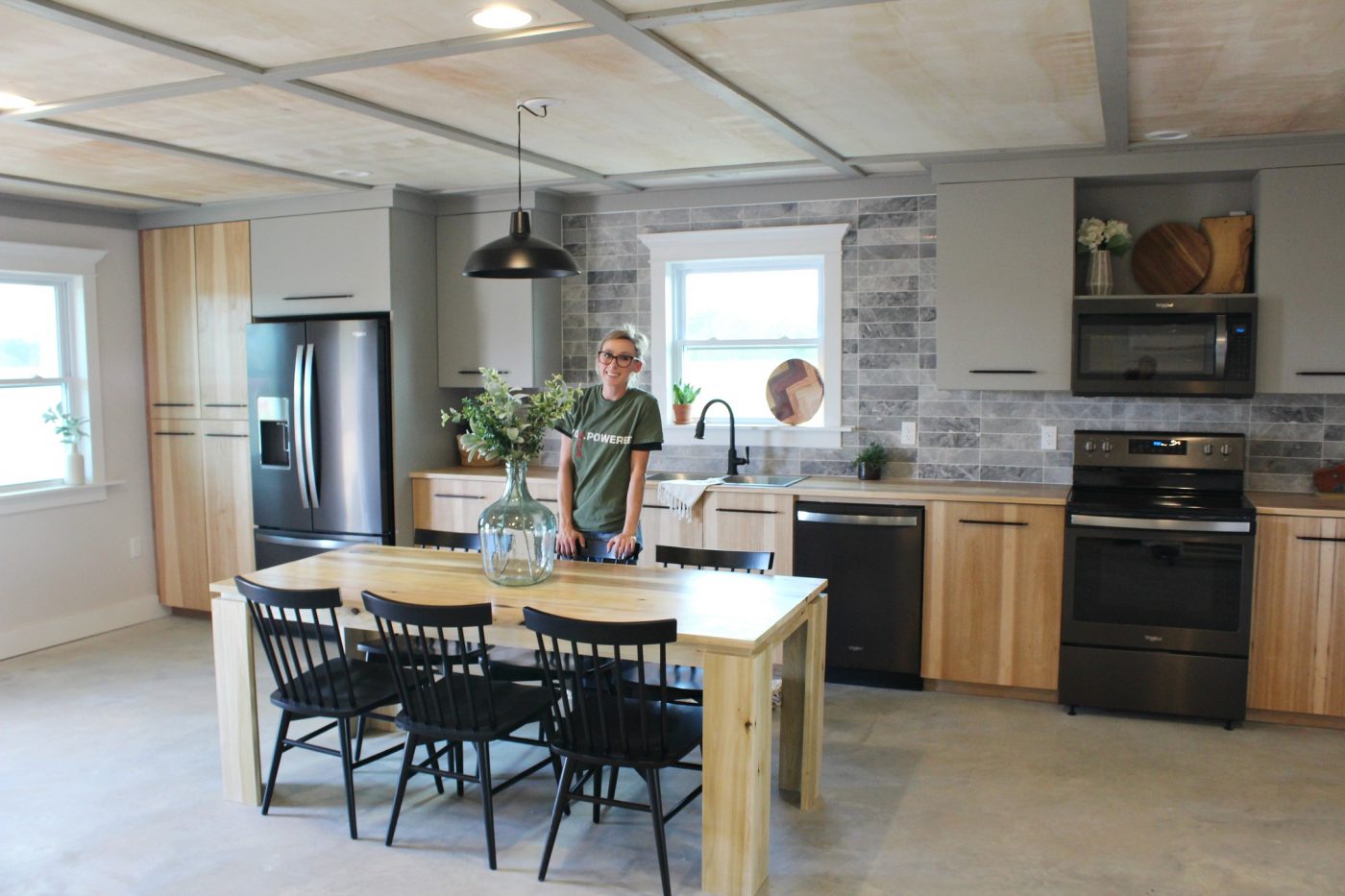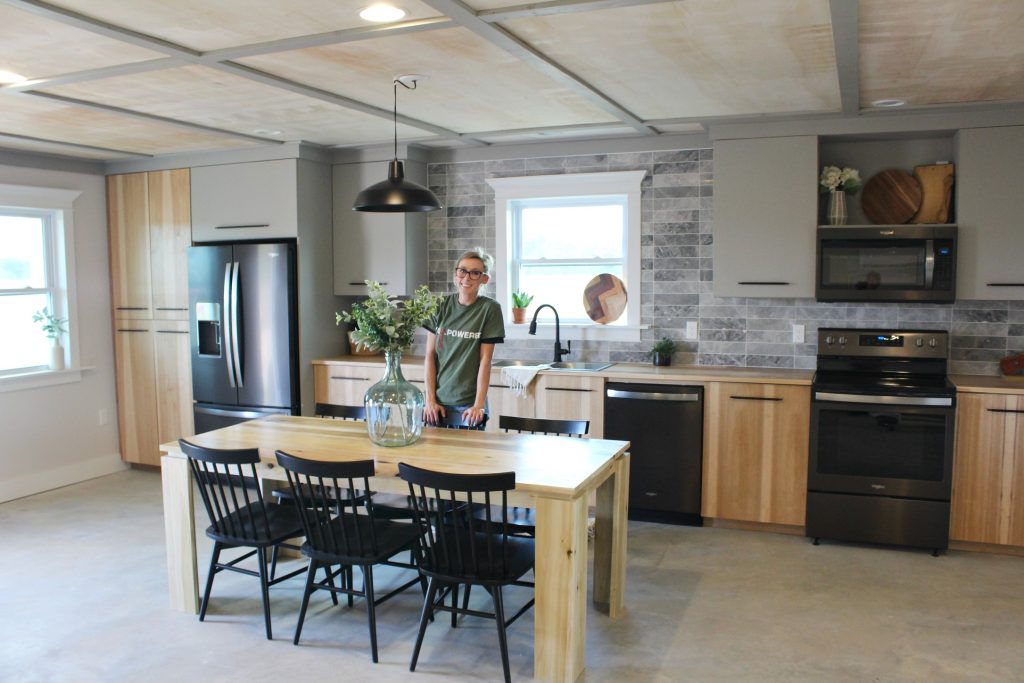 3. When I was growing up, I wanted to be a crime scene investigator.
.
I know this doesn't even remotely compare to the job of a CSI, but I've never lost a game of Clue. Ever.
.
Later on in life, I wanted to work in construction, then I changed my mind and wanted to be an engineer. Then I worked with automation and controls in a factory and tinkered in the shop at night….and weekends 😉 Basically if I were to sum up everything I do or have wanted to do in two words, they would be problem solve.
4. I've played guitar for 18 years.
I can't possibly be old enough for this to be true. But I'm not lying. I picked up a guitar in sixth grade (so you do the math on my age haha) and never put it down…except for a few years in college when I didn't have enough time to breath, much less play an instrument.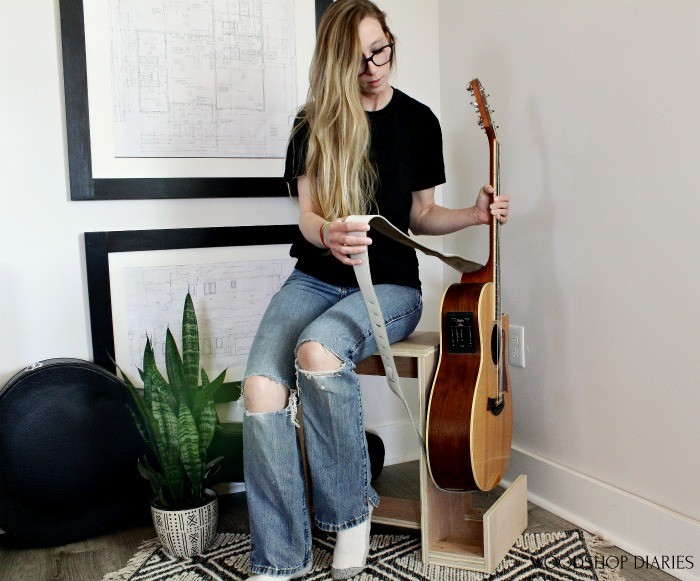 5. I'll do a lot of things for an Oreo.
I mean, does that really need any more explanation? Oreos are my weakness. I got it from my dad…that and his man hands. So, you know, he gave me his best qualities hahaha.
.
So, anyway, that's enough about me.
..
But if you ever want to know more…about me or about Woodshop Diaries or any of the projects you see on the site, be sure to head over to the contact me page and shoot me a message.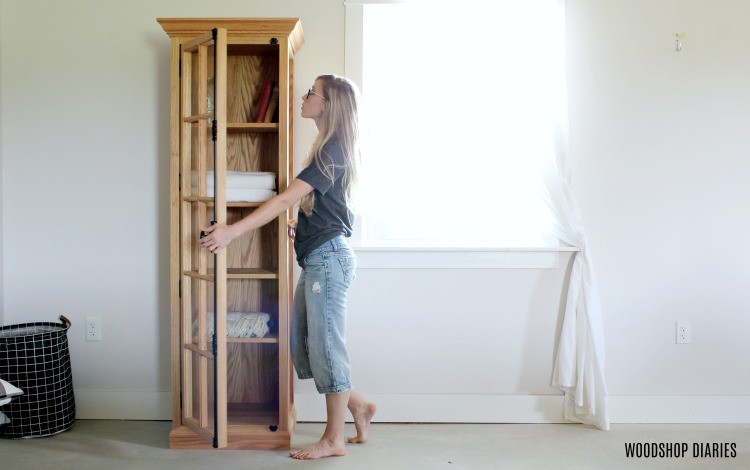 And if you want to browse my projects, tutorials, and building plans, be sure to browse around the projects page to see some of my past work.
.
And follow along by email newsletter or on your favorite social platform (YouTube, Instagram, Facebook, Pinterest, TikTok) to catch all the upcoming shenanigans 🙂
.
So, until next time, happy building 🙂