In this post, I'll show you how to finish raw wood furniture by painting, staining, or using a clear coat finish!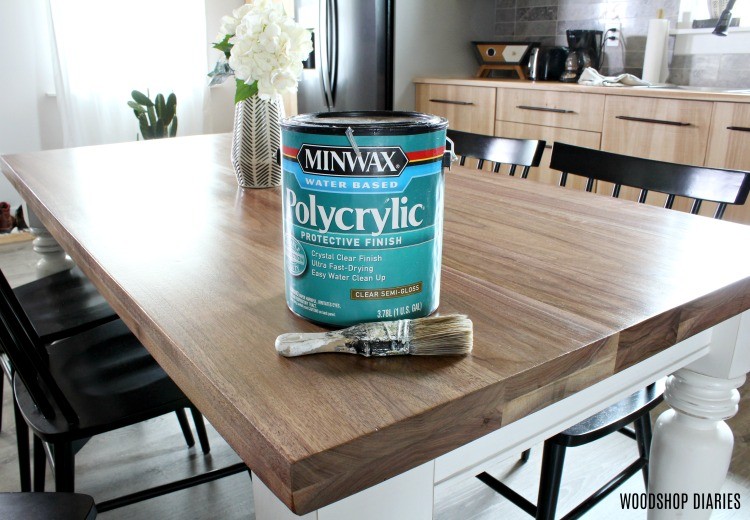 If you are familiar with Woodshop Diaries, you know that I provide lots of furniture building tutorials and tips.
.
But, once everything is assembled, finish can make or break your DIY project. As much as I hate to say it, a proper finish is a pretty important part of the build.
.
Now, in all honesty, finishing furniture is my least favorite part of the DIY process. So, I don't overcomplicate it and I follow the same easy process every time to achieve great results 🙂
.
So I want to share that simple, easy process with you. This post contains affiliate links. See policies.
Types of Finish for Raw Wood Furniture
Now, as I just said, I don't necessarily enjoy the finishing process, so I don't get super fancy here. The main types of finish I use on my projects are:
There are a TON of finishing products out there, glazes and top coats, complicated mixtures. You can get as fancy as you want. But in this post, I'm keeping it simple with just these three basic finishes.

Do You Need a Sprayer?
I've been told for years to get a paint sprayer. "It would make the painting process so much quicker," they say.
.
While it would speed up the painting process, it's also a PAIN in the butt to clean (I did try it once) and you have to water down the paint properly and tape everything off and set up a booth to prevent overspray and I'm lazy.
.
I'd rather take my time with a brush and roller for the same results than spend hours taping and cleaning.
.
Sprayers are amazing. If you want to spray, that's totally fine and you may love it. But if you aren't interested in investing in a sprayer (they're a little pricey), or are lazy like me, you CAN DEFINITELY get nice finish results without one.
How to Paint Raw Wood Furniture
My process for painting raw wood furniture is three basic steps:
Sand
Prime
Paint
The keys to getting a smooth paint finish is to start with a smooth surface (sand), apply a primer (primer allows the paint to go on more evenly), and use a high quality paint and applicator. A good paint and a good brush will allow the paint to level out as it dries to give a smooth finish even without a sprayer.
What you'll need:
220 & 400 grit sandpaper
Paint trays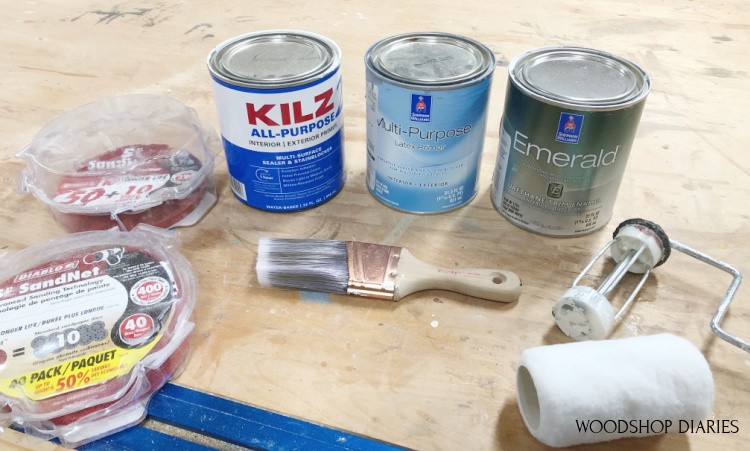 PLEASE NOTE: The process for finishing interior vs. exterior furniture pieces is the same. However, the products are different. If you are painting a piece for use outdoors, make sure to use an EXTERIOR primer (like KILZ 2) and an EXTERIOR paint (just tell the paint people you need it for exterior and they should get you taken care of).
.
If it's okay for use outdoors, the can will specify "exterior."
SAND, SAND, SAND
Hear me when I say this: Without sanding, your finish will suck. I pinky promise.
.
Before even thinking about finishing, sand your entire piece (everywhere the finish will go) to at least 220 grit. If you aren't familiar with sanding, check out part 1 of this guide to more professional looking furniture.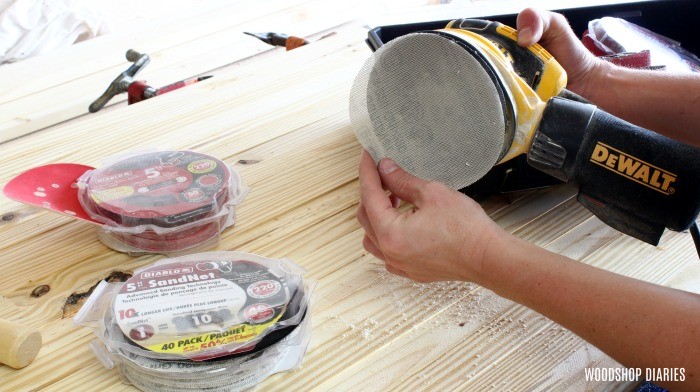 Once your piece is sanded smooth, you aren't done sanding. You will need to sand between coats of finish. More on that in a second.
.
Remove all the dust after each sanding!
Don't Skip Primer
Raw wood is thirsty. It will "soak in" whatever you put on it.
.
So if you are painting raw wood, do not skip the primer. Primer seals the raw wood so that it doesn't soak in the paint when you apply it. This gives you a much smoother and less blotchy paint coat–and let's you use a lot less of it.
.
I like using Sherwin Williams Multi-Purpose Primer and I get them to tint it a light grey color (the exact color doesn't matter, the grey just provides better coverage). But, I also use Kilz 2 Primer as well. Both work great.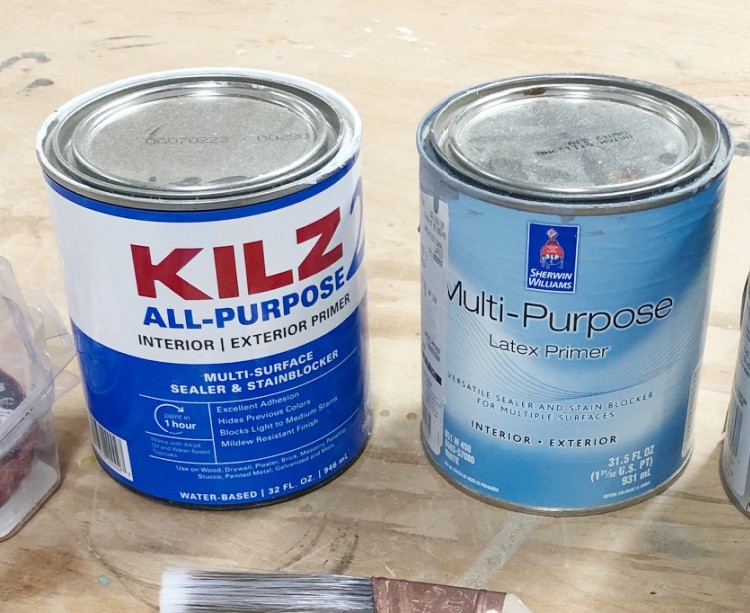 To apply, I use a small roller frame and a ⅜″ nap roller. You can use any brand paint roller, just don't cheap out on the rollers. Some of the cheaper ones will leave lint behind. NOTE: You can use foam rollers if you want, but I personally don't like them.
.
Apply primer in a thin coat, rolling it on smooth.
.
For tight corners that you can't reach with the roller, use a HIGH QUALITY paint brush made for latex paints. Smooth over any brush strokes you can with the roller.
.
Water based (latex) finishes will soak into the wood and cause the grain to raise leaving a rough feel after it's applied. So if you are using water based primer, remember to sand down the grain with 220-400 grit sandpaper (I usually just do a quick hand sanding) before applying the paint coat.
.
Remove the dust from sanding and if desired, apply a second coat of primer. I usually do only one coat, but a second coat is good for pieces that need a little extra durability or that will be painted a light color.
Finish with Paint
There are a million opinions and a million products out there for paint choices. Personally, I prefer Sherwin Williams Emerald paint for my nicer furniture pieces. But, no matter what brand or line of paint you choose, just don't cheap out this far into the project…trust me 🙂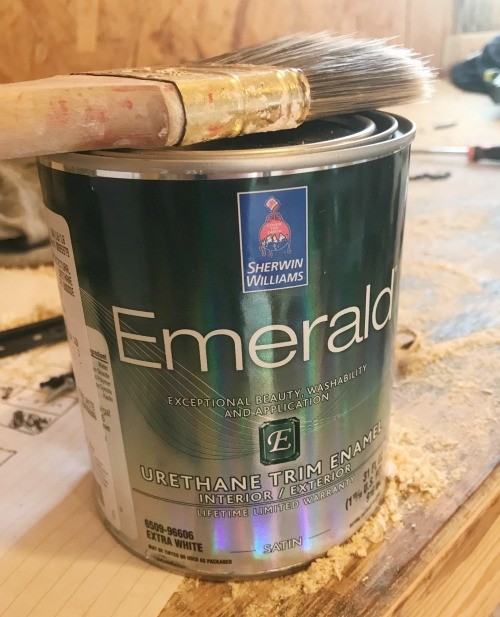 Paint comes in different sheens–flat, satin, semi-gloss, and gloss. Personally, I'm a fan of semi-gloss. BUT, any sheen works fine.
.
Once the primer is completely dry to the touch, I apply the paint just like the primer–with a brush and a roller.
.
Apply thin coats of paint and allow to completely dry before applying additional coats.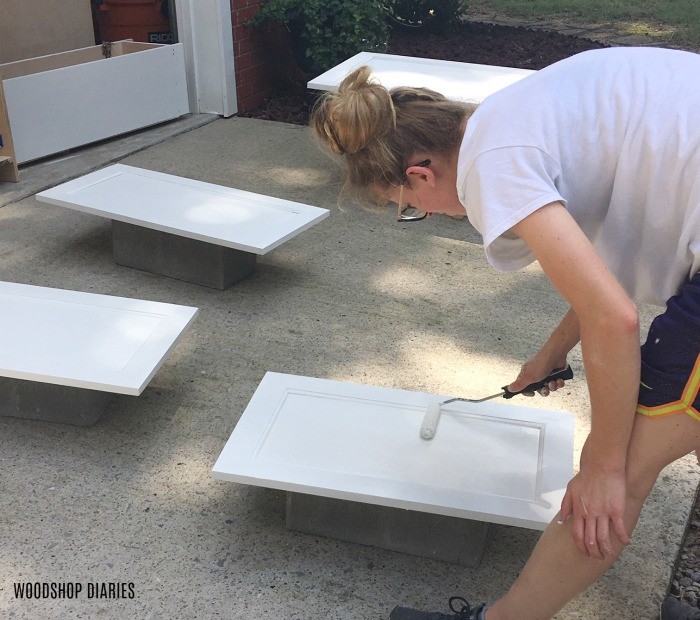 For a smoother finish, it's best to sand between EACH coat using 400 grit sandpaper.
.
I usually apply 2-3 coats of paint (I apply the next coat when the previous coat is dry to the touch) then allow to completely cure according to the instructions on the label.
.
For an extra layer of protection, you can apply some clear furniture wax or a clear coat poly over the top of the paint if desired. I don't usually do this, but it is an option if you wanted to.
A Few Notes About Painting
Keep in mind that while paint will cover a multitude of sins, it will also expose some "sins" in your project if you aren't careful.
.
Paint can't fill in or hide gaps in your pieces. So, before painting, be sure to putty, caulk, or fill any gaps for a smoother, cleaner finish.
.
Check out part 4 in this guide to professional looking DIY furniture for more information.
.
Another consideration when painting–cold or humid conditions will cause paint to dry slower, while warm or dry conditions will cause it to dry faster. It's best to avoid extremes one way or the other.
.
Sanding between coats allows you to smooth out brush strokes and gives a smoother finish. You may be tempted to skip sanding, but your finish will suffer.
How to Stain Raw Wood Furniture
My process for staining raw wood furniture is three basic steps:
Sand
Stain
Poly
What you'll need:
220 & 400 grit sandpaper
Stain rag and gloves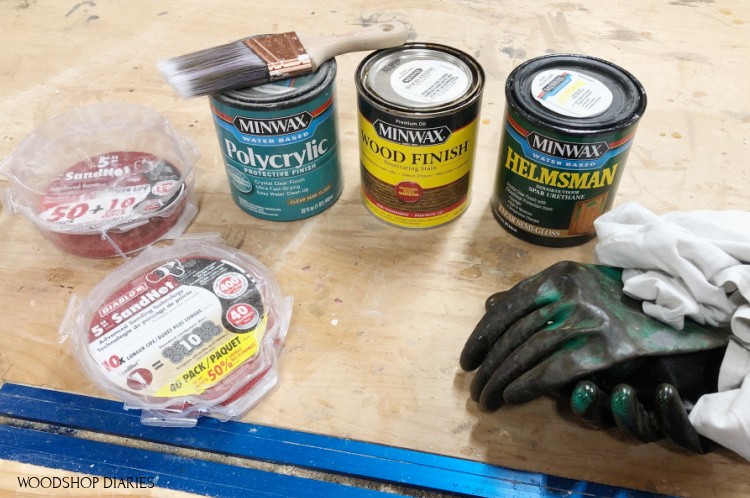 PLEASE NOTE: If you are staining an OUTDOOR project, you CAN use an indoor stain as long as you cover it with an outdoor sealer. However, both are likely to fade over time.
.
For outdoor pieces, I recommend using an outdoor stain and sealer mix (like a deck stain) as these typically last longer and can be easily reapplied as needed.
Sand Before Staining
Just like with paint, it's still important to sand before staining as well.
.
Sand your entire piece EVENLY to at least 220 grit WITH THE GRAIN. It's important to sand EVENLY as uneven sanding can result in uneven staining.
.
So, don't sand one spot for twenty minutes and another for just 5 seconds. Make sure it's all evenly sanded nice and smooth.
.
Also, sand with the grain! If you sand against the grain, you will see lines going across the grain after you stain. If this happens, resand this area WITH the grain to help hide/cover/remove these scratches.
Apply Stain
I have never used wood conditioner. Some people say you must apply wood conditioner before stain. It helps prevent blotchy-ness. But, personally, I've never used it, so I can't speak for it. I just apply stain directly to the wood.
.
There are TONS of stain options out there. I personally like to keep things more of a natural color, so I go with Minwax Wood Stains or Varathane Wood stains.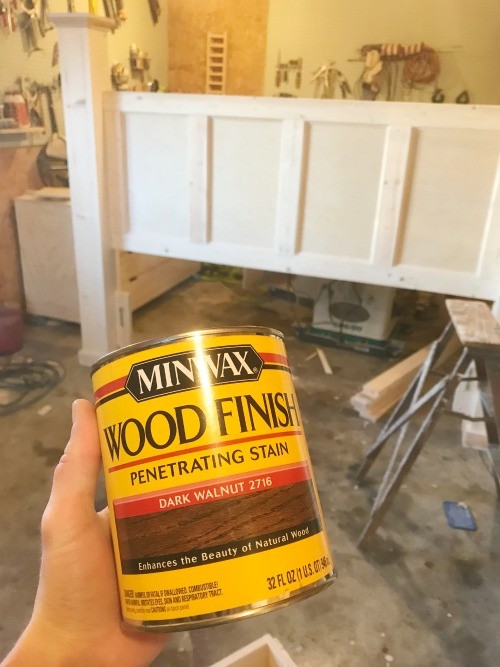 They make both water and oil based stains. PERSONALLY, I stick with oil based stains, but if you prefer a water based option, those work well, too.
.
Stain is absorbed into the wood when applied, so it's not critical HOW you apply it. You can use a cheap paint brush, a foam brush, or (my personal favorite) an old t shirt or rag.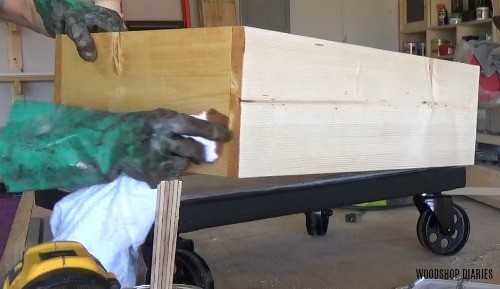 If you use an old t shirt or rag like I do, I recommend using gloves as the stain can and will soak into your skin and is sometimes difficult to remove.
.
Simply apply the stain to the surface, let it soak in according to the directions on the can, then wipe off any excess that is left on the surface with an old rag or t shirt. Make sure to stir the stain before applying–read the instructions on the can.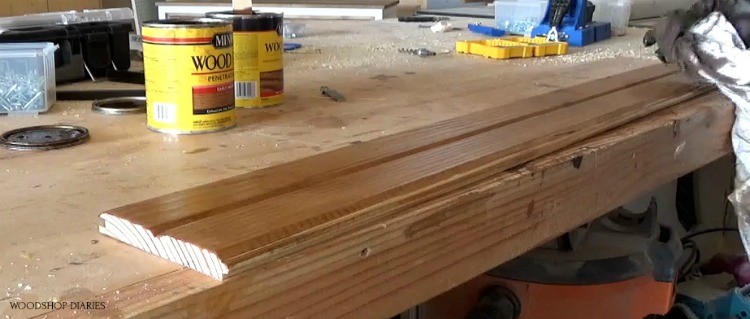 For a deeper or richer color, you can apply multiple layers, but usually one is plenty.
Apply a Clear Coat
Once the stain is dry, I add a clear coat to protect the finish and brighten the grain.
.
You could use waxes or oils, but when I use stain, I like to seal it in using a poly. For indoor projects, Minwax Polycrylic works well and for outdoor projects or projects that will be exposed to water (like countertops or vanity tops), I use Minwax Water Based Helmsman.
.
Follow the directions on the can and stir well before applying.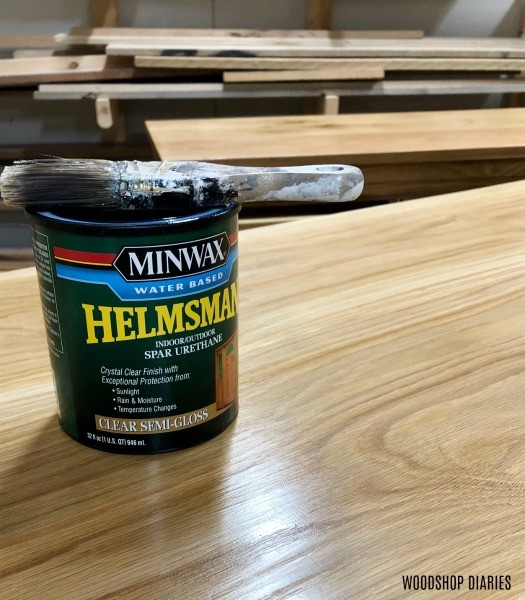 I apply it with a high quality paint brush sanding between every coat (just like with paint) with 400 grit paper. I usually apply 3-4 coats over stain.
.
You can learn more about finishing table tops with poly in this post.
.
As time goes on and the finish wears, you can reapply a fresh coat of poly by cleaning (remove any grease or dirt) and sanding the surface evenly with 400 grit sandpaper and applying 1-2 coats as needed.
How to Apply a Clear Finish to Raw Furniture
If you want to leave your piece a more natural color with just a clear, protective finish, there are a lot of great options.
.
The first is to simply follow the steps for staining and just skip the stain part. Just sand and apply a clear coat poly. That's what I did for this DIY Basic Shelf with Drawers project.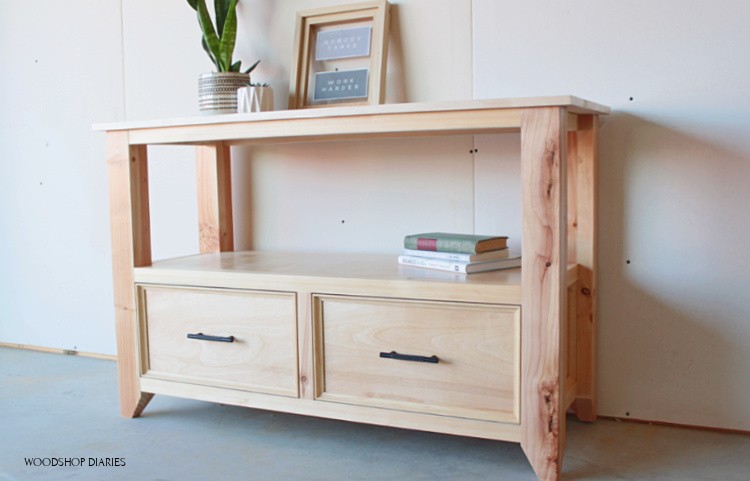 A poly is a sealant and will provide a hard, clear, protective layer over the wood. It can be reapplied over time as needed after a proper cleaning and light sanding.
.
For outdoor projects, an outdoor sealant like Minwax Helmsman works well as it "seals" the wood with a protective coating and blocks out water and moisture from absorbing into the wood.
.
But, there are also some oil options–like Danish oil that I used on my DIY modern poplar bed frame. Danish oil comes in a natural (clear) color, or you can get it slightly tinted. You simply wipe it on with a rag or old t shirt and let it soak in.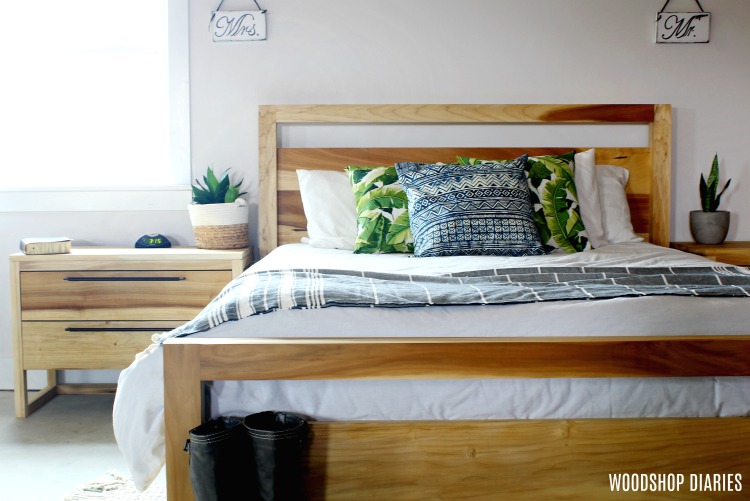 You can reapply most oils at any time by simply removing any dust on the surface and simply recoating. Since oils absorb into the wood, you can just wipe on where needed.
.
Oily finishes can sometimes leave the surfaces somewhat greasy depending on the type of oil used. Some oils will harden over time, but others won't. Danish oil won't stay greasy, but mineral oil will.
.
If you want a nice buttery wax-like finish that won't stay greasy, I've been using Walrus Oil Furniture Butter on some projects lately–like this 5 drawer dresser. It's extremely easy to apply–simply wipe on and buff in with an old rag or t shirt.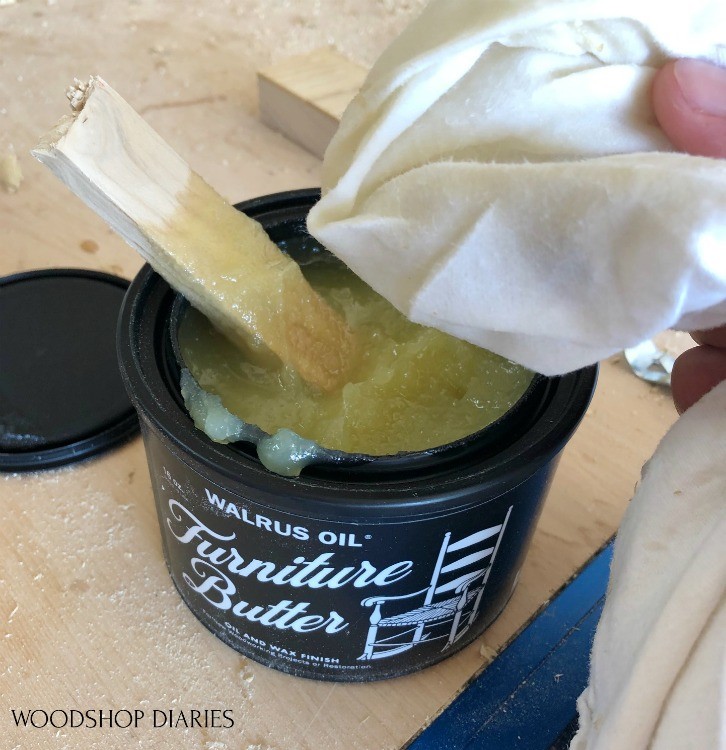 It leaves a soft, matte finish that can be easily reapplied as needed as it wears off.
.
That was a long post! I hope it was helpful. Finishing raw wood furniture is a critical part of the DIY process, BUT it's not rocket science and doesn't need to be overcomplicated.
.
There is no "right" or "wrong" way to finish raw wood furniture and there are many methods to achieving the same results.
.
If I had to sum this post up in a nutshell, I'd say never forget to sand, use high quality applicators, make sure you're using the proper interior/exterior products and don't skip primer 🙂
.
If you found this post about how to finish raw wood furniture helpful, be sure to check out the "Getting Started" page here for more helpful tips and ideas to get you started with the basics.
.
And if you want to save this post for later, be sure to pin it!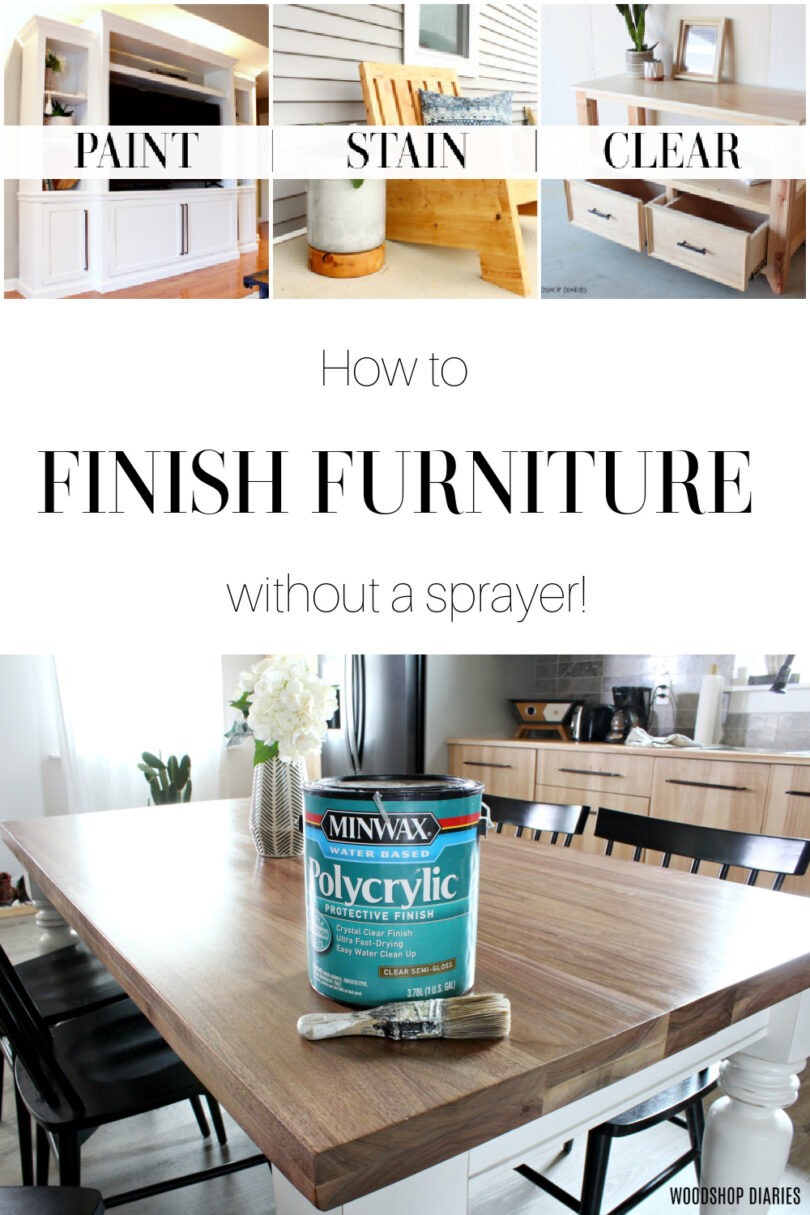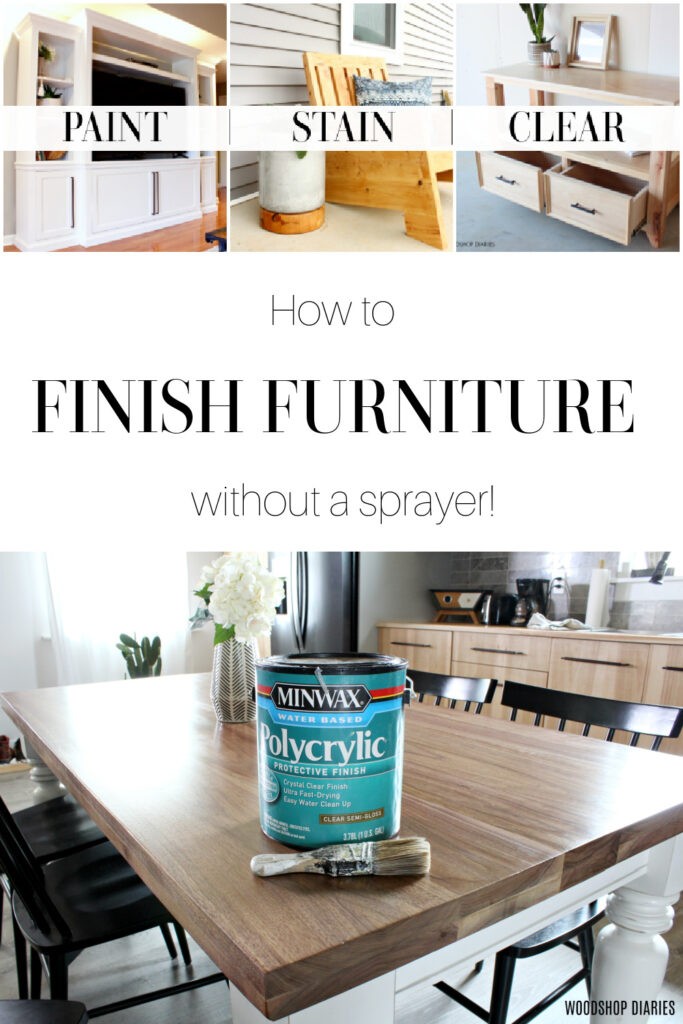 Until next time, friends, happy building 🙂