If you've ever wanted to get started woodworking, but are overwhelmed with what tools you REALLY need, this is the post for you.  Today, we are talking tools–the five basic tools you need to get you started with woodworking.  And you can buy all five for about $500 total!!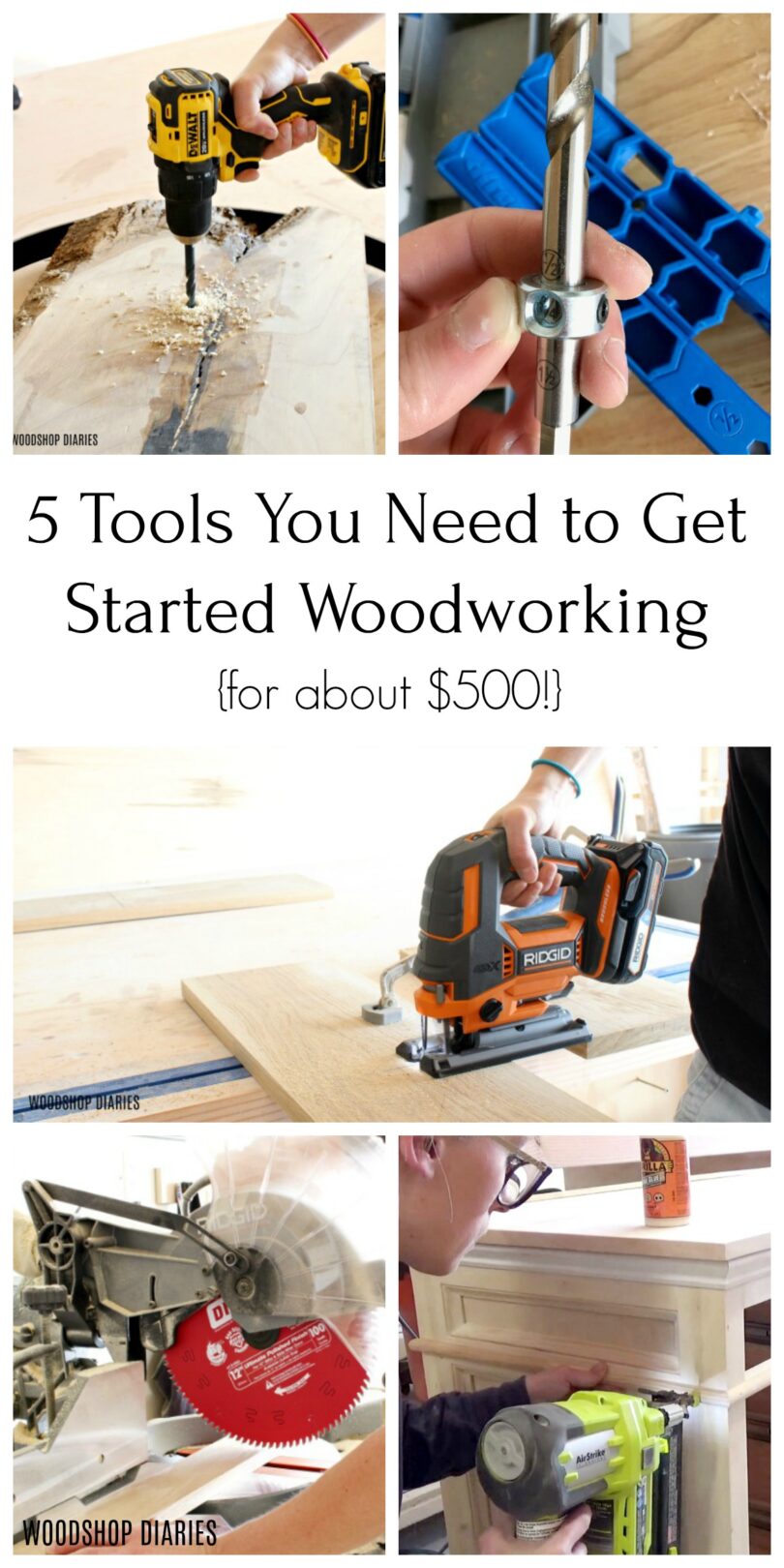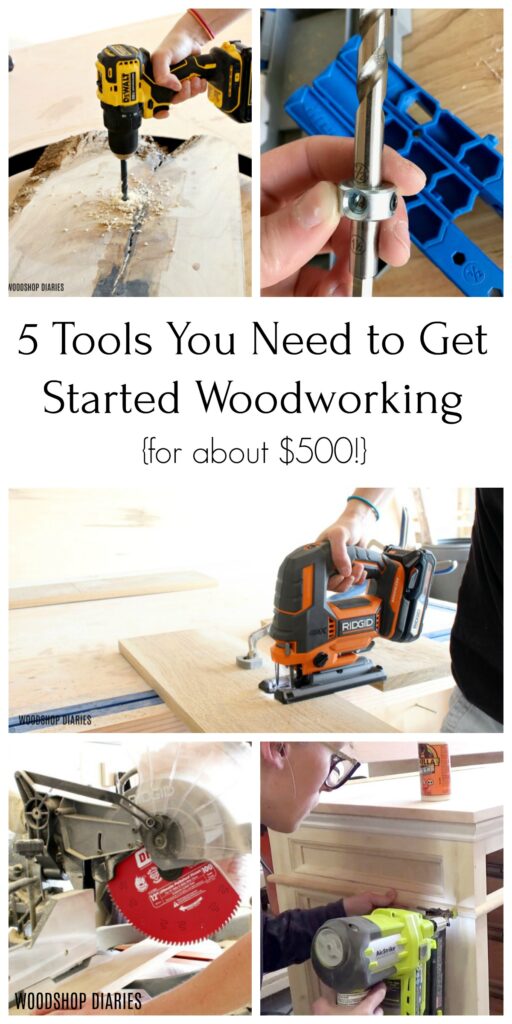 I'm going to share with you the exact tools I used to get started, the pros and cons, and what I'm using now.
,
Before I give you my list, I am assuming that you already have a tape measure, screwdriver and a hammer–those kind of basic tools everyone should have lying around the house.  If you don't have these, they are a few bucks each and WELL worth the investment.  Definitely grab those first, then proceed with the following 🙂
.
In order of (in my own opinion) importance, here are the five basic tools that will give you the most bang for your buck when you are starting out.  This post contains affiliate links for your convenience.  I am only linking to products that I personally use and recommend.  See disclosure policy for more details.
1. Jigsaw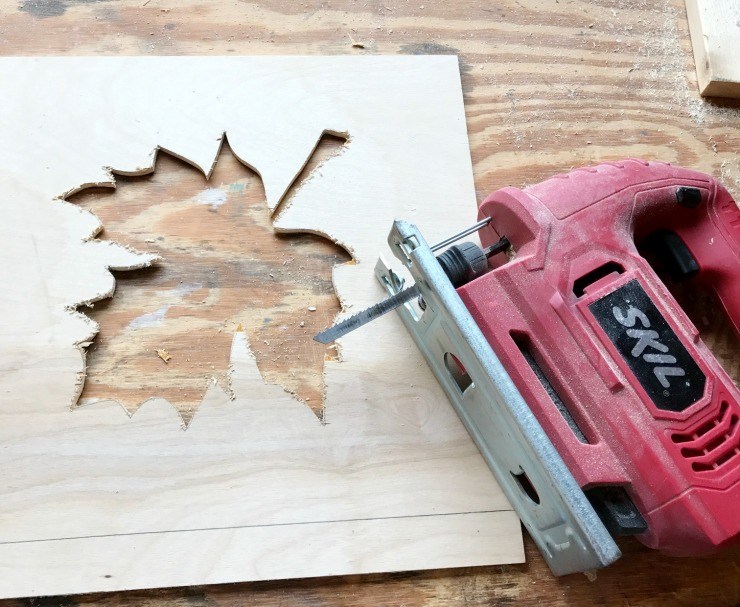 The first power tool I ever purchased was a jigsaw. I have no regrets about that.  If anyone ever asks what tool they should get first, I always recommend a jig saw.  It's cheap, versatile, and you'd be surprised what you can make with a hammer, nails, and a jig saw.  I bought the cheapest one that I could find and it had good reviews.  This is the one I started out on and it served me well for many years.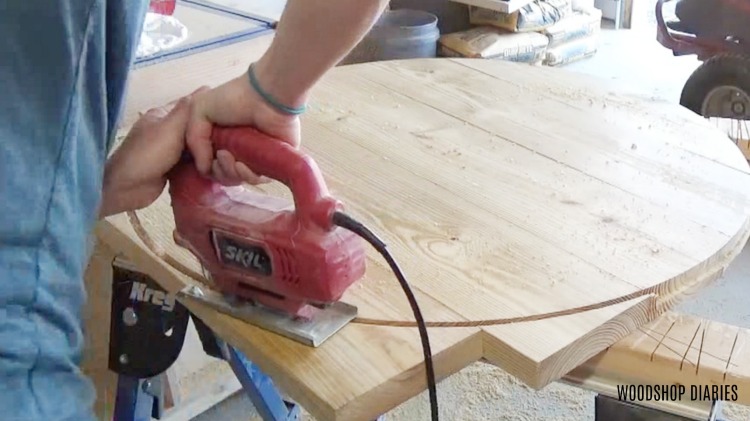 My very first projects were making things from pallet boards. I cut the boards to size using my jig saw.  It's not quite as efficient as using a miter saw, but it got me by for a while with sufficient results.  Even now that I have a miter saw, I still use my jig saw A LOT to make notches, or to cut fun designs like this leaf sign.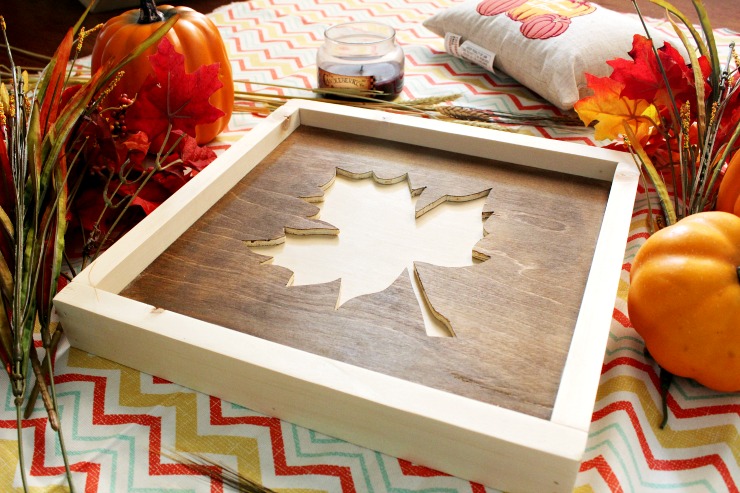 Any cuts that seem a little too dangerous for making on my miter saw, I will use my jigsaw.  It's an EXCELLENT beginner tool and much safer than larger power saws.
.
Although I still highly recommend my first jig saw, I've since upgraded to a battery powered version and also highly recommend it if you're looking to upgrade or ditch the corded tools.  This particular jig saw (tool only) is more pricey, but it's really nice to not worry with a cord and it feels more powerful cutting through hardwoods and thicker material than my old one.
Here are a few fun projects using a jig saw:
2. A Good Drill
Just like a hammer and tape measure, a drill is something a lot of people already keep on hand for small household projects. I started out on a SUPER cheap drill and quickly learned that this was not something to cheap out on.  If you plan to do much woodworking, invest in a quality drill.  It doesn't have to be the best of the best, but do at least get a mid-grade drill.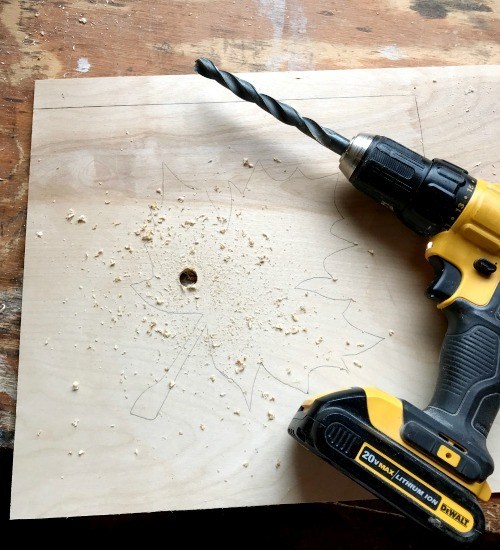 I used this Dewalt 20V drill for YEARS. It's kind of embarrassing how much I loved this drill.  I got so used to having a crappy one, that once I got a good one, I was hooked on it.  While you are getting the drill, don't forget drill bits.  Don't cheap out on those either.  Trust me.  You will use a drill on almost every project, so the investment is definitely worth it.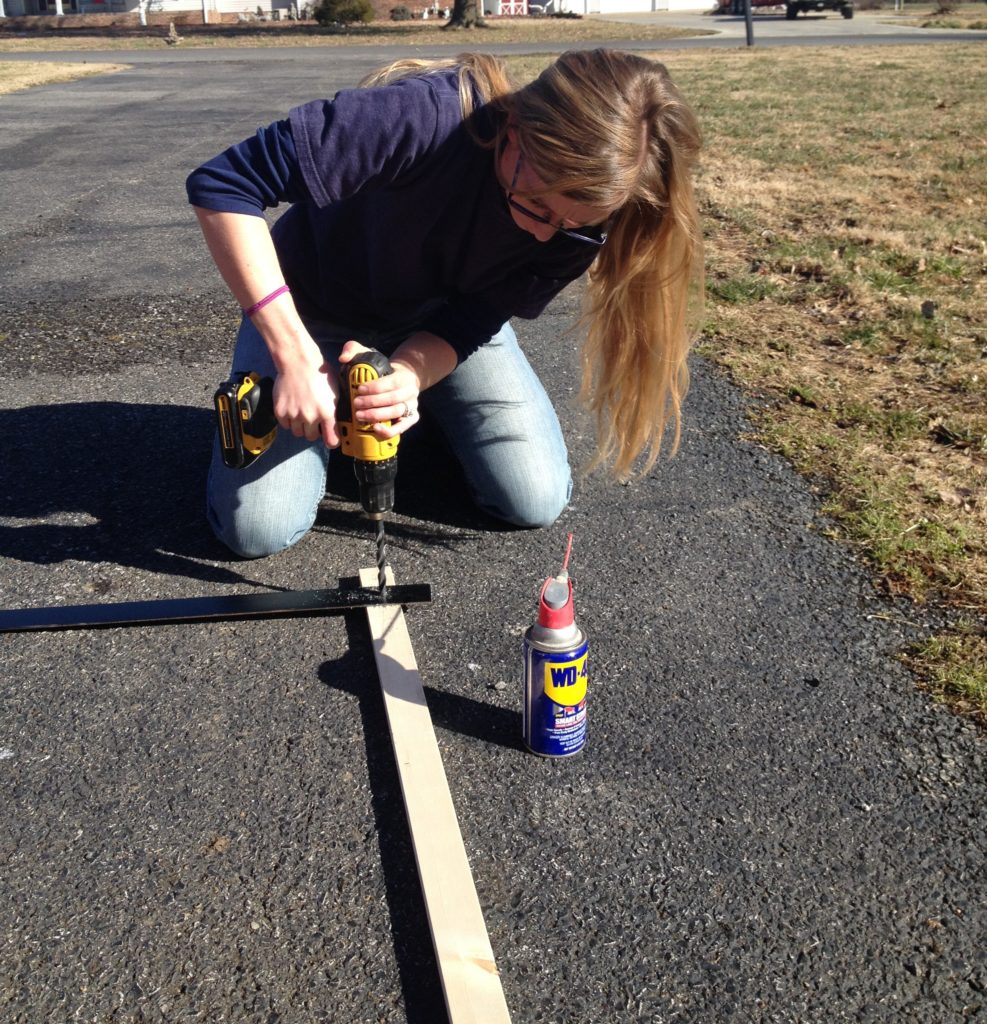 I am still a fan of DeWalt (although I'm a fan of several brands), and they recently came out with a new compact drill that is my absolute favorite.  I swapped out my old drill for this smaller, lighter version and I'm loving it.  I honestly recommend either of these, but this drill is my current go-to choice.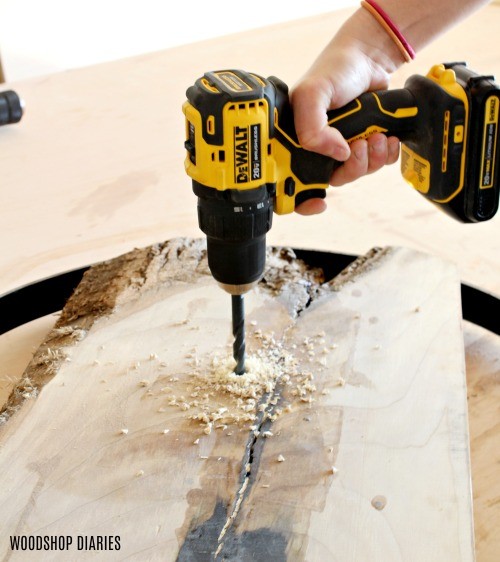 If you're interested in a drill AND a driver, I recommend buying the combo kit as it's cheaper than buying both separately. (PS in case you wonder what the difference is, a drill is for drilling holes–it can also drive screws.  HOWEVER, a driver is sometimes a better choice for driving screws as it's designed to drive and is less likely to strip out)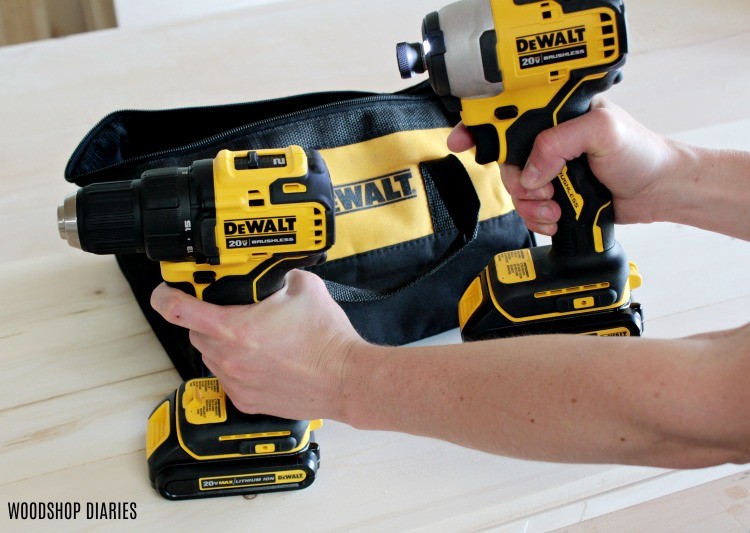 Projects that Use a Drill:
3. Kreg Jig for Pocket Holes
This was actually not one of my first tools, but looking back, I wish it had been. Once I got my Kreg Jig and figured out how to use it, I was able to make a whole lot more projects than I was able to before.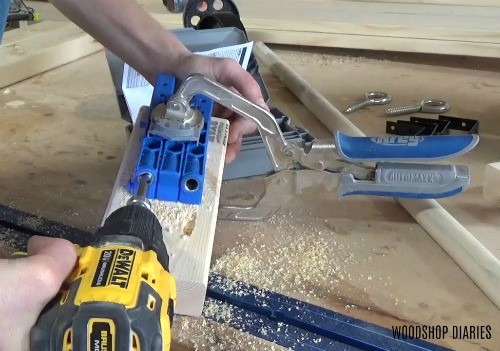 There are a lot of options for Kreg Pocket Hole Jigs—from little bitty to large benchtop mounted jigs. The R3 version I started out on is one step up from the bottom.  But Kreg has since come out with a new 320 jig that I would definitely recommend over the R3 for about the same price. I recommend starting on one of these smaller jigs to make sure you like it—it's easy to use and doesn't take up a lot of workspace.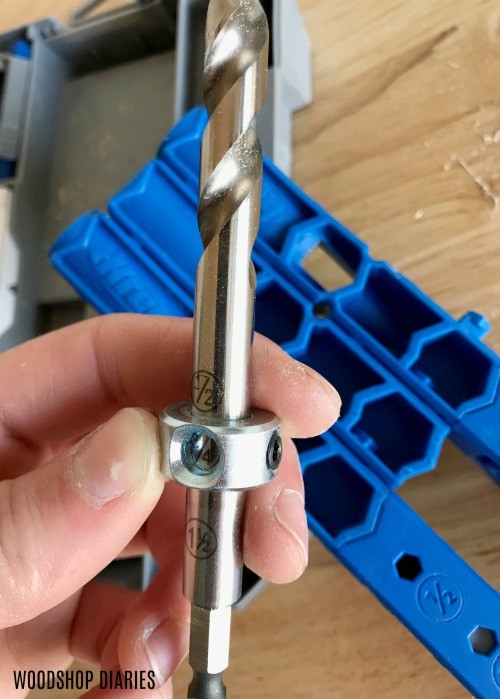 I'm currently using both my 320 jig and a K5 in my shop.  I use these jigs to drill pocket holes for quick and easy assembly of my projects (check out this DIY wooden wagon for more info).  Basically, these jigs allow you to drill what's called "pocket holes" into the end of boards so that you can drive a screw through the hole to attach two pieces of wood together.
.
Projects that Use Pocket Hole Jig:
4. Miter Saw
Oh the miter saw—my most used tool. I mentioned that I started out on a jig saw.  It got the job done fine without the large investment, BUT the miter saw was definitely a game changer.  The cuts were straighter, faster, and cleaner than they were with my jig saw.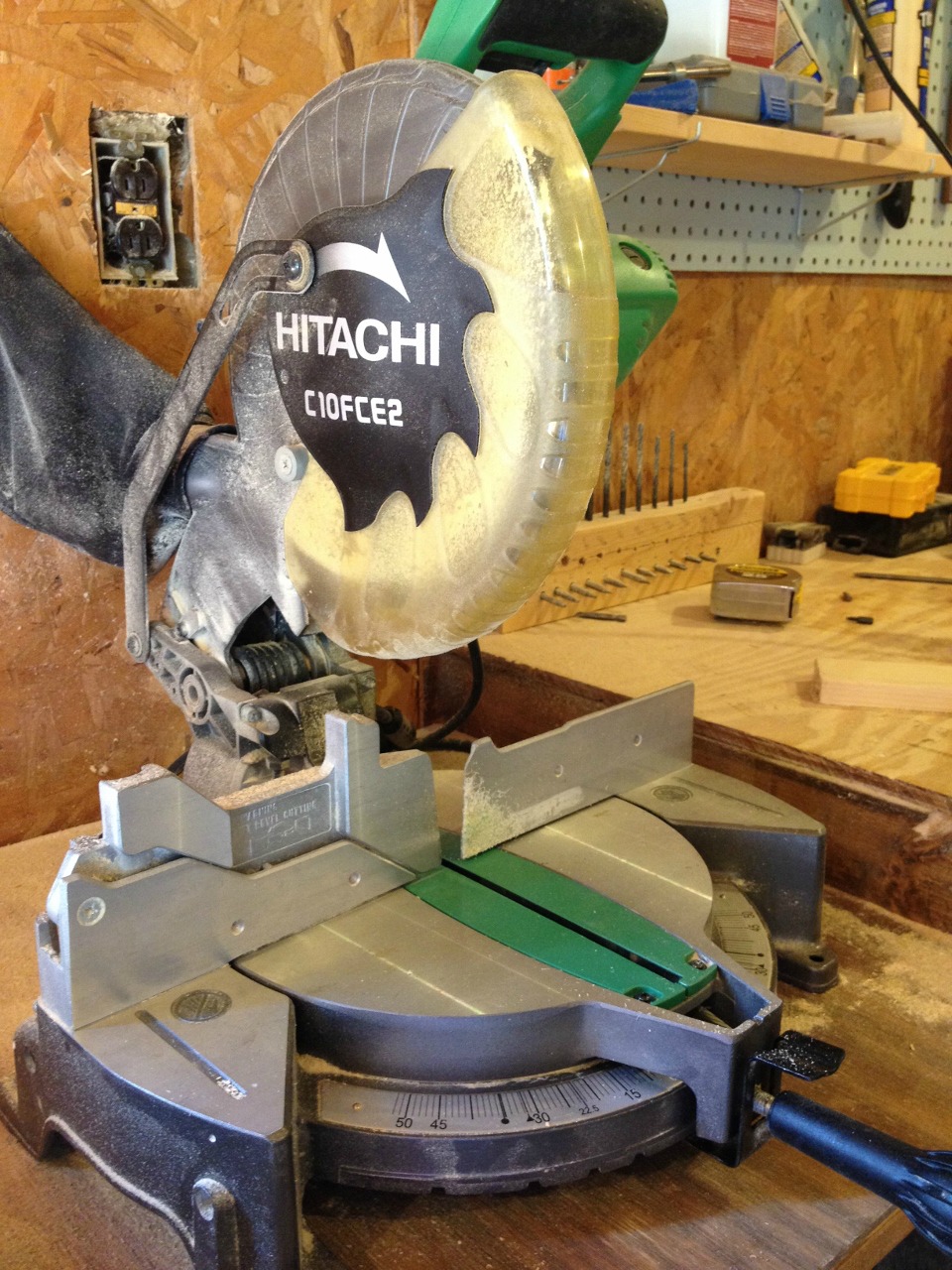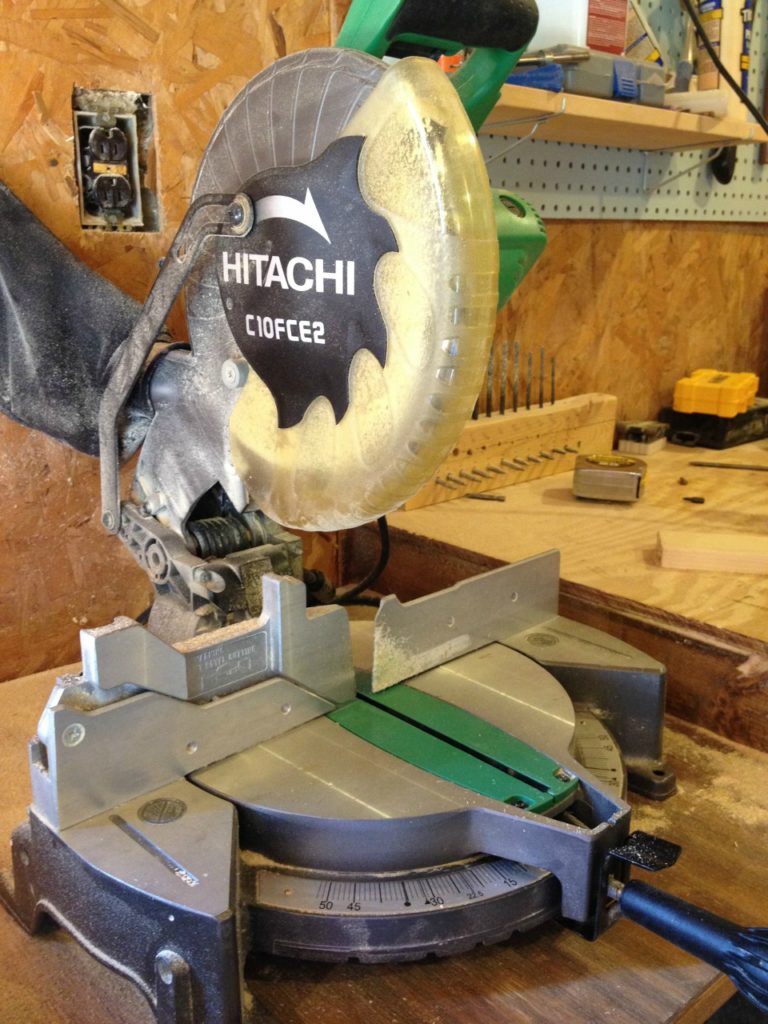 When I bought my first miter saw, I didn't buy the cheapest, but I didn't want to spend a ton of money. I started out with a small Hitachi. (PS this saw is no longer available, but this is it's replacement) It did a great job.  However, I do kind of wish I had gotten a larger one to start out.  Here's the thing.  I could cut up to a 1×6 board in one pass on my miter saw.  But if I cut any larger than that, I had to flip the board over and cut again from the other side.  That means if I'm making something from 1x8s or wider, I had to make twice as many cuts.
.
I used that saw for several years, but eventually found a sale on this larger Ridgid miter saw on black Friday and decided to upgrade.  I don't regret starting on a smaller saw, but I also don't regret upgrading.  This saw allows me to cut up to 16″ wide boards in one pass.  I also built a miter saw stand for it and it's been a great set up for me.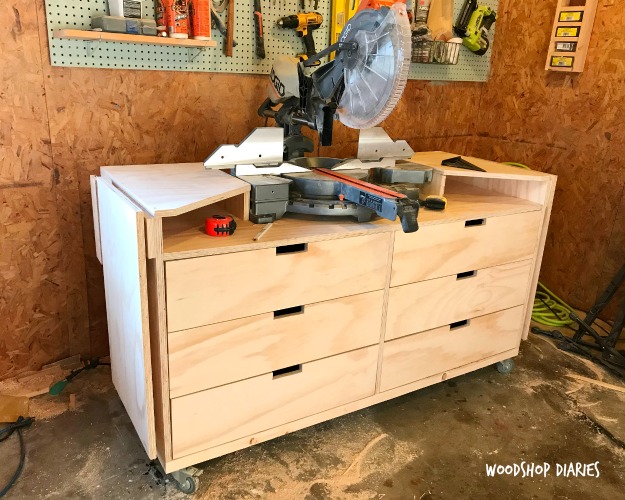 Projects Using Miter Saw:
5. Nail Gun
Last but definitely not least is the nail gun. As far as fun factor goes, this is probably my favorite.  You may not use it on every project, but the ones you do use it on, you will be SUPER glad you have it.
I started out using this Bostitch combo kit with air compressor, stapler, and two nail guns.  It served me well for a while, but the compressor and cord and air hose were SUPER annoying to have to drag around all the time.  So I upgraded to this Ryobi air strike and never looked back.  I HIGHLY recommend skipping the cord with this one and going straight to a battery nail gun.  But, that's just my two cents 🙂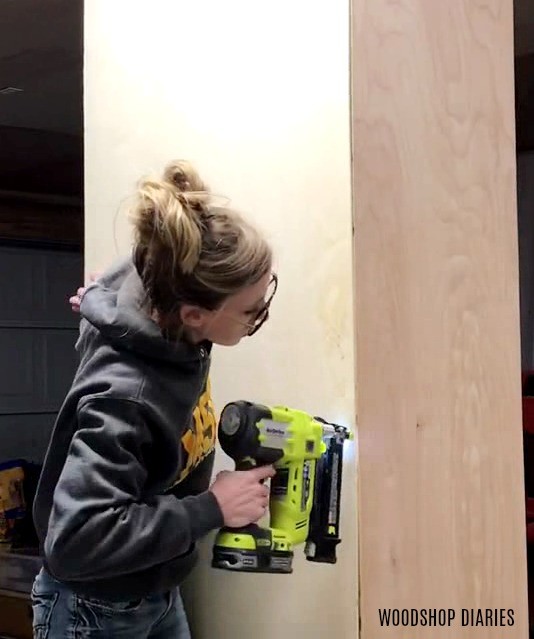 Projects Using Nail Gun:
So, let's add up those costs:
Exact Tools I Started On: (prices valid as of Feb. 2020)
.
Tools I'm Using Now:
So, the tools I used to get started total around $500.  But, I've upgraded over the years and some of those tools are a little pricier–except the nail gun…it was cheaper and I definitely recommend going with it vs. the Bostitch combo kit.
.
Now, I'm not crazy rich or anything. I know that's still a lot of money, but you will be able to make SO many things with just these five tools you seriously won't believe it.  And if you are just starting out, just buy one tool and try it out. You'll be surprised how much you can make with just a jigsaw,  hammer, nails and a screwdriver.  I made tons of stuff!  All you have to do is get started…where there is a will there is a way. 🙂
.
These are just the basics and are definitely my most used tools.  If you already have all of the above tools, check out some of my tool reviews to see what you might want to pick up next.