Am I the only one who has an overwhelming amount of scrap wood…and to do lists??   Let's throw that to do list out the window, and tackle a quick scrap wood project to get our mind off things, shall we?  These DIY guitar shaped scrap wood bookends are legit my favorite scrap wood project of all time.
.
So let's get building 🙂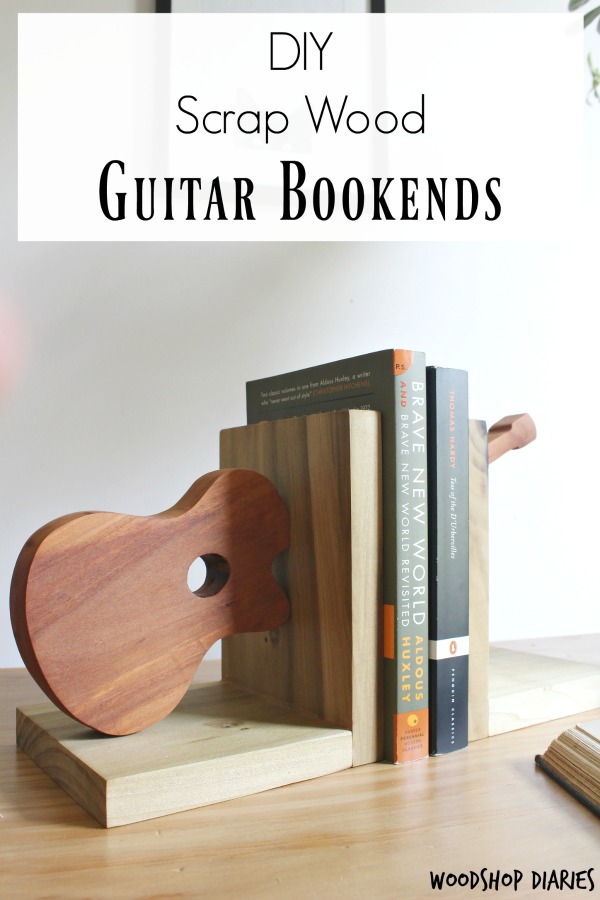 Sometimes when I'm covered up with big projects and every step of the process seems like it's not making much progress, it helps to switch pace and get something done–from start to finish–in just a couple hours.  You guys know what I mean, right??
.
So if you're looking for a quick distraction from those boring adult responsibilities, I've got you covered 🙂  These bookends are SO easy and fun to make.  And the only reason it even takes a couple hours to complete is because the glue has to dry haha.  Otherwise you're looking at a 15 minute project 😉
.
Want more scrap wood project ideas??  Click any of the images below for the tutorial to make them!
What you need to make scrap wood bookends:
Scrap wood
Wood Glue
Miter Saw
Clamps
Drill
NOTE: I made these out of poplar for the actual bookend parts and cherry wood for the guitar.  But if you like the two tone look, you could just stain whatever wood you're using two different colors for the same effect.
Step 1: Cut Out Scrap Wood Guitar
First, I cut down a piece of my scrap cherry wood to about 11″ long.  If you are good at free hand drawing feel free to draw your own guitar–or any design you prefer.  I'm terrible at free hand drawing, so I did a quick Google search and printed off a pattern to cut out and trace onto my board. (I also used it to cut a practice guitar as you see here haha)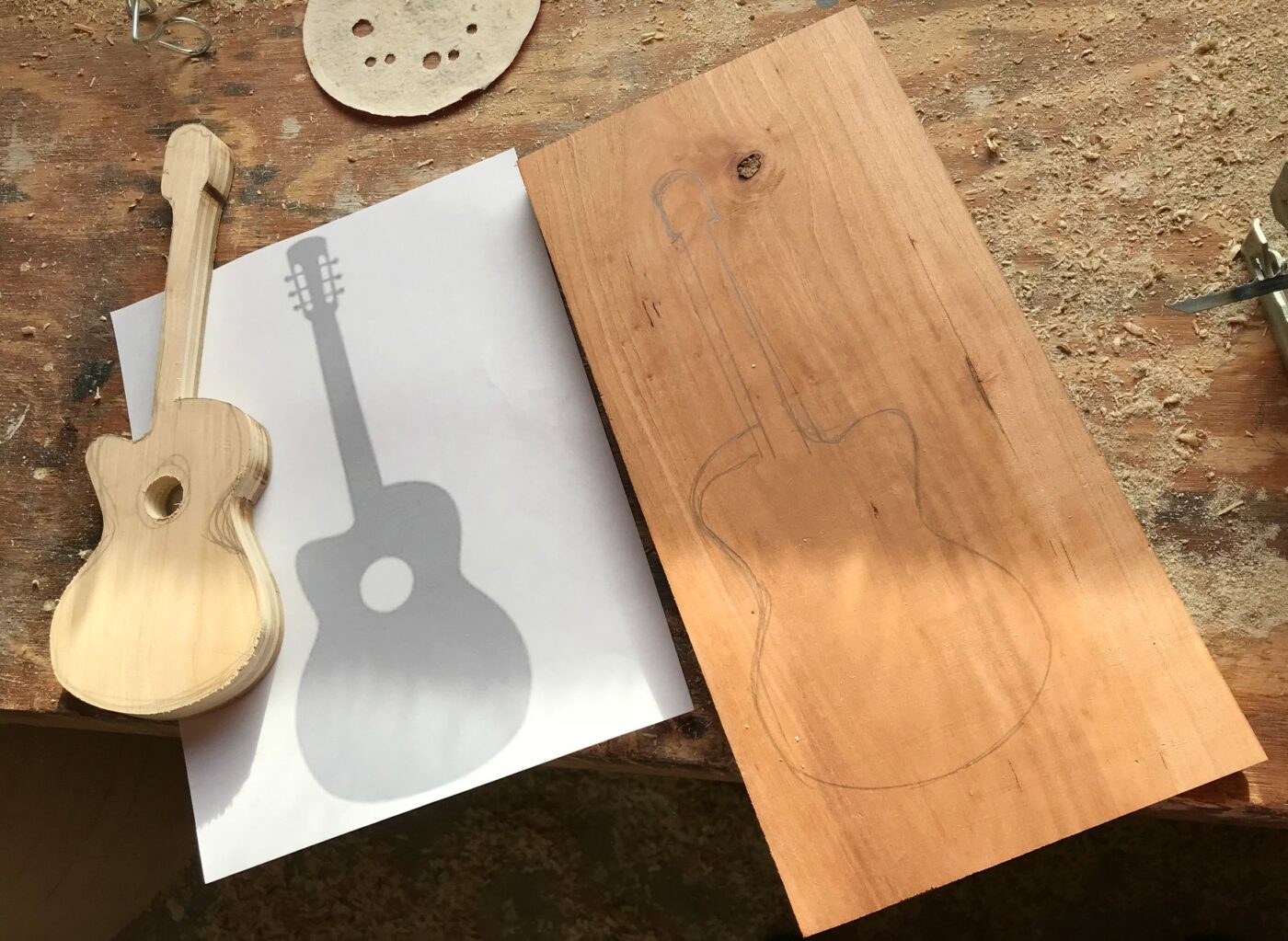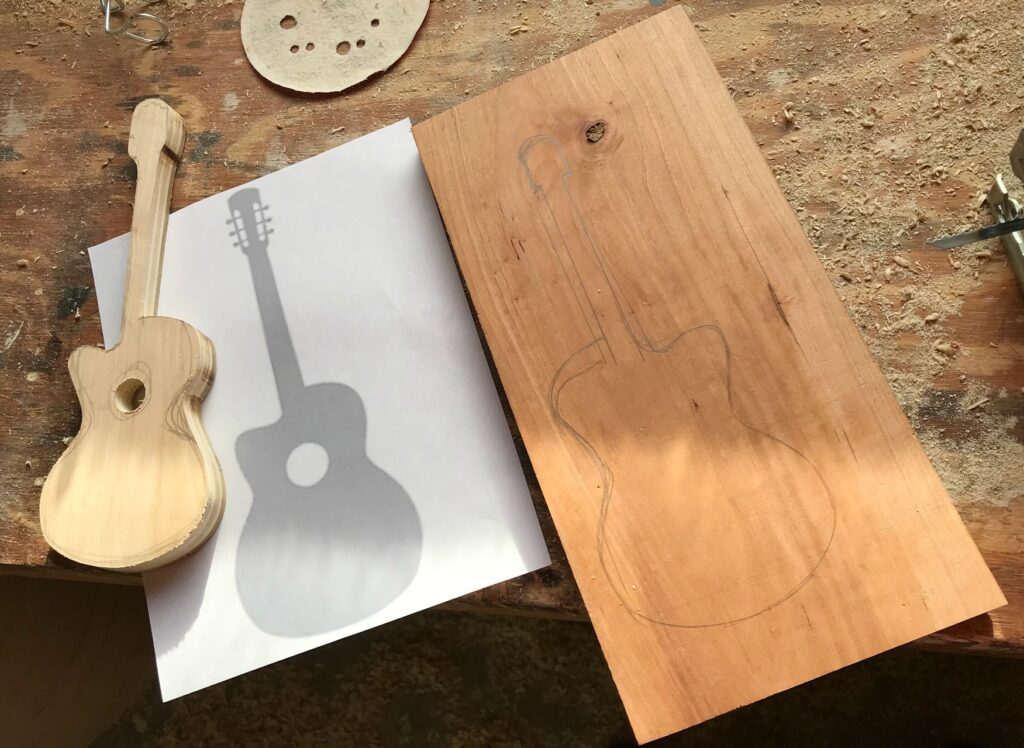 If you aren't familiar on how to do this, simply find an image shape you like and copy paste it into a Word document.  I like Word because it allows me to resize the image to the size I want with the rulers along the top and side of the page.  Then you can print it out and use it as a template.
.
On that note, this doesn't even have to be a guitar at all.  You can make these bookends be anything you want them to be.  Get creative 🙂  Once I had my template, I traced it onto my cherry board and cut it out with a jig saw.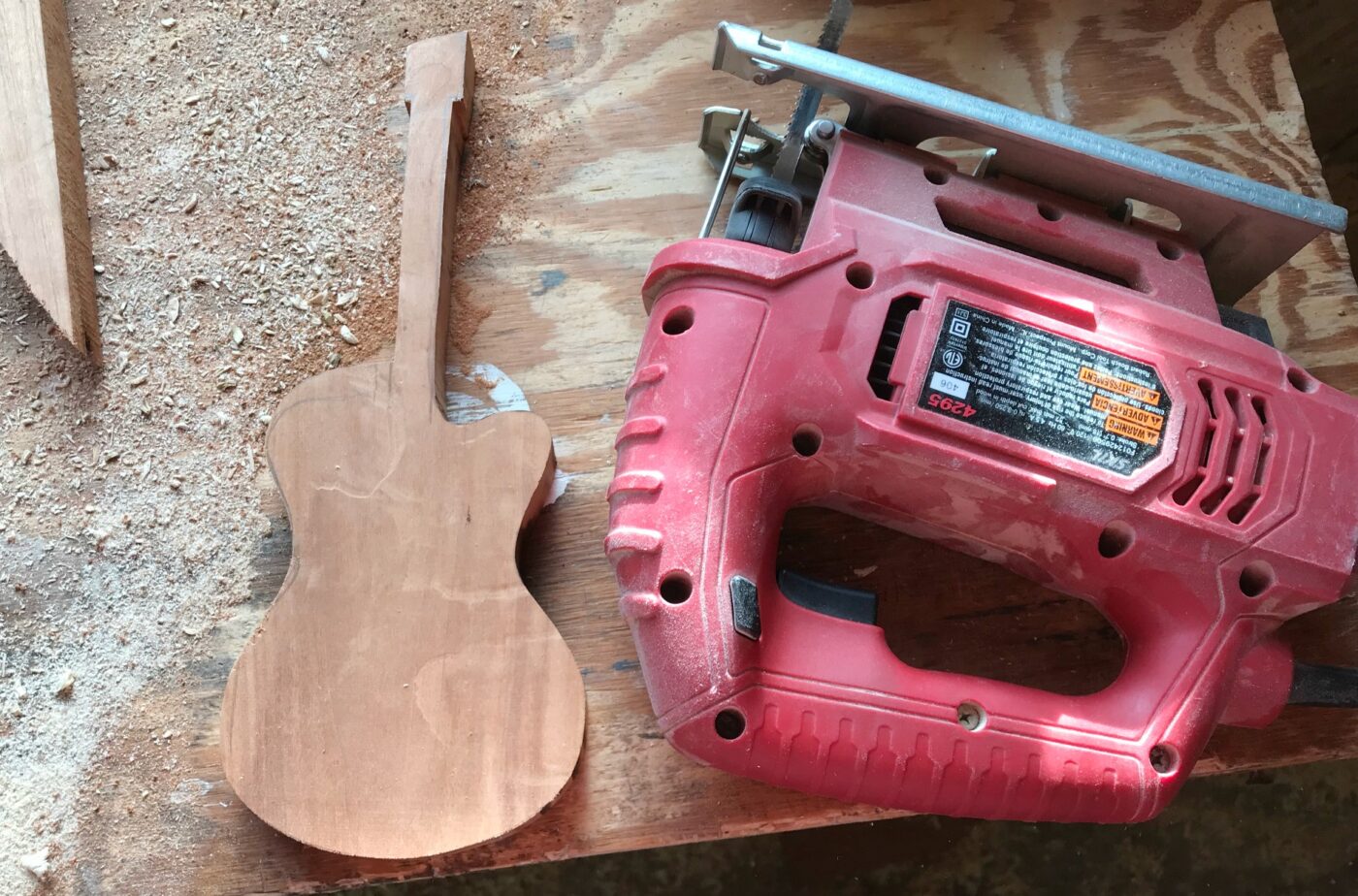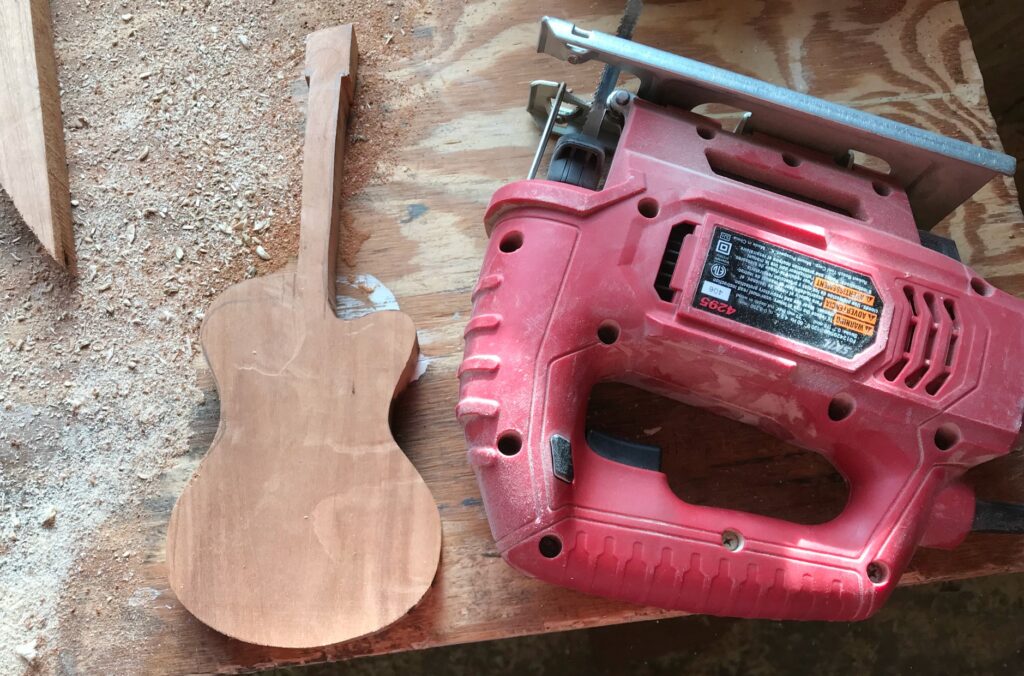 I then, sanded it and used a drill with a large bit to drill a hole in the middle of the guitar.
Step 2: Divide Guitar Between Bookends
Now, since there is a left and right bookend, this guitar has to be divided.  I used a speed square and placed my guitar on top like shown.  Then I used a pencil to draw a line across the neck of the guitar where it stuck off the side of the square.  Everything on the left will be on one bookend and everything on the right will be on the other bookend. (Also that mark on the far right was a mistake…ignore that haha)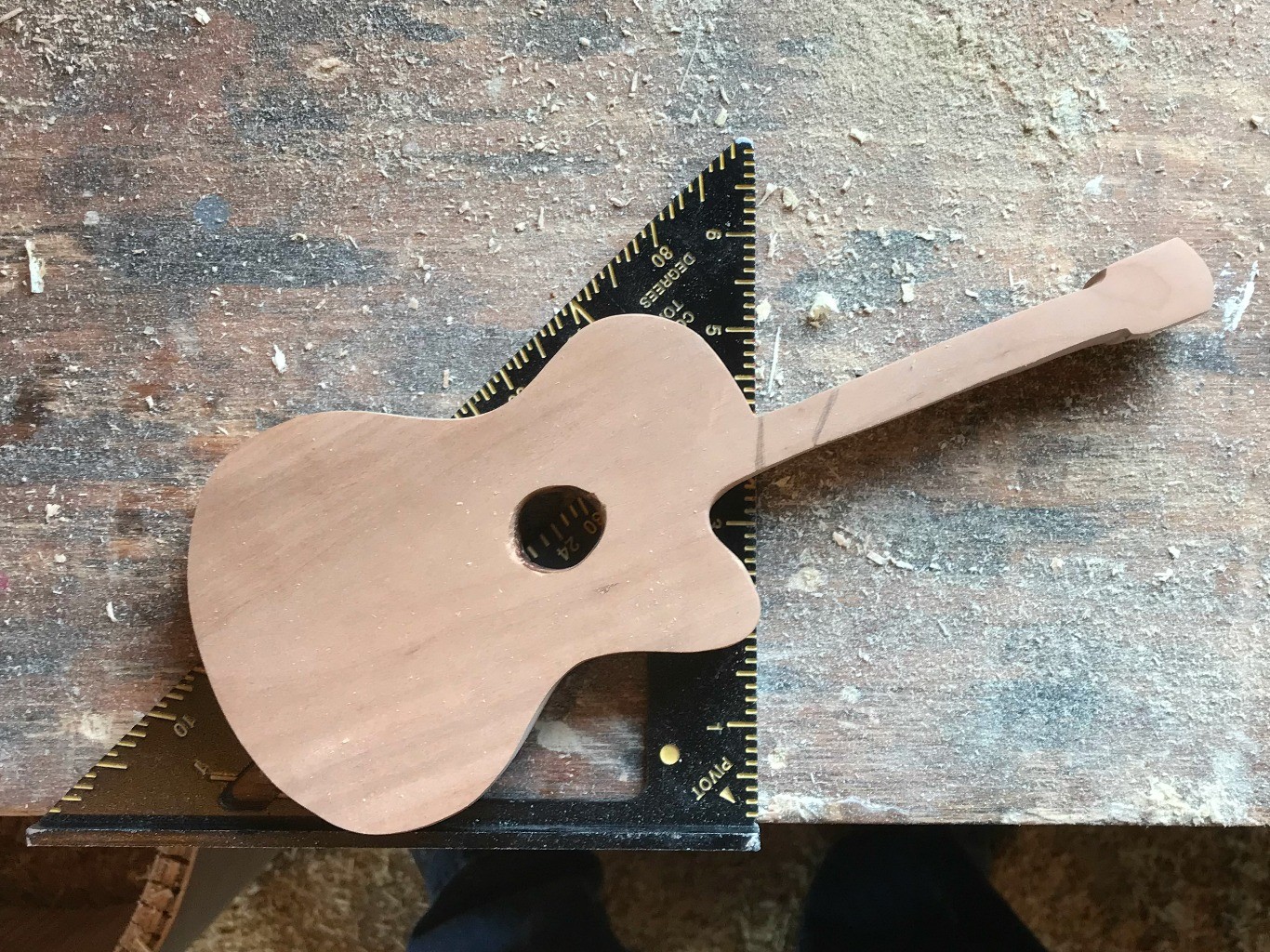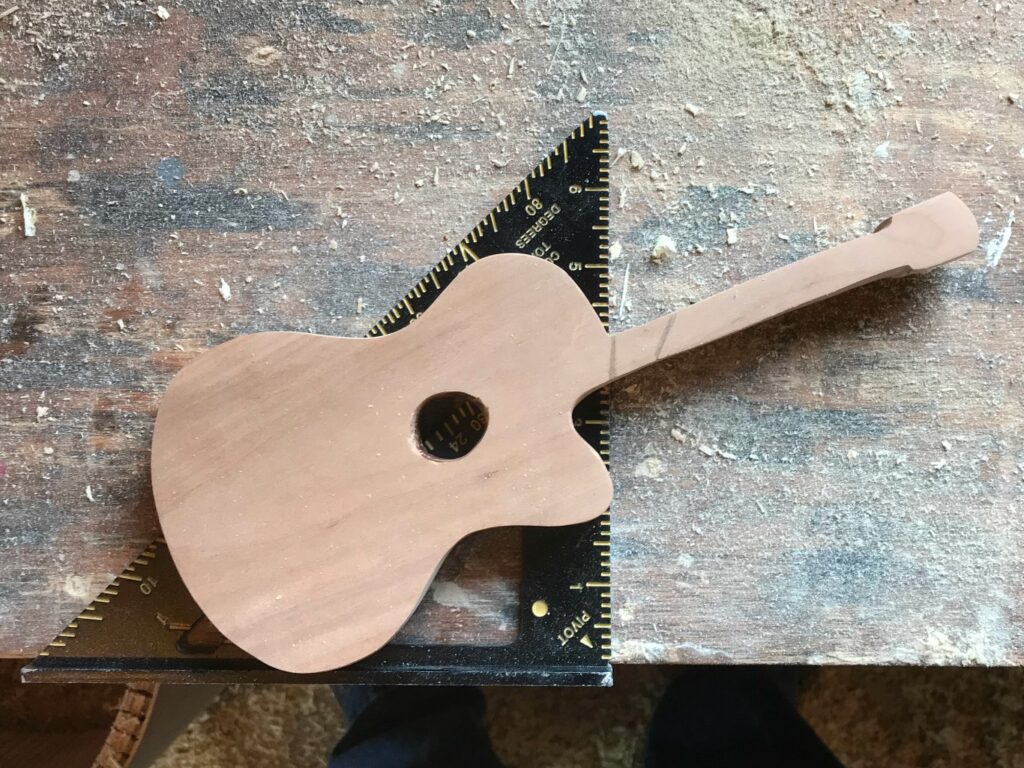 Basically, whether you're working with a scrap wood guitar or something else, you just need to kind of divide it how you want between the two bookends.
.
I used my jig saw again to cut along this line.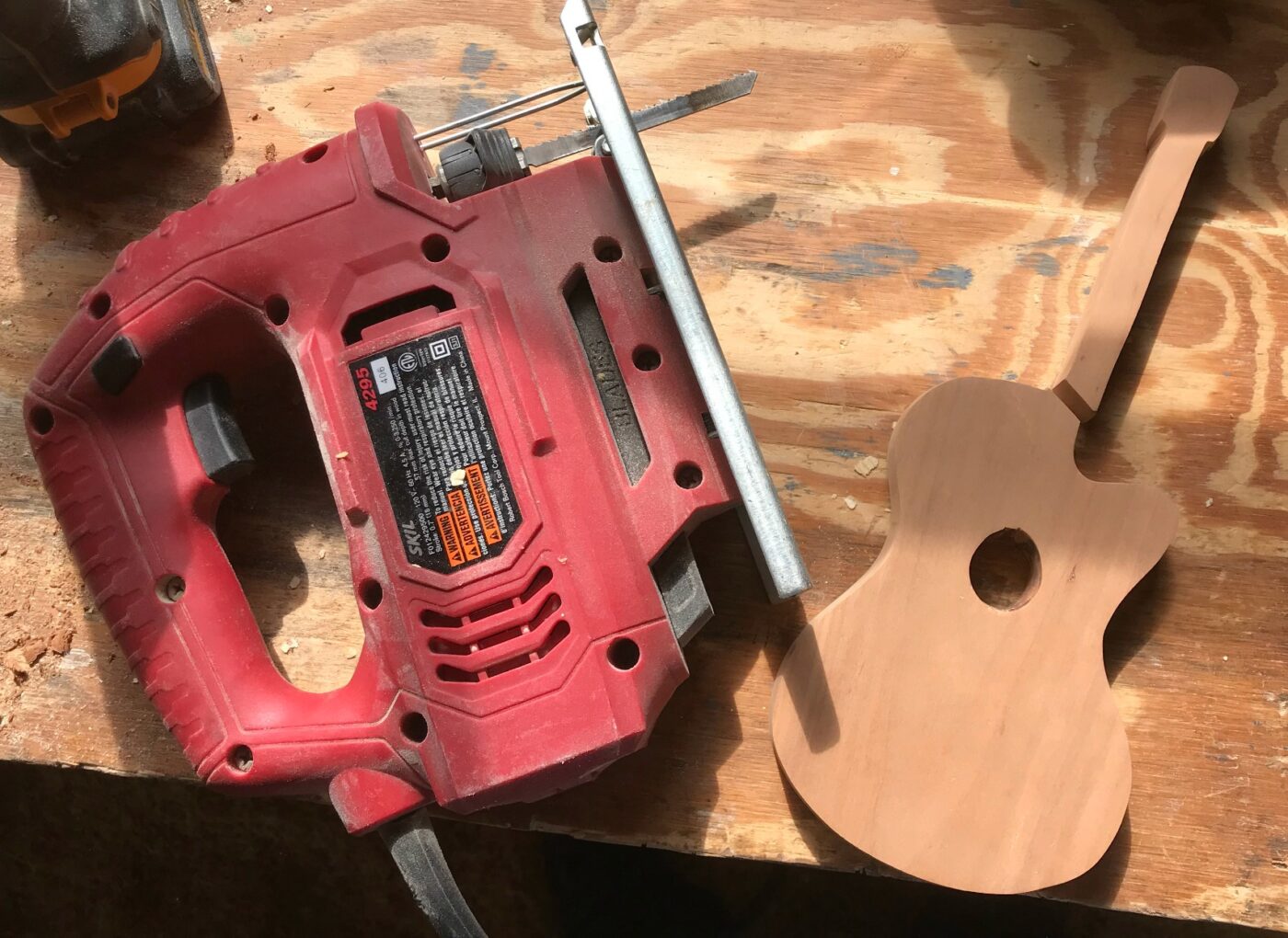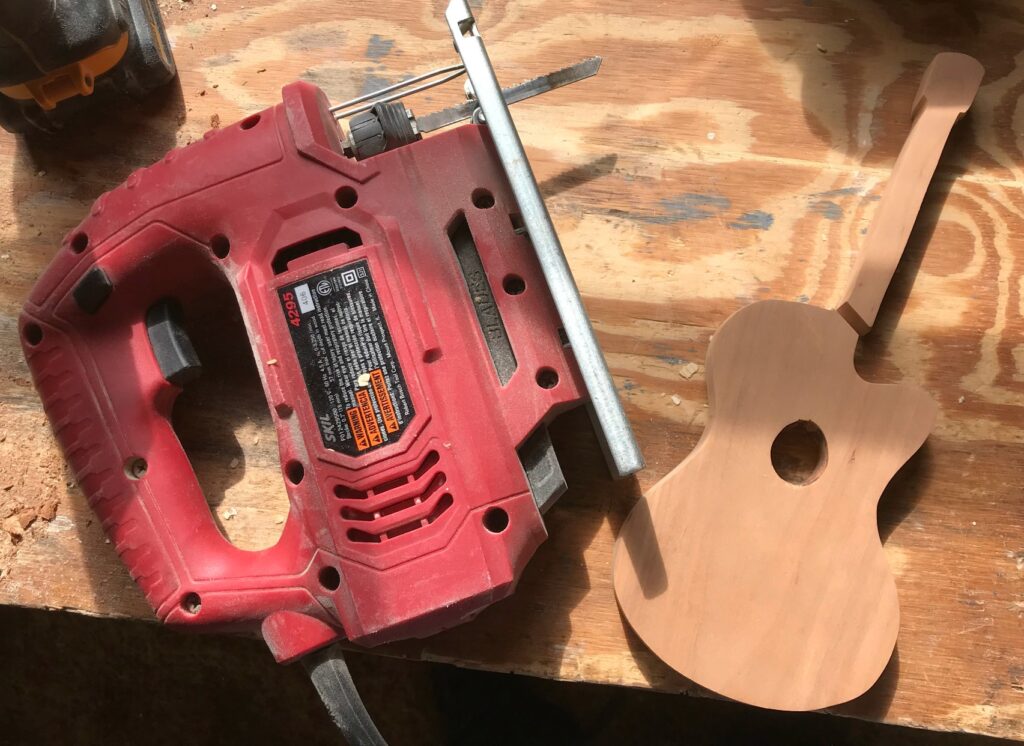 Step 3: Assemble Bookends
Next, I cut four pieces of the poplar scrap board to make the bookends.  The boards should all be the same width (ex. a 1×6) and I cut two pieces 5″ long and two pieces 6″ long.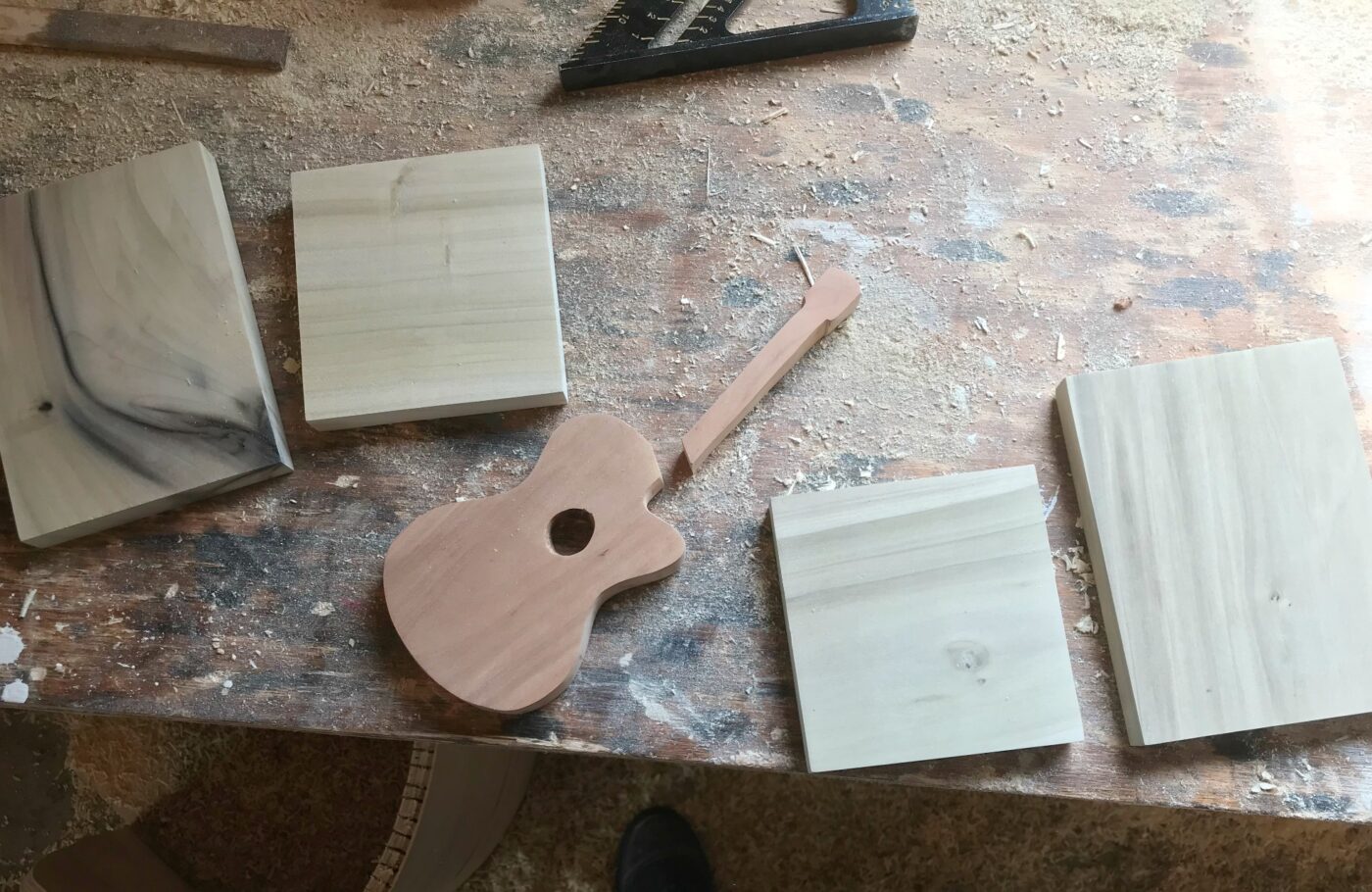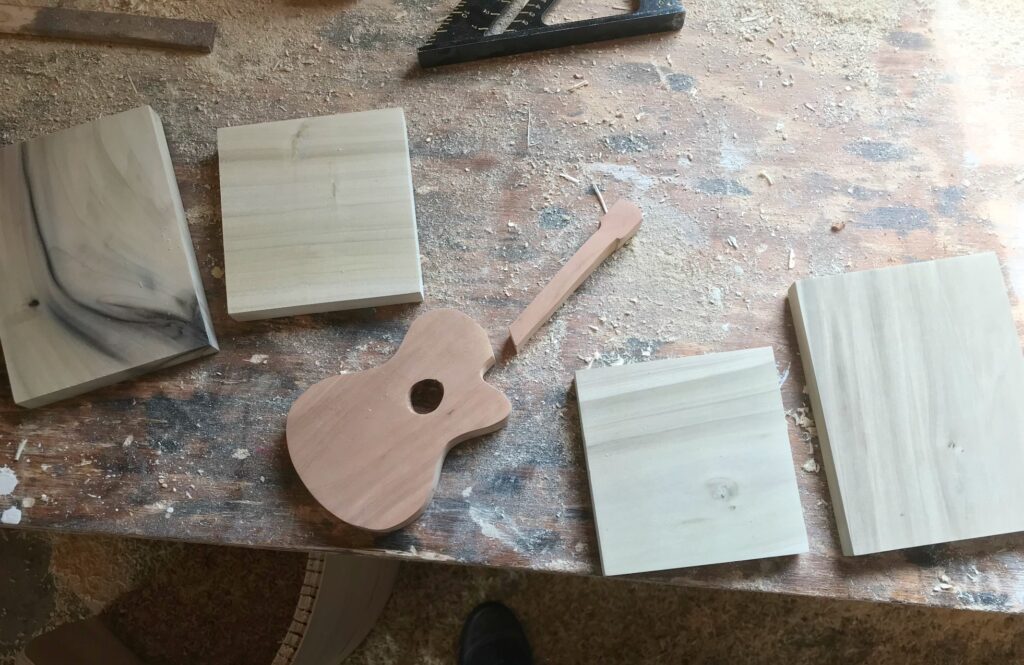 I glued the 5″ boards onto the bottom edge of the 6″ boards to make two identical L shapes like shown.  Once the glue is dry, finish the pieces as desired–paint, stain, etc.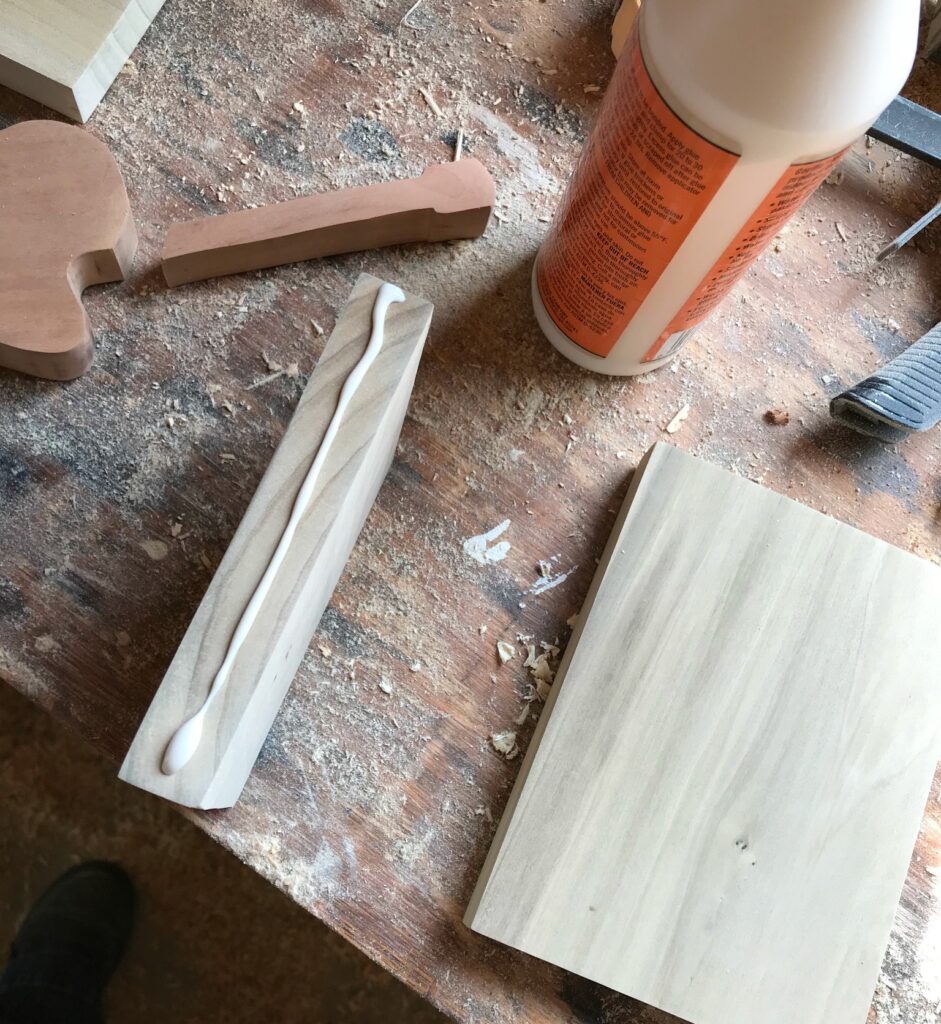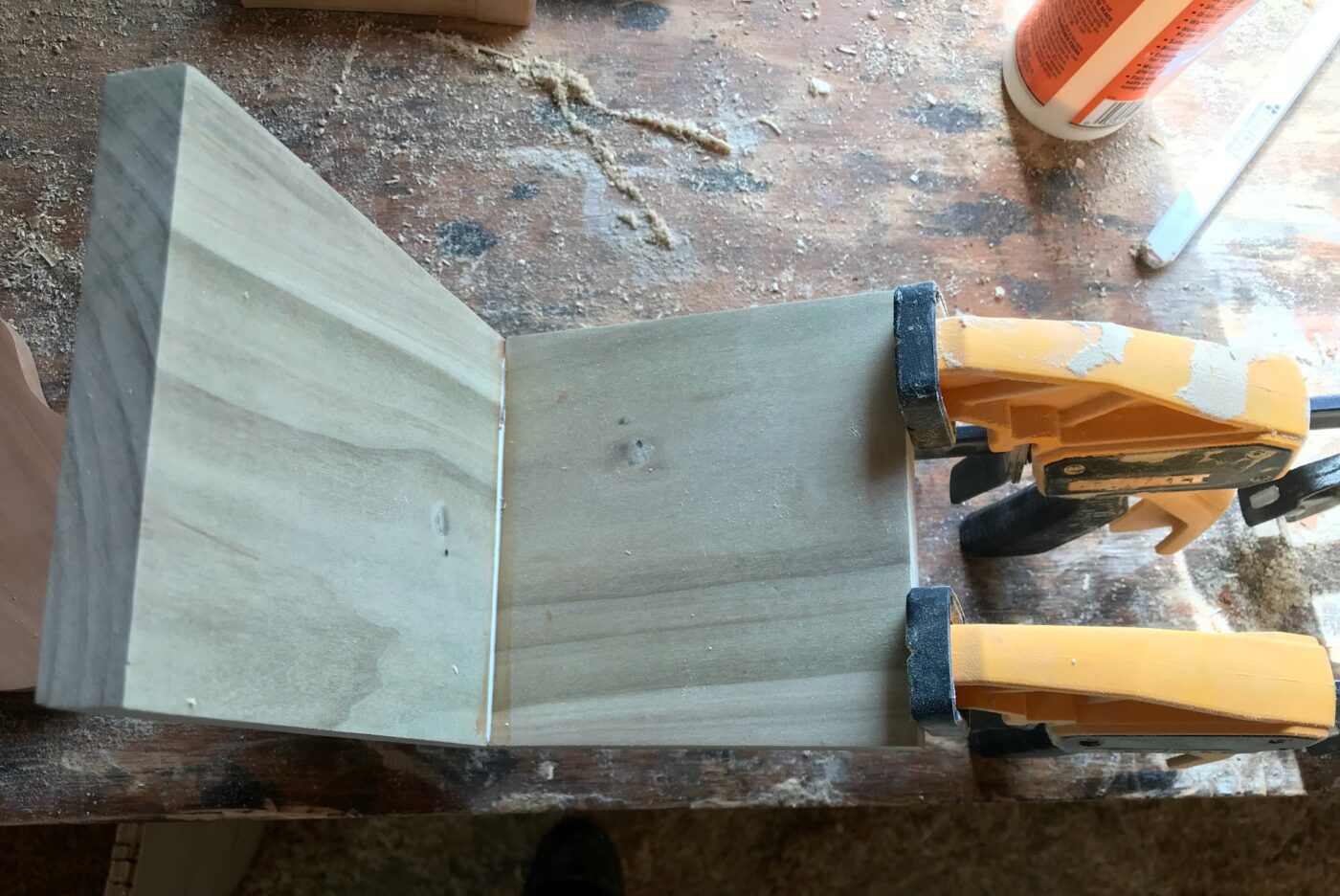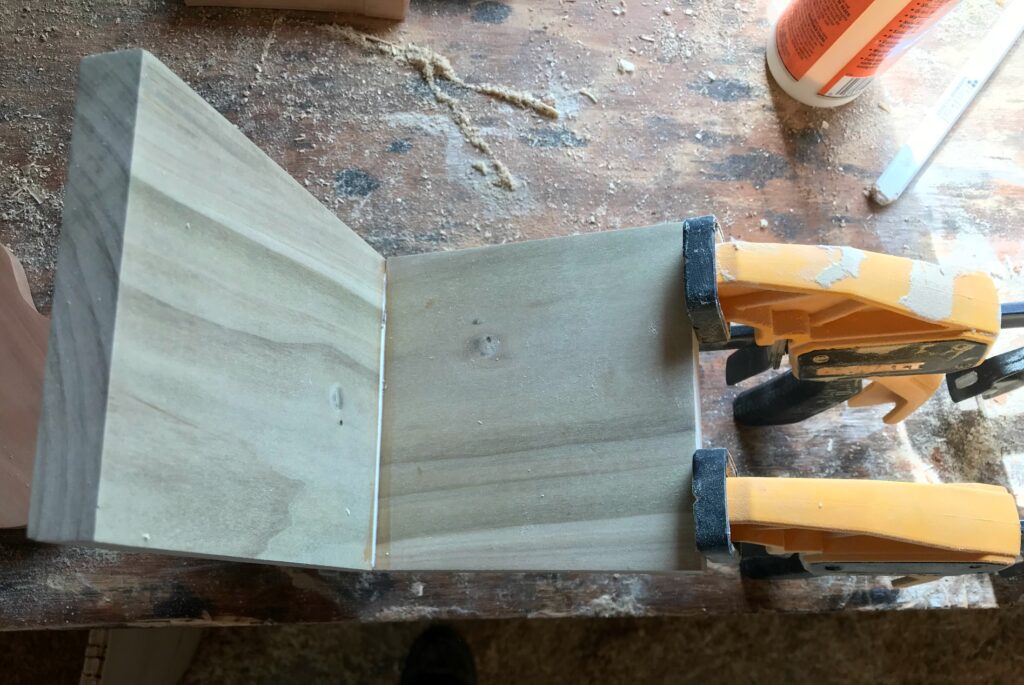 Step 4: Glue Guitar Shape onto Scrap Wood Bookends
Once the glue was dry on the bookends, I added a small drop of glue to the parts of the guitar that will touch the bookend and set it in place.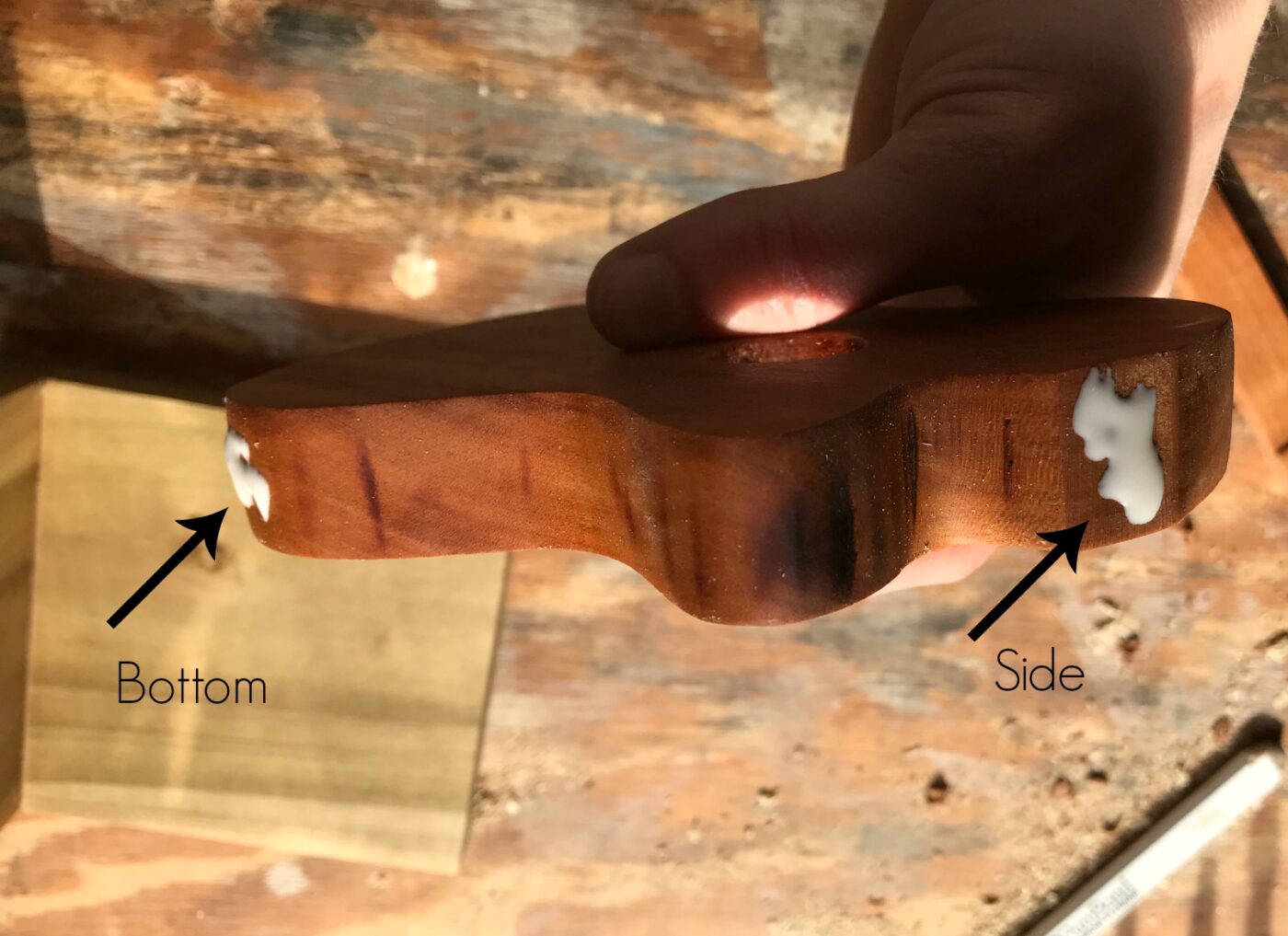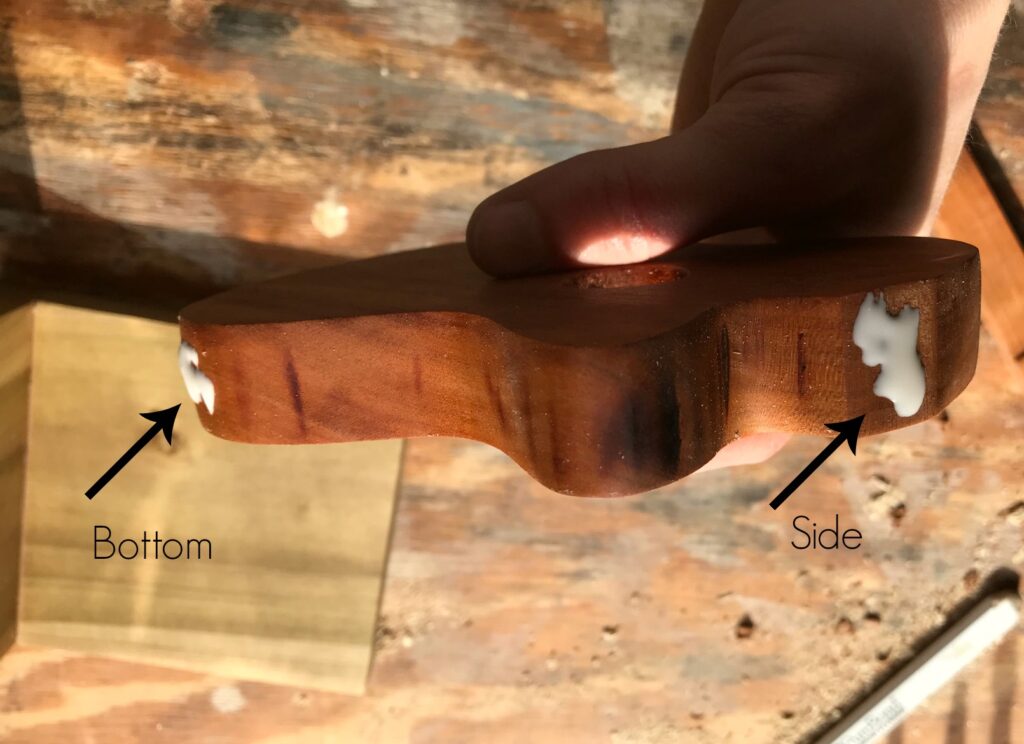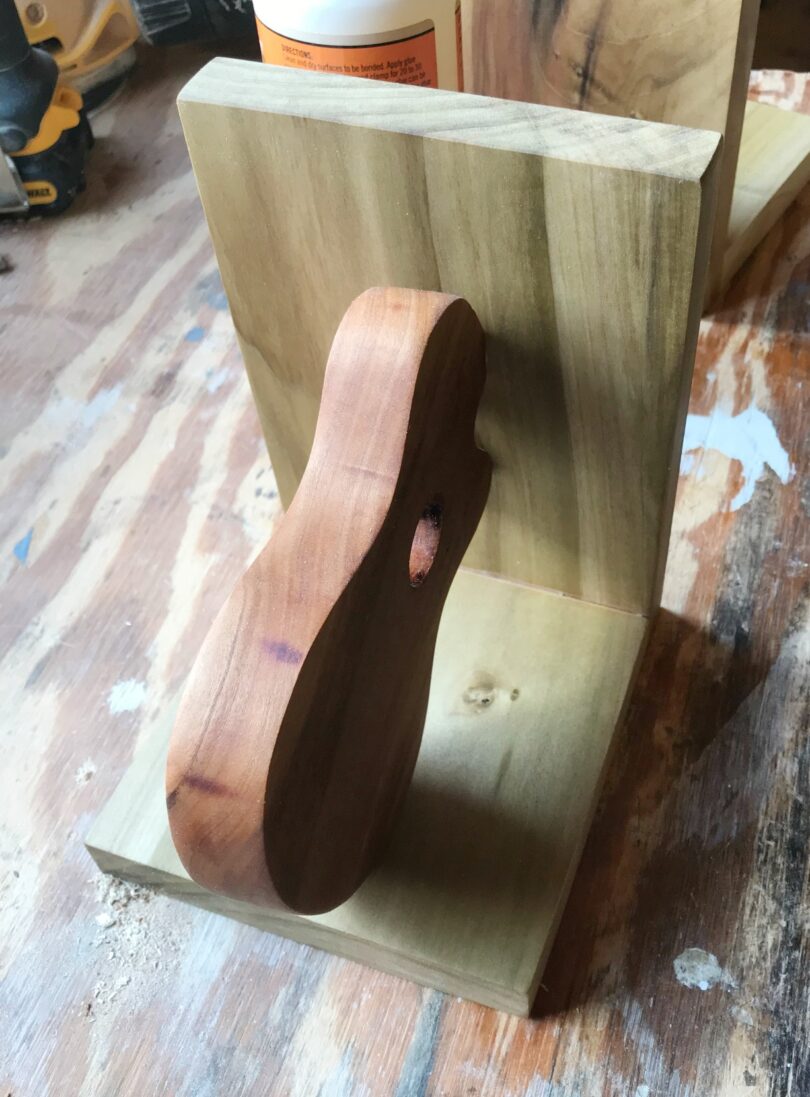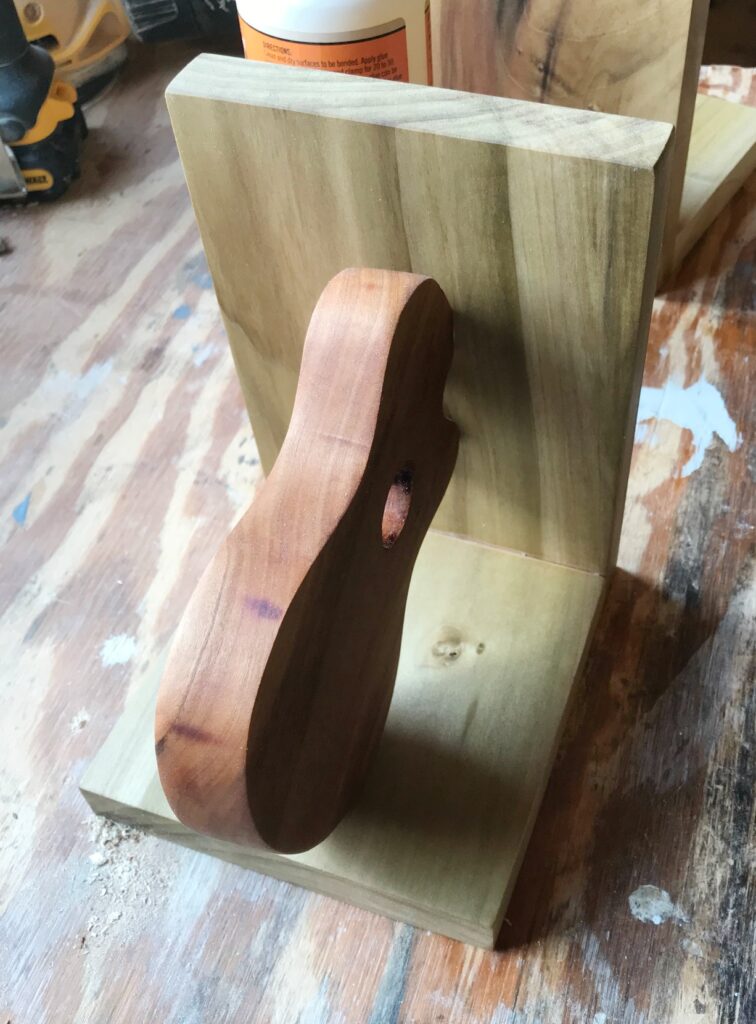 Because the glue surface is small and these are hard to clamp in place, I found it easiest to set it in place so that it kind of stayed on it's own and didn't touch it again until the glue dried.  Since the neck was leaning, it kept falling over, so I flipped it over and leaned it against the other bookend so it would stay in place until the glue dried.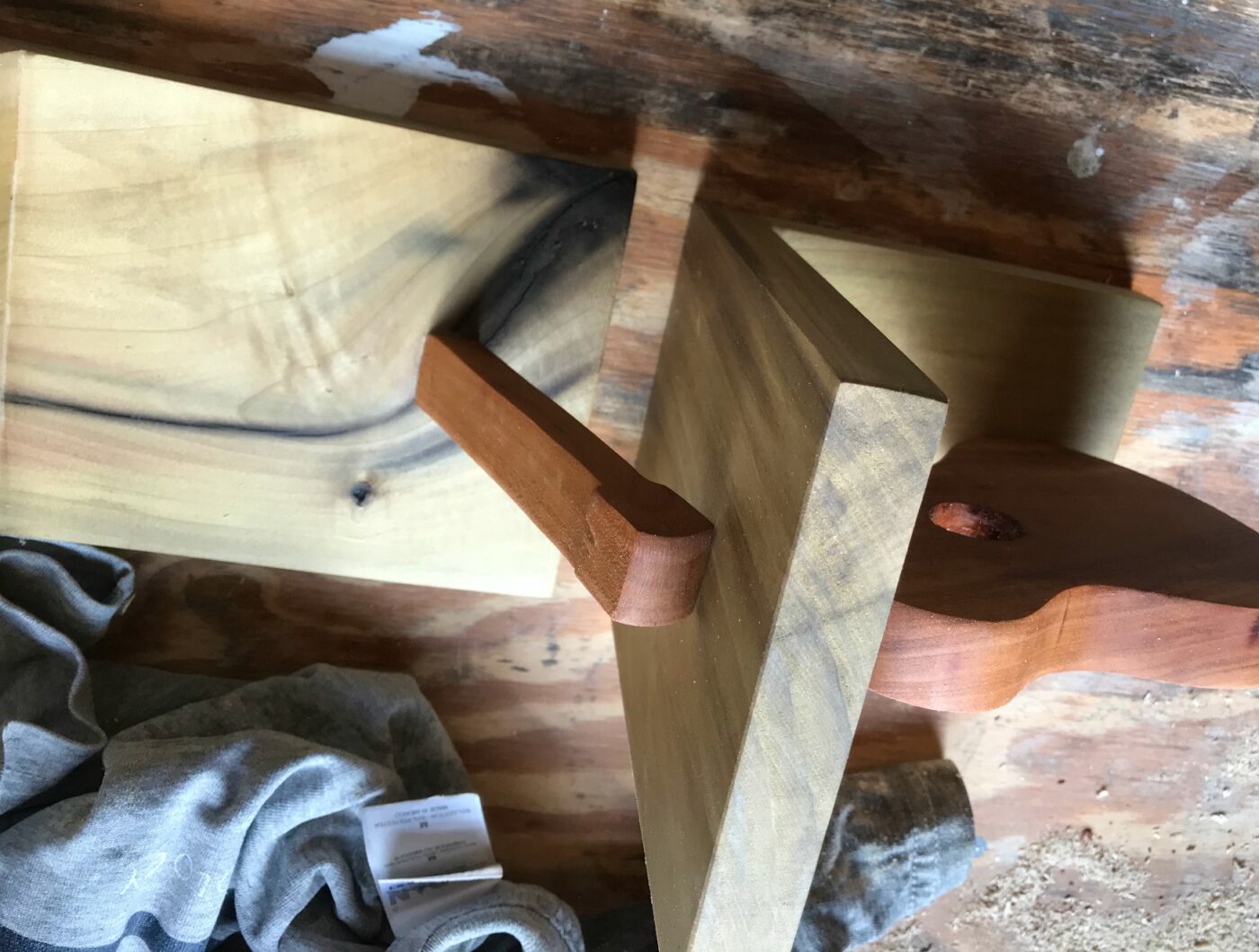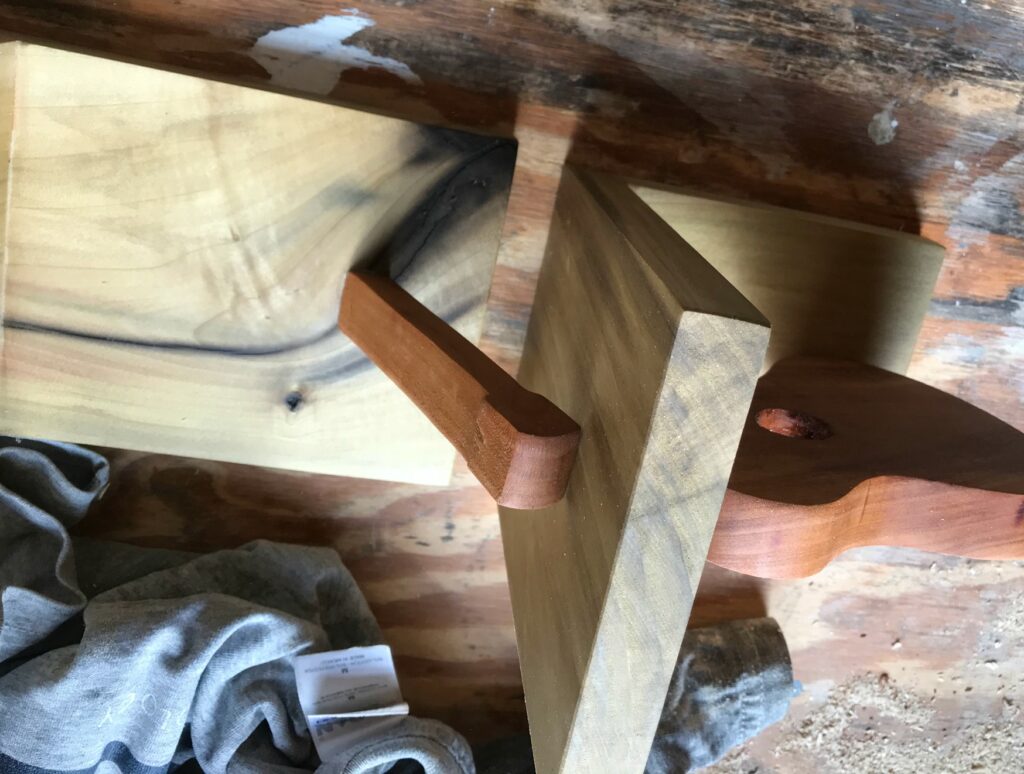 And once the glue dried, they were ready to use!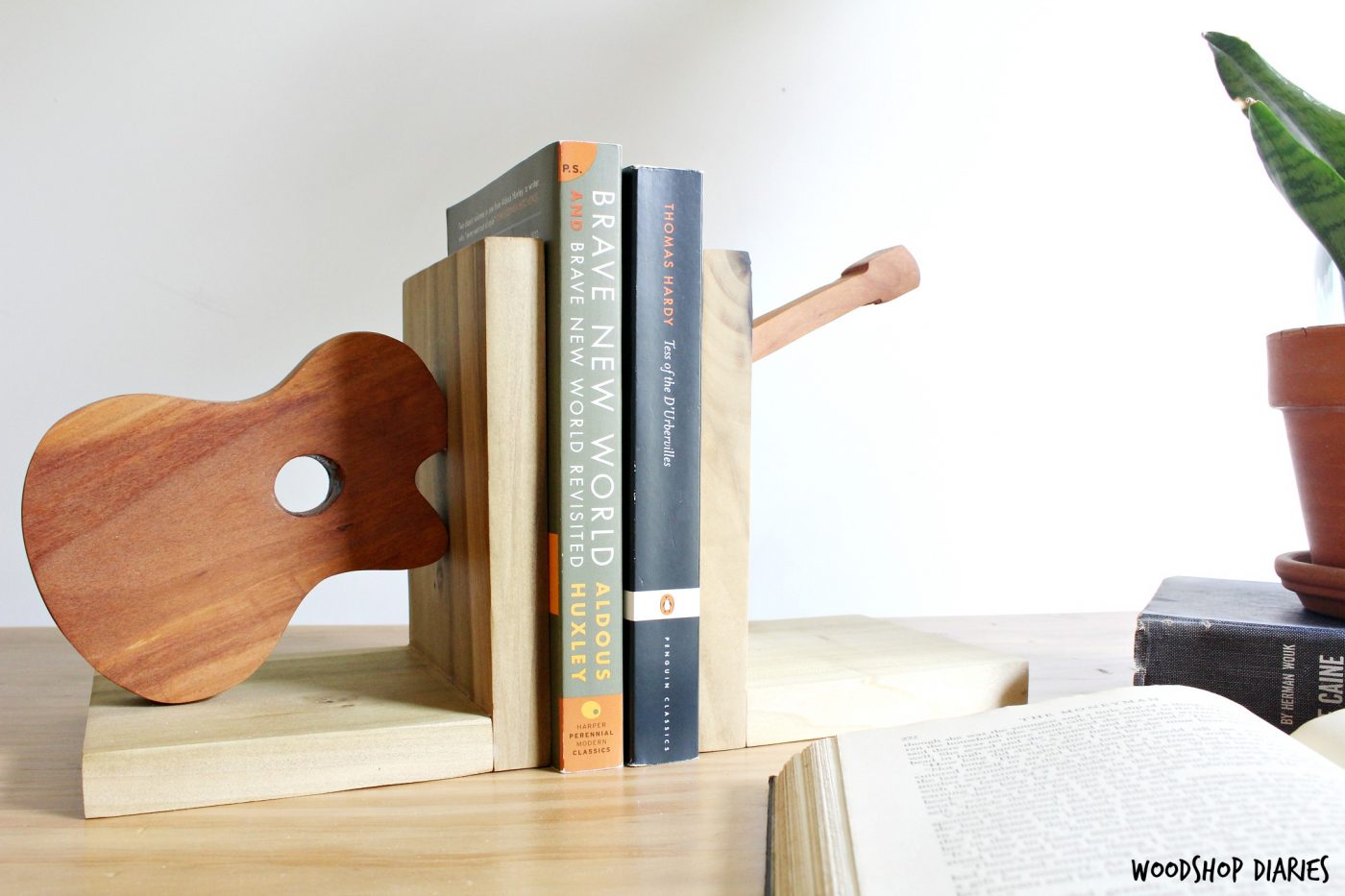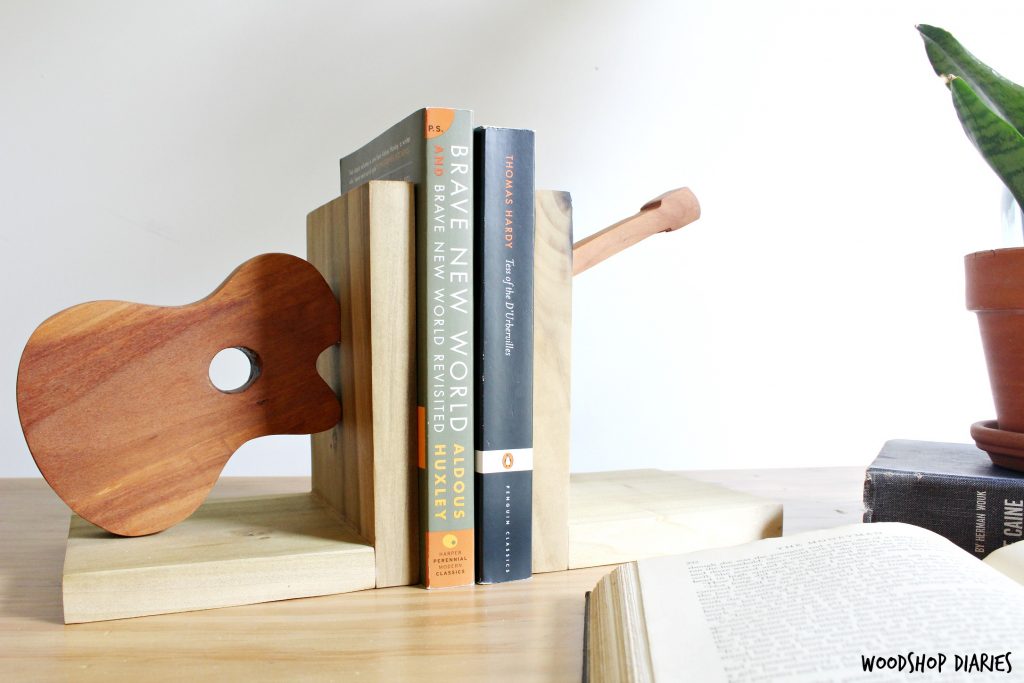 I LOVED how these turned out and I love how simple this project is.  You could make these any shape you wanted–you could do letters, names, shapes, animals, whatever.  I've played guitar for SEVERAL years, so I thought the guitar was a cute idea for my every growing book collection 😉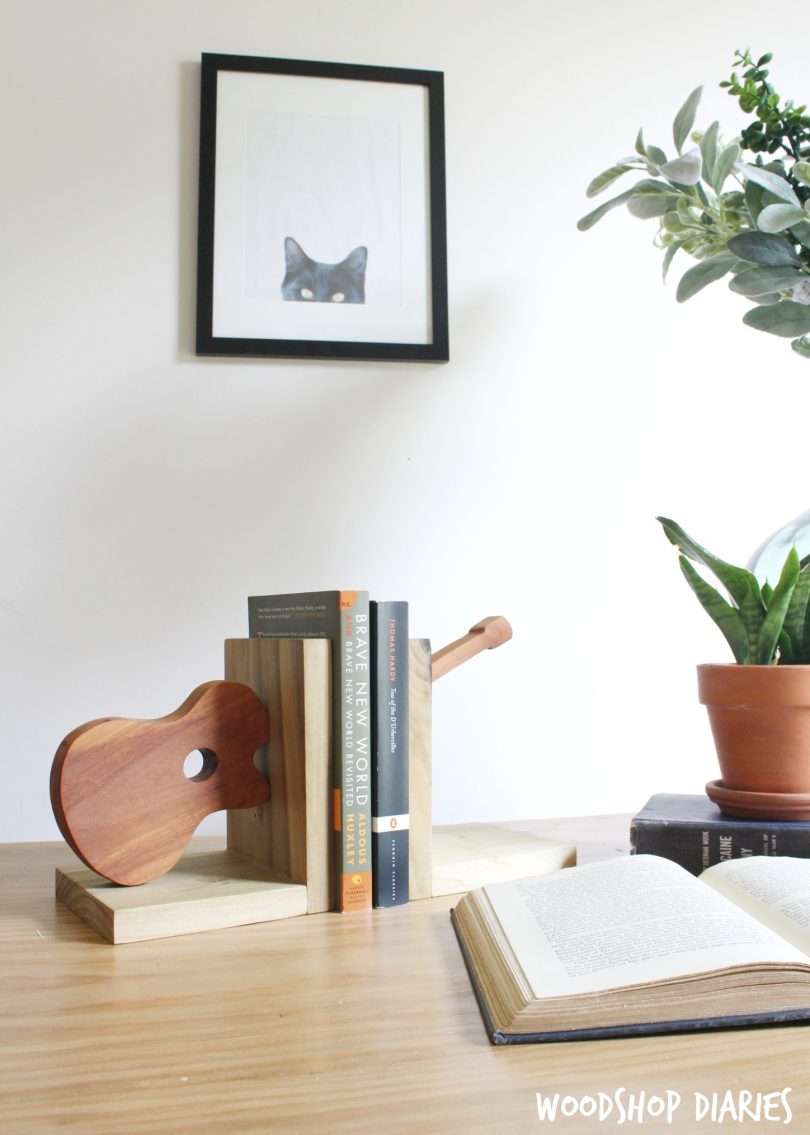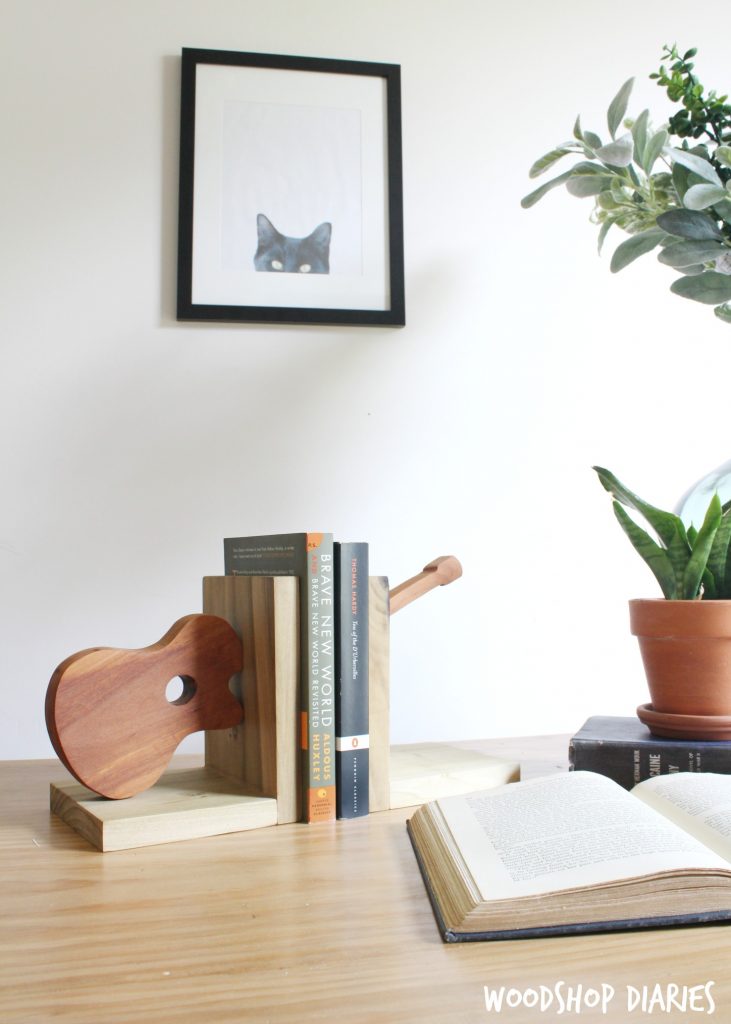 I hope you guys enjoyed this quick little distraction scrap wood project and if you want more scrap wood projects, check out the list below for some ideas 🙂
Until next time, happy building 🙂