In this post, I'll show you an easy tip to make your own 2x2s and square edges of your boards for cleaner joints in your building projects!
.
I love building with construction lumber–it's easy to find, inexpensive, and can look really nice if finished correctly. BUT, most of the boards you find at the lumber yard are going to have rounded corners which can cause some issues.
.
Like crumb hoarding cracks. Let's define "crumb hoarding crack" before this gets out of hand….HA….no really, what were you thinking about?
.
This is what I call a crumb hoarding crack.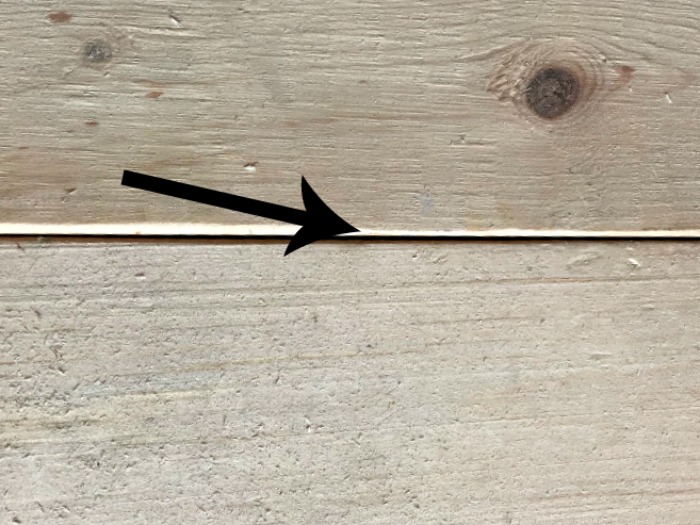 You see, the 2x boards at the lumber yard and big box store (and some of the 1x stuff, too) typically comes with these rounded corners.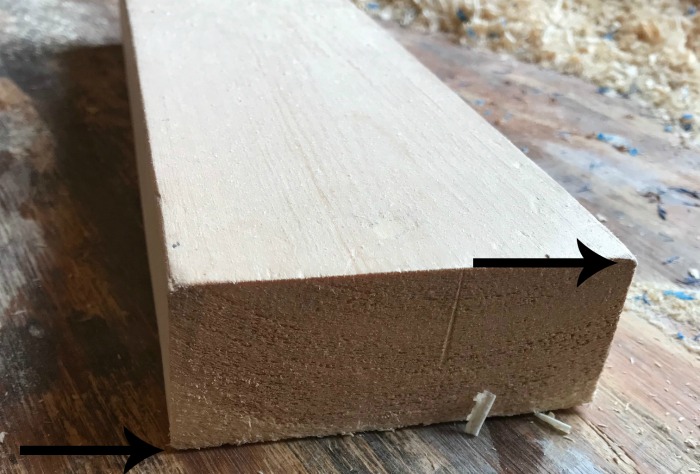 That big gap in the middle of those two boards above is because two rounded edges are sitting next to each other. 
.
This creates a "valley."  Sometimes this look is desired (like in rustic style pieces) and that's totally fine. 
.
But all I think about when I see joints like this (typically with table tops) is all the crumbs and dust that will get stuck in there and never find it's way out.
.
So, I prefer to ALWAYS square my table top edges so you get nice clean joints and no crumb hoarding gaps 🙂 Like this: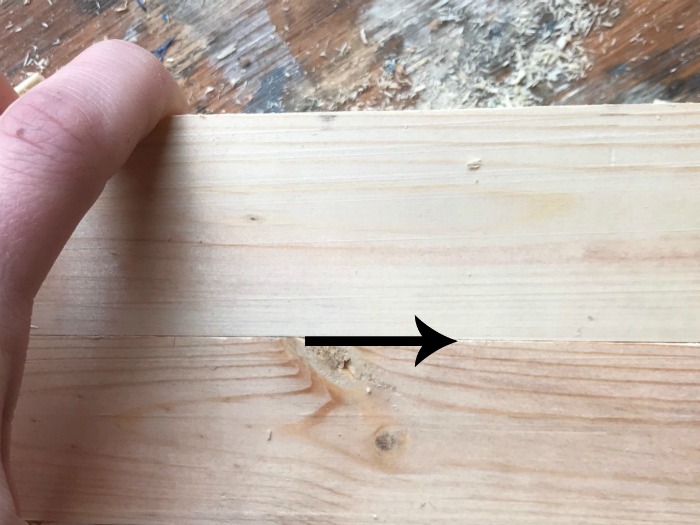 I usually square the edges of all my pieces (not just the table top pieces) because it makes cleaner joints all over the project. However, this is personal preference.
.
So, you can tell I'm not a fan of these rounded corners.  But I'm also not a fan of something else…twisted 2x2s.
.
If you were to take a trip to the big box store right now and look at their 2×2 boards, you will likely notice that many of them are twisted, warped, bent, and they also have those rounded corners. So, obviously, that's no good.
.
You can't make pieces like this X Base Console with a bunch of twisted 2x2s. They have to be straight, and have clean corners.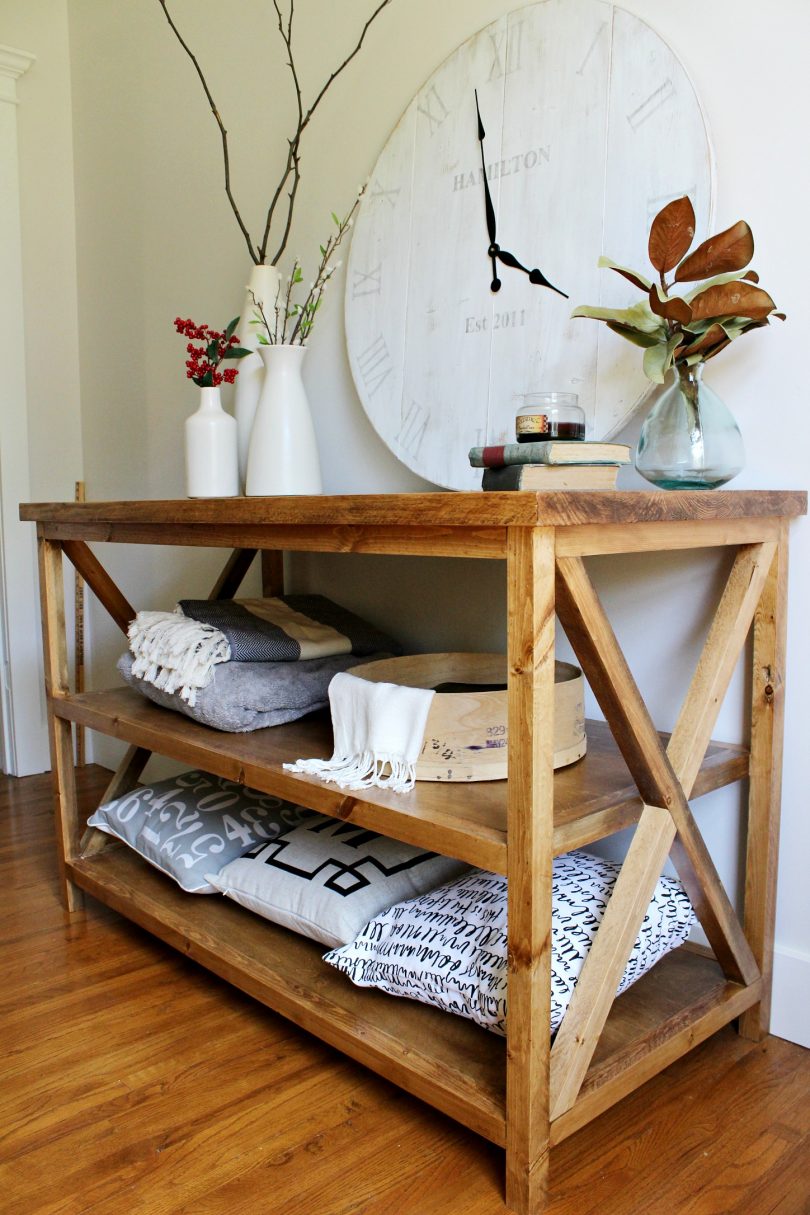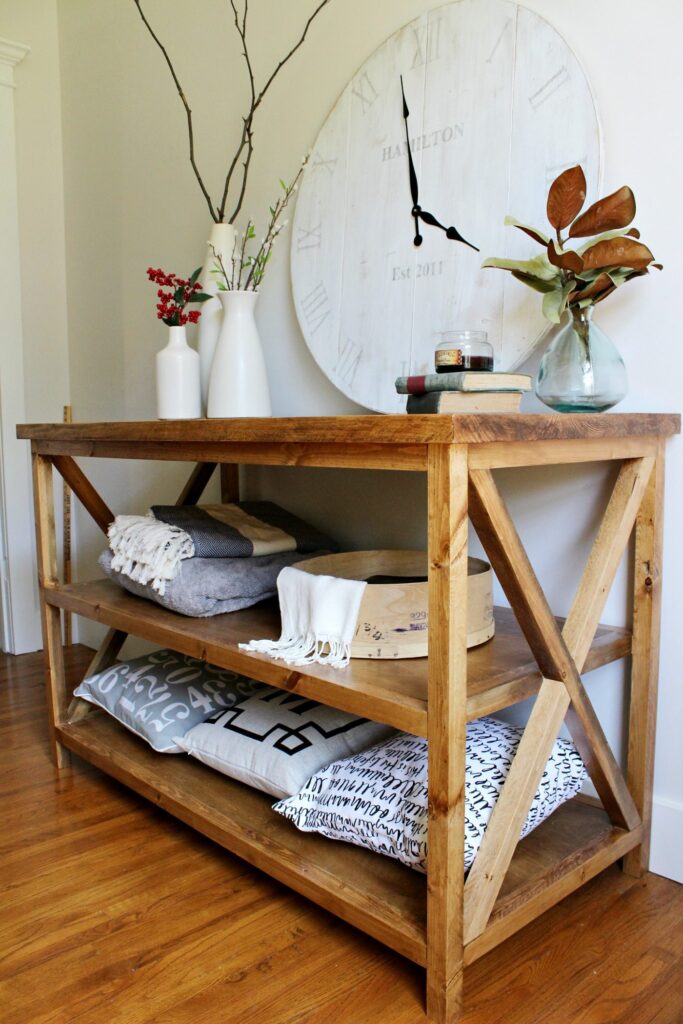 So, today, I want to show you how to square off those rounded corners AND make your own 2x2s that are way better and cheaper than the ones at the big box store.
.
Grab a table saw, some 2x4s (or whatever size wood you want) and let's get started 🙂 
.
PS…SAFETY WARNING: Be very careful when using a table saw.  They can be dangerous.  Be careful to use a push stick and not get your fingers close to the blade.
.
For this example, we will use 2x4s.  If you want to square off wider boards, the process is the same, but the numbers will be different.  This is also the method I use to square off boards to make table tops like shown in this post.
Step 1: Square First Rounded Edge of Board
First, let's talk about dimensions of a 2×4.  They are not actually 2″ x 4″, but they are 1 ½″ x 3 ½″ (or in my case as you can see, mine was actually only 3 ⅜″ wide…dimensions are not always exact when you buy them–which is another reason for squaring off everything so it's the same size). 
.
FYI 2x6s are 1 ½″ x 5 ½″, 2x8s are 1 ½″ x 7 ¼″, 2x10s are 1 ½″ x 9 ¼″ and 2x12s are 1 ½″ x 11 ¼″.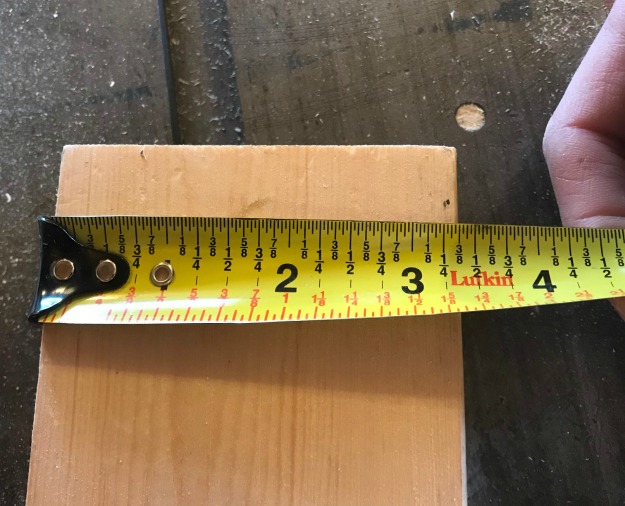 So, to square off the edge, I adjust my table saw blade height to cut through 2x material (so slightly over 1 ½″ tall), then move my rip fence so that it will trim off about ¼″. 
.
Since a normal 2×4 is 3 ½″ wide, adjust the rip fence 3 ¼″ from the blade. If you are cutting a different size, simply subtract ¼″ from the width of whatever you're cutting and set your fence to that measurement.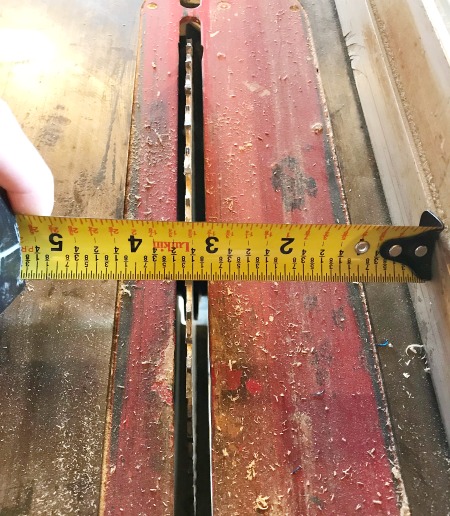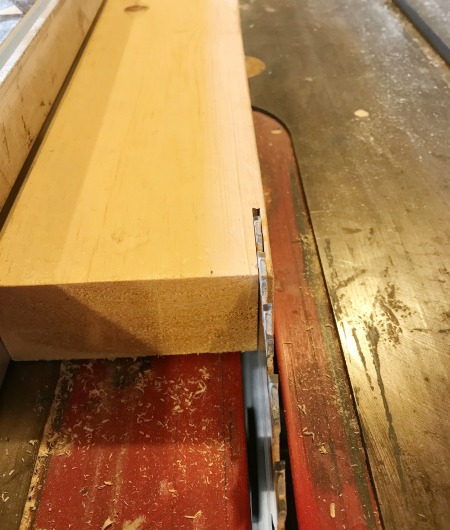 Once the board is run through, you get a nice square edge on one side of the board.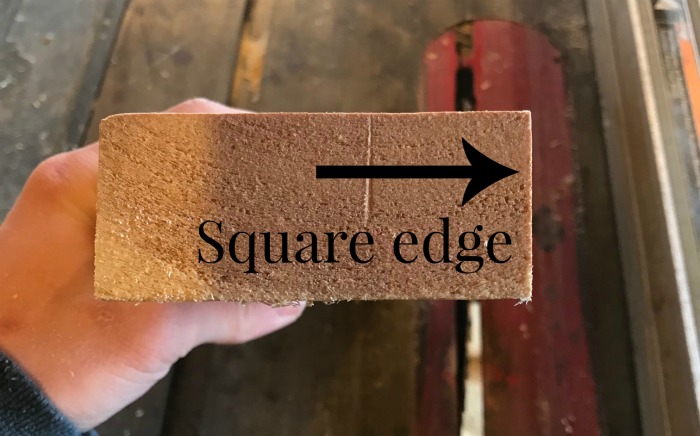 Step 2: Rip Board to Desired Width
Now, if you want to use this 2×4 (or whatever size board you are cutting) to make a table top or to use in a piece of furniture, you would then need to adjust the rip fence another ¼″ closer to the blade and cut the other side to remove the rest of the rounded corners. 
.
This will give you a board that has nice, square, crisp edges. Then it's ready to use. 
.
You can simply rip off the other side to make this board as wide as possible, or if you wanted to rip this board down to some specific width, you could follow these next steps.
.
Once you have one square edge on your board, adjust the rip fence to whatever width you want your piece.
.
For example, if you are making 2x2s, you'd set it to 1 ½″ (NOTE: 2x2s are actually 1 ½″ x 1 ½″) from the blade and run your board though MAKING SURE THE SQUARE SIDE IS AGAINST THE FENCE.  This ensures that all corners of your piece are nice and square.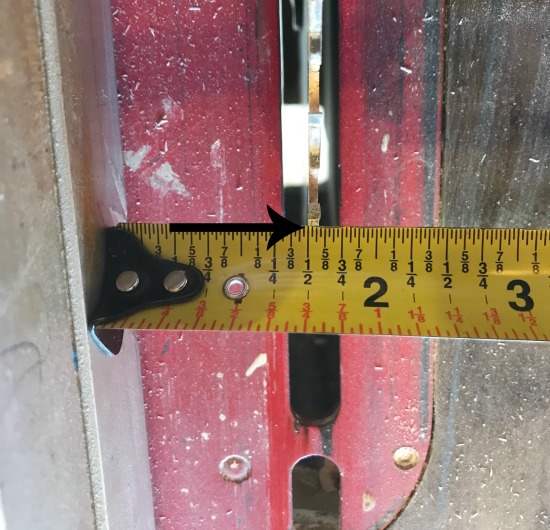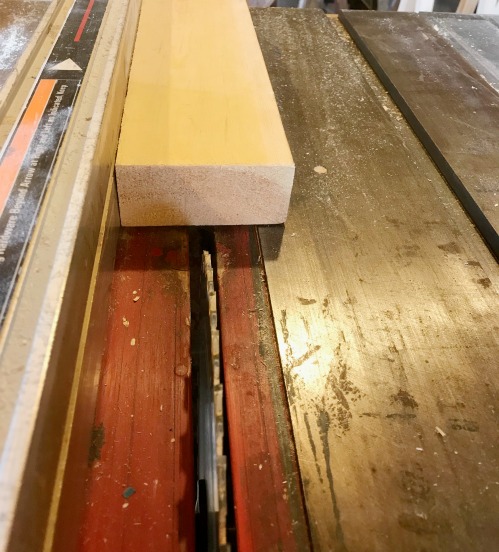 If you are making 2x2s from a 2×4 or wider, you can run the remaining piece through again keeping the square edge against the rip fence so that you have two 2x2s from one 2×4 board or you could get 3 from a 2×6, etc.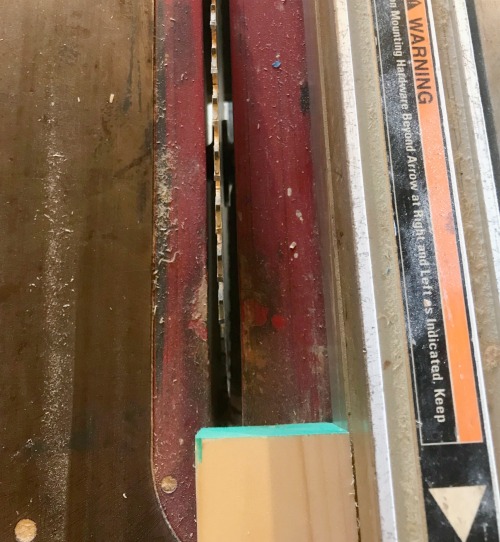 Now you have some nice, clean, straight 2x2s (or whatever size you chose to cut) ready to build with 🙂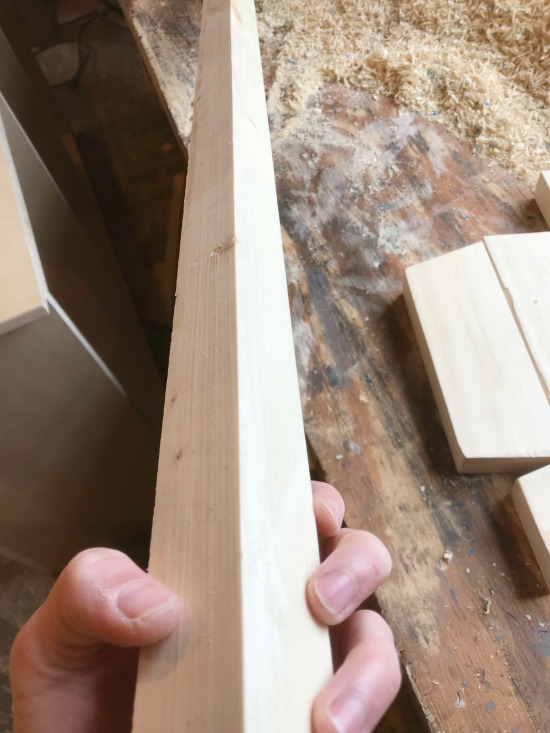 If you are looking for some good projects to use 2x2s or nice clean squared off 2x4s on, here are a few 🙂
.
One final note about squaring off your boards and making your own 2x2s…Keep in mind that if you follow plans you have found online or in a book that calls for these size boards, you may have to make some measurement adjustments.
.
If you squared off your 2×4 like above, it will end up being only about 3″ wide.  Regular 2x4s will be 3 ½″ wide.  So if a plan calls for a 2×4 (or a 2×6, 2×8, etc), keep in mind that yours will not be as wide, so you may have to cut some of your other boards slightly longer to compensate. 
.
It will just depend on what you are building.  Basically, just pay a little extra attention to make sure you cut things correctly 🙂
.
I hope this post was helpful 🙂 This is a really useful tip if you make a lot of table tops, use a lot of 2x2s or just want some cleaner joints.
.
I'd love if you'd pin this for later!  And check out these other furniture building secrets to make your DIYs look more professional!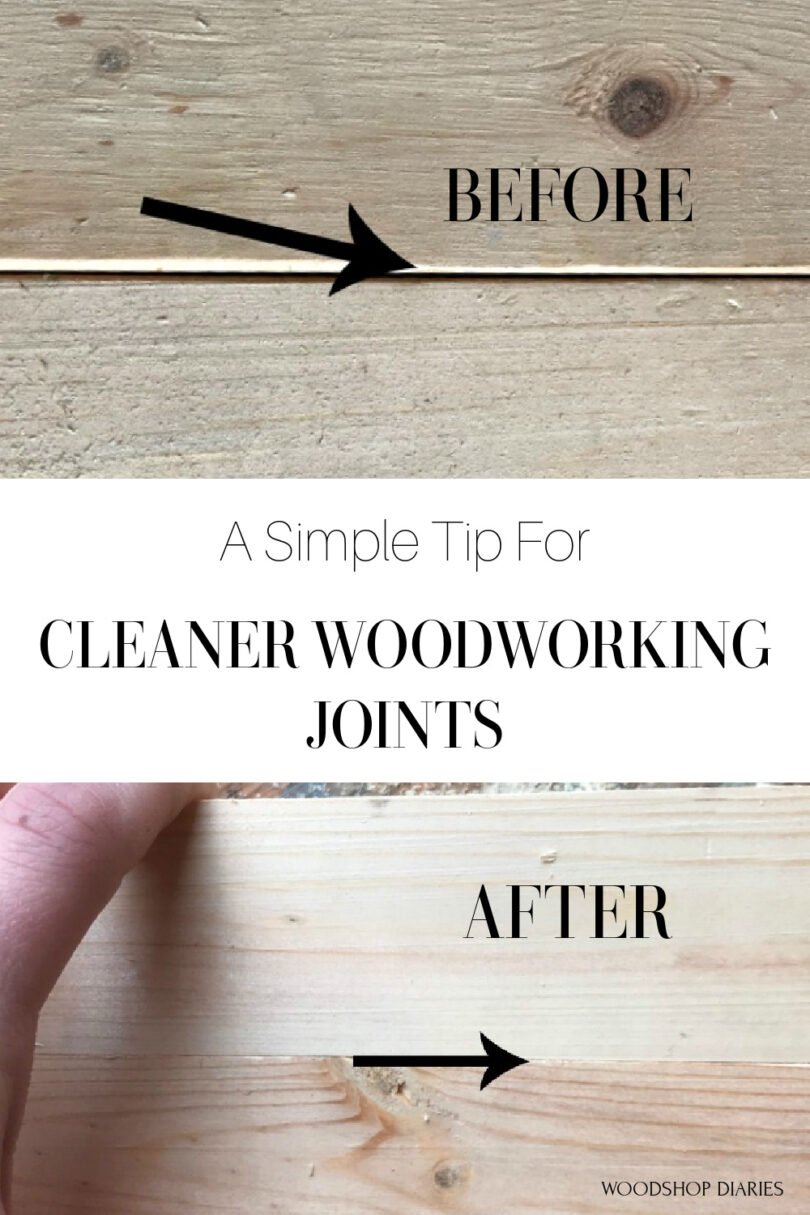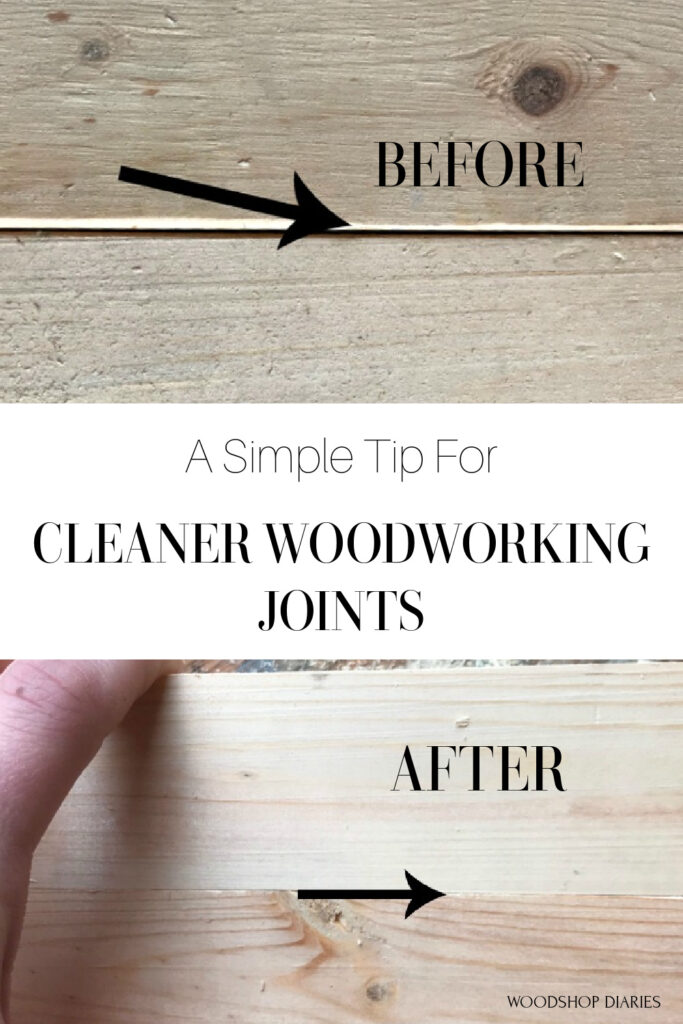 Until next time, happy building! 🙂