In this post, I will cover the pros and cons and features of several pocket hole jig options and help you decide which Kreg Jig to buy for your workshop!
This post is sponsored by Kreg Tool. This post also contains affiliate links. See policies.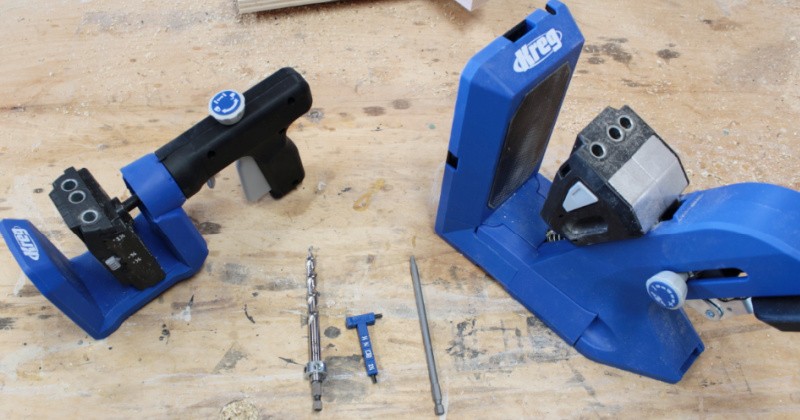 My go to brand for all things pocket holes is Kreg Tool. I've been using Kreg jigs for pocket holes for years. So I'll be covering their various jigs for this post.
.
Kreg recently came out with two new pocket hole jig options and are discontinuing some of their older models. The new models are the 520 Kreg Jig and the 720 Kreg Jig.
.
But the older models that they are keeping around are the 320 pocket hole jig and the Kreg Foreman.
.
Kreg also has a few other options like the HD, micro, and the mini. But personally, I would recommend sticking to one of the following four standard options as they are the most common.
.
These are listed in order of smallest to largest (which also happens to be the cheapest to the most expensive):
I'll discuss each in detail below.
.
Just a quick FYI–each pocket hole jig comes with a drill bit, stop collar, square drive bit, and a thickness gauge that doubles as a wrench for the stop collar set screw. You can also purchase these pieces as replacements as well. Find the drill bit, stop collar and wrench here, and the square drive bit here.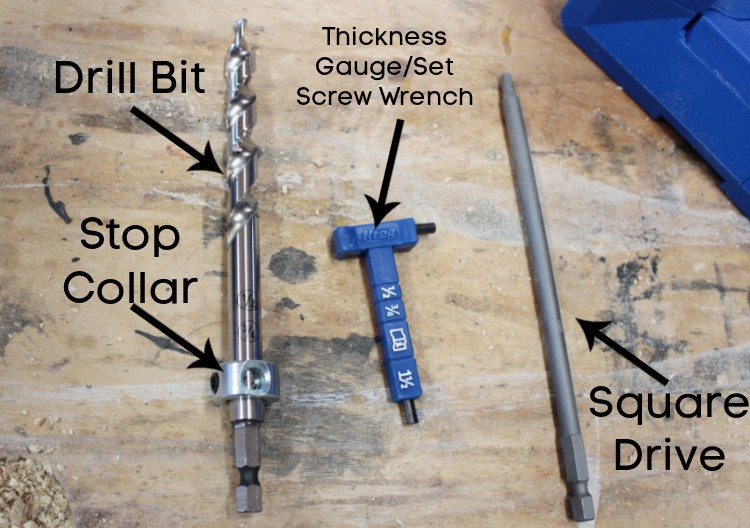 For more information on drilling pocket holes, check out this guide for how to use a pocket hole jig here.
The Kreg 320 Pocket Hole Jig
The Kreg 320 pocket hole jig is one of the smallest jigs available. It's great for beginners who are just getting familiar with using pocket hole jigs and don't want to make a large upfront investment (it's only about $40).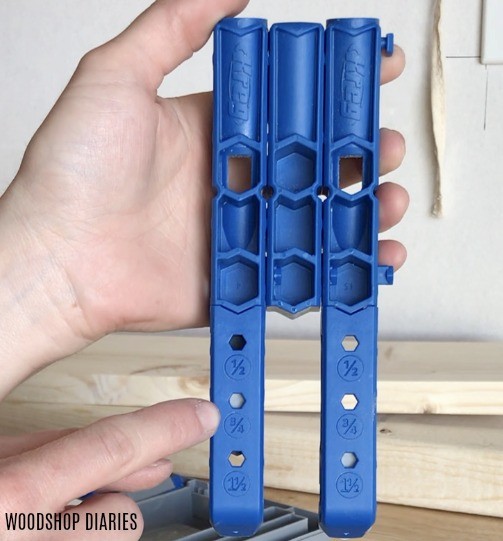 It's quick to set up, small, lightweight and easy to move around your workpiece in order to drill your pocket holes. But, you will need to purchase a clamp in order to use this jig.
.
I recommend using a Kreg AutoMaxx Face Clamp with it. You simply adjust your jig for the size lumber you are working with, clamp it, and drill.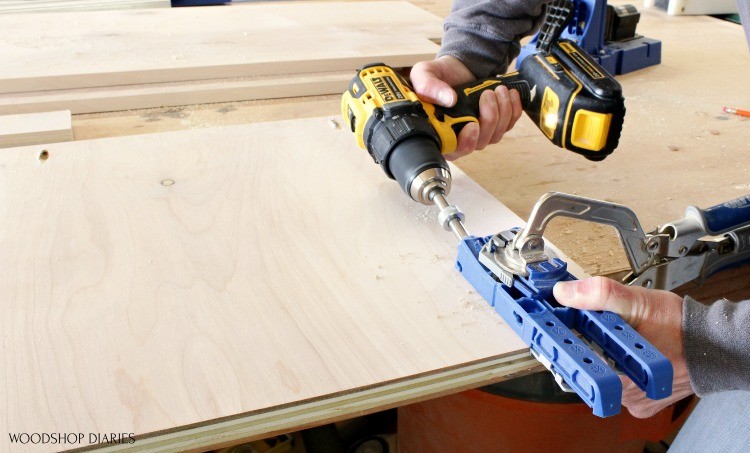 The Kreg 320 is a really handy jig to have in the shop, but it's VERY basic. There are no bells and whistles. It's more labor intensive than other jigs and more time consuming as you have to unclamp, move, reclamp every time you drill a hole.
.
It's not made to be stationed on the workbench, and drilling is usually done in a horizontal motion like you see above. Personally, this tires my arm out pretty quick, so I wouldn't recommend it for drilling a ton of pocket holes at a time.
.
But for very long boards or large plywood panels that would be difficult to get into an upright jig, this is a pretty valuable jig to have on hand.
Workshops that only use pocket holes occasionally
First time pocket hole jig users
Tight budgets
Workshops that need to drill pocket holes on large panels or long boards
Kreg 320 Pros:
Inexpensive
Portable
Easy to set up and adjust for different materials
Great for large/long boards/panels that would be difficult to use on upright jigs
Kreg 320 Cons:
Requires an additional clamp
Can't be stationed on a workbench
Time consuming to move and re-clamp between each hole
Hard on your arm to drill horizontally over and over
Additional Kreg 320 Features to Take Note Of:
The 320 jig is designed to "break apart" and "add on to." One of the cool features of the jig is that you can purchase additional drill guides to snap onto the jig to make it wider–or remove them to make it smaller.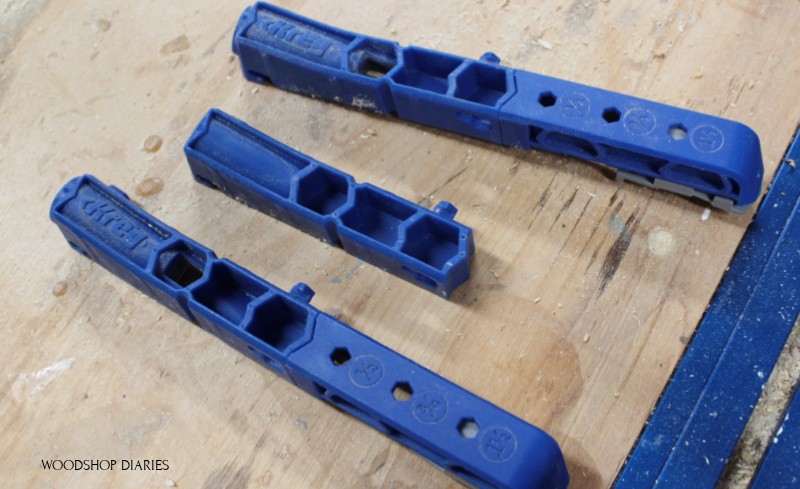 The Kreg 520 Pocket Hole Jig
The Kreg 520 is a step up from the 320. It's still fairly small, and portable, but it does come with its own built in trigger clamp–which is a really cool feature on this new jig.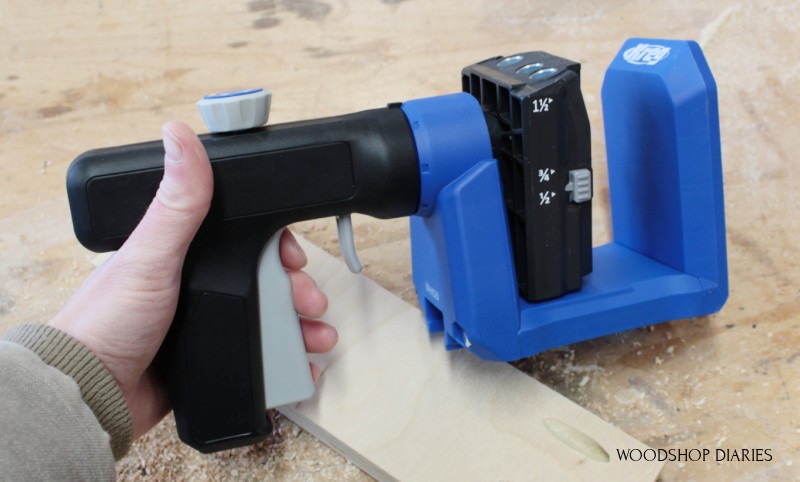 It's a little more expensive than the 320 (it's about $100), but it is quicker and easier to move around your workpiece with the built in clamp function.
.
As hand held pocket hole jig, you clamp it where you want to drill your hole, then unclamp and move it around your piece. The trigger clamp is a really nice feature they added to this series and it has a little lever for a quick release when you're ready to move it.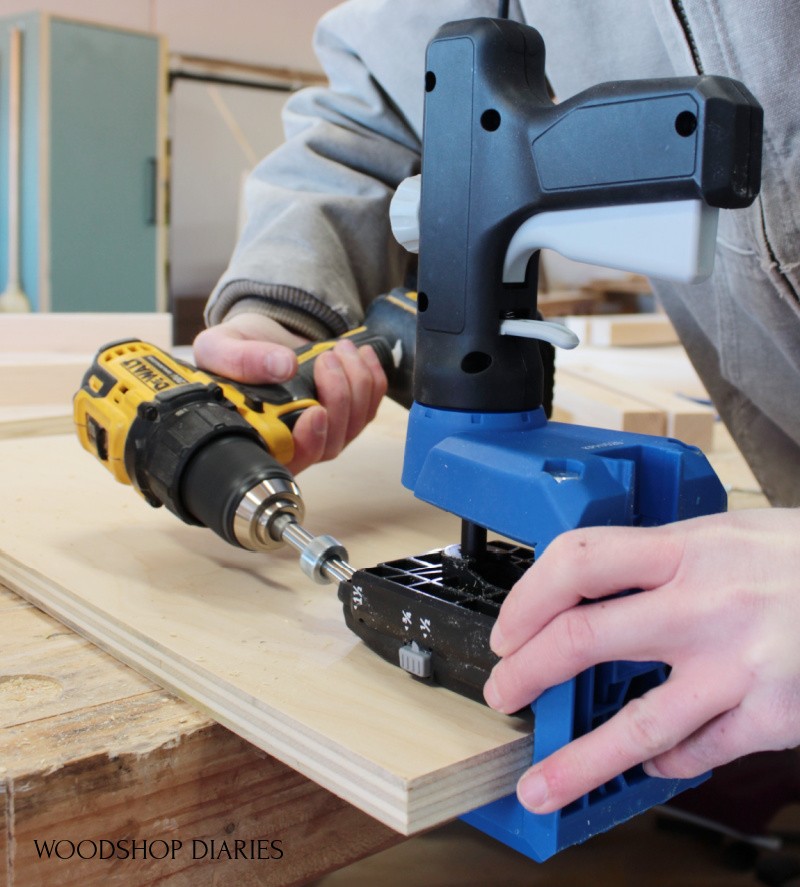 The 520 Kreg Jig is kind of like a "best of both worlds" pocket hole jig.
.
It is a portable, hand-held jig like the 320, but it has the capability of clamping onto a workbench similar to the 720 for upright clamping. But, for that, you do need to purchase the pocket hole clamp separate (but it's only about $15, so it's well worth the investment).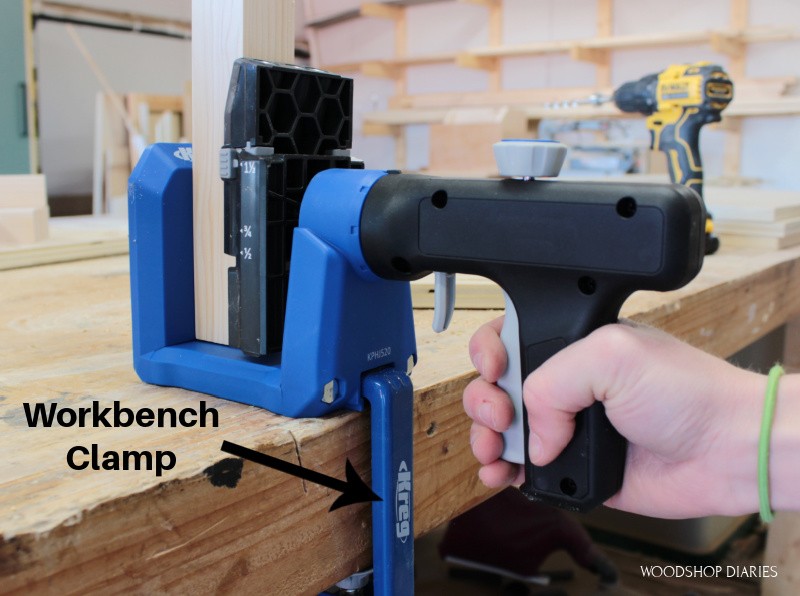 Just like with the 320, it's a great option for beginners, small shops and for large panels that would be hard to maneuver around a workbench.
.
Personally, if you only buy ONE pocket hole jig for your shop, this is the one I'd suggest since it's so versatile.
First time pocket hole jig users
Woodworkers looking for a step up from the 320
Small workshops that need the best bang for their buck and don't have room or budget for large or multiple jigs
Kreg 520 Jig Pros:
A "best of both worlds" option that allows for both hand held and workbench mounted drilling
Small and lightweight
Built in trigger clamp and quick release function
Budget friendly
Kreg 520 Jig Cons:
Requires an additional clamp if you want to mount it to the workbench
Not as many bells, whistles and features as the larger 720
Additional Kreg 520 Features to Take Note Of:
If you wanted to pick up a Kreg 520 pocket hole jig, but wanted to add a few extra bells and whistles, you can purchase the Docking Station (about $50) that is compatible with both the 520 and the 720 jigs.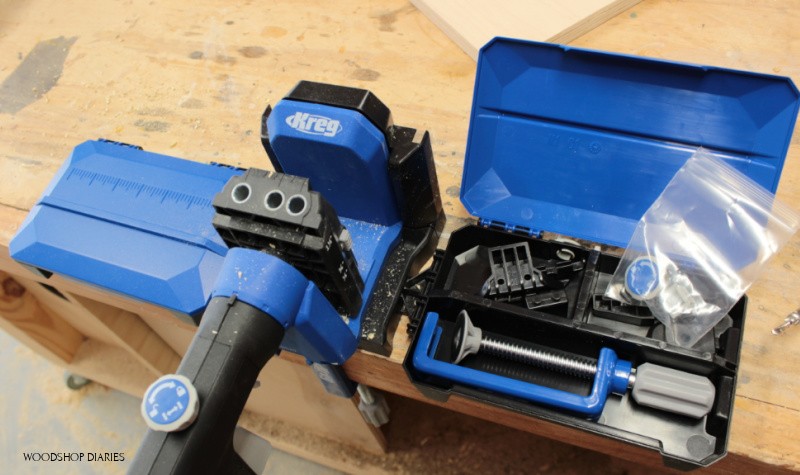 This docking station includes the pocket hole clamp, some support wings (that double as storage boxes for the drill bits, clamp and accessories) to help support larger pieces during upright drilling, and an adjustable stop block. This add-on just gives some extra functionality to the jig in the workbench mounted position.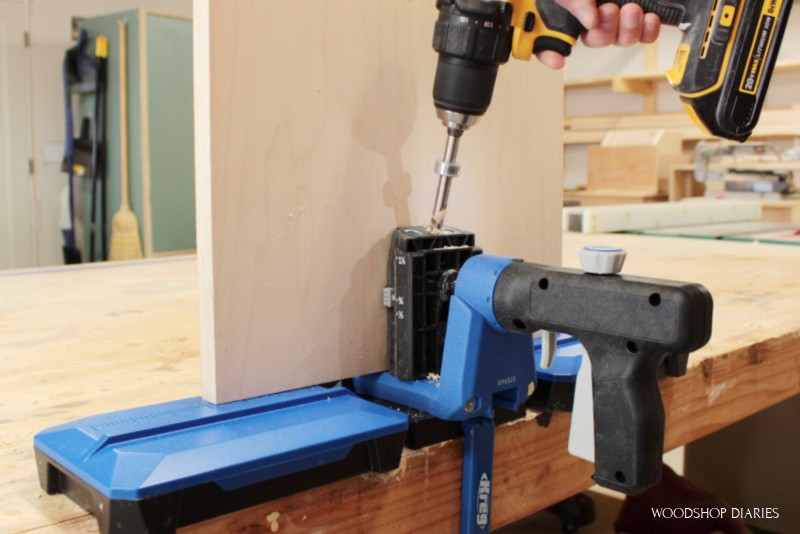 The Kreg 720 Pocket Hole Jig
The 720 Kreg Jig is more of a "stationary" version. It's larger and more expensive (about $130) but, it's also quicker and more efficient.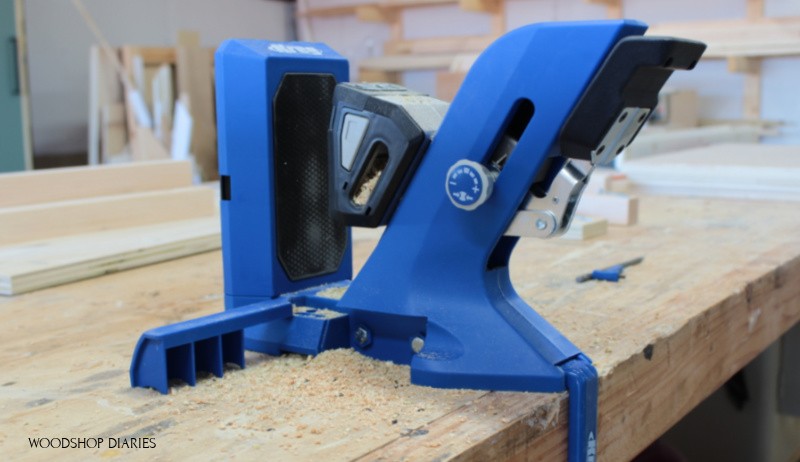 With the 720, instead of moving the jig around the piece, you move the piece around in the jig.
.
The 720 is a great option if you drill a lot of pocket holes and need a quick and efficient set up. Since you don't have to unclamp and move the jig for every hole, it's less labor intensive and much quicker for high production workshops.
.
This larger 720 jig comes with built in fold out/in extension wings for additional support for large boards or plywood panels.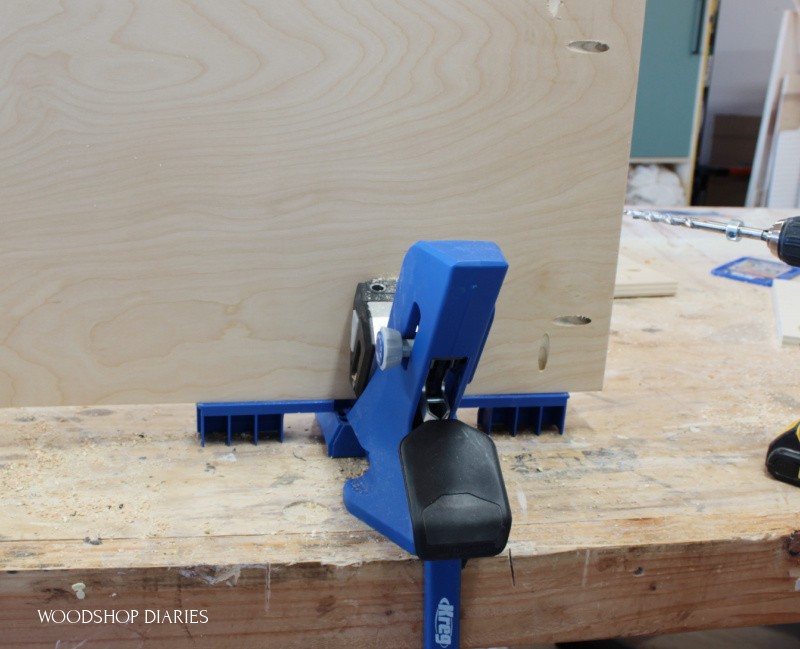 And just like with the 520, you can purchase a pocket hole clamp to clamp this jig to the workbench–or add on a docking station that includes the clamp, additional support wings and an adjustable stop block.
.
The Kreg 720 Jig also comes as a 720 Pro kit that includes the jig and the docking station together along with vacuum dust attachments at a discounted price than if you purchased them separately.
.
This jig actually can mount in multiple positions so you can drill both vertical (shown above) or horizontal (shown below in two directions).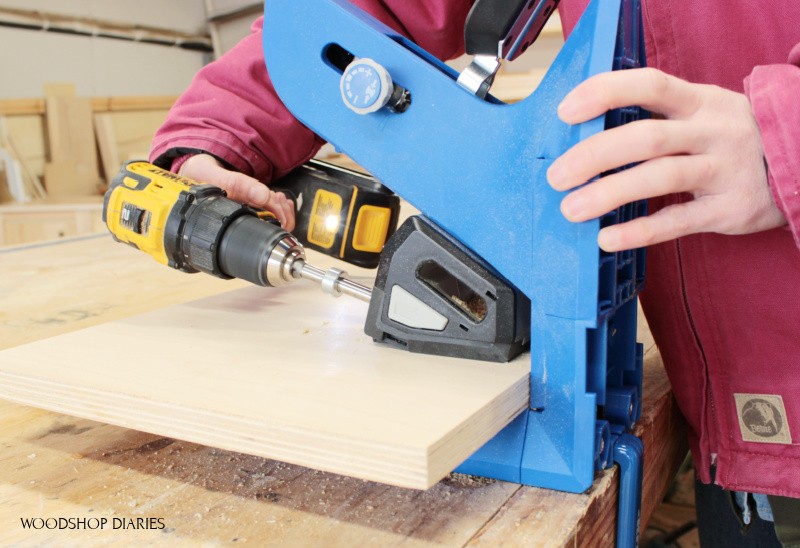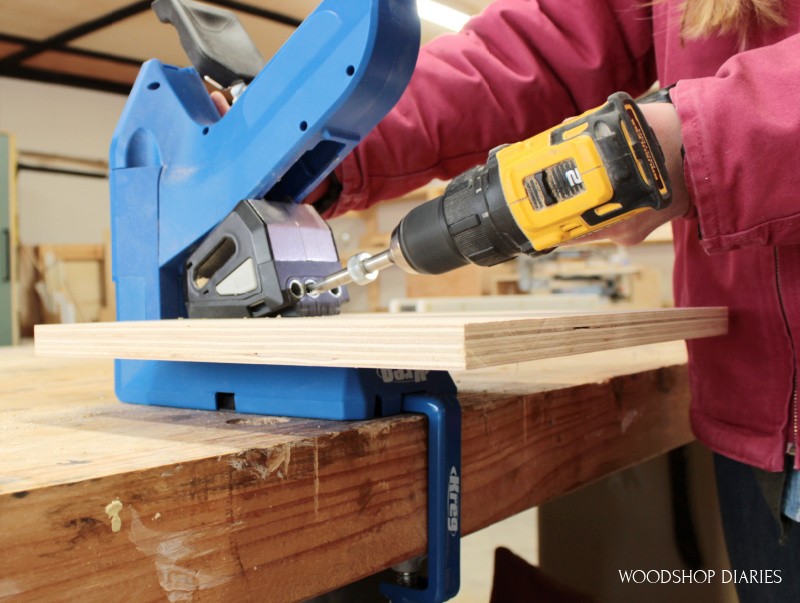 And, so you don't lose all your accessories, it comes with onboard drill bit storage on the back side. The 720 has all its features built right into it, so it's really an all-in-one package.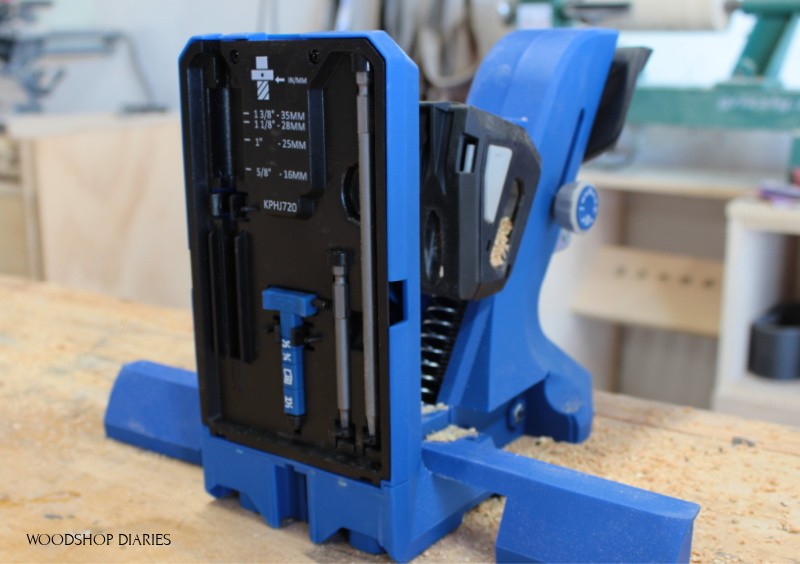 One of the coolest features of this new 700 series jig is that you don't have to set it up for your board thickness.
.
On the other jigs, you have to set BOTH your drill bit stop collar AND your jig up for the correct board thickness. But, the new 720 AutoMaxx clamp feature sets the jig for you (for materials ½″ up to 1 ½″ thick), so all you have to do is adjust the stop collar on your drill bit.
.
RELATED: Check out this post to learn how to use a pocket hole jig and adjust the drill bit properly.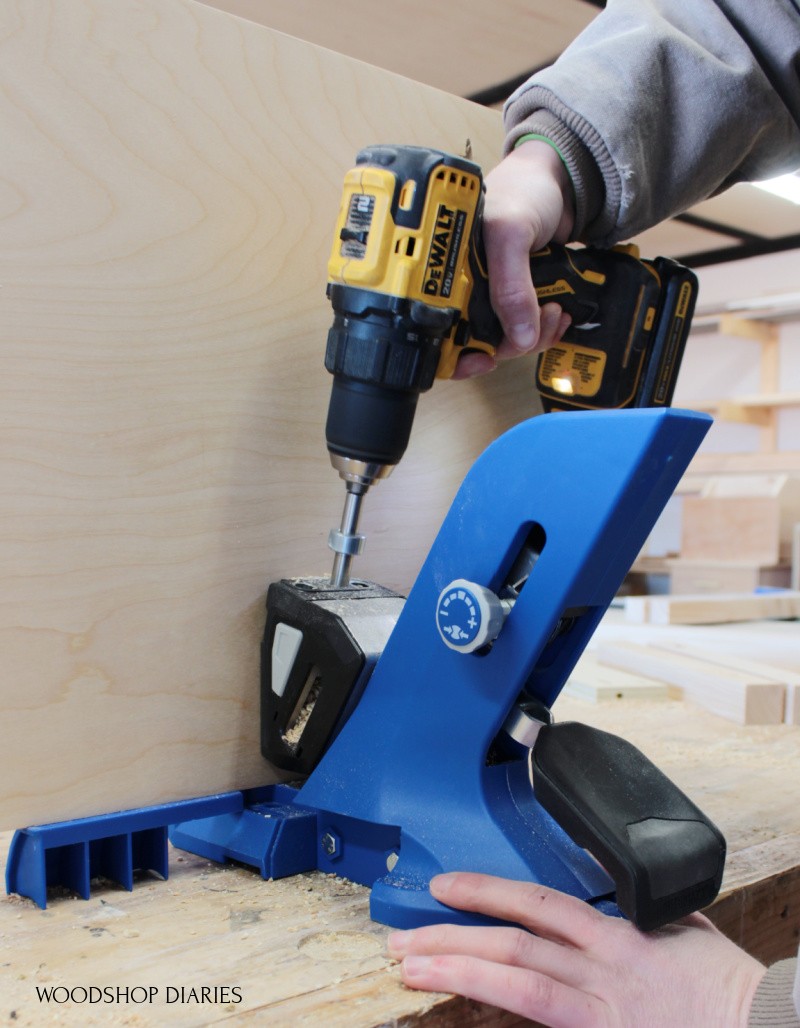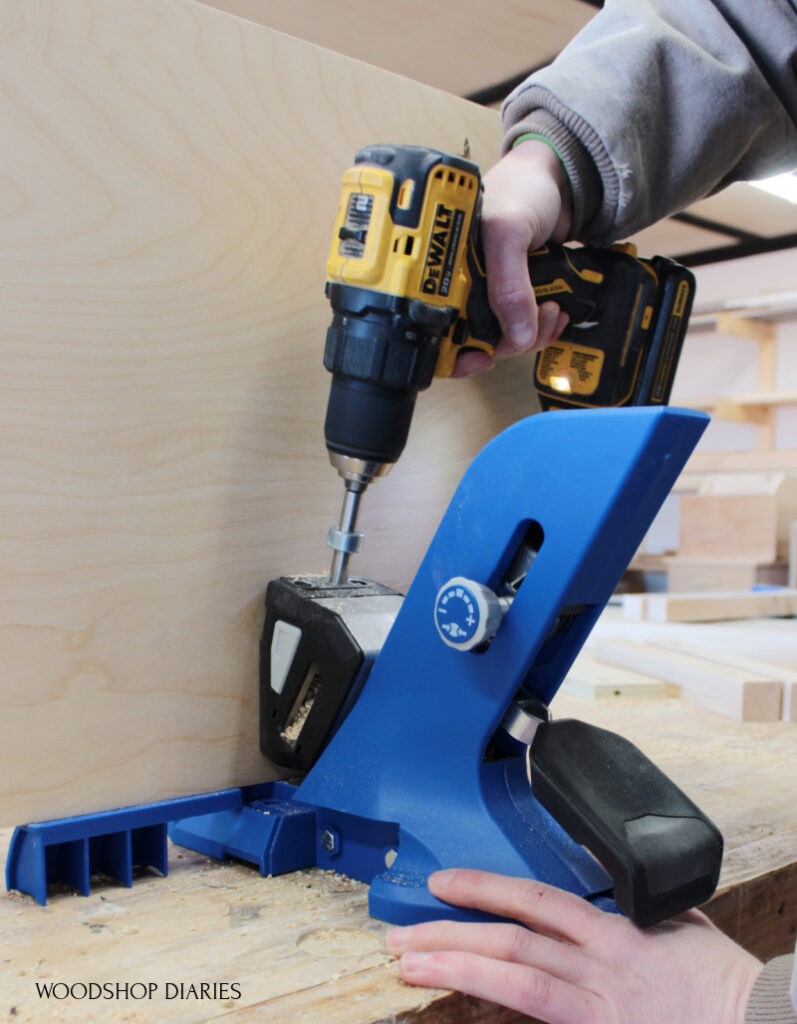 Personally, I only use ¾″ and 1 ½″ material with my pocket holes. So, I recommend purchasing an additional drill bit so you can keep one set up for ¾″ material and one for 1 ½″ material. Then, since this jig adjusts itself, you can just swap out the drill bit when you change materials and you're good to go.
.
This pocket hole jig set up also allows you to swap out the drill guide for a plug cutting attachment (sold separately).
RELATED: Check out how to drill your own pocket hole plugs with the plug cutting kit here.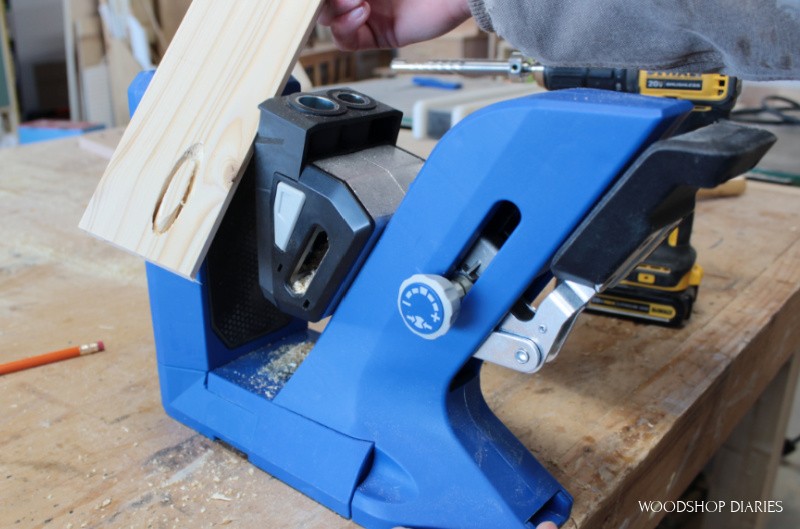 It may not be an accessory you are interested in using at the moment, but it is nice to have the option to add it on later if you decided to start cutting your own plugs at some point. The other two jigs don't have that option.
.
With all the bells and whistles this 720 jig offers, the biggest downside to it that I can see is that it's fairly large and not quite as easy to move around if you needed to drill pocket holes in really long boards or large panels.
Workshops that drill a lot of pocket holes
Shops with plenty of work surface space
Beginner to Advanced pocket hole users
Woodworkers looking for a jig for the long term
Anyone interested in cutting their own pocket hole plugs
Kreg 720 Jig Pros:
Auto-adjusts for board thickness
Allows you to use plug cutting guide to cut your own pocket hole plugs
Quick and efficient for high production pocket hole drilling
Built in extension wings for large board support
Onboard bit storage
Can clamp in both vertical and horizontal positions
Kreg 720 Jig Cons:
More expensive than the 320 and the 520
Takes up more work surface space
Doesn't function as a portable hand held jig for large boards if needed
The Kreg Foreman
Now, I can't say a lot about the Foreman as I don't personally have one and I've never used one. BUT, it's an option I'd only recommend for high production pocket hole drilling.
.
It's pricey (about $450) and takes up a significant amount of space, so it's probably not a great option for anyone just starting out or for small workshops that only drill the occasional pocket hole.
.
But if you drill a lot of pocket holes, it's worth considering and could be a really great investment and time saver for your shop.
.
You can check out more about the Foreman on Kreg's website here.
Final Thoughts About Choosing a Pocket Hole Jig
When you are looking at adding new tools to your workshop, I know it can be stressful when you aren't sure what's best for your situation.
.
I hope this helps clear up the difference between the Kreg jigs available and make a better, informed decision on which Kreg Jig to buy for you and your workshop.
.
If you're interested in learning more about pocket holes, check out these posts you might find helpful:
7 common pocket hole mistakes you may be making
Stay informed on more tool guides and project plans by signing up for our newsletter below!
.
And if you'd like to save this guide for later, be sure to pin it!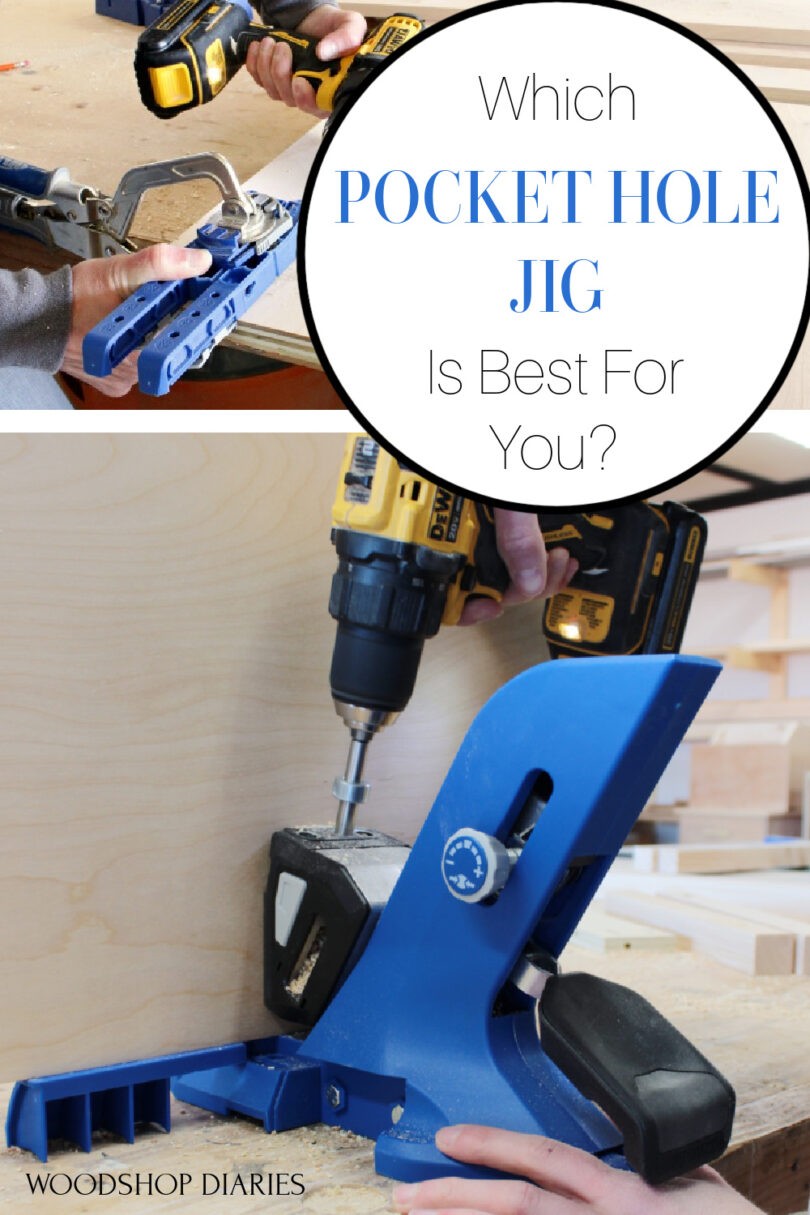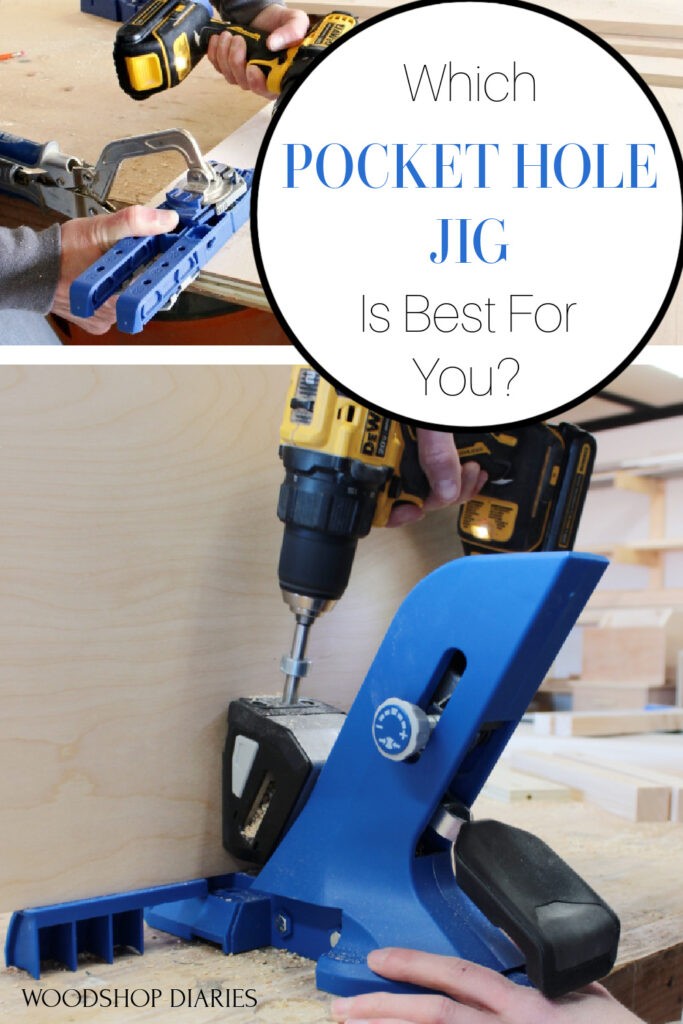 Until next time, friends, happy building! 🙂