In this post, I'll share the basics, some tips, and the step by step how to use a Kreg jig!
This post contains affiliate links. See policies for details.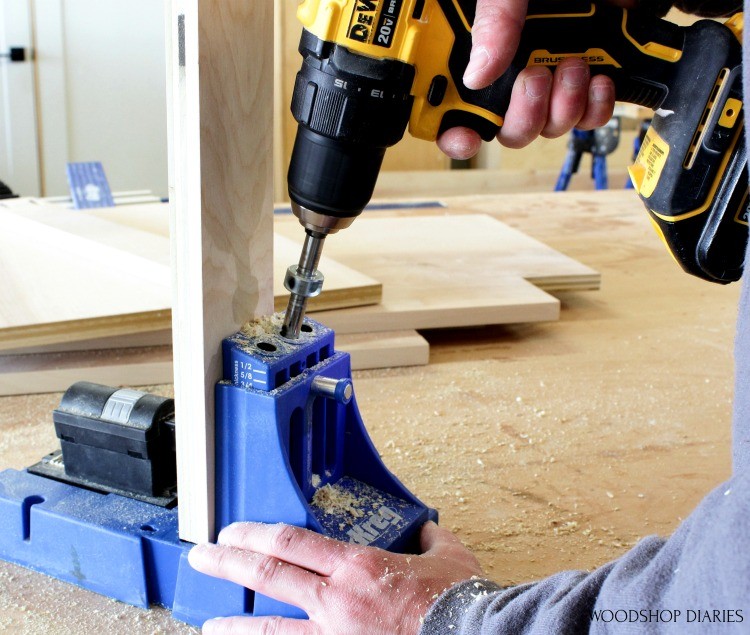 A Kreg Jig is a jig used to drill pocket holes. Pocket holes are a really popular joinery method for both beginners and advanced woodworkers alike.
.
While they can tend to be somewhat controversial within the "fine" woodworking community, it's hard to deny that pocket holes are an extremely strong, versatile, and quick option for simple butt joints.
.
Pocket holes have definitely earned their place on the list of most popular joinery methods and are a favorite among DIYers and beginner woodworkers for good reason.
What are Pocket Holes?
Pocket hole joinery is a method of joining wood together that involves drilling a hole into the end of a board at a 15 degree angle. This is called the "pocket hole."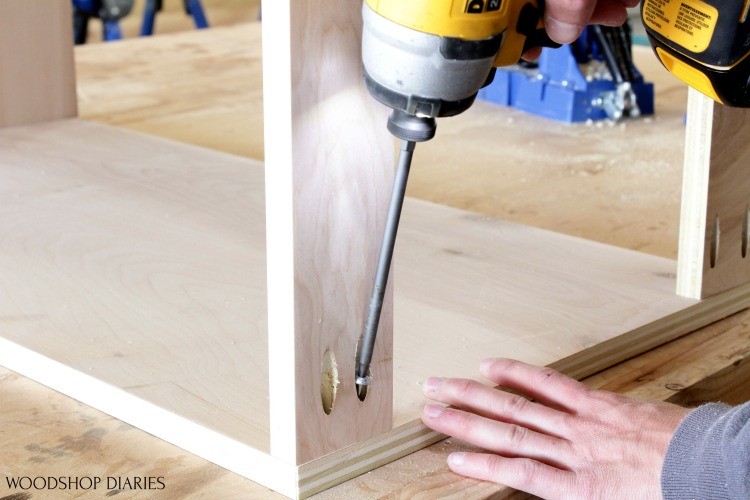 The wood is assembled by driving a screw through this hole and into the adjoining board.
Why Use Pocket Hole Joinery?
Pocket hole joinery is:
Quick
Easy
Only Requires Two Tools
If you break it down to the bare basics, to use pocket holes, you just drill a hole, and drive a screw, and all you need is a pocket hole jig and a drill.
.
Many other joinery methods require the use of a table saw, router, some chisels plus LOTS of patience, practice and test cuts and a bunch of messy glue.
When to Use Pocket Hole Joinery
If you're just needing to attach two boards together and don't want to see any exposed screw heads, a pocket hole may be a great choice.
.
In many cases, pocket holes are great for simply attaching boards together like this.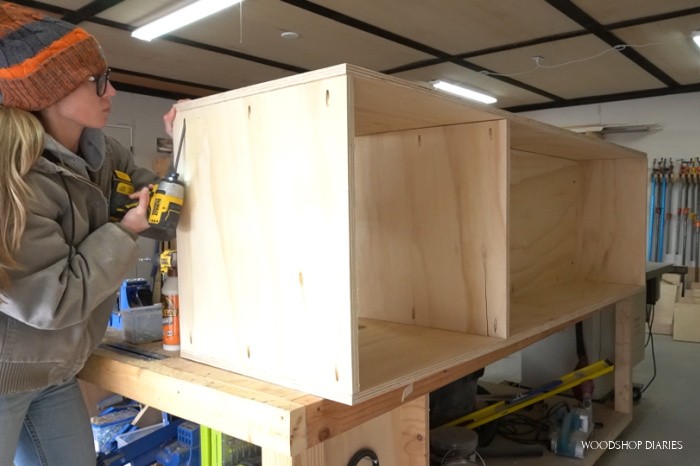 And they're great for attaching two boards together on the same plane like this as well.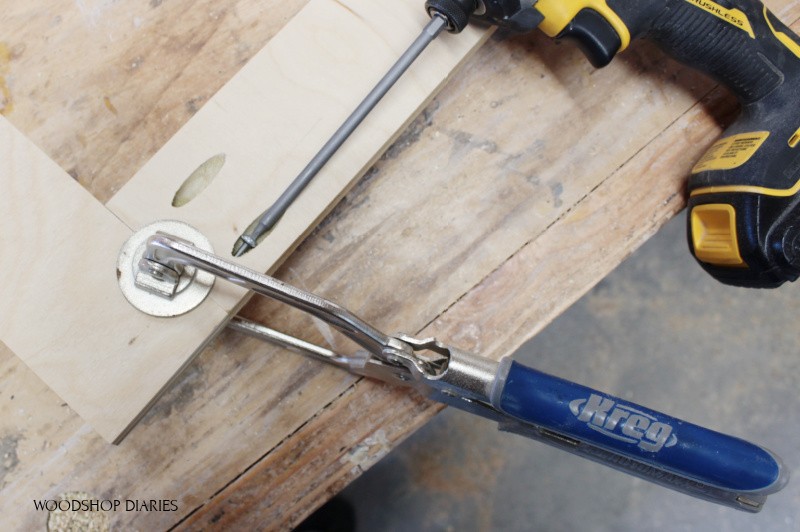 When used correctly, pocket holes work really well in plywood, softwoods (like pine and spruce), and hardwoods, too.
.
Pocket hole joinery is my go to method for cabinets and basic DIY furniture building.
When NOT to Use Pocket Hole Joinery
Here are a few examples where pocket holes may not be your best bet:
.
If you aren't able to hide your pocket holes and you plan on staining the piece, you might want to opt for a different joinery technique. You CAN plug pocket holes, but sometimes the plug may stain differently than the wood. Check out this post for four ways to plug a pocket hole.
.
If you don't really care if you see the screw heads and just need the pieces attached, a simple butt joint with a screw through it may be a simpler option than pocket holes.
.
If you're working in tight spaces and don't have room to drive a pocket hole screw (the drill plus the bit will require about 10-12″ of space to work), you may want to consider a different option. Although, a 90 degree drill attachment can help solve that issue.
.
I will note that PERSONALLY (this is just my own preference) I don't typically use pocket holes in hardwood projects. They work fine. My only reasoning is that hardwoods require a different thread screw than soft/plywoods and I don't keep both types of screws stocked in my shop. More on that below.
.
Personally, I prefer using dowels with hardwoods.
How to Use a Kreg Jig for Drilling Pocket Holes
If you're ready to start building using pocket holes, first, you need to grab a pocket hole jig and a drill. You can use a cordless or corded drill for this.
.
So, let's discuss how to set up your jig. No matter which one you're using, the proper set up is key!
RELATED: If you're wondering which jig you need, check out this post to help you decide which pocket hole jig is best for your shop!
.
Kreg Pocket Hole Jigs come with a jig, a drill bit, a stop collar, and a square head screw driving bit. And the newer ones come with a handy thickness gauge that doubles as the set screw wrench. Depending on which jig you buy, you may have additional accessories.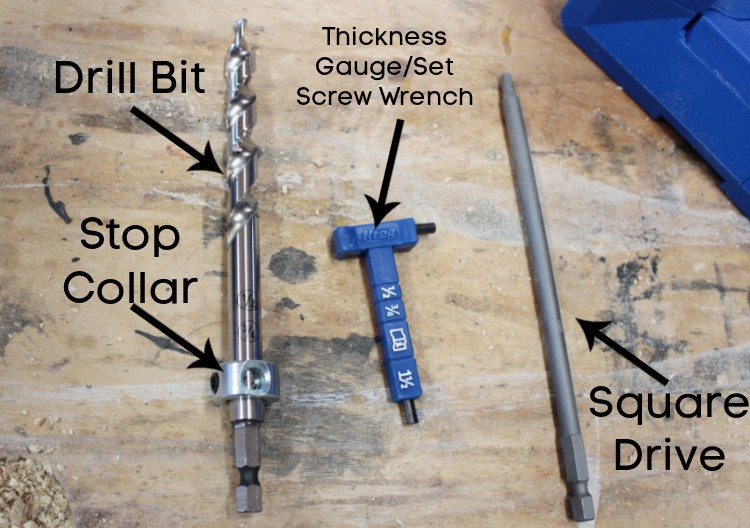 Step 1: Set Kreg Jig for the Proper Board Thickness
The first thing to do is figure out the board thicknesses you are working with. Generally, you'll be working with ½″ thick, ¾″ thick and 1 ½″ thick material. (In case you didn't know, typical 1x lumber is ¾″ thick and 2x lumber is 1 ½″ thick.)
.
Right now, you are just concerned with the thickness of the board you will be drilling the pocket holes into. Keep in mind that when joining two boards, usually only one has the pocket holes. Find the thickness of that board.
.
Now, you need to adjust the jig to match this board thickness. If you aren't sure how to do this, refer to the specific jig's instructions. The Kreg 320 has little tabs on the back to adjust up and down.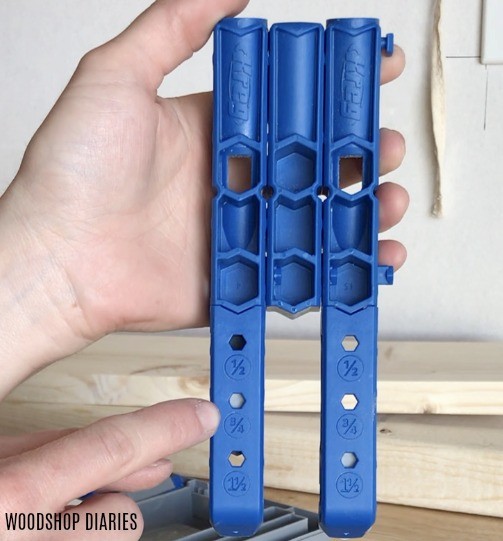 The older K4 and K5 both have pins on the front that you pull out to allow you to slide the drill guide up and to match up the markings on the sides.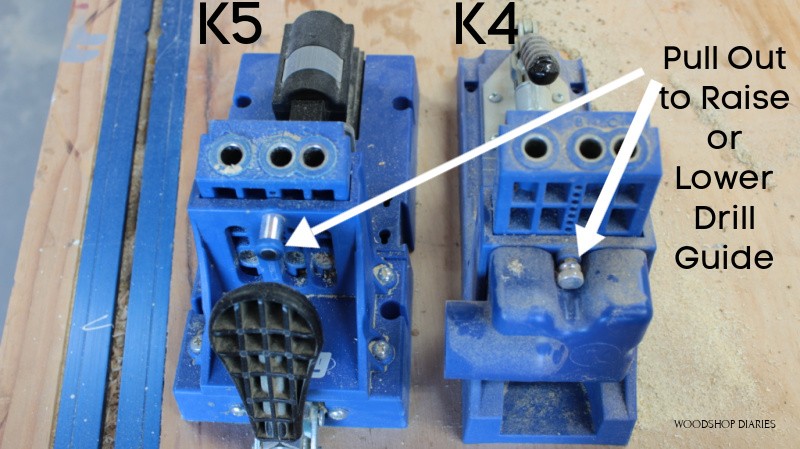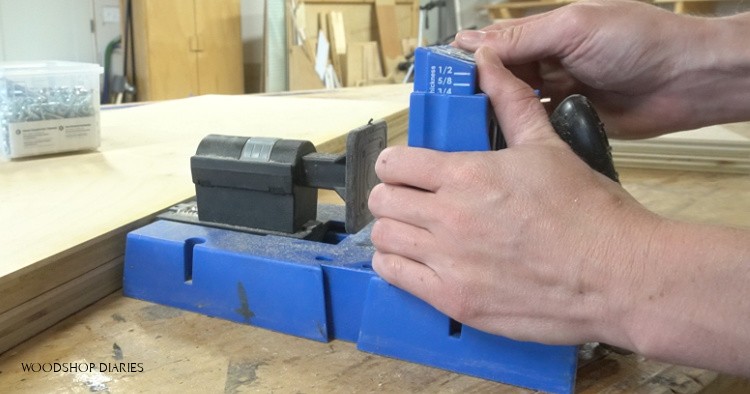 So, if you are drilling into a ¾″ thick board, set your jig up for ¾″ material.
.
But, there is an exception here…the new 720 Kreg Jig automatically adjust for the board thickness so you don't have to worry about it. It adjusts the guide as needed when you clamp your piece into it.
.
Check out this post to learn more about the 700 series and to find out which jig is best for you!
Step 2: Set Your Drill Bit for Proper Board Thickness
Now that your jig is set, you need to set your drill bit to match.
.
Now, you should already know your board thickness from step 1. But just in case you need some reassurance about it, the newer Kreg Pocket Hole Jigs come with a handy little gauge to help you see where to set your drill bit collar. See below, this board falls in the ¾″ area.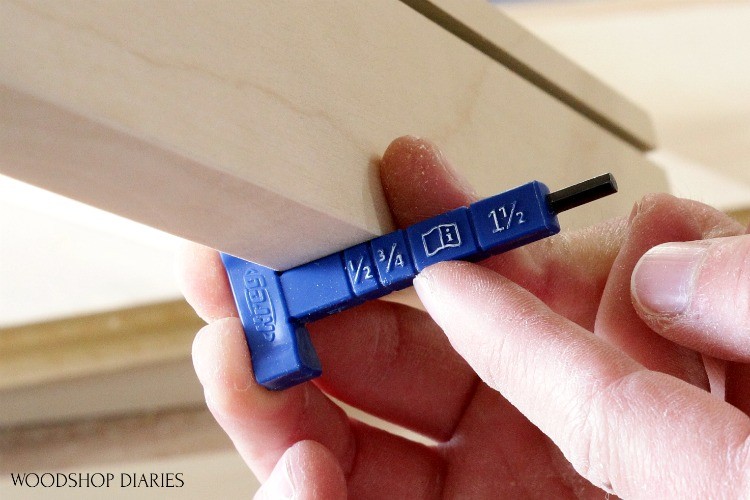 Use this handy gauge (or an Allen wrench) to adjust the stop collar on the drill bit that comes with the pocket hole jig.
.
Loosen the set screw on the side of the collar and adjust it up and down until the circle hits the thickness you need. Then, tighten the set screw to lock it in place.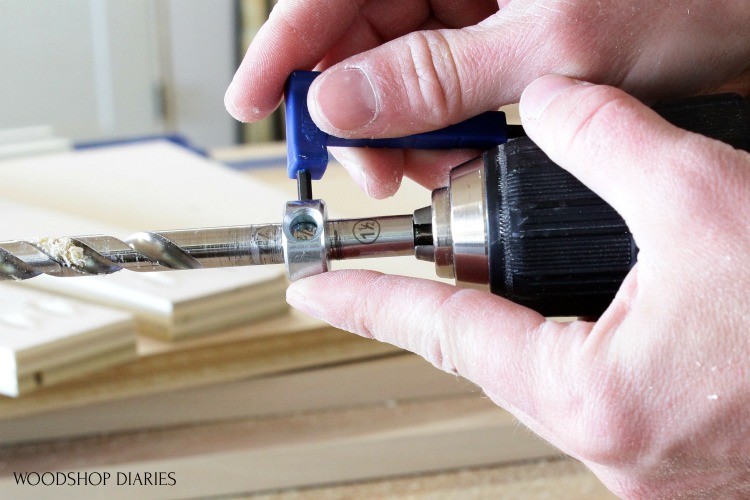 So, if you are drilling into a ¾″ thick board, you need to set BOTH your jig (from step 1) AND your drill bit for ¾″ material.
.
NOTE: On older versions, the bit may not have these marks and the collar may not have a hole. If that's the case, refer to your specific jig's instructions for how to adjust the stop collar for your board thickness.
.
But, this is a super handy feature, so I'd recommend buying a new drill bit that comes with the marks.
A special note about board thickness:
If you aren't working with typical thicknesses and need additional options, you can adjust the collar as needed, but err on the small side.
.
For example, if you're drilling into a 1″ thick board, adjust your collar between the ¾ and the 1 ½ setting. You can estimate about where the 1 would be and drill a test hole to make sure it doesn't come out the end of the board.
.
Err on the side of too short rather than too long. If you set it too far, you will run the risk of drilling too deep and either having a weak joint or the screw will pop out the end when you assemble your boards.
A Note About Plywood:
¾″ plywood is rarely actually a full ¾″. It varies depending on the brand you buy, but the PureBond Plywood that I use in my projects is 23/32″–which is 1/32″ shy of the full ¾″. I keep my drill bit collar set at ¾ and don't run into any issues even though the wood thickness is slightly under.
.
HOWEVER, if you are using undersized ¾″ plywood and are having issues with screws popping out, try adjusting your collar SLIGHTLY less than ¾ to avoid drilling your holes too deep.
Step 3: Drill Your Pocket Holes
Once your jig and your stop collar are both set for your board thickness, simply clamp your wood in the jig and drill your holes.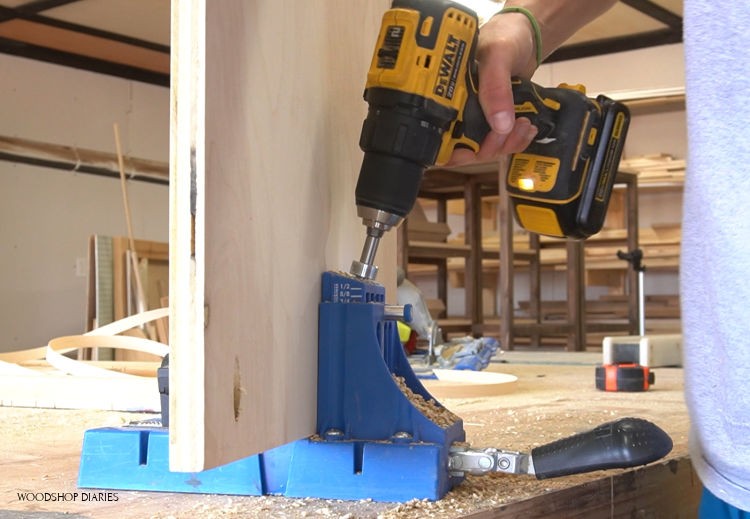 As a note:
For 1 ½″ wide boards, center the board on the two right holes (the ones closer together) and drill those two holes.
For 2 ½″ wide boards, center it on the two left holes (the ones further apart) and drill those two holes.
For boards 3 ½″ wide, center the board on the two outside holes and drill those two holes.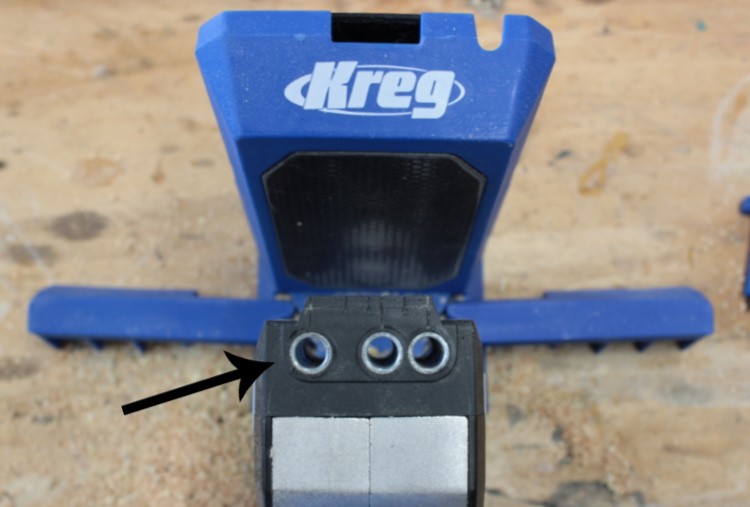 For boards or plywood panels wider than that, drill holes spaced out as needed depending on your application. Kreg recommends spacing holes about 6″ apart and at least 2″ from each edge when possible.
.
Of course, different applications may need less or more–but that's a good guideline.
.
Be sure to drill each hole until the stop collar makes contact with the jig.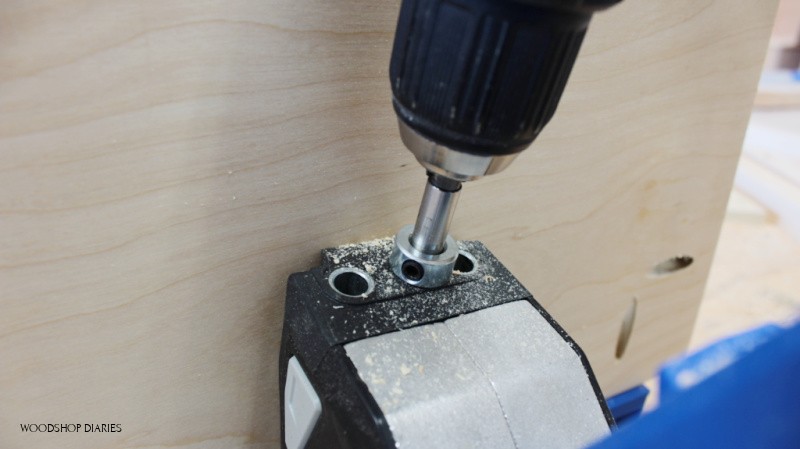 The jigs come with a dust collection port to suck the particles out as you drill. I don't usually use the dust ports, but I do try to vacuum or clean out the pieces every couple of boards to keep things from getting clogged.
.
Things to watch out for…if you notice after drilling, that you have a dimple or a hole in the bottom end of your board, you have drilled too far.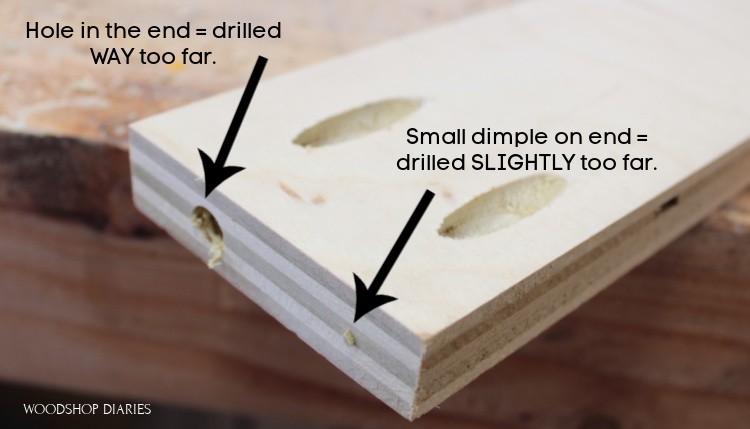 Adjust your stop collar on your drill bit closer to the tip and try again on some test pieces until this is gone. If you just have a dimple and not a hole, you're really close to where you need to be…just adjust SLIGHTLY.
The Issue with 1x2s and 2x2s…
While we talk about drilling pocket holes, I just want to throw this tip out there. When I use 1x2s and 2x2s in a project, I only drill one pocket hole on each end. Theoretically, each joint should have at least 2 screws.
.
But, in the past, when I've tried to use two on these narrow boards, they crack or split. So, I've started only using one. That's just how I do it…you can use two…or one…BUT…
.
That said, if you plan to only use one screw at a joint, DON'T SKIP THE GLUE.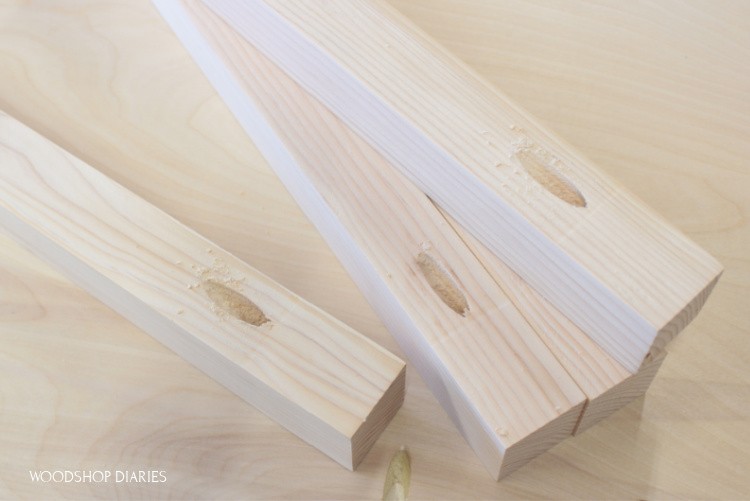 Step 4: Choose the Correct Screw
Before we discuss screw length, let's first discuss what a "pocket hole screw" is. Pocket hole screws are just washer head screws (some also come with a "pan head" as well). See how the head of the screw is rounded over and has a "built in washer?"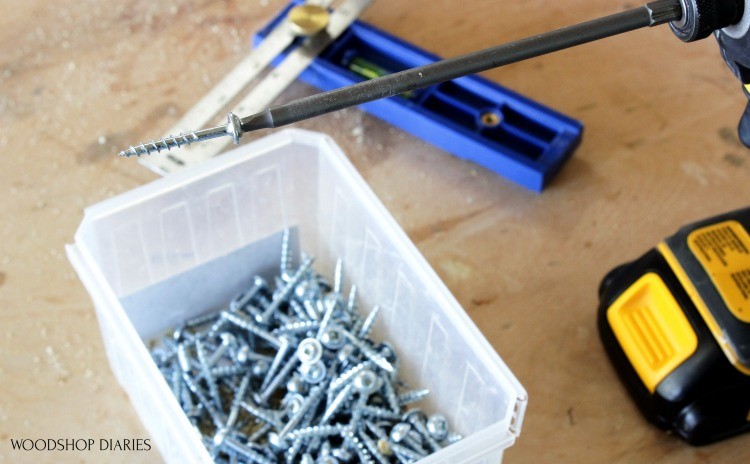 These washer and pan head screws are designed to fit into the pocket hole and the washer prevents it from countersinking and driving through the hole. The washer head also allows it to pull the adjoining piece nice and tight.
.
It's important to use WASHER OR PAN HEAD POCKET HOLE SCREWS for your pocket hole applications. Don't use countersinking screws in pocket holes.
.
It's also important to note that Kreg makes these for both indoor and outdoor applications. The silver (zinc) screws work well for indoors, but if you are going to use them for outside, grab the Blue Kote outdoor screws to prevent rusting and corrosion.
.
It's also important to note that you need to use COARSE threads on soft woods (like pine, spruce, fir) and plywoods. And you should use FINE threads with hardwoods (like oak, maple, wanut, etc.).
.
Now, we have to also choose the correct screw LENGTH. Kreg has a really handy chart on their website for this.
.
But the basic rule of thumb in most cases is:
Use 1″ screws for ½″ material
Use 1 ¼″ screws for ¾″ material
Use 2 ½″ screws for 1 ½″ material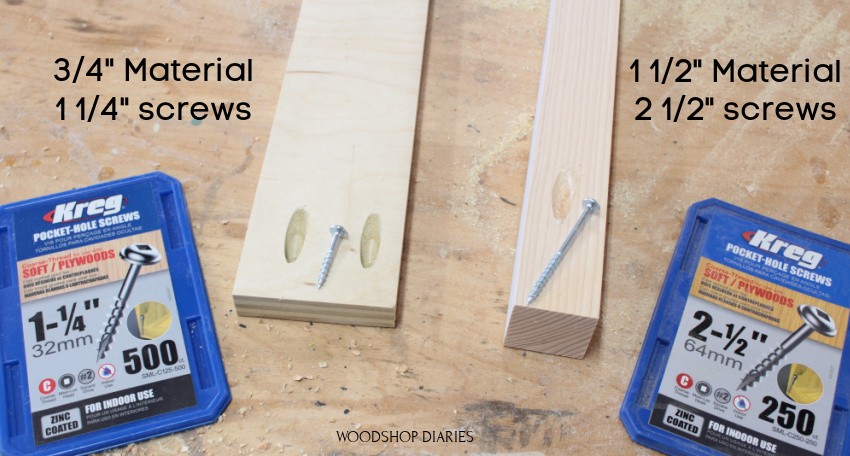 They make pocket hole screws in a ton of different lengths, but I only keep coarse 1 ¼″ and 2 ½″ on hand in my shop as they are what I use most often.
Step 5: Assemble Your Pieces
Once the correct holes are drilled and the correct screw is chosen, it's time to assemble!
.
Pocket holes don't REQUIRE wood glue, but it's never a bad idea to add some just for some extra security. It's a personal preference…wood glue will just give you a stronger hold.
.
Place your pieces as needed and use the long square driving bit to drive the pocket hole screw through the pocket hole and into the adjoining piece. You can use an impact driver OR a drill/driver to drive the screws. Just go slow and steady so you don't overdrive or strip them out.
A few helpful tips:
Clamp the piece(s) before driving the screw. If you are assembling pieces on the same plane (like a face frame), Kreg makes a really handy face clamp that works great.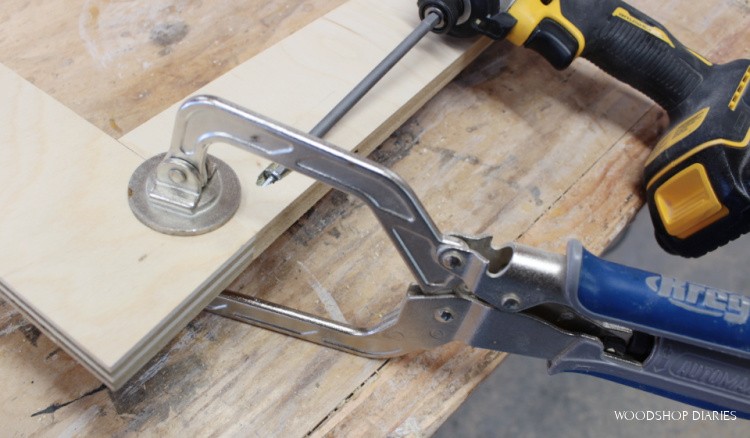 I don't typically clamp my pieces when assembling at 90 degrees like shown below. I just hold them tightly in place while I drive the screw. But, this takes practice. You have to hold it TIGHT and drive the screw slowly until it gets started into the second board.
.
If you need some help keeping your pieces in place, you can try corner clamps, or bar clamps to hold it in place while you drive the screw.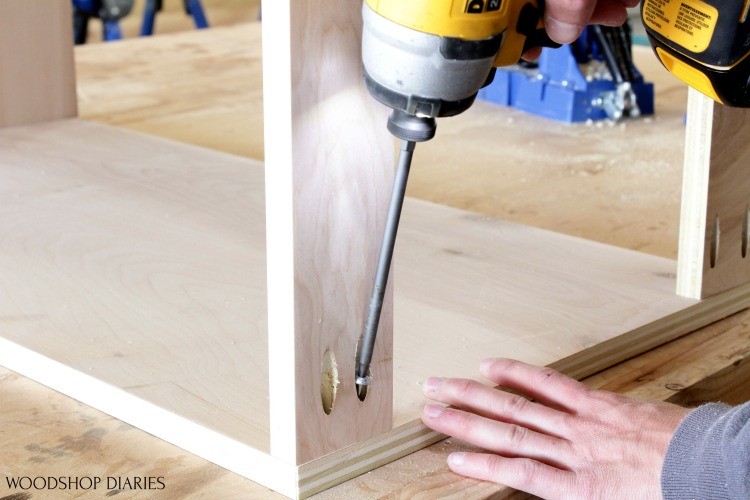 Also, don't overdrive your screws. Drive the screw until it pulls the pieces together tightly, then stop. Overdriving can cause the screw to pop out the other side or completely strip out making your joint useless.
.
Pocket holes are angled at 15 degrees. So the screw goes in at 15 degrees. This has a tendency to pull the piece with the pocket holes forward as the screw is driven. So overdriving can cause your piece to be pulled out of place due to the angle of the screw.
.
If your pieces move when attaching, the best advice I have is to CLAMP and DON'T OVERDRIVE.
Step 6: Plug Your Pocket Holes (Optional)
Once your pieces are assembled, there are several ways to fill any exposed pocket holes.
.
I'll show you four easy ways to plug pocket holes in this post!
Final Thoughts on Using Pocket Holes in Woodworking Projects
Pocket holes are an excellent option for weekend woodworkers and DIYers who don't have a shop full of tools, but want to build awesome stuff.
.
I hope this guide was helpful in getting you started to use pocket holes in your woodworking projects.
.
If you'd like to read more about pocket holes, be sure to follow along for posts coming out soon with these helpful guides:
7 common pocket hole mistakes you may be making
If you aren't already following along in our newsletter, be sure to sign up below to be the first to know about new projects and posts!
.
Be sure to pin this guide for later so you can reference it when you need it!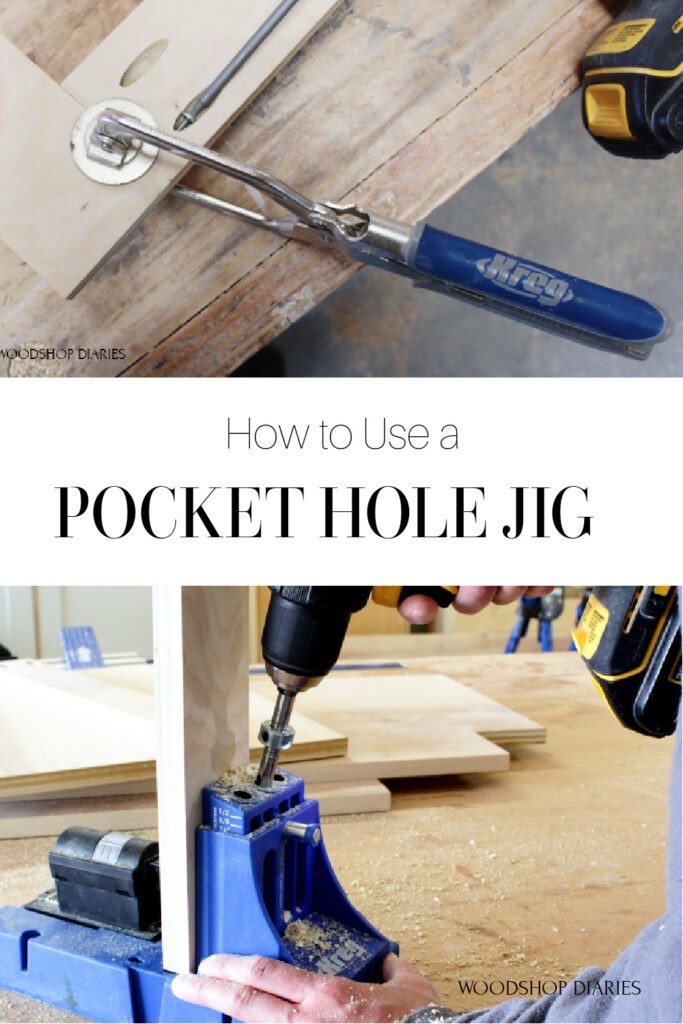 Until next time, happy building 🙂