This post is a review of the Ridgid Cordless Shop Vacuum and is sponsored by The Home Depot as part of the ProSpective Tool Review Program. See policies for details.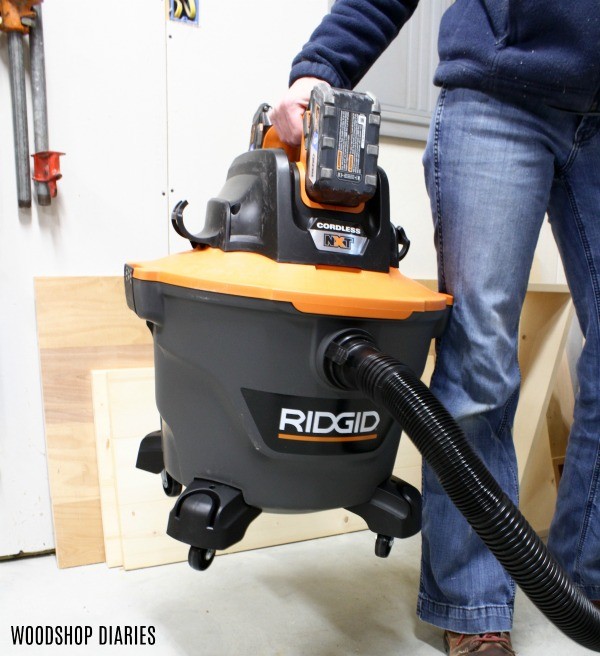 I don't know if you've heard, but cordless is IN. You know like platform shoes were in at one time. And bell bottom jeans were in. With the styles I see these days…I don't even know what's in anymore (I just wear work jeans and t shirts since they never go out of style haha). But, in the tool world, cordless is in, no doubt about it.
.
If you head to the tool section of The Home Depot, you'll see tools you (well, at least I) would have never dreamed would be cordless–routers, miter saws, even some table saws. WHAT A TIME TO BE ALIVE!
.
But I had always kind of assumed a shop vacuum would eventually become cordless. And I couldn't wait for that day. That would be the day I would hang up my extension cords, get rid of the tripping hazards, and finally vacuum my truck without having to find the nearest outlet and the longest extension cord.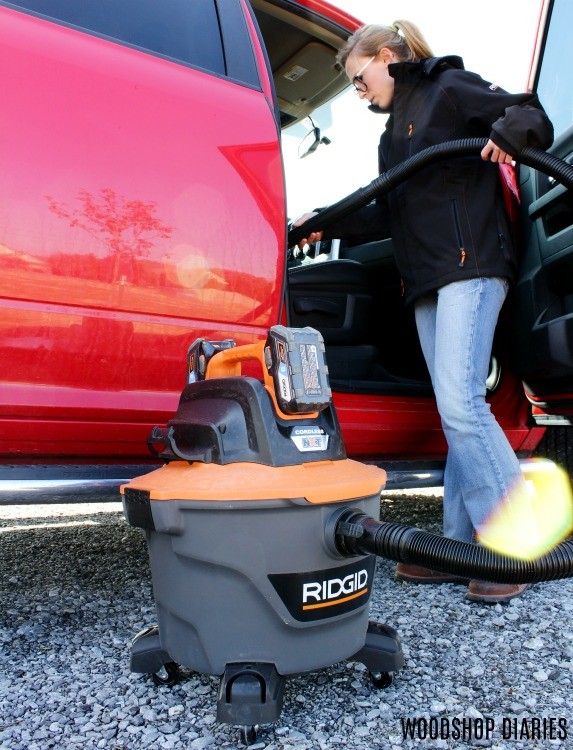 There have been a few brands come out with one fairly recently, but today, I want to show you the one that I'm using–this Ridgid 9 Gallon 18V Cordless Shop Vacuum.
First, let's talk about what comes in the box
Much like the heated jacket I reviewed lately, you can purchase this vacuum with or without a battery. If you are already on the Ridgid 18V battery platform, this works with your existing batteries, so there's no need to purchase any additional.
.
However, if you aren't on the Ridgid platform already, you can purchase this kit that comes with a 9.0ah battery and a charger to get you started.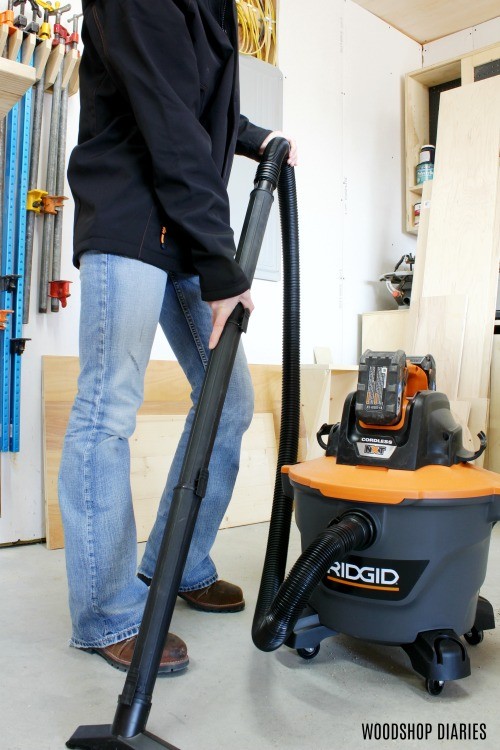 Whether you purchase the vacuum with or without a battery, it also comes with a filter, a 7ft flexible holse (1 ⅞″ diameter), and several attachments that help get in tight spaces or vacuum large, flat surfaces like workbenches and floors.
.
The full size (9 gallon) vacuum requires no fancy assembly right out of the box except simply snapping on the included rolling feet.
But, what about power? Isn't it weak?
In short–I'm very impressed with what this Ridgid Cordless Shop Vacuum has sucked up while I've used it to clean my shop. I expected a battery operated vacuum to be a little less "sucky" than my corded version. Seriously…it's not.
.
But, I feel I need to elaborate a little on this subject.
.
You will notice that this vacuum has a place for two batteries on top. However, it can run on just one. Two batteries extends the run time before needing to recharge.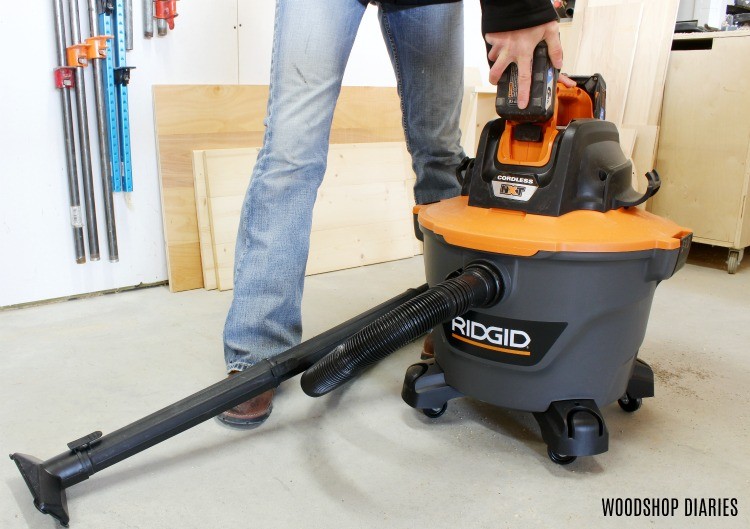 I haven't noticed a difference in POWER using two batteries vs. just one. But it does run significantly longer with two batteries.
.
The hose on this vacuum is 1 ⅞″ diameter. The hose on my corded vacuum is much larger. I wanted to do a comparison video between my cordless and corded vacuums, but it's really not comparing apples to apples. Obviously, with a bigger hose, the corded version can suck up larger objects. But, they can both suck up equally heavy objects–screws, rocks, wood chunks. I made a quick video showing this vacuum in action.
So, let's break this down to pros and cons…
Pros:
Full size vacuum (9 gallon) for less emptying
Same amount of "sucking" as a corded vacuum
Runs on Ridgid's 18V battery platform (so you can use your existing Ridgid batteries)
Multiple attachments for hard to reach, or flat surfaces
Runs on one OR two batteries
7 ft tug a long hose for easy maneuvering while vacuuming
NO CORDS–HALLELUJAH!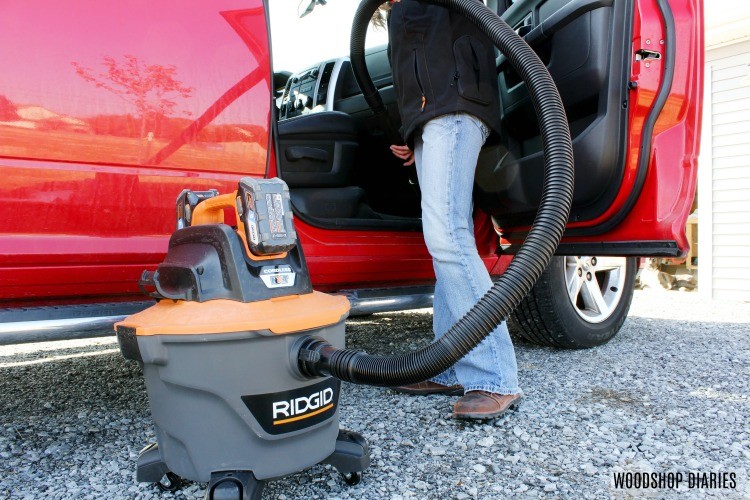 What about the cons??
The biggest downside to this vacuum vs. my corded version is the smaller hose diameter. So basically, it just can't suck up larger chunks of wood off the shop floor…which honestly, I probably shouldn't be sucking up anyway–that's why I have a broom haha.
.
And of course, in a perfect world, the batteries would last forever. But we don't live in a perfect world, so they need recharging. But with two fully charged batteries, it does last a good while. We used this vacuum while installing our new vinyl floor and they lasted several hours of intermittent use vacuuming debris and dirt from the floor as we went.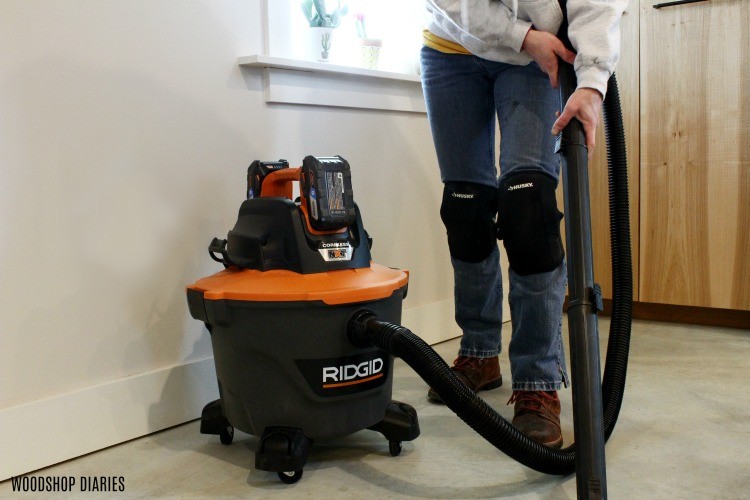 The larger batteries will last longer, so I'd recommend using with a 6ah or more.
Final thoughts on the Ridgid Cordless Vacuum
Overall, I give it a five out of five stars. I've wanted one of these for my shop for a while and it didn't disappoint. I'm able to keep my shop a little cleaner as I go without tripping over extension cords and hogging an outlet with my corded vacuum.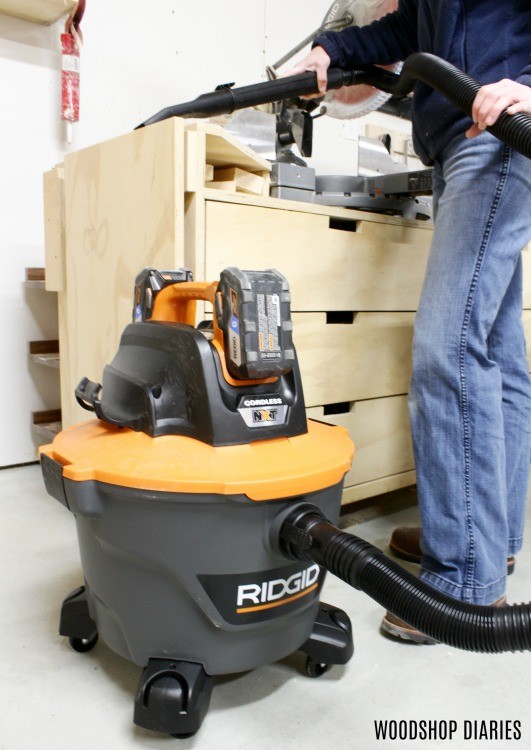 So if you're interested in getting one for your own shop, you can purchase this kit with a battery and charger included OR this kit without the battery included.
.
If you've enjoyed this review, be sure to check out my other tool reviews here and be sure to pin this for later 🙂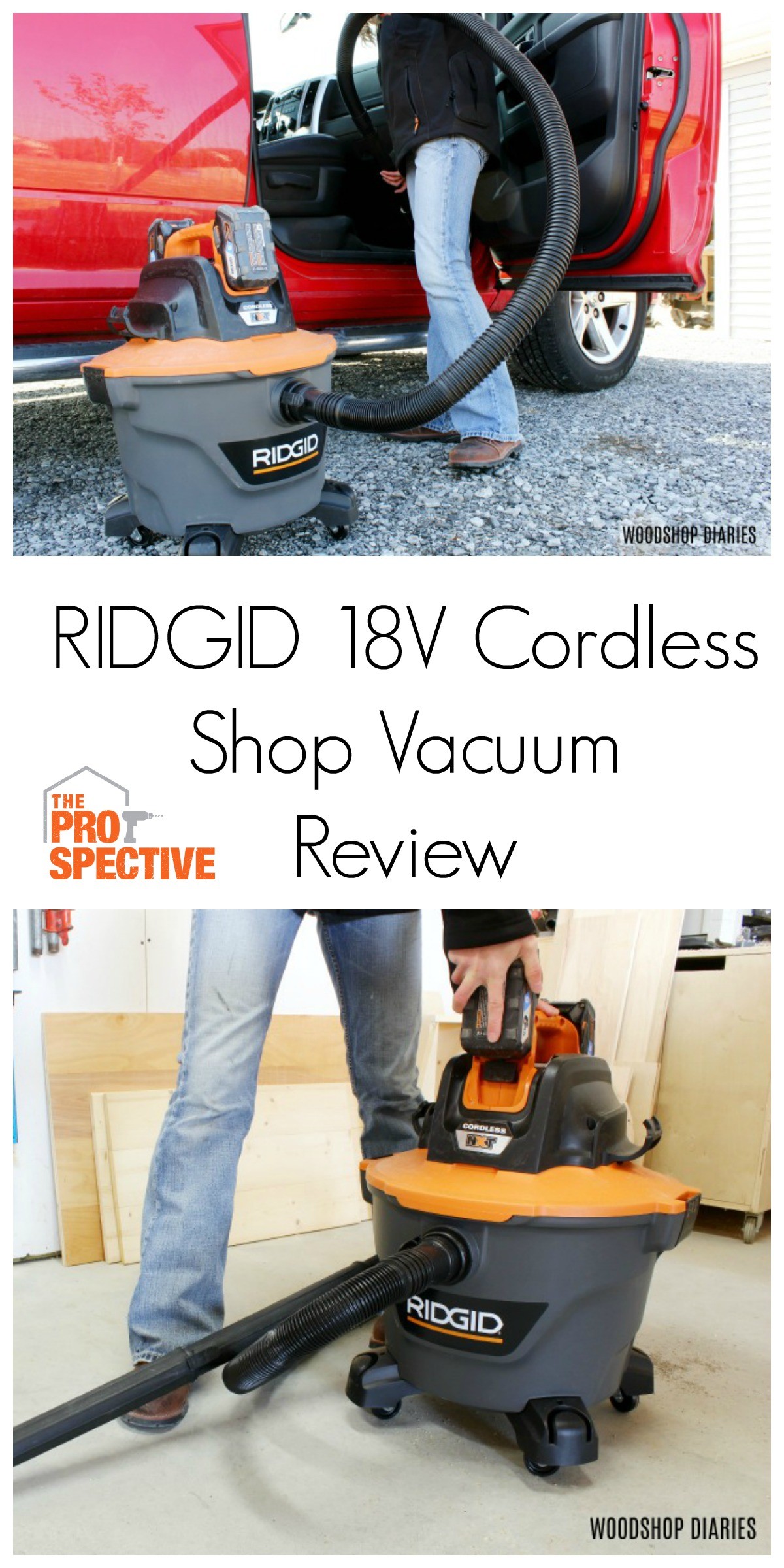 Until next time, happy building 🙂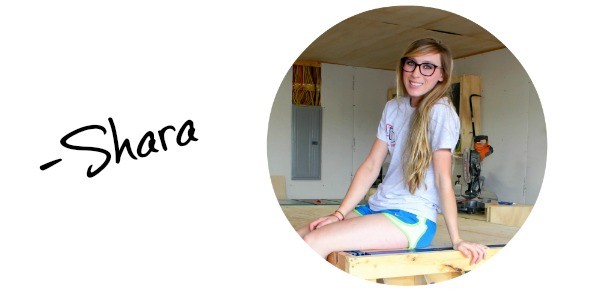 I acknowledge that The Home Depot is partnering with me to participate in the promotional program described above (the "Program"). As a part of the Program, I am receiving compensation in the form of products and services, for the purpose of promoting The Home Depot. All expressed opinions and experiences are my own words. My post complies with the Word Of Mouth Marketing Association (WOMMA) Ethics Code and applicable Federal Trade Commission guidelines.