Battery powered heated jacket?? Who knew that was even a thing?! In this post, I'm reviewing the new Ridgid 18V Battery Powered Heated Jacket and showing its features. This post is sponsored by The Home Depot as part of the ProSpective Program and contains affiliate links. See policies for details.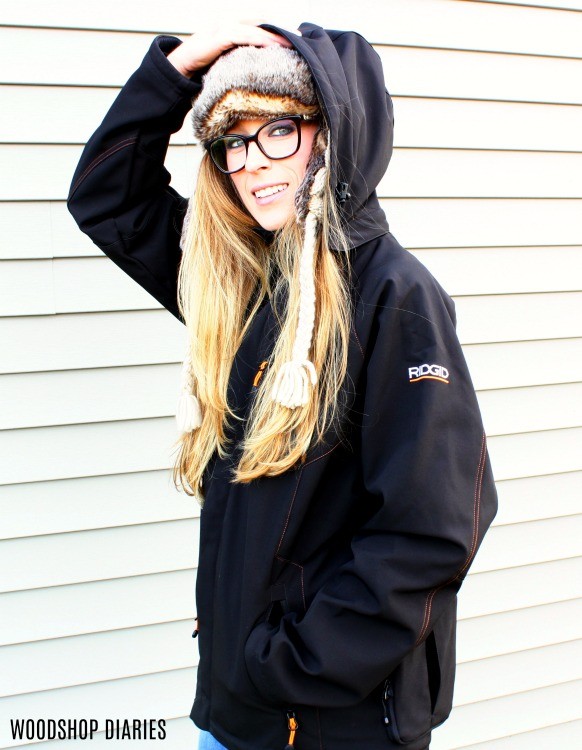 I'm not a fashionista. Two things are true of my winter wardrobe–it's comfortable and it's warm. We are talking sweats and hoodies and literally not much else. #fancy I have priorities, and style just isn't at the top of the list.
.
First is warmth. So when I heard about heated jackets, I was definitely up for giving one a try. I was a little skeptical, I'll be honest, but had high hopes. As part of The Home Depot's ProSpective Tool Review Program, I received one of these new Ridgid 18V Battery Powered Heated Jackets and I'm excited to tell you about it. So let's dive in.
Battery Options for Heated Jacket
This jacket runs on Ridgid's 18V battery platform. You can purchase this jacket WITH or WITHOUT a battery. If you have existing 18V Ridgid batteries, you can use those if you want. However, the battery that comes with the jacket is much smaller than the batteries I use with my Ridgid tools. So, personally, I'd recommend getting the smaller battery to minimize bulkiness. See the comparison?
If you're already on the Rigid 18V platform, this smaller battery still charges on the same 18V charger, so no need to purchase anything additional.
What about the heat?
The jacket has 3 heat zones–one across the back, and one on each side of the chest, and the heat intensity heat is adjustable on three different heat settings. The heat isn't excessive, even on the hottest setting, but it is enough to "knock the chill off" if you're outside in the cold. My jacket fit a little loose (it's a men's small), so I think the heat would have felt more substantial had it fit a little tighter. Still, I don't think you're going to break a sweat in it, but it did make a noticeable difference when walking the dog, working outside, and piddling in the shop at around 30-40 degrees.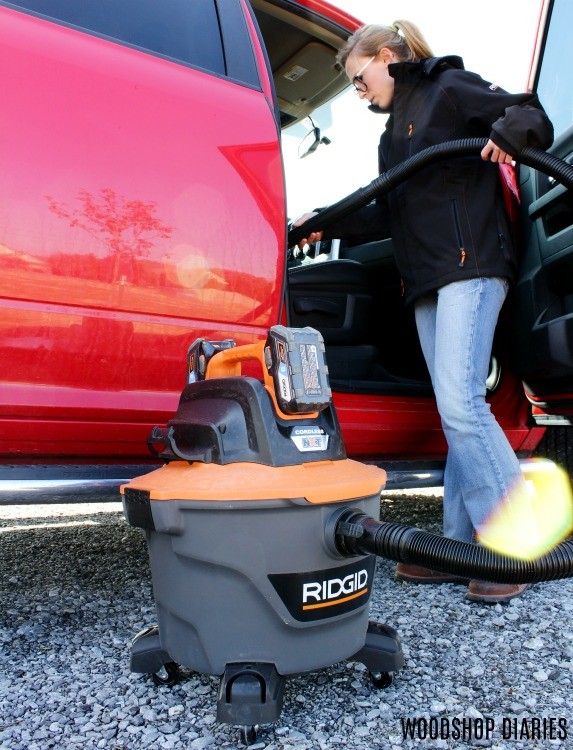 In order to turn on the heat, you simply slide your battery pack onto the power source, plug the jacket in (there's a cord located in the left hip battery pocket), press the orange activation button on the power source, then press the power button on the jacket at the top of the left side.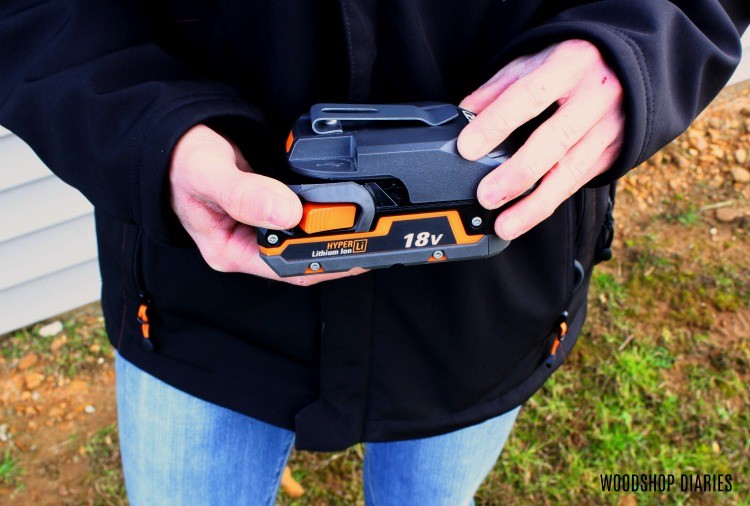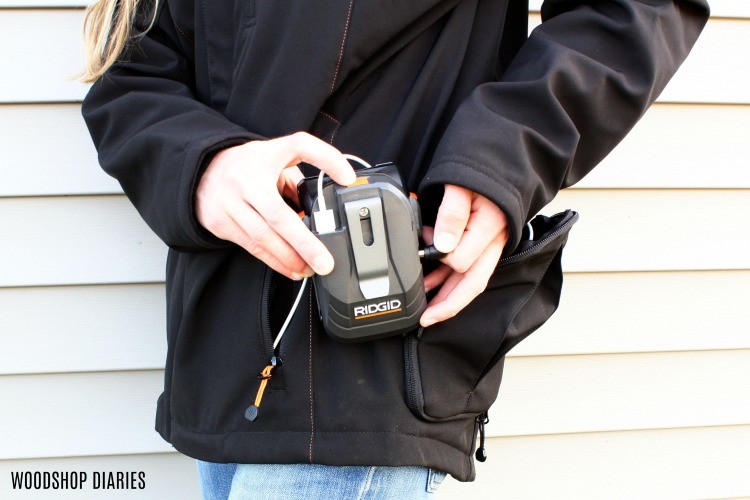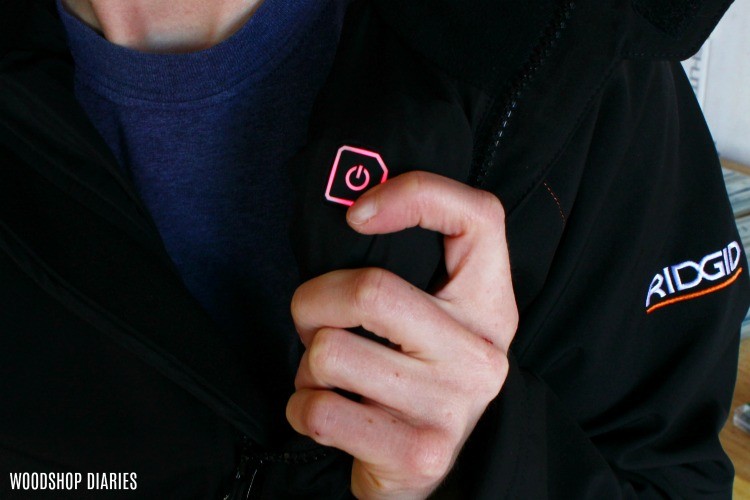 The power button on the jacket will light up red, orange or white to indicate which heat setting it is using. Red is the warmest, orange is the middle, and white is the coolest setting.
If you're wondering what to do with the battery pack at this point, that's a good question. The power cord on the jacket is located in a pocket on the back of the left side. You can zip up and store your battery pack in this pocket.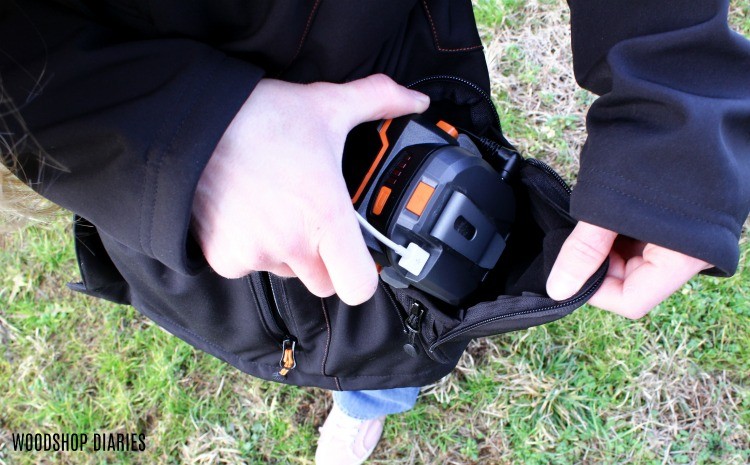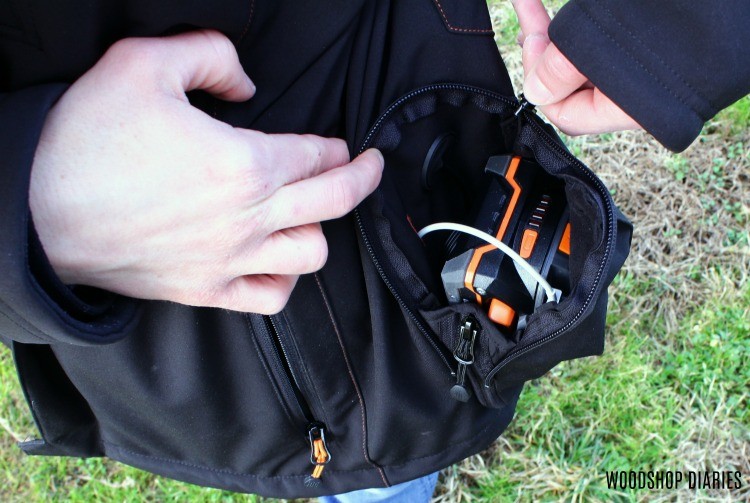 OR, my personal preference–the power source has a belt clip and you can reroute the power cord on the inside of the jacket and slip your battery pack onto your belt, pants pocket, or waistband. I think it feels less bulky using the belt clip, but you have a couple options depending on your own preference.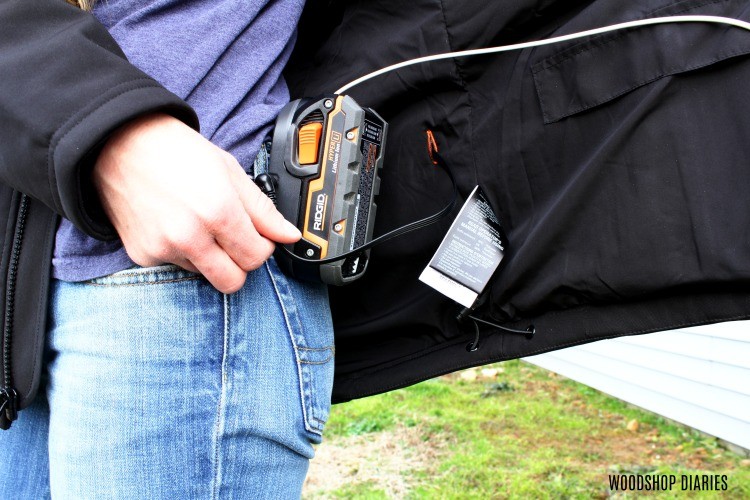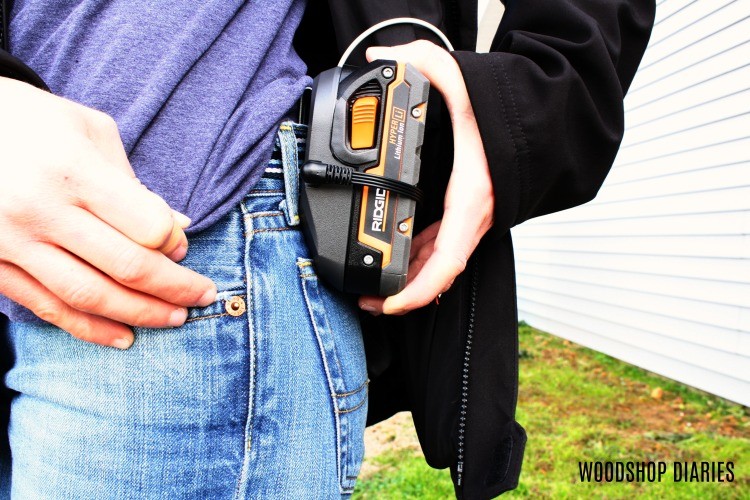 USB Charging Options
You may also have noticed the USB plug in in these pictures. The power source has a USB plug in so that you can heat your jacket AND charge your phone (or other USB device) at the same time. The jacket has a cell phone pocket about mid way up, but I like to keep my phone in the lower pockets instead. Either works and it's got several little slits on the inside to run your wires between different pockets and into your battery pack.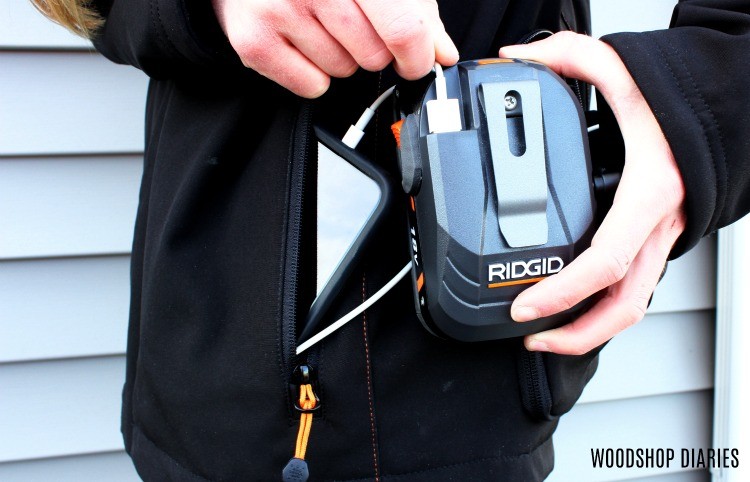 Let's talk about the JACKET
As far as the jacket itself, it's wrinkle resistant, has a removeable hood, and is a nice slick material that I've found easy to wipe clean (wipe clean=brush off sawdust and dog hair because that's what I'm always covered in haha).
.
Honestly, I wear the jacket alone without the battery pack VERY OFTEN and I've gotten a lot of compliments on it. It's heavy enough to keep warm running errands and being outside in mildy cool temps (40 ish degrees), but lightweight enough to be able to move comfortably. It's a nice looking every day jacket.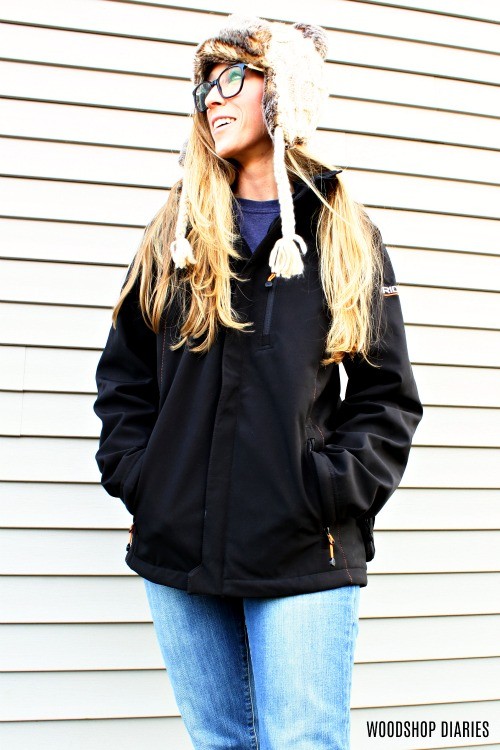 So let's talk pros and cons…
Pros:
Adjustable heat settings in 3 heat zones
Removeable hood for added versatility
USB charging option to charge phone on the go
Belt clip OR pocket battery pack storage
Runs on Ridgid's 18V battery platform–can use existing batteries and charger
Lightweight, but warm material–great for working in
Slick material easy to wipe clean
Several pockets for storing phone, gadgets…or candy haha 🙂
Cons:
Now, honestly I love this jacket and I use it all the time…I've seriously had a ton of compliments on it. But I have two slight complaints.
.
The battery pack is bulky. I said earlier that I recommend the jacket that comes with the battery because that battery is significantly smaller than my other Ridgid batteries. However, even though it's smaller, it's still fairly bulky. That said, you have to consider that I'm a small girl wearing a small jacket. The same battery pack on a man in an XL jacket would proportionately not be as bulky.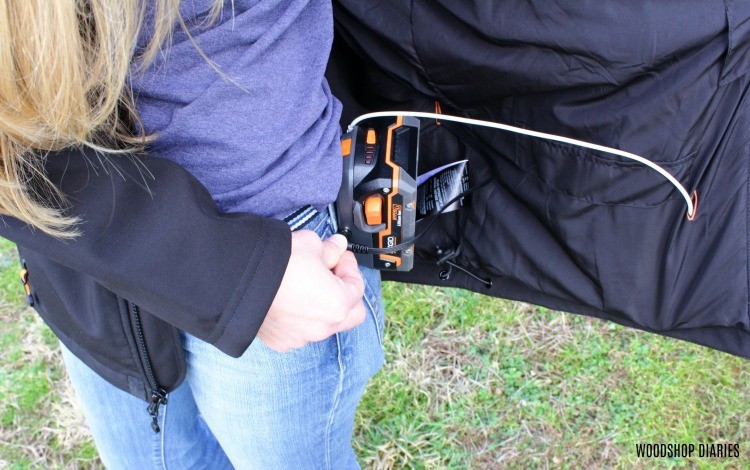 I wear mine often without the battery for this reason, BUT when I need the heat, I do think it's worth a little bulk. You can't have something for nothing…that's just part of life.
.
My second slight complaint is that while this jacket is really easy to wipe clean if I get dog hair or sawdust or workshop debris on it, the instructions say to hand wash only. Now, I don't see this as a huge inconvenience because I've had mine for two months and have yet to need to wash it because it's so easy to just wipe clean. It's just something I noticed that might need to be considered.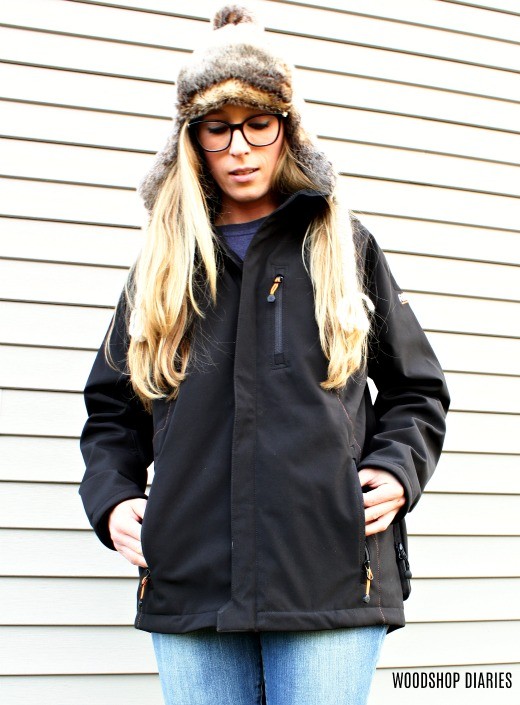 Overall, this is legit my new favorite go to jacket. I wear it in, I wear it out, I wear it working, I wear it chilling on the couch. So if you're looking for a slick casual winter jacket, or a work jacket with extra heat, this is definitely one to consider. You can check it out this Ridgid 18V Heated Jacket at these links on Home Depot's website.
Ridgid 18V Heated Jacket WITH Battery
Ridgid 18V Heated Jacket WITHOUT Battery
I hope you've found this review helpful and insightful and I hope you'll share and pin this for later. You can also check out more tool reviews here.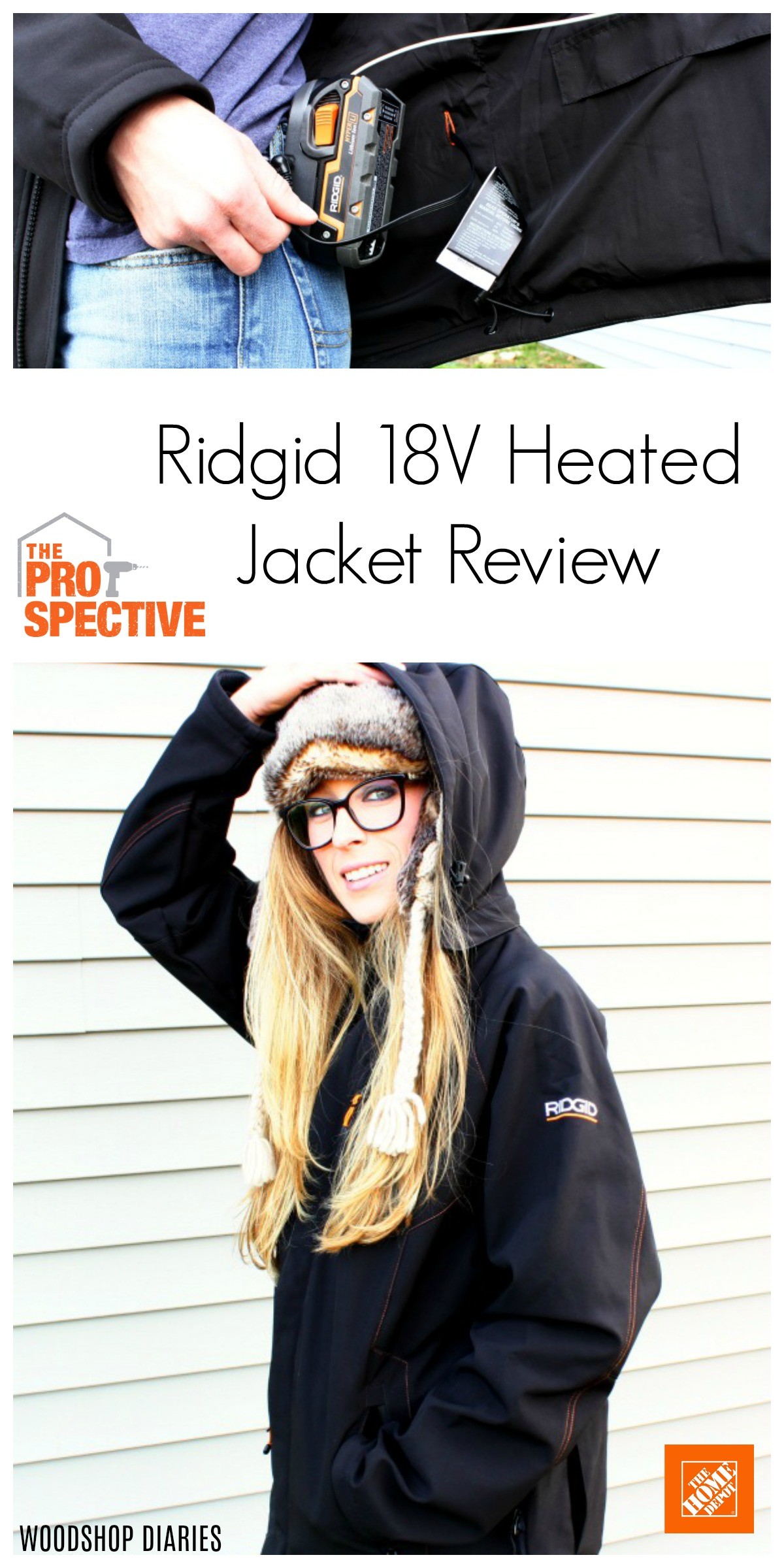 Stay tuned for more projects coming very soon! Until next time, happy building! 🙂