This post explains the difference between a drill, driver, and impact wrench and is sponsored by The Home Depot as part of the ProSpective Program. It contains affiliate links. See policies page.
.
Have you ever been in the tool section of Home Depot and been a little overwhelmed with the massive amounts of options for drills, drivers, and impact wrenches? It seems like there are twenty of the same thing…so what's the difference?!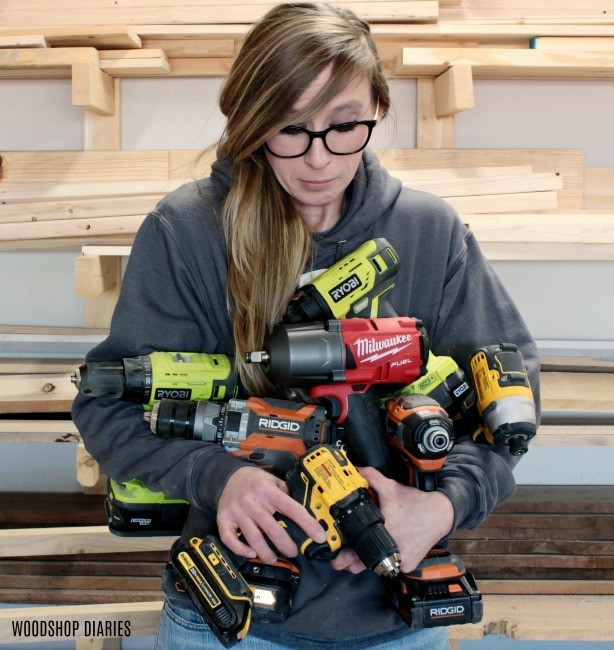 It's a little confusing, I know. So, I'm going to try to break it down for you in simple terms here. And I'll cover each in more detail below.
Basic Definitions: Drill vs. Driver vs. Impact Wrench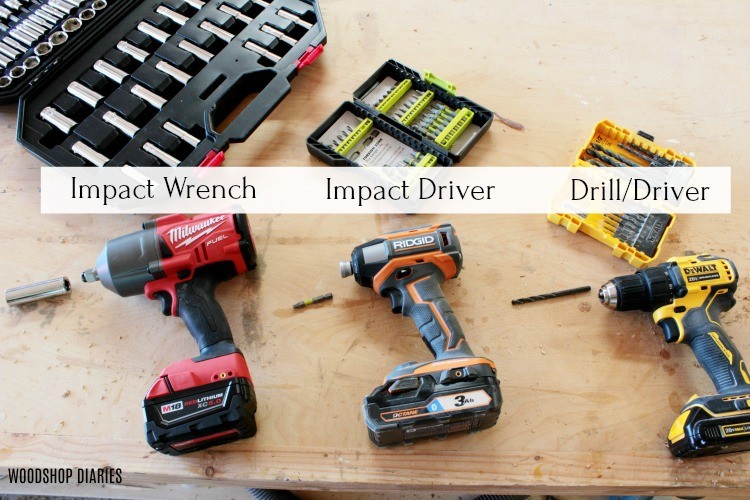 Drill: A power tool with an adjustable chuck used for drilling holes into wood, metal, concrete, etc.
Impact Driver: A power tool with a hex collet used for driving screws and general fasteners.
Impact Wrench: A power tool with a square drive used with sockets to tighten or loosen large bolts and nuts
Now to make things way more complicated they they need to be, there are also drill/drivers, and hammer drills, too. But since these still fall into the drill category, I'll discuss these in more detail in the drill section.
Drill/Driver: Basically a drill, but also capable of driving, too. Has an adjustable chuck, and typically has less torque than an impact driver. Most used and most versatile option in the woodworking, home improvement, and DIY world.
Hammer Drill: Basically a drill with a hammering feature that is helpful when drilling through hard surfaces like concrete and masonry.
So, let's start with the most common and most used of the three, the drill.
Drill–For Making Holes
Drills are for DRILLING holes. So typically you would use drilling bits with them. You know…the kind that make holes of varying sizes. Sometimes these are spade bits, sometimes general purpose bits, sometimes maybe a hole saw. But the primary purpose of a drill is to produce a hole.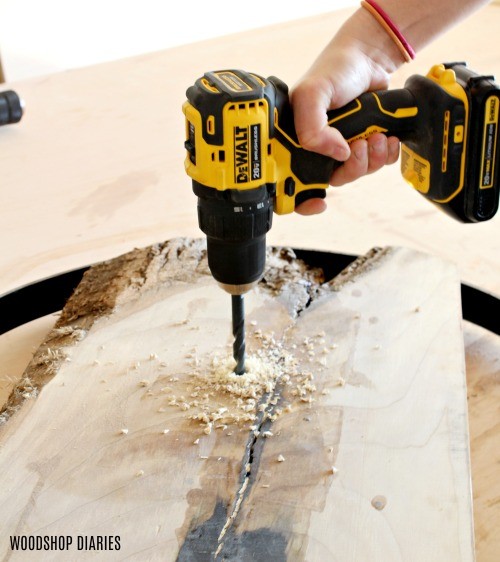 Most drills (with the exception of some specialized hammer drills) come with an adjustable chuck (keyless is most common, but some still use keys). This means the opening that holds the bits can open or close to fit the bit size you are using.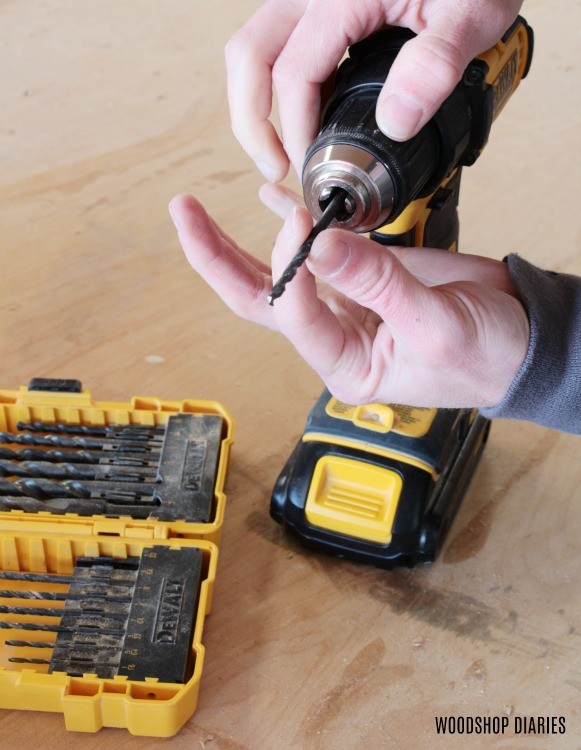 MOST of the time, these days, when you are picking up a battery powered drill, it's going to be a drill/driver. These are the most common "drills" available and the most versatile for use in the general purpose and DIY world. These are capable of not only drilling holes, but can also drive fasteners or screws.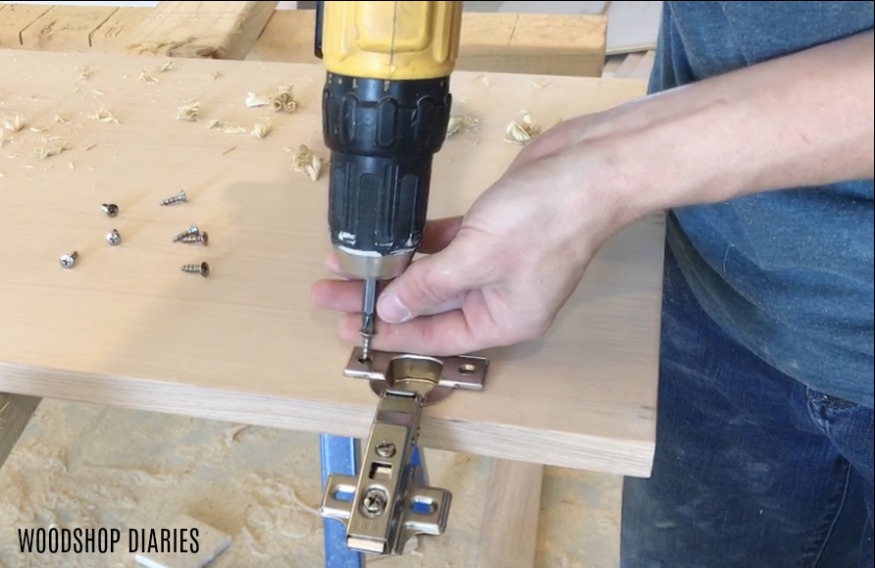 However, they are not built for driving really long or large screws–they're kind of a lightweight. They just don't have the same amount of torque as, say, an impact driver, or impact wrench. But they do well with small screws in soft materials…like wood. It works fine for driving small screws like what you use to attach hinges to cabinet doors.
.
A drill/driver is a staple in any tool box. This is my current go to drill/driver.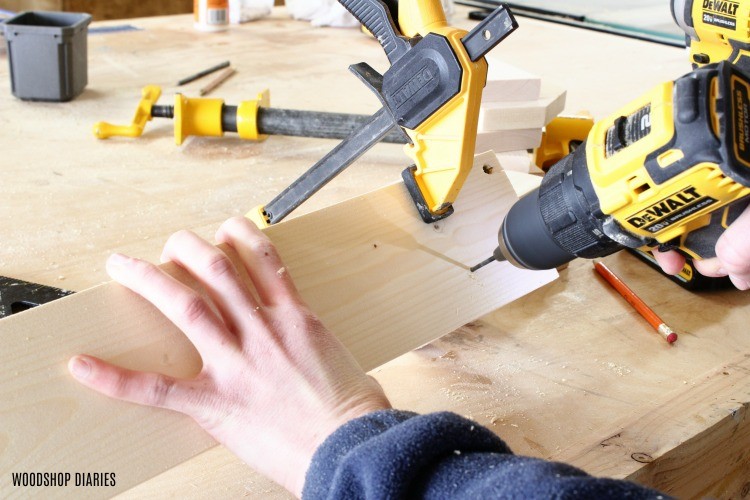 Another type of drill you may run into is a hammer drill. Hammer drills are kind of a specialized type of drill that is made for drilling into really hard material like concrete and masonry. They usually have the option to turn off the "hammer" and just use them as a regular drill, but they are pretty heavy and usually more expensive. So if you don't need the hammer function, you're probably better off with a regular drill/driver.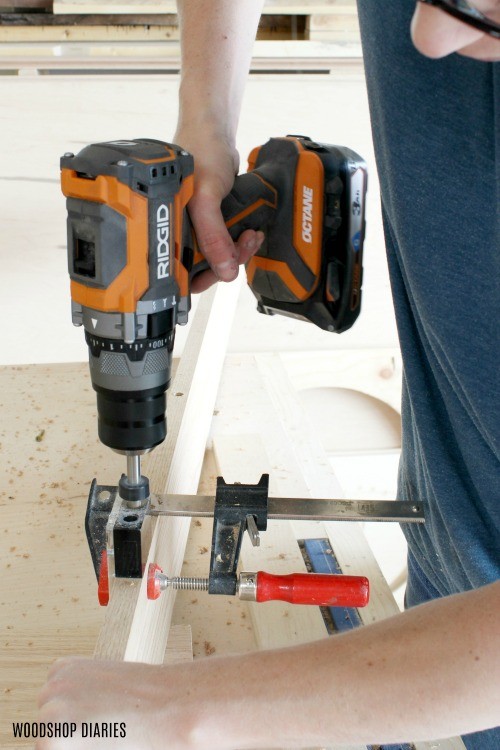 You can see this Ridgid hammer drill used in this DIY linen cabinet build.
Driver–For Driving Screws
Drivers are a little more specialized tool than drills, but still very common in the DIY world. Drivers (or also called impact drivers) are designed to drive fasteners–like screws or lag bolts–with a greater torque than a simple drill/driver can. This is my current go to impact driver.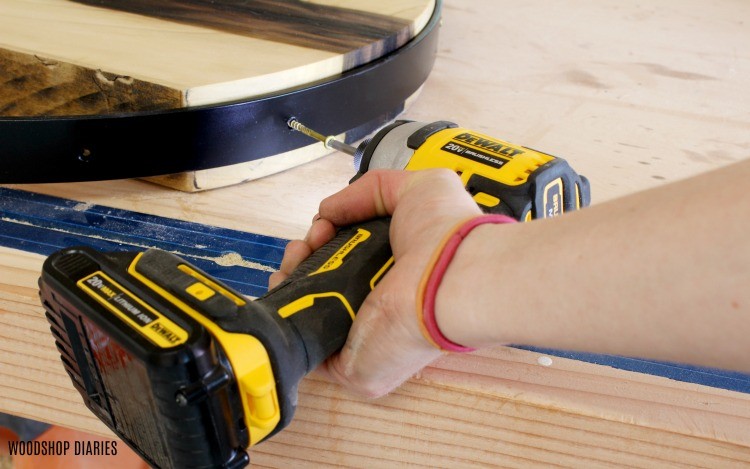 Impact drivers typically come with a ¼″ hex collet to fit standard driving bits like the ones that come in this kit.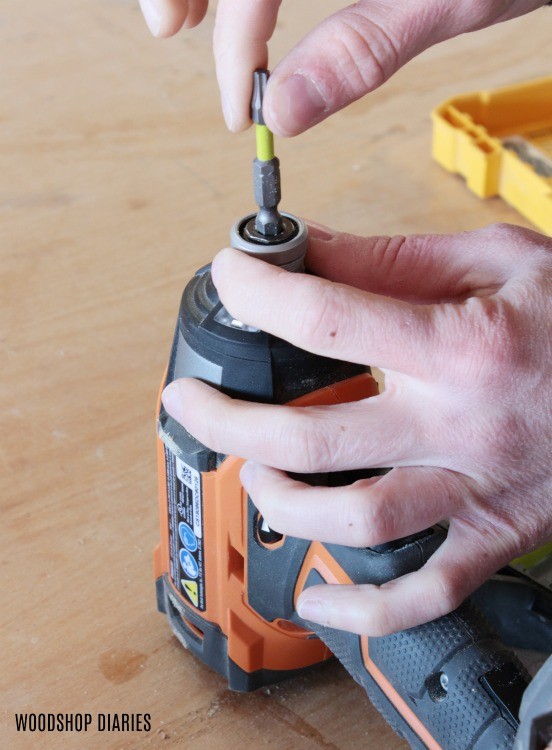 See these driving bits in action in my DIY small clamp rack post.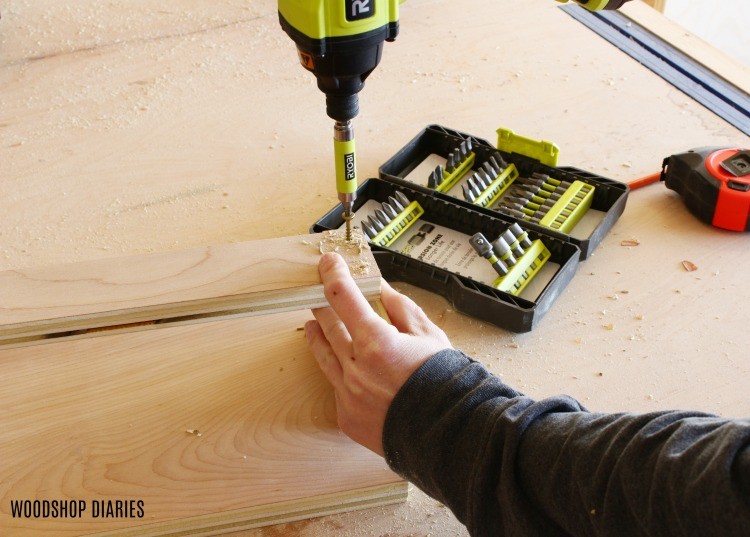 They are usually a little more compact than a drill/driver. And a little less versatile since it's made mostly for driving, not for drilling AND driving. You actually CAN drill holes with an impact driver using hex shank drill bits, BUT because of the impact motion, you will end up with irregularly shaped holes.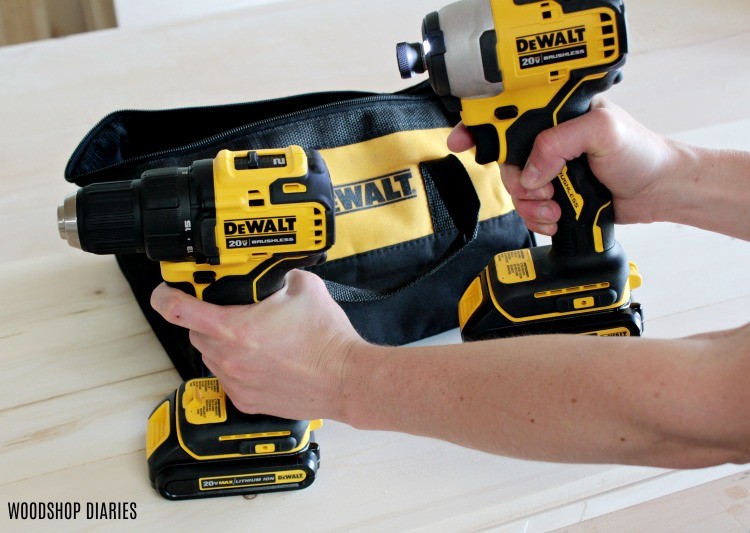 It's common to see kits available for sale with both a drill/driver and an impact driver. These are the two most common tools in a DIY or home owner's garage. Although you can usually get away with just having a drill/driver for most small projects around the house, adding an impact driver takes your options up a notch.
.
You can use sockets with impact drivers (or drill drivers like shown below) using an adapter, but they are mostly used for small lag bolts. Drivers are more often used with hex shank bits for driving screws. For driving large or really long lag screws or lag bolts, you may need something a little more powerful, like an impact wrench.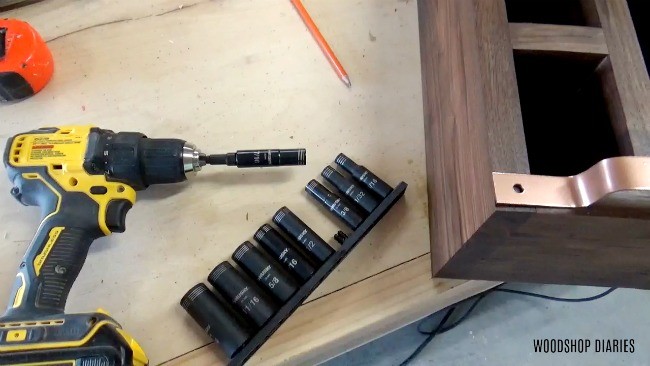 Impact Wrench–For Powerful Tightening
If we rated the three–drill, driver, impact wrench–by strength, it would go in that order. Drill/drivers have a little tightening power, drivers have a lot of tightening power, and impact wrenches have a whole lot of tightening power. PS that's called torque…So torque = tightening force.
.
Impact wrenches are even more specialized than an impact driver and are significantly more powerful, and bulky. Impact wrenches are designed for one thing–powerful loosening and tightening.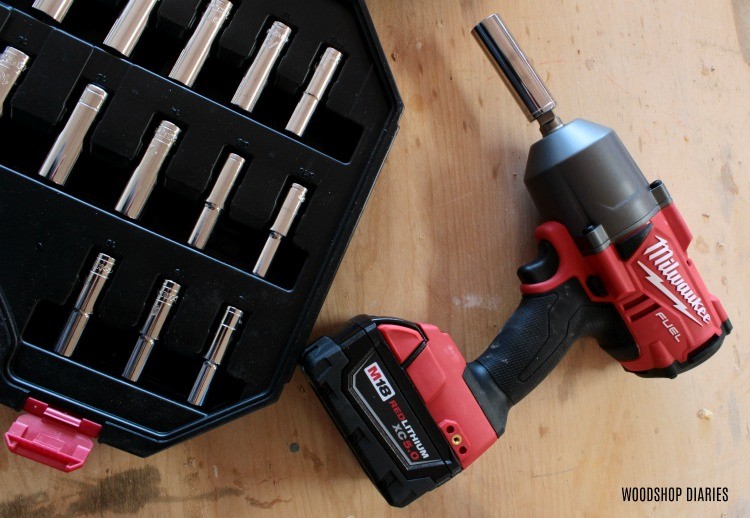 Drivers have higher speed, lower torque. Impact wrenches have lower speed, higher torque. Some impact wrenches, like this Milwaukee version, have different modes that vary the speed and power as needed for different applications.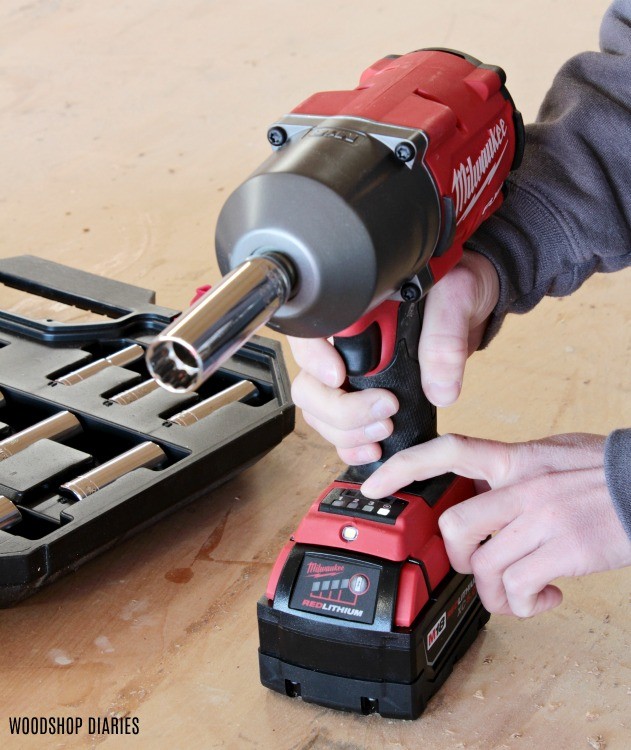 Impact wrenches have a square drive–usually ⅜″ or ½″ and are designed to be used with impact rated sockets to loosen and tighten large bolts. They are used mostly in automotive applications–or use with work on machinery–not so much on wood projects.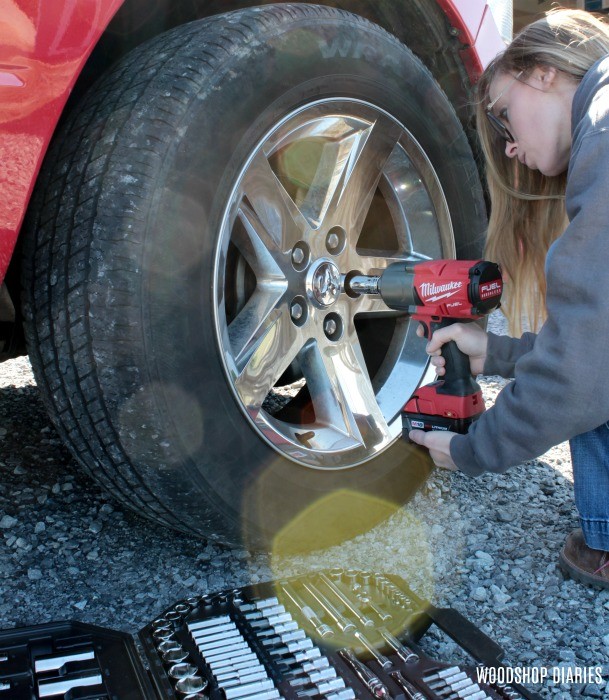 But, although this Milwaukee M18 ½″ Impact Wrench may not get a ton of use in my woodworking workshop, with 1400 lbs of nut loosening torque, I think it will come in pretty handy when working on our vehicles, lawn mowers, and tractor.
.
Many impact wrenches run on compressed air…but I hate air hoses, so I prefer battery powered instead. The particular Milwaukee Impact Wrench kit I'm using includes two M18 5.0ah batteries (which are surprisingly small and lightweight compared to other brand's batteries), a charger, and a hard case.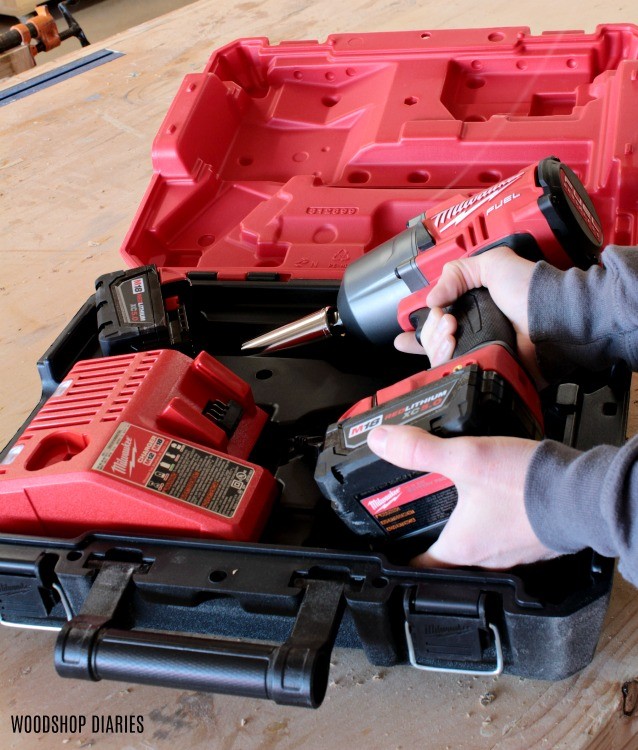 If you already have a drill and driver, the next step up as far as power goes, is an impact wrench for those times when you need a little more…impact ha. Just make sure you have impact rated sockets to use with it that fit. If you have a ⅜″ impact wrench, you need ⅜″ sockets. If you have a ½″ impact wrench, you need ½″ sockets.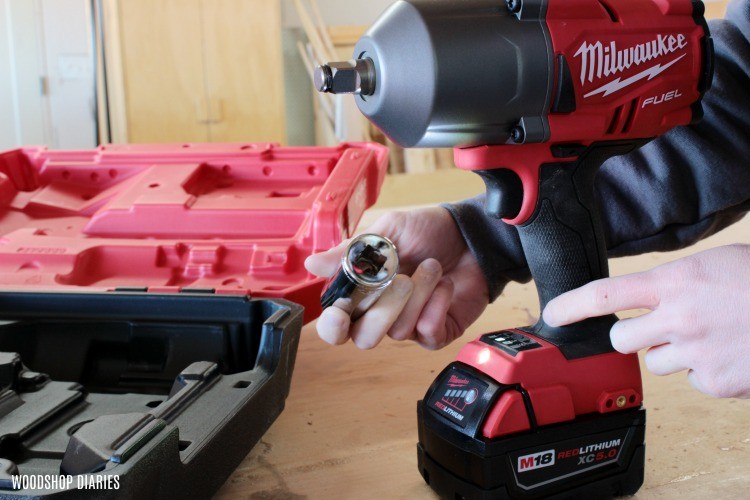 Which drill, driver, impact wrench am I using?
If you're in the market for any of the above, here's what I'm currently using in my shop:
I hope this has cleared up the differences between drills, drivers, and impact wrenches. All of the many options can be confusing…but it's really pretty simple when you lump them into one of three categories and determine what you need to use it for.
.
If you're interested in other tools I'm using, check out my tool reviews. And stay tuned for more. If this has been helpful, be sure to save or pin this for later 🙂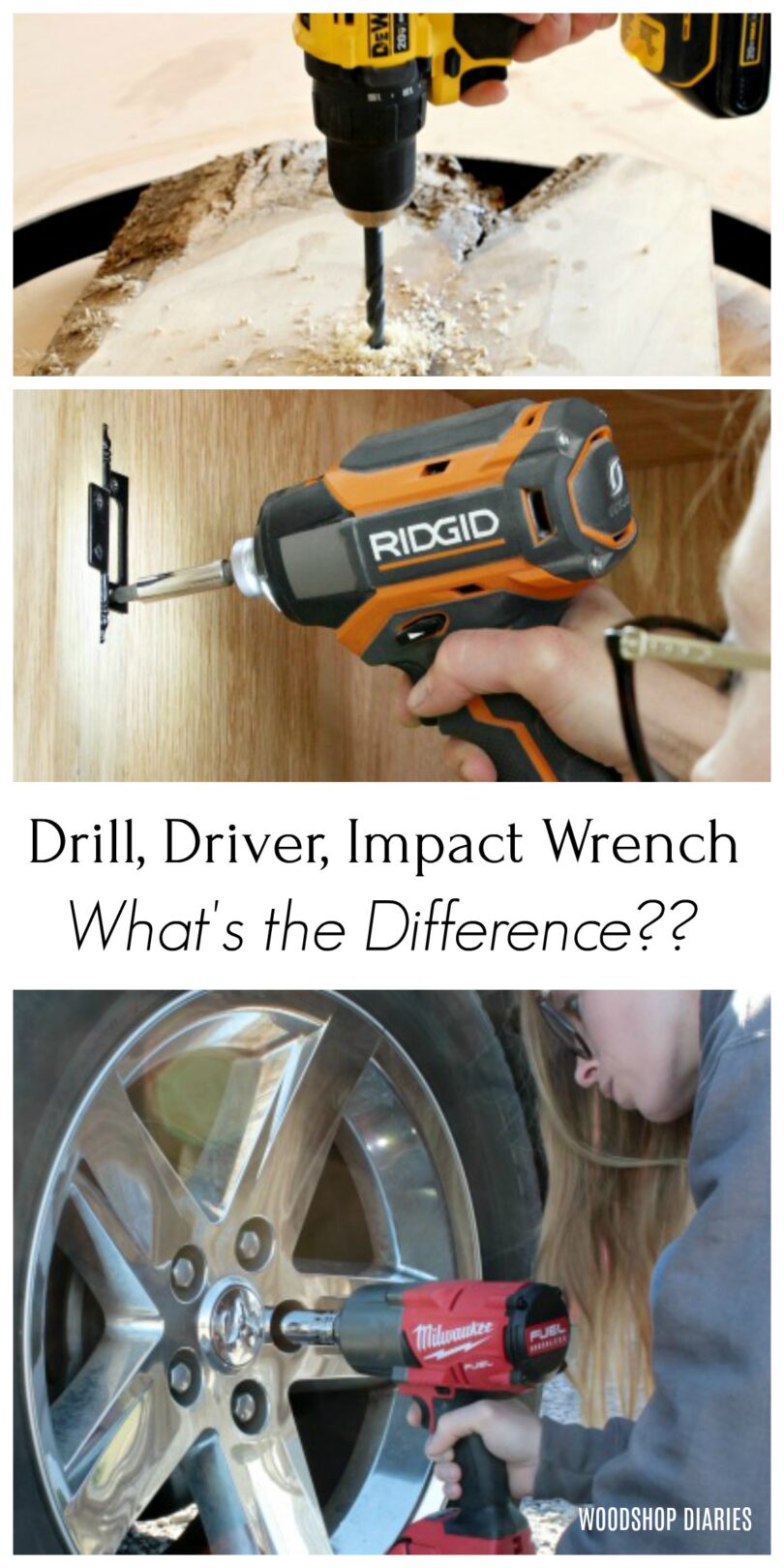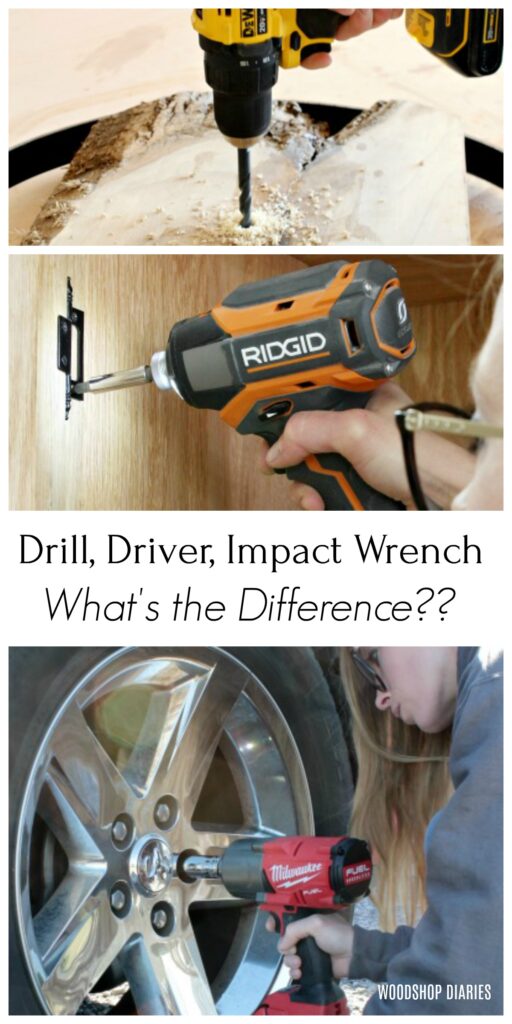 Until next time, happy building 🙂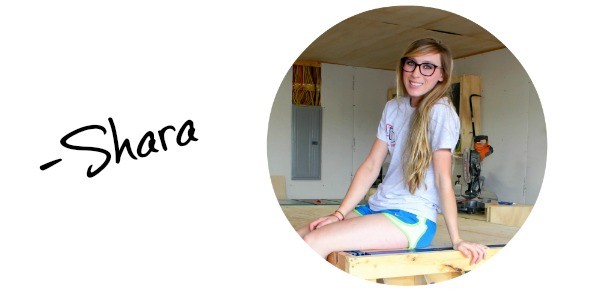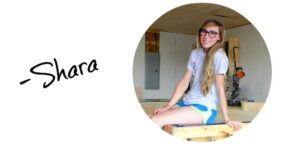 I acknowledge that The Home Depot is partnering with me to participate in the promotional program described above (the "Program"). As a part of the Program, I am receiving compensation in the form of products and services, for the purpose of promoting The Home Depot. All expressed opinions and experiences are my own words. My post complies with the Word Of Mouth Marketing Association (WOMMA) Ethics Code and applicable Federal Trade Commission guidelines.