If you've ever wanted to upgrade your kitchen hardware, this complete guide on how to install concealed hinges is a great place to start!
.
This post is sponsored by Liberty Hardware. This post also contains affiliate links.  Please see disclosure policy for details.
.
Let me ask you a question…when you look at your kitchen…my kitchen…your sister's kitchen…any kitchen on Pinterest or Instagram…what do you notice?  The cabinets?  The backsplash?  Maybe the appliances?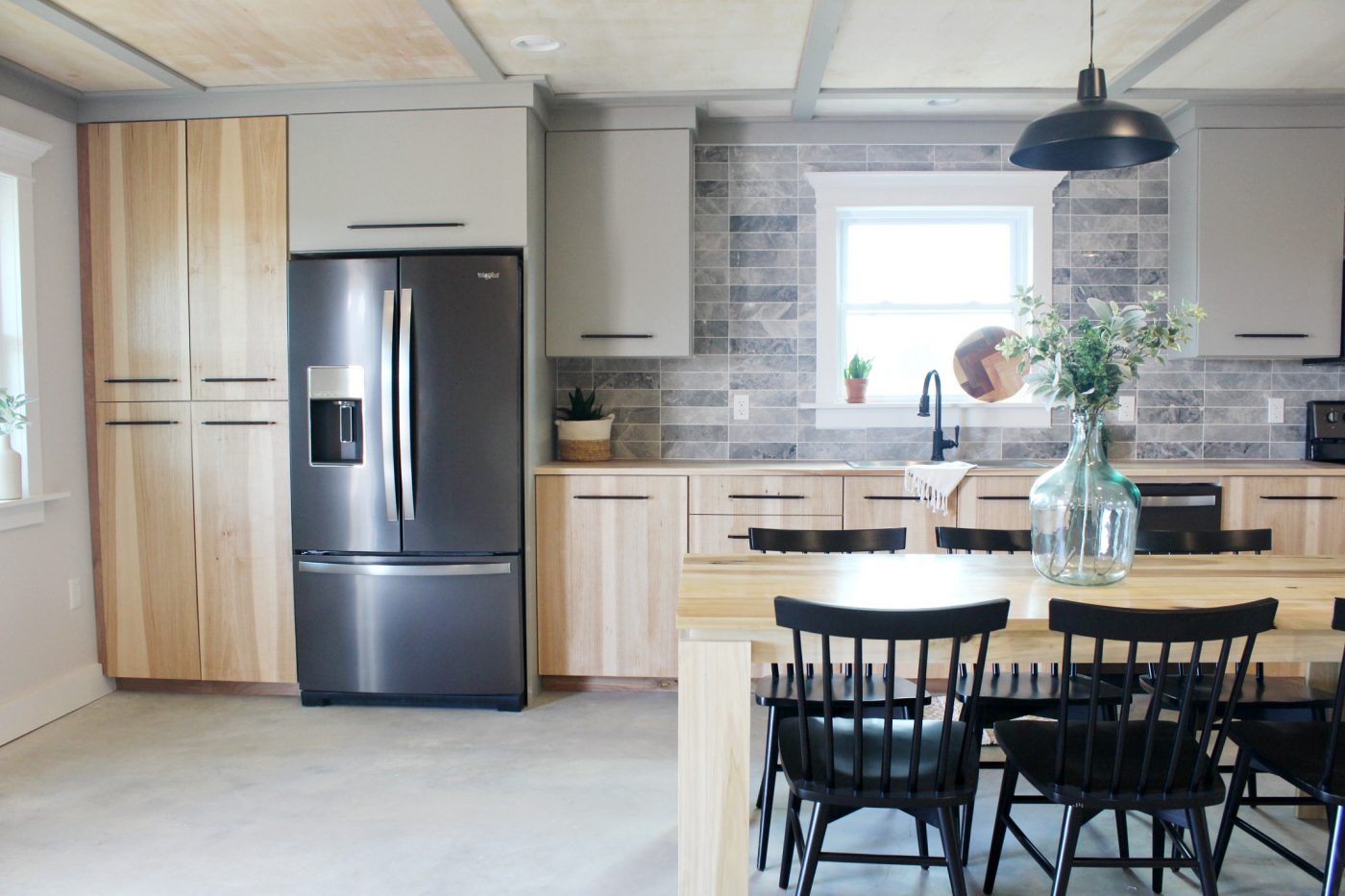 But I bet the hardware INSIDE the cabinets never crosses your mind, does it?  I mean, outta sight, outta mind, right?  Functional hardware—the kind that open and close the doors and drawers—just isn't a big concern.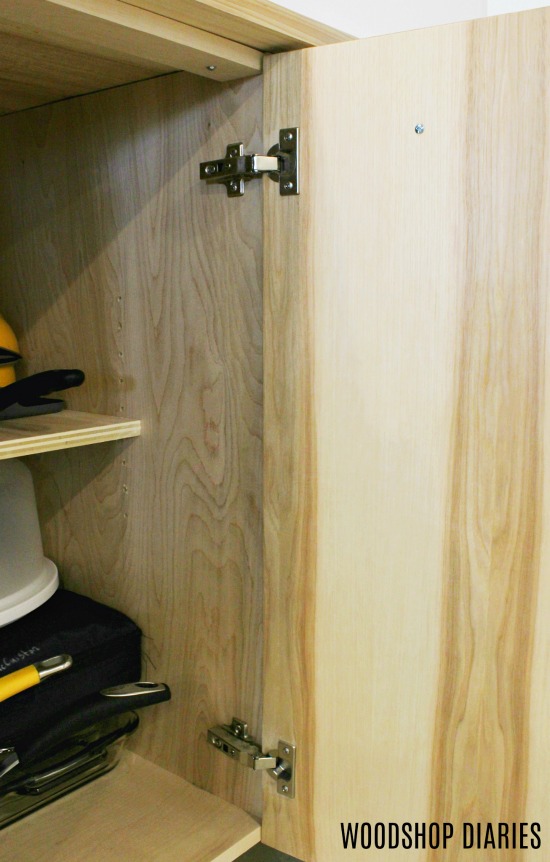 Hardware—hinges and drawer slides—are often one of the most overlooked, but most used parts of a kitchen.  How often do you open and close the cabinet doors and cabinet drawers in your space?  Ten times a day?  Maybe 20?
.
Good (or bad) hardware can make or break a kitchen (or furniture piece!)—both in style and function.  When you open a cabinet door or drawer, you can literally feel and sometimes hear the difference between good, quality hardware, and inferior hardware.  Don't believe me?  Go try it…I'll wait here until you get back.
.
So when I designed, built and installed the cabinets in our new garage apartment kitchen, the hardware I chose was a major consideration.  Why?
.
I'm not easy on anything in the house…including cabinet doors.  So when choosing hardware that could handle my….recklessness??…I knew I didn't want to skimp on hinges and pulls that wouldn't last in our day to day use.  We needed solid, sturdy, long lasting hardware.  After all, I didn't build these cabinets just to have the doors fall off 😉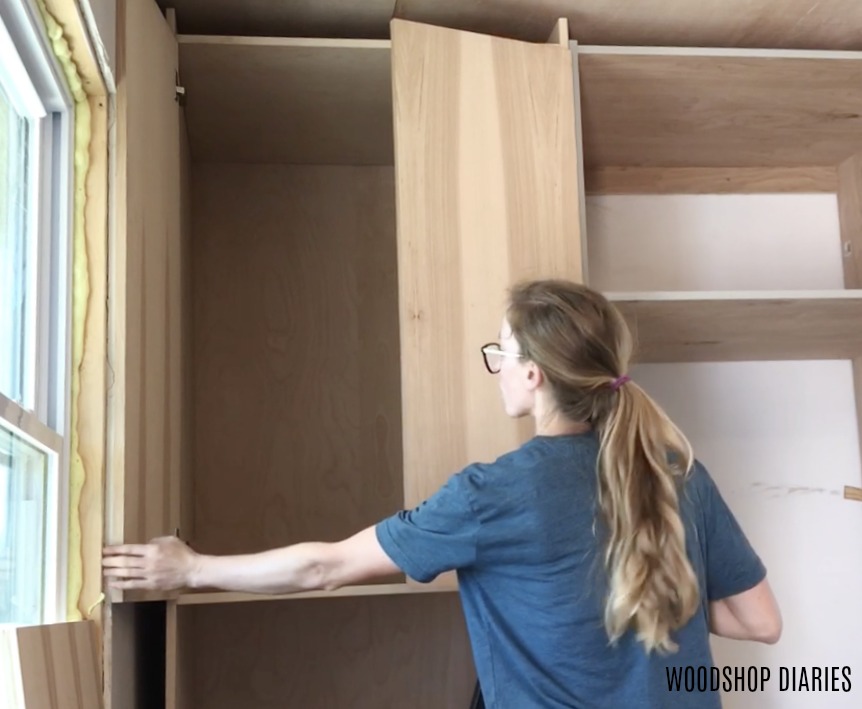 So I went with Liberty Hardware hinges and drawer slides on my kitchen cabinets.  I've used them in several of my past furniture pieces and they are always durable, and have held up well to my…not so careful treatment.
.
Now, why am I telling you all of this?  Because whether you are building a new kitchen, updating an older kitchen, or just wanting to know how to attach the concealed hinges on the doors on the new furniture piece you built, upgrading your hardware is a quick, easy, and cost effective way to make a big improvement to your home or build.  Good, quality hardware will last you years and years of heavy day to day use.  AND, those special features—like soft close and ball bearing—are worth EVERY PENNY.  I promise.
.
It's an easy switch and install.  I'll show you how to do it right here 🙂  I've got a quick video to show you how easy it is to install and adjust your hinges here.  Then I've got the step by step for you below.
Now, just to clarify, I built our new kitchen from scratch, so I built the new cabinets and installed the new doors.  If you have existing doors, you have a few added steps to complete…basically just removing the existing doors and their hinges.  Once you've removed the existing doors, you're ready to go.
.
PS, if you want to build your own cabinet doors, I've got a tutorial here for regular shaker style, and a tutorial here for a little fancier design.
 1. Determine what type of hinge you need
Liberty carries hinges for just about any type of cabinet you can think of.  But, you'll need to figure out what kind you are needing.
.
First, determine whether you need face frame or frameless hinges.  Check out my cabinet door building post for details on face frame vs. frameless.  I built my cabinets without face frames, so I used frameless hinges.
.
Now, once you know face frame or frameless, you need to figure out whether you need inset, ½" overlay, ¾" overlay, or full overlay hinges.  This is referring to your cabinet doors.  If you aren't sure what type of doors you have, refer to Liberty's hinge guide here.
.
In addition to knowing what type of frame (face or frameless) you have and the style door, you need to decide what special features you want, like soft close.  I highly recommend soft close door hinges.  Soft close hinges step in when I'm careless and in a hurry like, "it's cool, Shara, we will just close that door for you niiiiiiice and sloooooooow.  We got you, girl!"
.
I ended up using Liberty Hardware frameless full overlay soft close hinges.  You will need a pair per door.  But they come in pairs, so just add up your doors and that's how many pairs you will need 🙂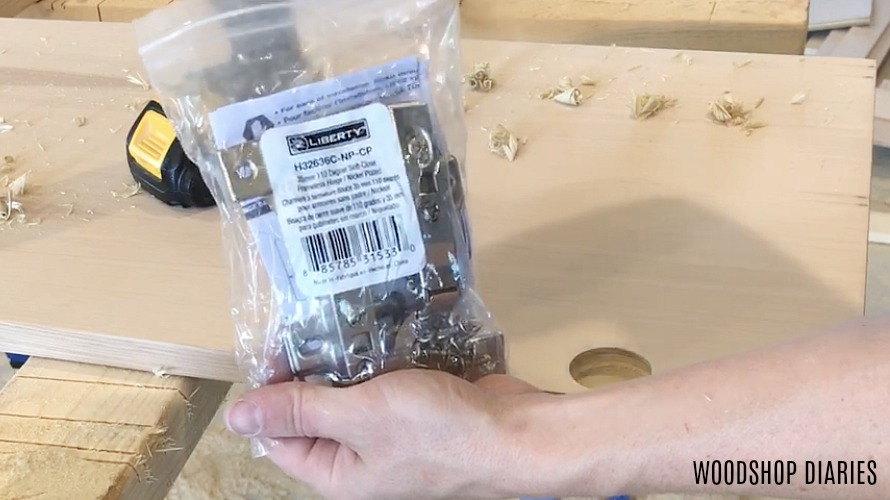 2. Drill Cup Holes
These type of concealed hinges do require you to drill a hole for the cup to fit in if your existing cabinet doors don't already have them.  But don't let that discourage you.  There are some inexpensive tools to help you complete that task in seconds.  I use the Kreg Concealed Hinge Jig and my DeWalt drill to make these cup holes in my doors.  Likely, you've already got a drill, so all you need is the jig.
.
Simply clamp the jig in place on the back side of the door like shown and drill the hole.  Follow the set up instructions with the jig for your particular door style and thickness and you'll be set up to knock all your holes out really quick.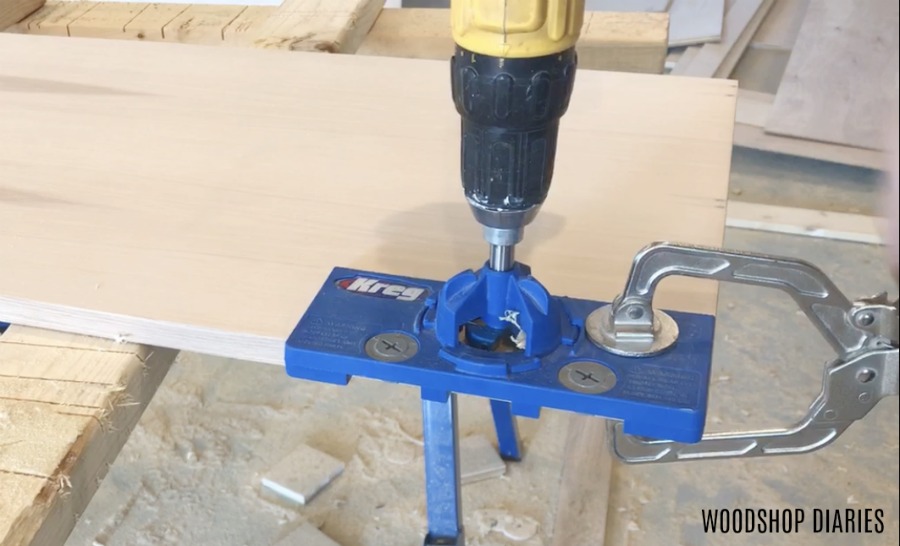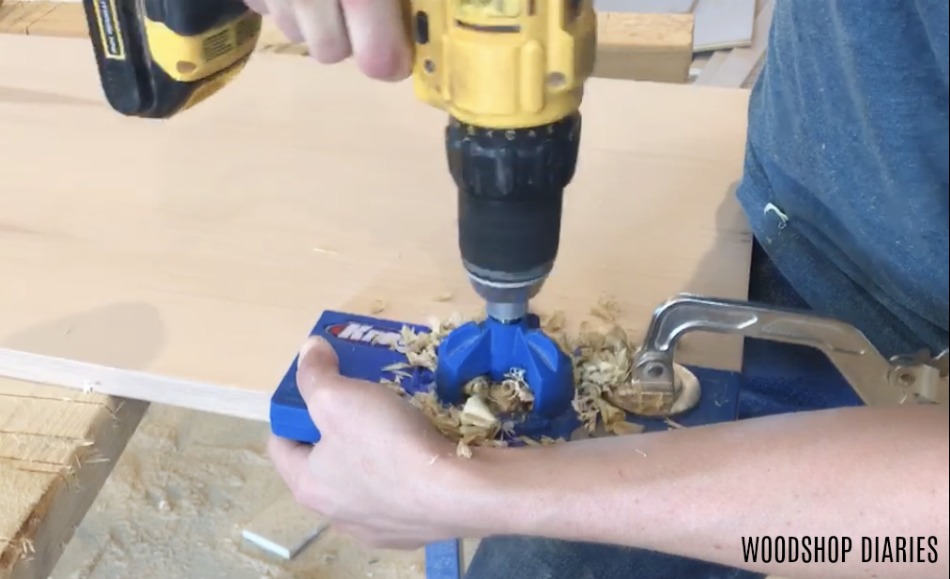 3. Install Hinges to door
Now, attach your hinges like shown using the included screws.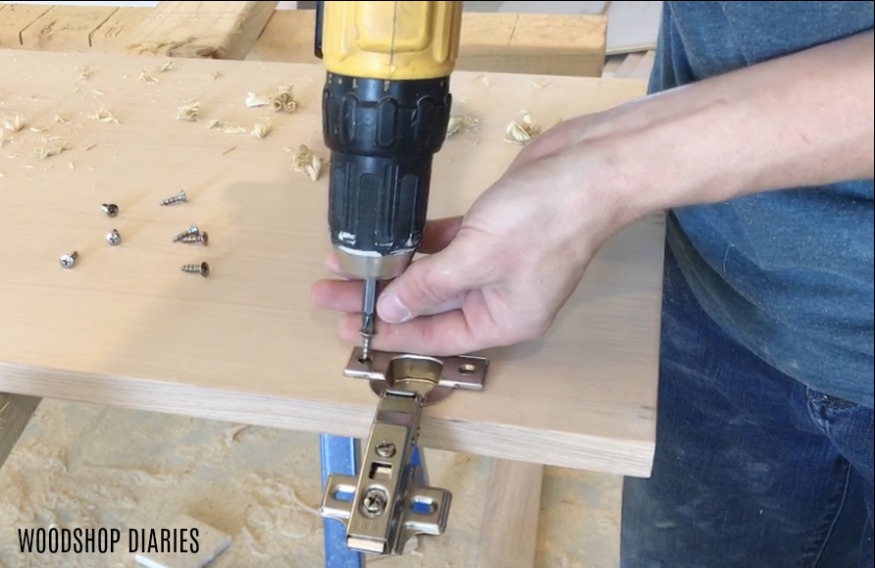 4. Attach Doors to Cabinet
There may be an easier way to do this, but I think this works best for me.  Using the rest of the screws included with the hinge, install the door to the cabinet getting it as close as possible to its correct vertical location.  So basically, (for example) if your door is ½" overlay, screw it onto the cabinet as close as possible to the door being ½" above and ½" below the inside of the face frame.  It is helpful to have a helper hold the door for you.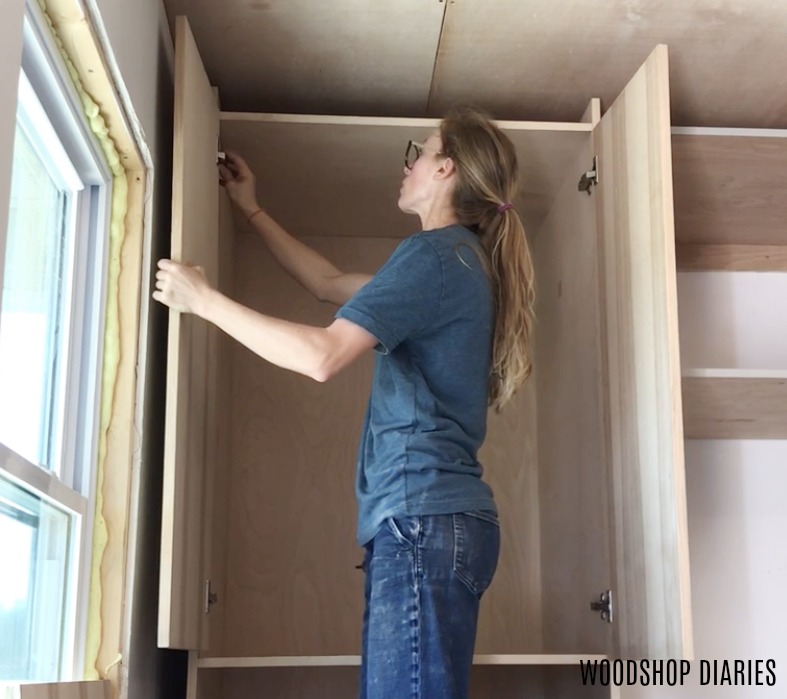 I like to put one screw in the top hinge first.  Then add another to the bottom hinge.  Once I make sure I'm good vertically, then I add the other two screws (another in the top and another in the bottom).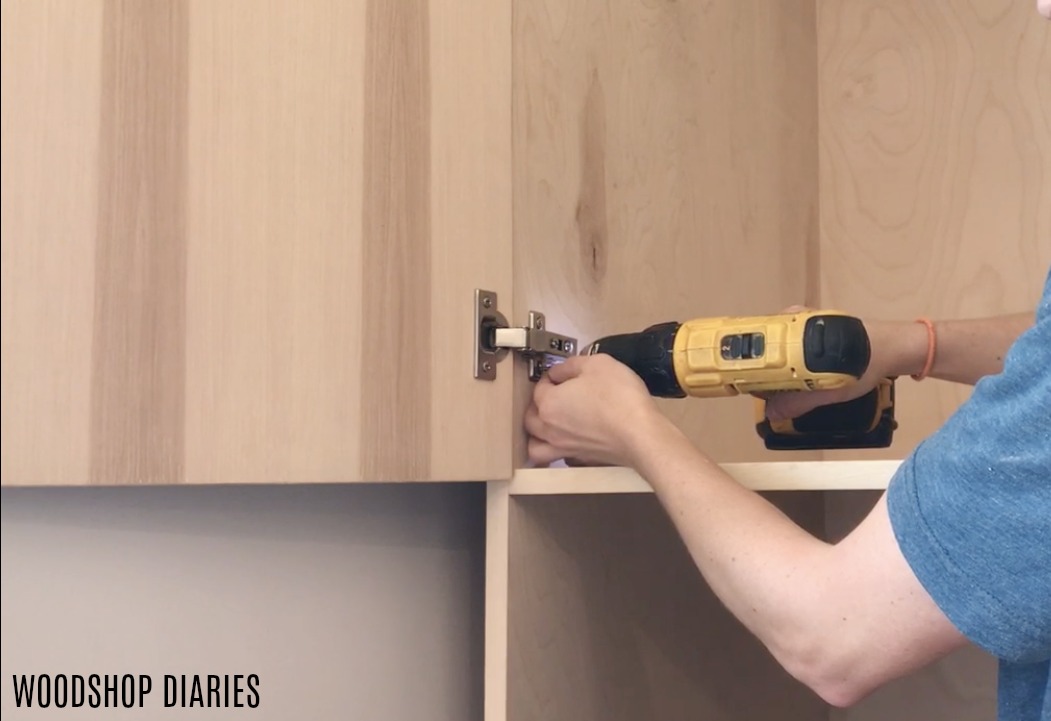 5. Adjust as Necessary
The great thing about these hinges is that they have plenty of adjustment options.  So if you don't get it perfect the first time (and who ever does?), you can adjust until you've got it right.
.
There are three ways to adjust the doors using these hinges.  Shown below is the frameless full overlay hinges I used and their adjustment screw locations.  If you use a different style hinge, the adjustment screws may be located in different places, but there are typically adjustments in three directions–vertical, side to side, and front to back.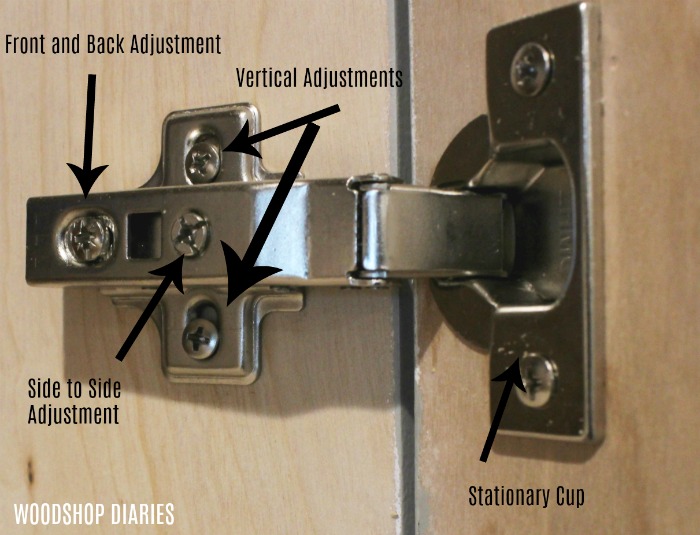 You can see in the video above how these can be adjusted to get the door in just the right spot.  Basically, you just loosen or tighten these screws as needed until your door is in its place.
..
Now, repeat the steps for each door 🙂 Then enjoy being able to slam doors without actually slamming them haha.  Danny thinks I must do that for fun…I swear, I don't do it on purpose!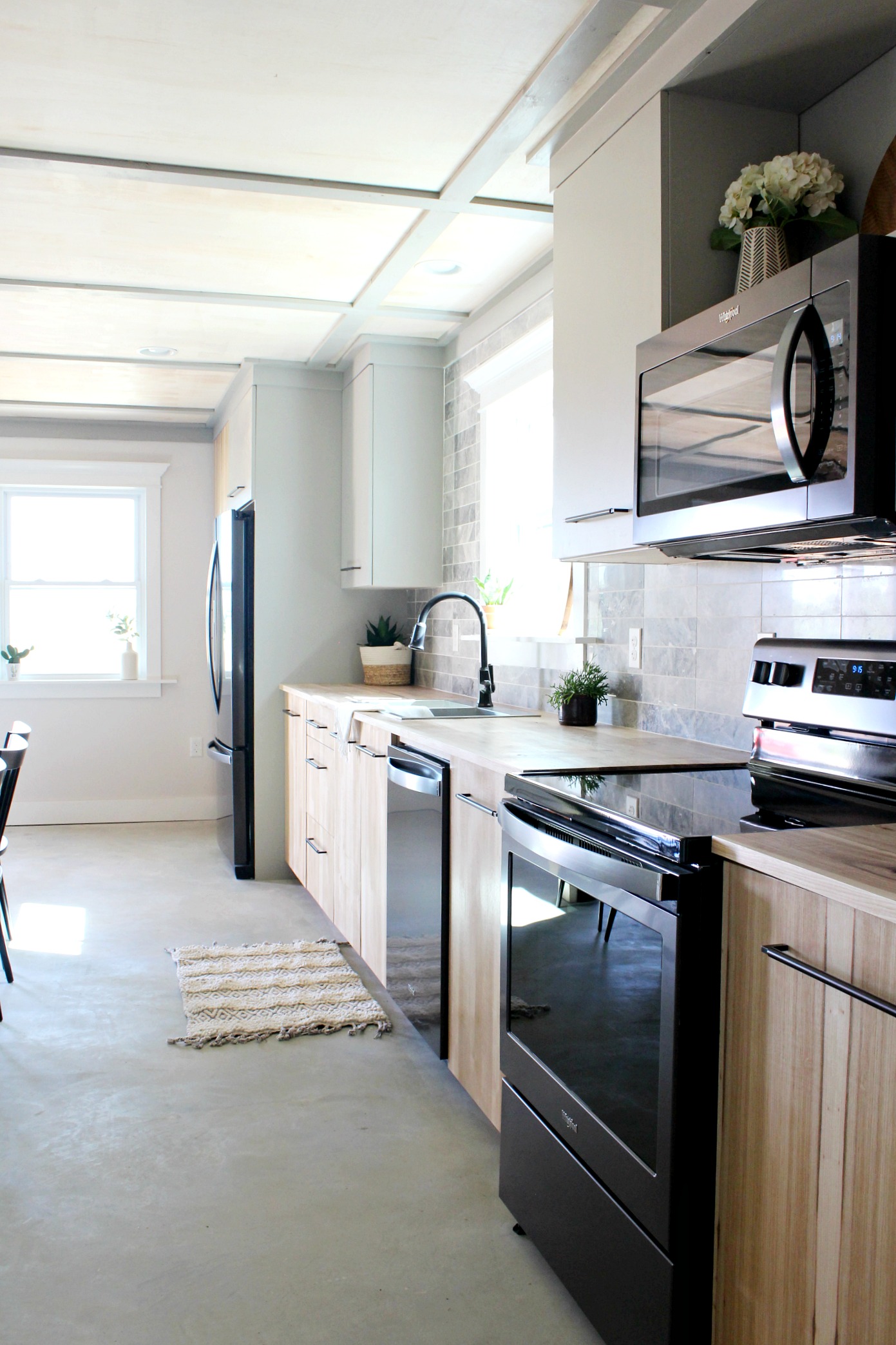 Upgrading your hardware in an existing kitchen or installing a door to a brand new piece with concealed hinges is a fairly quick upgrade that you won't regret.  When you use them day in and day out, it's worth it to go a little "extra."
.
And when you are swapping out, or installing from scratch like I did, don't forget to switch out those old drawer slides for new ball bearing soft close slides, too!  Liberty Hardware also has a great Drawer Slide Guide to help you determine which slides are right for you here.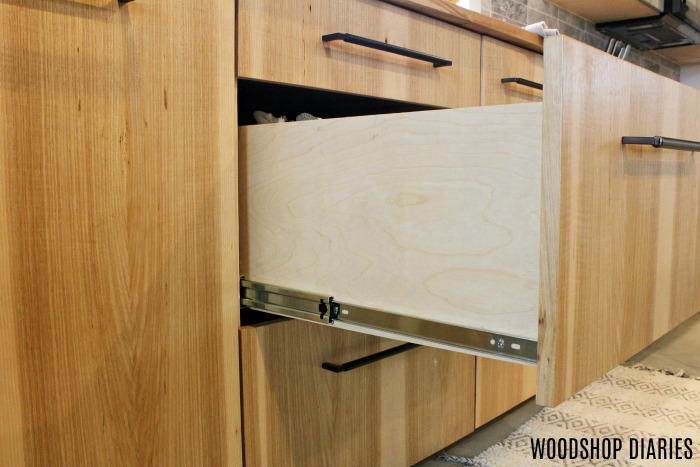 One last thing…the hardware you see…the knobs and pulls.  I used these long pulls from the Artesia collection on my nightstand build a few months ago and LOVED THEM.  So I used them again in a shorter length for my kitchen.  I highly recommend them for a modern, minimalist space.
.
Now, get out there and make the switch to better hardware…right after you pin this for later 🙂  Until next time, happy renovating!