If you follow along on Facebook or Instagram, you may have caught bits and pieces, and you may know that we are building a new home!!
.
BUT, it's a little more complicated than "just building a home" and I've been getting LOTS of questions.  So I am going to try to keep all the details together on my blog for those who are interested.  So here we are 🙂  Blog Post #1 on this new adventure.  There is a lot of info in this post, so bear with me.
.
Um, maybe let's start at the very beginning??  I'll try to keep it condensed…a lot of things led up to this point haha.
We had a dream.
Over six years ago, Danny and I were living in a tiny apartment looking to get out.  We casually considered building vs buying, but ultimately just bought a house that we ended up hating (mainly because it was in a subdivision).  So we sold it and rented a house while we hunted for a new one.  During that time, we more seriously considered building vs buying (more serious meaning that we bought a book of house plans and looked at it a few times HAHA).  But, again, we ultimately bought our last house.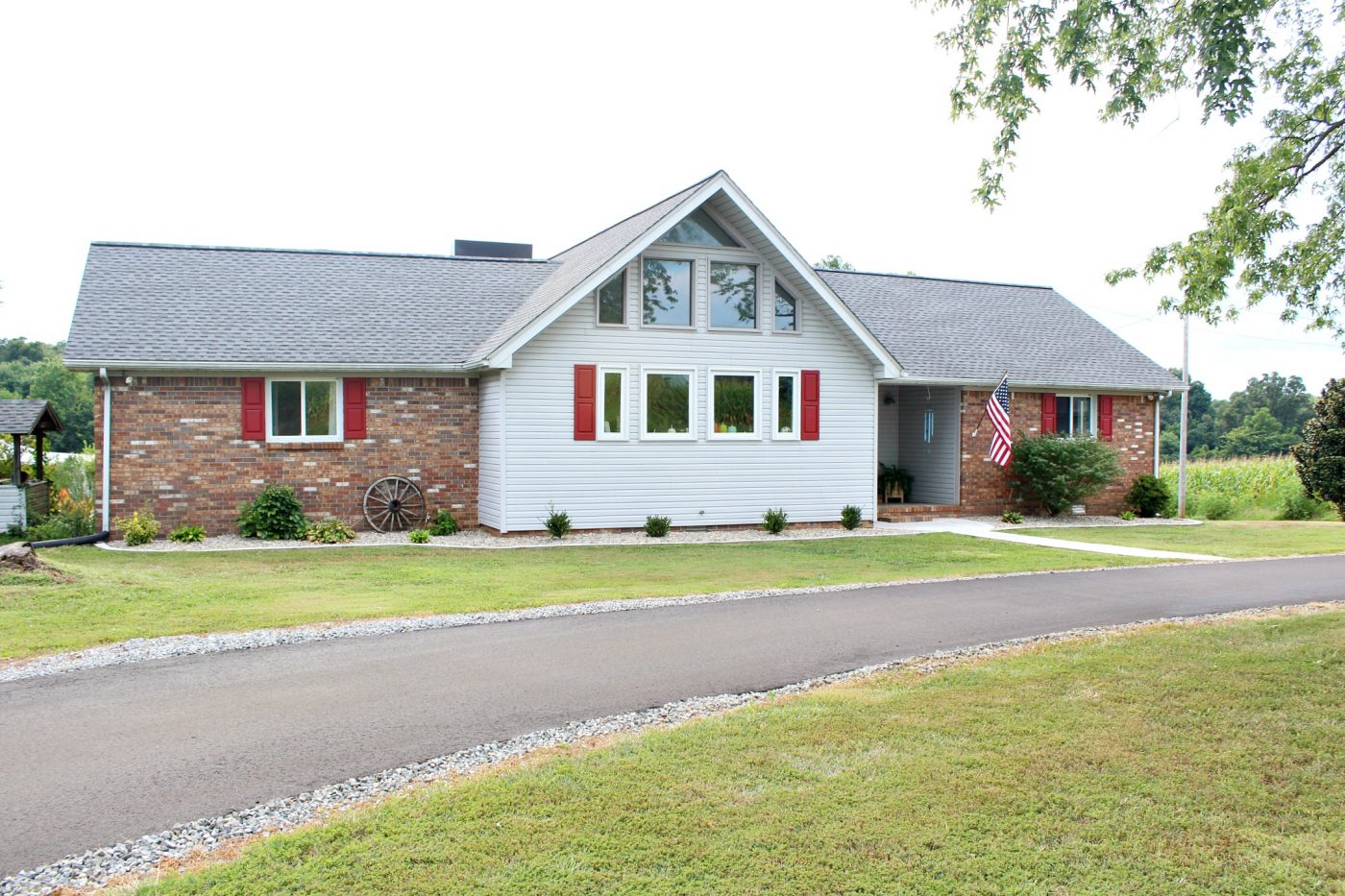 This time, we LOVED it.  This was going to be our forever home.  We remodeled almost every room and put a lot of blood, sweat, and tears into it.  It's where I started my first shop and learned how to tackle home improvement projects.  We had even made a goal to pay it off in less than 5 years and we were right on track.  Things were good.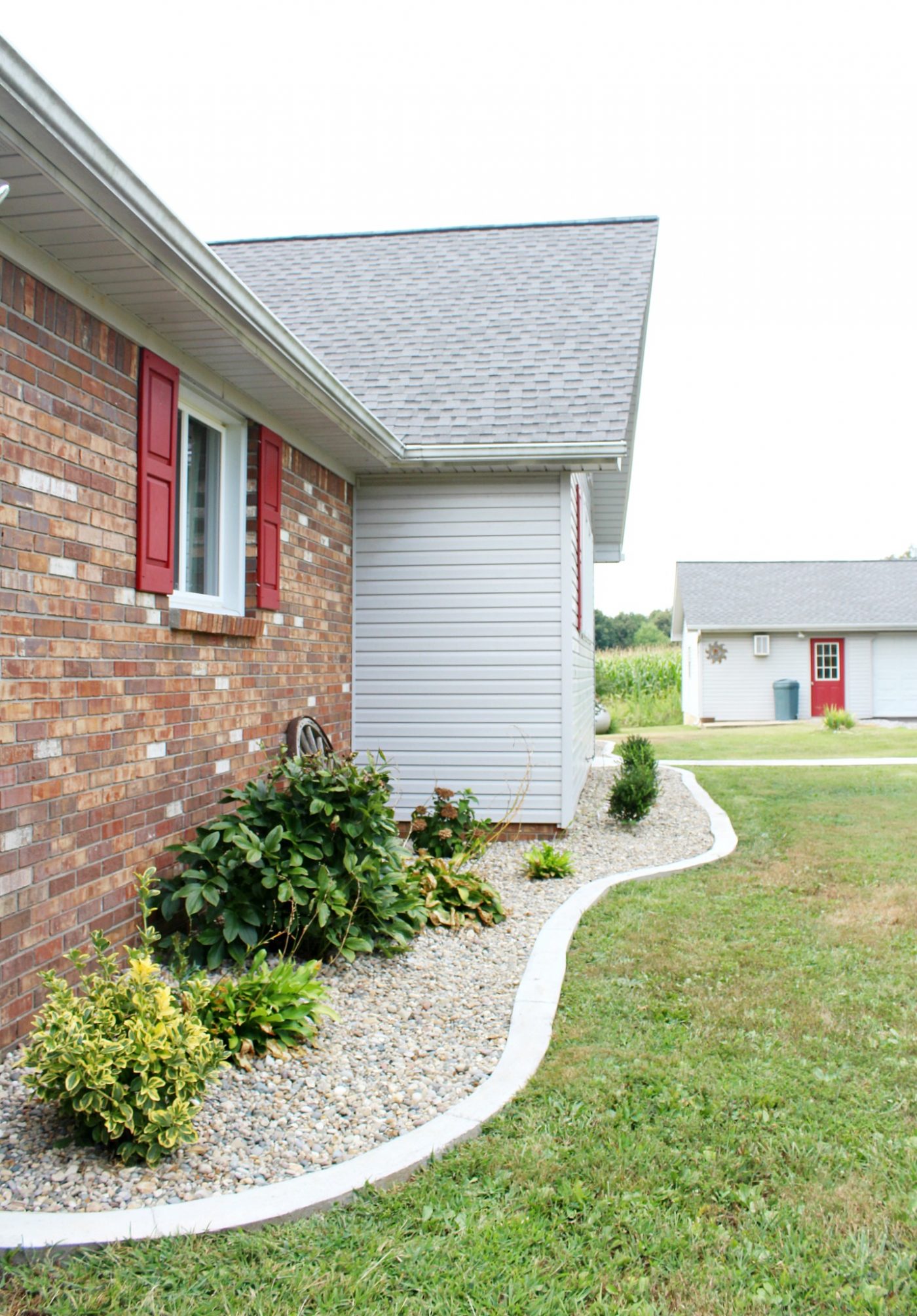 And our dream of building was put aside as an idea we might have tried if other things hadn't happened first.  No big deal.
But then, we sold our forever house…
But last fall, I couldn't take my desk job anymore and I quit, took a 35% cut in pay at a new job, and we realized our goal of paying off the house may not be attainable anymore.  At the same time, some things were going on in our neighborhood that we weren't really sure we liked and all of this caused us to reevaluate our "forever" in that house.  Long story short, we decided to list the house after lots of prayer…and tears.
.
We had a buyer back in April, but they wanted 2 ½″ months to close.  Since we didn't have anywhere to go, we were fine with that so that would buy us some time to find a new home.  They were getting a VA loan and there was a roller coaster of ups and downs with inspections and paperwork and all that comes with a government loan.  The sale almost feel through two days before closing (after waiting 2.5 months for it!) and we were a nervous wreck.
.
But, we finally closed early July.  It was SO SAD, but we just knew deep down, God was in control.  If it wasn't for Him pushing us out of our comfort zone, we would have never left that house.  And if He pushed us into uncomfort, then we knew He was doing it to lead us somewhere else.
Meanwhile, before closing day…
So while all of this was going on with the house, we started house hunting.  This time, we VERY seriously considered building vs buying and decided this was a very real option.  We could save a ton by finishing much of it ourselves and after living in an older home for a while, we knew some things we would change and what we wanted our priorities to be in a new home.  But land in this area is HARD to find, so we didn't know how this would work out timing wise.
.
Long story short, we miraculously found some land within a few weeks, had house plans drawn up and started looking into the loan process and getting prices to build.  But, there were a few things about the land we weren't crazy about–mostly, it had restrictions.  Our house had to be so many sq. ft. and had to use specific materials on the exterior and any shops or detached garages had to match, etc.  Basically, it was going to cost us a lot more $$ than we wanted to spend.  But we had accepted that and were still ready to get started…even though it wasn't REALLY what we wanted.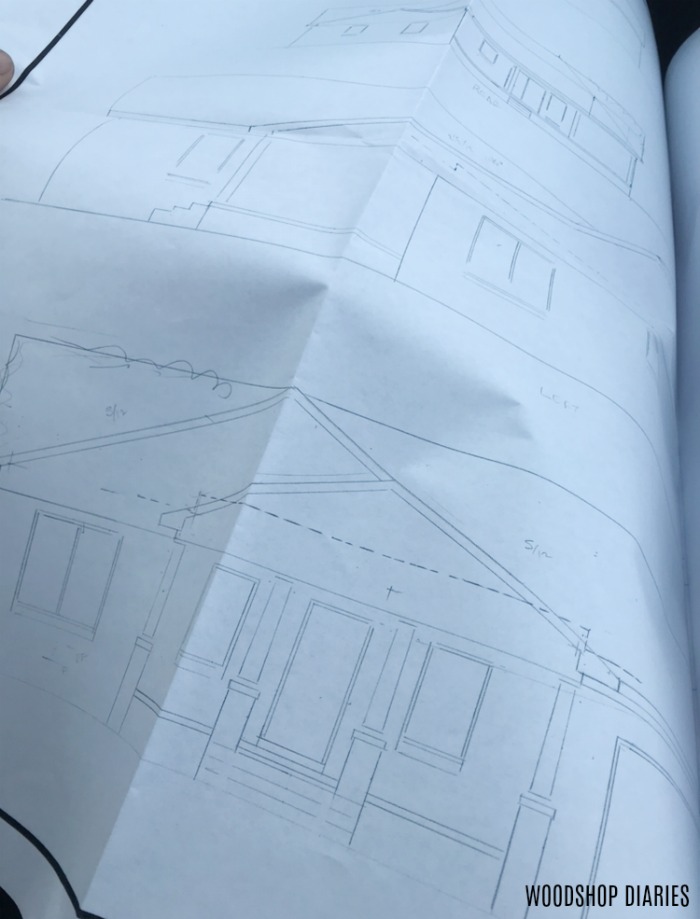 But, the land sale fell through (which was probably for the best, but it didn't feel like it at the time) after a soil test and we were devastated.  Here we were, about to literally be without a home (we hadn't found a place to rent yet that would accept us with our three cats and a dog) and without a prospect, a plan, or a light at the end of the tunnel.  We were down…like REALLY down.
But then, Danny called.
I had an appointment to meet with a contractor to get a price the day after we found out about the bad soil test.  Danny called during the meeting and I knew it must be important because he knew I was busy.  So he texted me a screenshot of a piece of land that had literally JUST come on the market within the last hour.  Right after the meeting I drove out to see it and IT. WAS. AWESOME.  It was clear, open, and had rolling hills.  The neighbors weren't too close, and the area was so quiet and peaceful.  AND IT HAD NO RESTRICTIONS!  Answer to prayer?  I think so.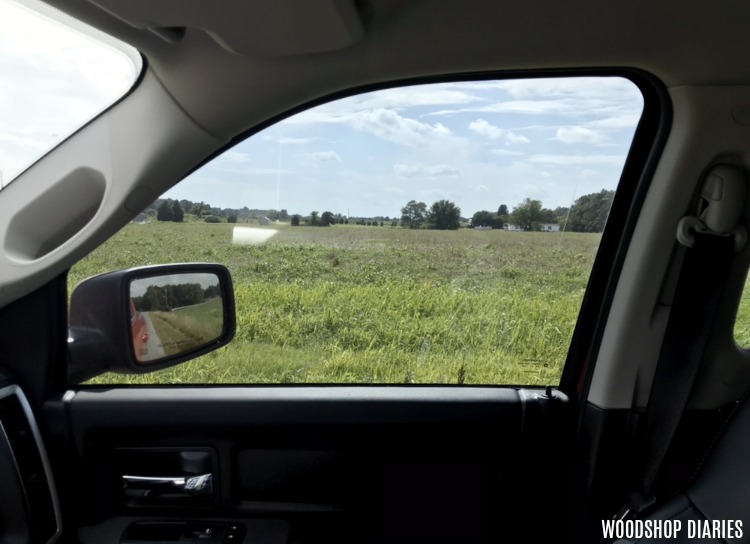 I called our real estate agent immediately and told her we wanted all the info we could get.  We made an offer a few days later and it was accepted!
.
But since we now had no restrictions, that opened up a whole new world of options.  Originally, when we talked about building, we wanted a small, energy efficient home with a huge shop and a big yard.  This wasn't an option at the first land we looked at, so now we had to decide to go with the original plan or the plan with the bigger house that we had drawn up house plans for already.
We decided to stick to the original plan.
Because we are really working towards being debt free, and didn't want another loan, we decided to go with an option we could pay for and decided to build small first with the option of building the house we have plans for later, if we so decide.  Also, getting a loan and building a larger house would take more time and we needed a place to live ASAP.
.
Basically, we decided to build a garage to live in until we can save the money to build the house.  For a few years, we've casually talked about having a maintenance free, small, energy efficient home and a bigger shop…instead of the exact opposite–which is what our old house was.  Since starting my woodworking shop, we spend less time in the house and more time outside and in the shop, so it just made sense to have a bigger, nicer shop and a smaller house.
.
Building a "garage apartment" lets us have a taste of "tiny living" to see how we like it and if we decide we need something bigger, we've got the house plans drawn up already and will be ready to go.  And the plan is to move my shop into our living space if we ever do get around to building the house later.  So nothing will be wasted 🙂
.
It's really funny to see this play out.  I don't talk about dreams and goals a lot or get very personal on here, but looking back over the last 6-7 years, it's crazy how this little hint of a dream has grown and grown and now is becoming a reality.  After buying our last house, I never in a million years thought any of this would be happening just a few years later.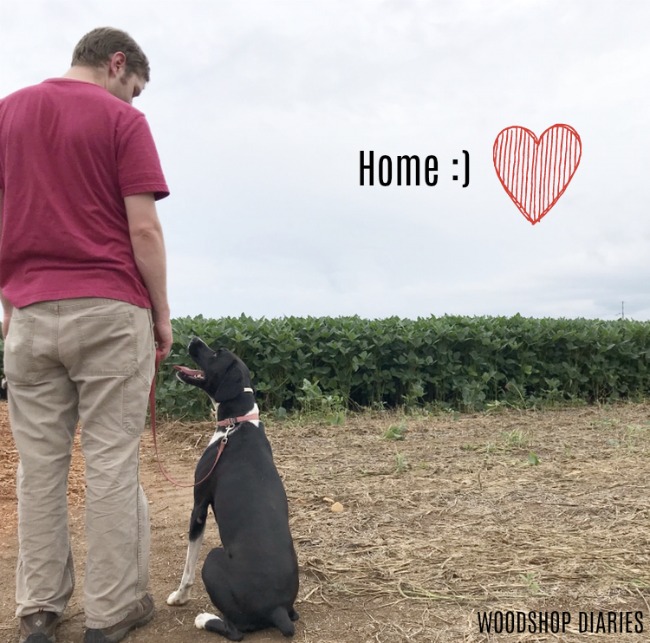 That gives you a little back story to what's been going on behind the scenes of Woodshop Diaries for the last year or so.  Currently, all our stuff is in storage and we are living with Danny's mom while we build our garage.  It's been an adventure and it's been stressful, and scary, and uncomfortable, and expensive, but we are hoping to be moved into our new home this fall!
.
In the meantime, I'll be sharing sneak peeks, progress updates, and lots of interesting happenings over on Instagram, so be sure to follow along there 🙂  They're putting up our garage walls this week, so things are about to get pretty busy!
.
I'll write some more update posts as we go (and as I get time), but for right now, I've had a ton of questions and I'll do my best to answer them below.  If you've got other questions, feel free to ask in the comments.
What exactly are you building?  Will it be like a barndominium?
We are building a 30×50 garage with a small porch on the front.  We will divide it down the middle and live in one side and use the other side as my shop/Danny's storage.  It will be vinyl sided, so it won't really look like a barn.  The side we live in will be about 850 sq ft and will have one small bathroom and the rest will all be open like a studio apartment.  Once we build our actual house (in a few years if we actually do end up building it), we will move my shop into the living space and Danny will have the whole garage space to himself.
How many acres do you have?
We have a little over 8 acres.  It's currently being farmed.  We bought the farmer out of a few acres so we could go ahead and start building our garage before winter.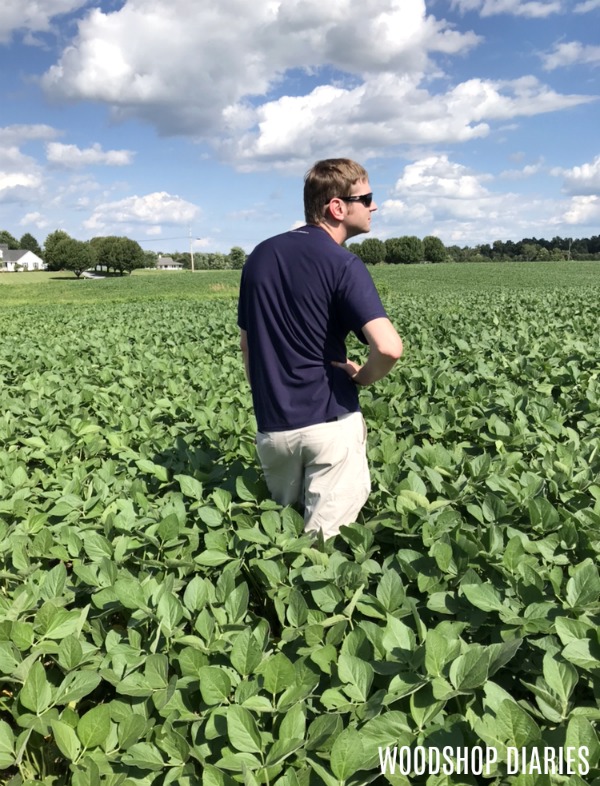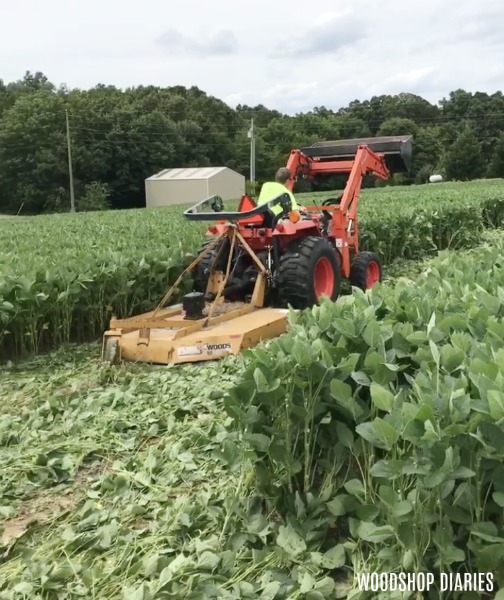 Are you building it yourself?
We hired a garage builder to put up the shell and we are finishing out everything.  So basically, we had him pour the concrete and put up the exterior walls and siding.  We are doing the plumbing, electrical, insulation, drywall, and cabinets, doors, showers, toilets, etc.  The very first thing we did was hire someone to put in our driveway and septic tank, then the builder came in.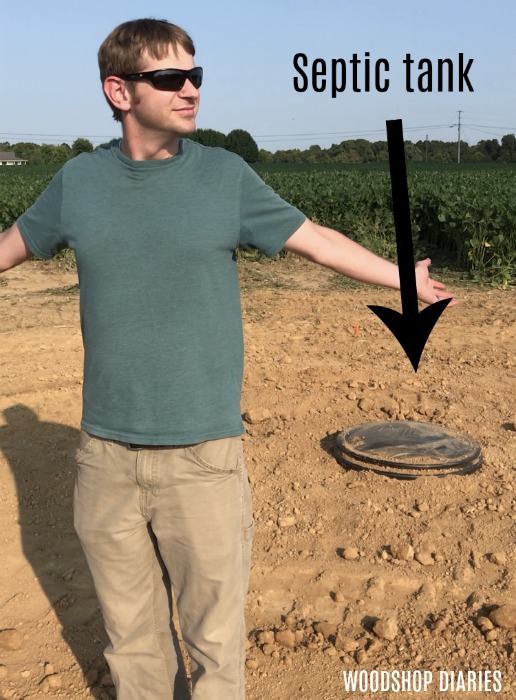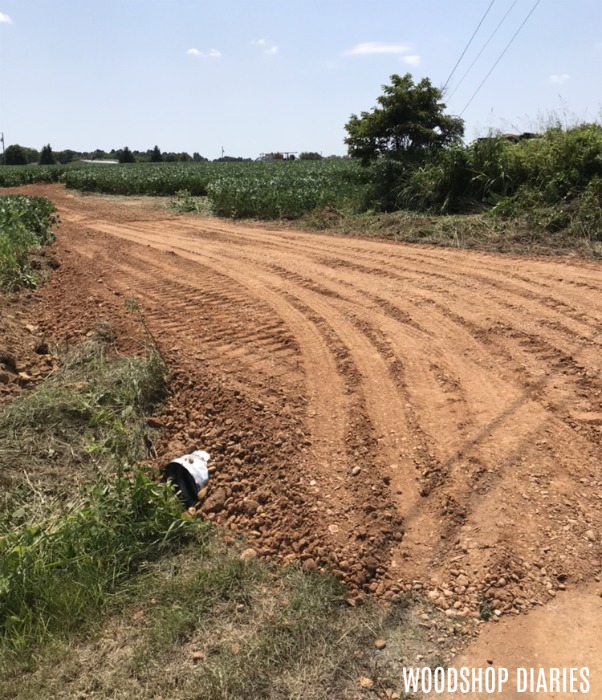 Once the builder got the footer dug, we dug the trenches and installed the plumbing.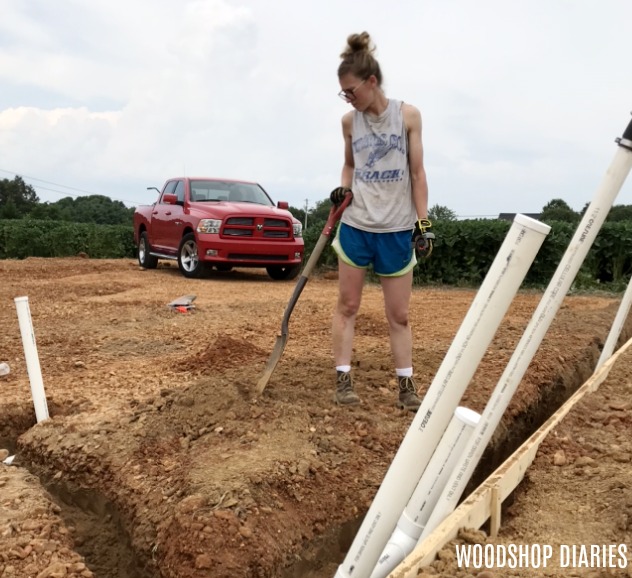 Hopefully we will have our structure up this week, and we can start our work.  Once we get started, we should be ready to move in in about 6 weeks.  Crossing our fingers!!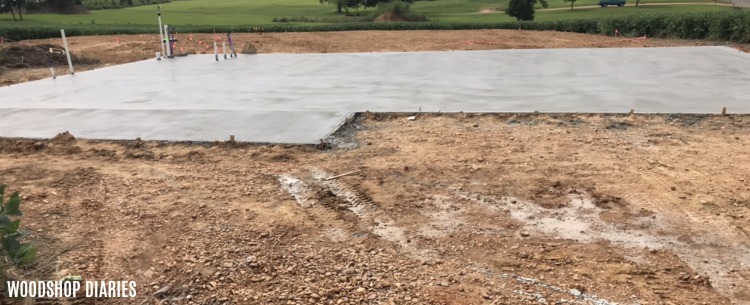 What about permits?
We live in the county and the same rules won't apply everywhere so I'll tell you what WE did, but that doesn't mean it's the same in your location.  Just keep that in mind.  But since we live in the county, the only permits we needed were for the septic, plumbing and electrical.  The septic guy took care of the septic, we got the plumbing and we haven't gotten yet (but will) the electrical.  Everything has to be inspected before covering it up.  So our plumbing had to be inspected before the concrete, it'll have to be inspected again before drywall, then once it's all hooked up, it'll get a final inspection.  Electric is the same way.
What about construction loans?
I looked into a construction loan when we first planned to build the house on the restricted land.  In a nutshell, no one wanted to work with you if you were going to act as your own contractor (which we were).  And when we did find someone willing to, they wanted a detailed breakdown of exactly how much we planned to spend on each and every item and house plans.  They planned to take all of that, basically create an appraisal for how much your house would be worth once it's built and loan you 80% of that.
.
They would periodically inspect to make sure you were actually using the money to build the house and you would be required to finish the house completely within a year.  It took 45 days minimum to get the loan and you had to close twice…so two sets of closing fees…which is expensive.
.
Because we decided to build the garage instead of the house, we decided to forget the loan and just paid out of pocket.  We planned to have a home again (though it may be small) within just a few months tops and didn't want to deal with the hassle of the loan process.
Why didn't you build up instead of out for your apartment space?
Have you guys seen lumber prices lately?  Holy smokes.  Apparently at this point, it's cheaper to go out than it is to go up.  So that's what we did.  We originally wanted a little upstairs apartment instead, but the prices for going up were higher AND you had less living space because of the rooflines cutting in.  Also, once we moved out, we'd never use that space for anything so it would have been a waste.  Whereas, downstairs, we can store tractors, tools, lawn mowers, etc so it would be more practical to spend money on that vs a useless attic haha.  If we had kids, that might have been a cool play room, but we just knew that we wouldn't ever use that for anything.
What does your house plan look like?
You guys are going to be so disappointed when you see our new home HAHA.  It's very simple.  Nothing fancy, just kind of basic.  We didn't want to spend money on fancy rooflines just to deal with ice dams and maintenance all the time.  It's an open living/kitchen/dining, with two spare bedrooms on one side and a master, on the other.  Just what we need…nothing extra.  Our style has (MY style…Danny doesn't have a style haha) shifted to simple, modern, minimal lately and I want to keep that look with the garage and the house.
.
We had a local guy we found draw us up exactly what we wanted and he was AWESOME.  I took him a rough sketch of the floor plan I wanted, and a picture of the front of a house I liked and he put the two together and had us HAND DRAWN (hand. drawn.  It was impressive) drawings of everything in just like a week.  If we ever build it, I'm going to frame a set of them as wall decor 🙂
How are you doing all of this with full time jobs?
Nights and weekends, baby.  Nights and weekends.  That's what we did remodeling our last house.  It was exhausting, but you can do anything for 6 weeks.  Even survive on cereal and 2 hours sleep a night.  We will sleep when we are retired, everything paid for, and we have a home haha.  No rest for the weary.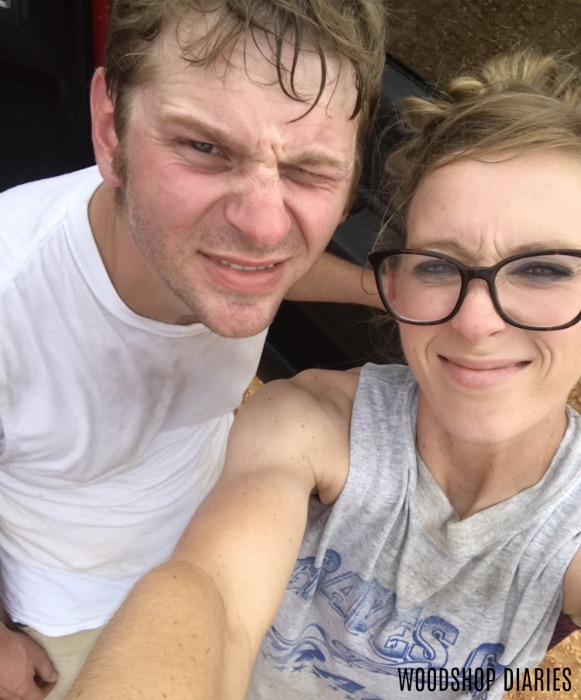 Why not just buy something?
Good question.  There are always pros and cons.  We wanted a few acres, a small house, a large shop, energy efficiency, and custom to our our style.  That's IMPOSSIBLE to find in our area in our price range.  I mean it.  In our old house, when I'd use my miter saw in the shop, the lights in the house would dim.  It wasn't set up to do what I was doing. This time, we are wiring everything up for EXACTLY what we plan to use it for.  We are insulating to keep bills low, we are building small so if we need to grow later, we can.  We are building this house for US and with our priorities, our preferences, and our budget in mind.  We are looking to the future for a house we are building now.  That way, we can grow into it.  It's going to be built BY us and FOR us.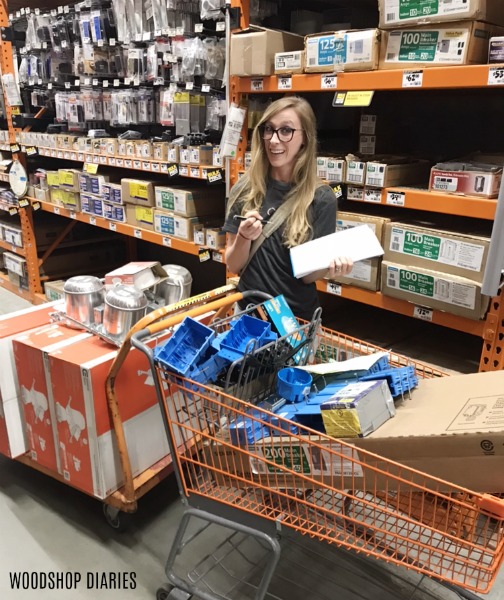 Wow that was a long post!  I hope I answered most of your questions.  I'll keep you updated (hopefully with shorter posts haha) as we go, but felt like I needed to get everyone who was interested up to speed first.  If you have questions I haven't answered already, feel free to leave a comment below and I'll do my best to answer it.
.
As always, thank you so much for following along on our journey and adventure.  We are so excited and humbled for the opportunity to build our home.  Hopefully I can inspire you with ideas, projects, and dreams for the new place.
.
Keep updated with posts on Instagram and stay tuned for some really awesome projects coming from this, too 🙂
.
Until next time, happy building 🙂