Welcome back to week 4 of the Fall Renovation Challenge with Jeffrey Court!  This week, some real progress was made and I'm pretty pumped to show you 🙂  But first, let's recap.
.
If you're new and just joining in on this chaotic adventure, welcome.  I'm glad you are here!  And if you've been following along, bless you.  You are enduring quite the mess of a reno along side me, and for that I am grateful.
.
So, basically, we are renovating (more like building from the ground up) our kitchen in our new garage house.  The deal is that with the Fall Renovation Challenge hosted by Jeffrey Court, this must be completed in six weeks.  This ends week 4.  (Commence panic attack, then get it together because we don't have time to panic…now get back to work!)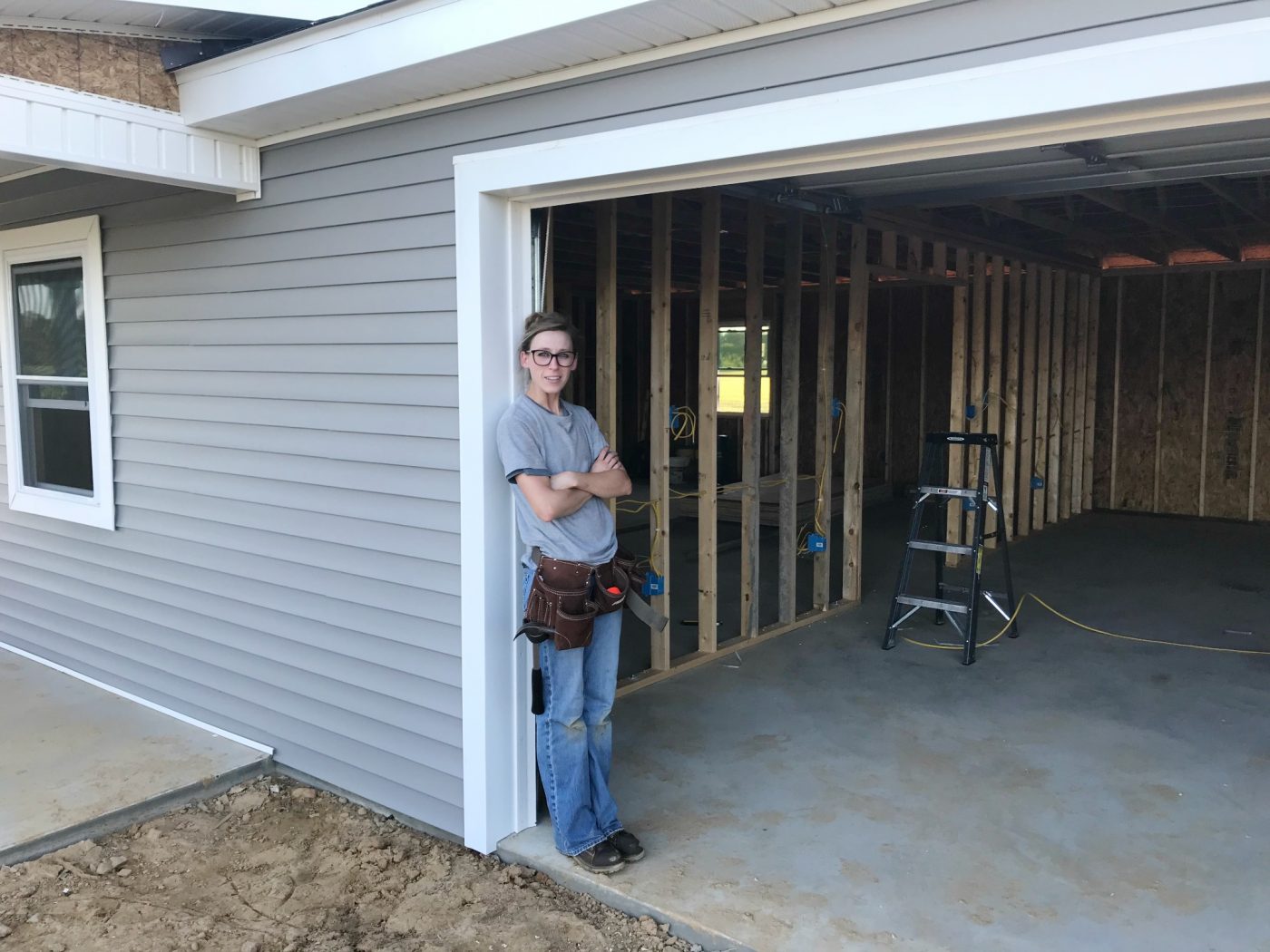 Quick shameless plug:  I need your help with this!  If you've enjoyed this challenge and are cheering me on, or are a loyal subscriber and friend, I would LOVE to ask if you'd take just a few seconds to head over to this link and vote for me!  Each week the designer with the most votes gets two bonus points towards winning the challenge and I can't do this alone!  I need your vote!  We have worked out tails off for this challenge, so I would love the chance to win.
.
We started our day one of the six weeks here: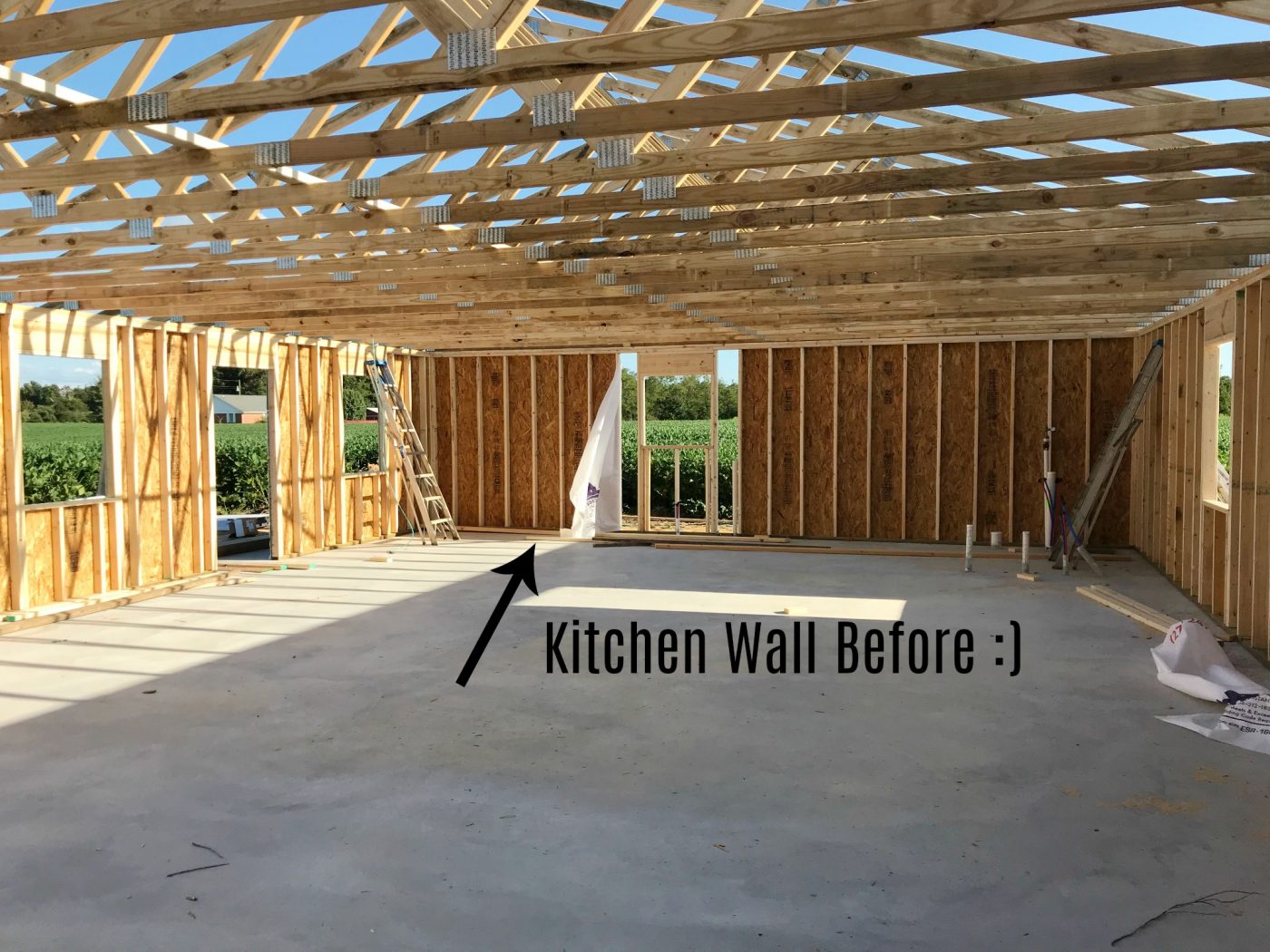 And our to do list was long:
Install divider wall between kitchen and bathroom
Get electricity to the space
Wire outlets, switches and lights
Finish plumbing
Insulation
Drywall
Paint
Build cabinets
Finish (paint and poly) cabinets
Install cabinets
Install appliances
Install countertops
Trim out window
Install tile backsplash
Build dining table
Move in
.
Since we are currently living with my mother in law while we build our garage apartment house, the hubs and I are both really just looking to that last item on the list, but every little thing we can check off just gets us closer 🙂
.
In week one, we got the divider wall and some wiring done.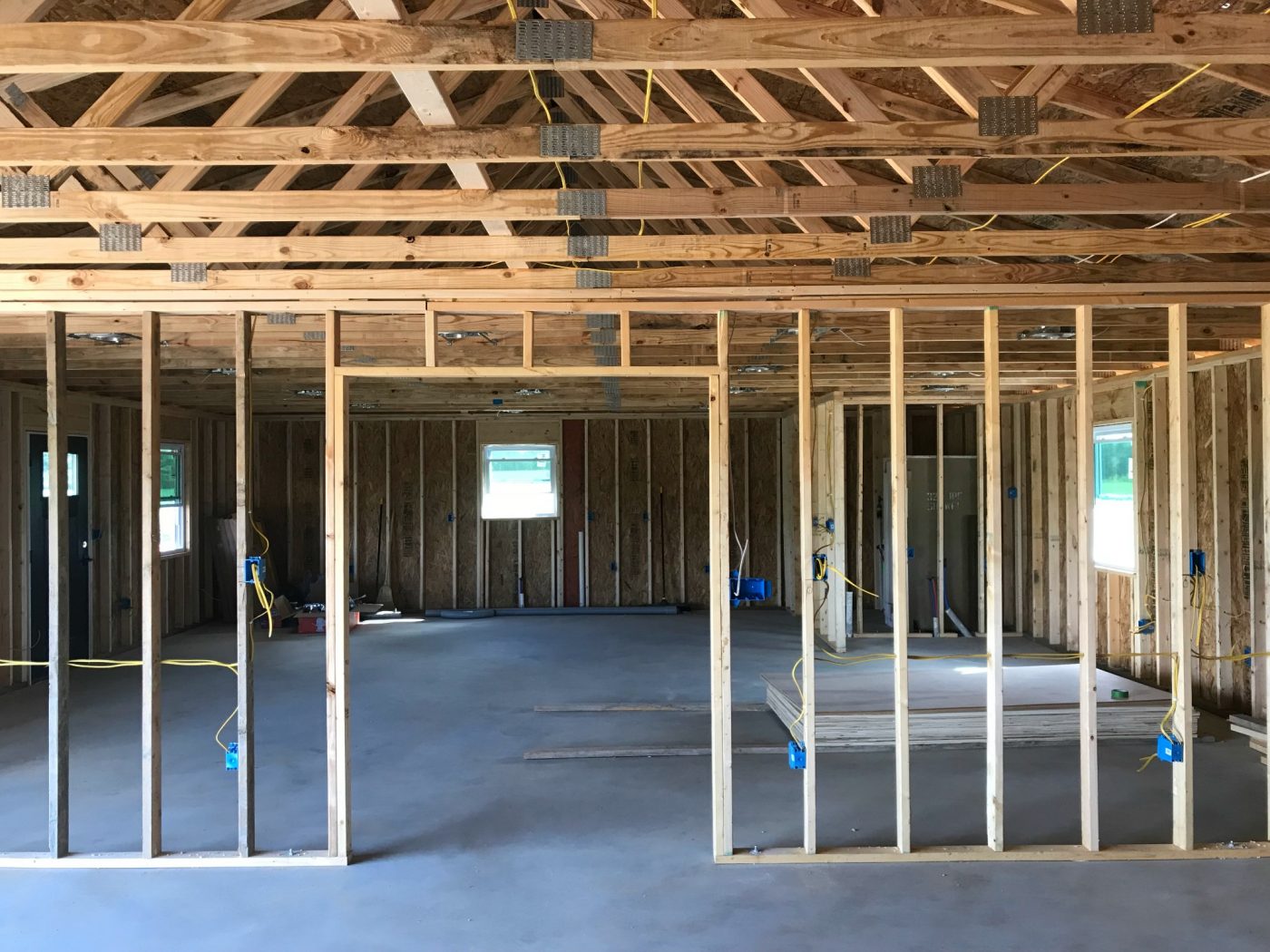 Week two was all about finishing the wiring.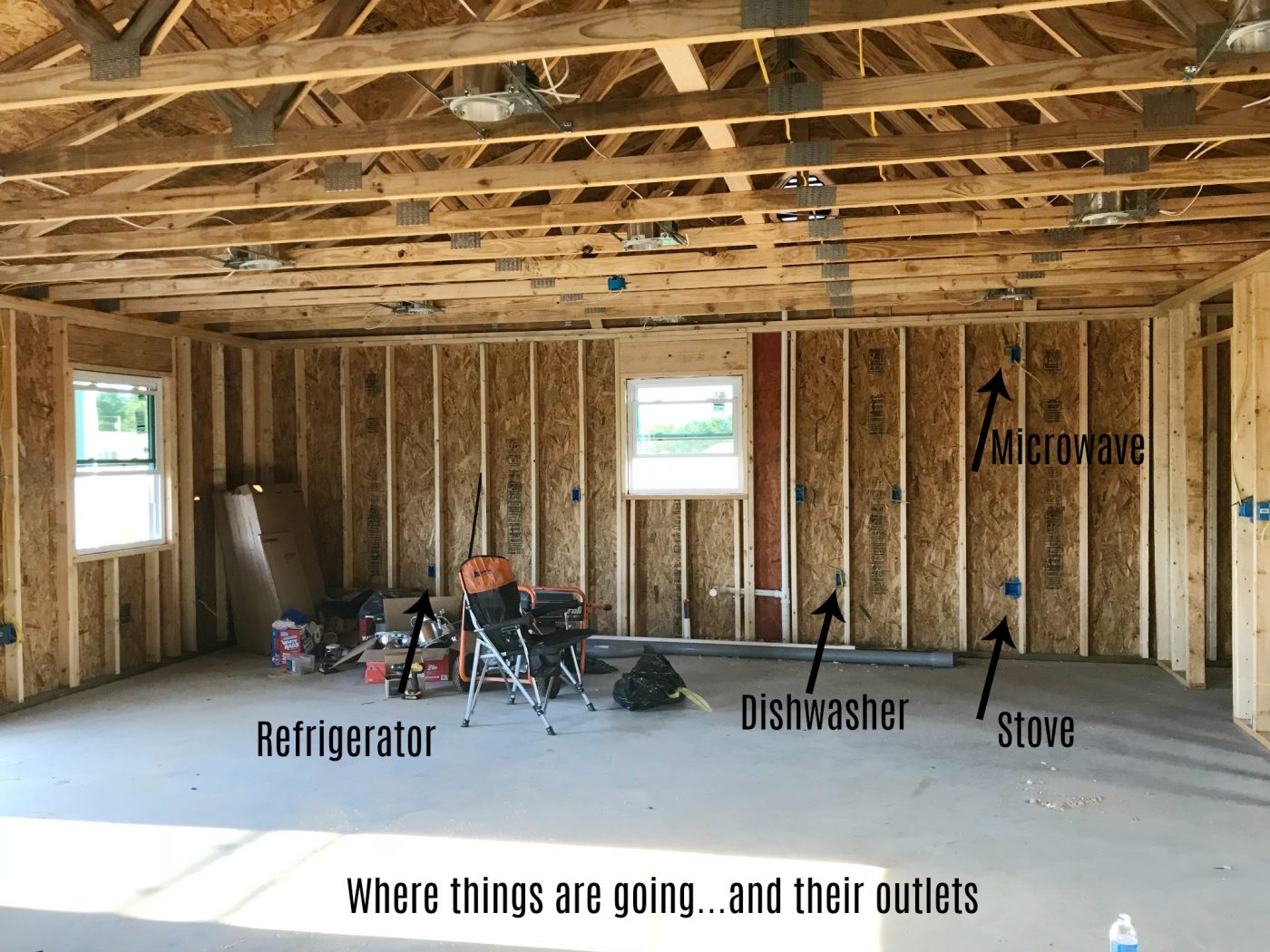 Week three was insulation, drywall, and painting.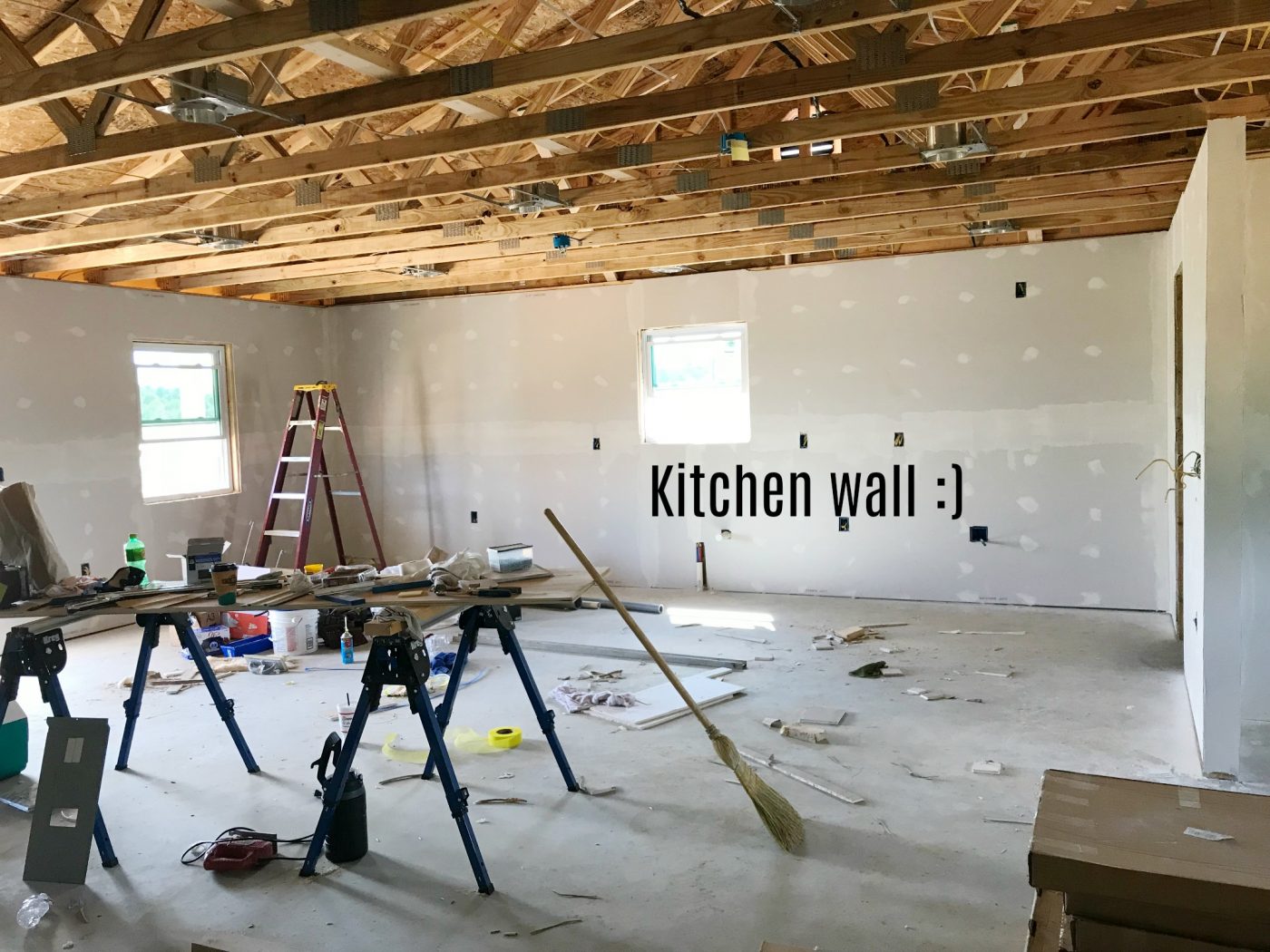 And now, week 4–the week of the cabinets and ceiling.  AND WE GOT POWER THIS WEEK, YOU GUYS.  We can turn on lights and plug in tools and get water out of our well and USE FANS in the heat.  It's life changing…literally…to have power out here now.  I'm pretty impressed that we've gotten this far without power…but I'm not going to complain that we have it now.
.
Here's where we ended week 4 of the challenge.  With a dark, poorly lit view of our mostly installed, freshly painted kitchen cabinets.  The cabinets I've been working on ALL WEEK.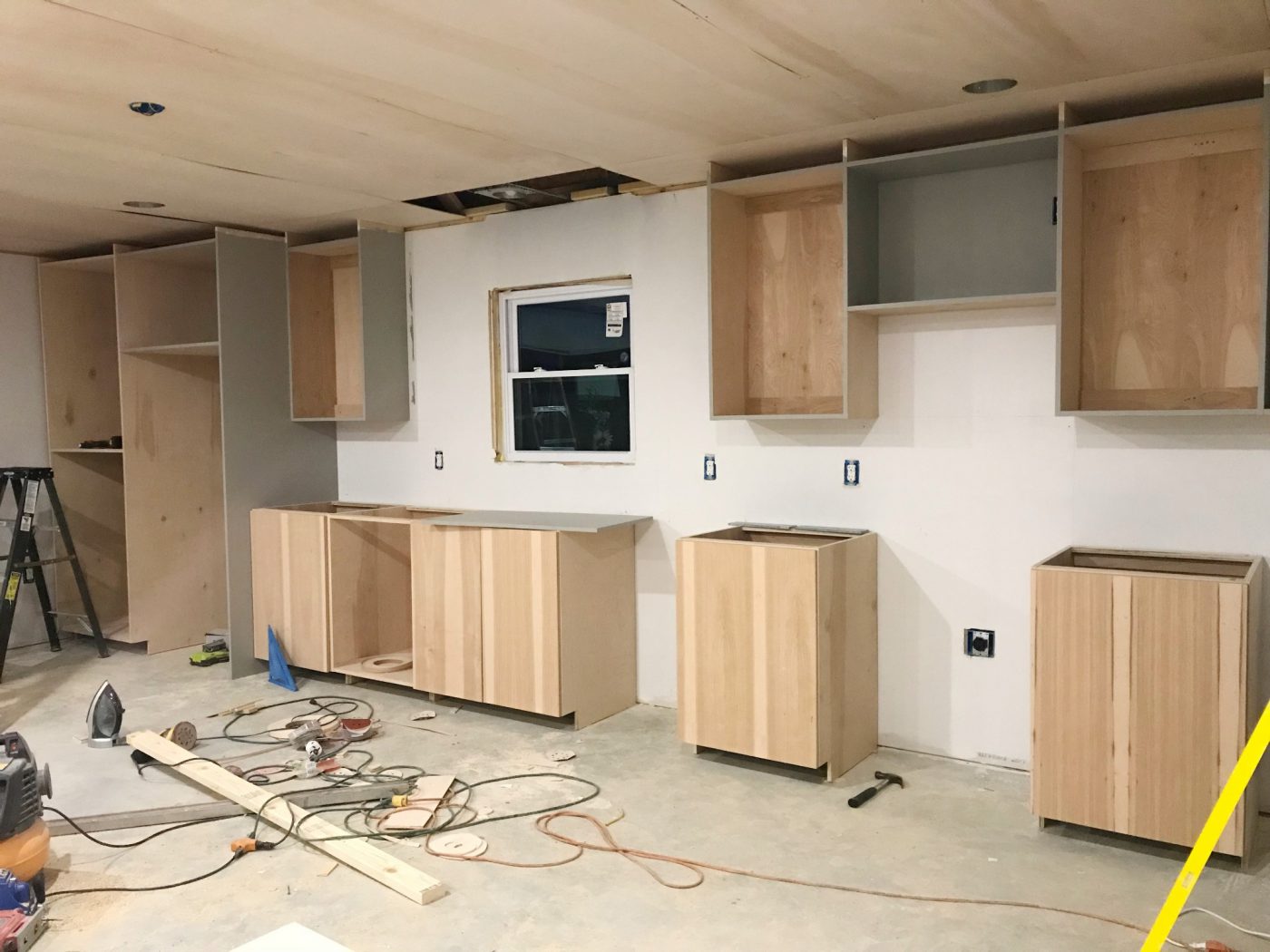 Let's break down what all happened this week one thing at a time.
.
Cabinets:
Once we had the drywall up and painted last week, I immediately started working on building cabinets.  And as a maker/woodworker, I've thoroughly enjoyed this part of the project.  The cutting, the dust, the building, the dust, the assembling….and the dust.  Our house is so dusty right now it's not even funny.  It's a mess.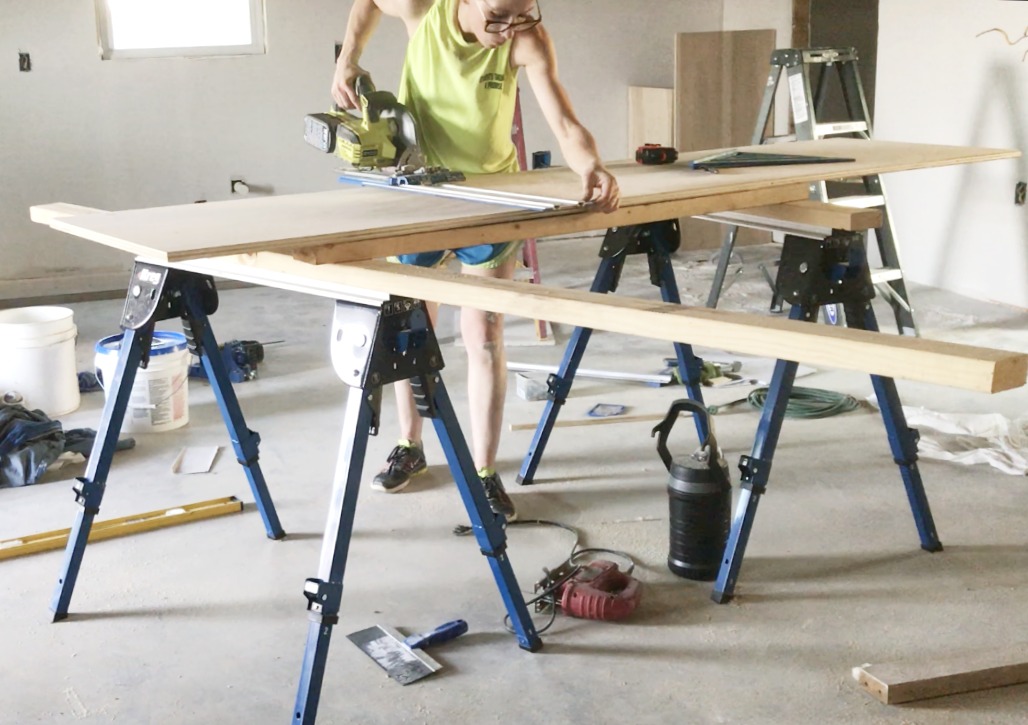 But after working my tail off all week, I finally got all but one of the cabinets built and installed.   HALLELUJAH!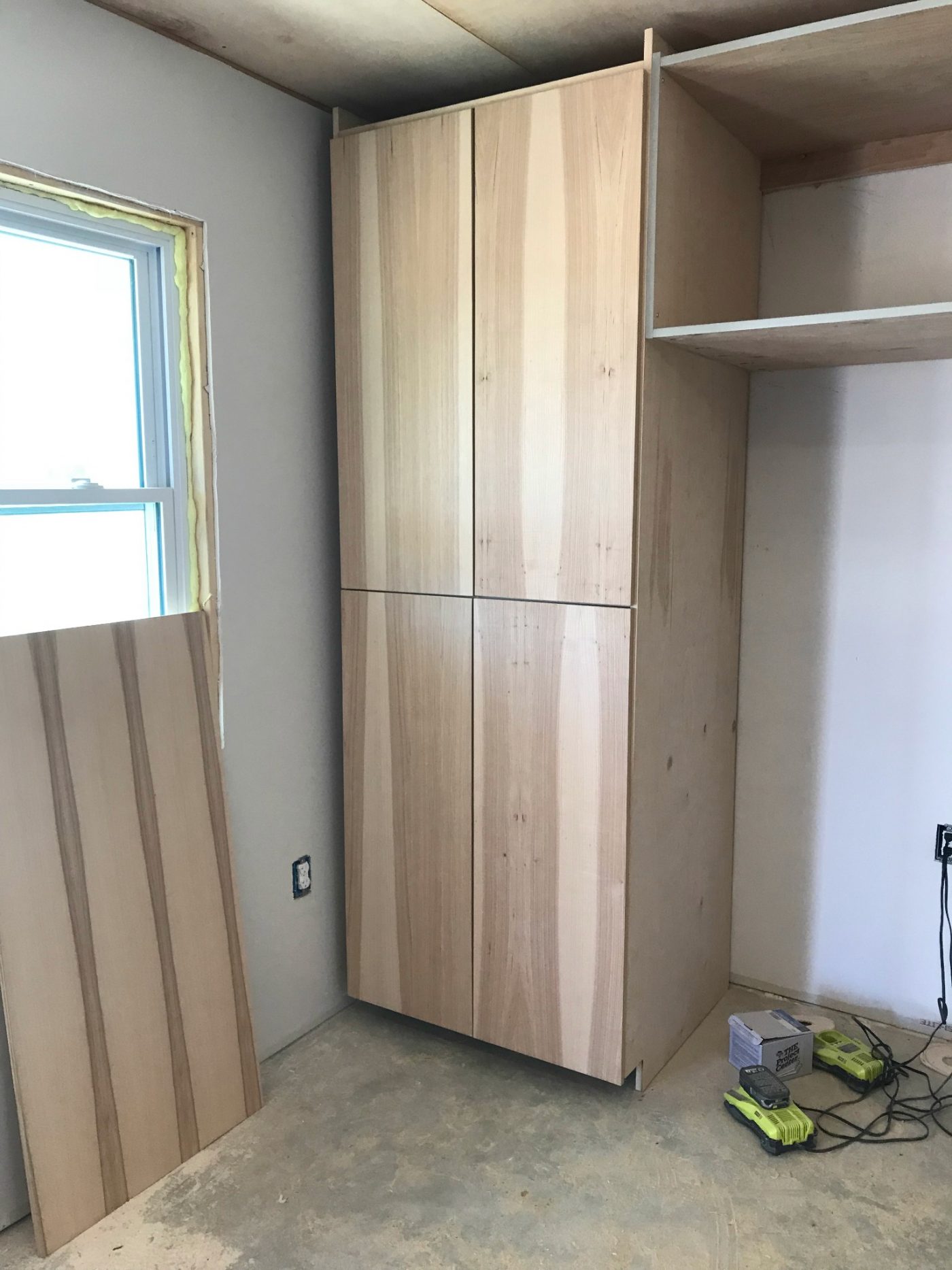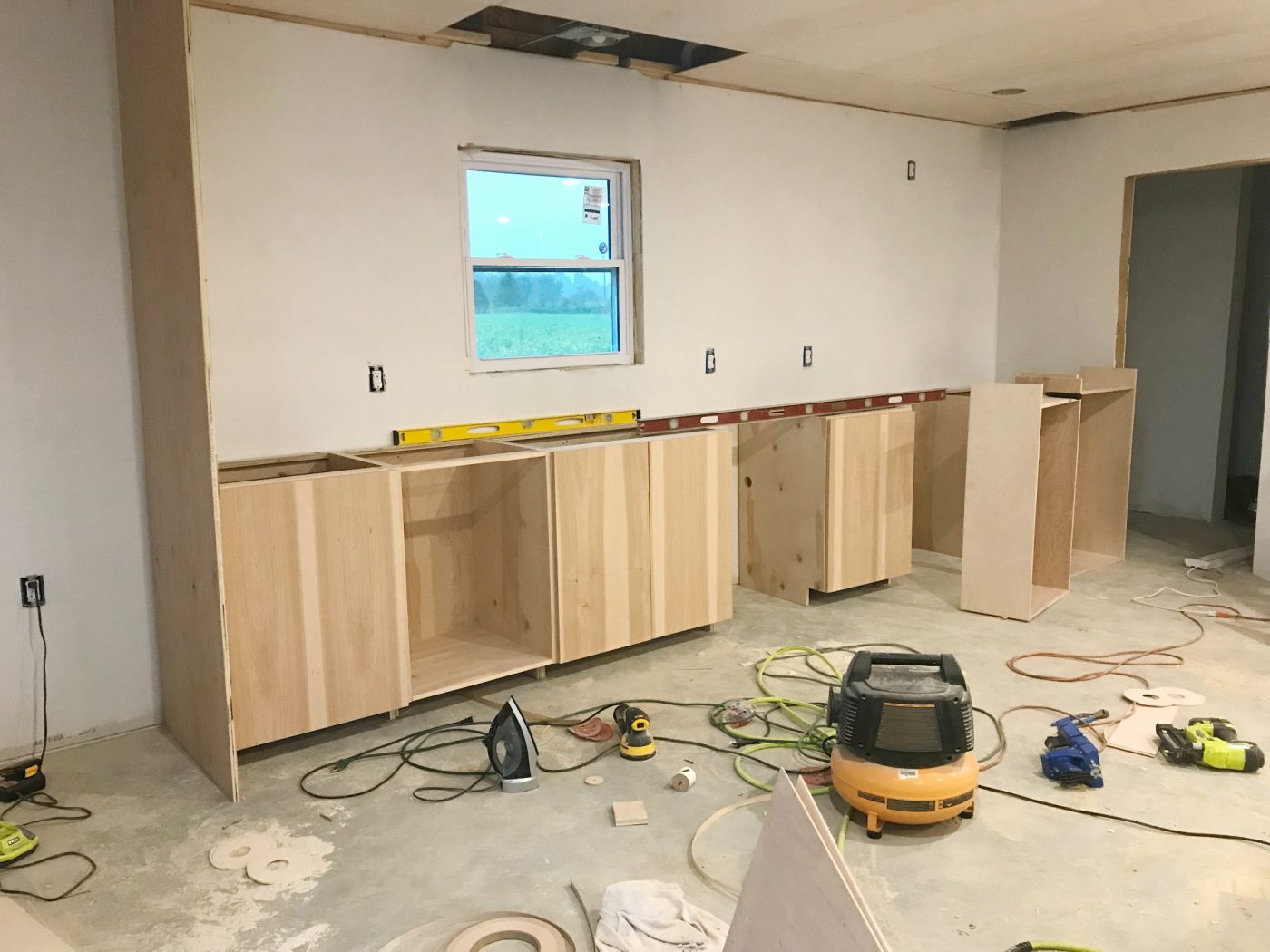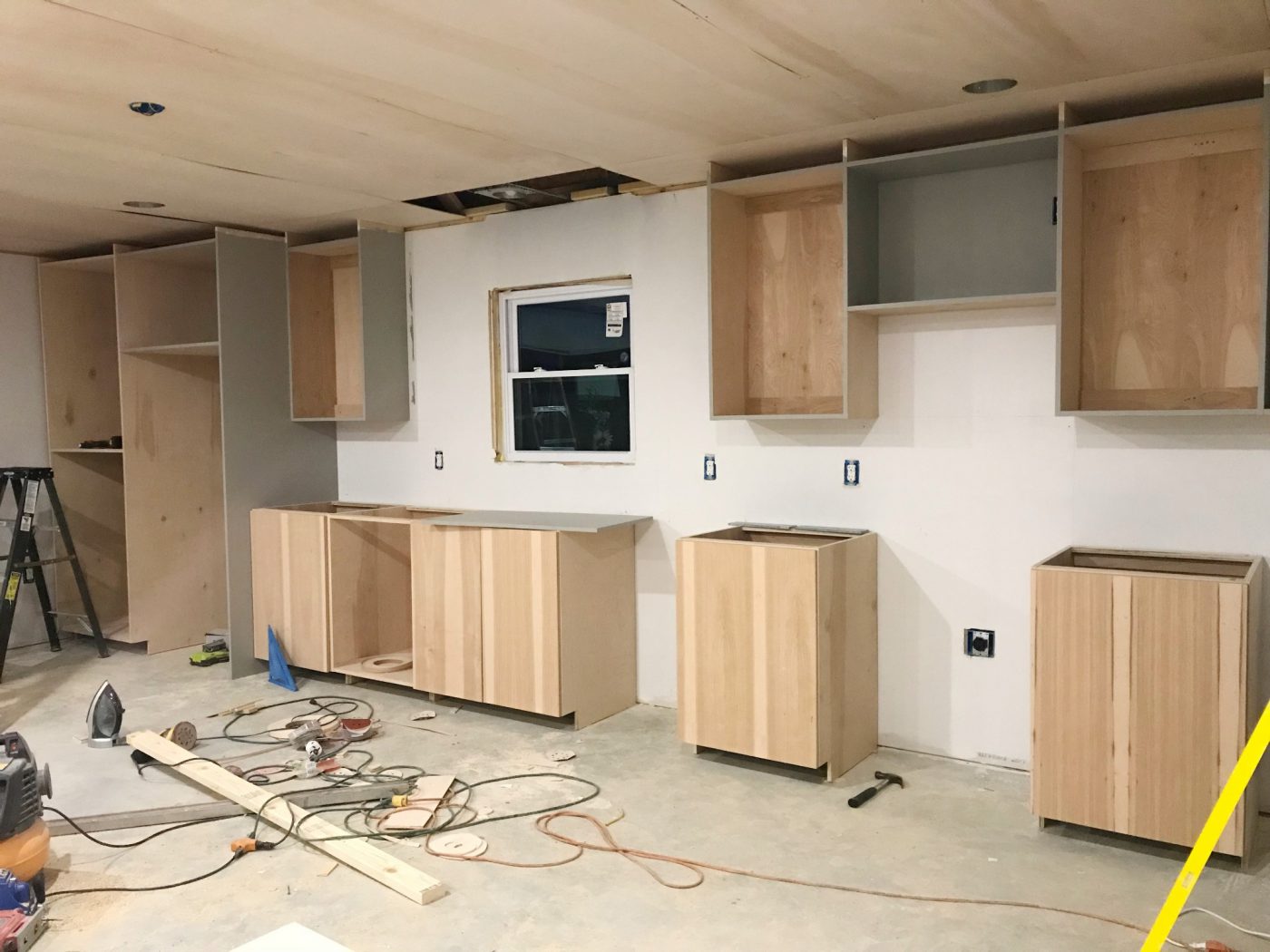 I've still got to finish installing the doors, but the paint was still wet when I took this picture and left for the night, so that'll have to wait till another day 🙂
.
As you can see, I'm painting the top cabinets a darker grey and leaving the bottom cabinets natural hickory.  I'm REALLY hoping this turns out as pretty in real life as I see it in my head…sometimes that happens.  And sometimes it doesn't….
.
Stay tuned to find out.  Also, I'll be making my own hickory countertops to match the hickory cabinets next week 🙂
.
Design Solution for Window Placement:
One thing I mentioned in the last post was that I found out (a lot too late) that the kitchen window wasn't where I had planned for it to be.  This threw off my original cabinet design about 6″.  I had to decide to center the sink on the window, or offset it, or figure out a way to cover up this extra 6″ I didn't plan to have on the right side of the window.
.
We decided to move the appliances on the right side of the sink (dishwasher, range, and microwave) to the left about 6″ which meant that the dishwasher outlet now had to be inside a cabinet.  Not ideal, but doable.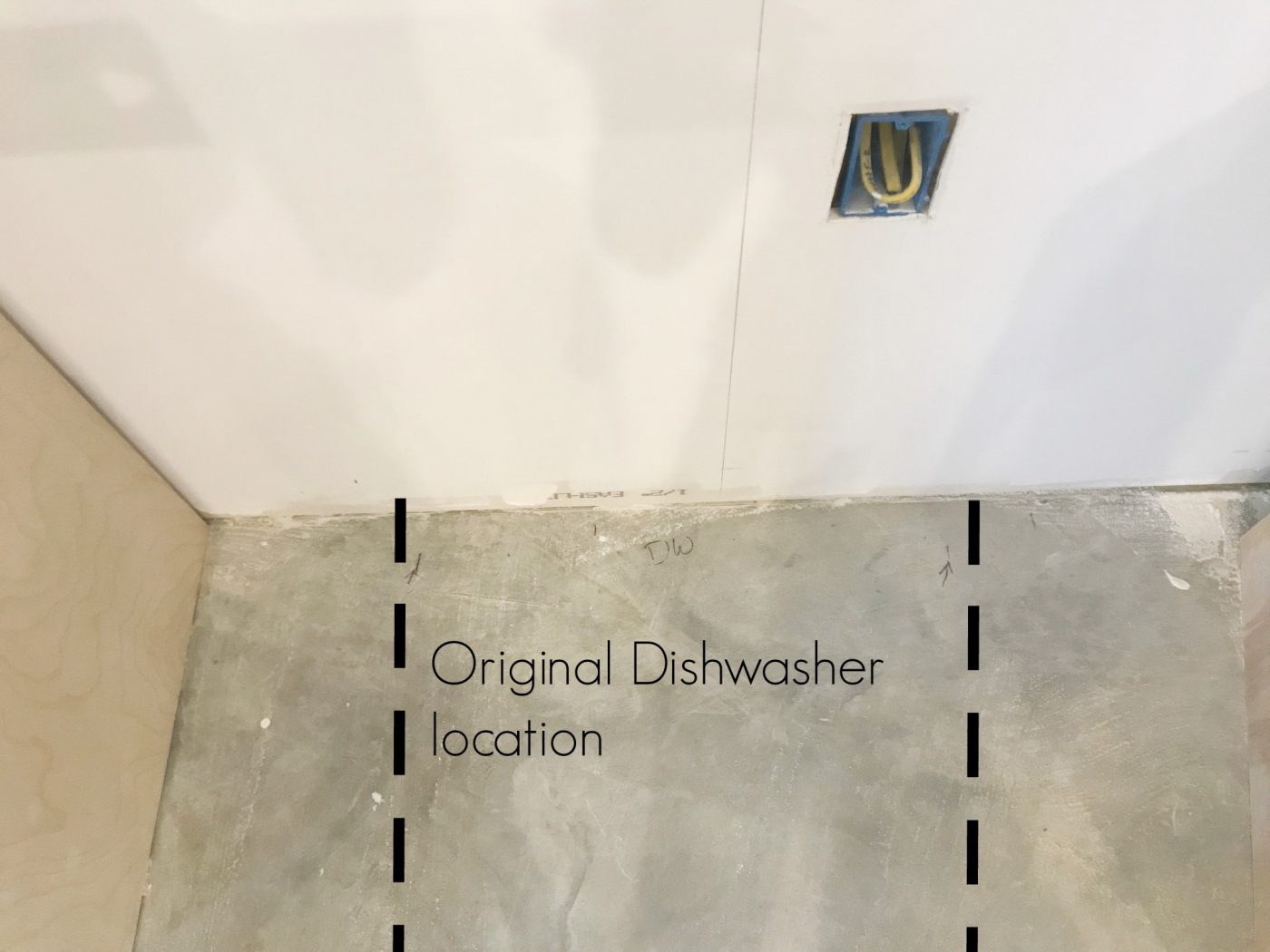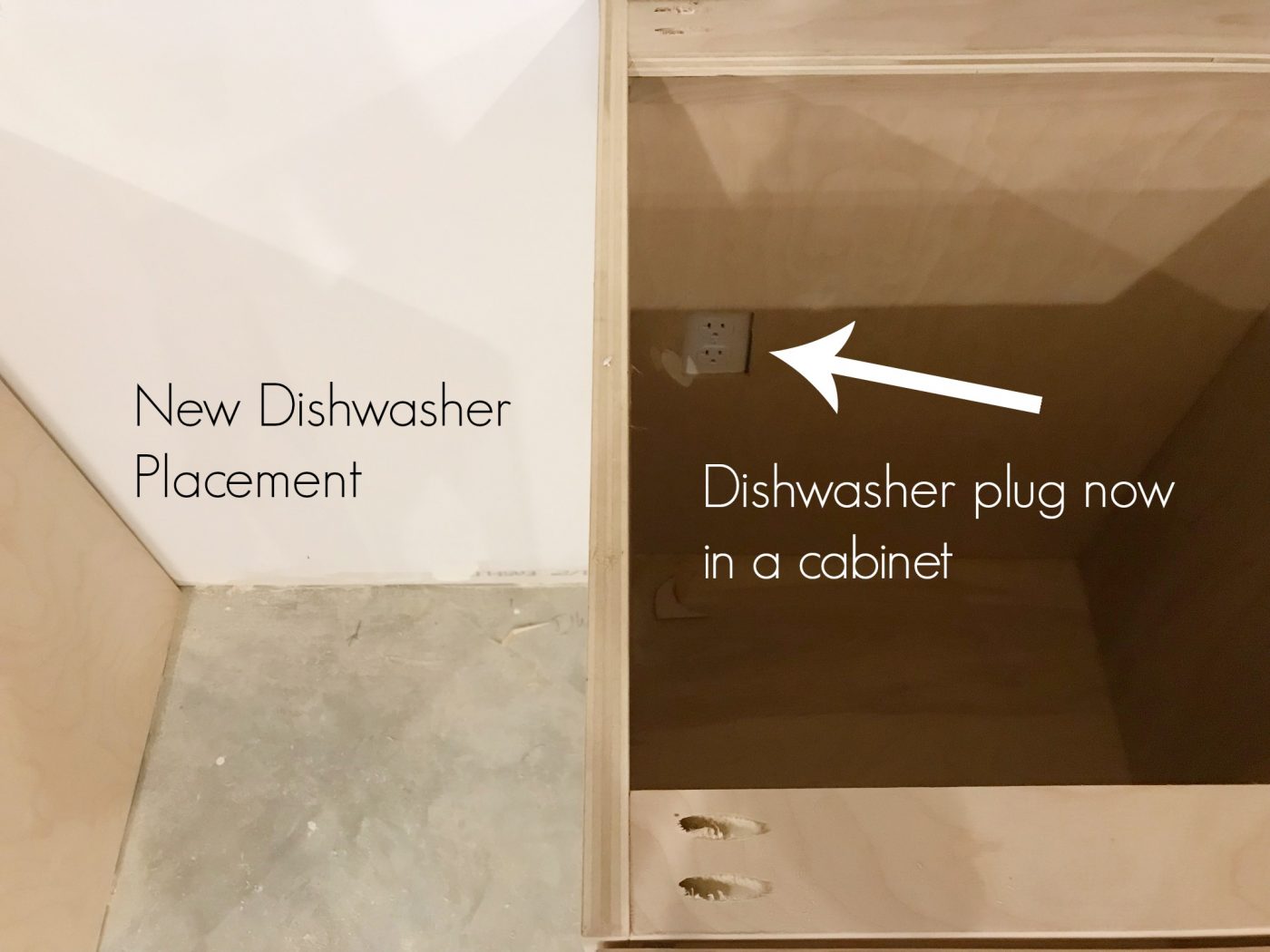 This also meant I had a 6″ space to fill between the original cabinets I had planned for and the bathroom wall.  I came up with a simple solution that I'll have to show you next week in better detail.  I used this space for a small open shelf on top and for a small cookie sheet holder cabinet on the bottom.  Hopefully it will look okay next to these large, wide cabinets.  Who knows haha.  You can see the skinny top cabinet in the photo below.
.
And one thing I didn't realize until last night was that this means the light we placed above the stove is now 6″ off center of the stove.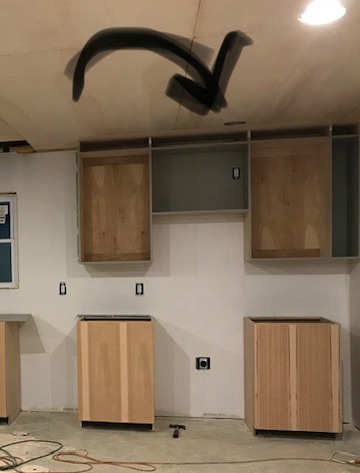 Whoops.
.
Not a big deal, I get it.  BUT now that I see it, I know that every time I look at it, I will wish we had fixed it and it will drive me nuts.  So now we have to decide if it's worth it to move it, or just keep moving on.  At this point, it's a matter of time, not resources, to get this kitchen done seeing as we ONLY HAVE TWO WEEKS LEFT.  But it will be a lot easier to change now than later due to the ceiling.  Stay tuned to find out what we end up doing 😉
.
Ceiling:
Oh yeah, and one other thing that got partially accomplished this week was the ceiling in case you didn't catch that!  We are doing something a little different in here for the ceiling, so I'm also hoping that turns out pretty (not pretty ugly), too.  We will see….  It's plywood panels and we will trim them out later.  So when you see it, just know this isn't the finished product.  It's still in progress, so bear with me.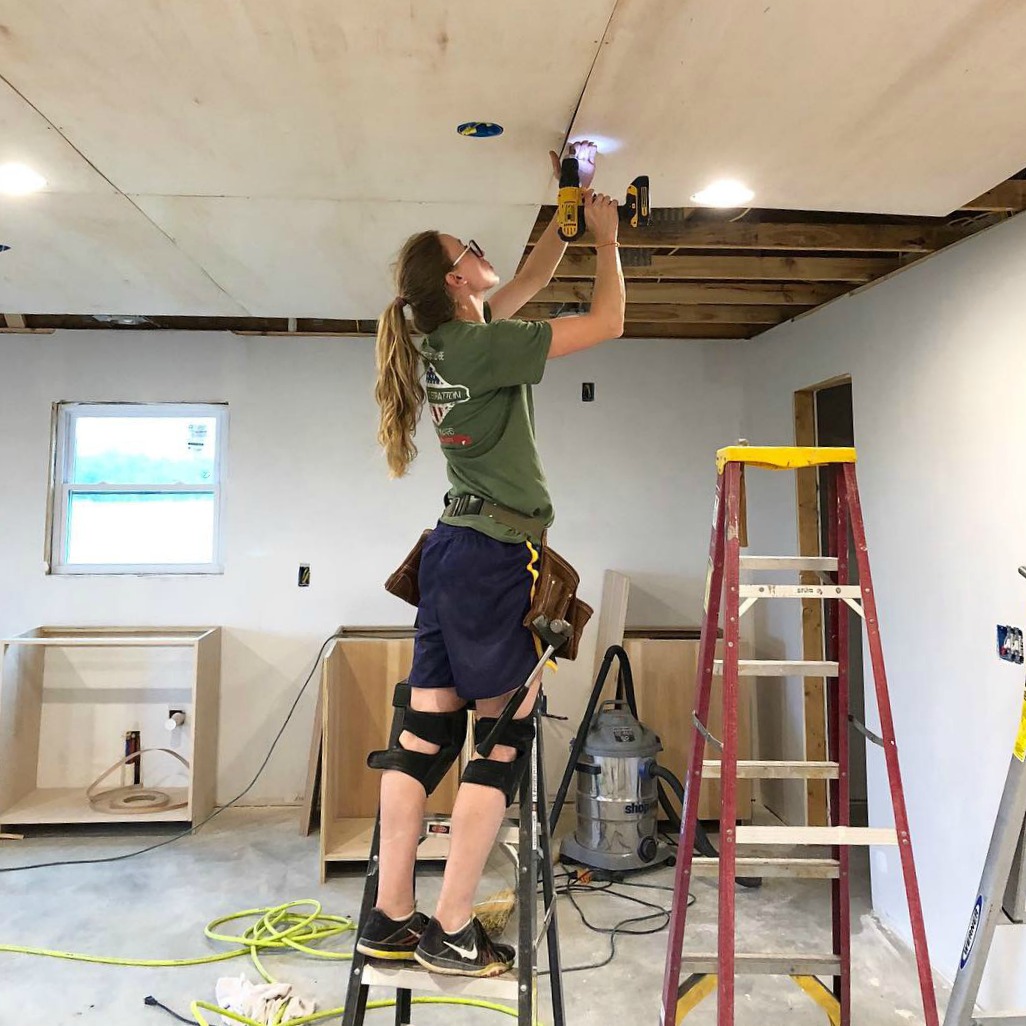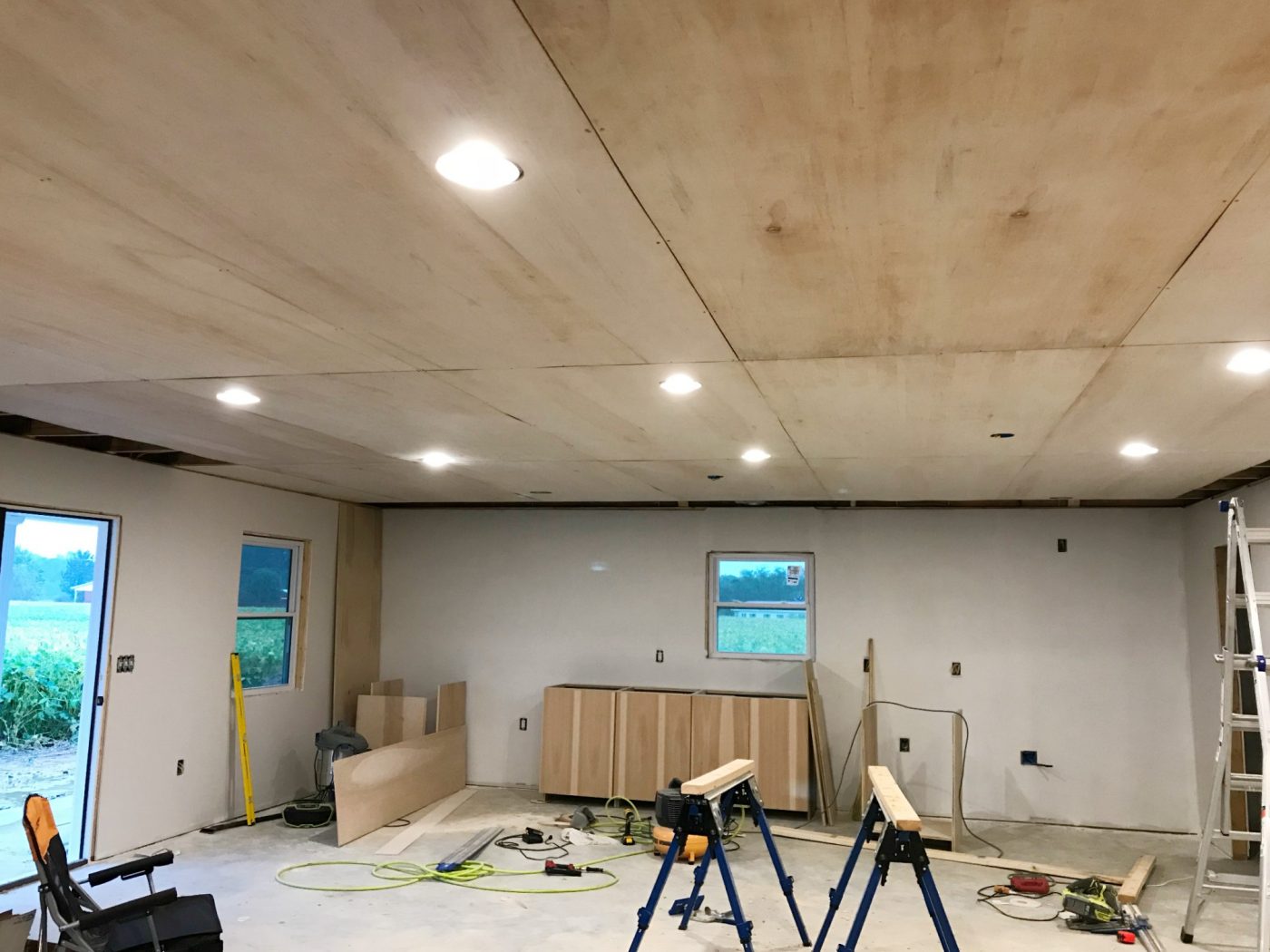 So now that we ended week 4, let's check that to do list again.  This week we got to mark off:
Get electricity to the space (yes, they finally got us POWER this week!! Life changing…literally.  We got power on Friday and also got our well hooked up, too!  It was a big week)
Build Cabinets (all but one is finished)
Paint Cabinets
Install Cabinets (all but two are installed)
.
And something we need to add to the list is:
Poly and trim out ceiling
.
So what's next??  Well, I've picked up the lumber to build the counter tops and dining table AND I'm gearing up to install our new backsplash with tile from Jeffrey Court.  Sneak peek below…isn't is GORGEOUS??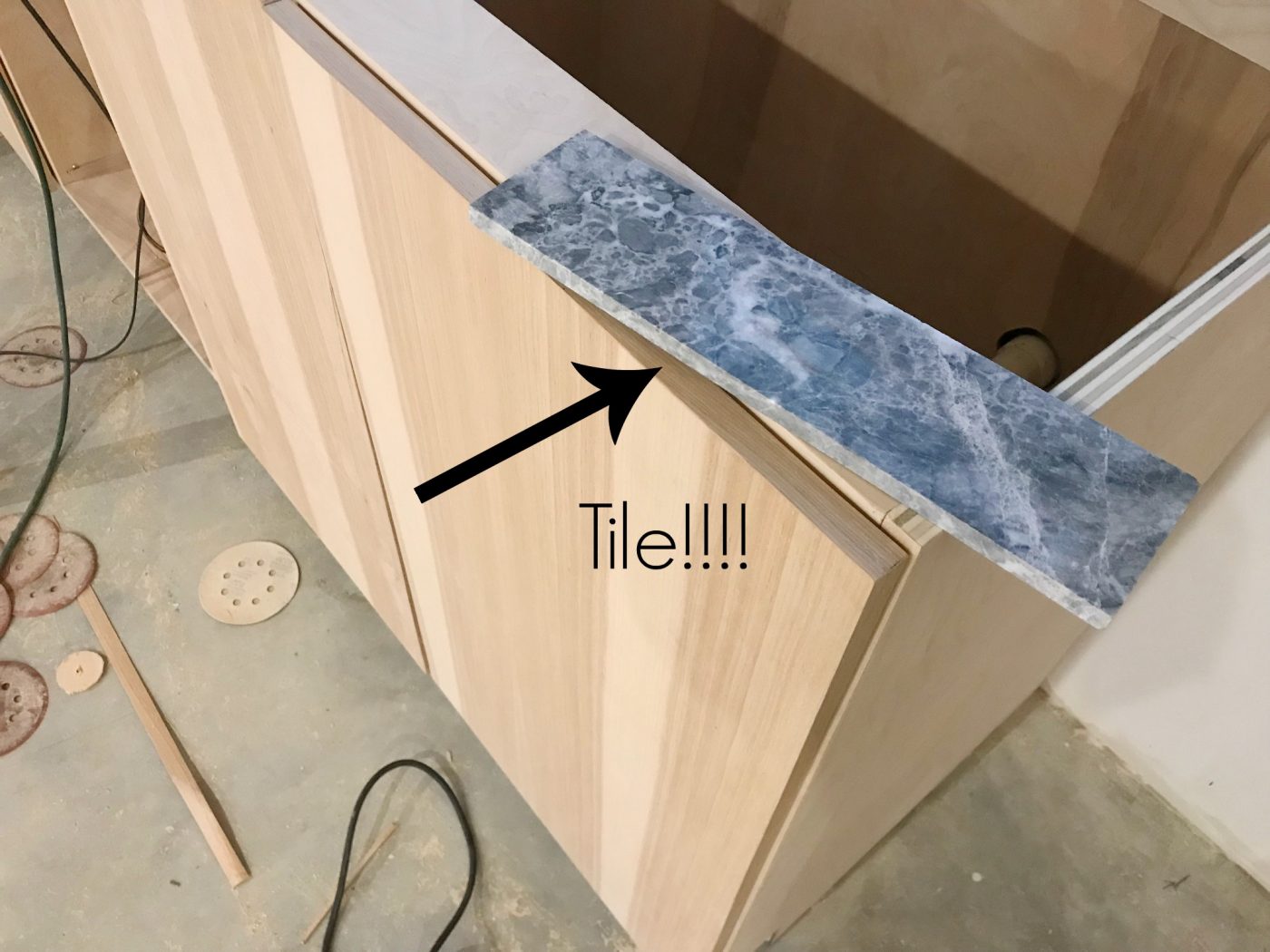 There's two weeks left and still so much to do.  Tune in next week to see what get's done and see if you think we can still pull off this reno in just six short weeks.  I'm having doubts but trying to stay confident haha (nervous laughing).
.
Until next time, happy building 🙂