In this post I'm sharing how to build a display cabinet with drawer!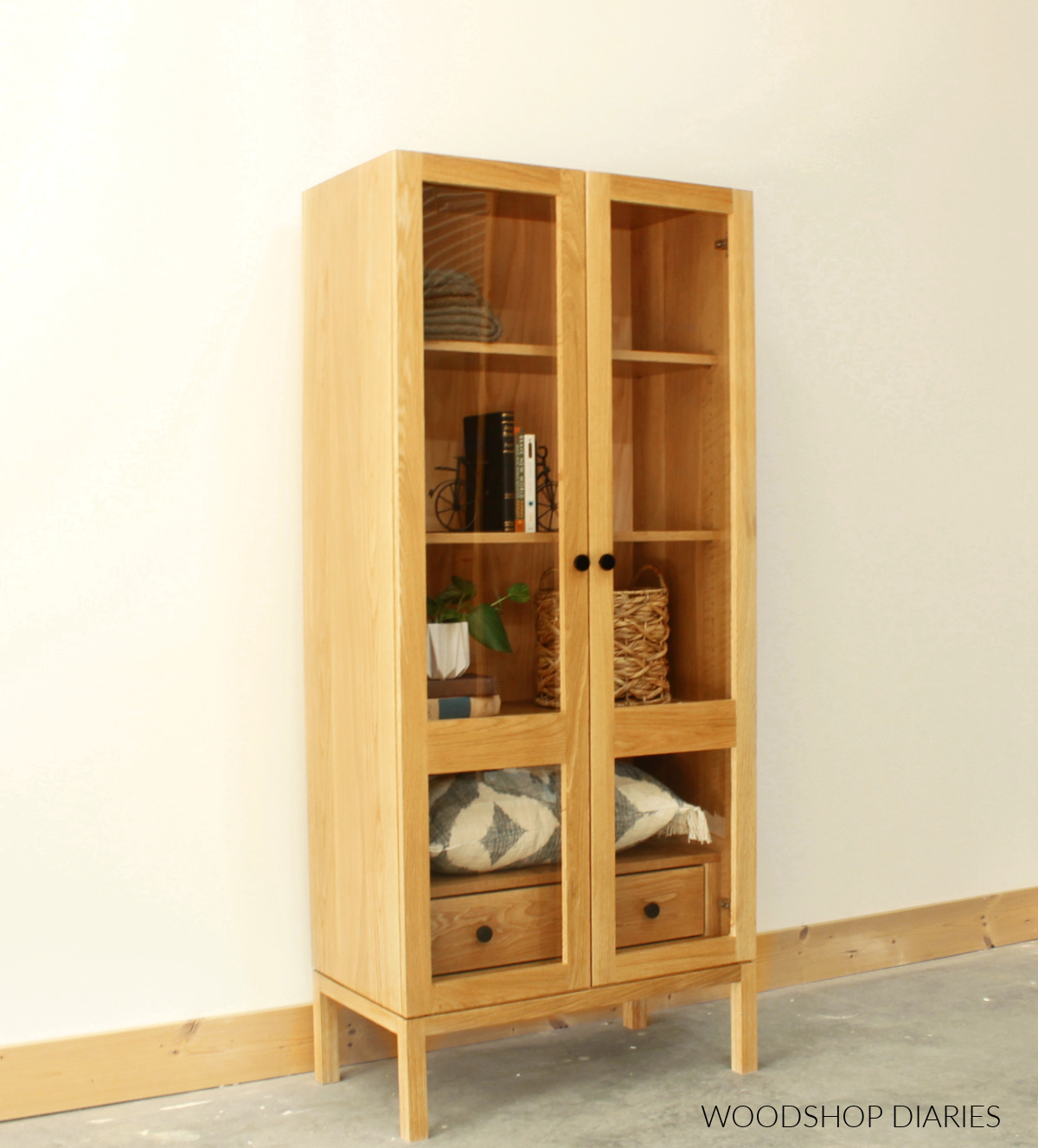 I have had this project on my "to build" list for SO LONG. I built a glass door linen cabinet a while back that we left with our last house when we moved.
.
I really didn't want to leave it, but it fit so perfectly in our bathroom, it felt like it was just part of the house.
.
So when we moved to our home now, I wanted to build another display cabinet, but this time, one with a drawer in the bottom!
.
I'm so excited to be sharing this build and the printable plans with you, so if you're ready to dive into the project, let's go!
.
.
.
In the diagrams below and in the printable plans, I'm showing overall dimensions of each piece in the build, so if you prefer to use solid wood, you can simply glue up your own solid wood panels the same size.
.
The amount of solid wood lumber you will need will depend on the widths of the pieces you're working with, so you will need to determine that based on your lumber options and availability.
.
You can go thicker, but it's not necessary and will just add to both the cost and the weight of the overall piece.
.
.
I mentioned earlier that I glued up solid wood panels for this, but ¾″ plywood would also work just as well.
.
.
However, if using solid wood, either pocket holes and screws OR wood glue and dowels are a good option.
.
However, for a little bit cleaner look, you can use a router and rabbeting bit to route the inside of the back edge of the box from step 1 about ¼″ deep.
.
.
.
.
.
I cut my pieces according to the cut list in the plans, then cut ¼″ dadoes ¼″ deep ½″ from the bottom edge to install the plywood bottom.
.
.
Then, I installed this onto the slides.
.
If you watch the YouTube video at the bottom of this post, you will see that I assembled my cabinet out of order because I was waiting on my slides to come in the mail.
.
.
Usually, I keep my slides assembled when installing the drawers. But in this case, I wasn't able to.
.
.
Before pushing the drawer in with the front installed, add some painters tape running up the inside of the drawer, over the top, and out the front. This will allow you to pull the drawer back out to finish and install knobs later.
.
See printable building plans for specifics.
.
.
If you do assemble your doors using pocket holes and screws, check out this guide for how to plug pocket holes.
.
Then, I cut my plexiglass panels to fit.
.
.
.
.
.