When it comes to storage, you can go two directions: simply functional, OR (my personal favorite) functional AND pretty. So, for example, you can hide all your stuff in the back corner of an overcrowded closet (functional) or you can tuck it away in a pretty, new DIY wardrobe armoire cabinet like this (obviously this is the functional AND pretty option 😉 ).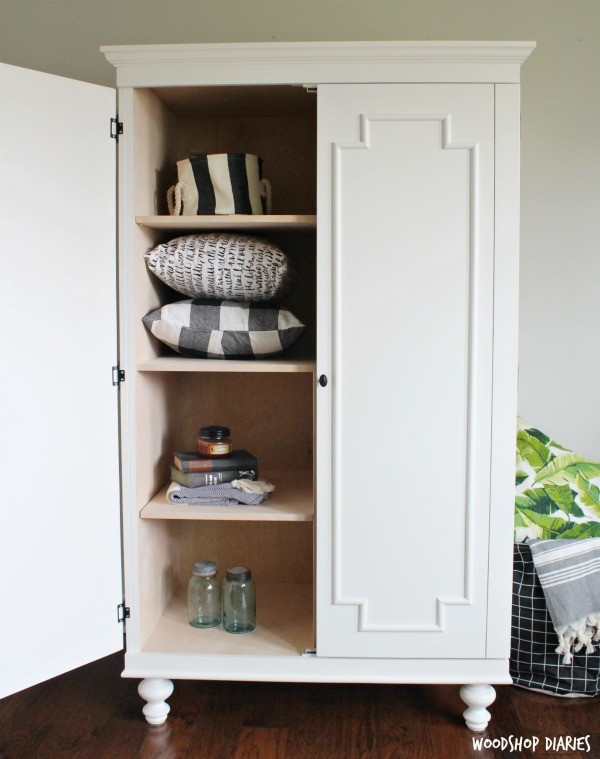 I mean, is there even really a decision to be made? I'd pick this cabinet every time! It's really a fairly simple piece, but the trim and those gorgeous feet add all the pretty details.
.
Something like this would be great in a living, dining, or bedroom. Or an office. Or a foyer. Or a bathroom. I mean, it's pretty versatile. I don't think anyone would complain if you put it in every room in the house 😉
.
I built this one with adjustable shelves, but if you wanted to hang clothes in here like a "for real" wardrobe, simply add a hanging rod across the top and you're good to go.
.
Check out the how to video I've posted on my YouTube Channel, then grab the PDF plans to build your own here 🙂
[adthrive-in-post-video-player video-id="V3eTUCVl" upload-date="2019-04-16T16:45:10.000Z" name="How to Build a DIY Armoire Wardrobe Cabinet Video" description="null"]
This post contains affiliate links. Please see disclosure policy for details. Also a huge thanks to PureBond Plywood for supplying the plywood, D Lawless Hardware for supplying the hinges and knobs, Osborne Wood Products for supplying the decorative feet, and to Sherwin Williams for supplying the paint for this build.
For this build you will need:
3 sheets ¾″ PureBond plywood
1 sheet ¼″ plywood
(5) 1x3x8 boards
(1) 8′ stick of crown molding
(6) 8′ sticks half round molding
(4) scrap 2×6 blocks for the feet
(4) decorative feet
6 hinges
2 knobs
Table Saw (optional)
2″ and 2 ½″ wood screws
Step 1: Construct the Storage Cabinet Carcass
The vast majority of this project is made from plywood. I've used A LOT of plywood from several brands and locations. But, by far, the best plywood I've ever used has been PureBond. The quality is outstanding, I've found very few voids in the many sheets I've cut, and it finishes nice and smooth. PureBond plywood is formaldehyde free, made in the USA and Canada and you can find it at your local Home Depot. I highly recommend it!
.
Now for the build…You can find the full printable PDF plans here, but I'll give you the overview below.
.
Using a Kreg Rip Cut and Kreg AccuCut is optional, but sure does save a lot of time when cutting down sheets of plywood. I used both to cut one full sheet of plywood in half (24″) down the middle, then cut those strips into two 60″ pieces and two 36″ pieces.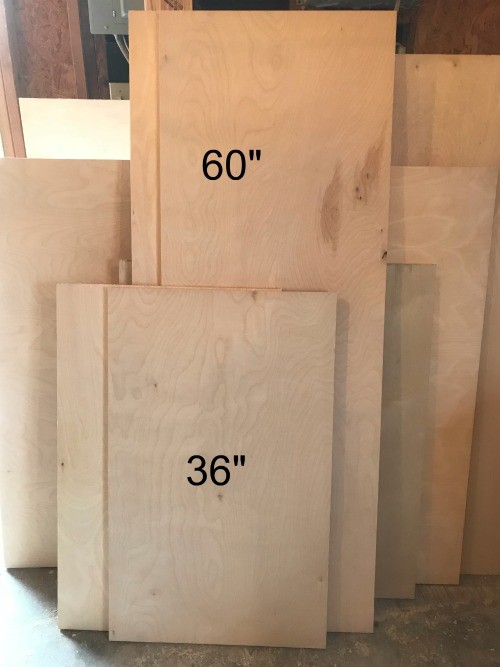 Drill ¾″ pocket holes along the ends of the 36″ pieces.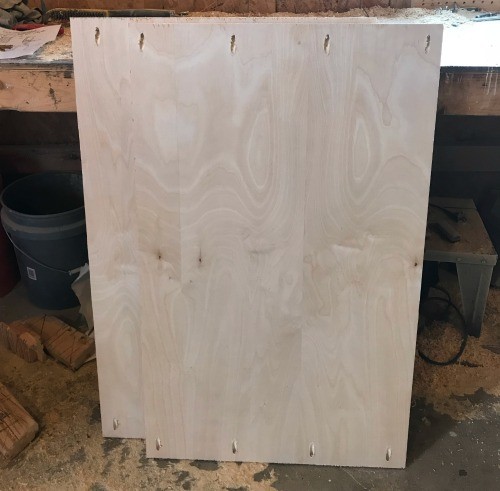 Before moving on, it's easiest to go ahead and apply edge banding to the plywood edges that will face the front side. You don't have to do this for the 36″ long pieces, but you will need to cover the front facing edges of the 60″ pieces.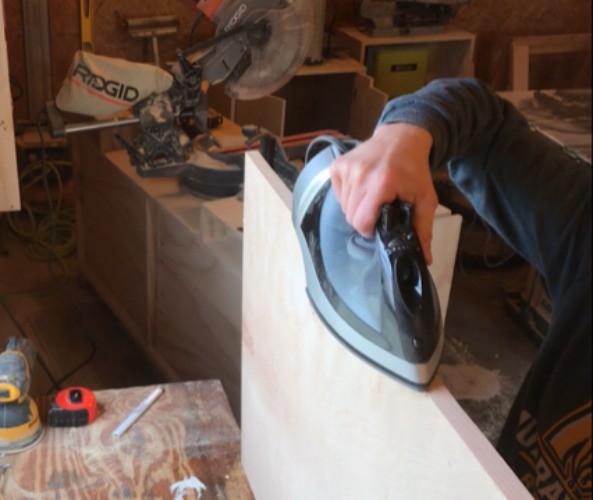 Then attach the 36″ pieces to the 60″ pieces using 1 ¼″ pocket hole screws to make your cabinet carcass. You will need to attach the one at the bottom so that the top of the shelf is 2 ½″ from the bottom of the cabinet sides. You can see this in the video above.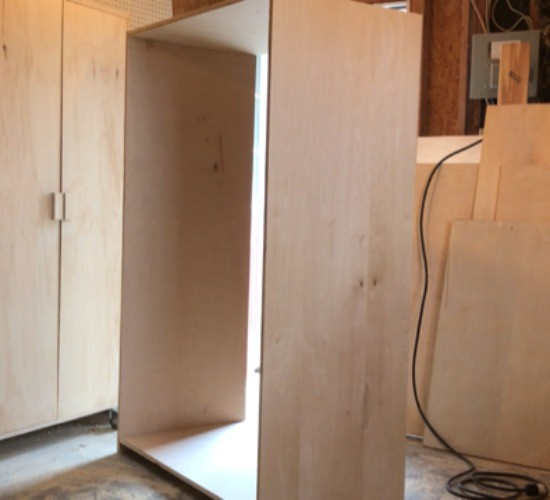 Step 2: Add Backing to Wardrobe Cabinet
Cut a piece of ¼″ plywood to fit over the back side. Nail this piece onto the back side making sure everything is square.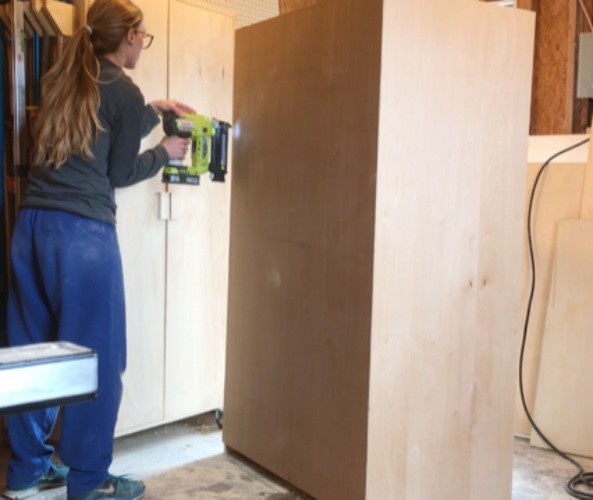 Step 3: Add Trim to DIY Wardrobe Cabinet Carcass
Cut to fit pieces of 1×3 to trim out the sides of the cabinet like shown. Glue and nail trim in place. The sides should be 60″ and the top and bottom should be about 19″. But it's always best to cut to fit exactly just in case any of your plywood cuts got a little off.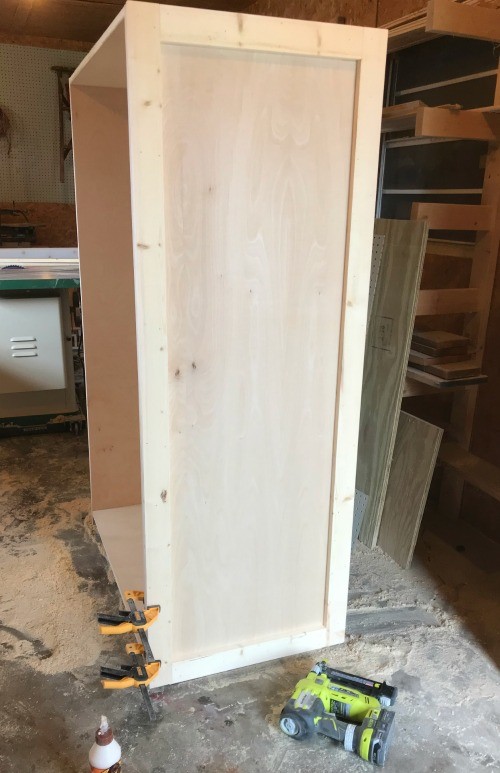 Then, cut to fit two more pieces of 1×3 to go across the top and bottom of the front side like shown. Glue and nail in place.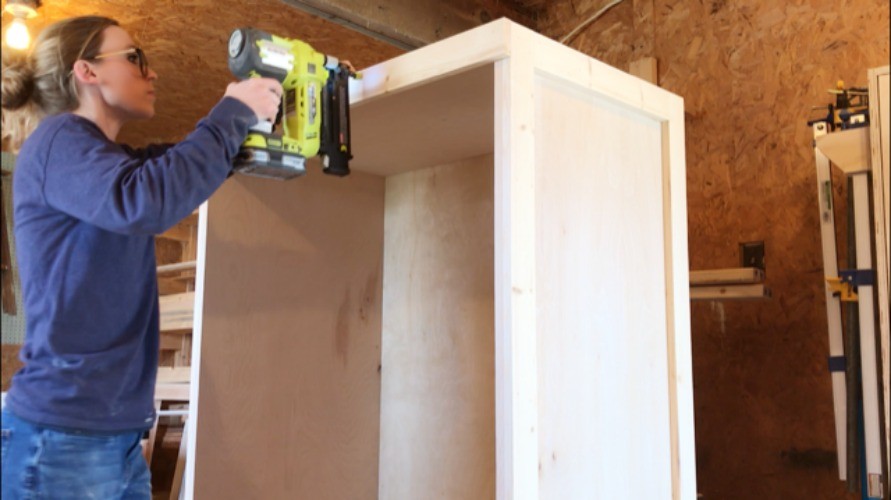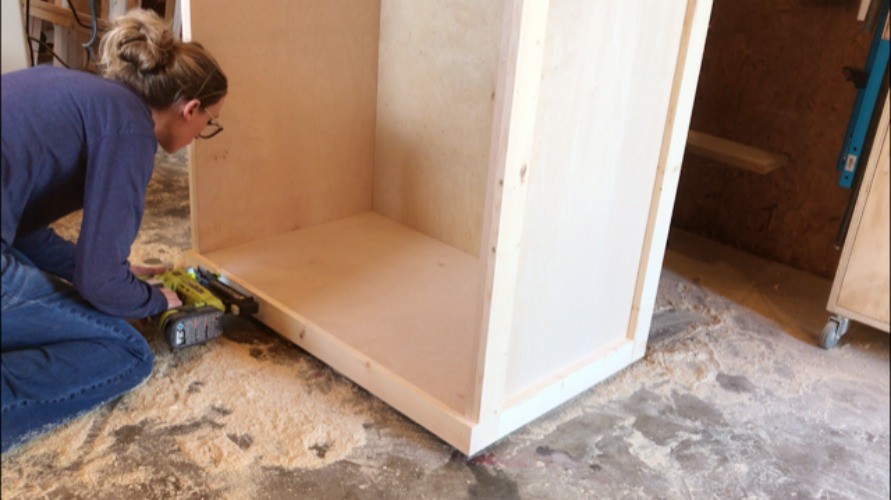 Once these trim pieces are in place, cut to fit crown molding to go along the top side and nail in place.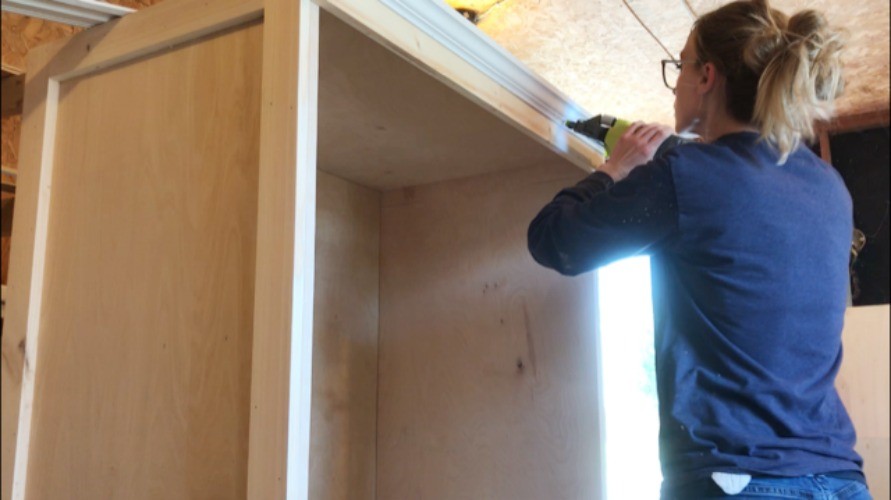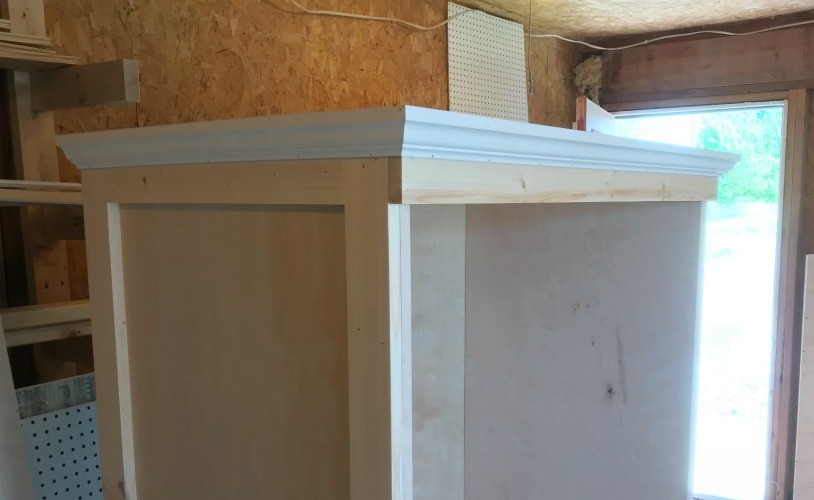 I didn't decide until later that I wanted to add this trim along the bottom side, so you will see in the picture that I already added the feet. But while we are on the subject of trim, it's easiest to go ahead and add this bottom edge trim now vs. later.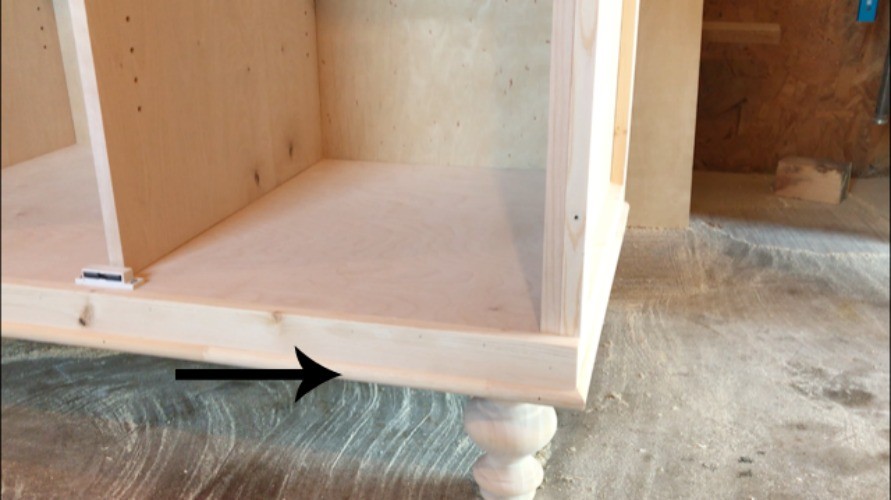 You could use cove molding or half round (like I did) to go along the edges of the bottom. It's not a significant part of the build, but I thought the subtle piece of trim here looked better than left plain.
Step 4: Add Middle Shelf and Dividers to Cabinet
Since this cabinet is so wide, I wanted to make sure that the shelves would hold plenty of weight. I also wanted to make sure the the middle of this cabinet didn't bow outward. So I attached a stationary middle shelf and a middle divider support underneath it to help with holding up those heavy items.
.
For this, cut a piece of ¾″ plywood 20″ wide and 36″ long and attach 27″ from the bottom shelf using ¾″ pocket holes and 1 ¼″ pocket hole screws like shown.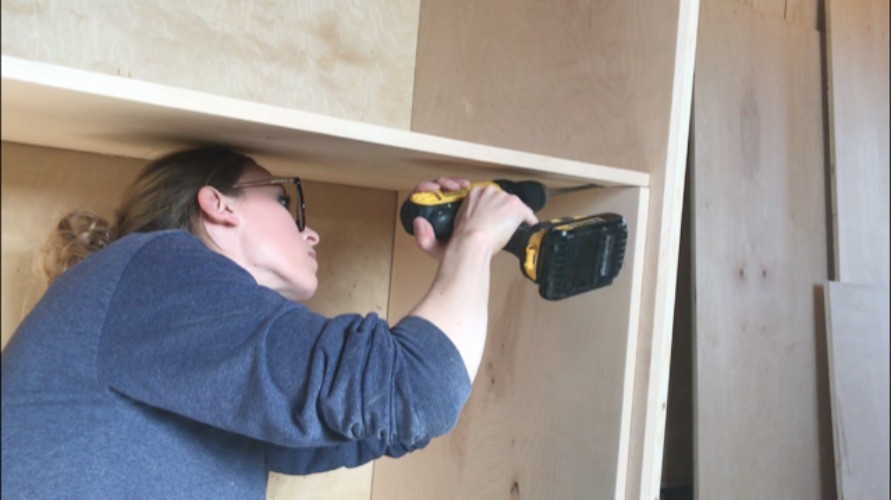 Then add a divider 20″ wide and 27″ long in the center between this shelf and the bottom shelf. I just screwed these in using 1 ¼″ wood screws in the bottom and the top. But you could also use pocket holes and screws if you wanted.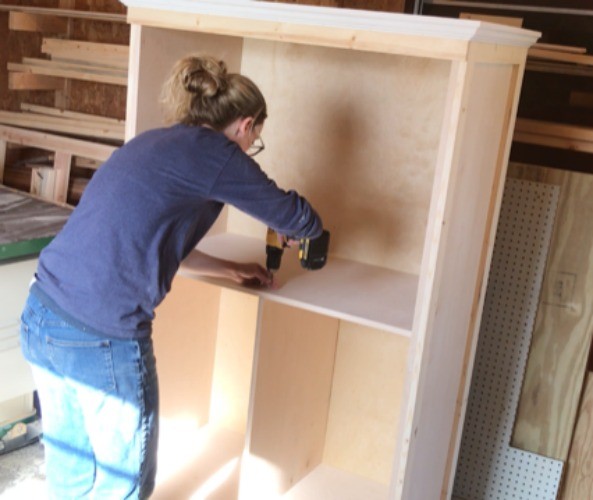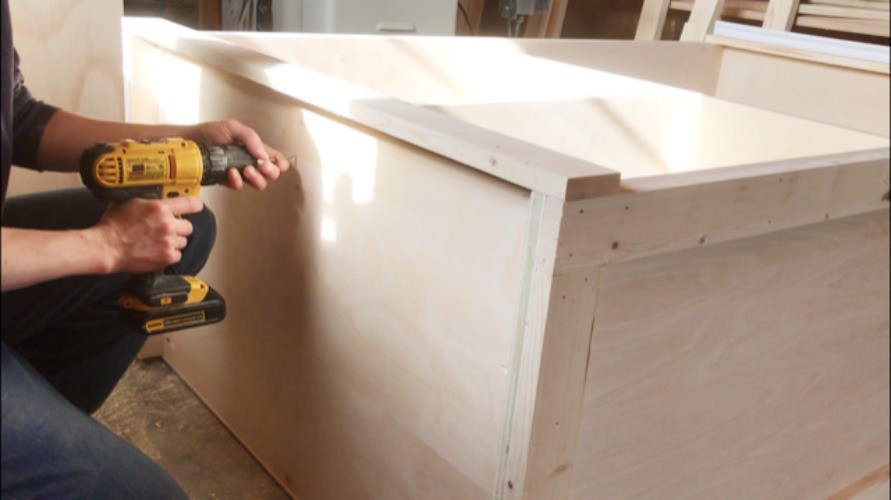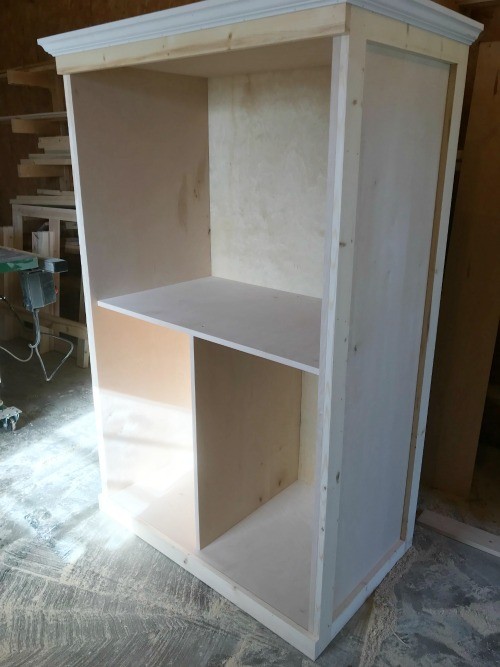 Now that the dividers and supports are in, you'll have to drill the shelf pin holes for adjustable shelves. I used my Kreg Shelf Pin Jig for this. It's super quick and easy to use. Drill shelf pin holes along the front and back of both sides of the top cabinet opening and along both sides of the spaces on each side of the divider.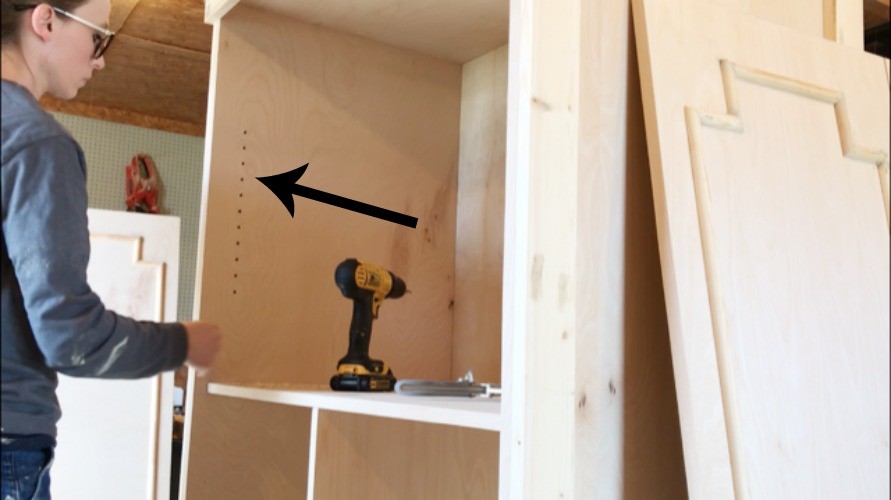 Step 5: Add Decorative Feet to the Cabinet
These decorative feet provided by Osborne Wood Products were the perfect fit for this cabinet. They're decorative, but not too fancy. And if you don't like this style, they have PLENTY more options to pick from and in various wood types as well!
.
It's helpful to first glue and screw these feet onto a scrap 2×4 or 2×6 block using 2 ½″ wood screws.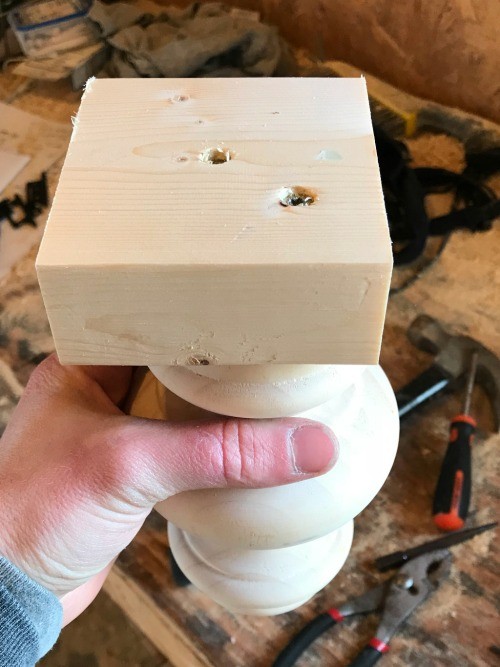 Then, glue and screw this block into the bottom corners of the cabinet with 2″ wood screws.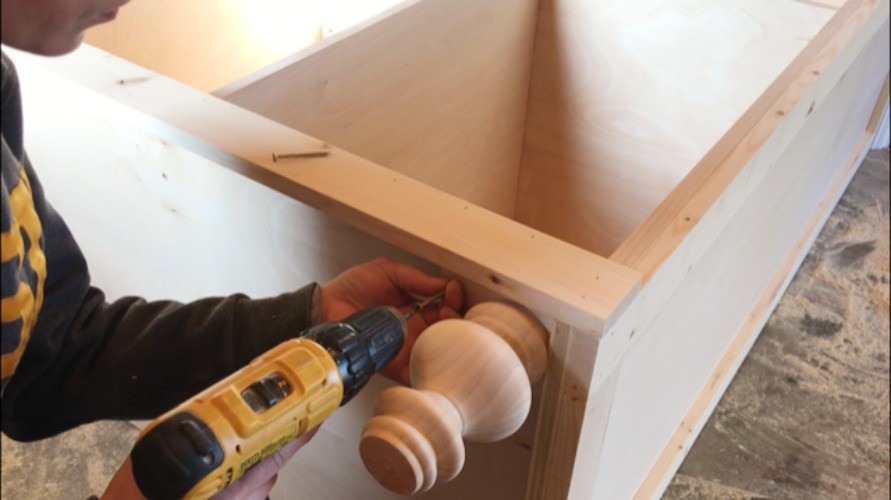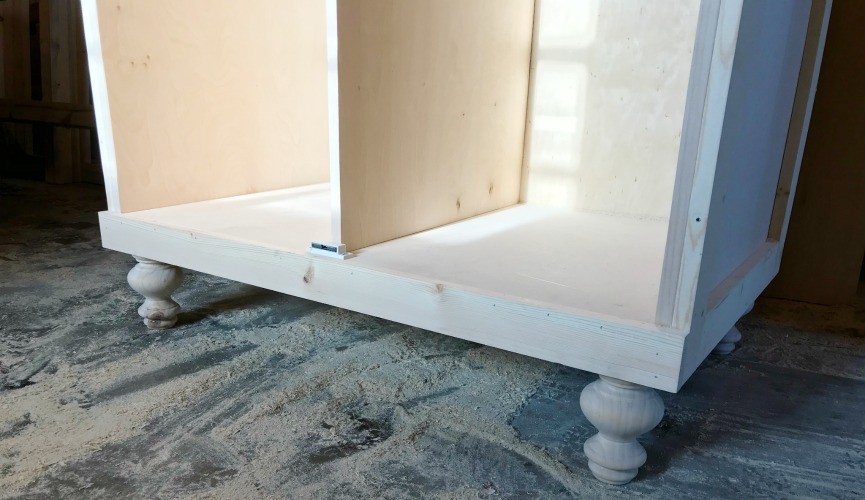 Step 6: Prepare the Doors for the Armoire Cabinet
Cut a piece of plywood about 54 ½″ long and 39″ wide. Then, rip this piece exactly in half to make two doors. These doors should cover the entire front of the cabinet. When I first hung these doors to see what they would look like, I felt like it looked a little funny proportionally without having face frames down the sides of the cabinet.
.
So, to deal with this issue, I cut a slit down each door 2 ½″ from the edge about ¼″ deep on the table saw. This mimics the look of a face frame–like of like a "faux face frame."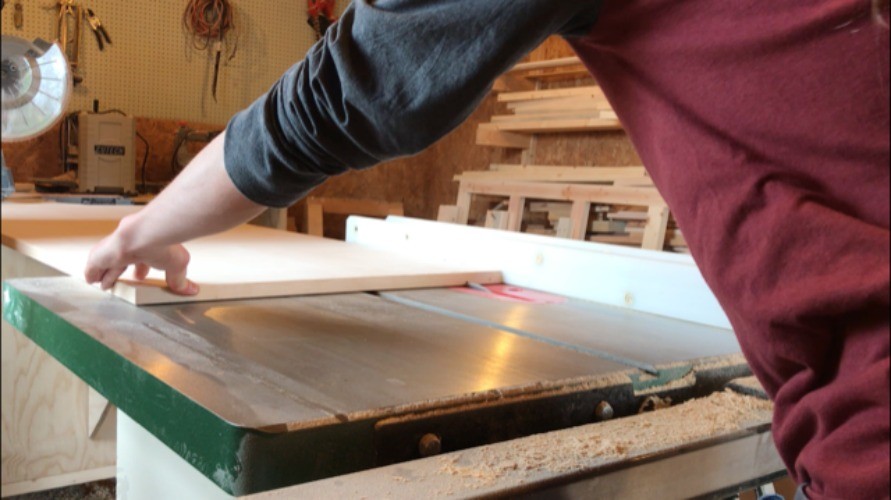 The doors kept falling forward, so I stuck this "part of a chair that I will probably never get back to working on" in front of them to keep them propped up for the picture haha.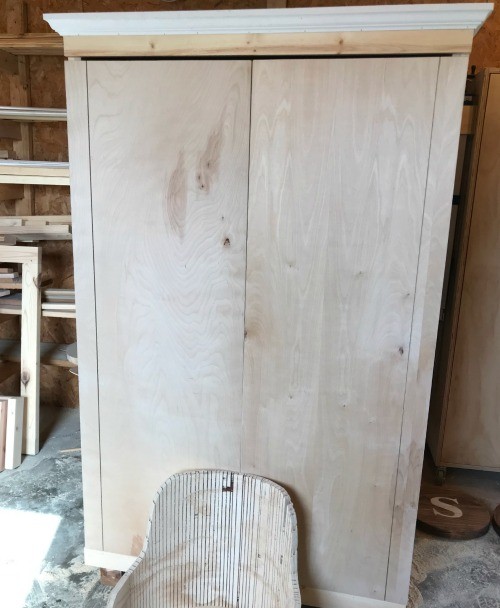 It looked better with these slits cut–less squatty I think. So then it was time for the decorative molding. This is all totally customizable. You could use whatever kind of molding or design you wanted, but I thought this design looked cool. Not sure what you call it, but it's pretty neat.
.
I cut half round molding (which, by the way, I can only find at The Home Depot online if you go looking for it), to create this design. You can play with the lengths of the pieces, but my short pieces were about 3 ¾″ long and I made the long pieces about 48″ long. Then, just space everything out and cut the top and bottom piece to fit.
.
Glue these pieces in place and hold with painters tape.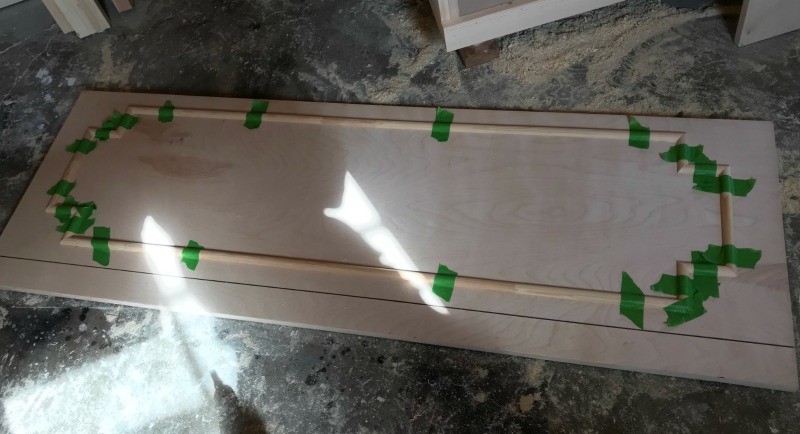 And again with that chair I'll never finish HAHA.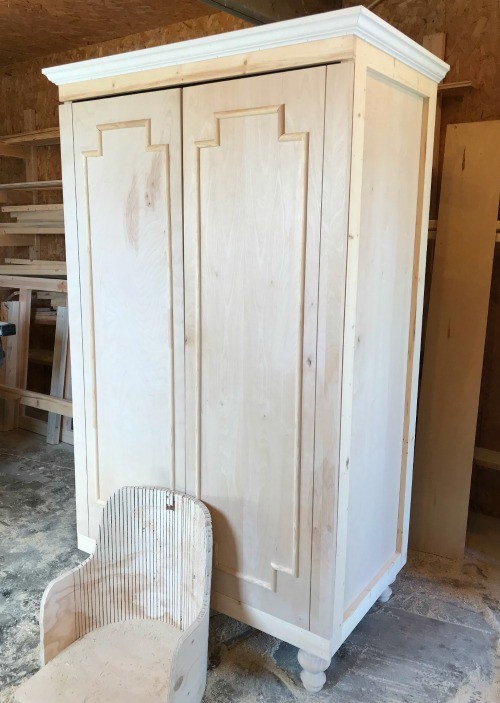 Step 7: Finish
All that's left at this point it to putty, sand, and finish. Putty the trim work and sand the entire piece. Then, finish with a stain or high quality paint.
.
I always, always, always recommend using Sherwin Williams paints. Even their cheaper paints are better than other brands' more expensive ones. The paint is thick and covers exceptionally well. And since I hate painting, the fewer coats I have to apply, the better 🙂
.
For this project, I used Sherwin Williams Premium Wall and Wood Primer and Sherwin Williams Emerald Urthane Trim Enamel in the color SW 7008 Alabaster.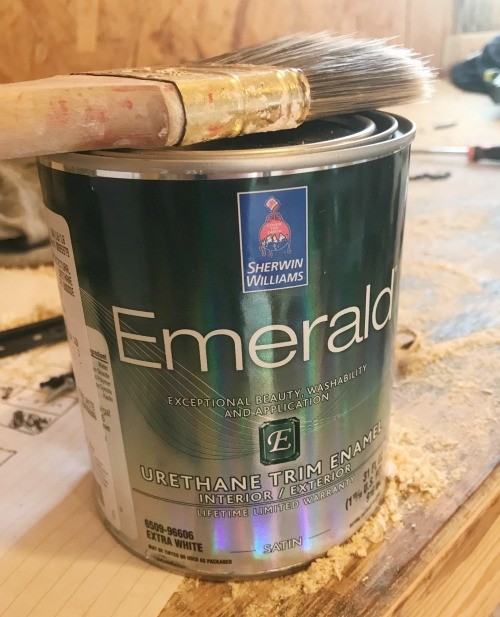 It's a bright, creamy white and the finish was so smooth! I've always used the SuperPaint or the Ovation, but the Emerald gives a much smoother finish, especially with using a brush.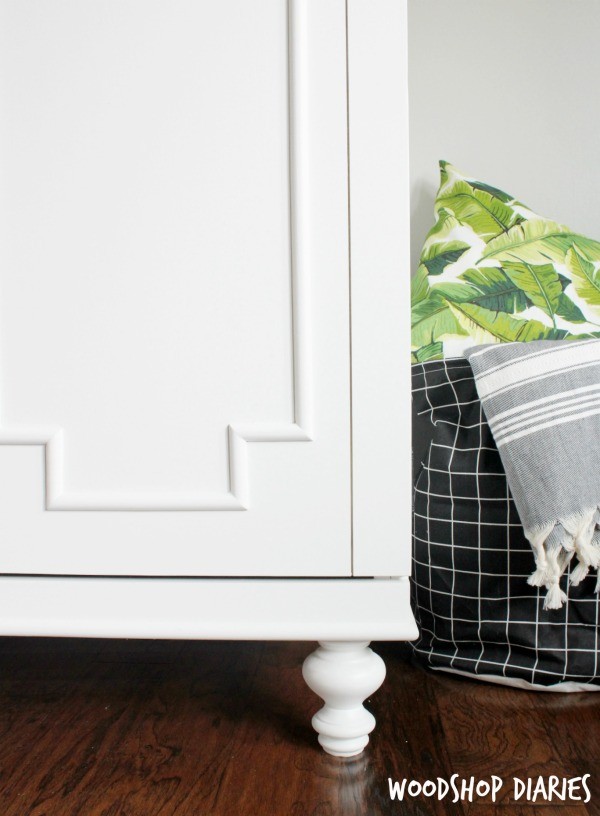 Step 8: Hang Doors and Add Shelves
Once the paint is dry, hang the doors, add the knobs, and cut some shelves to place inside the cabinet and you're ready to start filling it up 🙂
.
For this project, I used these hinges and these knobs. I really liked the subtleness of the hinges and the design that fit with this frameless cabinet. Oh and these double magnetic catches help hold the doors closed. Place one on the top and one on the bottom.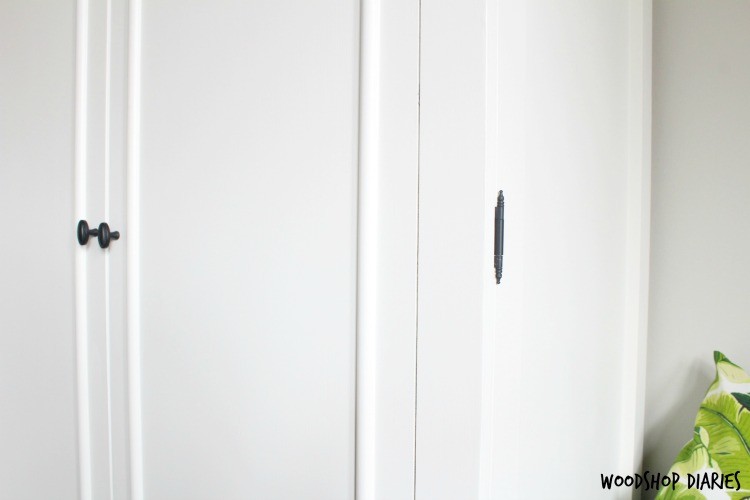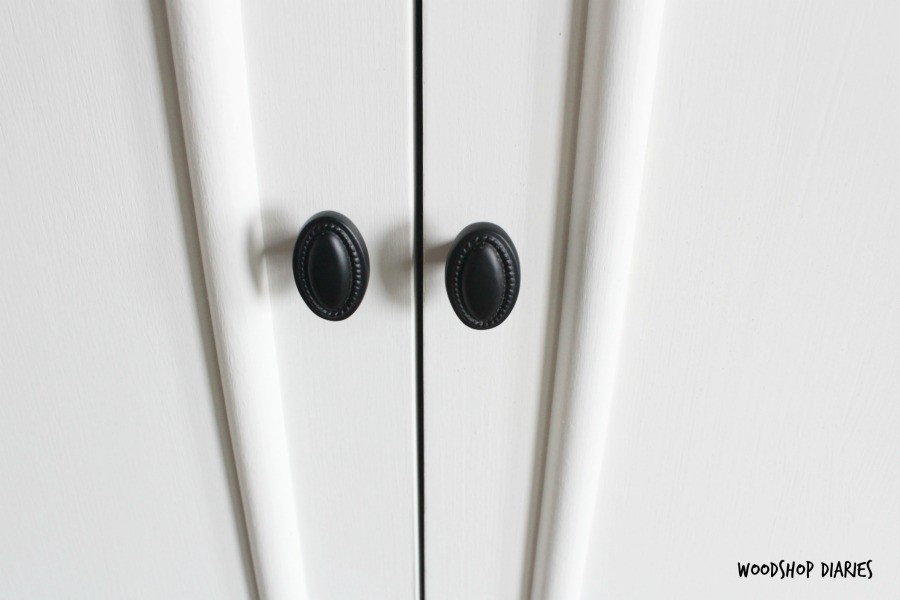 Finally, place your shelf pins where you want them and slide your shelves in place (cut these to fit from your remaining plywood) and you're done!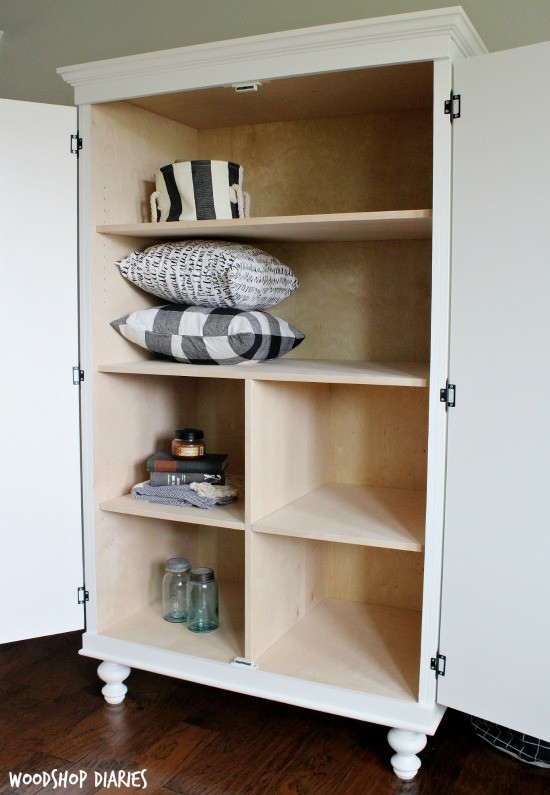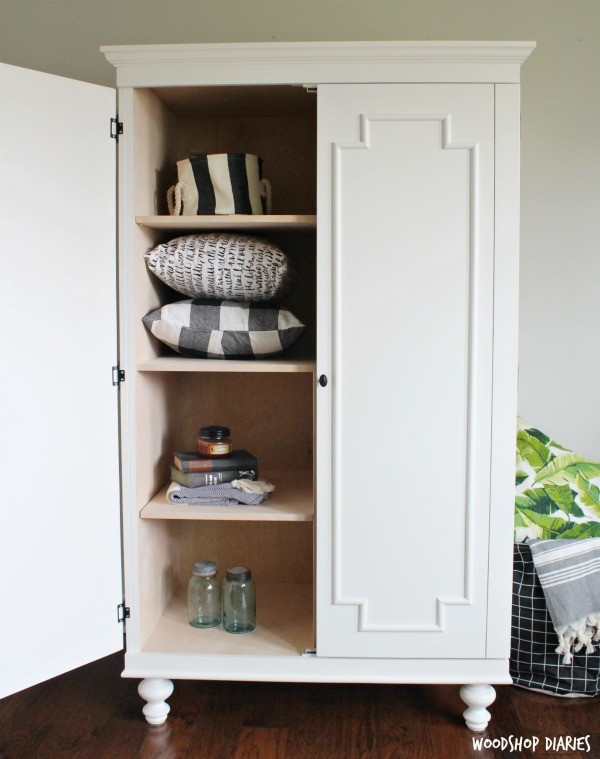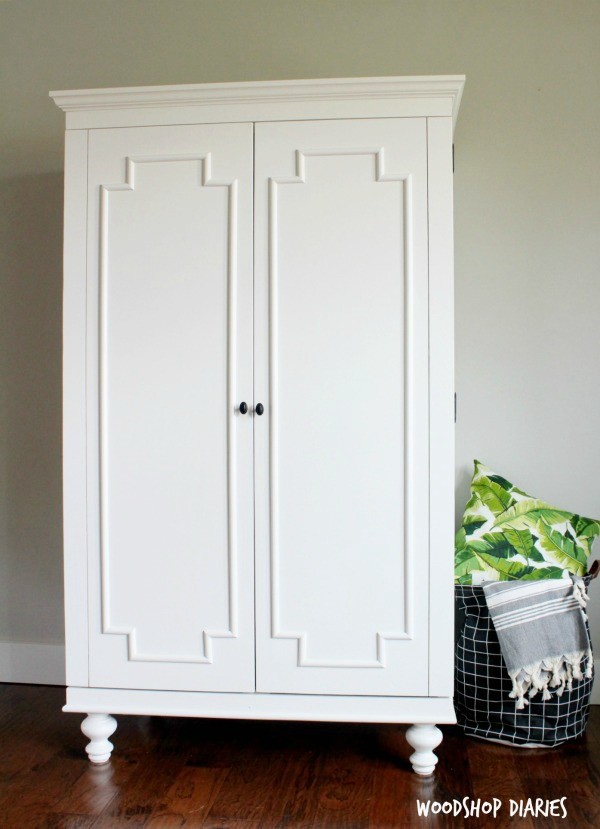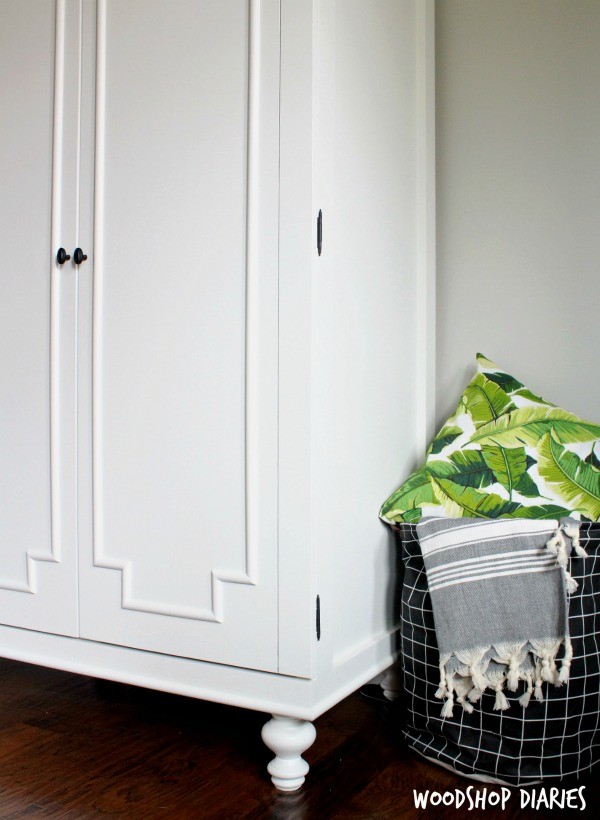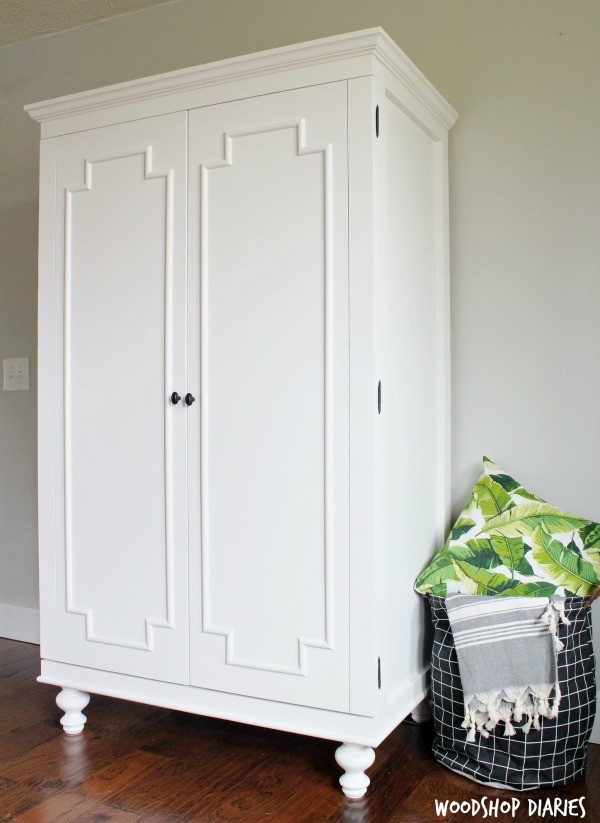 It's a heavy dude–just warning you. But isn't it pretty?? I think it would be so cute in a large bathroom to store towels and such. Where would you put one??
.
I feel like this was a super long post, so without adding a ton to it, I'm going to cut out 🙂 But, before you go, I'd LOVE it so much if you'd pin this for later, check out the plans, and if you're looking for more storage ideas, be sure to check out my favorites below.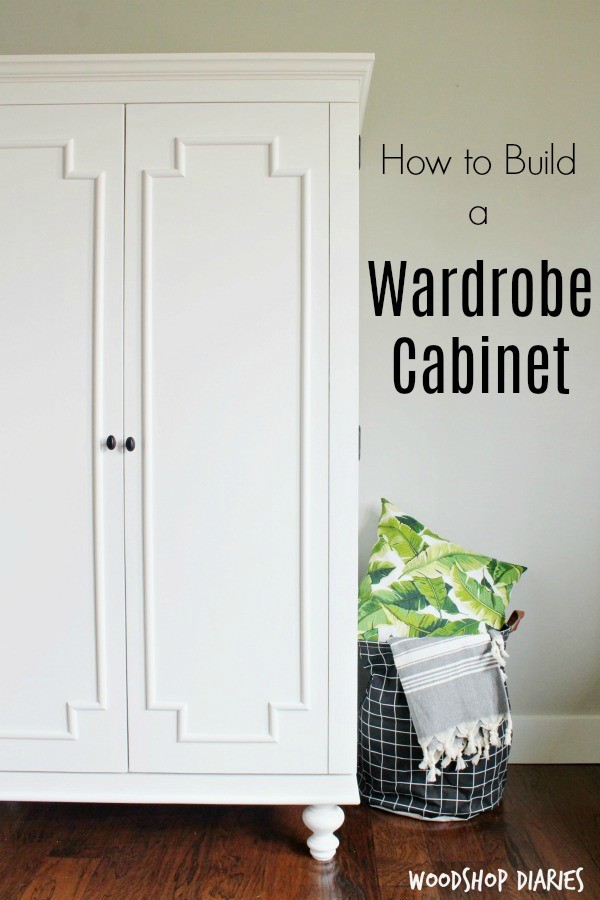 Until next time, happy building! 🙂
For more storage ideas, check out: