In this post, I'm sharing how you can confidently shop the plywood aisle and choose the best plywood for your furniture and cabinet projects!
If you've been around me or my projects very much, you know that I use a lot of plywood. Not to brag or anything, but I've been called the "plywood princess" on more than one occasion.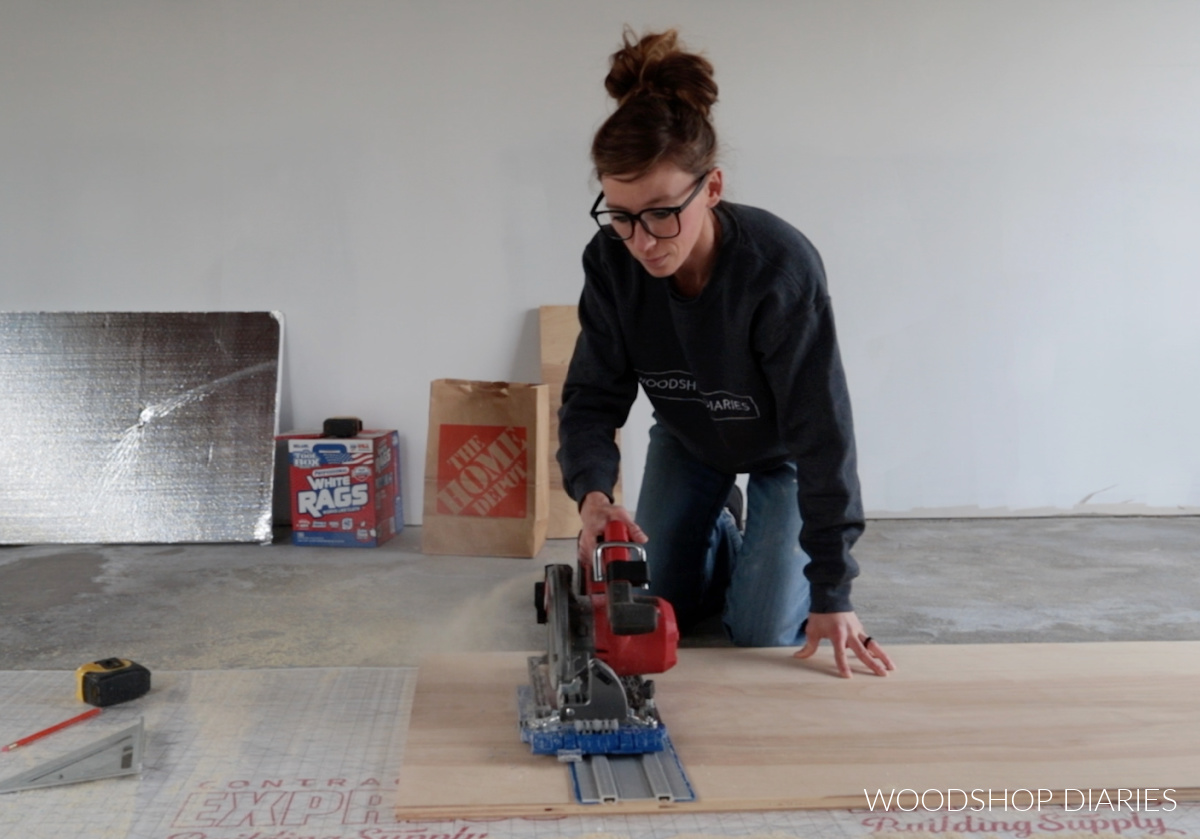 I can't say that I love that title, but I will say that it kind of fits.
While I don't claim to be an expert on anything in particular, I can tell you from my own experience that plywood is an AMAZING option to use for your DIY and woodworking projects. But the key is finding the RIGHT plywood for the job.
So, in this post, I'm sharing how to identify, choose, and use the best plywood for your build.
*This post contains affiliate links. See website polices.
What is plywood?
Plywood is essentially layers of thin wood veneer glued together into a sheet. The layers are called "plies," hence the name plywood. These typically come in 4′ x 8′ sheets (but can be other sizes) so they are in the "sheet goods" family of lumber.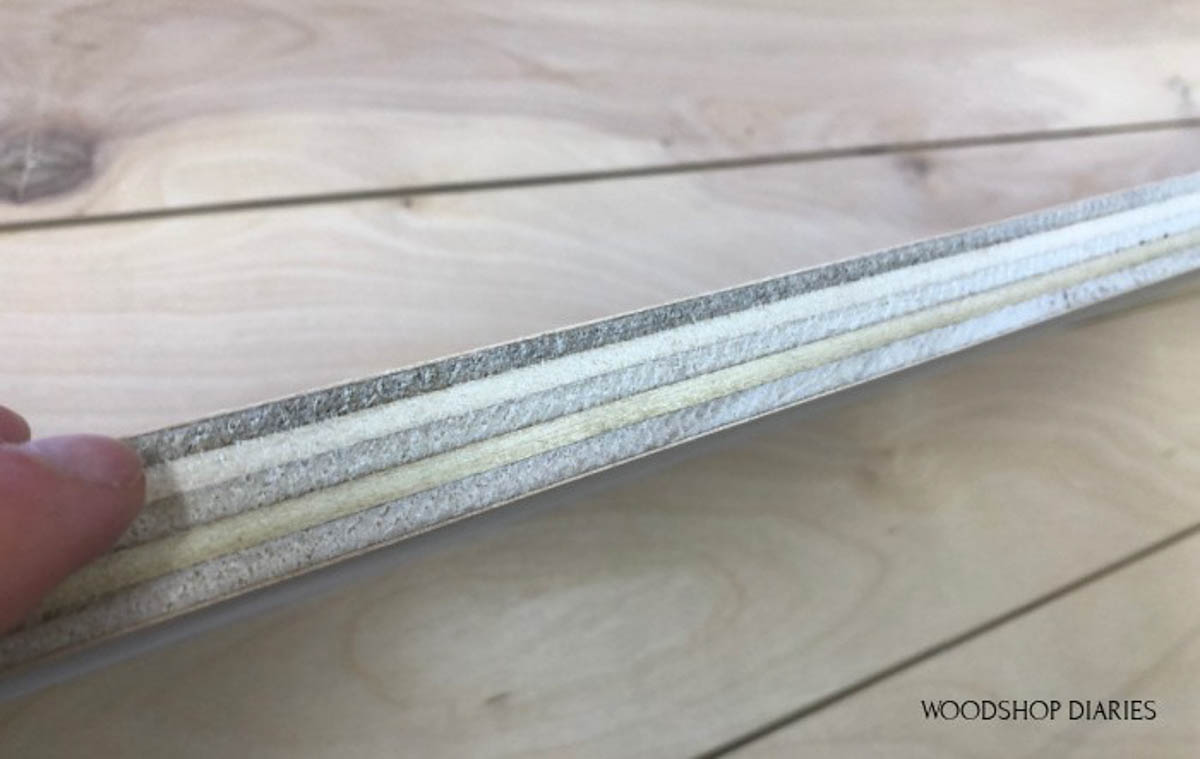 Each layer of the plywood has alternating grain patterns making for a more stable lumber option than solid wood boards.
Is plywood a good option for cabinets and furniture?
Plywood is an excellent option for cabinets and furniture. In fact, cabinet grade plywood (which I'll discuss more below) is what a lot of higher end cabinets and furniture are made from.
Cheaper cabinets and furniture pieces are often made with MDF, particle board, or "fake" wood products. To have your cabinets and furniture made from actual plywood is usually an upgrade.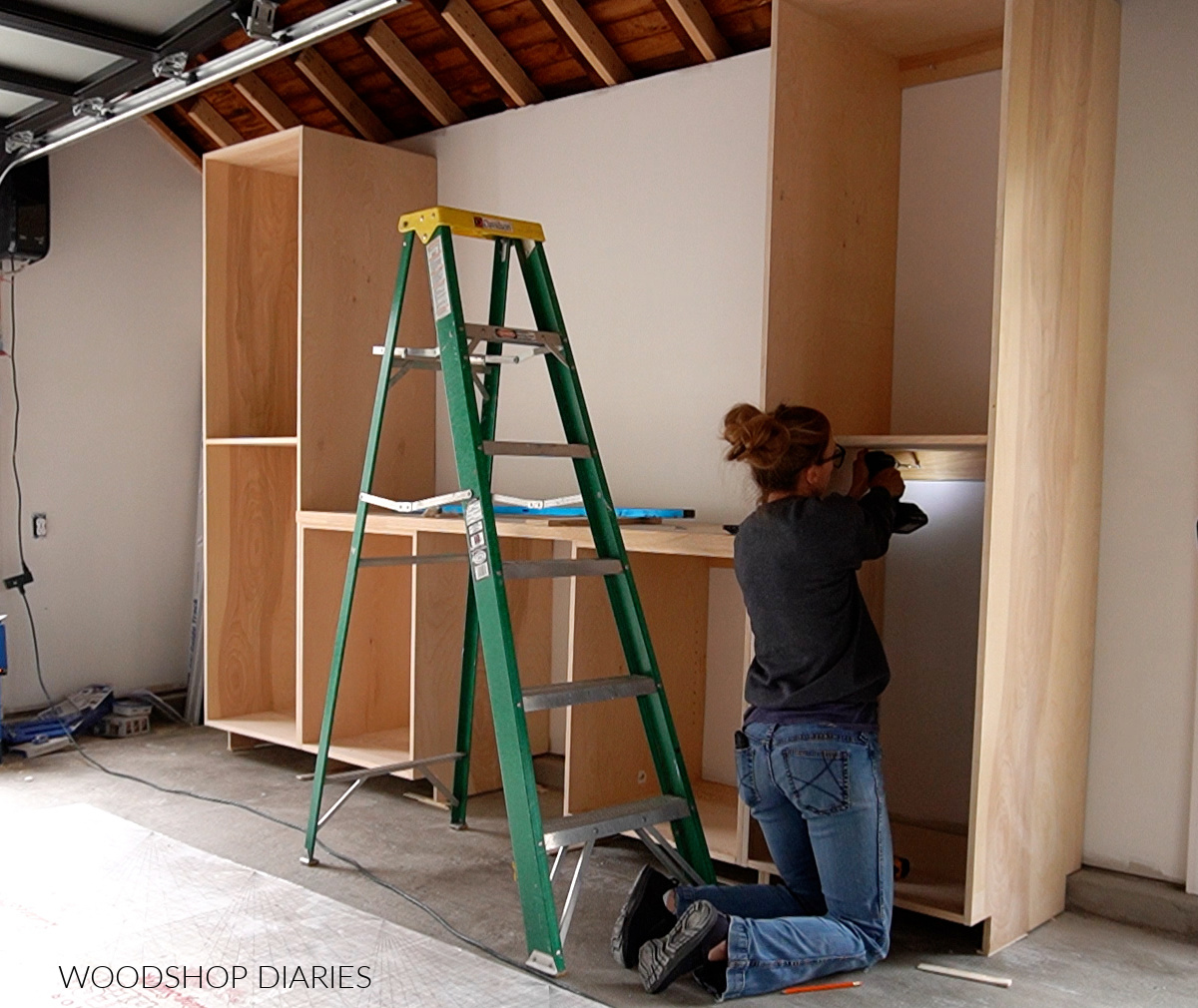 Plywood is strong, durable, easy to work with, looks amazing, finishes easily and has the added benefit of being dimensionally stable–as in wood movement is minimal. So it's ideal for use in both cabinets and furniture.
I build the majority of my projects using plywood and you can see a few of my favorites here: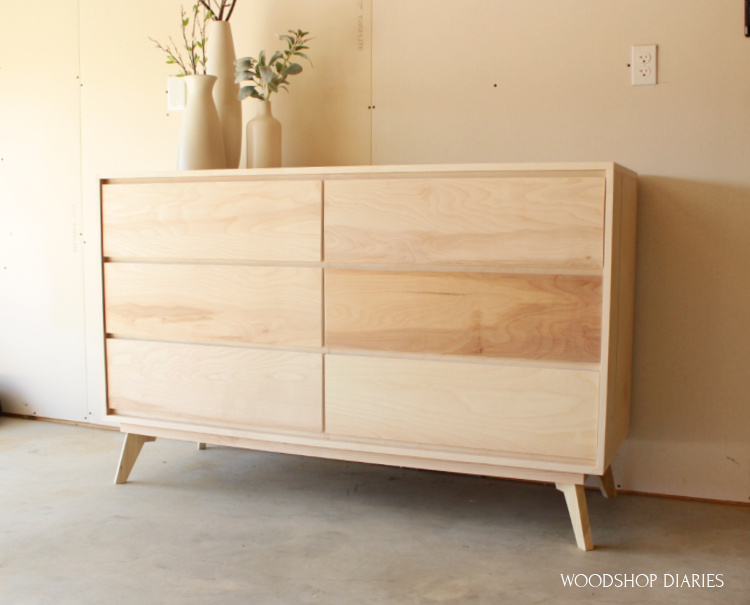 Common types of plywood
If you go walking down the lumber aisles at your local Home Depot or lumber yard, there are several types of plywood to pick from. But, many of these aren't suited for furniture or cabinet use.
Structural Plywood
Plywood designed for use on homes, buildings, and other structures as sheathing, framing, subfloors, etc. This type of plywood is designed to be strong, but is not designed to look nice. It's usually covered up by other, more decorative, materials in the building process.
Sanded Plywood
Plywood that is sanded smooth in the manufacturing process. This type of plywood is typically made from softwoods like pine and is much smoother than structural plywood.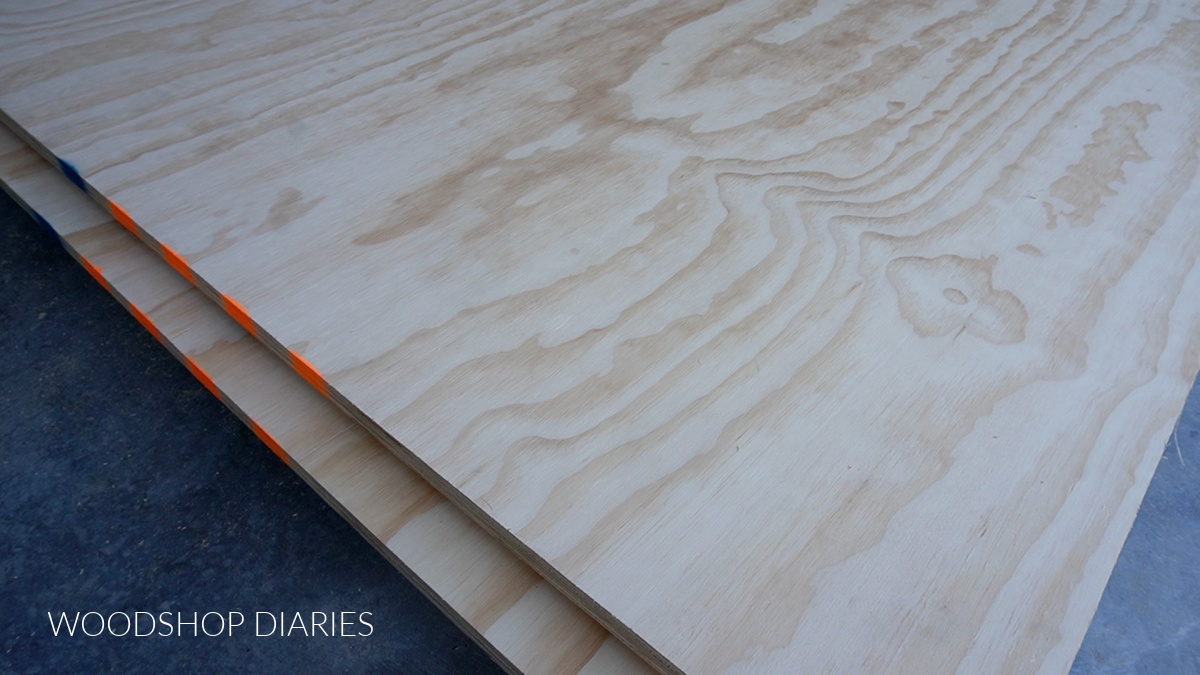 Sanded plywood works well with furniture and cabinet projects, but it's soft and can dent easily.
The grain pattern isn't the prettiest, but works well in painted and workshop projects, and it's usually a quite a bit cheaper than hardwood plywood.
Furniture and Cabinet Grade Plywood
Cabinet grade plywood is sometimes called hardwood plywood or appearance grade plywood. This doesn't necessarily mean the entire sheet is made from hardwood, but it does mean that the outer veneer layers are hardwood–like birch, maple, or oak.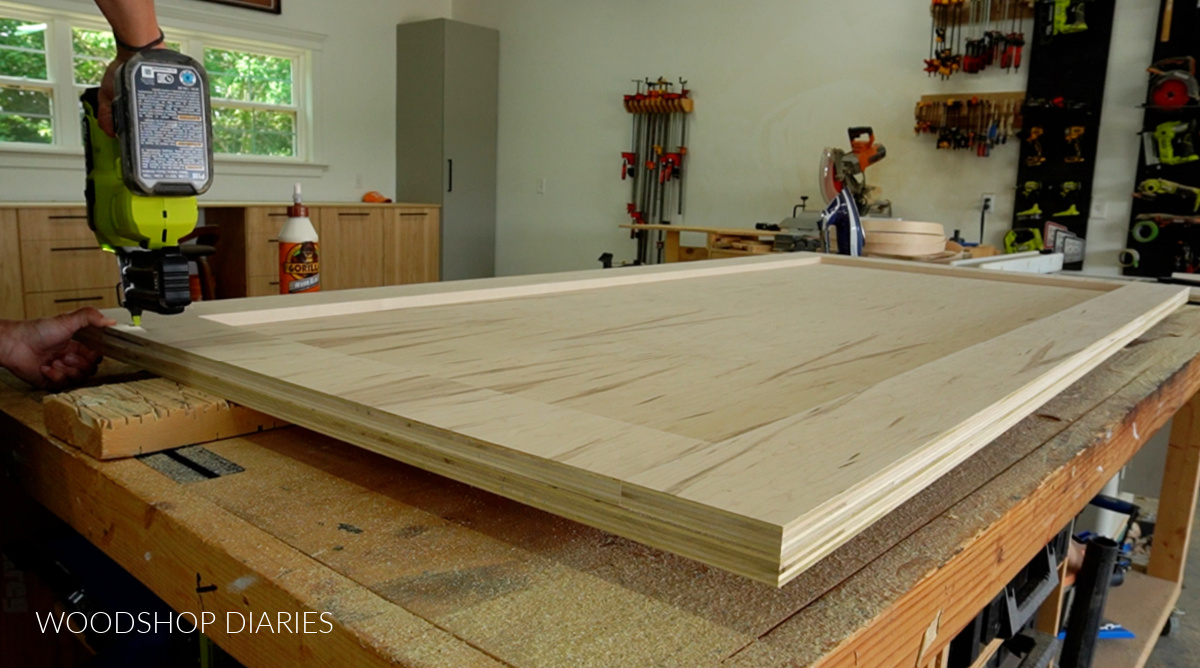 This plywood is usually more expensive and heavier than sanded plywood, but it's a noticeable upgrade and a great option for cabinets and furniture. It's what I build 99% of my projects with.
Exterior Plywood
Exterior plywood is plywood that is rated for exterior use. It's held together with water resistant glue so it doesn't break down with moisture. It is often used on homes for sheathing.
You can use exterior plywood for outdoor projects and furniture (although, it's not the nicest) but it will need to be painted/sealed to protect it from eventual rot.
Plywood Sizing
In most cases, plywood comes in a 4′ x 8′ sheet. However, sometimes stores carry what they call "project panels" and you can grab smaller pieces like a half sheet, a quarter sheet, or even a 12″ x 12″ panel.
I'll warn you, though…the project panels are quite expensive. You may only buy a quarter of a sheet, but you will likely be pay half or more of what a whole sheet costs. So when possible, I recommend grabbing a full sheet and you can use the leftovers for other projects later.
If you aren't able to transport full sheets in your vehicle, many places will cut your plywood sheet down for you, but the cuts are rarely accurate. So if you do this, keep in mind that you'll need to double check the dimensions and cut down to exact sizes once you get back home.
Although they all come in the 4×8 sheet size, plywood has various thicknesses. Structural plywood comes in SO. MANY. OPTIONS. But since you're not usually using these for furniture and cabinets, I won't go into detail.
But sanded and cabinet grade plywood usually comes in three main thicknesses: ¼″, ½″ and ¾″ thick.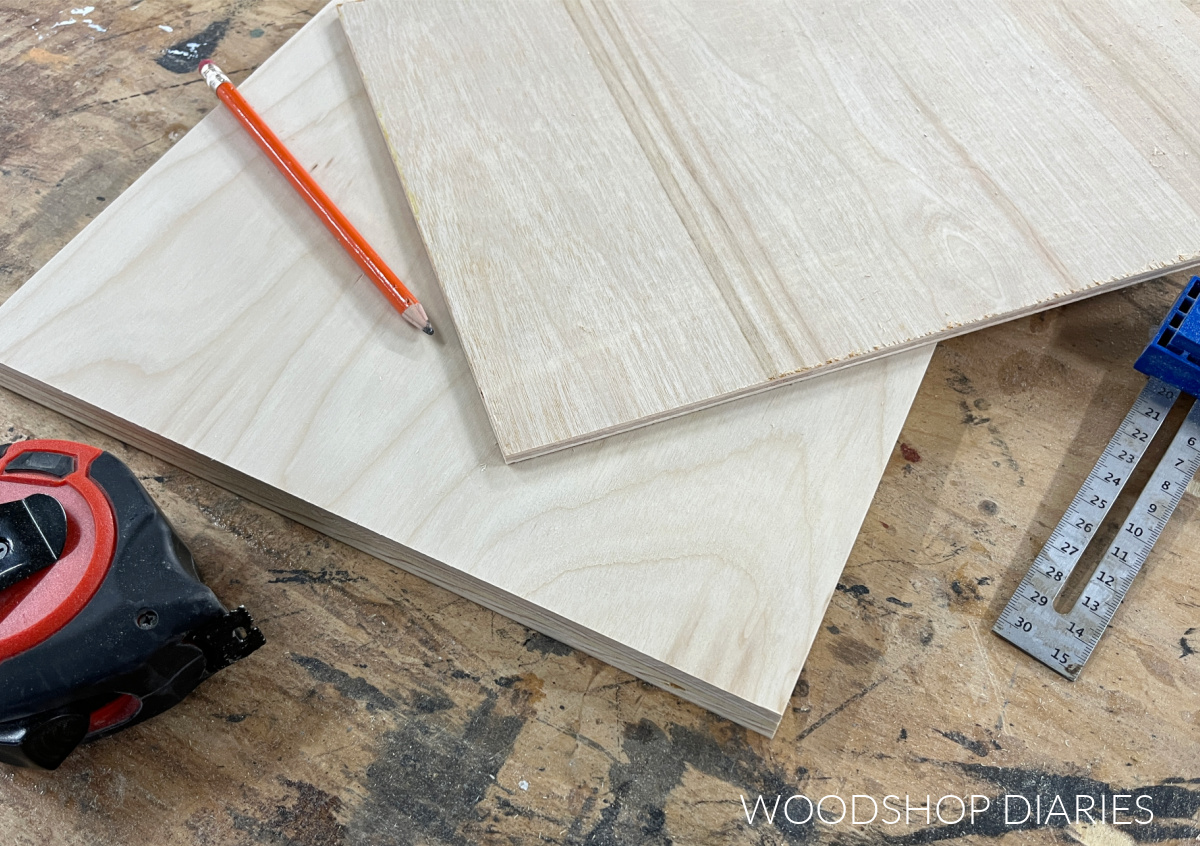 Don't assume that means they're ACTUALLY that thick, though. For some reason, lumber sizing is weird and what they call ¼″ thick plywood may only be 5mm thick–which is more like 3/16″.
The ¾″ plywood that I buy is actually only 45/64″. Different brands, types and manufacturers will vary my how "off" they are, but keep in mind that plywood is usually slightly less than these standard nominal sizes. It's just easier to call it ¼″, ½″ or ¾″ thick.
Plywood Grading
Plywood is graded by the letters A, B, C, and D. Grade A plywood is the best of the best, and grade D plywood is not so great.
Plywood Grades:
C/D grade plywood is usually structural plywood used for building homes. It's strong, but has large knots and imperfections.
B grade plywood may have some knots and imperfections, but they're filled. So this is great for paint projects.
A grade plywood is smooth, free of knots and imperfections, and is great for staining or projects where the grain will show.
Take these grades with a grain of salt–some hardwood plywood brands have a whole separate grading system of their own that they grade with in addition to this general grading system.
You may also see grades with two letters, like A-B or A-C plywood. This means that one side is grade A and the other side is grade B or grade C. These are often a little cheaper since once side can be "less perfect."
Number of Plies
Not all plies are created equal. And by that I mean that not all plies are the same thickness. A higher number of plies doesn't mean a thicker sheet.
For example, a ¾″ plywood sheet can have 7, 11, or even 15 plies and still be the same thickness.
A higher number of plies usually indicates a higher quality of plywood. There are more layers of wood, which means more glue, which means it's more stable and less likely to splinter and split.
That said, more plies = more money. So you have to weigh the pros and cons. For what it's worth, I use cheaper 7 layer plywood for pretty much everything I build.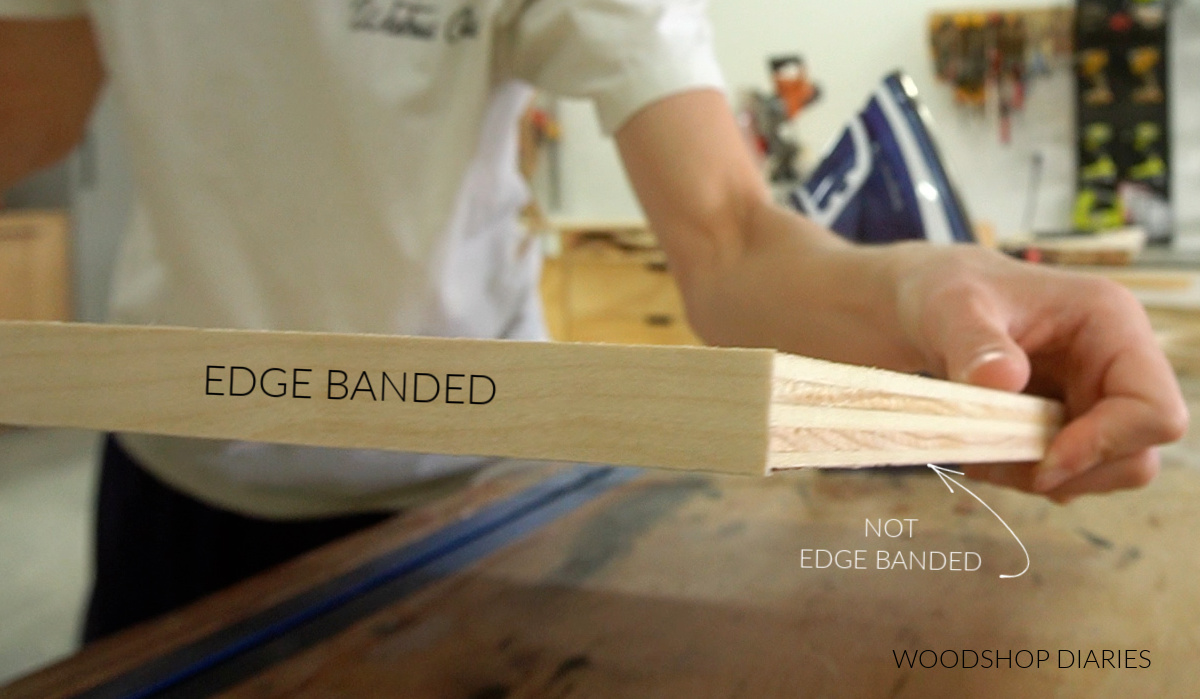 Don't like seeing the plies on your projects? You can easily cover those up! Check out this post to learn how to apply iron on edge banding to hide your plywood edges!
Tips for deciding which type of plywood to use
Deciding what type of plywood to use for your project shouldn't be complicated. Here are a few suggestions to help you in the right direction.
Choosing your plywood type
First, is your project going outside? If so, grab exterior plywood. Just keep in mind this won't be the best quality, but it will last the longest.
If you're building furniture or cabinets that will be stained or left natural, I recommend grabbing hardwood plywood like maple, birch, or oak. Birch is my personal go-to shown below.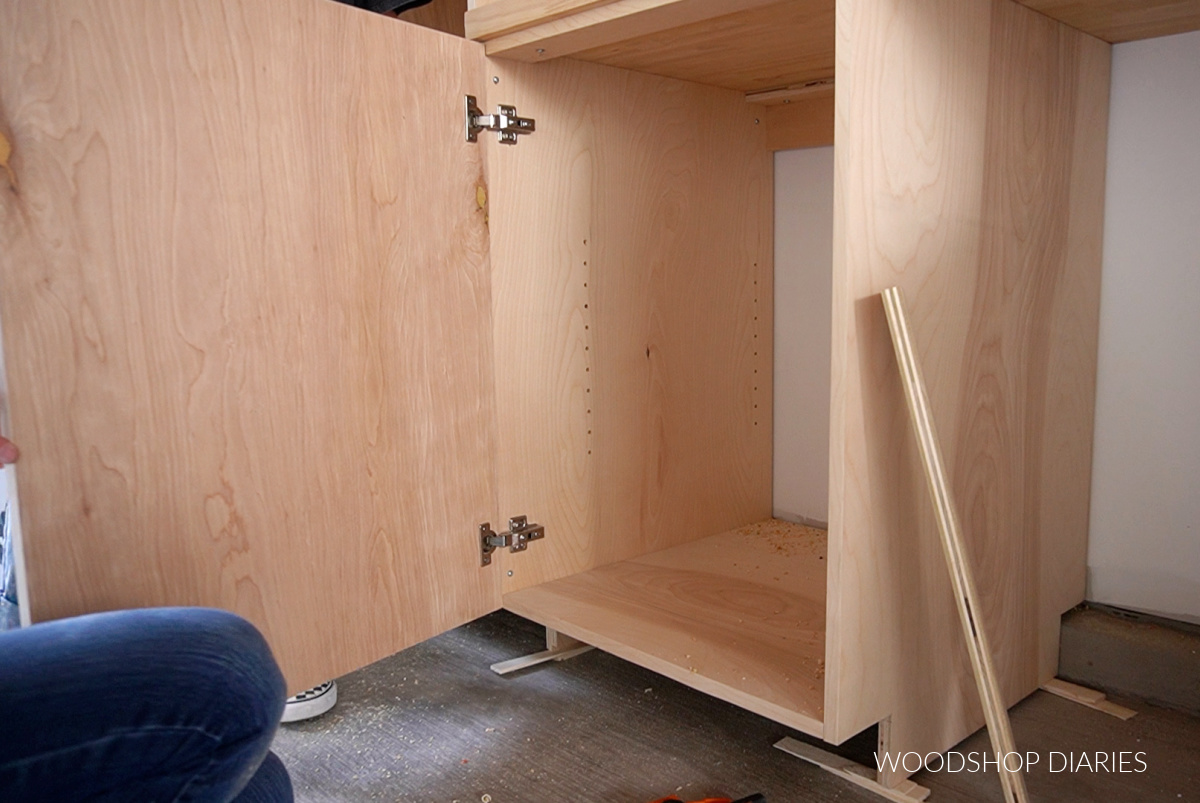 If you're building a project that will be painted, hardwood plywood is still my recommendation, but if you're on a budget, sanded plywood is a good choice.
If you're building a workshop project, again, my suggestion is still hardwood plywood, but if you're on a budget, sanded plywood is a great choice.
You may have noticed a trend here. For most all furniture and cabinet projects, I personally recommend using hardwood plywood unless it's going outside. It will give you the nicest looking and strongest projects. Sanded plywood is a close second choice.
Choosing your plywood thickness
As far as the thickness you need, that will depend on what you're building. Personally, for everything structural in my projects, I use ¾″ plywood–things like side panels, bottom panels, shelving, etc. But, I use ¼″ plywood for drawer bottoms, door panels and cabinet back panels.
People often ask me about using ½″ instead of ¾″ plywood to save a little money. And in some cases, you can swap them. But not in every case. I VERY RARELY EVER use ½″ plywood and I have several reasons.
You can almost always use ¾″ material in place of ½″. But you can't always use ½″ in place of ¾″. So ¾″ plywood is much more versatile and can be used for most any situation. Maybe, in some cases, it's a little overkill. But I'd rather have too much strength than not enough.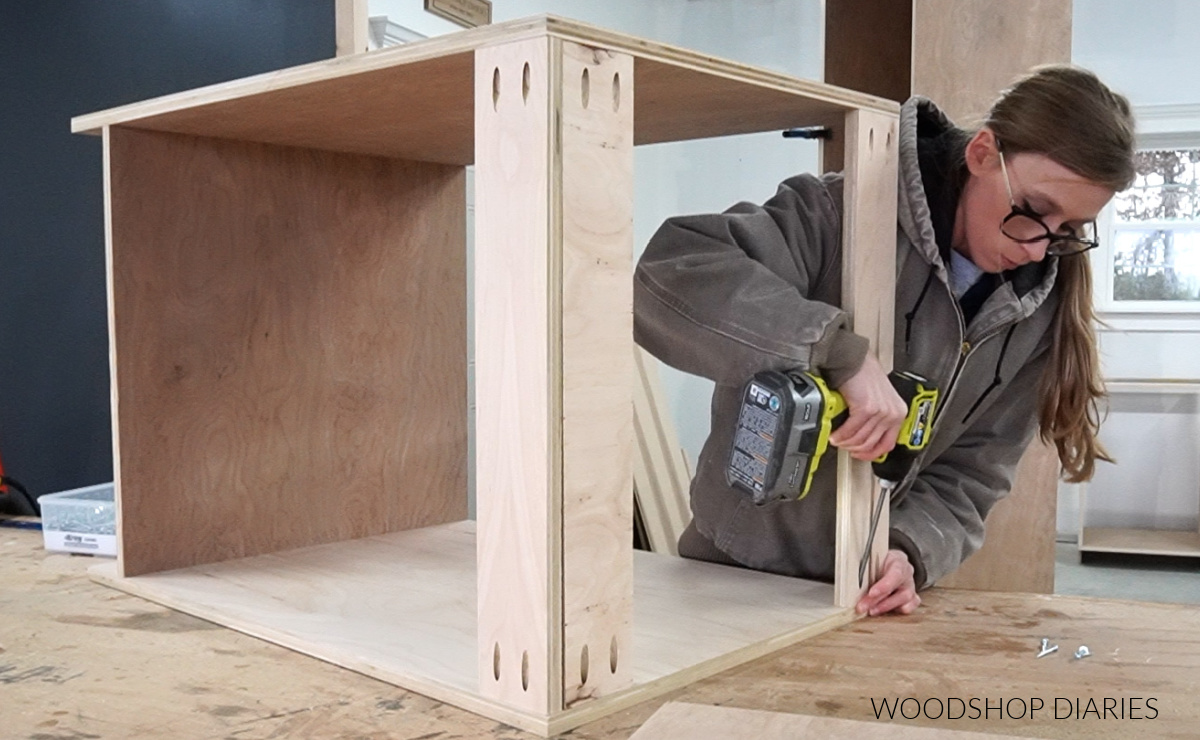 The price difference between ½″ and ¾″ plywood isn't really that much (maybe $10-15). However, you'll need to buy different size pocket hole screws, edge banding, nails, etc. for ½″ vs ¾″ plywood.
So in the end, you'll have to stock a bunch of different supplies for each size which adds to the cost. So the savings is minimal, but you're losing structural strength in the process. That's not a trade I'm willing to make.
That's just my personal take on plywood thickness–that doesn't mean it's necessarily right or wrong haha.
Where and how to buy plywood
Depending on your location and what options you have around you, there are lots of places to potentially buy plywood.
The first, most obvious option is the big box store or home center–like Home Depot. These stores have a wide variety of plywood options, but because they're catering to builders, their cabinet grade plywood options are usually pretty limited.
You may be able to find some of the more common options on the shelves–like birch, maple, or oak. But if you can't find hardwood plywood there, they usually at least carry sanded plywood and can often order some specialty options, too.
Another option is your local building supplier. Many times these local suppliers may not keep hardwood or sanded plywood well stocked, but they can often order it for you if they don't have it on their shelves.
If you're fortunate enough to have a hardwood lumber supplier locally who sells plywood, you can likely find some really nice, high end or specialty plywood there. But since we don't have anything like that where I live, I don't have a lot of advice to share about buying it that way.
I buy 99.9% of my plywood from The Home Depot. There are very few other places within an hour drive for me to find it ha!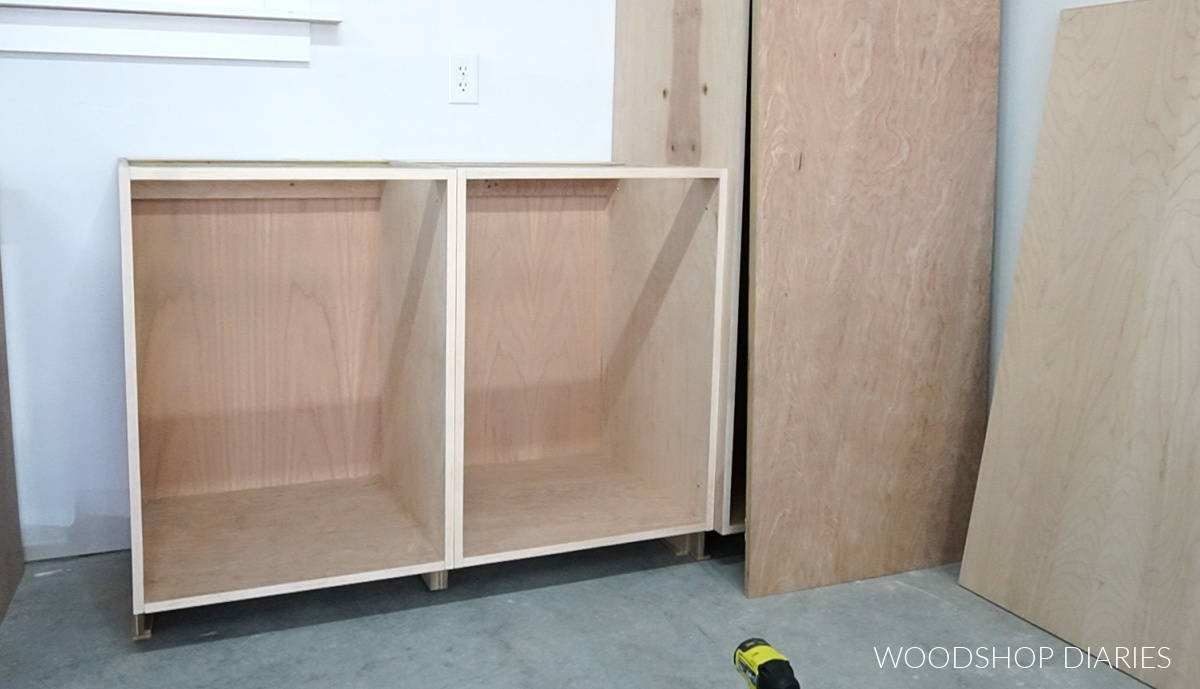 No matter where you buy it from, make sure to look at the edges and both sides of each sheet before buying. Check for chips, gouges, splinters, imperfections, bowing, and warping.
Plywood is too pricey for you to not be picky about it. Make sure you take your time to look it over well before adding it to your cart.
Tips for working with plywood
Once you've picked out and brought home your plywood, it's time to cut it down.
Plywood tends to splinter easily when cut due to the thin veneer layers. This splintering is often referred to as "tear out." Most tear out occurs when making cuts across the grain.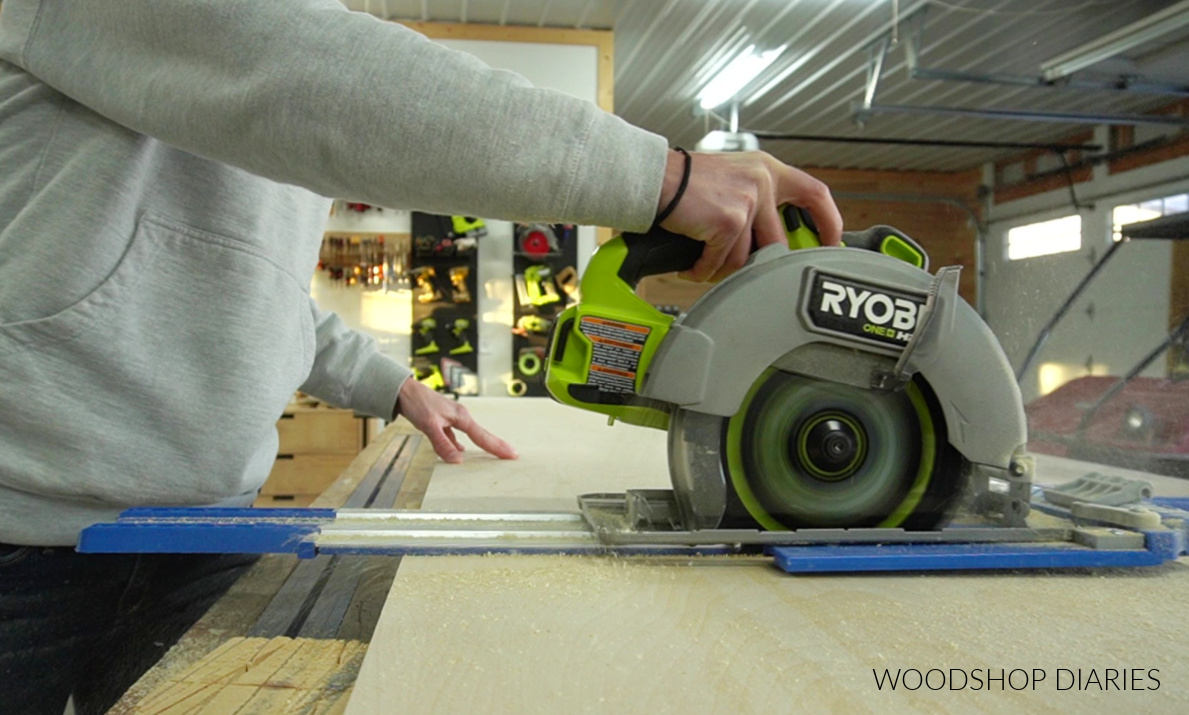 There are a few ways to combat tear out. My number one tip is to use a fine finish blade when cutting plywood.
The higher the tooth count on the blade, the smoother and cleaner the cut. Fine finish blades have a high tooth count and make a HUGE difference in the cut quality on plywood.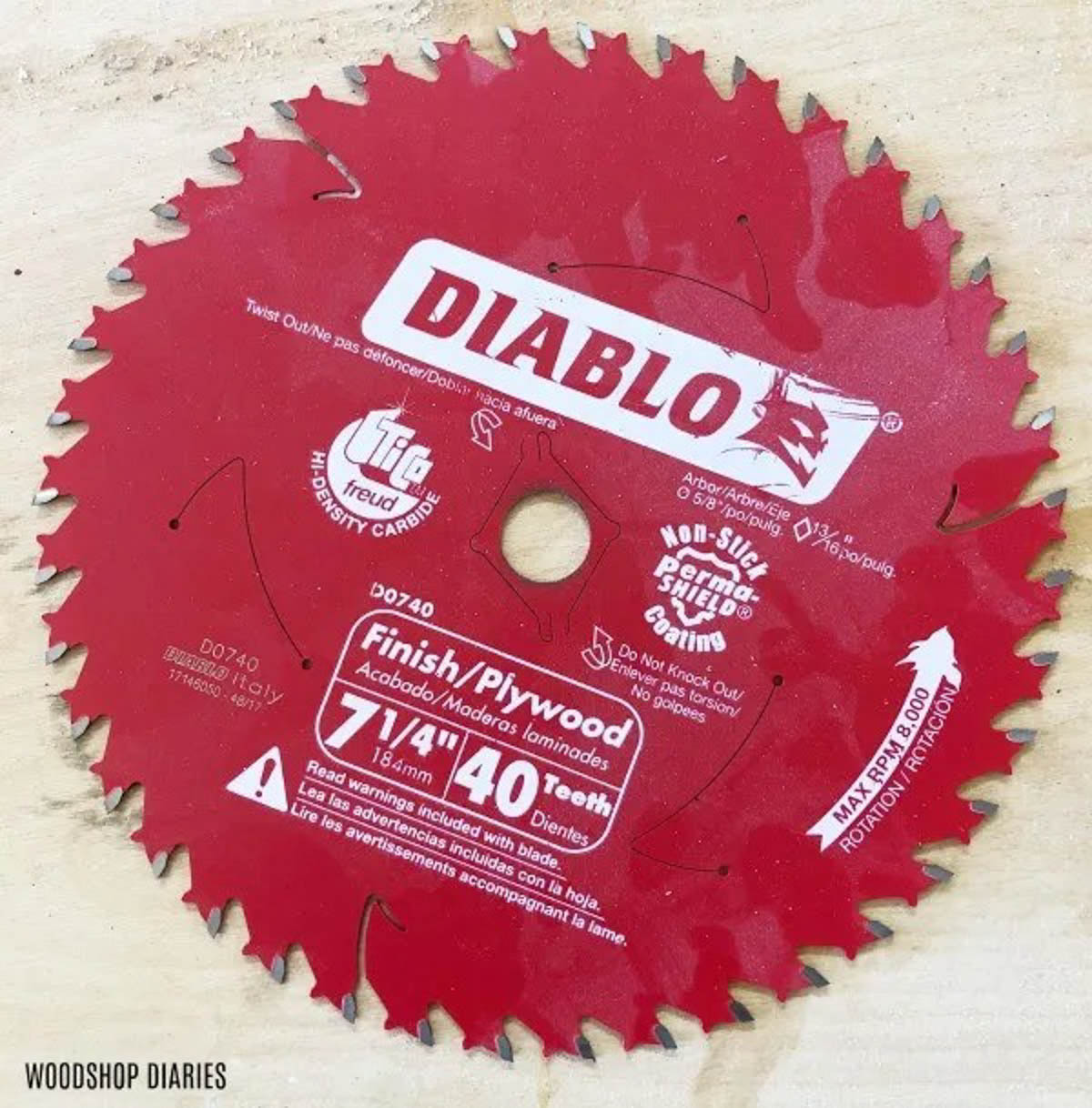 Another option is to use some painters tape along the surface where you are cutting. The painters tape will help hold the fibers of the plywood down and together as you cut to prevent them from splintering.
When sanding plywood, be careful not to sand too aggressively. The outer veneer is usually thin and you can sand through it if you aren't careful.
I usually just lightly sand my plywood with 220 grit on my orbital sander. It's already pretty smooth to begin with, so you shouldn't need much sanding.
If you want to hide the plywood edges to make your plywood look like solid wood, iron on edge banding is a quick and easy option. Edge banding comes in rolls of pre-glued wood veneer that you literally just iron onto the edges.
Learn how to apply iron on edge banding here.
Plywood project ideas
Ready to dive into your next plywood project? Here are a few great options!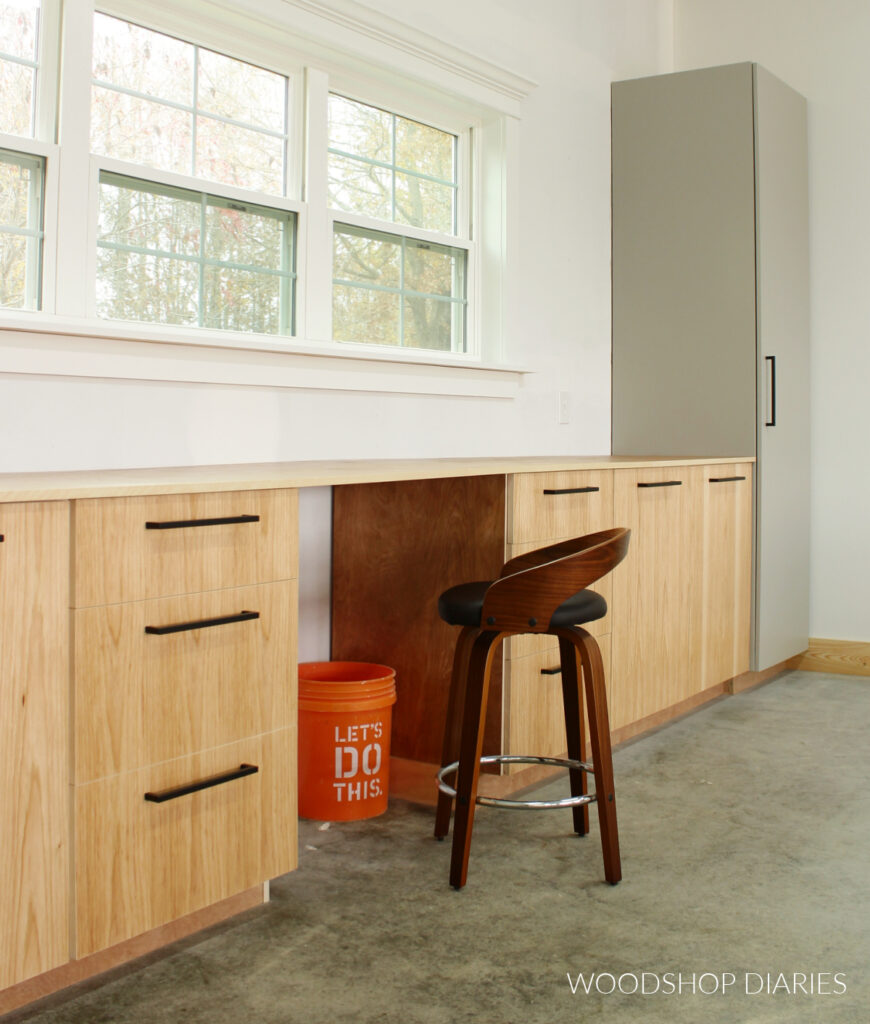 Save this post for later by pinning it or sharing to your favorite social channel!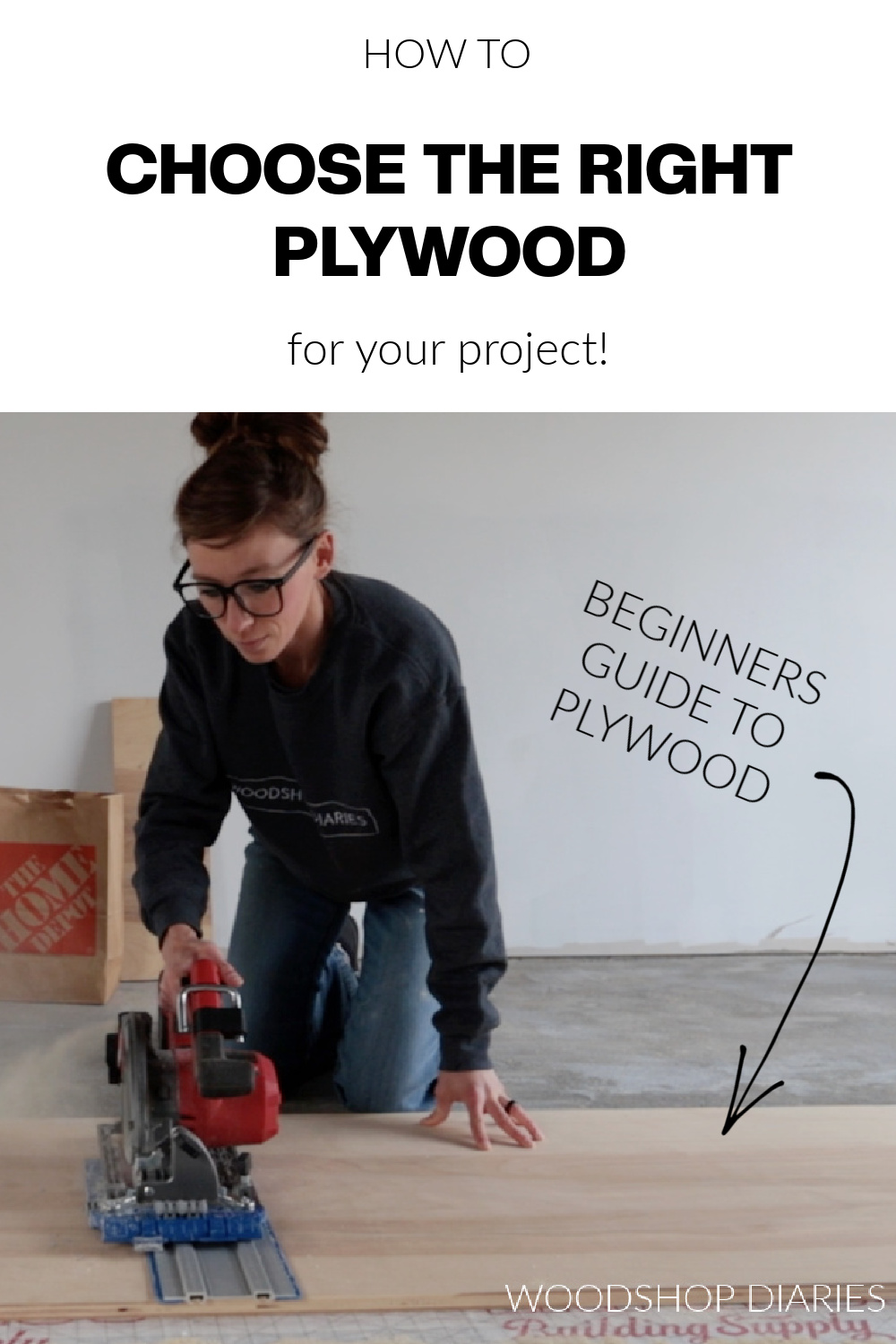 Until next time, friends, happy building!