In this post, I'm sharing how to build an enclosed walk-in garden with raised beds!
If you're ready to take your garden to the next level (and protect it from pesky critters and wildlife), I'll show you how with these fenced garden building plans and a step by step video.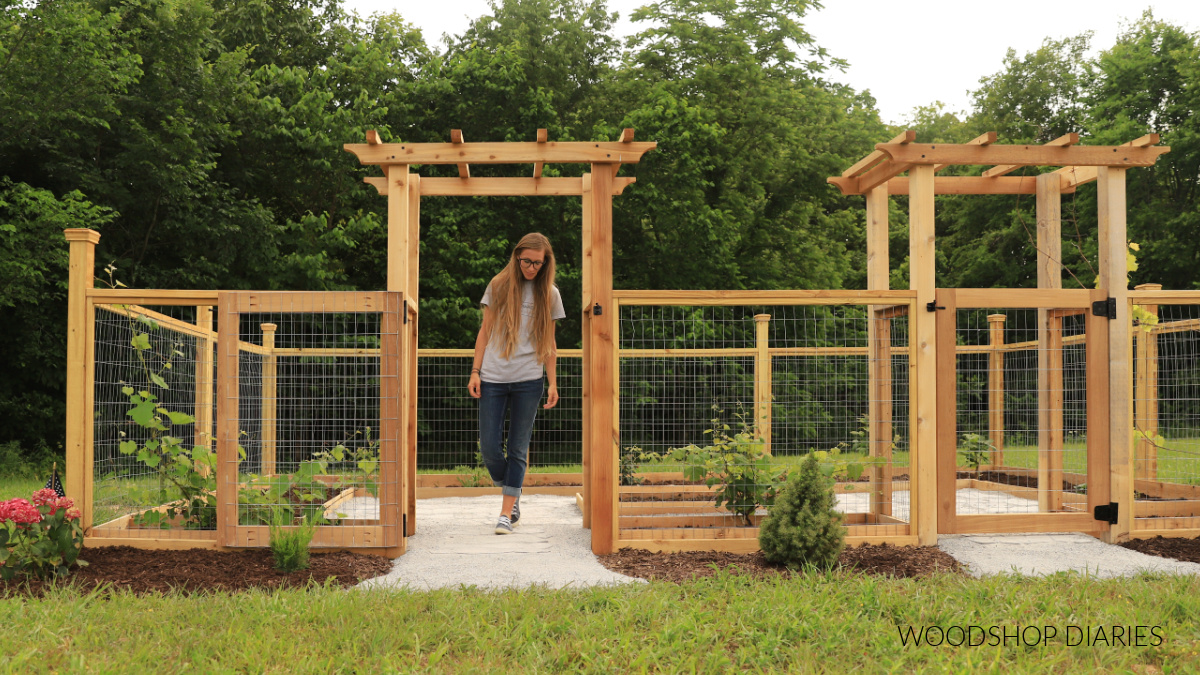 Walking into my new DIY enclosed garden feels like a dream. I've wanted to build a permanent garden fence for years. And I don't know why I waited so long, because it really wasn't that difficult!
If you're reading this post, I bet you've been in the same boat as me–wanting to build your own fenced garden, but unsure how and where to start.
That's why I'm so excited to share this easy to digest step by step process along with printable plans and a build video so you can confidently tackle building your own DIY enclosed walk-in garden.
What to know before building a walk in garden
Building a fence around your garden may seem like a large, overwhelming project, but the assembly process is really pretty basic. It just takes a little time and a little digging.
NOTE: Before digging anything, check your local rules and regulations. Contact 811 to mark your utility lines BEFORE breaking ground.
Benefits of fencing in your garden
Fencing your garden isn't necessary, but it does provide many benefits. First, it helps keep critters and wildlife (deer, rabbits, raccoons, etc) from snacking on your produce.
Adding fencing can also help protect your garden from heavy winds, and allows a little extra support for growing "vine-y" plants like cucumbers and grapes.
Temporary fences can be installed around a garden using simple T-posts and fencing wire paneling or hardware cloth. So a permanent fence isn't the only option.
However, having a permanent fenced garden like this one ready for planting every season saves a lot of set up time, is durable, looks really nice, and will last for years to come.
Are DIY and woodworking projects your thing? Sign for for your newsletter to be the first to know when new projects and plans are out!
Overall Dimensions
The overall dimensions of this fenced garden was approximately 15′ deep and 23′ wide.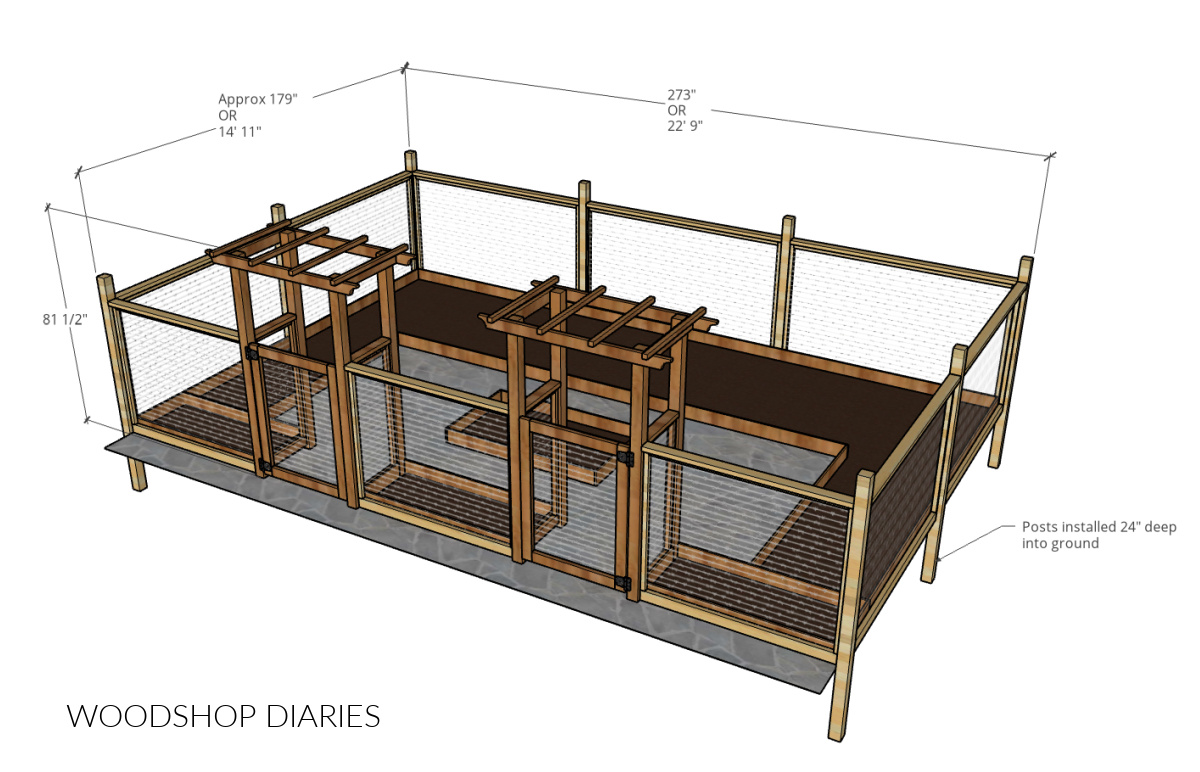 Preparing the area for an enclosed garden
It's best to choose a place for your enclosed garden that is already pretty flat. It doesn't have to be PERFECTLY flat, but it shouldn't have significant sloping.
I recommend tilling up the area first to remove all the grass and loosen up the dirt before planting.
You can plant your veggies and fruits directly in ground or add them into raised beds after the fencing is up. We were planting berry bushes and grapes, so we planted all of ours in ground.
Tools & Materials
*This post contains affiliate links. See website policies.
Since this is an outdoor project, be sure to use wood suitable for exterior use. Treated wood, cedar wood, and redwood are all great options that can withstand the elements.
Treated wood is the most inexpensive option, but I encourage you to do your own research when deciding how and when to use it with your food garden.
For this project, I used cedar for the arbors and for the garden beds and treated wood for the fence posts and framing.
Make sure to use exterior rated hardware (screws, hinges, etc) and finishes for this project as well.
Tools:
Post Hole Digger
Shovel & Rake
Level
String and scrap wood stakes
Materials:
FOR THE ARBOR: (I used cedar for the arbor material)
(8) 4x4x8 posts
(8) 2x2x8 boards
(10) 2x4x8 boards
FOR THE FENCING: (I used pressure treated lumber for the fencing)
(8) 4x4x8 posts
(20) 2x4x8 boards
(20) 2x2x8 boards
(8) fence post caps (optional)
OTHER MATERIALS NEEDED:
(25) cedar fence pickets (to build garden beds inside fence)
Welded wire fencing material (you'll need 4 ft wide x 100 ft)
1 ¼″ exterior wood screws
2 ½" exterior wood screws
2 ⅞″ timber screws (optional–see notes)
¾″ staples
(2) gate latches
Weed barrier fabric, gravel, pavers, mulch, soil as desired for inside
(4) 80 lb bags concrete to set posts
Everyone always wants to know the total cost of each project. Lumber and material prices vary GREATLY by location and change daily. So these numbers may not match your numbers.
However, the rough estimate cost in lumber and fencing material to build this in May 2023 where I live was approximately $1200. This doesn't include gravel or pavers. Replacing the arbors with treated wood instead of cedar would save approximately $400.
How to build an enclosed garden
Building a walk-in garden is a great spring, summer, or fall project. A permanent garden fence can be used and enjoyed season after season and will protect plants year round.
I'm sharing how to build one below, but if you'd like to watch, I also have a complete project video here on my YouTube Channel:
Love videos? Subscribe to my channel for the latest project videos!
If you prefer to print your plans, I've got the printable building plans with complete cut list, diagrams and project details here:
Step 1: Assemble Garden Arbors for Entrance
For the entrance to the walk in garden, I built two arbors. The reason I built two of these was because they went between our three already established grapevines. This will give the vines something to grow up and around.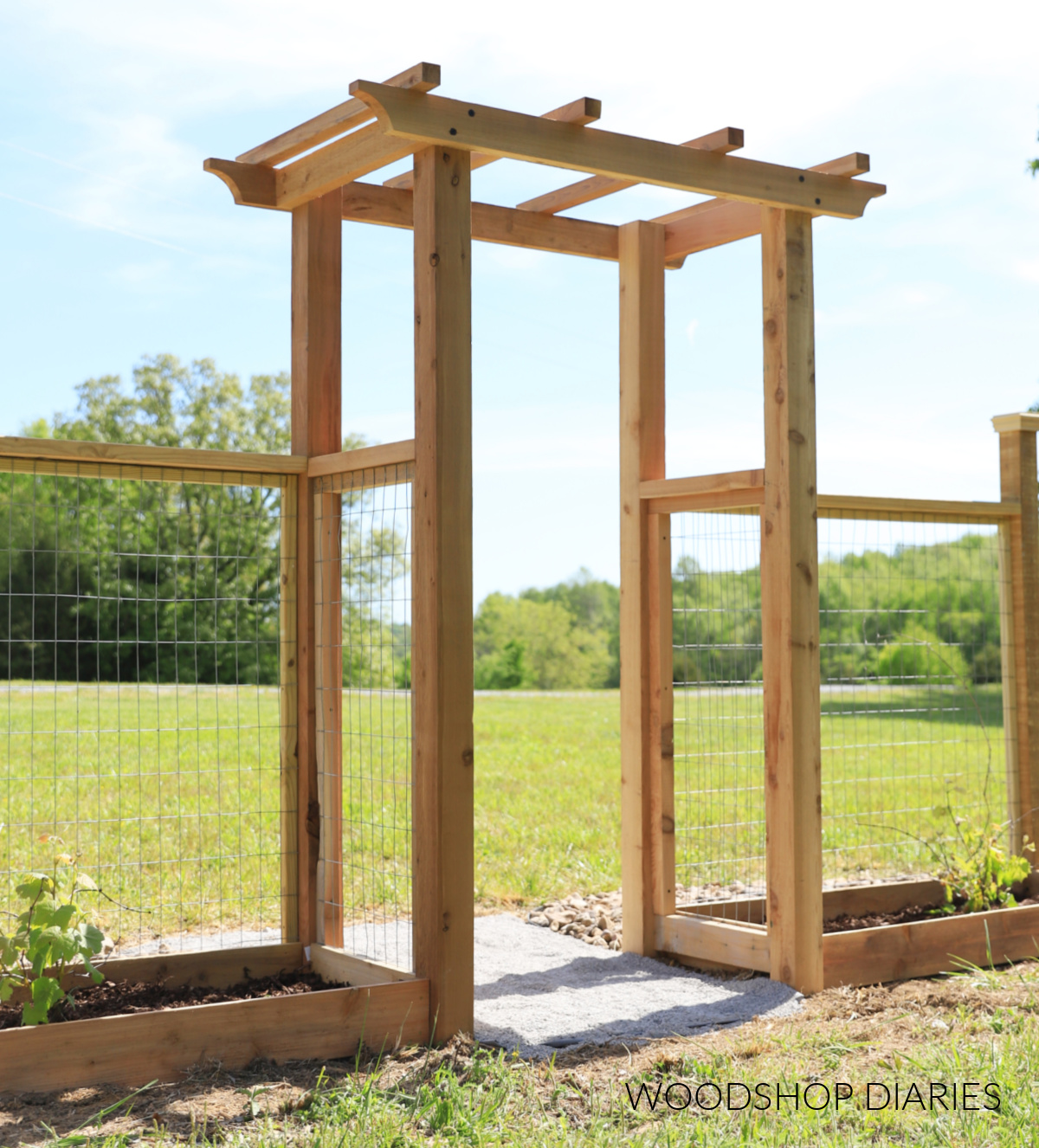 I shared the plans to build the simple garden arbors with gate in this post. For this enclosed garden, I assembled two of these and carried them to the spot I wanted the front of the garden to be.
To keep things in a straight line, I used scrap wood stakes in the ground and pulled a string tight between them–see the bright orange string in the image below.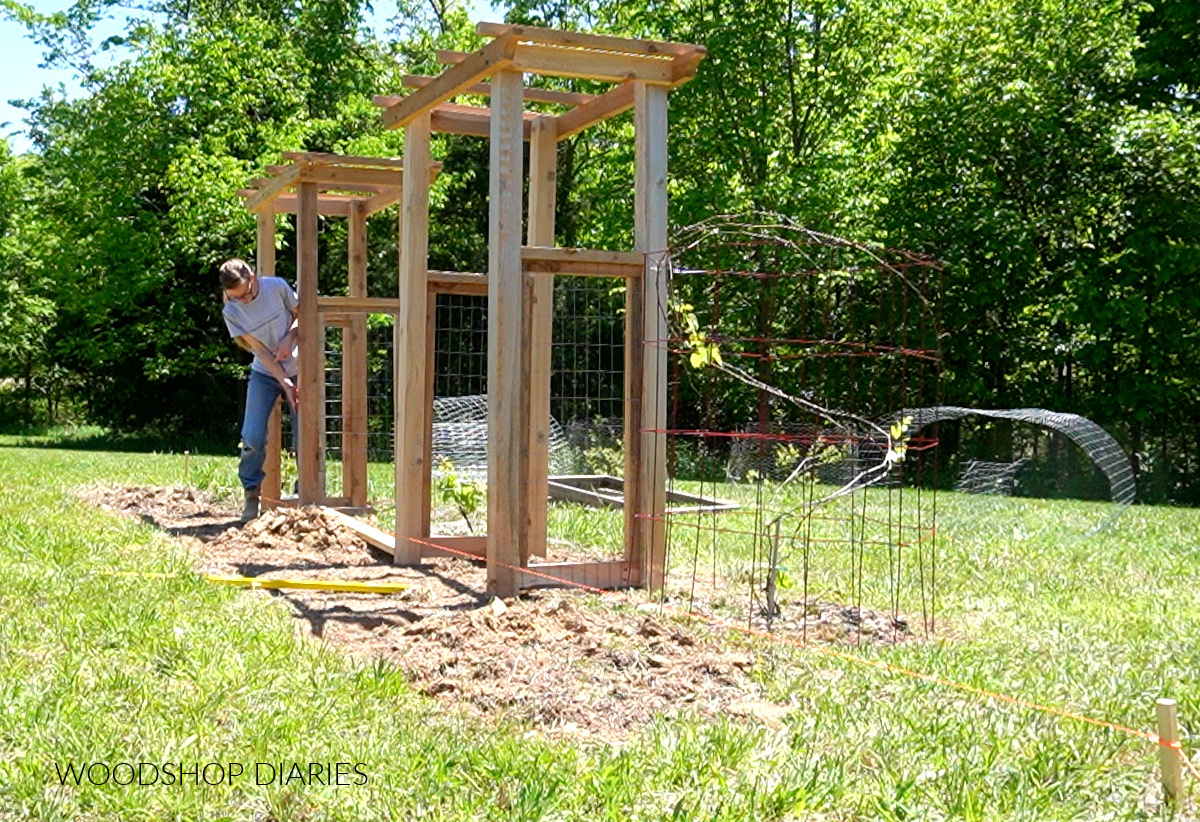 Then I could bring the front of the arbors so they were just touching the string and use a little dirt or sand to level them out.
NOTE: Cedar can rot over time when in direct contact with the ground, so if you build these with decar, you may consider setting the legs on gravel or something that will help water drain away.
Step 2: Assemble Front Section of Fencing
I set these arbors 60″ apart and secured two pieces of 2×4 cut to 60″ long between them using 1 ½″ pocket holes and 2 ½″ exterior pocket hole screws.
RELATED: How to use a pocket hole jig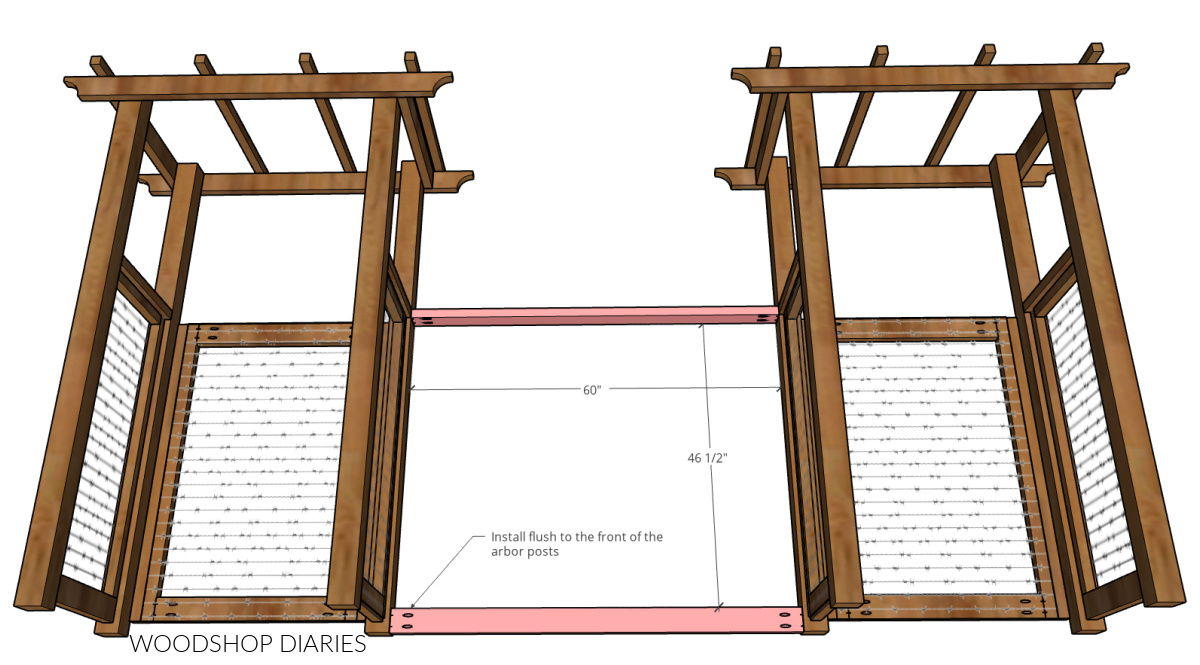 One 2×4 will run vertically between them at the bottom and the other will run horizontally between them about 46 ½″ up from the bottom 2×4.
This mimics the side frame design on the arbors. The top 2×4 should be even with the one on the arbor.
Step 3: Set Fence Posts
Next, I set my fence posts. I used treated 4x4x8 posts for the fence posts and trimmed them all 8 of them to 84″ (which is 7′) long before installing.
They will go into the ground about 2′ and stick out of the ground about 5′.
I already had my string pulled straight across the front, so I set the front corner posts first. I measured out about about 5′ (or 60″) from each arbor and in line with the string. This is where I dug my post holes.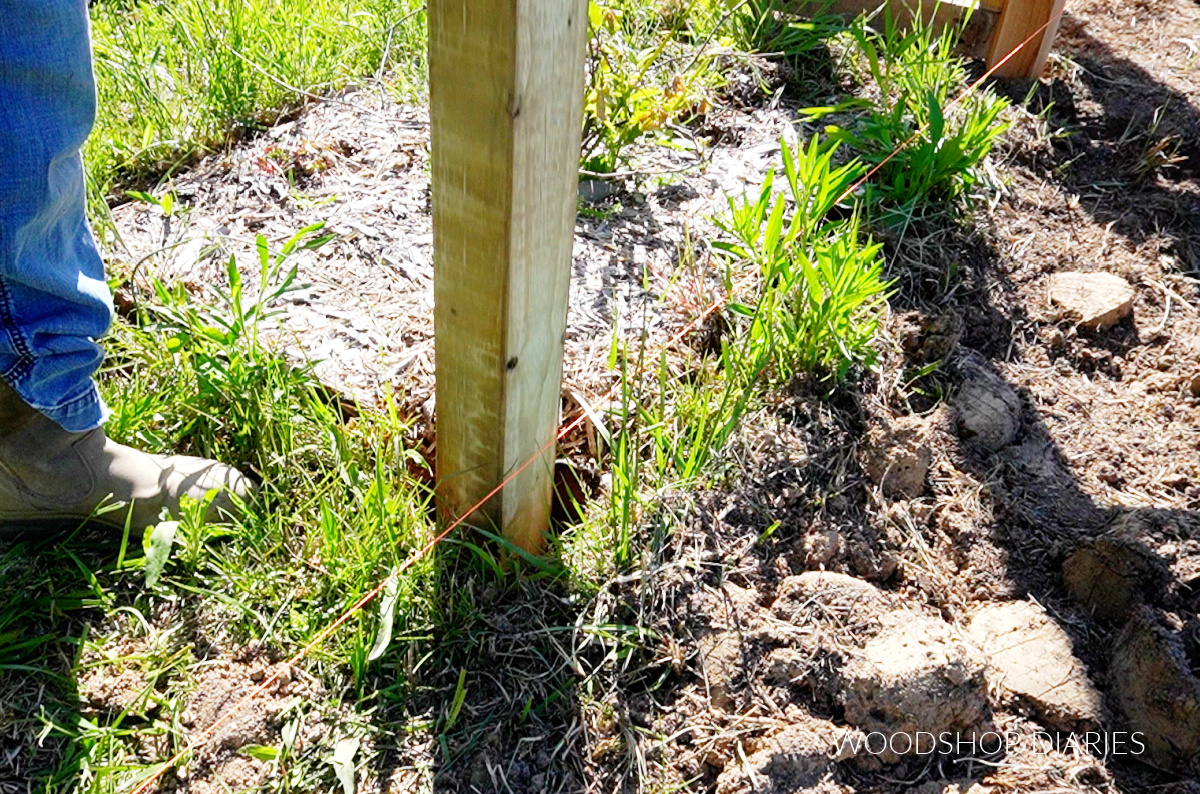 I dug all my post holes 24″ deep and set the posts with concrete (basically, set the pole in the hole and fill the sides with dry bagged concrete) making sure to check that they were straight up and down using a level on all sides.
If you prefer not to set the posts with concrete, a quick Google search can show you several alternative methods to set fence posts.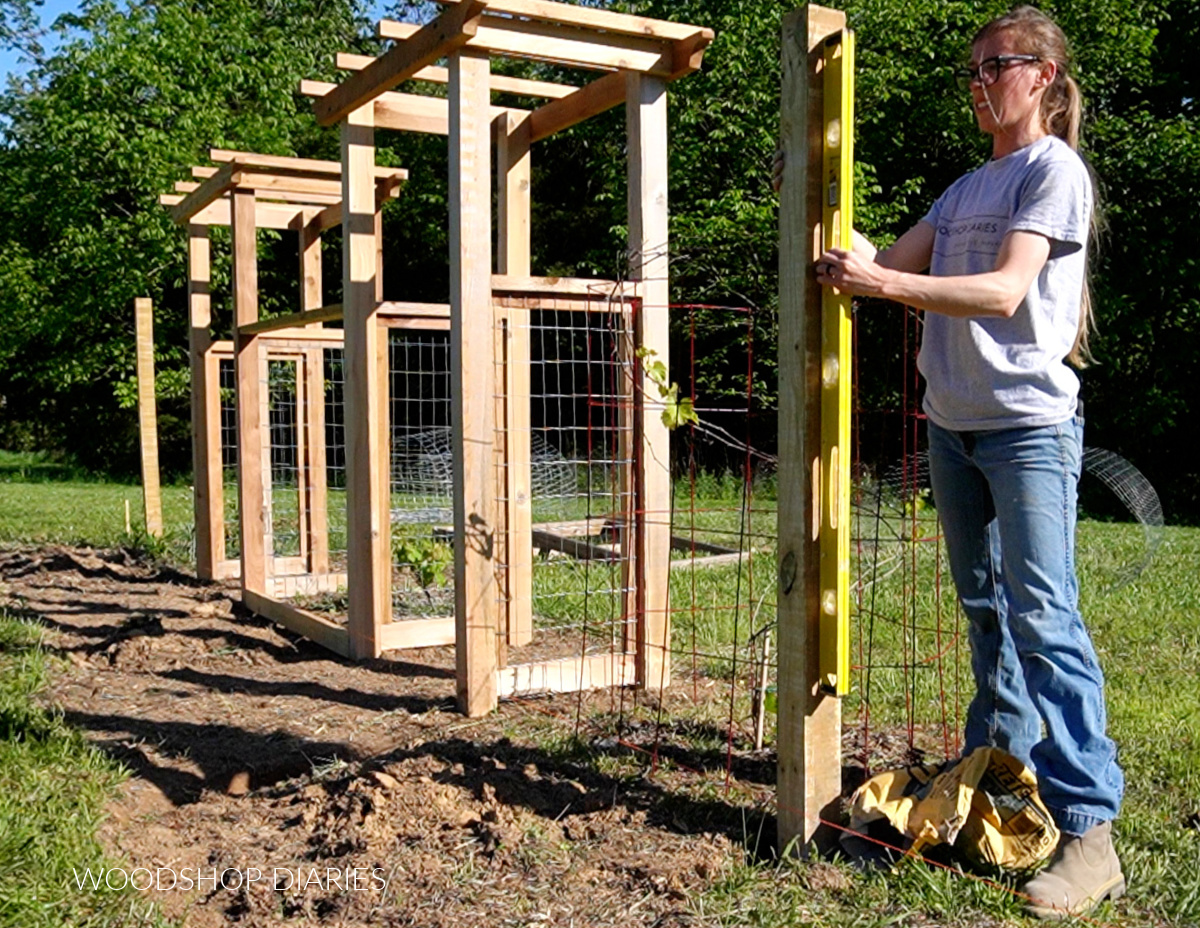 Then, I installed 2x4s cut to fit between the arbors and the posts just like in step 2–one at the bottom and one toward the top.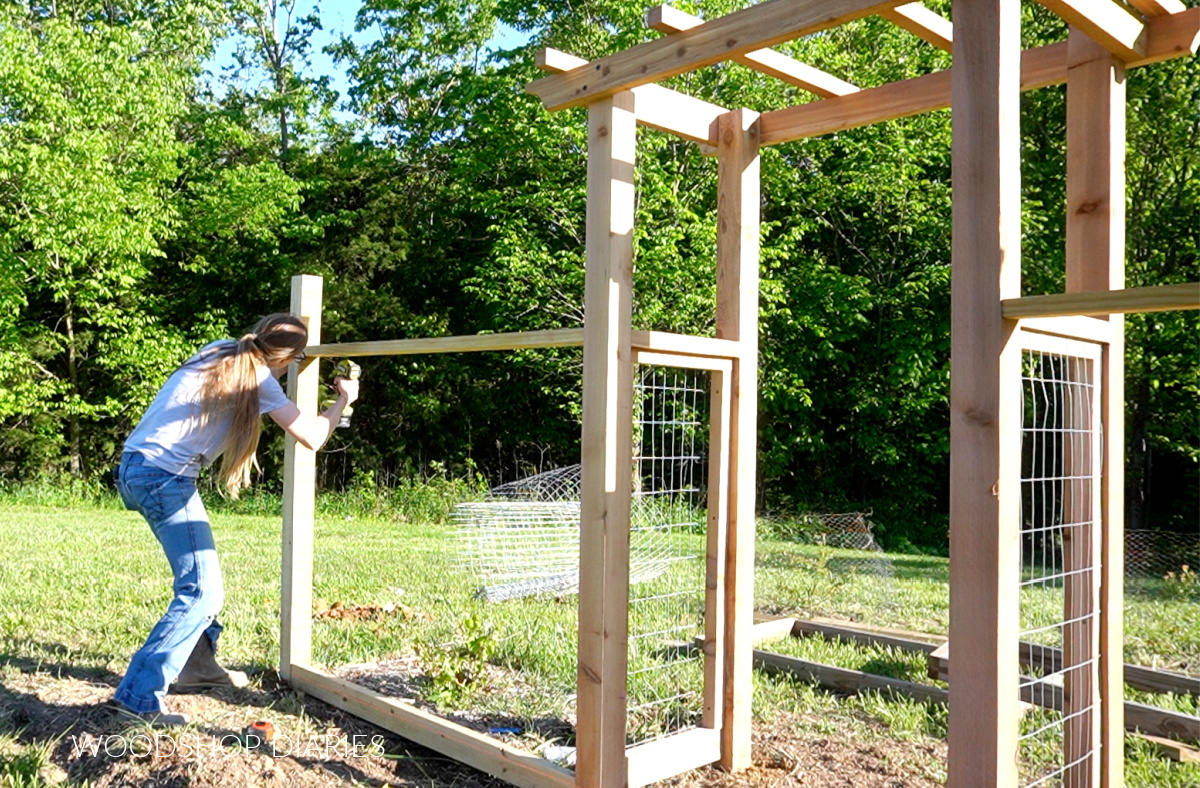 Once the front corner posts were set, I measured down each side about 178 ½″ and across the back 273″. I set two back corner posts here–again 24″ deep and set with concrete.
Then, I wrapped my string tight around all the corners and installed two more posts on each side and two across the back like shown below making sure to keep them in line with the string so they stayed straight.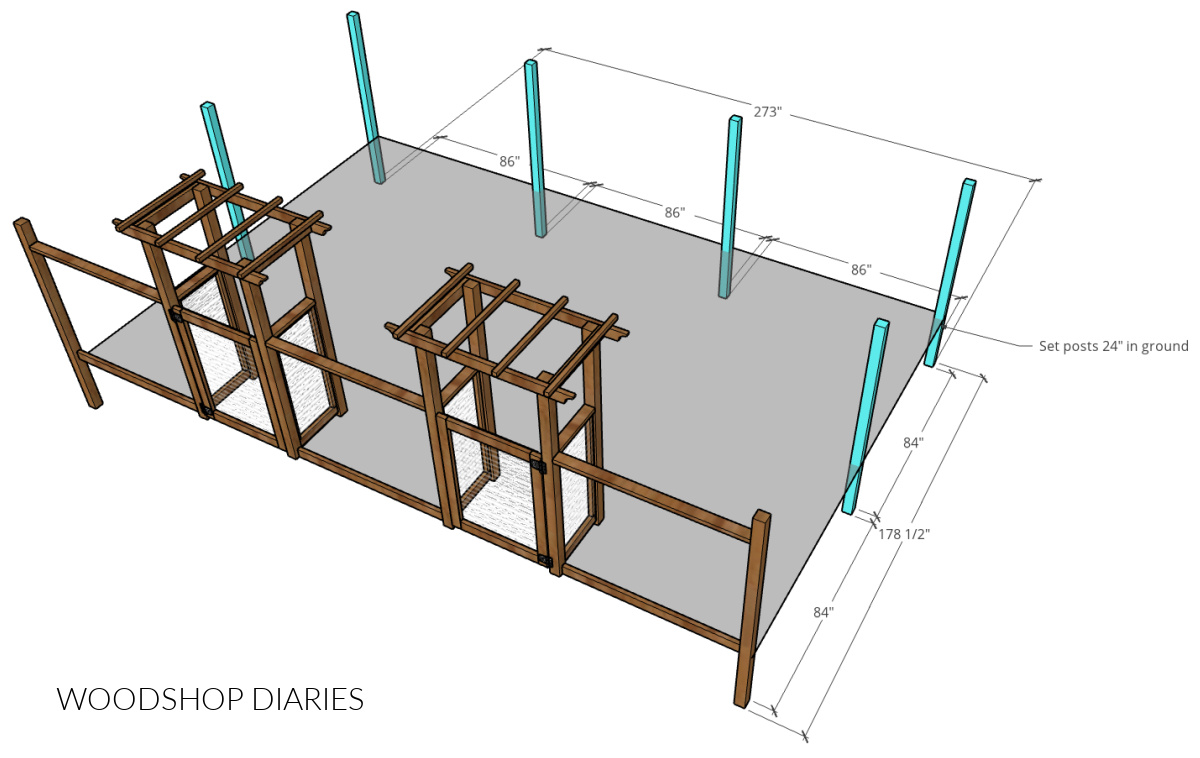 NOTE: It's impossible to be extra precise when digging these holes and installing these posts. These dimensions are a good guide, but don't worry if you're a little off.
Everything will be cut to fit in the next steps, so try to get it close, but +/- a couple inches is close enough.
Step 4: Install Fence Framing
I cut to fit 2x4s between all these posts just like on the front–one 2×4 vertically along the bottom and another horizontally about 46 ½″ up.
These are secured using 1 ½″ pocket holes and 2 ½″ exterior pocket hole screws.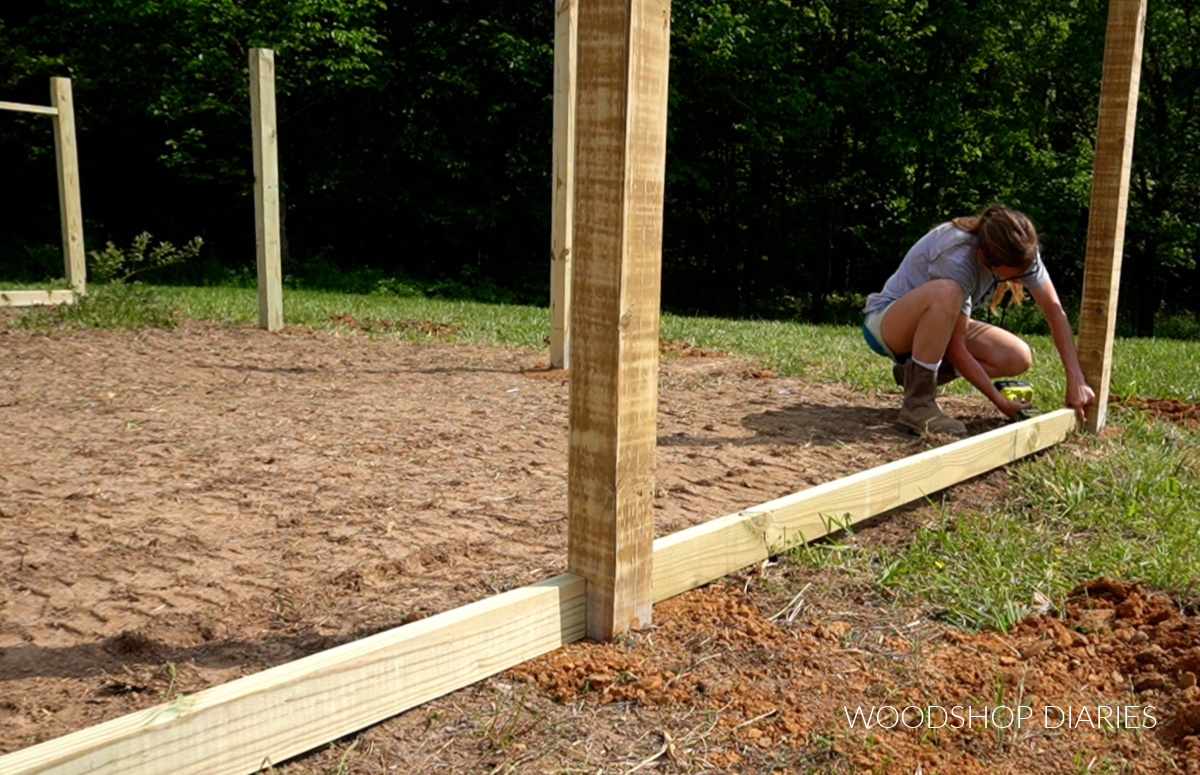 If your ground is sloping a little, that's okay. Run your bottom 2x4s along the ground as straight as possible on each side. They don't have to be LEVEL, but it'll look better if they're running STRAIGHT between posts.
Prefer to print? Printable building plans for this project are available here!
Step 5: Add Inside Supports and Garden Fencing Panel
Next, I lined the sides and top of each fence opening with 2x2s cut to fit. I installed these using 2 ½″ exterior screws.
These should run up the sides of the posts and underneath the top 2x4s in each section.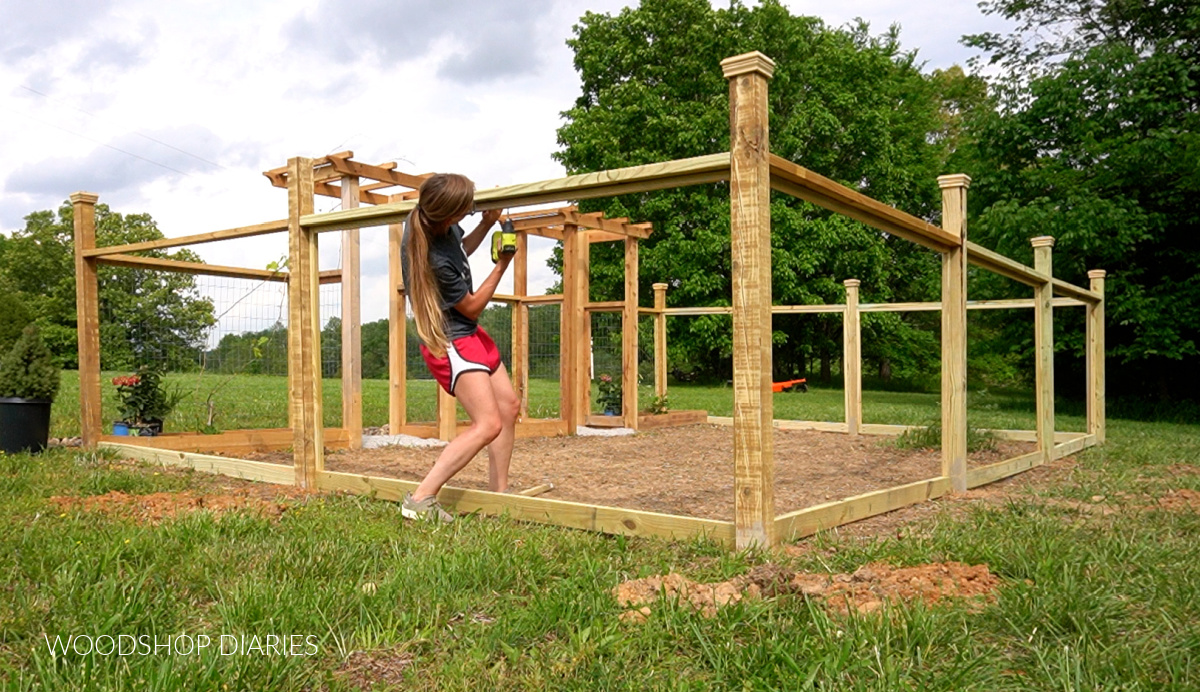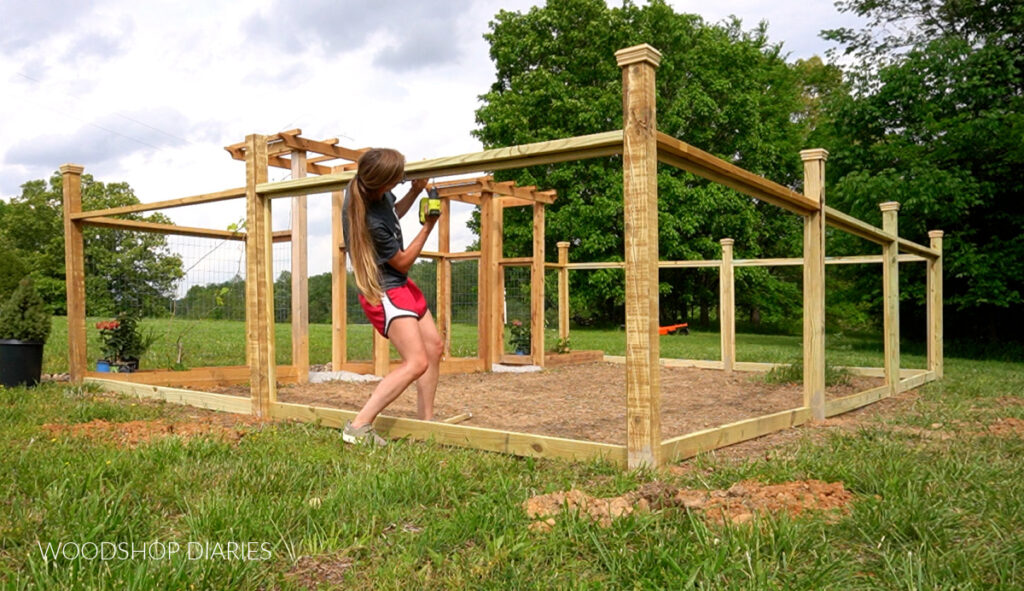 The purpose of these pieces is to 1. give a little extra detail and dimension and 2. give me something to staple the fence paneling onto.
After the 2x2s were added into each open section, I cut to fit welded wire fencing to cover them. I stapled these onto the bottom 2×4 and the 2x2s I just added on the INSIDE of the fence.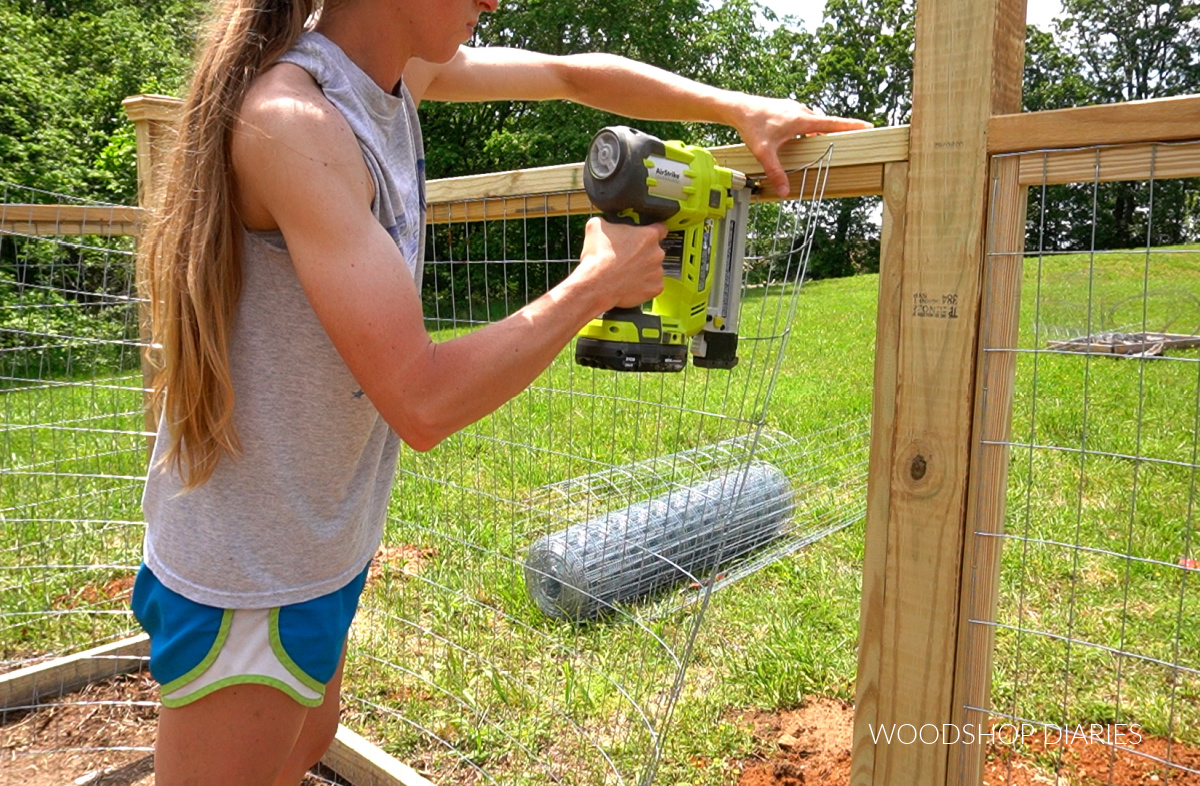 Welded wire fencing is easy to cut using basic wire cutters, so I cut these a little bigger than I needed, stapled them in place, then trimmed as needed.
Step 6: Assemble Garden Beds
The garden beds inside the fence are completely customizable so you may want something totally different than what I added here. But I lined the inside of the fence framing with cedar fence pickets.
I just cut these to fit around all the sides and secured with 1 ¼″ exterior screws.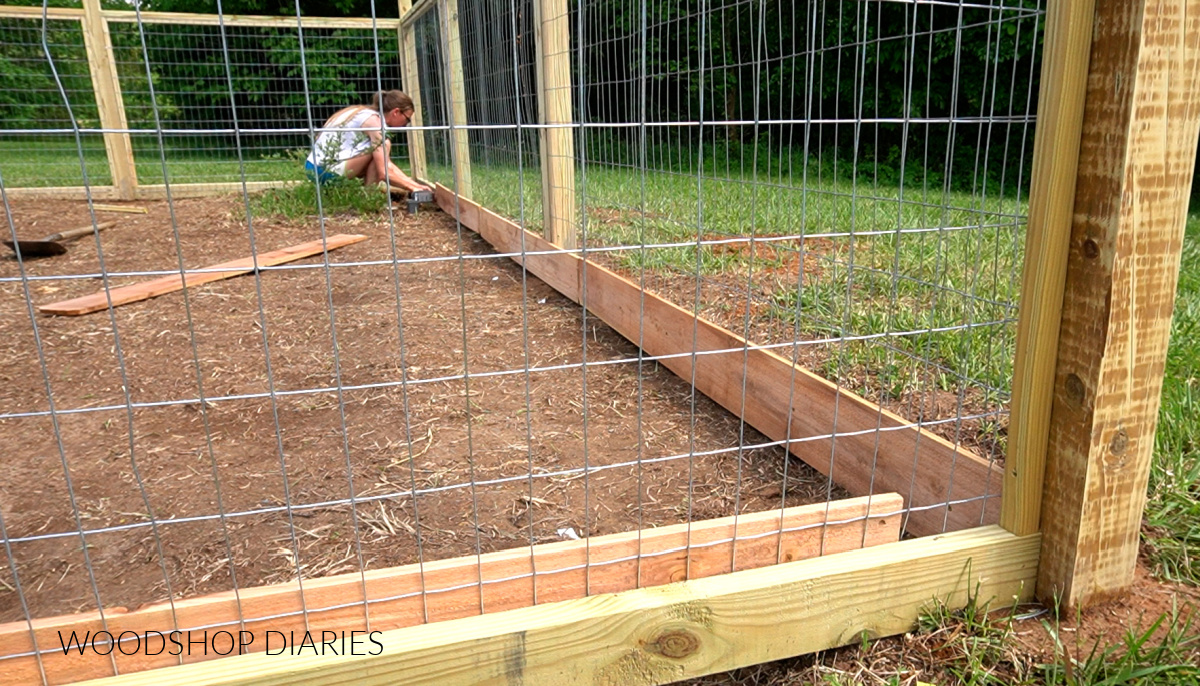 This both adds a little height, keeps the wire fencing nice and secure, and creates an edging.
I used some more fence pickets (by the way, I used cedar fence pickets because they are pretty inexpensive), to build boxes around my grapevines on each side the arbors, and to create a U-shaped garden bed down the sides and along the back.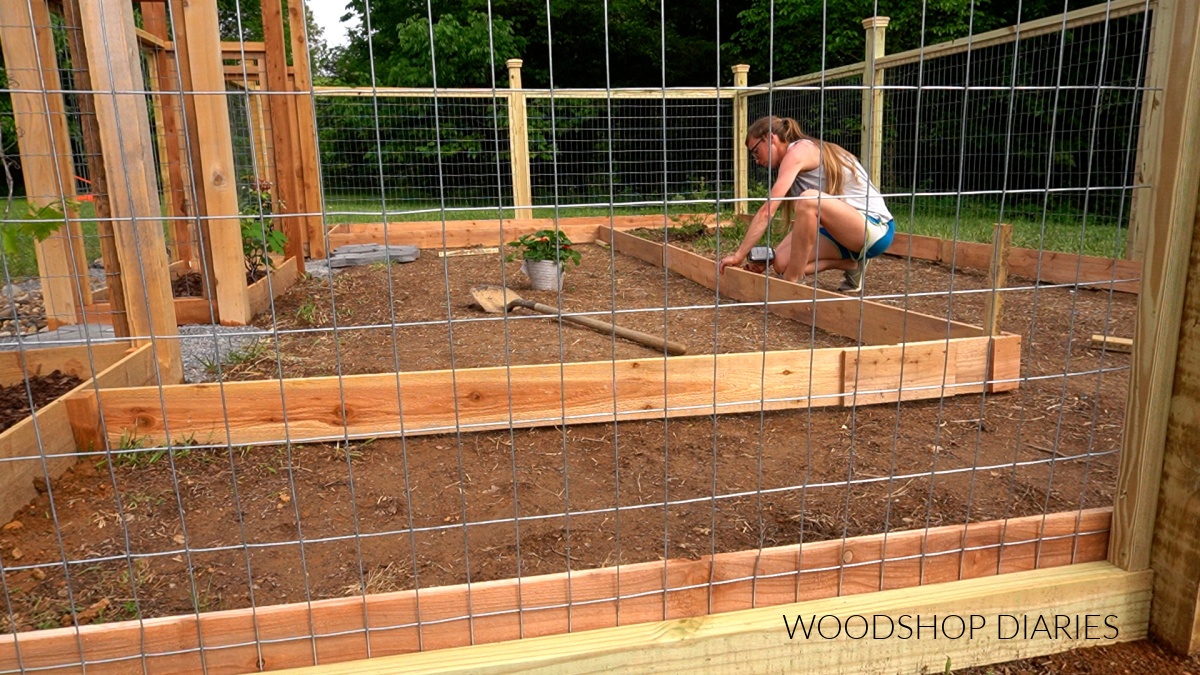 You can use wood stakes and/or scrap wood 2x2s to secure the corners or on sections where two boards meet. I actually just cut some 12″ long pieces of fence picket to "sister" two boards together where I needed to. This worked pretty well.
I also built a 36″x60″ box with 2×2 corner stakes to tack into the ground in the middle here that we will grow wildflowers inside. Below is my general layout and dimensions for the garden beds I added.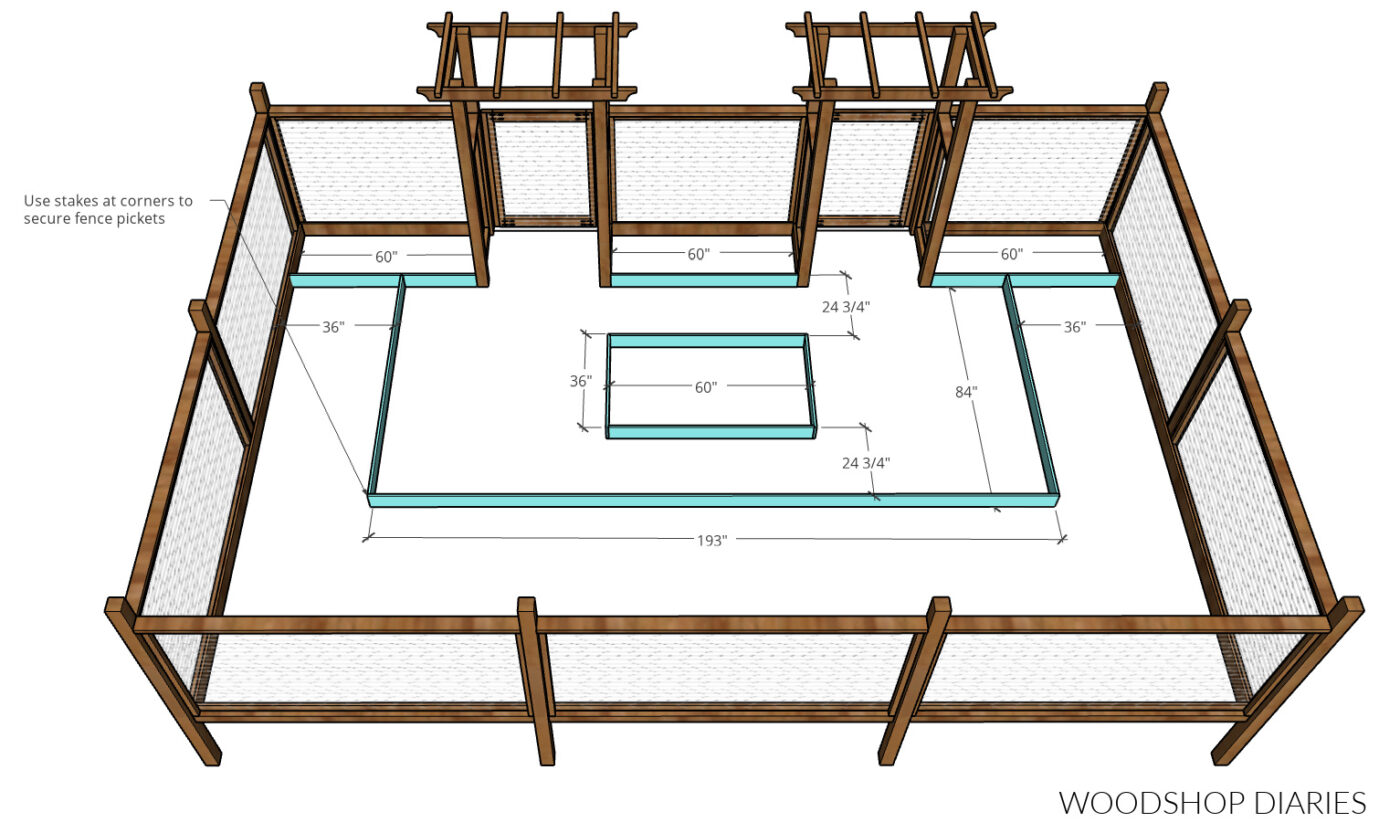 Feel free to get as creative as you want with your garden bed layout. If you want deeper beds, simply double up on the fence pickets and stack them 2-3 high.
Step 7: Add Walkway to Enclosed Garden & Finish
Once the beds were laid out, I lined everything with weed barrier fabric and added a few inches of crushed rock paver base in the middle.
We had bought this for another project that we ended up not doing, so this was a great place to use some of this up. But decorative rock, gravel, turf, or whatever else you'd like to walk on in here would work just fine.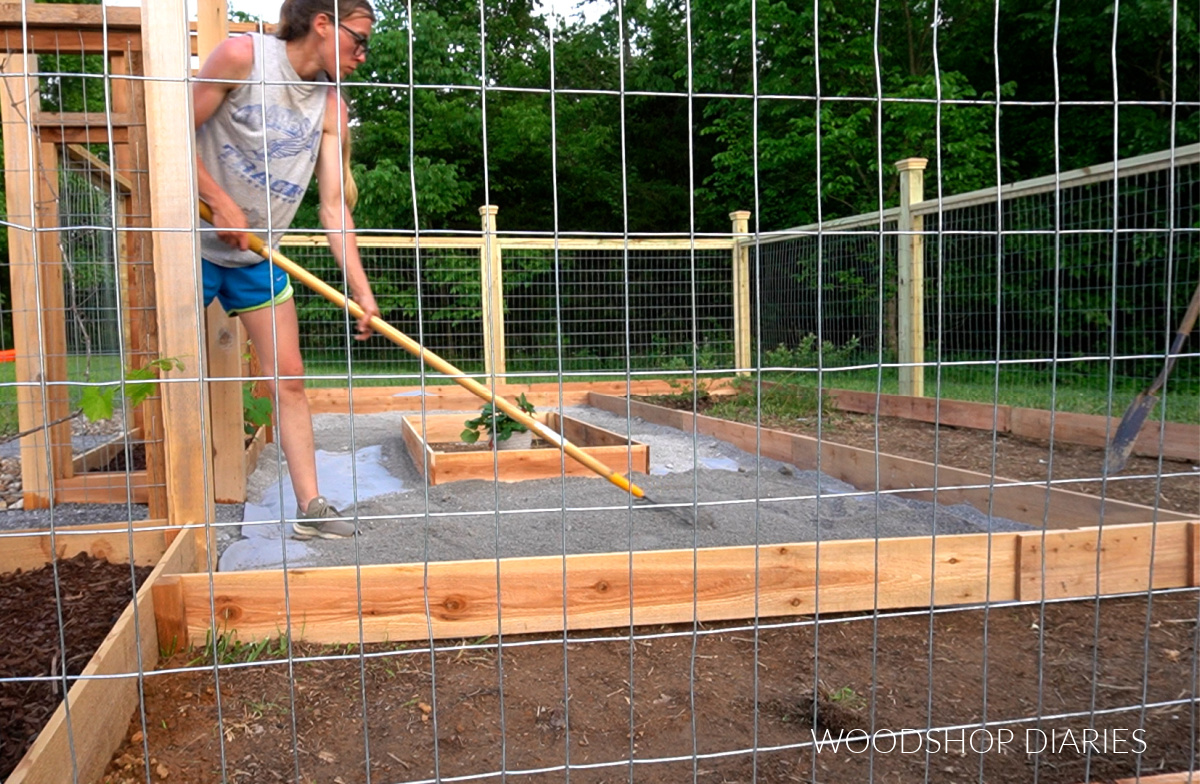 I added some pavers, then filled it all in with a little more crushed rock on top. To be completely transparent, the pavers were a little pricey, so I used them sparingly and filled in the gaps with more rock.
This is not how you would install an actual paver patio, but, again, we had the rock and needed to do something with it, so this worked out well. It looks really great for a simple walkway!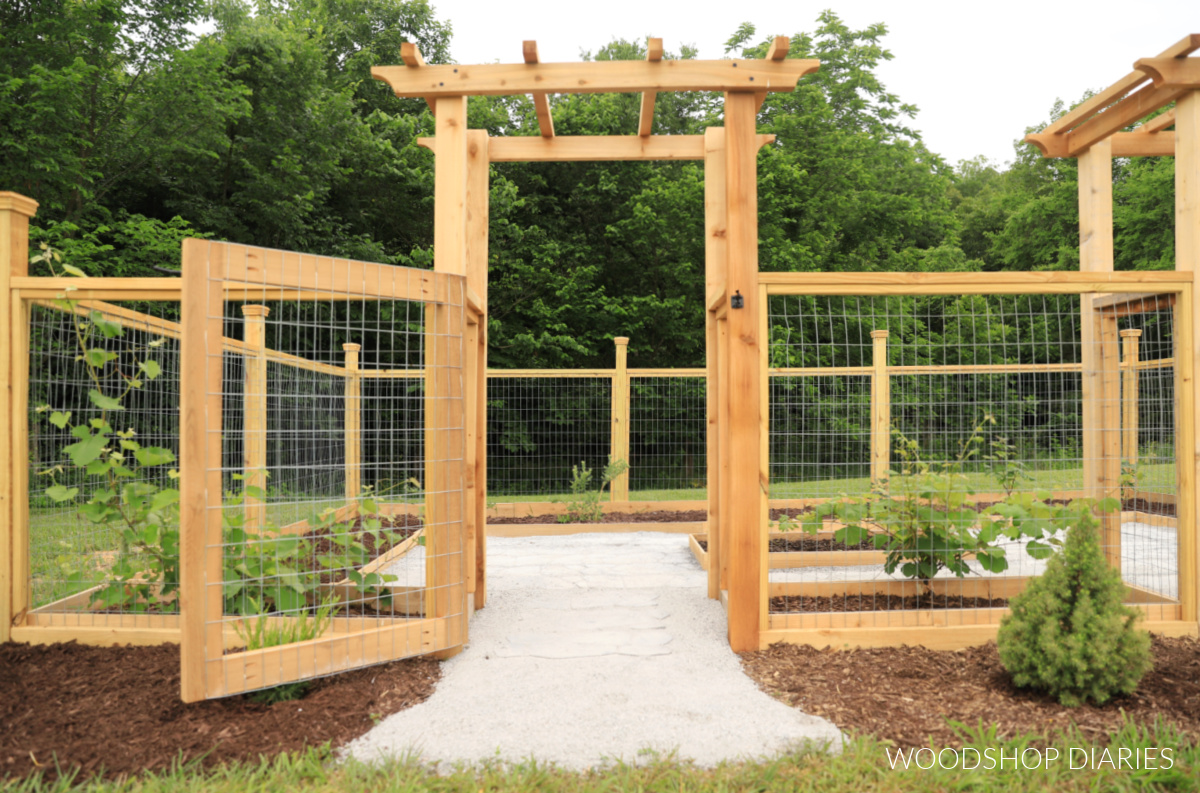 For an extra detail, I attached post caps to the top of each fence post (exterior wood glue, caulk or silicone works well for attaching these). You could do this at any point after the posts are set.
And finally, to finish up, I built a simple 2×4 frame for the gates. The garden arbor post here has the details on building the gate. But it's just a simple frame with wire fencing stapled onto the back side.
I installed the gates onto each arbor with heavy duty gate hinges and added a simple gate latch and this build was complete!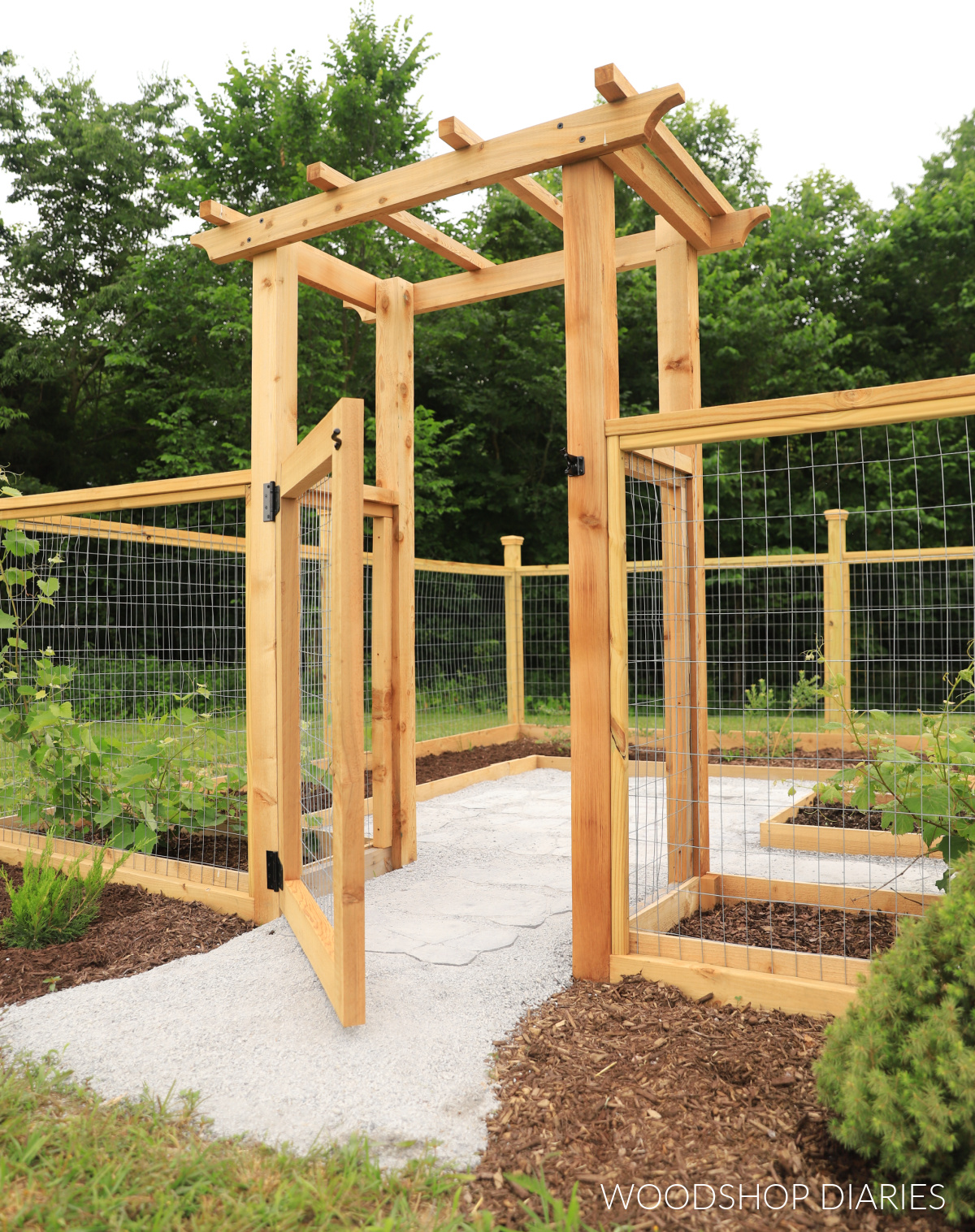 Once the treated wood has had time to dry a little more, I'll go back and apply an outdoor stain and sealant to give it a little more color and keep it looking nice all year long.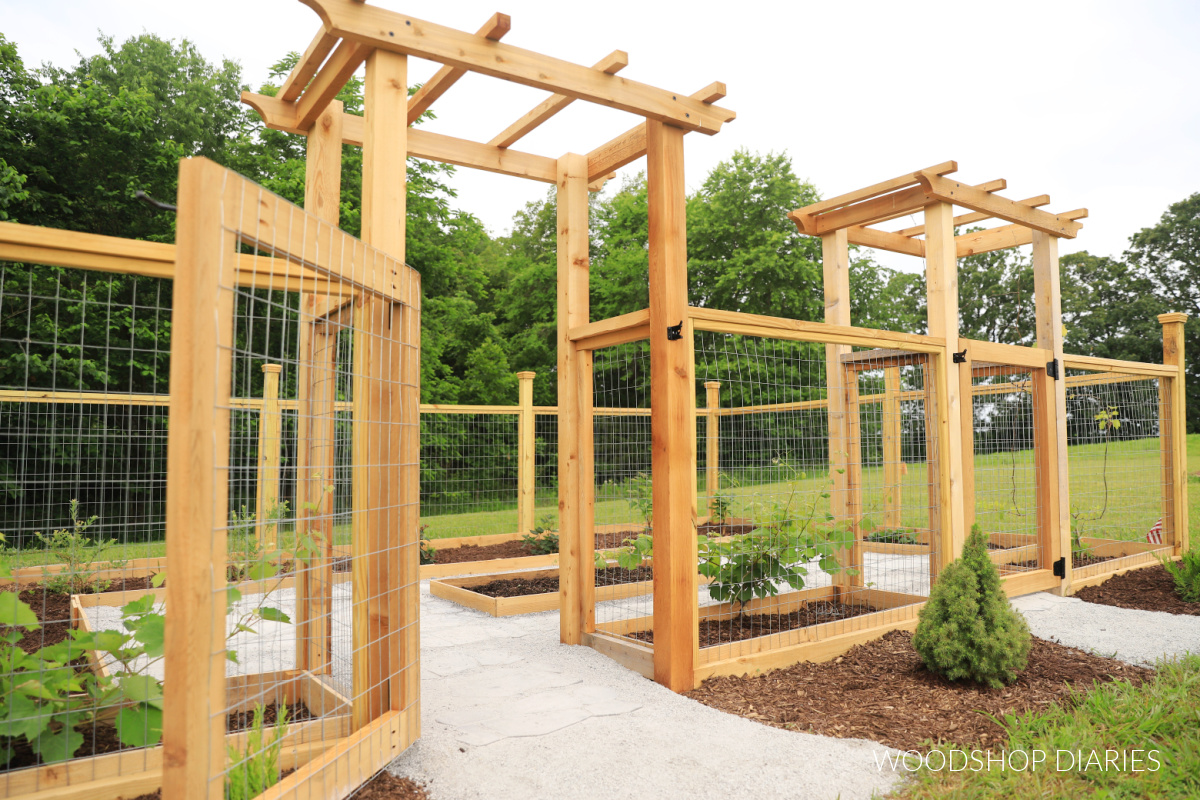 I am absolutely in love with how this project turned out and I hope this post shows you that it's not really as overwhelming of a project as you might think!
I cannot wait to walk out here and pick berries and grapes this summer. I'm so excited to see what all we can grow out here over the years.
If you'd like to build one of your own, grab the printable building plans for this enclosed walk in garden here.
Looking for more outdoor project and garden DIYs?
Outdoor projects are always in season *wink wink* If you're looking for more project inspiration, check out a few of these outdoor favorites!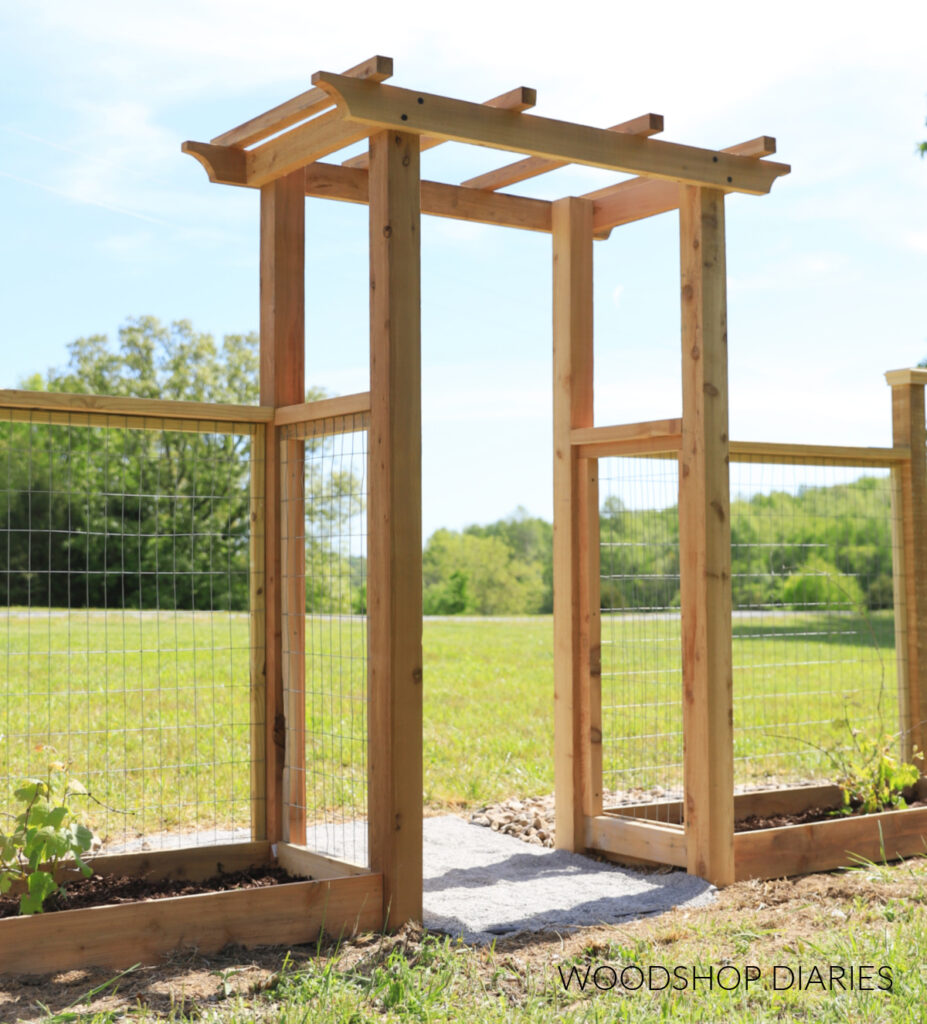 Don't forget to save this project for later by pinning it or sharing to your favorite social channel!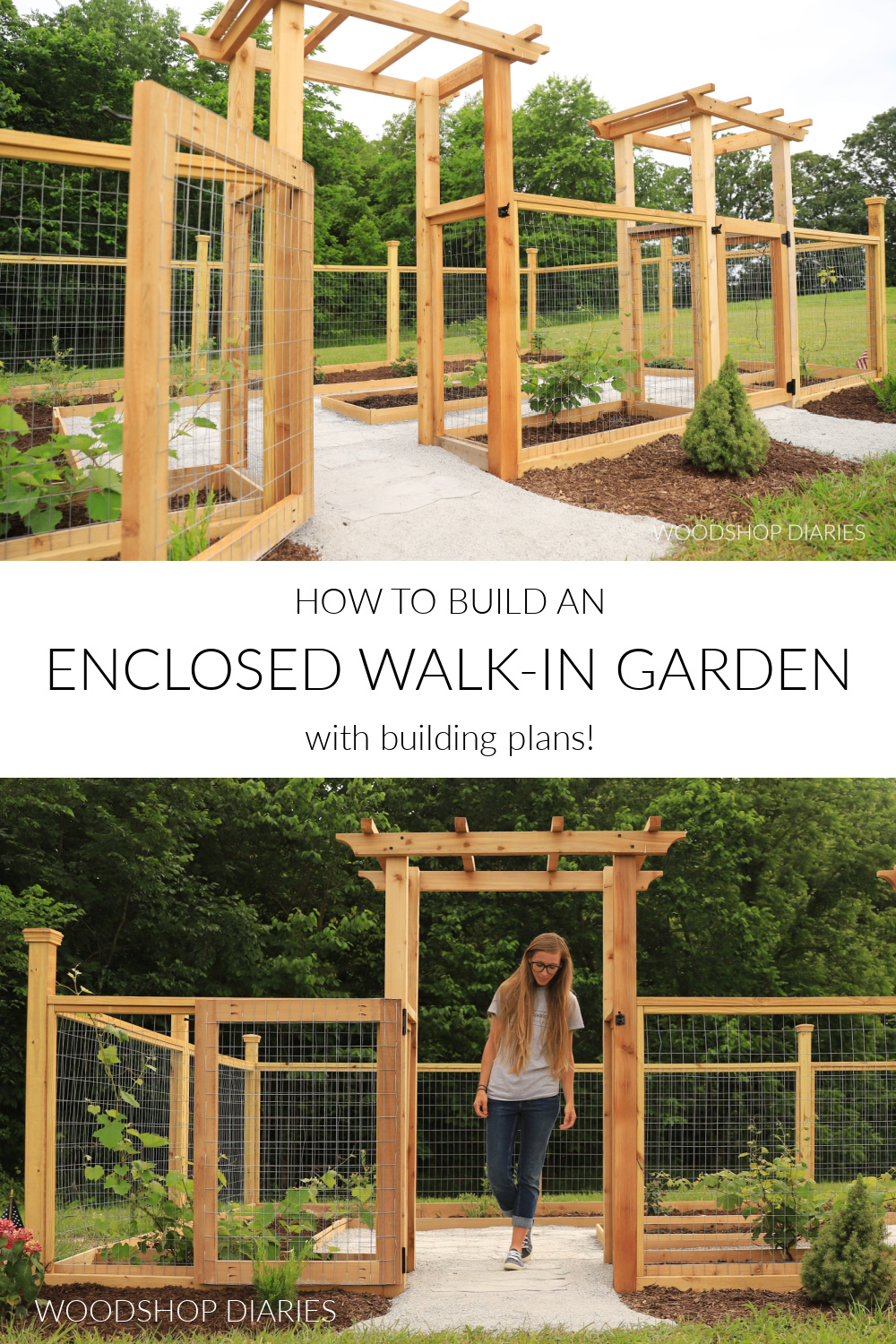 Until next time, friends, happy building!