In this post, I'm sharing how to build your own DIY wooden planters with X side trim!
I'll even show you a quick trick for figuring your X trim angles no matter what size you make–no math required!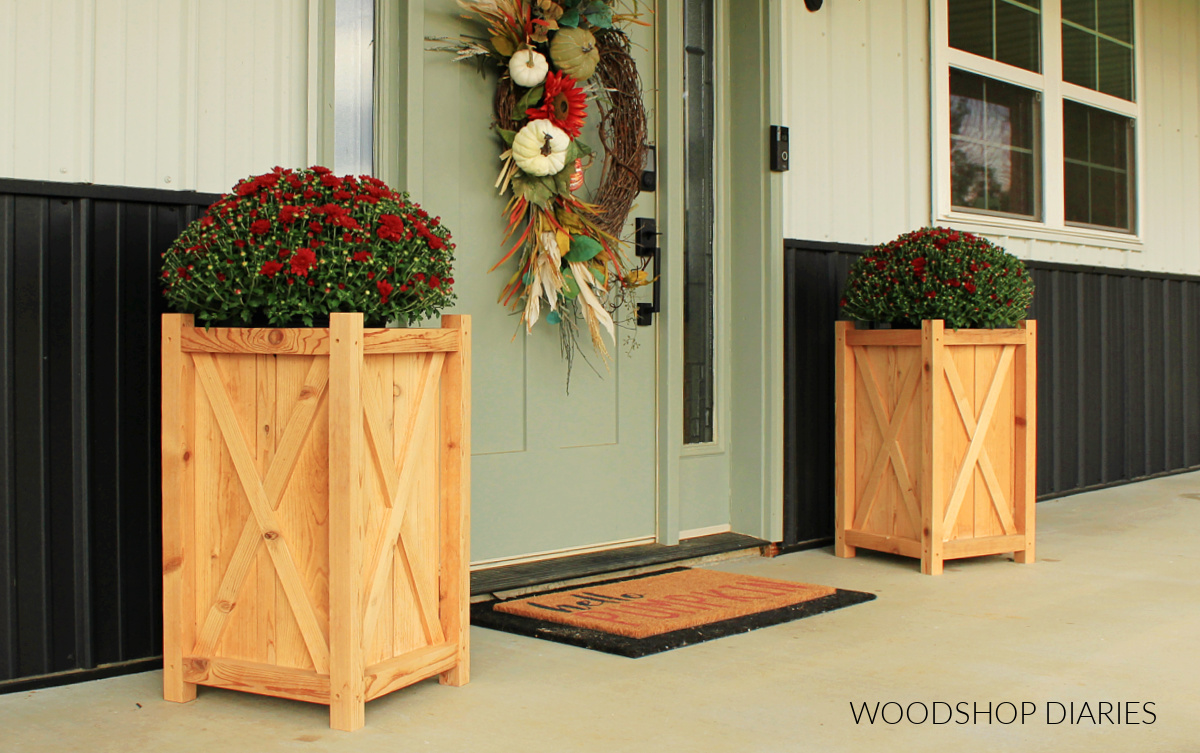 Every year when fall rolls around, I get so excited to put mums on each side of the front door.
I feel like when the mums make their appearance, it's the official "fall kick off" at our house. All is right in the world 🙂
I've made several styles of DIY wooden planters over the years, but I think these taller boxes with the X trim might just be my all time favorite for mums!
Save them to use through the winter, too, and add mini lighted Christmas trees to the porch!
They're a perfect weekend woodworking project, so if you're ready to dive into the build, let's go!
Tools & Materials:
This post contains affiliate links. See website policies before beginning.
NOTE: Materials list below is for TWO planter boxes.
Before Building X Detail Wooden Planter Boxes
Wood Type:
Since these are designed to be used outdoors, I recommend using cedar, teak, redwood, or another water and rot resistant wood type for these planter boxes.
Here, I used cedar for mine since it's readily available where I live.
You can certainly use regular untreated pine or whitewood, and it will last maybe a year or two depending on how much water/weather exposure it gets.
Wood Sizes:
I mentioned that I used cedar for these DIY wooden planters, but I couldn't find cedar 2x2s for the frame. So I actually purchased cedar 2x4s and made my own 2x2s using this tutorial.
For the sides, I used cedar fence pickets. You can certainly use cedar 1x material instead, but fence pickets are MUCH (like 10 times!) cheaper.
Fence pickets are a little thinner, a little rougher, and usually come in 6′ long boards.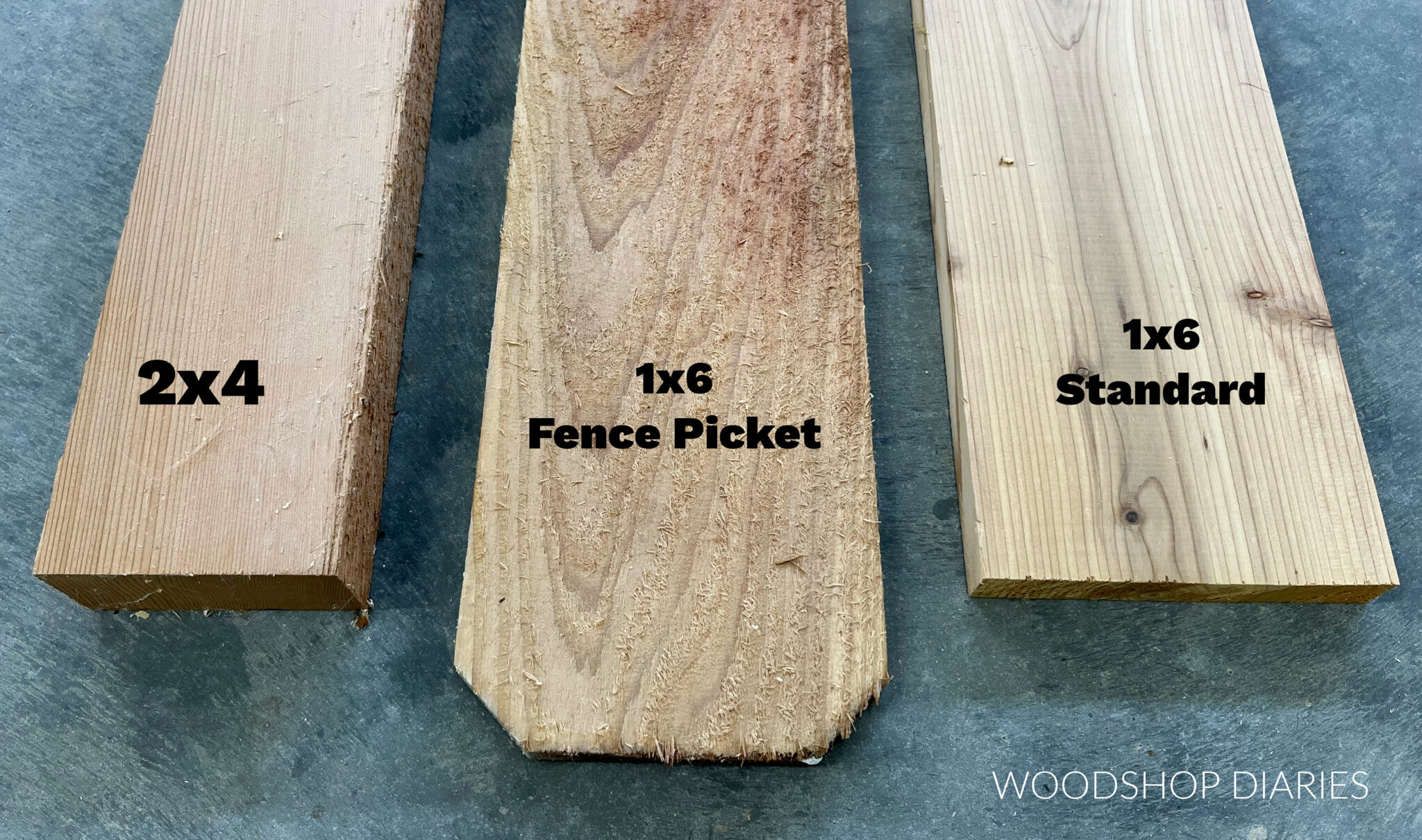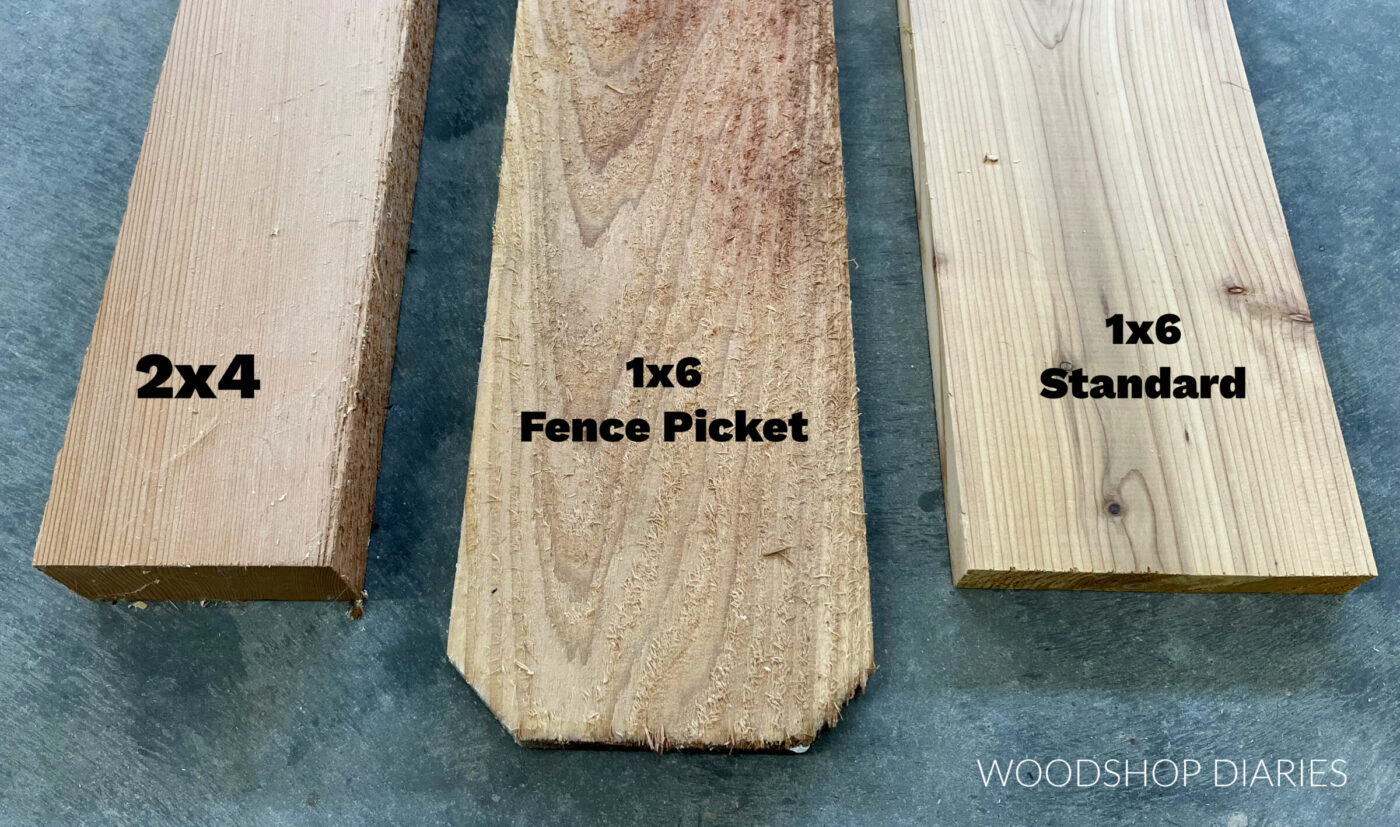 They are labeled as 1x6s, but they're actually ⅝″ thick. Standard 1x6s (not fence pickets) are ¾″ thick. So it can be a little confusing.
Their tolerances also aren't super tight, so their thicknesses and widths may vary some board to board. But for the cost savings, they are WELL worth the slight differences.
Is a Table Saw Necessary?
Since there is so much potential for variation board to board, several of these pieces will need to be cut to fit. So, for that, I do recommend having a table saw handy for this project.
Overall Dimensions:
The overall dimensions of these wooden planter boxes with X detail are 15 ½″ deep x 15 ½″ wide x 27″ tall.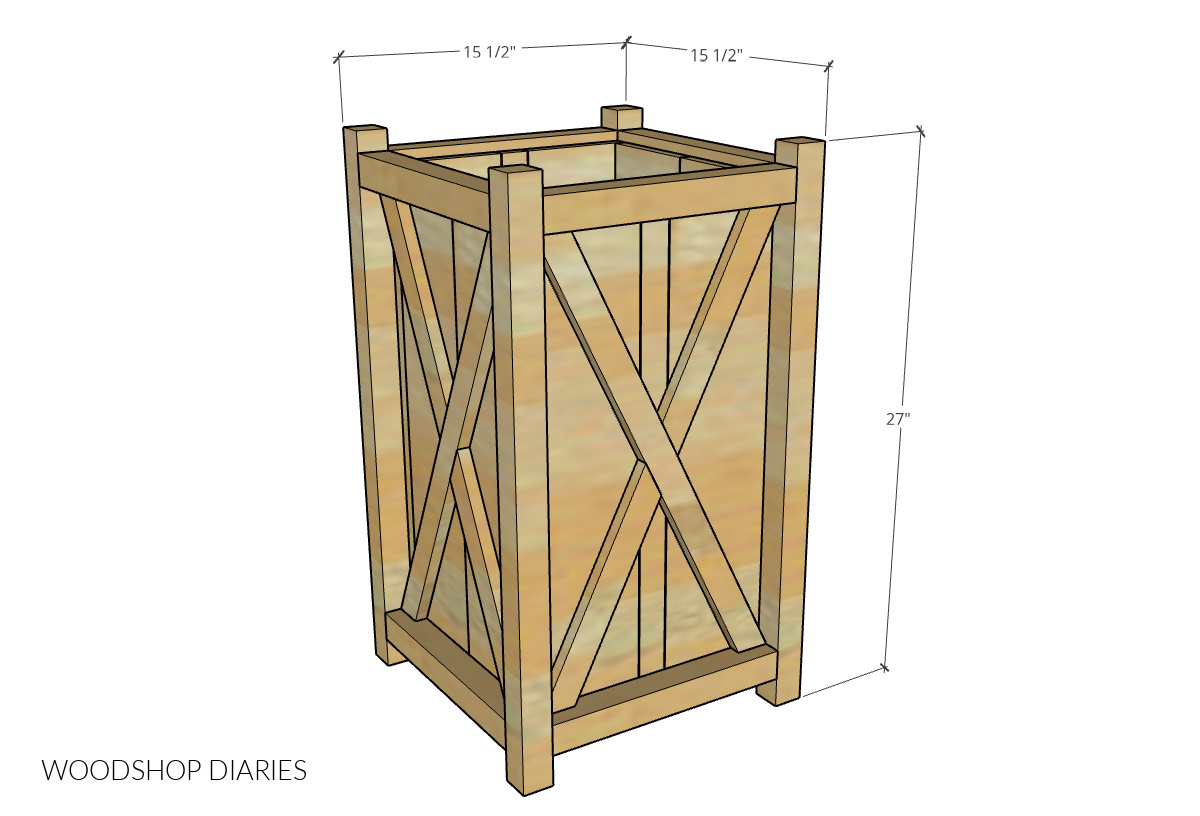 Planter Pot Sizing:
I designed these planter boxes to fit these 6.24 gallon buckets perfectly.
They simply drop right in and the top lip rests on the edges so you can skip step 4 below–adding a bottom on the planter.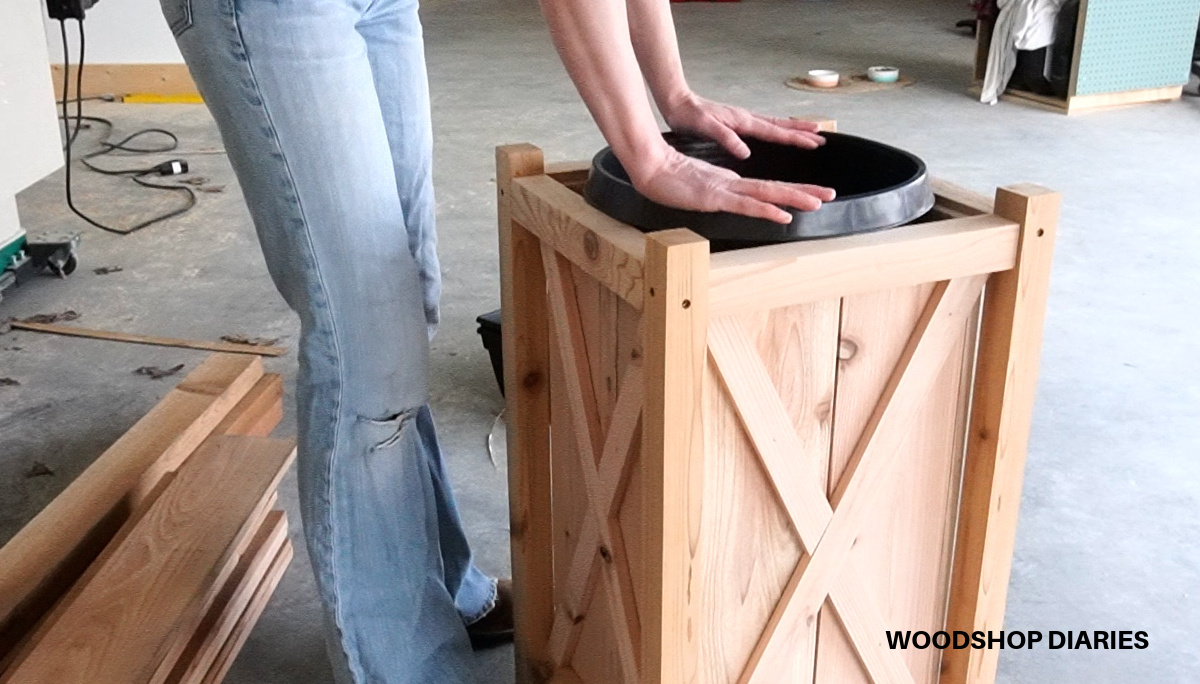 However, if you choose to use other pots with these planter boxes, you certainly can. Just proceed with step 4 to add a bottom to rest the pot onto.
How to Build DIY Wooden Planters with X Side Trim
Now it's time to get building! You can grab the plans and step by step tutorial below.
But, if you prefer to watch, I'm sharing a project video here and right after it is a helpful video showing a trick for finding any angle for making "X" trim!
Check out the full length YouTube video here!
Grab the printable building plans here!
Step 1: Build Planter Box Frame
The main frame of the planter boxes are assembled using 2x2s.
You can purchase precut 2x2s, or cut down 2x4s to make your own using this tutorial.
Making your own 2x2s is typically cheaper than buying them precut, and they usually end up a lot straighter.
Either way, once I had my 2x2s, I trimmed them to length.
For each planter box, I cut:
(4) 27″ long
(8) 12 ½″ long
The full cut list and details can be found in the printable building plans.
You can assemble the frame using 1 ½″ pocket holes and 2 ½″ pocket hole screws if you'd like.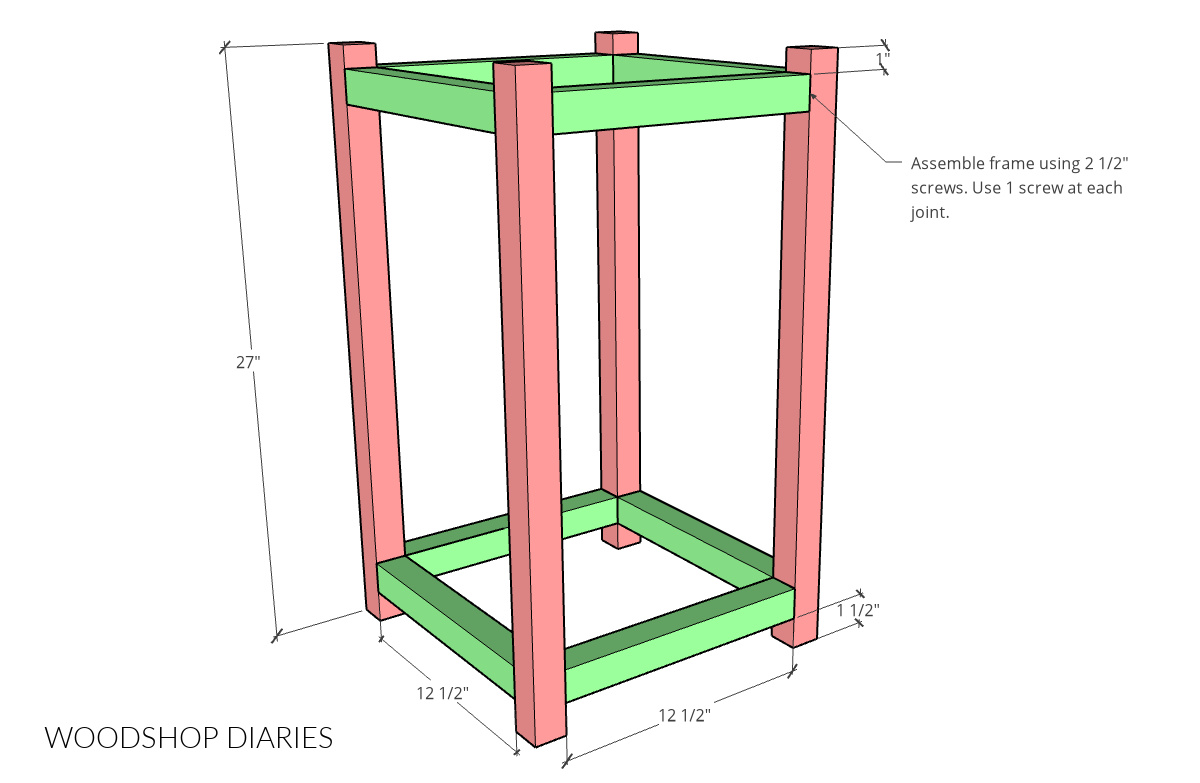 But, I kept it even simpler than that and just used some wood glue and 2 ½″ exterior screws at each corner. The screws will show, but I didn't mind.
I was careful to predrill each hole before driving the screws and I was also careful to slightly offset each screw at the corners so they didn't run into each other.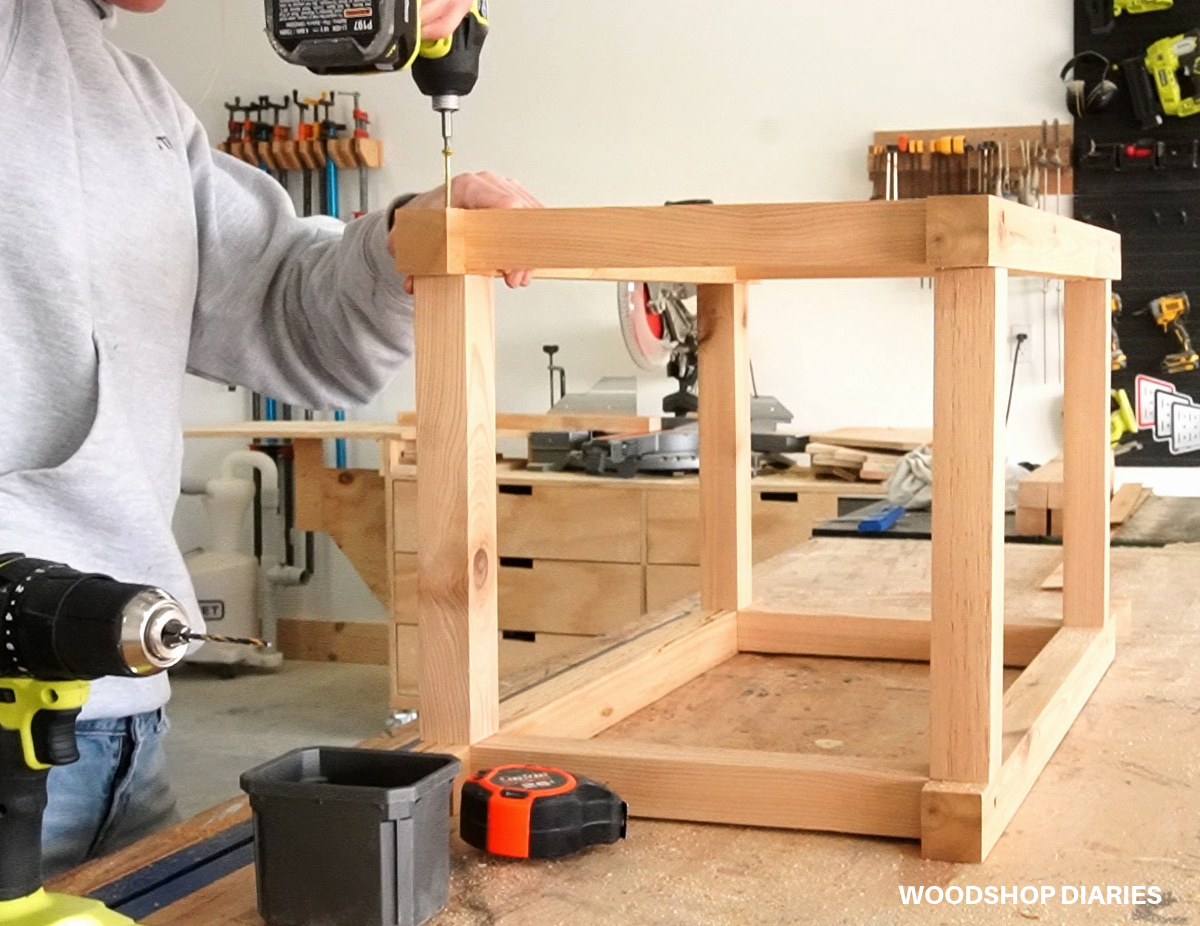 Notice that the pieces are 1″ down from the top and 1 ½″ up from the bottom of the corner pieces.
Step 2: Install Side Panels in Wooden Planter Box
After the frame was assembled, it was time to line the sides.
This is where I used cedar fence pickets. I trimmed these to about 24″ long and used 1 ¼″ exterior wood screws to secure them inside the frame.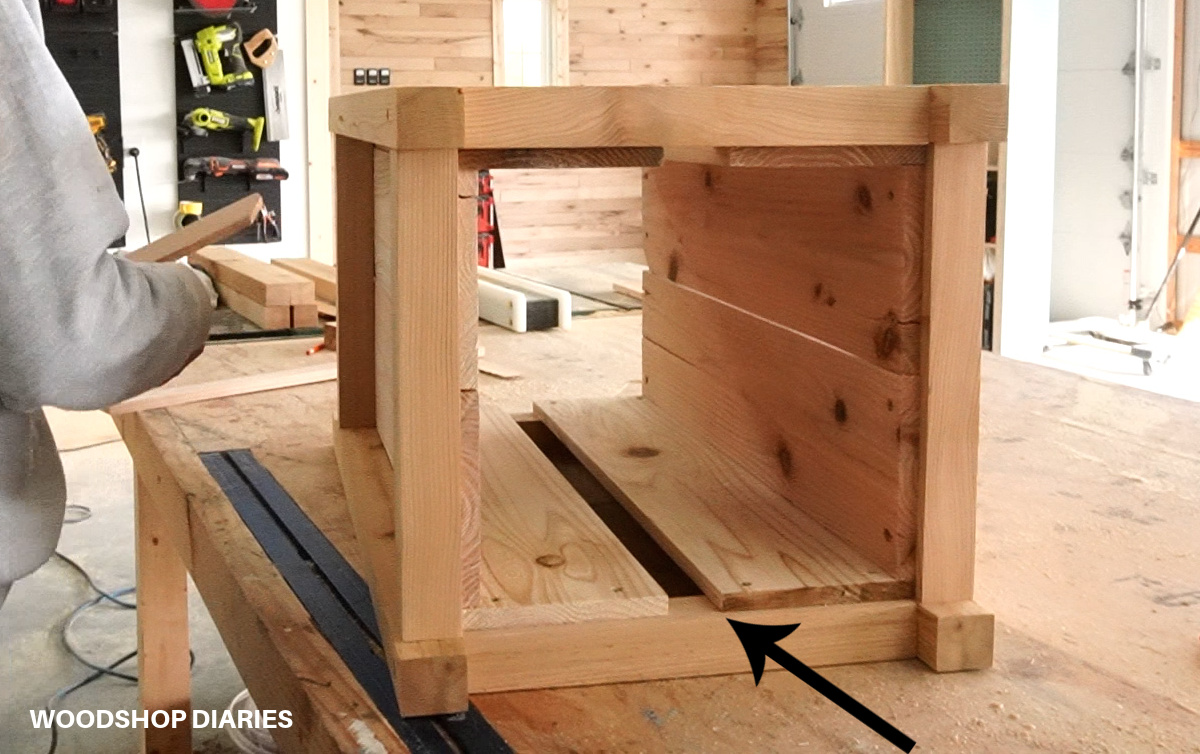 On two opposite sides of the frame, I installed two pieces all the way to the edge leaving a gap in the middle.
Then, on the other sides, I added two more pieces–there may be small gaps, but that's okay.
Then, I cut to fit two pieces of fence pickets to fill the large gaps on the first sides.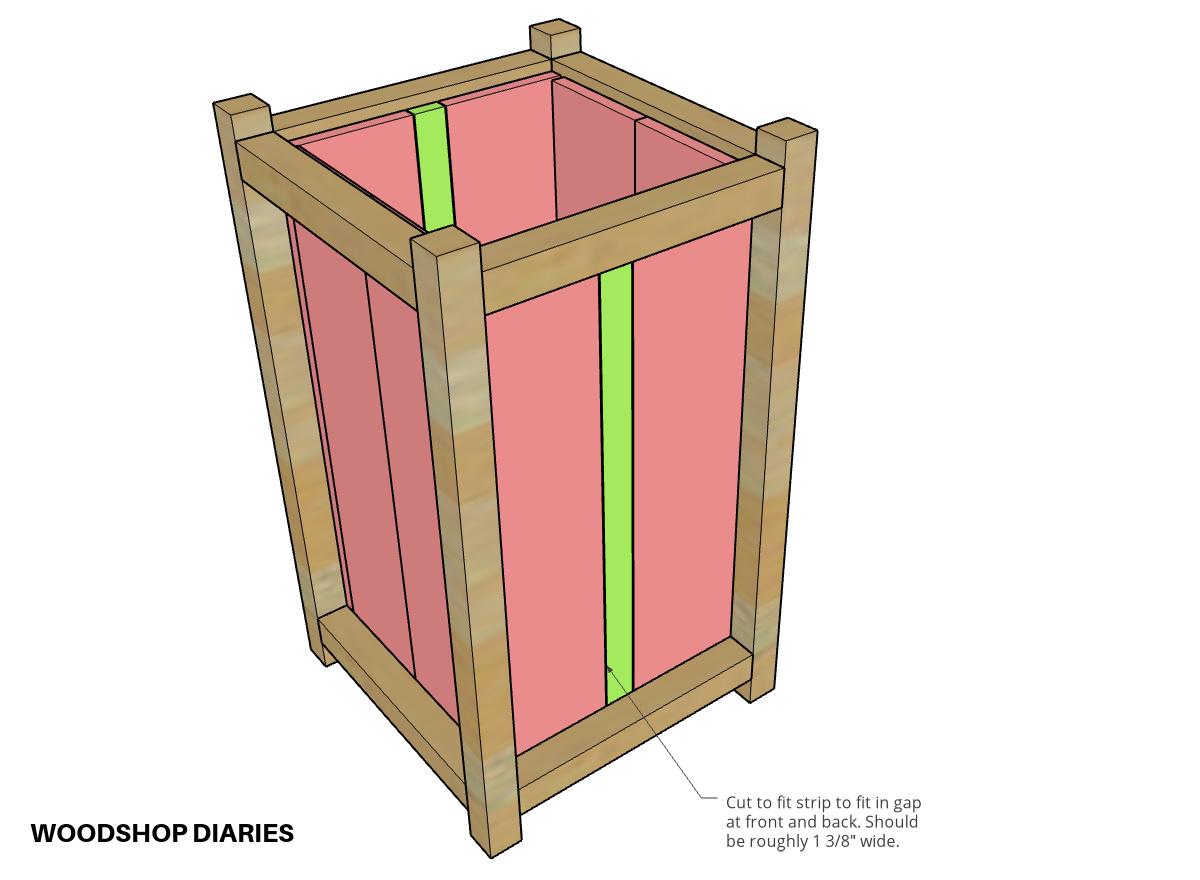 It's best to err on the side of a little too small than to try and force these pieces in place.
Step 3: Add X Trim Details to Planter Sides
Now it's time to add the eye catching details! Obviously, you can skip this step if you don't want to add the "Xs," but they're my favorite part!
I ripped down some strips about 1 ½″ wide from my fence pickets. You can certainly just use 1x2s instead, but again, using fence pickets will save you quite a bit of money.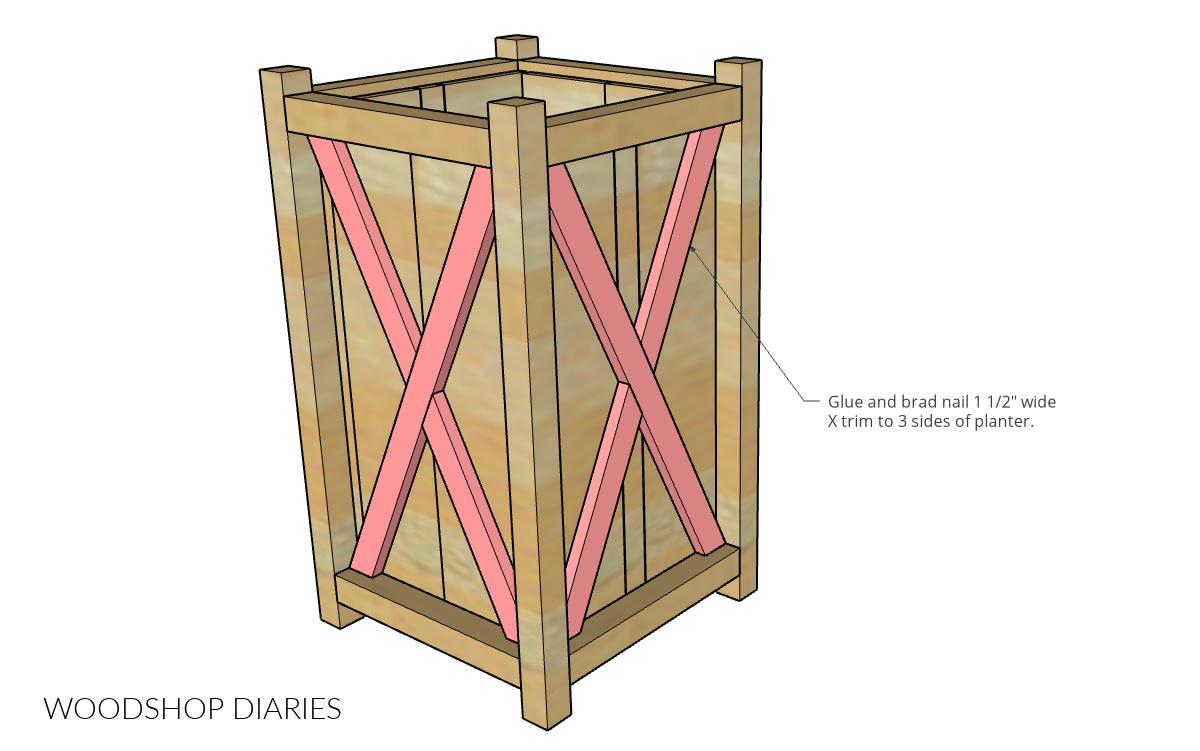 After the pieces are dry fit to ensure they'll work, I glued and brad nailed these pieces in place on each side of the planter box.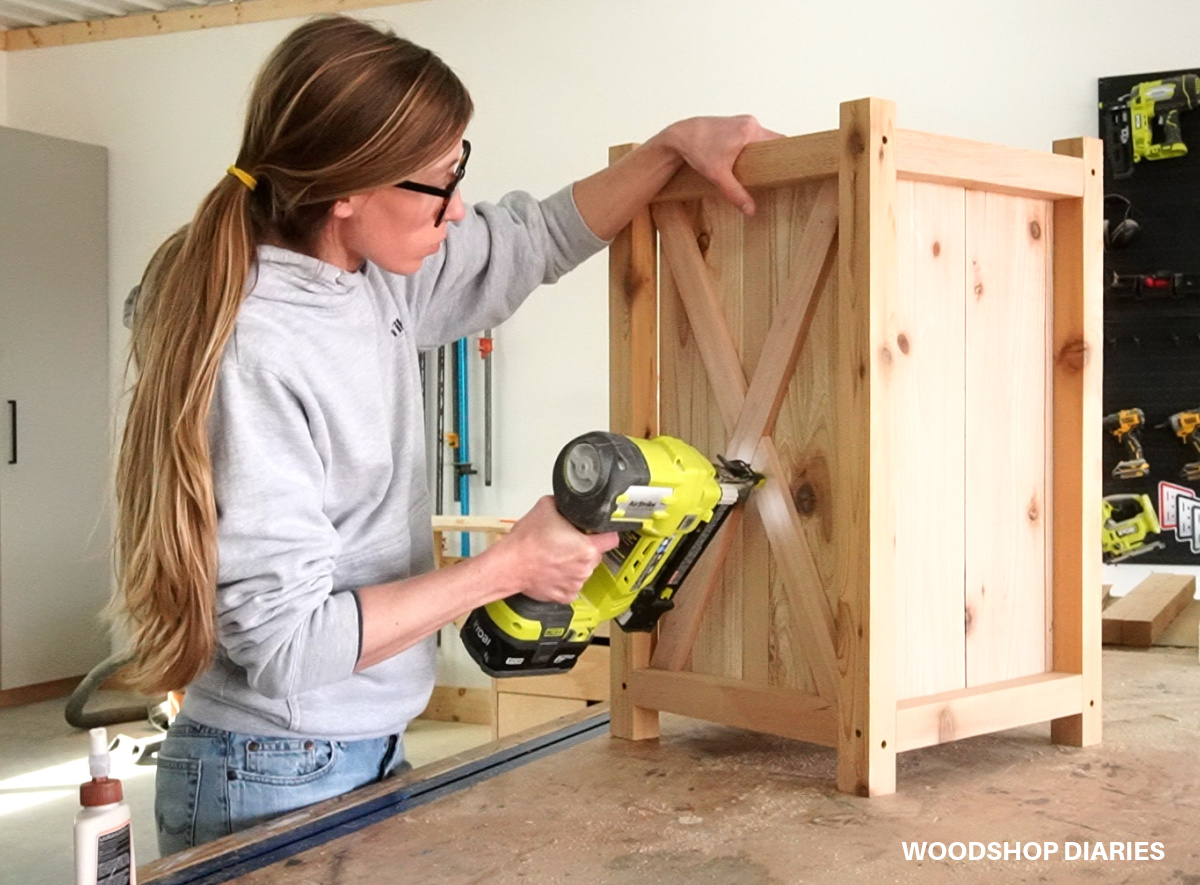 Step 4: Add Planter Bottom
This step is optional depending on what size and type of planter pots you're using in your boxes.
If your plant pot doesn't just drop into your planter box, you can use some scraps to add a simple "shelf" here to set it on.
I cut two thin pieces of scrap and glued and nailed them about 7″ down from the top inside opposite sides of the box.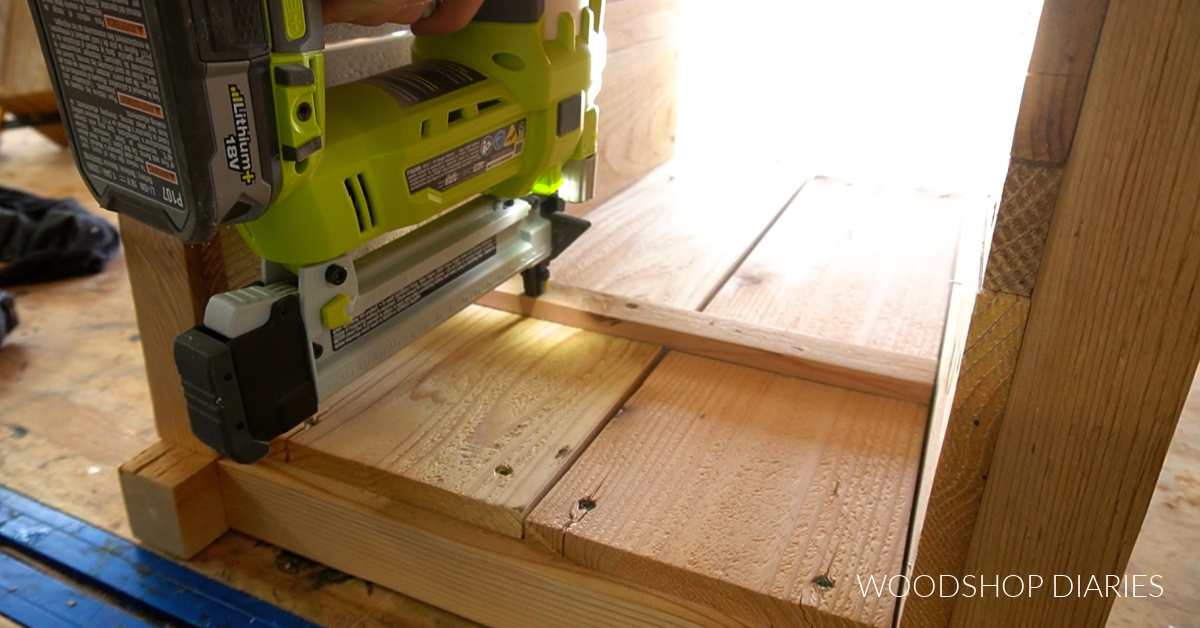 Then, I cut two pieces of fence picket scrap to place across them as a "shelf."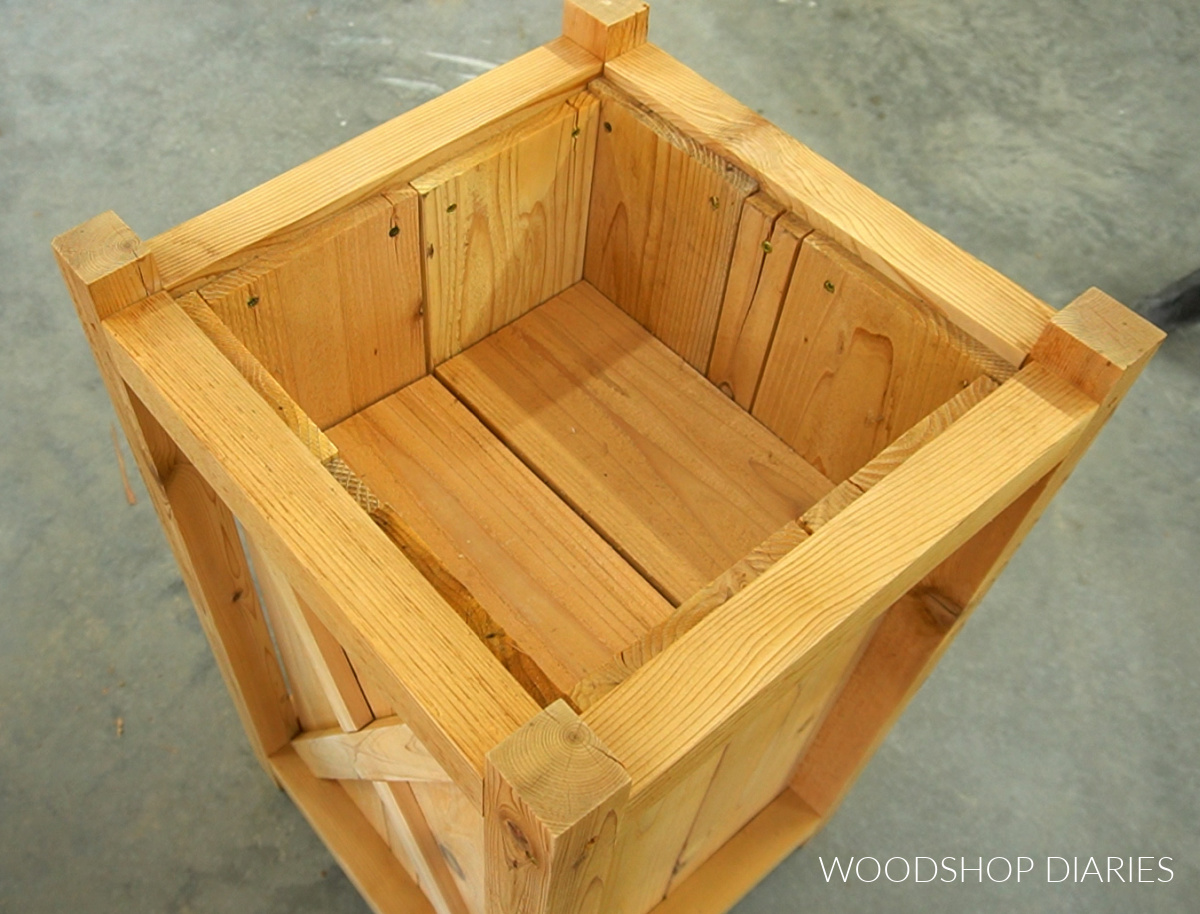 You can install this as high or as low as needed to accommodate the size pot you're using.
Step 5: Finish and Add Plants
All that's left as this point is to apply a finish and add your plants!
You can swap out different plants for the seasons and use these all year long!
Don't forget to grab the printable building plans to build your own here.
Looking for more DIY Wooden Planter Projects?
I LOVE building planters. Here's several favorite designs from the past. I'm sharing plans for each one if you click on the images below.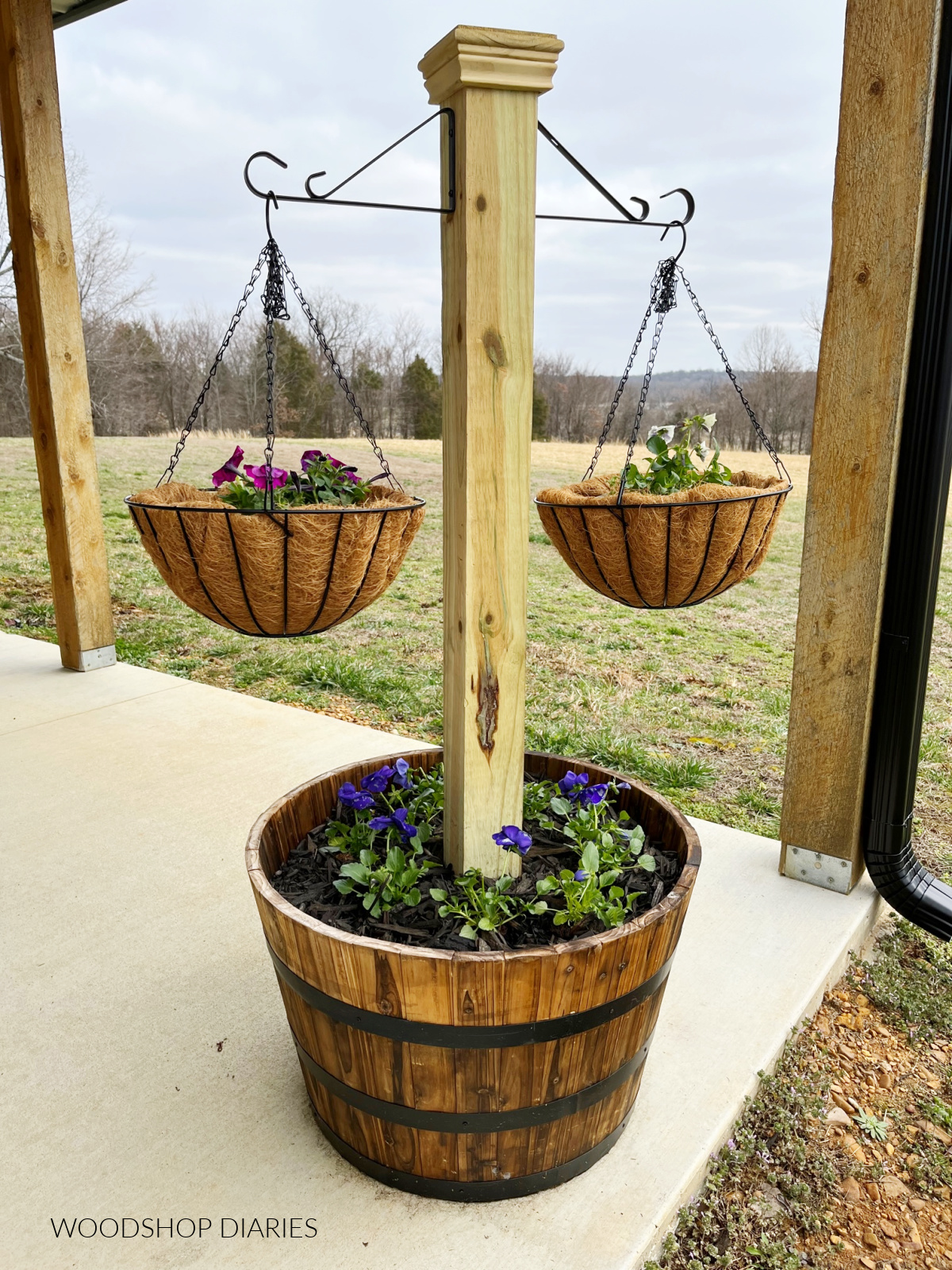 If you enjoyed these DIY wooden planters and can't wait to see what's next, be sure to subscribe to the newsletter for priority access to all the latest plans, posts, and woodworking tips!
To save this for later, don't forget to pin it, heart it, or share it to your favorite social channel!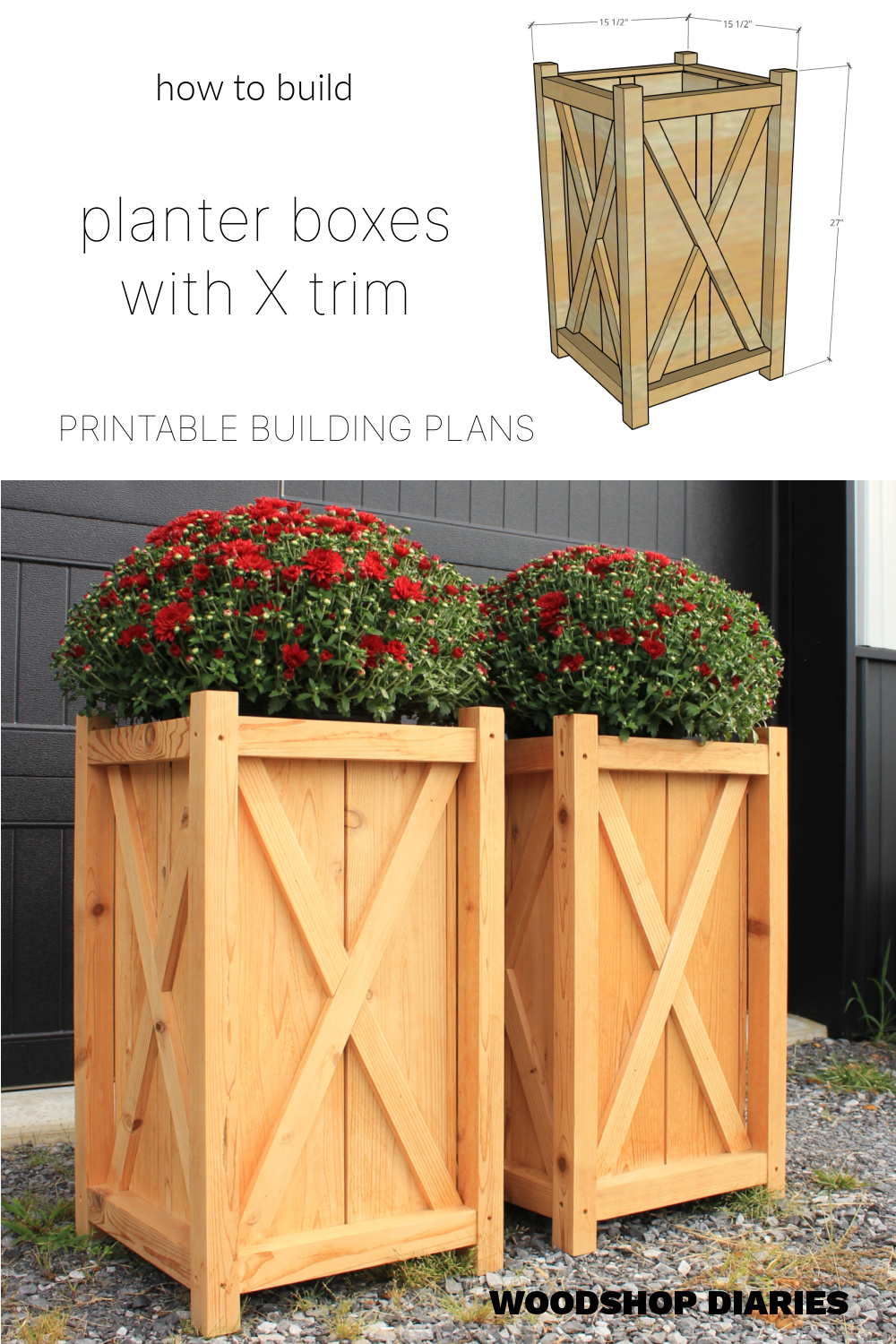 Until next time, friends, happy building!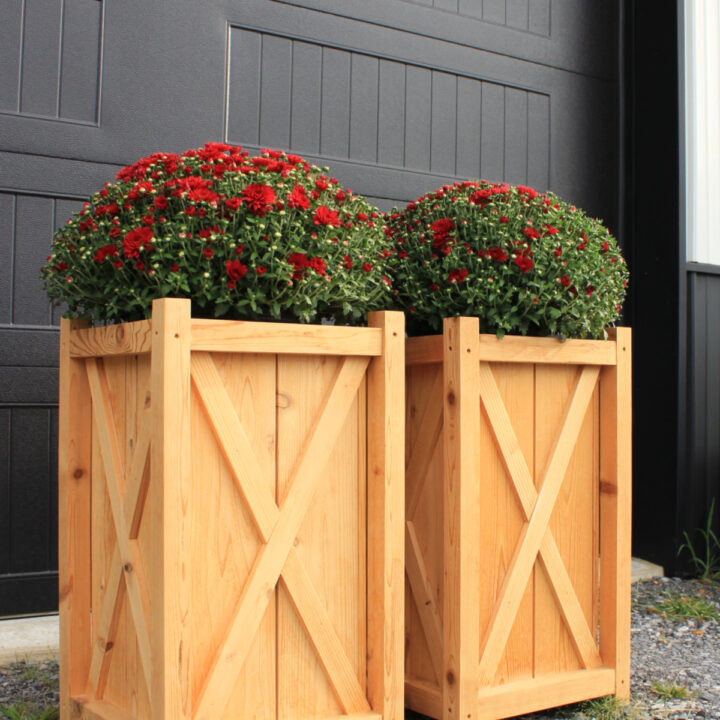 DIY Wooden Planters with X Side Trim
Yield:
DIY wooden planter
Make your own tall planter boxes with X side trim to use outdoors all year.
Materials
1 ¼″ exterior wood screws
2 ½″ exterior wood screws
Brad nails (1″ long)
Instructions
Build the planter box frame using wood glue and 2 ½" exterior wood screws.
Install side panels in wooden planter box by attaching them inside the frame using 1 ¼" exterior wood screws.
Add X trim details to planter sides using wood glue and a brad nailer.
Add the planter bottom. Using two thin pieces of scrap, glue and nail them about 7" down from the top of the planter box. This can vary depending on the size of your plant pot.
Finish with paint or stain in the color of your choice. If you don't use cedar, be sure to apply a sealer. Add your plants and you're done!