How to Build a DIY Modern Planter Box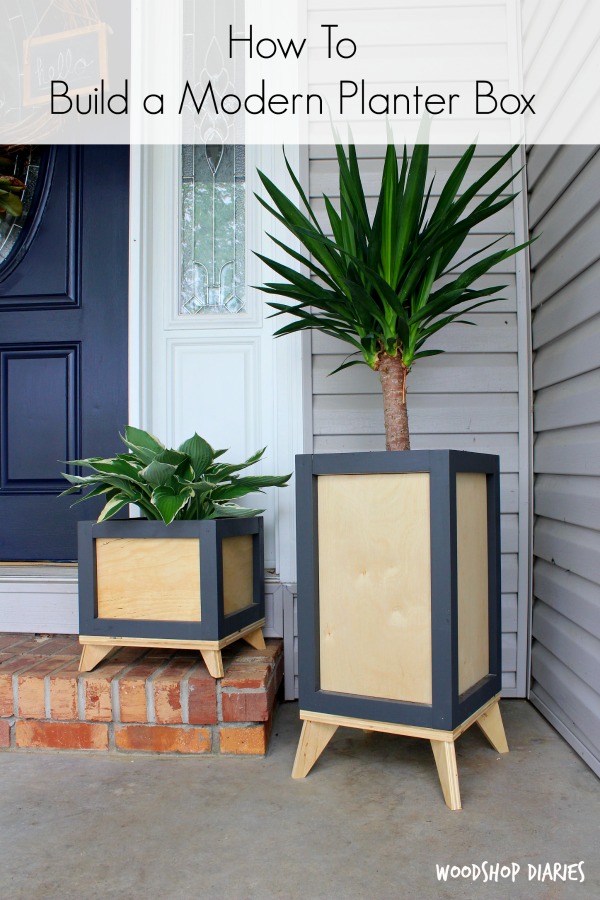 *This post was sponsored by Build Something, Kreg Tool's website for free building plans from small decor items and furniture all the way to large built ins and king size beds!  Check out all the free building plans they offer over on BuildSomething.com.  See disclosure policy for details.
Change is hard.  I mean, even the littlest changes, sometimes I have trouble with.  Anyone else out there relate?  I know this is super trivial…but the struggle was real when I realized the my old planter boxes on my front porch had seen better days and I needed to replace them.
.
They had been good to me and my standard front porch ferns and fall mums for three full years.  The design was cute and the unfinished wood color was nice.  PS if you want the plans for them, I've got the plans for these DIY louvered planter boxes here.  Oh and the tutorial for the DIY spring wreath is here.  AND the front door makeover post is also here 🙂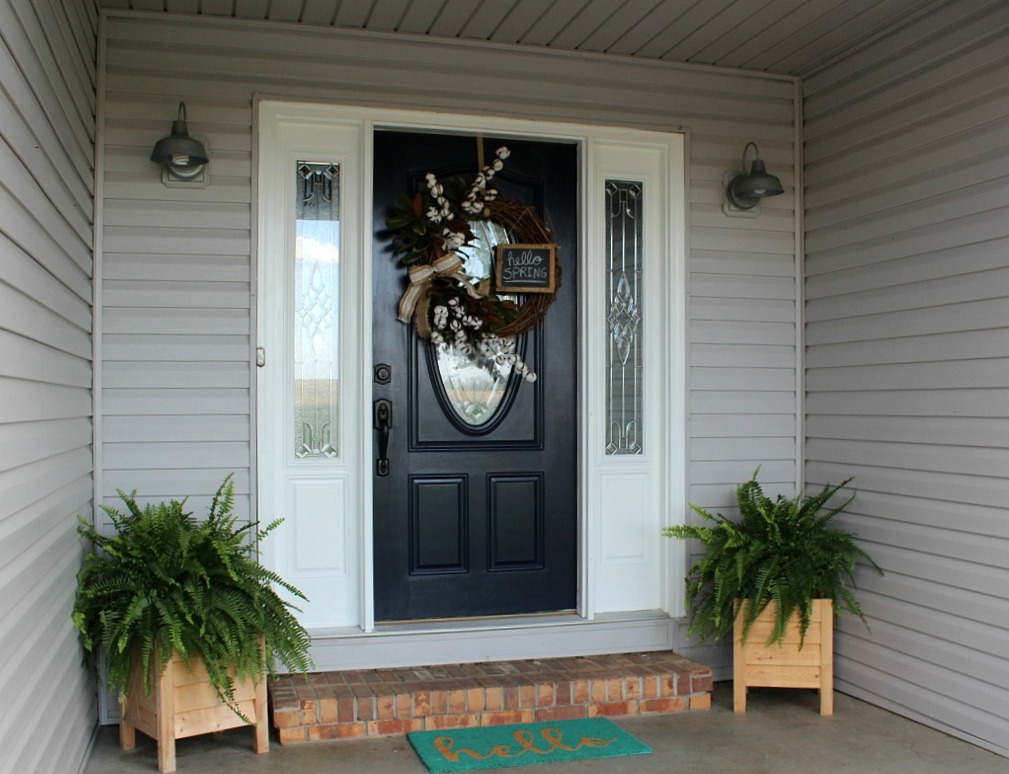 But there comes a time when change is needed and for these boxes, it was time.  The winter had taken a toll on them and instead of just painting over the discolored wood, I thought it best to replace them.
.
If you don't follow me on social media, you may not know that we are moving soon, if all works out (fingers crossed!), and I'm wanting our next house to have a more modern vibe.  So I decided that the replacements for these planters should be a little retro so they can transition into the next house with us.  This is what I came up with and I think these little tapered legs give it such a fun modern feel.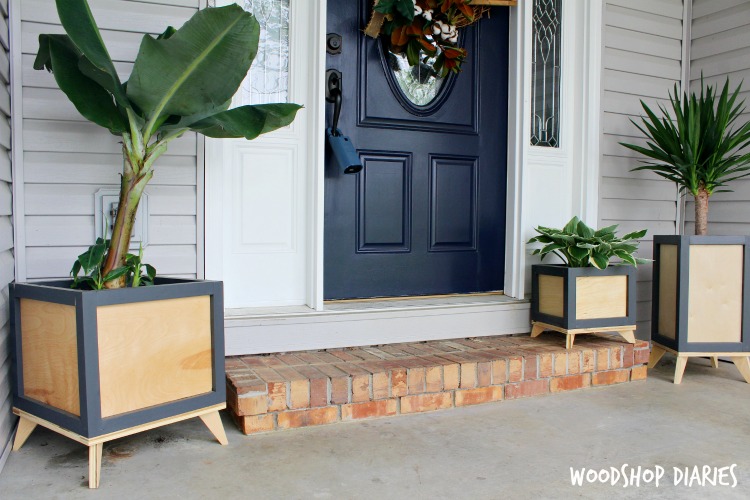 After I built one (the one on the left), I decided it would be fun to make a set of three, but didn't want them to match exactly.  What's awesome about the building plans for these is that it's SO easy to customize and modify to build in whatever size you need.
.
Speaking of building plans, you can grab the free plans for these planter boxes over at Build Something.  And be sure to check out my latest YouTube video of the build right here:
What's also really cool about these plans is that since these boxes are fairly small, likely, if you dig around your scrap wood pile enough, you can probably make them completely out of wood scraps!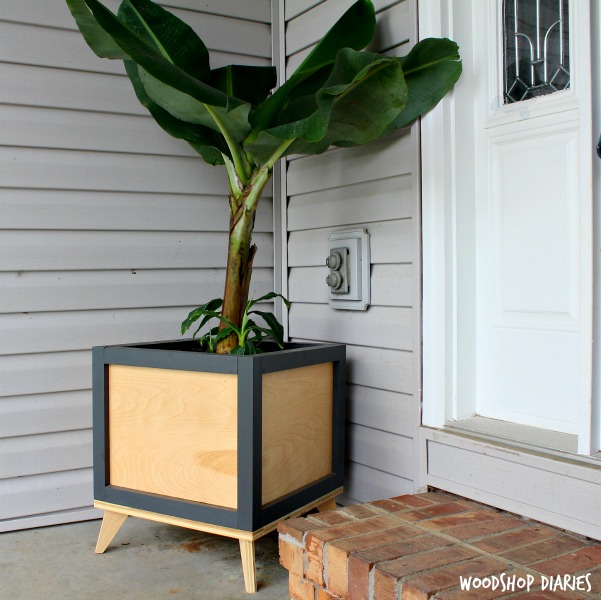 Speaking of scraps, if you need some help organizing your piles in your shop, check out this super easy to build scrap wood cart that has completely changed the way I move around in my shop.  Life. Saver.
.
Anyway, these boxes would be great both inside and outside the house.  I wasn't sure about them on the porch at first, but now I like them so much I'm not even missing my old planter boxes…that much 😉  Shh don't tell, but I've still got the old ones out by the shop because I'm an emotional hoarder and can't let them go just yet haha.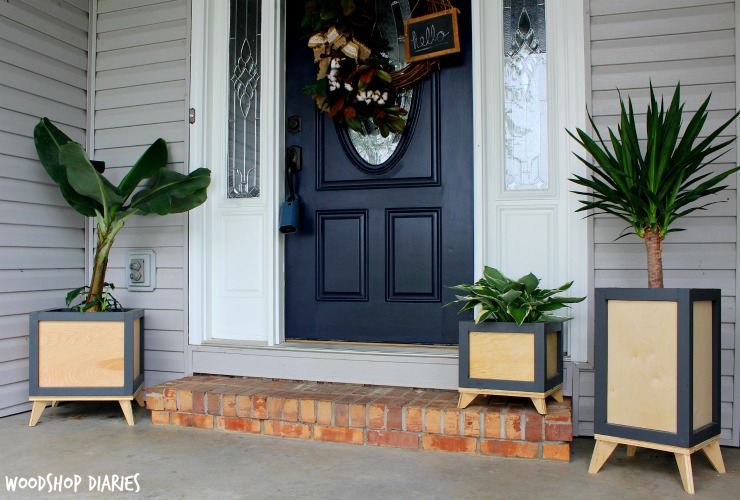 So if you're looking for a great spring/summer project to do in a few hours or a good beginner project, these are perfect!  Build a few different sizes and become a crazy plant lady like me! HA! The free plans can be found here and don't forget to check out the video tutorial, too!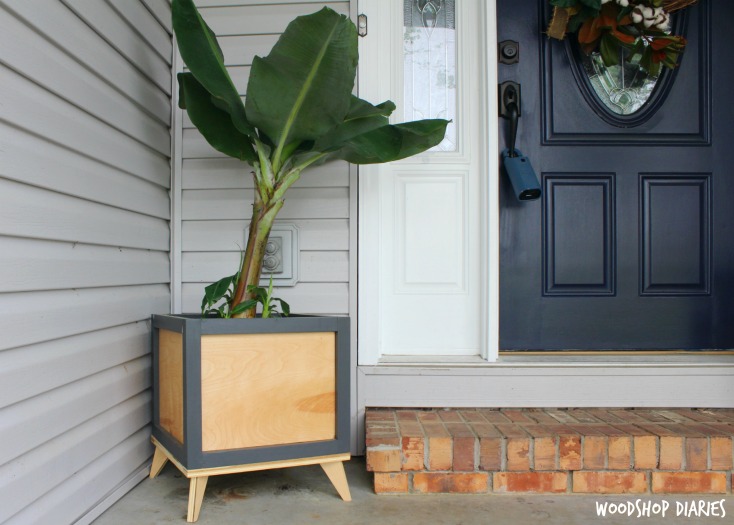 I'd love for you to follow along on YouTube, Instagram, and Facebook to catch sneak peeks of all my latest projects and to get all the details on new plans as soon as they're posted 🙂
.
And please pin this for later, too!  Until next time, happy building! 🙂