I never thought I was a hoarder…..until.  UNTIL.  I started woodworking.  I mean, who in their right mind needs a thousand 3″ long pieces of 2×4??
.
No one.  NO ONE will ever have a use for that…unless they're having a bon fire.  But for whatever reason, I don't like to let those little scraps go.  Anyone out there relate??
.
But, those little scraps pile up quickly and before I knew it, I had piles under my workbench and piles behind my shop door and piles under my lumber rack.  Not to mention, I also had no where to store my plywood sheets, so they just stacked in front of the scrap piles.  WHAT. A. MESS.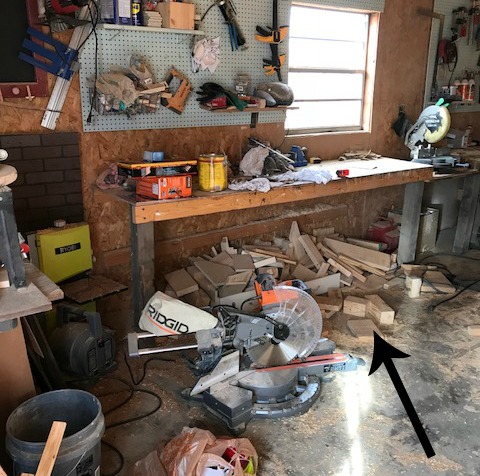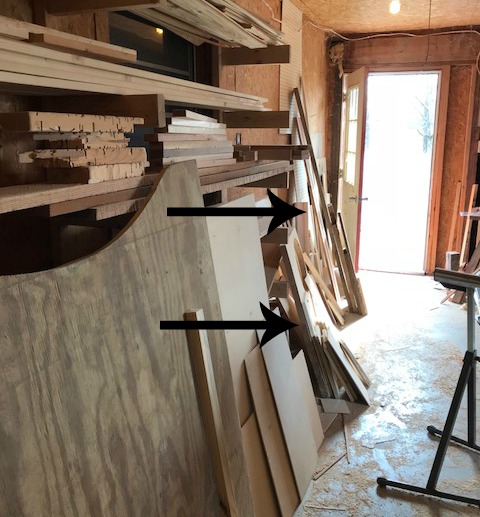 It was time to make some changes.  I mentioned back in January that this was the year I was working to organize and make better use of my shop space.  (More on that later in this post–some updates and some "plan changing" news.)
.
I've been working on it slowly, but surely with this new rolling tool cart and mobile miter saw stand, and today I want to show you how I organized and mobilized both my plywood and scrap wood piles with this simple DIY rolling scrap wood and plywood cart.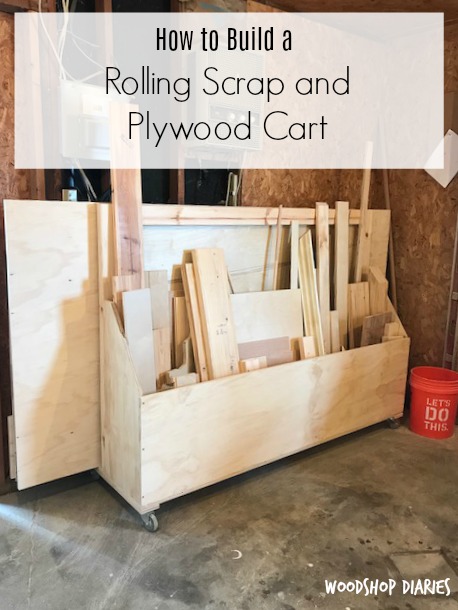 Although I could stand to organize this a little bit more, it's really nice that I can finally get all my off cuts and plywood pieces together in one spot AND move them around so they're never in my way.  Everything is better on wheels, you guys.  EVERYTHING.
.
And since we are moving soon (there's the news!), this will make it much easier to load up my lumber and just roll it out of my old shop and into my (hopefully) new shop.  More updates to come with that as soon as I know them 🙂  We are going into this blindly so we don't really have any plans yet.
.
Anyway…if you need to round up all your scraps and plywood into one neat little cart, here's the how to 🙂
.
This post contains affiliate links.  Please see disclosure policy for details.
.
You will need:
1 sheet ¾″ plywood
1 sheet ¼″ plywood
(3) 2x4x8 boards
Wood scraps
4 casters
1 ¼″ wood screws
2 ½″ wood screws
Kreg Rip Cut (optional)
Kreg AccuCut (optional)
Nail Gun (optional)
.
Step 1: Assemble the bottom of Scrap Wood Cart
First, I cut a piece of ¾″ plywood to 24″ x 72″ for the bottom.  I always use my Kreg Rip Cut and AccuCut to help me cut down my plywood sheets.  They are life savers.
.
I cut a couple strips of scrap plywood as well and glued and screwed them (with 1 ¼″ wood screws) onto the short ends like shown.  This is so you can use longer screws to attach the casters.  Otherwise, the screws will poke through the top.  Then, I attached the casters on the corners using 1 ¼″ wood screws like shown.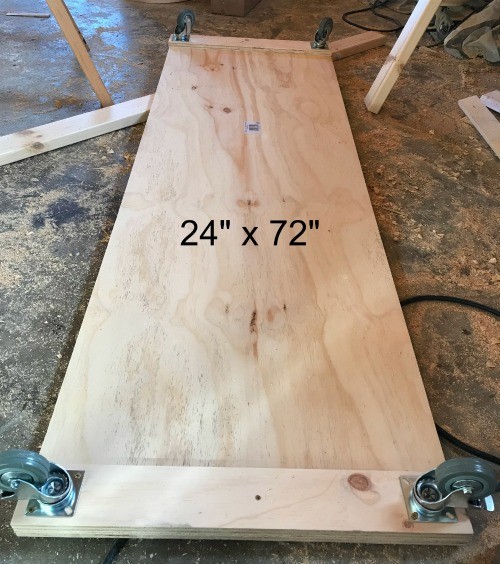 Step 2: Add Middle Divider Frame to DIY Wood Scrap Cart
I assembled a "frame" of 2x4s that was 4 ft tall and 6ft wide.  I attached it together using 1 ½″ pocket holes and 2 ½″ pocket hole screws.  Then, I drilled 1 ½″ pocket holes into the bottom corners of the frame and attached onto the piece from step 1 like shown.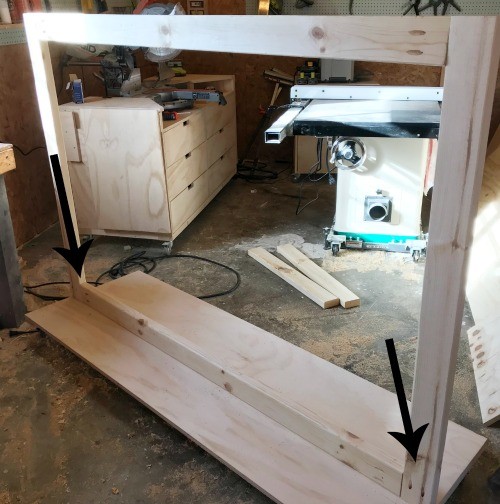 You can divide your space up however you wish.  I attached it so that there was about 13″ on one side and 9 ½″ on the other.  The larger side will be for scraps and the smaller side for plywood.
.
Also, after attaching the frame with pocket hole screws, I went back and added a few extra screws from the underside to hold the bottom plywood to the frame.  This gives it some added strength so it doesn't bow in the middle.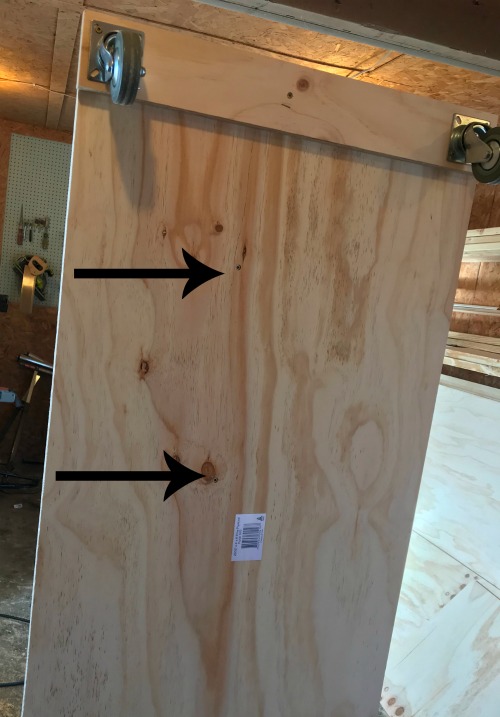 Step 3: Attach Divider Panel
To help separate the two sections of the cart, I nailed on a piece of ¼″ plywood to cover one side of the frame.  You could use ¾″ plywood if you wanted, but the thicker the plywood, the more real estate you are going to waste on the cart.  If you don't have a nail gun, you could also screw the plywood on as well.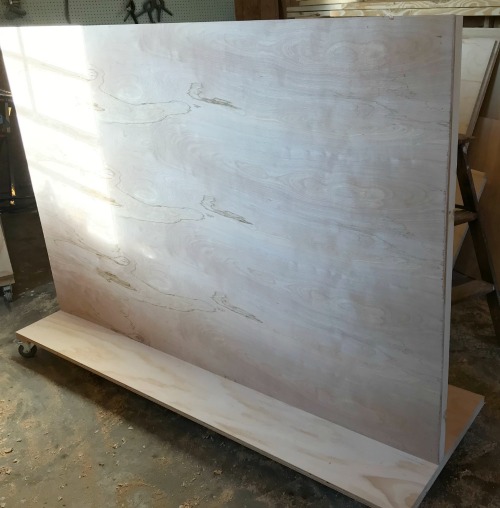 Step 4: Add sides and front of DIY Scrap Wood Cart
Next, I cut a piece of ¾″ plywood 18″ wide x 72″ long and drilled ¾″ pocket hole screws along one long end.  I attached using 1 ¼″ pocket hole screws to the front of the scrap side of the cart like shown.
Then, I added sides.  You could make these simple rectangles, but I liked the look of the sloping sides.  I cut two pieces to 32″ tall x 12 ¼″ wide and cut a "slope" down to 18″ to meet the front piece.  I attached these between the frame and the front piece using 2 ½″ wood screws through the frame and 1 ¼″ screws through the front.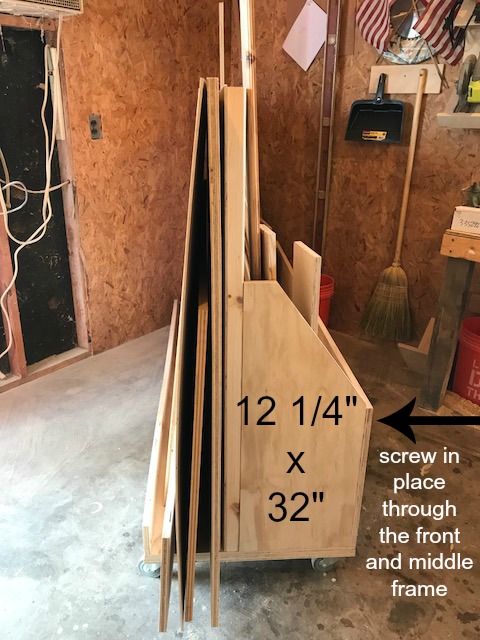 Step 5:  Add Rail on Plywood Cart
Finally, to finish off the cart, I added a short "rail" onto the plywood side of the cart to keep the plywood from sliding off.  NOTE: This won't prevent the plywood from falling over–you will need to slant your plywood toward the middle frame.  But this little rail will help keep slanting boards from slipping off the bottom of the cart.
.
I cut a thin piece of ¾″ plywood 72″ long and attached just like I did the scrap side from step 4 using pocket holes and screws  except on the opposite side.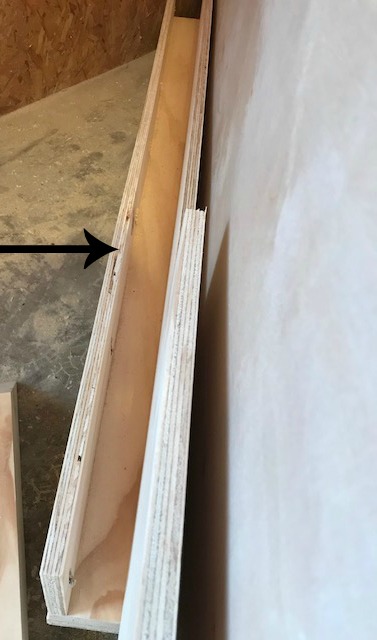 Now, just load up your cart and roll it out of your way 🙂
.
You could add dividers to help better organize your scraps, but remember…the more plywood you use, the more real estate it takes up on your cart…plus it's more lumber to build which is more $$…and you guys know I am cheap, right?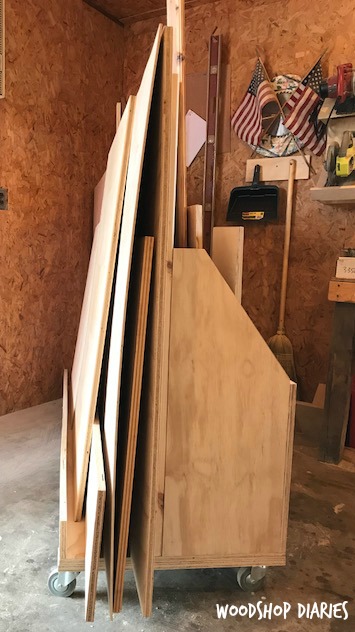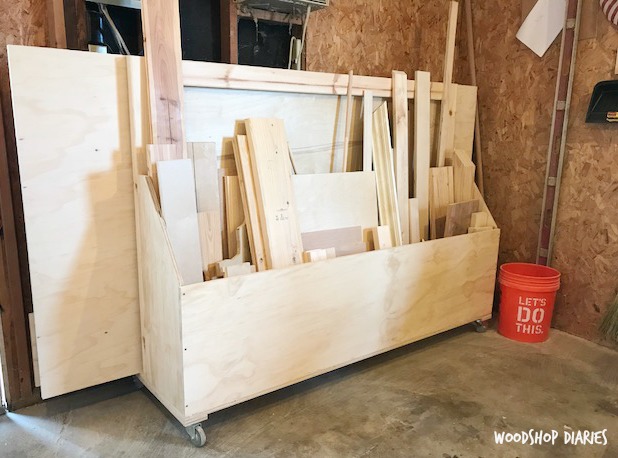 My favorite part is that now I can move it around and out of the way and when I need plywood, I just swivel it out from the wall, get what I need, and swivel it back.  Plywood storage is hard in a small space and this has really helped me out.
.
Hopefully you are enjoying seeing some fun shop projects and I hope to share a few more with you as I continue to organize and clean up my space 🙂
.
If you've missed it, I also shared a rolling tool cart and a mobile miter saw stand earlier this year.  Go check them out, right after you pin this for later 🙂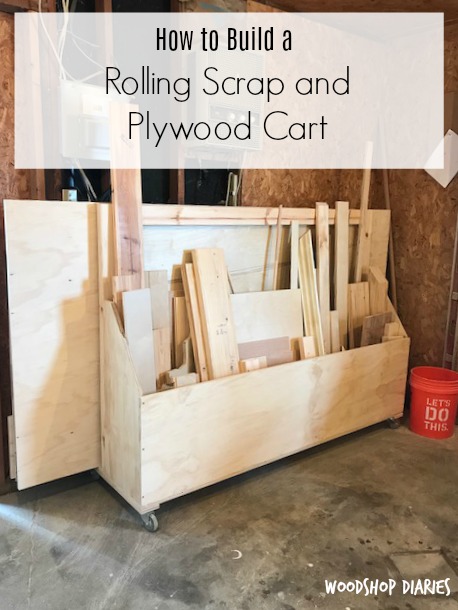 Until next time, happy building 🙂