I recently bought a new miter saw.  Normally, this should help improve shop efficiency, right?  But, this one actually caused me to add a whole lot of otherwise unnecessary projects to my list…like an entire shop redo project.   And part of that long term project is this short term one…a DIY Mobile Miter Saw Stand 🙂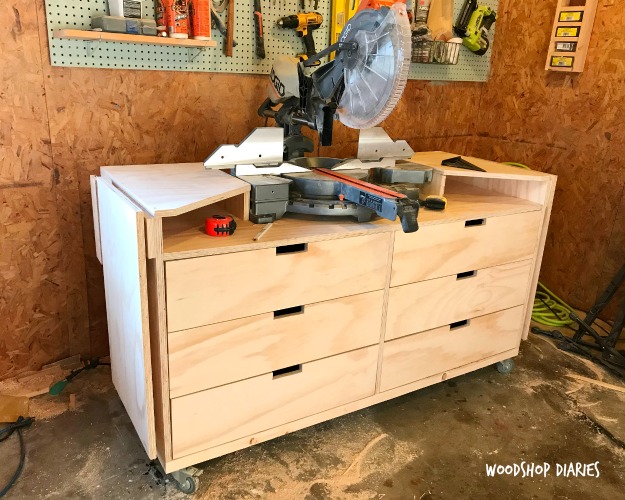 I've had my old Hitachi 10″ compound miter saw for over three years.  It's been great, but I've wanted an upgrade for a while.  This past Black Friday, The Home Depot had this Ridgid 12″ compound sliding miter saw on a great sale and when I bought it, I remember telling my sister who was with me, "I don't know why this thing is in such a huge box…it's not that big!"  Side note: I was in my little compact car when I picked it up and I'm sure the process of getting it into my backseat was quite hilarious for all the passer-byers…
.
Then I got it home, took it out of the box, and realized…nope, just kidding, this thing is enormous.  It was so big, in fact, that it wouldn't even sit on my old workbench…the stationary workbench that I built around my old miter saw.  This caused a problem.
Not to
I needed a miter saw stand…which means I needed to also tear out my old workbench.  And that meant that I needed to then build a new workbench.  And now here we are…in the middle of a shop redo…all because I bought a new saw.   But I'm not complaining.  Now I can store blades, sand paper, chisels, and manuals, roll my saw out of the way when I'm not using it, and the side wings fold up for long boards and down for a smaller footprint.  So even though my saw is bigger, I'm actually saving space!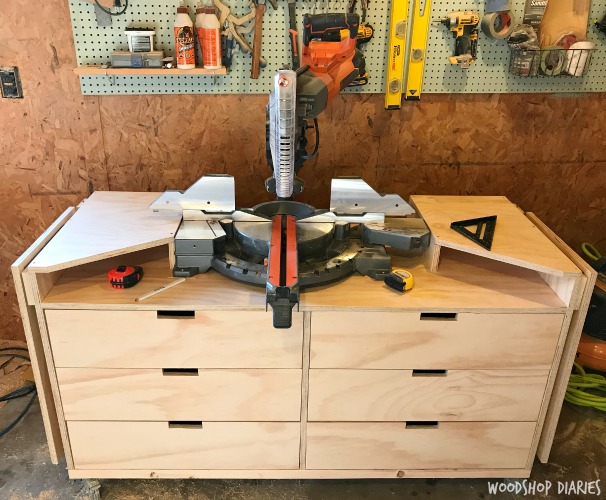 By the way, I kicked off a small portion of my shop redo project with this DIY mobile tool cart for my planer a few weeks ago 🙂  It was a really easy build that every shop could find plenty of use for.
.
But, if you are ready to build your own mobile miter saw stand with storage and fold down extensions, let's get to it 🙂  You can find printable PDF plans here, or follow along on the overview below.
.
Check out this video tutorial I posted on YouTube, then find the detailed step by step tutorial below.
NOTE: I've been asked about dust collection.  I currently don't have a dust collector in my shop.  The dust bag on this saw does a pretty good job of collecting most of the dust and I just vacuum up the rest when I'm finished using it. But since this thing is mobile, I don't see any reason why you couldn't roll it out from the wall and hook up your dust collector hose or shop vac to the back side as needed.  Now….to the building.
.
This post contains affiliate links.  Please see disclosure policy for details.
.
For this build, you will need:
(3) sheets ¾″ plywood
(3) 2x4x8 boards
(1) sheet ¼″ plywood
(6) pair 22″ ball bearing drawer slides (buying the 10 pack saves a ton of $)
48″ piano hinge (or 4 12″ piano hinges)
1 ¼″ wood screws
Tape measure
Kreg Rip Cut (optional, but helpful)
Kreg Accucut (optional, but helpful)
Table Saw (optional)
.
Step 1:  Cut Plywood Down to Size
First, rip one sheet of plywood into two 2ftx 8ft strips.  I used my Kreg Rip Cut and circular saw for this, but you could also use a straight edge and circular saw or table saw.  Then, cut one piece from each strip 29 ½″ long.  From one of the remaining 64″ long pieces, cut one 58 ½″ long piece.
.
Drill ¾″ pocket holes along the bottom edge of the 29 ½″ long pieces and along both ends of the 58 ½″ long piece.  You will attach later.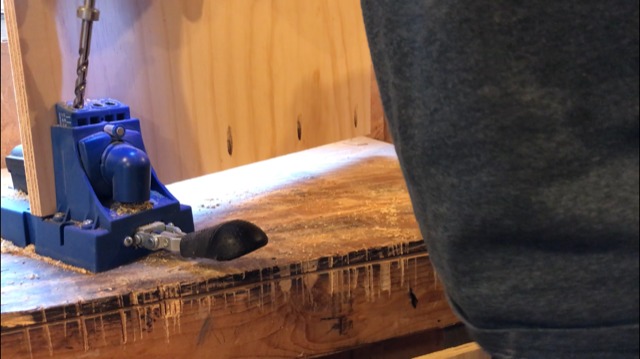 Step 2: Measure and Mark for Saw Height
Before assembling, you will want to place your miter saw on a flat surface and measure the height of the saw base.  You want this very accurate–at least to the 32nd of an inch.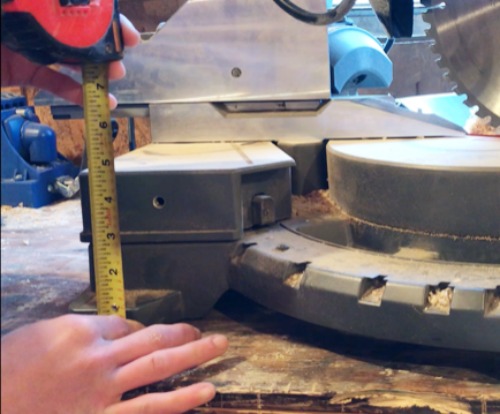 Now, take that height and subtract the thickness of your plywood.  Although you call it ¾″ plywood, it's rarely actually ¾″–mine was actually 23/32″.  The more precise you are here, the better off your cuts will be later.  So take the height of your saw MINUS thickness of your plywood and mark down from the top of your 2 side pieces this distance.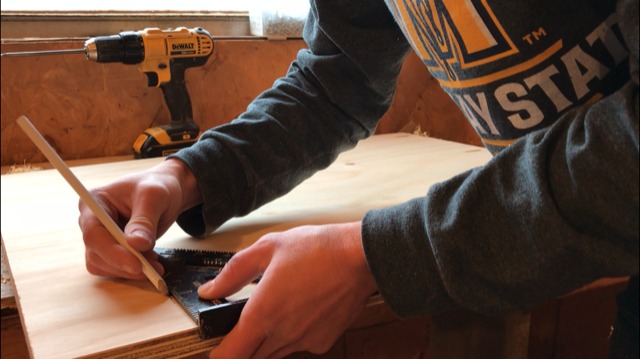 Step 3: Assemble the Carcass
Attach the long piece between the two side pieces like shown using 1 ¼″ pocket hole screws.  Line up the top of middle piece with the marks you drew in step 2.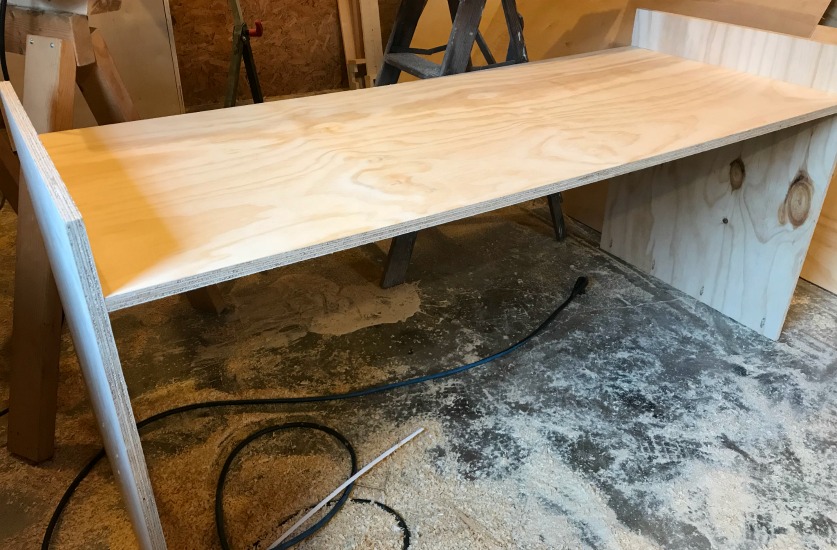 Step 4:  Assemble Miter Saw Stand Base
Cut two pieces of 2×4 to 60″ long and three pieces to 17″ long.  Drill 1 ½″ pocket holes in the ends of each 17″ piece and attach between the 60″ pieces like shown with 2 ½″ pocket hole screws.  Make sure the middle one is, in fact, in the middle.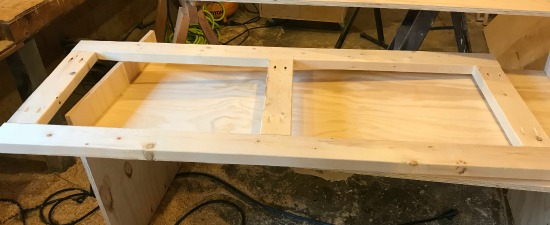 Step 5: Attach Carcass of DIY Mobile Miter Saw Stand to Base
Attach the piece from step 3 to the base like shown through the pocket holes drilled on the bottom of the cabinet sides from step 1.  Use 1 ¼″ pocket hole screws here.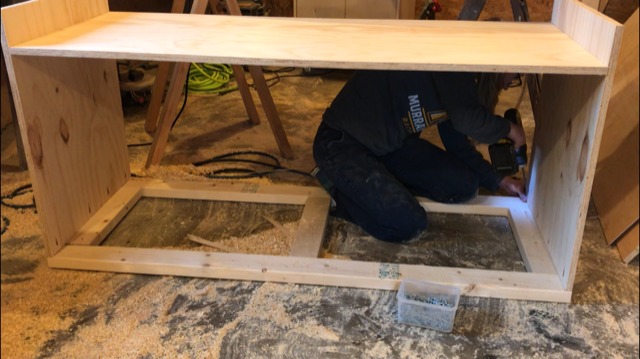 Step 6: Add Middle Divider to Miter Saw Stand
Measure the gap between your base and the top board of your cabinet and cut a piece of plywood this long and 24″ wide.  From this point, depending on your own saw size, measurements may vary, so yours may be different than mine.  Drill pocket holes in each end of this piece and attach in the center (making sure everything is square) like this with pocket hole screws.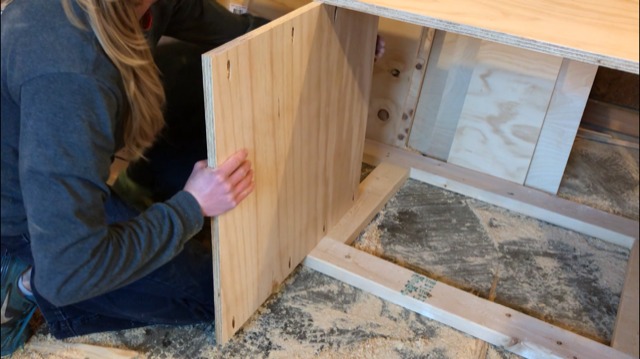 Step 7: Attach Top "Cubbies" to Miter Saw Stand
Remember that measurement from step 2?  The one where you took the height of your saw base and subtracted the thickness of your plywood?  Cut two pieces of plywood that wide and about 15″ long.
.
Now, measure the width of your miter saw base.  Take 58 ½″ MINUS this width, then divide by two and subtract about ¼″ from that.  Measure this distance from the sides of your cabinet and make a mark.  Line the INSIDE edge of these pieces of plywood up with this mark and screw in from the underside of the top of the cabinet with 1 ¼″ woods screws like shown.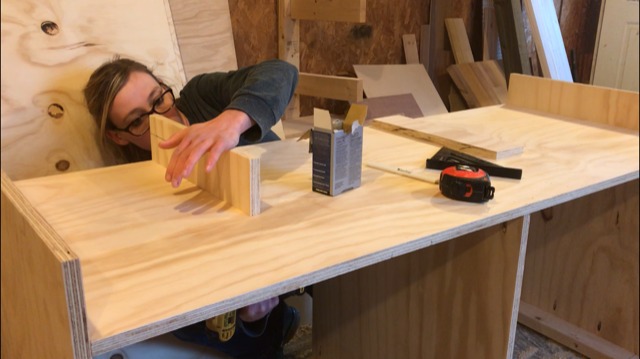 Then, cut a piece of plywood wide enough to cover this "cubby" and use a jig or circular saw to cut an angle on it if desired.  That's optional, not required.  Then attach using 1 ¼″ wood screws.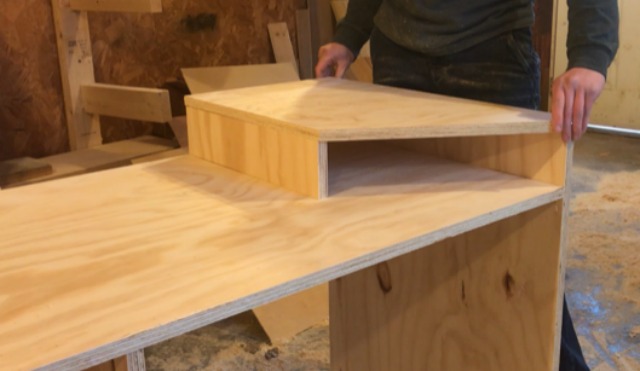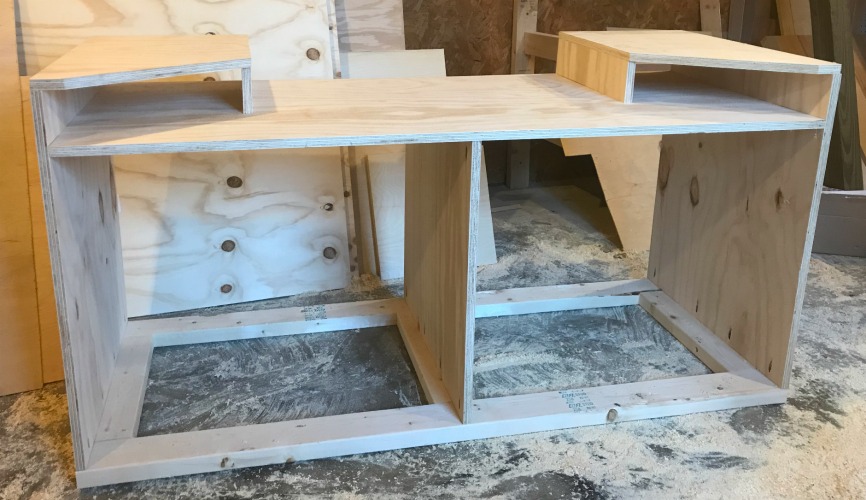 Double check that your miter saw will fit between the cubbies and that the top of the saw base is flush with the sides.  Make adjustments or add shims if and where necessary.
Step 8: Add Drawer Slides to Miter Saw Stand
The drawers are where it gets a little tricky  Because your saw stand will be different than mine (assuming you don't have the same saw as I do), your measurements will vary.  Space out your 22″ drawer slides to fit three drawers on each side and attach like shown.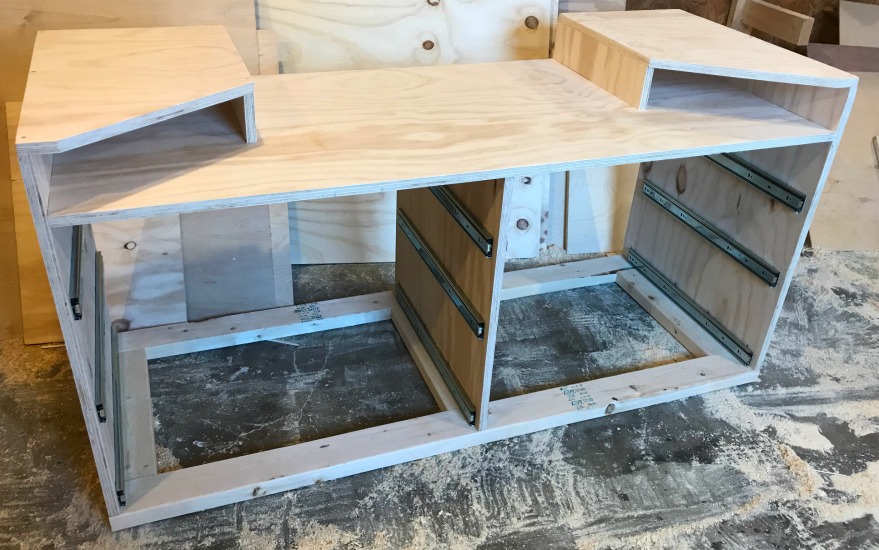 By the way, I buy these drawer slides in a 10 pack from Amazon because the price is OUTSTANDING.  Grab the ten pack and save the extra for other projects.  I used the other two a king size storage bed (plans soon!) and on this DIY TV stand.
Step 9: Add Drawers
Again, your drawer height will differ from mine, but the width and depth should be the same. Rip several strips of ¾″ plywood however deep you want your drawers.
.
Cut drawer side pieces 22″ (to match the slide length), drawer backs 26 ⅜″ and drawer fronts 28 ⅝″.  Cut notches (if desired) in drawer fronts.  To build my drawers, I cut ¼″ dados on the table saw for inserting ¼″ plywood for the bottoms.  I attached the drawer boxes together using pocket holes and screws.  You can see more of this on the YouTube video.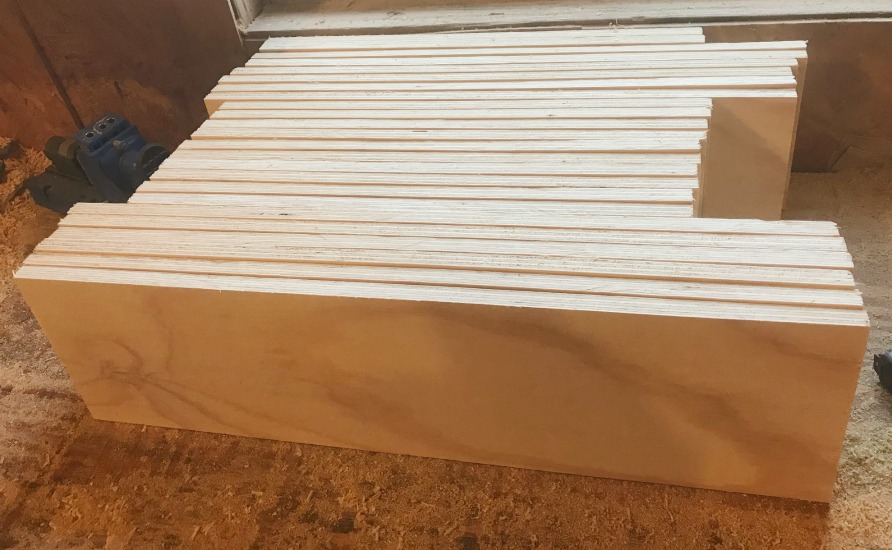 You can skip the dados and just staple the plywood onto the bottom of the boxes if you want, but I just like cutting dados 🙂
.
Insert and attach the drawers to the slides.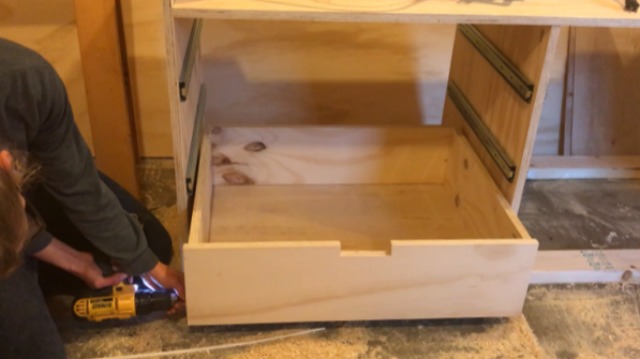 Step 10: Add Caster Wheels to Saw Stand
Flip the stand on its back and attach four casters to the stand using 1 ¼″ wood screws.  I loved these caster wheels that I used on my mobile tool cart last month, so I used them again here.  I've actually bought five more sets for upcoming shop builds, too!  So keep an eye out for those 😉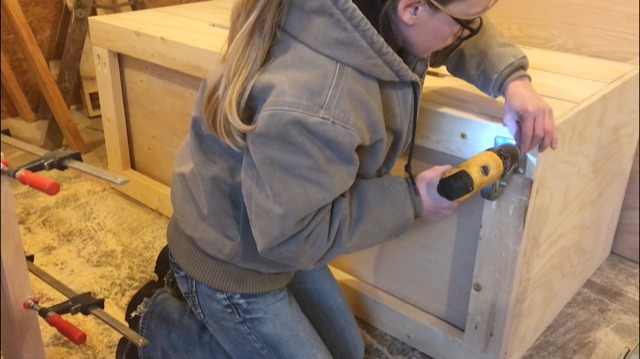 Step 11: Add Spacer Blocks for Side Wings
Use a scrap piece of ¾″ plywood and screw it into the sides of the saw stand using 1 ¼″ wood screws about ¾″ down from the top.
Step 12: Cut and Attach Side Support Wings
Cut a piece of plywood about 16″ wide and 20″ long.  Measure and mark about 3 ½″ down from two opposite ends of the 16″ sides and make a straight mark between the two.  Use a jig saw to cut across this line to make two separate "wings."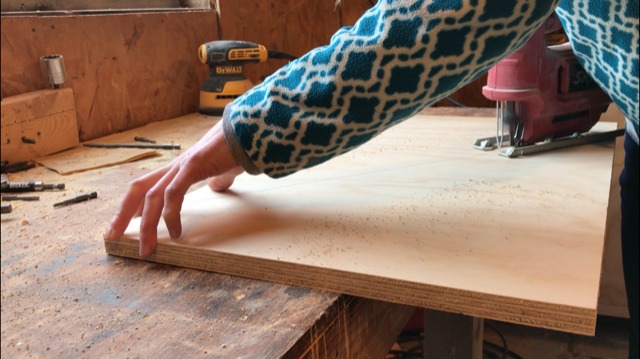 You can use four 12″ piano hinges (also called continuous hinges) for this next part, OR do like I did (it's cheaper 😉 ) and cut a 48″ hinge into four 12″ pieces using a jig or band saw and a metal blade.  Attach one hinge to each wing.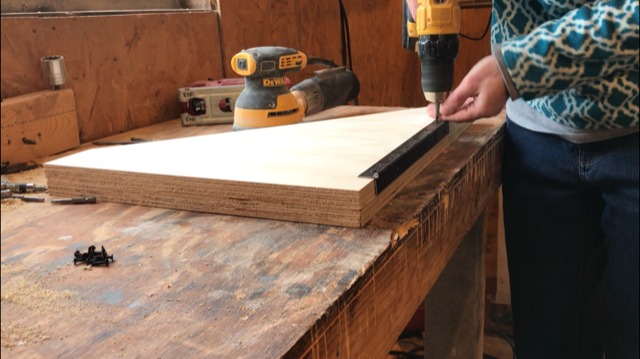 Then attach to the sides of the miter saw stand 16″ from the back of the cabinet like shown.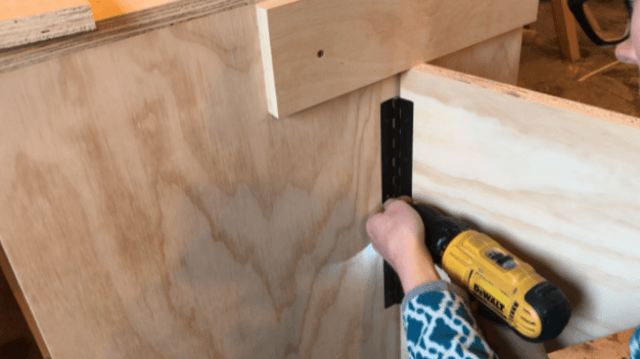 Step 13:  Attach Side Extension Wings to Saw Stand
Attach the other two hinges to the spacer blocks.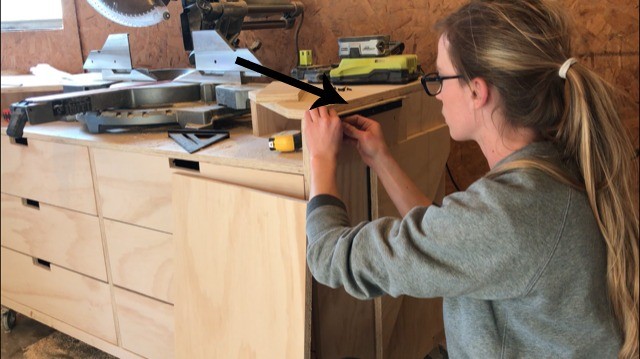 Then, either using your head (HA!) or a helper, attach a 16″ x 30″ piece of plywood to the other side of this hinge.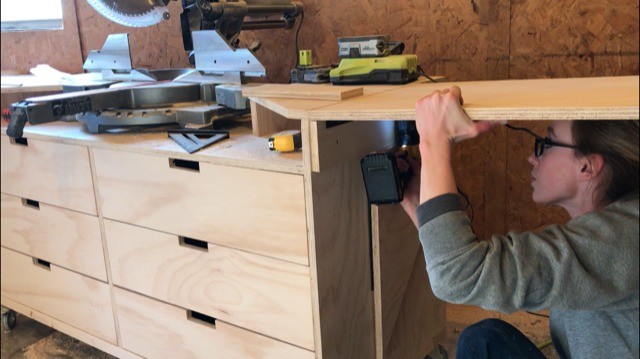 Attach another scrap piece of plywood on the edge of the wing support using 1 ¼″ wood screws.  Attach these so that when the extension wings rest on it, they are ALMOST flush with the top of the cabinet, but hanging slightly down.  You want to leave some wiggle room for adjustments.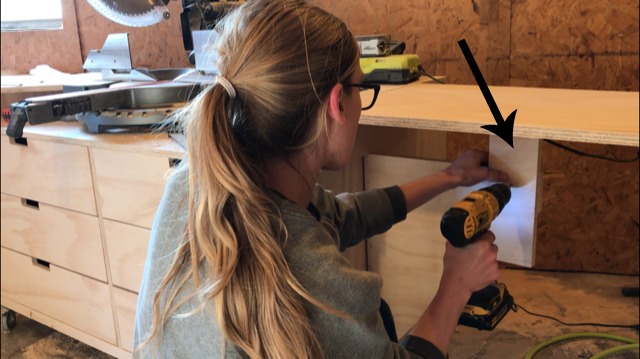 Screw a screw into the top of this scrap piece so that it is almost all the way in, but not quite.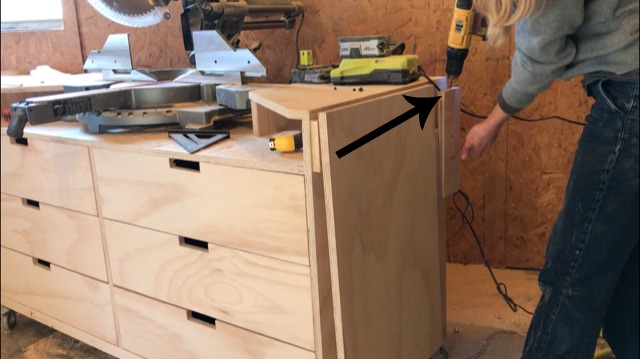 Extend the wing and let it rest on the support.  Set a long level across it and adjust the screw until the wing sits flat with the rest of the stand.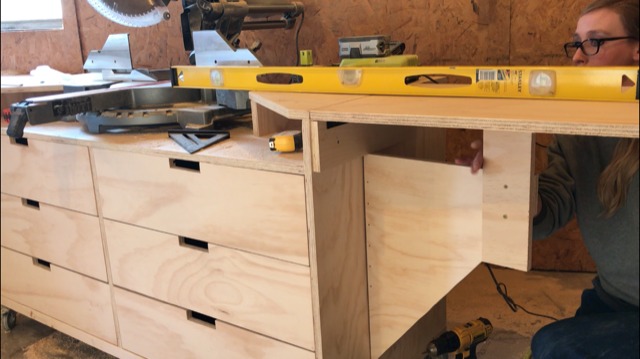 Step 14: Set your Saw in Place and Let the Sawdust Fly!
Set your saw on the stand and screw it in place.  Now you are ready to go!  Plug that thing in and get building!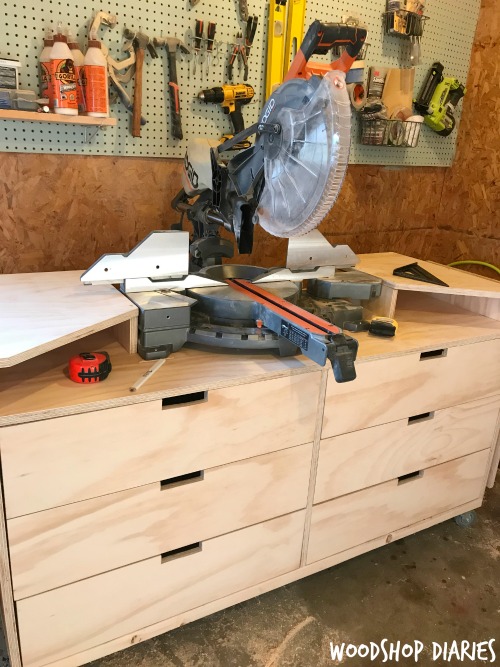 Since I had to tear out my old workbench to make room for my new stand, I am loving the storage this provides.  Now instead of having junk sitting out on my work space, I can store it in these drawers.  It looks much cleaner and stays more organized…oh and not covered in sawdust all the time haha.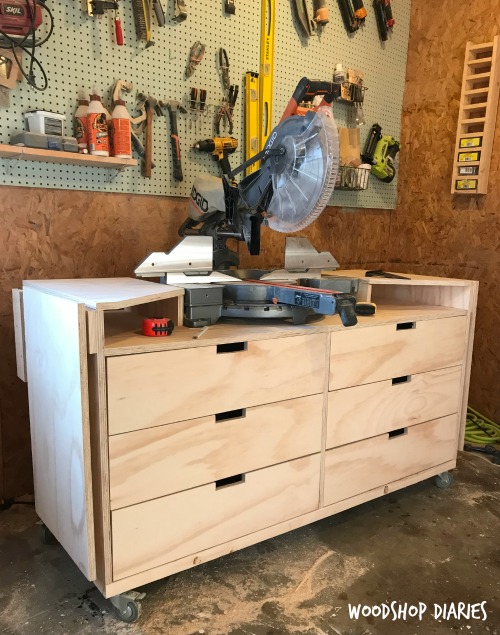 Ignore the chaotic mess you see on my pegboard and floors.  The shop is in a weird transition where I'm trying to get more organized, but also in the middle of building a ton of stuff so….it's a little messy.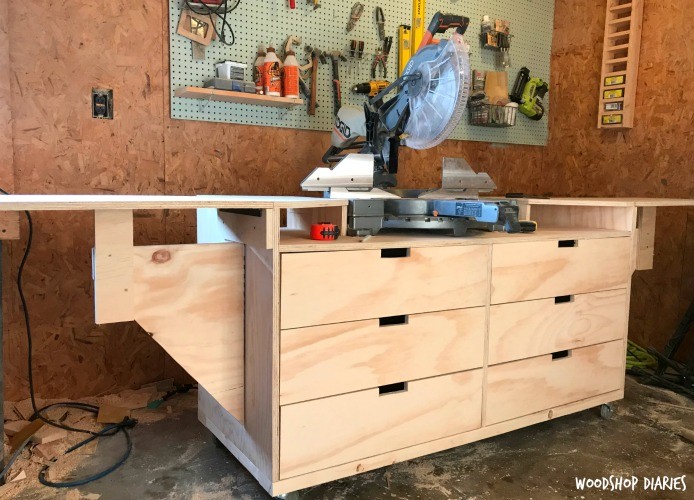 I really love how I can roll it out when I'm using it, then fold the wings down and roll it against the wall when I'm not using it.  My old stand was stationary, so I'm loving the mobility this one gives.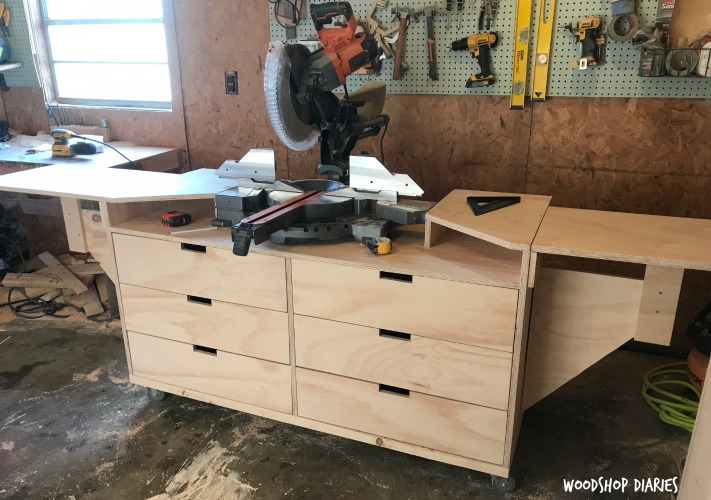 Stay tuned for more shop builds and the reveal of my "newly remodeled" shop.  Eventually I'll get it done haha.  In the mean time, get building your miter saw stand so then you can get around to building all the other things!
.
Don't forget to check out the video tutorial and also pin this for later!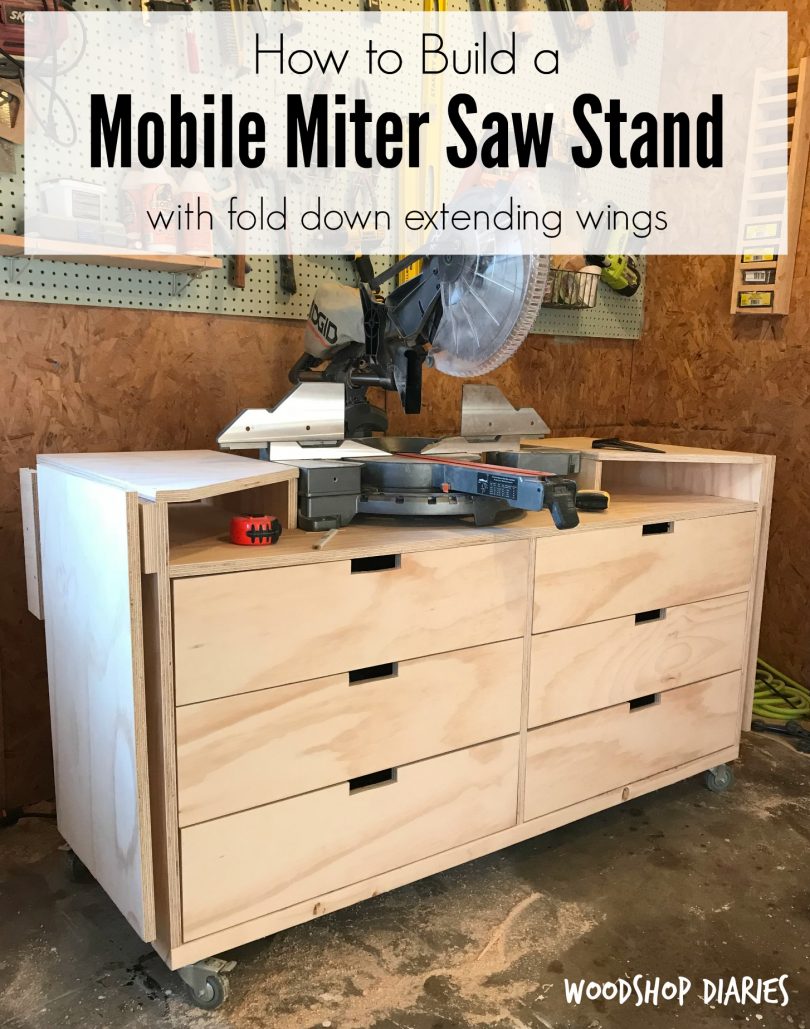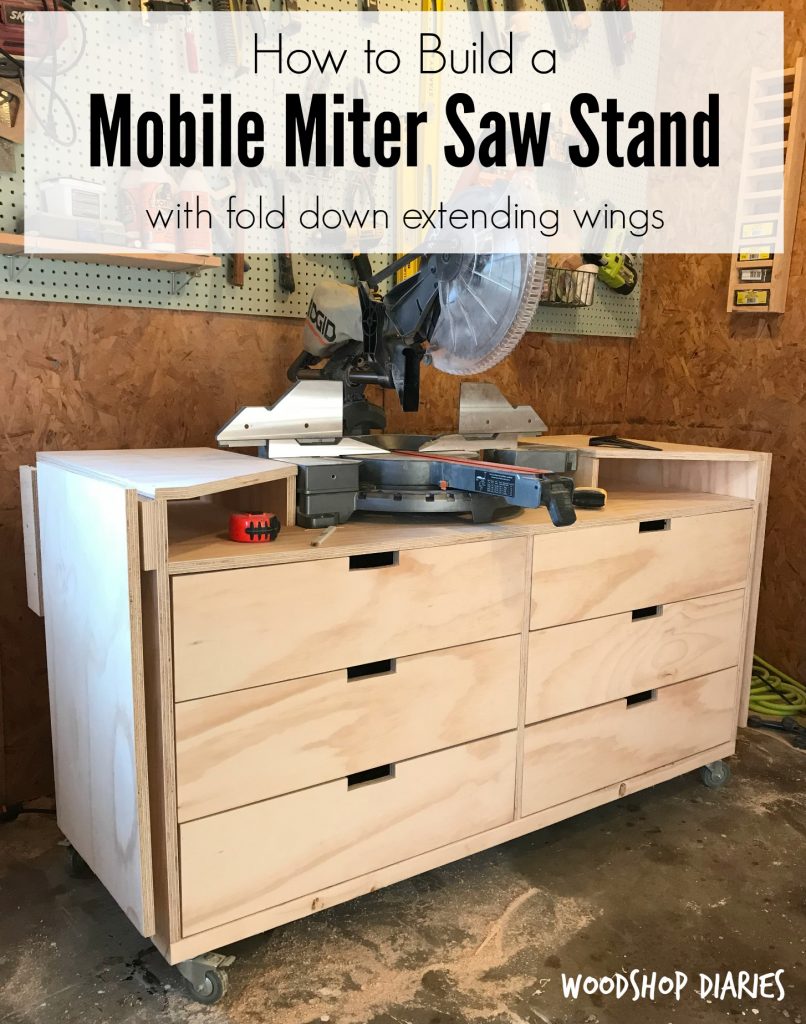 Until next time, happy building 🙂