In this post, I will show you how to Build Your Own DIY Mobile Workbench!
This post is sponsored by Build Something and contains affiliate links.  See disclosure policy for details.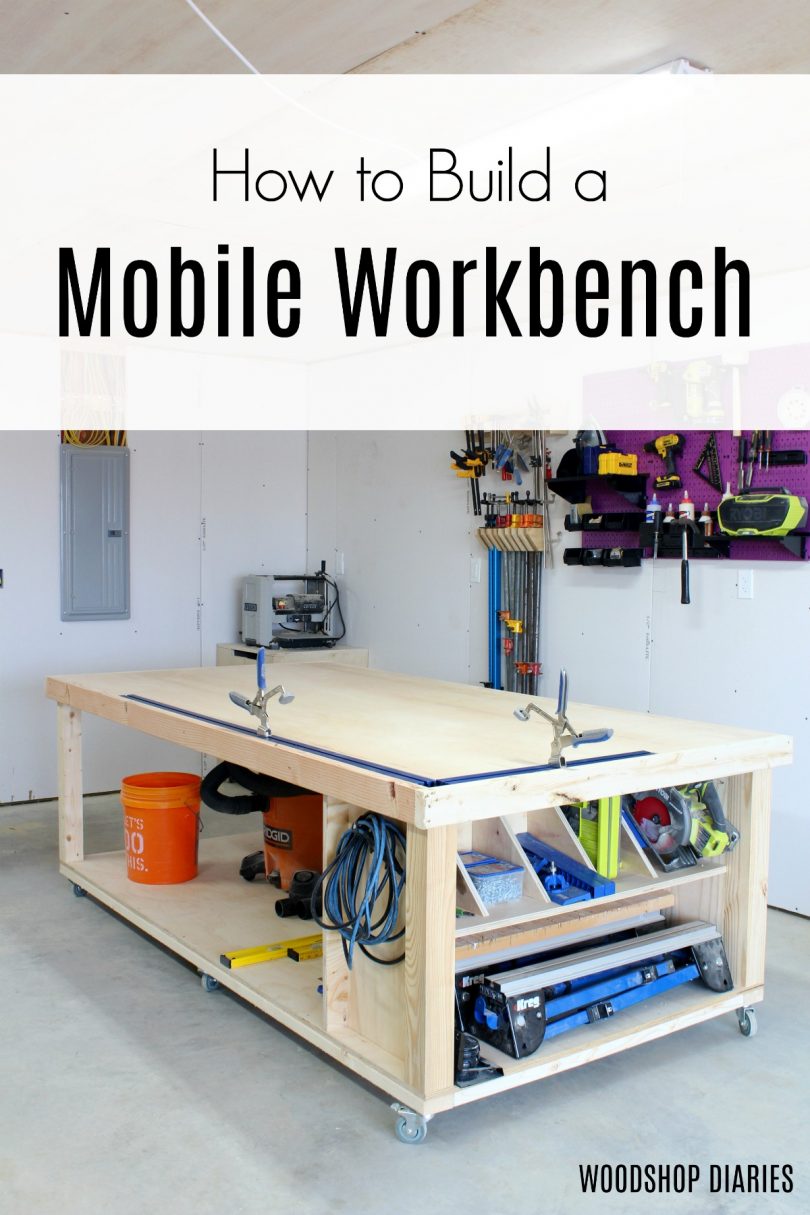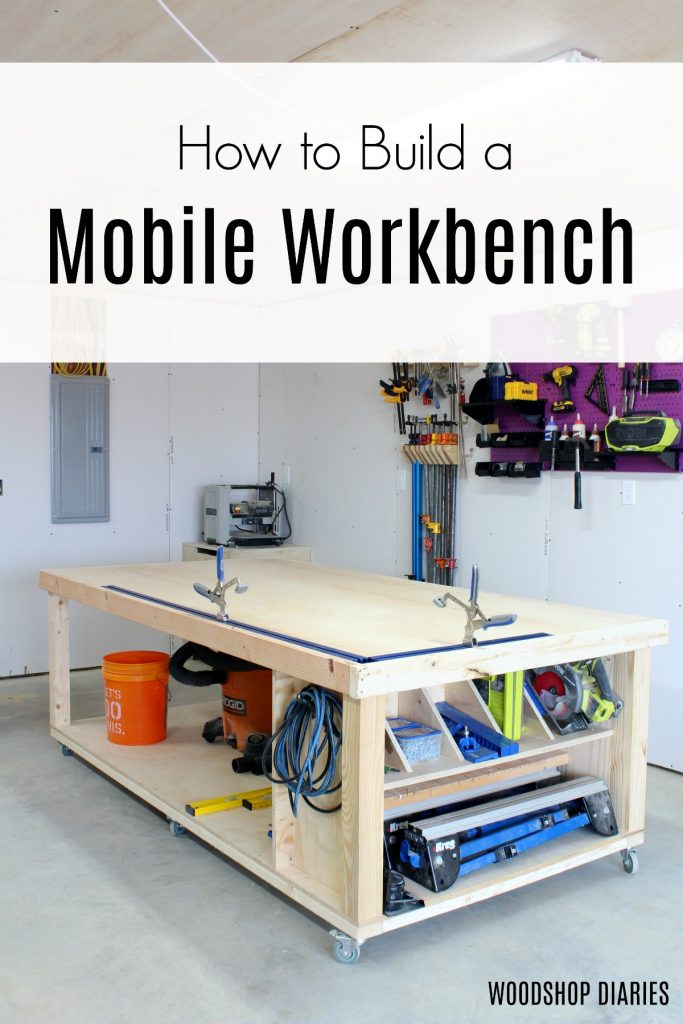 I've wanted a mobile workbench for years.  In my old shop, I built small, stationary workbenches from some random scrap wood I had lying around.
.
But, I quickly found that mobile is almost always better than stationary and I really needed one large assembly space to be able to assemble large furniture pieces without having to crawl around on the floor.
.
So I vowed (vow seems like a strong word…but I'll use it anyway) that when we sold our old house and I had a new shop, I would start off right with a MOBILE workbench that was ALSO big enough to actually work on. 
.
And while I was thinking about function, it would also be nice if it was exactly the right height to serve as an outfeed table for my table saw and have some storage for my most used items.
.
That means this had to be the ultimate workbench.  It was a big role to fill, but I think this is it 🙂
.
So, I'm excited to be sharing the free plans for this 3-in-1 mobile storage workbench/outfeed/assembly table with you! You can find the video right here and the step by step tutorial below.
You can also find the printable plans on Build Something. 
DIY Mobile Workbench Sizing Considerations:
Before we build, let's discuss a couple details about the size of this workbench.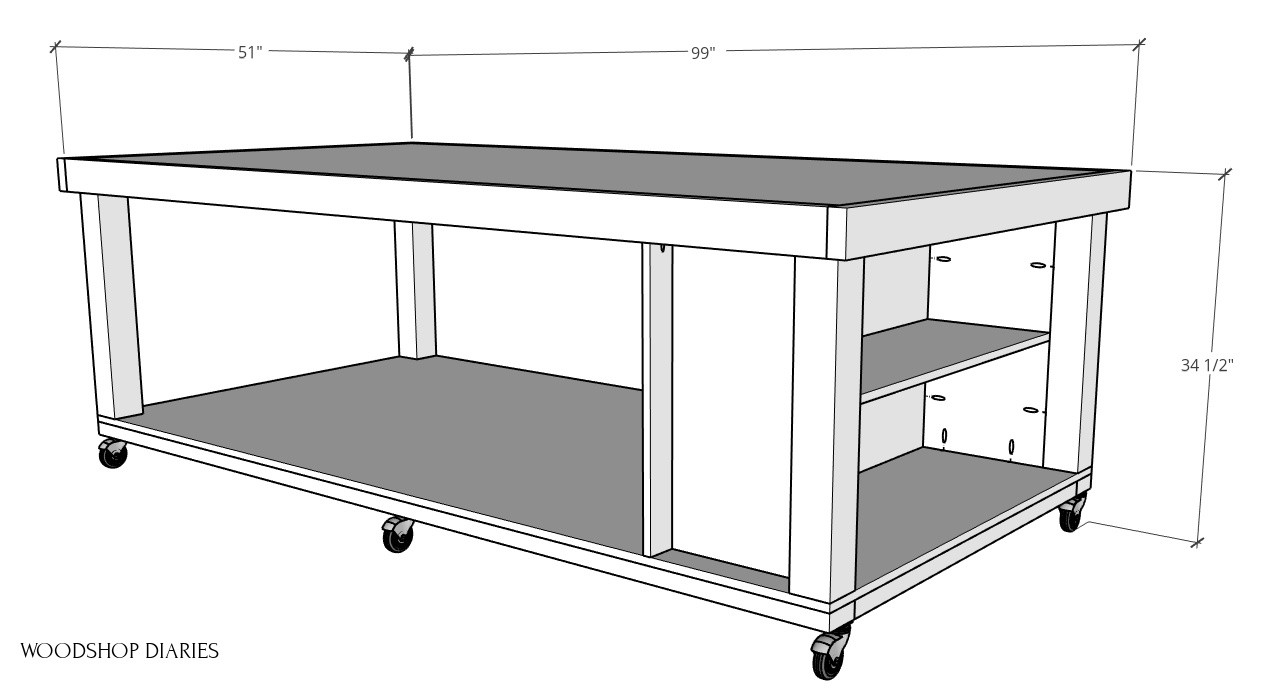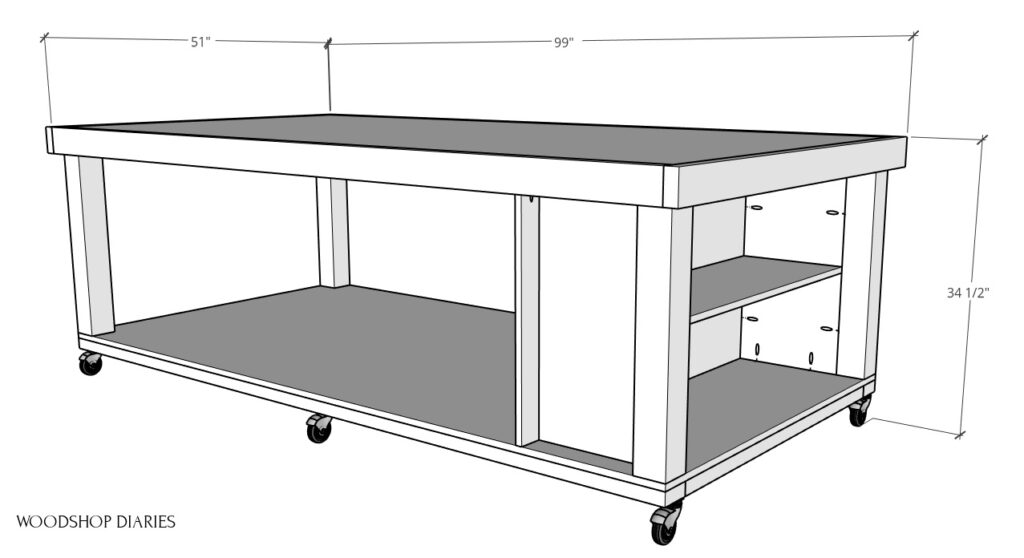 I used full plywood sheets for this, so it is fairly large, BUT I promise it's so easy to modify your size just my changing a few measurements in the plan.  If you need this smaller, feel free to change the frame and plywood sheet size in the plans below.
.
I also made this to be 34 ½″ tall because that's the height of the surface of my table saw.  So this height works out perfect for an outfeed table. 
.
If your table saw isn't 34 ½″ tall like mine or you don't care to use it as an outfeed table and want it taller or shorter, simply adjust the height of your legs in the plans and that's easy to modify, too 🙂 
For this DIY Mobile Workbench Project, You Will Need:
Step 1: Assemble Top and Bottom Mobile Workbench Frames
First, I decided what size to make my workbench. I used full plywood sheets for mine, so I made two frames the size of my sheets–4 ft x 8 ft.
.
I assembled this frame from 2×4 boards using 1 ½″ pocket holes and 2 ½″ pocket hole screws.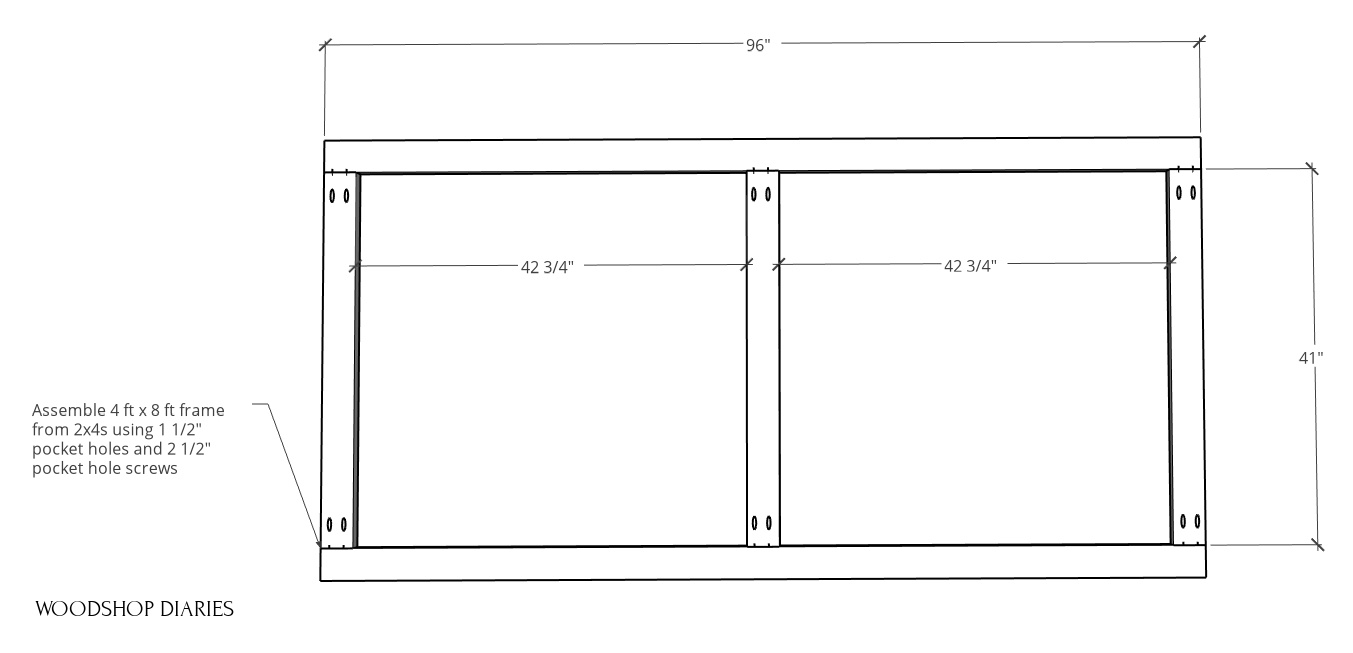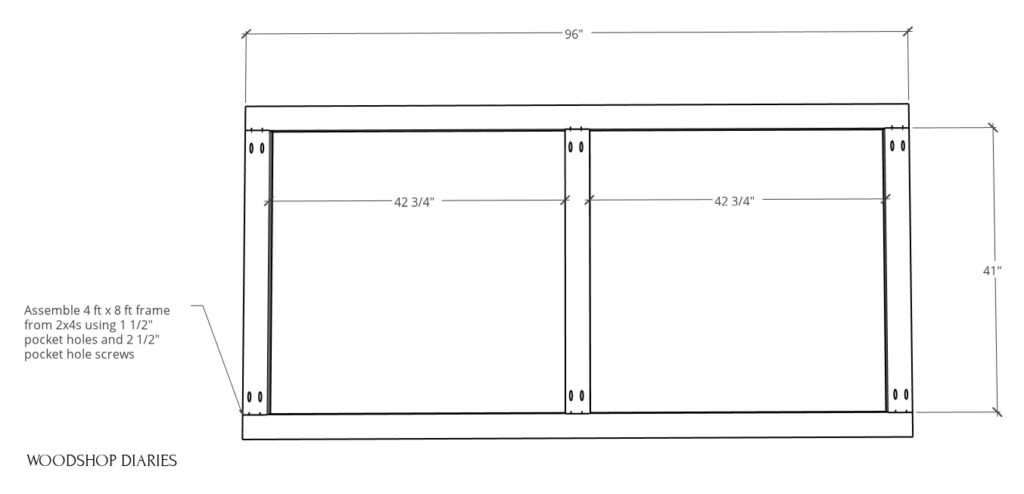 If you wanted your workbench smaller, simply modify the overall size of the frame in this step.
.
I made TWO identical frames like shown above–one will be used for the top and one for the bottom of the mobile workbench.
Step 2: Attach Bottom Workbench Panel
Once the frames were assembled, I screwed one of my plywood sheets onto one of the frames using 1 ¼″ wood screws.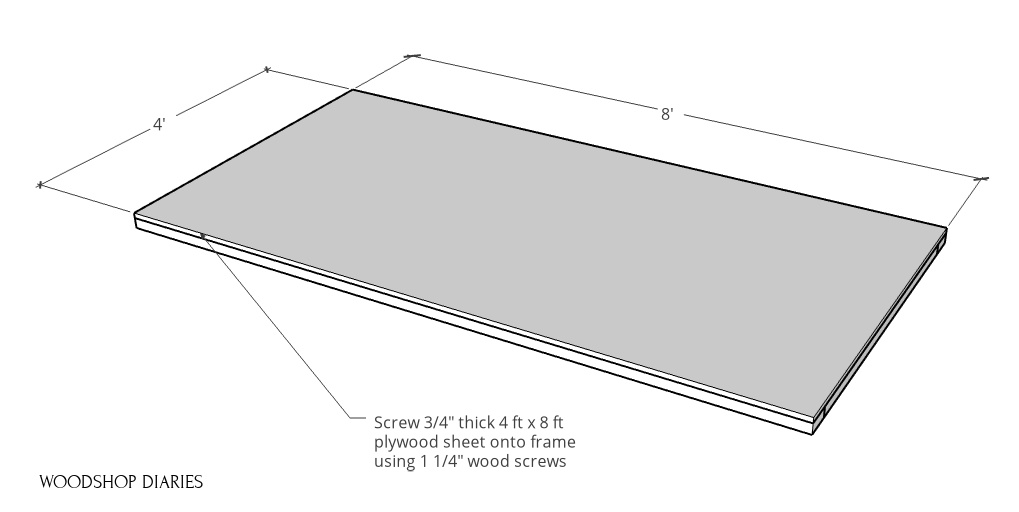 Obviously, if you are making this smaller than a full sheet, you will need to trim your plywood sheet to the size you want.
.
For tips on cutting plywood sheets, check out this guide for easily and accurately cutting down plywood sheets using a circular saw!
Step 3: Attach Mobile Workbench Corner Posts
Cut four corner posts/legs from 4x4s. If you didn't want to use 4x4s, you could also just glue and screw 2x4s together to make your own 4×4 posts.
.
NOTE: 4×4 posts are 3 ½″ x 3 ½″. If you screw 2x4s together to make your own, this will give you 3″ x 3 ½″. However, in this project, the slight difference shouldn't matter.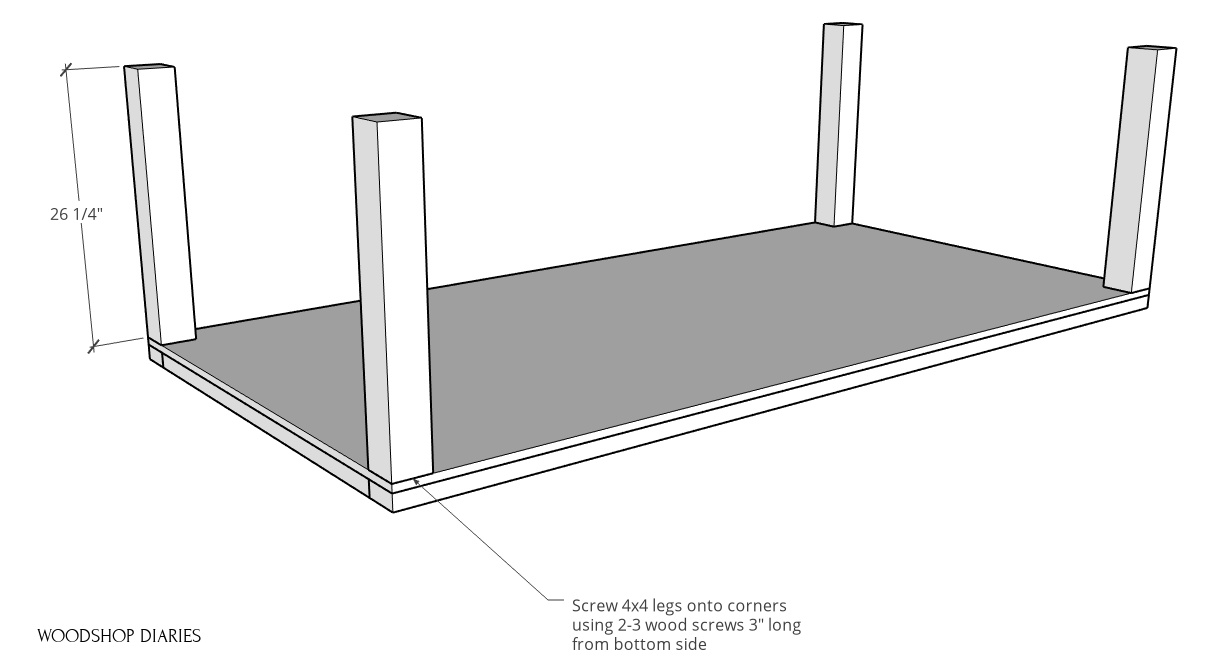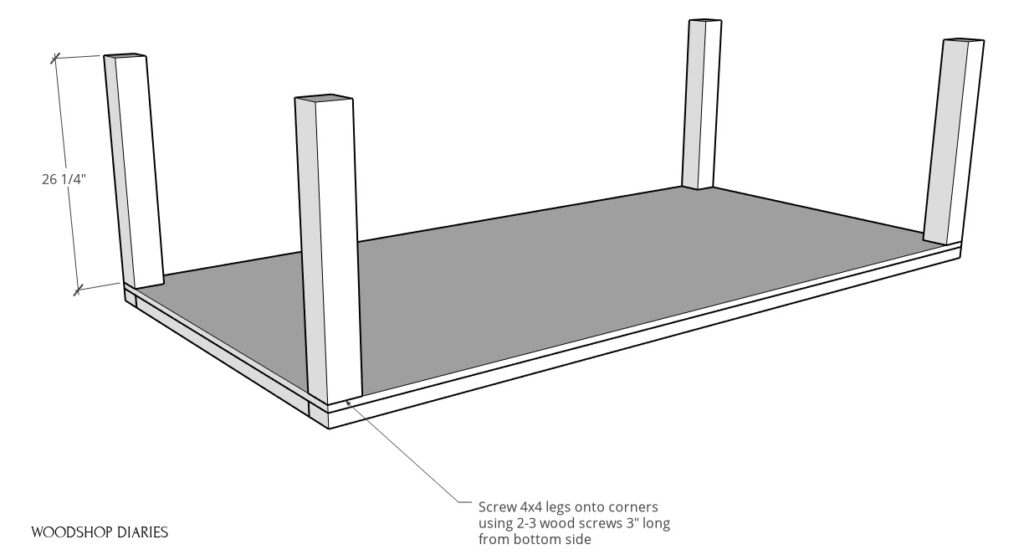 Like mentioned earlier, I built this DIY mobile workbench to be 34 ½″ tall once completed. So I cut these legs 26 ¼″ long. However if you want your workbench taller or shorter, modify this measurement as needed.
.
I used two 3″ long wood screws to attach these posts from the bottom side of the 2×4 frame at each corner.
Step 4: Attach Top Frame at Corners
Remember that second frame I made from step 1? At this point, I attached it to the corner posts using 2 ½″ wood screws.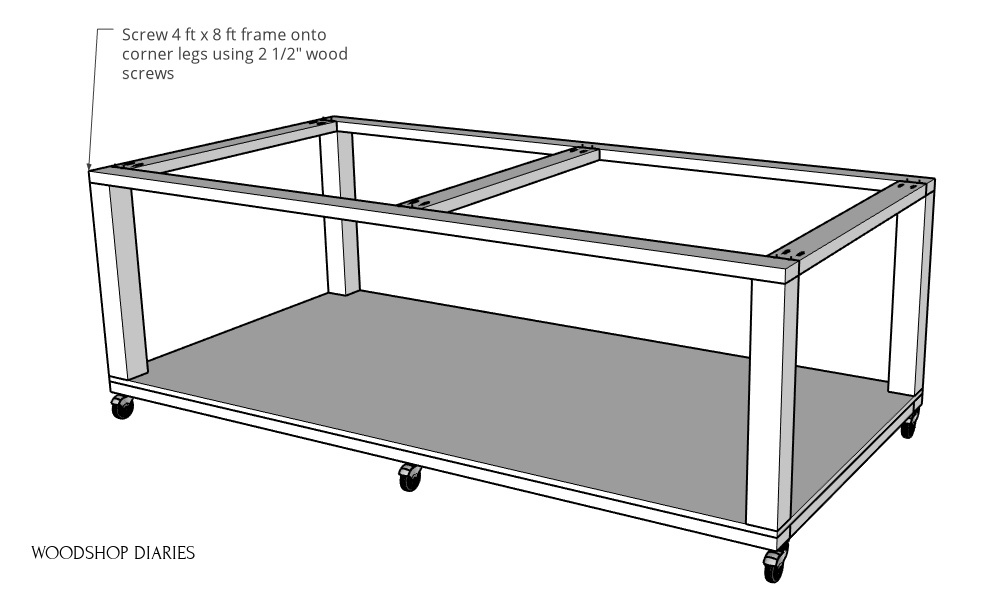 Step 5: Attach Top Workbench Panel
I've had a ton of questions about what I used for the top of my workbench. For the rest of this project, I used cheap pine plywood. However, for the top, I splurged for good quality hardwood birch plywood.
.
I used good plywood for the top to ensure I would have a smooth, durable surface to work on.
.
Just like in step 2, I attached a full sheet on top of this top frame. If you modified the size of the sheet in step 2, do the same here–just trim to size.
.
I attached this sheet to the top frame using 2″ wood screws from the bottom side of the top frame.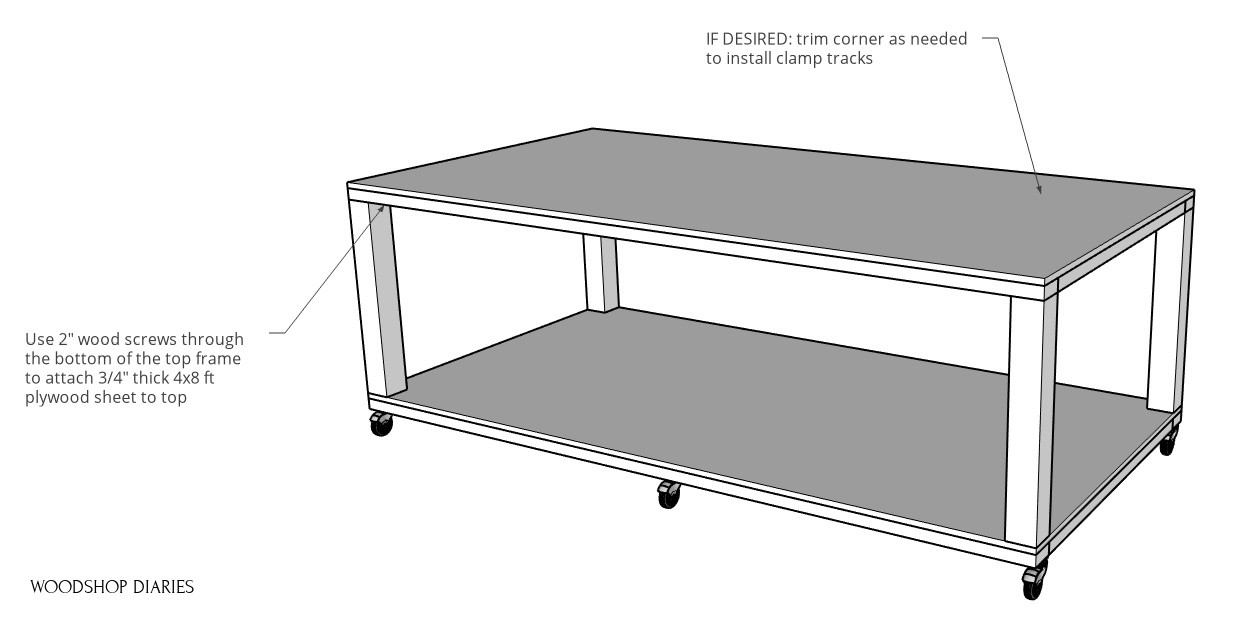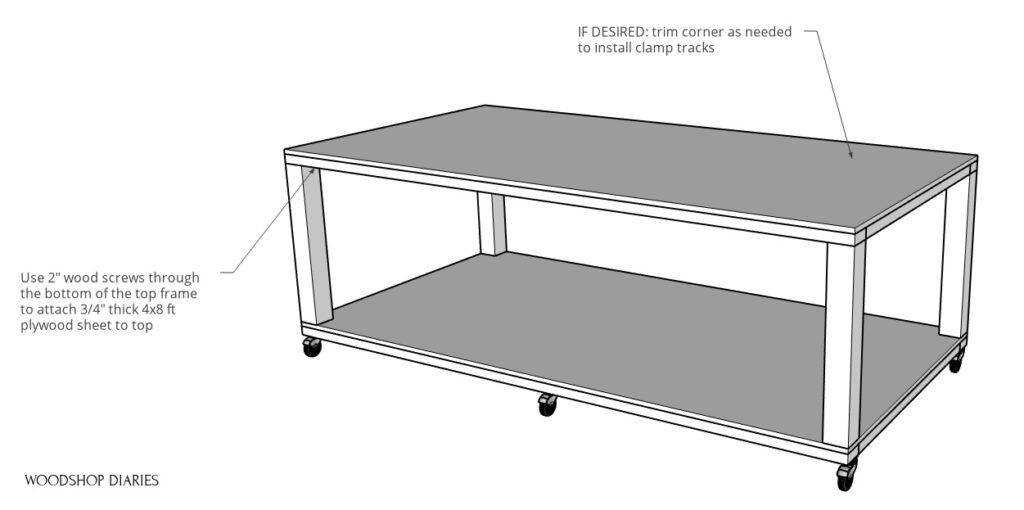 Step 5.5: Install Kreg Clamp Traks (OPTIONAL)
Now, let's talk for a second about the Kreg Clamp Traks I added to my workbench surface.  They come in kits of different sizes depending on what size you make your bench.  I used the 27″ x 69″ kit.
.
If you are adding these as well, you will need to follow the instructions to trim down your top panel from step 5 for your traks to fit into.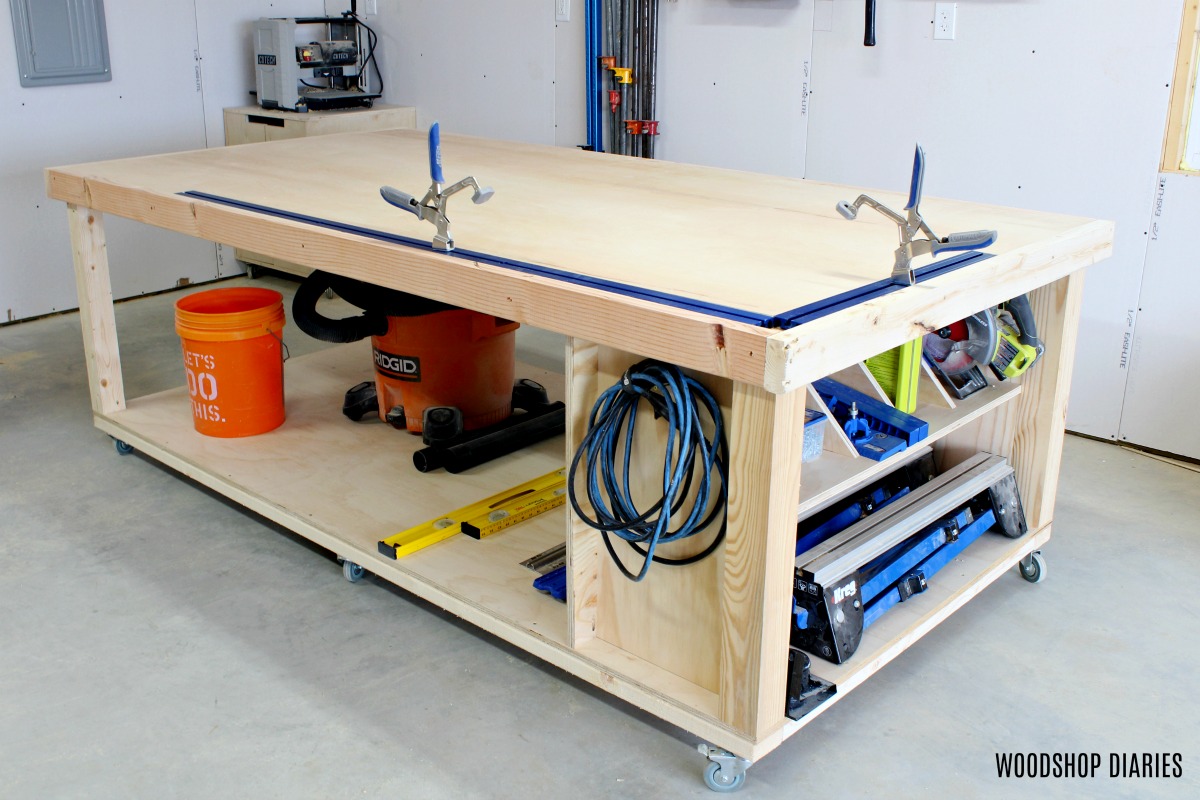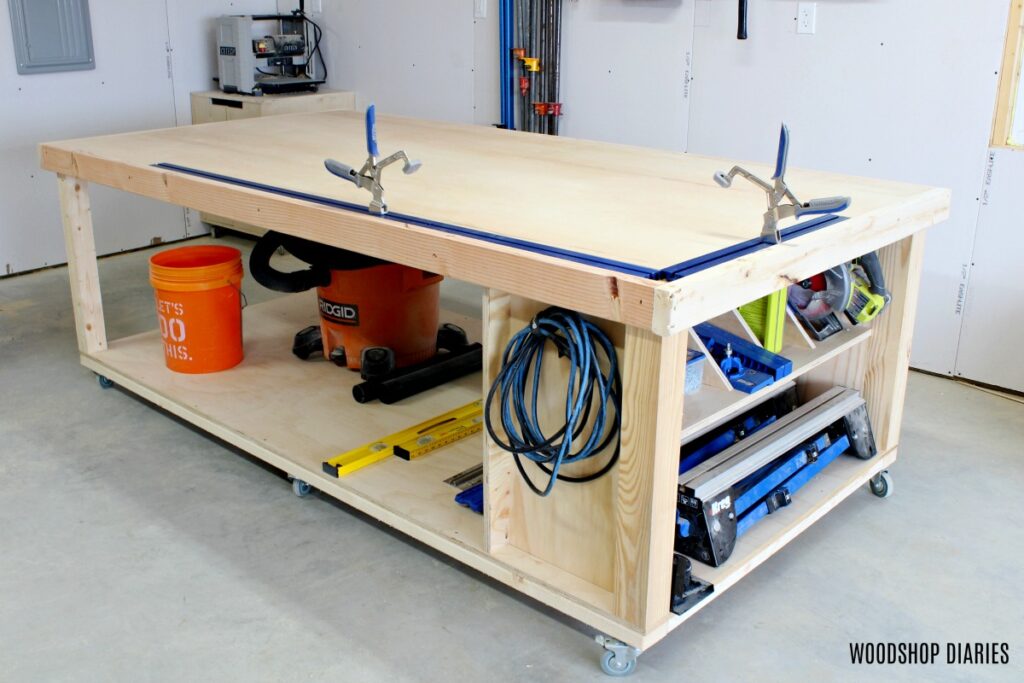 I had built my frames for this project from 2x4s before my tracks came in and I didn't have the instructions.  Once they arrived, I realized they were designed to be installed onto ¾″ thick surfaces.  But I was using 2x material so it was 1 ½″ thick.  Whoops.
.
What I did was follow the instructions to drill the holes for the bolts through the surface I was mounting to.  I just drilled all the way through my 2x4s.  (You can see this in my video above.)
.
Then I used a large drill bit (one that was large enough for the head of the bolt to fit into), marked it ¾″ down from the tip with painters tape, then drilled on the BOTTOM SIDE up into the holes ¾″ deep. 
.
Now, my bolts would fit up into the hole ¾″ and it was ESSENTIALLY just like mounting to ¾″ material.  It's a little extra work, but not too bad.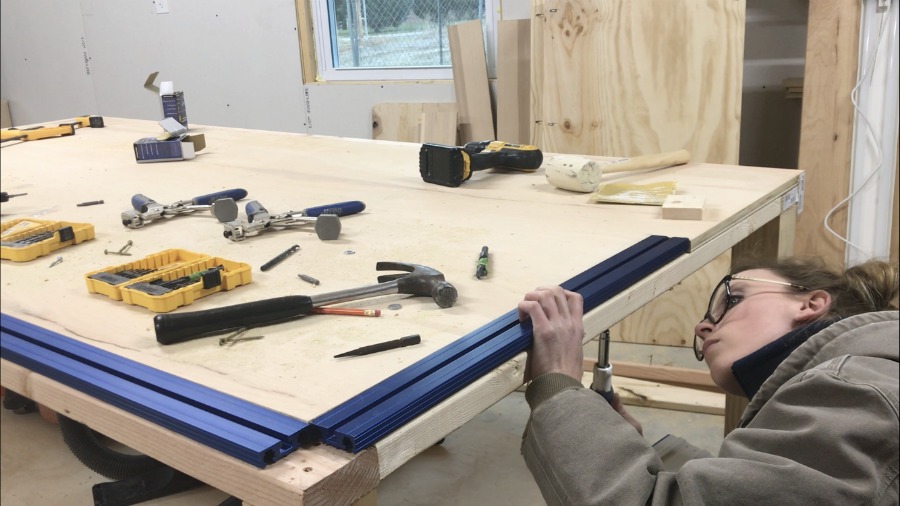 Step 6: Trim Around Workbench Top
Now, this workbench is large and could have a tendency to sag in the middle. You could add some supports in the middle to help prevent that, but I wanted this space open.
.
So, instead, I attached some 2x4s along the end to provide a little extra support and help prevent excessive sagging. I simple cut to fit a 2×4 frame around the top edge of the workbench and screwed in place using 2 ½″ wood screws.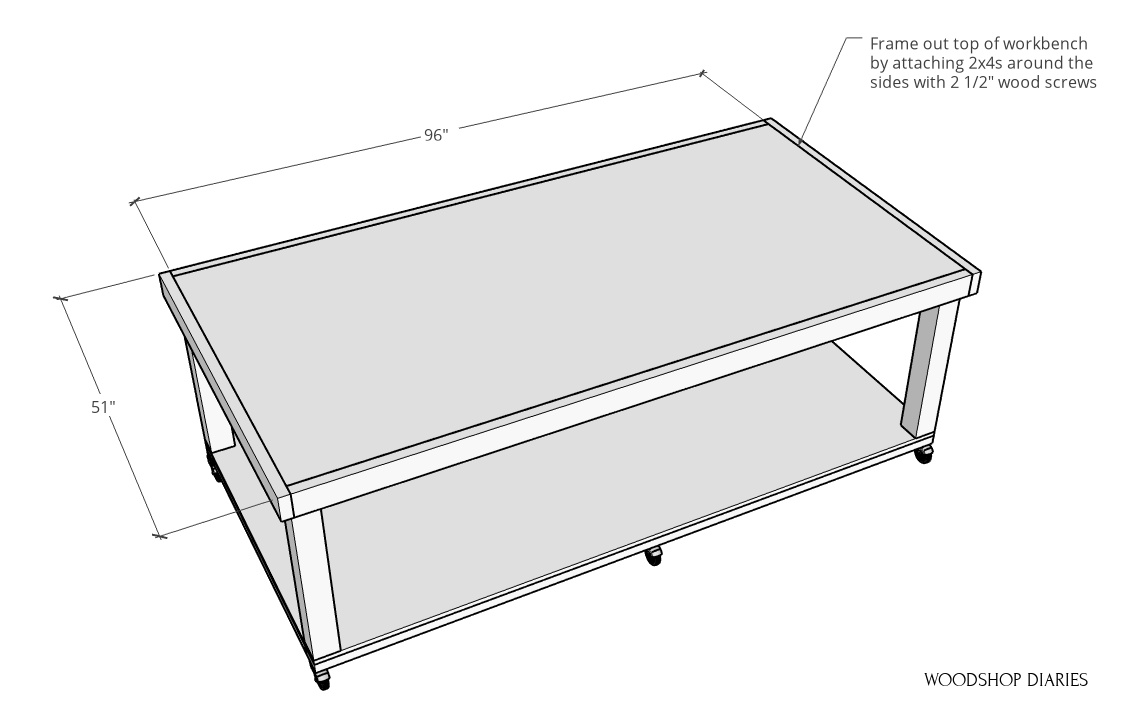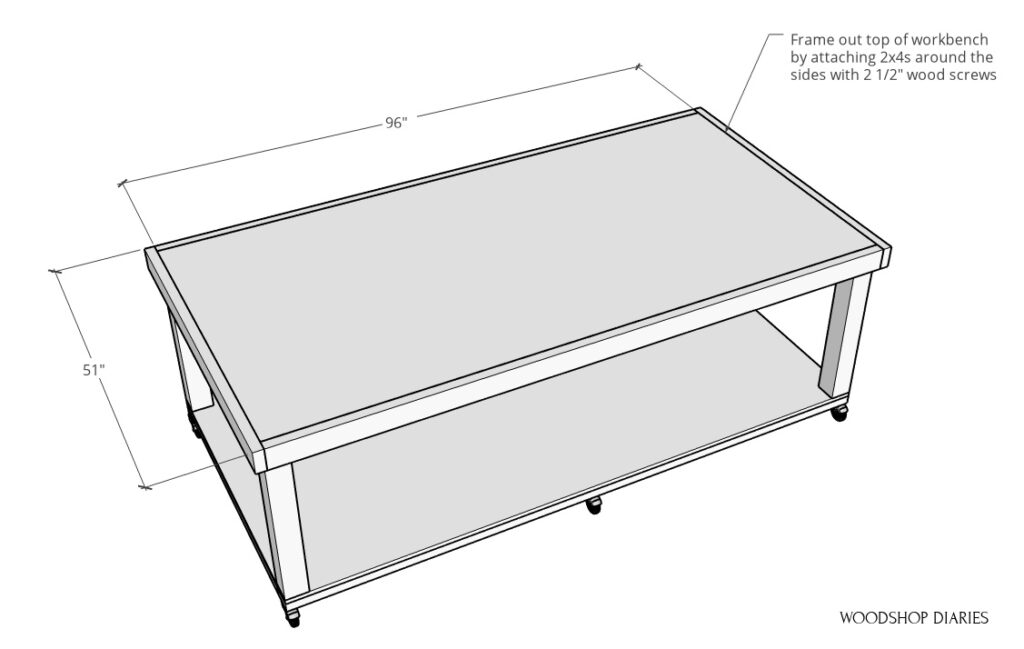 Step 7: Install Divider Panels/Storage Section on End of Workbench
To add some extra storage and organization to the workbench, I installed some panels and a shelf on the end. I built this section using ¾″ plywood.
.
First, I cut and installed a plywood panel like shown here using ¾″ pocket holes and 1 ¼″ pocket hole screws 13″ from the inside edge of the legs on one end.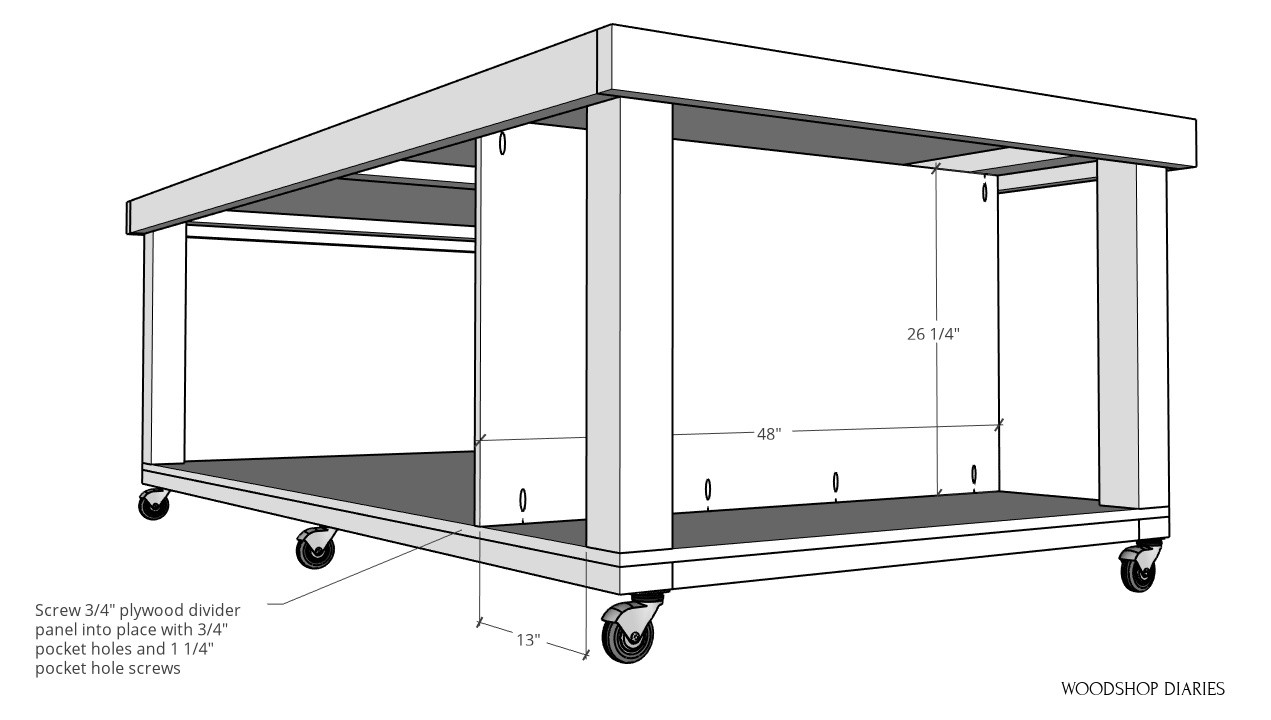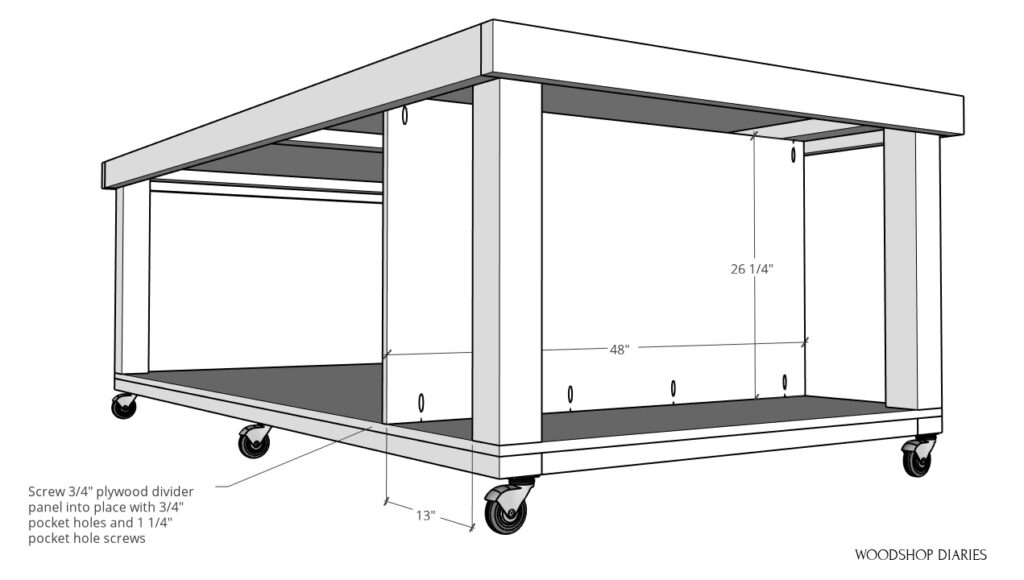 Then, I added side panels on each side flush to the INSIDE of the legs using ¾″ pocket holes and 1 ¼″ pocket hole screws.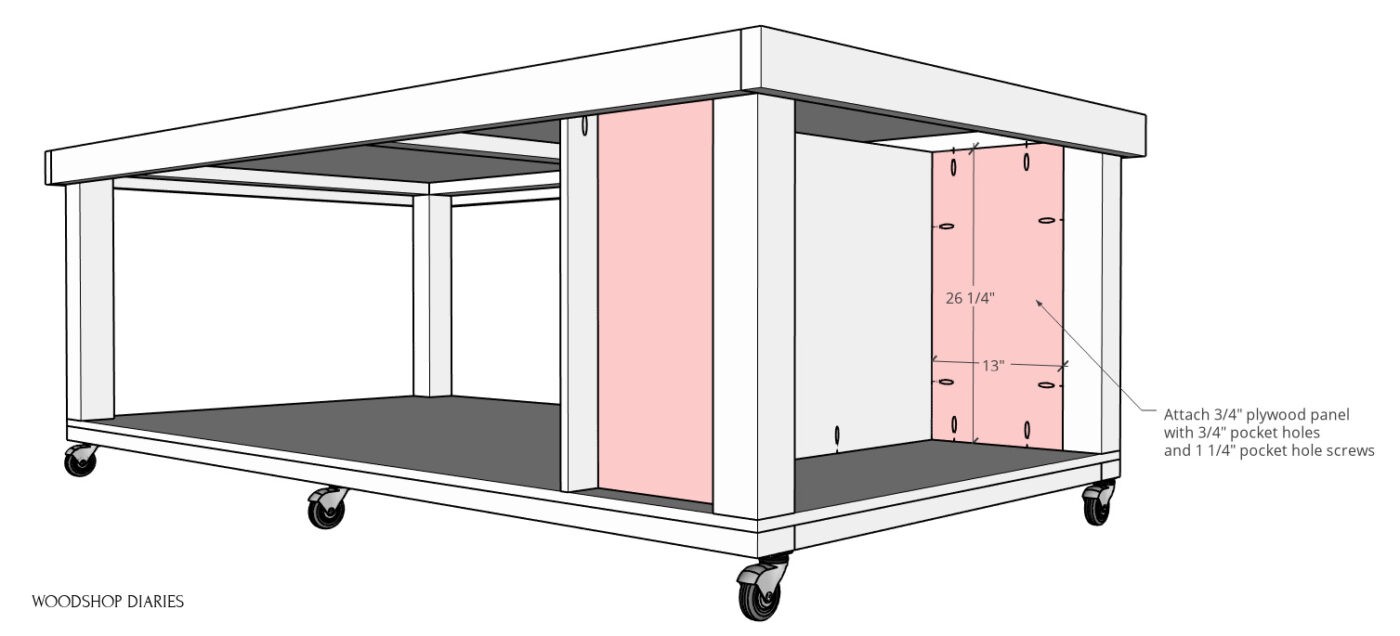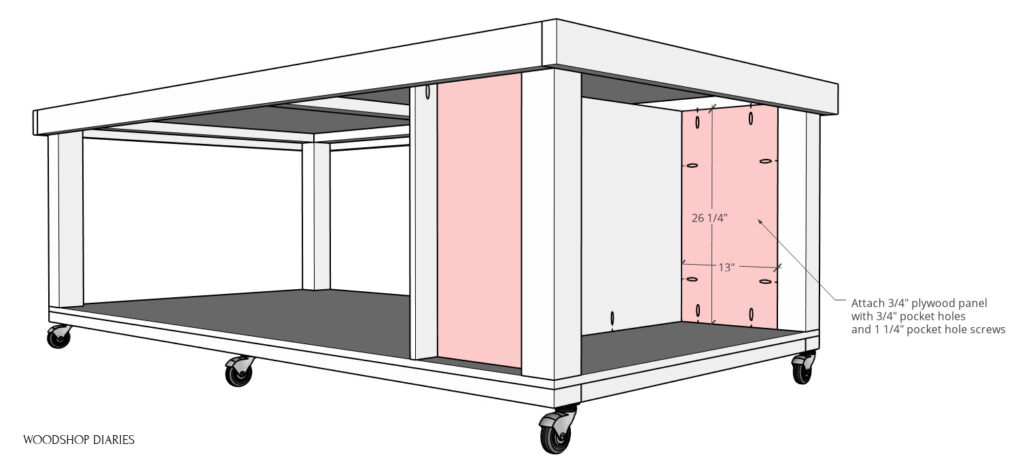 Lastly, I used ¾″ pocket holes and 1 ¼″ pocket hole screws to install a stationary shelf between these two panels. NOTE: Double check your own shelf length and cut accordingly. If you didn't use 4×4 posts, your length may vary slightly.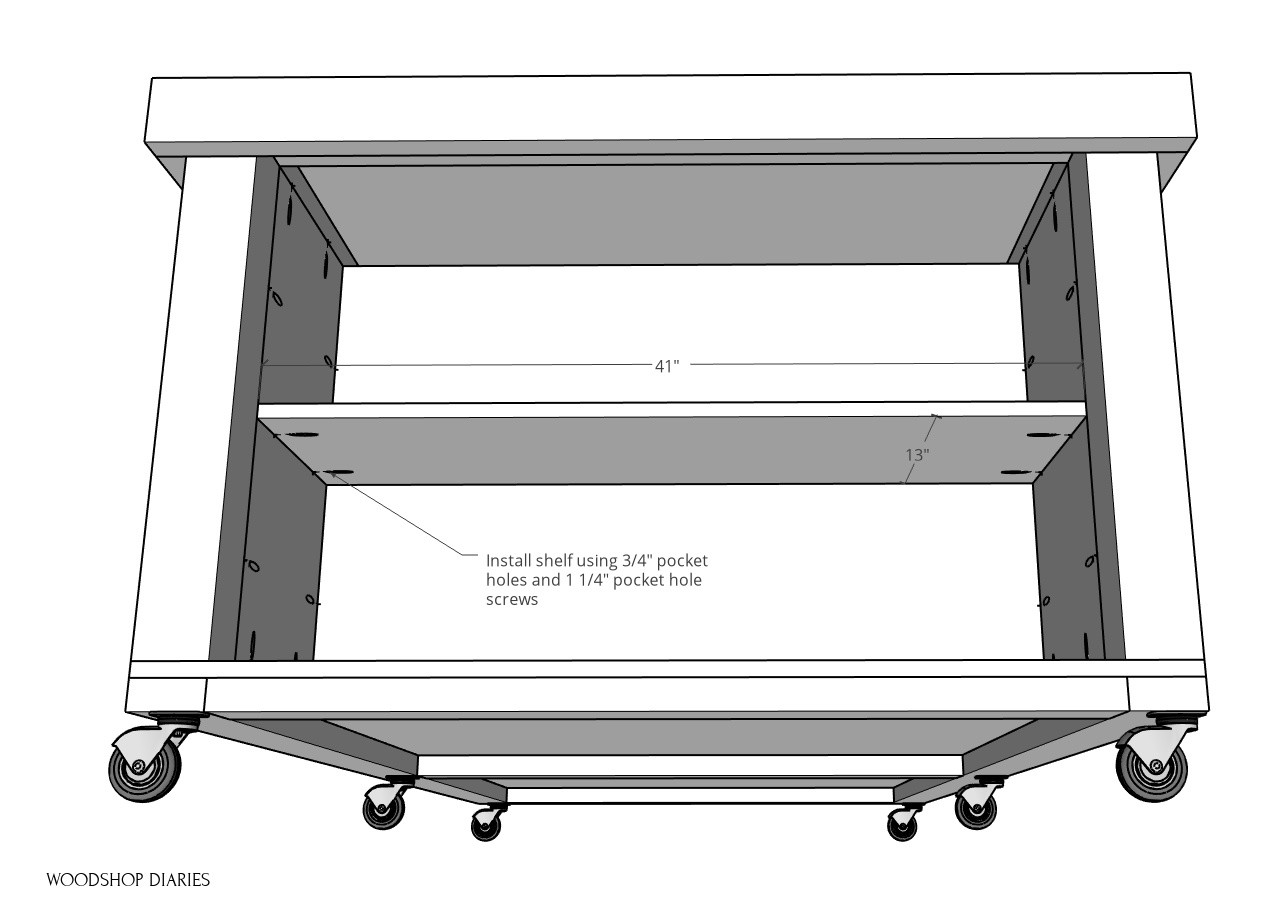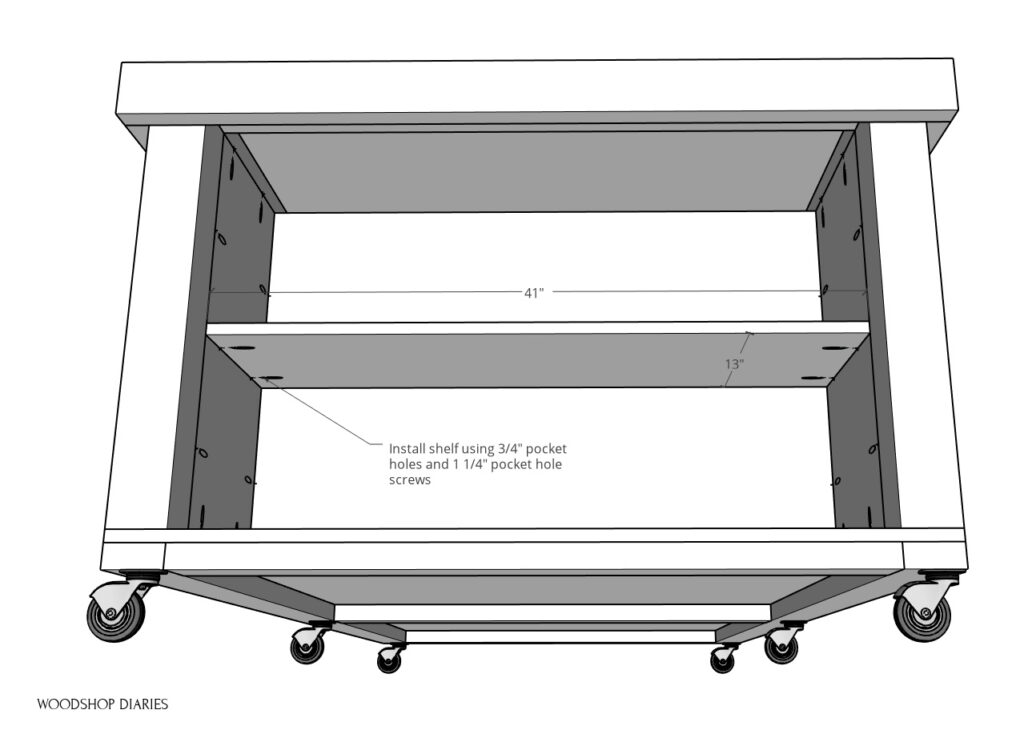 I added some scrap wood triangles on my shelf to act as dividers, but that's totally optional.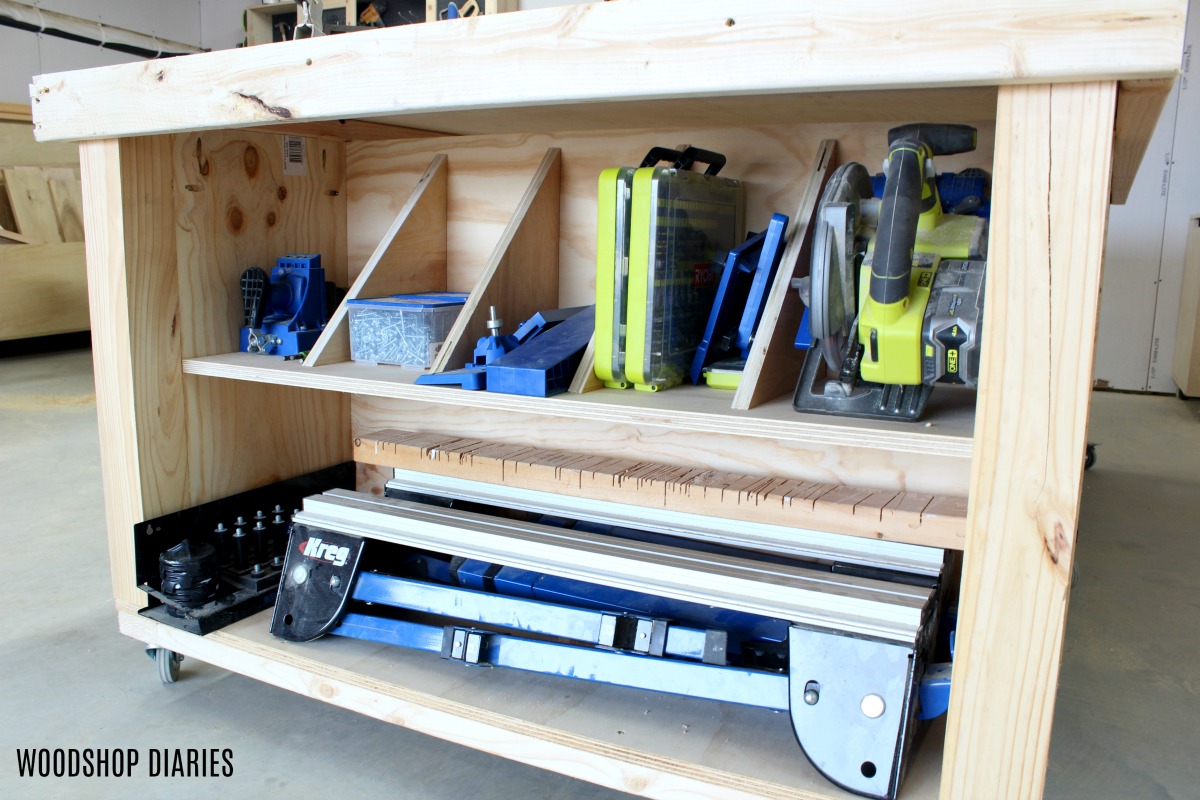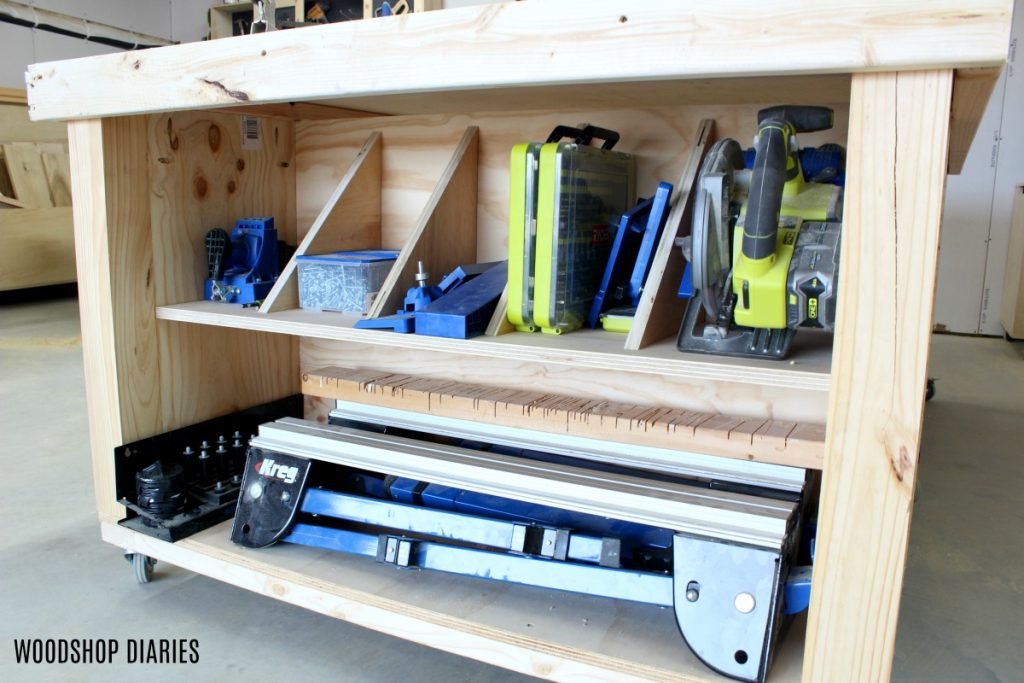 And there you have one of the most helpful pieces you'll ever build for your shop–a DIY mobile workbench!
.
This has already become my most used piece in the shop.  I love the cubbies on the end, for all my jigs, and the large area underneath for my vacuum and a bucket to toss small scraps into while I'm working.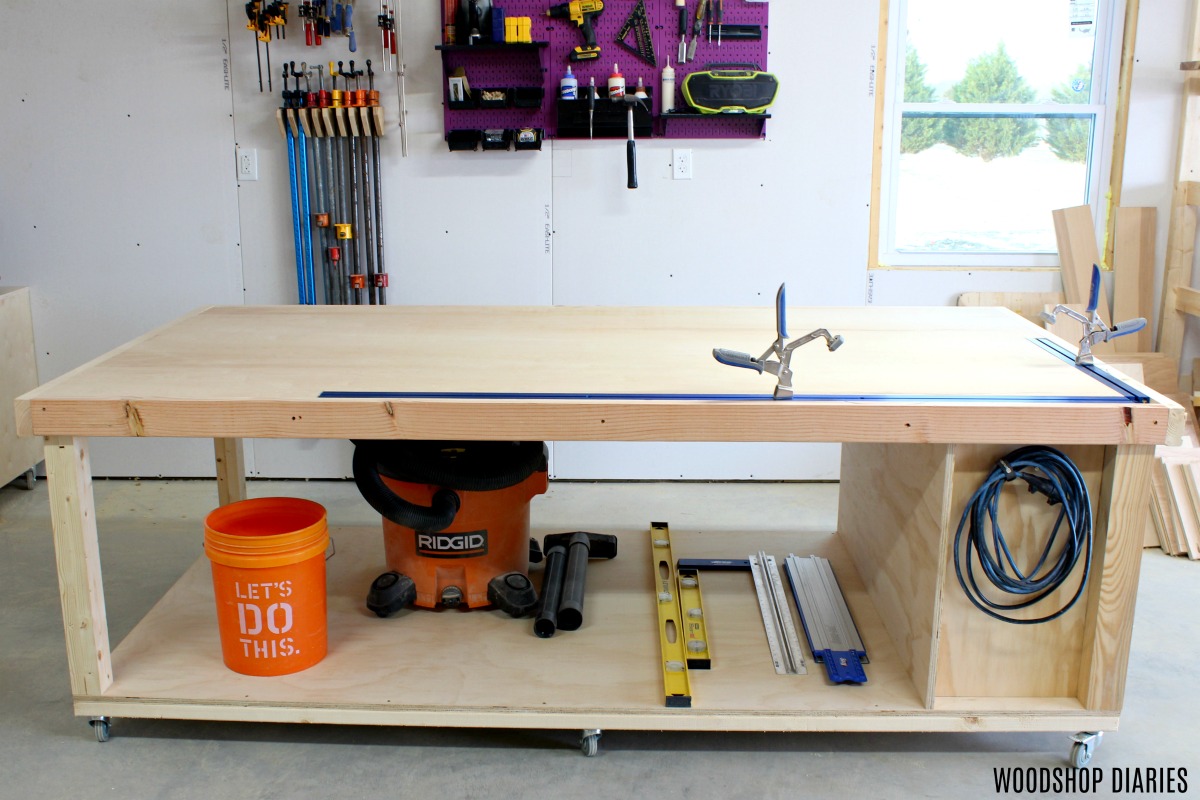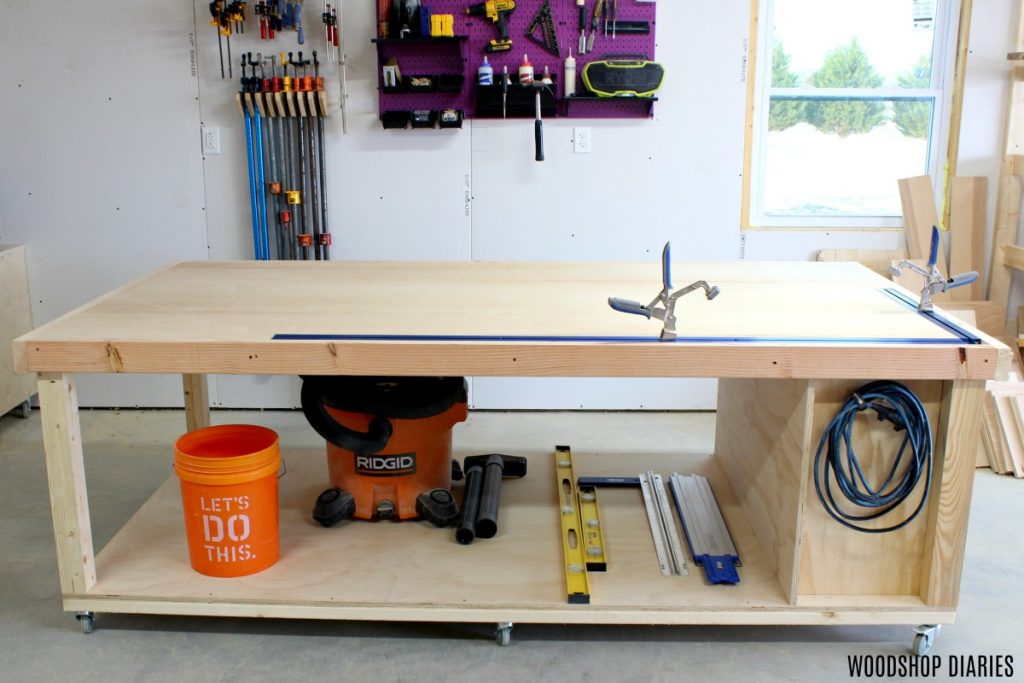 So if you are ready to start working on an ultimate DIY mobile workbench instead of on the shop floor, head over to Build Something for the printable plans. 
.
And if you liked this project, I would love it if you'd pin it for later and don't forget to subscribe to my newsletter below so you don't miss out on the awesome projects to come!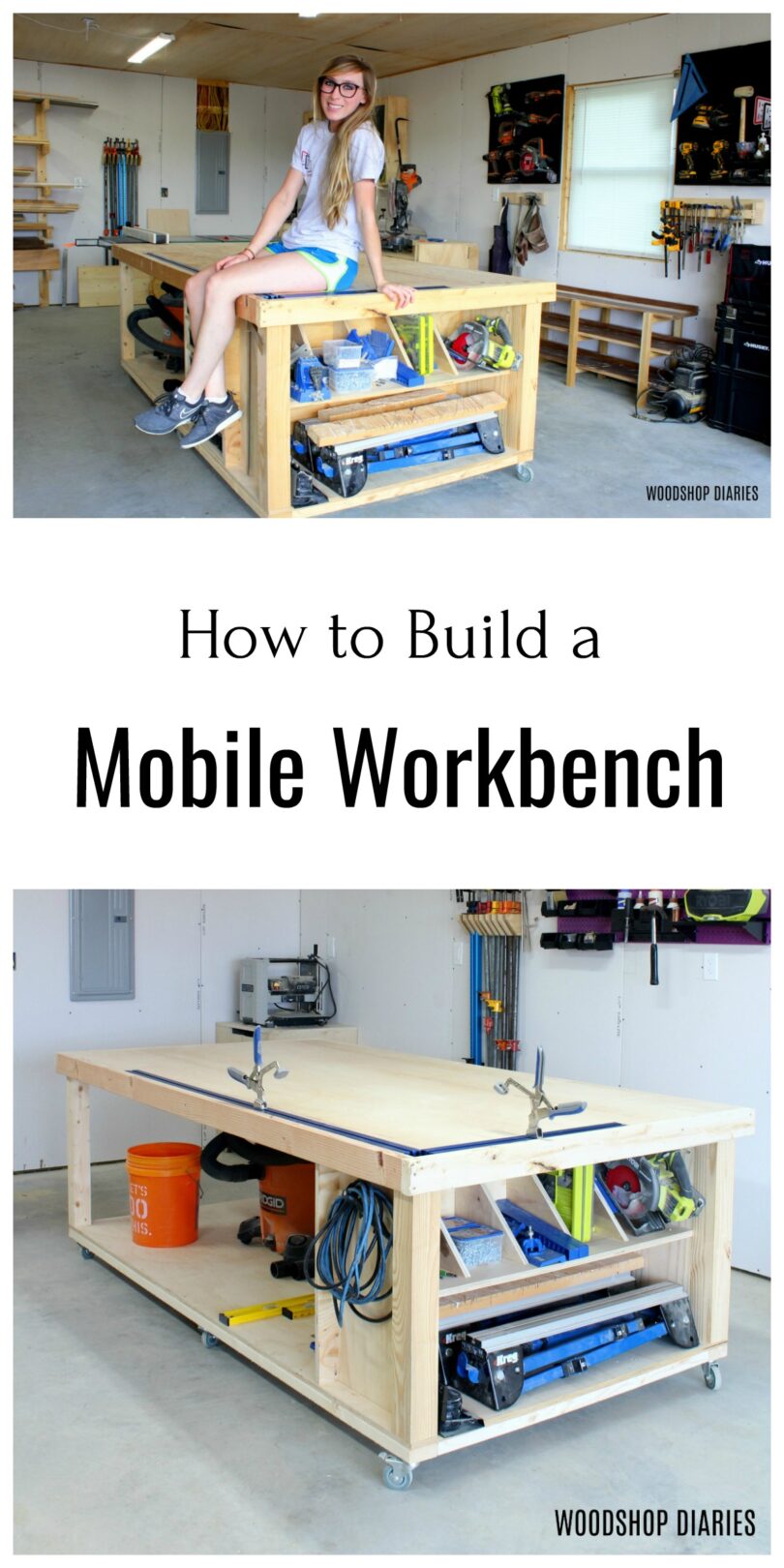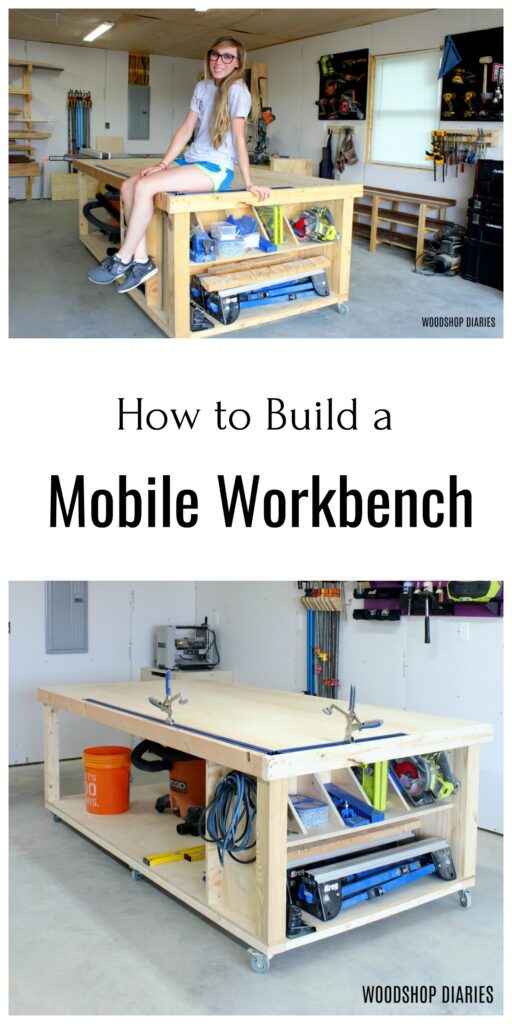 Need more shop storage and organization?  How about these projects?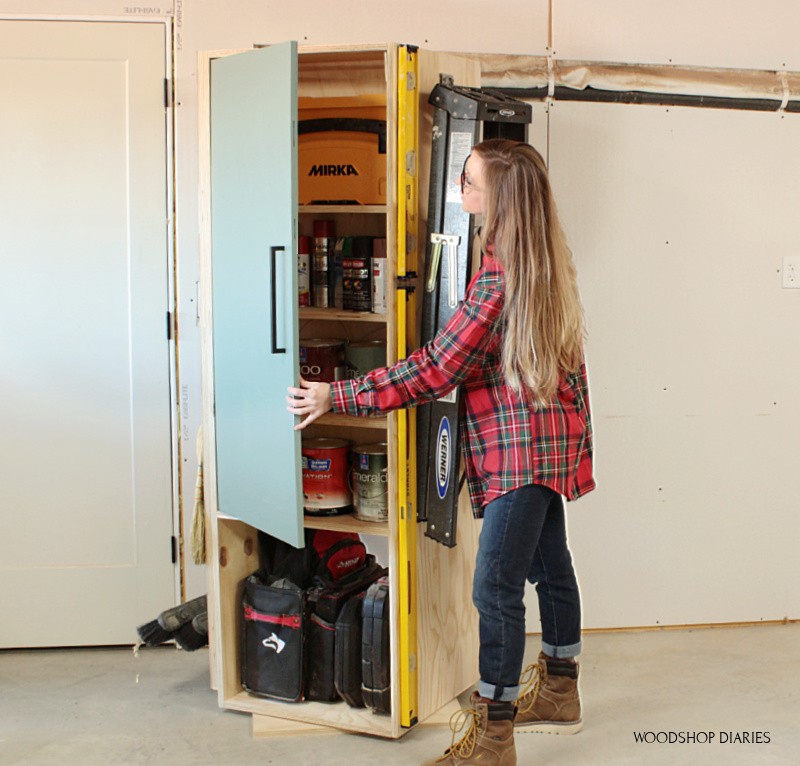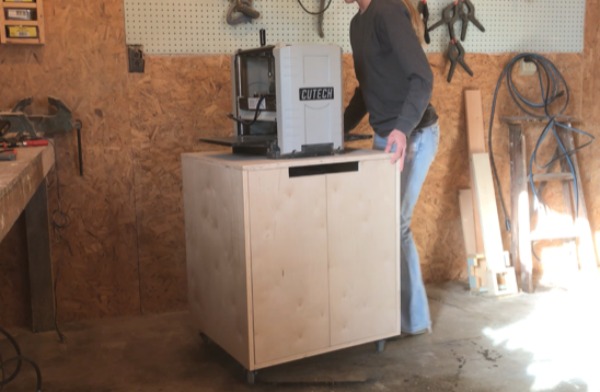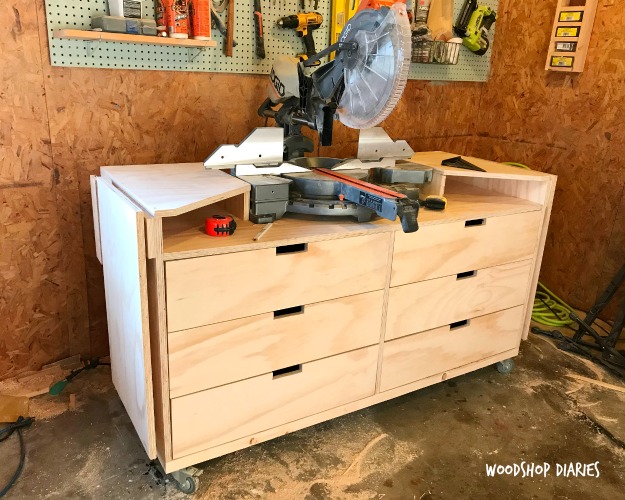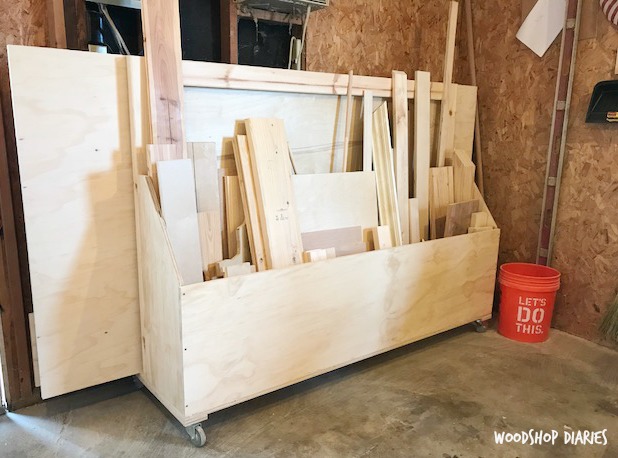 Until next time, happy building! 🙂