In this post, I'm sharing how to build an easy DIY outdoor side table as part of a matching outdoor furniture set!
I've been sharing a five piece matching outdoor furniture set over the last few weeks and this simple side table is the perfect way to wrap up the series!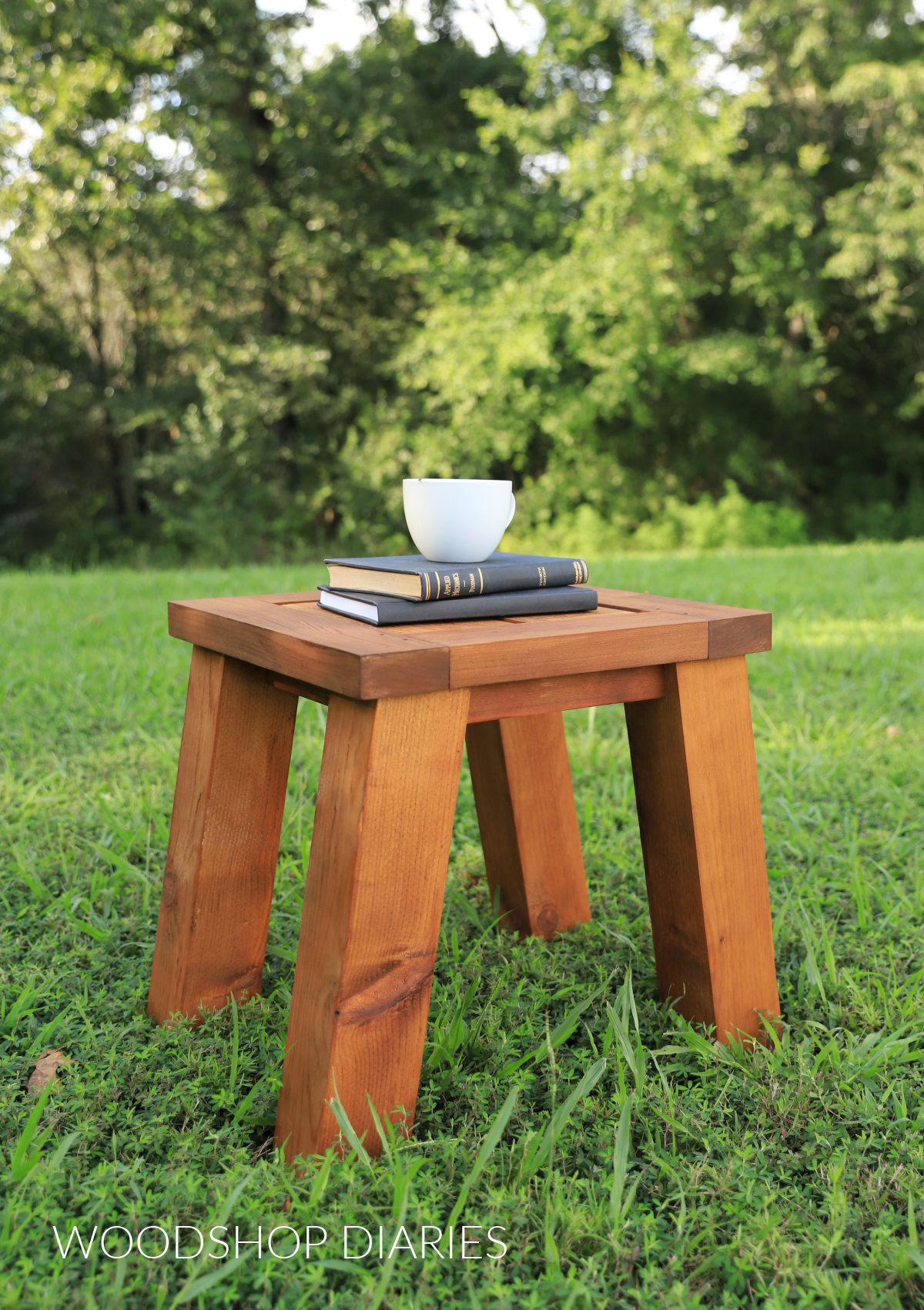 This chunky style end table pairs perfectly with the coffee table and outdoor seating I've shared already and is the perfect combination of simple, modern, sophisticated and rustic.
If you missed it, check out these matching pieces:
After sharing the three matching seating projects first, matching side and coffee tables were highly requested, so I'm excited to be sharing this with you to complete the set!
If you're ready to get building, let's go!
*This post contains affiliate links. See website policies.
What to consider before building an outdoor side table
As always, you can find the materials list in the tutorial and building plans below, but I encourage you to check your scrap wood pile before buying any lumber.
Most of the pieces used to build this little end table are common sizes and fairly short lengths, so you may already have everything you need!
Enjoy building your own furniture and DIY projects? Sign up for priority access to the latest how-tos straight to your inbox!
WHAT TYPE OF WOOD SHOULD YOU BUILD AN OUTDOOR Side TABLE WITH?
When building an outdoor project, it's always good to consider the type of wood you want to use.
Untreated pine is readily available, common in DIY projects, looks nice and is very budget friendly. However, when exposed to the elements outdoors, it can deteriorate quickly.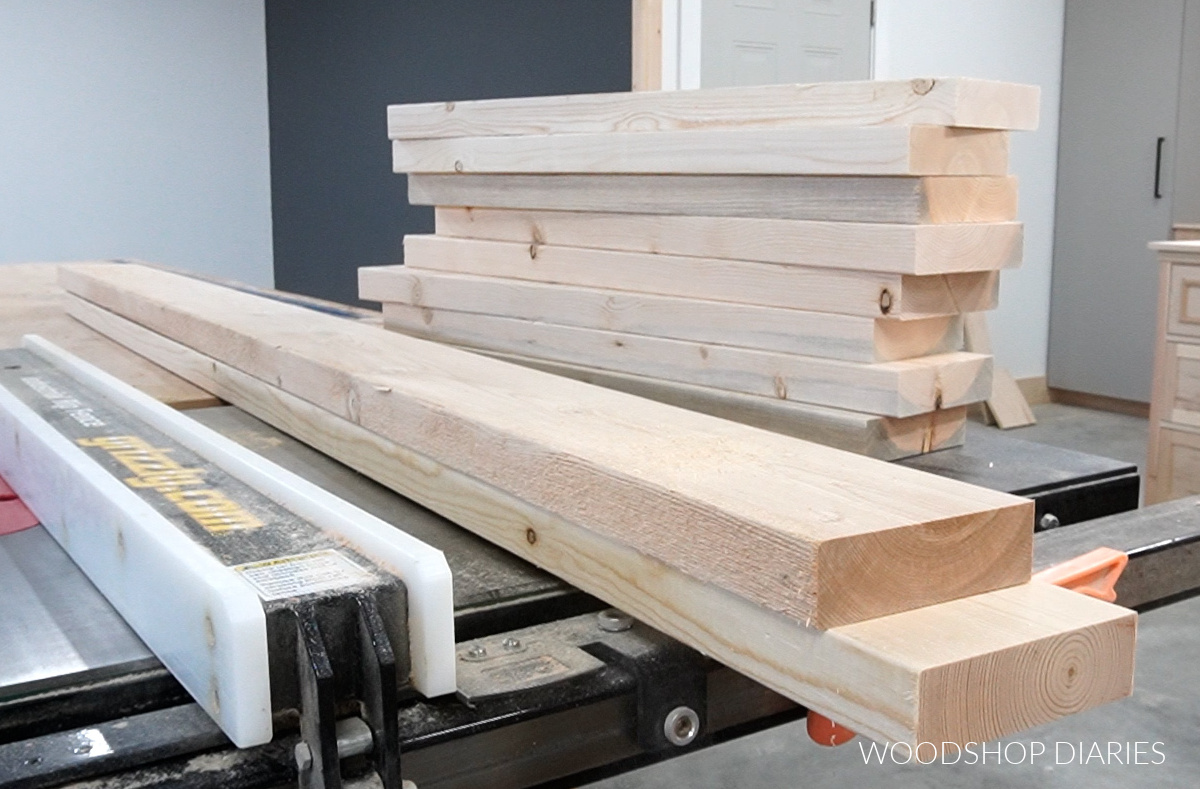 If left unfinished, untreated pine wood will likely only last you a season or two. But if properly finished and sealed (with an outdoor sealant or paint), you may get several years out of it depending on how harsh the weather is where you live and if it's under porch cover.
Pressure treated wood is wood that is treated with special chemicals to prevent it from deteriorating so quickly. It's readily available and budget friendly, but it's not always the nicest to work with and it's pretty heavy.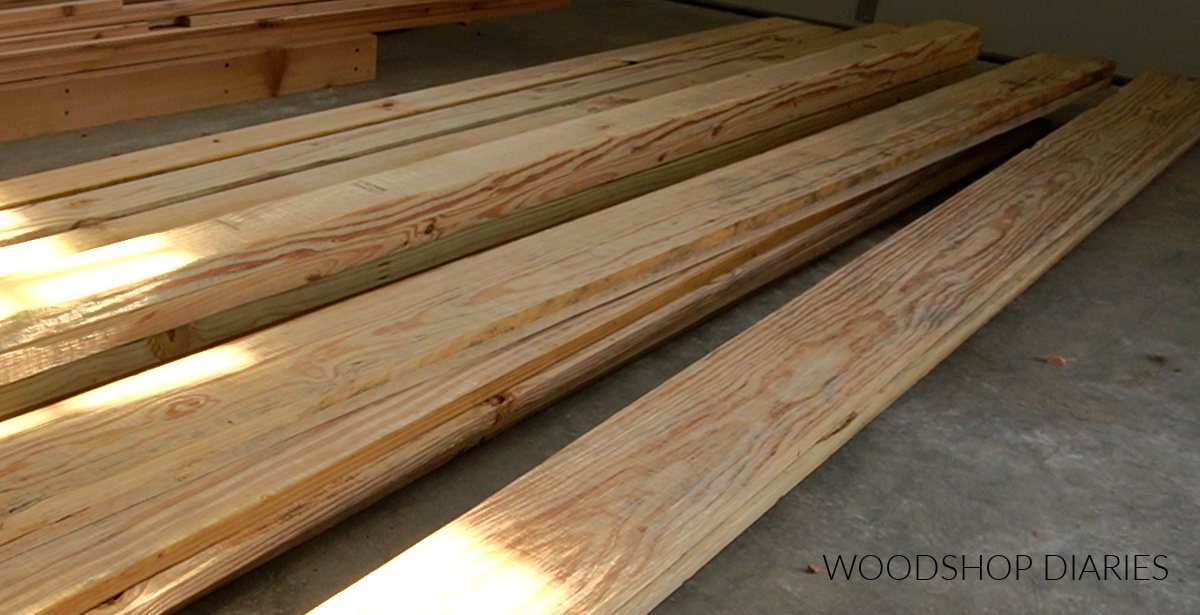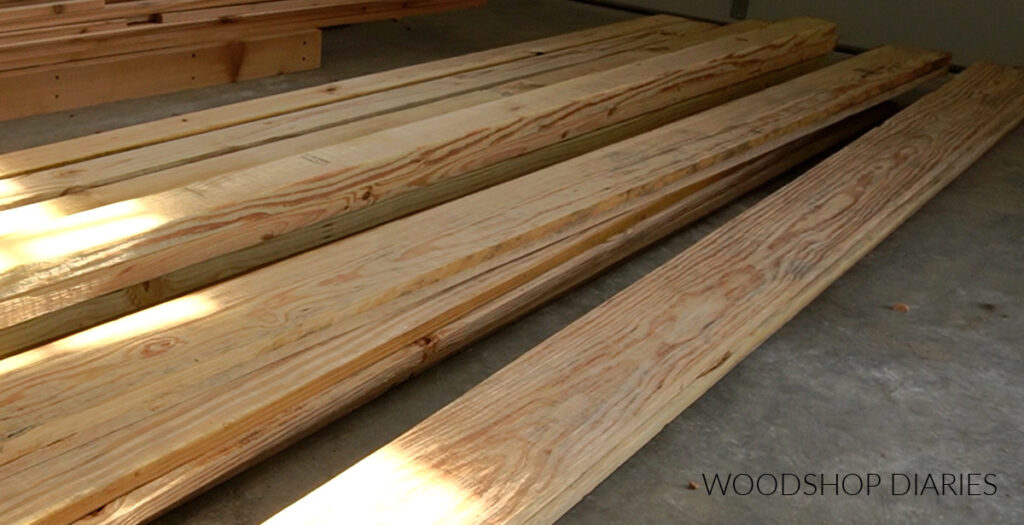 Cedar, red wood, and teak are all naturally decay and insect resistant wood options that look really nice and are great for outdoor furniture projects. But, that comes with a price tag.
These wood types can be quite expensive and sometimes hard to find depending on where you live.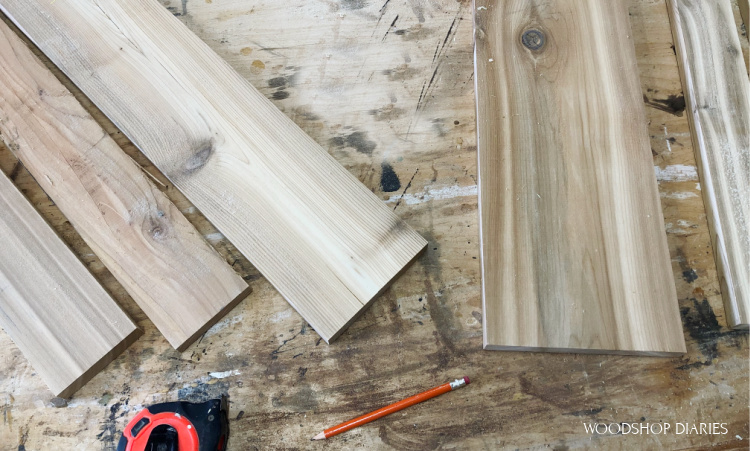 I built the matching chair, loveseat, and sofa with cedar, so I made this side table from cedar as well since that's what I had leftover in my scrap pile.
TIP: Don't forget when building project for outdoors, make sure to use outdoor rated hardware (screws), and outdoor rated finishes!
Outdoor Side Table Size
Much like indoor side tables, outdoor side tables can be found in a ton of various sizes to fit your needs. There is no "standard side table size."
However, side and end tables do tend to be a few inches taller than coffee tables and usually come up close to the height of the arm rest on the chair it sits next to.
In this case, I made this table 18″ deep x 19 ½″ tall x 22 ¼″ wide (at the widest point between the legs). The table top is 18″ x 18 ¾″.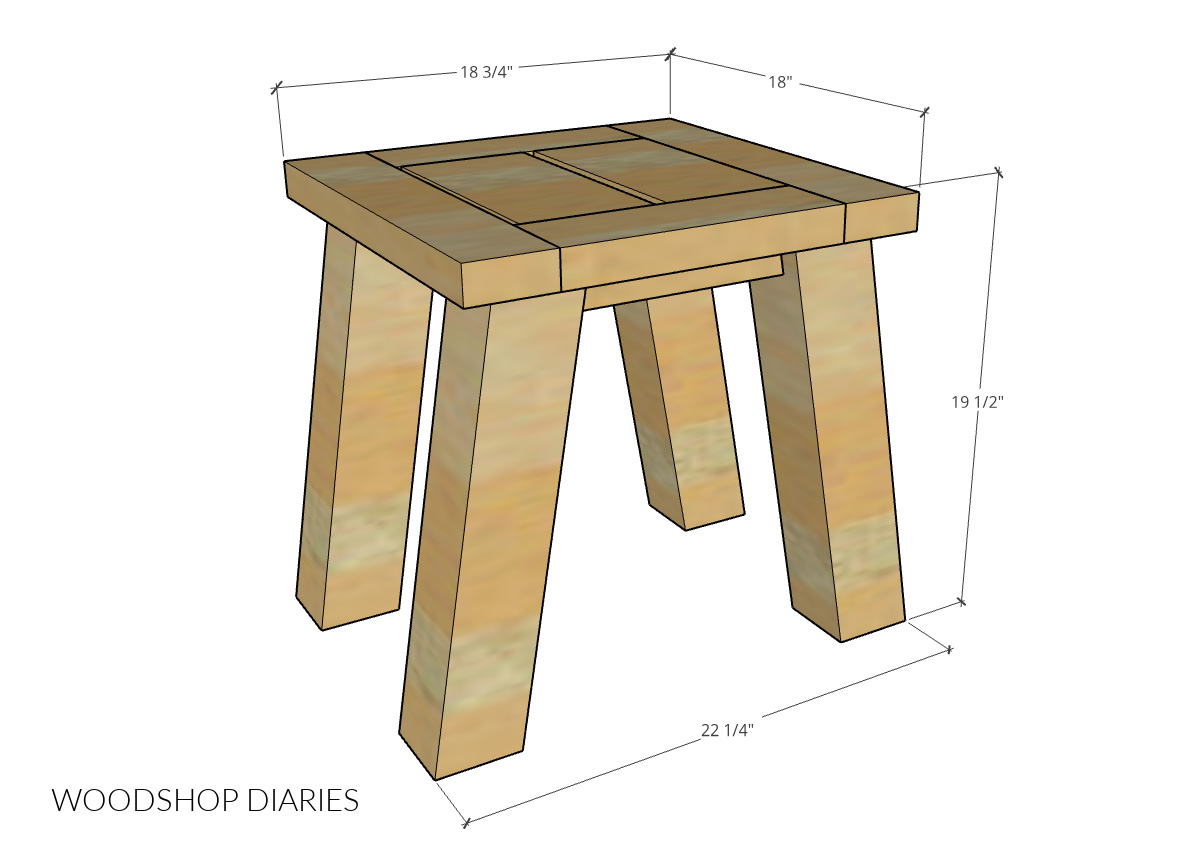 It's not uncommon to find many outdoor side tables a couple inches shorter than indoor side tables. Typically, outdoor seating is lower to the ground, so it makes sense that the side tables that go with them are also a little shorter as well.
This simple coffee table is SUPER easy to customize to any size you'd like with just a few basic adjustments that I'll discuss below.
FINISHING YOUR OUTDOOR Side TABLE
Once your project is built, you want to make sure it's properly protected from weather damage from sun, rain, and snow.
The easiest way to do this is to apply an outdoor sealant (or paint) to ALL surfaces (especially end grain). I prefer outdoor stain and sealants because they allow you to seal and protect the wood, but still see the wood grain underneath.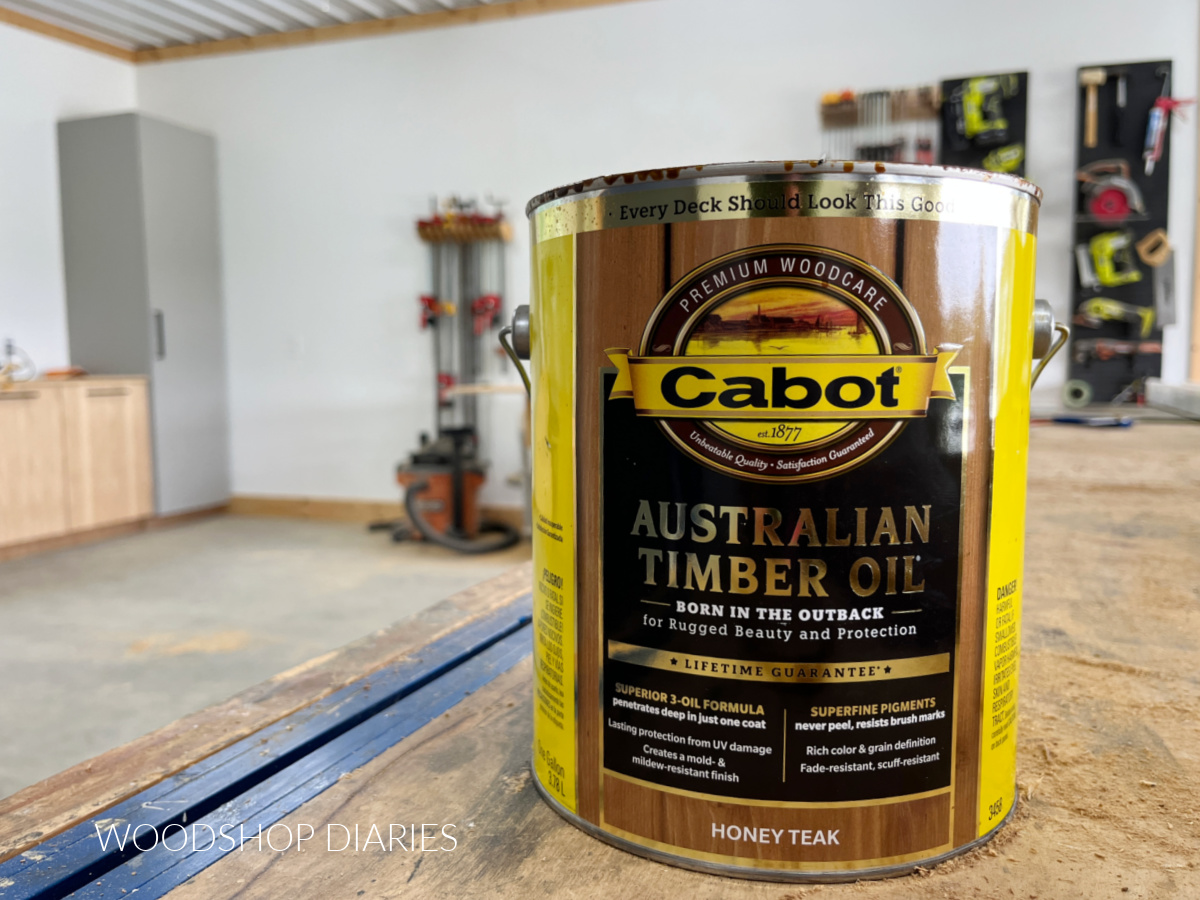 Outdoor stain and sealants come in a wide variety of brands, colors, and opacities. You can find many of them readily available in the big box store or local hardware stores.
Most of the options you see available off the shelf come in a clear transparent, and a tinted transparent, semi-transparent or solid.
Basically anything with a tint is a stain and sealant all-in-one and the "less transparent" you go, the more protection it provides. Solids provide more protection than transparent. However, transparent allows you to see the wood grain more.
So choosing one is mostly based on how you want it to look and how often you want to reapply. Once water no longer beads up on the surface, it's time for another coat. For this project, I used Cabot Australian Timber Oil in Honey Teak.
How to build an outdoor side table
This side table build is simple and straightforward and can easily be assembled in an hour or two. It's a great weekend project for a beginner to intermediate DIYer.
If you prefer to watch, check out the full build video here with helpful tips and along the way!
Are videos your thing? Subscribe to my YouTube Channel for more project and how to videos!
I'm sharing the step by step process to build this DIY outdoor side table below. But if you prefer to print it out and take the plans to the shop with you, I've got you covered! Grab the outdoor side table printable building plans here.
Tools & Materials
Tools:
Sander
Brad Nailer (optional)
Materials:
(1) 4x4x8 post
(1) 2x2x8 board
(1) 1x2x8 board
(1) 2x4x8 boards
(1) 1x6x8 board (or a 1x6x6 fence picket)
1 ¼″ exterior wood screws or brad nails
2 ½" exterior wood screws
Wood Glue (exterior rated)
Step 1: Assemble Side Table Base
Just like with the matching coffee table, this smaller side table base is made from 4x4s for the legs.
A Note from Behind the Scenes: I actually built this exact same table design three times–once using 2x2s for the legs, once using 2x4s for the legs and finally this one with 4x4s for the legs.
I thought the smaller legs might look better, but they looked kind of odd next to the matching loveseat and coffee table. So, ultimately, I decided to stick with the 4×4 legs here.
I used 2x2s for the side frame pieces and 2x4s on the front and back frame pieces in order to connect the legs together to make the base.
If you want to adjust the sizing of your table, here are some tips:
To make the table taller/shorter: Adjust the length of the legs
To change the table width: Adjust the length of the 2x4s
To change the table depth: Adjust the length of the 2x2s
I cut the 4×4 legs with 10 degree mitered ends so that they would slant outward slightly instead of just being straight up and down. Make sure to miter both ends parallel to each other.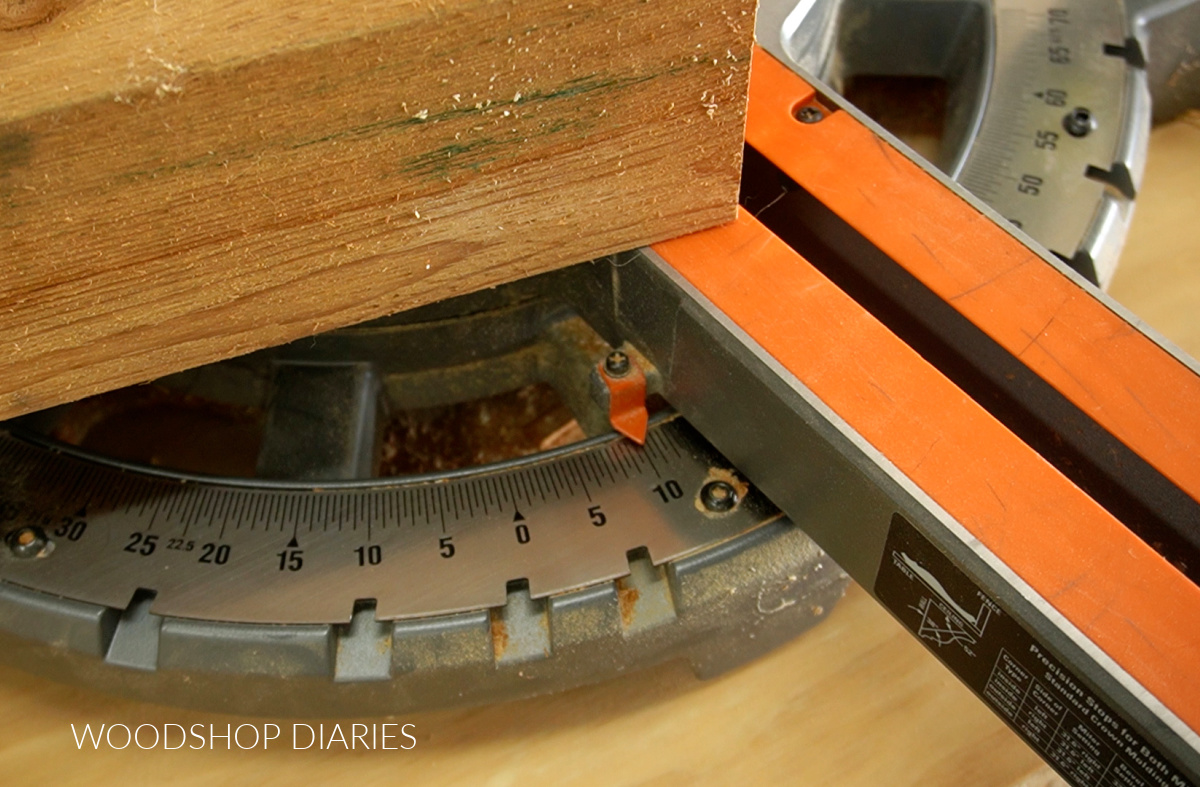 Since these legs were mitered, I also had to bevel the ends of the 2x4s that run between them 10 degrees. These need to be beveled so they are NOT parallel to each other.
All the dimensions and angle details can be found in the printable plans.
I drilled 1 ½″ pocket holes into the ends of the 2×4 boards and the 2×2 boards in order to assemble. Notice that the pocket holes in the 2x4s need to be drilled within 2 ½″ of the outside edge of the board. I know that seems odd, but there's a reason!
RELATED: How to use a pocket hole jig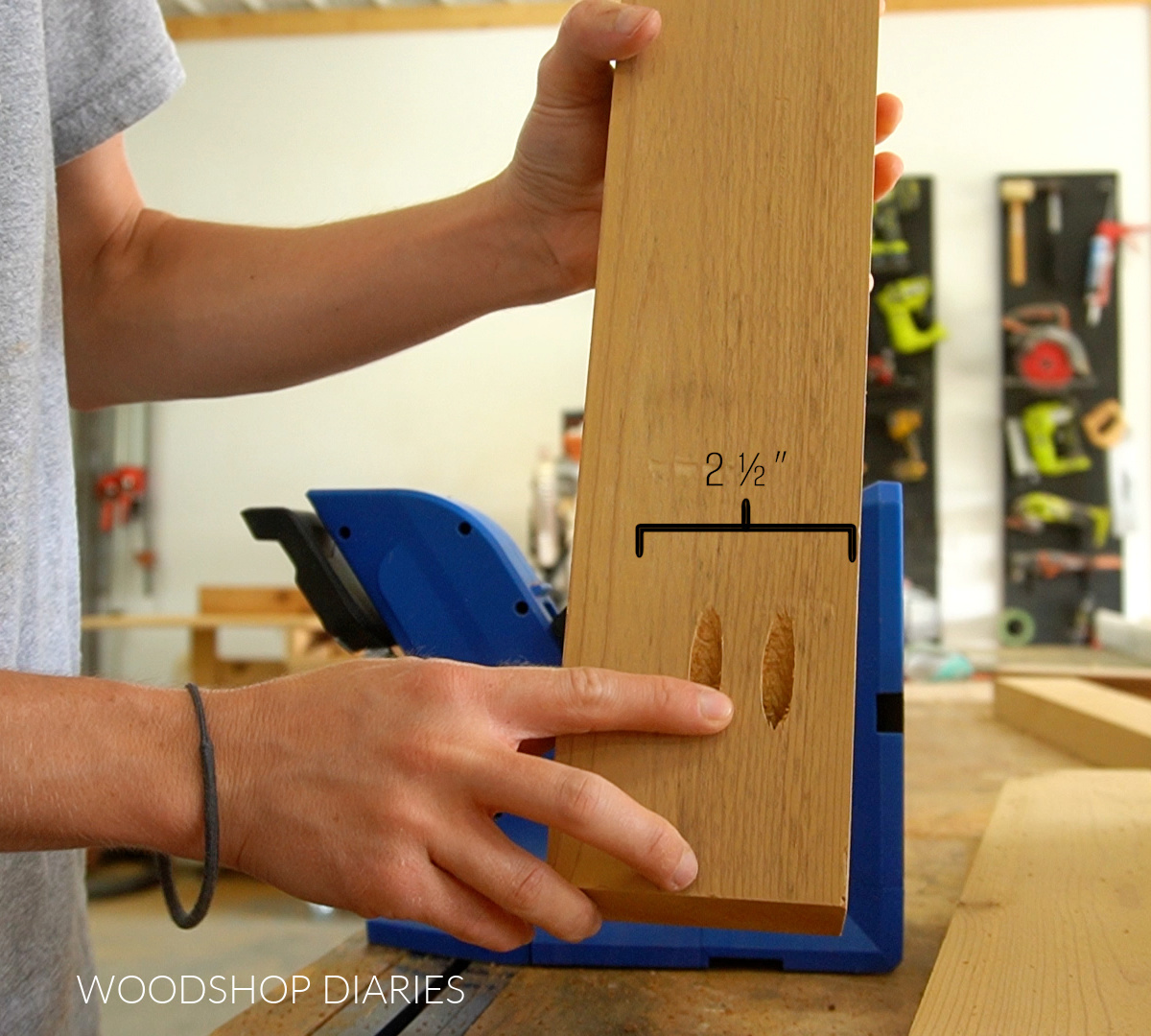 When I assembled the 2x4s between the legs, I installed them so that they were 1″ inset from the outside edge of the legs.
This added some extra dimension to the table base and also allowed a "ledge" to place the slats on later.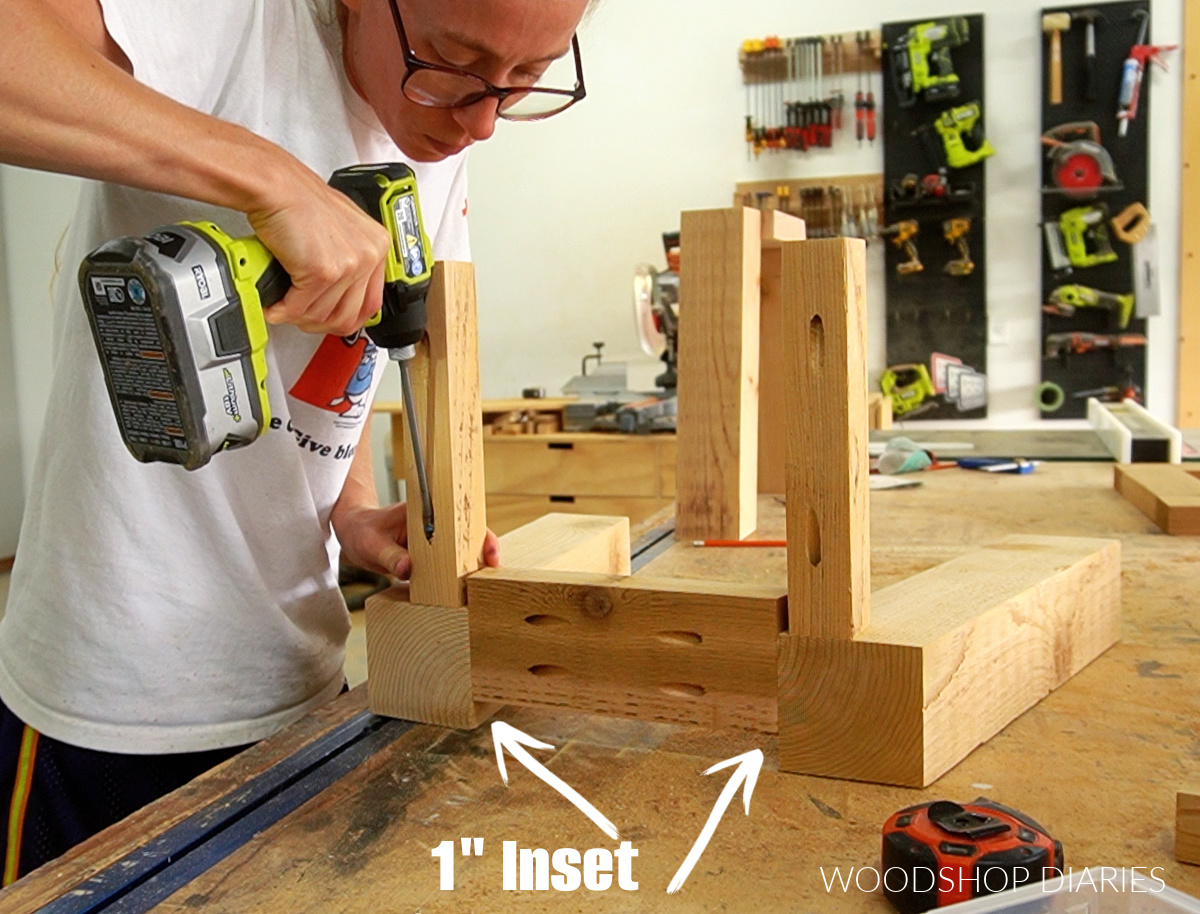 I made the two front and back sides of the outdoor coffee table base by securing the 2x4s between the 4×4 legs like shown above. Then I attached the sides together with pocket hole screws in the 2x2s like shown below.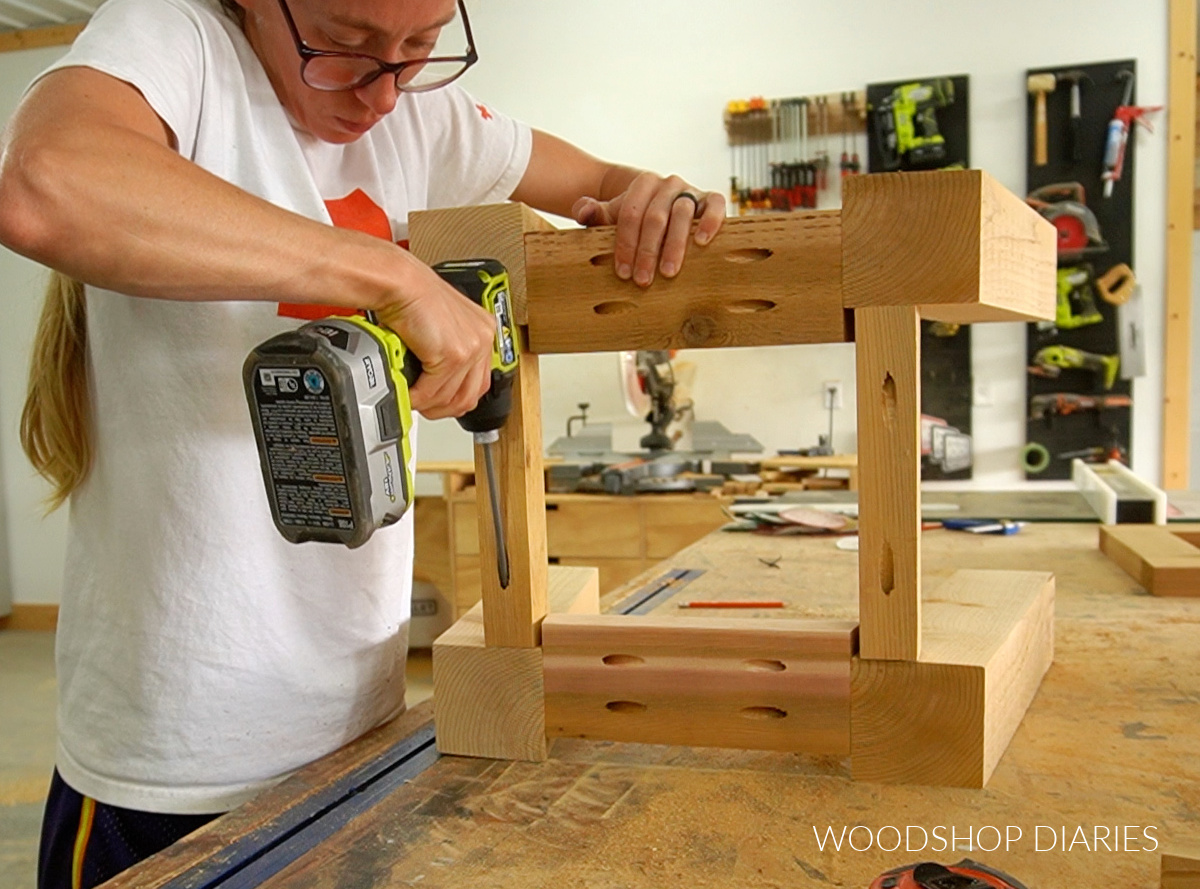 By the way, when drilling pocket holes in 2x2s, I like to just use one pocket hole as I have found that using two tends to cause the wood to split. If you use one pocket hole in 2x2s like I do, make sure not to skip using wood glue with it!
Step 2: Assemble Side Table Top Frame
The outdoor side table top consists of a simple 2×4 frame with slats running along the inside. Before I could add the slats, I needed to build the outside frame.
So, I assembled a basic 2×4 frame using pocket holes and screws. I made the overall size of this frame about 2″ deeper and 2 ½″ wider than the top of the table base. This will allow for some overhang on all sides.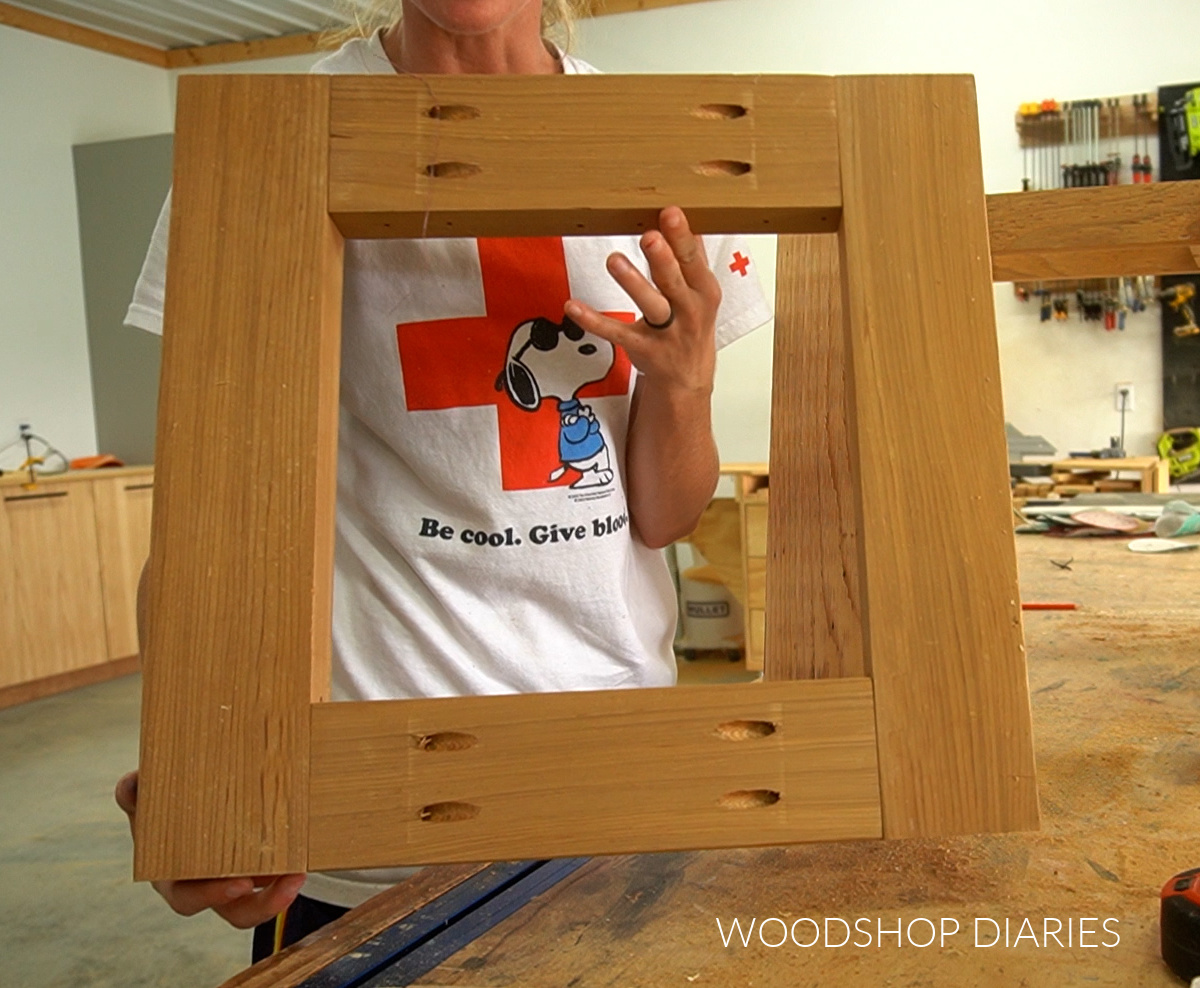 Step 3: Attach Table Top and Base Together
Then, I flipped the frame from step 2 upside down on the workbench and flipped the table base from step 1 upside down on top of it.
I made sure the base was centered on the frame, then used 2 ½″ screws to secure them together through the bottom side of the table base.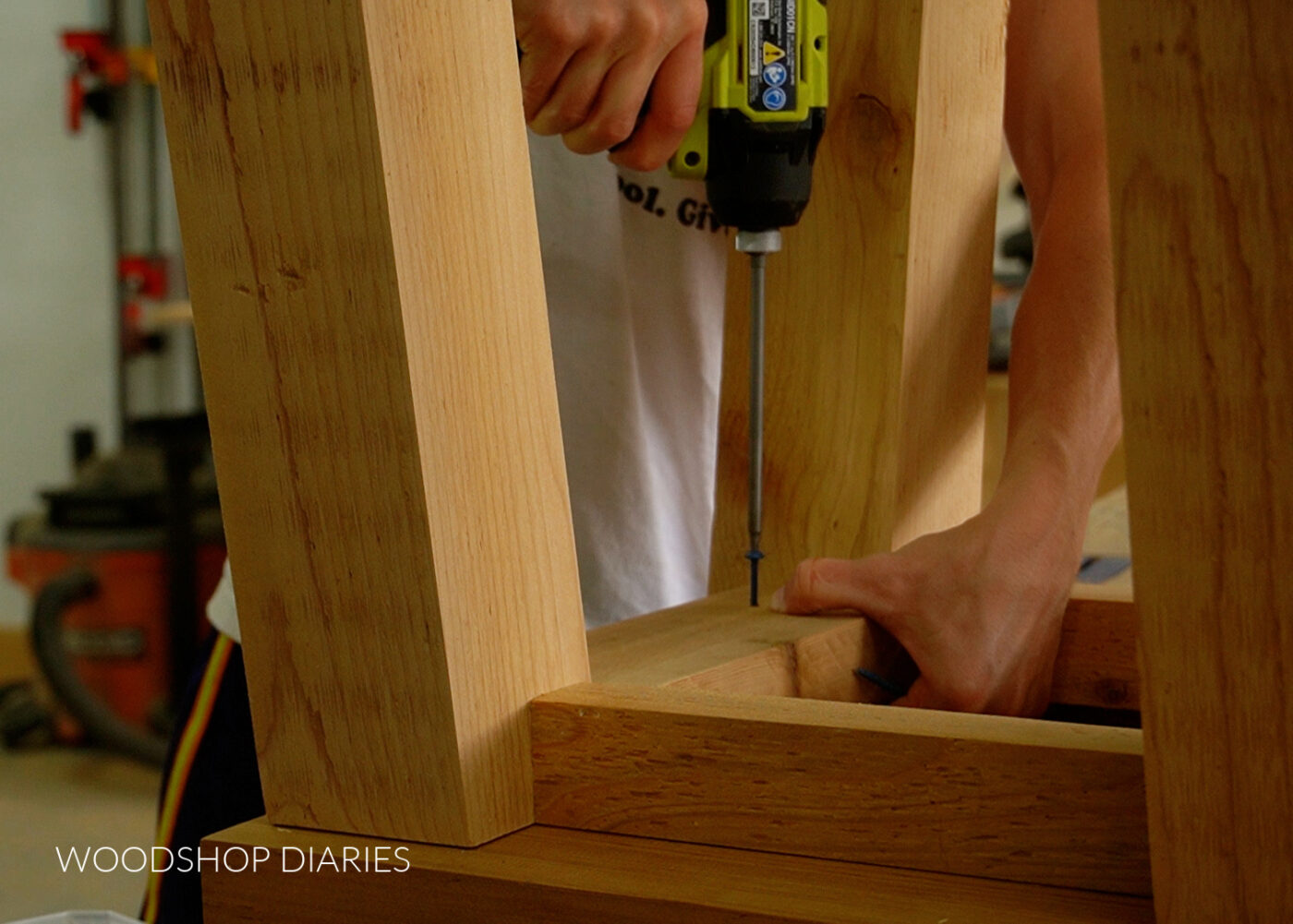 Step 4: Add Top Slats
The top frame from step 2 is made from a 2×4 so it's about 1 ½″ thick. You could use 2x thick slats and simply cut these and place them inside the opening.
However, cedar 2xs are pretty expensive, so I really didn't want to do that. Instead, I used cedar 1×6 fence pickets (which are really cheap–and I already had some in my shop).
The downside is that cedar fence pickets are about ⅝″ thick. So if I just cut them and place them in the frame, they'd sit well below the surface, which isn't ideal.
RELATED: Understanding lumber sizing for beginners
To fix this, I cut some 1x2s as "spacer blocks" to place inside this opening and screwed them into the 2×4 on the table base.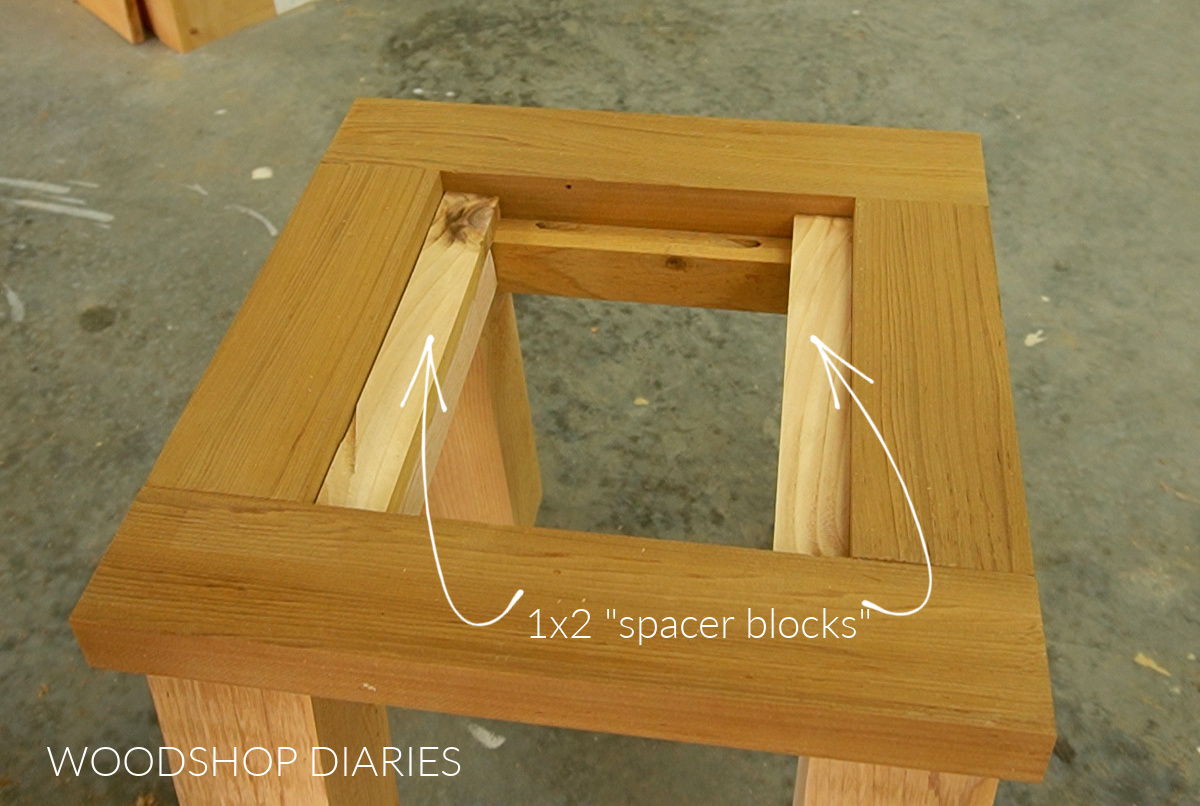 Then, I could cut my fence picket boards and place them on top. These may still sit a little lower than the frame, but just barely.
TIP: If you wanted to use a standard 1×6 board instead of a fence picket, that would work fine as well (but regular 1×6 cedar boards are pretty pricey too, so fence pickets are a great substitute).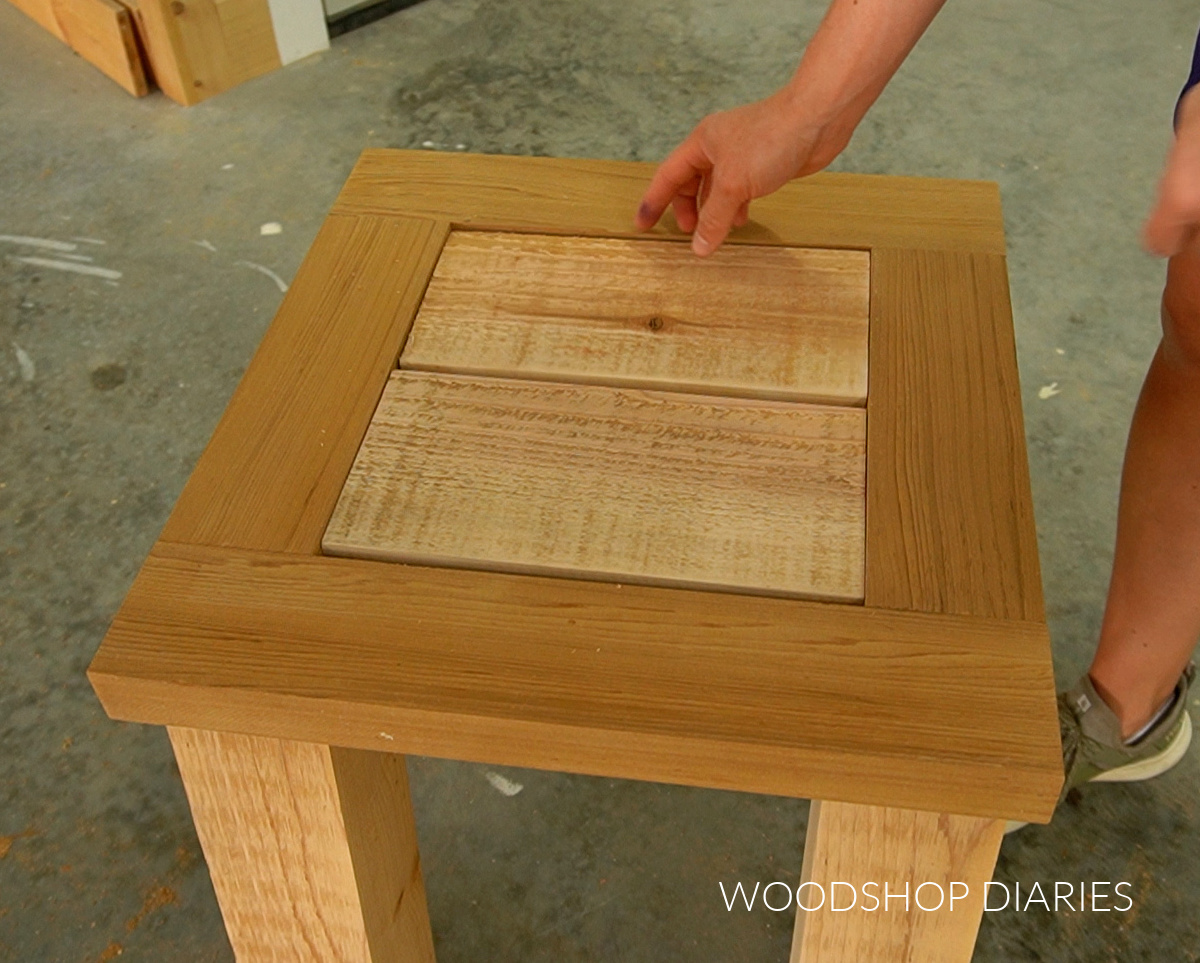 I didn't attach these just yet because I thought it would be easier to stain before they were secured in place.
Step 5: Finish
I applied a coat of Cabot Australian Timber Oil in Honey Teak to the side table frame and the slats individually.
Once everything was sealed and dry, the slats were ready to attach. You can attach these several different ways.
One way to attach the slats here is to simply apply a bead of exterior rated wood glue along the 1×2 spacer blocks from step 4 and just place the slats on top. Then, allow the glue to fully cure before moving.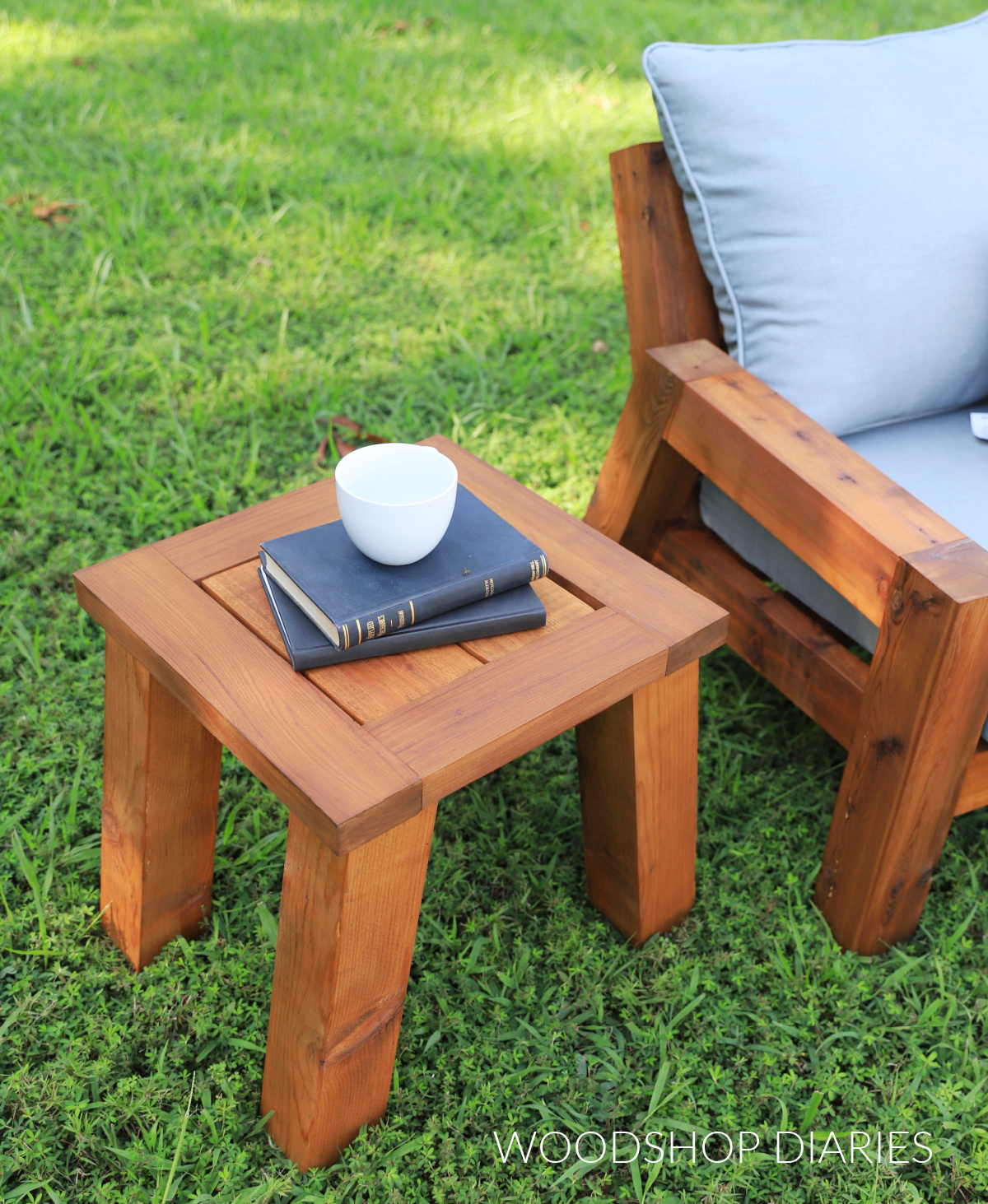 Another option is to apply wood glue and use brad nails or wood screws to secure the slats to the 1×2. Personally, I suggest using brad nails as screws are more likely to split or crack the wood.
Once the slats are secured, it's ready to put to use on your deck, porch or patio! Pair it with some matching seating and the matching coffee table to create a cozy outdoor gathering space!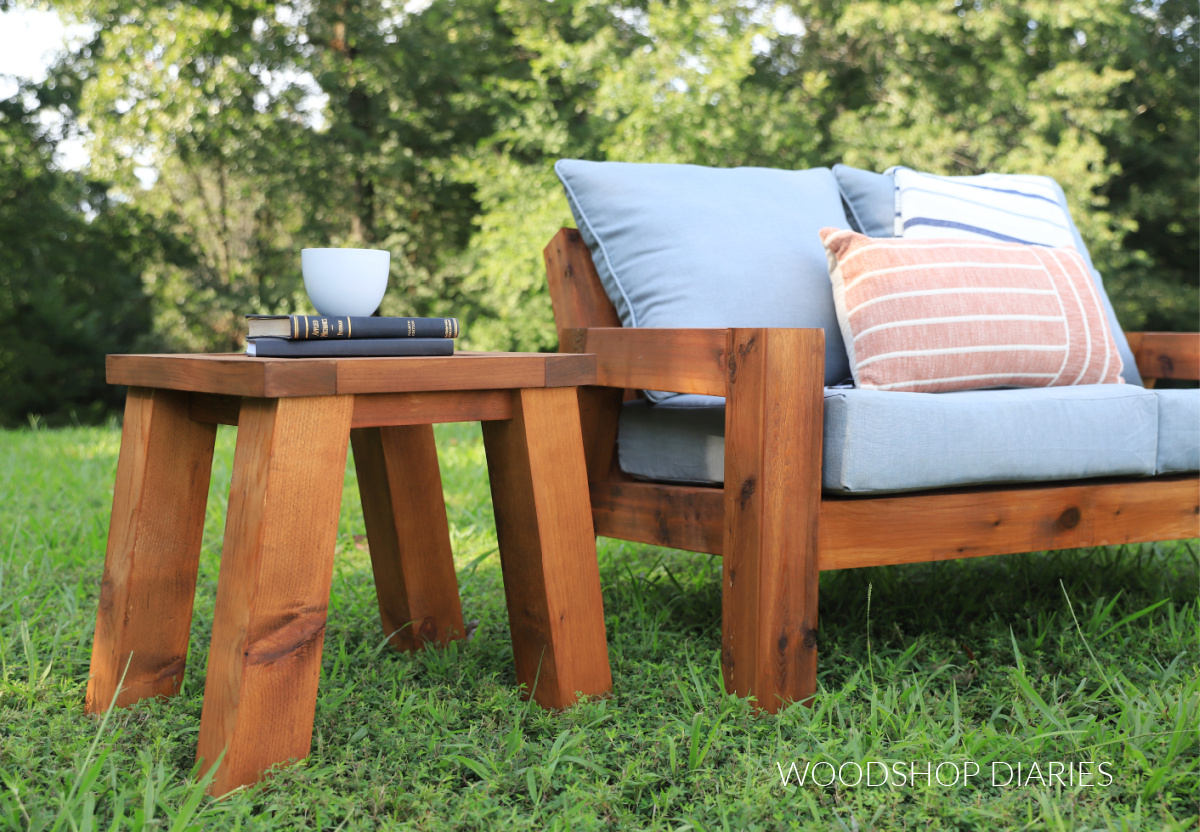 Grab the printable building plans to build your own DIY outdoor side table here!
Looking for more outdoor project ideas?
Outdoor projects are always in season! You can enjoy building them all year long. Here are a few of my favorites that would pair great with this fun table: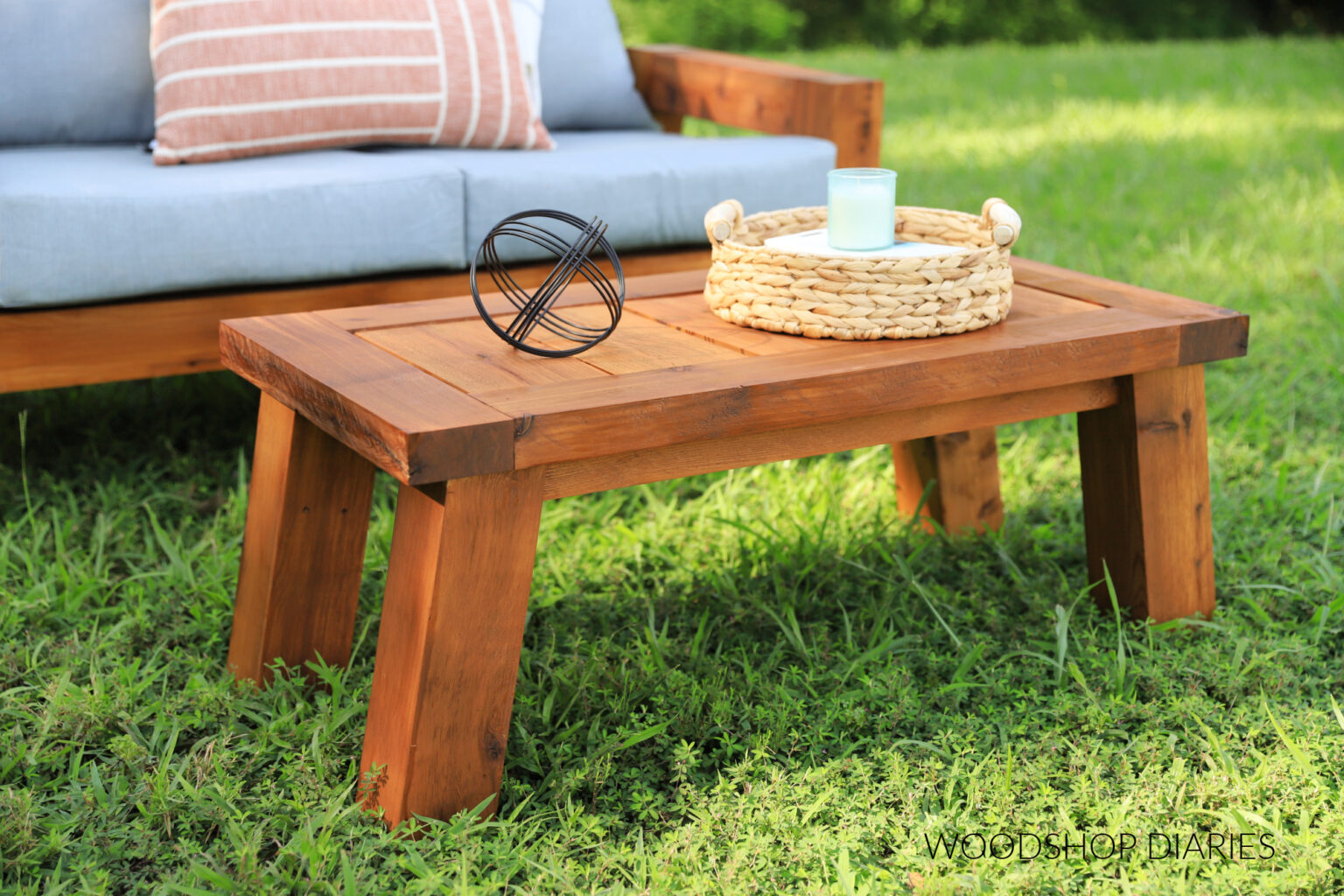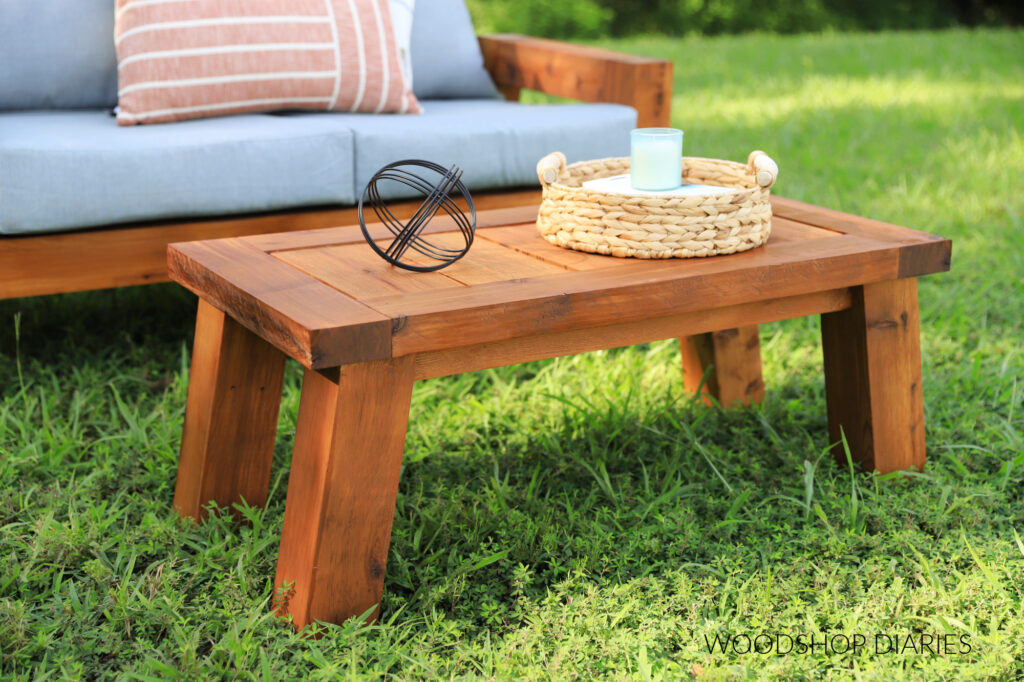 If you'd like to save this project for later, don't forget to pin it or share it to your favorite social channel!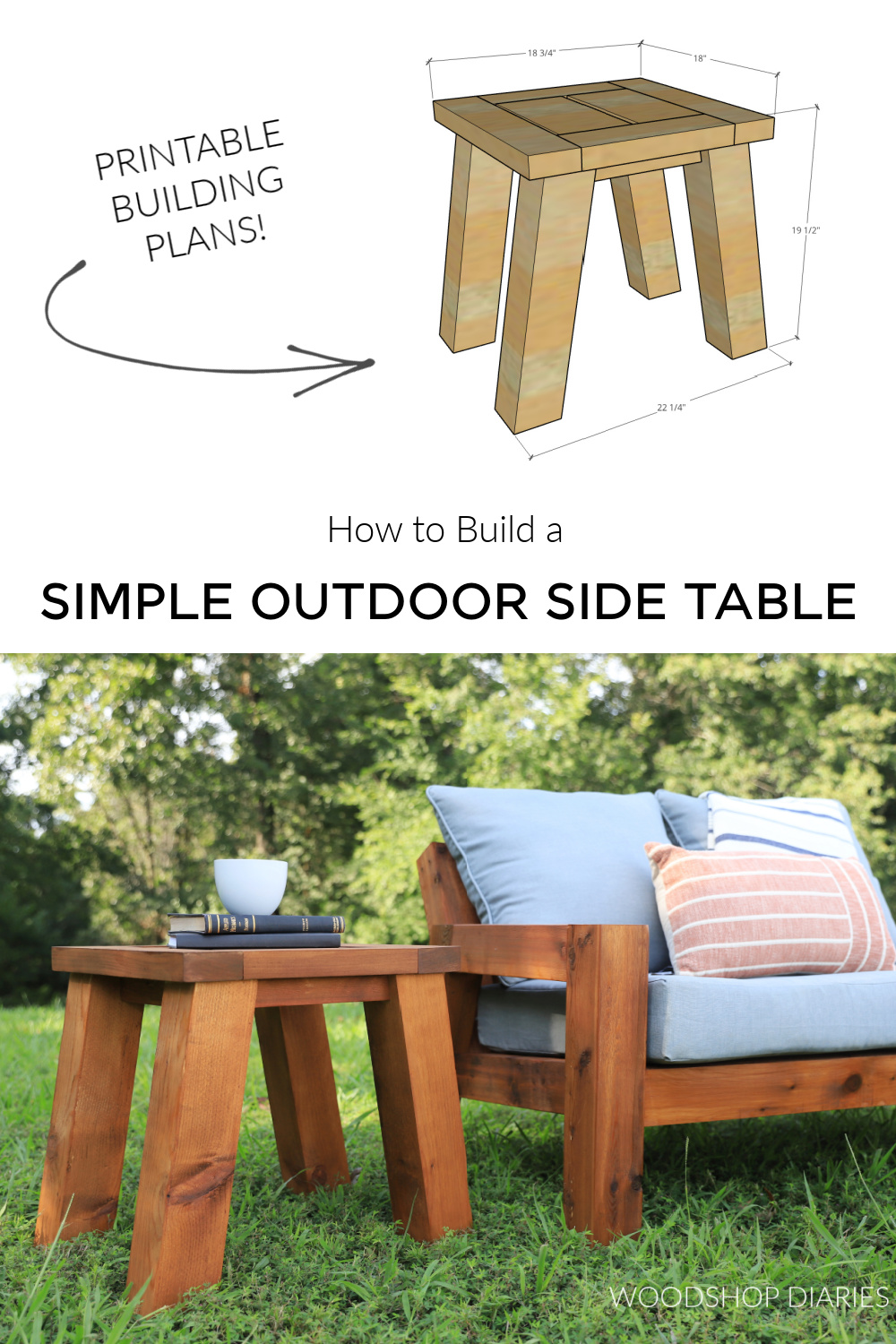 Until next time, friends, happy building!