In this post, I'm sharing how to build a chunky wood DIY outdoor chair with basic materials and minimal tools!
These simple outdoor chairs are a great weekend woodworking project that you can easily start, finish, and enjoy before the weekend is over.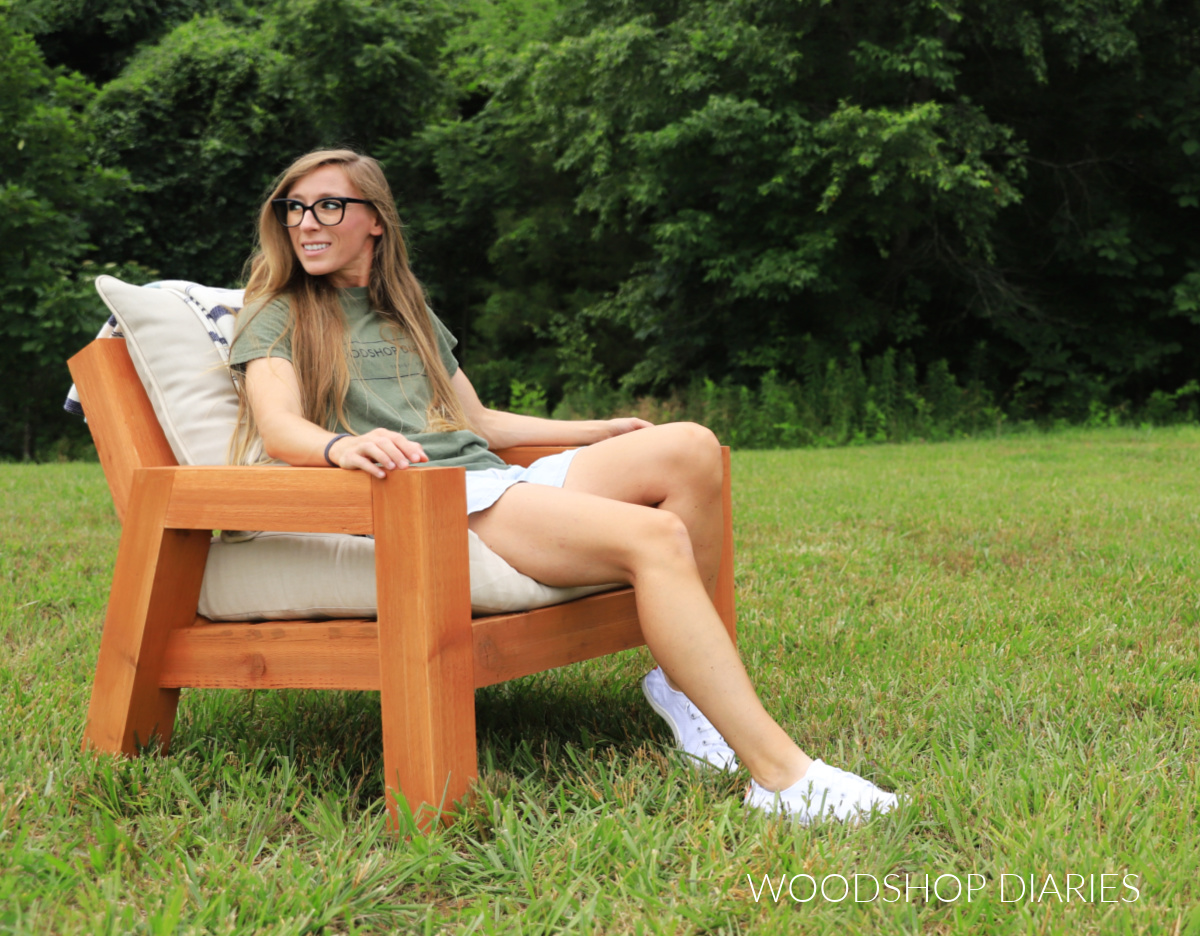 I cannot get enough of this simple, chunky outdoor chair design. I loved it so much, I built two of them! They're sturdy and stylish and make a really nice looking seat for your deck, porch, or patio.
In case you missed it, I already built the matching outdoor sofa to go with it. Check out the matching DIY outdoor sofa build here.
The two builds are very similar (since they're a matching set, that only makes sense haha), but the chair is obviously a little narrower and doesn't need a middle support. And that means, it's an even easier build!
If you're ready to tackle building your own outdoor chair, I'm sharing all the details below!
*This post contains affiliate links. See website policies.
What to know before building an outdoor chair
This outdoor chair project requires only 4 basic tools (listed below) and a few standard size boards you can easily find at the big box store or local lumber yard.
RELATED: How to shop for lumber
I was able to build two of these in just a few hours. But, full disclosure: I did finish/seal the pieces between cutting and assembling to make it easier to get into all the nooks and crannies.
Waiting for the sealer to dry did add a couple hours to the process, but you can always do this at the end if you'd like. Assembly alone only takes a couple hours so it's a great weekend project!
Here are a few things to consider before building an outdoor chair.
Be the first to know about new posts, plans, and woodworking tips on Woodshop Diaries. Sign up to our newsletter for priority access!
Seat Cushion Options & Sizing
I built these chairs to fit standard size 24″ x 24″ seat cushions. If you saw the outdoor sofa build, I used the exact same cushions here for the chairs.
It's always easier to build the chair to fit the cushion than to build the chair and try to find cushions that fit!
The cushion sets I used here came with both a seat cushion and a matching back pillow. You can find the cushions sets I used for this chair here.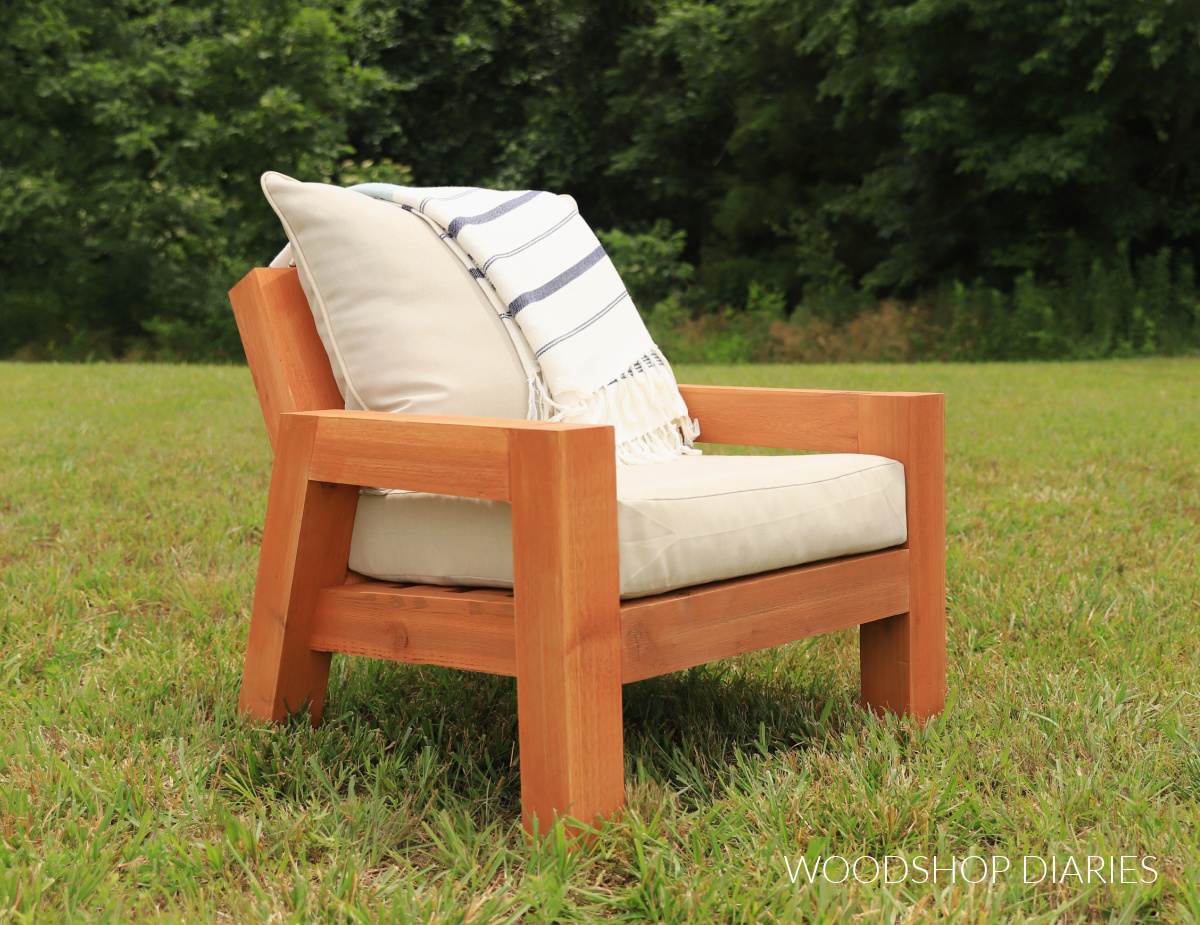 Note that the seat cushions I used are advertised as 24″ x 24″ but when I got them and actually measured, they were 23 ½″ x 23 ½″. So I built the opening of the chair a little undersized at 23 ½″ so they'd fit snug and not have gaps between them.
If your seat cushions are actually 24″ x 24″, they will still work fine. Pillows and cushions can "squish" a little to fit. Better to be snug than to have gaps.
What wood should you build an outdoor chair with?
When building outdoor projects, always consider the type of wood you use. There are several options, and like most things, there are pros and cons to each one.
You can use untreated pine for outdoor builds, but it does not hold up well in the elements long term. This is the most budget friendly option, but will likely only last you a couple seasons outdoors depending on how much exposure to rain, snow, and sun it gets.
Pressure treated wood is intended for use outdoors and will last a long while. However, it's not always the nicest to work with, it's heavy, and it's treated with special chemicals to prevent it from deteriorating so quickly. It's a good low budget option for outdoor furniture that you want to last a while.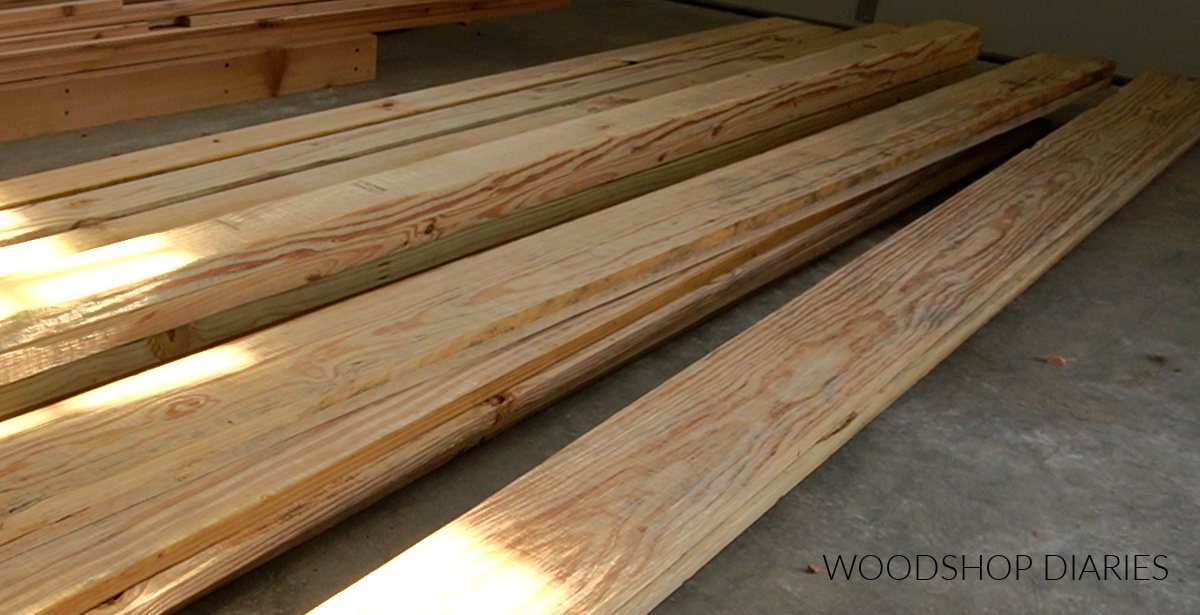 Cedar, red wood, and teak are all naturally decay and insect resistant wood options that look really nice. But, that comes with a price tag. These wood types can be quite expensive and sometimes hard to find depending on where you live.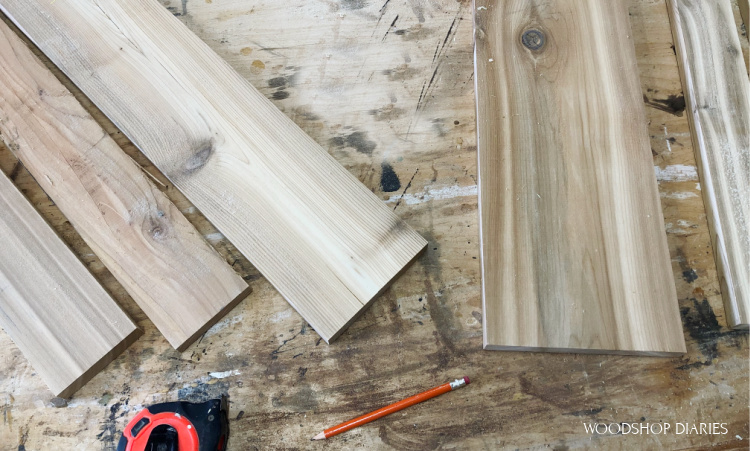 Approximate Cost to Build an Outdoor Chair
For these outdoor chairs and the matching sofa, I opted for cedar. As of June 2023 when this was built, the lumber cost to build one chair with cedar (where I live) was approximately $130. The cost to build it from pressure treated wood would have been approximately $47.
However, if you only build one, there will be some lumber leftover. If you build two chairs, you can use some of this lumber on the second one, so two would actually only cost $240 in cedar or $87 in treated.
The cost to build two chairs plus the matching sofa was approximately $430 in cedar and $150 in treated wood. Building all three allows you to better utilize the material so there is less waste. You'll be able to use several off cuts from the sofa to build the chairs, etc.
Overall chair dimensions
The overall dimensions of this DIY outdoor chair are approximately 29 ½″ tall x 30 ½″ wide x 35″ deep. The seat height (without the cushions) is 12″.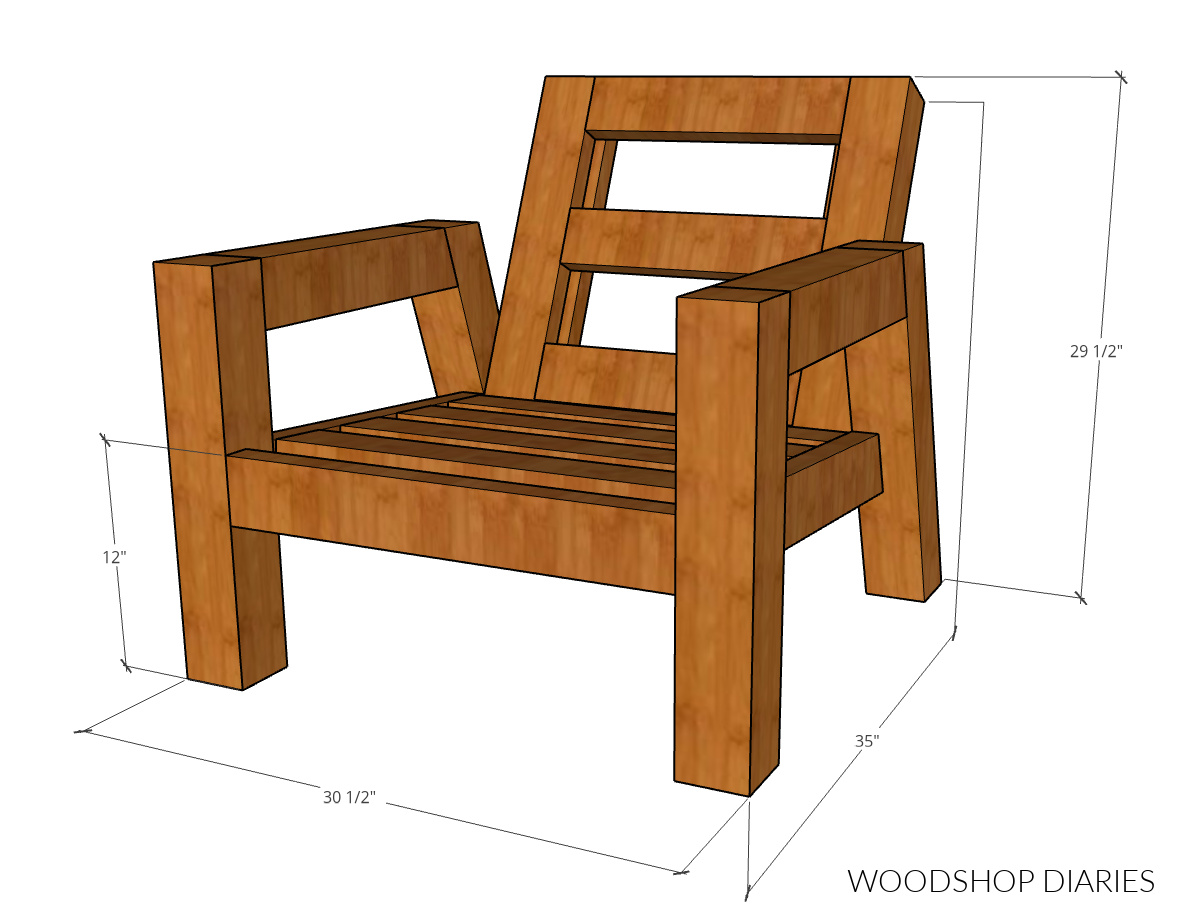 How to Build an Outdoor Chair
Prefer to watch? Check out the build video with helpful tips and some bloopers along the way on my YouTube channel here:
Are videos your thing? Subscribe to my YouTube Channel for more project and how to videos!
I'm sharing the step by step process to build this DIY outdoor chair below. But if you prefer to print out and take the plans to the shop with you, I've got you covered! Grab the outdoor chair printable building plans here.
Tools & Materials
Step 1: Assemble Outdoor Chair Side Frames
First, I cut a front leg from the 4×4 post. Then, I cut a back leg from the 4×4 post with ends mitered 20 degrees. Then, I cut another piece of 4×4 to run between them at the top.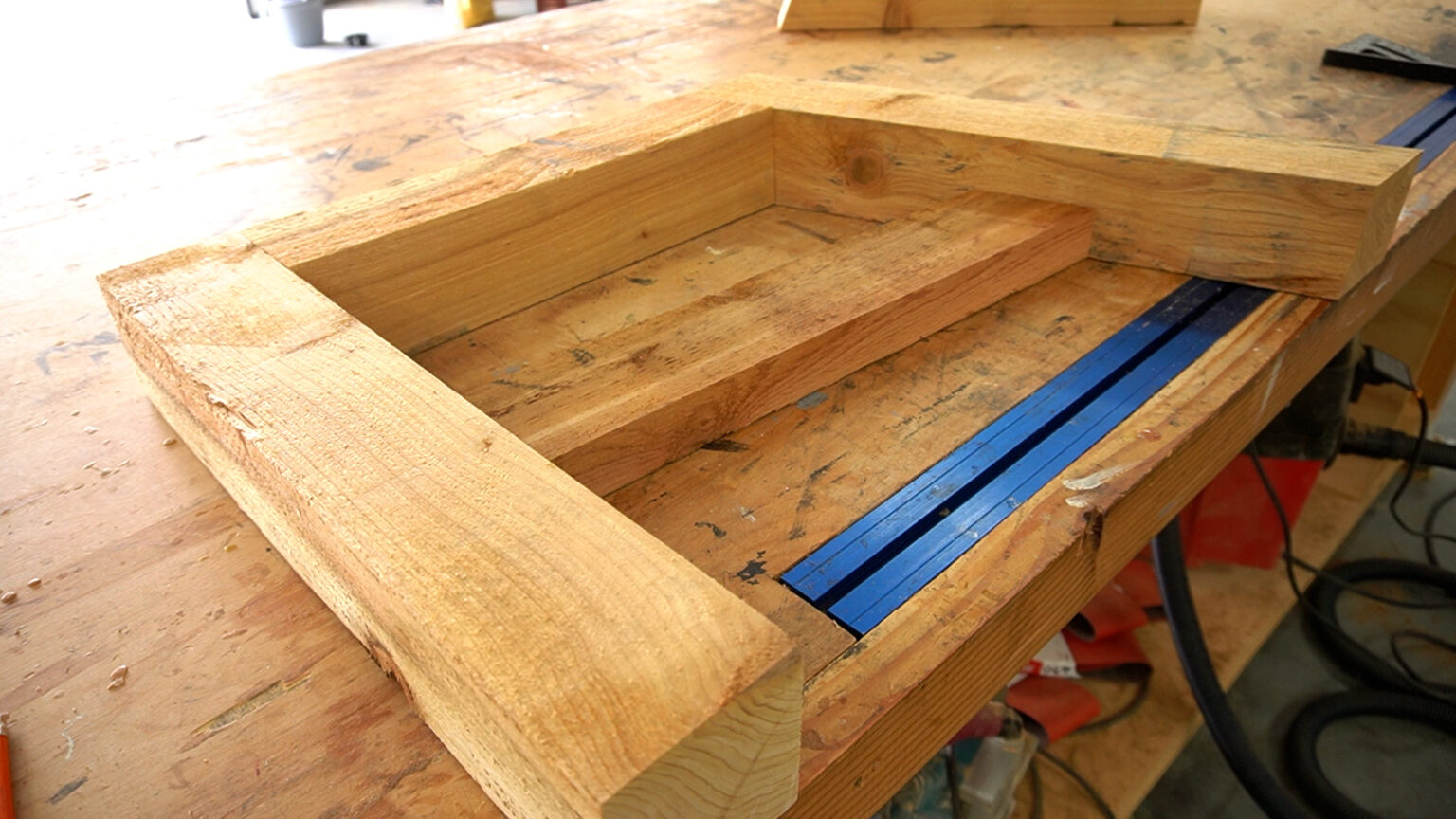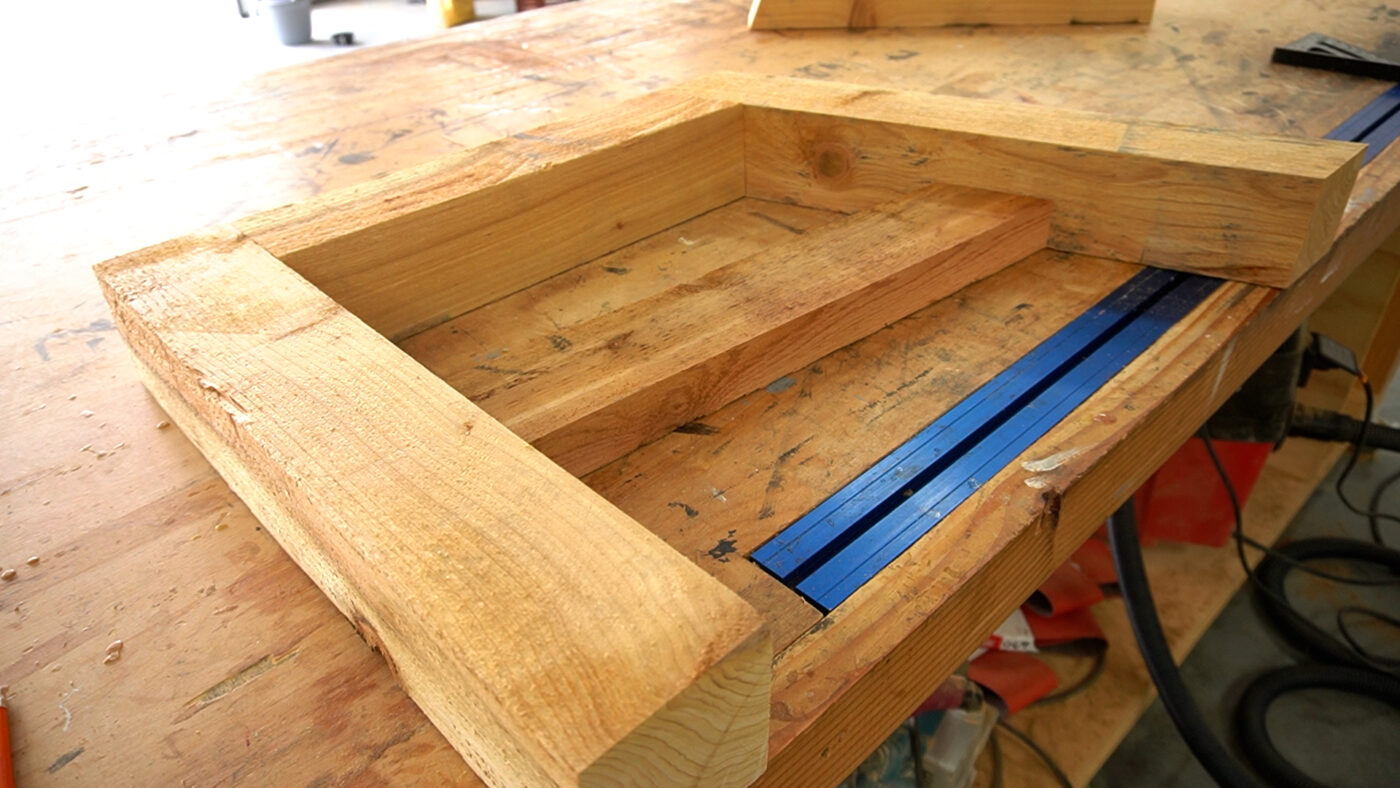 You can find all the dimensions with diagrams for the project in the printable plans.
I assembled these together using pocket holes and screws. BUT, standard size pocket hole jigs aren't designed to use with 4x4s. So to drill the pocket holes in the 4×4 at the top, I used a Kreg XL Pocket Hole Jig.
This jig has settings for 3 ½″ material, which is what a 4×4 is. Confused? Don't worry. Check out this post about how to understand lumber sizing.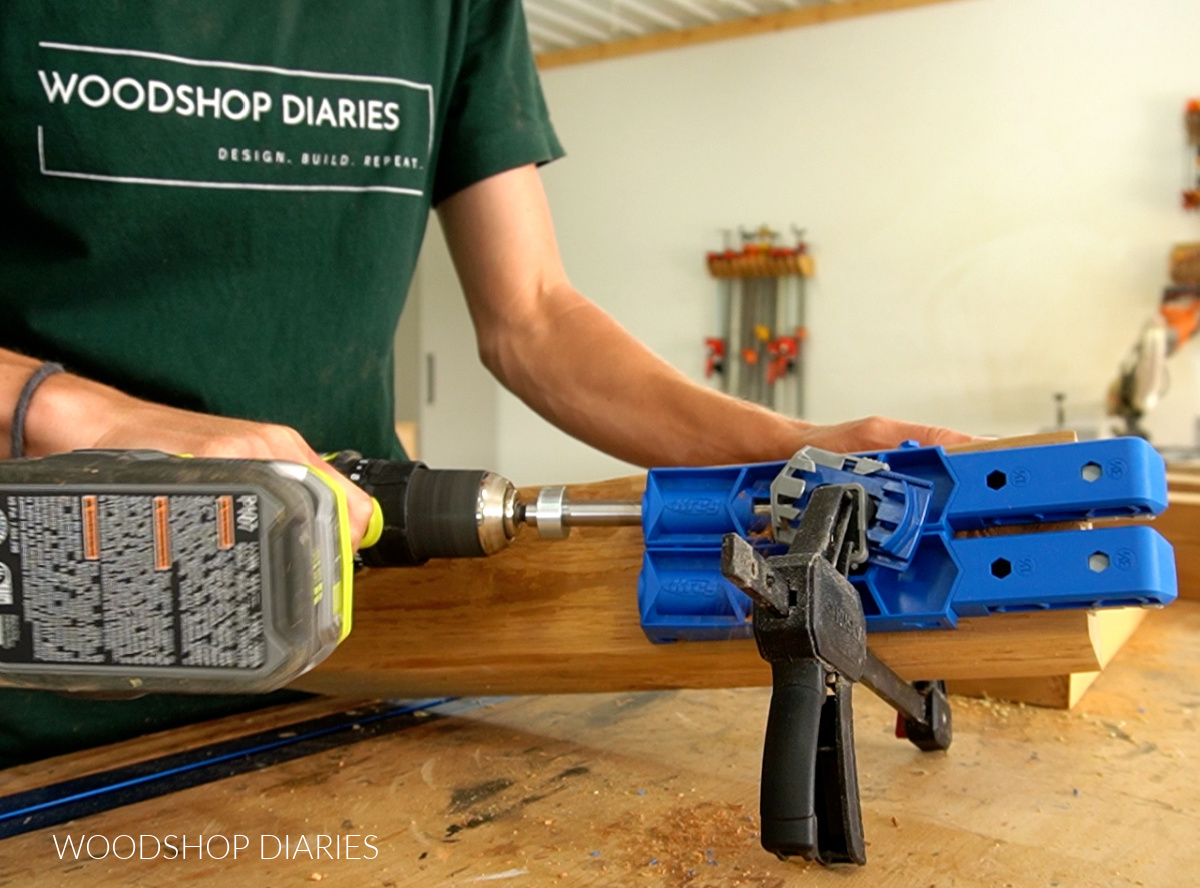 So I drilled 3 ½″ pocket holes on the bottom side of the top 4×4 and attached it between the two legs using 4″ XL pocket hole screws.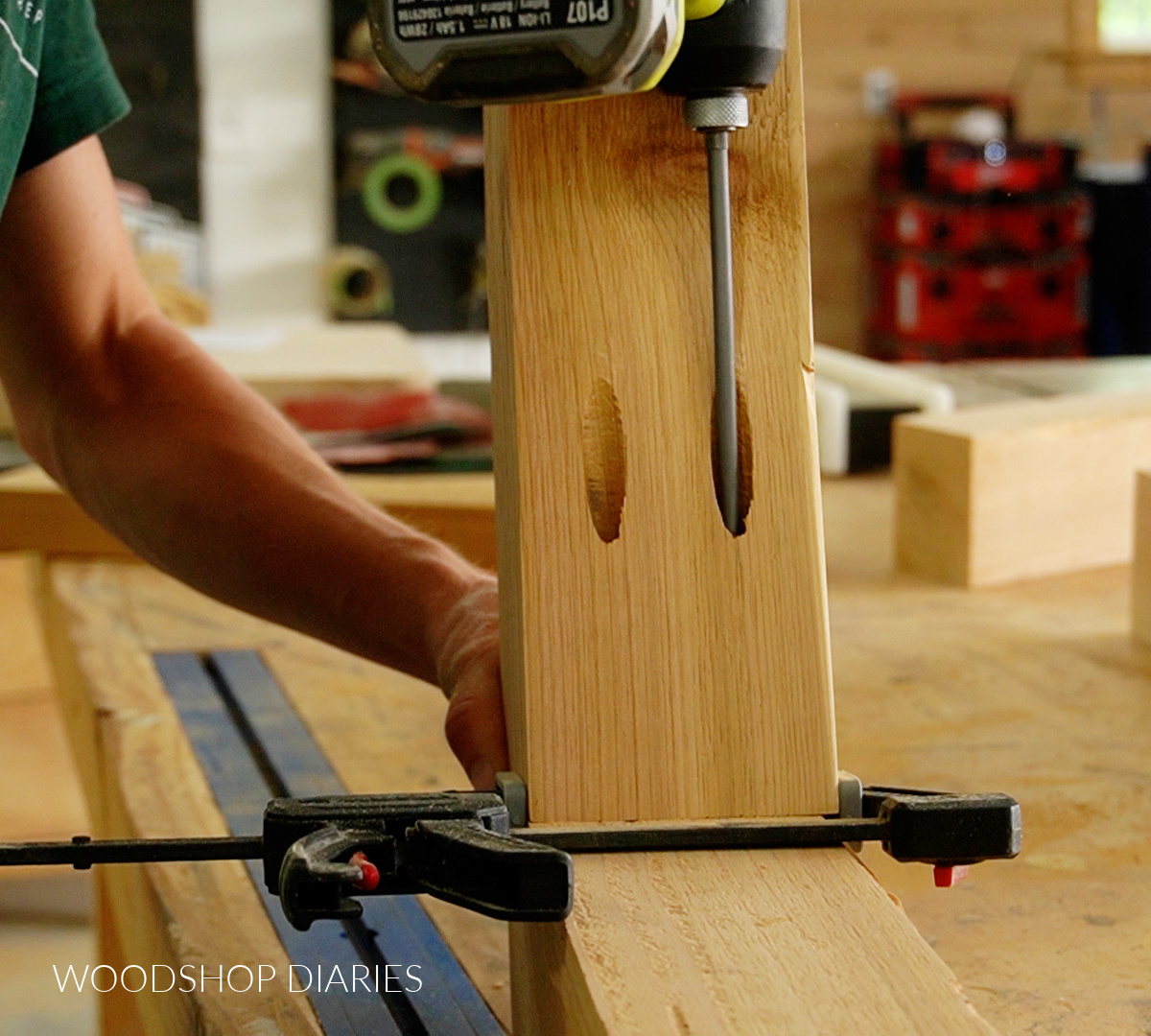 Once the legs and top were together, I cut and installed a piece of 2×4 to run between them using standard size pocket holes and screws–1 ½″ pocket holes with 2 ½″ pocket hole screws. This piece should be flush to the INSIDE of the legs.
RELATED: How to use a pocket hole jig
I cut the front end with a 4 degree miter and the back with a 24 degree miter so that it would slope slightly from front to back.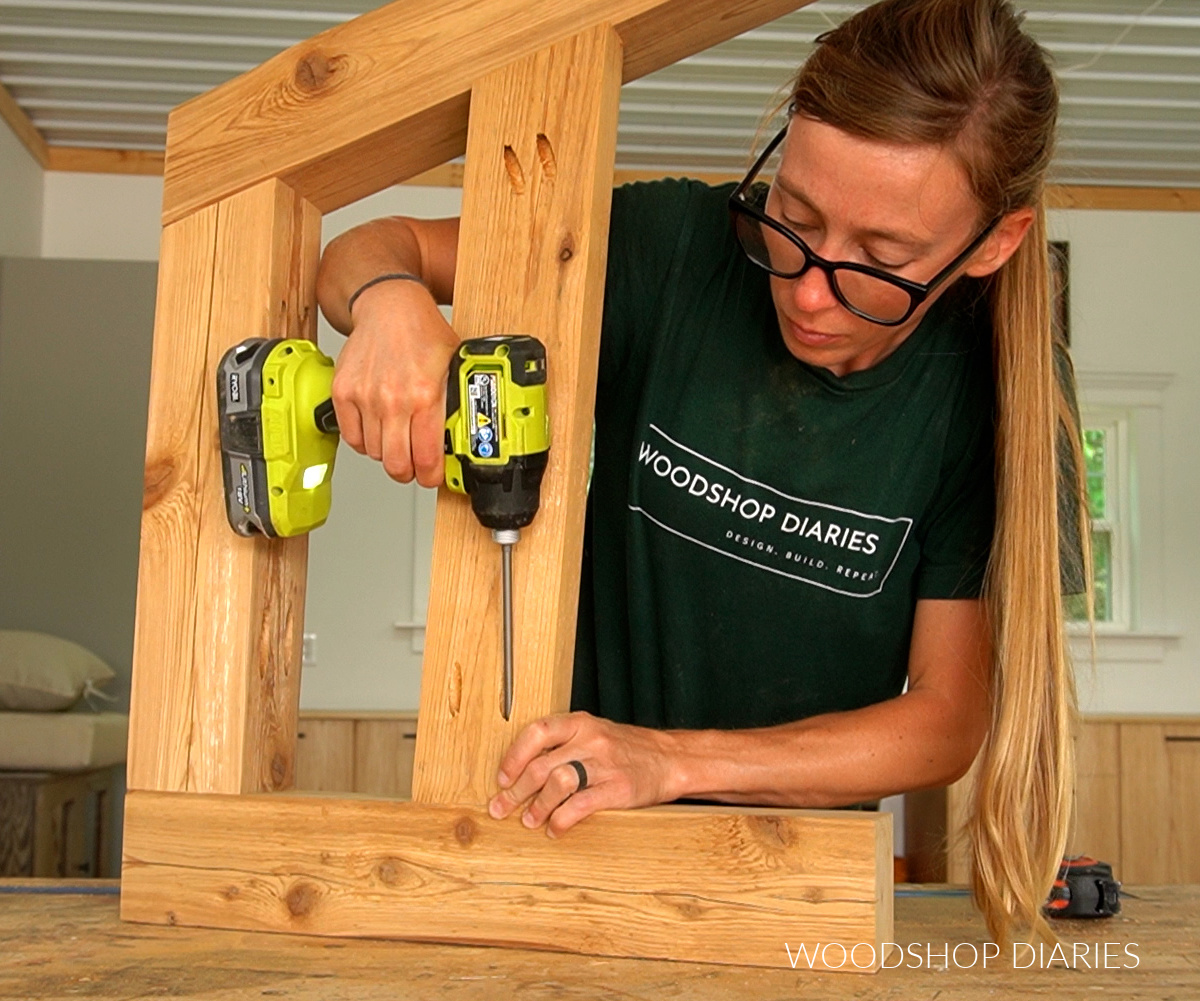 Then, I cut another 4×4 post for the back support–one end is mitered 20 degrees and the other end square.
This piece should go on the INSIDE of the side frame so that the mitered edge is lined up with the bottom of the 2×4 and the front edge is in line with the corner.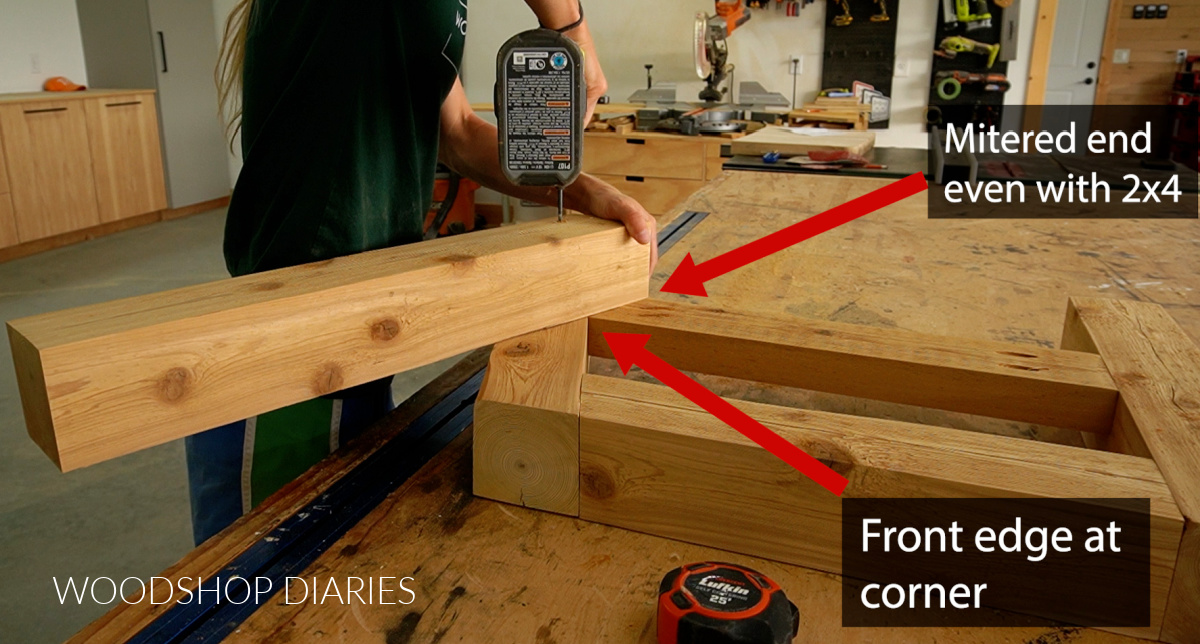 I secured this in place with wood glue and 4 ½″ timber screws. You could also use 4 ½″ long lag screws. Don't forget to predrill pilot holes as these large screws can easily split the wood.
Once one side frame was assembled, I built another just like it, only mirrored. One will be for the left side of the chair and one for the right.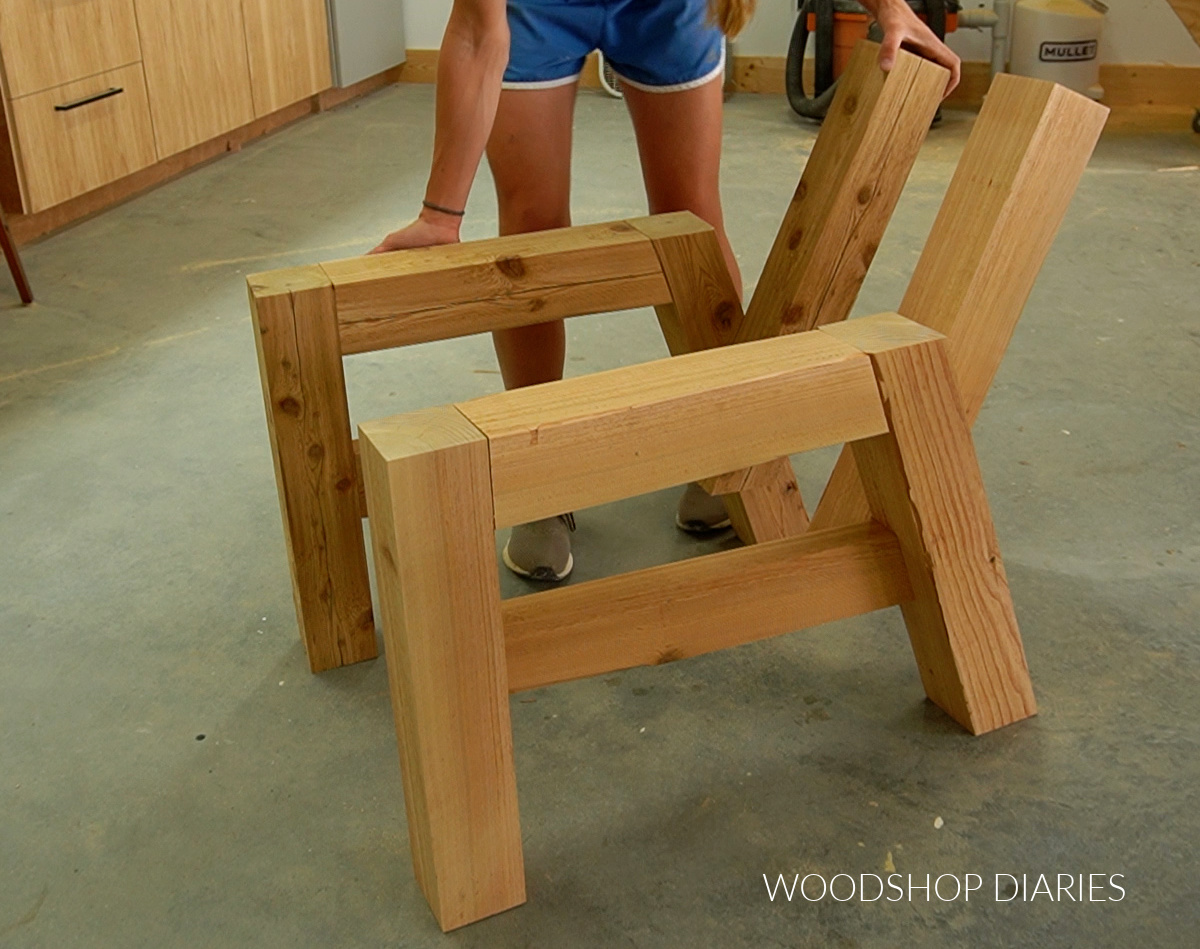 Step 2: Attach Back Slat Supports
The back slats of this chair will run between the back posts. But I needed something to be able to screw them into.
On the matching sofa build, I used 2x2s screwed into the back 4×4 posts. However, since these chairs are so much narrower, adding these 2x2s to the already chunky 4×4 post looked odd.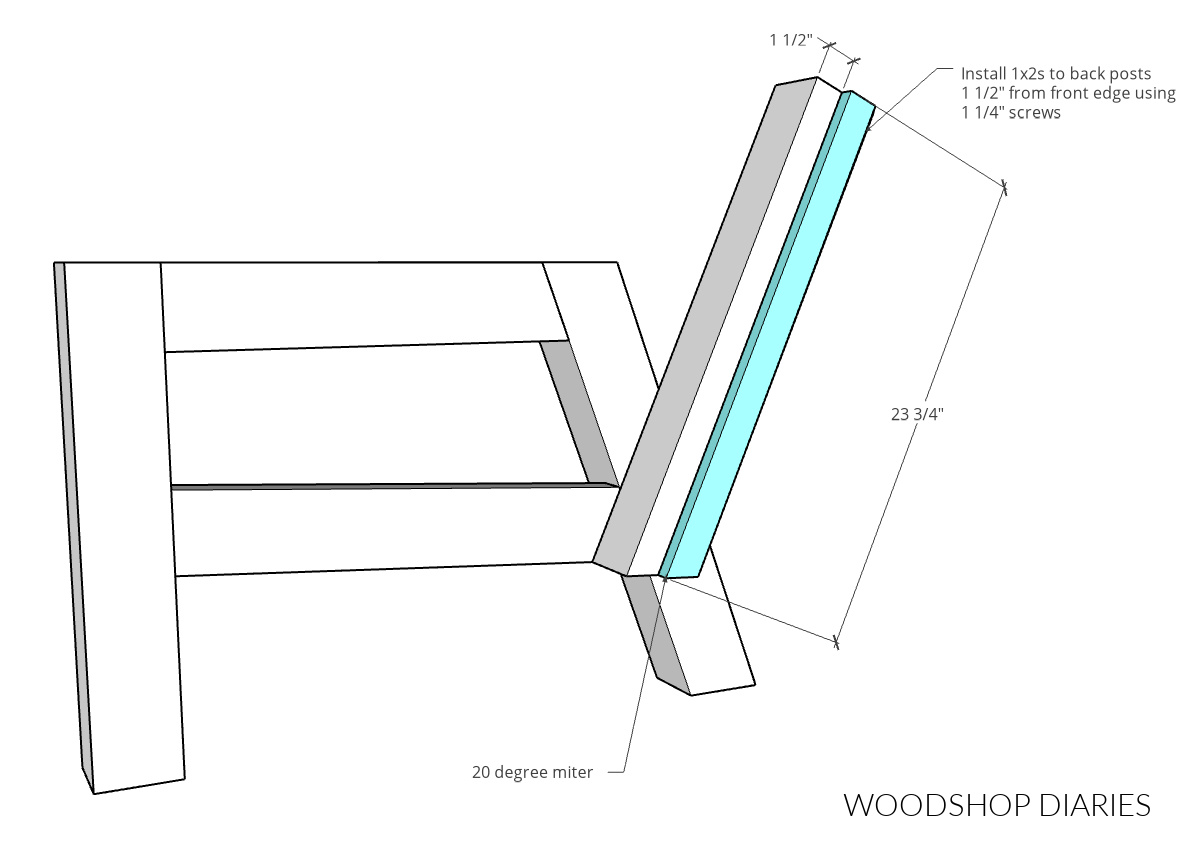 So instead, I screwed 1x2s to the back 4×4 posts. I used 1 ¼″ decking screws to secure these 1 ½″ from the front edge. That way, the slats can screw to them (in step 4) and it'll still be flush across the front.
Step 3: Attach the Chair Seat Slats
I cut five 2×4 seat slats and drilled 1 ½″ pocket holes into the ends of each. But before attaching these, I went ahead and applied an exterior stain/sealant to the side frames and slats first.
Check out the notes on the sofa build for more tips and information on weatherproofing your outdoor chair. Sealing this now makes it a little easier to cover all surfaces vs trying to get between all the slats once it's assembled.
I used Thompson's Water Seal in Transparent Natural Cedar. I liked the color, but I've never used it before, so I'm not sure how long or how well it lasts. Time will tell!
After the sealant had dried, I secured one of the 2×4 slats running vertically between the side frames at the front using 2 ½″ pocket hole screws. I secured another running horizontally at the back of the side frames into the seat support.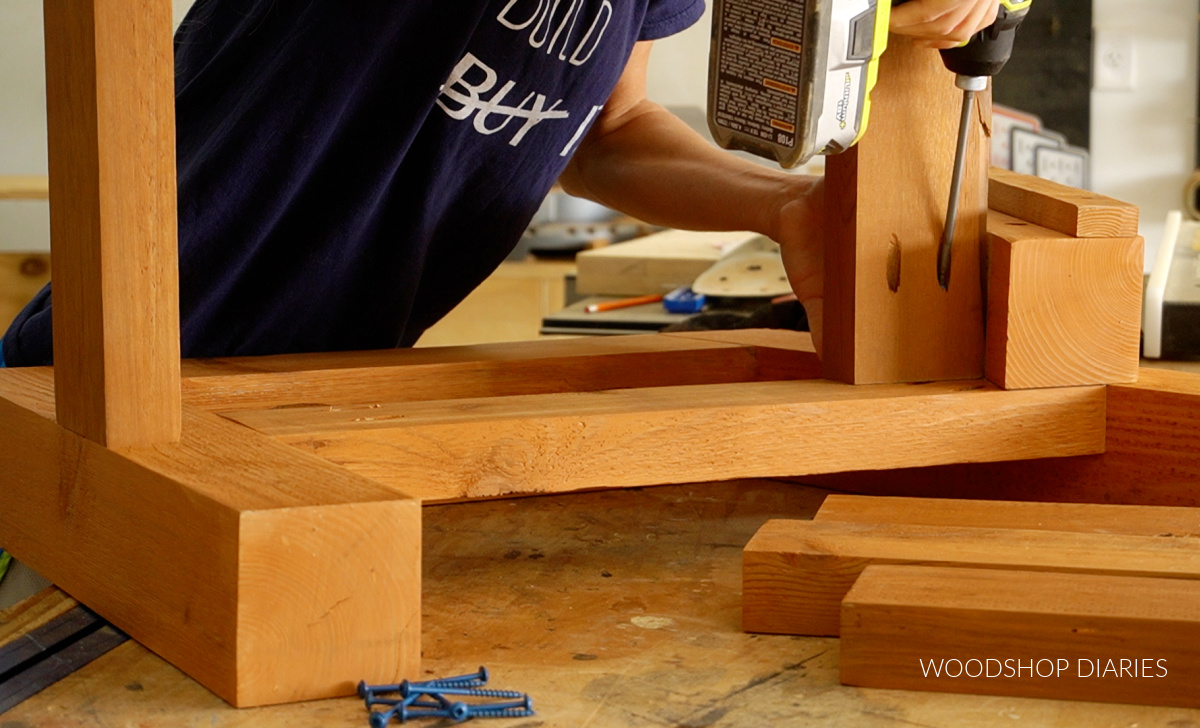 Once the front and back slats were secured between the two sides of the chair, I evenly spaced the other three slats between them and secured with 2 ½″ pocket hole screws.
Step 4: Attach the Chair Back Slats
Then, I cut to fit three more 2x4s to run between the back posts for the back slats. Before installing, I applied a coat of exterior stain/sealer to them as well.
I evenly spaced these along the 1×2 on the back posts and secured with 2 ½″ exterior screws. MAKE SURE TO PREDRILL PILOT HOLES. Since the holes will be so close to the edge and go into such a narrow board, it's likely to split.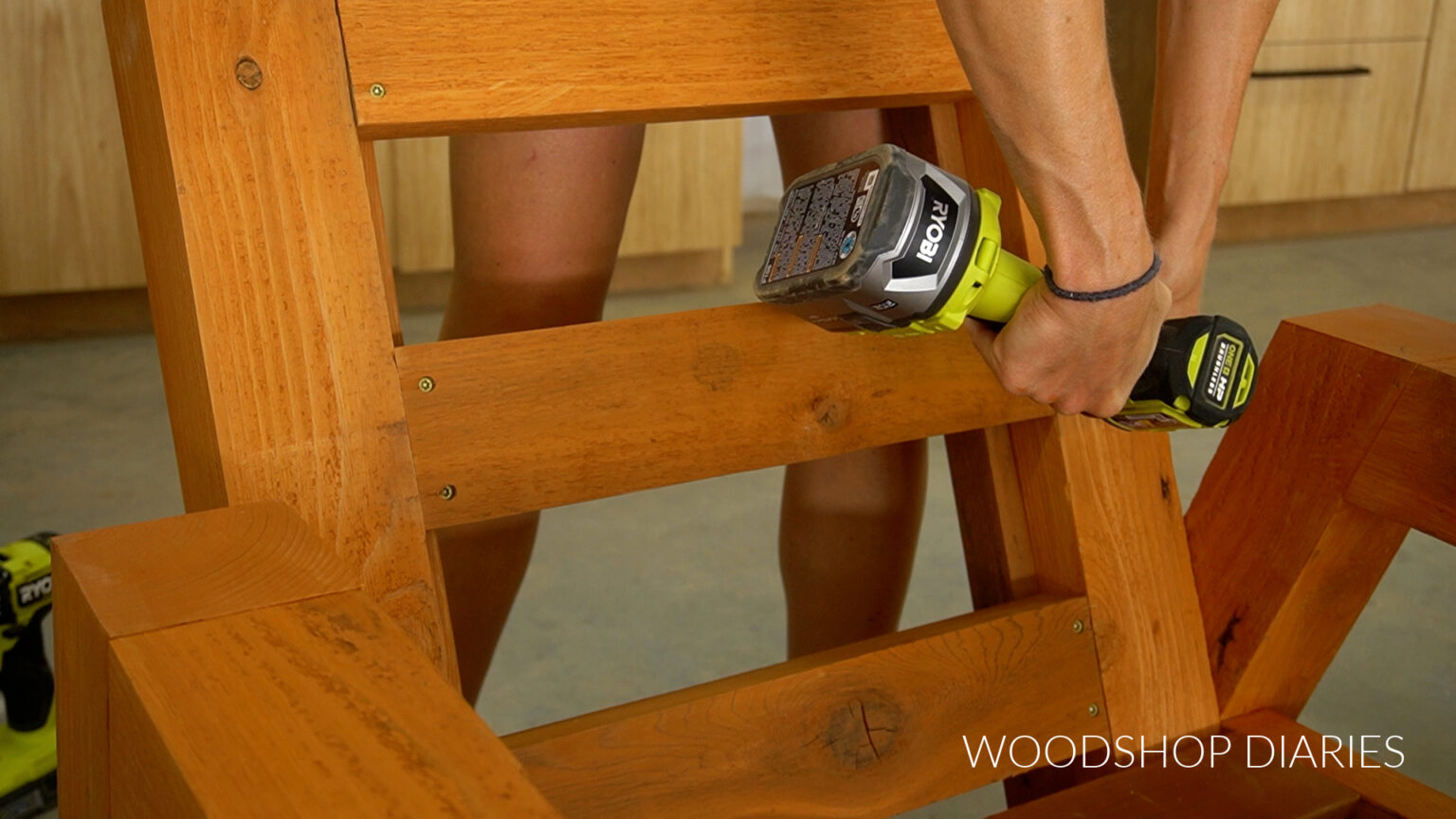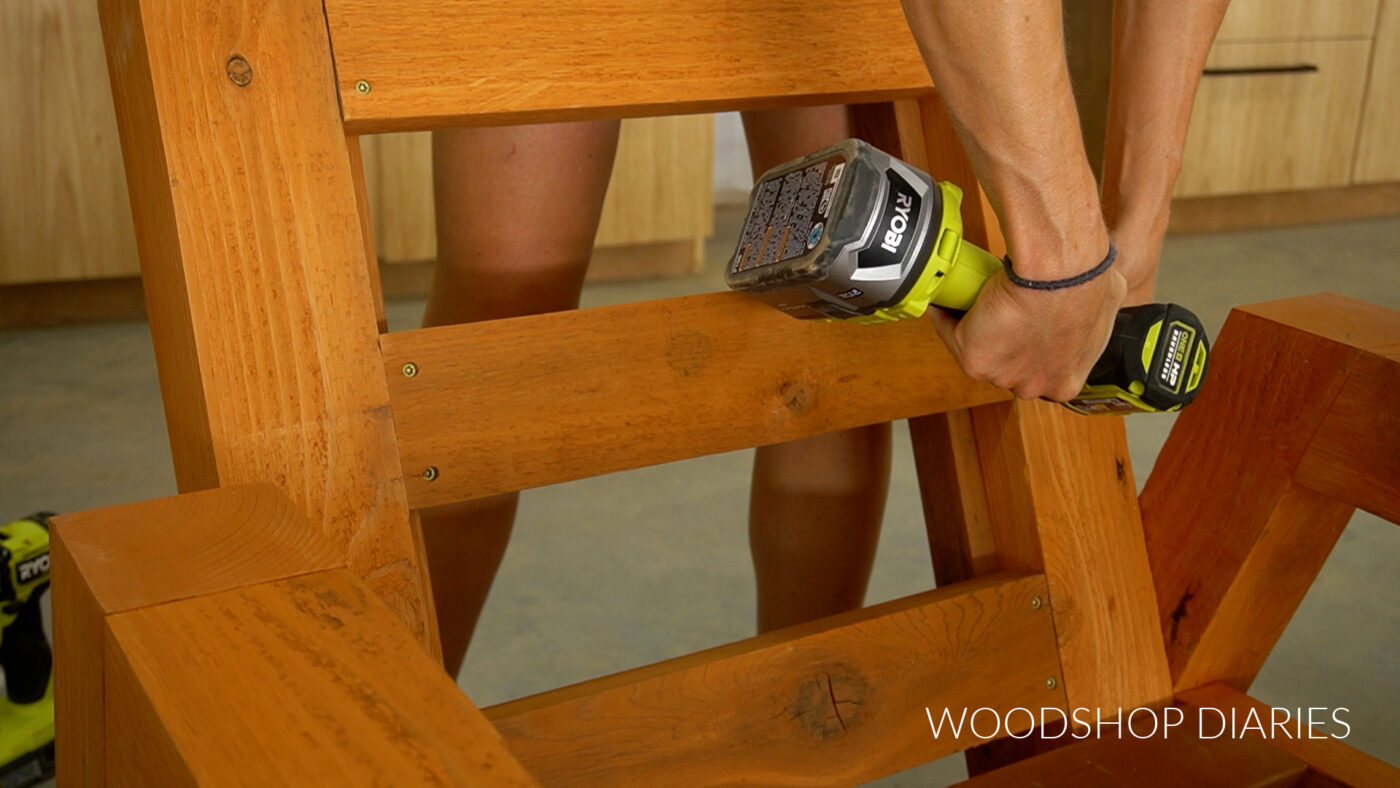 Predrilling holes will help prevent splits and cracks in the wood.
Step 5: Installing Feet Levelers on Chairs
When you complete your project, if you flip it back over on your workbench or your shop floor and it rocks a little, I know that can be frustrating, but don't panic!
The truth is, even if your chair is perfectly level on the bottom, the workbench and the floor may not be. And the patio, deck, or porch you put this on likely isn't flat either.
Since this chunky outdoor chair is built so…well, chunky, it's really sturdy and rigid. So if you place it on an uneven surface, it's not going to give and it'll rock.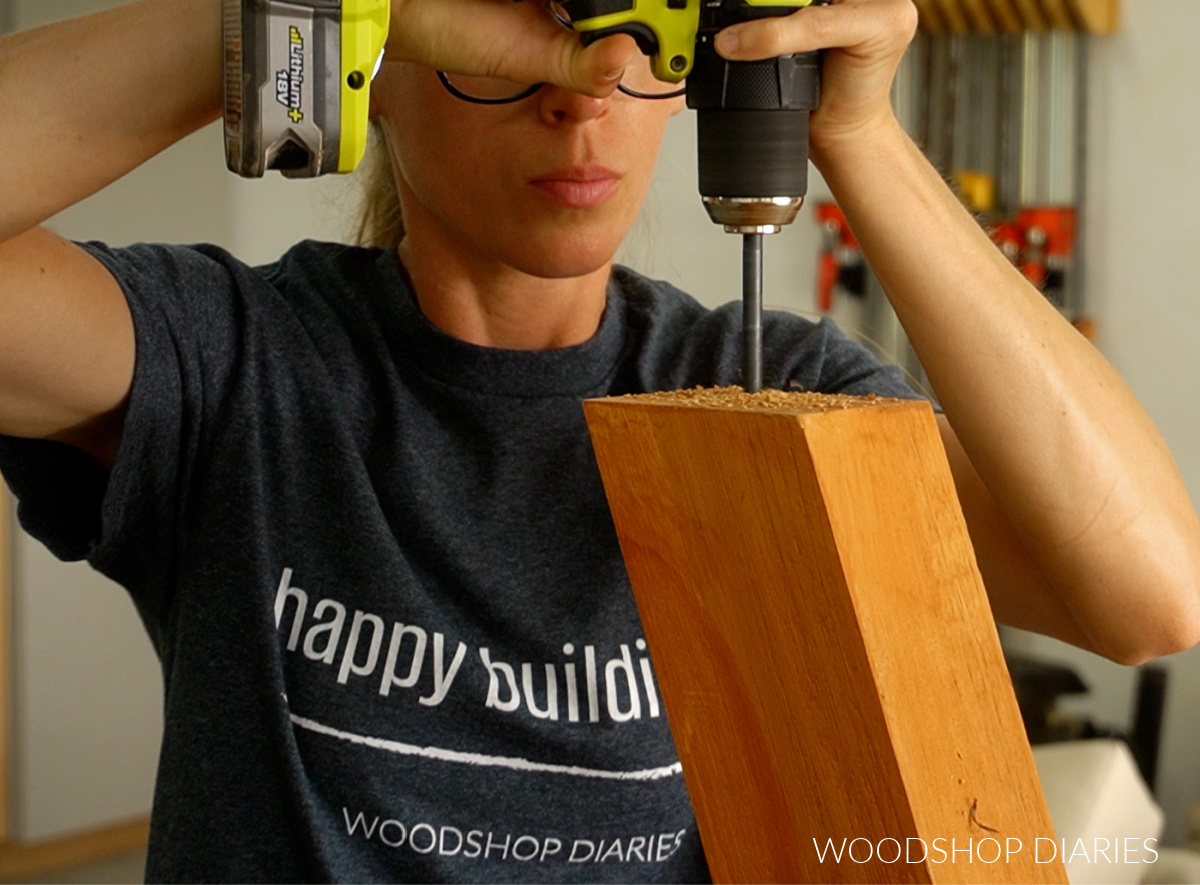 To help with this, I installed some foot levelers on each foot of the chair. These are the levelers I used and I simply drilled a 5/16″ hole into the center of each foot, tapped the insert into the hole and screwed the foot in.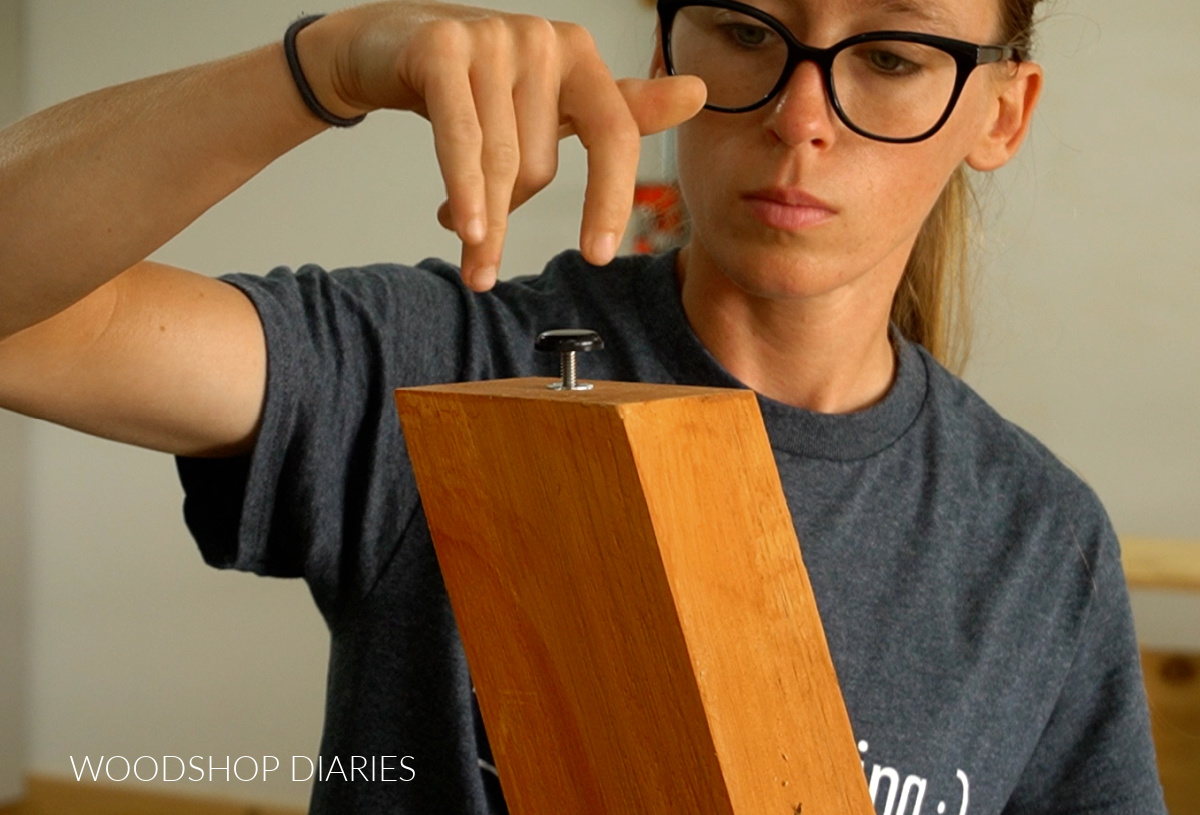 You can twist the foot clockwise or counterclockwise as needed to raise or lower each leg as needed once you get it to where it's going.
Once the levelers are in, flip it back over, adjust as needed, toss in your cushions and enjoy your new DIY outdoor chair!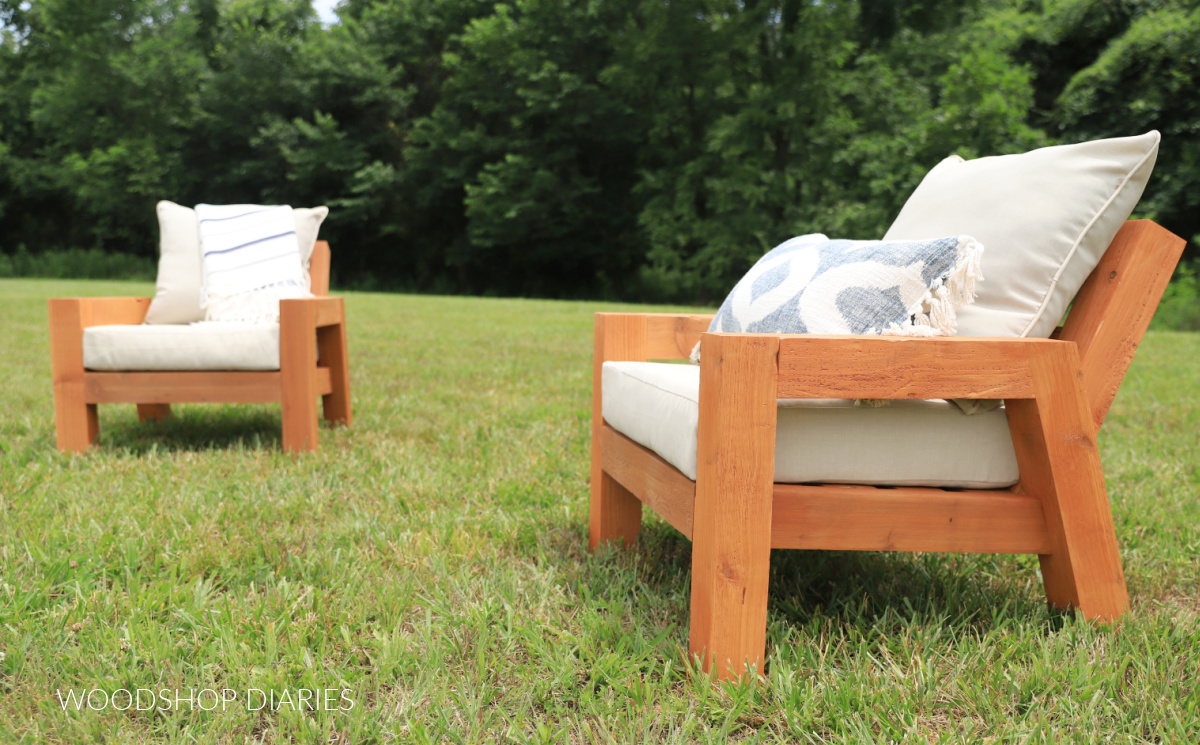 I'm not going to lie–this is one of the most comfortable outdoor chairs I've sat in. The seat angle is slight so it's easy to get in and out of and the cushions are a perfect fit.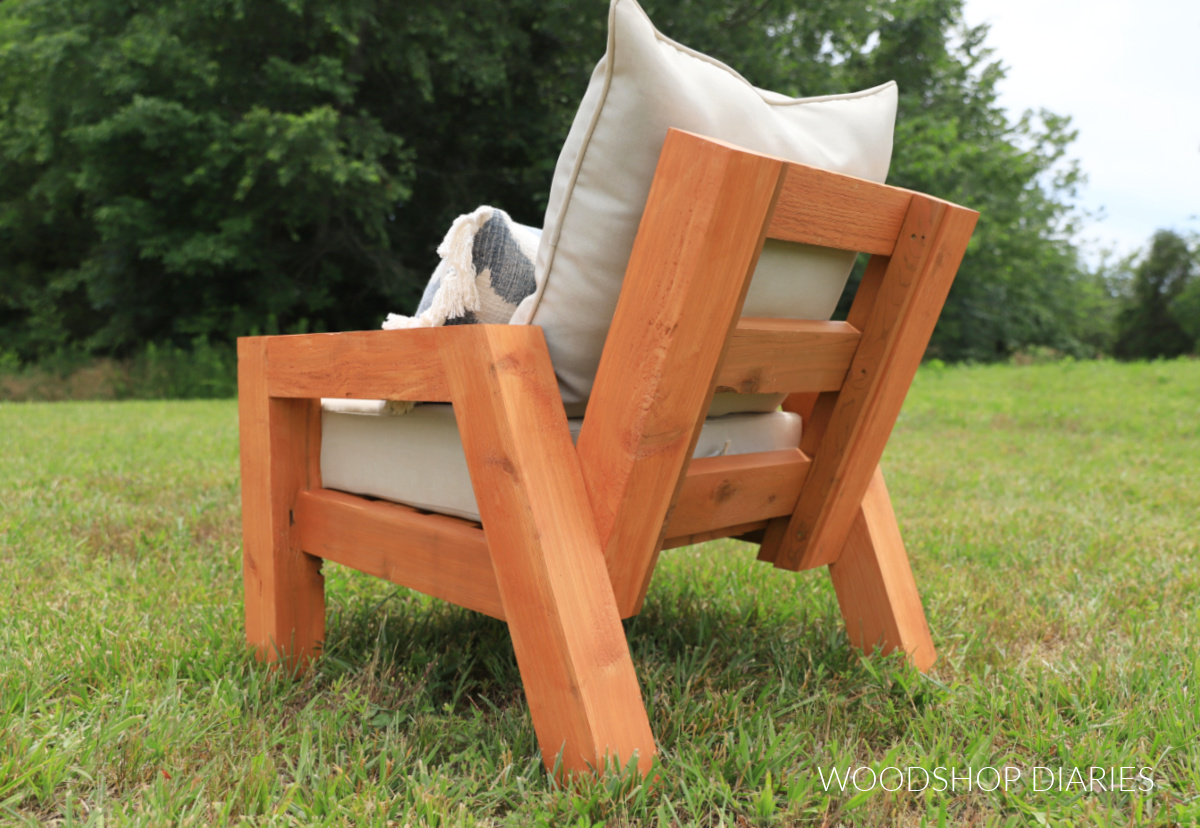 If you want to build your own, grab the DIY outdoor chair printable plans here!
Looking for more outdoor project ideas?
Check out a list of all of our outdoor projects here. But below I've shared a few favorites!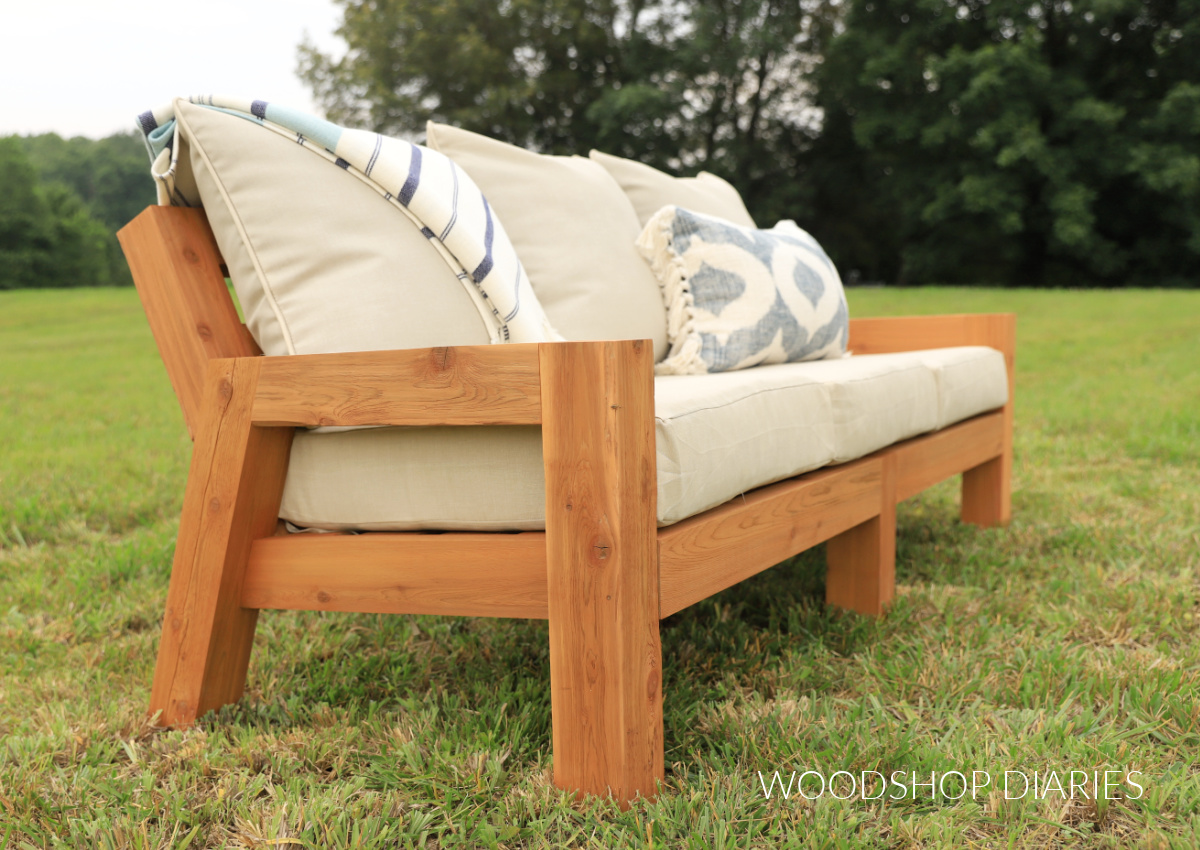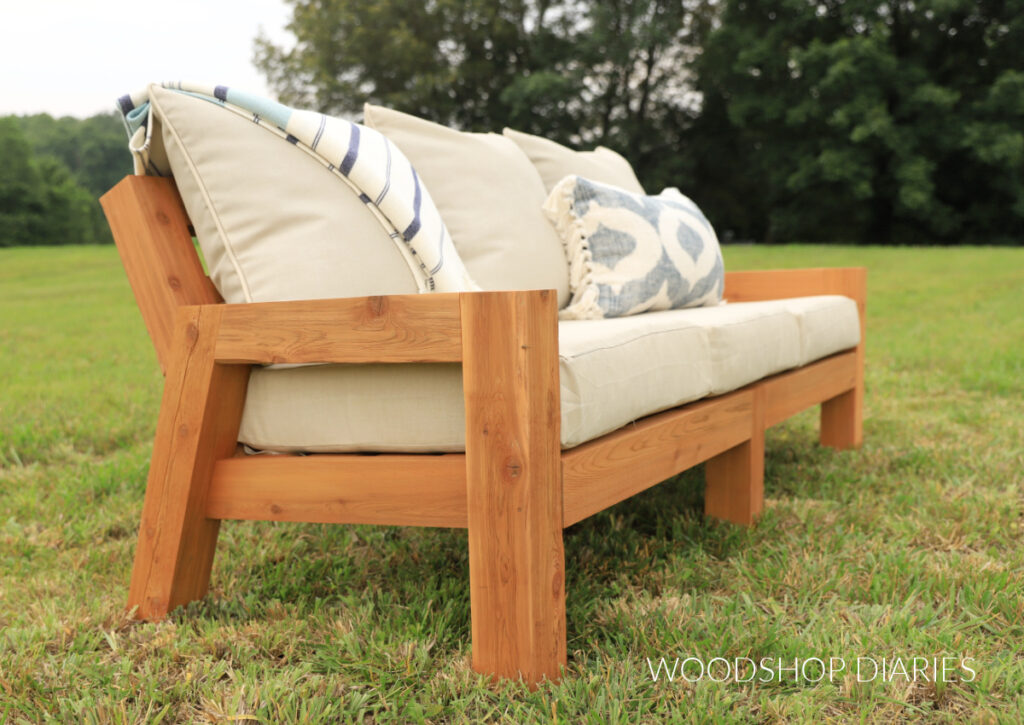 If you'd like to save this project for later, don't forget to pin it or share it to your favorite social channel!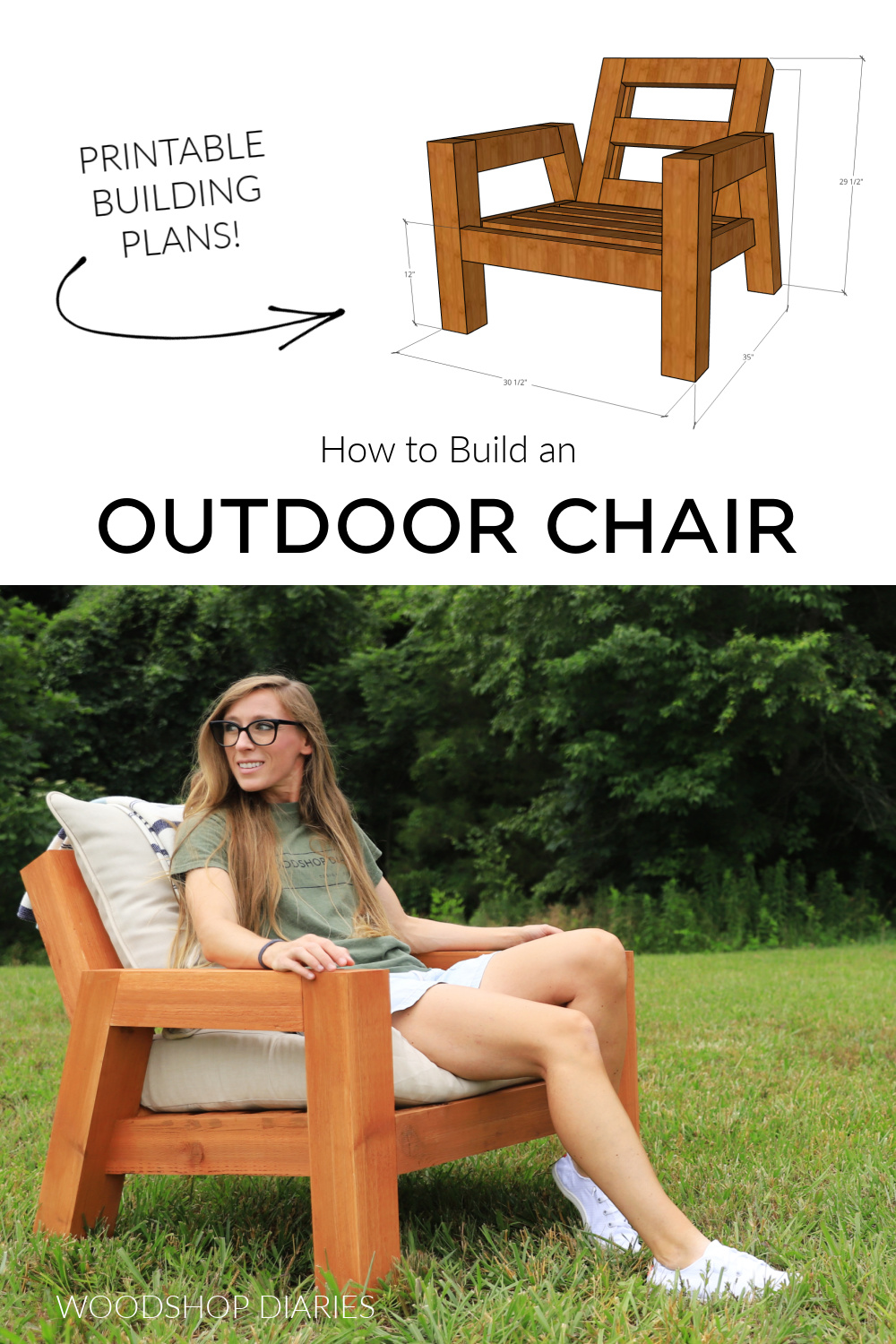 Until next time, friends, happy building!