Buying lumber for your DIY and woodworking projects can be confusing. Let me help you make it easy!
This guide will show you how to buy wood for your next DIY woodworking project plus some tips to determine what kind of lumber is best for your project!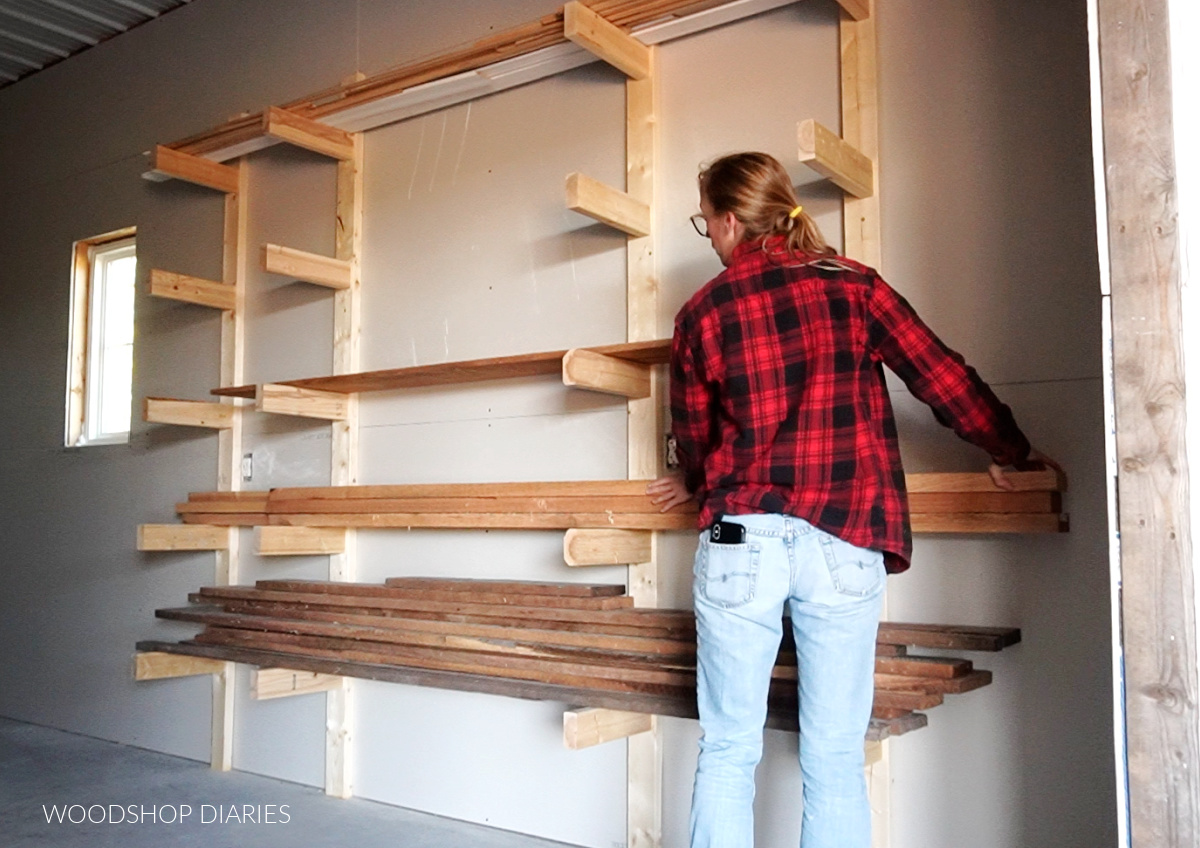 When you're first diving into the world of DIY and woodworking, there are a lot of things that may seem a little confusing. What type of wood do I need? What do the sizes mean? What is pressure treated wood?
These are probably only a few of the many questions you may be asking. But don't let that intimidate you!
One of the first obstacles you'll face when first starting your woodworking projects is understanding lumber sizing, lumber types, and determining what type of wood to use for your projects. So, let's break this down below.
But first…need a project? Check out 60+ printable building plans available here!
Understanding Lumber Sizing
Dimensional lumber (or construction lumber) comes in standard sizes and has both a nominal and an actual dimension. This can be confusing at first.
Why aren't these the same? When these boards are cut, they're rough cut to a certain size–the nominal dimension–then they're surfaced and planed down to a more exact size–the actual dimension.
So these boards are ACTUALLY a little smaller than their nominal size. For example, a 2×4 is actually 1 ½″ x 3 ½″.
How do you know what's nominal and what's actual? Nominal dimensions typically will not have units noted and actual dimensions will. So 2×4 is assumed nominal since there aren't any units. However, 2″ x 4″ is assumed an actual dimension since the units (inches) are specified.
You can check out this post for a more detailed breakdown of lumber sizing.
What kind of wood should I use for my project?
Like many things in woodworking, there is no right or wrong answer here. The kind of wood you choose to use for your project will depend on budget, preference, and availability.
Hardwood vs Softwood
The difference between hardwood and softwood, at the root (pun intended *wink*), is that hardwood trees lose their leaves every year and softwood trees do not. Hardwood trees grow slower and produce denser wood than softwood trees.
In terms of what this means for furniture building, hardwood is heavier, harder, and usually has a tighter grain pattern than softwoods.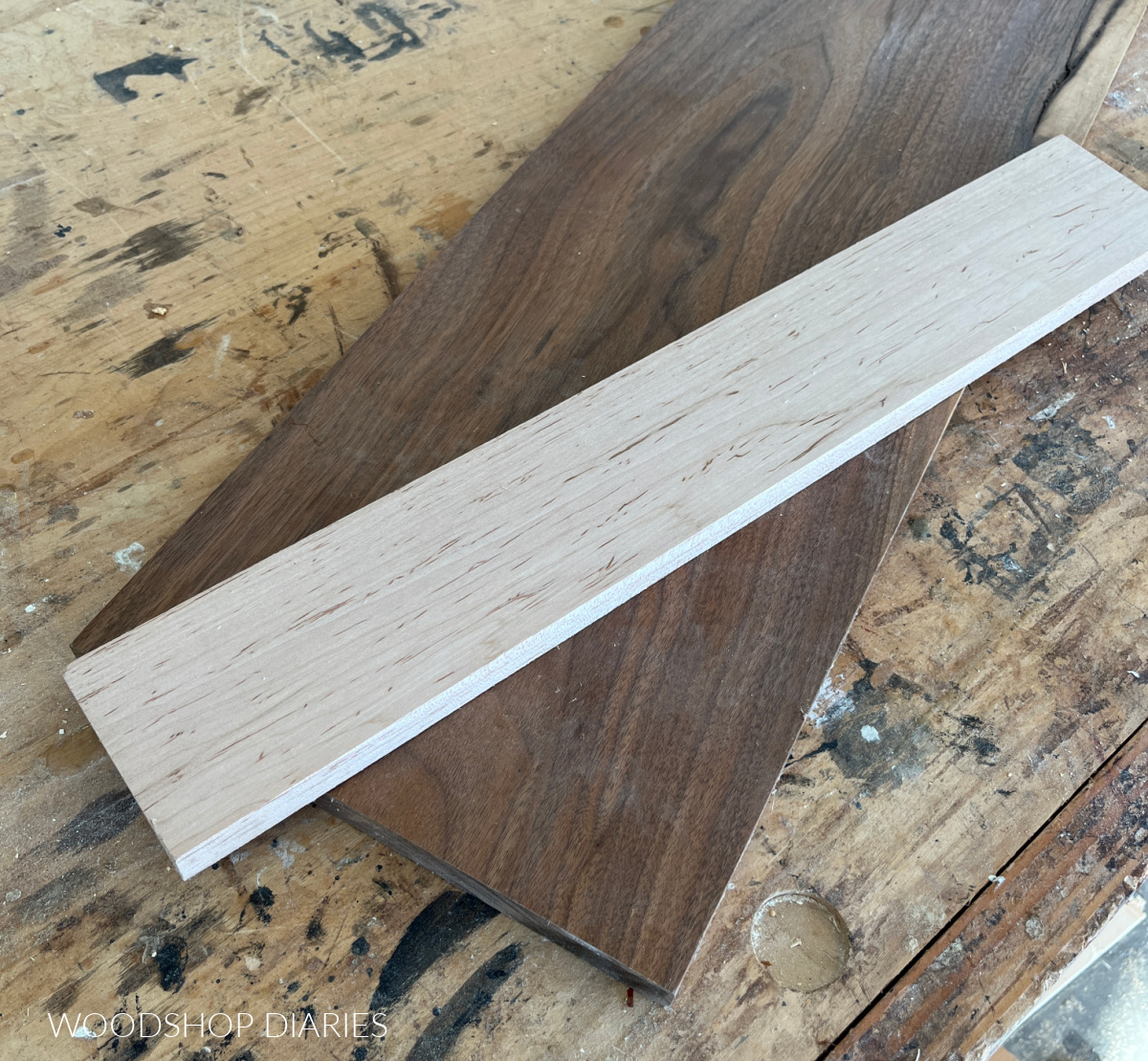 But, this also means that hardwoods are more difficult to work with, harder to find, and more expensive than softwoods. So, there are pros and cons to each.
Common hardwoods used in furniture and cabinet building are oak, maple, walnut, cherry, and birch.
Common softwoods used in furniture building are pine, spruce, fir, and cedar.
These aren't the only wood types, just some common ones.
Softwoods like pine and spruce are common in construction and are readily and easily available in most locations.
If you're just starting out or are on a tight budget, softwoods are a great option and are easy to shop for and work with. I use softwoods on the vast majority of my projects!
Construction Lumber
Construction lumber is wood that is commonly used to build homes and frame structures. This is the wood you see at the big box stores and building supply centers–things like 2x4s and 1x6s, etc.
Depending on your location, construction lumber is usually cut from softwoods like spruce, pine and/or fir wood. Many times, these three are lumped together under the acronym SPF and have their own grades (levels of quality).
Common boards are a lower grade and allowed to have a certain level of defects (like knots). Select boards are a higher grade and allowed little to no defects.
These boards come in standard nominal sizes. Check out this post to learn more about lumber sizing.
1x Construction Lumber
The terms "common" and "select" are actually grades of lumber. However, when people say "common boards," they're typically referring to 1x construction lumber.
These are sometimes called "white wood" at the big box stores and are usually spruce. They will have some knots and/or defects. I like to call this "character."
Select pine comes in the same sizes as common boards, but has minimal defects/knots. Because of the minimal defect, select pine will be a little pricier than common boards.
If you're staining a project, you may want to opt for select pine 1x material. But if you're painting or want a more rustic look, common boards will save you a little money. Here's a look at some projects using common 1x boards: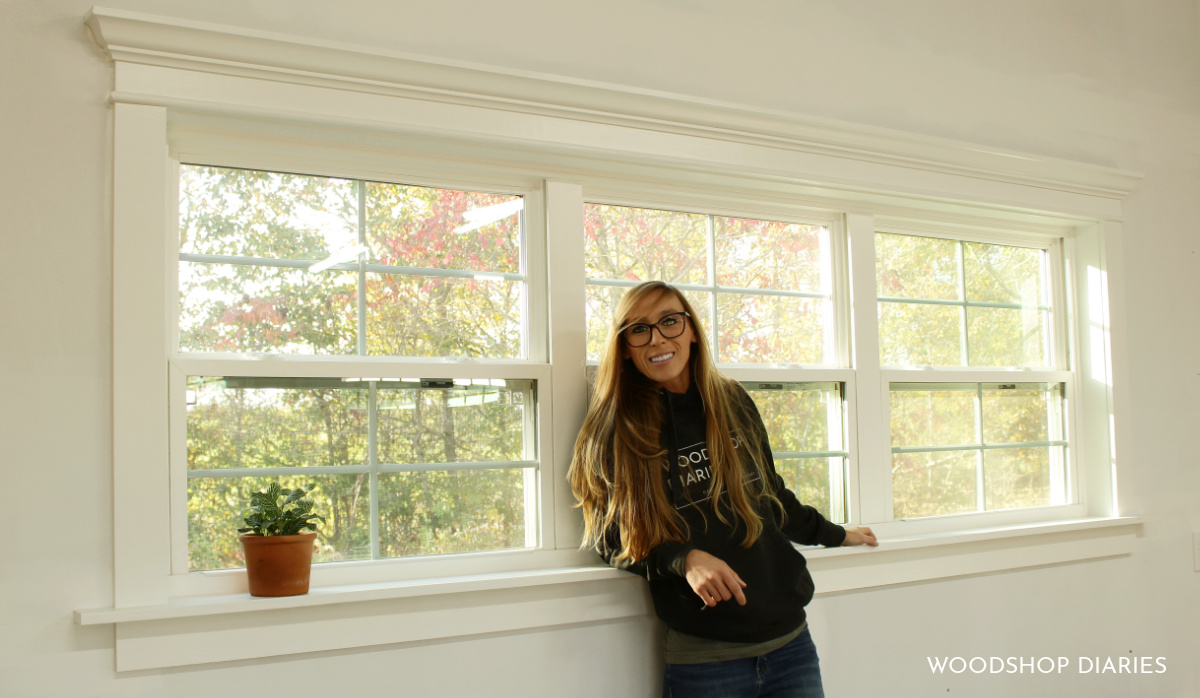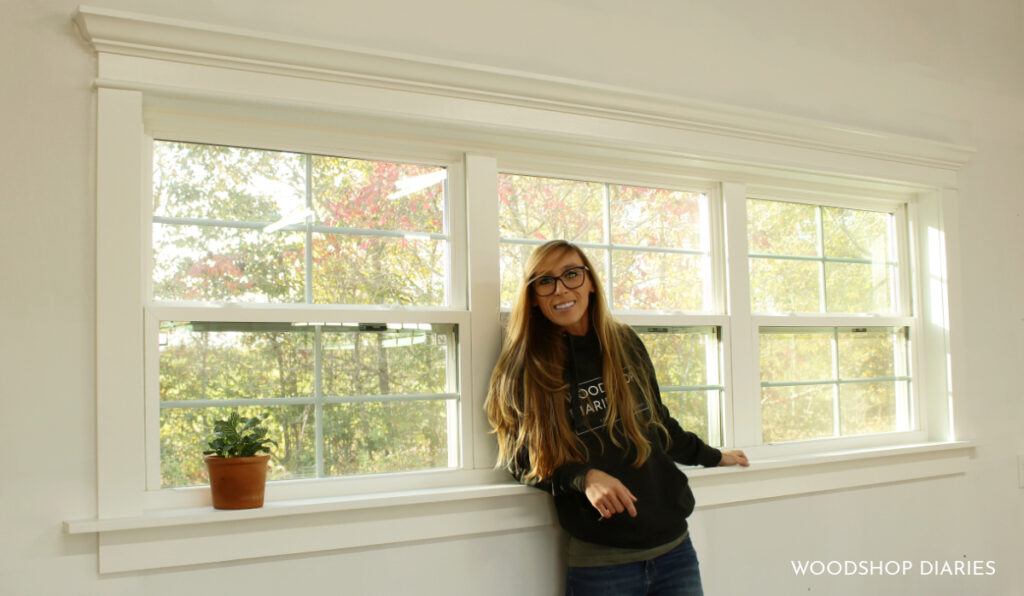 2x Construction Lumber
Framing lumber is the 2x thick material like 2x4s and 2x6s, etc. These are great for building furniture with as they're strong, inexpensive, and easy to work with. I built this corner shelf using entirely 2×6 boards!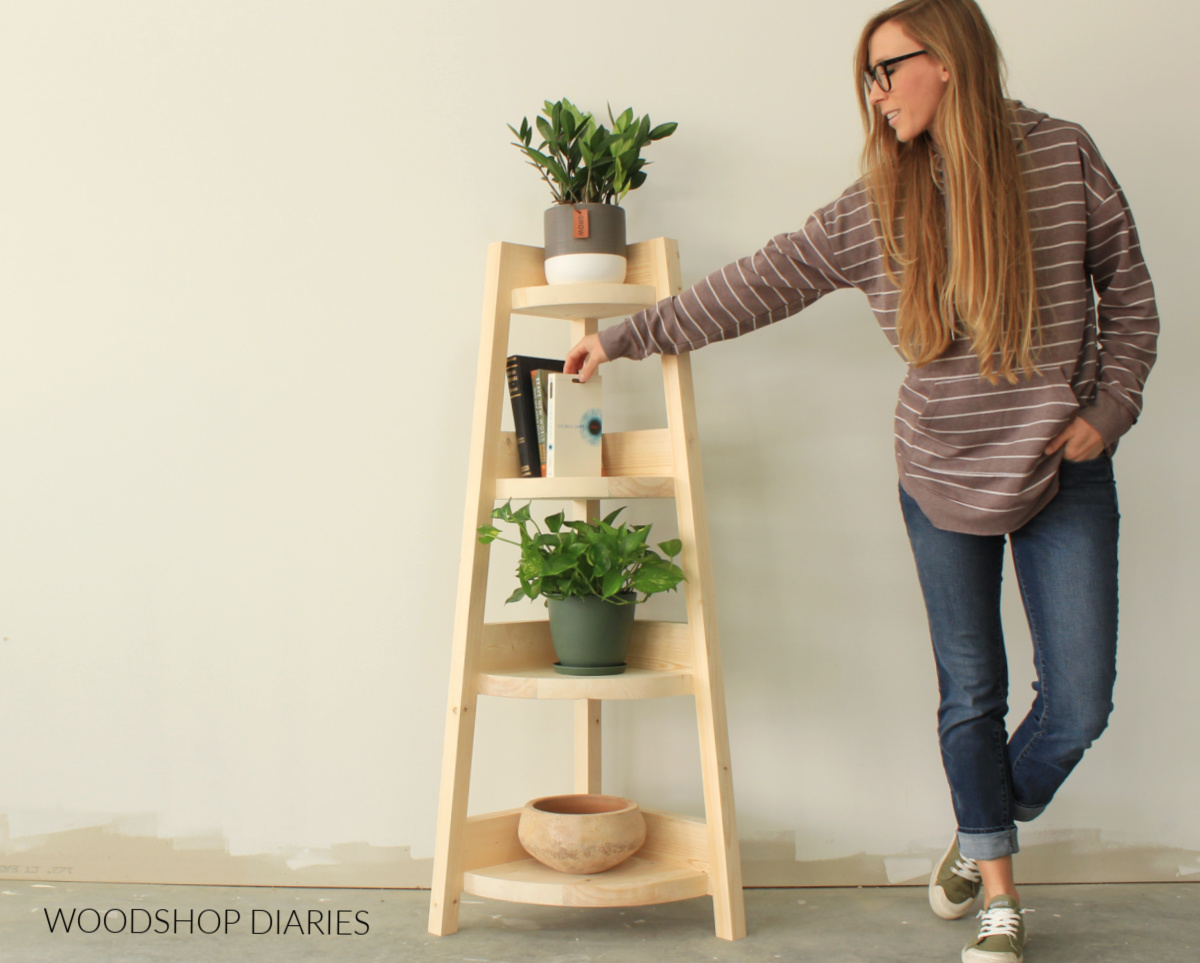 These boards are great for furniture framing and table tops. Here are a few examples of projects using framing lumber: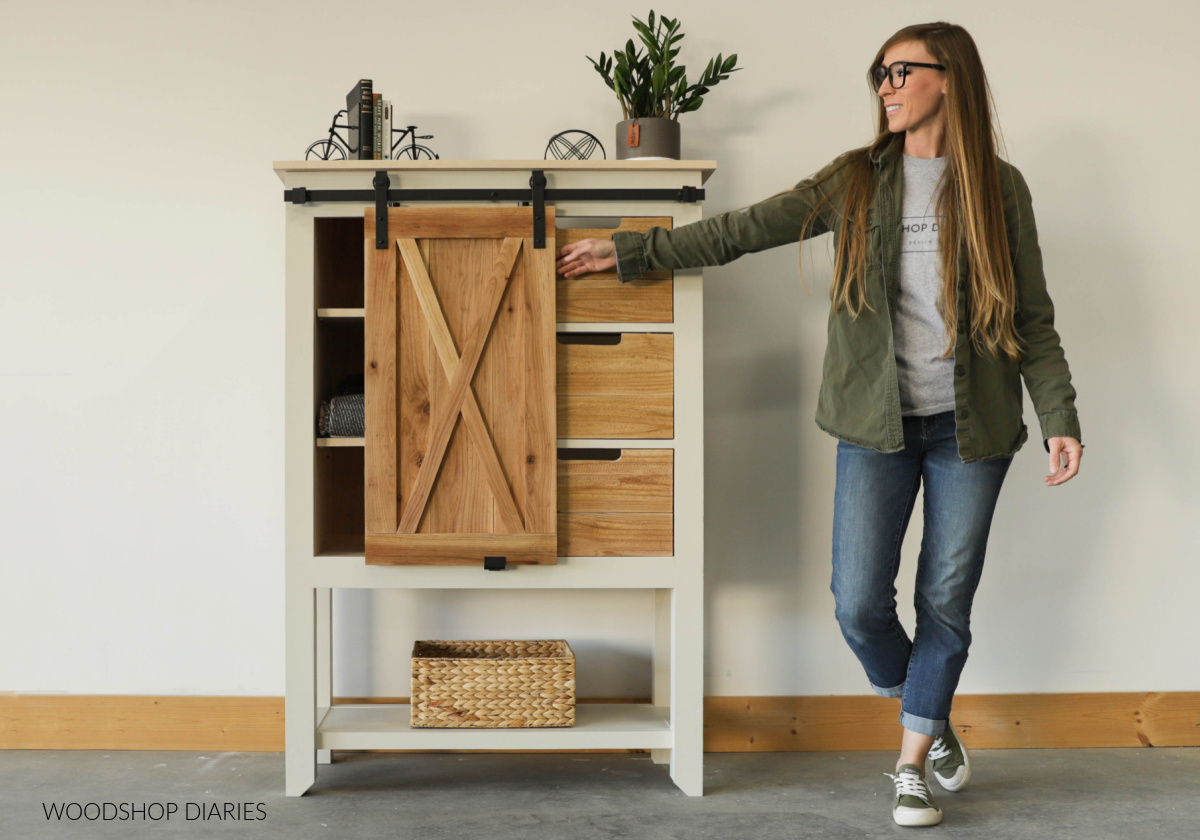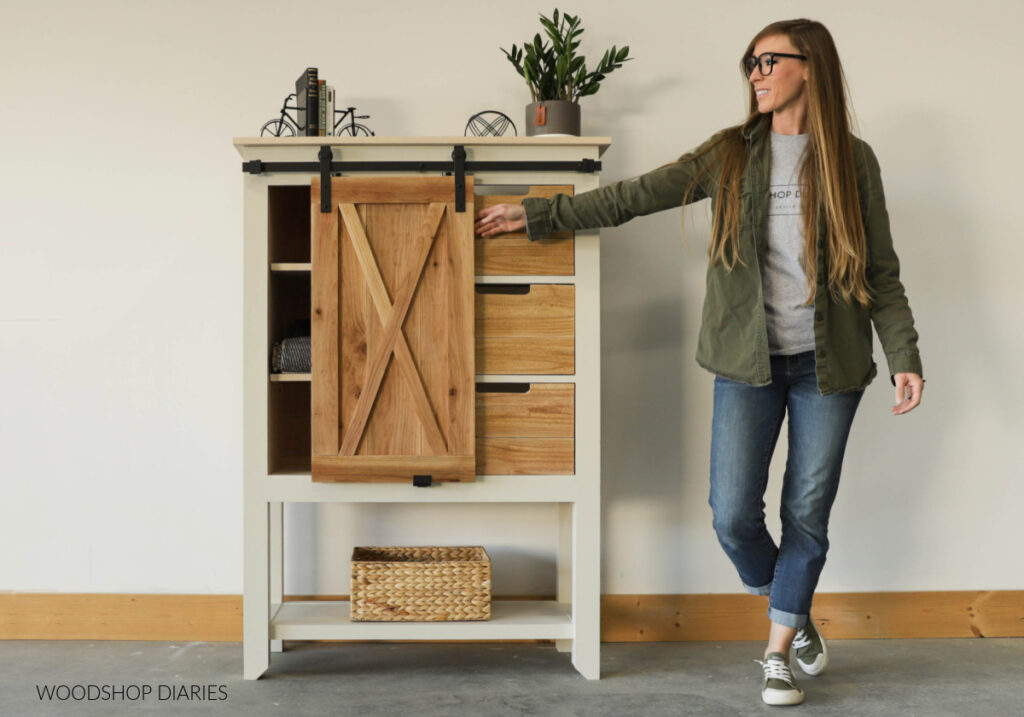 Plywood
Plywood is a manufactured material made from laminated wood veneer with alternating grains. The plies, or layers of material, are glued together with alternating grain patterns to promote stability.
For this reason, wood movement with plywood is minimal–but that's another topic for another day.
When building furniture and cabinets, I HIGHLY recommend opting for a cabinet grade plywood. These can be a little more expensive than construction grade plywood, but well worth it.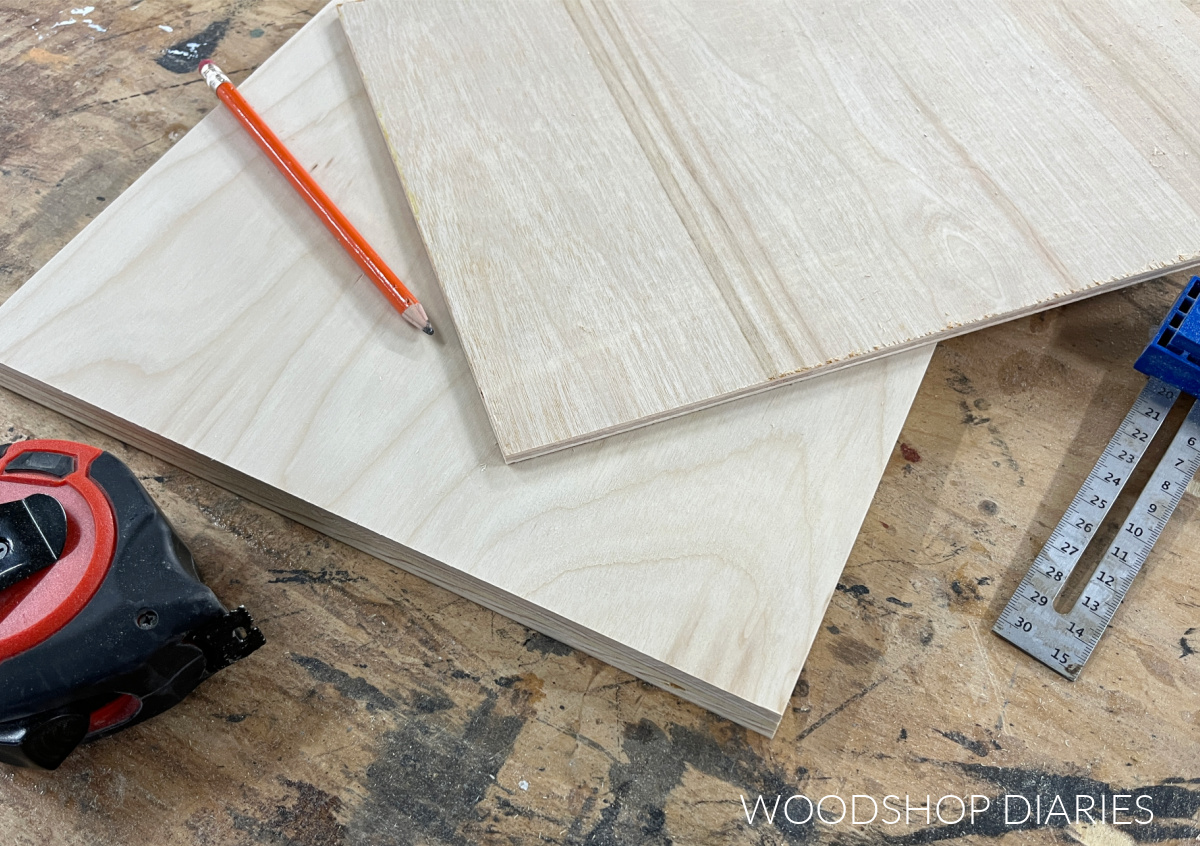 Cabinet grade plywood is commonly found in hardwood species like maple, birch, and oak. I use birch plywood for 99% of my plywood projects.
However, if you're painting or building a workshop project, you can save a little money with sanded pine plywood.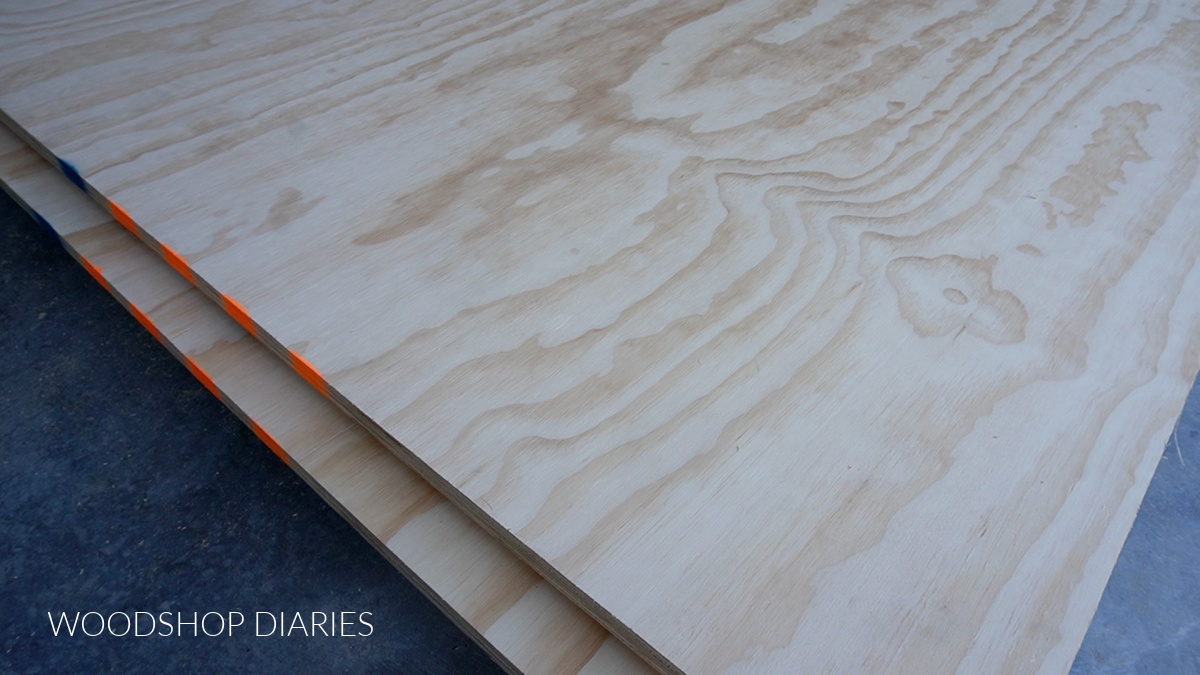 It's not quite as pretty, but still works well, especially if you'll be painting it anyway.
Here are a few projects using plywood: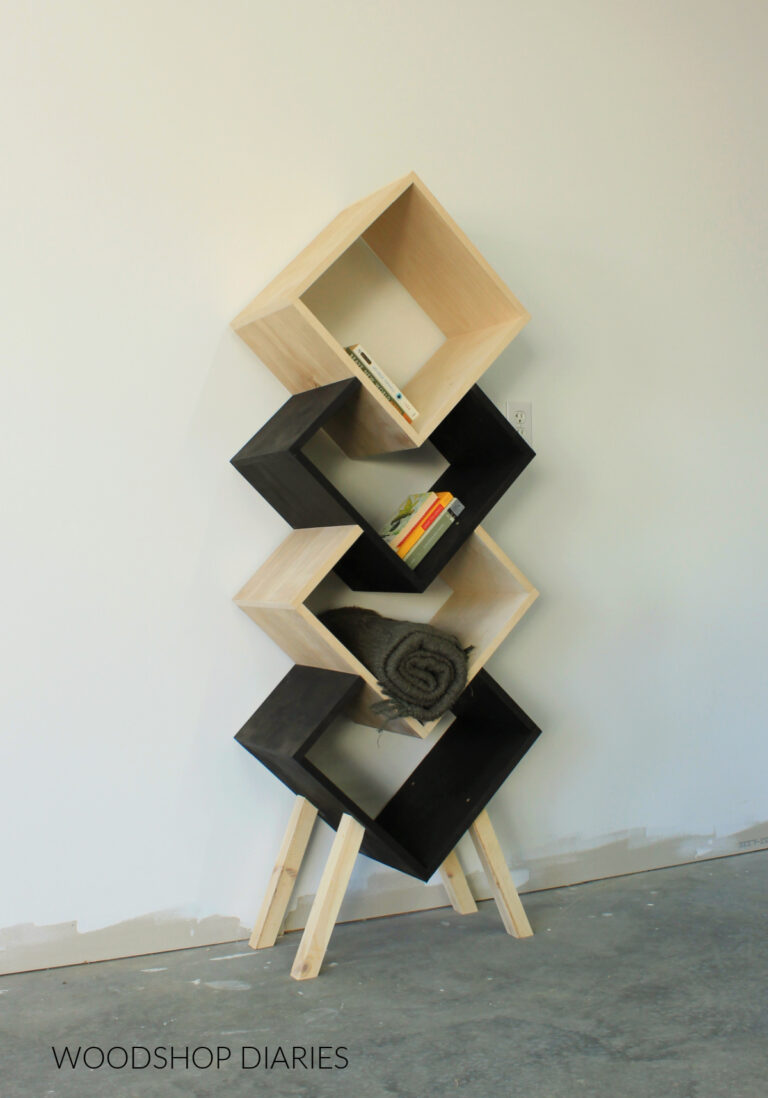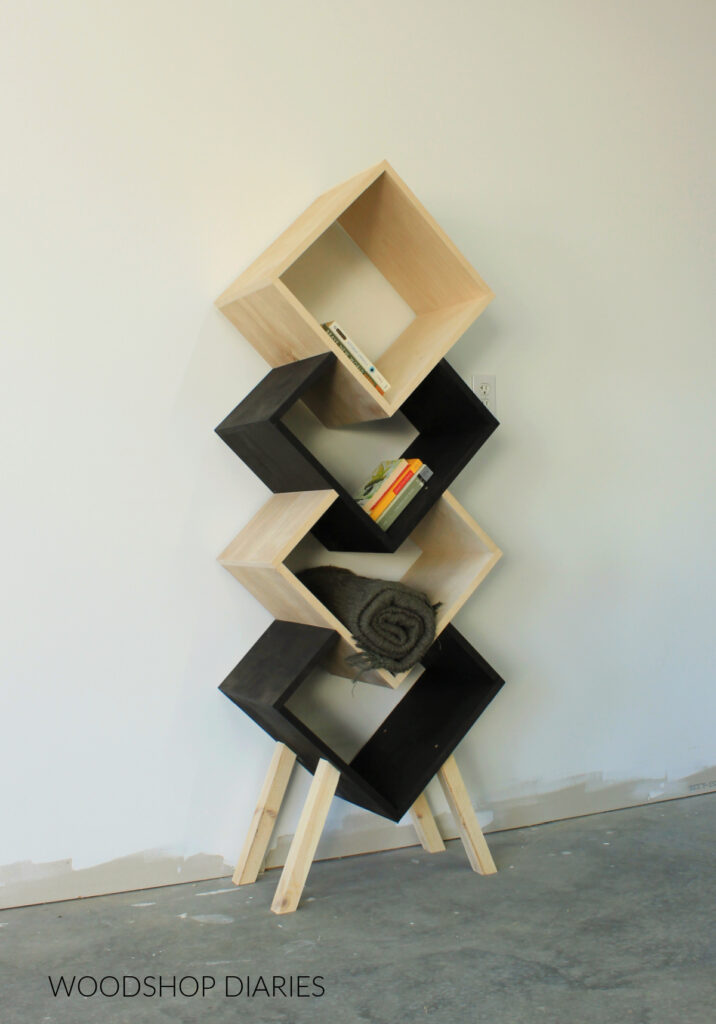 PRO TIP: For covering exposed plywood edges, try edge banding! Learn how to cover plywood edges easily here.
If you're not sure what the best type of plywood to use for your project is, don't worry! This post helps you choose the right plywood for your project.
Lumber For Outdoor Projects
Pressure treated lumber is wood that has been treated with preservatives to help extend its life and prevent rot and decay. These boards are often used in exterior projects like fencing, decks, and sheds.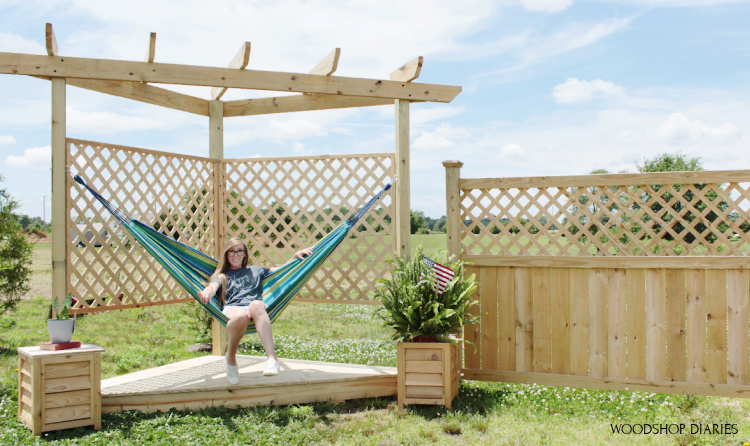 Pressure treated wood comes in the same sizes and wood types as construction lumber. But you'll also find it in additional sizes like 6×6 posts and 5/4 thick boards (often used for decking).
Once it's allowed time to dry out, it'll turn a nice golden color and looks really nice. But, when it's new, pressure treated wood tends to be an odd color (greenish), have an odd smell (from the chemicals), and be quite heavy (because it's wet).
For those reasons, many times, you may not want to use it for your outdoor furniture and projects. So, naturally rot and weather resistant woods are a good alternative, but will likely come with a higher price tag.
Depending on your location, cedar, redwood, white oak, and teak are all great outdoor lumber options. Cedar wood options shown below.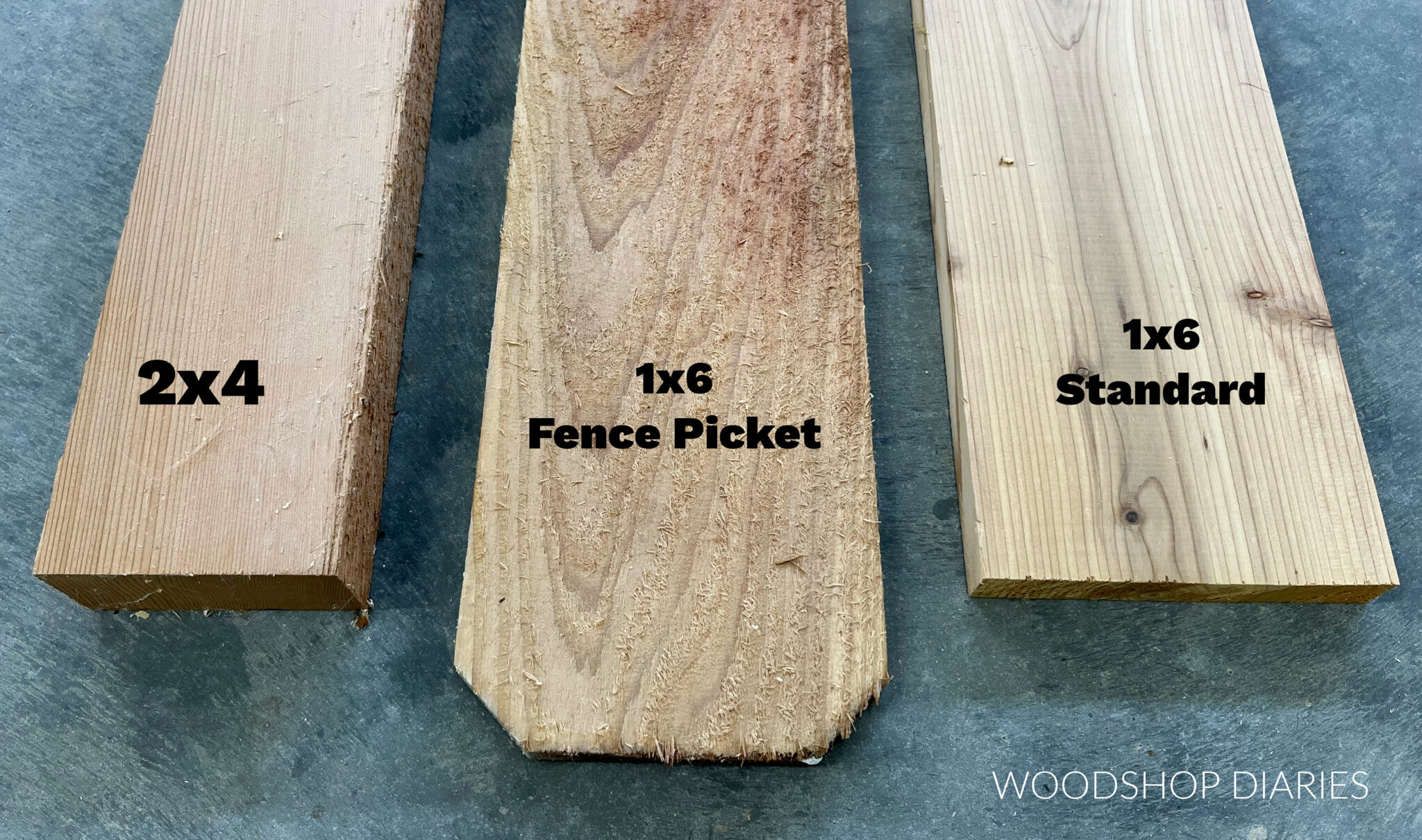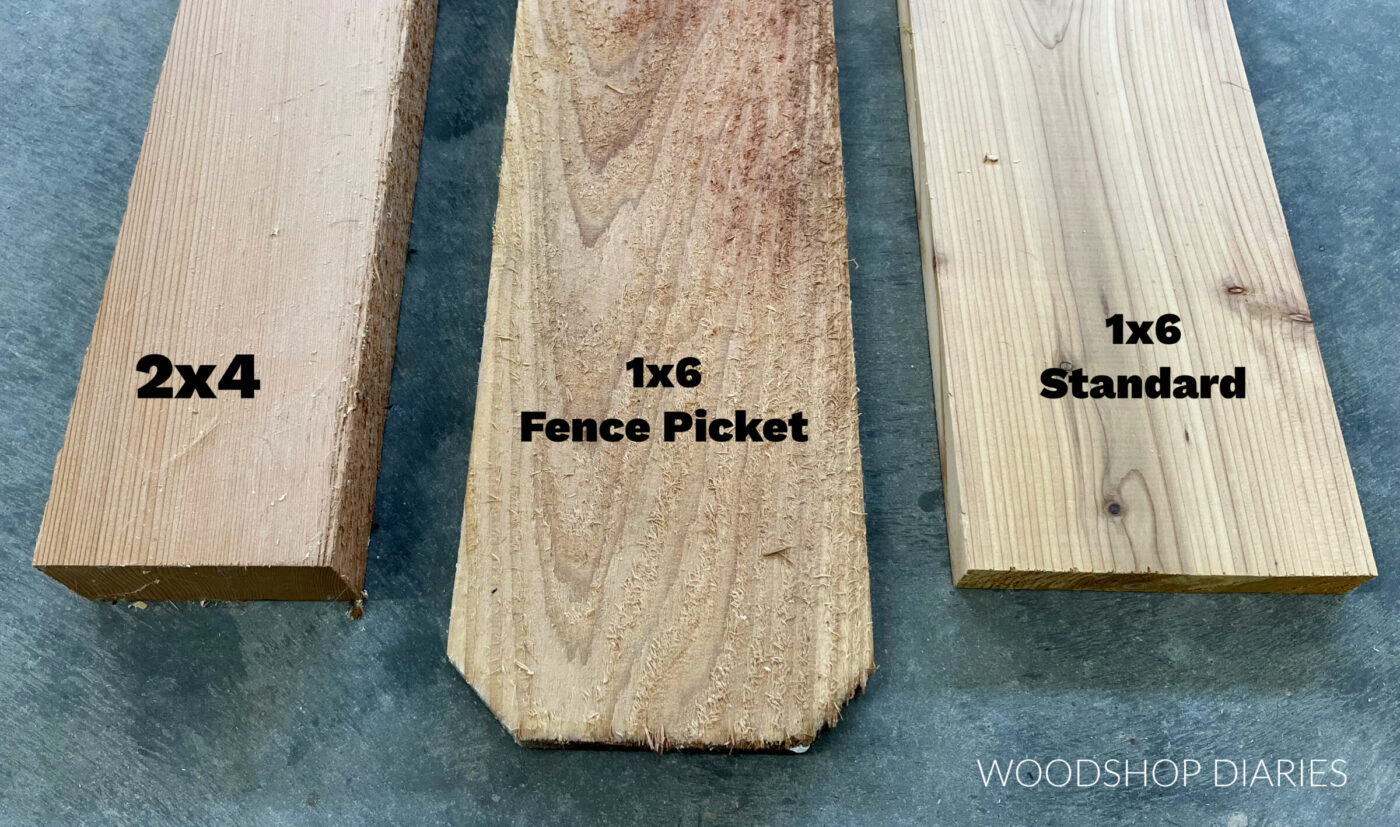 Where do you shop for lumber?
Once you determine what KIND of lumber you need for your project, then you can determine where to shop for it. Keep in mind that availability and lumber options will vary based on location.
I highly encourage you to ask around and research your local options because many times, local suppliers are the best places to shop if you have them available.
Shopping at the Big Box Stores
Big box stores (like Home Depot, Menards, Lowe's, True Value) will carry mostly construction lumber. They'll have pretty much all the 1x and 2x material you'll need.
They usually carry pressure treated lumber and also decorative trim and moldings.
Some of them may carry a few hardwood options–likely in limited quantities and sizes. Selection will vary store to store. The big box stores where I live only carry poplar and red oak in 1x thick pieces.
The prices for hardwood at the big box stores are usually higher than you can find from a local hardwood supplier, but it's a convenient way to buy it if you don't want to deal with a lumber yard.
Big box stores typically price lumber by the board. But, for hardwoods, trims and moldings, sometimes they charge by the linear foot so pay careful attention when checking prices.
For more information on lumber sizing, check out this post.
TIP: If you're new to woodworking and lumber yards intimidate you, shopping at a big box store is great because you are free to browse around and grab what you need on your own.
Big box stores also carry sheet goods like plywood. However, these stores are catering to contractors and home builders, so they may or may not have any nice cabinet grade options. Some carry it and others don't.
Personally, I buy my plywood and 2x material from the big box stores as the prices are good, and they have a lot of material to pick from.
Shopping at the local building supplier
Local building suppliers will carry basically the same lumber options as the big box stores, BUT can often order you more specialty items like hardwoods and cedar/red wood, etc.
These local places usually deal with various suppliers and have access to tons of items they may not typically keep stocked.
Of course, every building supply store is set up differently, but often, these are places where you go to the desk, order what you need, then drive to the back and they load it up.
These aren't usually set up where you can casually shop around and browse. So it's best to know exactly what you need when you go.
I've found that the 1x material at my local building suppliers is cheaper and better quality than the 1x material at my big box stores. So I buy my 1x common boards here.
Shopping for Hardwood
Hardwoods aren't always readily available like construction lumber and you may have to order online or call around to find a local lumber mill. In my rural area, there are limited options for local saw mills.
Some lumber yards are set up where you can walk in and shop around for what you want. Others are simply a giant warehouse of lumber they have to sort through with a forklift.
At my local mill, the owner is SUPER nice, but they're (understandably) very busy. So they don't have a lot of time to dedicate to me just browsing around. I expect many local mills are like that, so before making a trip, it helps to call ahead and ask them the species and sizes they carry and their prices.
That way, when you get there, you have a good idea of what you're wanting and it's a less frustrating experience for everyone.
Often, they keep the wood stored in these warehouses rough sawn (sawn to rough dimensions and with rough sides). Below is an example of rough sawn material.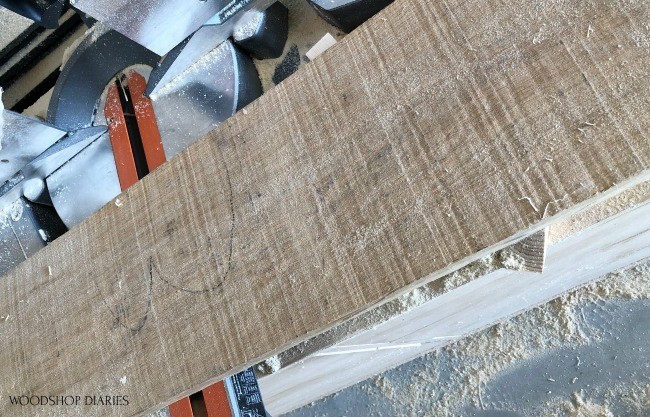 Most mills will surface the wood for you (for a fee) if you don't have a planer and/or jointer, but that will take some time. So be prepared that you may not be able to take home the wood that day.
Hardwoods are usually priced by the board foot or linear foot. This post explains lumber sizing and how to calculate board foot.
How to pick straight boards
When shopping for lumber, you want to take your time and sight each board down the edge and face to check for straightness. This means that you may have to do a little digging to find the best boards for your project!
Hold the board up and look down all four sides checking for the following three problems–bows, cups, and twists.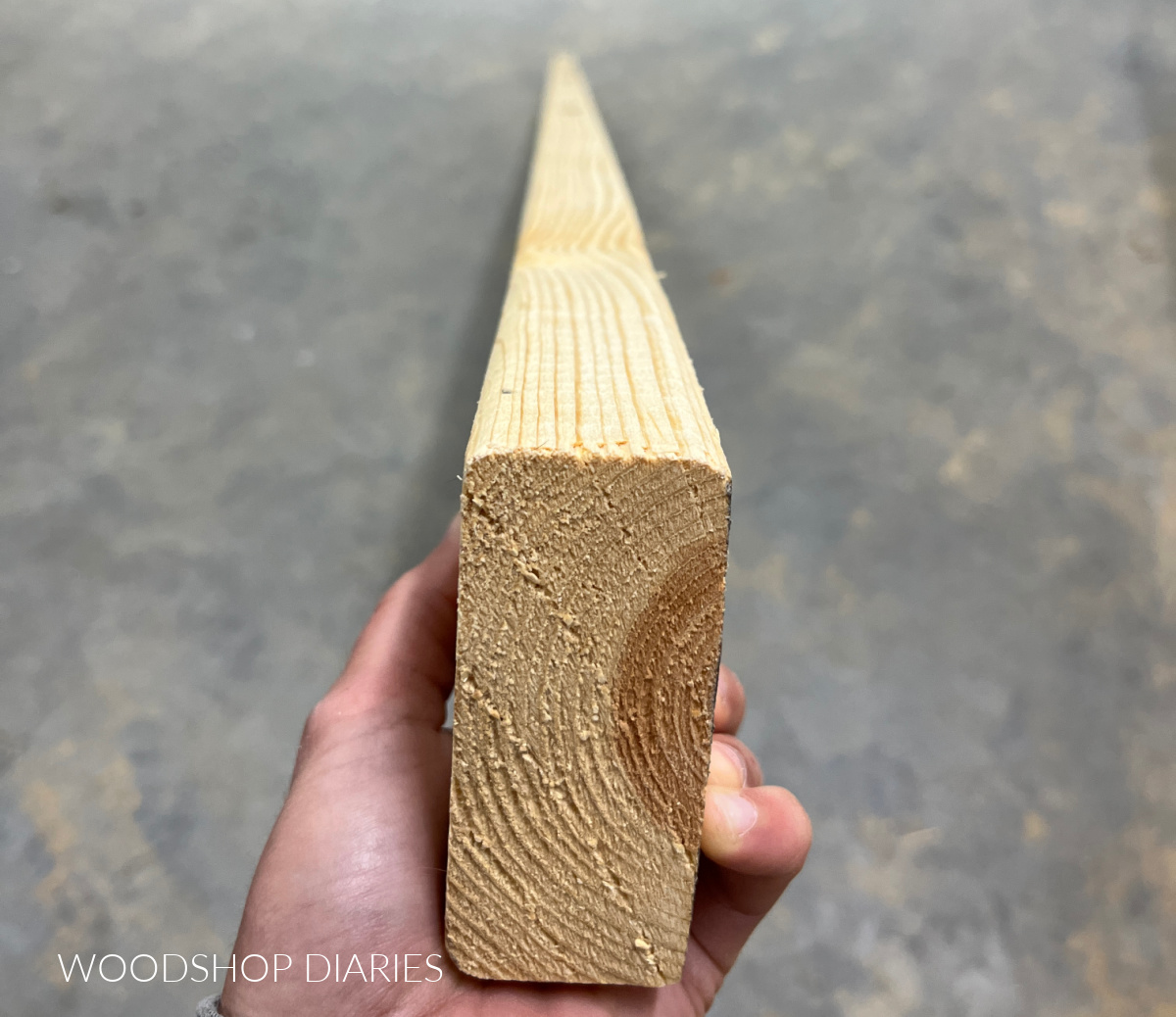 Checking for bows
A bowed board is one that is warped along the length. Whether it's warped down the edge or the face, either one is a problem.
You can identify a bow by sighting down the edge and face of the board. If it's not straight in either direction, then the board is bowed.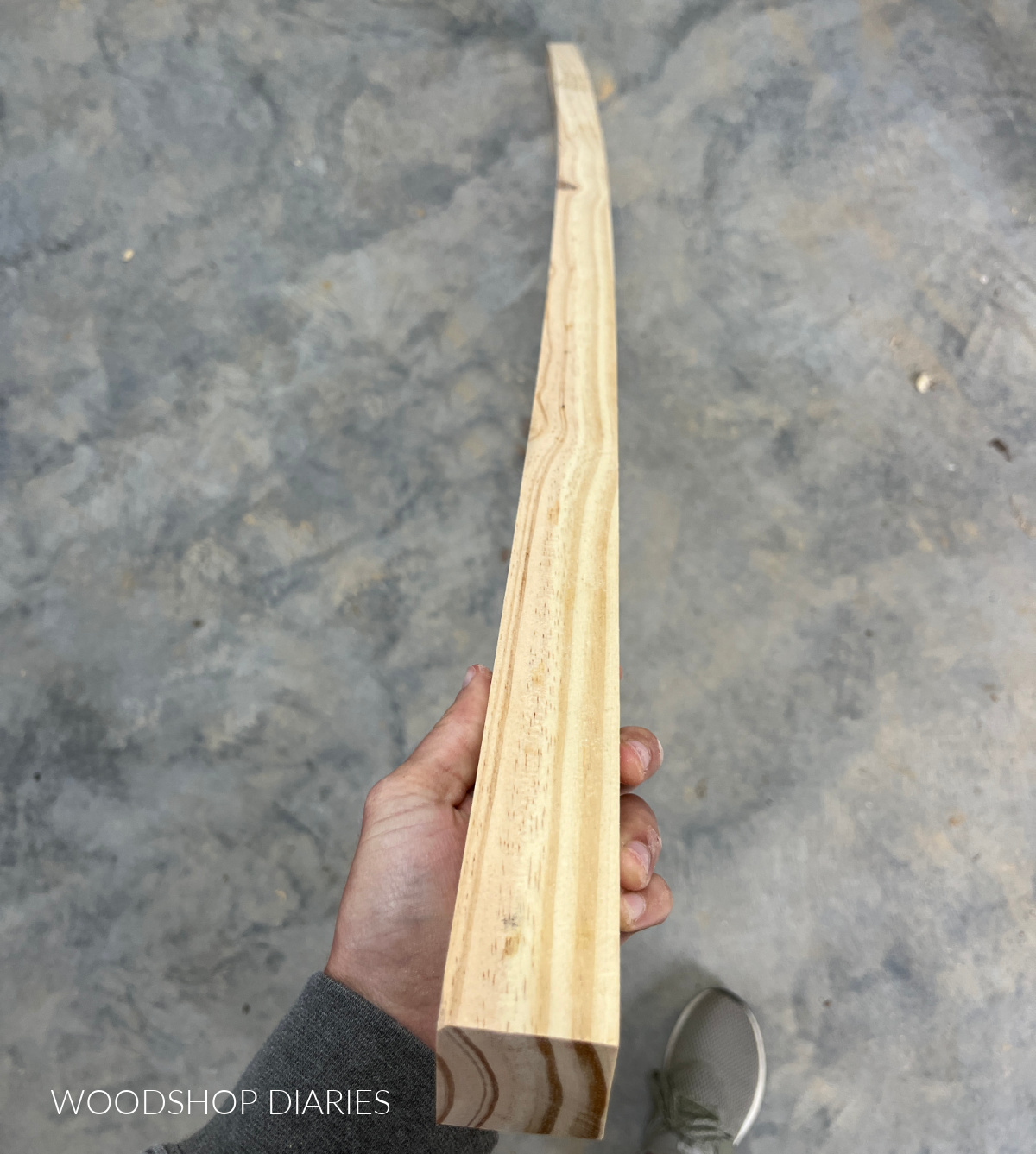 Often, I call these "banana boards" because they will be shaped like a banana.
If you're cutting this board into short pieces and the bow isn't severe, it's not necessarily a deal breaker and may still be okay to use for your project.
Checking for cupping
Cupping is when a board is warped across the width. This is most common in wider boards and is identified by looking to see if the edges are higher or lower than the middle of the board.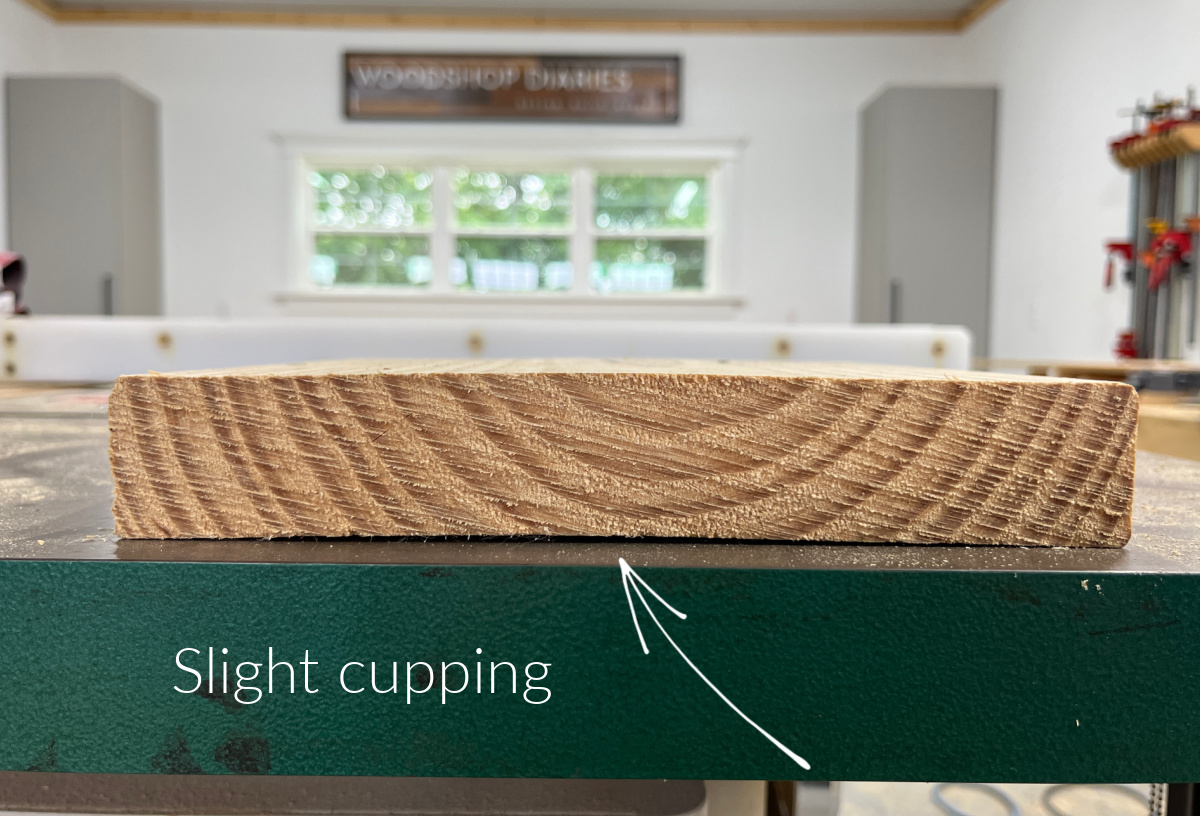 Whether cupping is a deal breaker depends on what the board will be used for. If you are able to plane the board flat again, then it's fixable with a little work.
But if the board is severally cupped, I'd recommend avoiding it and finding a different board.
Checking for twists
A twisted board is one that is literally twisted. The two opposite corners will be lifted up and if you place it on a flat surface, it will rock.
You can identify a twist by placing the board on a flat surface and seeing if it rocks. Or, you can hold the board and look down the face to see if the surface is twisted.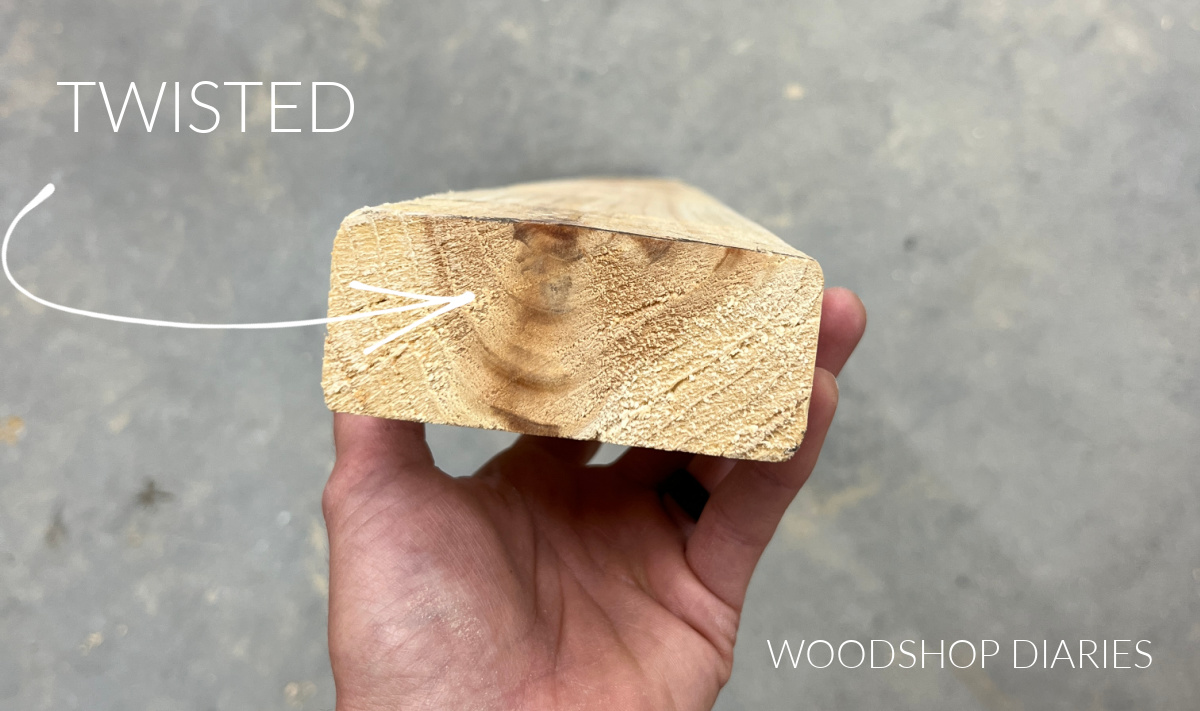 Twists are the worst offender as they're the most difficult to correct and these are the boards to DEFINITELY avoid buying when at all possible.
Storing Your Lumber
Once you've purchased your lumber and brought it home, it's important to properly store it to keep it in good condition.
Keep all untreated lumber indoors and on a flat surface. This DIY lumber rack is a great way to store lumber flat and without taking up too much floor space.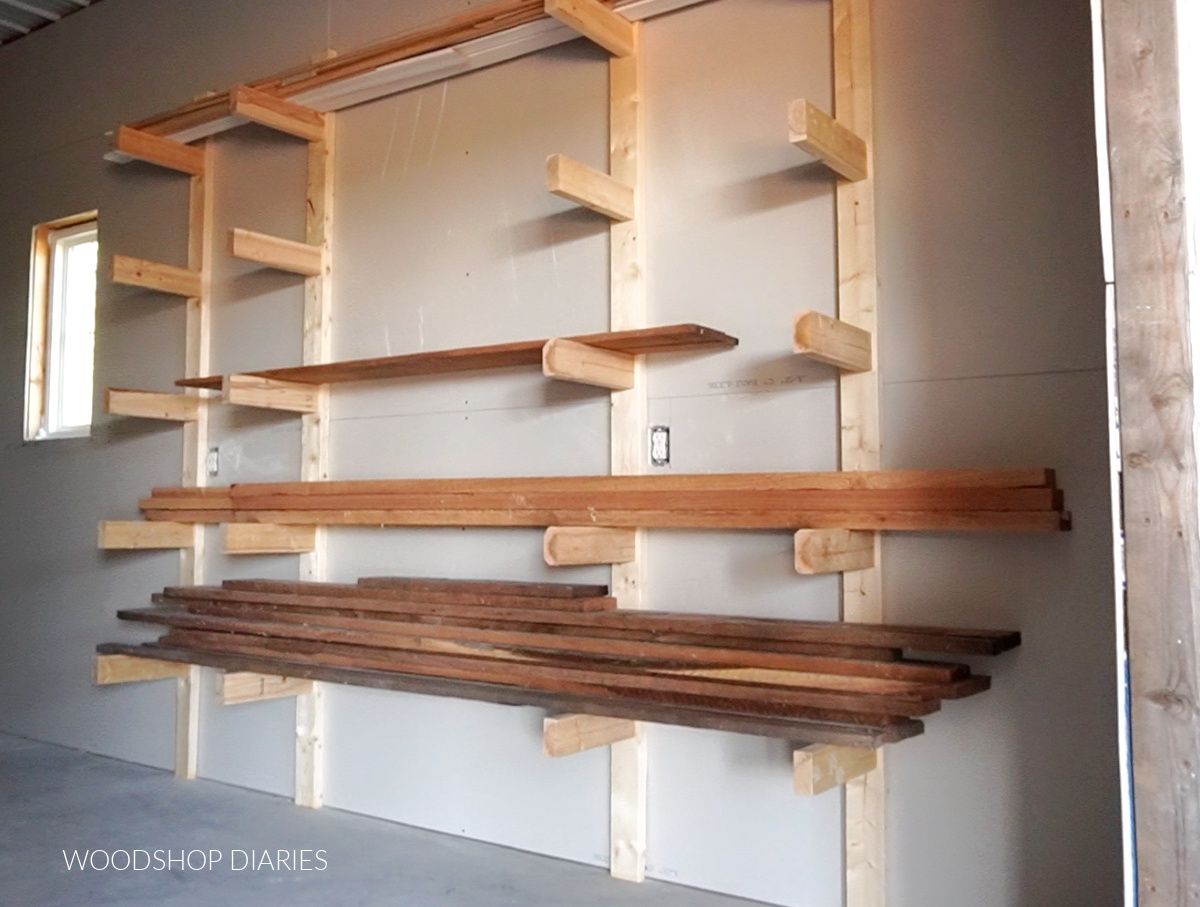 For sheet goods, if you lay them flat, add some scrap blocks underneath to allow air flow. I like to stand my sheet upright so they don't take up so much floor space.
This DIY scrap wood and plywood cart is a great way to store plywood up on wheels so it's easy to move around and out of the way.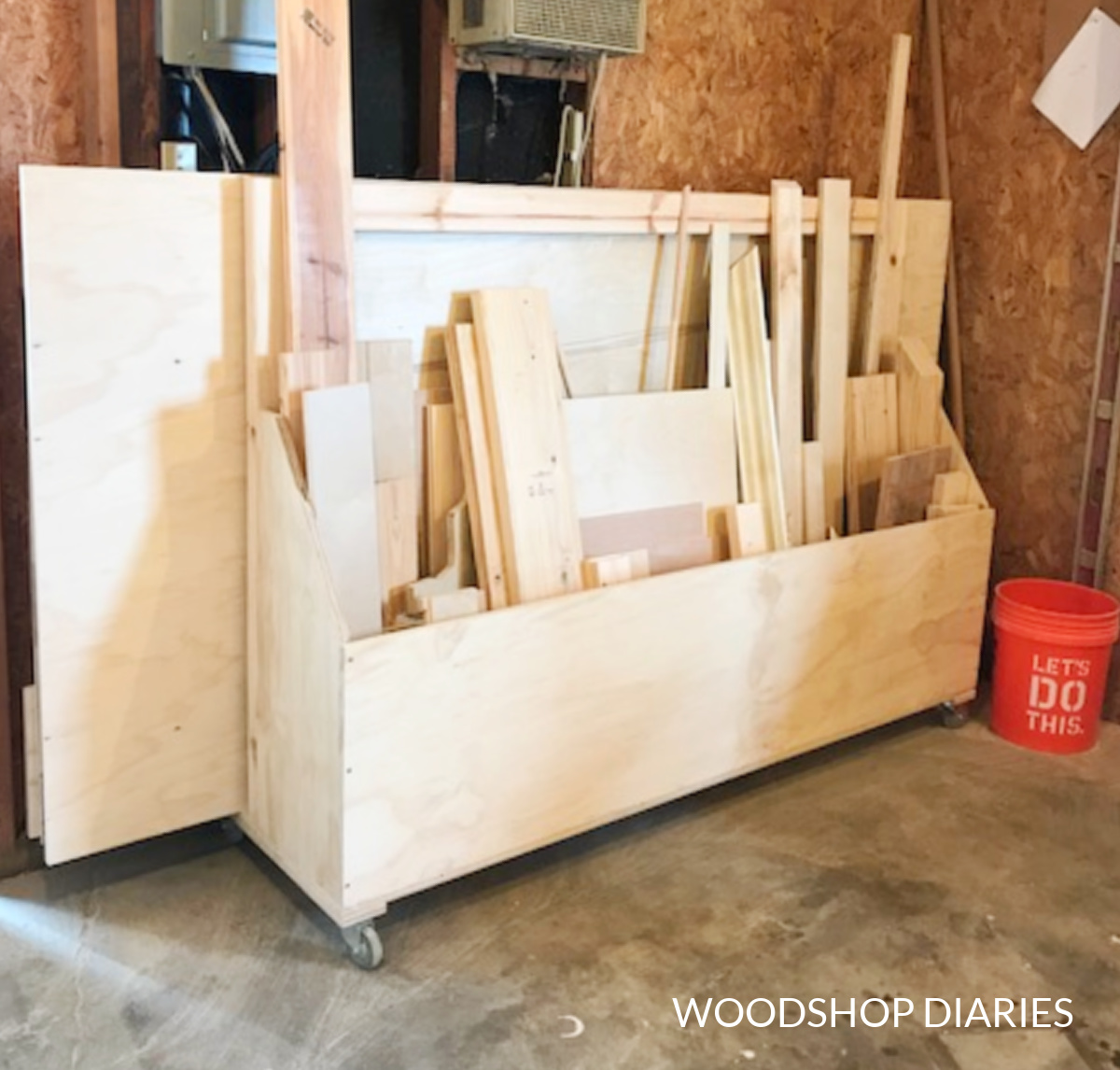 Ready to get building?
Now that you know how to shop for lumber, let's pick out a new project to try! Here are a few favorites to get started!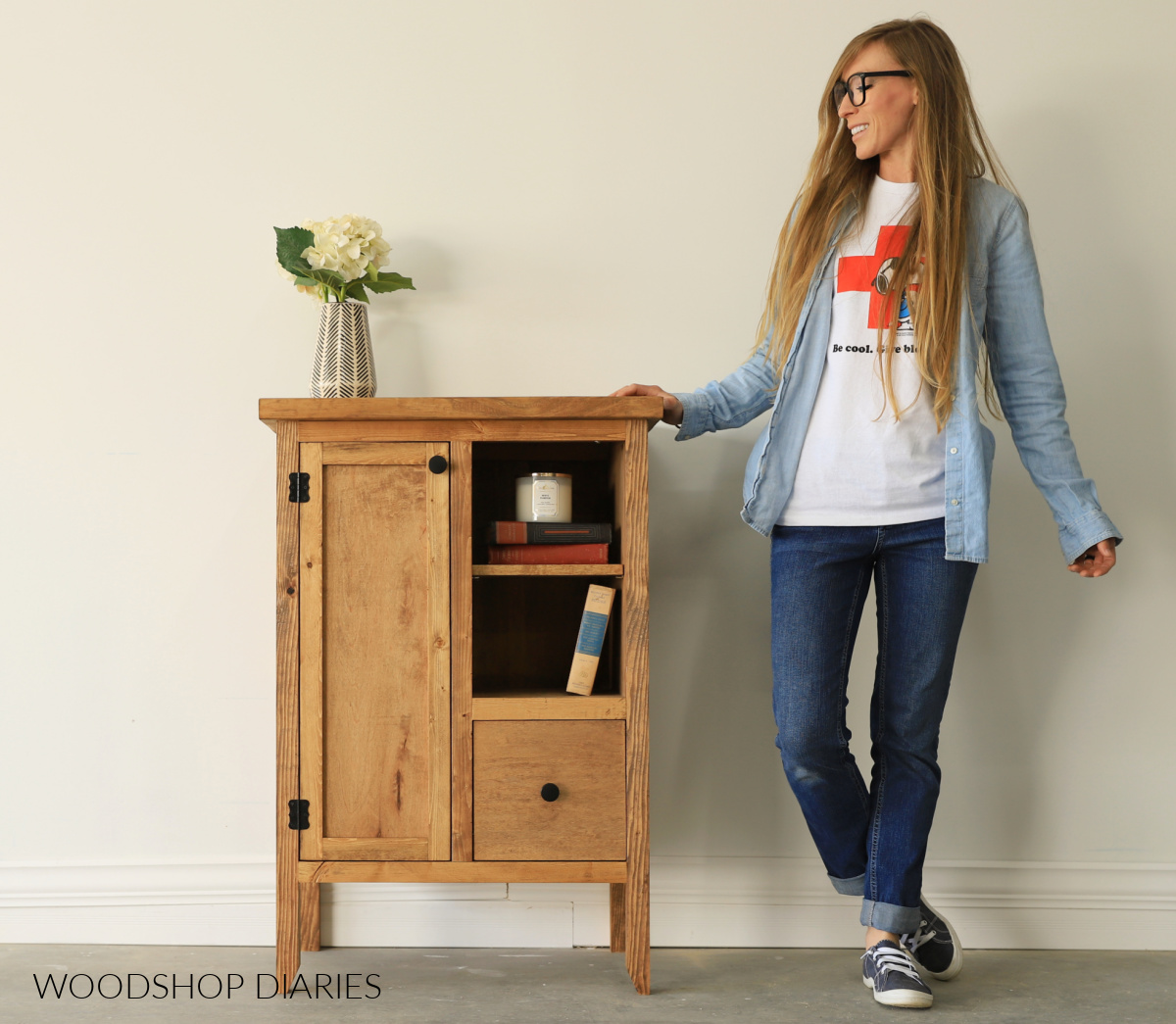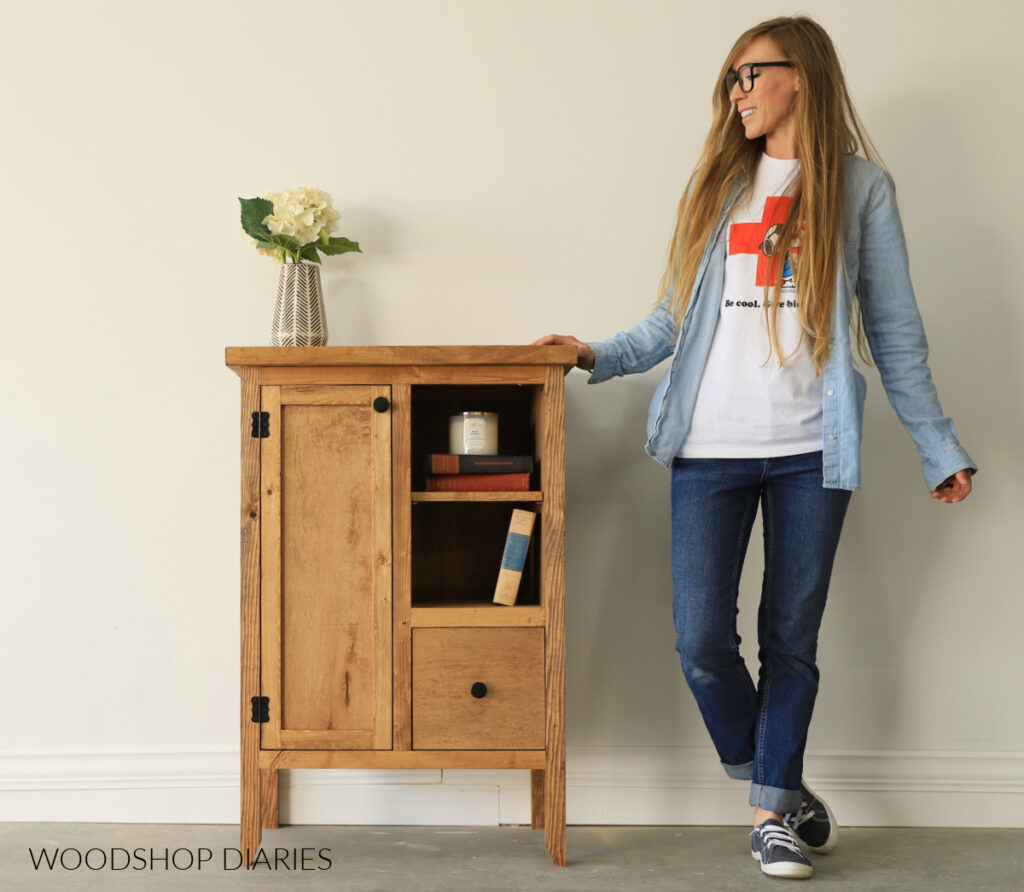 If you want to be the first to know about new projects, plans, and woodworking tips, be sure to subscribe to the newsletter below for priority access!
Save this post for later by pinning it or sharing to your favorite social channel!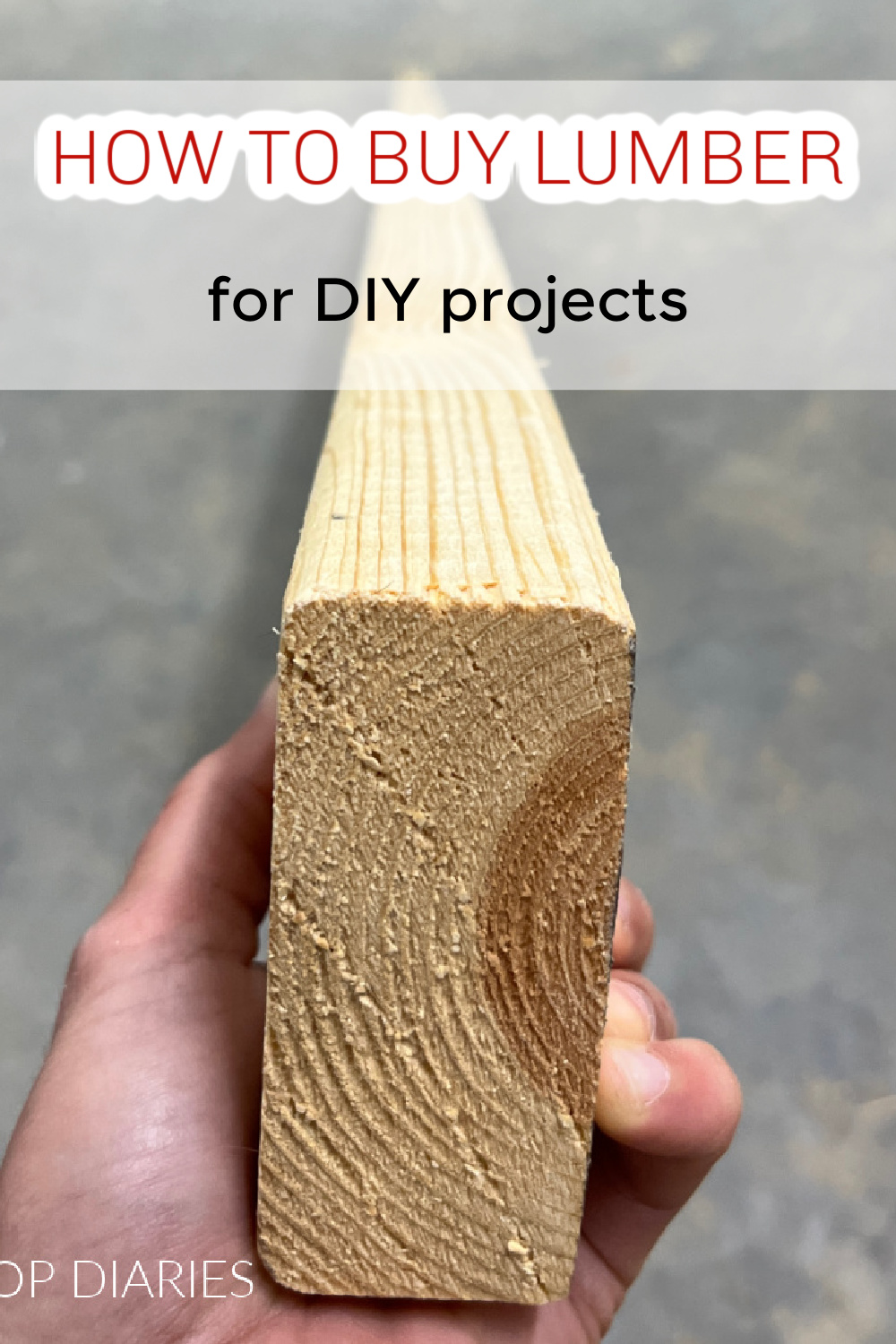 Until next time friends, happy building!