In this post, I'm sharing how to build this DIY bookshelf with hidden storage drawers!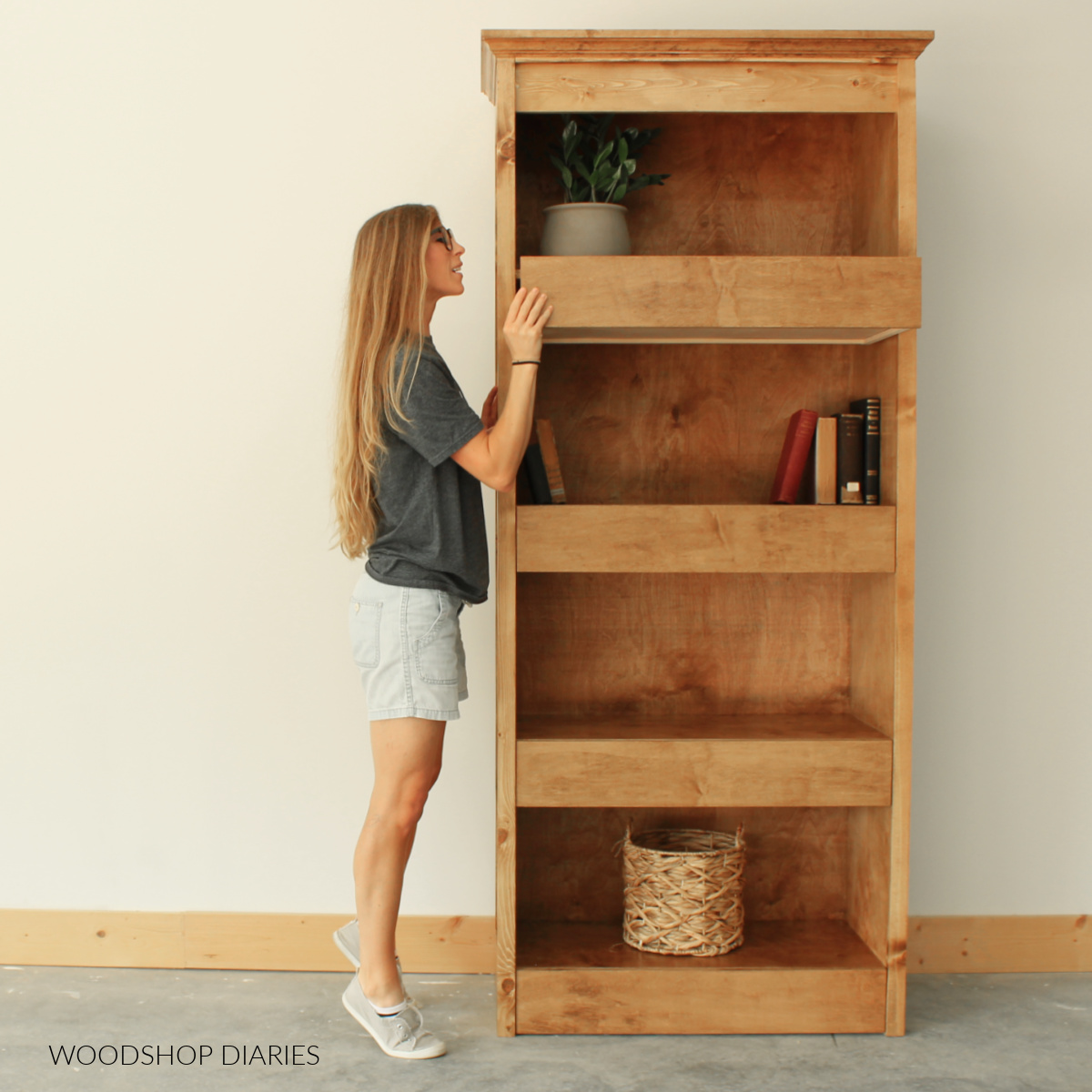 While the storage in this book shelf isn't really that "hidden," at first glance, it isn't really obvious.
.
If you didn't know any better, you may just think these are really thick shelves, but the shallow drawers are a great place to store remotes in a living room, a secret candy stash in a pantry, or whatever else you may want to hide away.
.
If you'd like to build one yourself, I'm sharing the printable building plans, step by step tutorial, and the full video of the build here in this post!
.
.
You can use any wood type for this that you'd like, but I recommend using a good quality hardwood plywood for the main body for the nicest results.
.
In this build, I used birch plywood and I've linked exactly what I used in the materials list below.
Due to the possibility of overloading the drawers, this should be securely anchored to the wall before use.
.
The front edges of the side panels will be covered with trim later, but I did apply edge banding to the front edges of the shelves before assembling because they will be exposed when the drawers are open.
.
.
.
.
.
.
.
The inside edge of the shelf sides should be flush so as not to interfere with the drawer slides' ability to slide in and out freely.
.
.
You can see how to cut dadoes using a table saw in this video, but you can also use a dado blade or a router instead if you preferred.
.
.
.
.
So for this, I used a scrap piece of ¼" plywood to position the drawer front ¼" from the floor.
.
.
.
.
.
I really hope you enjoyed seeing this bookshelf with hidden storage come together as much as I enjoyed building it! Don't forget if you'd like to grab the plans to build your own, you can find them here!
.