In this post, I'm sharing how to build a bed frame with an arched head board!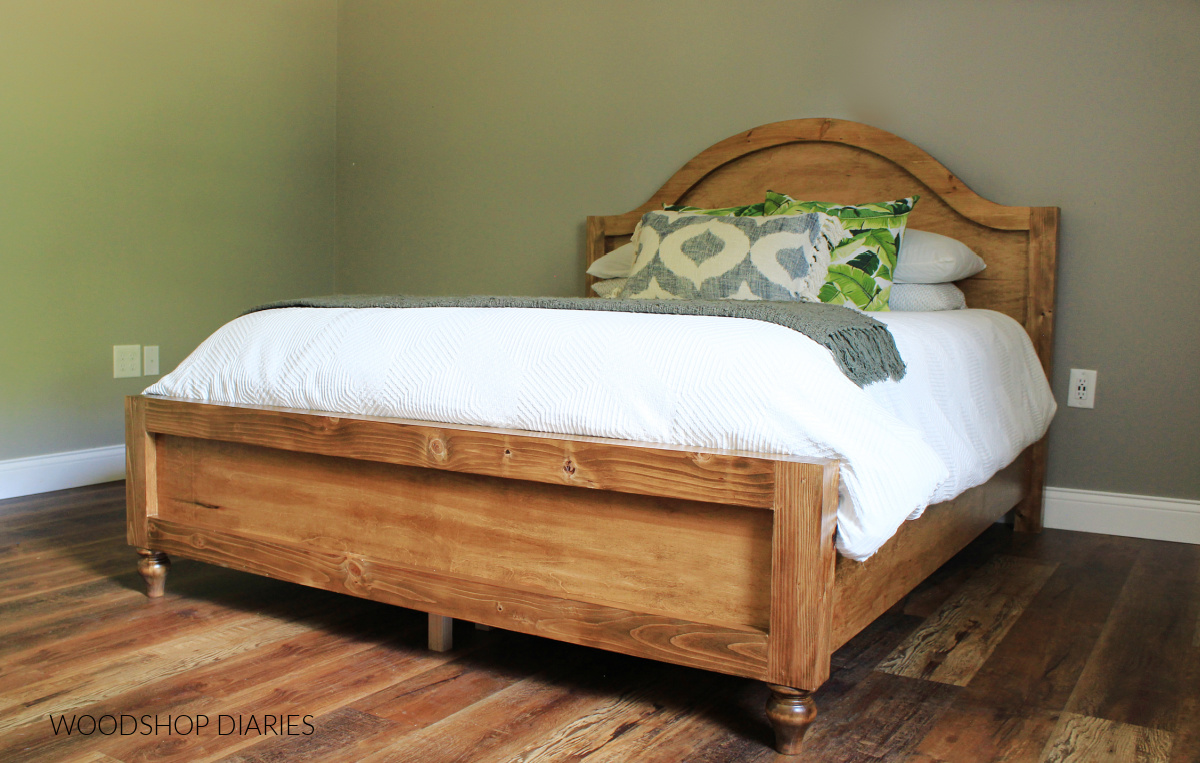 I've built a few beds over the years, and to be honest, they're all pretty similar. Most beds are built basically the same "structure-wise," but making some small design changes on each one can make them look completely different.
.
This time, I'm building this curved head board bed for our guest bedroom. This is actually the kick off to a whole matching furniture series I'll be sharing for that space–bed, dressers, nightstands.
.
.
So, I'm breaking down this bed build in these sections below to keep things simple.
.
.
.
.
For the curve, I drew up a template in SketchUp, took a screen shot of it, put it in a Word document, blew it up to actual size, printed it out on a few sheets of paper, taped them together, and cut it out with scissors.
.
It was pretty rough and ended up not being really nice, smooth lines, so I actually don't recommend doing that ha! Instead, you could freehand your curve, use round objects to draw it, whatever.
.
But, in the build plans, I've noted the radius of each curve and if I had to do this again, I'd put a screw in a scrap board, clamp this glued up panel to the workbench, and position the screw on the scrap board at the pivot points noted in the plans.
.
.
.
I knew I'd never be able to perfectly cut a curve on the headboard panel to match the curve on the frame, so instead of wasting my time trying, I cut this rabbet. This way, I can slide the top of the headboard panel into it later and not have to worry if it's a perfect cut.
.
.
.
I cut 4 pieces of 2x4s to a little over 40″, then squared the edges off on the table saw so the boards were just over 3" wide.
RELATED: How to square board edges
.
Then, I glued them together to make two legs.
.
After the glue dried, I ran these through the table saw again just to clean up the glue edges and give me 3" x 3" posts. Then, I trimmed them to a final length of 40".
.
.
.
.
.
.
I glued up this frame using wood glue and dowels, but you could also use pocket holes and screws.
.
Once this was dry, I sanded off all the glue squeeze out, and cut a piece of ¾" plywood to fit perfectly inside this frame.
.
.
.
.
.
I'm pretty sure these are intended to go the other way so that the "teeth" face the outside vs the inside, but if I flipped them, it would push the side rails further apart and leave way too much wiggle room on each side of the mattress.
.
So I installed them so that the teeth were flush to the inside of the frame.
.
.
After installing the brackets and making sure it all fit together, I stained all four pieces in Minwax Early American and gave it a few coats of clear coat poly once the stain dried.
.
Then, I cut nine 2x2s the height of the top of the side rail supports from the ground.
.
.
Simply place the mattress (no box spring needed, but you can add one if you'd like) on top of the slats, add bedding as desired, and hop in!
.
.
.