In this post, I'll show you how to build a DIY planter box with trellis–from scrap wood!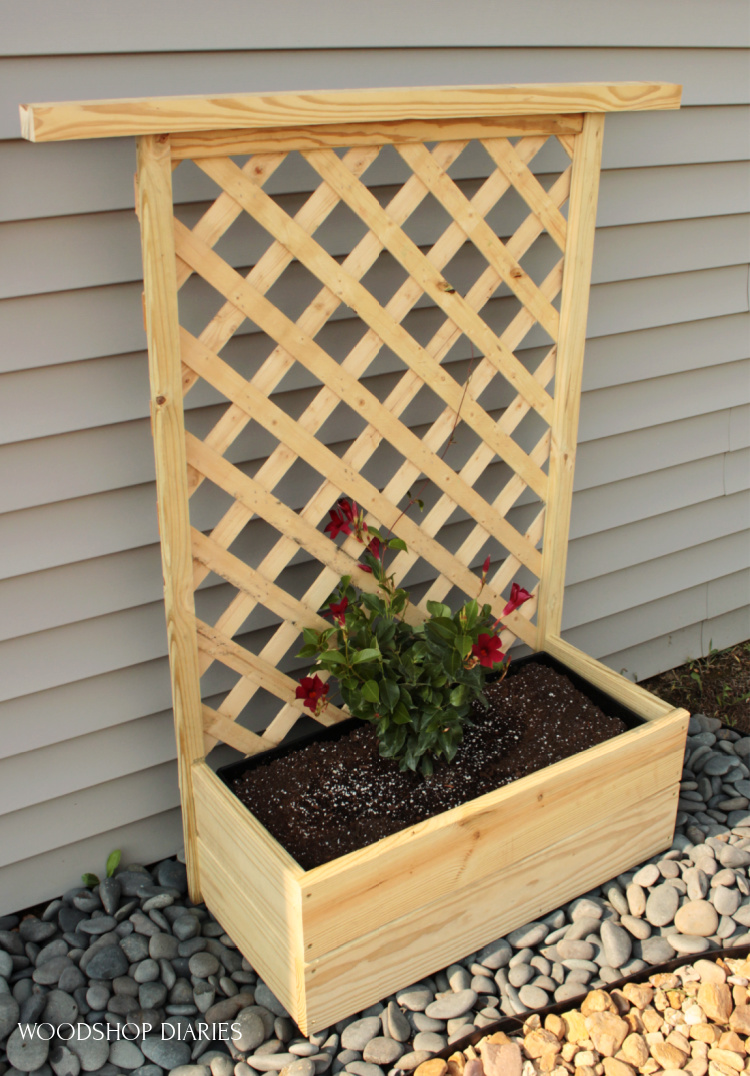 After my latest hammock stand build I had several treated wood scraps leftover that I needed to get rid of, but I hated to just trash them.
.
Since I don't work with treated lumber much in my workshop, I would very likely never have a use for them unless I made something specific with these random pieces in mind.
.
And there wasn't enough left to make anything very big.
.
So I laid out what I had and started brainstorming some options. The goal was to use as much of the scraps as I could, but not buy any additional lumber.
.
I had two 8 foot long 5/4 decking boards that I had purchased extra for the deck part of the hammock stand, several off cuts of the same size, some random 1x2s, 2x6s, and two lattice panels.
.
After some thought, I decided to make two planter boxes and I could use the leftover lattice pieces for trellises on the back side.
.
I'm sharing the video of the build process here and the step by step plans below. The video will show how I was able to use up most of the scraps, but the plans below will give you the directions to build from scratch.
This post contains affiliate links. See policies.
Notes About the DIY Planter Box with Trellis Project:
I knew I wasn't going to have enough scrap wood to make a solid bottom on the boxes, so I purchased some cheap plastic window boxes to actually hold the dirt.
.
The wooden part would basically just be a façade to hide the plastic pot.
.
So I measured the window boxes and began figuring the sizing I needed my project to be so it could fit inside.
Now, I totally get that you may not have the scraps in your shop to build this with. SO, if you are starting from scratch, I've got the materials list below and you can follow the same plan 🙂
.
Mine ended up being about 15″ deep, 41 ½″ wide and 49″ tall overall.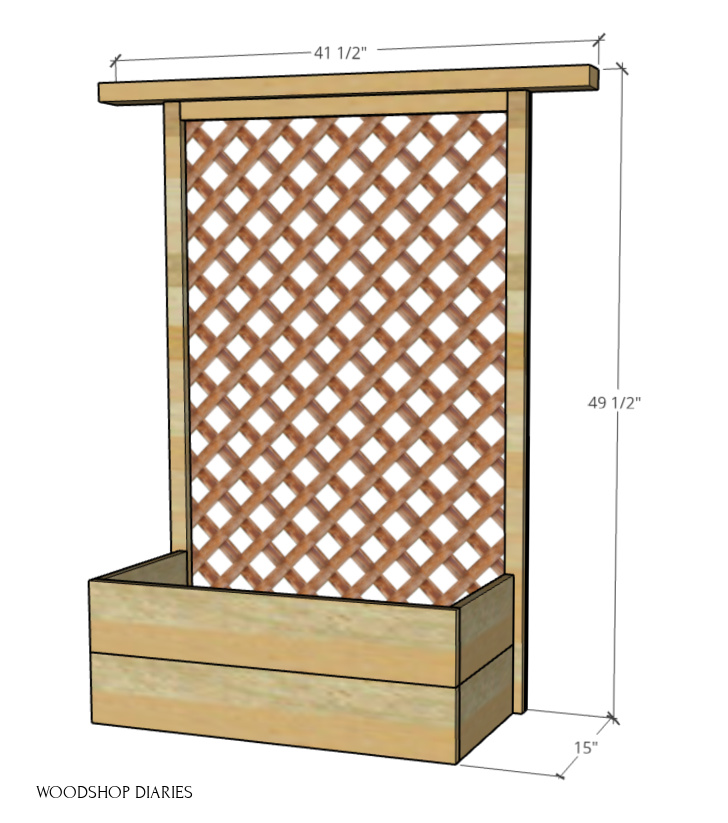 The box fit a planter pot 27″ long, 10″ tall, and 12″ deep. These are the ones I used.
Tools and Materials:
*Note the materials list is PER PLANTER BOX. However, if you choose to build two (like I did), one full lattice sheet (4×8) is more than enough for both and you'd only need one additional 1×2 (3 total, not 4).
Materials:
(1) 2×2, 2×3, OR 2×4 treated board 4ft long (optional–see step 4)
1 ¼″, 2″, 2 ½″ exterior wood screws
Tools:
Saw (any saw that cuts a straight line would work)
Jig saw (to cut lattice)
Drill/Driver
Step 1: Cut and Assemble "Partial" Planter Box
I didn't have enough wood to make 2 four-sided boxes for the plastic pots to sit inside. BUT…I did have enough to make 3 of the 4 sides 🙂
.
Ideally, I would have liked to have a solid back at the bottom here, but I didn't have enough lumber—so you can definitely add that if you wanted—I just didn't want to buy more wood haha.
.
So I screwed the three sides together using 2″ wood screws–I needed two of these PER PLANTER. Since I was making two identical planter boxes, I made four total.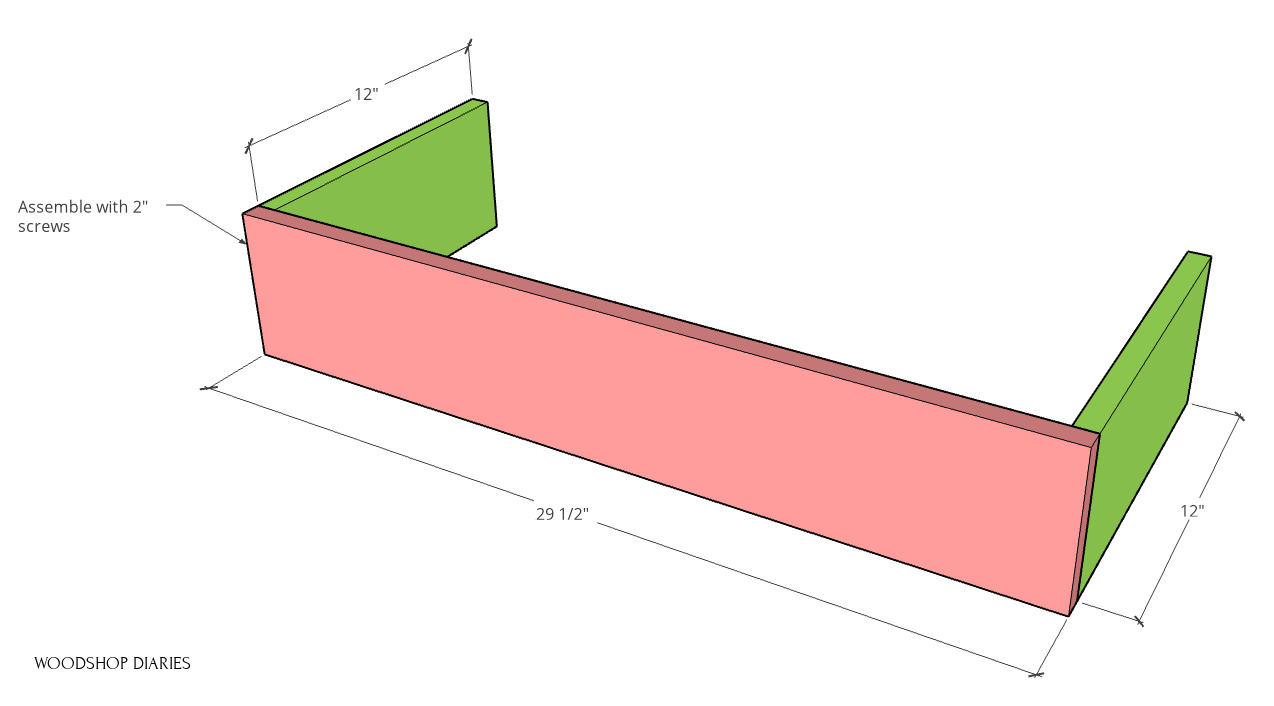 And then, I just screwed two of these together by "toenailing" them—which is basically just driving a screw at a steep angle.
.
You could also use pocket holes and screws, or use some wood slats on the inside of the box to attach them together. There are a lot of options here, but simply angling the screw from the inside of the box (so you won't see it) was quick and easy.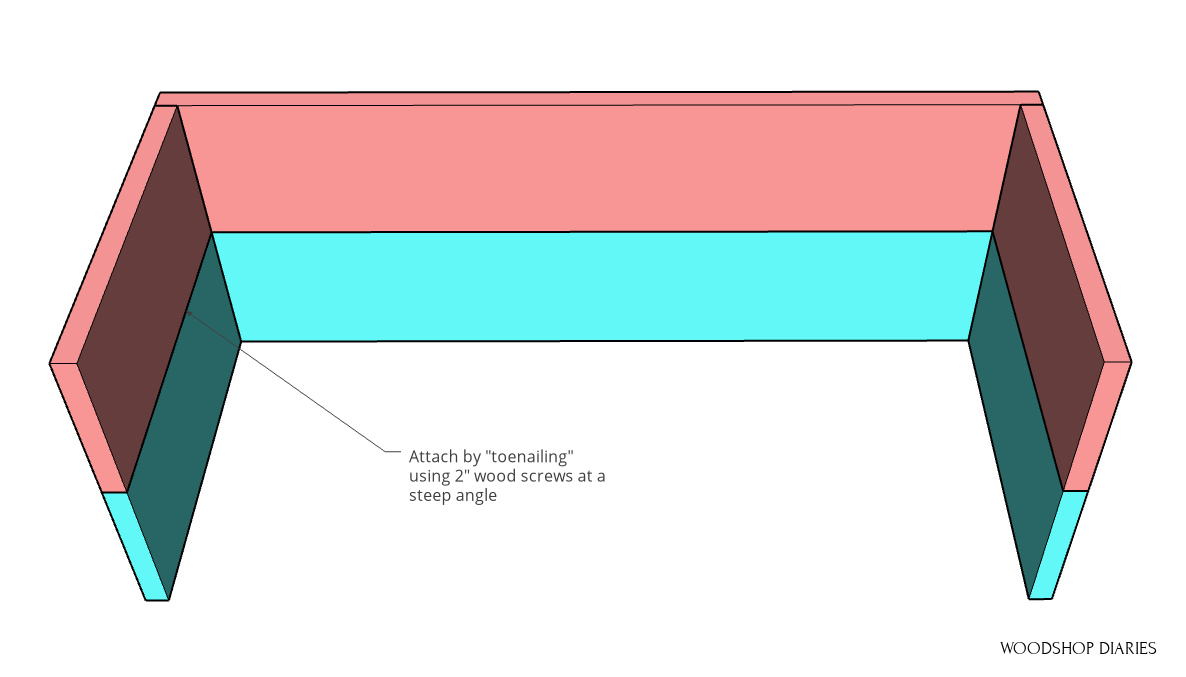 Step 2: Attach Trellis Frame
Once the partial box was assembled from step 1, I trimmed 1×2 pieces down to the height of the lattice panels (my panels were 48″ tall and about 30 ½″ wide) and screwed them into the back side of the box using 2″ wood screws.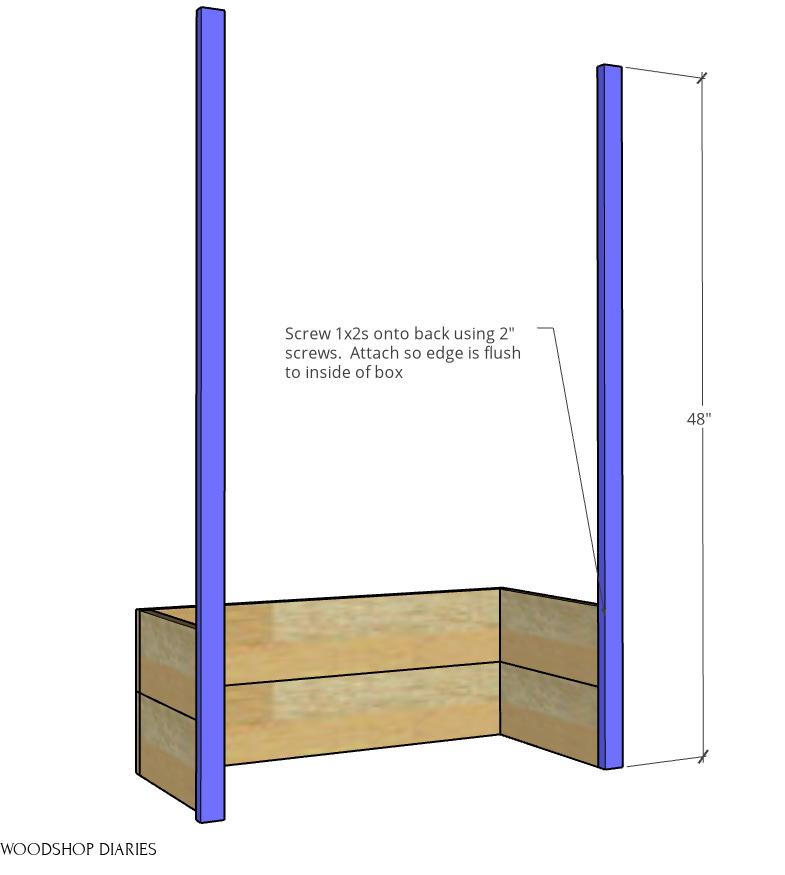 I cut, and screwed another 1×2 piece to go along the top between these two pieces using 2 ½″ screws, then prepared to trim the lattice panel.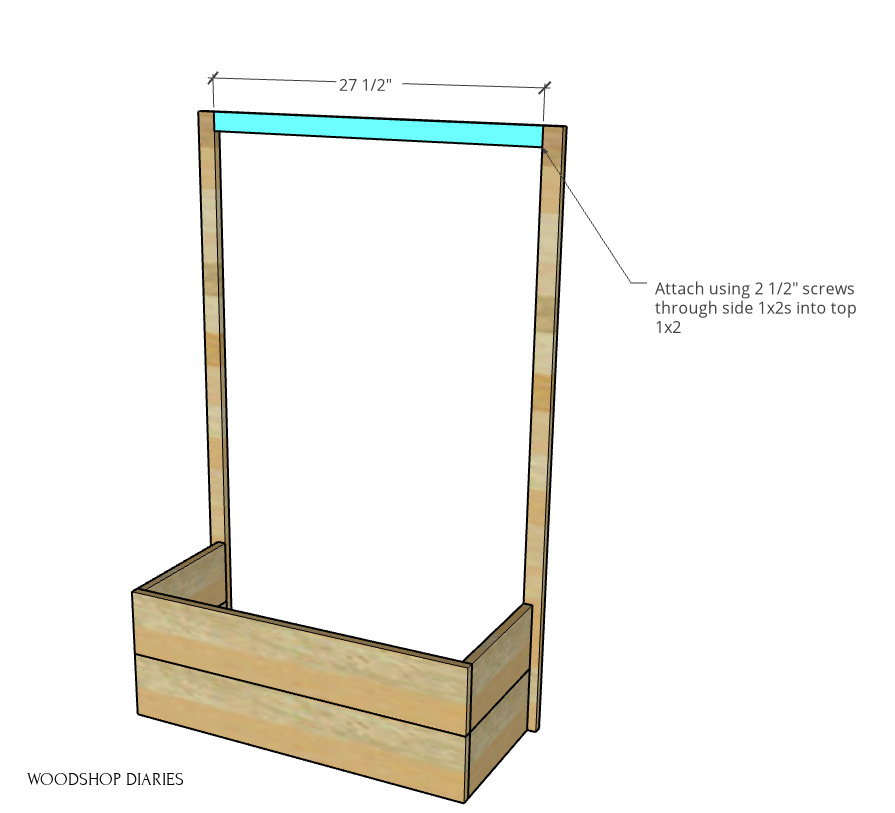 Step 3: Attach Lattice on Planter Box Frame
By some miracle, the lattice panel was almost the exact same size as the frame I was planning to mount it to. I absolutely didn't plan that and expected to have to trim it down some. What a pleasant surprise haha.
.
If, however, you did need to trim your lattice panel, you could use a circular saw or a jig saw to do so—I prefer a jig saw as the staples you are likely to hit in the lattice can screw up a blade and jig saw blades are cheaper to replace. (Been there…done that!)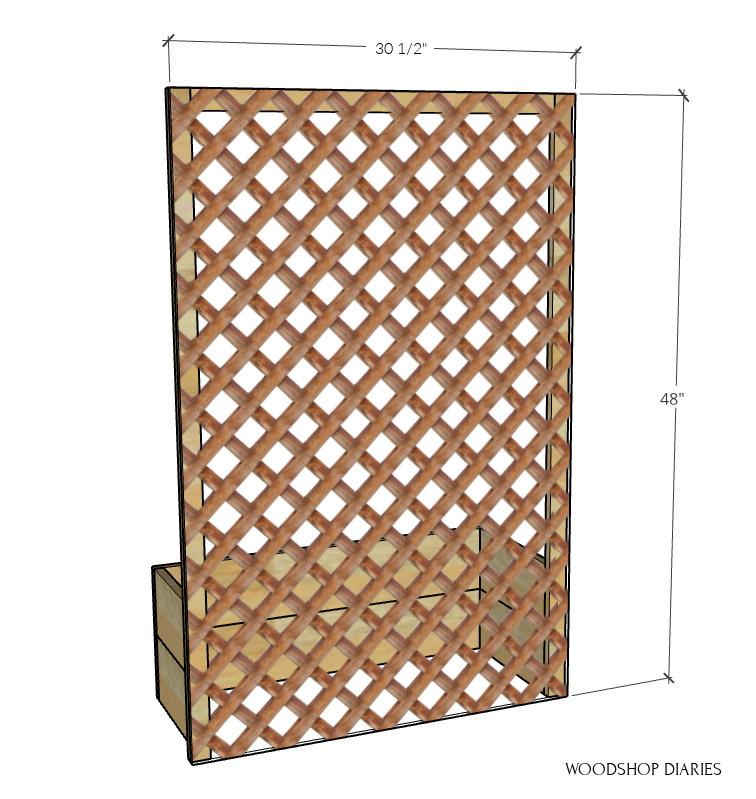 Anyway, I simply screwed the lattice onto the back side of this 1×2 frame in several places around the edges using 1 ¼″ screws. It's helpful to predrill here as this thin lattice tends to split easily.
Step 4: Add Top to Trellis
At this point, I built the second one just like it and evaluated the lumber I had remaining. Technically, it's complete after step 3, but I had some 2×6 leftover that could still be of some use.
.
So, I ripped it in half and added the pieces on the top of each trellis. These could be 2x2s, 2x3s, or even 2x4s if you wanted. These pieces were just for some extra detail and are totally optional.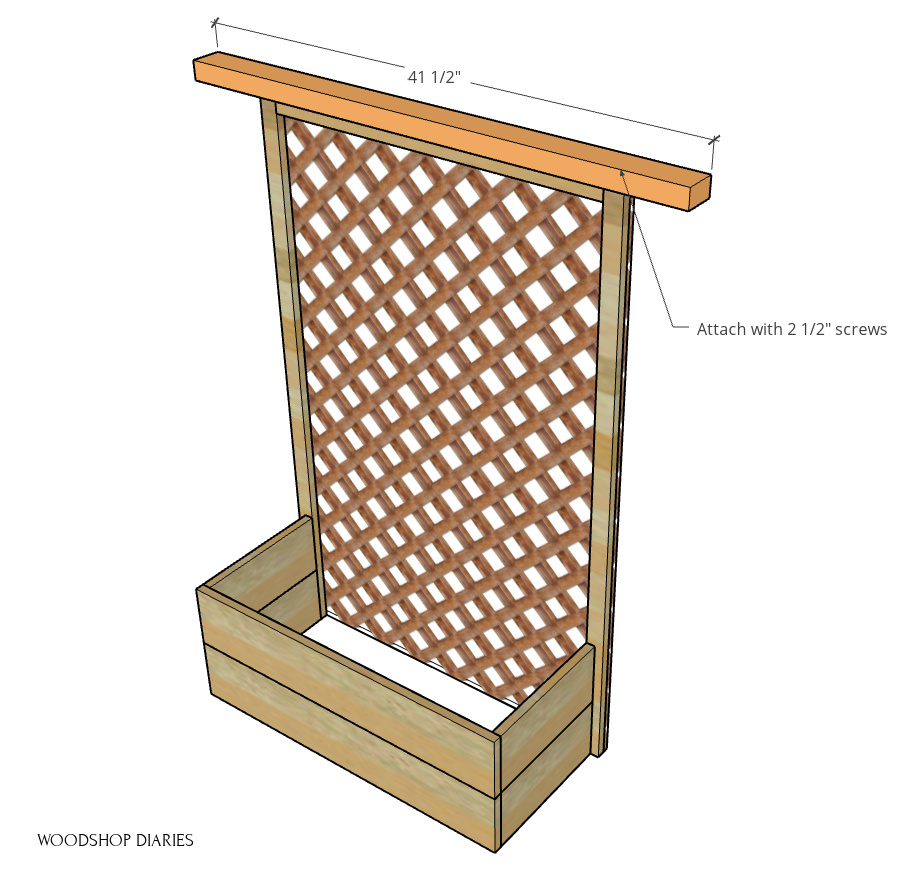 I simply centered and screwed these into the top of the frame.
.
I wanted to add some extra details to use up the rest of the wood, but all my remaining pieces were too short for any of my ideas, so I did end up with a few short blocks of 2×6 and two small 1×2 pieces left that will make their way to the trash bin.
.
Sad day…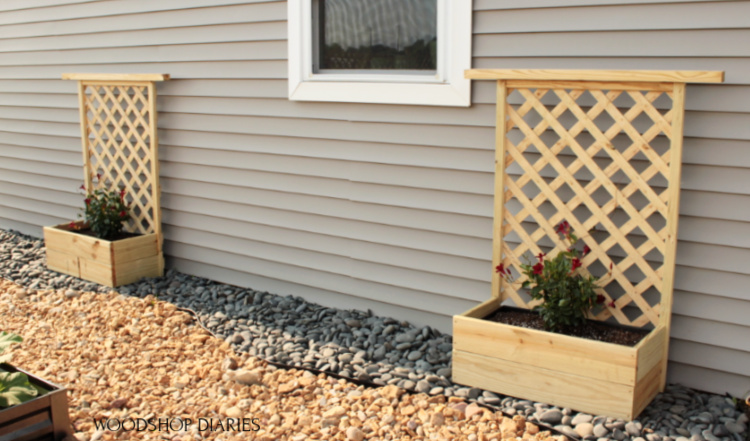 But, the vast majority of these scraps now have a new life in my garden. I'm going to try these vine-y flowering plants this season and maybe next year, use it for sweet peas or tomatoes.
.
If you're interested in more outdoor or garden projects, you may like to browse a few of these fan favorites!
I hope you enjoyed this DIY planter box with trellis project and if you'd like to save it for later, be sure to pin it or share it to your favorite social channel!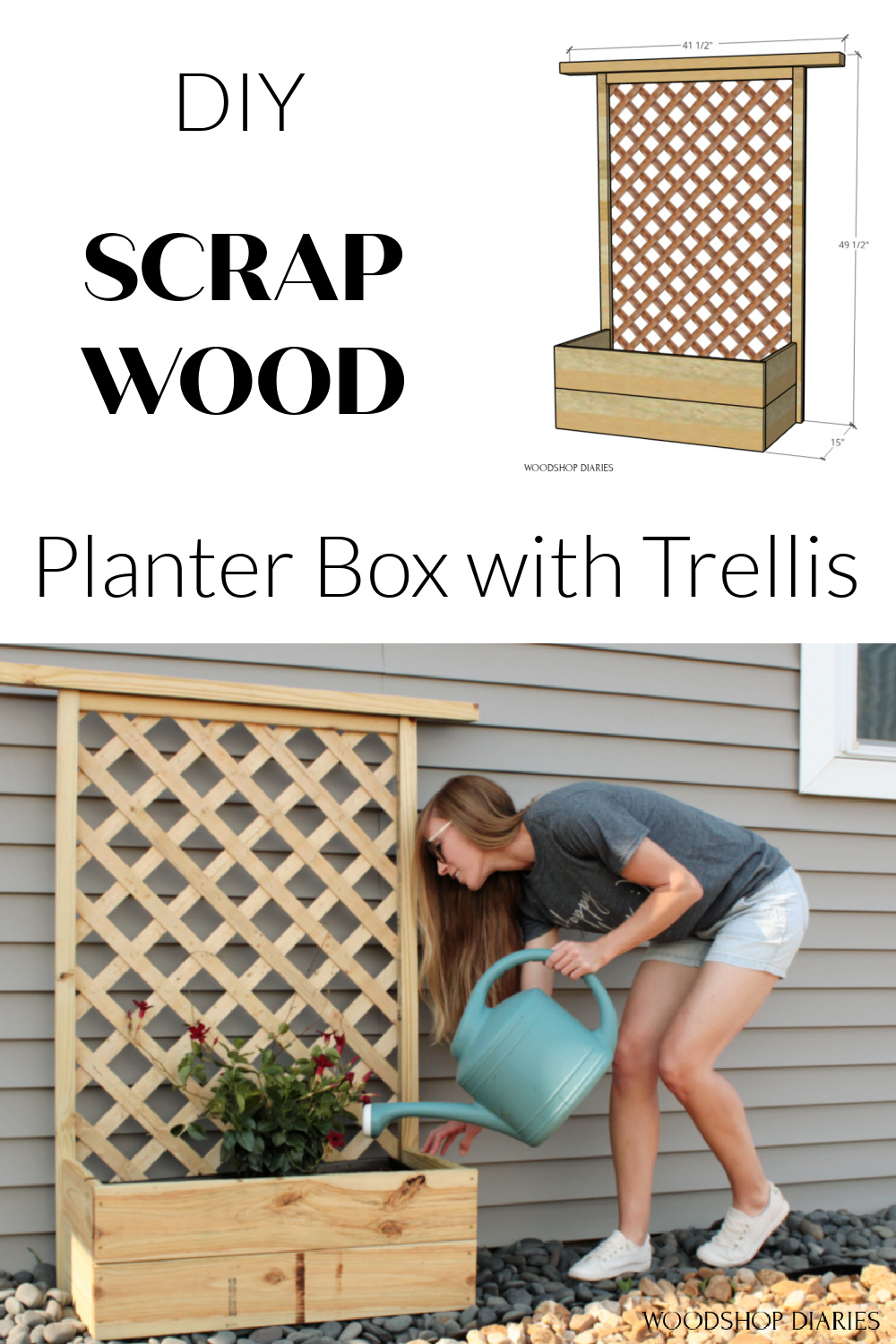 If you want to follow along, I'd love if you'd subscribe to our newsletter to stay up to date on all the latest projects, plans, and DIY tips!
Until next time, friends, happy building! 🙂