In this post, I will show you how to build a DIY privacy fence to add to your back yard, garden, or patio!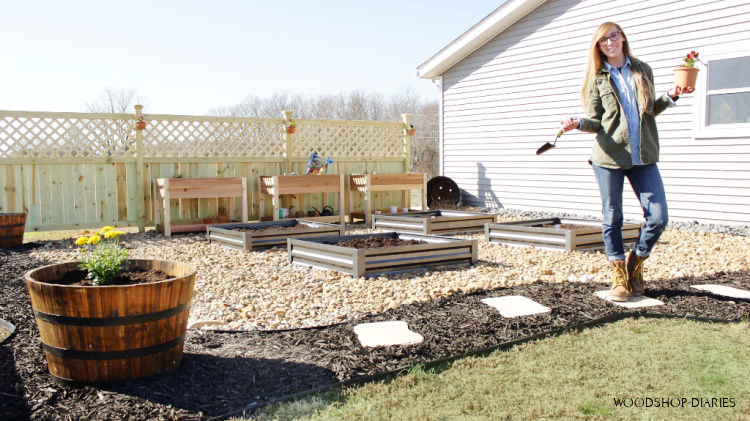 We recently gave our yard a much needed makeover. We basically took a muddy, empty space next to the house and transformed it into a private garden patio!
.
Right now, it's mostly garden, but I'll be adding some seating and decor to the space all summer long to make it a great spot to relax as well 🙂
.
But before we even got to any of the garden stuff, the first thing we needed here was a privacy fence. We own 8 acres, but have no trees and several neighbors.
.
So priority number 1 was to block out some of the view.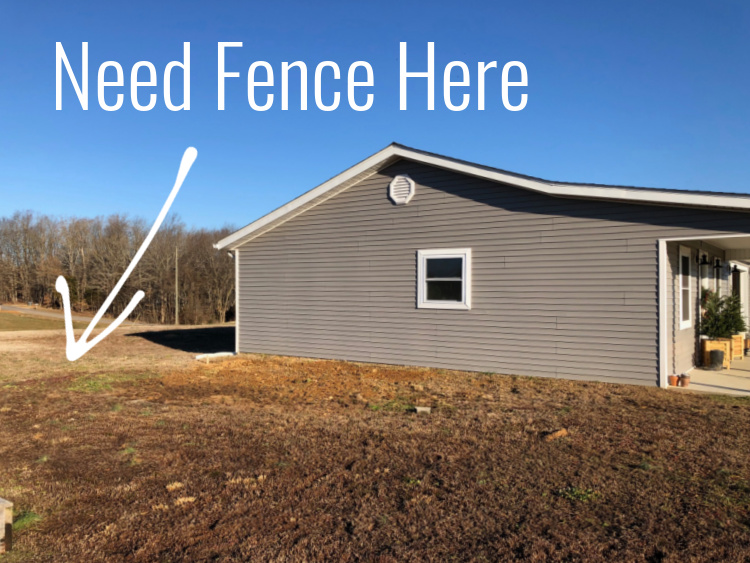 We kept this privacy fence very simple with a solid bottom half and lattice screened top half. Ours spanned about 32 ft long with 5 posts and four panels, but you could easily modify the size to fit your own space.
.
If you're ready to see how I built it, let's get to it.
This post contains affiliate links. See policies.
For this DIY Privacy Fence, We Used:
NOTE: Since this is an outdoor fence, it's best to use treated wood and fasteners that are designed for use in treated wood. Cedar wood is also an option, but is FAR more expensive than treated.
Step 1: Dig Fence Post Holes
First, I determined where I wanted my fence and began laying out the pieces.
.
Now, for my fence, I was using 1×6 pickets at the bottom. A 1×6 is actually 5 ½″ wide. So 16 boards x 5 ½″ wide each is 88″. So I laid my 4×4 posts out on the ground so there was 88″ between each of them.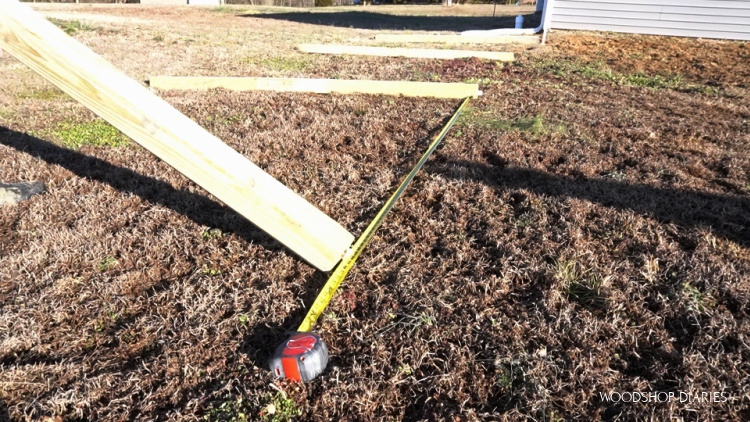 I used a string tied around two scrap wood stakes I drove in the ground to mark the line I wanted the fence to run down.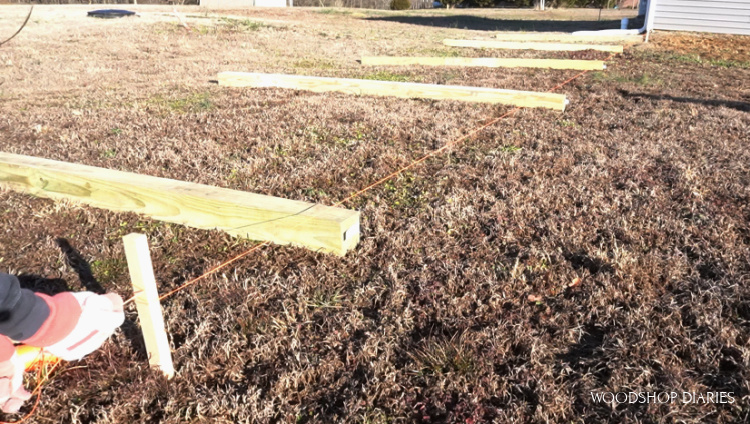 My fence was going about 32′ out, so I made sure my string spanned out at least 32′. Pulling the string will just help keep the fence in a straight line as we dig the holes.
.
Now I could dig the post holes along the string at the end of each post.
.
I used a post hole digger to dig out holes about 24″ deep at each post.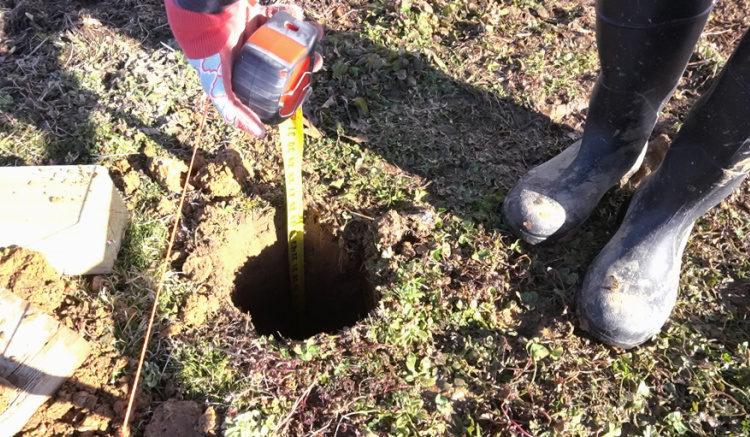 NOTE: You need to make sure there are no water, electrical, fiber optic etc lines where you plan to dig. Always check your local/state rules for digging BEFORE you break any ground.
Step 2: Level the Fence Posts
Once the holes were dug, we dropped the two outer posts into their holes.
.
I used the string from step 1 to tie around one of the fence posts about 3″ from the top. Then I pulled it tight and tied around the other fence post 3″ from the top.
.
The posts will be wobbly, so it's best to have some help with this step to hold each post up straight.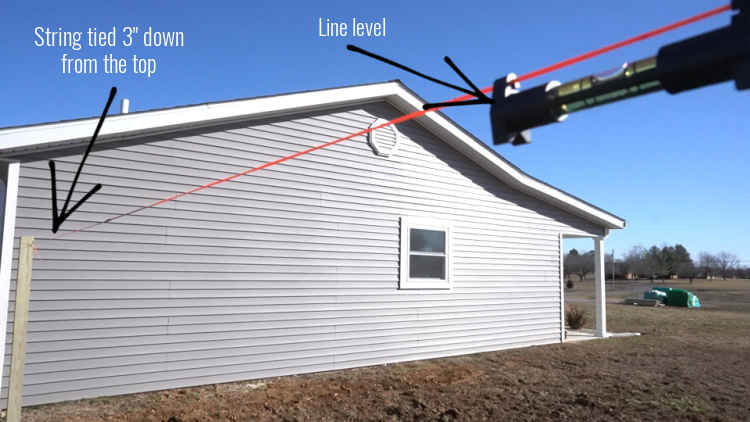 I used a line level on the string to see if the posts were level. We raised/lowered the posts as needed to get the string level (WITHOUT MOVING THE STRING UP OR DOWN THE POST).
.
If one post needs to go down some, dig the hole out more, if it needs to come up, fill the hole in a little.
.
The goal here is simply to get the tops of the posts level.
.
Once we got the outside posts level, we filled in those holes with concrete mix and used a 4 ft level to make sure each post was standing up straight both ways and not leaning.
.
After the outside posts were in place, we installed the three middle posts the same way. We made sure that the top of each post was 3″ above the level string so all the fence posts stayed at the same level.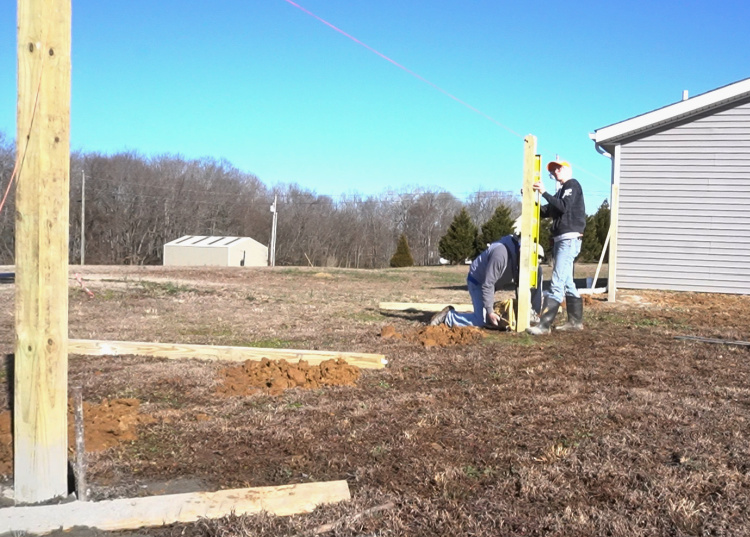 You can see I recruited my Dad to help me here–it's really a two person job. He pours the concrete while I hold the posts level.
.
Once all five posts were in the ground, straight up and down, level across the top, and the holes filled with concrete, I let it set over night before coming to finish the rest the next day.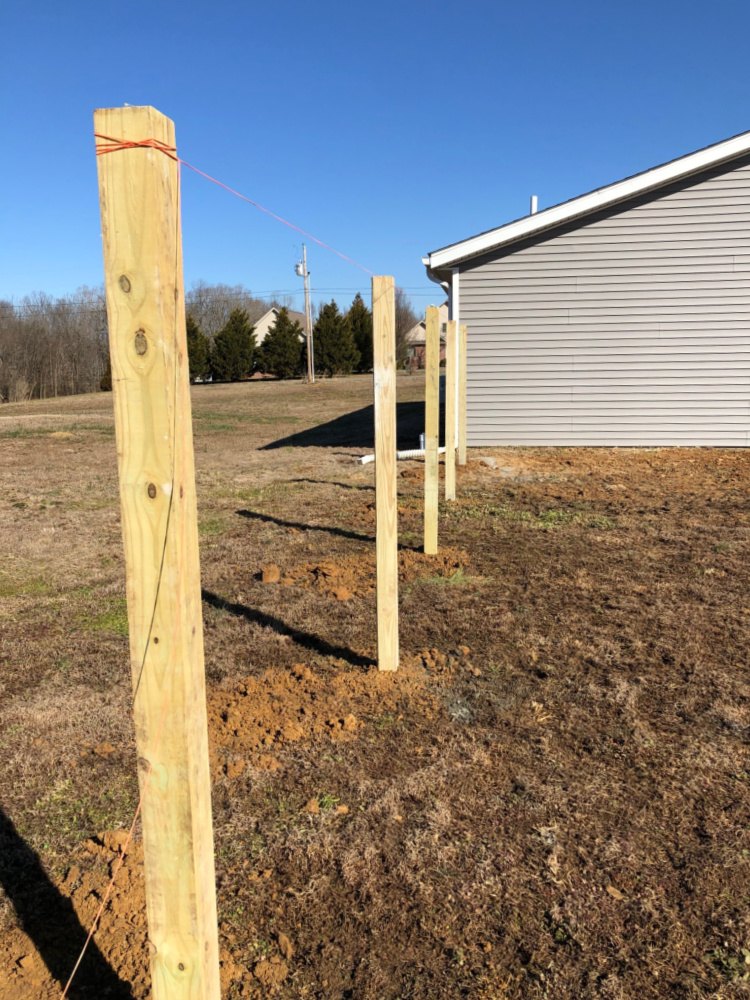 Our ground was super wet because it had rained several days prior to this, so there was plenty of moisture for the concrete to set up. However, if your ground is dry, you can pour some water over these holes to wet the concrete mix so it can harden.
Step 3: Install Privacy Fence Slats
I measured between each post and cut three 2x4s to fit for each section. Theoretically, they should be 88″ long, but it's best to measure and cut to fit here as they likely moved +/- 1″ in the setting process.
.
HELPFUL TIP: Cut each board SLIGHTLY (1/16″ or so) longer than your measurement for a tight fit. This is helpful if you are working alone and don't have help holding the pieces as you are driving the screws. You can hammer the board into place so it will stay as you are driving the screws.
.
I used a pocket hole jig to drill 1 ½″ pocket holes into the ends of these boards, then installed them using Blue Kote (these are outdoor rated) 2 ½″ pocket hole screws.
RELATED: Check out this post on how to use a pocket hole jig.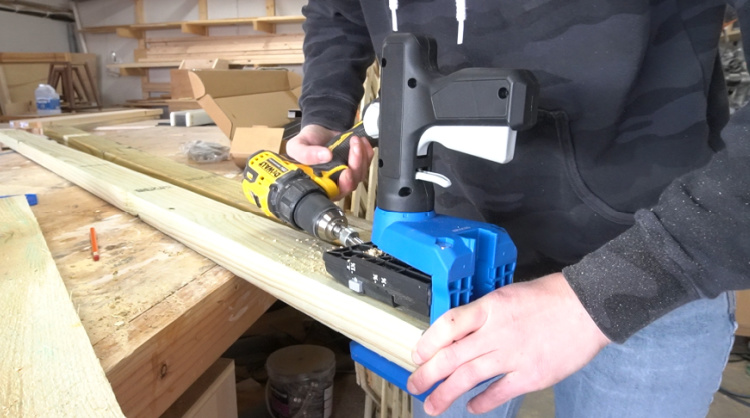 I started at the top and installed the first board about 3 ½″ down from the top. I kept all these boards flush to the back side of the fence posts.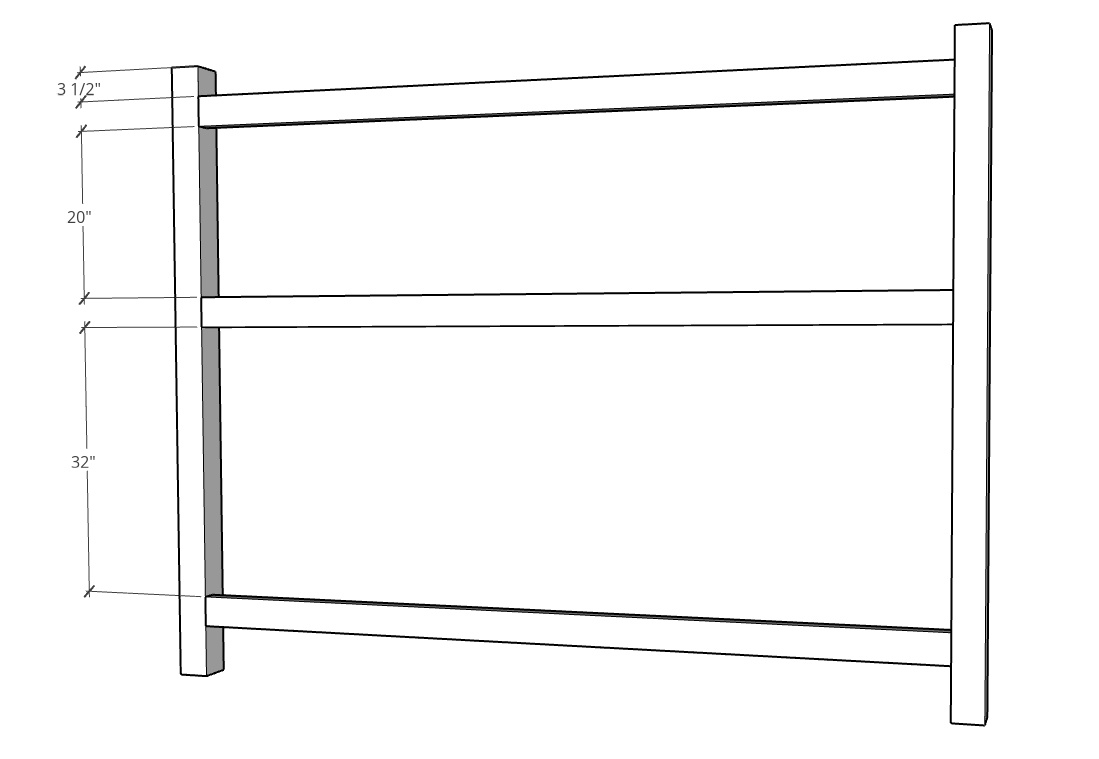 Then, I installed the second board 20″ down from the top board.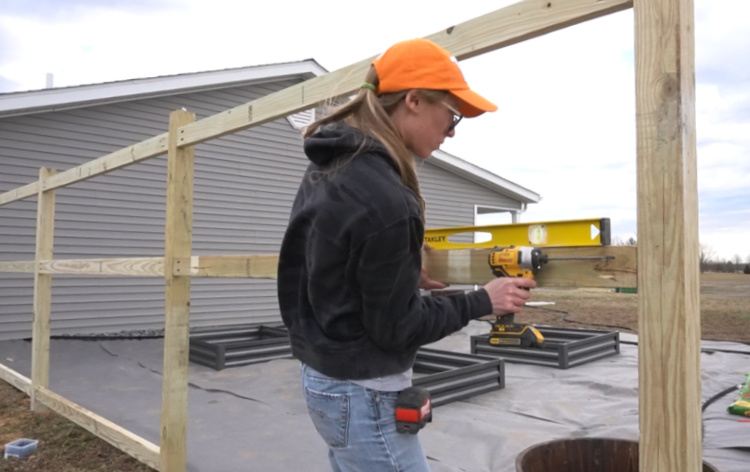 And finally the bottom board was 32″ down from the middle board.
.
I used these measurements PLUS a level to keep everything as level and straight as possible.
Step 4: Add Solid Fence Boards to Privacy Fence
Now all the bracing is in place, it's time to fill it in and add the privacy part 🙂
.
For the bottom portion of this fence, I used 1x6x6 fence pickets. Since these come in 6′ boards, I used my miter saw to cut them to 34″ pieces so I could get two pieces from each board.
.
To install these, I simply marked the center line of the middle and bottom slats between each post and lined up the edge of one of my fence boards with that mark. I screwed in place using 1 ¼″ outdoor rated wood screws.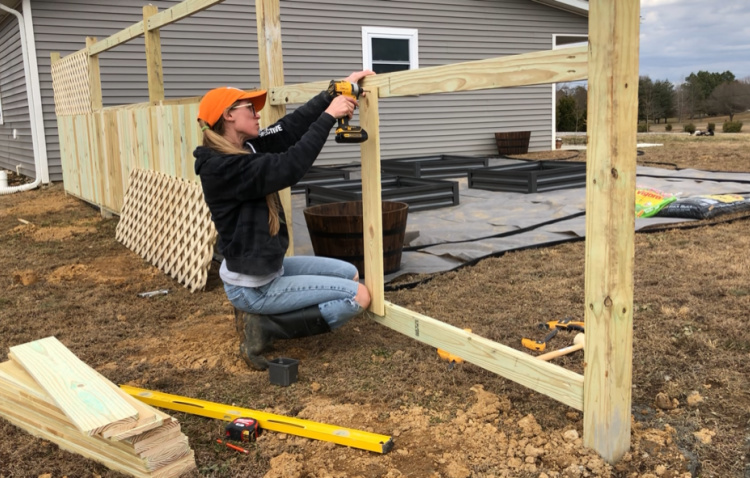 I worked my way out adding boards until I had 8 boards on the left of my center mark and 8 boards on the right of my center mark.
.
NOTE: Use two screws at the top and two at the bottom of each board. The image below shows only one screw per board, but I went back and added the extra screws once they were all in place.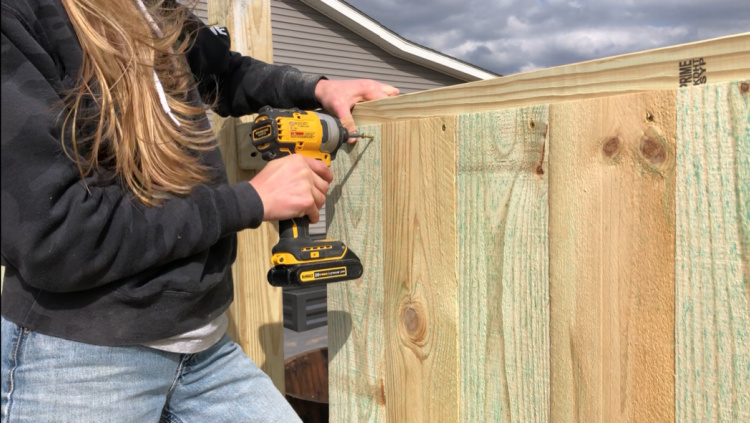 Step 5: Attach Lattice to Top of Privacy Fence
NOTE: Lattice sheets come in 4×8 and 2×8 panels. I bought 4×8 and cut them in half because it was cheaper that way. However, if you didn't want to cut it in half, you could buy 2×8 sheets for this.
.
So first, I used a jig saw to cut my lattice sheets down the middle to give me 2×8 pieces. Then, I measured between each post and cut these lattice sheets to about 3″ longer than the distance between each post.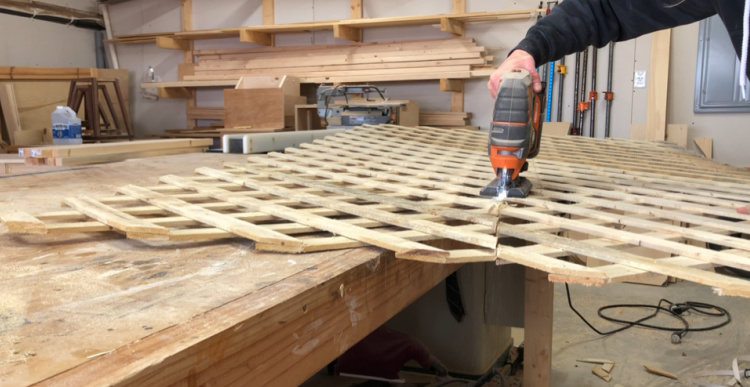 That will give me 1 ½″ overlap on each side of the opening to attach to the posts.
.
I placed these on the back side of the fence and used a staple gun and staples to attach. Now…confession time. These staples will probably need to be replaced eventually as they aren't rated for outdoor use.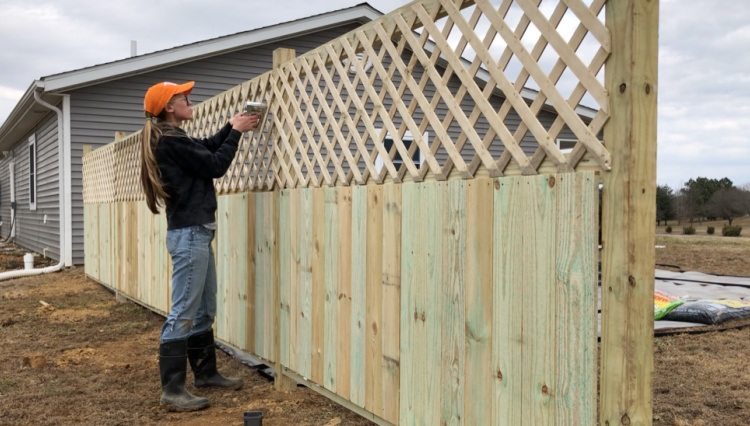 I had intended on attaching this with screws, but as I was building this, I ran out and used staples instead. They'll hold for a while, but will eventually rust out.
.
So I recommend using outdoor rated screws OR you can get some outdoor rated staples for this.
Step 6: Attach Fence Post Caps
The final step was to add the post caps. You can buy tons of different styles of these or even make your own.
.
I kept it pretty basic and just added these wooden caps. The instructions say to use caulk to attach, but I used some outdoor rated wood glue. I would imagine either would work fine.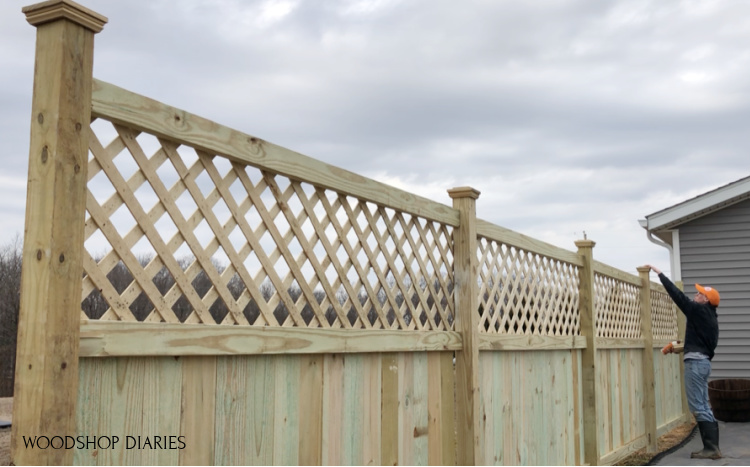 And once the glue was dry, the fence was complete!
.
Fresh, wet treated wood usually doesn't take paint or stain very well, so for now, we are leaving it as is. But after a few months, after it's had time to dry out a little, we may go back and stain it…I'm still deciding 🙂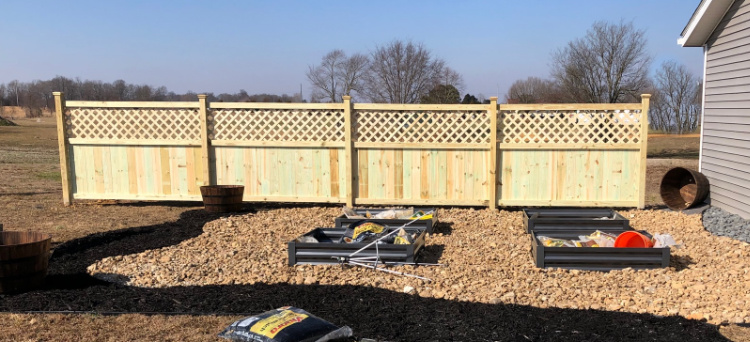 So if you're looking to add a little privacy to your own yard this spring or summer, I hope you find this DIY privacy fence tutorial helpful!
.
PS I added these cute little plant pot hangers and some flowers to the fence to give it a little pop of color.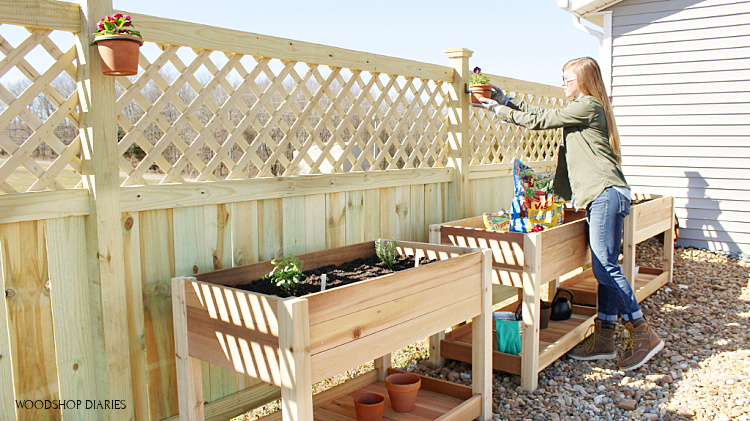 If you want to see more of this space, check out our full back yard makeover post to get some fun ideas!
.
For more outdoor project ideas, check out some of these favorites!
If you'd like to stay caught up on all the latest projects, be sure to subscribe to the newsletter below.
And if you want to save this for later, don't forget to pin it!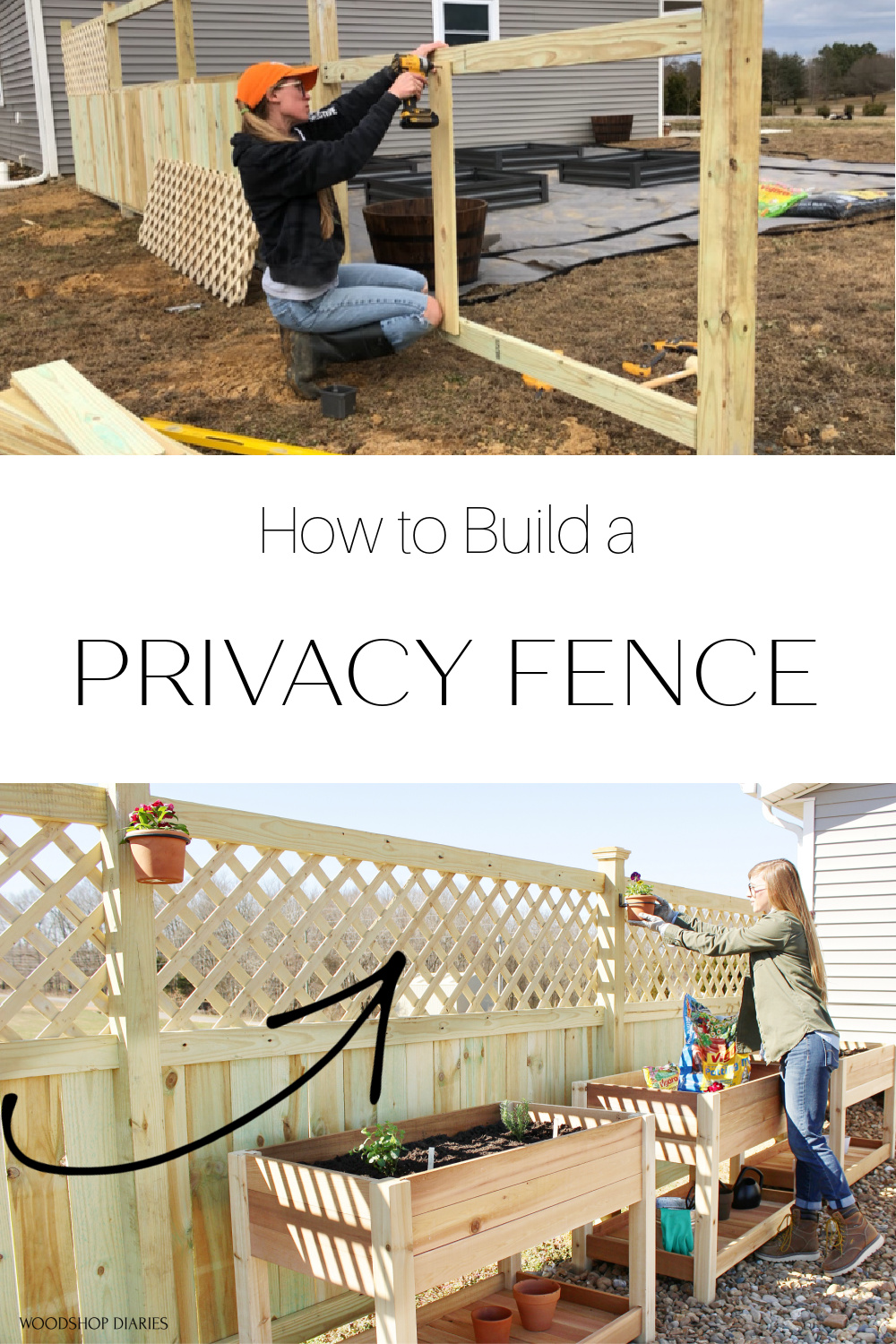 Until next time, friends, happy building 🙂