Want to make your own DIY Wooden Wagon? I'll show you how 🙂
[adthrive-in-post-video-player video-id="1I3s8ZbX" upload-date="2019-09-10T02:24:06.000Z" name="How to Build a Little Wooden Wagon" description="How to Build a Wooden Pumpkin Wagon"]
This post in sponsored by Kreg Tool and contains affiliate links. See policies.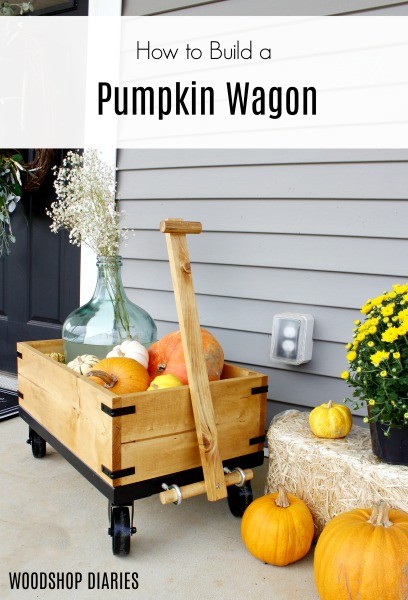 I don't know about you guys, but I wait ALL YEAR LONG for pumpkin season and it's finally here! Despite the fact it's still 100 degrees outside, as soon as Mid August hits, I'm busting out the puffer vests and the wool socks and preparing my nostrils for the sweet smell of tobacco barn smoke.
Speaking of fall, you might like some of these fall projects: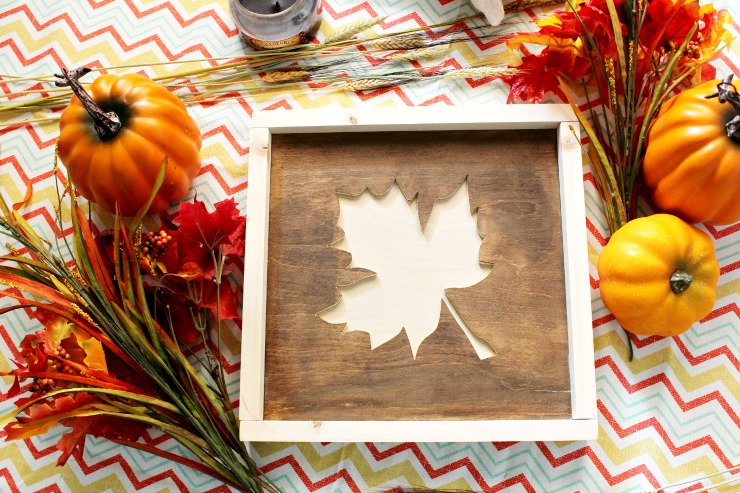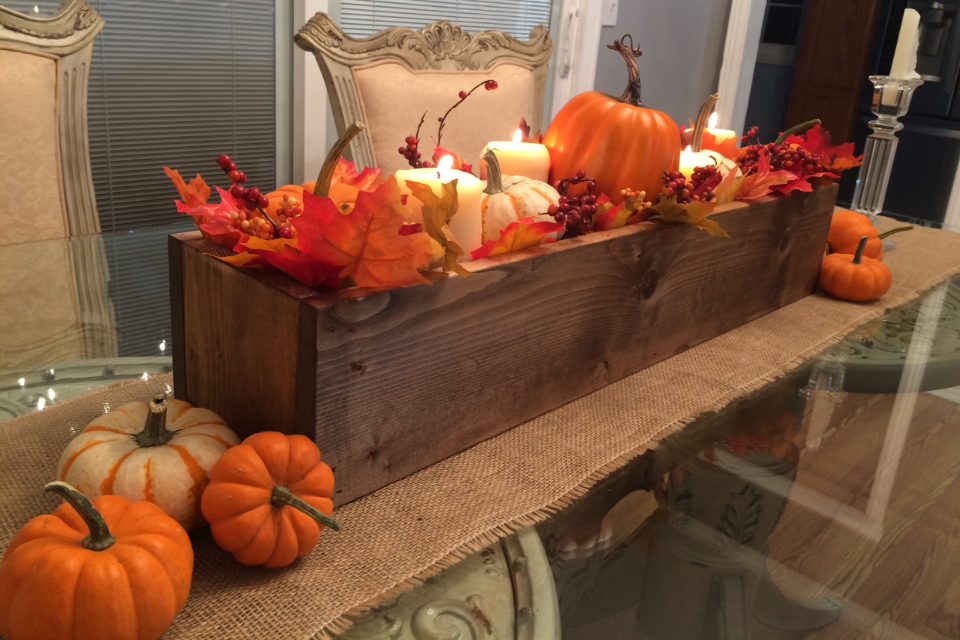 I can't help it. Fall is hands down my favorite time of the year. And one of my favorite parts about it is displaying my pumpkins on the porch. Maybe that's weird. I dunno.
.
My old house had a few steps on the front porch that I could display my pumpkins on. But, since I don't have steps to set my pumpkins on at my new house, I needed a little something different to be able to display them.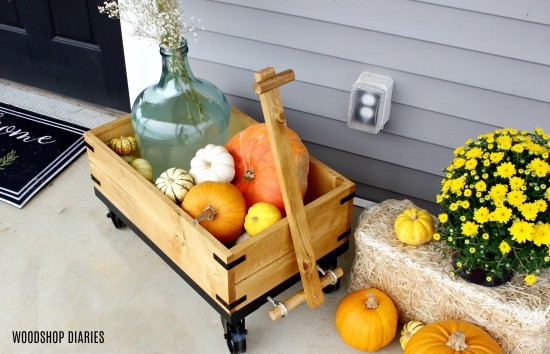 So I built a cute little pumpkin wagon for my porch. And I'm hoping it'll work out to also keep around throughout the Christmas season to display a Christmas tree as well. Multiseasonal décor is the best kind haha.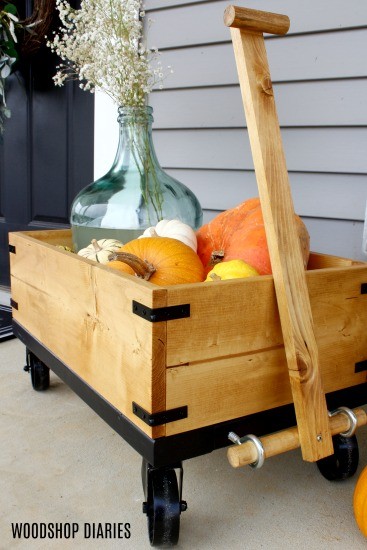 And I'm sharing the super easy how to right here. For this project, I used Kreg's new 300 series Pocket Hole Jig and I'll be sharing some of the features of it as we go.
.
But, if you're ready to get to the build, let's go. The video is right here and the tutorial is below.
For this build, you will need:
(1) 2x4x8 board
(2) 1x8x8 board
Scrap piece of 1×2 or 1×3 for wagon handle
(2) Eye Bolts with 1″ inside diameter
Corner brackets (optional)
Miter Saw
Drill
Cut List:
(2) 2×4 @ 25″ long (wagon base)
(2) 2×4 @ 9″ long (wagon base)
(2) 1×8 @ 23 ½″ long (box bottom)
(2) 1×8 @ 25″ long (box sides)
(2) 1×8 @ 14 ½″ (box sides)
Step 1: Assemble the Base of the Wooden Wagon
To build the base of the wagon, I cut the pieces down to size on my miter saw according to the cut list above.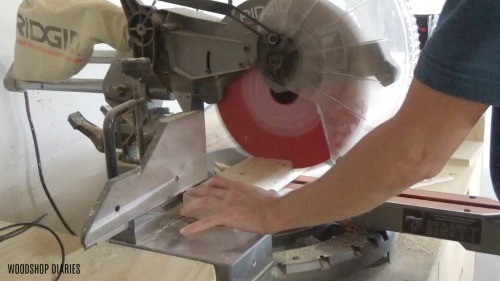 Once these pieces were trimmed to size, I adjusted my pocket hole jig to drill into 1 ½" thick material and drilled pocket holes into the two short sides like shown.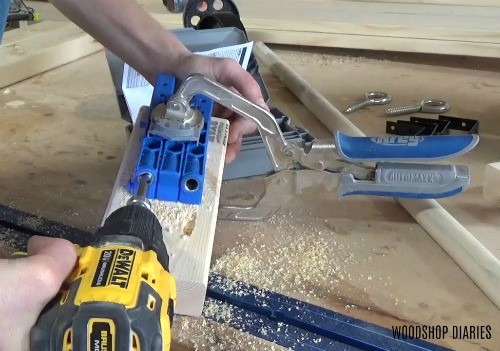 Speaking of adjusting the jig…With this new 320 Pocket Hole Jig, it's super easy to adjust between ¾″ (typical 1x material) and 1 ½″ material (typical 2x material). Just slide the stop blocks on the back side of the jig to the correct thickness, then adjust the collar on the drill bit and you're ready to drill.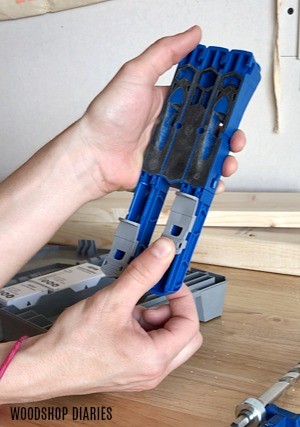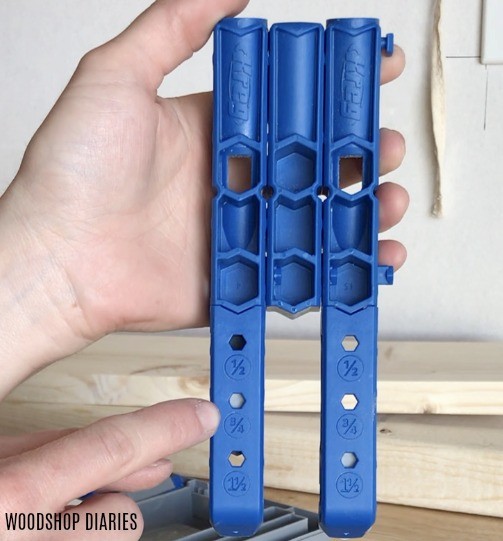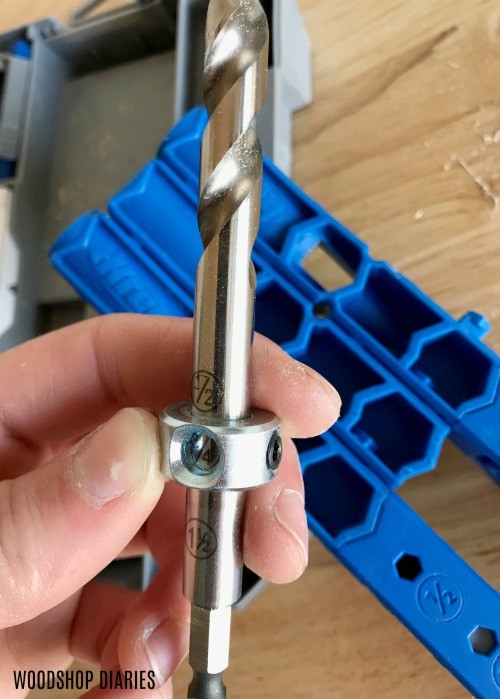 Anyway, once the pocket holes were drilled, then, I attached my bottom wagon frame together using 2 ½" pocket hole screws.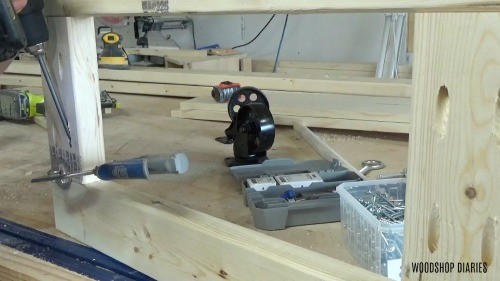 Once my frame was assembled, I attached 4 metal casters like shown on the corners of the frame using 1 ¼″ screws.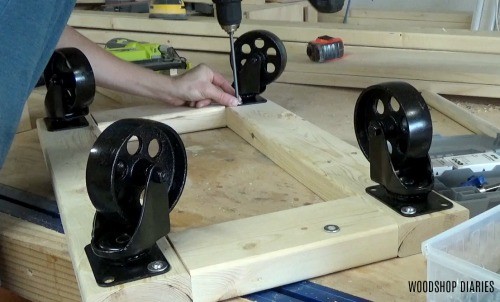 I decided to paint my base black for a more industrial look, so before moving on with the build, I went ahead and painted the base.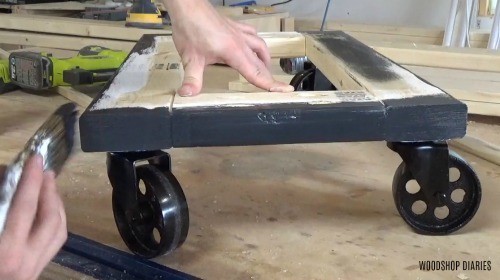 Step 2: Join Bottom of Wagon Box
While the paint dried, I moved onto working on the top of the wagon. It's basically, just a simple box built from 1×8 boards. So first, I cut two boards for the bottom of the box.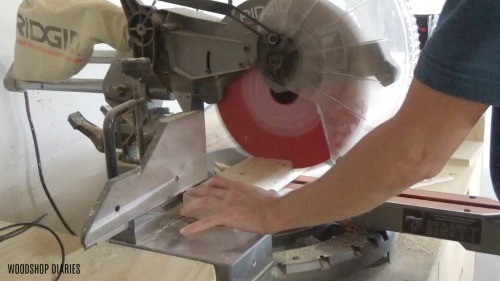 Then I adjusted my pocket hole jig to ¾″ material and joined them using pocket holes and screws.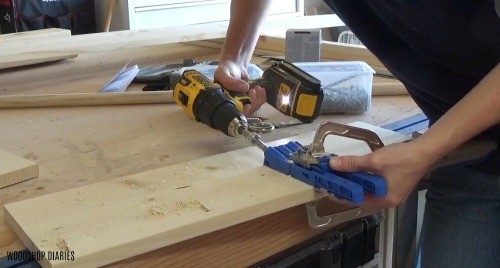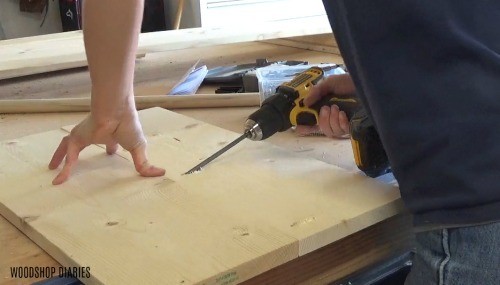 Step 3: Assemble DIY Wagon Box
Once the two bottom boards were assembled, I cut four boards to complete the box from the rest of my 1×8 boards.
.
I drilled ¾" pocket holes along the outside edges of the bottom box piece and along the ends of the short box side pieces.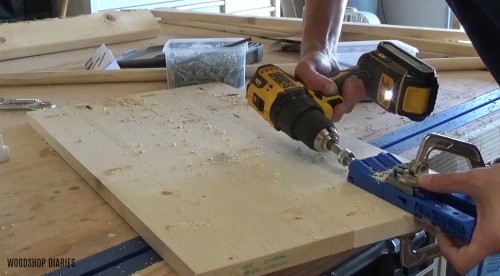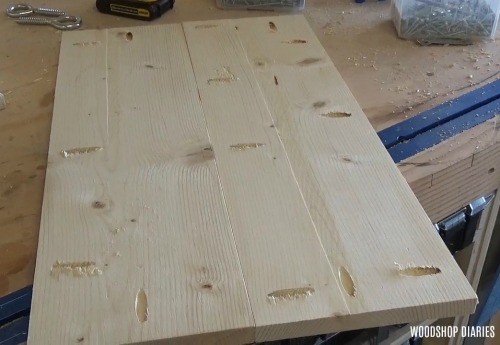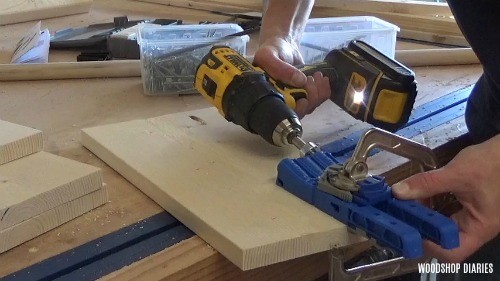 I attached all the pieces using 1 ¼"pocket hole screws like shown to complete my wagon box.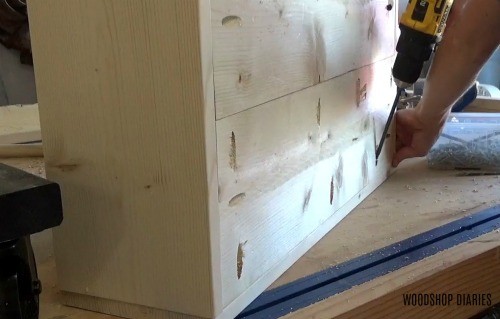 Before assembling the box to the base, I gave the box a coat of stain.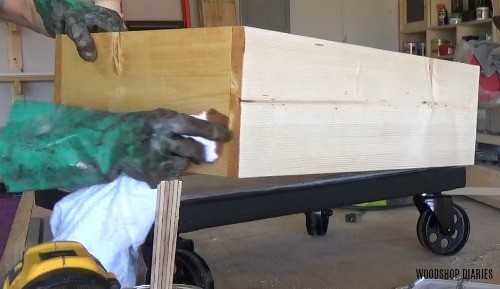 Step 4: Attach Wagon Box to Wagon Base
Then, I screwed the box to the base at each corner like shown using 1 ¼″ screws.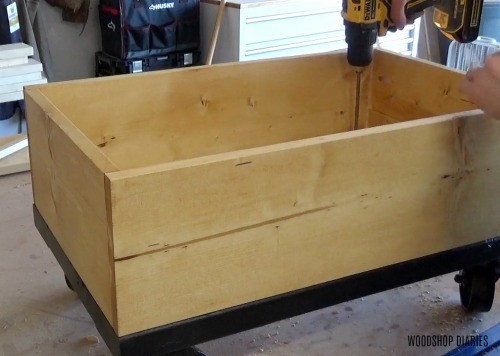 Step 5: Add Handle to DIY Wagon
To add the handle to the wagon, I used a dowel rod and two eye bolts. I predrilled holes into the base, then screwed the eye bolts into these holes.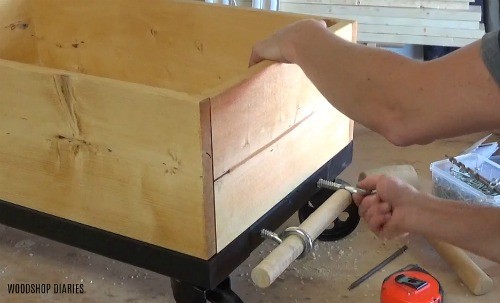 I inserted a dowel rod through these bolts and screwed a scrap piece of 1×2 into the dowel.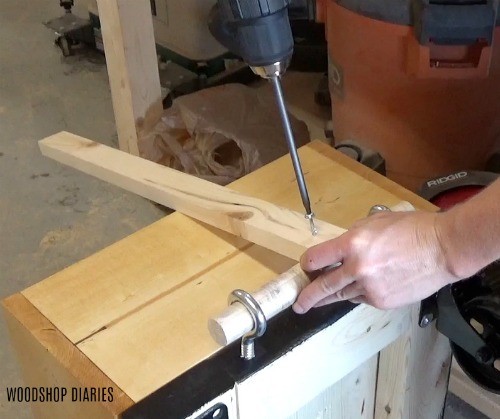 Then, I screwed another small piece of the dowel into the top to provide a handle to hold onto. If you didn't have a 1×2, you could make the whole handle from a dowel if you wanted.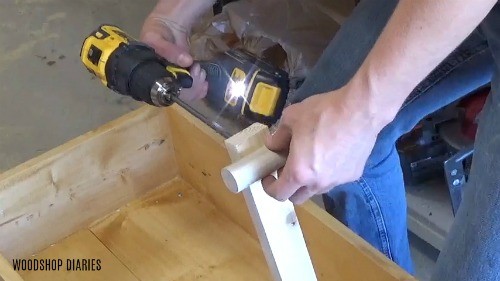 Then I gave the handle a coat of stain to match the box.
Step 6: Add Decorative Hardware
As a final step and to add a little more detail, I added some black corner brackets to the box. This will help keep the box together, but it's mainly for decorative purposes, so if you wanted to skip that part, it would be fine. But since I was going for an industrial look, I really liked the added hardware.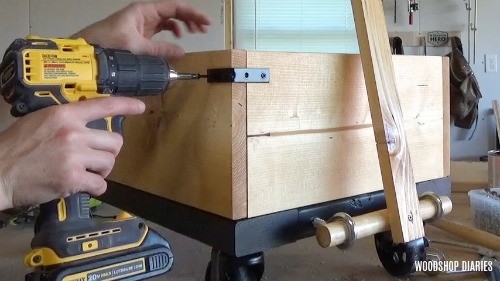 Then, I brought it to the porch and loaded it down with pumpkins and mums and ALL THE FALL THINGS. I seriously am obsessed with fall…can you tell?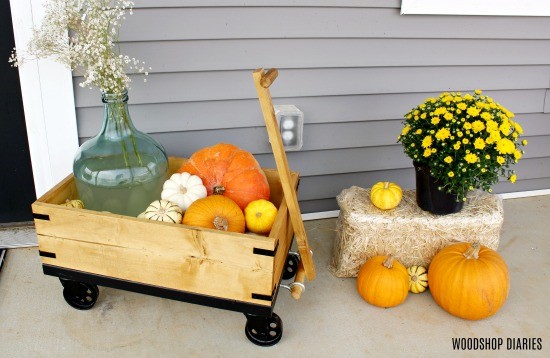 The wagon is a really cute addition to the porch this season and will be great to decorate for Christmas and even spring later. But for now, it's loaded down with pumpkins and I'm happy with that.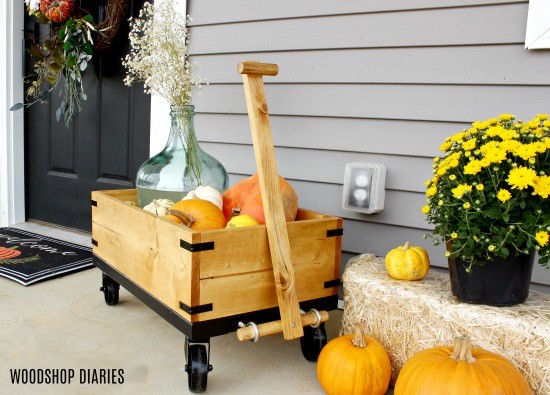 So I hope you guys enjoyed this project as much as I did and I hope you are prepared to enjoy the most wonderful time of the year–pumpkin spice season *wink wink* If you liked this project and want to give it a try, I'd love if you'd pin this for later!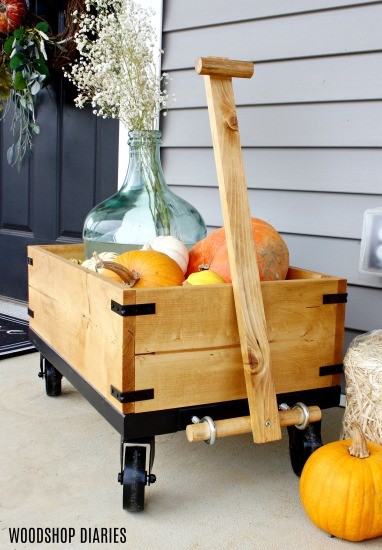 Until next time, happy building! 🙂