In the mood for a seasonal craft? This DIY pumpkin plate is the perfect fall project!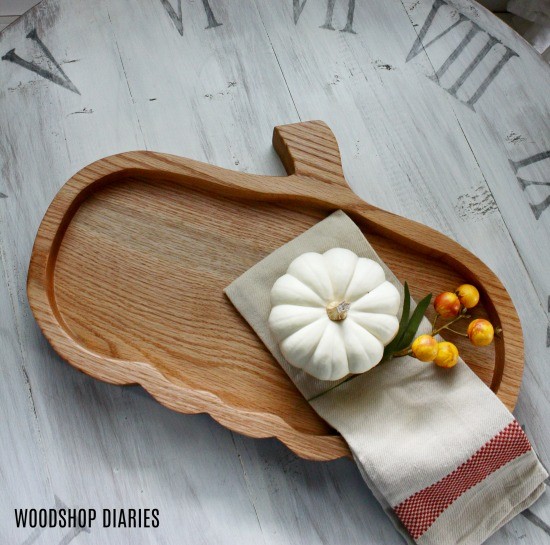 I love fall.
.
It's my birthday season. It's the time of the year that all the bugs go to die and the snakes go away and the smell of tobacco barns fills the air.
.
And the heat index isn't a billion and one. Oh, and let's not forget it's also pumpkin spice latte season 😉
.
This fall, I've been SWAMPED with to-dos and I haven't had much time to put any fun fall projects together. BUT, I was determined to make at least one fall thing, so I squeezed in this adorable pumpkin plate project one afternoon after work.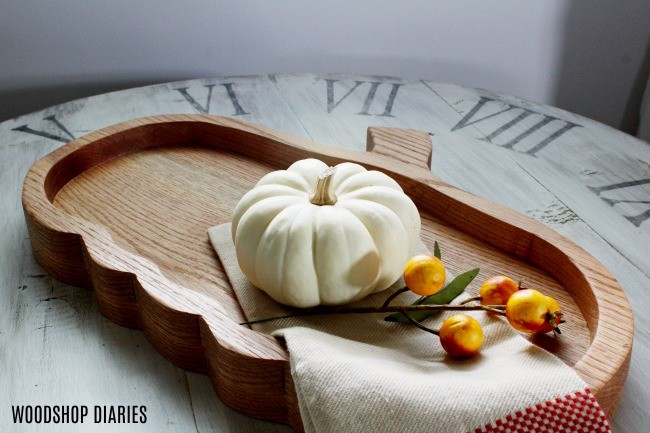 PS, this design is SUPER similar to the design I used to make this round serving tray here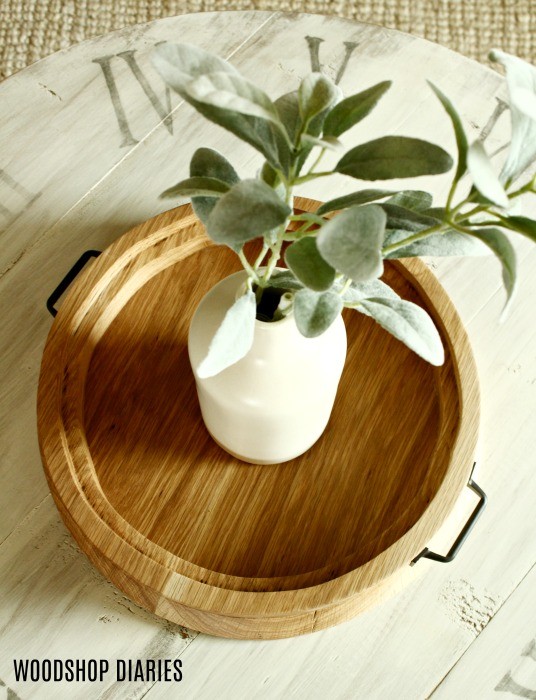 I also did it with this Fall Leaf Tray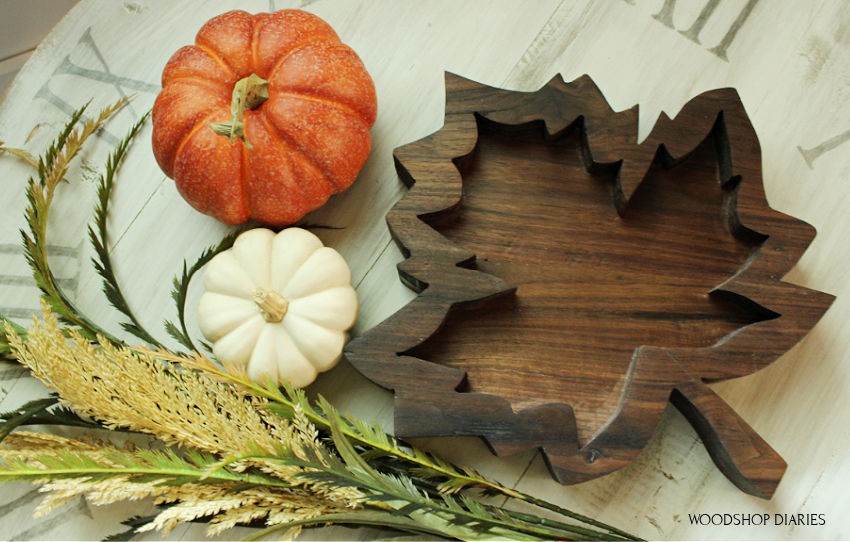 I'm sharing the video with you right here and I've got the step by step below 😊
For this project, I went to the lumber yard and asked for the most orange wood they had. I was making a pumpkin plate, so obviously, the more orange the better. I ended up getting some red oak.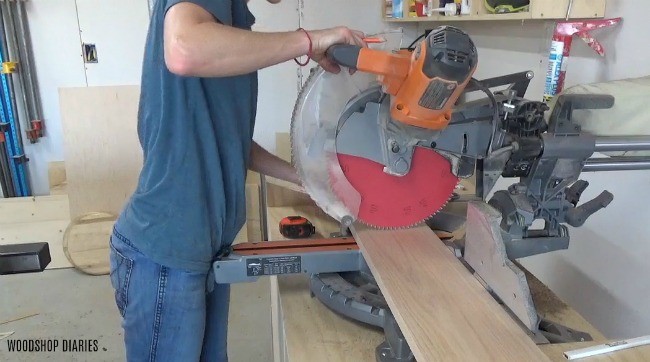 Step 1: Glue Up Two DIY Pumpkin Plate Panels
You can use whatever size boards you want for this project, but mine were approximately 6 ½" wide. I trimmed down four pieces at the miter saw about 20" long, then brought them over to the workbench to glue up two sets of two.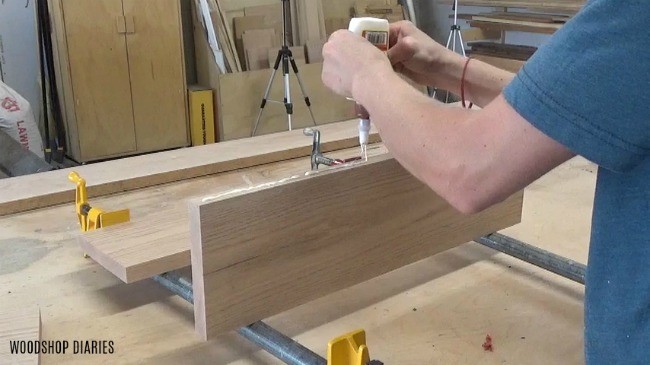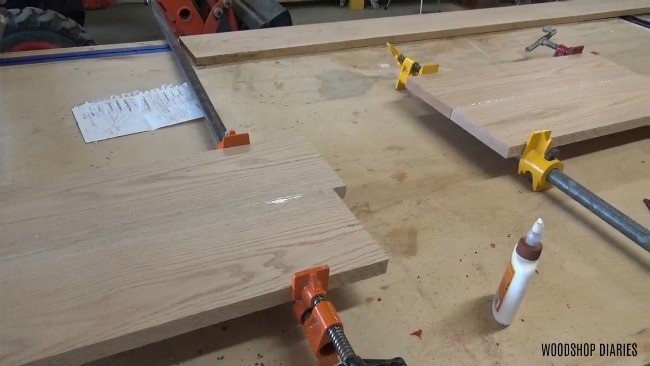 Step 2: Cut Two Pumpkin Plate Boards
While the glue was drying, I just googled pumpkin clip art and found a shape I liked, then blew it up to about 12" x 18" in a Word document, printed it out in sections on multiple sheets, taped it together, and cut it out. This was my pumpkin template.
.
Once the glue dried, I removed the boards from the clamps and traced along this pumpkin template onto one of my panels.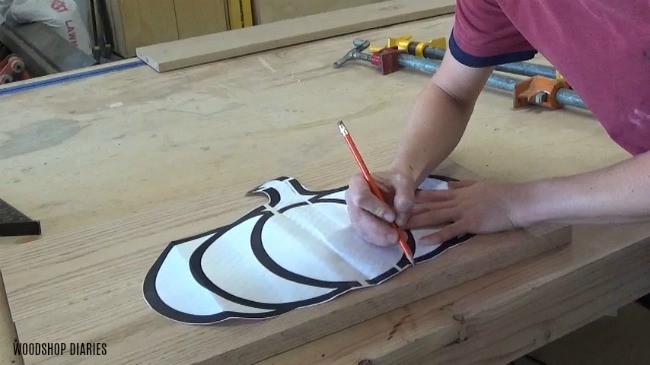 Then, I simply cut this out using a jig saw.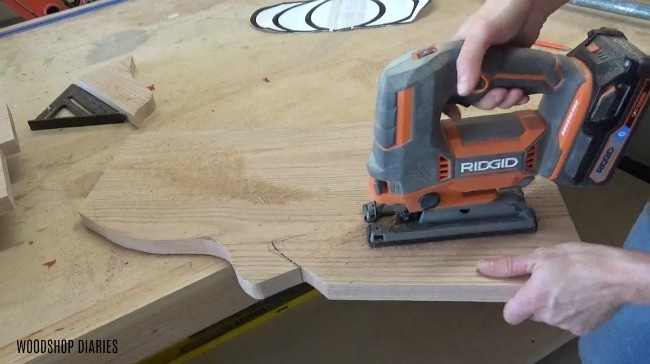 Once the first pumpkin was cut out, I traced it onto the second panel and cut it out as well with a jig saw.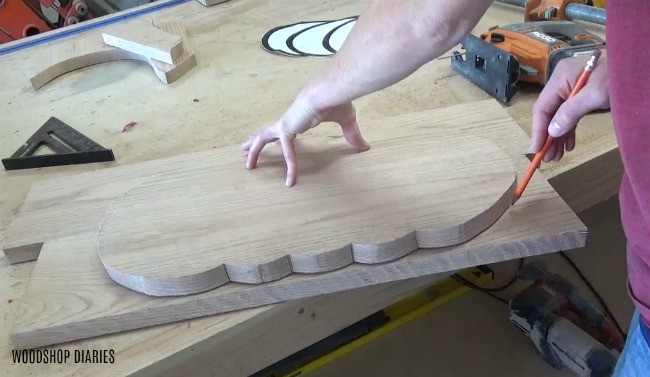 Step 3: Cut Out Middle of Plate
Now that I had two almost identical pumpkin shapes, I traced along the inside of one about ¾" from the outside edge. I know there are better ways of doing this, but I was in a hurry.
.
I just used a scrap piece of 1x material and kept my pencil held tight to the side of it and ran it along the edge of the pumpkin to give my an offset of about ¾" all the way around. I wasn't cutting out the stem, so I just freehanded the line below it.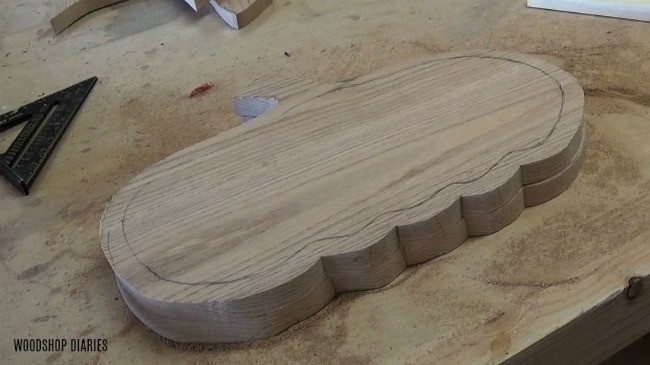 I drilled a large hole in the middle section to get my jig saw started and cut out this middle piece along the line I just drew.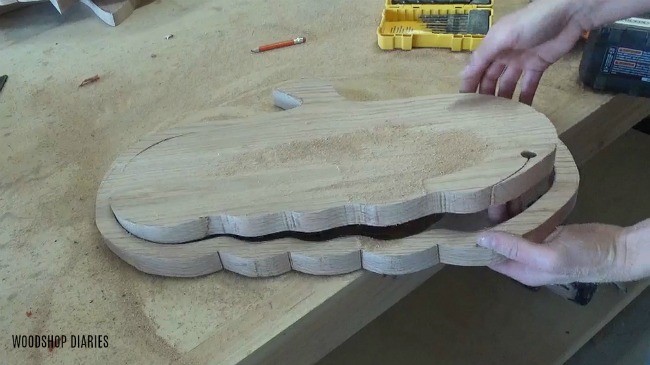 Then, I gave both the top and bottom a good sanding to remove any glue from the glue up. Next, I glued this outline piece onto the bottom plate piece and clamped it. It wasn't perfect, by any means, but I'll fix that later.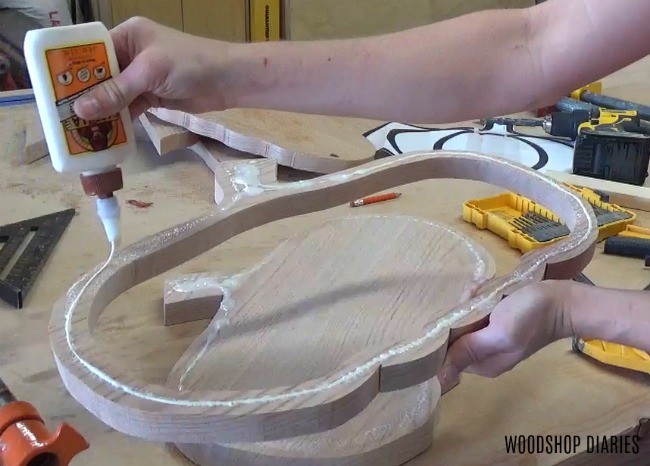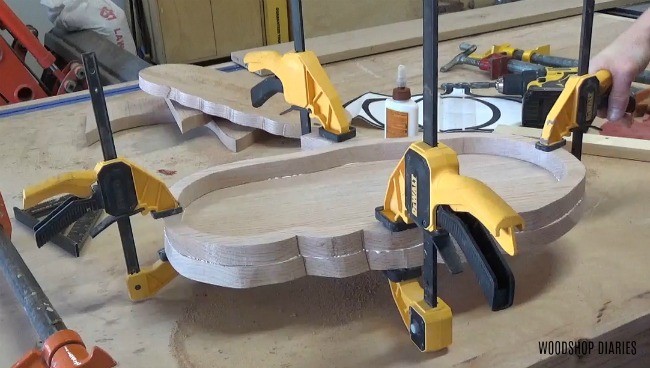 Step 4: Clean Up Edges of Pumpkin Plate
Once the glue was dry, I put a flush trim router bit into my router and adjusted it to cut about 1" deep. Also…this face…it cracks me up haha.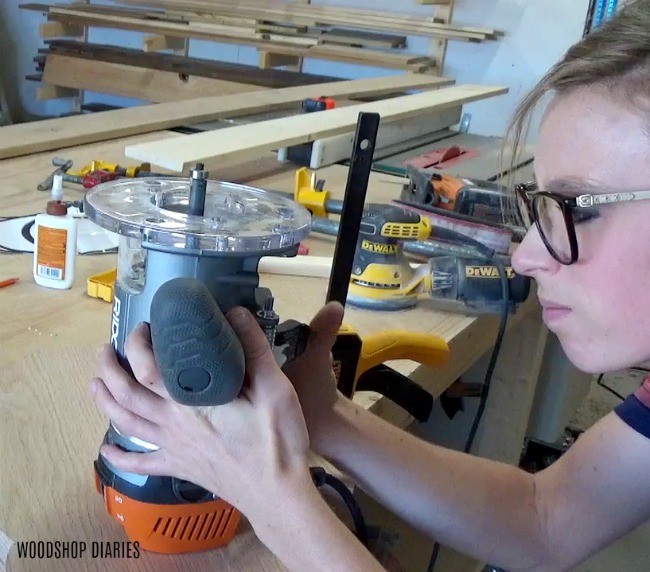 I flipped my pumpkin plate upside down, clamped it to my workbench, and routed along the edges to trim everything flush.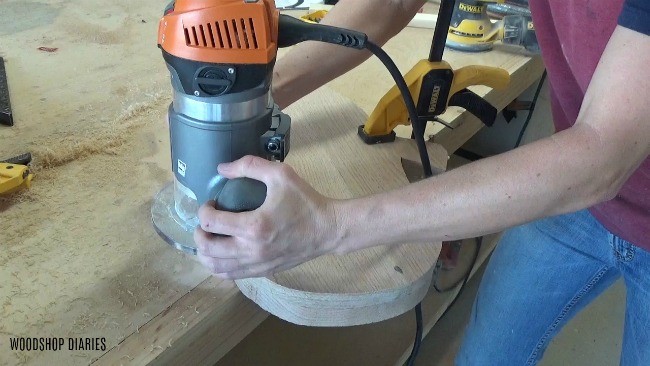 Then I flipped it over and did it again.
.
This get's everything pretty close to perfectly lined up, but to get the curves nice and smooth and to get into the little nooks and crannies, I used a Dremel. If I was patient, sandpaper and a little elbow grease would work, but I'm not patient. So a Dremel worked better haha.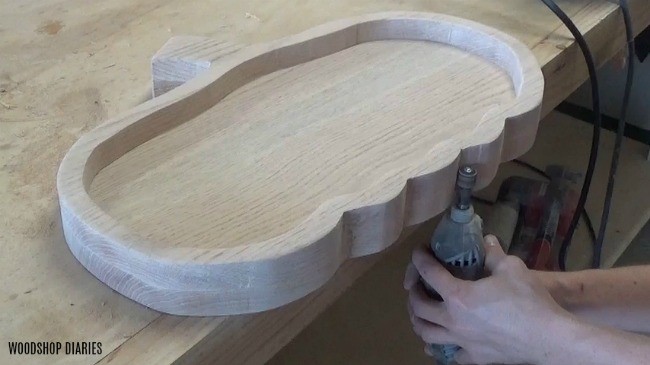 Step 5: Finish Plate
I gave the edges a final sanding, then finished it off with some beeswax to bring out that nice orange tone.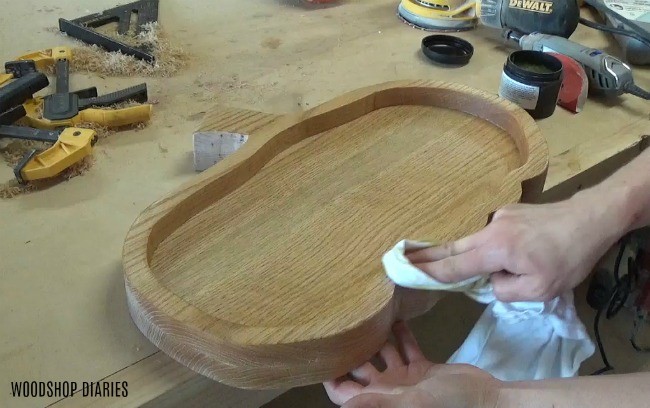 And, just like that, it's finished. It turned out super cute and would be perfect for serving up pumpkin muffins and lattes and all the basic fall things haha.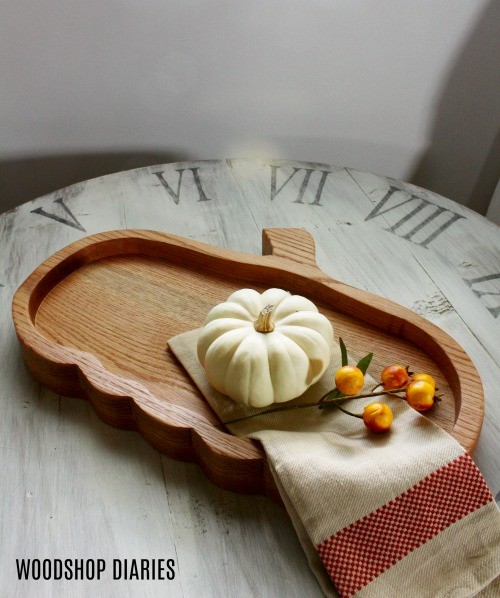 But seriously, this was such a quick and fun project for fall and really for any season if you just switch up the templates.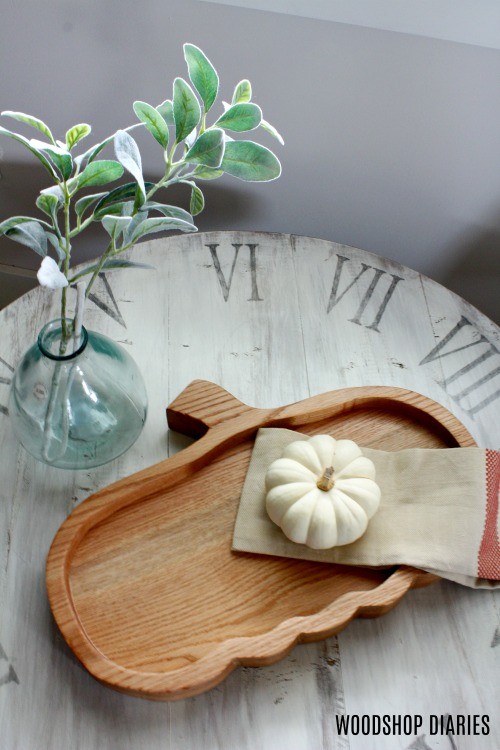 So I hope I've helped you get into the seasonal spirit! Here are a few other fall projects from years past that you may be interested in, too!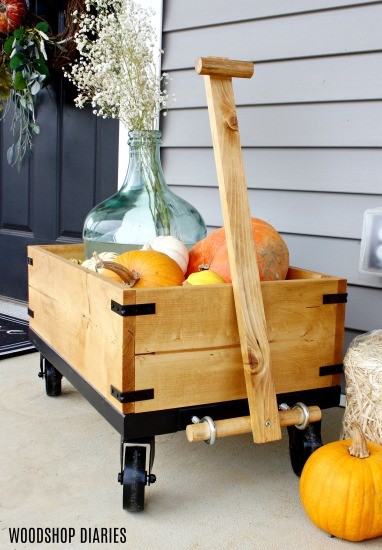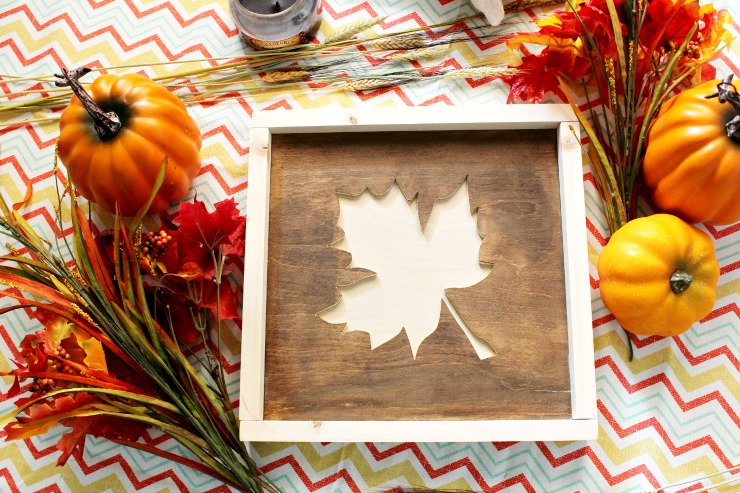 If you aren't already subscribed to my YouTube channel, I'd love if you'd subscribe so you don't miss out on what's coming next. And I'd also love if you'd pin this for later 🙂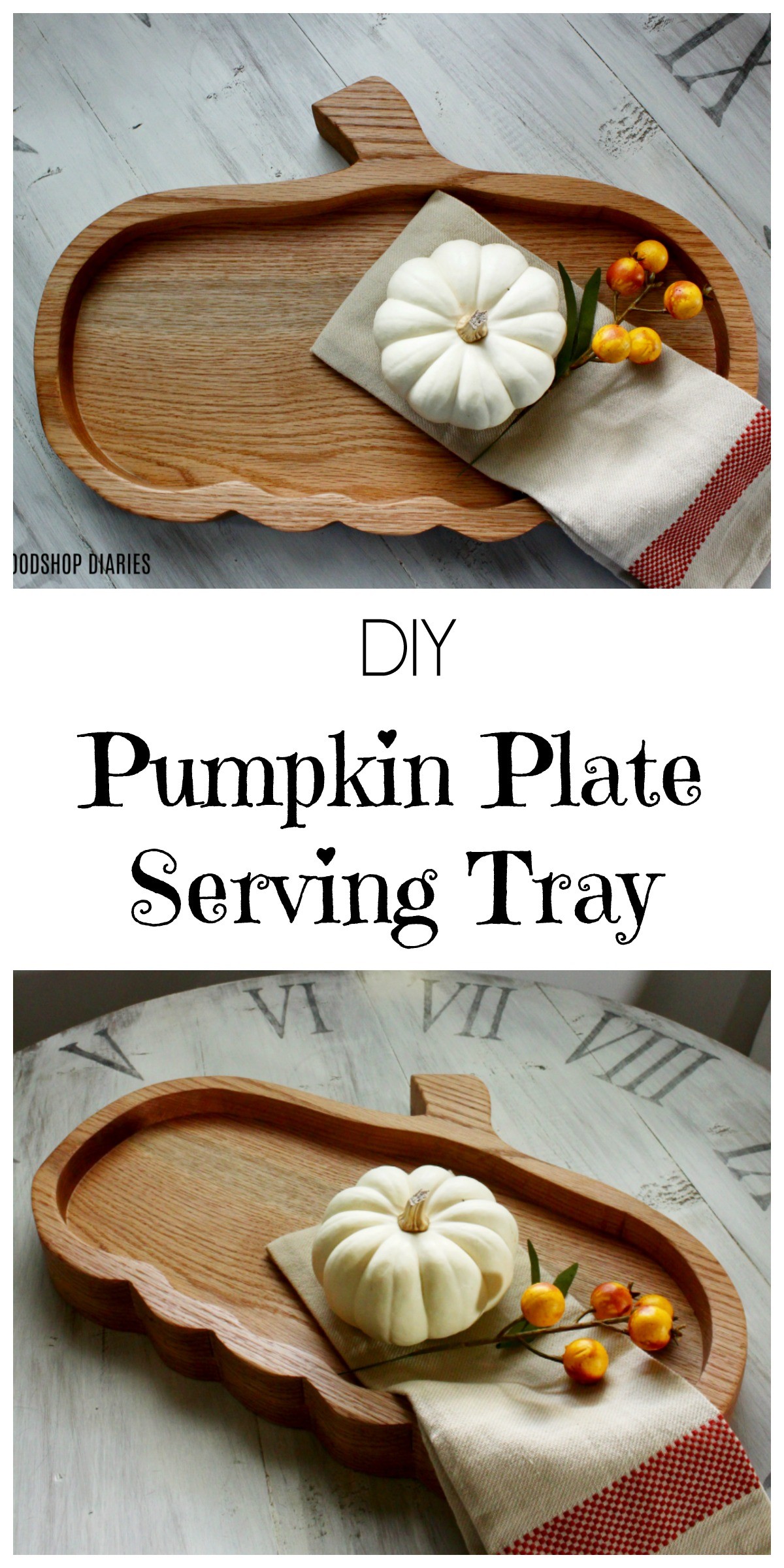 Until next time friends, happy building!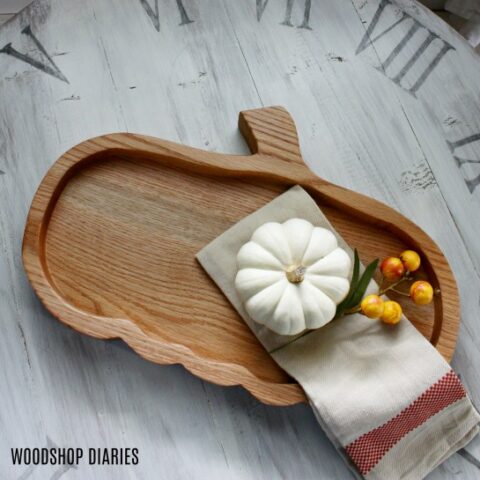 DIY Pumpkin Plate Servin Tray
Yield:
1 DIY Pumpkin Plate Serving Tray
Looking for an easy seasonal fall craft or project? This adorable DIY pumpkin plate is a quick and easy project you can make in an afternoon!
Materials
Red Oak wood
Wood Glue
Clamps
jigsaw
Dremel
Router
Stain and Sealer
Instructions
Cut wood into four 20" long pieces.
Glue and clamp up into sets of 2 to create 2 panels
Trace your pumpkin template onto each panel and cut out using a jigsaw..
Cut out the middle plate section using a jigsaw.
Glue the outline of the pumpkin shape to the full pumpkin shape using wood glue and clamps and allow to dry.
Sand using a router or Dremel to get edges nice and smooth and even.
Finish with stain and sealer.