In this post, I'll show you how to build your own floating shelves!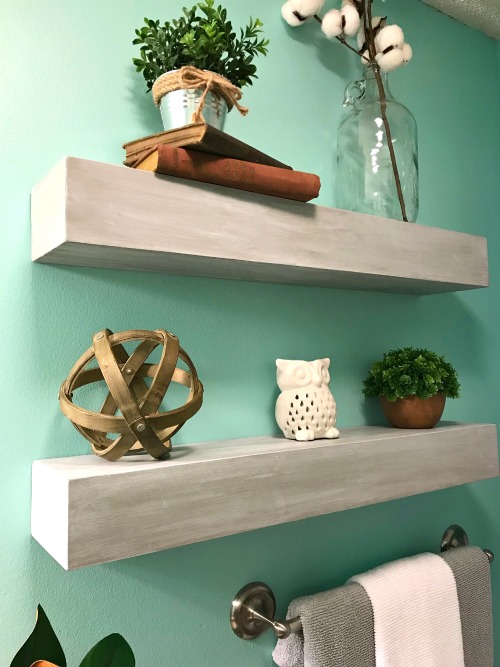 DIY floating shelf tutorials are nothing new.  By now, you've probably read a million of them….mostly the same thing, maybe just with varying board sizes.  But what about SEAMLESS floating shelves?
.
I am hoping to take it up a notch and show you a way of making them that looks a little more professional and gets you thinking a little more outside the box. 
.
I think this way of making floating shelves just looks a little more professional and looks like you are hanging one solid piece of wood on the wall instead of a hollow box…even though it is, actually, a hollow box 🙂 
.
So if you want to take your DIY floating shelf game up a notch, let's get building.
RELATED: Looking for corner floating shelves? Check out this creative way to make them!
.
This post contains affiliate links. Please see disclosure policy for details.
To Build DIY Floating Shelves, you will need:
1×6 boards (length based on your shelf size)
1×4 boards (length based on your shelf size)
2×2 boards (length based on your shelf size)
Table Saw
1 ¼″ Brad nails
2 ½″ wood screws
Clamps
Wood Putty
TAKE NOTE: This tutorial is basically building hollow shelf boxes to fit over supports that will hang them on the wall. I'll show you two different ways to build these hollow boxes–one with and one without a table saw.
Step 1: Bevel Top and Bottom Shelf Board Edges
I used a table saw for step 1 & 2–BUT, if you don't have a table saw, don't check out yet! You can skip these steps and still get some really nice results. Head to step 3 and I'll show you.
.
First, I determined the length I wanted my shelves and cut a piece of 1×6 to 3-4″ more than twice that length. So, for example, if I wanted 24″ shelves, I cut a piece about 52″ long (24 + 24 + 4 = 52).
.
Then, I beveled one edge of that board 45 degrees.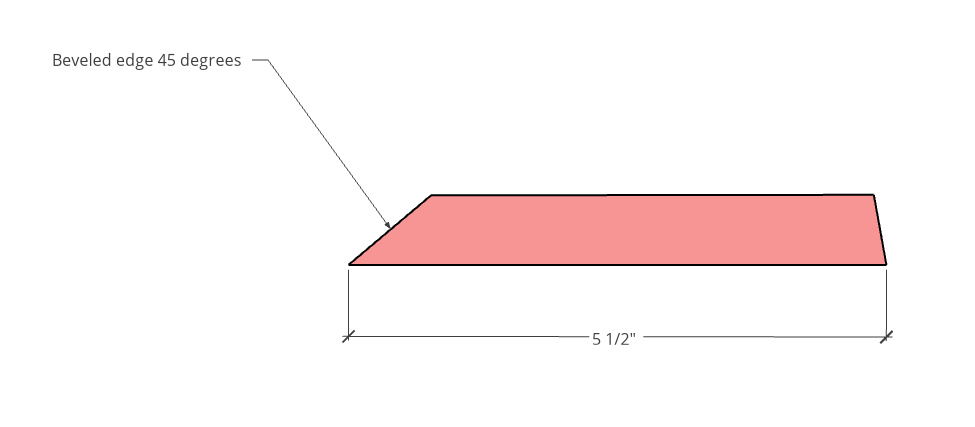 For this project, I used 1×6 boards.  If you want deeper shelves, you can use wider boards.  But since I used 1x6s (which are actually only 5 ½″ wide), I tilted my table saw blade 45 degrees and adjusted the rip fence about 5 ½″ from the tilted tip of the blade.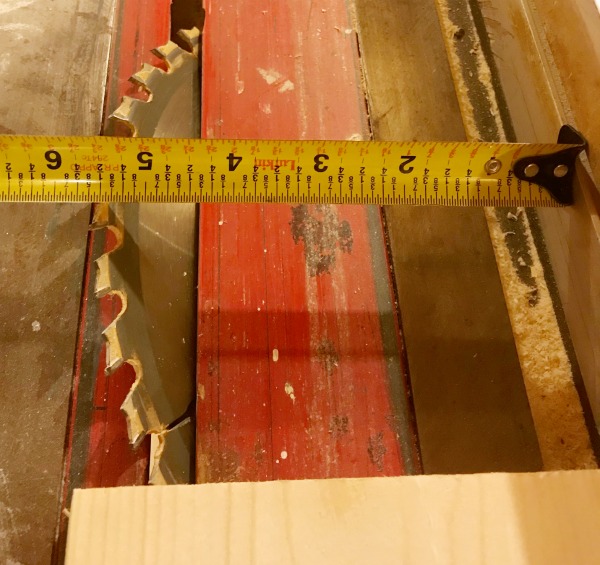 You just want to barely cut off the corner, but not take off much width.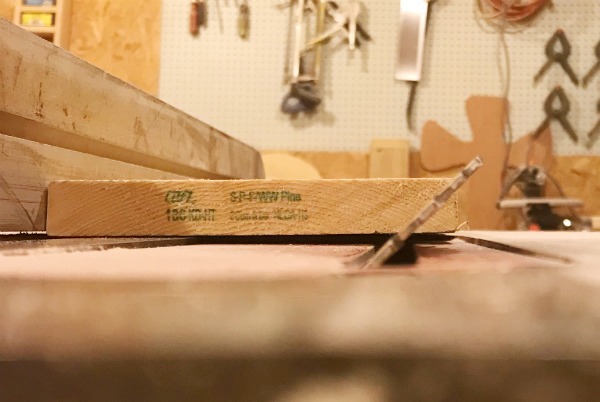 I ran the board through to get one beveled edge. This will be the shelf top and bottom pieces. I set this aside for now.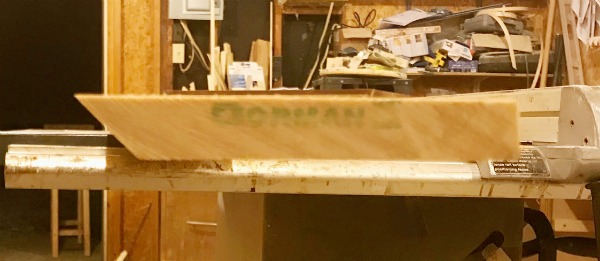 Step 2: Bevel Front and Side Edges
After the top and bottom shelf pieces were beveled, I used a 1×4 board cut to the length of the shelf PLUS about 12″ and repeated step 1 to bevel one edge of the board.
.
Then, I adjusted my rip fence 3″ from the blade and flipped it over and cut the other side until the widest part of the board was 3″.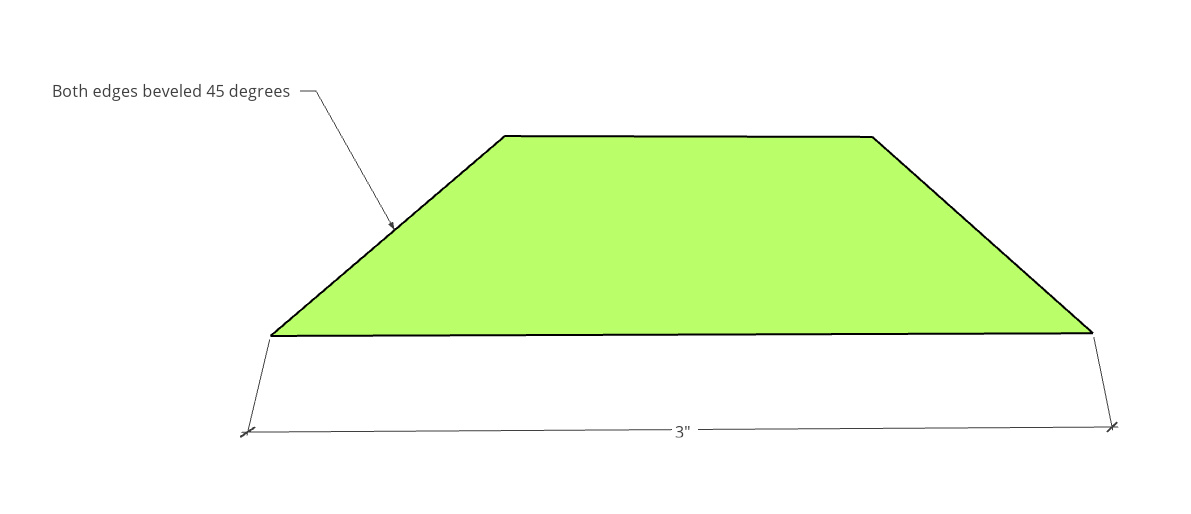 This will become the front and side pieces of the shelf box.
Step 3:  Cut Board Ends and Trim to Size
Now my work at the table saw was finished, so I moved over to the miter saw.  I adjusted the miter saw to MITER 0 degrees, but BEVEL 45 degrees.  Notice that the blade is square to the back fence, but is TILTED 45 degrees.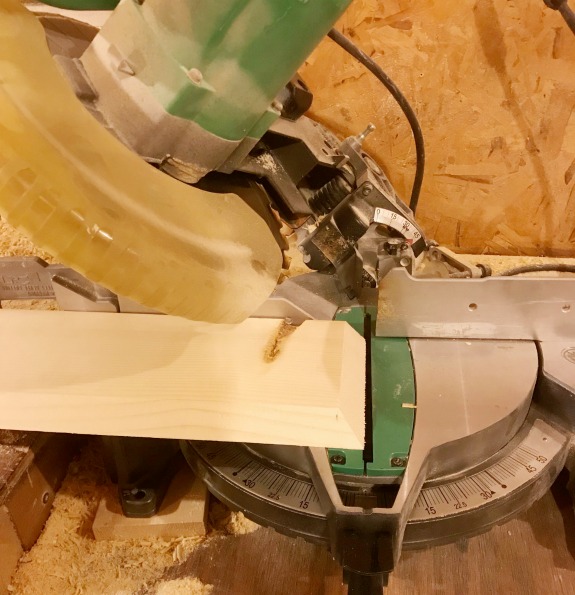 I beveled the ends of the 1×6 boards from step 1 like shown so that the total length of the boards is the length I wanted my shelf.  I needed two of these pieces–one for the top and one for the bottom of the shelf.
.
For this, I wanted all my bevels to go toward the INSIDE of the board.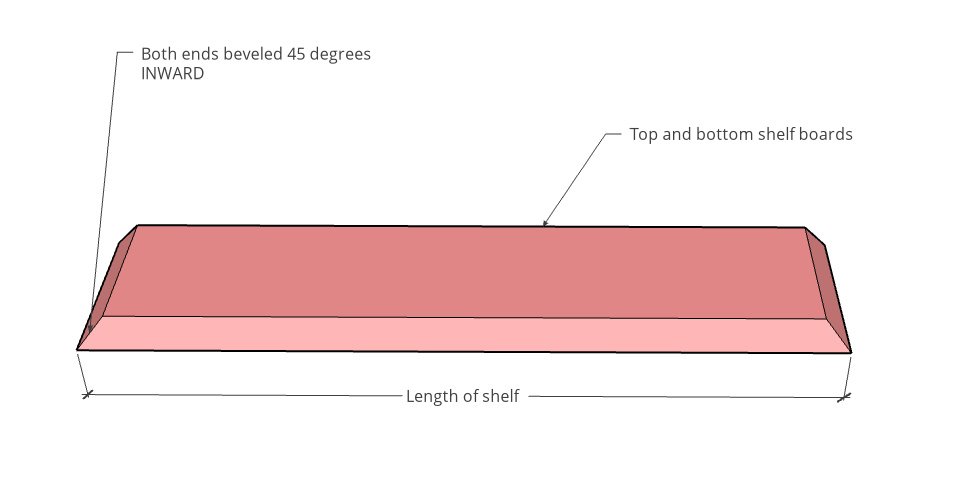 Then, I beveled the ends of the 3″ wide piece, too, the same way so that the total length is the length of the shelf. This will be the front of the shelf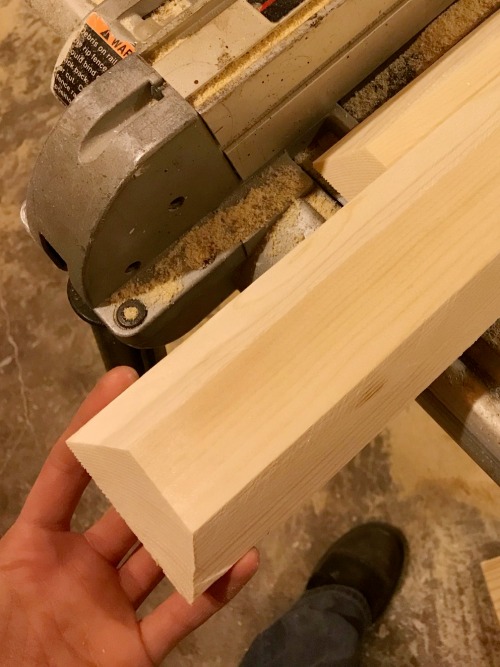 I cut two more pieces of the 3″ wide boards like shown 5 ½″ long.  One end should be flat and the other beveled 45 degrees. These will be the sides.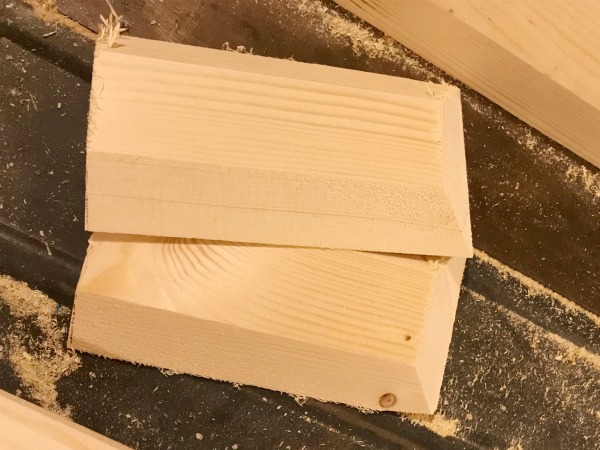 NOW, IF YOU SKIPPED THE TABLE SAW WORK FROM STEPS 1 & 2,
Don't worry…you can still make these shelves! In this case, you will simply cut two top and bottom 1×6 shelf boards down to the total length you want your shelf MINUS 1 ½″.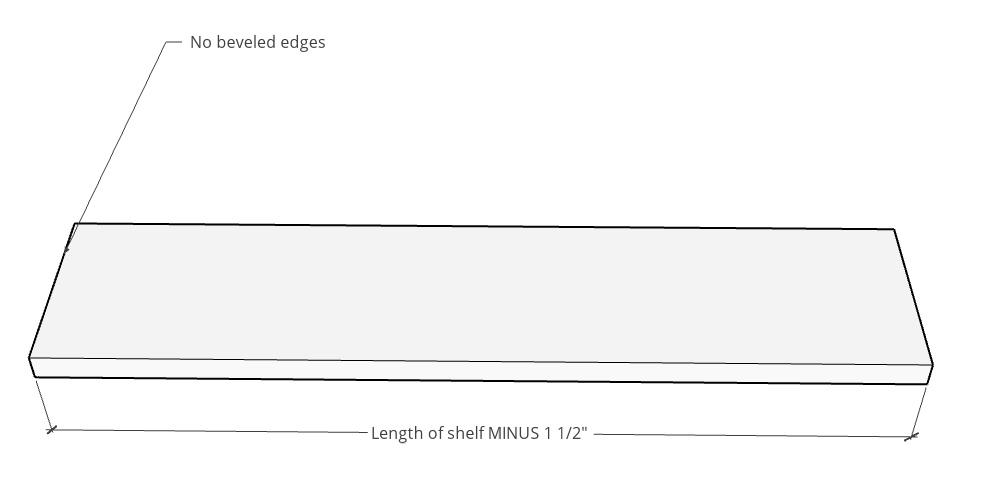 Then, use your miter saw like shown above to bevel the ends of your 1×4 pieces 45 degrees at the corners to simply wrap around these top and bottom boards.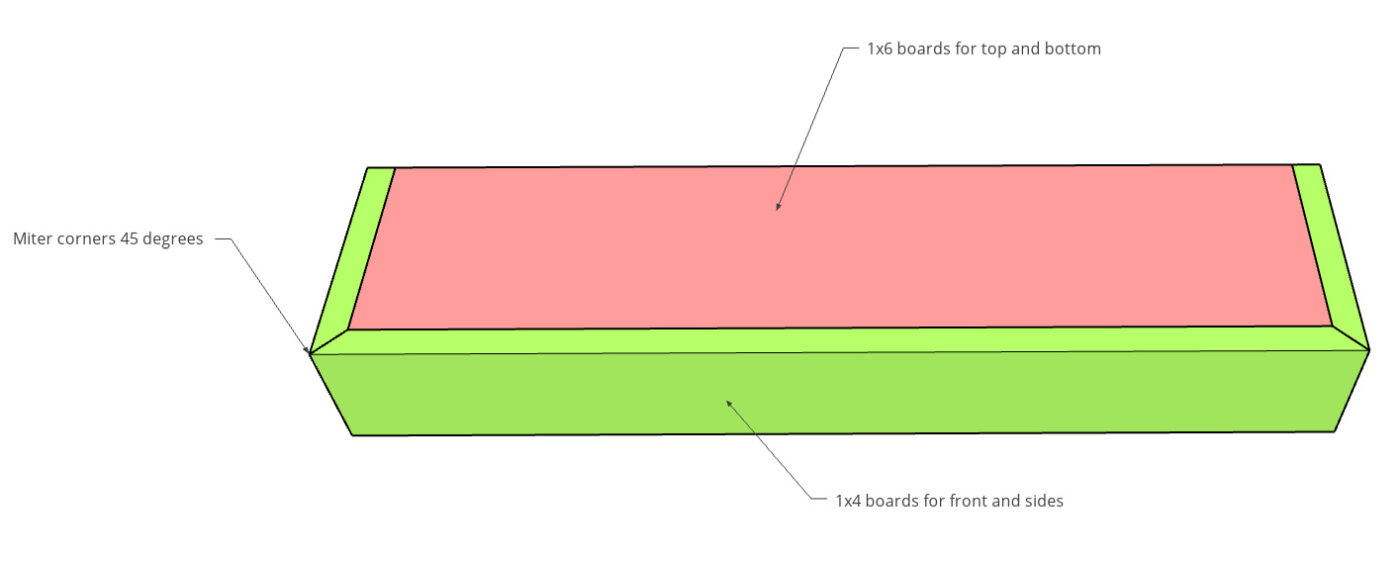 Using this method, you can still get a nice, clean result 🙂
Step 4: Assemble Floating Shelf Boxes
At this point, I had pieces that will fit together like this: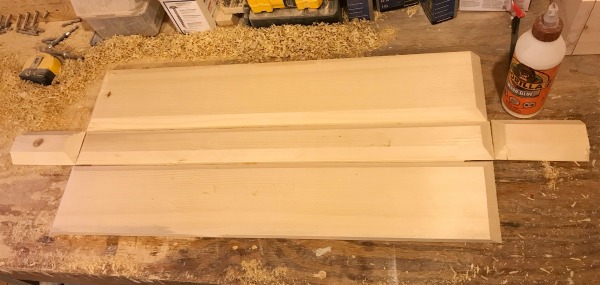 If you fold all these pieces up together, you will get a hollow box.  So that's what we will do 🙂
.
Whether you beveled the edges in step 3 or not, the assembly is the same–just glue and nail the floating shelf box together!
.
I used wood glue and a nail gun to first assemble the top and bottom shelf boards to the front piece.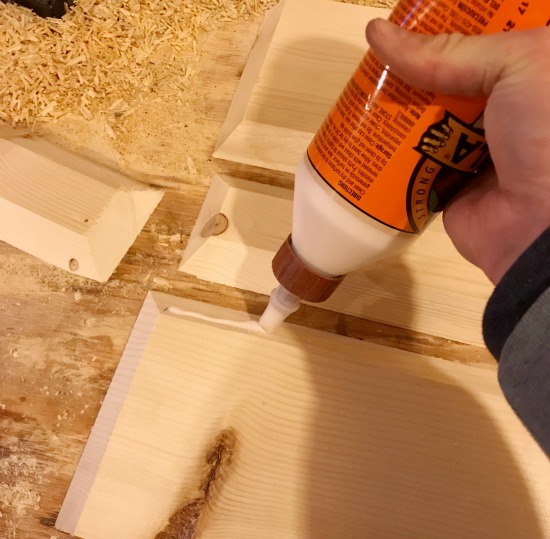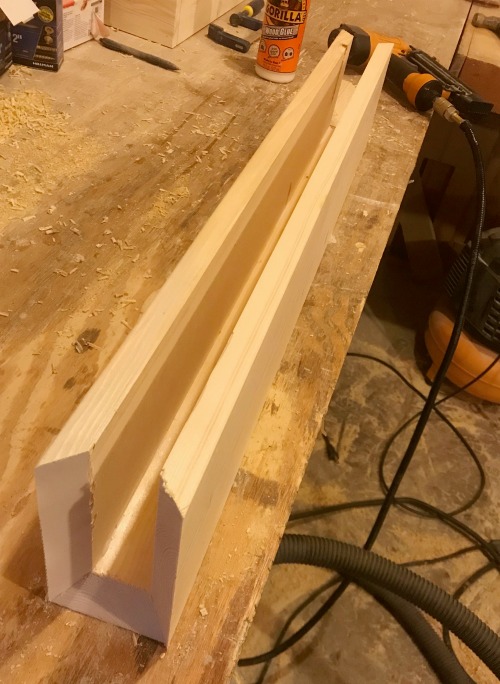 Then, I glued along the edges of the small side pieces and attached like shown.  I just nailed these pieces in place as well.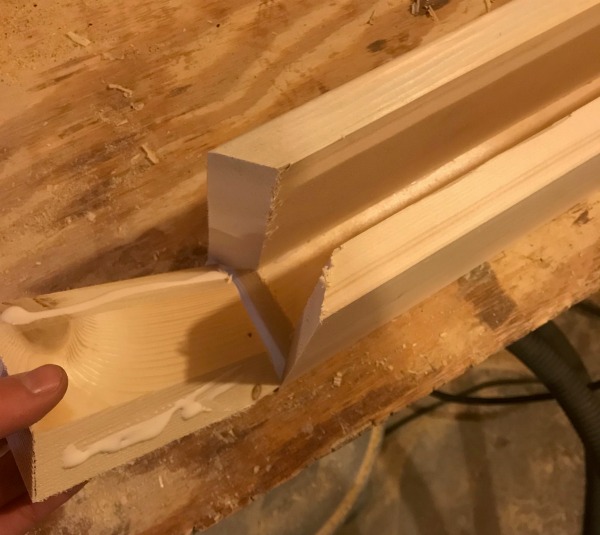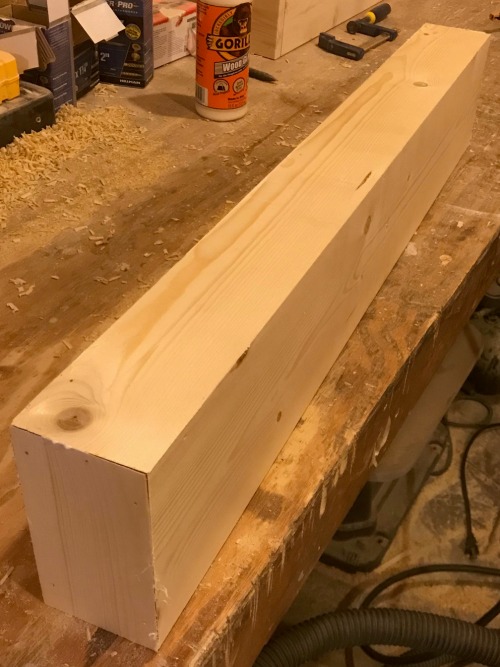 Use clamps to make any adjustments or pull any pieces square as needed. While the glue dries, move onto the next steps.
Step 5: Build Floating Shelf Support Hangers
In order to hang the shelves, I needed to build the shelf support.  It's made from 2x2s.  If you bevel everything like I've shown, a 2×2 (which is actually 1 ½″ x 1 ½″) should fit perfectly into the hollow box opening.
RELATED: Check out how to make your own 2x2s in this post!
.
So, I cut one 2×2 the length of my shelf MINUS about 1 ¾″ and cut three more pieces 3″ long.  I glued and screwed (using 2 ½″ wood screws) the support together like shown with one piece on each end and one in the center.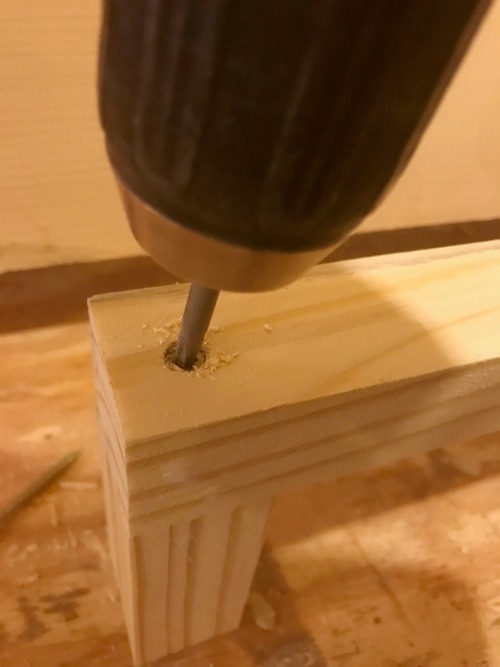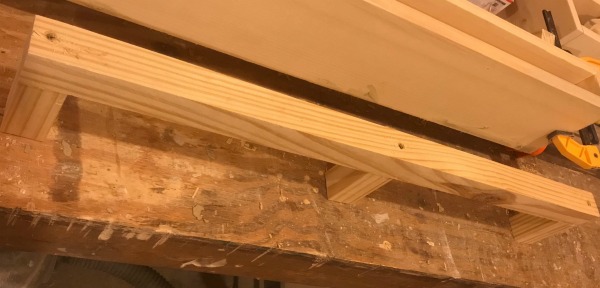 Step 6: Finish and Hang Floating Shelves
I puttied all corners of the shelf box and sanded them smooth.  Putty is a life saver on projects like this.  It can really help smooth out and get those perfect looking corners.
.
Helpful Tip: If you plan to stain, use stainable putty OR you can also mix some sawdust and wood glue to make your own matching wood putty as well.
.
Finish the shelf before hanging. You can stain or paint as desired.
.
To hang, I found the studs in the wall and screwed the support from step 5 into the studs using 2 ½″ or longer wood screws.  Make sure it's level!
.
Then, I slid the shelf box over the support.  It should fit snug.  If you want, you can add a few screws  through the top to hold in place, but I don't advise nails.  If you ever want to remove them, it's much easier to remove a screw than a nail 🙂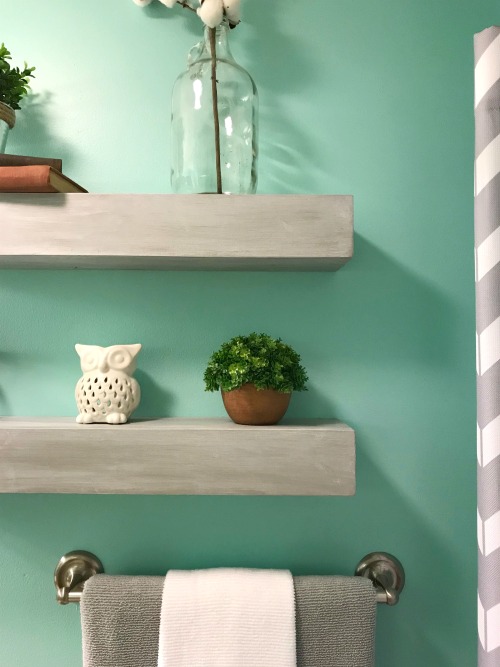 I really like building my shelves like this because it looks more like one solid chunk of wood vs several nailed together…even though that's really what it is.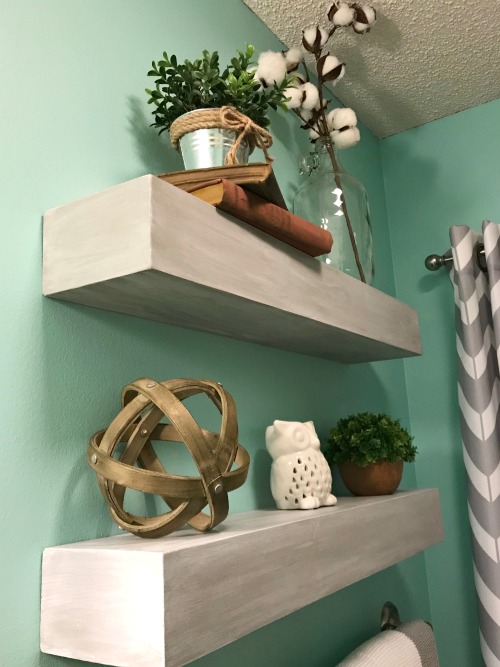 These style floating shelves will take a little more time and require a little more effort to build than some I've seen, but I really think the little extra is totally worth it. 
.
Want more shelving ideas?? Check out some of these!
.
So, if you want to take your floating shelves up a notch and try making them this way, be sure to pin this for later! 🙂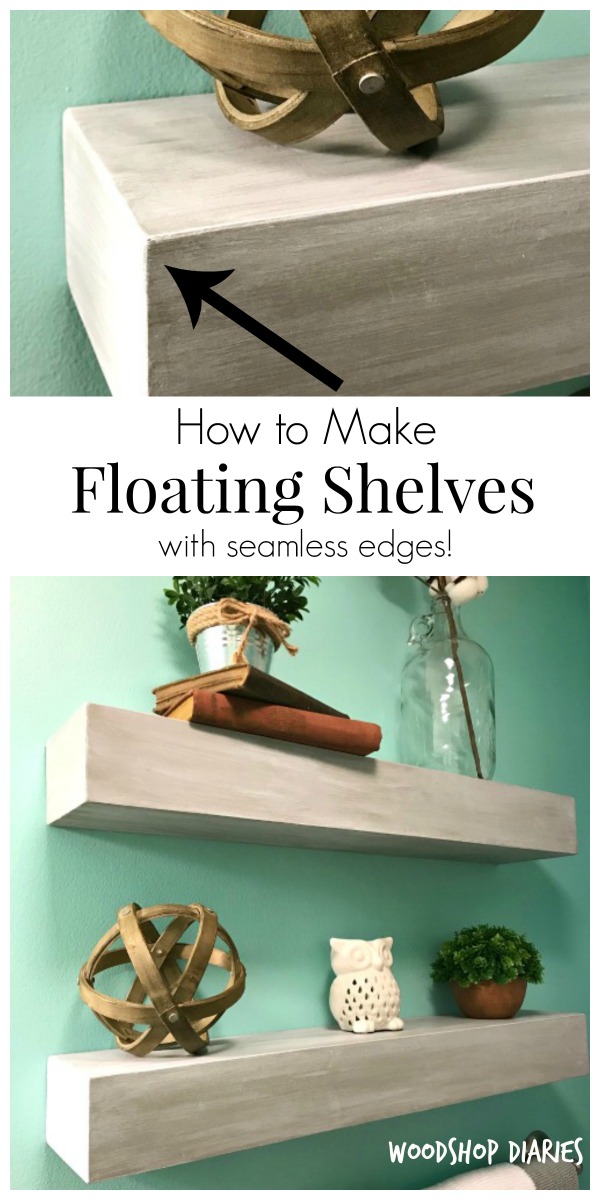 Until next time, happy building!! 🙂