In this post, I'll share how to build these unique DIY floating corner shelves with just one board!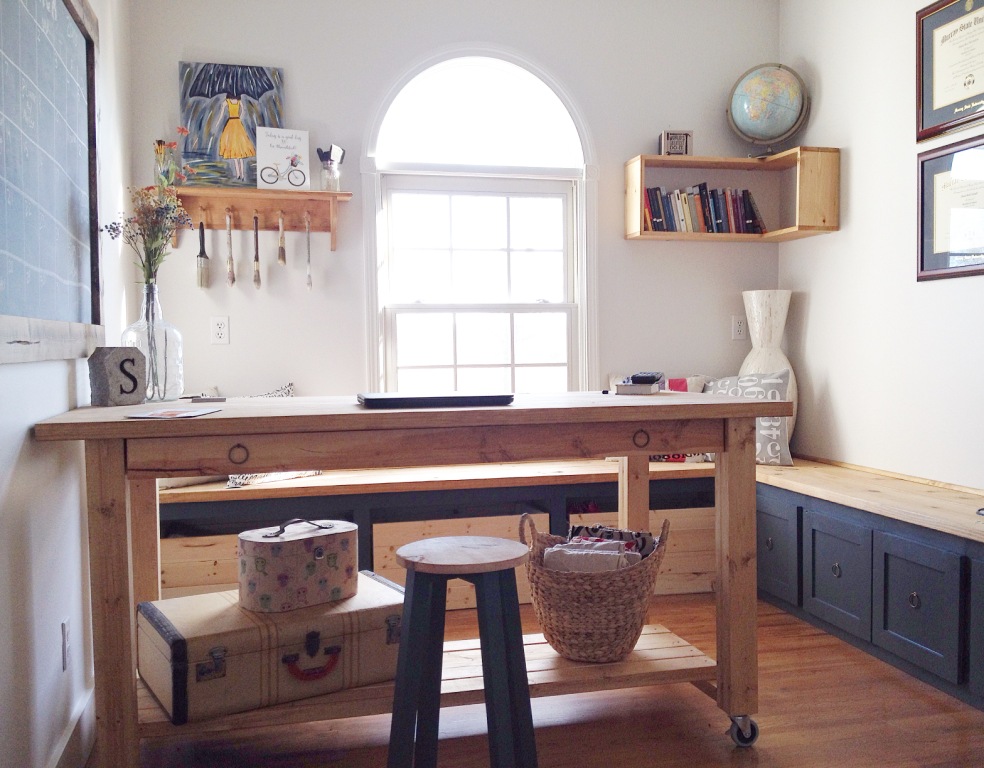 This office space used to be "nacho cheese yellow." Not even kidding–that's the name written on the paint can we found in the basement after we bought the house.
.
I wasn't a huge fan of the color, or the boringness of the empty space, so I decided to give it some much needed style and function.
.
First, I remodeled the room, then I built a new desk, and finally, I added these floating shelves to display some of my favorite items and books.
.
These aren't your typical floating shelves, but what's really cool about this boxy style is that you can install them on an inside corner or around an outside corner as well!
.
So if you want to build your own, grab a board and let's get building 🙂
.
This post contains affiliate links. Please see disclosure policy for more details.
To Build These DIY Floating Corner Shelves, You Will Need:
1x8x8
Miter saw (or chop saw)
L-brackets for hanging
1 ¼″ wood screws
2 ½″ or longer screws for hanging
Step 1: Cut Corner Shelf Pieces
I cut my 1×8 board into pieces:
Now, a typical 1×8 is 7 ¼″ wide, so these shelves are 7 ¼″ deep. If you want deeper shelves, you can use a wider board like a 1×10 or 1×12.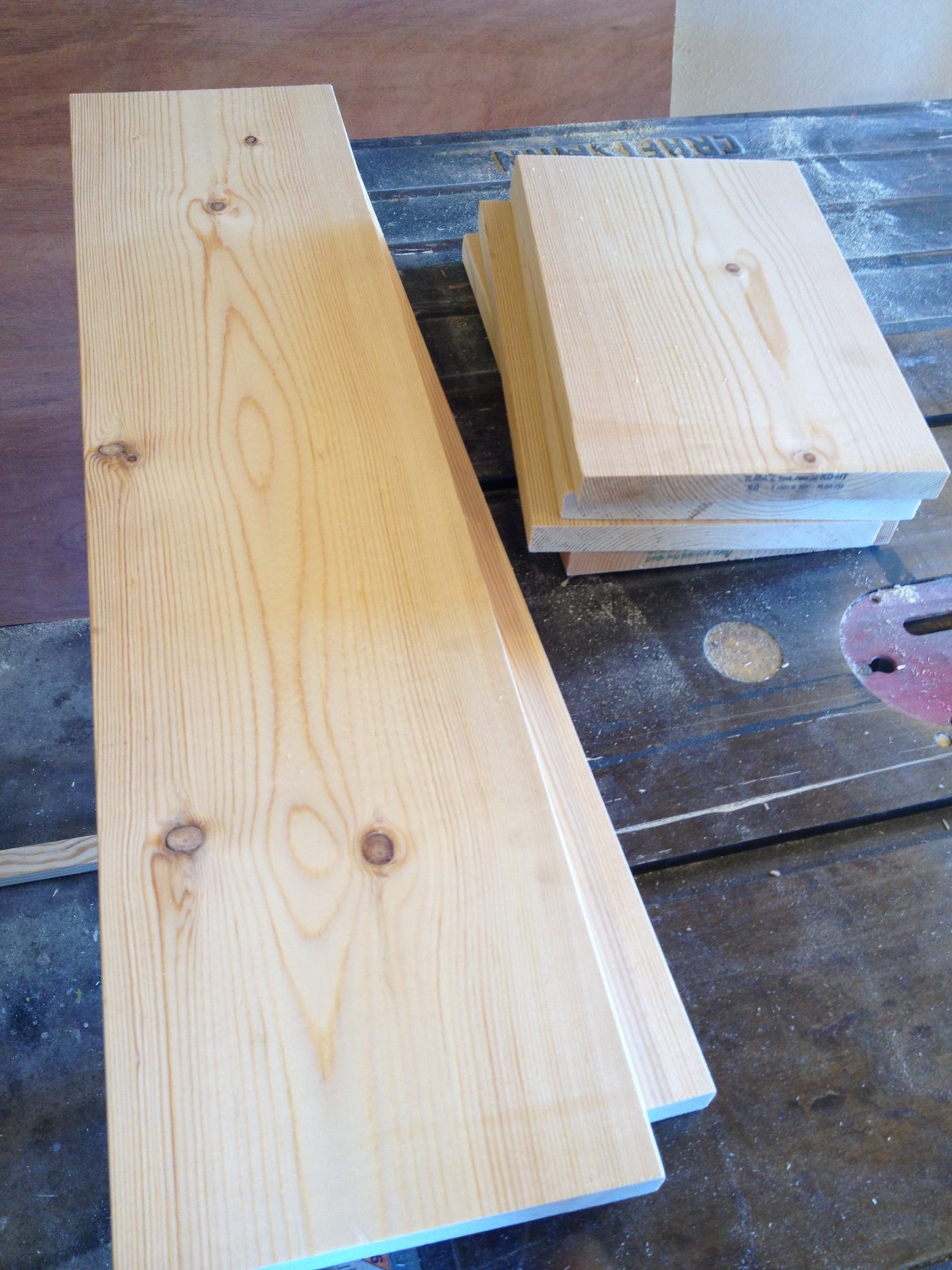 A 1×8 is 7 ¼″ wide, so these shelves were 7 ¼″ deep. However, if you want a deeper shelf, feel free to use a wider board–like a 1×10 or 1×12.
Step 2: Assemble Long Shelf Side
I screwed the 28″ pieces onto the ends of one of the 10″ pieces with 1 ¼″ wood screws like shown in the image below. Feel free to use wood glue as well if you want.
.
I could have used pocket holes and screws here, but it would be hard to get the drill in that small space after the first 28″ piece was on.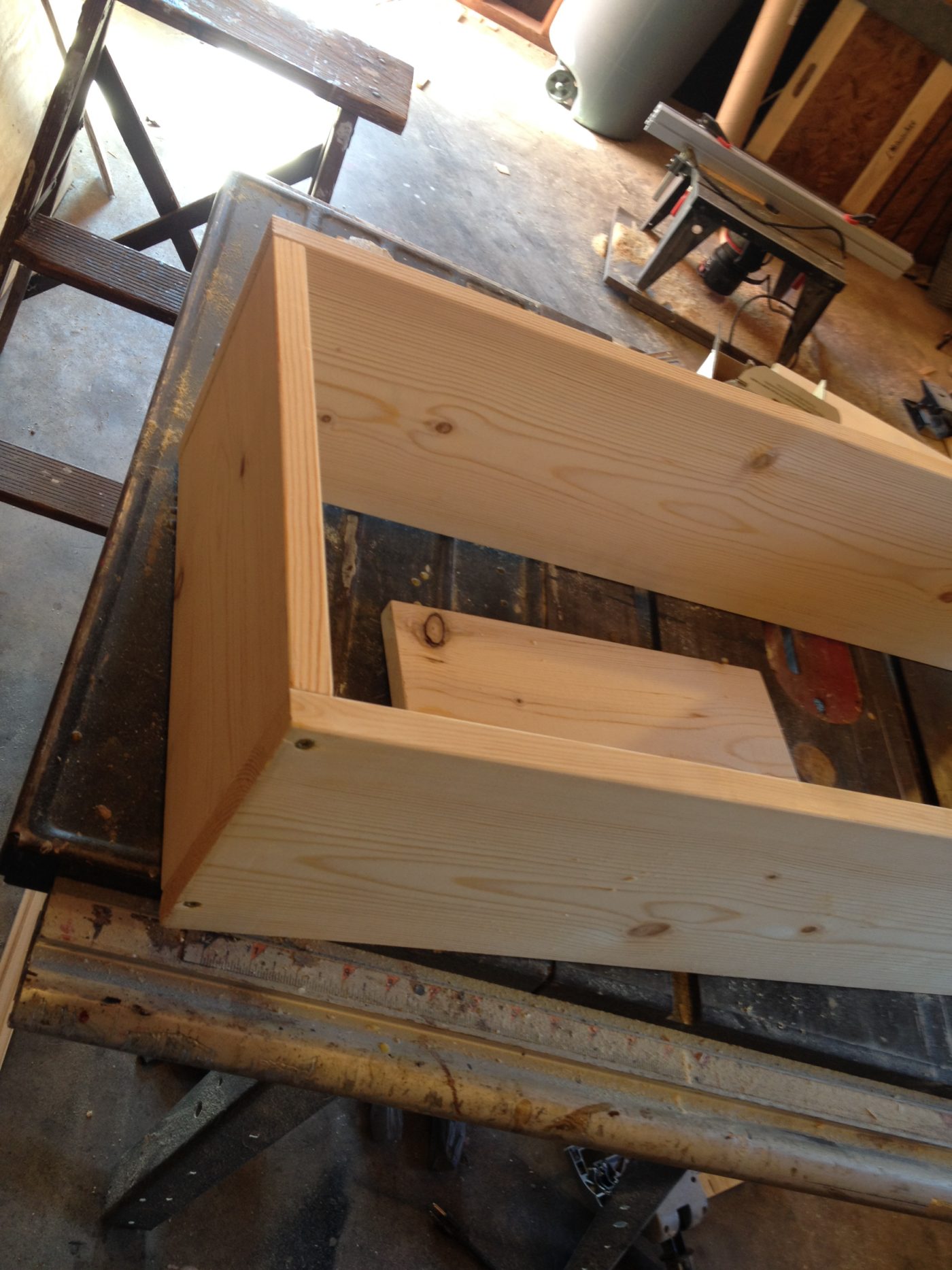 HELPFUL TIP: Don't forget to predrill here! Those screws in these thin boards will split easily if you don't!
Step 3: Add Short Corner Shelf Side
I used a pocket hole jig to drill ¾″ pocket holes into the ends of two of the 10″ boards. Then, I used 1 ¼″ pocket hole screws to attach them to the other end of the 28″ pieces like shown below.
RELATED: Learn how to use a pocket hole jig in this post!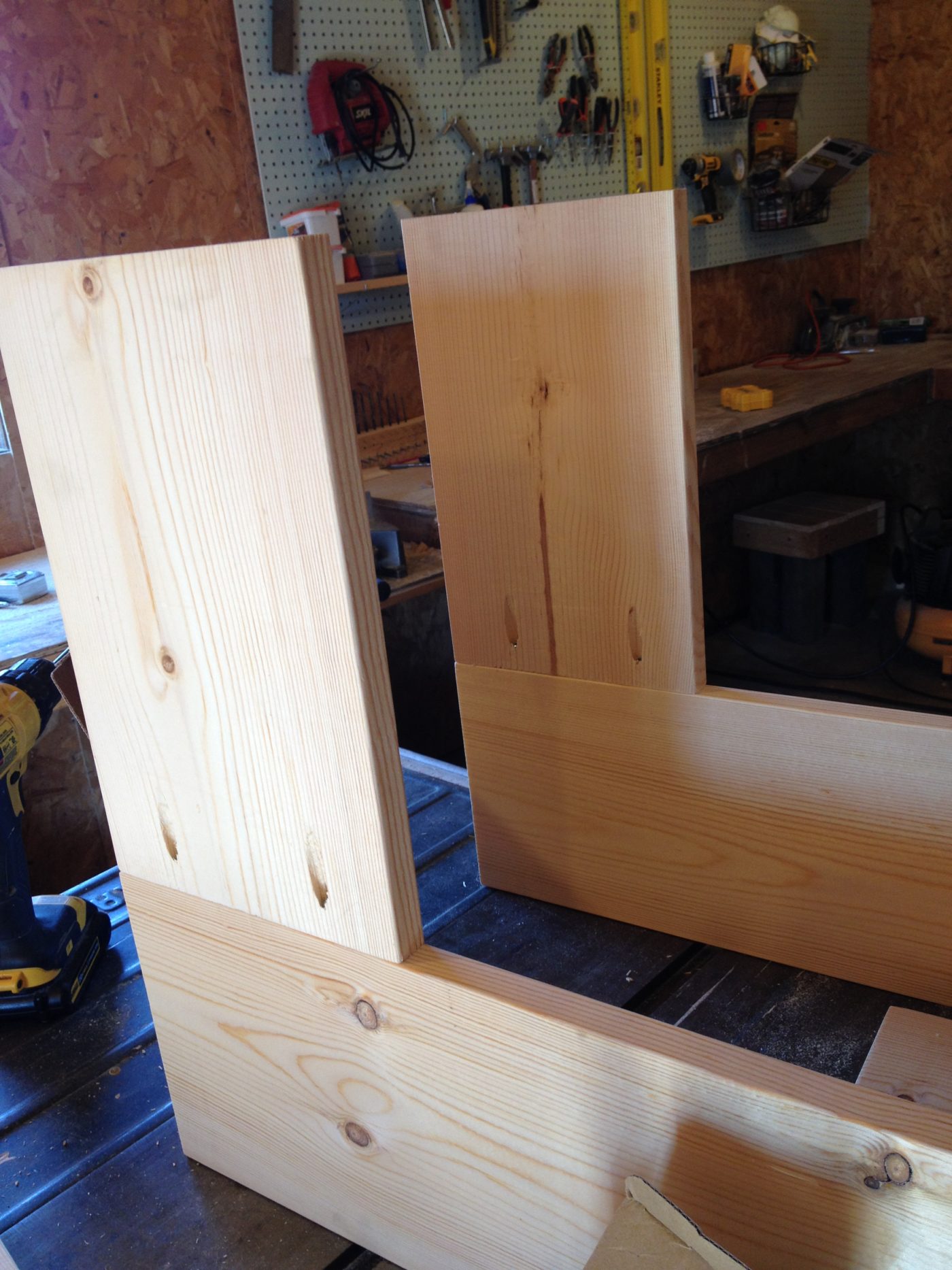 HELPFUL TIP: Think about how you want to hang your shelves and have the pocket holes face up. This way, you can set something on the shelf to cover the hole on the bottom pieces and you wont see the top of the top piece if you hang it eye level or higher.
.
Or, if you'd rather plug these pocket holes so they're hidden, check out this post for 4 different ways you can plug your pocket holes.
.
Then, I screwed the last 10″ piece between these two short boards using 1 ¼″ wood screws.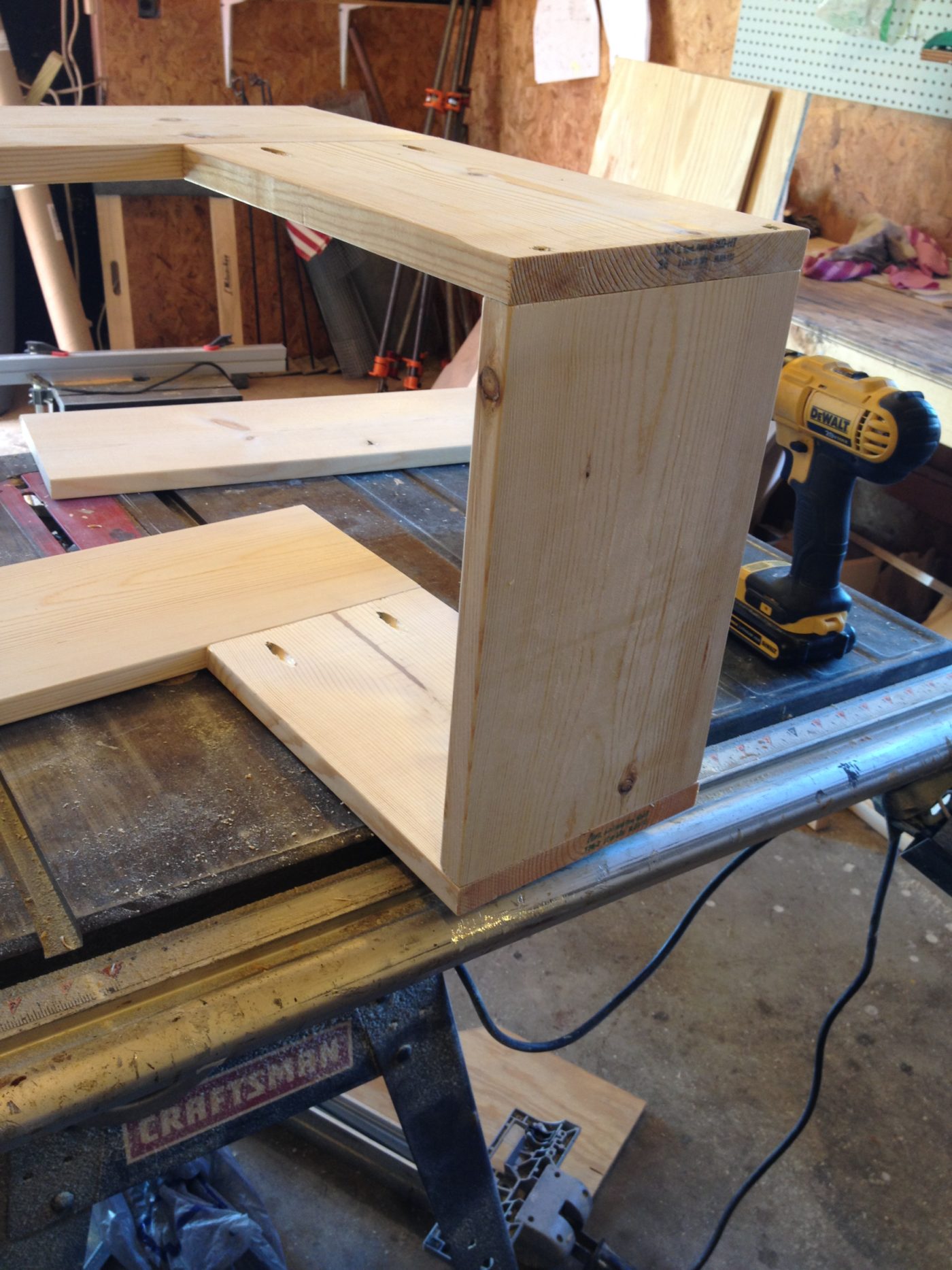 Now, you can stain it or paint it as you wish before you hang it.
Step 4: Hang DIY Floating Corner Shelf
To hang these corner shelves, I screwed L brackets into the studs where I wanted my shelf to hang (make sure you use at least 2 ½″ long screws to secure it into the studs!)
.
If you don't have a stud where you want your L bracket, use a drywall anchor. Then, I placed the shelf on the brackets and screwed them in. You can see the brackets underneath the top shelf in the picture below.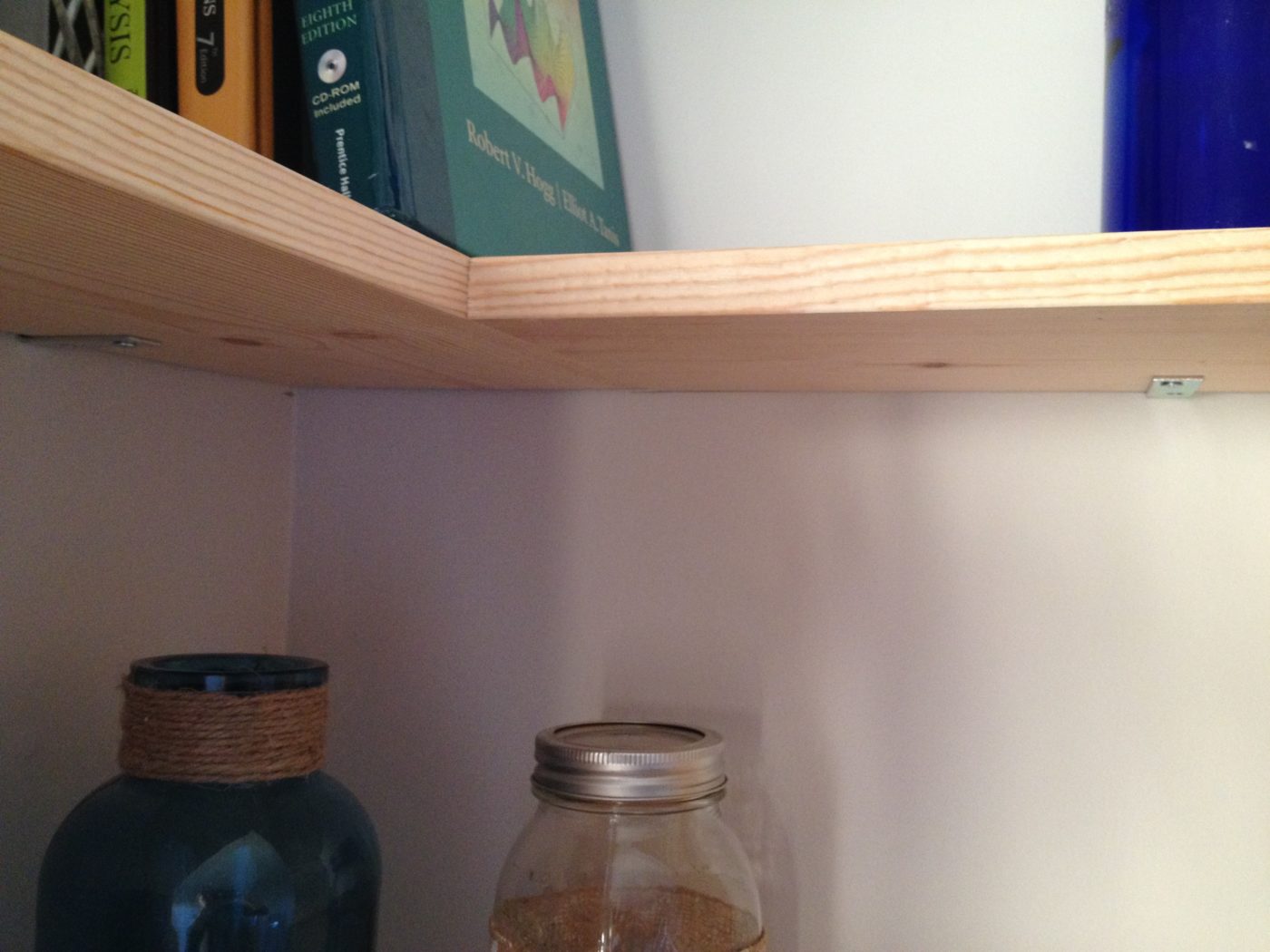 You will need to use two L brackets on both the top and bottom shelves here–so at least 4 brackets total.
.
I found it easiest to hang the top brackets on the wall first, rest the top shelf on them, then screw in the bottom shelf brackets in order to get the spacing between the shelves right.
.
Now, I wouldn't weigh these down with tons of heavy stuff, but this was plenty to hold a few books and decor items like you see in the pictures.
.
If you didn't want to use L brackets, you could also use pocket holes and screws drilled into the shelves where the studs will be. You can see an example of how I used this method to install floating shelves under a bathroom mirror.
.
Now that the shelf is hung, use it to display your favorite books and decor.
These would work great in a home office, a kids room, or in an entryway to toss keys and mail onto if you don't have floor space for a table!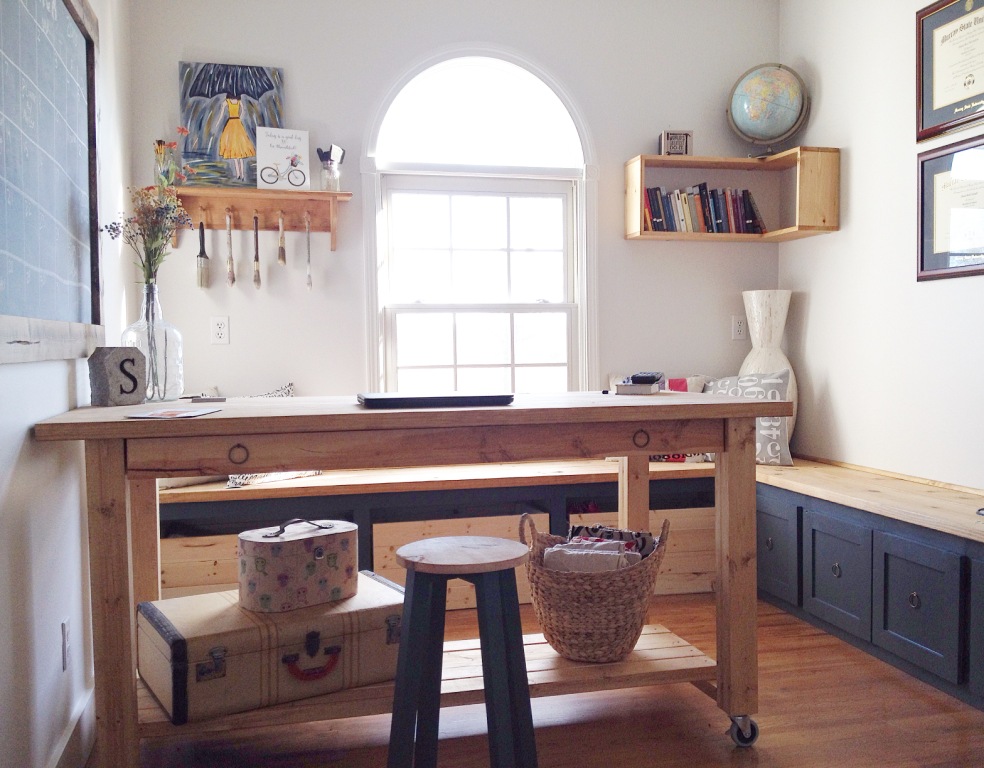 If you've enjoyed this DIY floating corner shelves project and want to see more shelving ideas, check out these DIY shelves for more ideas and build plans!
.
And if you want to save this for later, don't forget to pin it!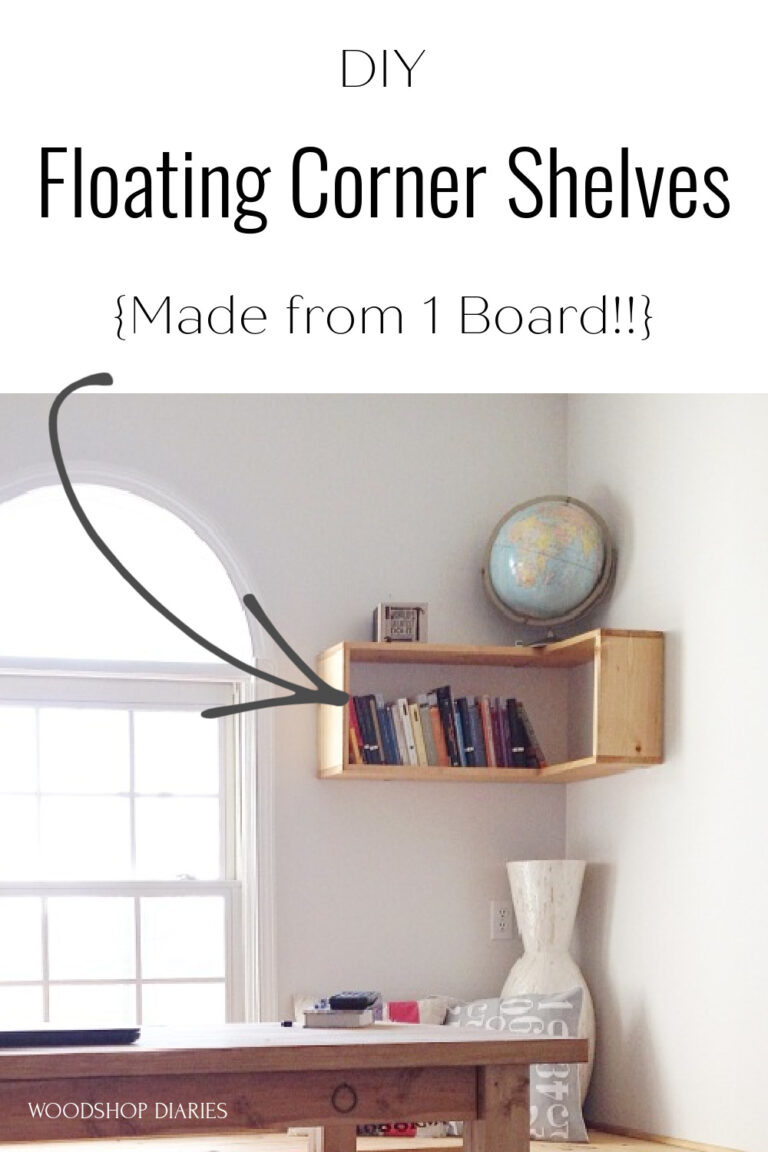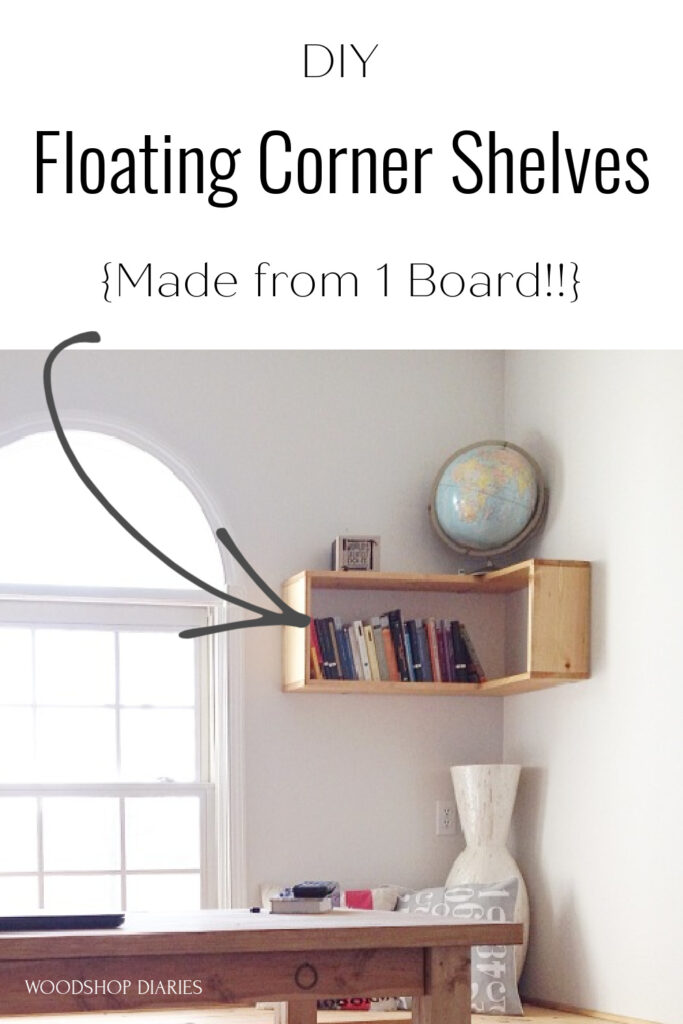 Until next time, happy building 🙂