This year, I challenged myself to try some new joinery techniques in some of my projects.  One of these projects is this simple modern DIY bookshelf.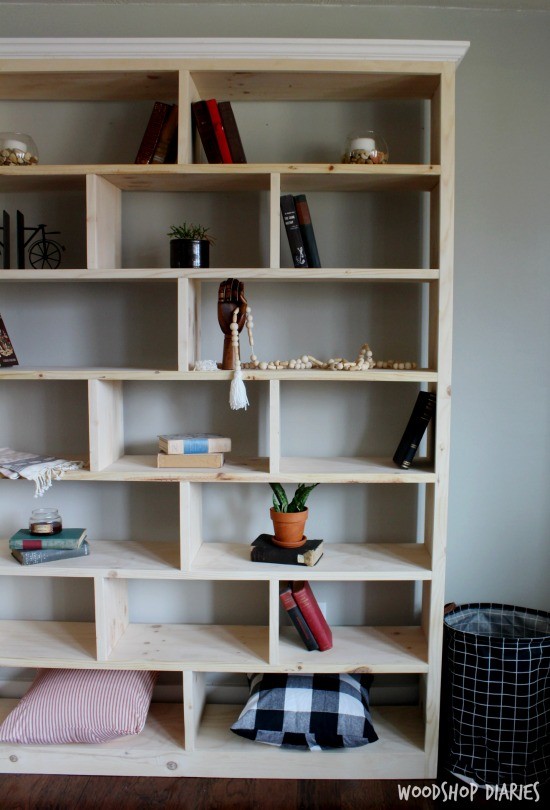 However, sometimes this "new joinery" adventure turns out good…like with this retro Bluetooth speaker box.  And other times…like now…there is a little learning curve and things don't go exactly as intended…
.
For this modern DIY bookshelf project, I tried using dadoes for the shelves to help sturdy it up a bit and also help me with getting things aligned perfectly with so many shelves and dividers.  Everything worked great EXCEPT THAT I didn't realize I was using the wrong size router bit.  *face palm*
.
Since the plywood I was using was actually 23/32″ thick instead of ¾″, I should have been using a 23/32″ bit, but I was using ¾″.  The plywood fit in the grooves, but there was too much wiggle room for it to fit snugly.  So, in addition to the dadoes, I also had to use screws to hold it together.  Live and learn.
.
On the bright side, it really did help quite a bit with alignment and making sure my shelves and dividers were square and evenly spaced.  So there's that…pros and cons 🙂
.
I'm sharing the video and the how to below and I'll give you some tips to avoid the mistakes I made 😉
This post contains affiliate links.  Please see disclosure policy for details.
.
It turned out great, but could have been made just as easily using pocket holes and screws.  So if you'd rather, you can try that method instead.  Either way, I'm going to show you how I did it and might I suggest investing in a 23/32″ router bit??
.
Other than that, here's what you'll need to build this modern DIY bookshelf:
(2) sheets ¾″ plywood
(3) 1x2x8 boards
(1) 1x4x8 board
Edge Banding OR ¾″ square dowels
23/32″ router bit (or bit same size as the plywood you are using)
1 ¼″ wood screws
Square
.
Step 1:  Cut Plywood Down to Size for Bookshelf
Here's the deal…I made this shelf for a customer with specific measurements.  But the size he wanted was super wasteful, so I had a lot of leftover plywood–which is fine because I'll use it for something.
.
BUT, if you want to save a full sheet of plywood on this project, I suggest making the horizontal shelves 4ft instead of 5ft like I did.  So, I'll share the 4 ft version…just keep in mind it's 1 foot narrower than what is pictured.
.
So first, I used my Kreg AccuCut to cut a full sheet of plywood in half to two 4 ft square pieces.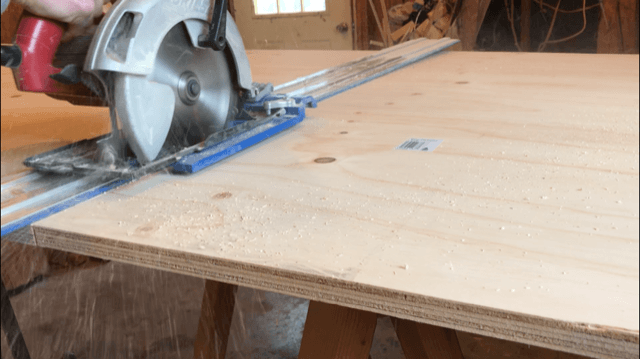 Then, I set my Kreg Rip Cut up to cut 11 ¼″ wide and ripped these 4 ft pieces PLUS one more full sheet of plywood into four 11 ¼″ wide strips per sheet.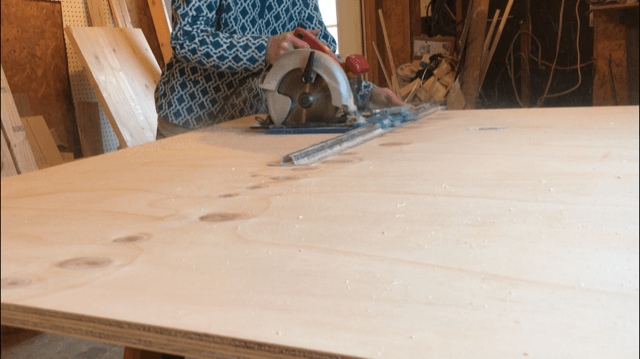 Finally, I used my miter saw to cut all these strips down to their final size.  The 4 ft strips should already be the size they need to, but from the full sheet I cut down, I cut two strips to about 88″ long.  These will be the shelf sides.
.
By the way, if you like my miter saw stand, I've got the plans for you here 🙂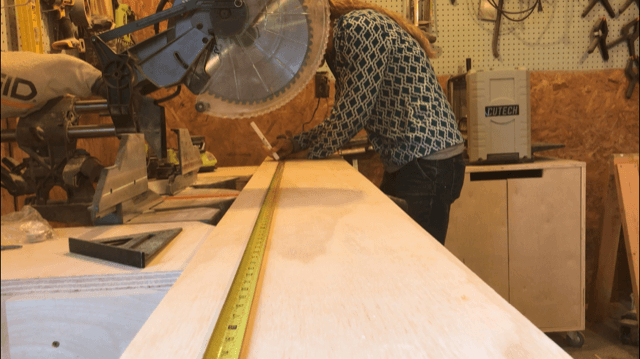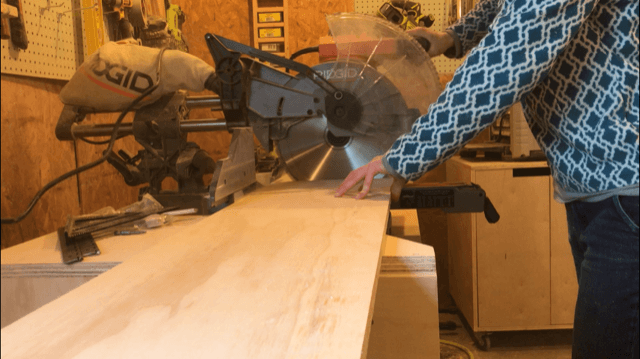 So, just to recap…at this point, I had 2 strips 88″ long and 8 strips 4 ft long.  Shew, that was a lot of cutting!  NOTE: Keep all those scraps, you will use them later for the shelf dividers.
Step 2:  Route Dadoes for Easier DIY Bookshelf Assembly
As I mentioned earlier, I used dadoes to help join these boards, but since I ended up having to use screws anyway, if you want to skip the dadoes and just use screws, you can do that and skip to step 3.  But the dadoes really did help with getting everything lined up.
.
I inserted a ¾″ straight bit into my router (should have used a 23/32″ bit…whoops!) and made some test cuts on a scrap piece to make sure it was a good fit.  I made my dadoes about ¼″ deep.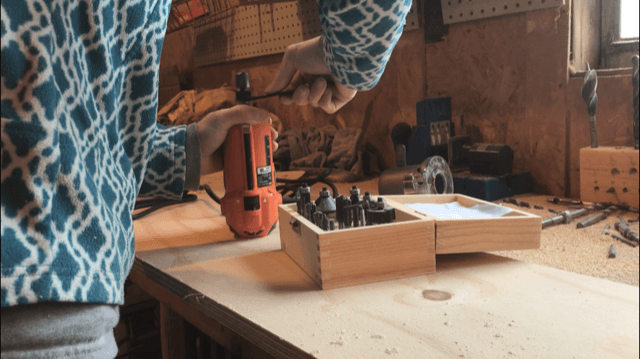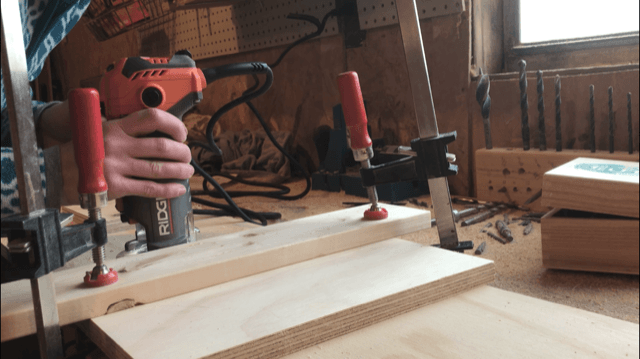 I used a scrap board and some clamps as a straight edge guide for my router as seen above.  I tested a piece of plywood in the groove to make sure it fit.  Other than being a little loose, it worked good, so I moved on to the actual shelf boards.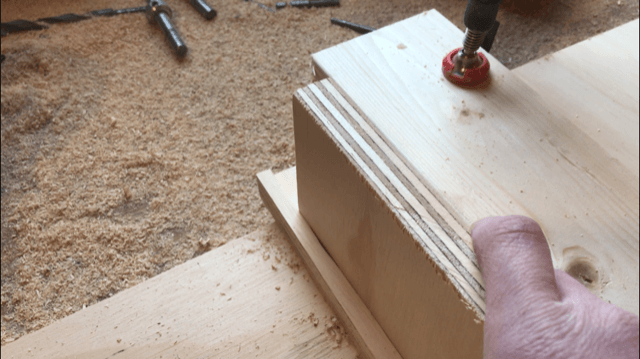 On one of the 88″ long boards, I measured up 3 ½″ from the bottom and marked a line across it.  I set up my straight edge so that my router bit would run just under this line.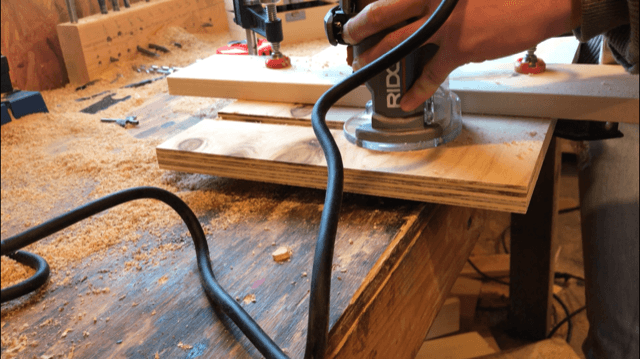 Then, I measured from this edge up about 11 ¼″ and made another mark, and cut another dado directly above this line.  I did this all the way up so that there were 8 total dadoes and there was 11 ¼″ between each one.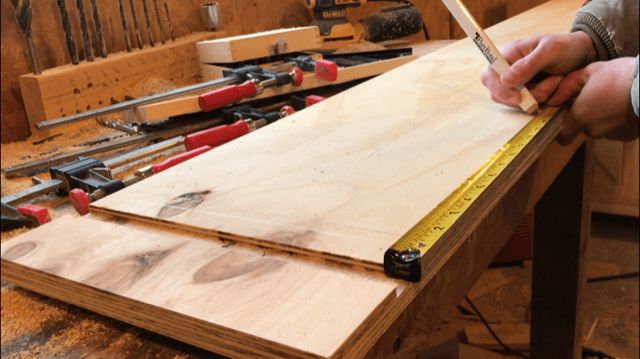 Once one was finished, I copied the exact same thing onto the other 88″ board.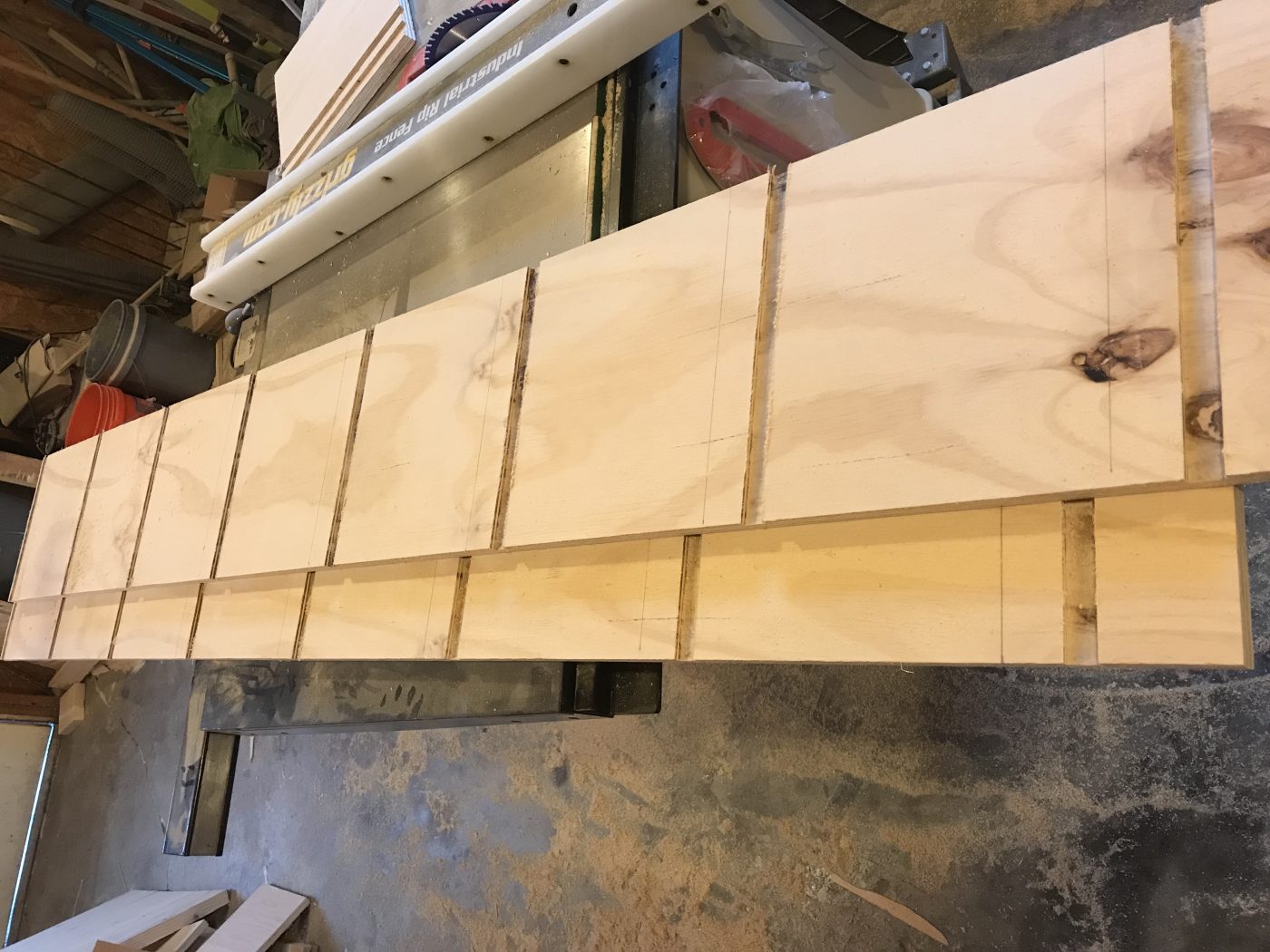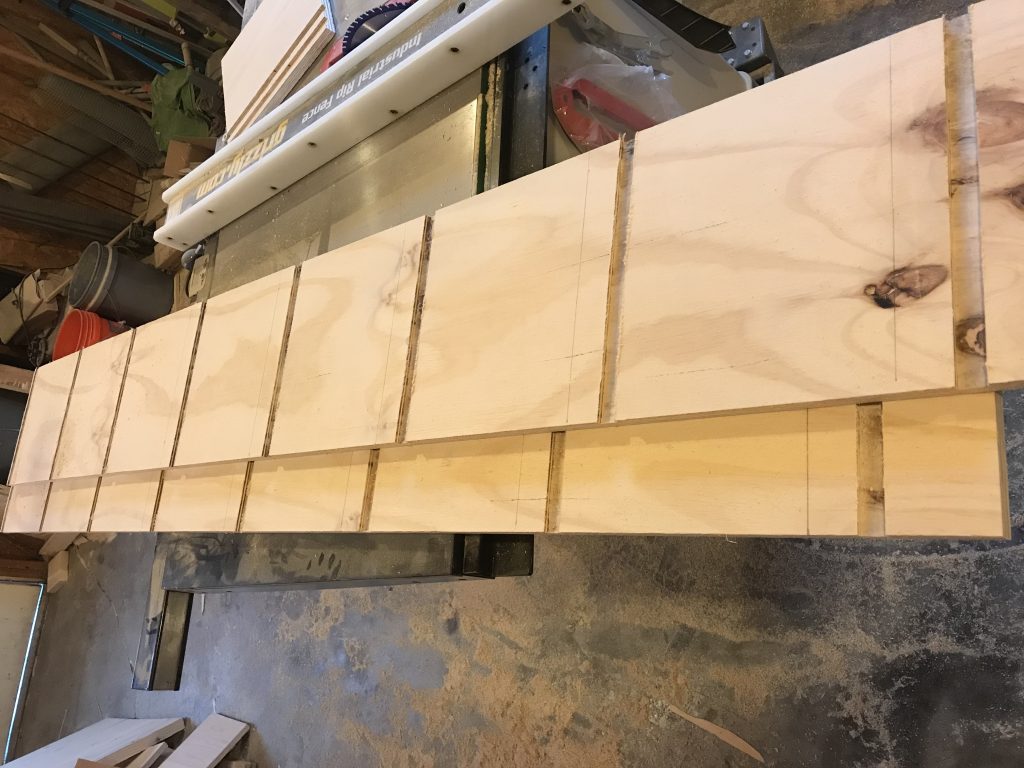 Now that the sides are done, it's time for the shelves.  I cut dadoes in the center of one side of each 4 ft shelf board and then flipped it over and cut two more dadoes, cutting the board into thirds like shown below.  Once finished, sand everything before assembly.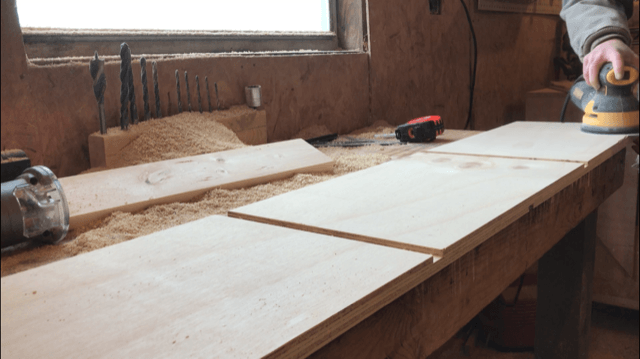 Step 3: Assemble DIY Bookshelf
Now that the cutting and routing is finished (FINALLY….amiright?!), it's time to assemble.  This is the fun part.  This is where the dadoes come in handy.   I applied glue into the dadoes and placed the horizontal boards into the slots making sure the dadoes on the shelf boards were facing the right direction.  They should alternate like shown below.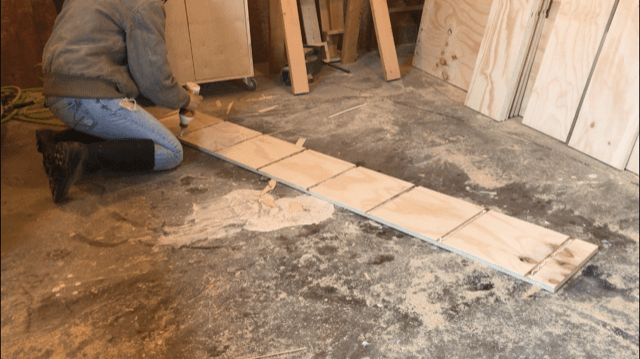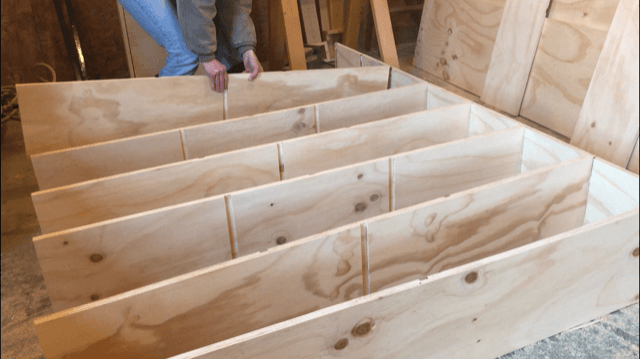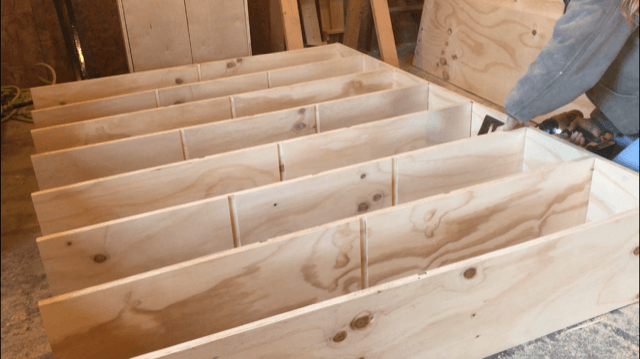 Then, I screwed the shelves in place using 1 ¼″ wood screws.  It's helpful to use a square, here.  Once one side is attached, I flipped it over and attached the other side.  The only reason I flipped it over is because I didn't have room in my shop…flipping it isn't required haha.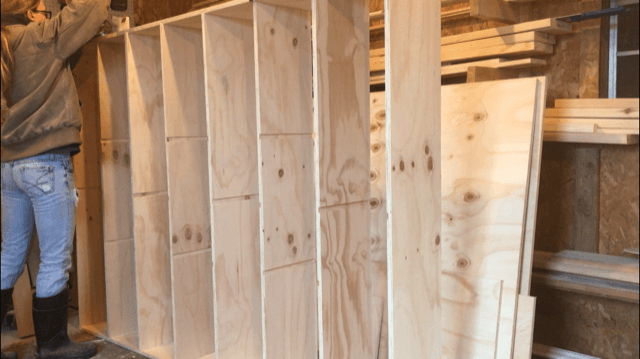 Step 4: Insert Shelf Dividers into Bookshelf
Remember those scraps from step 1?  Those will be the shelf dividers.  I cut 10 pieces 11 ¼″ x 11 ¾″ (cut to fit the length here…it may be slightly +/- 11 ¾″ depending on how deep you cut your dadoes) and insert them into the dadoes.  Then I screwed them in place using 1 ¼′ wood screws.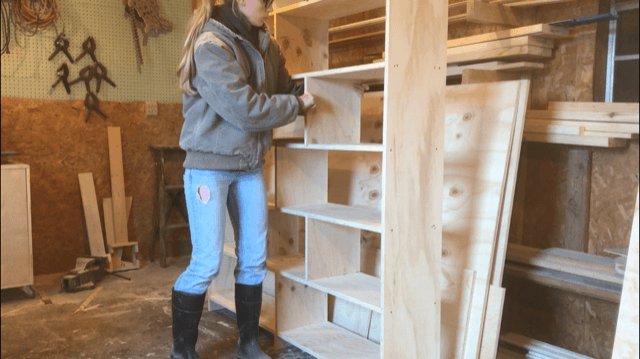 By the way, at the bottom in the middle (as you can see above), I also cut a small piece to serve as a support so the shelf doesn't sag in the middle.  I attached this using 1 ¼″ wood screws through the bottom shelf into the support.
Step 5: Attach Face Frame to Modern DIY Bookshelf
I cut two 1x2s the height of the shelf (88″) and one 1×4 the width of the shelf MINUS 3″ and one 1×2 this same length.  The 1×4 will be on the bottom and the 1×2 will be on the top.
.
I used a pocket hole jig to drill pocket holes in the top and bottom pieces and to assemble the face frame using 1 ¼″ pocket hole screws.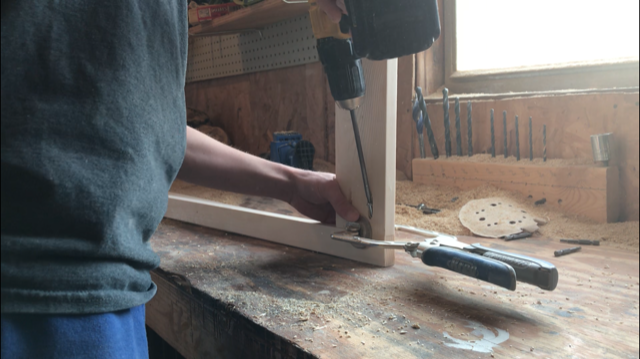 Then, I glued and nailed this face frame in place.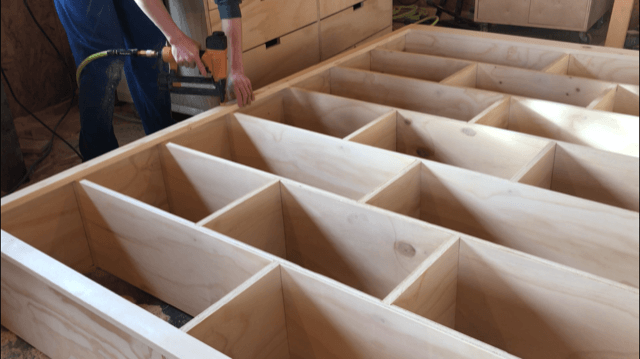 For the horizontal shelves, you can use edge banding, ¾″ square dowels or rip some 1x boards down to ¾″ or 1 " strips.  I cut, glued and nailed these in place.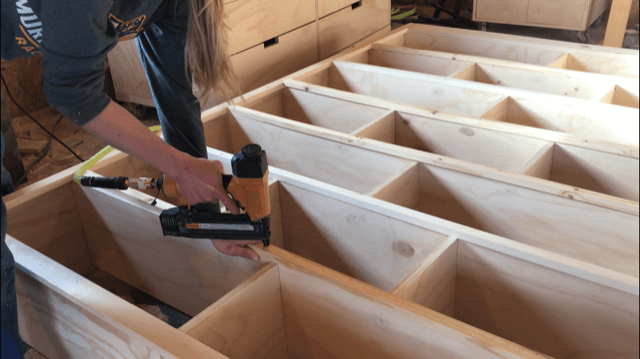 Then, I cut to fit some to fit on the shelf dividers as well.
Step 6:  Putty and Add Trim to Bookshelf
I puttied all the nail and screw holes and finally applied some small crown molding to the top.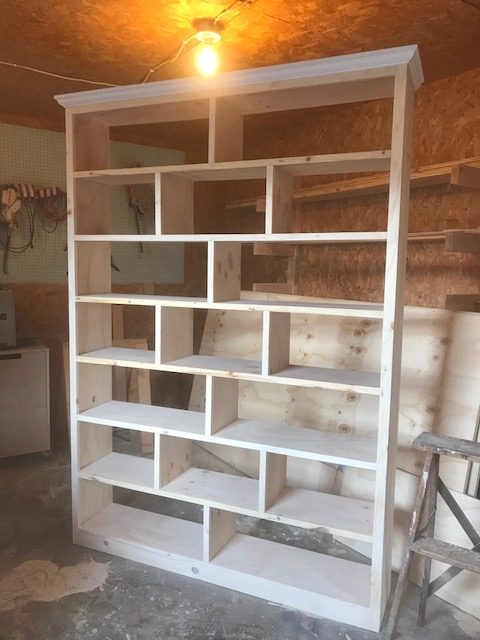 My customer was going to paint this himself, but honestly, I like the unfinished look the best 🙂  You could add a backing here, but I like it open.  It's simple, modern, and clean.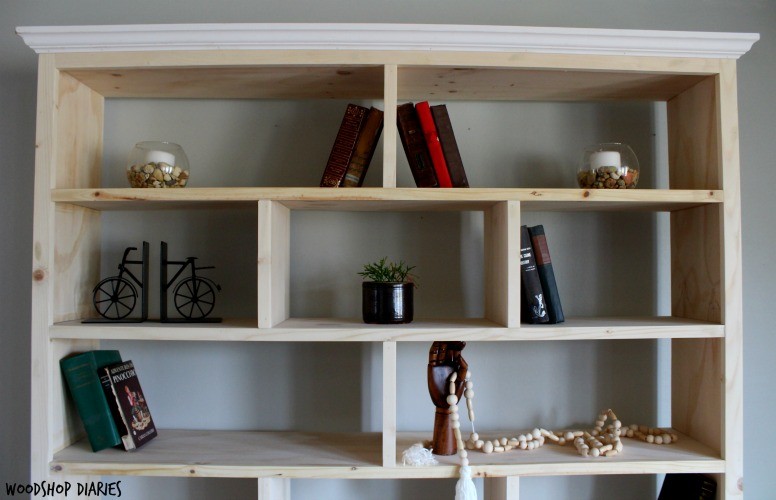 With the design of the alternating shelf dividers, it's really sturdy and that helps prevent any sagging in the middle.  It's a really simple design, but usually bookshelves are haha.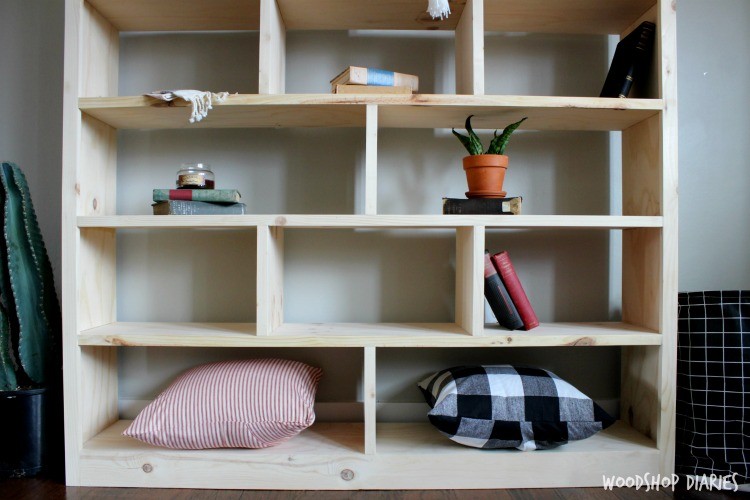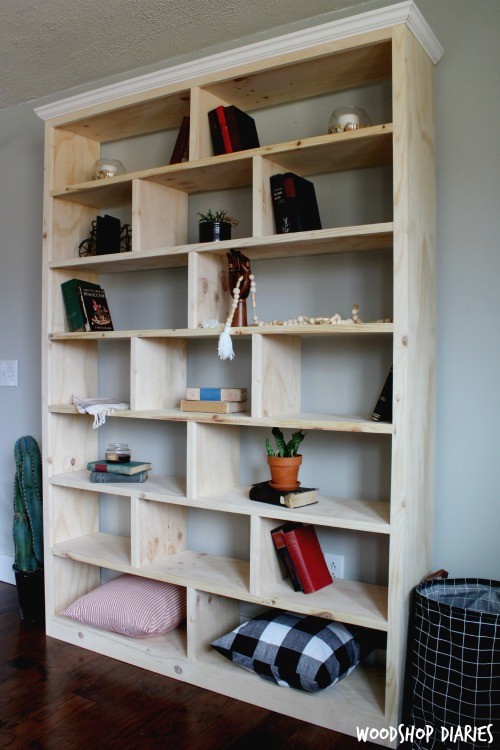 Pretty nice Modern DIY Bookshelf, right?  I would LOVE it if you'd pin any of the images above for later! 🙂
.
If you are looking for some more DIY bookshelf designs to try, how about one of these?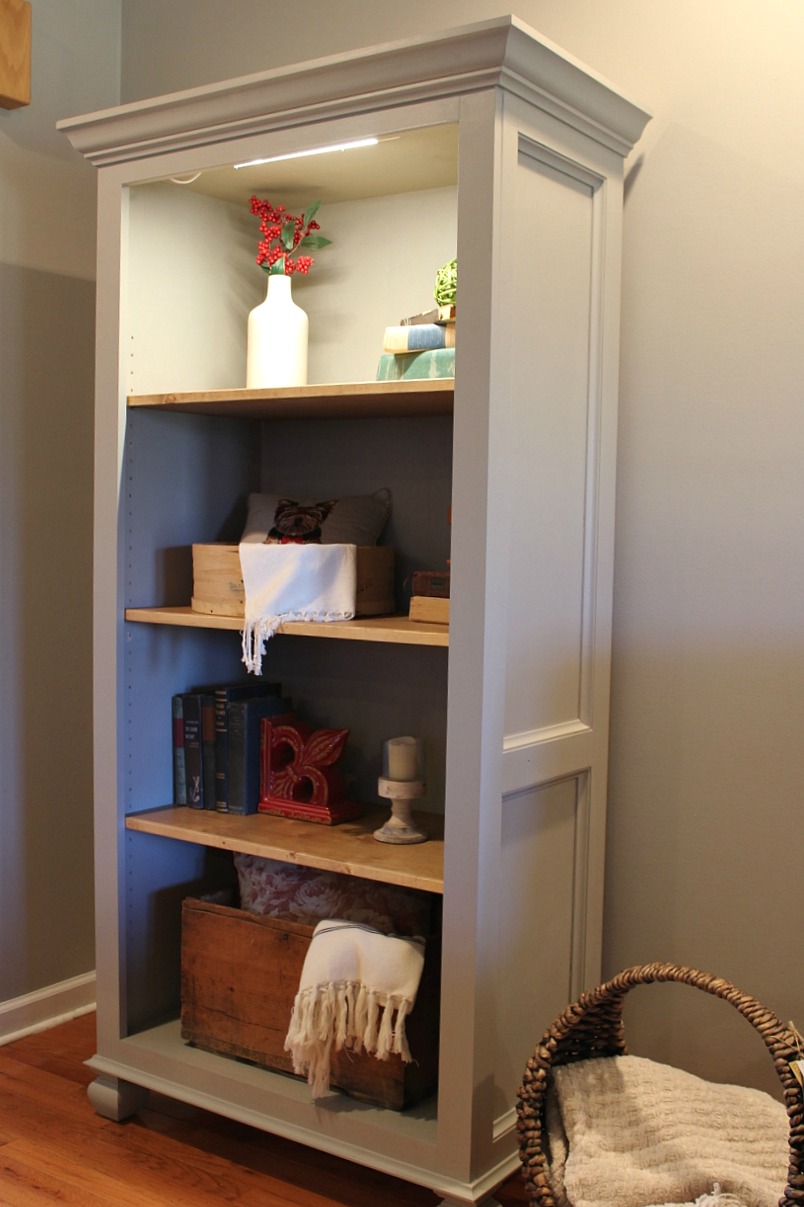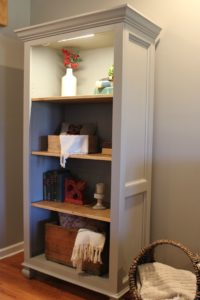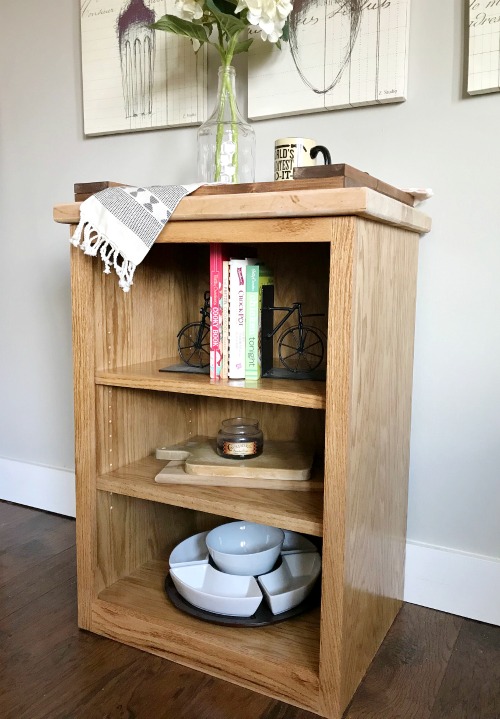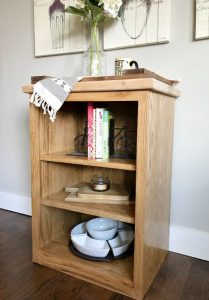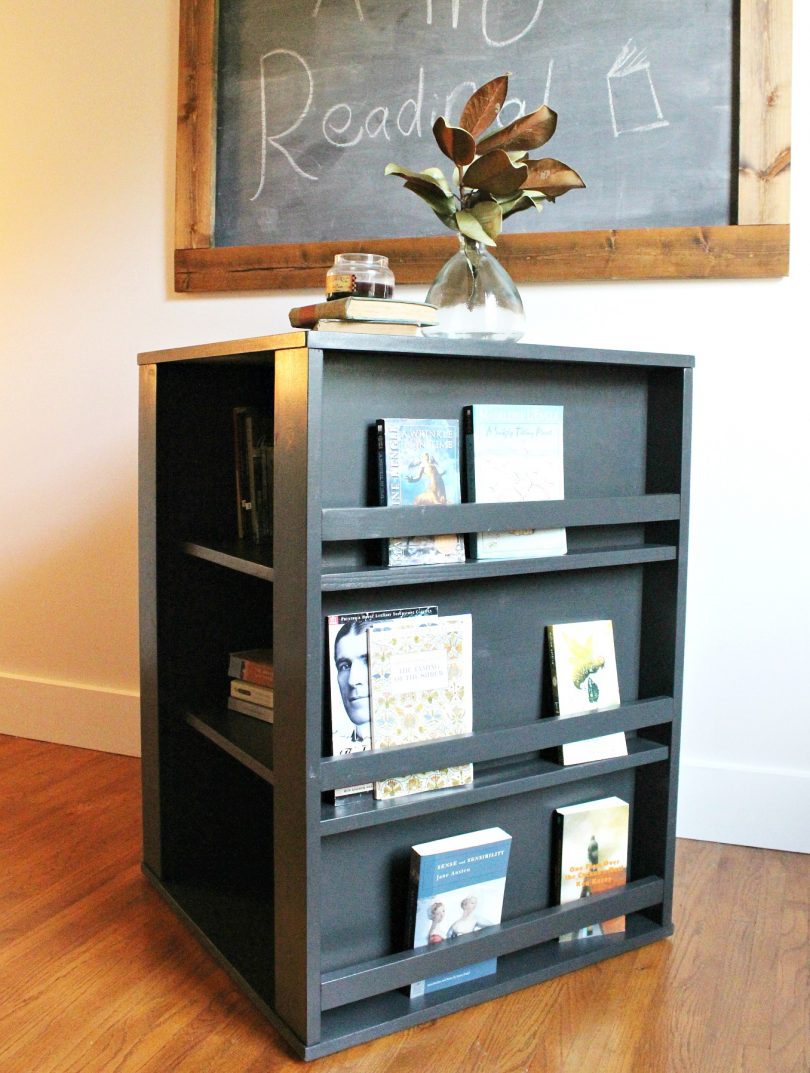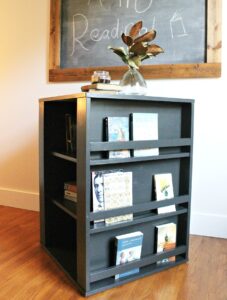 Until next time, happy building! 🙂