Have you ever heard the saying, "if it's yellow, let it mellow and if it's brown flush it down?"  I have a chalkboard above the toilet in our guest bathroom and Danny wanted me to write that on it when we first moved into our house.  However, I am not a supporter of the practice of "letting it mellow," so I preferred that all bathroom users flush when they are finished.  Instead, I opted to write, "Wash. Rinse. Repeat." on the board.
.
I felt this was more beneficial to all involved…
.
Not that I have anything against the yellow…I mean yellow has been my favorite color for as long as I can remember.  But some yellow things ought not be yellow.  One of those things are walls.  Unless that's your thing.  I mean, who am I to tell you what color to paint your walls?  In fact, in my old house, we painted our hallway BLINDINGLY bright yellow.  I really liked it…for a while.  So, yes, I have been there.
.
Sometimes you just need a little yellow in your life and I'm not going to stop you.  But, if you're anything like me, you get tired of it quick and need a change.
.
For kicks and giggles, let's take a second to look at the two rooms that were painted yellow when we moved into our house.
.
Exhibit 1: The Kitchen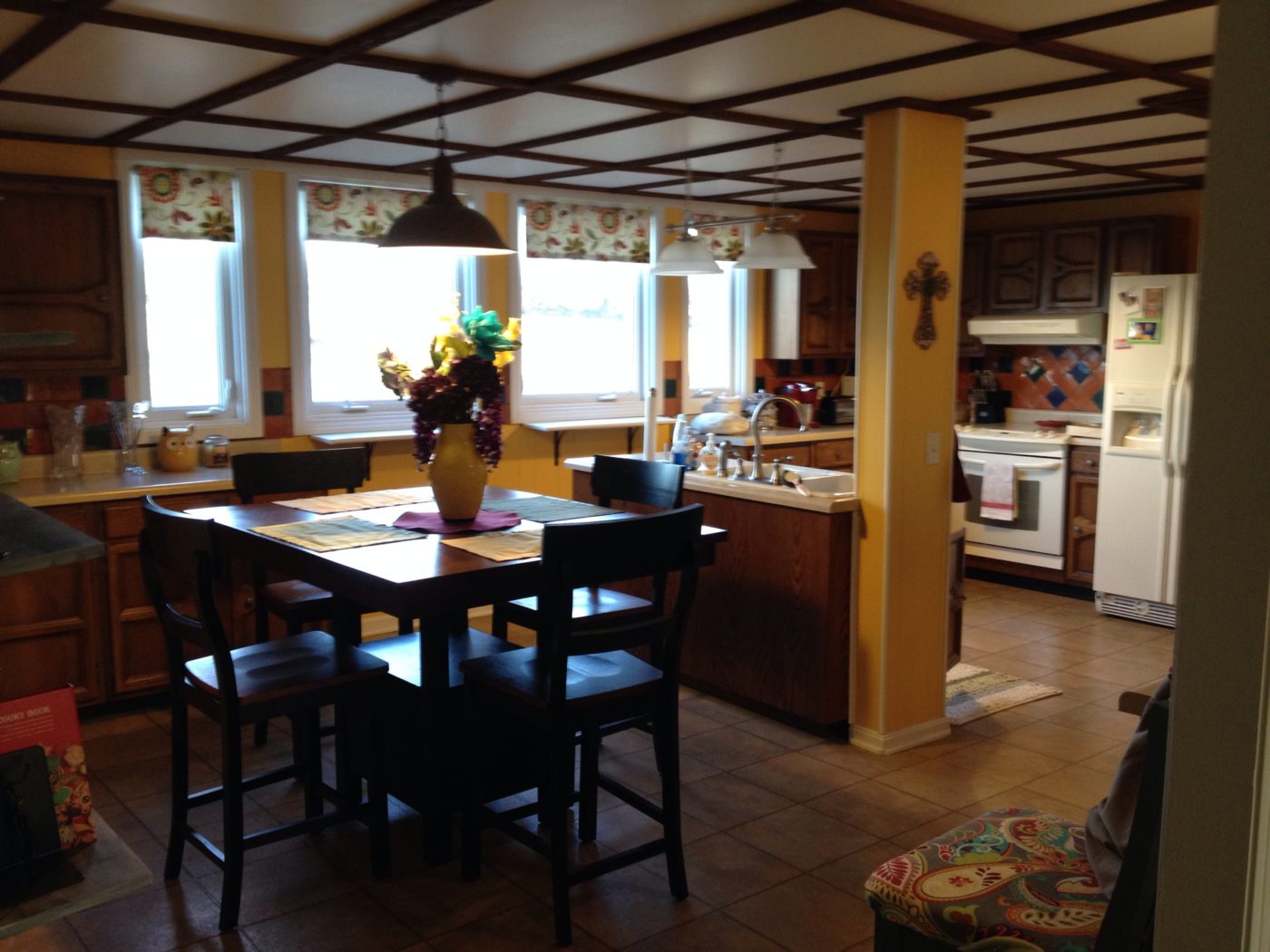 Exhibit 2: The "office"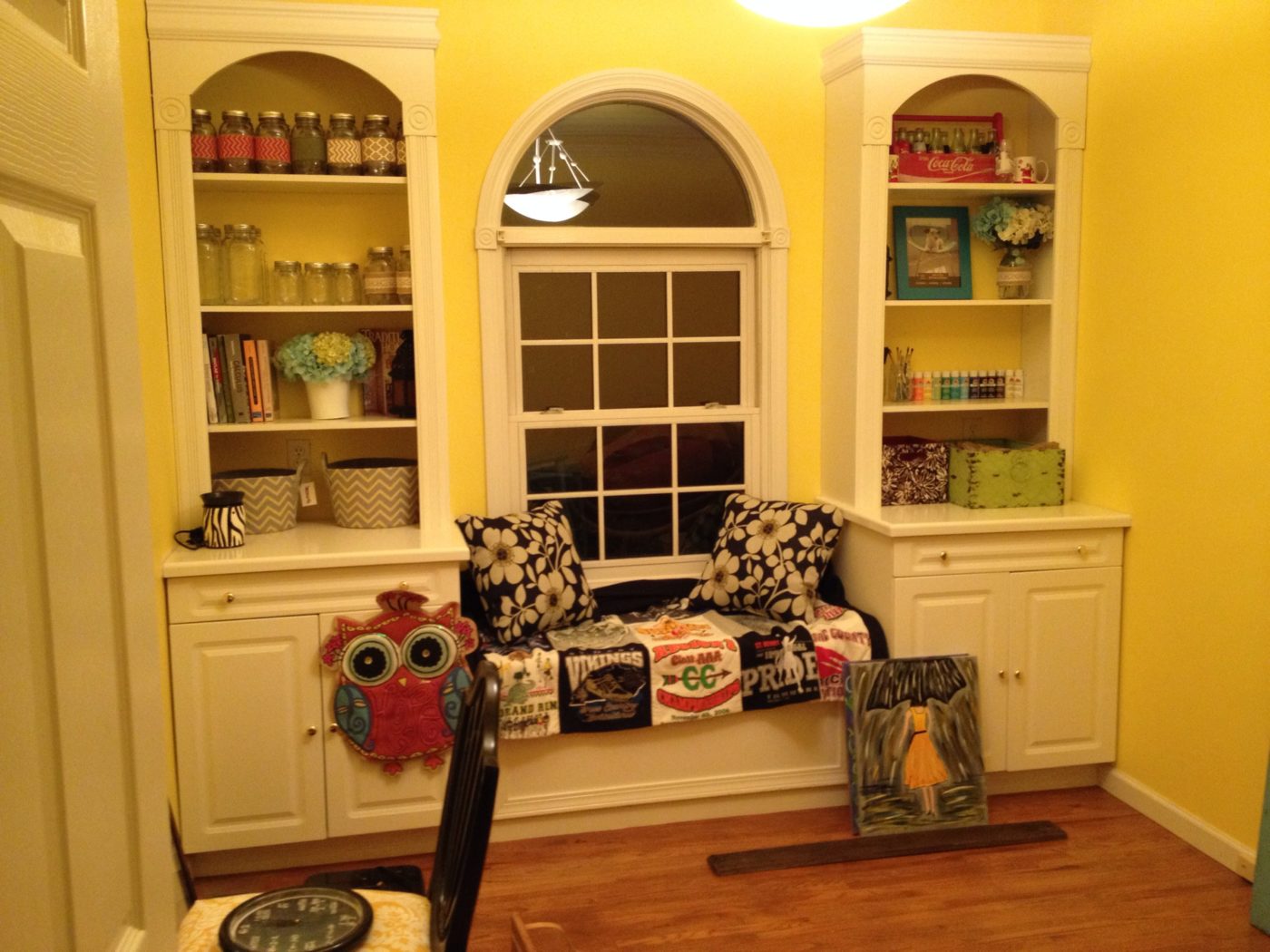 Side note:  The kitchen was painted "nacho cheese" before the remodel.  You think I'm kidding don't you?  Jokes on you, cuz that's for real.  We found a can of leftover paint in the basement. That was literally the color name…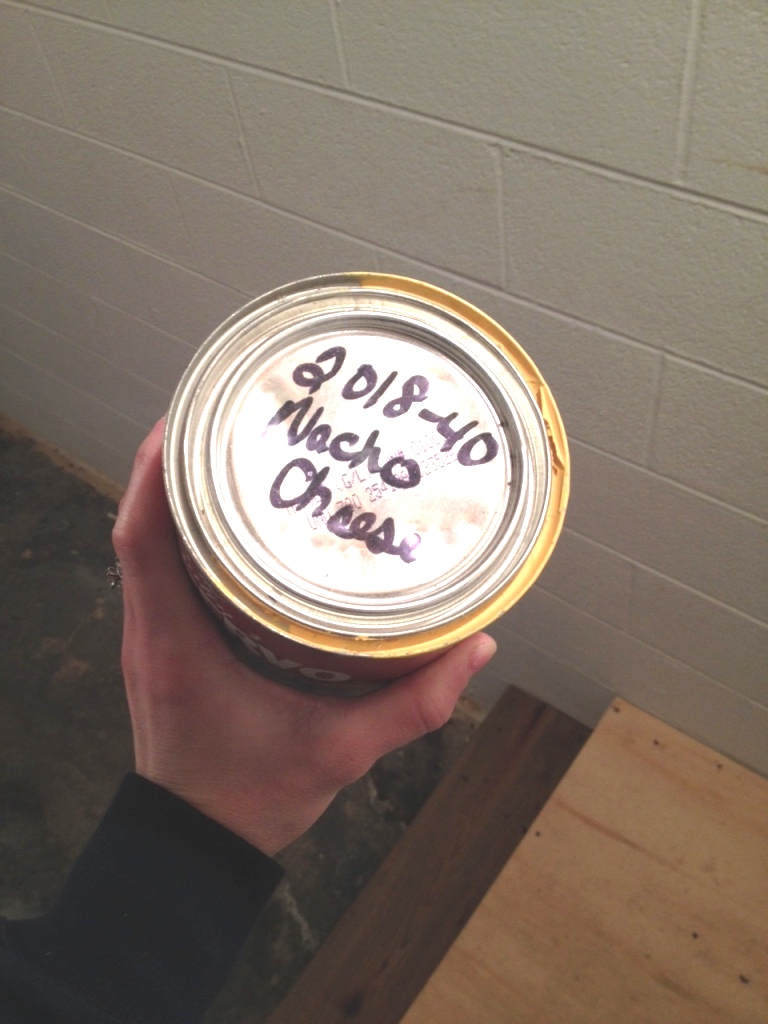 See, I don't lie…
.
I have no idea what color the office was painted, but I honestly did like the yellow….for a couple months.  Then I was OVER IT.
.
I was also over the cheapo MDF cabinets and was kind of over the desk I made last year.  But, don't worry.  I'll find something else to do with that singer sewing machine base.
So there I was hating everything, so I ripped it all out.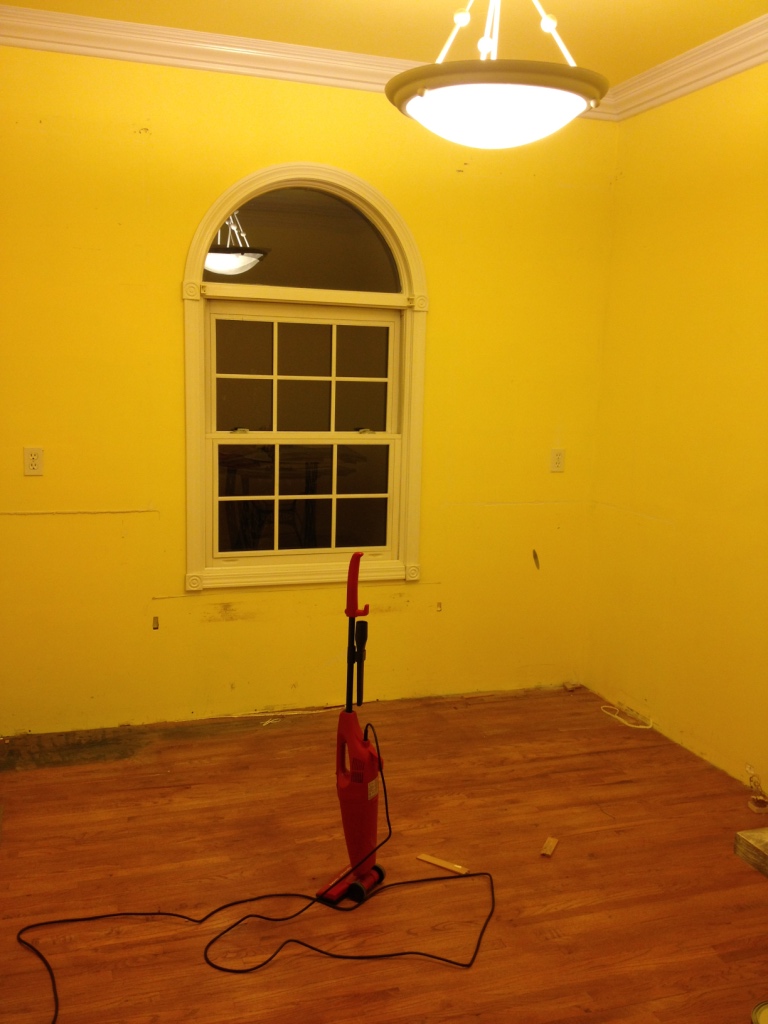 It also appears someone spilled a bunch of green paint in the corner.  NICE….
.
So I painted the yellow.


Then I built a window seat and some short storage cabinets.


I realize that I could have/should have made the cabinets taller, but I really didn't have that much to store in here AND I had INTENDED to build built in shelves above the cabinet.  You can read a little about my struggle with this office design here and here .
.
So then I built a desk.  Then I built shelves.  Then I got all excited and started "decorating."  As you can see, I had some issues.  We went from this:
To this: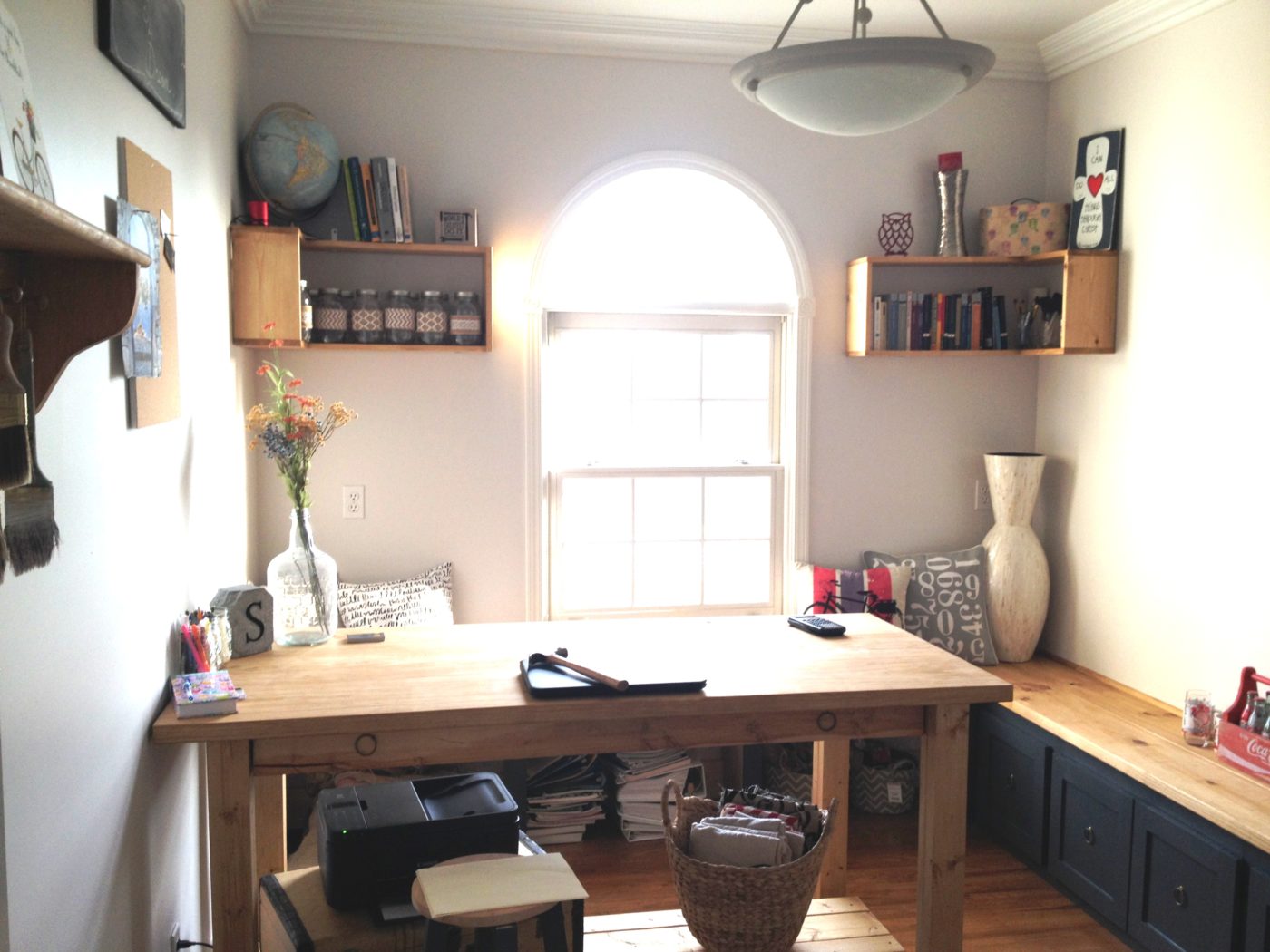 To this:
Then this: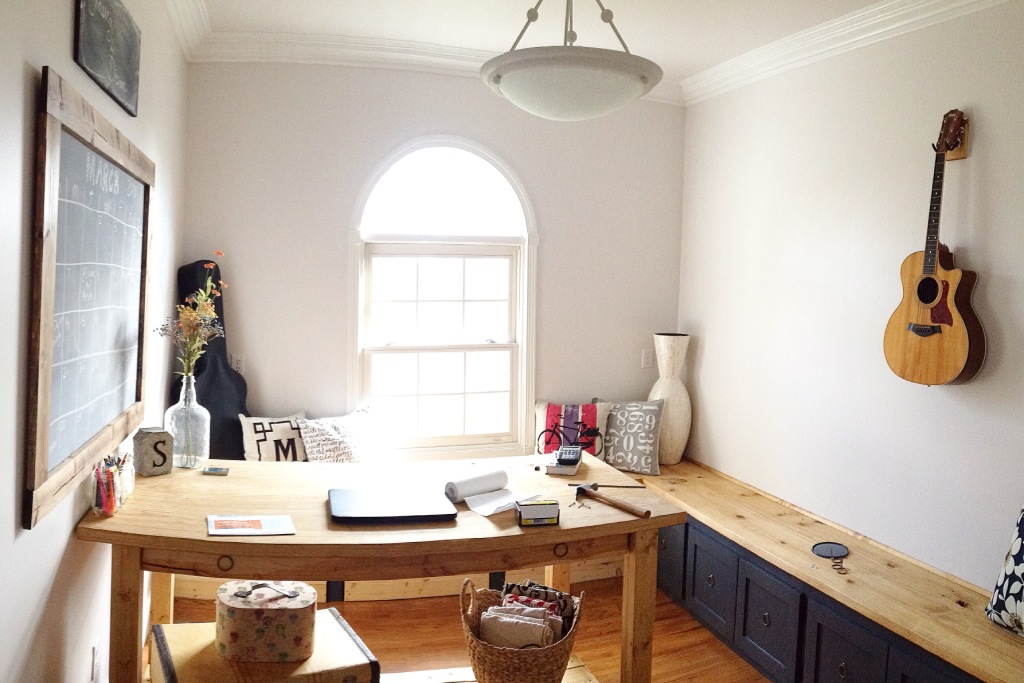 And now I am finally DONE moving things and patching holes in the wall.  Here is the finished room: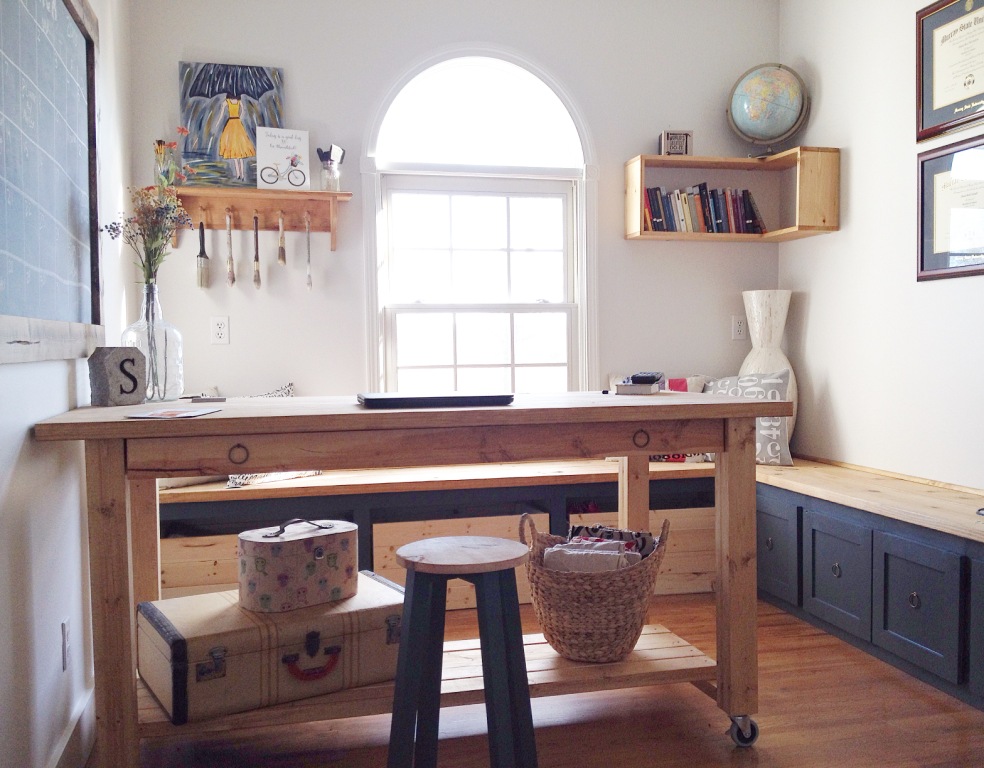 I kept feeling like it was missing something and I just wasn't feeling it.  Then I added this door and I kind of think it totally clashes with the colors, but then again, I kind of like it.  And I think this was the last thing in the room that made me finally feel like it was finished.  So if you hate the door and think it clashes, just don't tell me.  Then again, I don't want to look like a fool, so maybe you should tell me…yay or nay?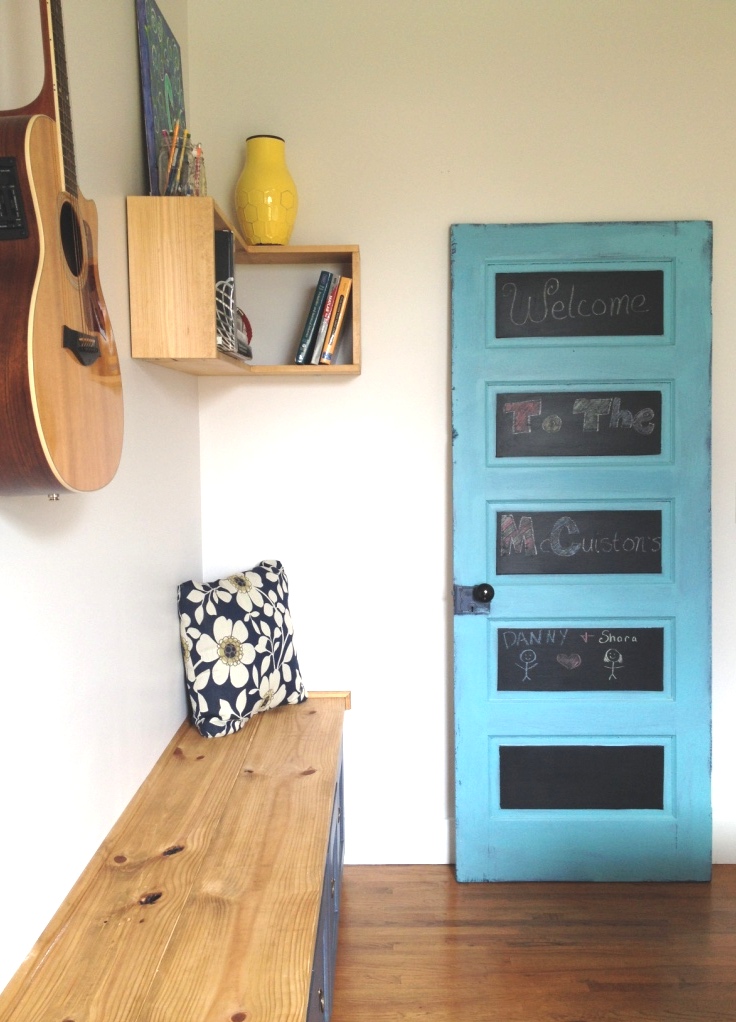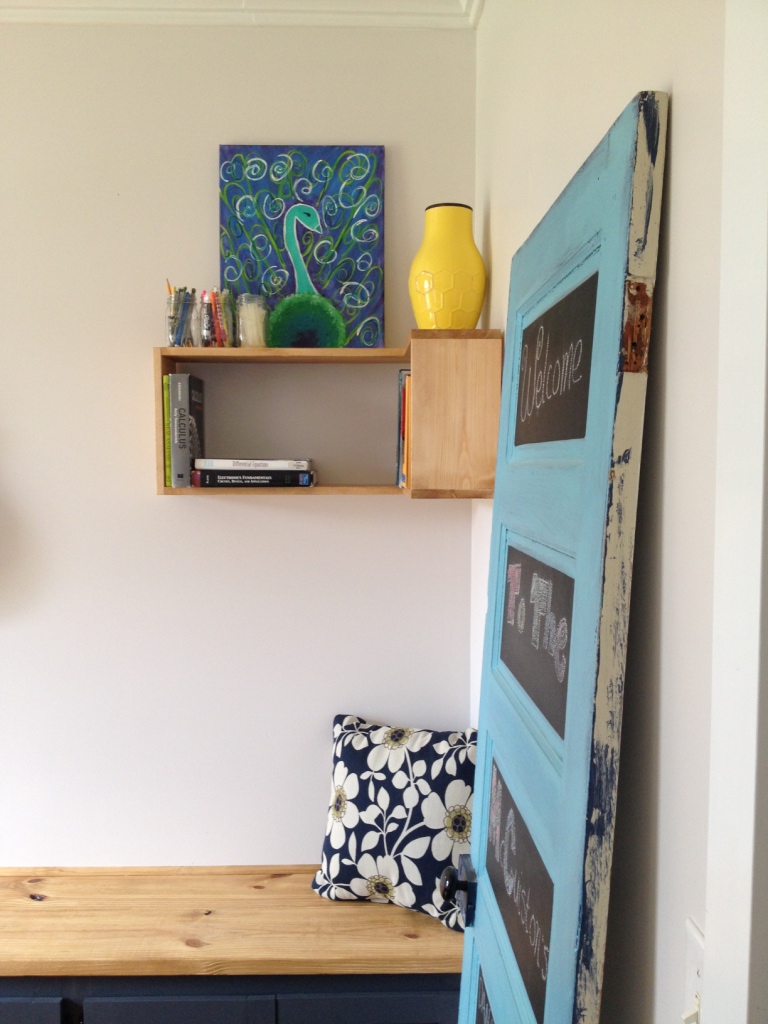 I went back and forth about shelves on each side of the window and finally decided on one corner shelf on one side and this paint brush shelf on the other side.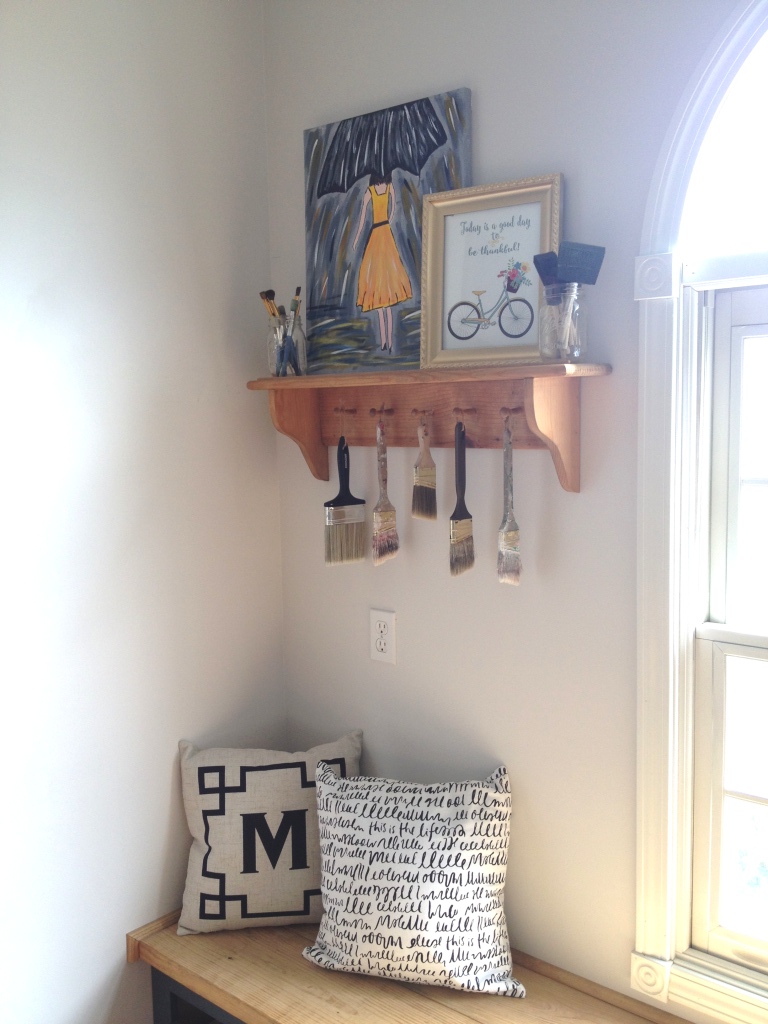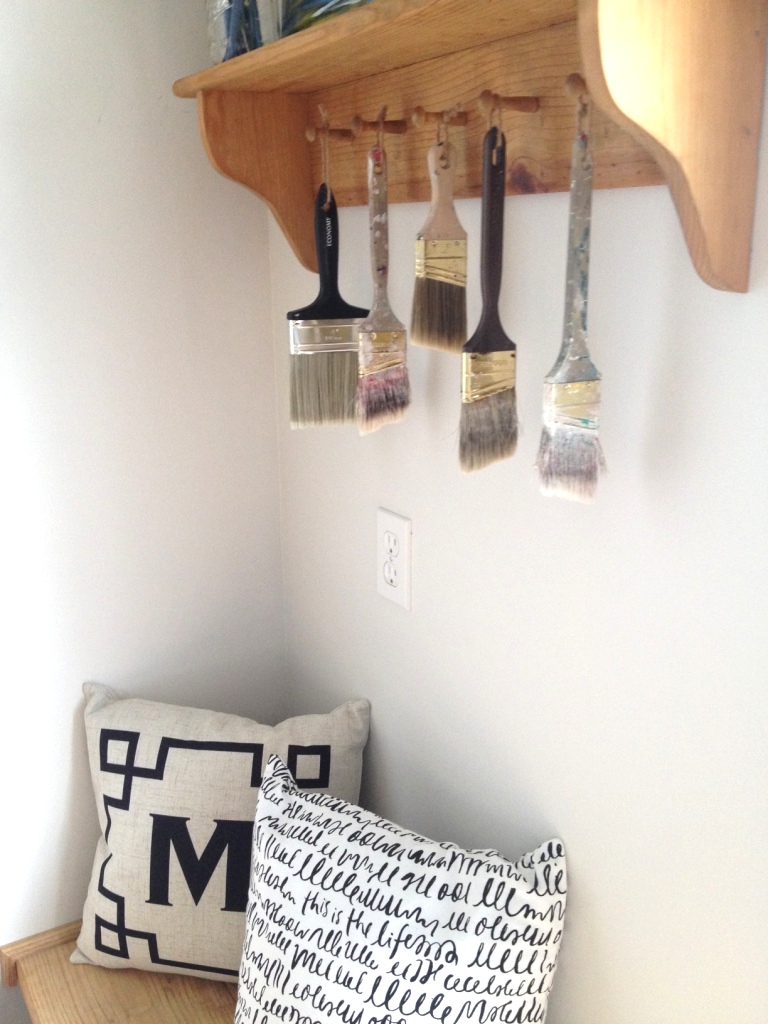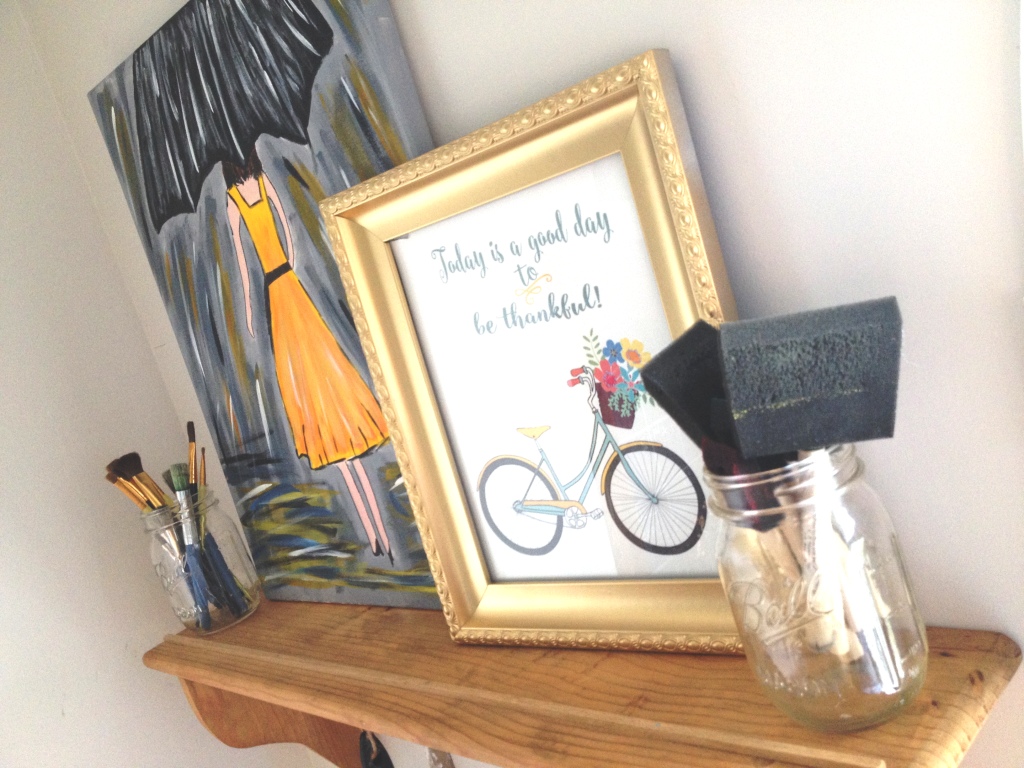 My grandpa originally made me that shelf many, many years ago to hang my cross country medals from high school on.  I graduated high school and interests change….so now it has paint brushes haha.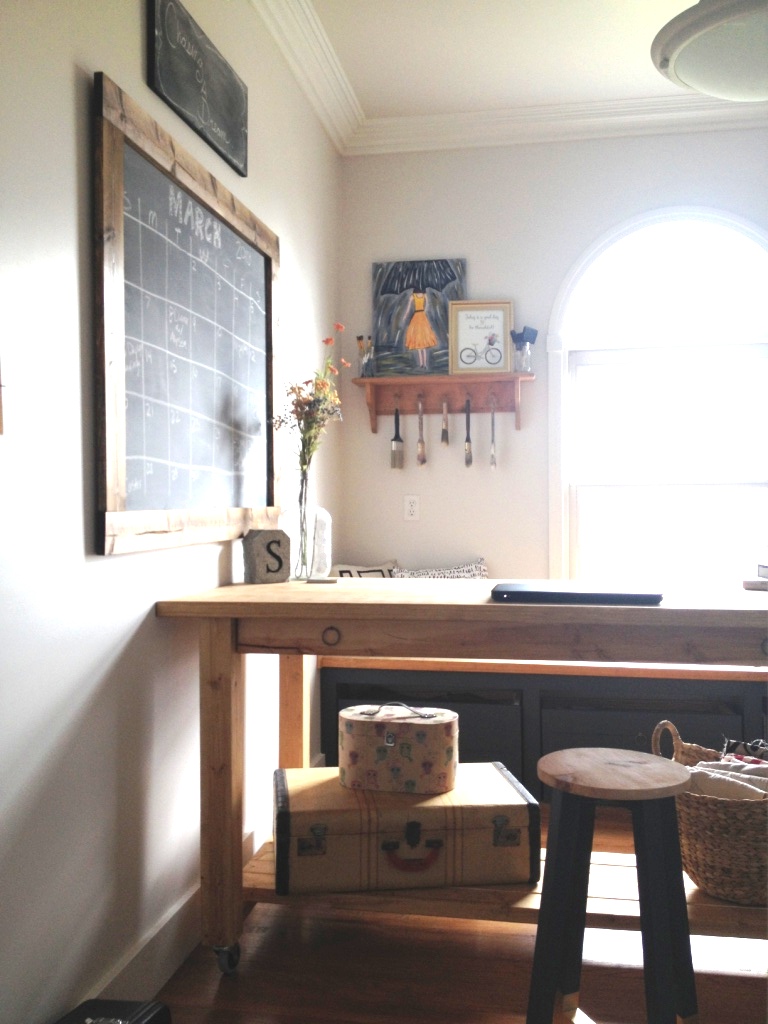 The rock on my desk was a gift from my dad.  When I was a freshman in high school, my dad got laid off from the factory he had worked at for 30 something years.  He trained with a local monument company a few towns away to prepare to start his own in our hometown.  He brought me this rock with my initial on it one day that he had made for his first "practice" stone.  At the time I didn't think a lot about it, but over the years it has become more special to me.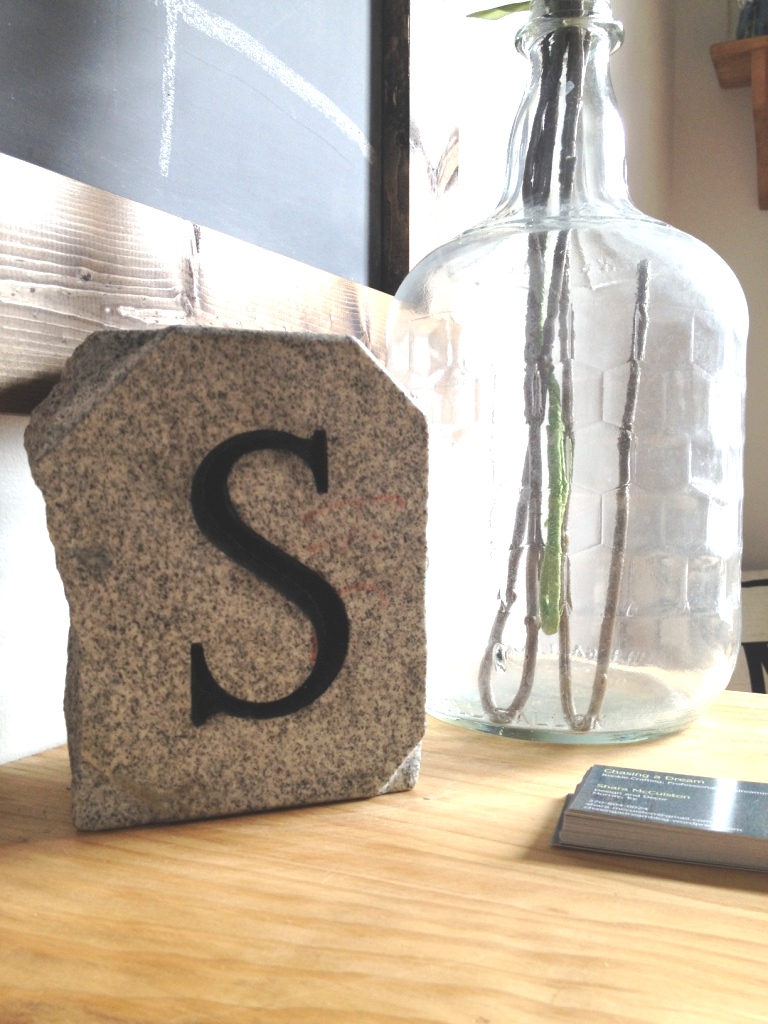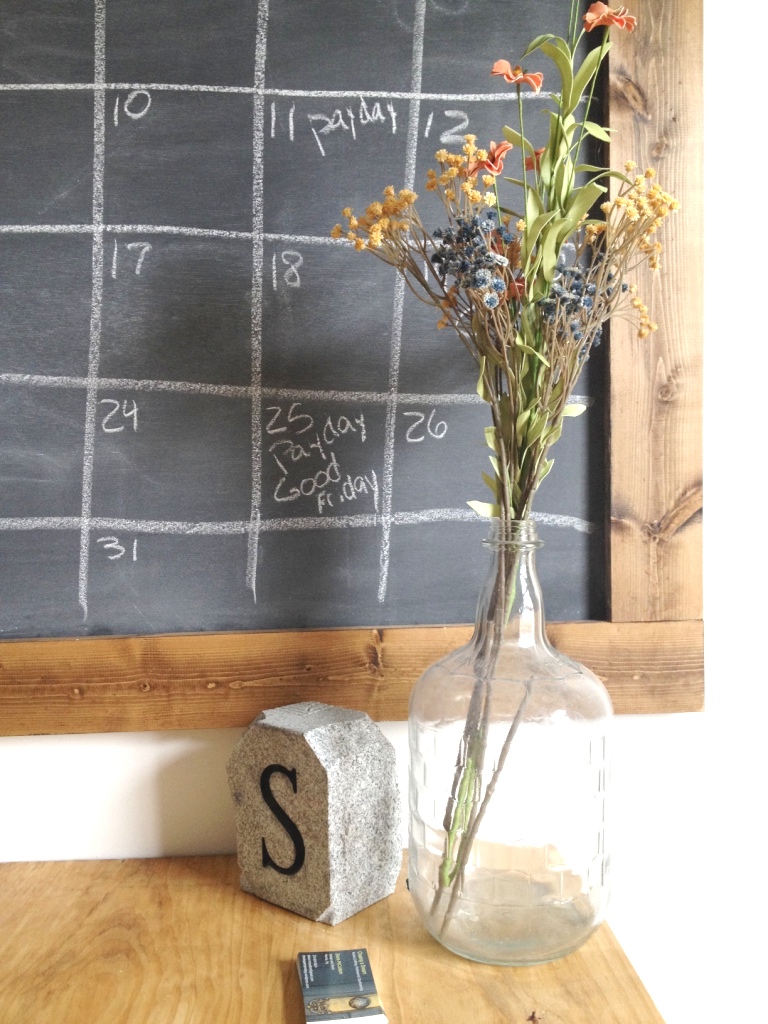 I added my guitar to the wall for a little interest–and to tempt me to play it every now and then since I've kind of stopped…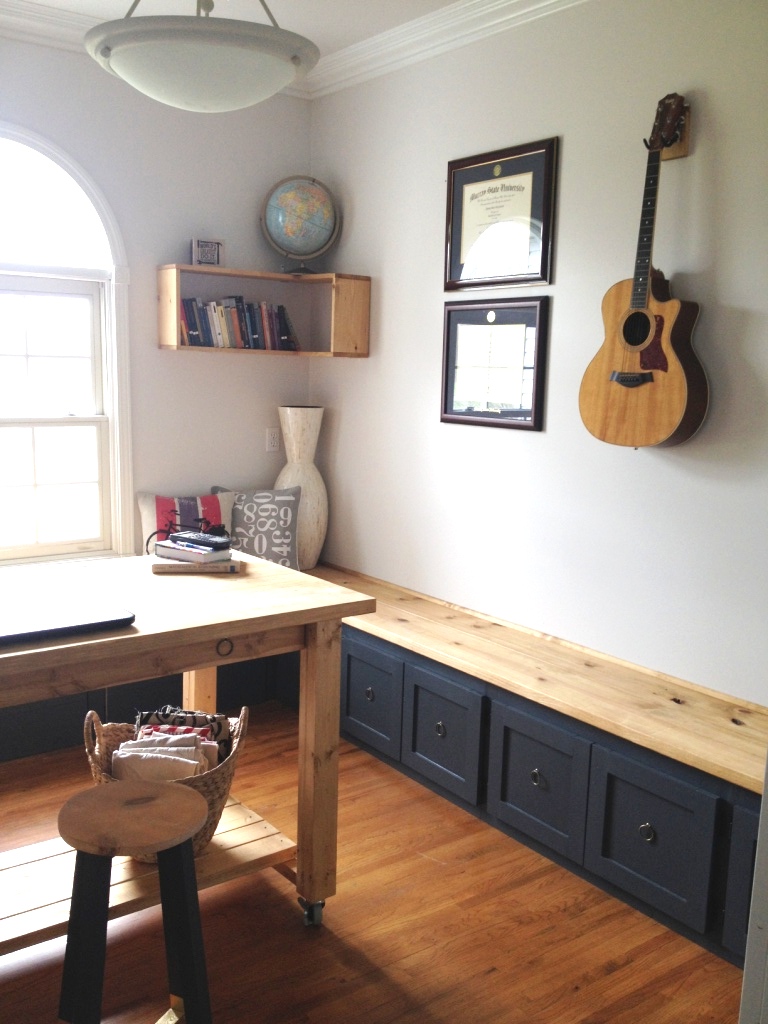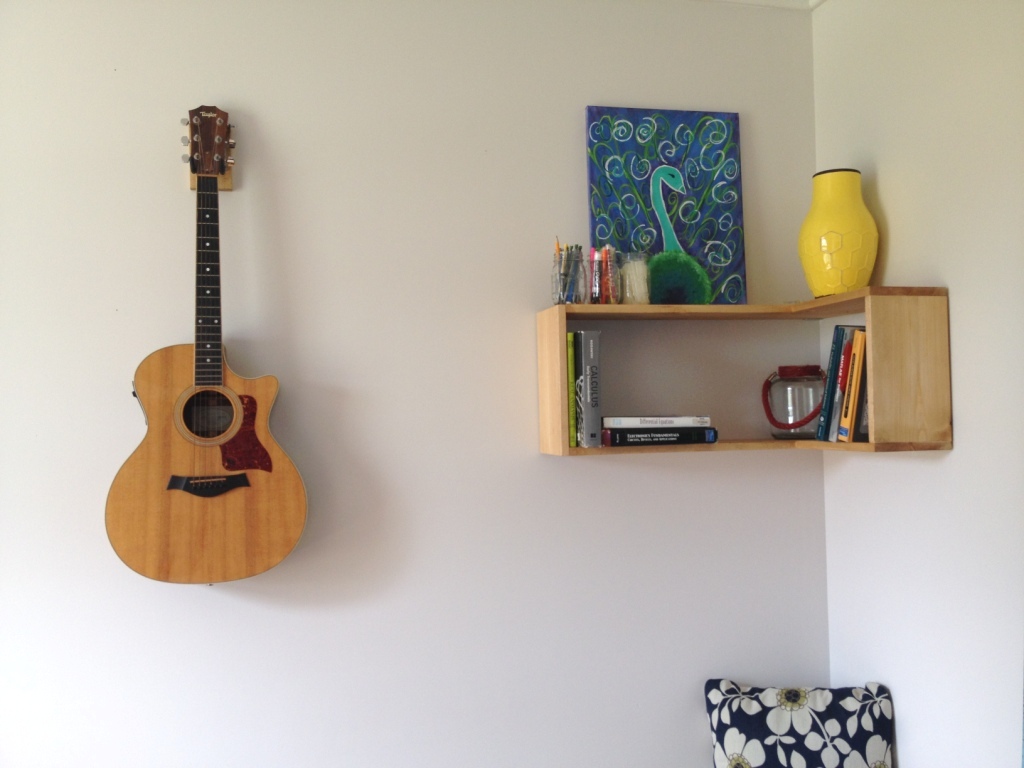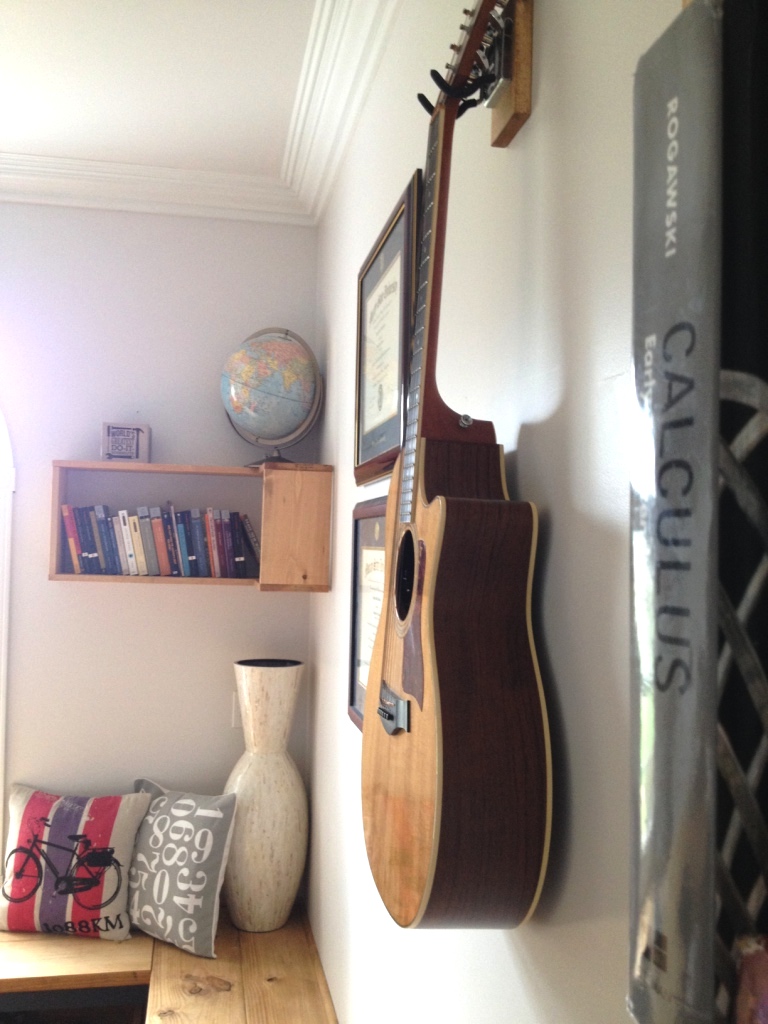 Take a look at this?  Get it???
I wanted this room to be a little eclectic.  I wanted to be inspired when I spent some time in here.  I only put things that I really loved in here and didn't fill it with stuff just to fill it with stuff.  Know what I mean?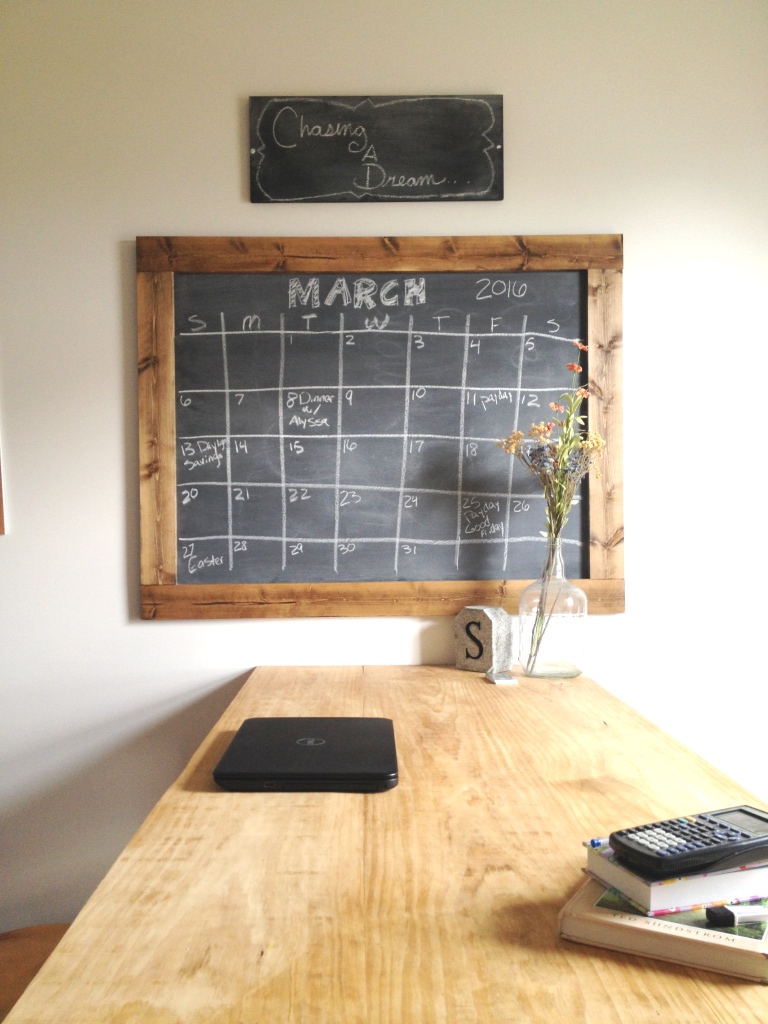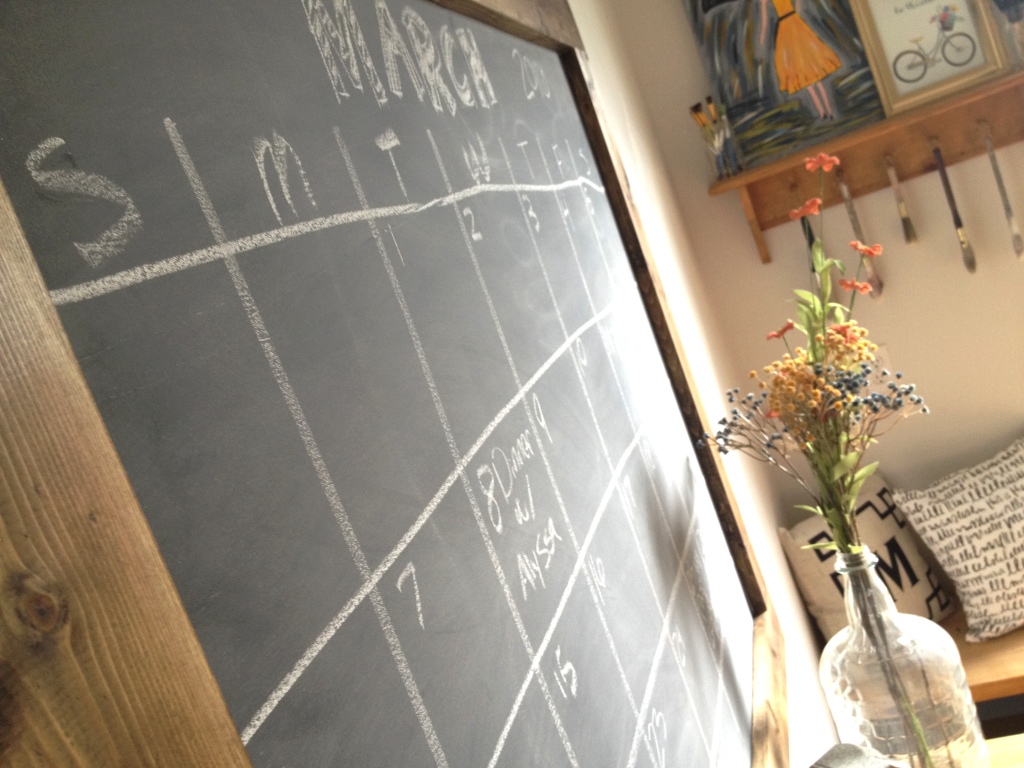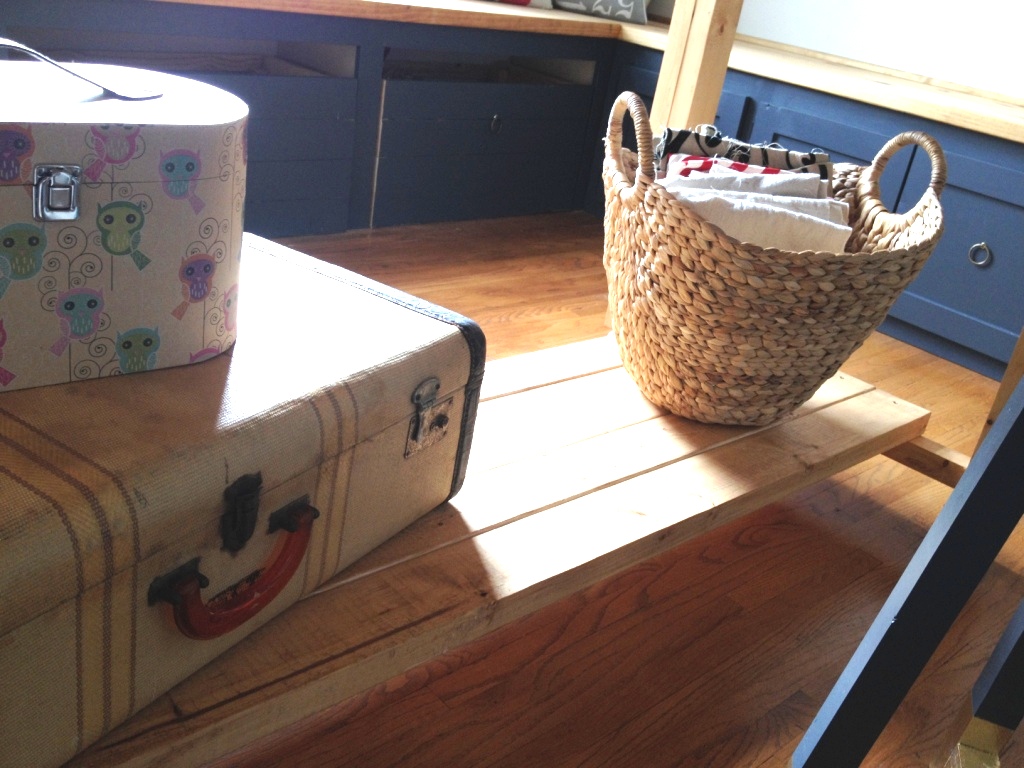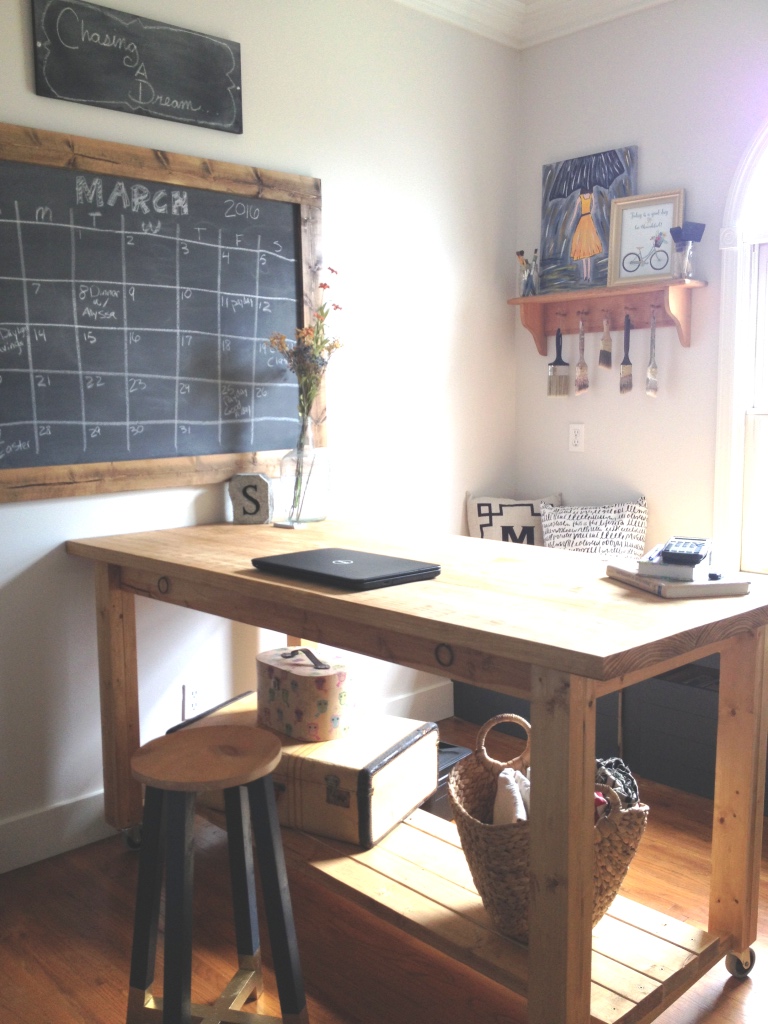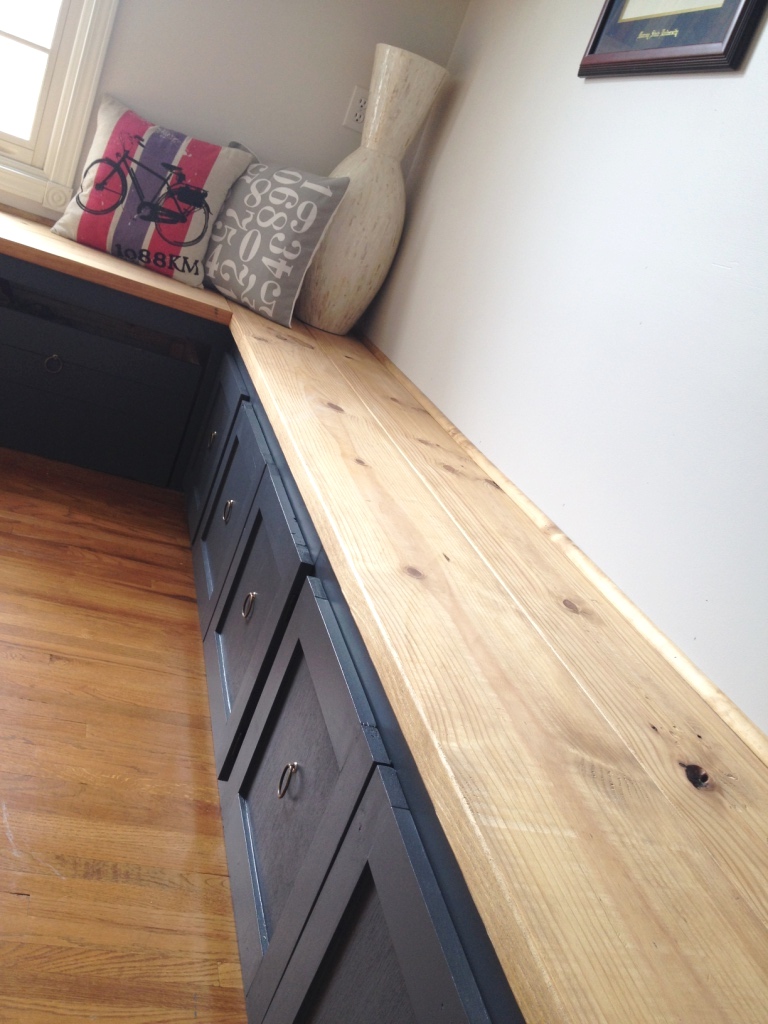 I am not the perfect decorator or even close to a professional designer.  I spent hours stressing over this room.  It may not be magazine worthy, but I finally have embraced it and, hey, it can't be worse than the before, right?  Let's compare:
Yep,  I think I like it.
.
And at the risk of thinking maybe I don't, I am already making myself busy with the next project 🙂 That's how I roll.  Distraction is the only way I survive the day.  Just kidding… totally not kidding…does that make me crazy?
.
That's normal, right?
.
So what do you think about the office?  Would you like to work in here?  Me too haha.  This is my inspiration to maybe one day spend some more time working in here vs working…anywhere else.  Here's to chasing that dream 🙂
.
So to bring this whole thing full circle, let me say this:  I took the yellow and made it mellow.  I guess in some instances "letting it mellow" is acceptable, huh? 🙂
.
Don't forget to pin for later!