Look it's another fireplace post! How exciting! I can't help myself…all this fall decor and fall weather is making me daydream about fireplaces….among a slew of other things.
Earlier this week, we discussed my sister's new faux fireplace, but today I want to talk about my own. One reason I love my house is this huge fireplace in the living room. I don't love every detail about it, but I love that it is huge and eye catching. I also love that it is right in plain view as you walk in the front door. First, as you walk in, you will notice my laundry doors, but then the fireplace will command your attention.

I think it's so eye catching because the house is so light and the fireplace is so dark, so you can't help but notice it. I both love that and hate that about it. The wood above the mantle is rough lumber painted white. I'm not sure how I feel about that, but I don't hate it enough to change it at this point. However, the white painted mantle has been getting on my nerves. You can see the wood grain under the paint protruding out and it irks me that it's covered in paint. Apparently prior to selling the house, the previous owners paid some big bucks to have a lot of the dark wood in the room (including the paneling) painted. It makes me sad….well painting the beams and mantle and above the fireplace, not painting the paneling…to that I say "good riddance!" I hate paneling.
Nevertheless, I was getting a stained wood mantle. But, as usual, Danny put restrictions on this fireplace. He said I could not demo anything, including the existing mantle. As for lightening the color, I could not paint, or whitewash the brick. For whatever reason he likes the dark 80s red brick and it has to stay.
So my only option was to cover the existing mantle with new wood because stripping the paint wouldn't even be worth the trouble.
I removed everything from the mantle and cut a 1×10 board to fit on the top of the existing mantle. I had to cut knotches out on the corners. Yes these are crooked. They had to be in order to fit.

Then I nailed on some 1×6 boards for the sides.

And another 1×6 on the front.

I made it so that it would slide onto the existing mantle just in case I didn't like it, I could take it right off. Right…like I would decide I didn't like it…funny.

After some stain, I put everything back in place and I really like it 🙂

It blends in with the dark brick a little more, but I'd still rather have that than painted rough lumber. Now you see all the pretty wood and it looks more rustic. It's not perfect, but with my restrictions and a few bucks, I'm okay with it 🙂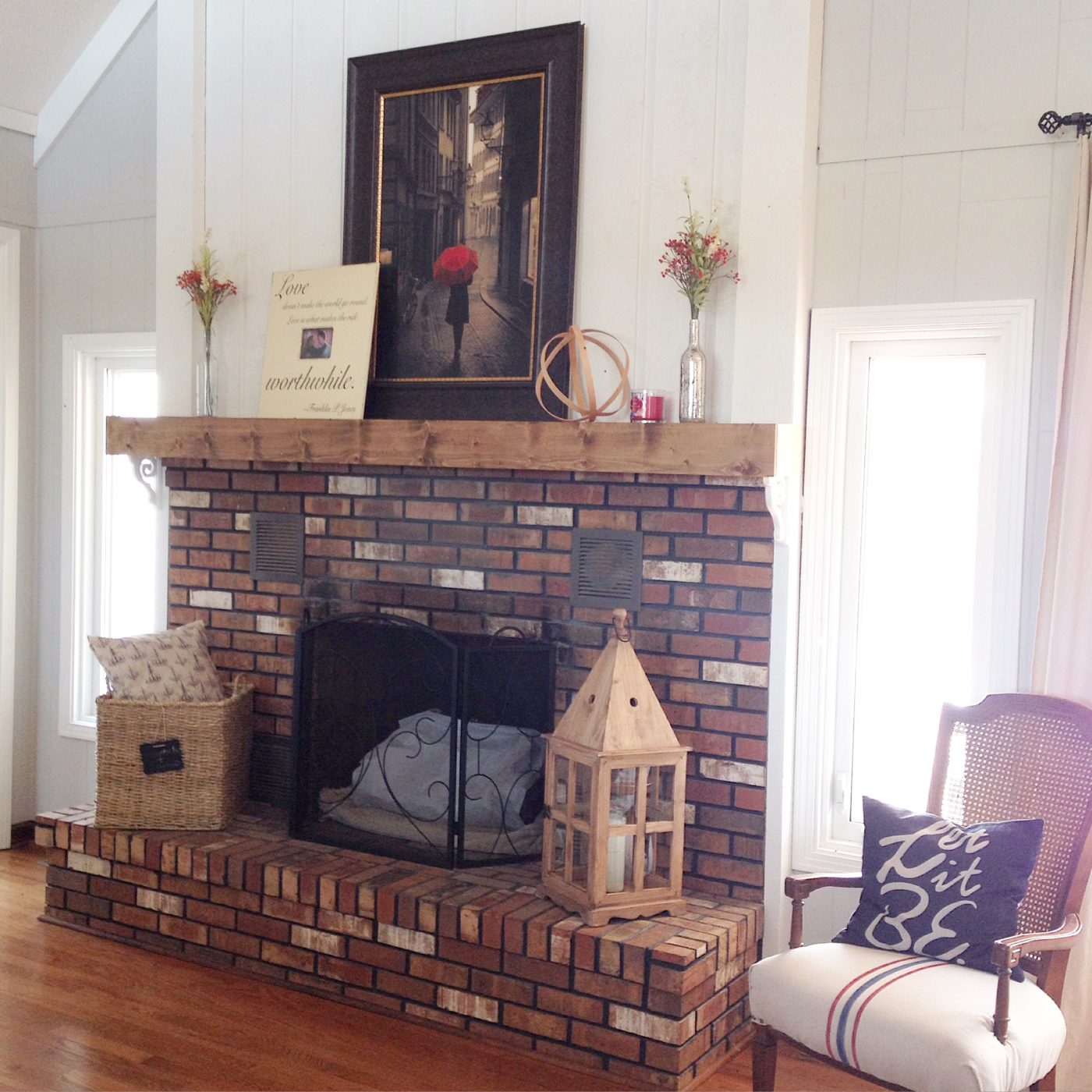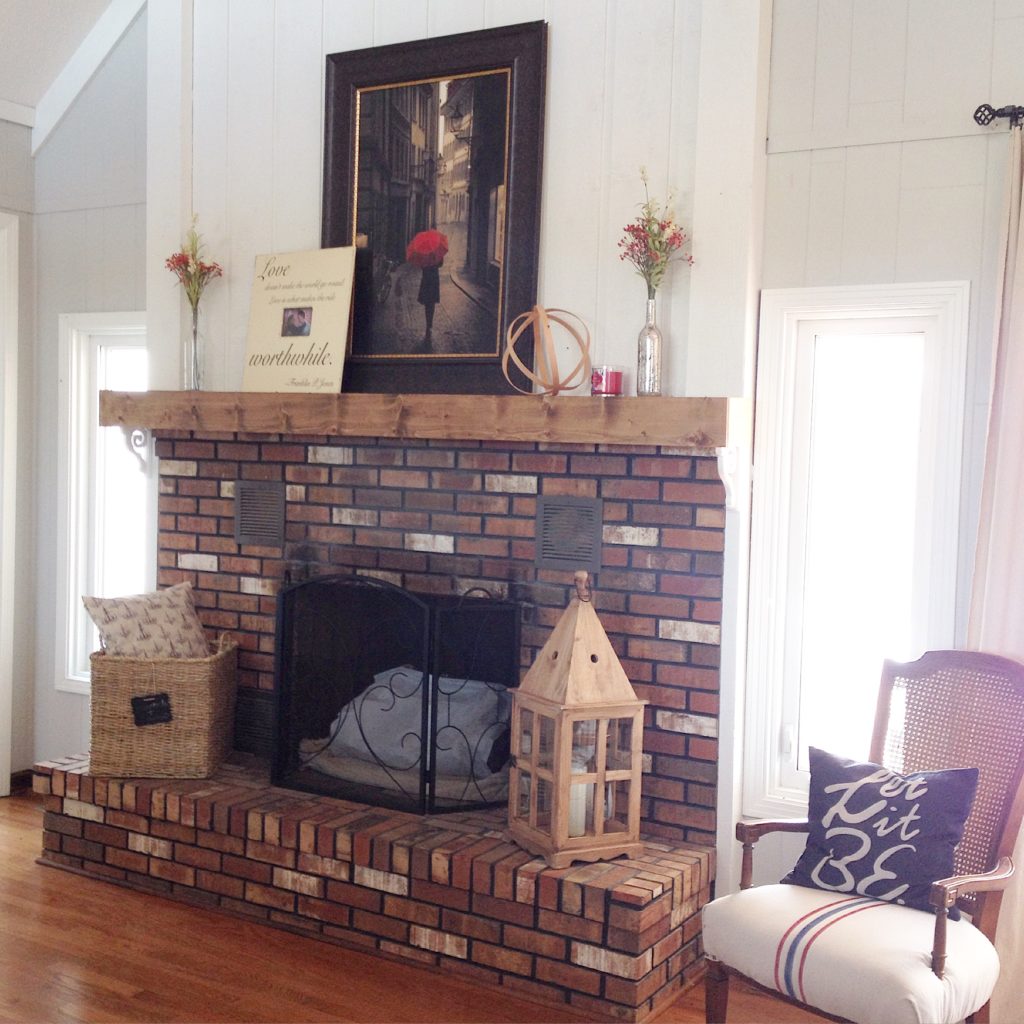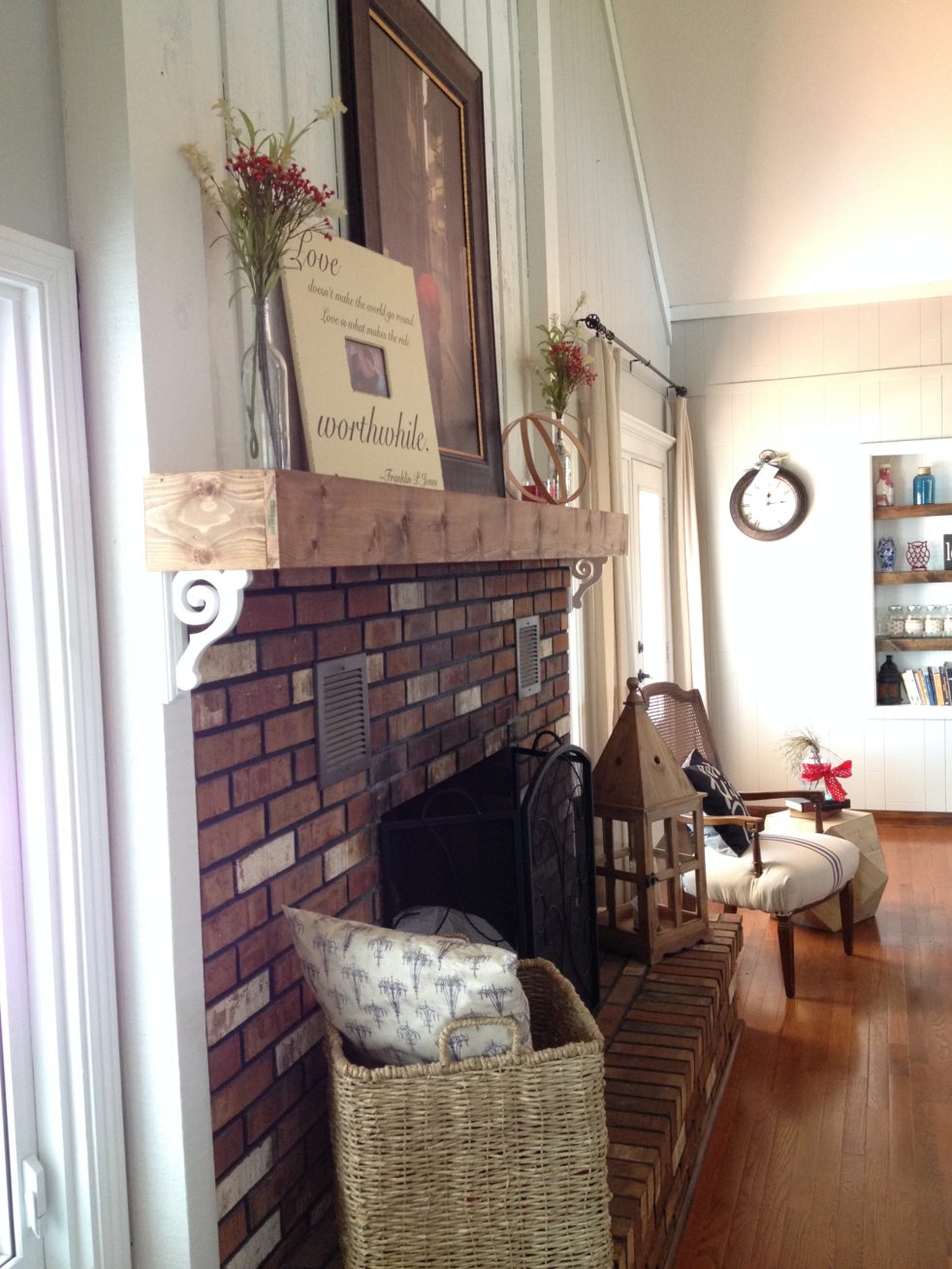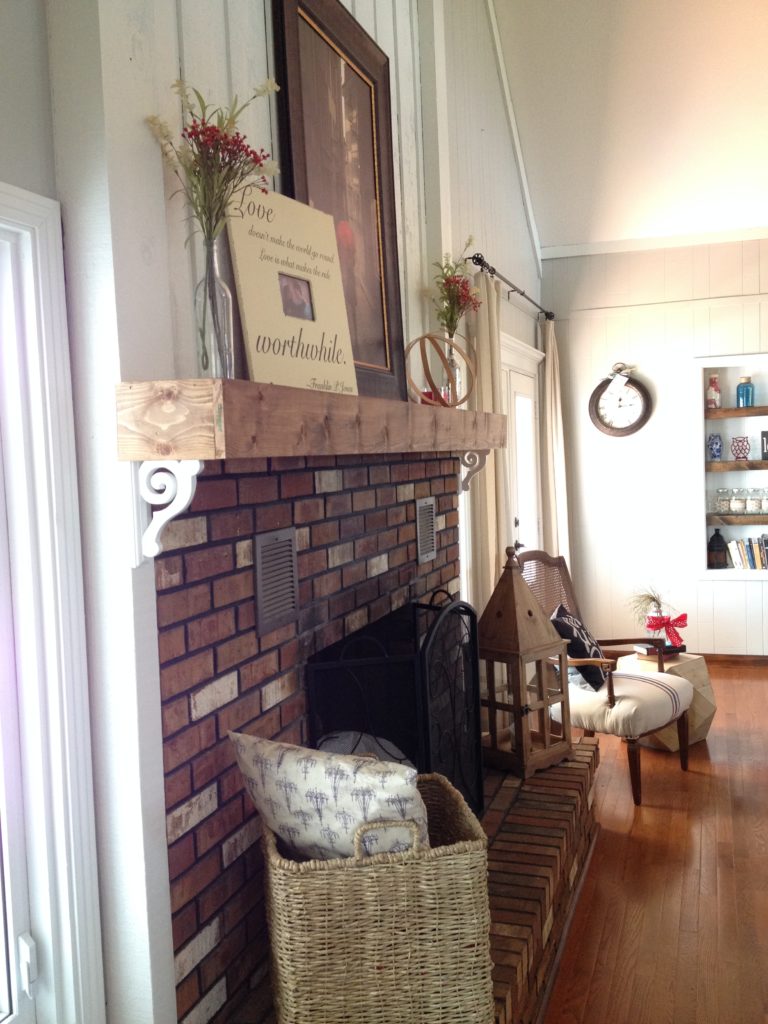 Any thought? Opinions? Ideas? I'd love your feedback!
I have plenty more projects on my to do list so stay tuned! Also, I'm looking for a new blog name if you creative people out there could help me out!
Happy building!