There should be a support group for people who have trouble making decisions.  Maybe there is one already out there.  If so, I probably would have trouble deciding if I really wanted to go or not.  It's probably best I assume the support group doesn't exist.  Or maybe it would really be helpful.  But then what if they ask everyone to bring a snack to the meetings?  What would I bring?!
.
So when I decided to remodel the room I call "the office," I had a room in mind that had a million shelves.  I wanted it FULL of books and a rolling ladder so I could reach the top of every shelf.  It would be dark and elegant and make you feel smarter just by gazing into it.
.
I would have a fancy desk with a fancy chair and it would be like walking into a Harvard library (not that I've ever been inside a Harvard library–but I've watched Legally Blonde, so that's close enough, right?).  I mean I was super sure that was exactly what I wanted!
.
Want to know what I ended up with?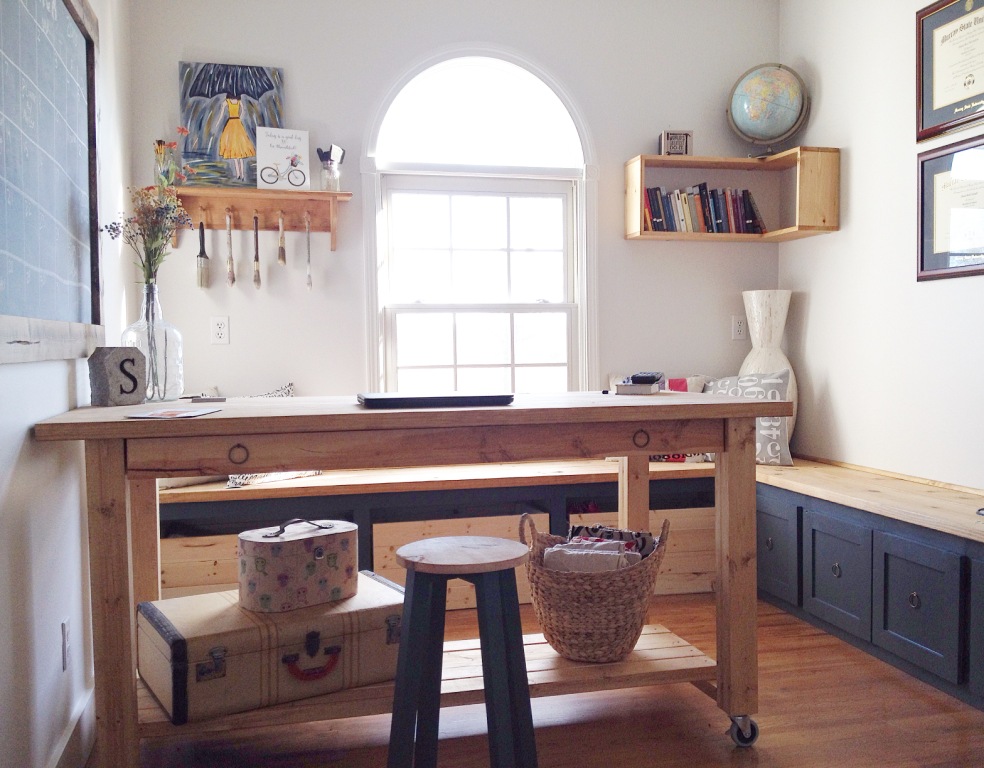 None of the above.
.
But, I'm okay with that.
.
Once I installed the window bench and the cabinets on the right wall, I started doubting that I wanted to make built in shelves on top of them.  And I kind of appreciated the simplicity of the bare white walls.  UGH, that meant I had to change my plan that I had already taken months to decide to execute.
.
So I put off doing anything else to the walls until I made the desk.  Oh, but what kind of desk do I want now?  I had originally wanted a desk…like a fancy office desk.  But now that I wasn't doing a fancy "Harvard library thing" in here, I didn't know what to do.  So I started thinking of this more as a craft room/studio.  Seriously….a "studio?"  I crack myself up. I don't even know the definition of a studio!
.
I finally settled on a large craft table that I can spread out on and that would move–because I couldn't decide exactly where in the room I wanted the desk to go.  See?  I seriously have a problem!!!
.
So here is how I made my new desk/craft table/whatever this thing is 🙂
.
Note: This post contains affiliate links.  If you purchase from one of these links, I may receive a small commission at no extra cost to you.  This helps keep the website and it's content free.  Thank you for supporting this site.  Please see disclosure policy for details.
Materials Needed:
(3) 2x12x8s for the top (could use one 8ft and one 10 foot instead)
(2) 4x4x8 (or could glue 2x4s together and get 4 more 2x4s)
(2) 1x4x8
(4) 2x4x8
(1) 2x2x8
¼″ plywood
Tools Needed:
Miter or Chop Saw
Step 1: Build the sides
It is difficult to find untreated 4x4s in this area, so I glued 2x4s together for the legs.  Whether you use this method or actual 4x4s, either works fine.  I cut these 4×4 legs at 31 ½″.
.
I cut two pieces each of 1×4 and 2×2 at 22″ and pocket hole screwed them to the legs like the picture shows.  I used ¾″ pocket holes and 1 ¼″ screws for the 1×4 and 1 ½″ pocket holes and 2 ½″ screws for the 2×2.  You could replace the 2×2 with another 2×4, but I liked the smaller profile of the 2×2.
.
Notice that I also drilled pocket holes in the 1×4 towards the top.  This is to attach the top later.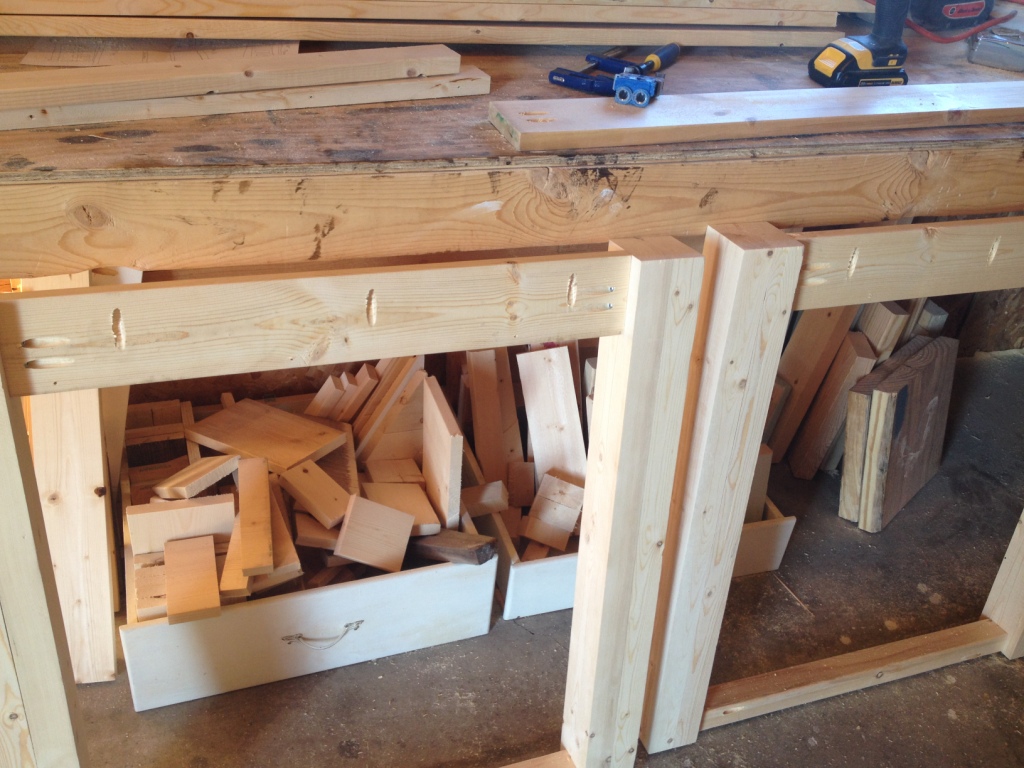 Step 2: Attach the sides
I attached a 1×4 as the back support using pocket holes and screws.  I drilled pocket holes onto the back support like I did the side supports in the picture above.  This piece is 40″ long.  If you wanted your desk even wider or more narrow, this is easily customizable and you could make this support whatever length you wanted.  My desk was about 54″ long.  I drilled pocket holes going toward the top along this back piece just like from step 1 on the 1x4s.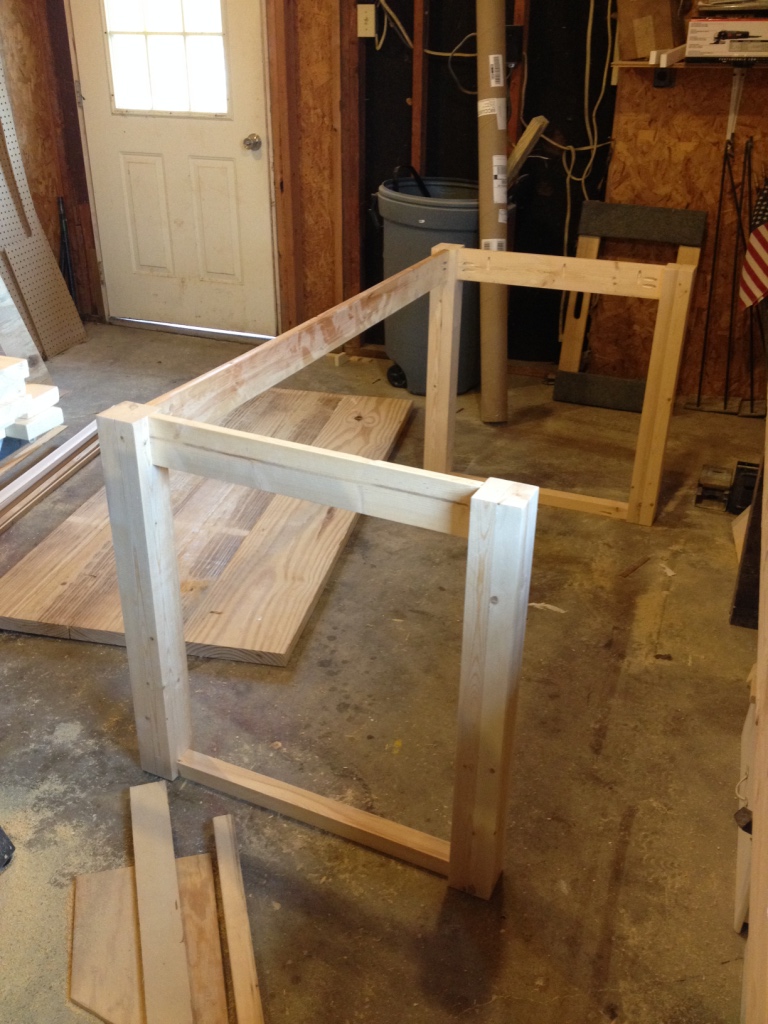 Step 3: Attach the top
You can read about how I make table tops in this post, but basically, I squared off the edges on my table saw and glued the boards together.  Squaring the edges makes the top smoother, but it's not absolutely necessary.  So if you don't have a table saw, no biggie.
.
It was cold outside and I didn't want to wait for the glue to dry completely before moving on, so I secured the boards while the glue dried using pocket holes and screws.  You can see the pocket holes in the picture below.  I cut it to size (it was about 32″x54″) then flipped the table base over.
.
I centered the base I made from steps 1 and 2 on the top and made sure everything was square.  Then, I screwed it onto the top using the pocket holes I drilled earlier and 1 ¼″ pocket hole screws.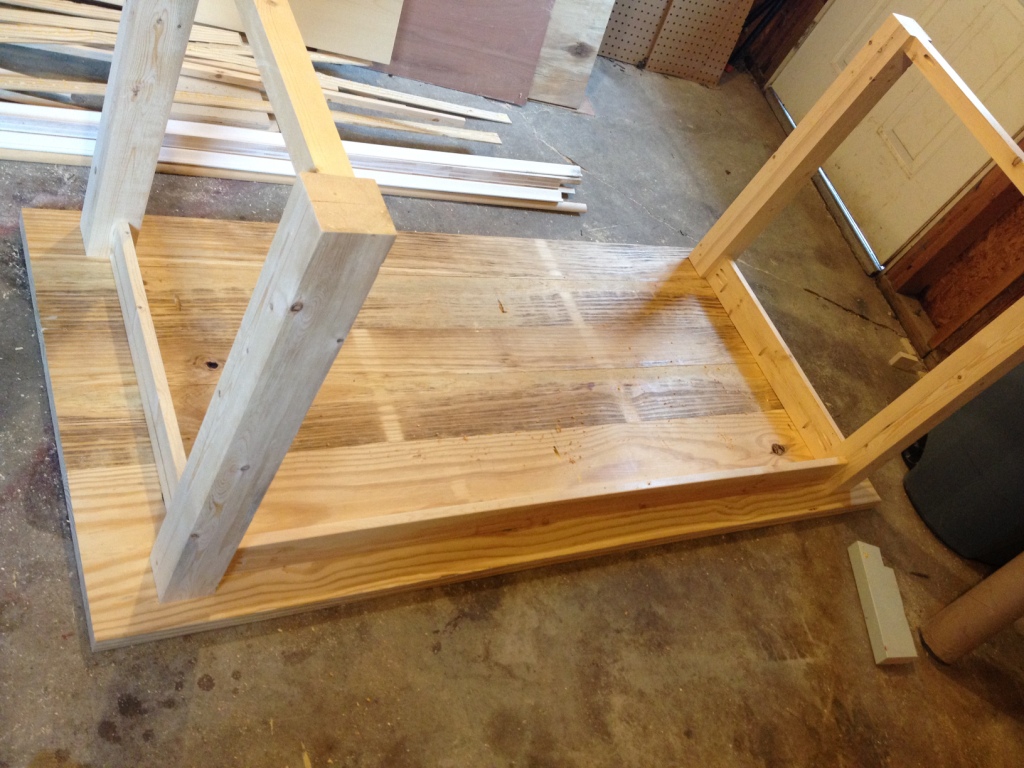 Step 4: Add drawer
Next I made the drawer slides.  I used wooden drawer slides.  This was before I ever worked with REAL drawer slides.  I totally recommend using real ball bearing drawer slides for this, but I'll show you how I did wood ones just in case you are curious.  I cut two 1x2s and screwed them into the side supports using pocket holes and screws.
To make the drawer, I cut two pieces of 1×4 to be the drawer sides.  I made them an inch or so shorter than the side support.  I placed a shim down on the bottom of the table top and placed the 1×4 on the shim (I wanted to hold the 1×4 about ⅛″ off the table top).  I clamped a 1×2 onto the drawer slide to hold it in place and I shot a couple nails through the 1×4 into the 1×2 that is clamped.  These will be the drawer slides on the side of the drawer.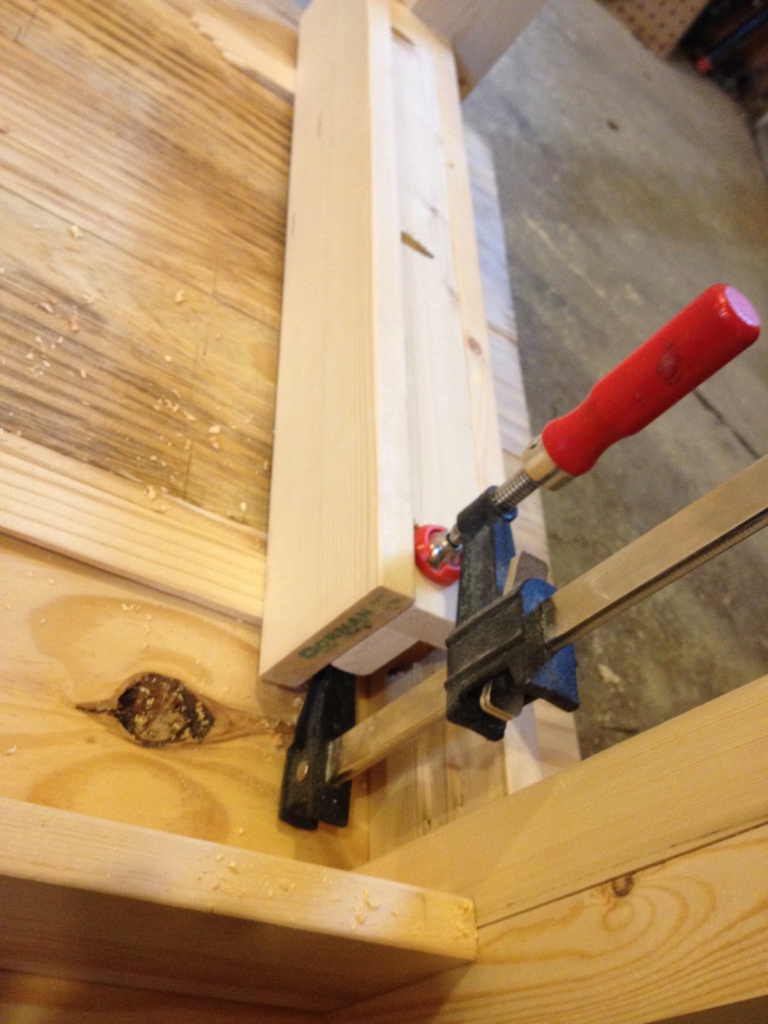 After these are nailed, I put a couple screws in to make sure they held.  I marked the front and the bottom side of the 1×4 so I wouldn't get them mixed up on which direction they went.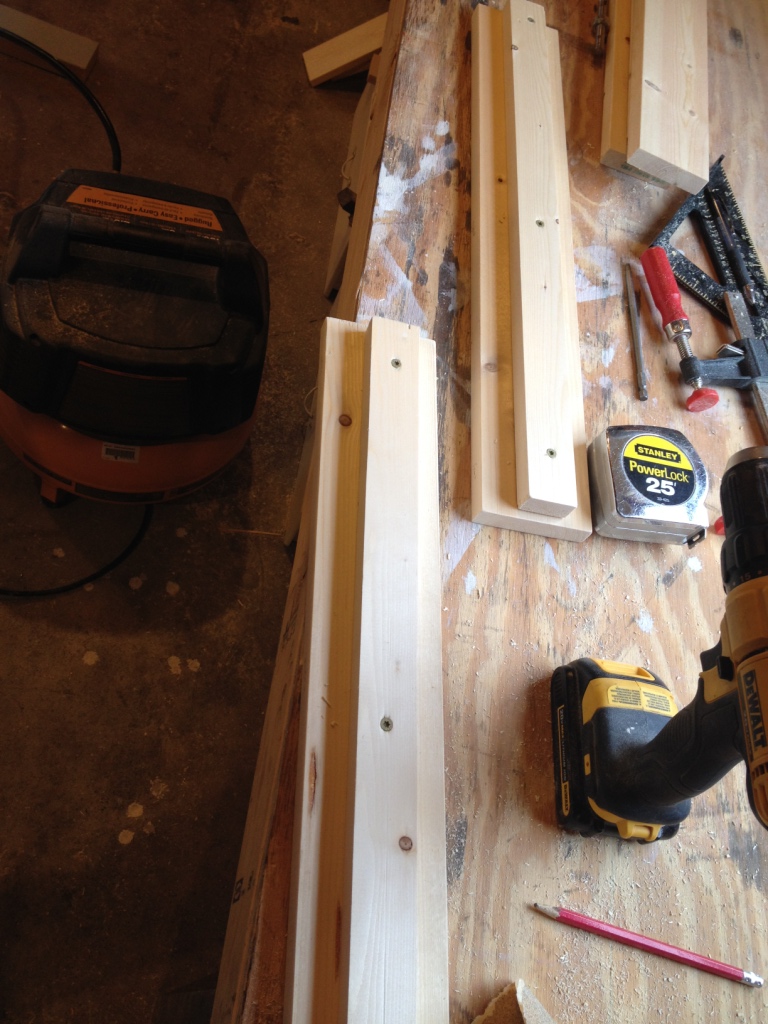 Then I cut a piece of 1×4 to go across the back side of the drawer and used pocket holes and screws to attach it.  I slid these pieces in the desk to make sure everything fit good before I attached the front.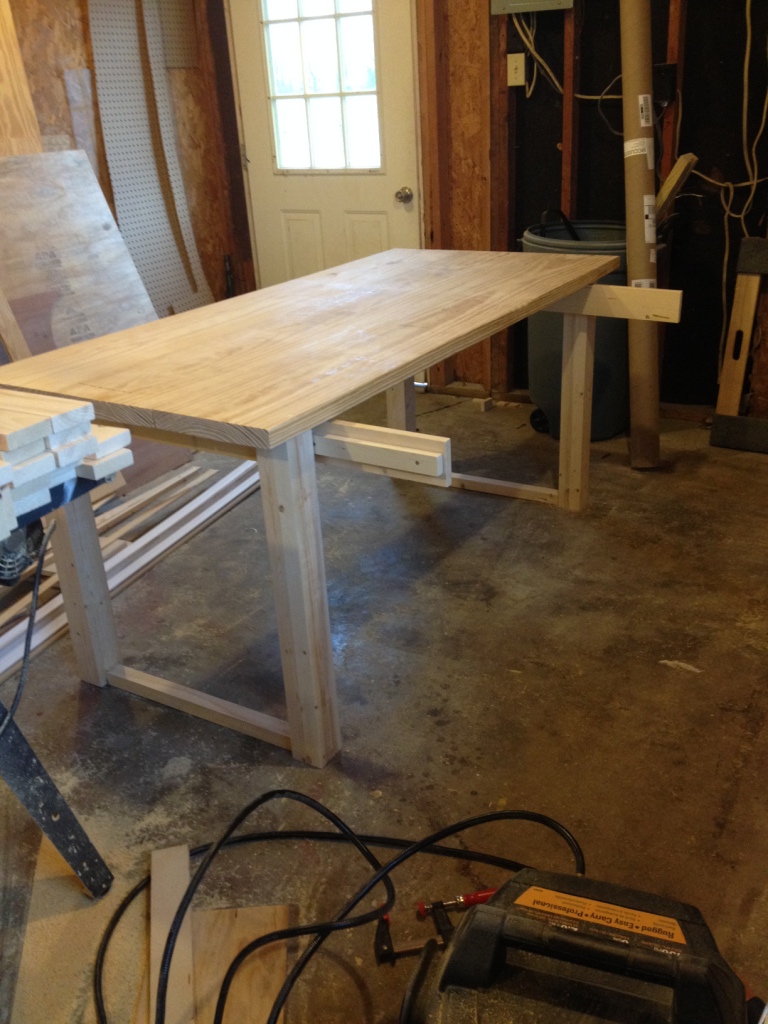 I cut the front piece about ¼″ shorter than the total distance between the two front legs and attached it using pocket holes and screws from the inside.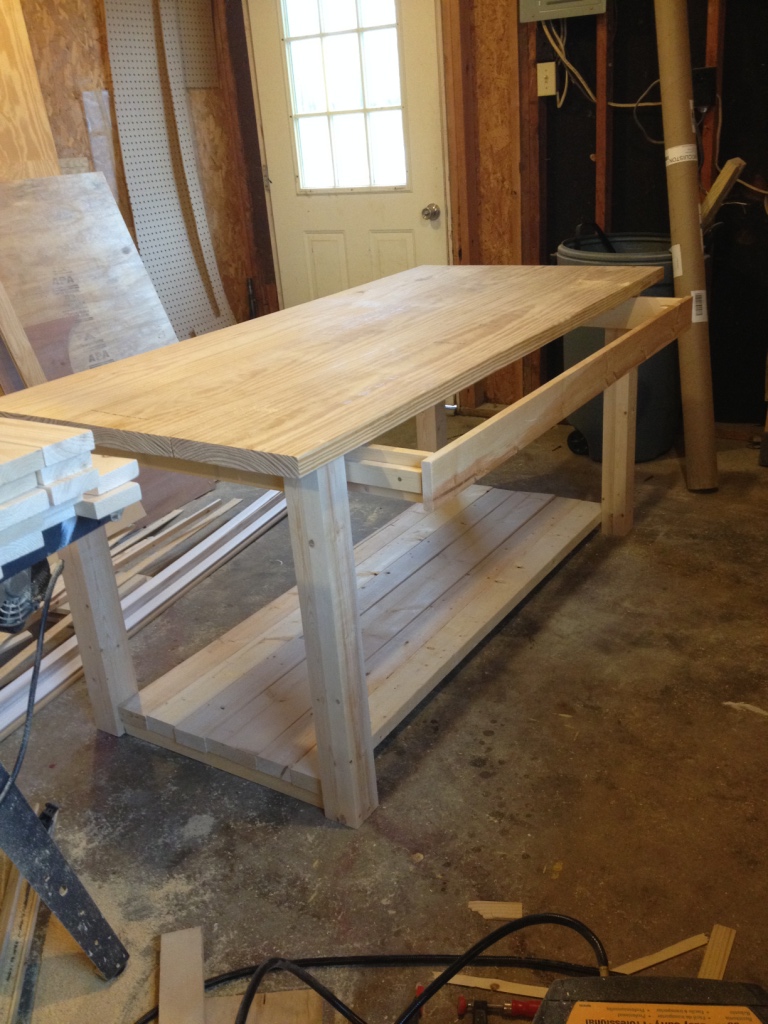 Once I made sure the drawer fit well and was square, I used a router to cut a ¼″ groove on all the sides of the drawer about ¼″ from the bottom.  I cut a piece of ¼″ plywood to slide into these grooves.  I could have nailed the plywood to the bottom of the drawers, but this was cleaner.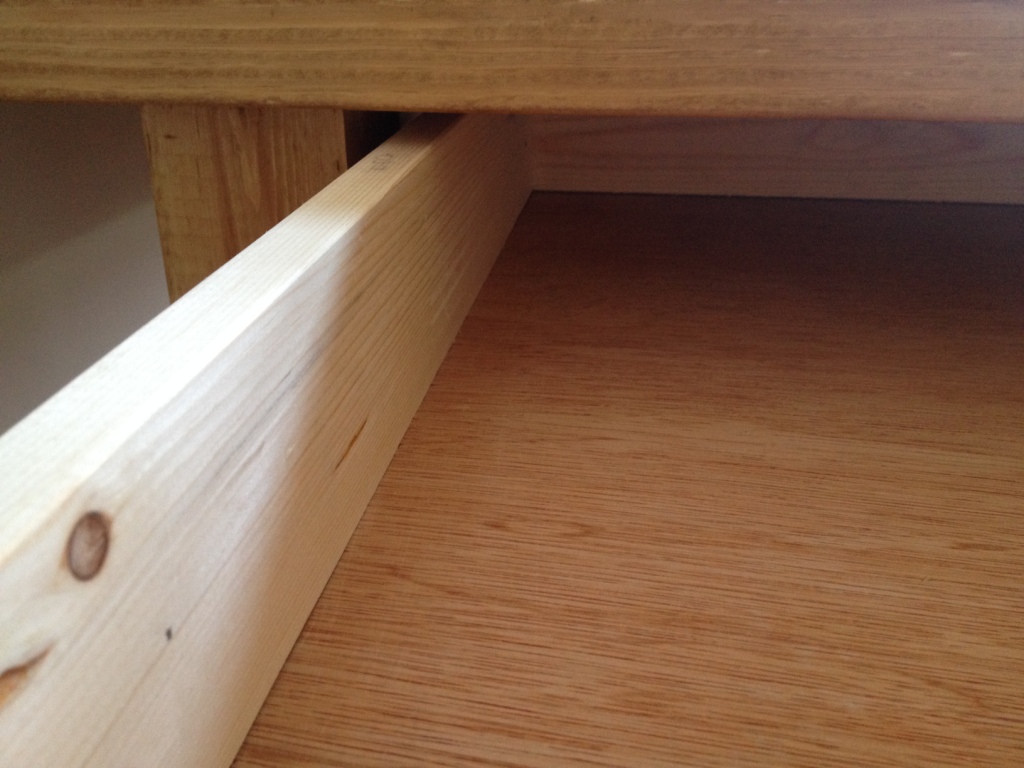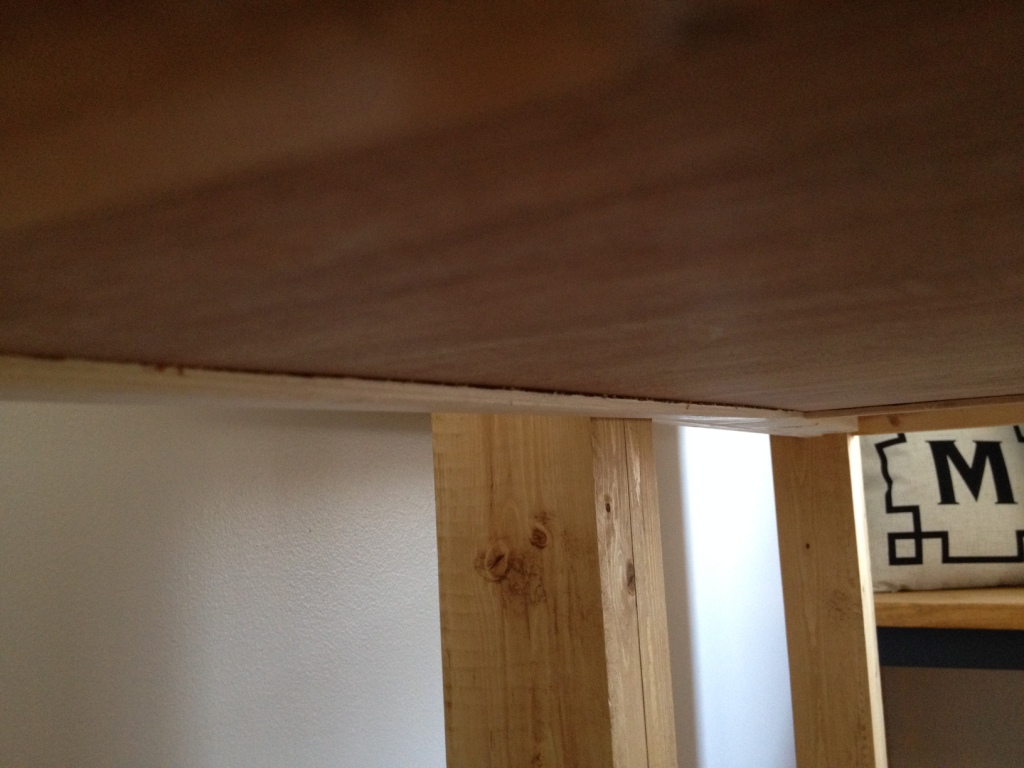 Now, if you would rather, simply attach a set of drawer slides onto the side supports and make any drawer style from this post and it will actually be easier in the long run. (I've learned a few things since I originally wrote this post 🙂 )
Step 5: Add shelf and casters
I cut pieces of 2×4 (and one piece of 2×6 because I didn't buy enough 2x4s for the project…so don't be like me) for the bottom shelf.  I just laid the boards on the 2x2s and marked where to cut.  But they should be somewhere around 43″ if my math is right 🙂
.
Helpful hint: This desk is big.  I advise you not to screw the shelf in until you get it inside.  In order to get it in a doorway, you'll have to go at an angle and you can't if the shelf is there.  Trust me…don't ask how I know this.
.
I stained everything with Minwax Puritan Pine and screwed the casters into the legs.  (Another helpful hint….see helpful hint above.  You might want to think about putting the casters on once inside as well 🙂  Again, don't ask how I know)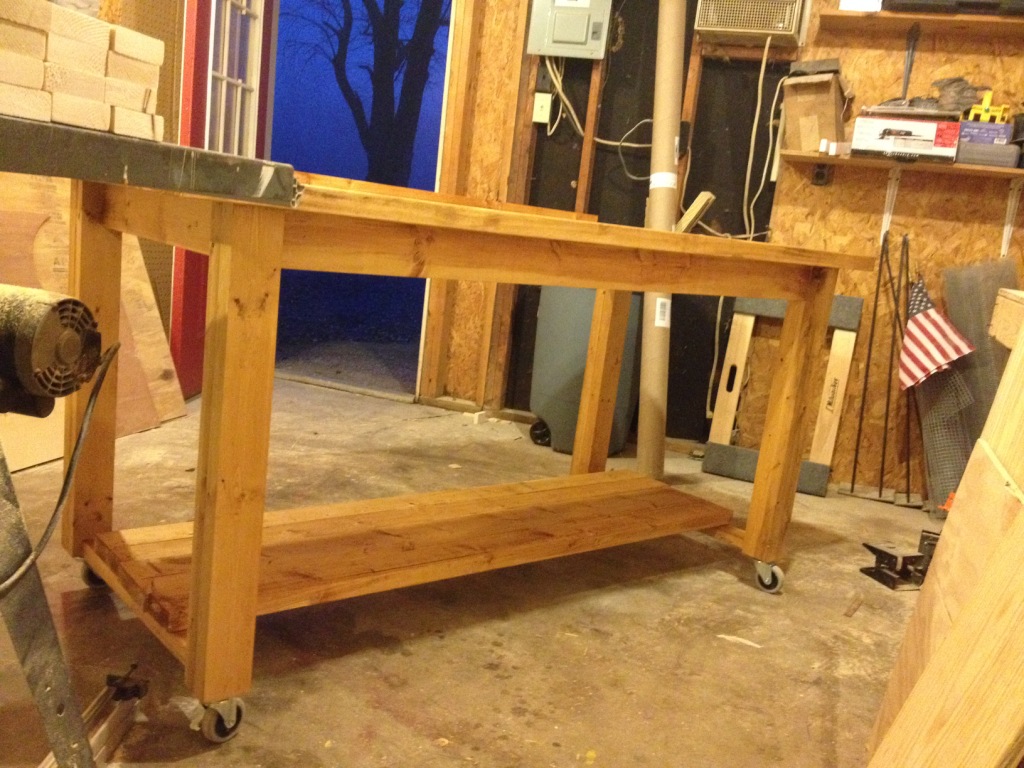 Once I got it inside and put it back together, I screwed the 2x4s and 2×6 into the 2×2 support for the shelf.
I polyed it with Minwax Polycrylic and attached these super awesome DIY drawer pulls to the drawer, and I've finally decided that I made a good decision on the desk style.  I think…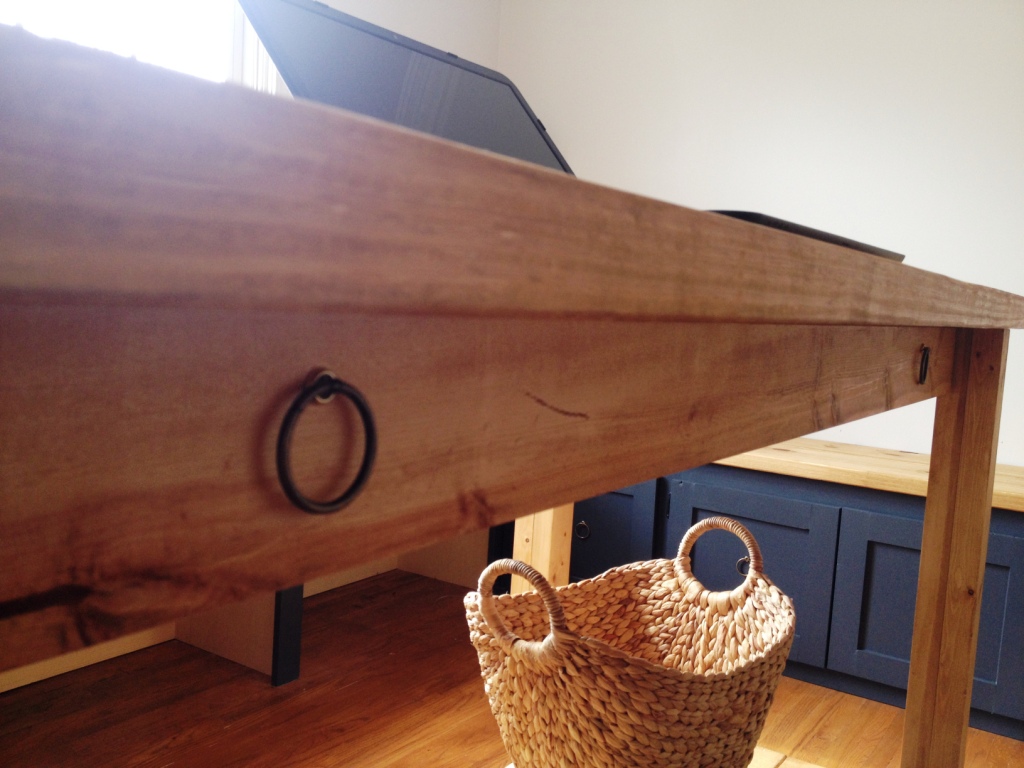 And I have decided that it fits well in the room.  And if I change my mind, I can roll it to a new location 🙂  Perfect.
Okay, so do you love the desk or what?  It's very simple, and very functional.  I am thankful that sometimes my indecision points me in a better direction 🙂
.
To see the whole office remodel, and all the DIY projects included, click here.
.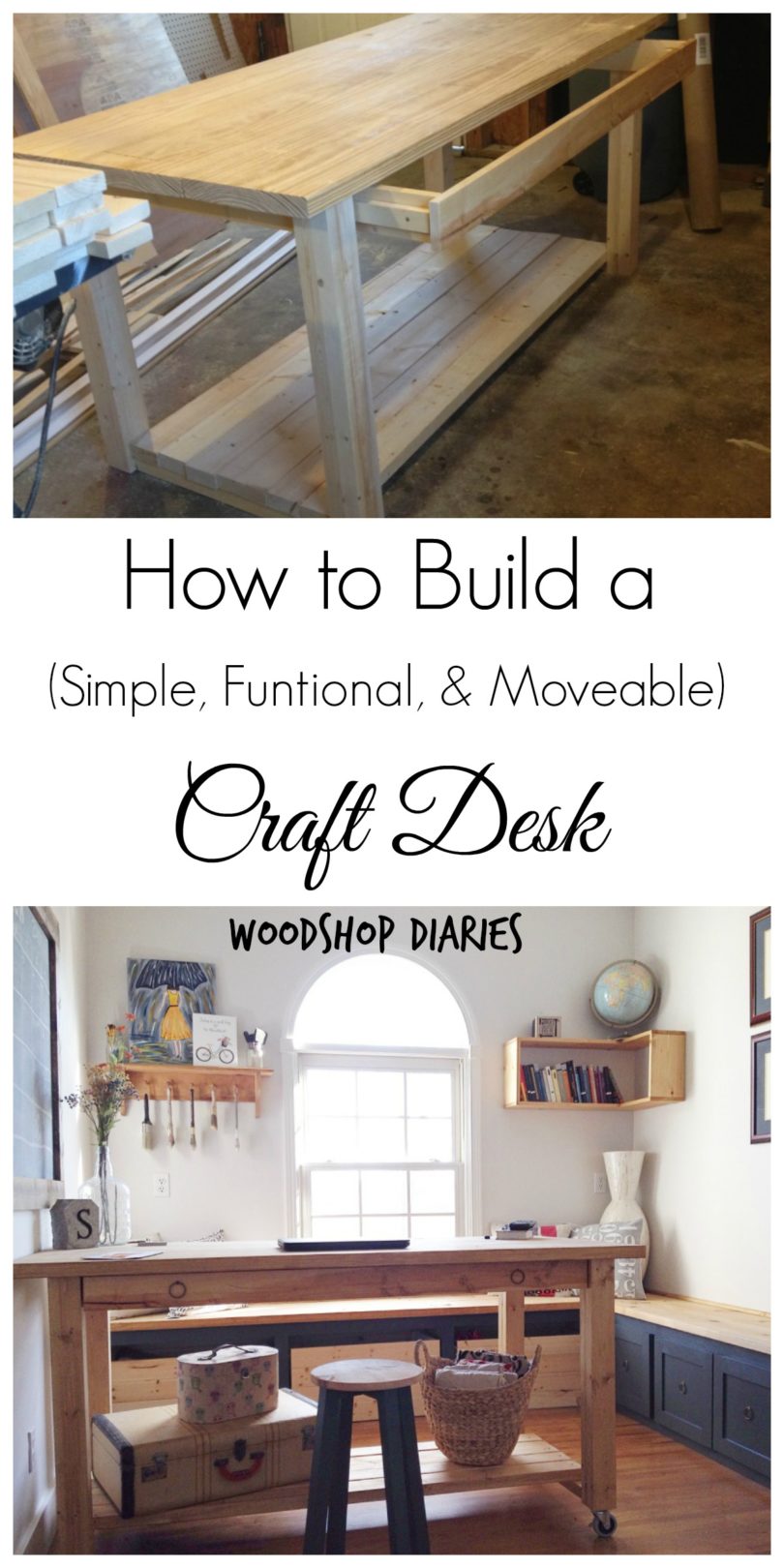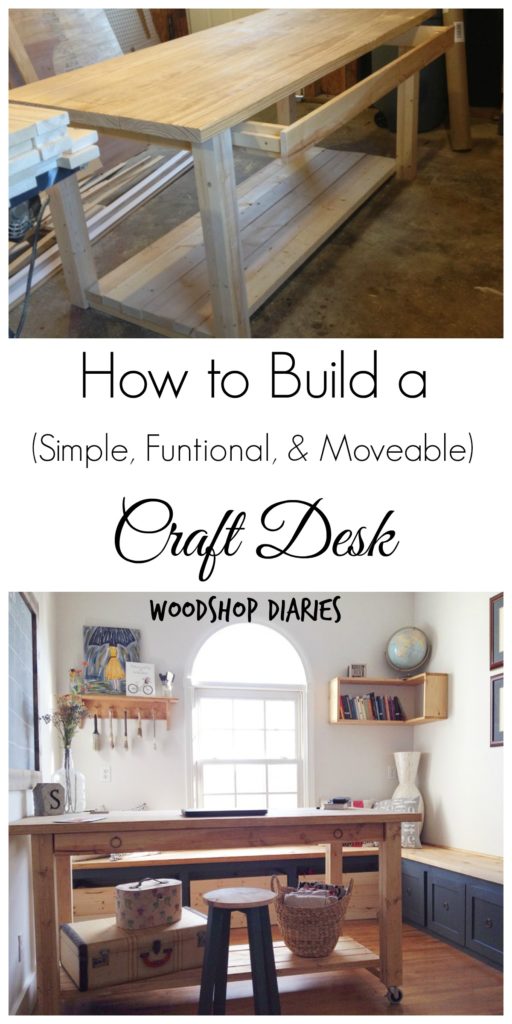 So until the next project, happy building!  Get out there and embrace the indecision 🙂