Check out how easy it is to build this DIY Coat Rack with Shelf–and faux shiplap!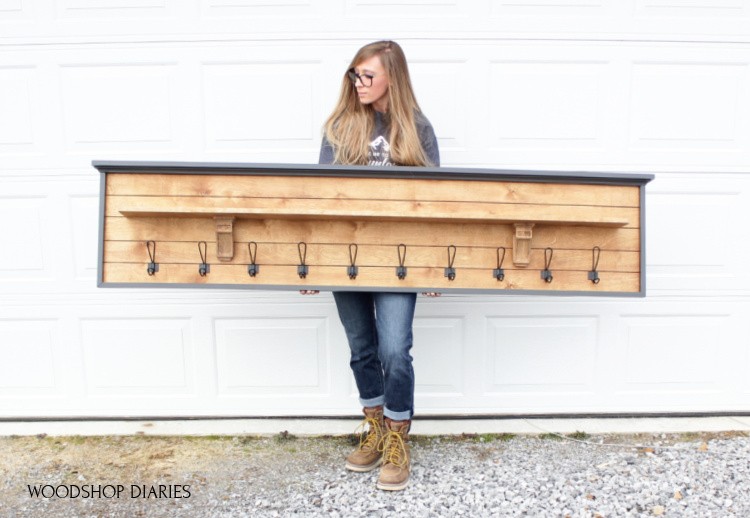 My friend has a hallway to her garage where they hang their coats and trinkets. The wall this was going on was really long.
.
BUT, if you don't have that much space, you can definitely make this shorter to fit your own entryway. It's a really simple design and easy to customize.
.
So if you're ready to get building, here's how to do it.
This post contains affiliate links. See policies.
For this DIY Coat Rack with Shelf, You Will Need:
¾″ plywood (amount depends on the size you want to make)
(2) 1×2 boards
(1) 1×3 board
(1) 1×6 board
(2) corbels
NOTE: Here are the overall dimensions of the one I built. Keep in mind you can modify your own size as needed.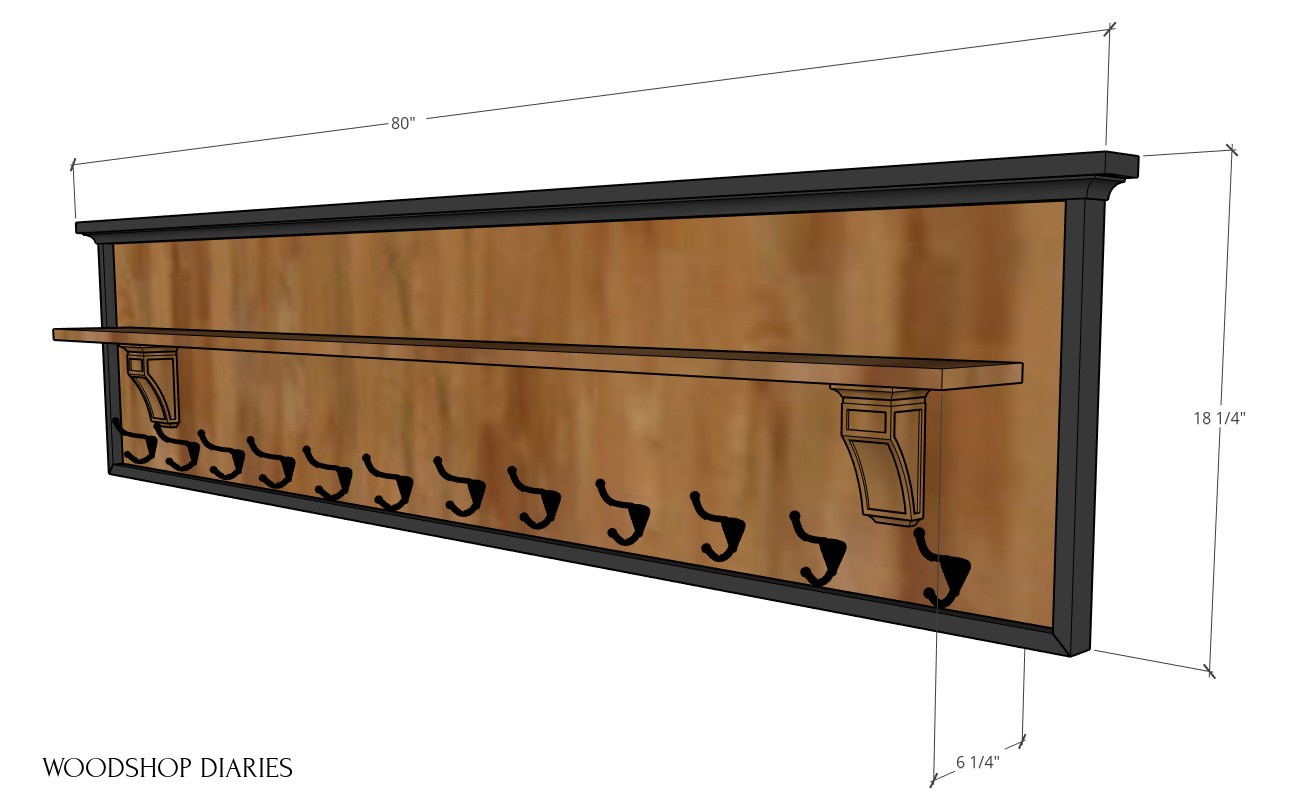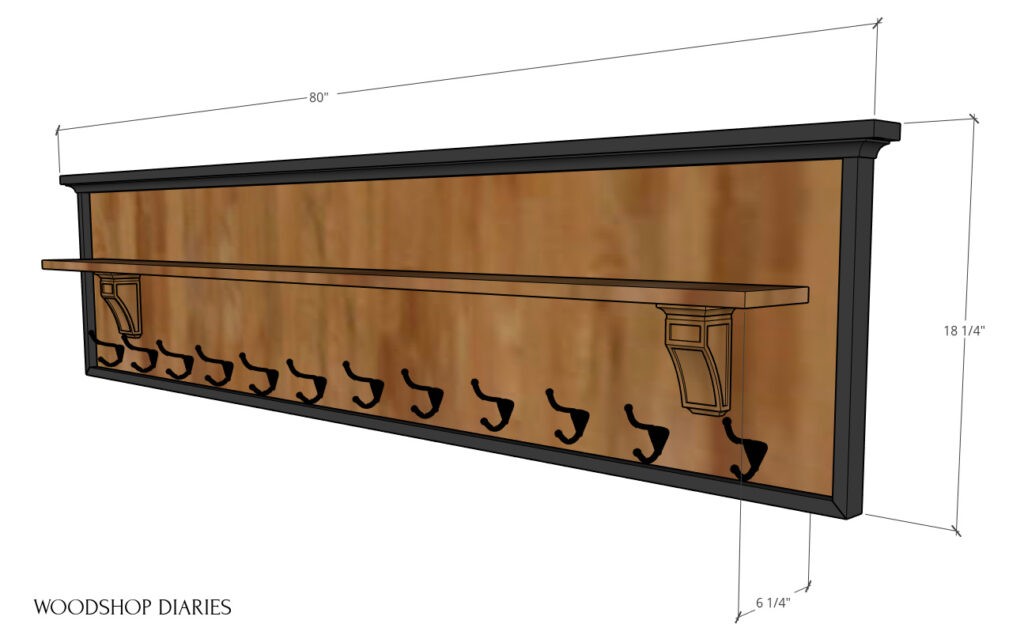 Step 1: Cut Back Panel of DIY Coat Rack
To keep things simple in this case, I just used ¾″ plywood for the main panel of this coat rack.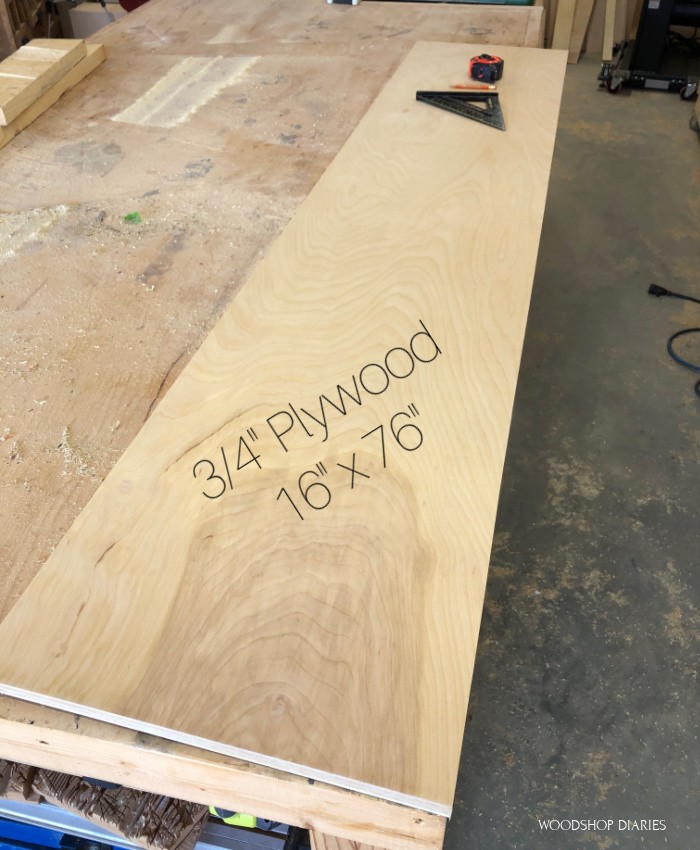 Here's where you get to modify your sizing. I cut my piece to 16″ x 76″. Feel free to cut yours however large or small you want.
RELATED: Here's how to cut down your plywood sheets!
.
Now, this part is totally optional, BUT I added a faux slat or faux shiplap detail on my back panel to give it a little more visual interest.
.
I used my table saw for this, but you could also use a circular saw and a straight edge as well.
.
First, I set my blade height to about ¼″ and took my panel width and divided by 5 (in my case, it was 16″ / 5 = 3.2″) to give me my faux slat widths. I set my rip fence to APPROX 3.2″ (your measuring tape will not have a 3.2 haha…so just get it close).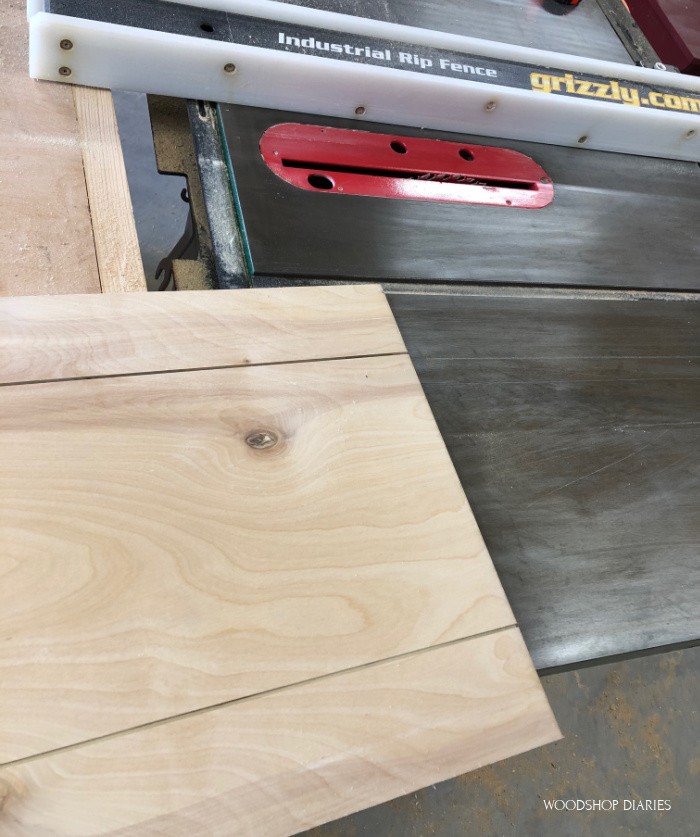 Then, I ran my piece through on each side to give me two "fake slats." (See above.) I used a similar method to cut the sides on this faux slat toy box.
.
I adjusted it over another 3.2″ and did the same to give me five total "slats."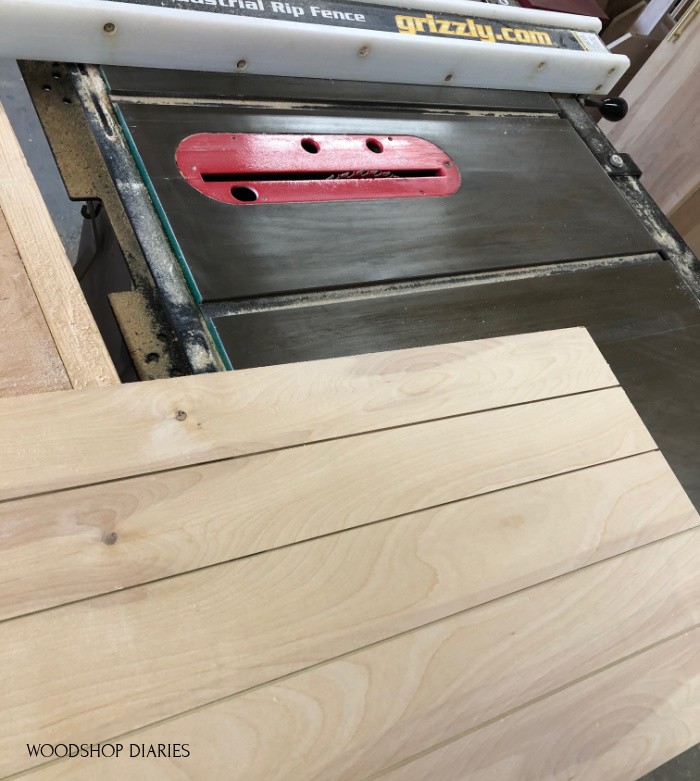 Now, if you don't have a table saw and want to use a circular saw for this, you'd just set your saw's cutting depth to about ¼″ deep and clamp a straight edge (or use a track if you have one) to run your saw along to cut your lines.
Step 2: Frame Out Coat Rack Panel
Once the back panel was cut, I cut to fit 1x2s to frame around it. I mitered my corners 45 degrees, but you could simple butt them together at 90 degrees as well.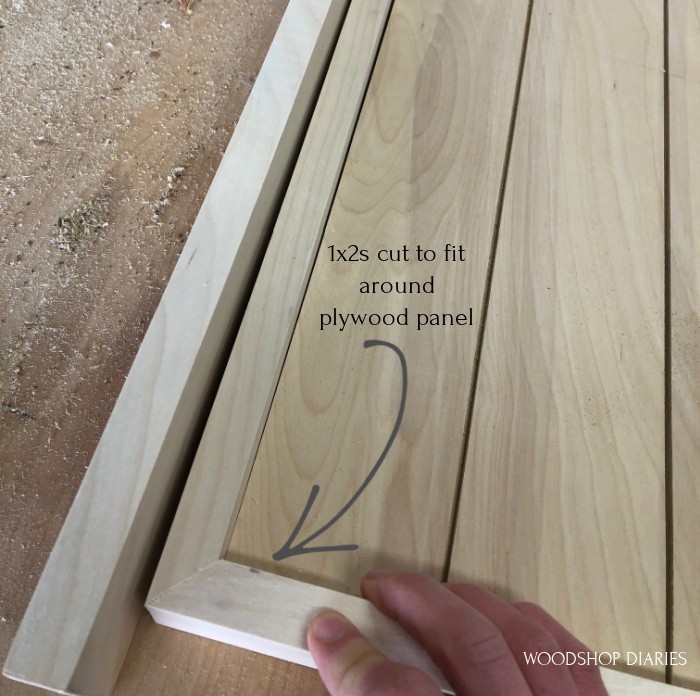 Basically, I just cut 1x2s to fit around the edges of the back panel like shown. But I didn't attach them yet!
.
I painted these frame pieces black (SW Iron Ore) and stained the panel (Minwax Early American) before assembling to make finishing easier.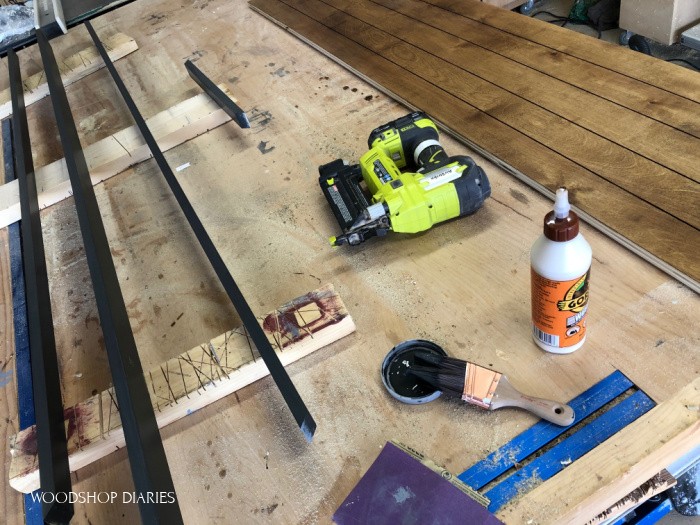 Once the stain and paint was dry, I glued and brad nailed this frame around the edges.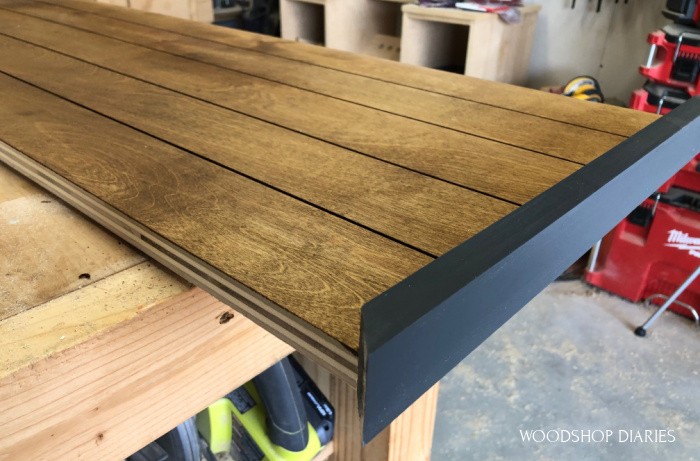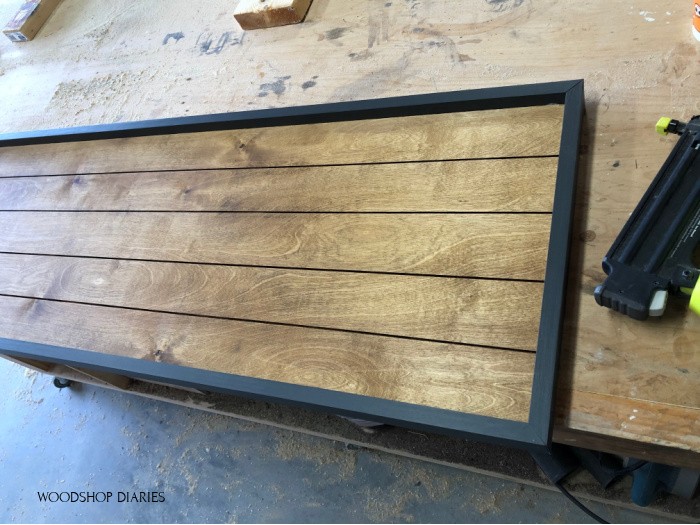 Once the frame was attached, I also cut a piece of 1×3 that was about 2″ longer than the framed panel and glued and nailed it across the top leaving 1″ hanging off each end. I also painted this before attaching as well.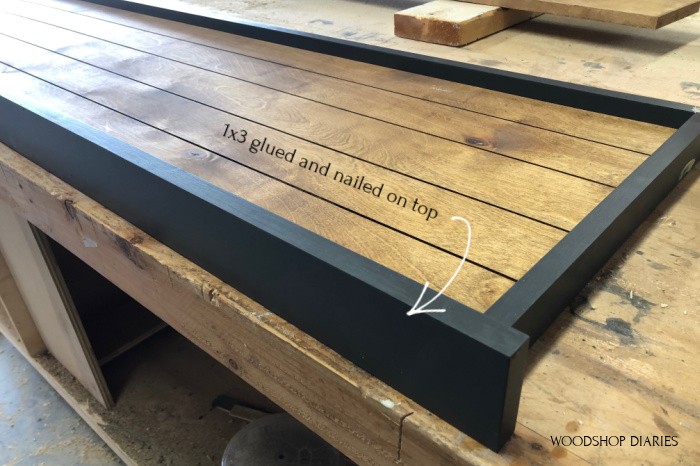 And finally, as an optional detail, I cut to fit some cove molding around the top between the 1×2 frame and the 1×3 board. I puttied the nail holes, then painted the cove molding.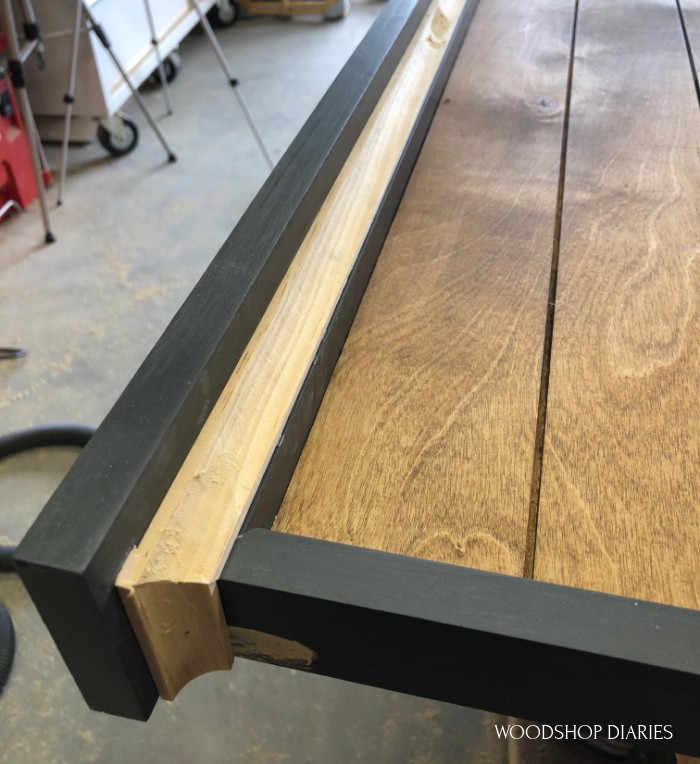 Step 3: Attach Hooks to DIY Coat Rack
Once all the paint was dry, I installed these coat hooks onto the panel. You can add as many or as few hooks as you wish. Just make sure to space them evenly.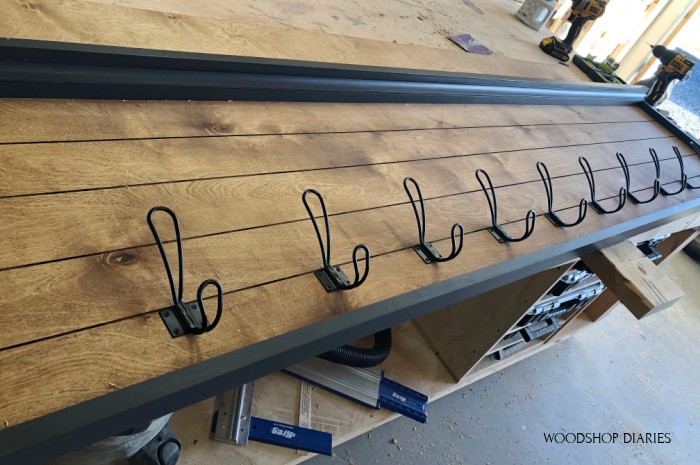 Step 4: Attach Shelf to DIY Coat Rack
I cut a piece of 1×6 to use as the shelf. I just cut this a few inches shorter than my back panel. In my case, I cut it to 72″ long.
.
I was supporting this shelf with two small corbels and I stained everything to match the back panel before assembling.
.
I applied wood glue to the back side of the corbels and placed them on the plywood panel so that they were at the same height from the bottom and the same distance from the sides.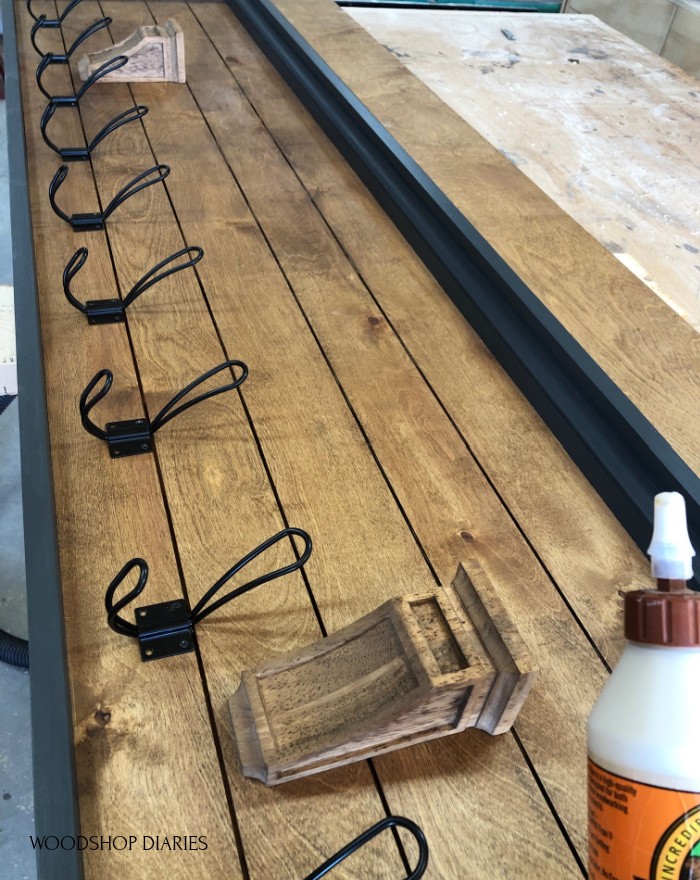 Once the glue had had time to cure enough to keep them in place, I used a few 2″ wood screws from the back side for a little extra security.
.
Then, I centered the shelf on the corbels and used a couple 2″ screws to secure the shelf in place.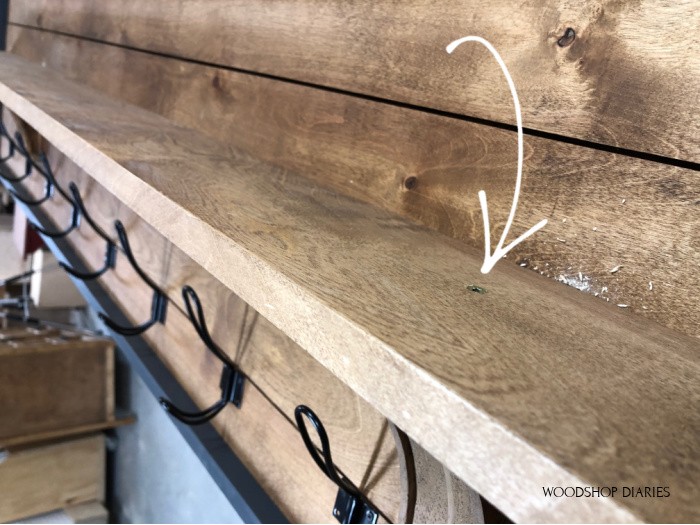 Step 5: Attach to the Wall
Now, I am giving this to my friend to install, so I don't have a photo of it hanging to show you. BUT, in order to hang this, locate at least two (three is better) studs in the wall you're hanging this on.
.
Use at least three 3″ wood screws through the back plywood panel to secure this piece to the studs. It's heavy, so make sure it's attached securely.
.
Now, you can hang up your coats, keys, hats, and the shelf can be your catch-all for mail and odds and ends.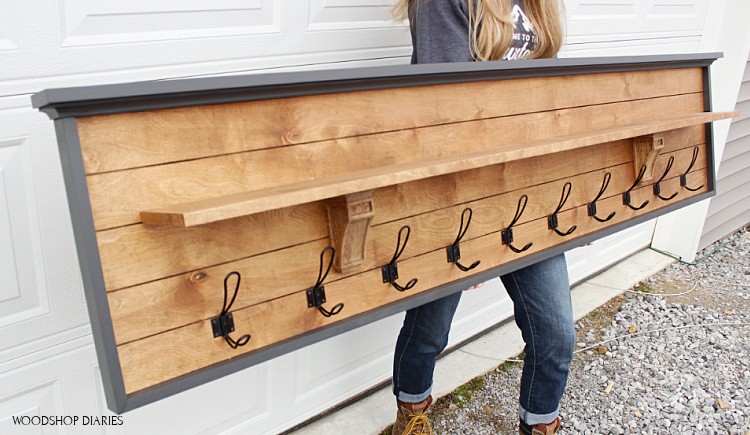 This is such an easy project that can be such a huge improvement for your entryway!
.
If you're looking for more entryway projects, check out this DIY mudroom built in idea, and this easy one board shoe bench!
.
For more DIY projects straight to your inbox, be sure to sign up for our newsletter below! And if you enjoyed this project and want to save it for later, don't forget to pin it!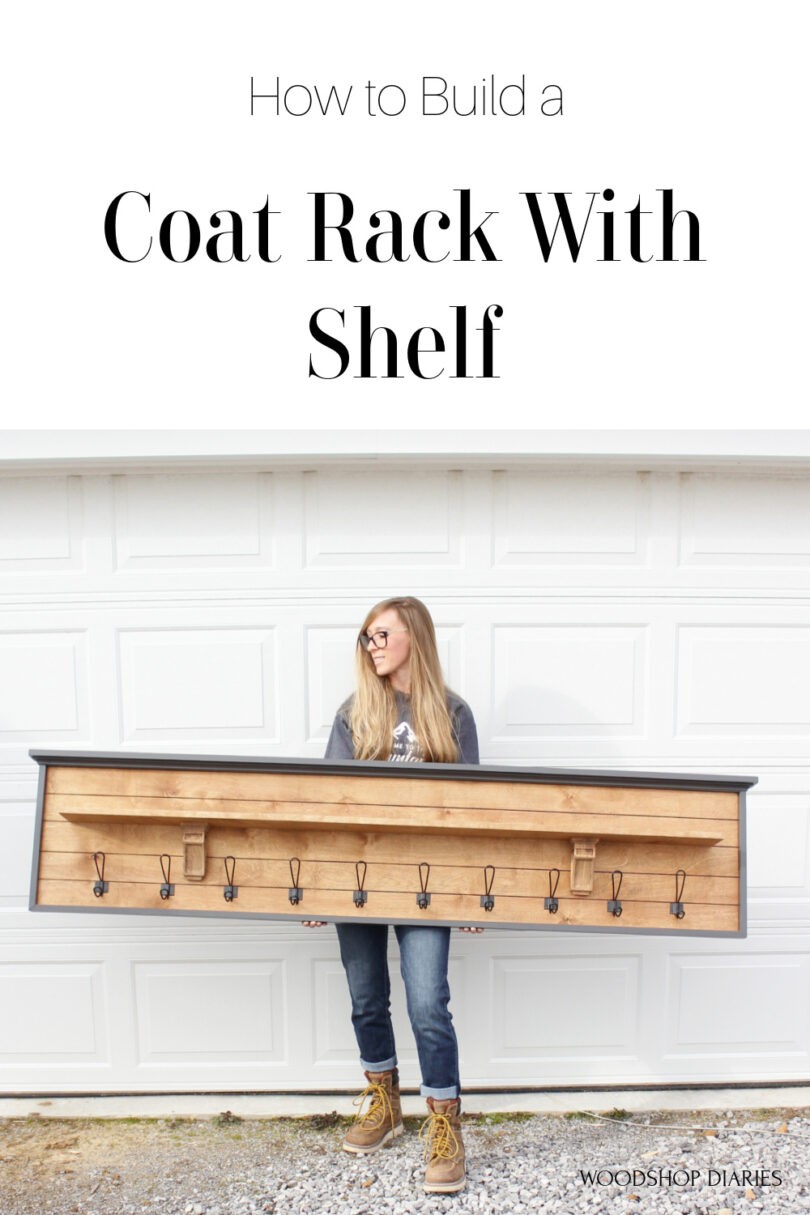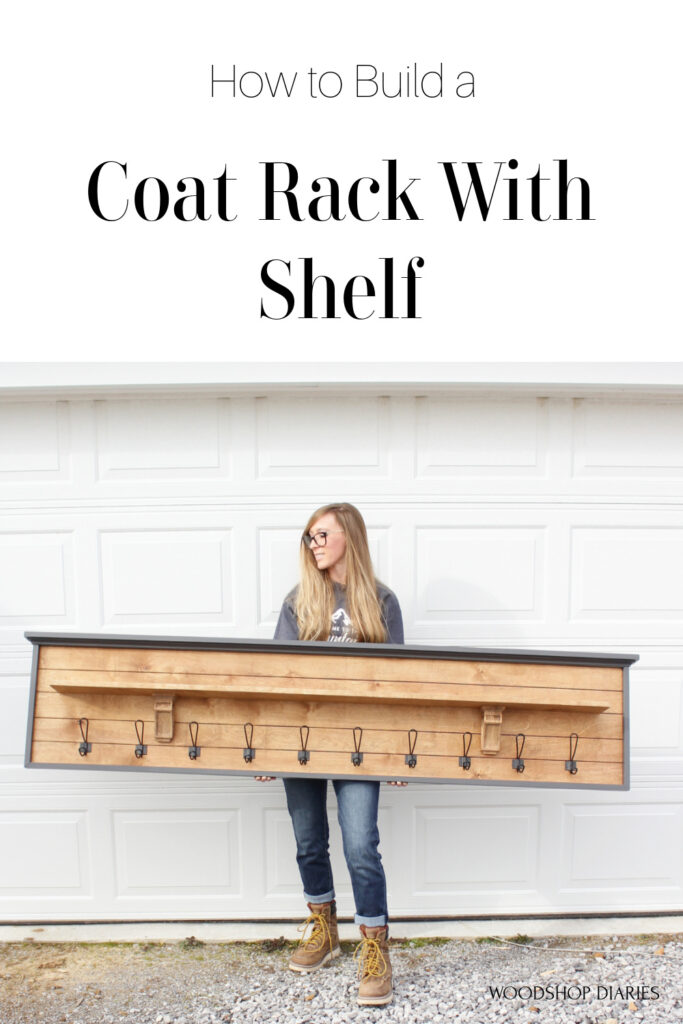 Until next time, happy building! 🙂