In this post, I'll show you how to build a modern dresser with a mid-century style!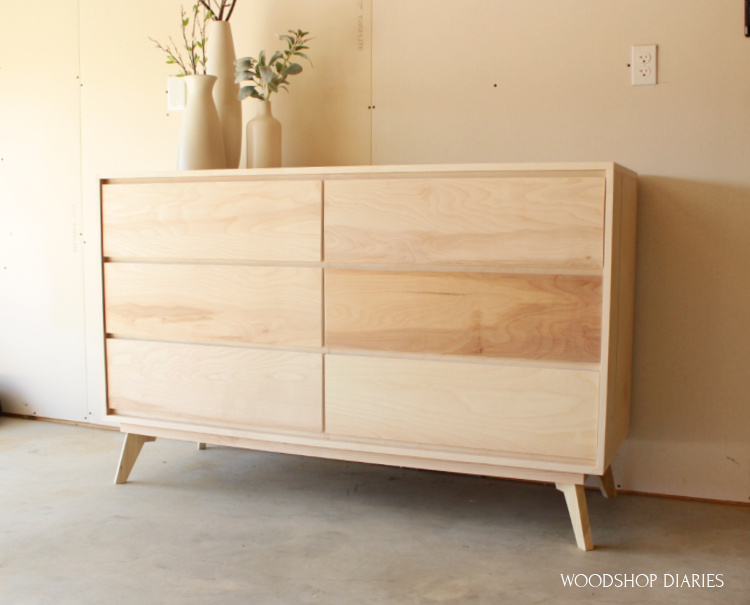 Dressers are literally my favorite thing to build. There are so many ways to build a box and add drawers and so many styles you can go with for it.
.
But mid-century modern style has my heart! So, clearly, when a friend asked me to build a DIY mid-century modern dresser, that was a project I could get excited about!
.
If mid century design isn't your favorite, though, I have plenty more dresser plans to choose from here:
Now in case you're wondering why this particular mid century modern dresser isn't finished, the friend I made this for wanted to stain it herself. 
.
So I'm going to show you the build process, but for finish, you'll have to use your imagination haha.
.
I've got the printable plans, and details below, as well as a video right here:
This post contains affiliate links. See policies.
For this DIY Modern Dresser, You Will Need:
Tools:
Some Notes about this Modern Dresser Build:
This is a really fun build made almost entirely from plywood. To give the dresser some extra support on the bottom, the bottom frame is made from 2x4s.
.
You can cut the feet for this dresser from 1x material, 2x material, or plywood as desired. I cut mine from 1x poplar scraps I had in my shop.
Posts You May Find Helpful For This Build:
Overall Dimensions: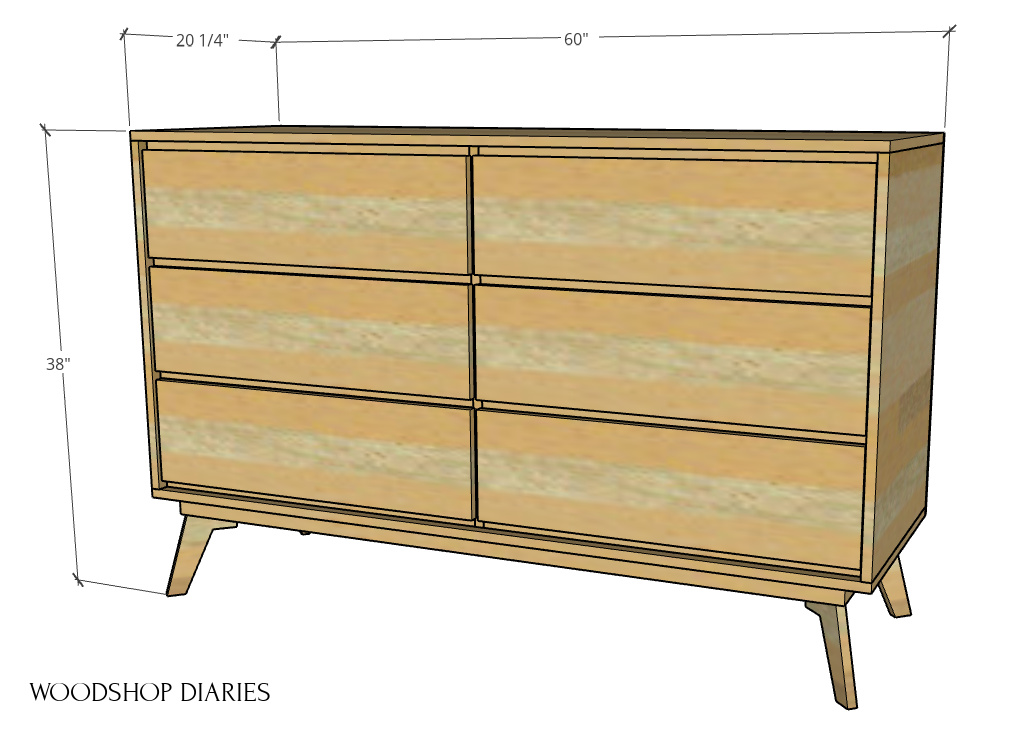 Step 1: Cut Plywood and Assemble Main Dresser Box
I built the main body of this dresser and all the drawers using ¾" birch plywood.
.
This project calls for using 3 sheets, but if you have some scraps, you can probably get away with using 2 full sheets and some scraps to make the last couple drawer fronts.
.
Although I tried to use as much of my scraps as possible, I still had to cut down some larger sheets and for this, I used my circular saw and cutting guides.
RELATED: Check out how to easily cut down plywood sheets in this post.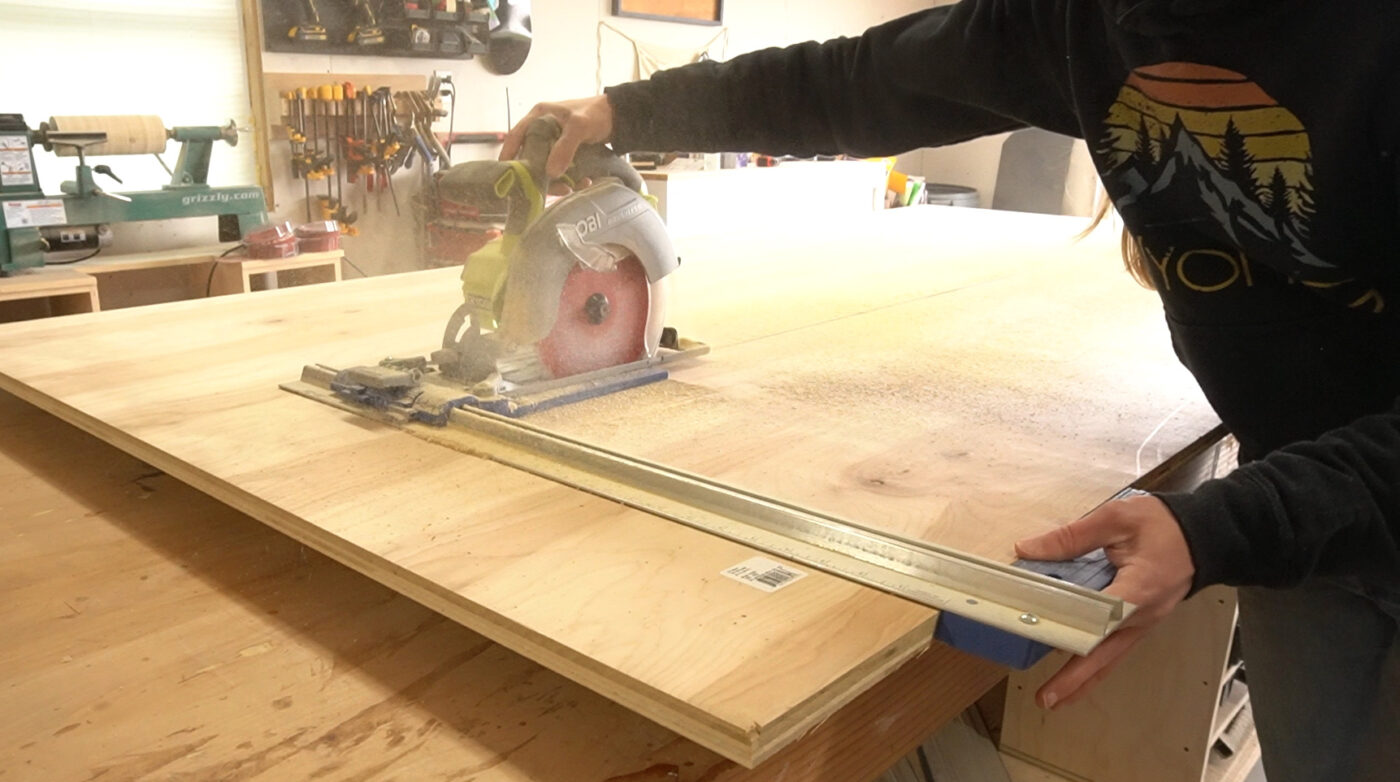 Once I had a top, bottom and two side panels cut for the dresser body, I applied some iron on edge banding to all the sides of the plywood that will be exposed.
RELATED: How to apply iron on edge banding to cover plywood edges.
.
Once the banding was applied and the pieces were sanded, I used ¾″ pocket holes and 1 ¼″ pocket hole screws to assemble the main body like shown here.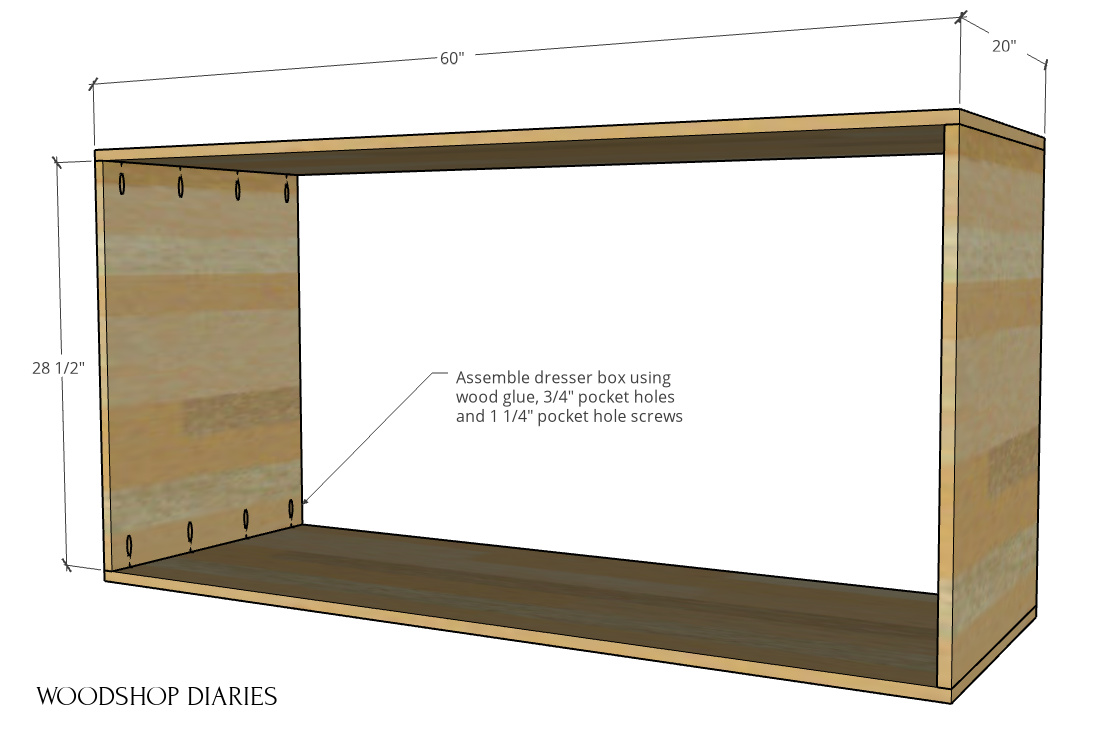 RELATED: Check out this post about how to use a pocket hole jig.
.
I used wood glue on all these joints WITH the screws for a more rigid hold.
Step 2: Install Middle Dresser Divider Panel
Once the glue was dry on the main body, I cut and installed a middle divider panel. I cut this so that it was 1" narrower than the main dresser body so that I could install it 1" inset from the front edge.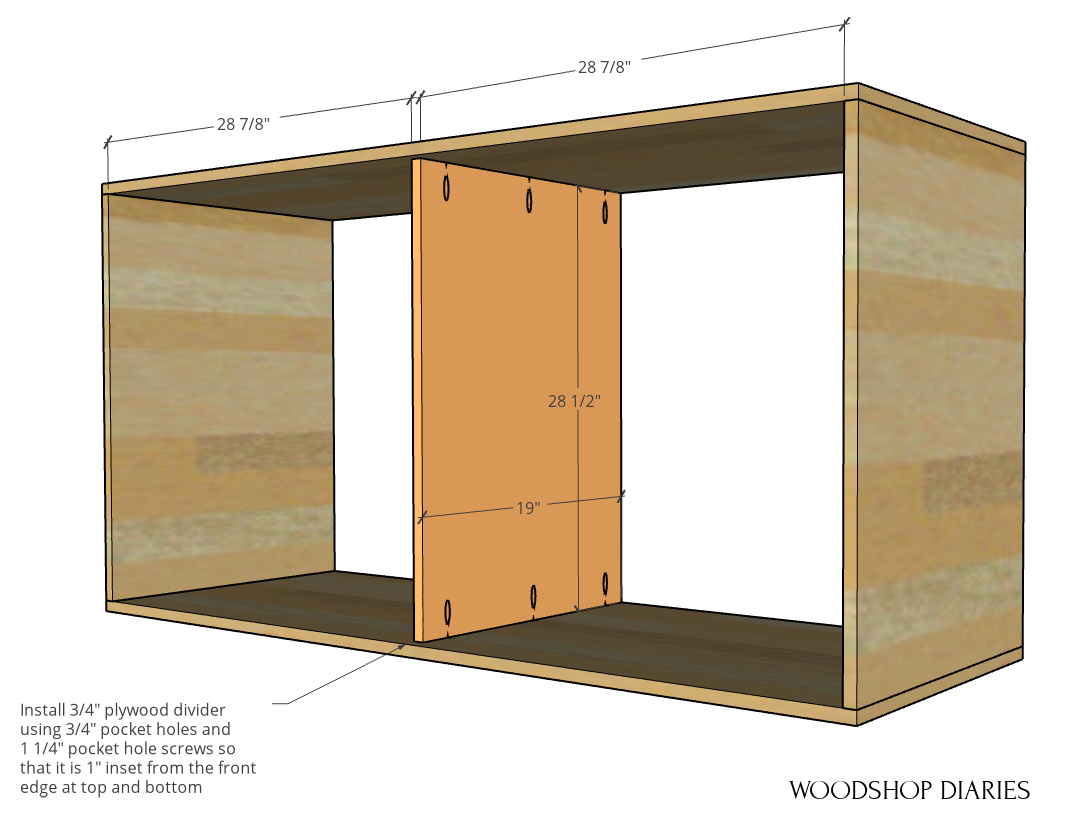 I just used pocket holes and screws again here and double checked pretty often that it was centered in the box.
Step 3: Install Modern Dresser Drawer Dividers
I used scrap plywood for this, but you could also use 1x3s or a similar size board. They don't have to be an exact width as they're mainly just for looks.
.
I found some thin strips in my plywood scrap pile and cut them down to fit between the dresser sides and the divider panel.
.
After applying edge banding to the front edges, I glued and nailed two at the top and two at the bottom keeping them 1" inset from the front edge.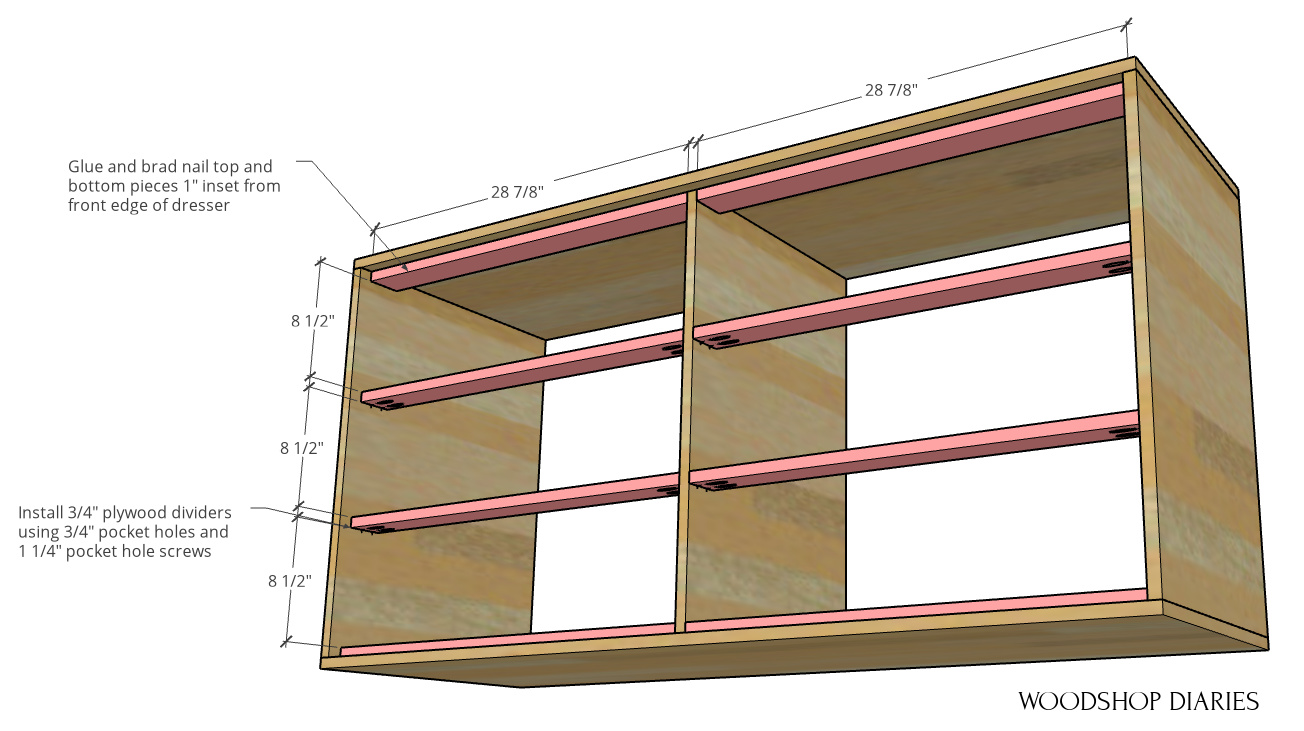 Then, I drilled pocket holes to attach the 4 in the middle. These needed to be 8 ½" apart, so I cut a spacer block to help keep them in place while I drove the screws. Again, these were 1" inset from the front edge as well.
.
That completed the main frame of the dresser, so now it was time to move onto my favorite part of every build—the drawers.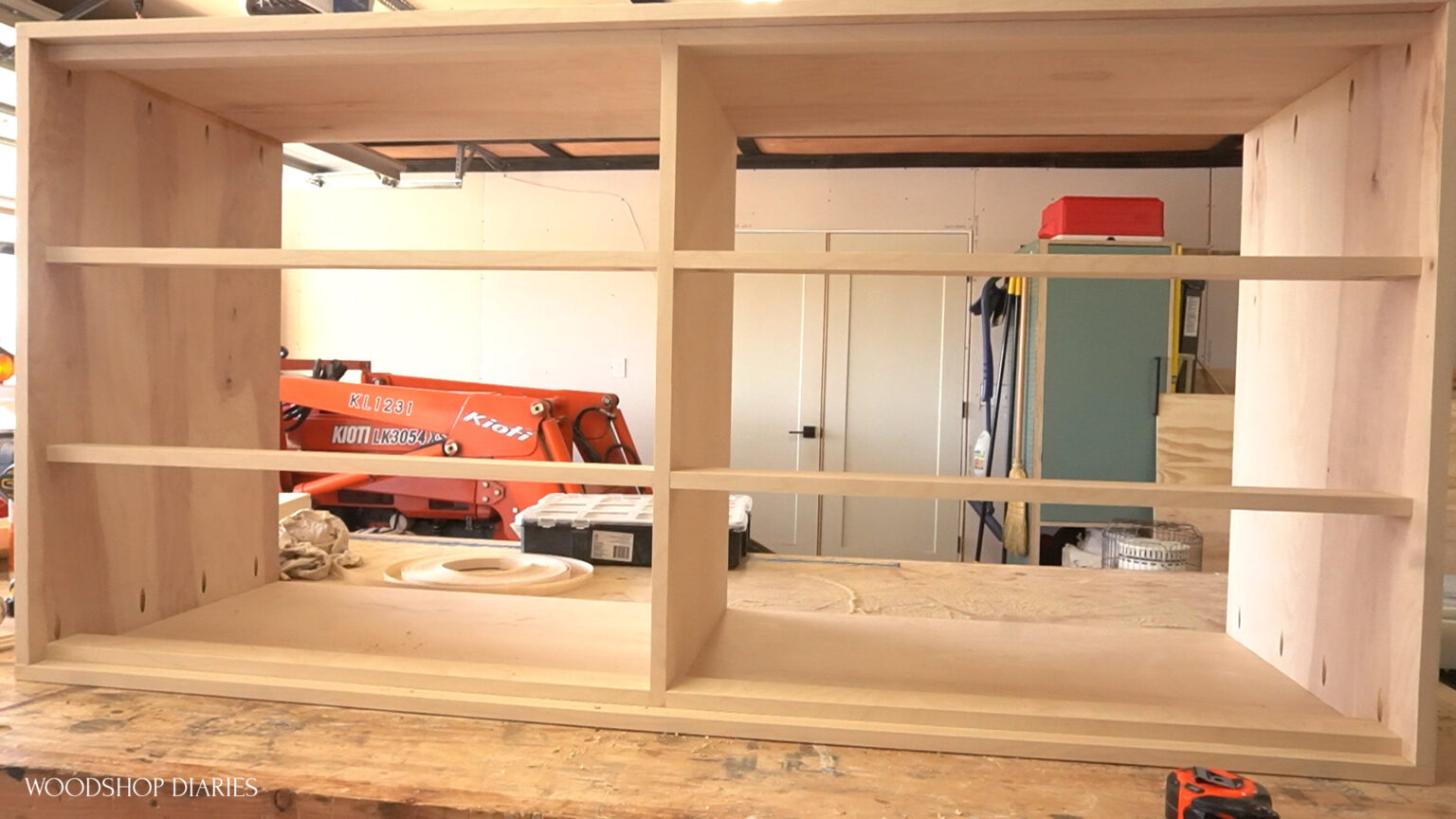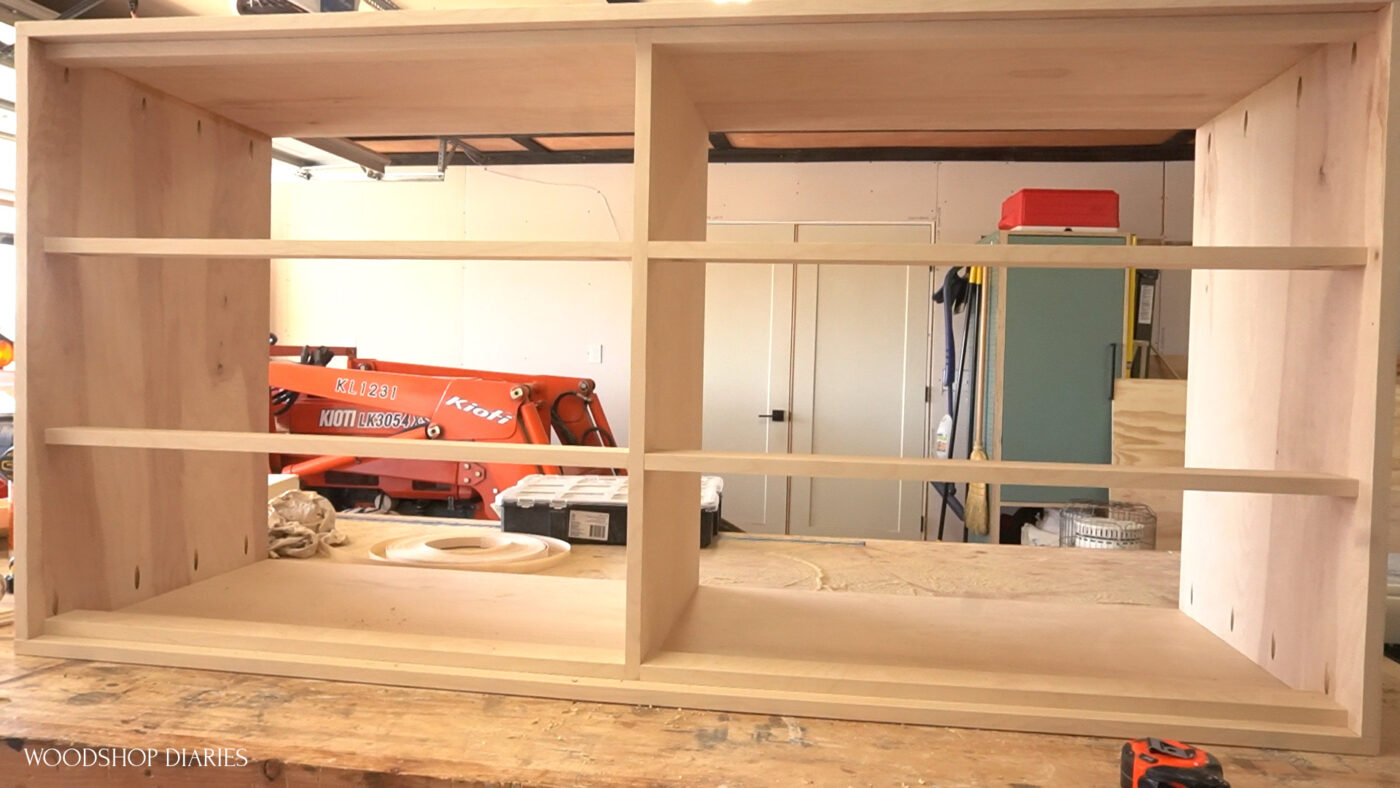 Step 4: Install Drawer Slides
I used 6 pair of 16″ ball bearing drawer slides for this DIY modern dresser build.
I've got a detailed guide here about installing drawer slides, but I just installed these 1" inset from the front edge of the dresser directly above each divider piece.
.
I made sure each slide was square and straight before driving the screws.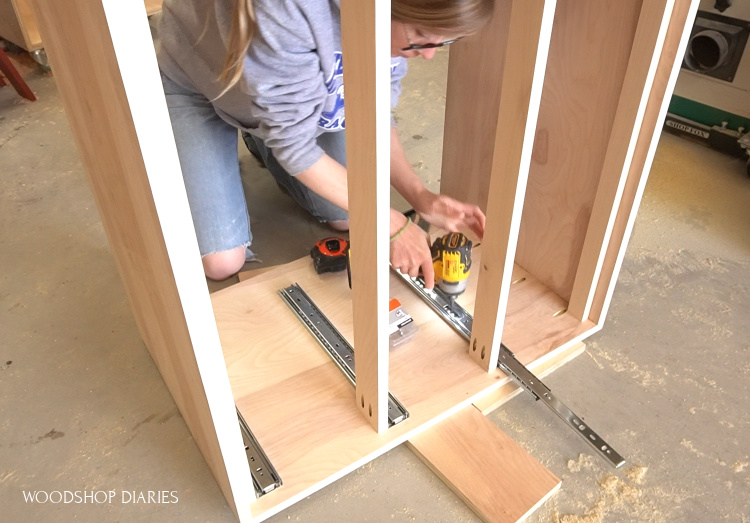 Step 5: Build Modern Dresser Drawer Boxes
I ripped some 7″ wide strips off a ¾" plywood sheet to cut down for the drawer boxes. Then I cut all my drawer box pieces to length from these strips on the miter saw to make 6 identical drawer boxes like this.
.
I also cut the ¼″ plywood bottom panels to size as well.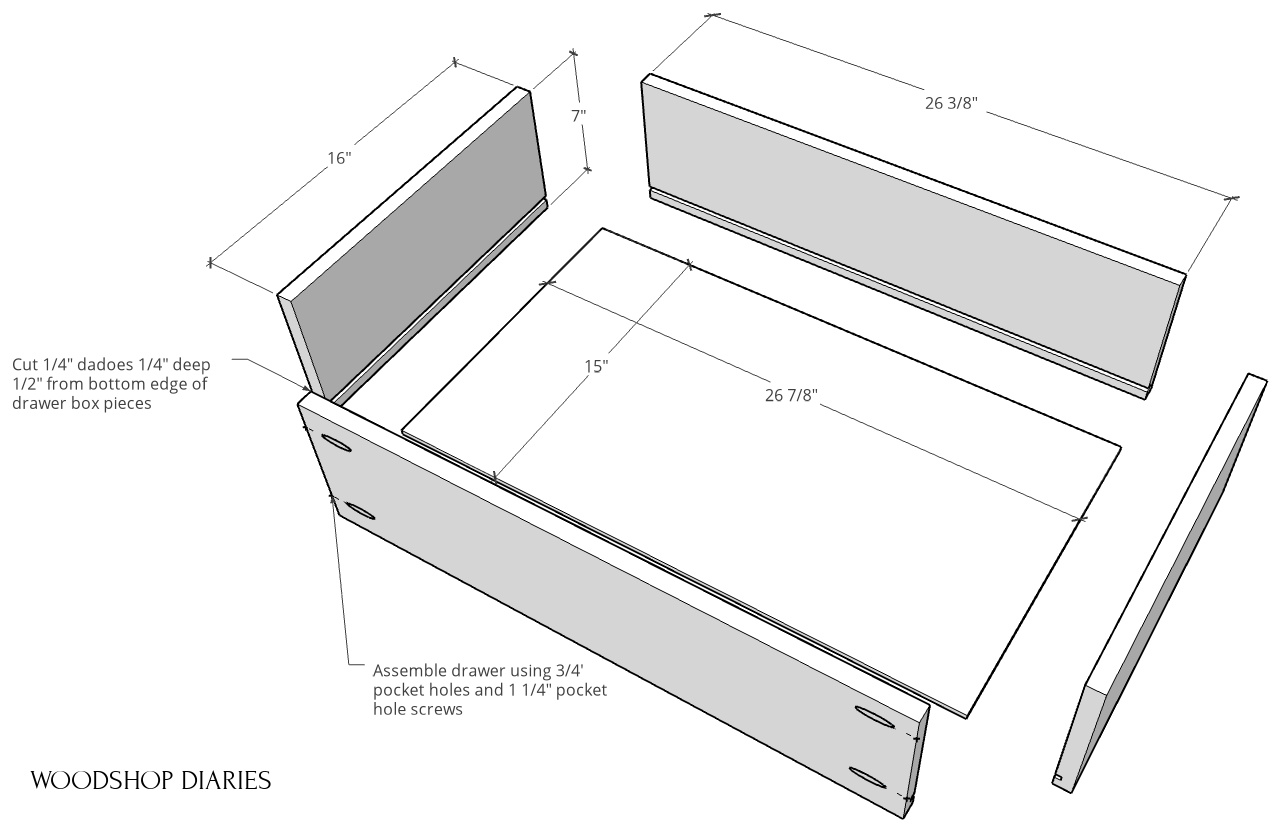 The bottom plywood panel sits inside dadoes cut on the drawer box sides, so after the pieces were cut, I began cutting these dadoes. I set my table saw blade height and rip fence up and began cutting the ¼" dadoes. (You can also use a router for this instead.)
.
I get asked pretty often if you have to have a dado blade on the table saw for this. And, no, definitely not.
.
I adjust my rip fence and cut a blade width, then adjust the rip fence again to cut another blade width so that the distance between the outside cuts are ¼".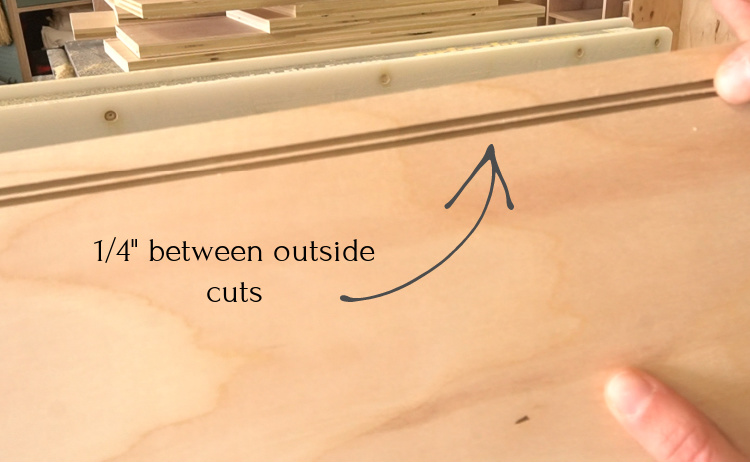 Then, I adjust again and clean up the middle to give me a ¼" dado. It's a little extra work, but so is swapping out a blade for just a few quick cuts. Whatever works…works 🙂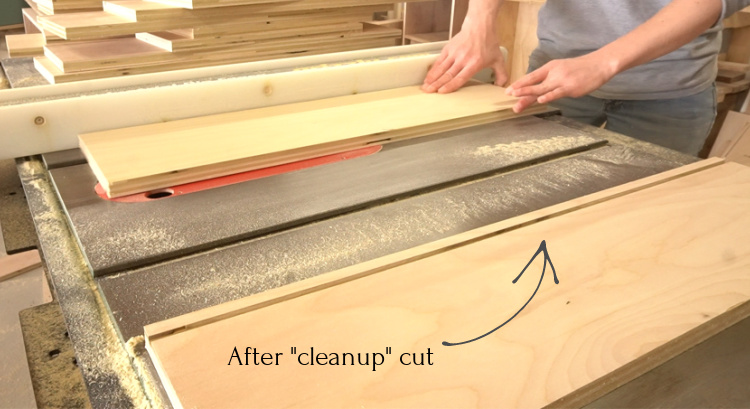 After all my dadoes were cut, I edge banded the tops of the drawer pieces, drilled pocket holes and assembled the drawer boxes with 1 ¼″ pocket hole screws like shown here.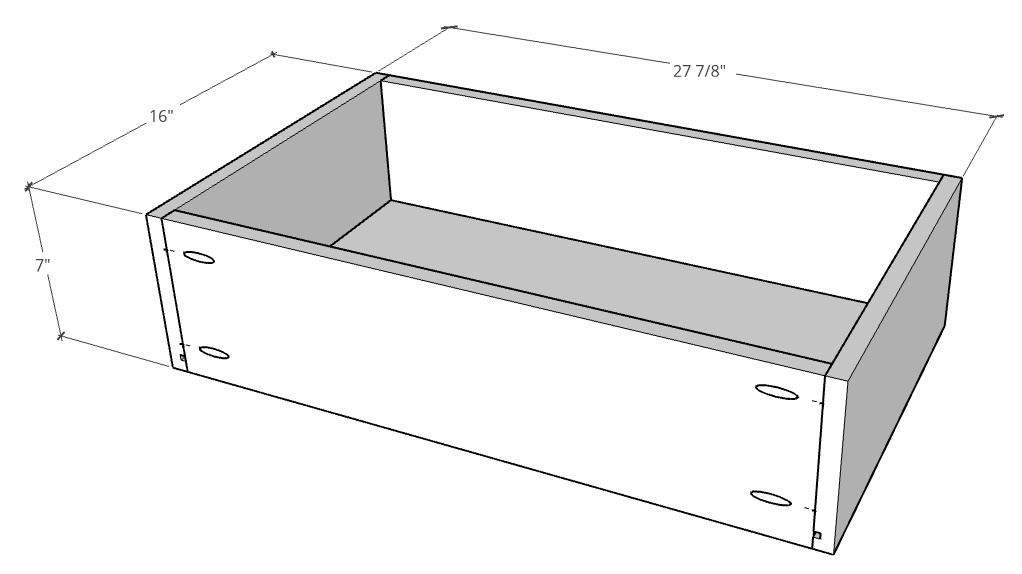 Step 6: Install Modern Dresser Drawers
Once all six drawers were assembled, I installed them into the dresser body.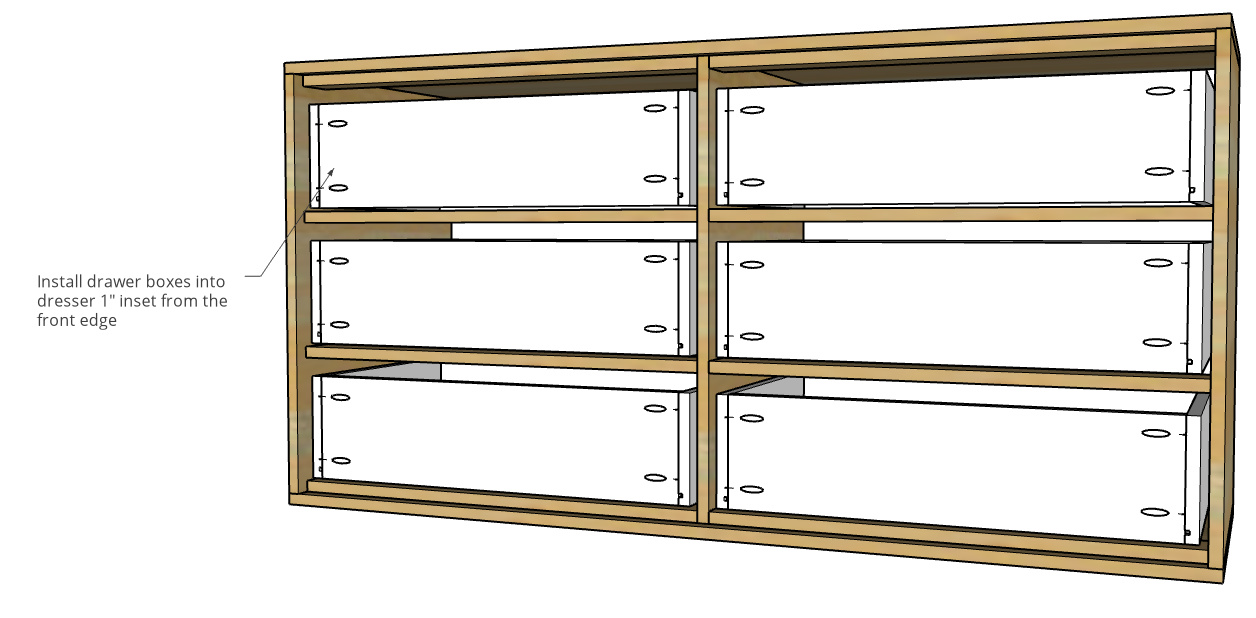 Step 7: Add Drawer Fronts
I installed these drawer fronts using 1 ¼" wood screws from the inside of the drawer boxes so that they covered the drawer box openings and were ⅛" from the dresser sides.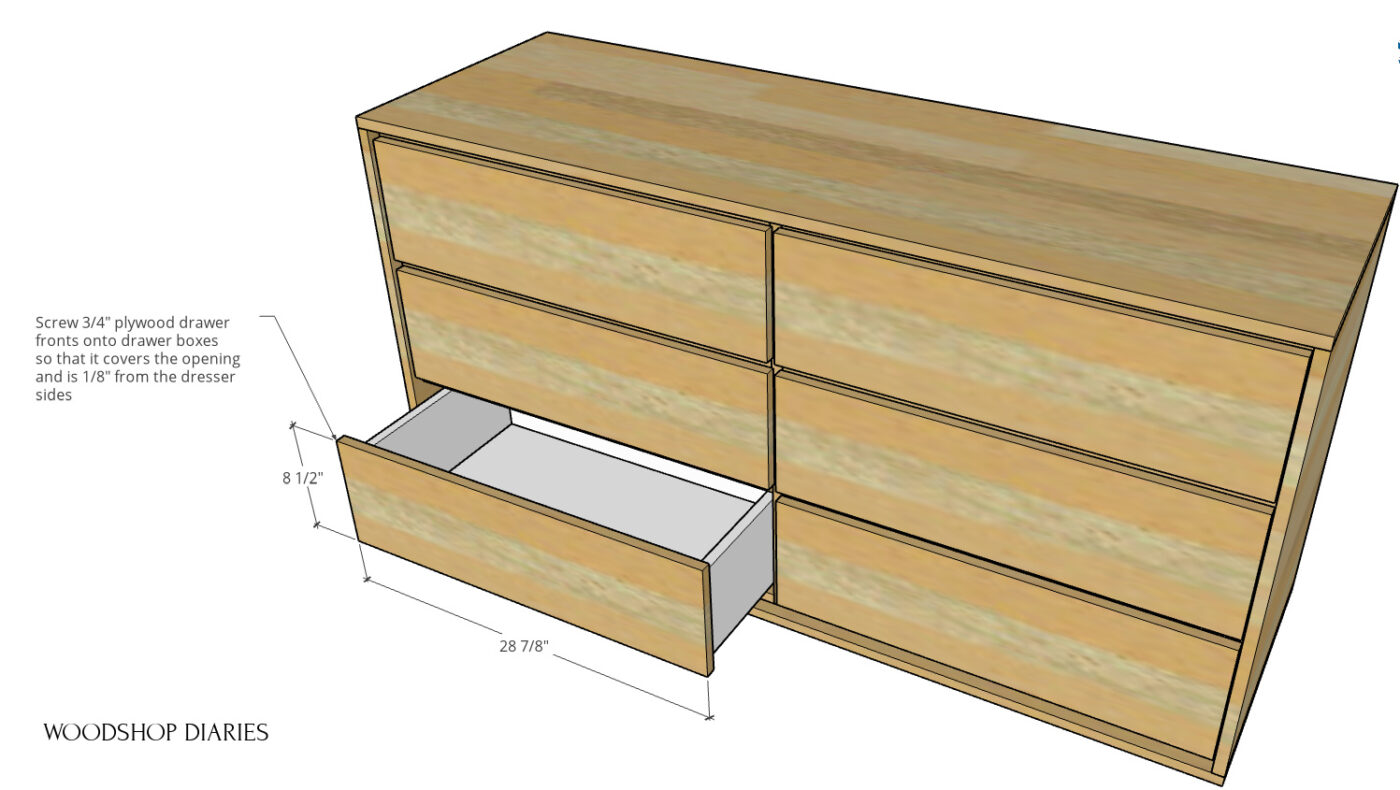 The design called for leaving most of these divider pieces exposed and allowing more space than usual between the drawer fronts. There is nothing scientific or technical here—it's purely just for looks.
.
So if you wanted to make your drawer fronts larger to hide the dividers, you definitely can.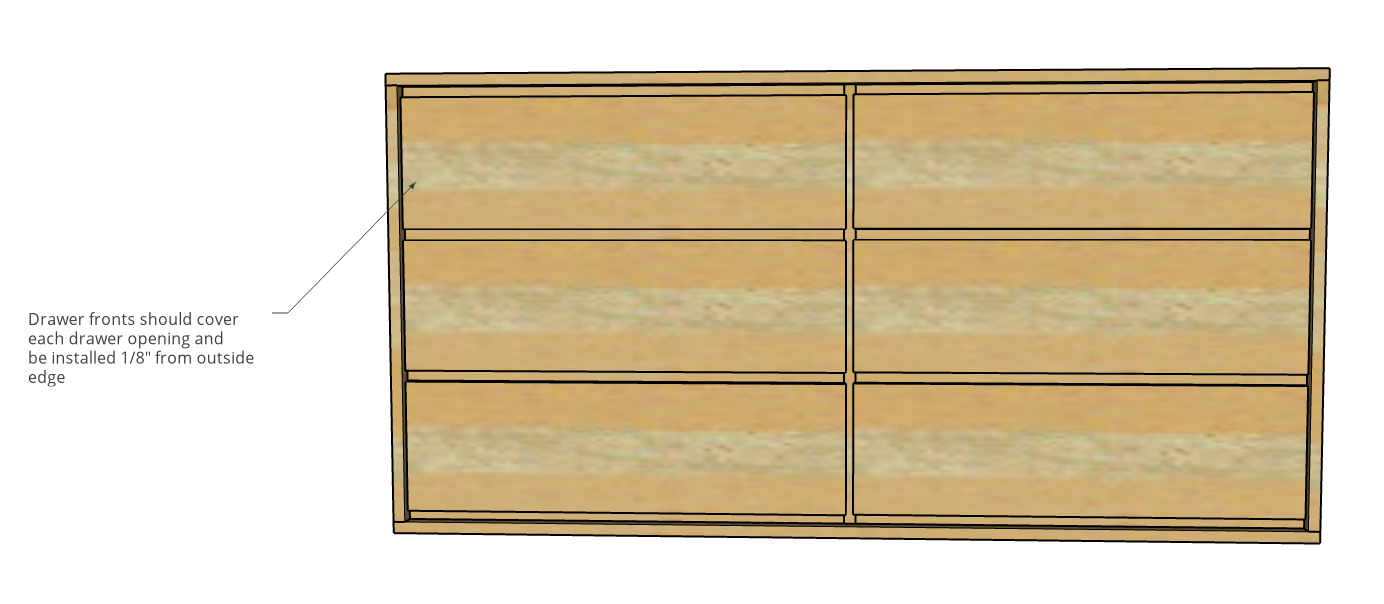 Now the dresser body is complete and all that's left is the base.
Step 8: Assemble Modern Dresser Base Frame
I built the base frame using 2x4s. This is totally optional, but I ran the 2x4s through the planer and trimmed the rounded edges off the 2x4s just to clean them up a little.
RELATED: Check out this post about how to remove rounded board edges.
.
Then, I cut the base frame pieces to length and drilled pocket holes into the ends of the short pieces to assemble a 2×4 frame that will help support the weight of the dresser in the middle.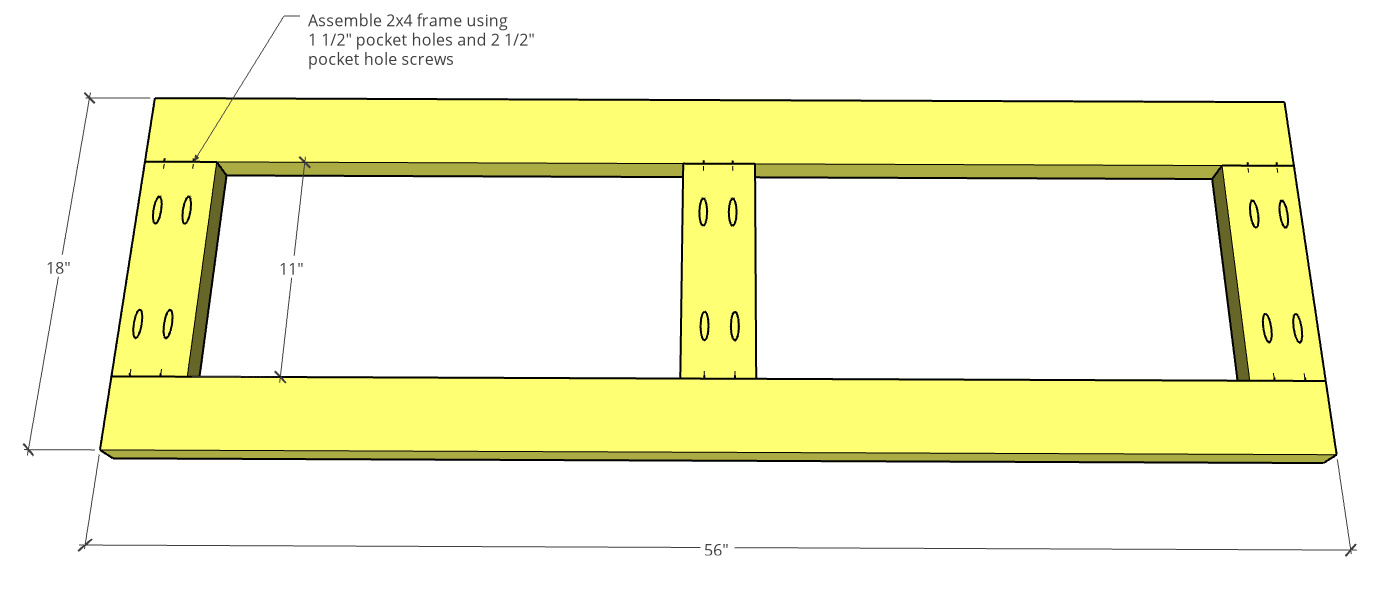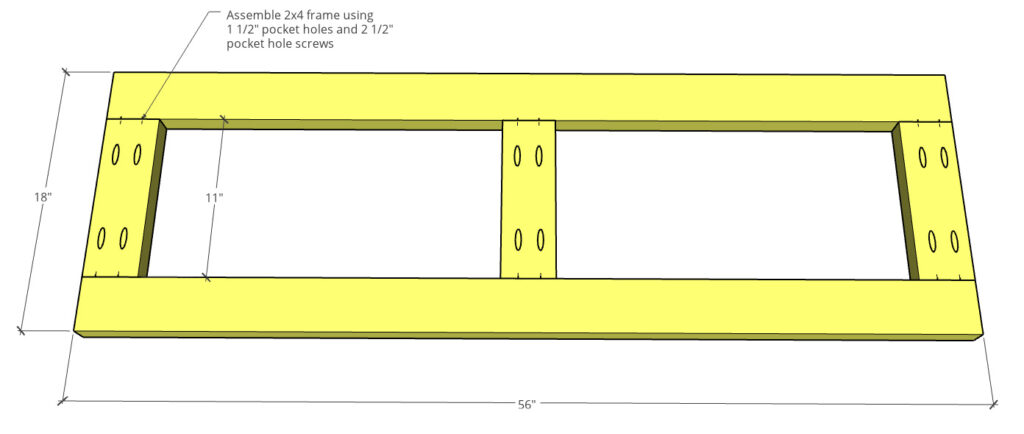 I assembled this super basic frame using pocket hole screws making sure to get the piece in the middle centered.
Step 9: Cut Dresser Legs
For the legs, I used some scrap poplar I had in the shop. But, you could also use standard 1x lumber or ¾" plywood for the legs if you wanted.
.
I used this same leg design in a few projects in the past, so if they look familiar, you may recognize them from the dog bed, dog bowl stand, and upholstered storage bench I built previously.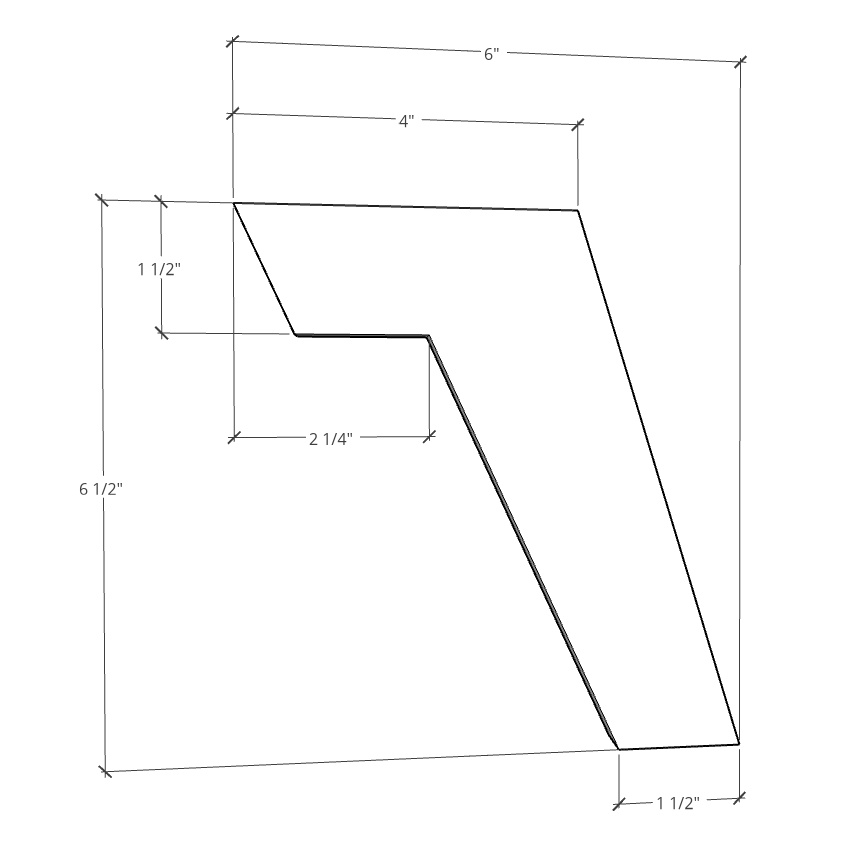 I actually pulled up the diagram from those plans to copy for this build and traced out the design onto my poplar piece.
.
Once I had the first leg cut out with a jig saw, I sanded it and used it as a template to trace out three more from the same board.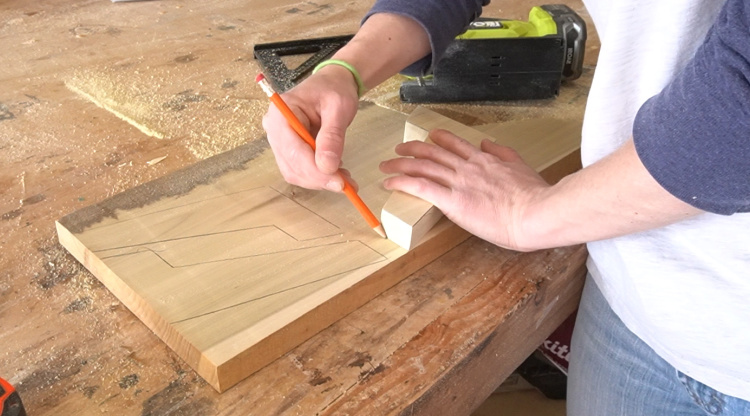 Step 10: Install Modern Dresser Legs
After they were all sanded, I brought the base back out and used some wood glue, a speed square and a couple 2 ½" wood screws per leg to attach them at each corner at a 45 degree angle.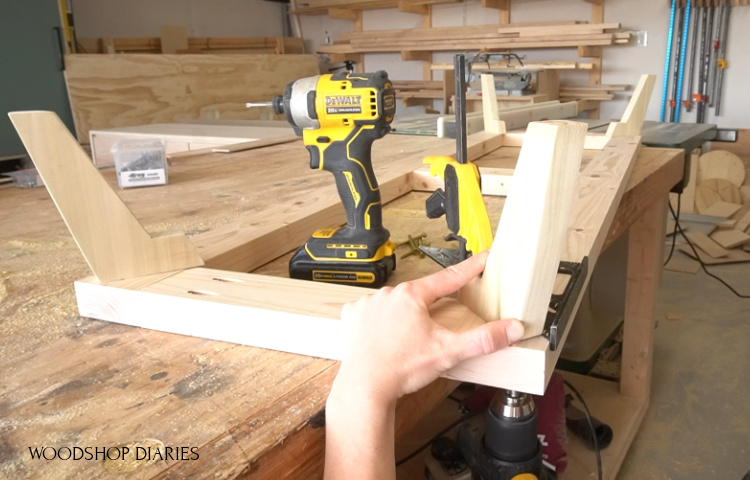 Once the base was together, all that was left was to attach it to the dresser.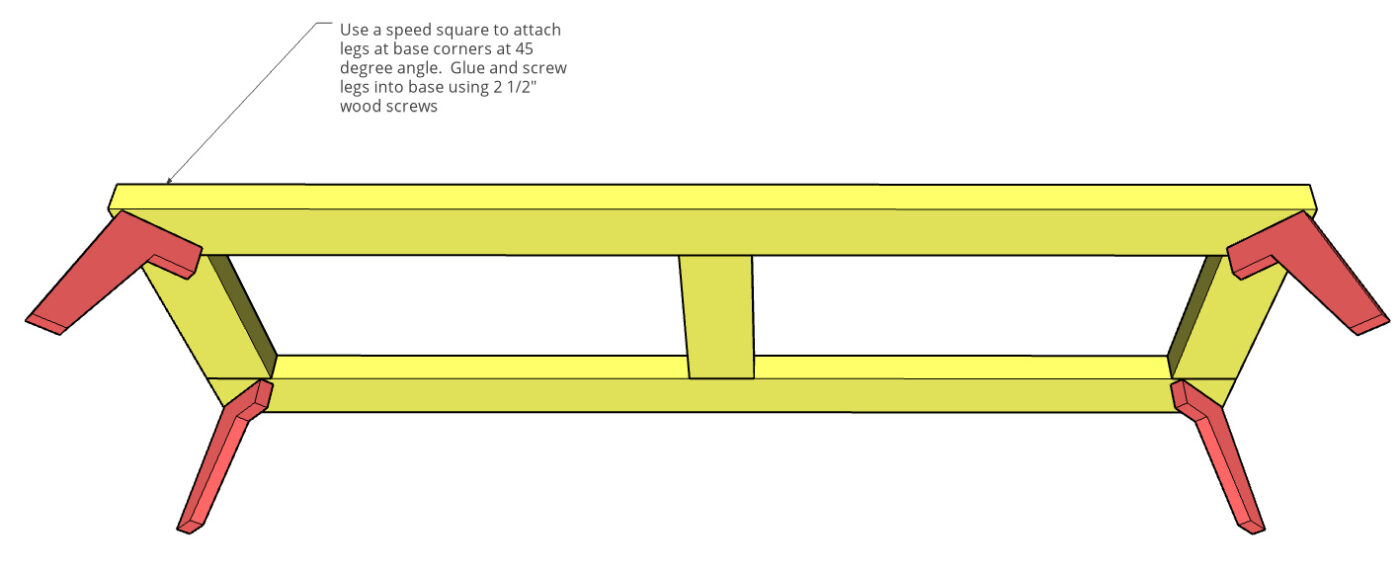 Step 11: Attach Base to Main Dresser Body
Since the dresser was really heavy with all the drawers installed, I removed them, flipped it upside down and centered the base on the bottom.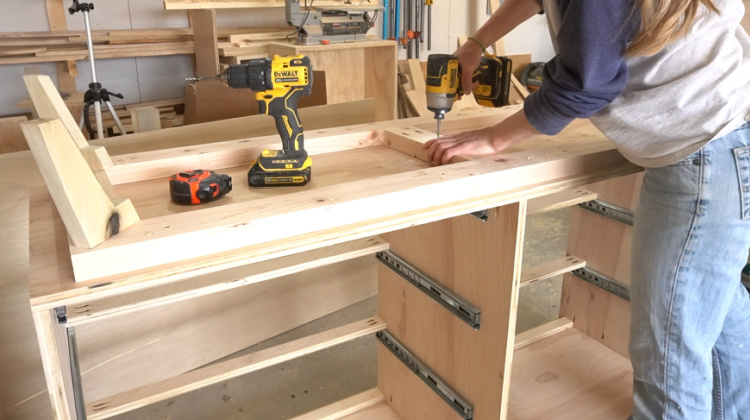 I used several 2" wood screws to attach the base to the bottom plywood panel, then flipped it back over.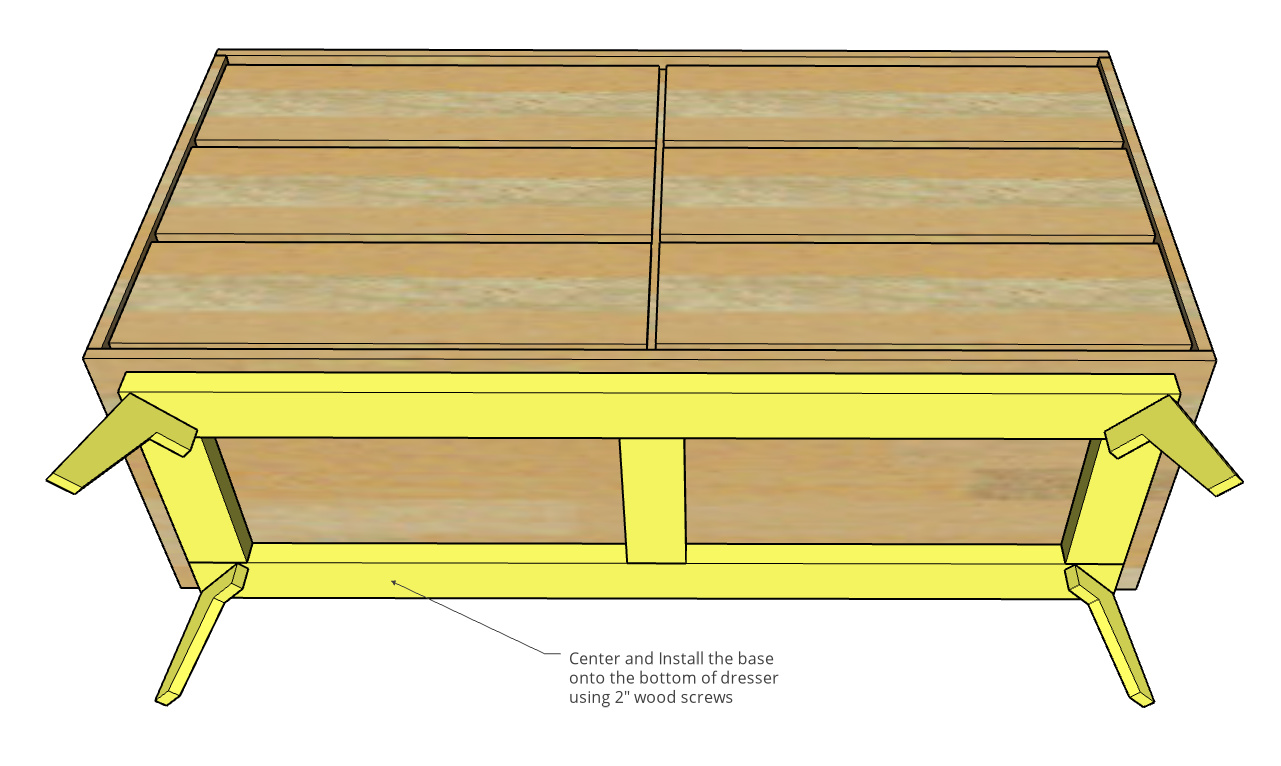 Step 12: Attach Back Panel
And finally, I stapled the ¼" plywood backer onto the back of the dresser and reinstalled the drawers.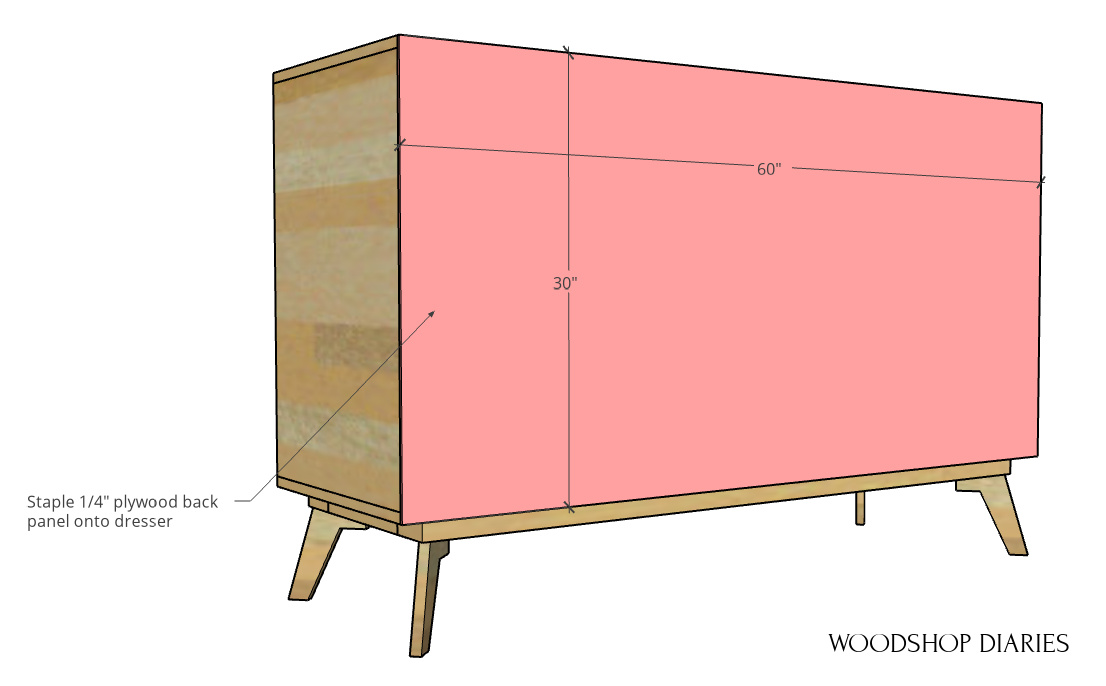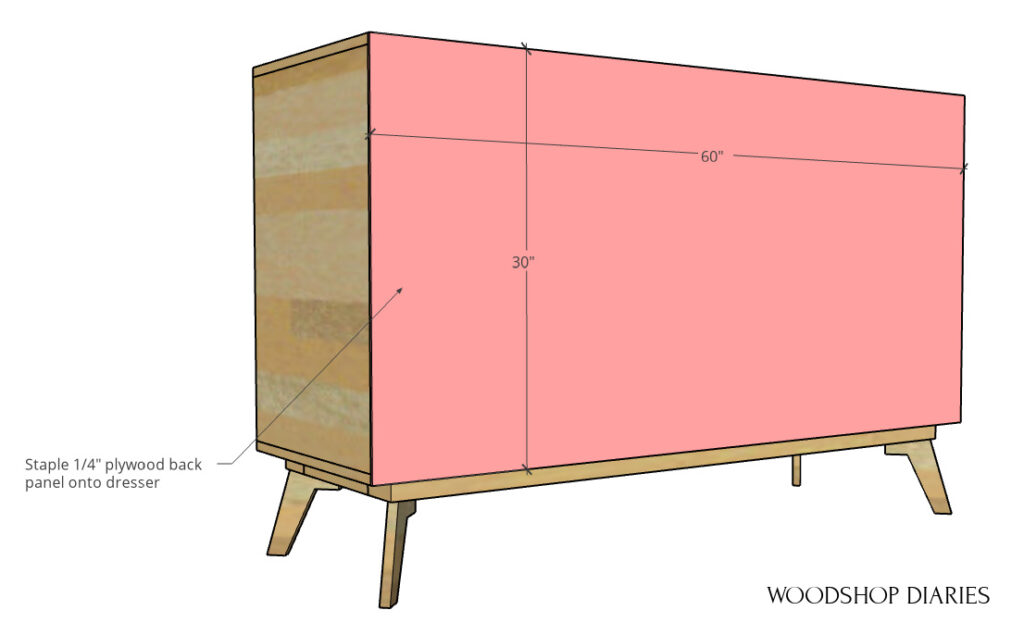 And now she's ready for stain or paint or whatever you would want to finish it with. Honestly, I'm kind of digging the unfinished look, but I know that's probably not the popular opinion haha.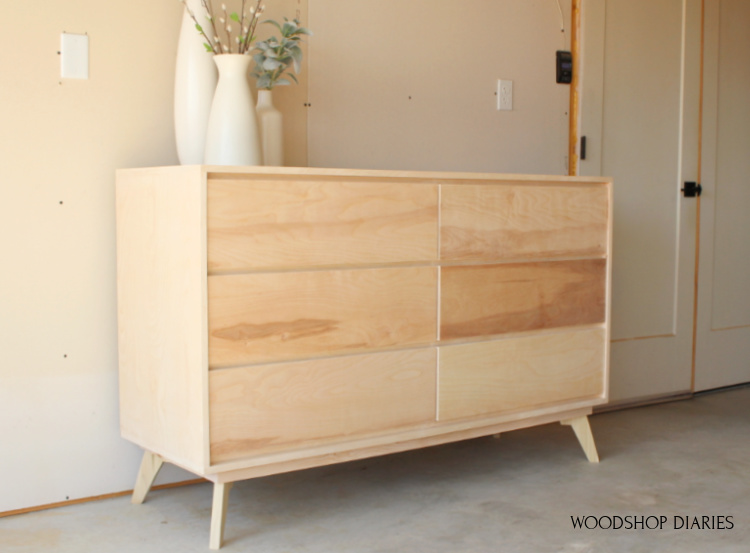 You can add handles or knobs to this or leave them off for a more minimalist look. But if you wanted to do without hardware, you could use the drawer slides that you can push to open for this instead.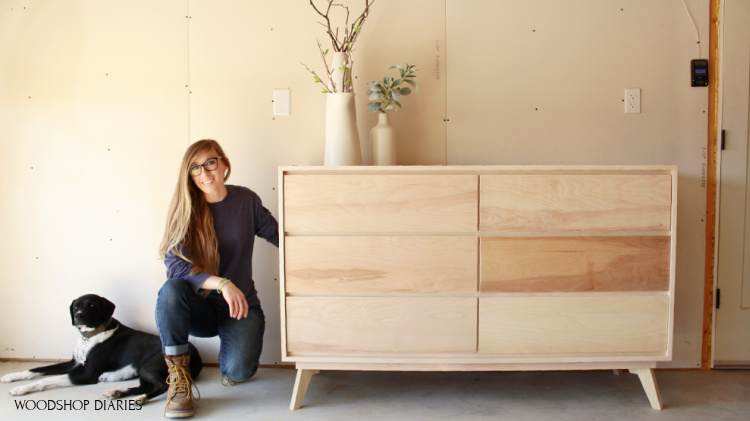 Either way, it's a classic dresser design I really hope you enjoyed watching it come together as much as I enjoyed building it! If you're interested in building your own, be sure to check out the printable plans here.
.
If you enjoyed this how to build a Modern Dresser Project and want to save it for later, don't forget to pin it!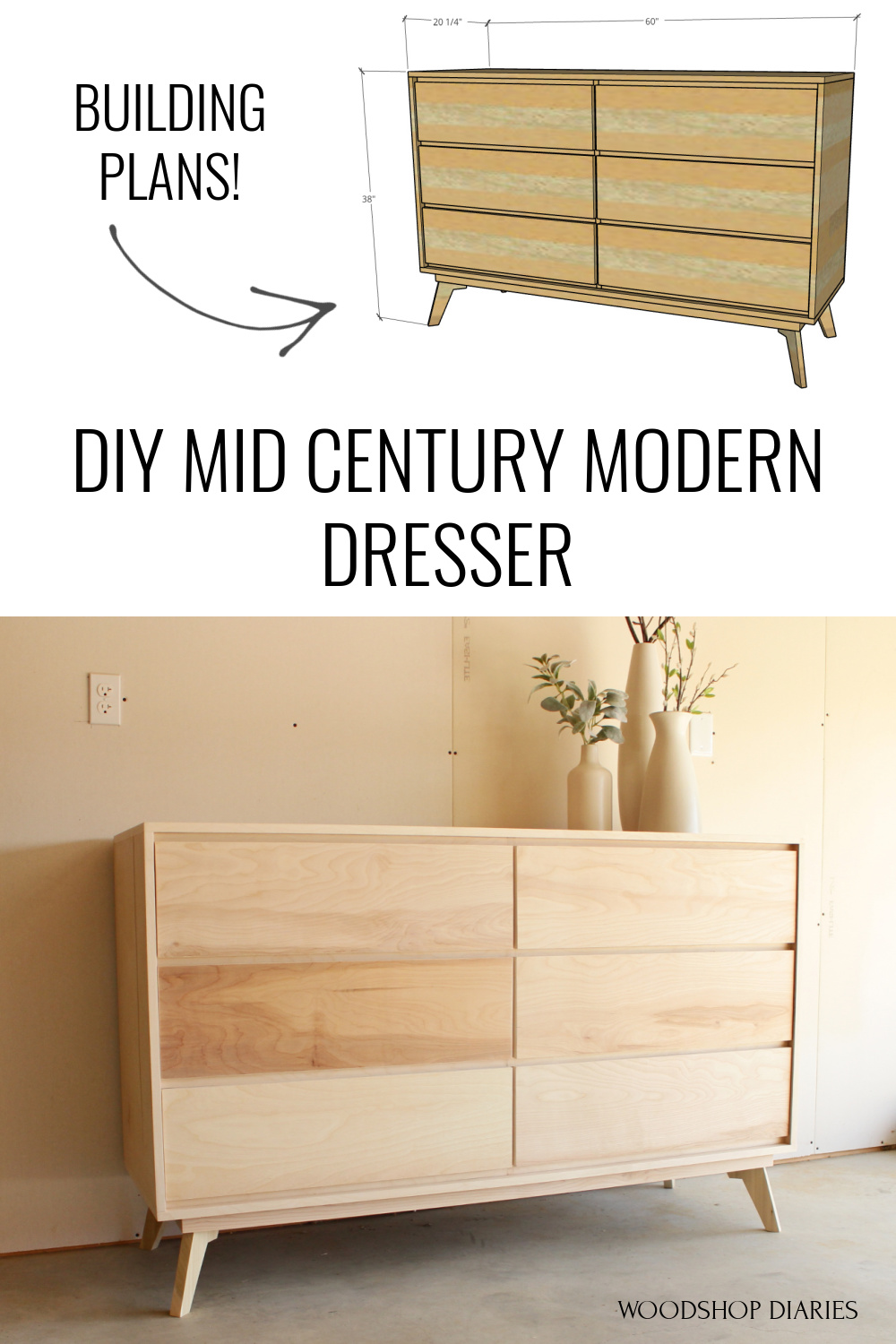 And don't forget to follow along and subscribe below so you don't miss out on what's coming next!
Until next time, friends, happy building 🙂