In this post, I'll show you how to build your own five drawer DIY dresser!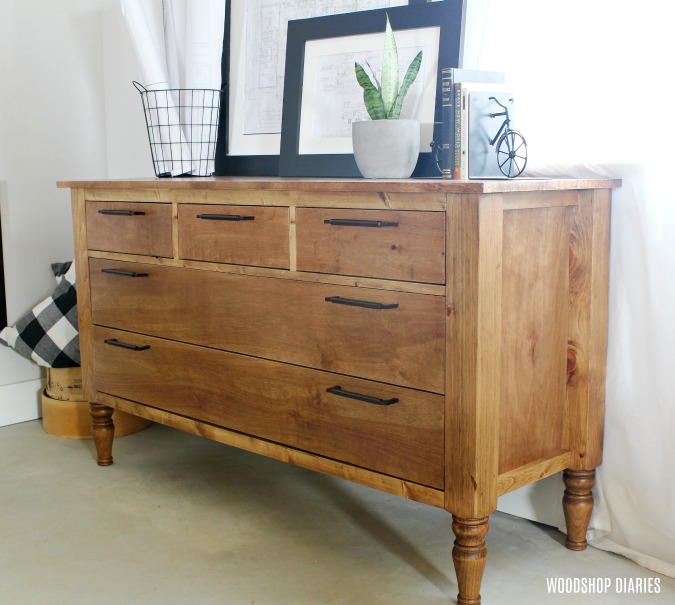 I love a good DIY Dresser build.  You may have guessed that because I've built several haha. 
.
Each one has it's own personality and it's own design.  But this one is one of my favorites!
.
I think it's the legs.  Want to know something funny? They're actually vanity legs–not dresser legs.  I actually used some exactly like it to build a bathroom vanity a while back.
.
But, if you are ready to get building your own DIY dresser just like this one, I've got the YouTube video tutorial here and the step by step directions and plans below!
This post contains affiliate links. Please see disclosure policy.
For this DIY Dresser build you will need:
Tools:
Miter Saw
Table Saw or Router (optional for drawer dadoes)
Materials:
(4) Vanity Legs (if you want more simple legs, you could also use 4×4 legs instead)
(1 ½) Sheets ¾″ Plywood
(1) Sheet ¼″ Plywood
(3) 2x2x8 boards
(2) 1x2x8 boards
2″ wood screws
Some Notes About the Build:
The overall dimensions of this dresser ended up being 20″ deep, 33″ tall, and 56″ wide.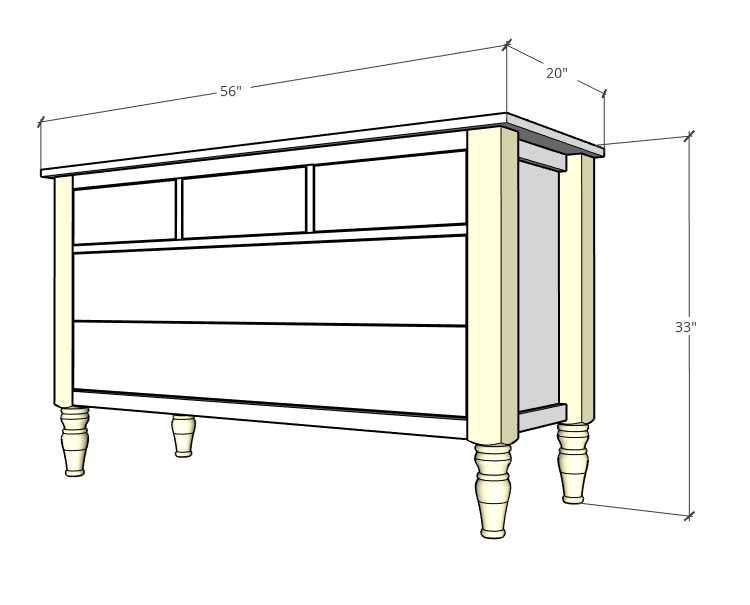 Some posts you might find helpful during the build:
Step 1: Assemble Side Panels
I made this dresser 33″ tall overall, so subtracting the ¾″ plywood top, I needed to cut my legs 32 ¼″ long. 
.
These legs come 34 ½″ long, so if you don't want to cut them down, you don't have to.  But I cut mine to 32 ¼″ long.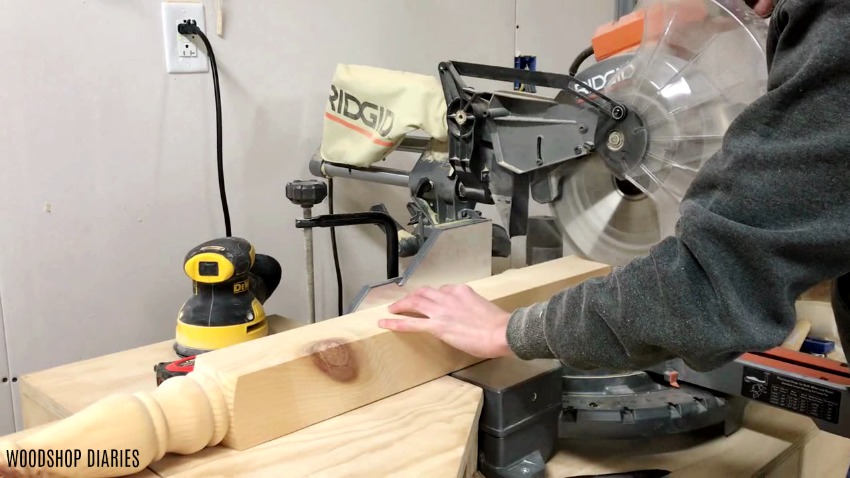 Once the legs were trimmed down, I cut four 13″ long 2×2 side frame pieces attached like shown using 1 ½″ pocket holes and 2 ½″ pocket hole screws and wood glue. 
.
I left a 21 ½″ space between the 2x2s and also attached them FLUSH to the INSIDE of the leg.  I had two of these, obviously, one for the left, one for the right of the dresser.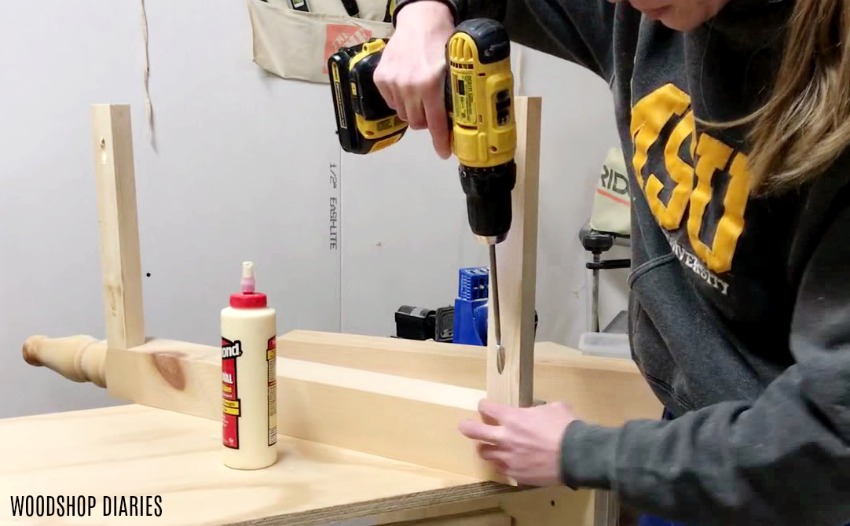 Then I used my circular saw and Kreg Rip Cut to cut down ¾″ plywood panels to fit inside this frame. 
RELATED: Check out how to cut down plywood sheets with this step by step guide.
.
I drilled ¾″ pocket holes along the edges of the plywood panel, then installed it and the other leg onto this frame to complete the two sides of the dresser.
RELATED: Learn how to use a pocket hole jig in this post.
.
TIP: Attaching this plywood panel flush to the inside of the leg helps later with installing the drawer slides.  If it wasn't flush, you would have to use spacer blocks to mount the drawer slides to.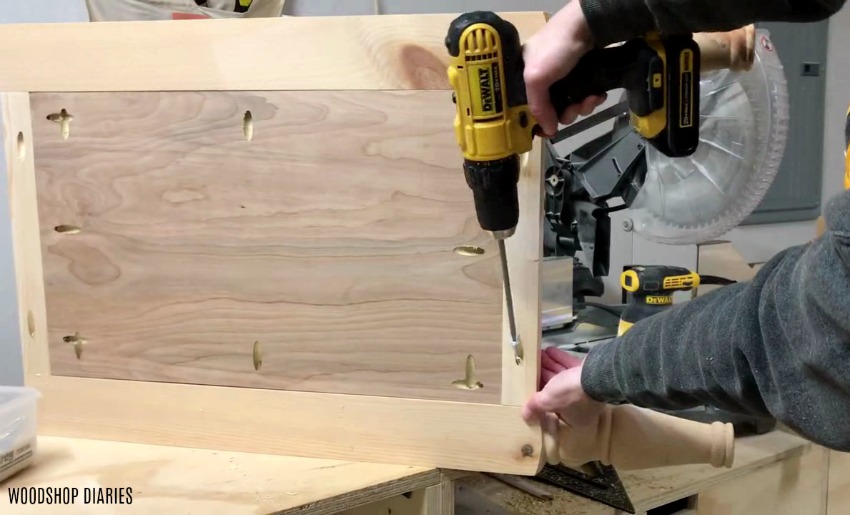 Step 2: Assemble the Frame of the DIY Dresser
Next, it was time to combine the two side panels and make the dresser frame. 
.
I cut four 2x2s to 48″ and drilled 1 ½″ pocket holes into each end of each piece and attached like shown using wood glue and 2 ½″ pocket hole screws.
RELATED: How to cut your own 2x2s.
.
There should be 21 ½″ between the top and bottom frame pieces just like on the side panels.
.
Side Note: For 2×2 and 1×2 material, I always drill one pocket hole in each end and use wood glue to help hold it in place.  I've found using two pocket holes tends to cause the wood to crack when you drive the screws.
RELATED: How to use pocket holes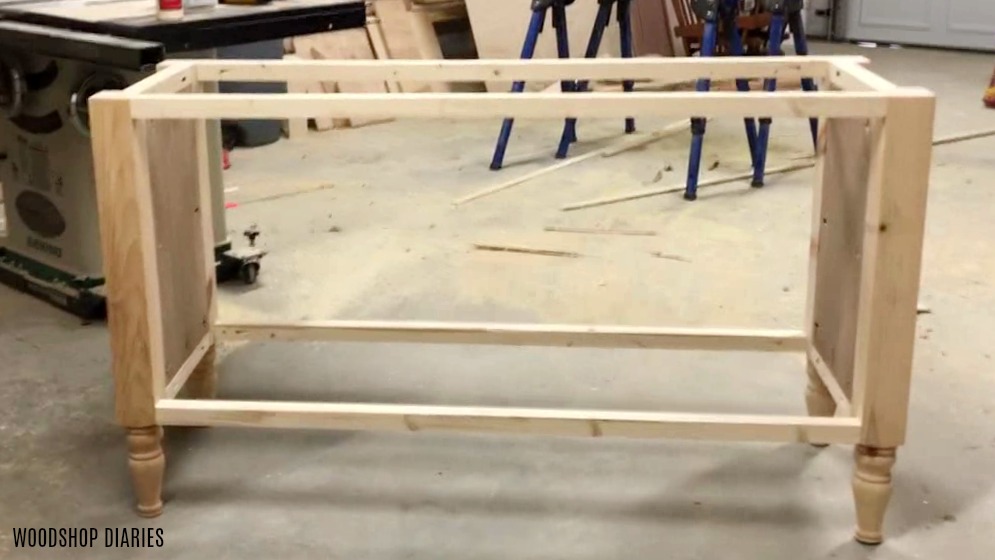 Step 3: Add Drawer Dividers to Dresser
I added drawer dividers to the dresser both for looks and for function. I like the separation between the small top drawers and the large bottom drawers, BUT this also makes for an easy way to mount drawer slides for those top drawers, as well.
.
I cut two 1x2s at 48″ long, drilled ¾″ pocket holes into the ends, and attached like shown on the front and the back side of the dresser using wood glue and 1 ¼″ pocket hole screws. 
.
I attached these so that there was a 6″ opening between the top 2×2 and this 1×2 divider piece.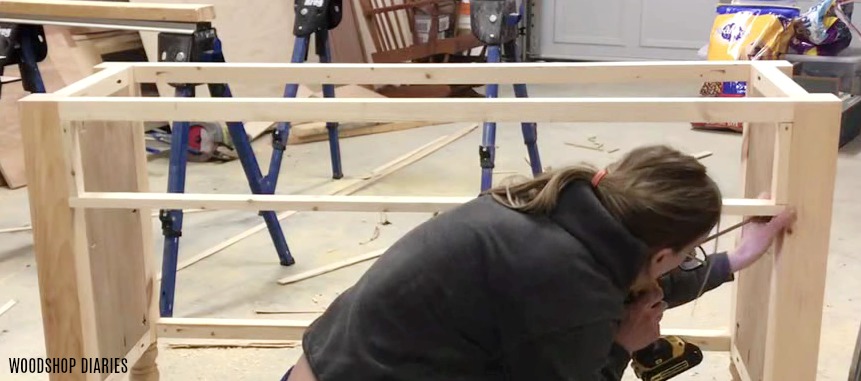 Then, I screwed 6″ long 1×2 pieces between the 2×2 and 1×2 to divide the top three drawers. 
.
I just used regular 2″ wood screws through the top 2×2 and 1 ¼″ wood screws through the bottom 1×2.  I spaced these evenly so each drawer would be the same size.  The space ended up being 15 ½″ apart.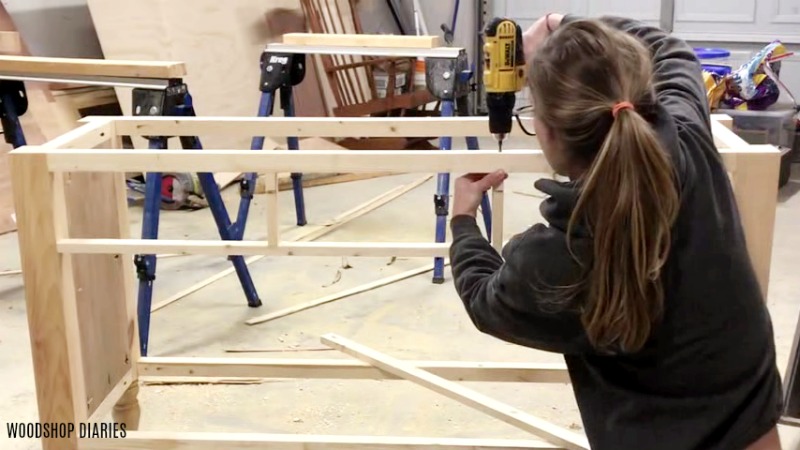 I did this on both the front and back of the dresser.  That way I could easily attach the next piece.
.
I cut two pieces of ¾″ plywood scrap (but you could also use 1×2 scrap if you wanted) to fit between these 1x2s and attached like shown using ¾″ pocket holes and 1 ¼″ pocket hole screws. 
.
This is what I mounted the top drawer slides to in the next step.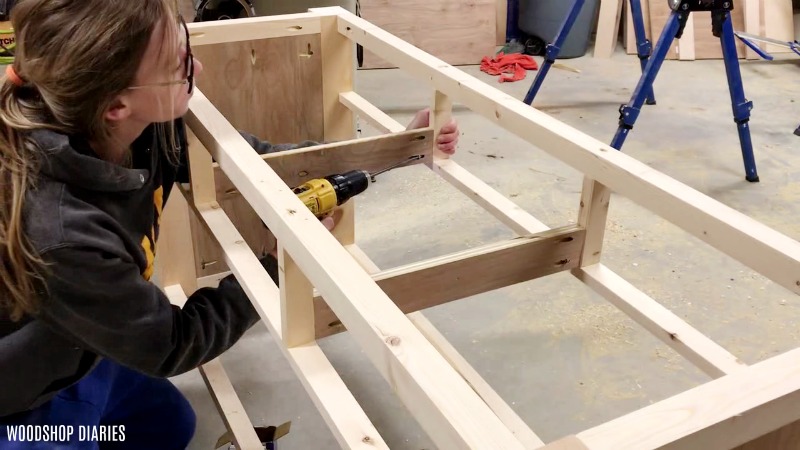 Step 4: Attach Drawer Slides to DIY Dresser
Next, I attached five pair of 16″ ball bearing drawer slides to the dresser body. 
.
Two pair will go on the bottom section of the dresser for the bottom drawers and two pair on the top.
RELATED: How to install drawers and drawer slides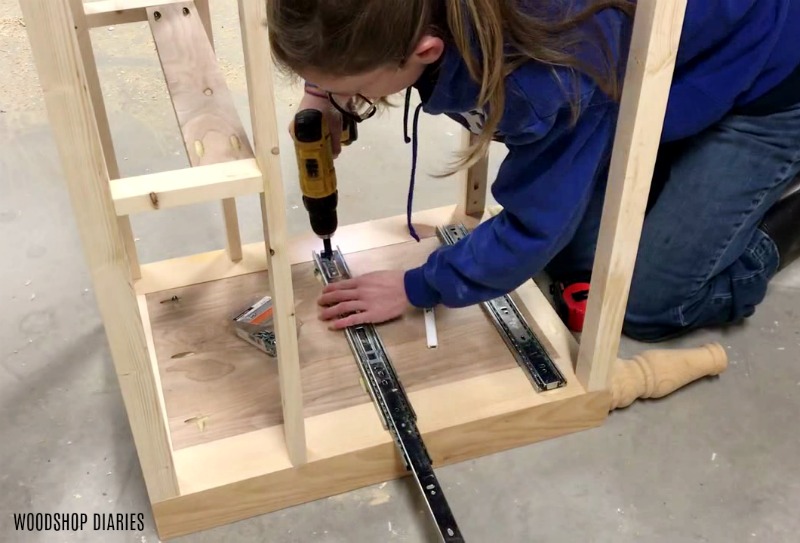 Step 5: Build and Install Drawer Boxes
I cut all the pieces for the drawer boxes for all five drawers from ¾″ plywood. Then, I cut ¼″ deep x ¼″ wide dadoes ½″ from the bottom side of all the drawer pieces on my table saw.  This is so I could install the ¼″ plywood bottom panel inside.
RELATED: I have a detailed guide for building drawer boxes here.
.
All the dimensions can be found in the printable plans here.
.
HOWEVER, if you don't have a table saw, you could also use a router with a ¼″ straight bit to cut the dadoes. OR you can skip the dadoes altogether and just glue and staple the plywood onto the bottom of the drawer box.
.
I assembled these drawer boxes using pocket holes and screws and was sure to install the ¼″ plywood bottom before attaching the fourth side of the drawer box.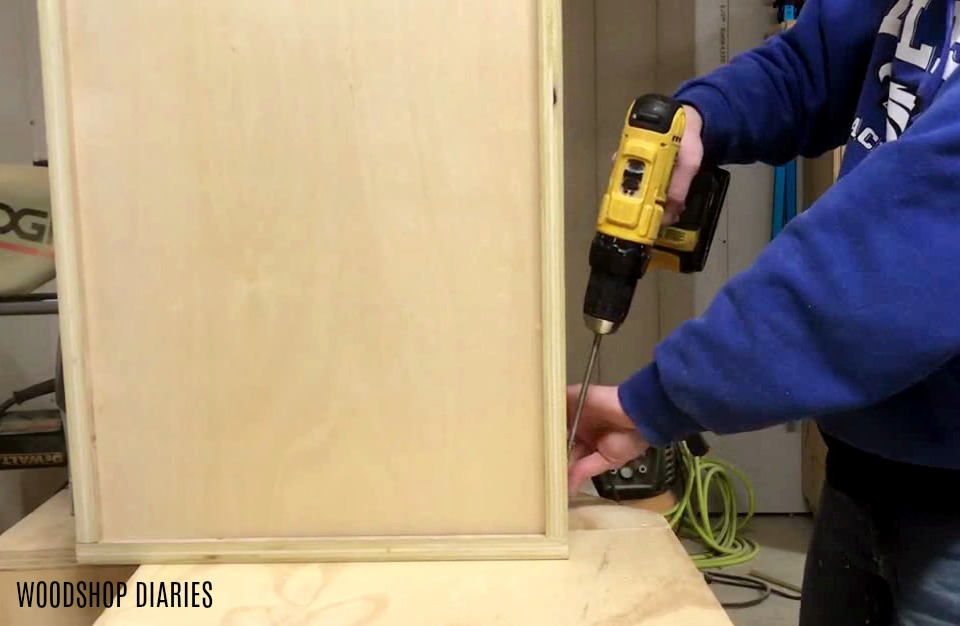 Then, I installed the drawer boxes into the dresser frame. 
.
I used scrap spacer blocks to set the boxes on to prevent them from rubbing anything when they were opened and closed.  Then, I pulled the slides out and drove the screws into the slide.
.
This drawer building guide walks you through how to install drawer boxes step by step.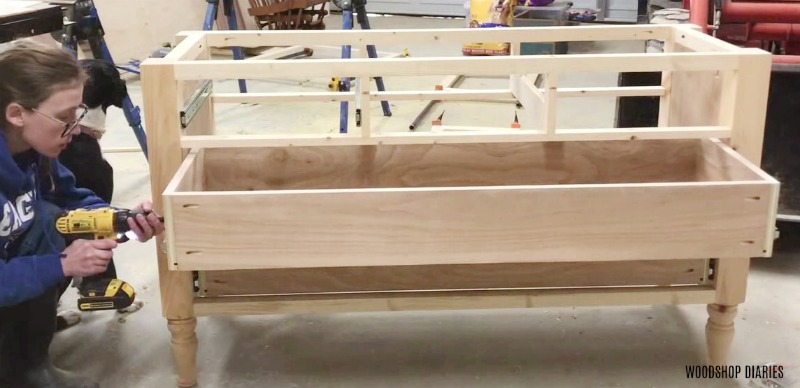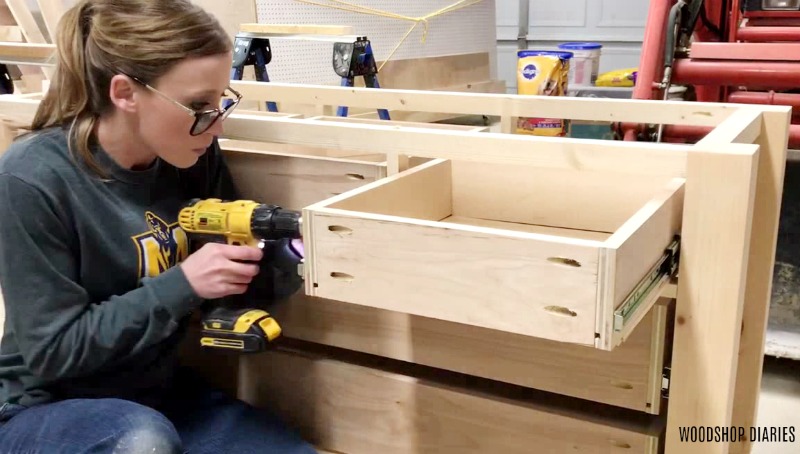 For a cleaner look, apply iron on edge banding to the top side of the drawer boxes to cover the plywood edges.
RELATED: How to apply iron on edge banding
Step 6: Add Drawer Fronts
I always cut my drawer fronts to fit just in case I get anything off a little in the build. 
.
I always try to be careful, but no one is perfect and it's always best to measure your drawer opening and subtract ¼″ off each dimension so that you will have a ⅛″ gap on all sides of the drawer front.
.
Once I had my drawer fronts cut from ¾″ plywood, I attached edge banding around all sides for a cleaner look.  Then I placed them onto their drawer, and screwed in place from the inside of the drawer box leaving ⅛″ gap on all sides.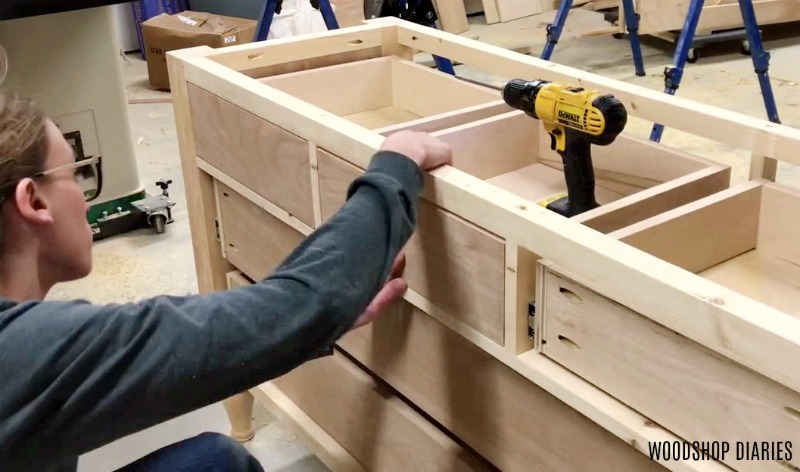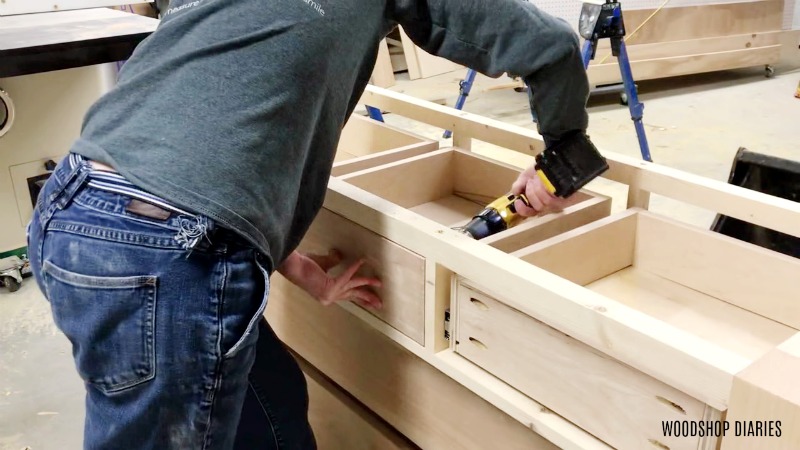 Step 7: Add Top to DIY Dresser
I cut the ¾″ plywood top 20″ x 56″ to allow for a one inch overhang on both sides and a one inch overhang on the front. 
.
I applied edge banding to cover the plywood edges.
.
To attach, I applied wood glue along the top of the dresser then placed the top on and made sure everything was centered with 1″ on each side.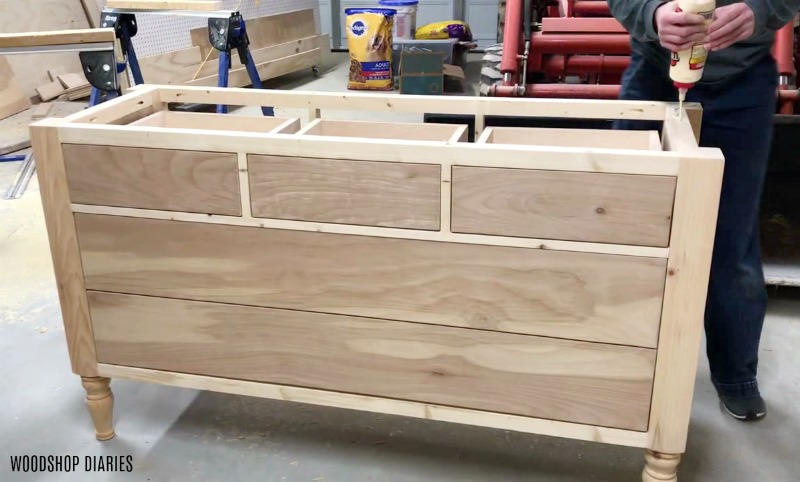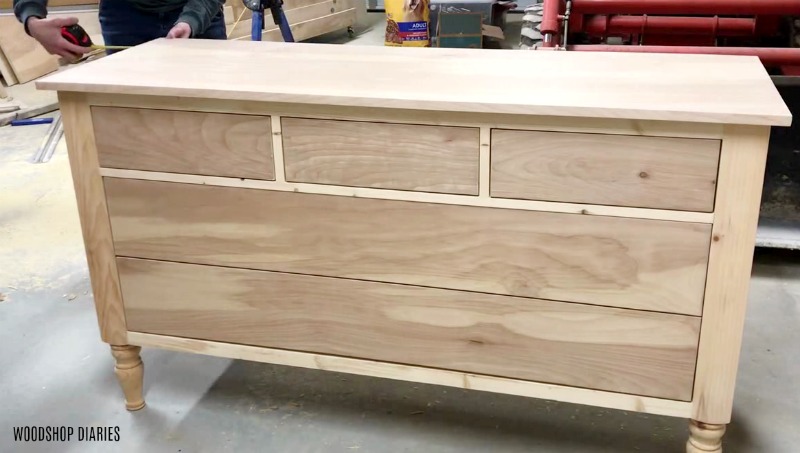 Then, I used 2″ wood screws to attach the top to the dresser through the top frame 2x2s along the front and back.
.
You'll have to remove the top drawers to access this 2×2.
.
Ball bearing drawer slides have little tabs on the side to make drawer removal and re-install very easy. You just flip the tabs and pull out, then slide the drawer back in when you're done.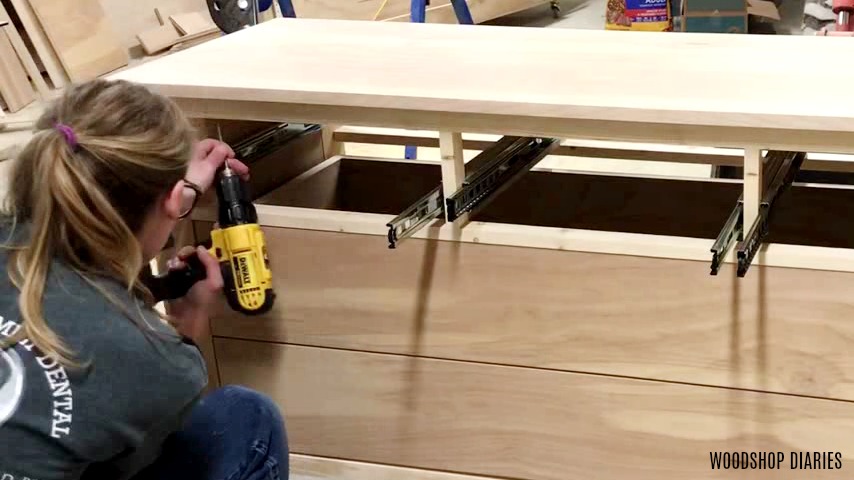 The final step is to finish as desired AND add a backer…if desired.  I go back and forth with backers on pieces that have drawers. 
.
Backers (just a piece to cover the back side) really finish out the piece.  HOWEVER, I can't tell you how many times I've filled my drawers too full and gotten stuff stuck back there and cant reach to get it out. 
.
That's when, if you don't have a backer, you can just reach around the back side of the dresser and clear the jam.  There are pros and cons to having a backer on a dresser.
.
So it's a personal preference. Add the backer, don't add the backer…it's up to you.  But if you do, simply cut and place ¼″ piece of plywood centered on the back side and staple in place.
.
And if you are curious about the finish here, I went simple with Minwax Early American stain and a clear coat of water based poly on top. 
RELATED: How to finish raw wood furniture
.
Then I added my favorite drawer pulls ever–the same ones I used on my nightstands and in my new kitchen (just in varying sizes).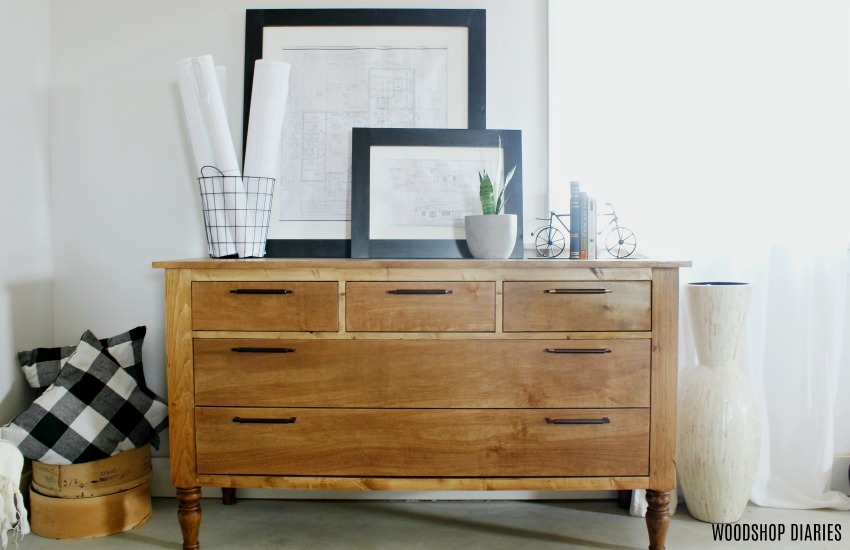 I was really excited about how this dresser turned out, and honestly, I just really love HUGE drawers.  These big bottom drawers would be SO GOOD for large bulky sweaters, fluffy blankets, and things that just take up a lot of room. 
.
Because who wants to waste a whole dresser drawer with just one big fluffy blanket??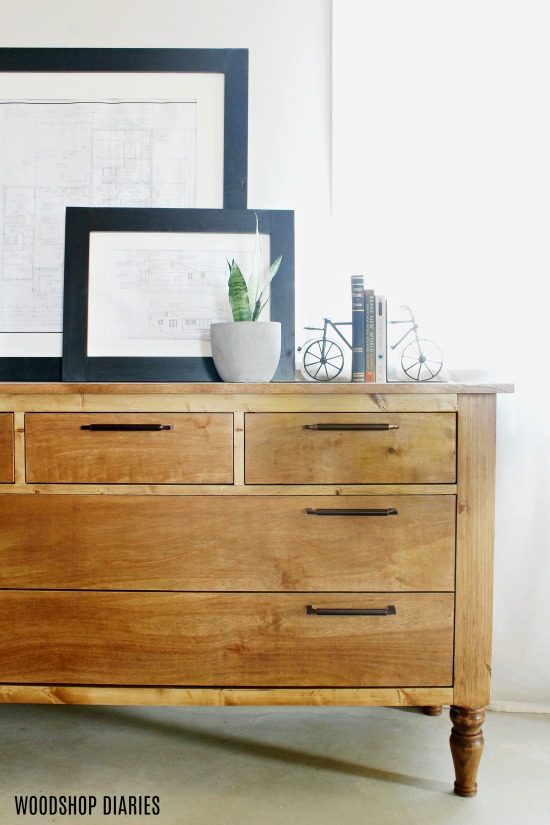 Don't forget to check out the building plans if you want to build your own. You can grab them here.
.
If you enjoyed this project and want to see more, subscribe to my newsletter so you get first access to brand new projects and plans.
And if you liked this project and want to save it for later, I would love if you give it a pin or share it on your favorite social channel and be sure to check out the video 🙂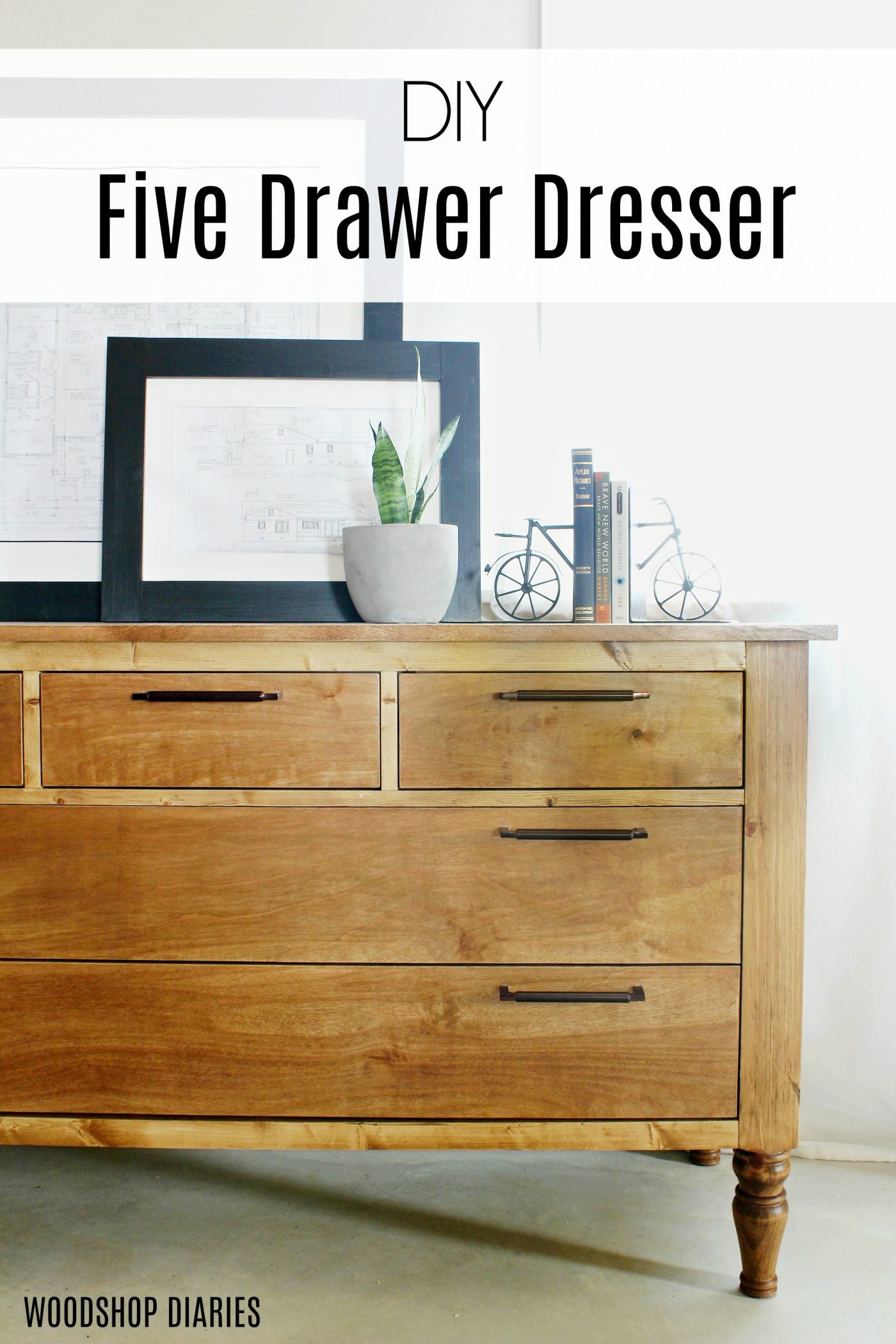 Until next time, happy building 🙂