Want to make a SUPER easy and fun DIY fall project with just 2 tools?? I've got the idea for you!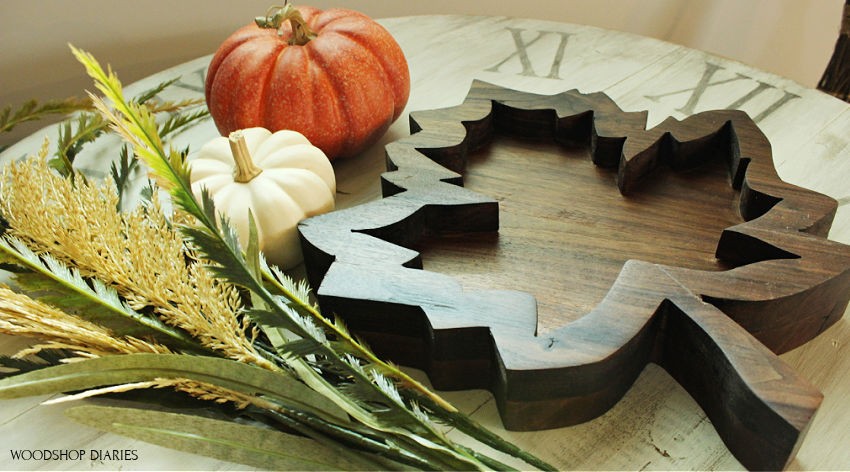 Last year, I made this ADORABLE (I know, I'm biased) little pumpkin tray from red oak. The finished color was orangey and the shape was perfect and I was in love with it.
.
And since I loved it so much, I had intentions of making another one, this time, a leaf shaped one. But, I never found the time before fall was over and it felt like a waste of time at that point.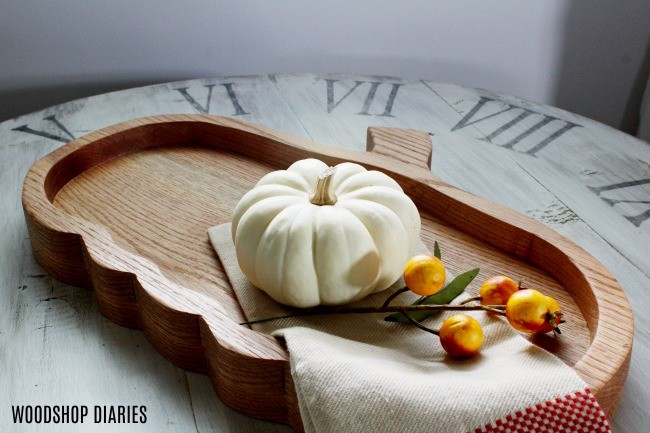 So when fall rolled around this year, I was determined to make the leaf one even though it was a whole year later!
.
Turns out, that was a good thing. After a year of pondering on it, I realized that I made the pumpkin tray tutorial WAY harder than it had to be and was able to make this leaf one with JUST 2 TOOLS!
.
(FYI: For the pumpkin tray, I cut the outside edges first, then the inside. On this project, I cut the inside first, then cut the outsides together eliminating the need for a router.)
.
Since this project is EASY to modify for any shape, feel free to use this same method to recreate the pumpkin tray, too–just with fewer steps and fewer tools 🙂
.
Want more fall inspiration?? Check out this post on 5 EASY DIY Fall Project Ideas You Can Create This Weekend!
.
So if you're ready to make your own DIY fall project leaf (or pumpkin) tray, here's what you need:
*This post contains affiliate links. See policies.
How to Make a Fall Themed Leaf Tray
For This Fall Themed Leaf Tray, You Will Need:
Wood scraps (see step 2)
Shape template (literally Google search "leaf" or "pumpkin" or whatever shape you want and print a shape you like–see step 1)
Clamps
Sandpaper (80 grit and 220)
Step 1: Prepare a Fall Project Shape Template
Obviously for this project, I used a leaf template. But for my pumpkin tray, I used a pumpkin template. You can literally use any shape you want for this.
.
I simple did a quick Google Search for "leaf clip art" and found a leaf shape I liked (it's a maple leaf…which I know is weird because I made this out of walnut wood haha).
.
I copied and pasted this into a Word Document, resized as needed and printed it off. Because mine was larger than a single sheet of paper, I printed it on two sheets and taped them together.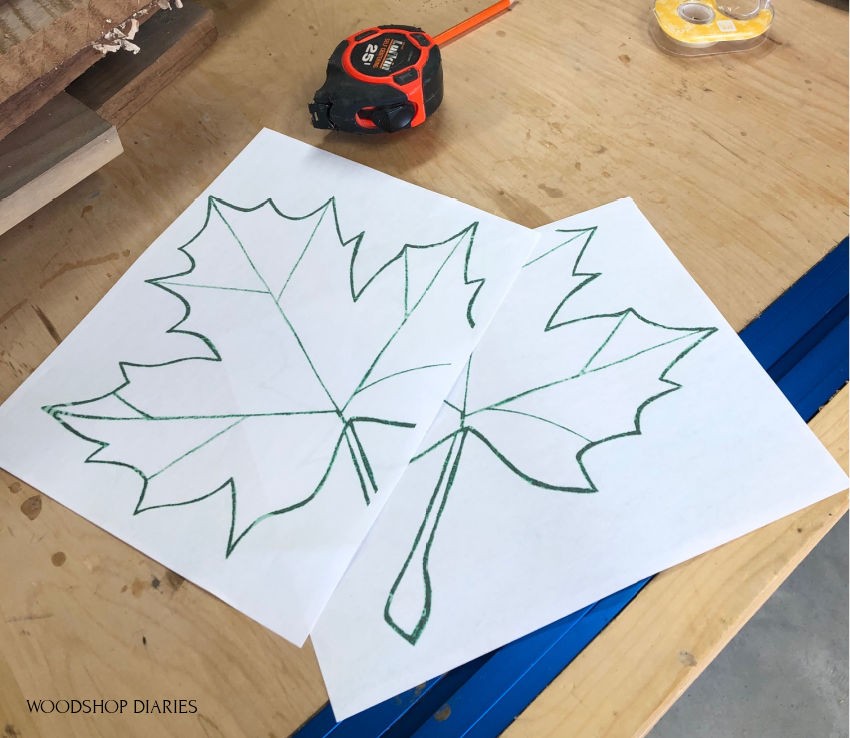 Then, I simply cut along the outline to give me a leaf template.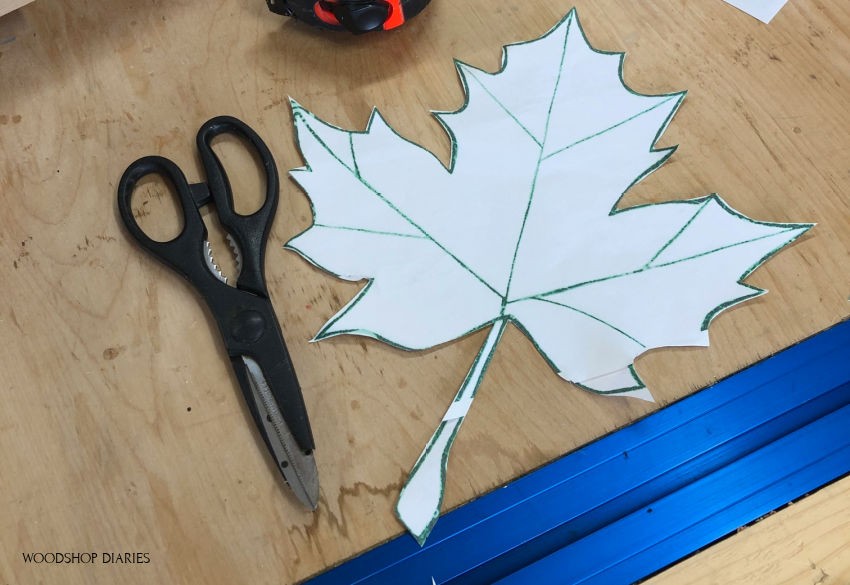 Step 2: Glue Up Panels for Fall Leaf Tray Cut Out
Now that the template is prepared, I needed to glue up two panels that were at least an inch larger than my template–so there was at least an inch of wood out from every tip if I placed my leaf on it.
.
I had some scrap walnut I used for this, but any 1x scraps will work.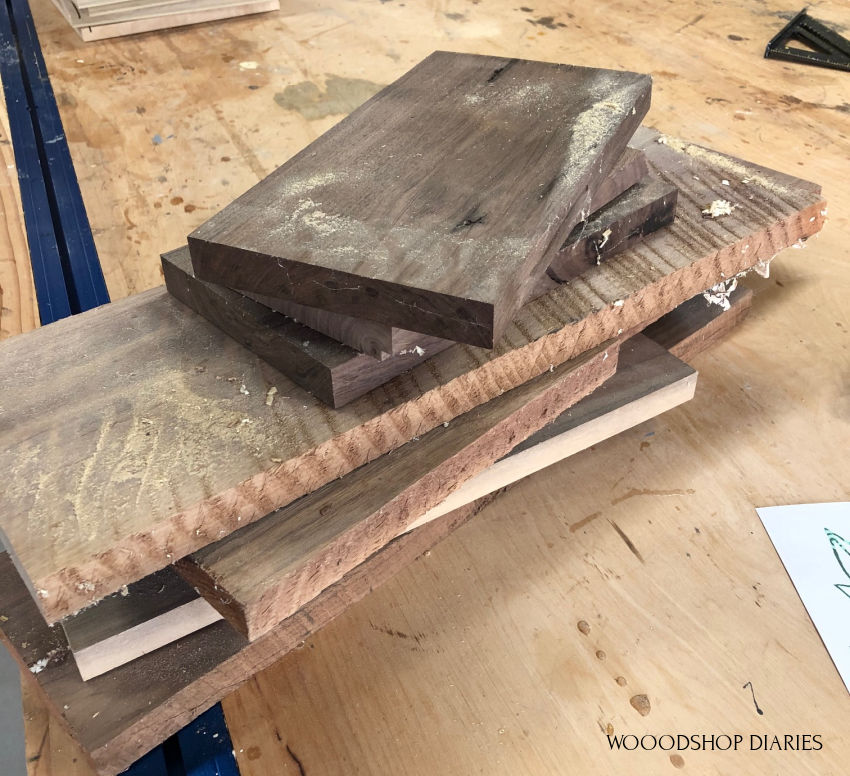 I just arranged boards and made sure they were large enough, then simply applied glue to the edges and clamped until dry.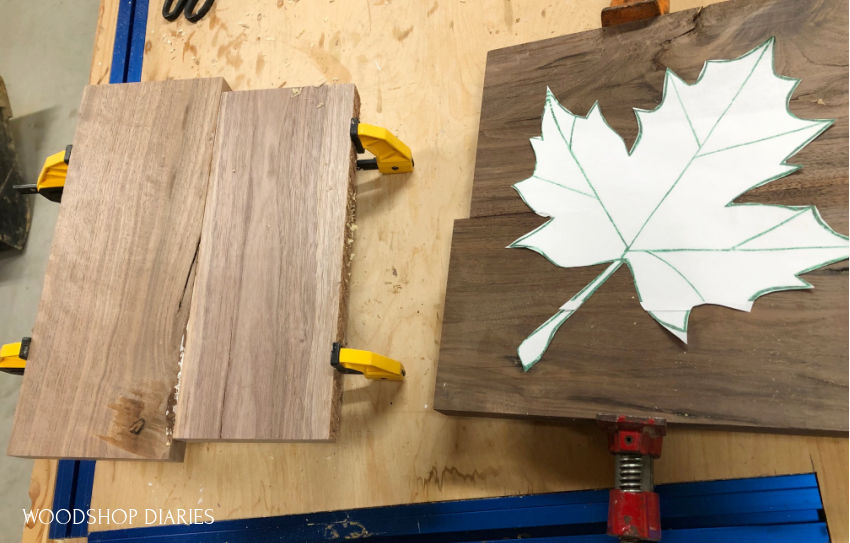 Step 3: Cut Out Fall Shape in One Panel
Once the glue was dry, I traced my leaf shape onto ONE of the panels like shown here. I made sure to center it as best I could so that I could leave as much wood around the outside edges as possible.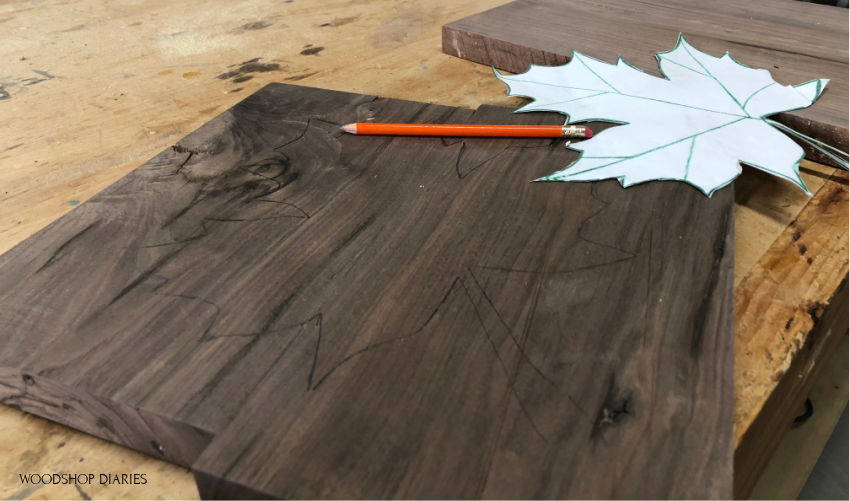 Then, I used a drill and a large bit in the inside of the tracing to give me somewhere to start my jig saw blade.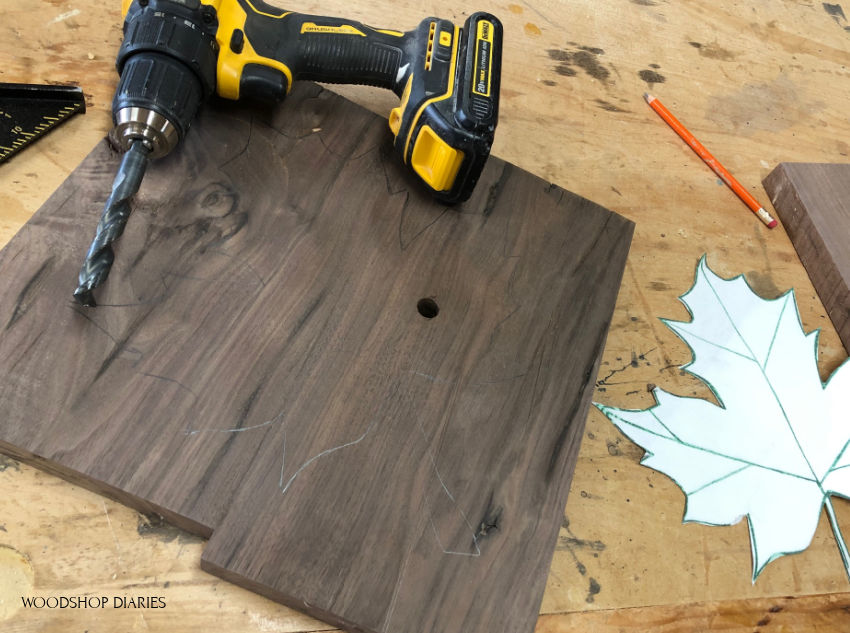 I used my jig saw to trim out the leaf shape out of the INSIDE of the tracing. Also note that I started to cut the stem and then realized I needed to leave the stem here…you'll see why later.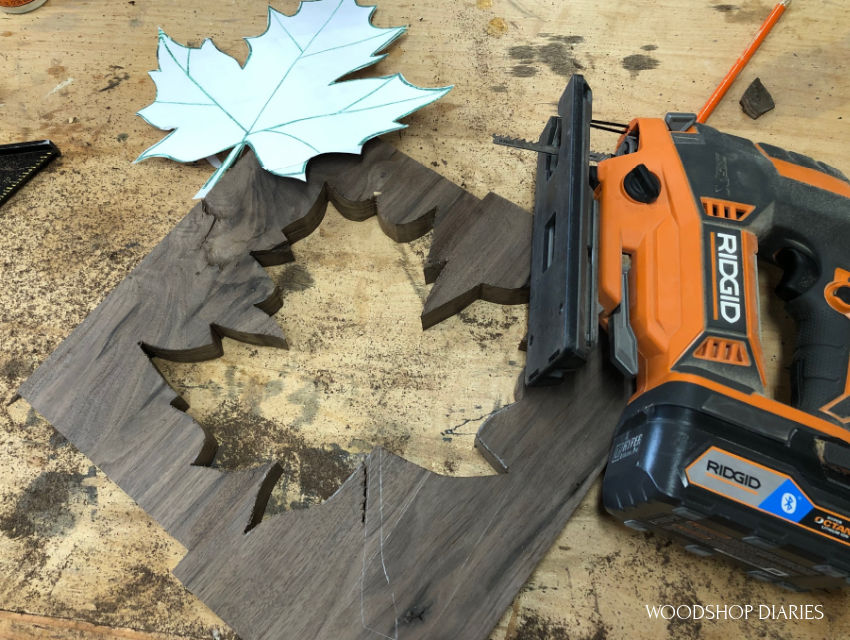 Step 4: Glue Fall Project Leaf Tray Panels Together
Now, I glued the two panels together leaving as much wood around the cut out edges as possible. I only applied glue around the edge here because I'll be cutting most of the rest of it off anyway.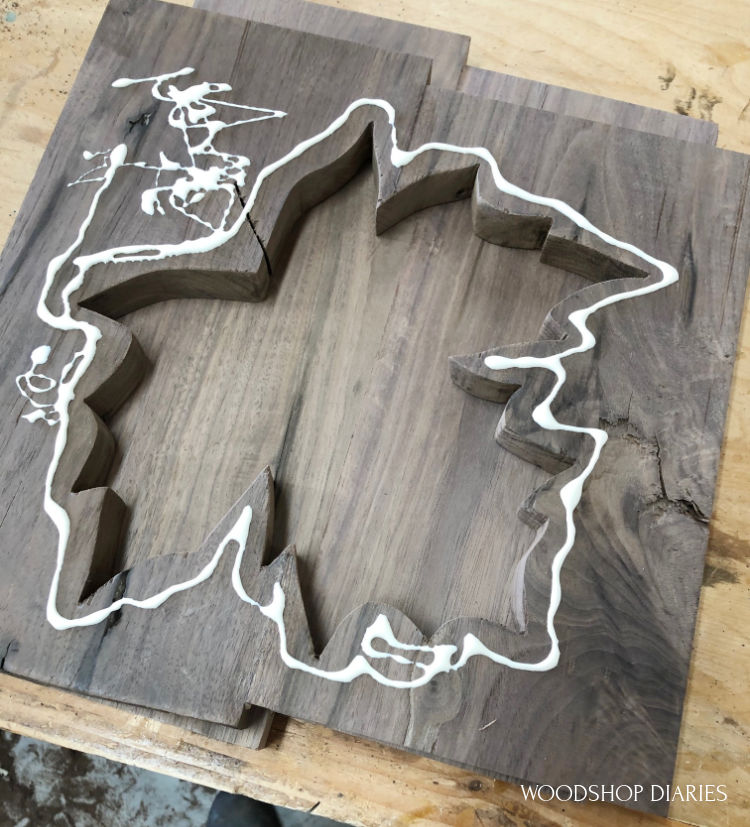 I just clamped this onto the other panel and waited for the glue to dry.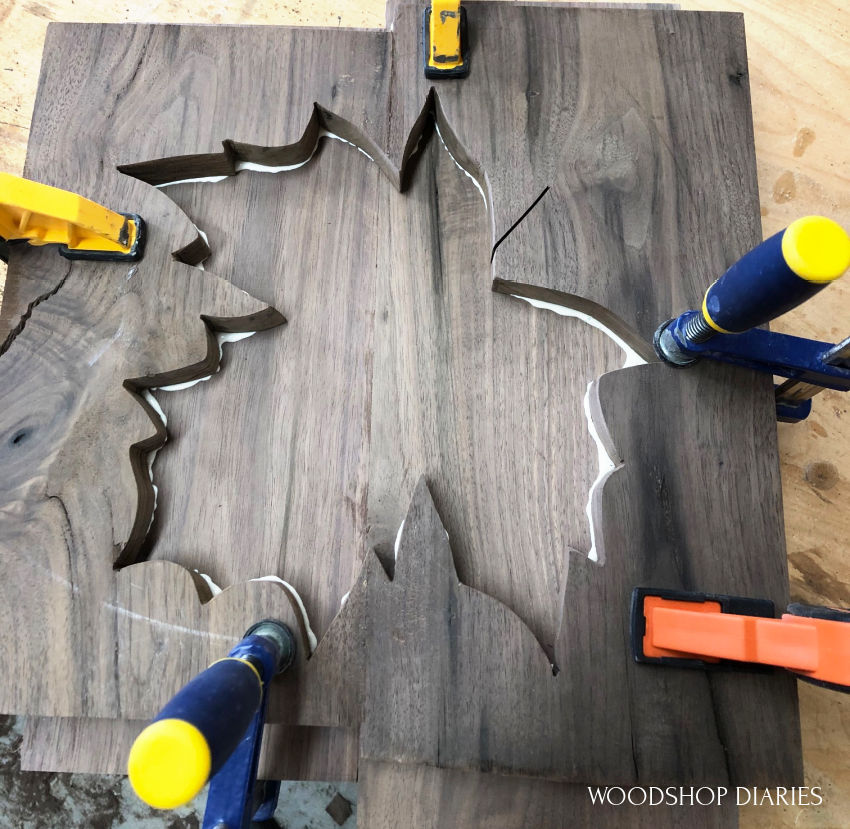 It's important here to get out as much glue squeeze out as possible. I also recommend using Gorilla Wood Glue for this as it dries more natural, so if you miss some, it won't look as noticeable.
.
I used an old t shirt wrapped around a chisel to try and get as much out as I could. Best advice I can give is maybe don't use as much glue as I did haha. Live and learn.
Step 5: Cut Out Final Leaf Tray, Sand and Finish
Once the glue was dry, I traced around the cutout leaf shape about ¾″ from the edge. IT DOES NOT HAVE TO BE PERFECT!!!
.
I just kind of freehand sketched the outline of the leaf here. It's not perfectly even everywhere and that is OKAY.
I actually started cutting before the glue was dry…don't do that haha. Do as I say and not as I do.
.
Once the glue was dry, I finished cutting out this shape–this time cutting around the stem, too. Since the stem was so narrow, I left it solid to give it more strength…that's why I didn't need to cut it in step 3. Notice I did the same thing on the pumpkin tray, too–I left the stem solid.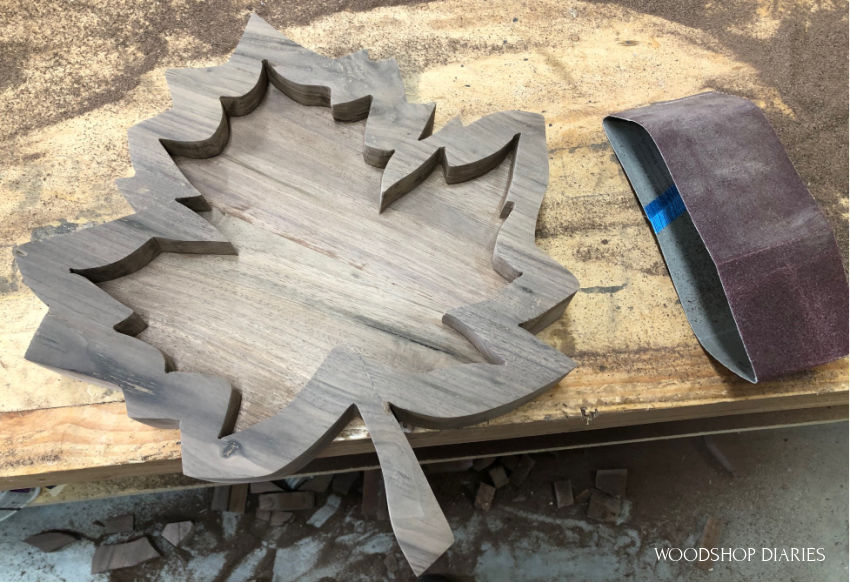 The last part is sanding and finishing. Because of all the nooks and crannies, I just hand sanded most of these edges. I used 80 grit (shown above) to sand rough areas smooth, and then 220 grit to smooth out the scratch marks and prepare it for finish.
.
Finish was also kind of a nightmare with all these nooks and crannies, but eventually I got it all covered with a coat of Walrus Oil Furniture Butter. I've been using this a lot recently and really like it.
Check it out here on my poplar dresser builds.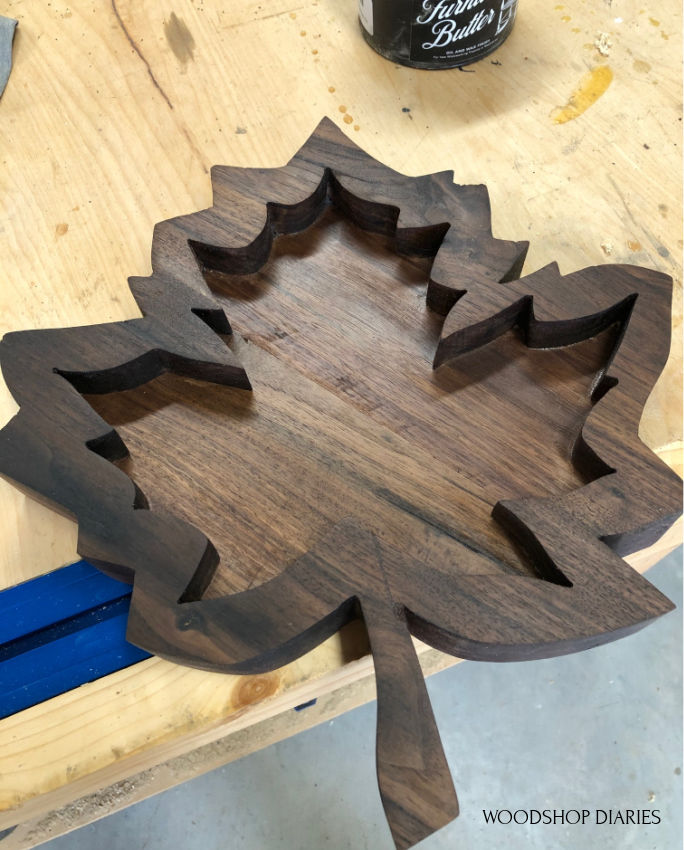 Oh, and remember where I started cutting the stem, but stopped before I got too far? I used some wood glue and walnut sawdust mixed together to fill the cut line (see above?? Look really close) and once it was sanded and finished, it is almost unnoticeable.
.
My dad always says the difference between an amateur and a professional is that a professional knows how to cover up their mistakes *wink wink* I don't know about that, but I was able to kind of cover up THIS mistake, at least 🙂 Maybe I'll be a pro one day haha.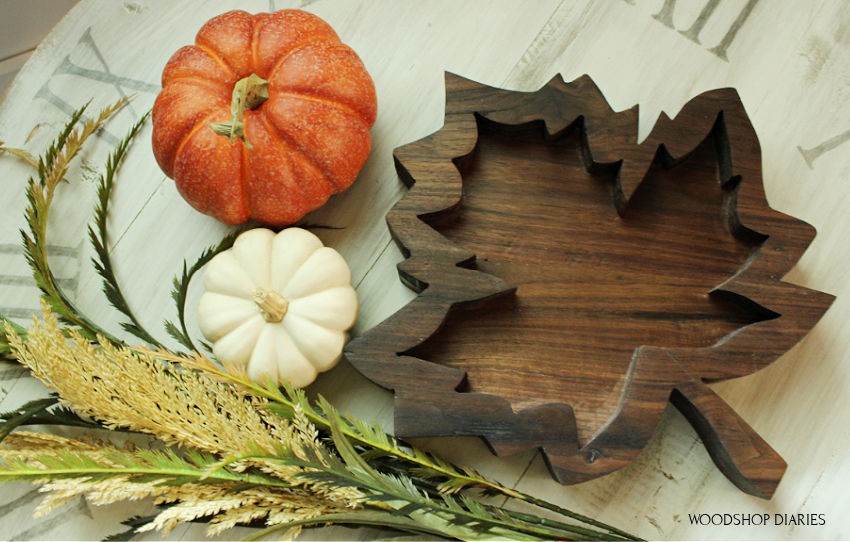 And, now I have a pumpkin AND a leaf tray and I'm ready for fall. Who knows what shape I'll try next year haha.
.
And if you're looking for ways to use this cute little DIY tray, this would be great for serving snacks on, or to set on a table or nightstand to catch rings and keys.
.
So if you've enjoyed this DIY Fall Project, I'd LOVE it if you'd pin it for later 🙂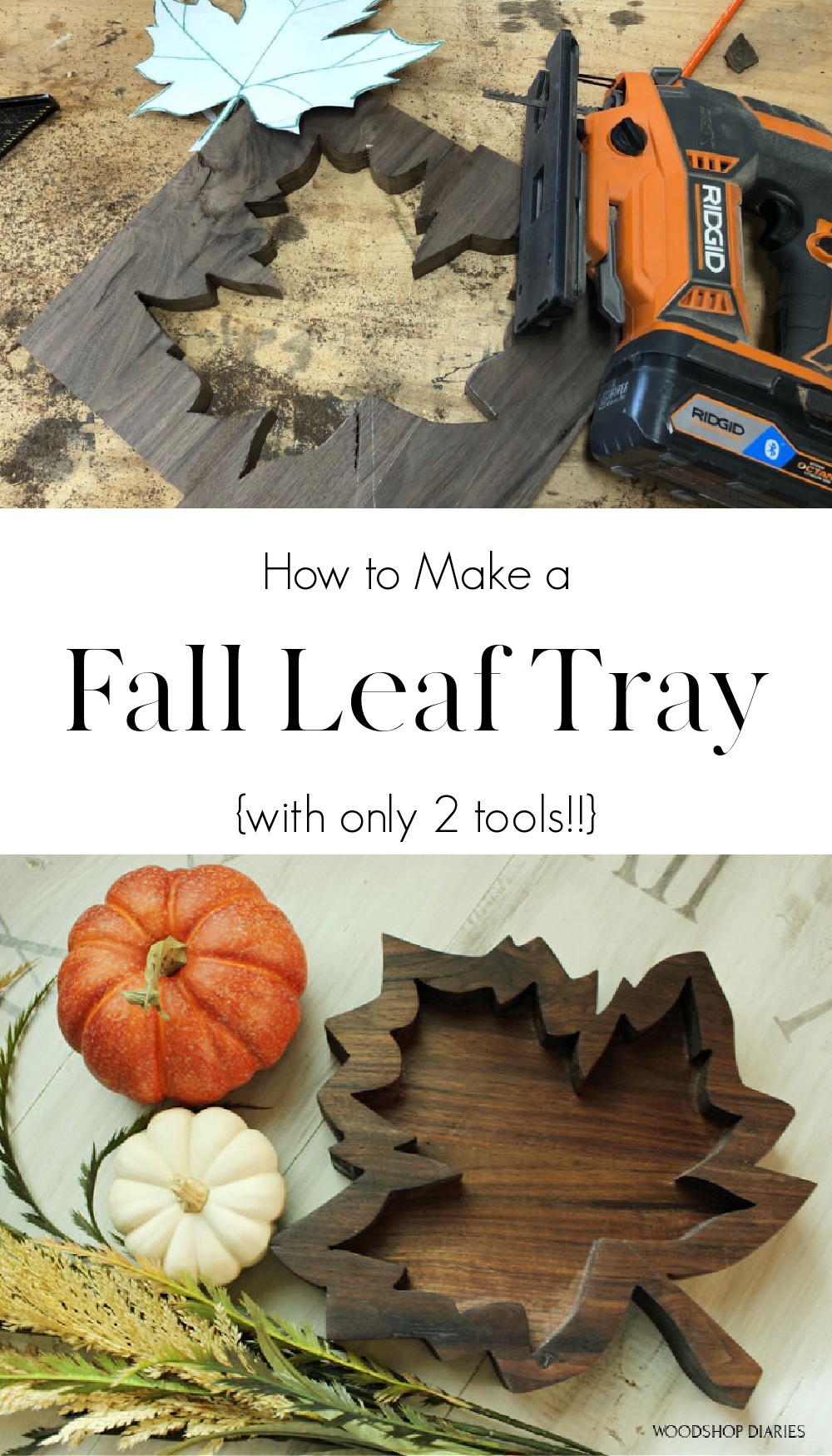 Until next time, friends, happy building 🙂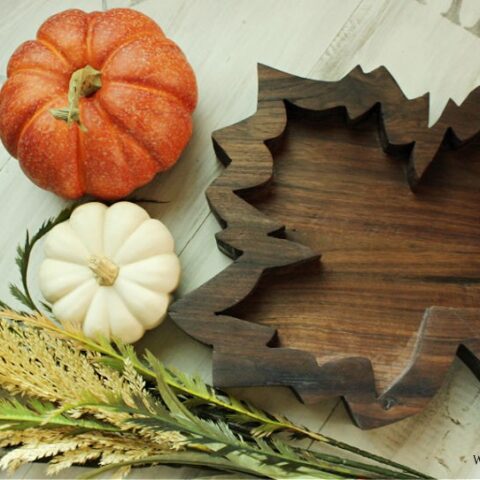 Easy DIY Fall Project: Leaf Tray
Yield:
1 DIY fall project leaf tray
Make your own leaf-shaped tray for fall. This easy DIY fall project can be made using just two tools and for FREE using scrap wood!
Materials
Wood scraps (see step 2)
Shape template (literally Google search "leaf" or "pumpkin" or whatever shape you want and print a shape you like--see step 1)
Clamps
Sandpaper (80 grit and 220)
Instructions
Make your template by downloading a clip art leaf, resize as needed and print it onto a sheet of paper. You may need to do it in two pieces depending on how large you want your tray to be.
Glue up scrap wood panels. One for the leaf cut out and one for the bottom of the tray.
Cut out the fall shape in one panel.
Glue the panels together using wood glue.
Cut out the final leaf tray, sand, and finish in the stain color of your choice.