Fall is my absolute FAVORITE time of the year. So, I've put together this fun list of 5 Easy DIY Fall Projects to help get you in the seasonal spirit 🙂
.
I've even got some bonus projects I've added to this list since I first wrote it!

The air is getting crisp and the sun is setting sooner. I smell tobacco barns in the distance and see the farmers starting to harvest their corn and soybeans.
.
You know that that means, right?? It's the most wonderful time of the year 🙂
.
So if you're looking for some fun DIY fall project ideas, or wanting a little nudge to help get you in the seasonal spirit–or you simply just want a cool way to display your pumpkins and mums, here's a great list of some EASY projects you can tackle in just a few hours.
.
This post contains affiliate links. See policies page.
Fall Project Idea #1: DIY Fall Shaped Tray
This adorable pumpkin tray is a cute way to corral remotes on a coffee table, or serve cookies and snacks at a get together.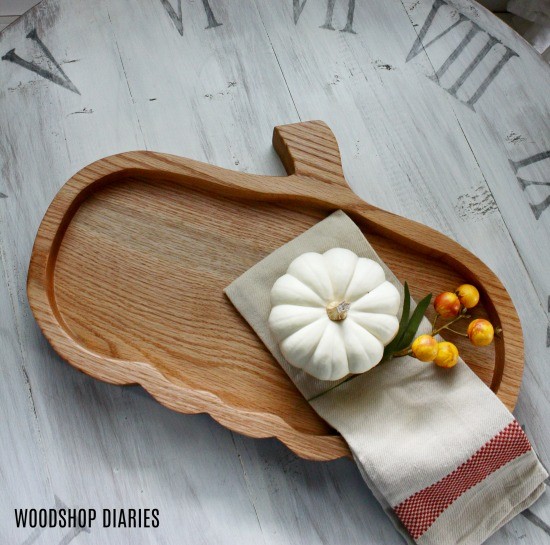 It's made from red oak to give it a natural orange tone and can be made with a jig saw and a sander in just a few hours. You can find the YouTube video tutorial here.
.
Head over to the tutorial post for this Easy DIY Pumpkin Tray here to learn how to build your own.
.
But if pumpkins aren't your thing, what about a leaf?? You can get creative and make your own shapes, but this leaf shaped tray is definitely one of my favorite fall time decor pieces!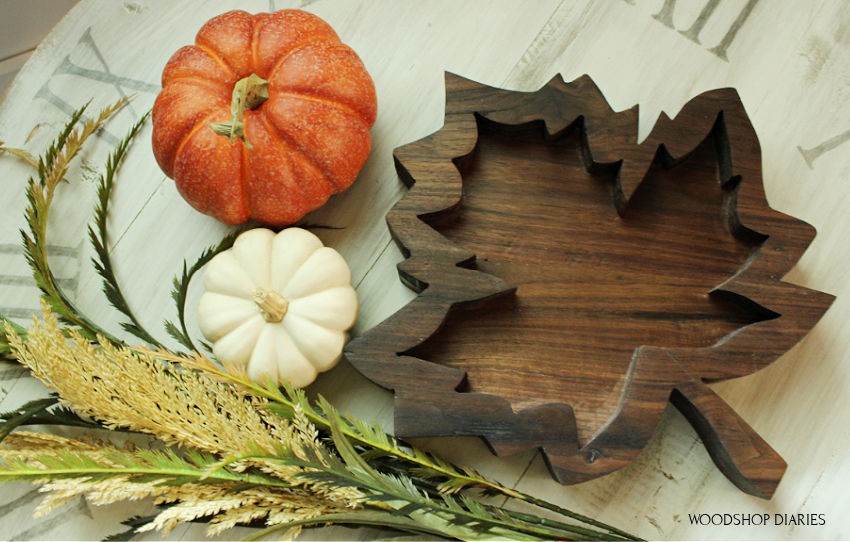 Head over here to grab the tutorial to make your own DIY leaf tray.
Fall Project Idea #2: DIY Wooden Wagon
How adorable is this little wagon? I actually built this to sit on my porch for just the fall and Christmas seasons, but ended up leaving it all year long because it was just so cute!
It's the perfect size for a front porch and it can be built in just a few hours. The cute little wheels add some character but also make it functional if you wanted a real, working wagon.
.
Head over to the blog post here to learn how to build your own wooden wagon.
Fall Project Idea #3: Scrap Wood Leaf Sign
This might literally be the most simple, but also my most favorite project I've ever done.
How cute is this little leaf sign?? It was made completely from scrap wood and you can easily make it whatever size you wish with whatever design you want in the middle.
.
I chose a leaf for a fallish feel, but a pumpkin, Christmas tree, snowflake would be cute, too!
.
Head over to the easy tutorial to learn how to make your own.
Fall Project Idea #4: Centerpiece Bases
One of the easiest ways to kick off the fall decorating is with a simple centerpiece on the dining room table.
.
A wooden "base" for your decor in a centerpiece makes it easy to remove when it's time to actually eat at the table. And a wooden base also gives some warmth and a rustic feel to your decor set up.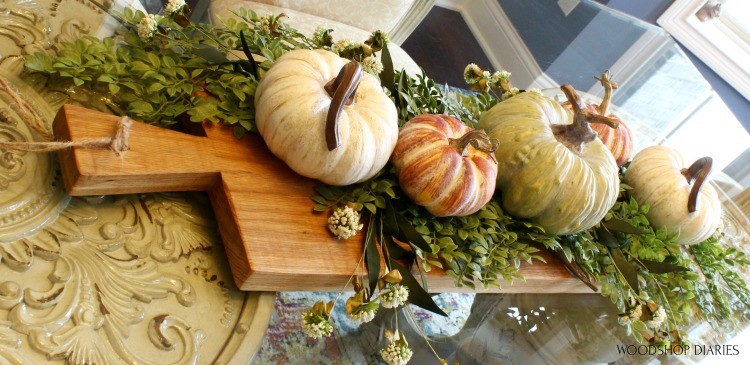 For this, I've actually got two super simple ideas for you–a Charcuterie board decorated with greenery and pumpkins. Shown above 🙂
.
OR a simple one board centerpiece box filled with faux candles and leaves. Shown below.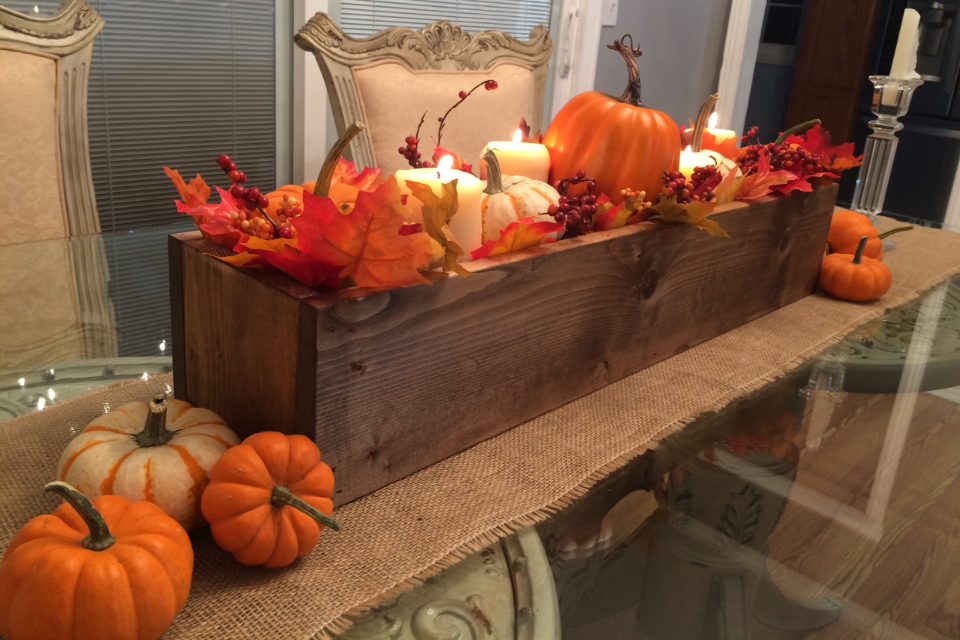 Grab the tutorial for the simple DIY Charcuterie Board here.
.
And grab the tutorial for the one board centerpiece box here.
Fall Project Idea #5: Simple DIY Planter Box
I don't know about you, but my favorite part of fall is getting my mums and pumpkins set out by the front door.
.
This easy black and wood planter box is a fun project you can build to match the black and wood accents of the wagon I shared earlier in this post.
You can build it from just a few boards and it's perfect for small to medium sized mums! Head over to the tutorial to learn how to make your own here.
.
Or check out these DIY louvered planter boxes you can make using just TWO TOOLS!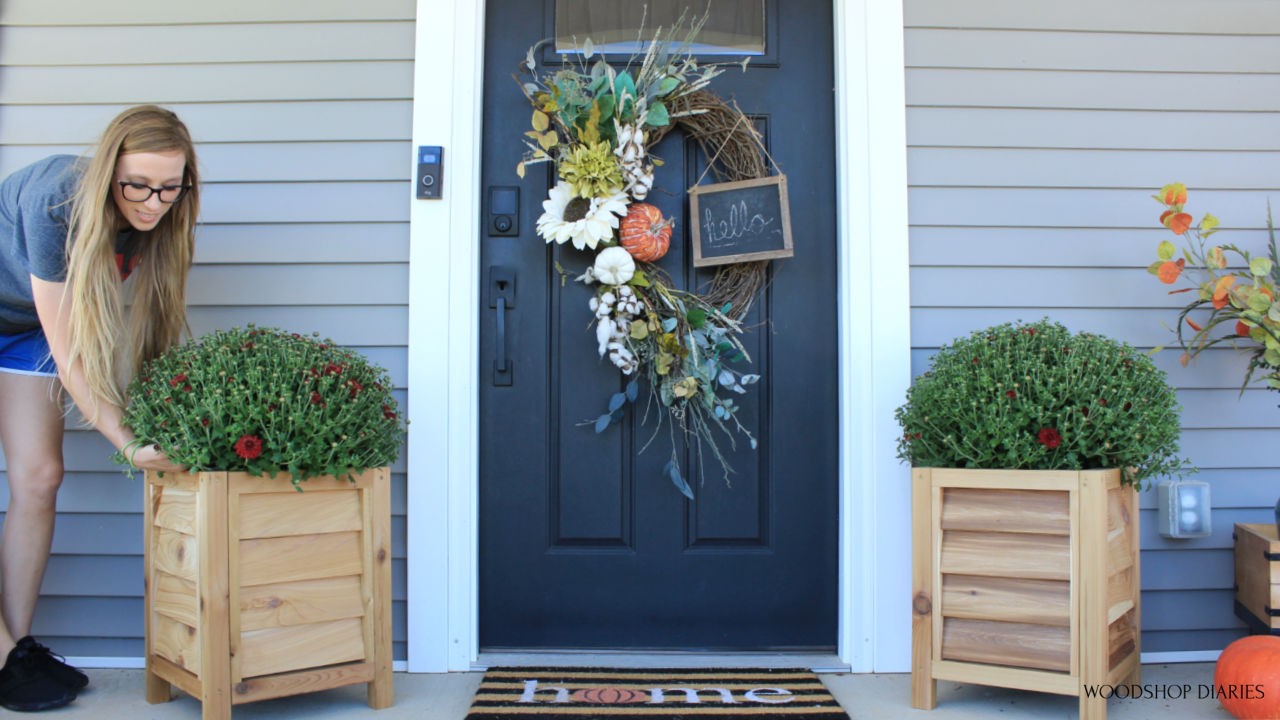 These are my absolute favorites and I've been using them all year round to put Christmas trees in the winter and ferns in the spring and summer!
.
I legit LOVE fall time. I hope this DIY fall projects help you get in the mood to eat all the pumpkin muffins and go on all the hay rides 🙂
.
I also hope it inspires you to get out there and get building ha! If you've been inspired and want to share or save this post, be sure to pin it!

Until next time, happy building! 🙂