Looking for a SUPER easy centerpiece box for your seasonal table decorations? I'll show you how to make this DIY wooden centerpiece box from one board!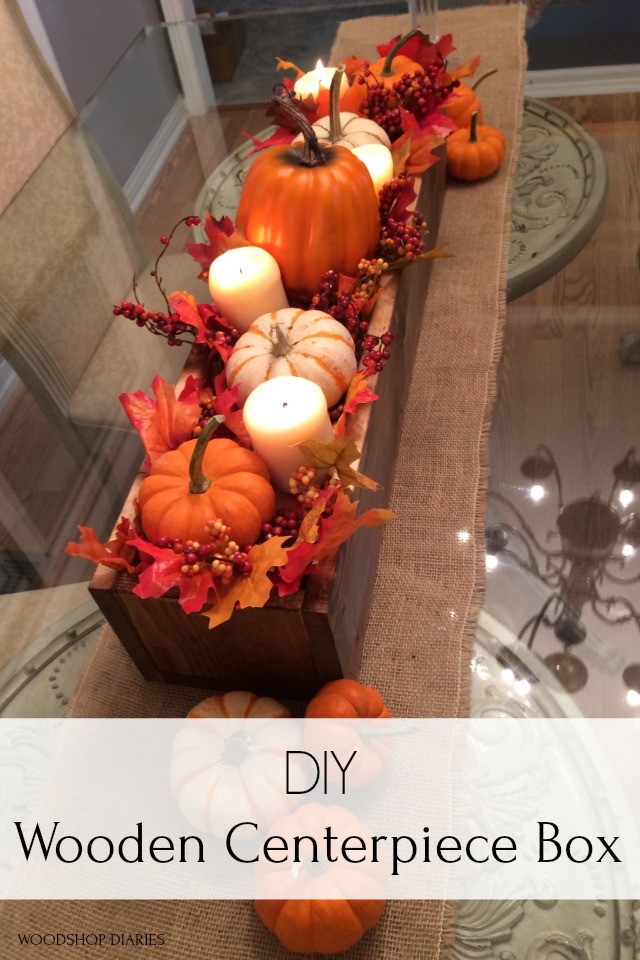 It is officially fall!! And I have zero fall decoration in my house. *face palm* Seriously. I admit that I am an awful seasonal decorator.
.
Honestly, it's hard enough for me to decorate for "all year"…let's not even try the whole "change it up for every season and holiday" thing. Luckily, my sister is good at that kind of thing so I will show you how she decorated her new fall dining table centerpiece box 🙂
.
And I'll show you how easy it is to build your own FROM A SINGLE BOARD below!
.
**This post may contain affiliate links. See policies page.
For this DIY Centerpiece Box, You Will Need:
(1) 1x6x8 board
Wood Glue
Nail Gun (OR you can use a hammer and some small trim nails)
Saw (any saw that can cut a straight line will work…I prefer a miter saw)
Step 1: Cut Boards to Length
To make this project from a single board, cut your 1×6 board into the following pieces:
(3) @ 28 ½″ long
(2) @ 4 ¾″ long
Step 2: Assemble Centerpiece Box
Using wood glue and a nail gun (or hammer and nails), assemble the three 28 ½″ long pieces into a "U" shaped like shown so that the bottom piece is "sandwiched" between the side pieces.
A few nails per side should be plenty.
.
Then, place the two 4 ¾″ pieces in the ends of the centerpiece box and glue & nail in place through the sides and bottom boards.
Step 3: Finish and Decorate
Wipe away any glue squeeze out and sand well. Then apply a stain or paint as desired. I stained this in Minwax Provincial.
.
And that's it! This is so simple, you guys. By the way, you can use 1x4s instead of 1x6s for a shorter and narrower box or 1×8 for a larger one.
Then, I gave the box to my sister and she worked her decorating magic.
.
Some dollar store leaves, a few candles, and some pumpkins and what do you know? It's suddenly fall!! And on the cheap, too. Look at this centerpiece box!
This is such an easy project and makes such a statement–for fall or anytime of the year, really!!
These also make really great inexpensive, homemade gift ideas! Christmas will be here before you know it *wink wink*
.
If you enjoyed this project and want to see more, I'd love if you'd subscribe to my newsletter to be the first to hear about the latest projects and DIY tricks!
And if you enjoyed this project, and want to save it for later, don't forget to pin it!
.
Until next time, friends, happy building 🙂