Check out how to make your own personalized DIY Lazy Susan Tray or Plate!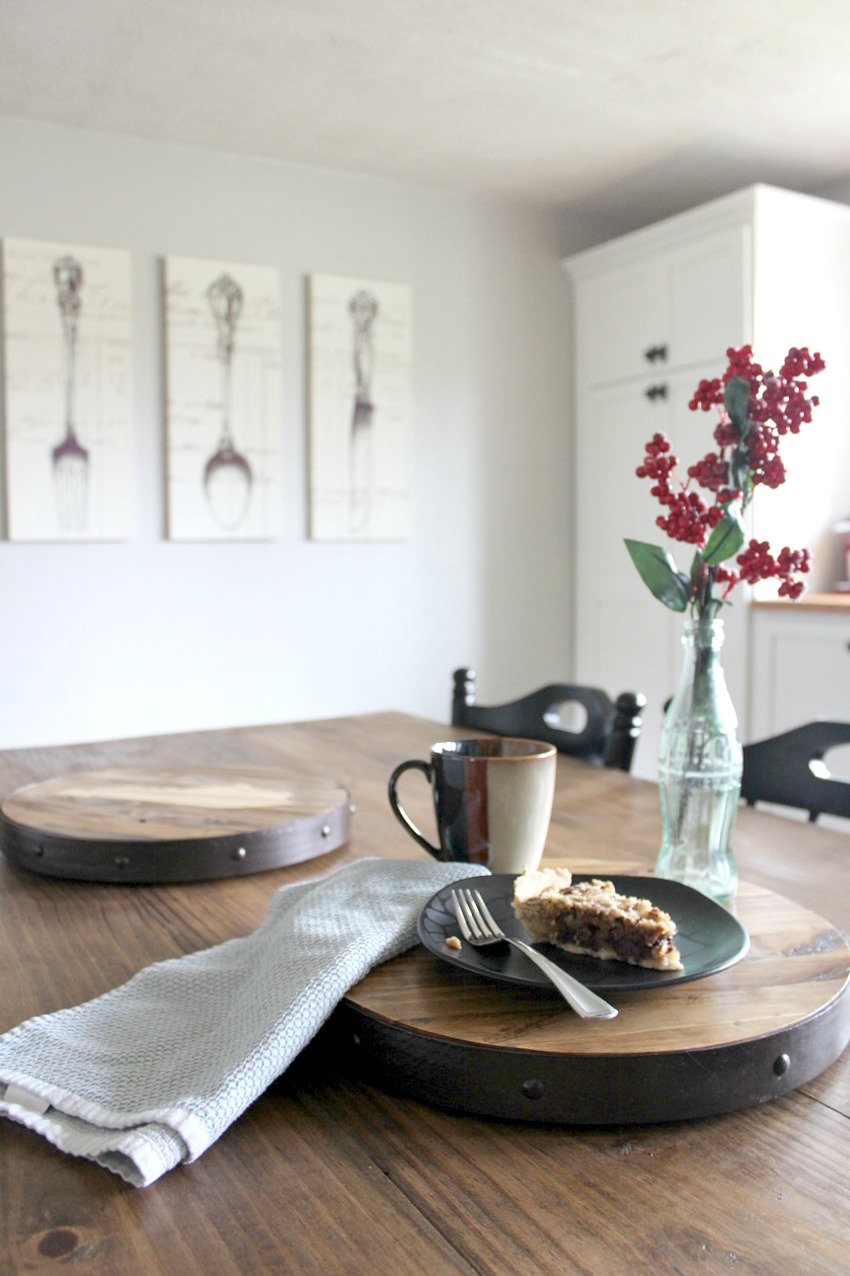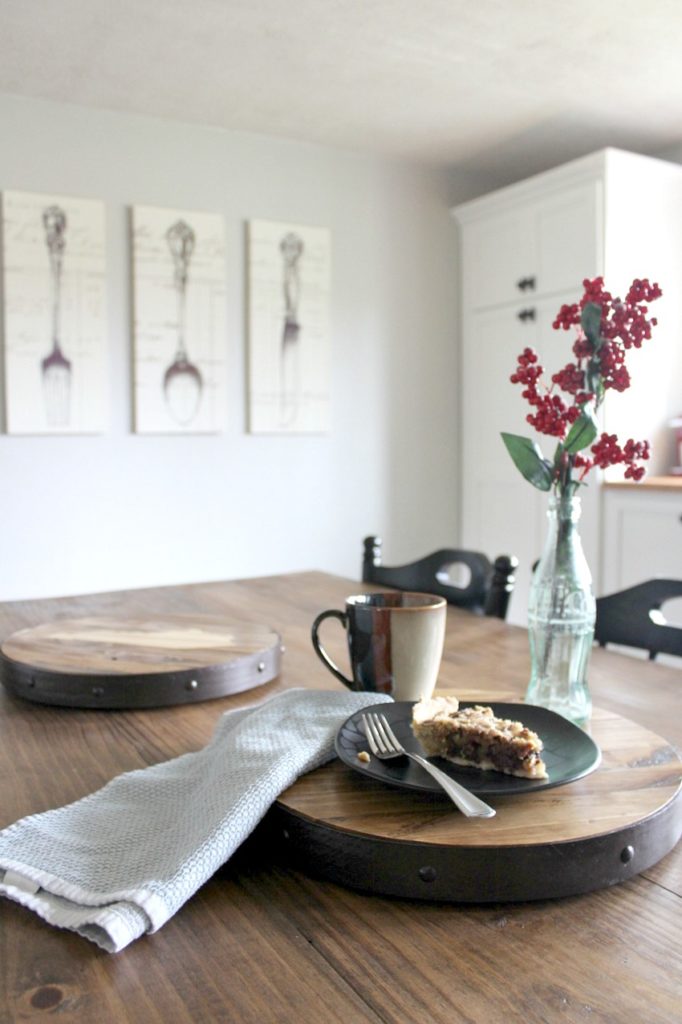 How cute, right? What if I told you that "metal band" is actually wood?? I mean, you could definitely make it from metal, but I'm trying to keep it simple here *wink wink*
.
This DIY lazy Susan is a great gift idea, and a great additional to a table or countertop as part of a centerpiece or to use as a little mini cocoa bar or something similar.
.
So if you're ready to see how it's made, let's get to it.
.
This post contains affiliate links. See disclosure policy for more information.
What You'll Need to Make a DIY Lazy Susan:
Wood round (you can buy these precut or make your own–See Step 1)
Decorative nail heads (optional)
Oil rubbed bronze spray paint (optional)
Adhesive back stencil (optional)
Wood glue
1 ¼" wood screws
Table saw (optional)
Router or jig saw (optional)
Sander
Staple gun (optional)
Step 1: Make a Round Wooden Plate
Projects like this are a little hard to explain. You can do this a million ways. They have premade wood rounds (usually used for stool tops) at the big box store.
.
BUT, the edges are usually rounded, so you couldn't add the decorative band to it. So that's one way to do it…no band, but minimal tools required.
.
Or you can make your own round—which is what I did. I took some knotty looking 2x scraps in the shop and cut them down into 2x2s on my table saw and glued them together so that as many knots as possible showed.
.
Here's a tutorial for how to cut your own 2x2s! Or, if you didn't have scraps to cut down, you can buy your own 2x2s as well.
.
And actually, they don't have to be 2x2s at all. You can glue up 2x10s, 2x6s, or even 1x material as well. You just need to be able to glue up a panel large enough to cut a circle from.
.
By the way, here's how to glue up a panel 🙂
.
Then, just like on my clock coffee table, I used a router and a circle jig to cut out the circles. I made mine about 14″ diameter. You could also use a jig saw or band saw, but for perfect circles, a router works well.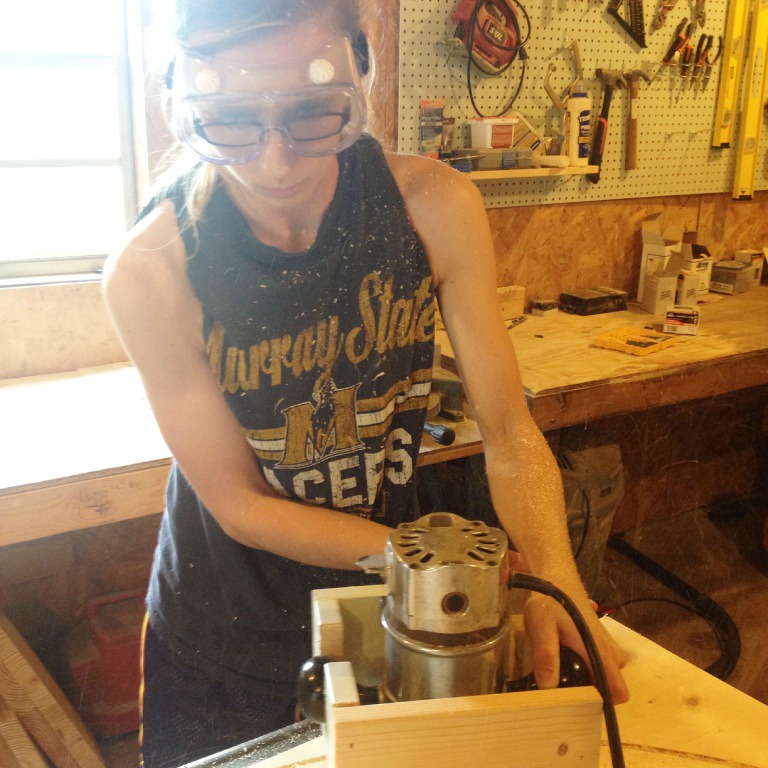 Once I had all my rounds cut, I sanded them well.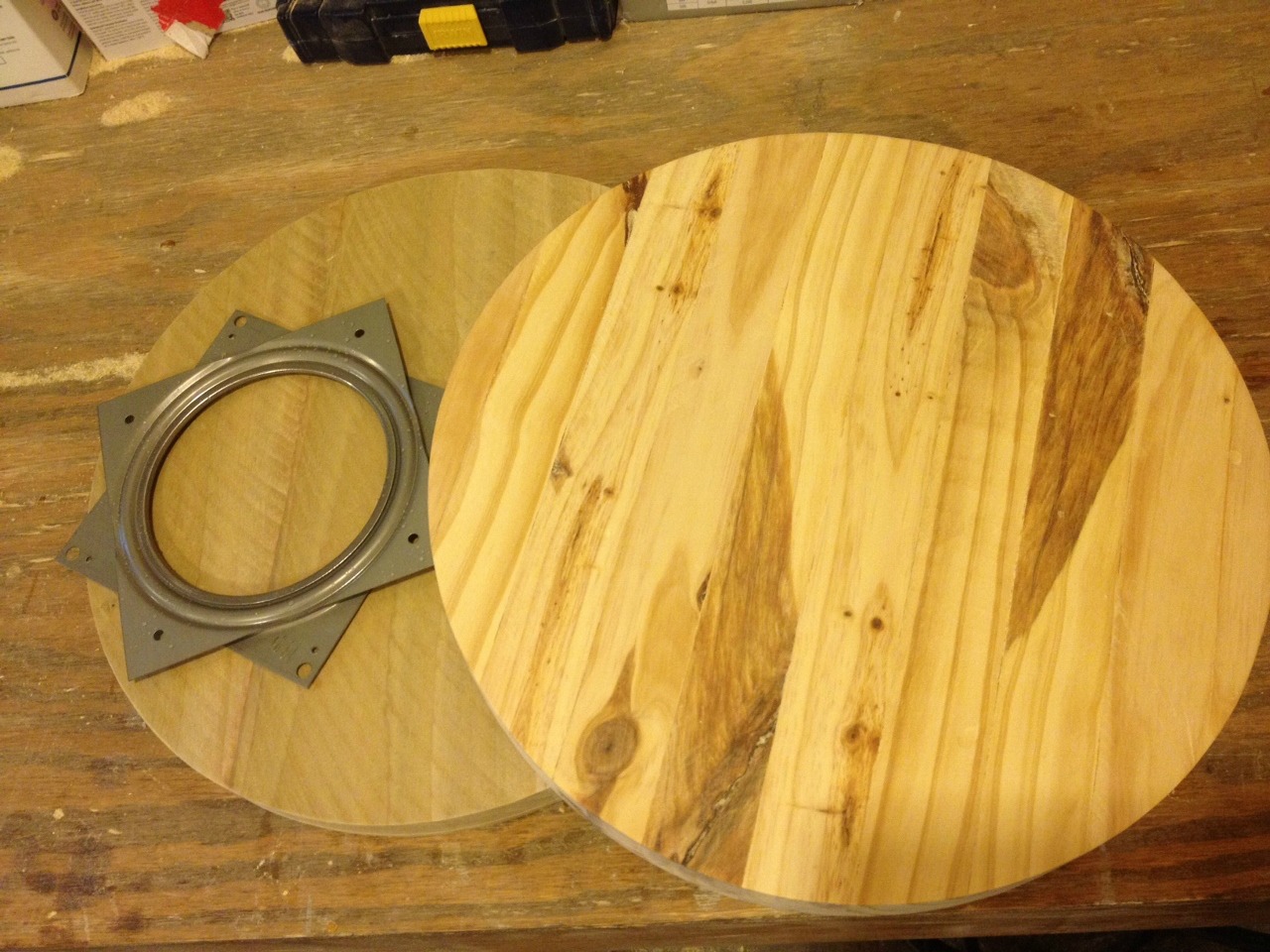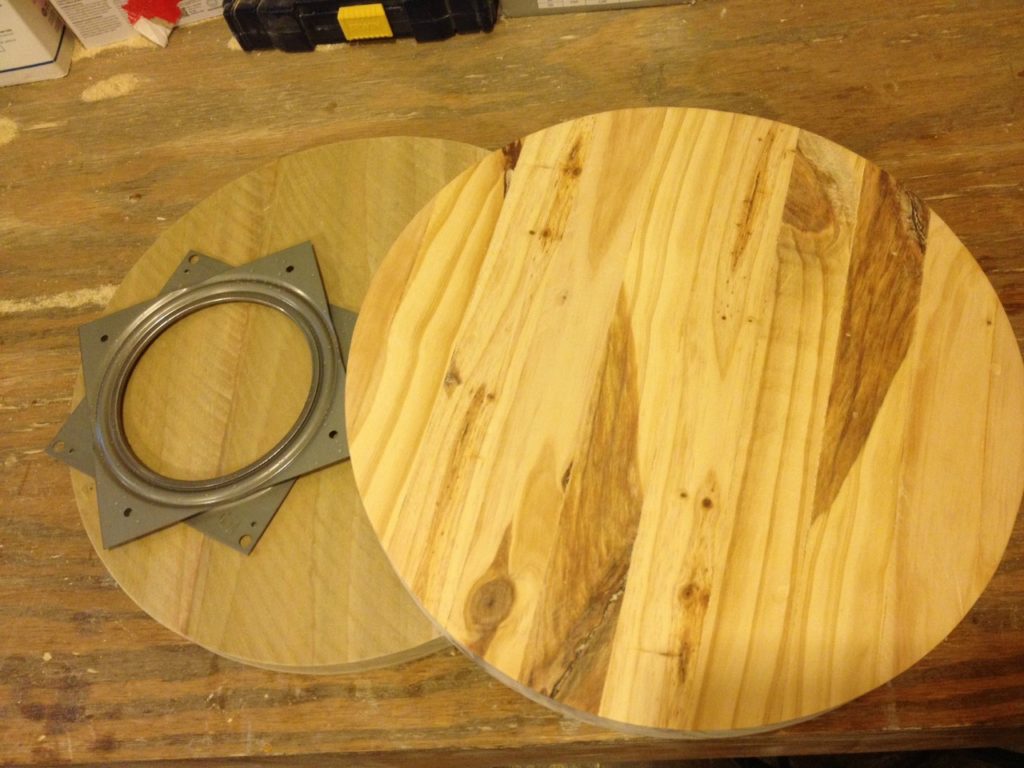 Step 2: Stain/Paint the Lazy Susan
I was making this for my sister and she wanted the Kentucky design on it. I am not quite as proud of my Kentucky roots as she is, so I did without it…
.
For the stencil, it works best if it sticks to the wood or else the stain will "seep" under the stencil and you won't have sharp lines.
.
You could use vinyl for this, but we used some rubber backed adhesive stencil. My dad makes tombstones (I know…pretty interesting), so he cut us a Kentucky stencil from the adhesive he uses when he sandblasts because neither of us have a vinyl cutter.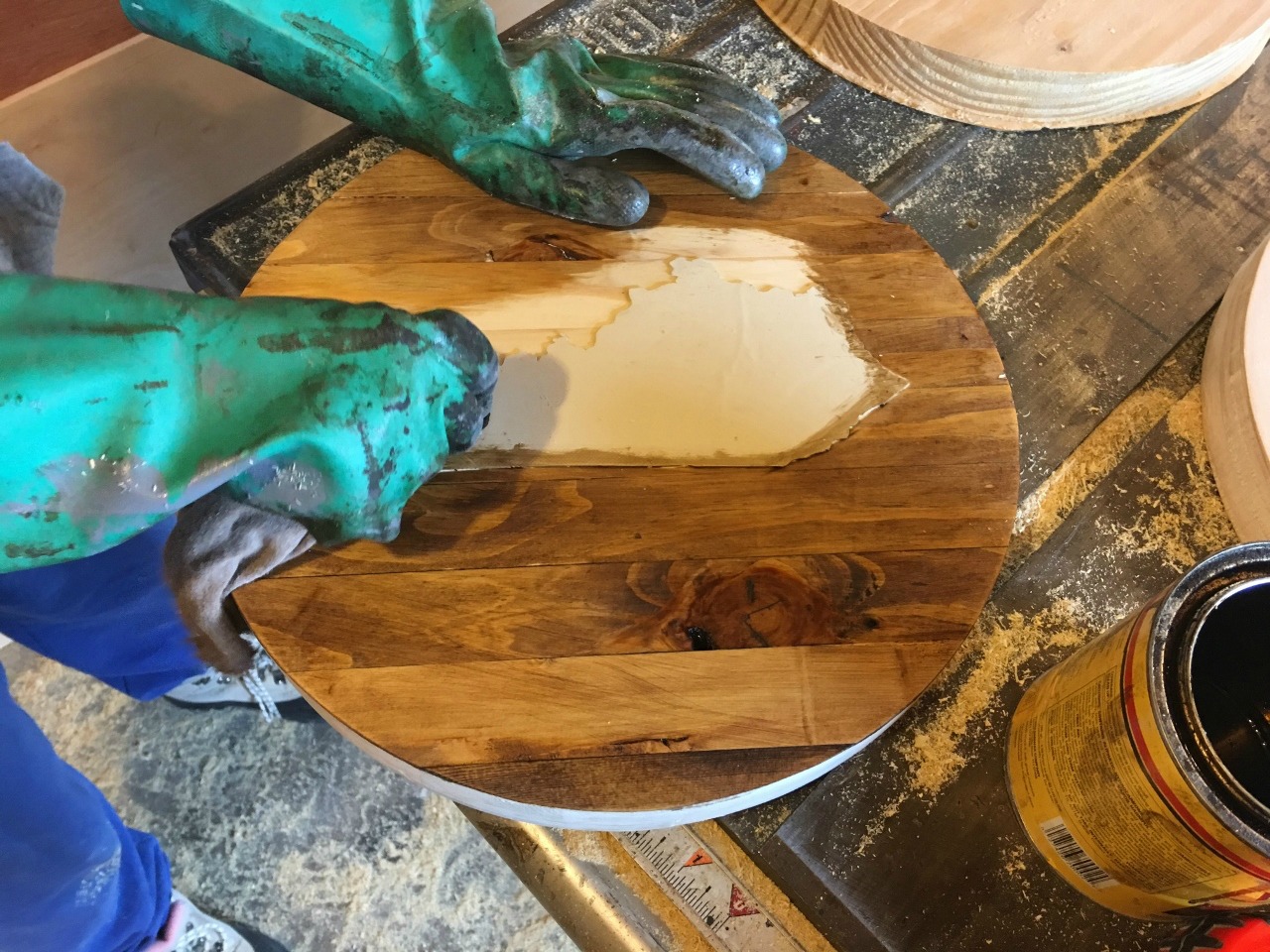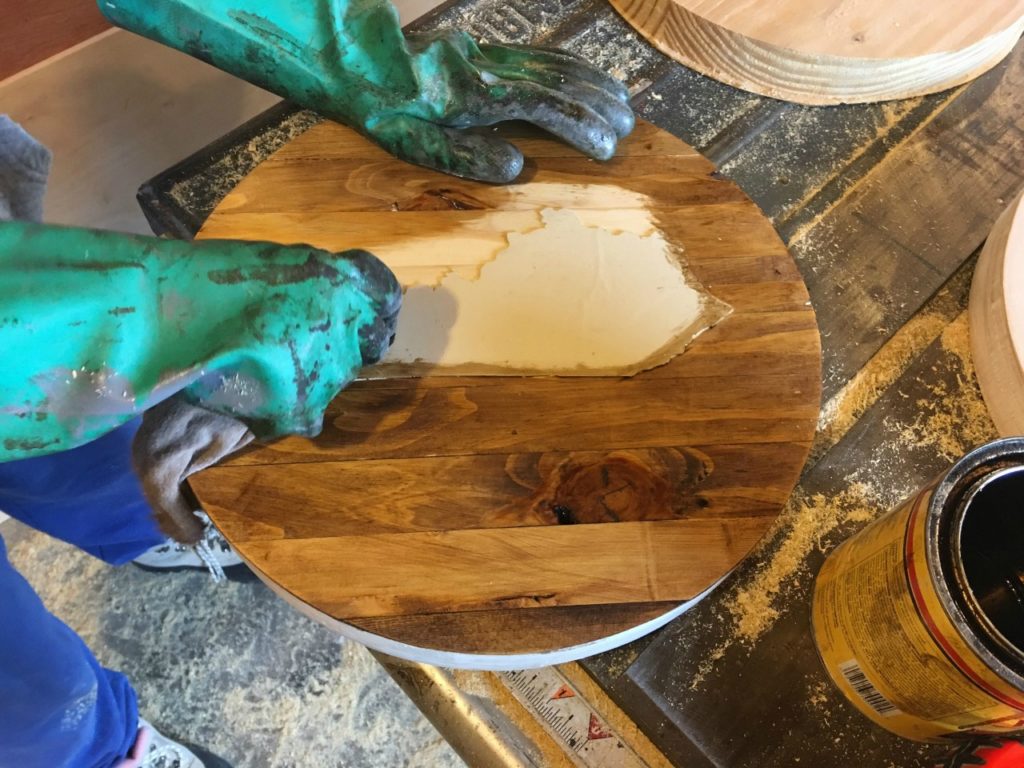 We stuck the template on the center of the round and stained around it, then peeled it back off. Perfect.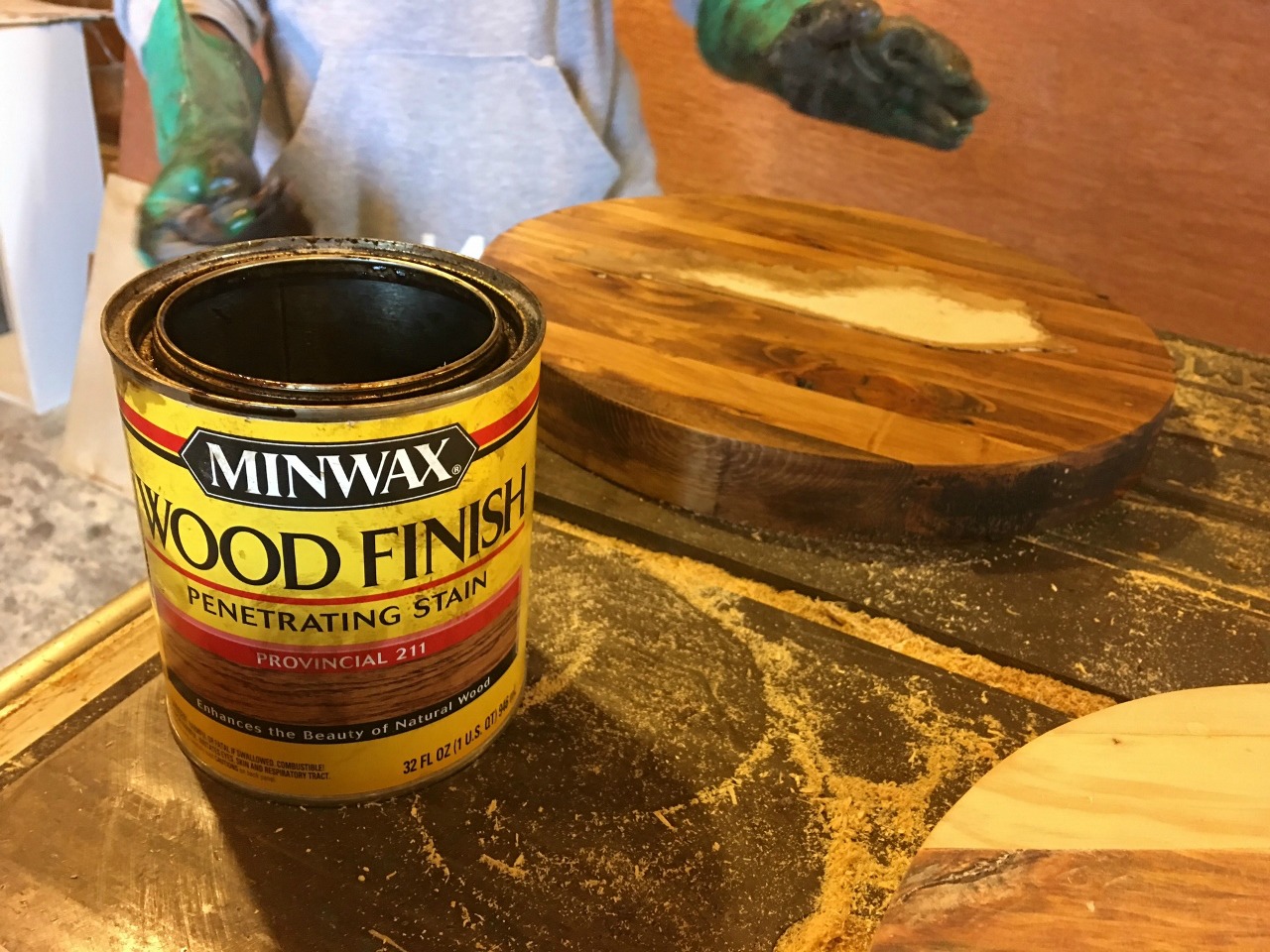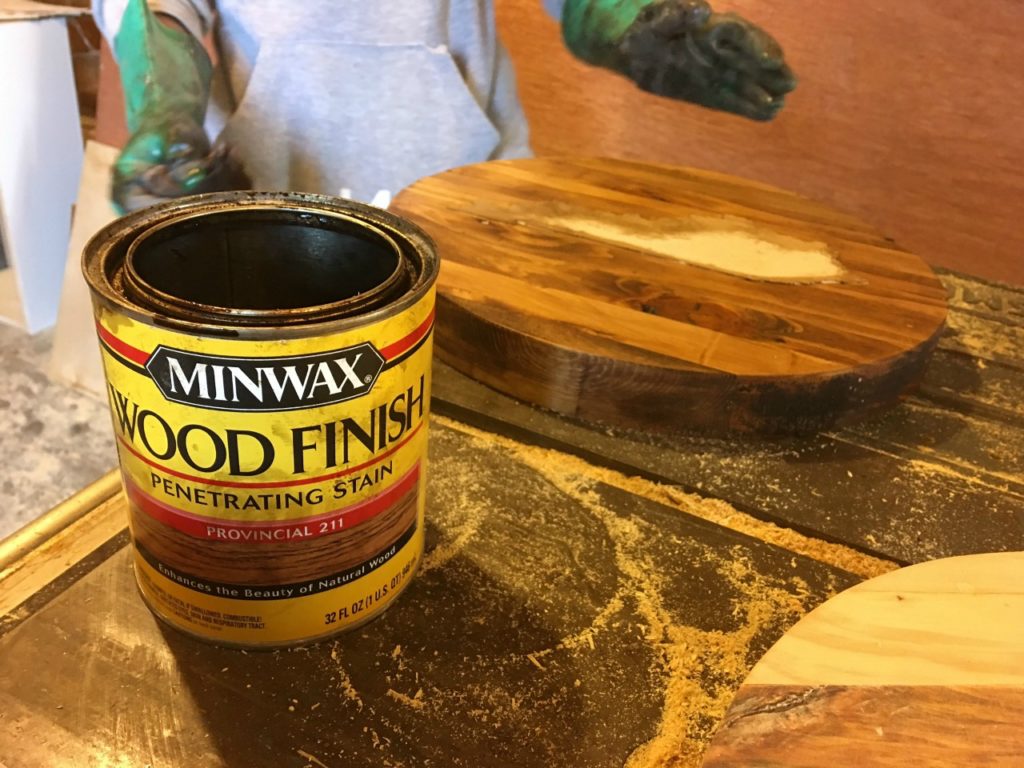 I used Minwax Provincial for my stain color.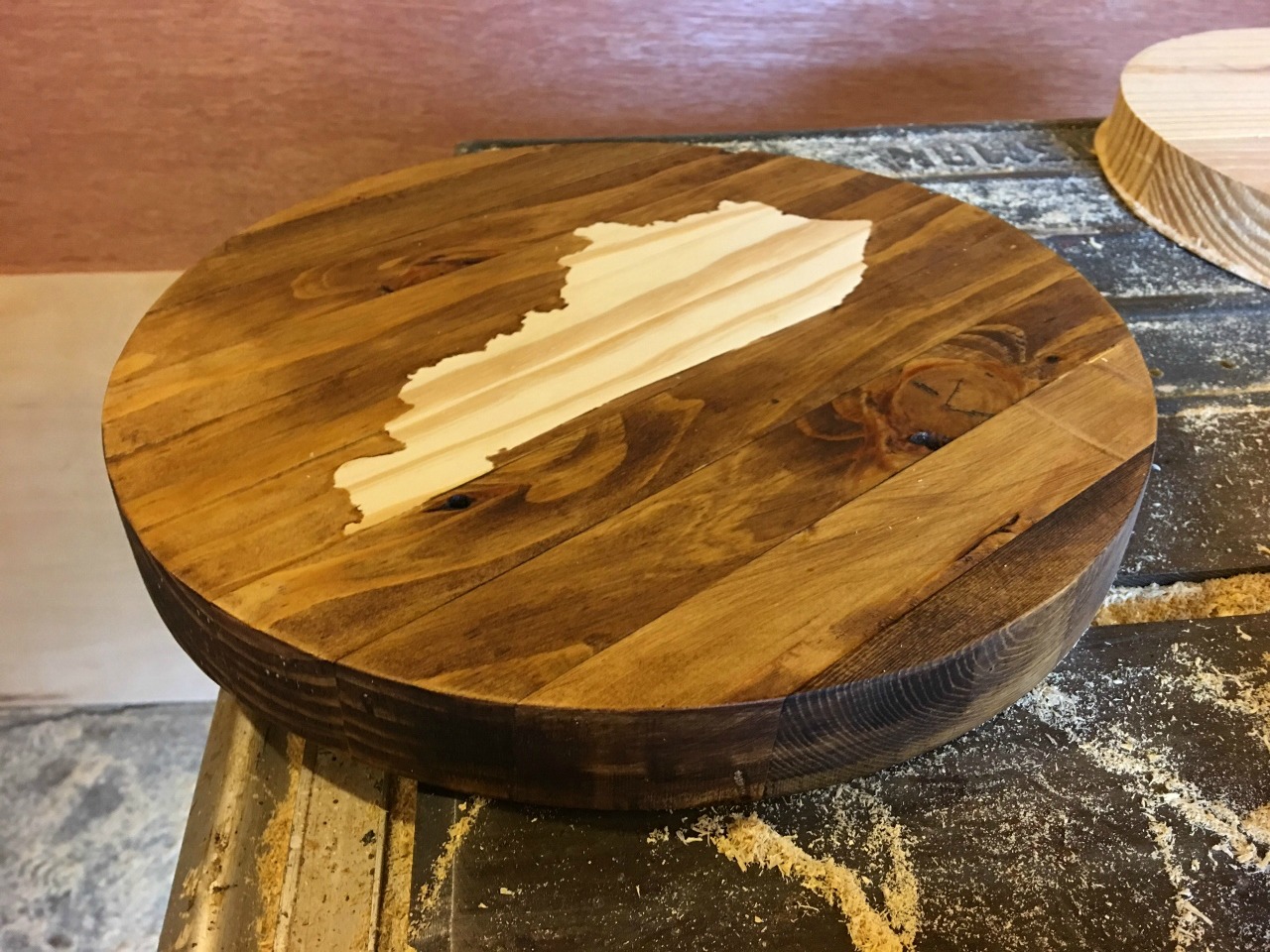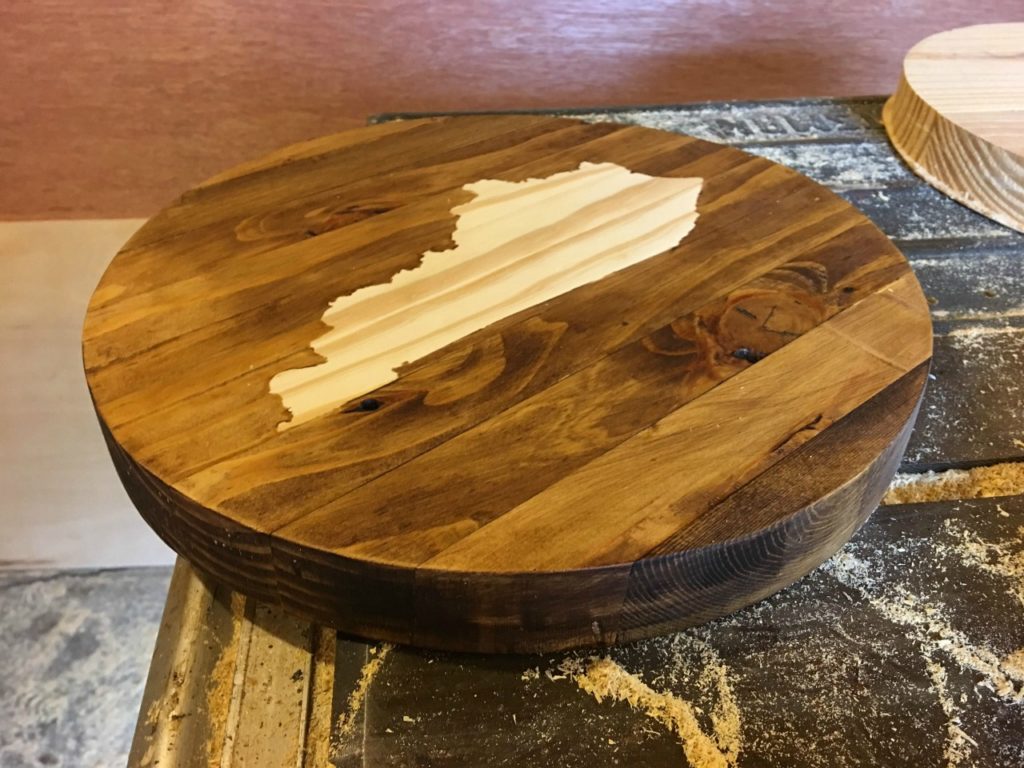 Step 3: Add Faux Metal Edge
I ripped a ⅛" wide strip off some scrap 2x that I had around the shop that was long enough to wrap around the edge of the round. I sanded it smooth and spray painted it with oil rubbed bronze paint.
.
NOTE ALSO–if you don't have a table saw, you can purchase ⅛″ x 1 ½″ wood lattice trim instead.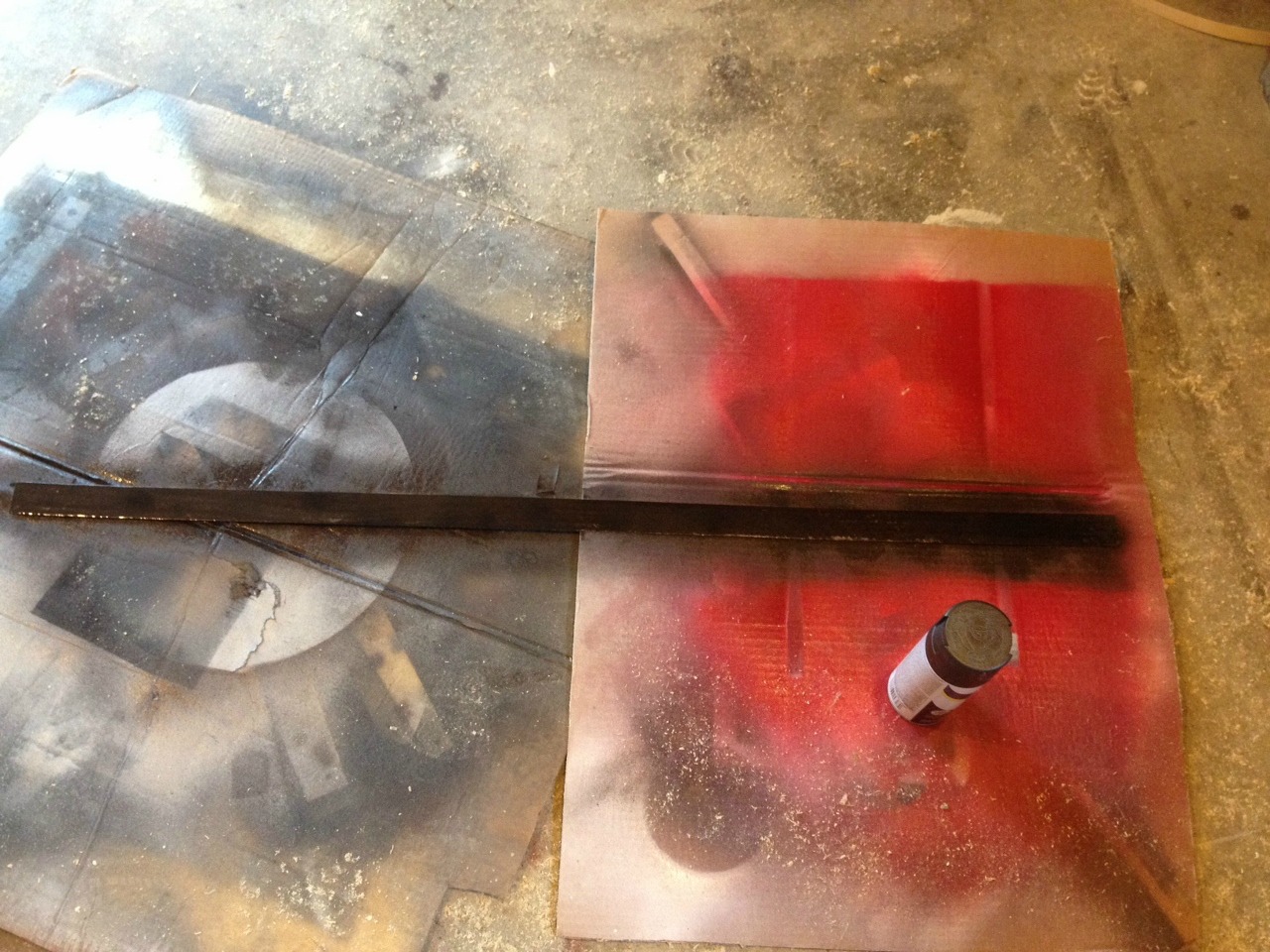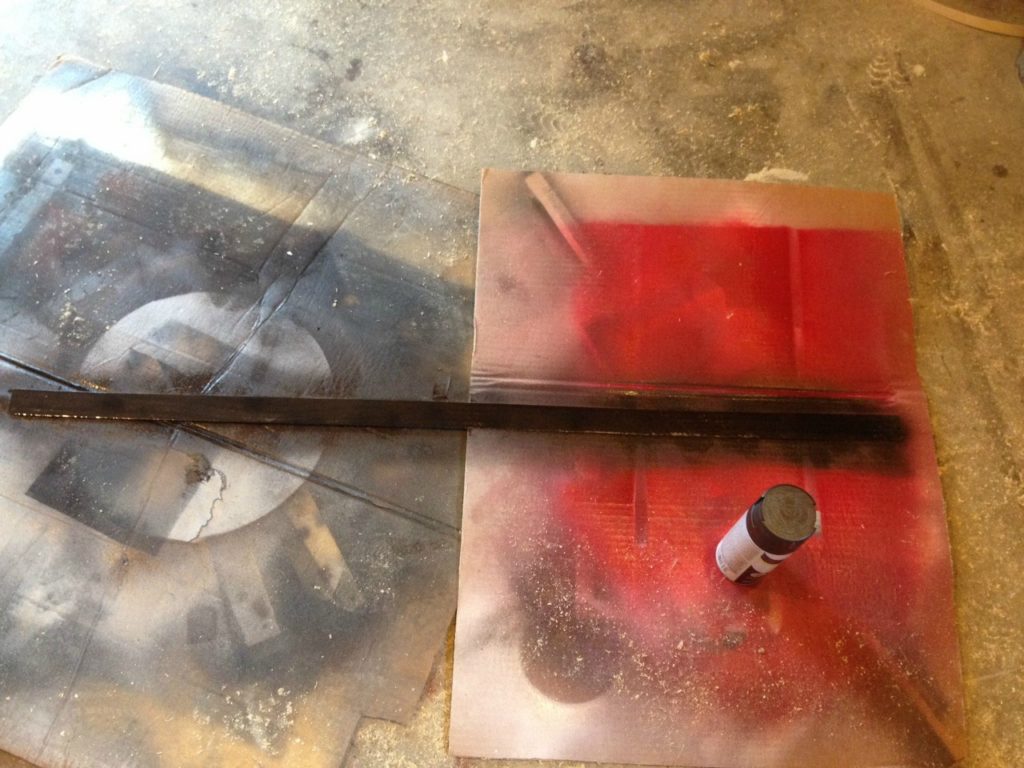 As a side note, this strip was a little difficult to bend smoothly. I recommend soaking the strip in water (I literally soaked it in my bathtub) overnight, then take it out and bend it into a circle and clamp until it's dry. Then, spray paint and continue.
.
If you're still having trouble with it, you could also use a metal band instead–or skip the band altogether. I've got a tutorial here for how I bent a metal band in a circle if you want to try this with metal.
.
If trying metal for this smaller project, aluminum is a softer metal that would work well and bend easily. Just purchase a piece of flat aluminum 1 ½″ wide and long enough to wrap around your wooden plate.
.
Once the paint was dry, I added some glue to the back and used a staple gun to staple it around the edge of the round. I tried to space the staples evenly around the edge. (NOTE: If using metal, you'll need to drill holes and use screws instead of staples here.)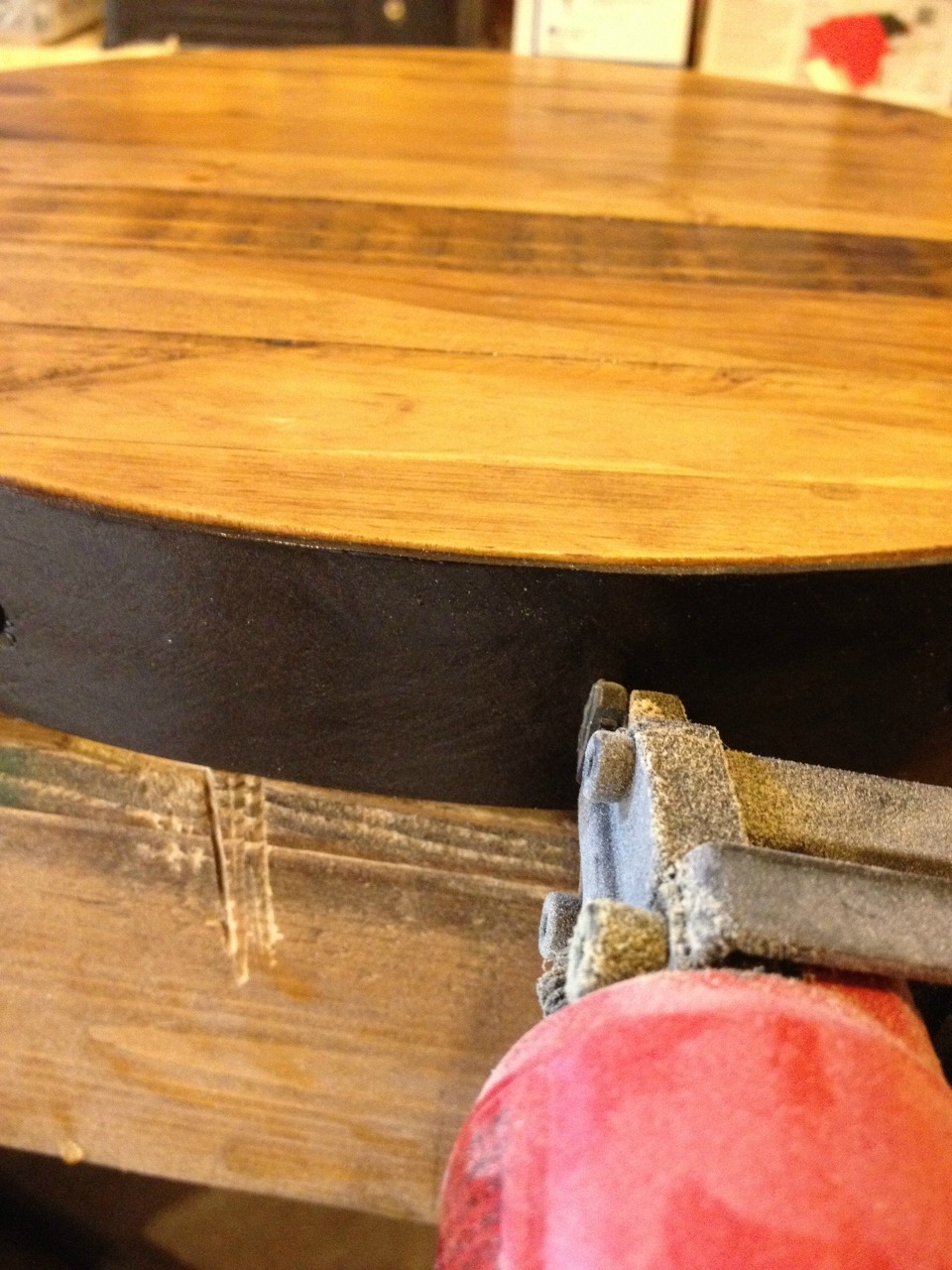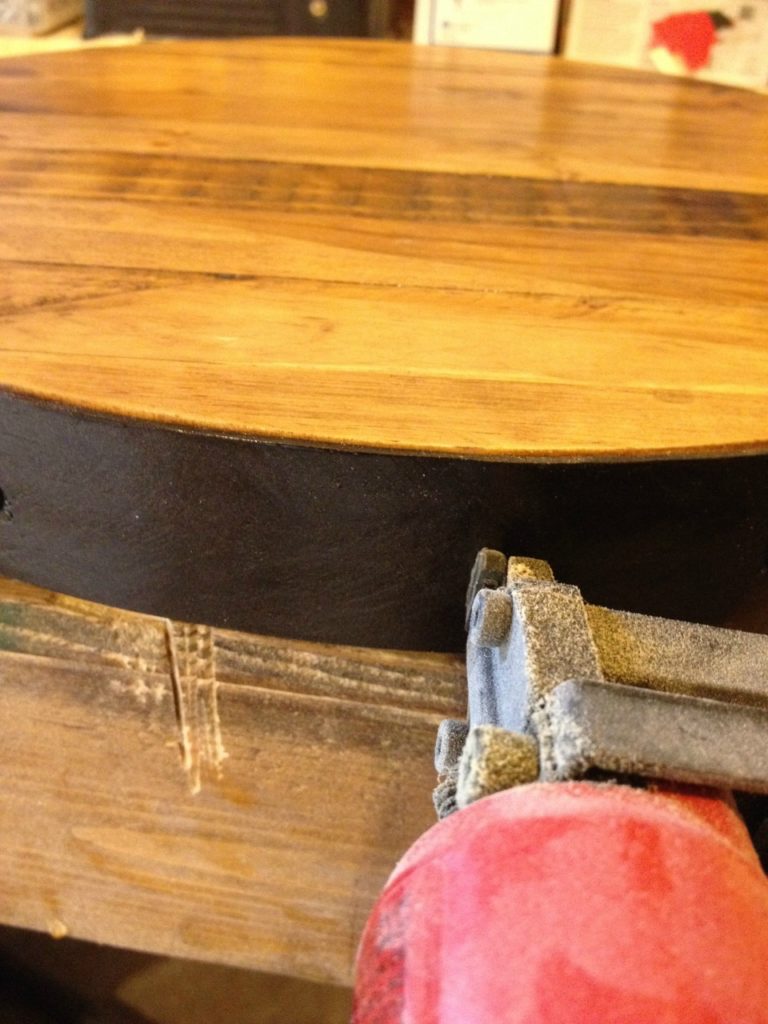 Then, I used a hammer and some decorative nail heads to cover the staples. Hobby Lobby has tons of nail head options in the upholstery department.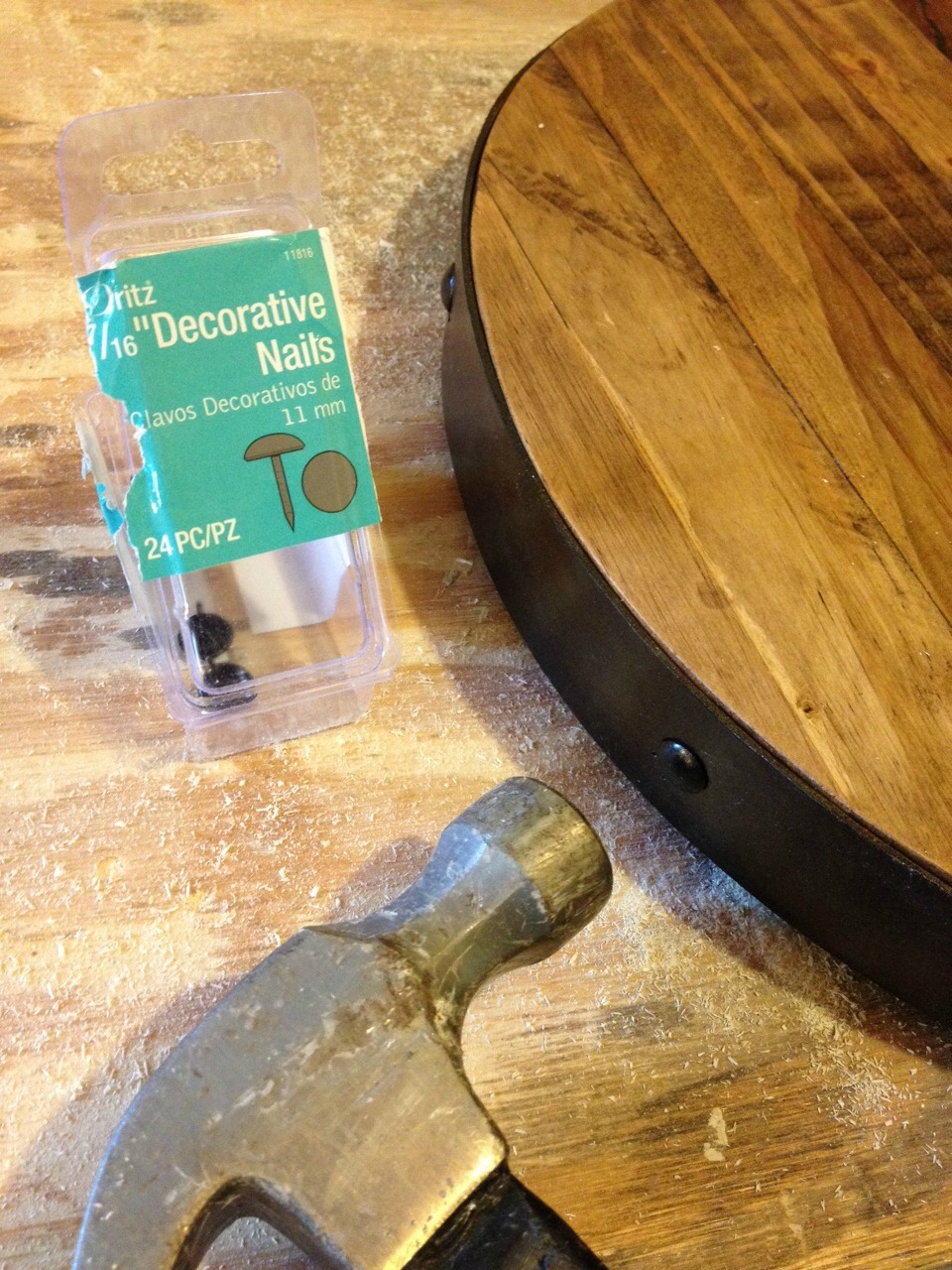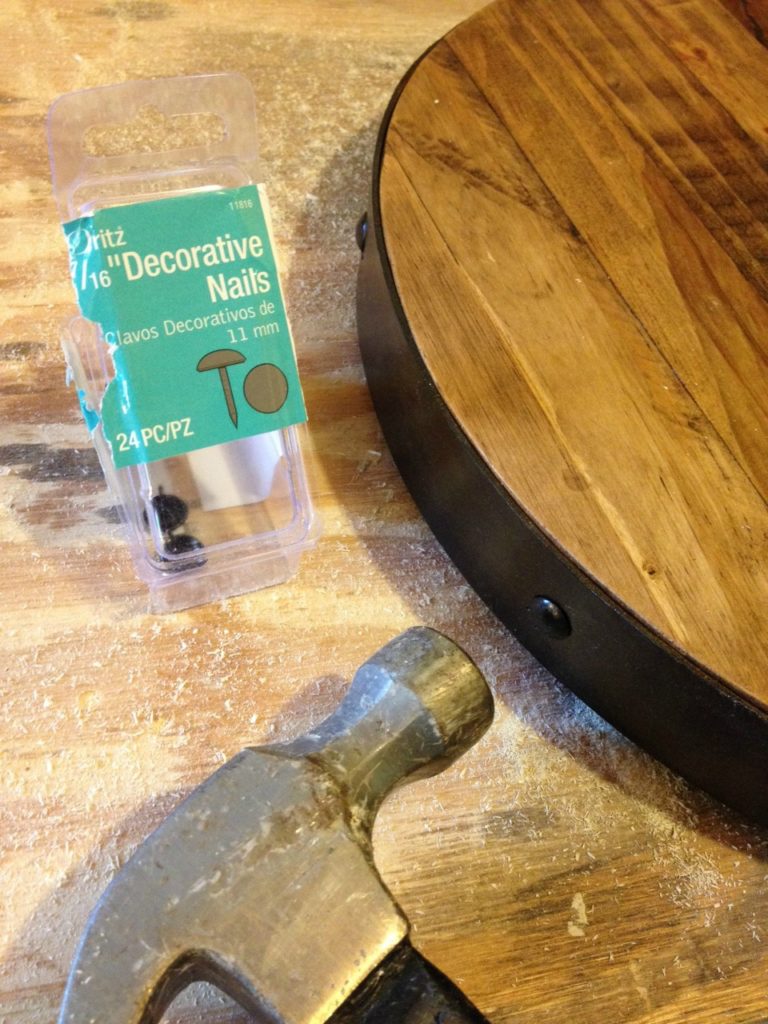 Step 4: Add Lazy Susan Hardware
I flipped the round over and centered the hardware. Using 1 ¼" screws, I attached the hardware to the round.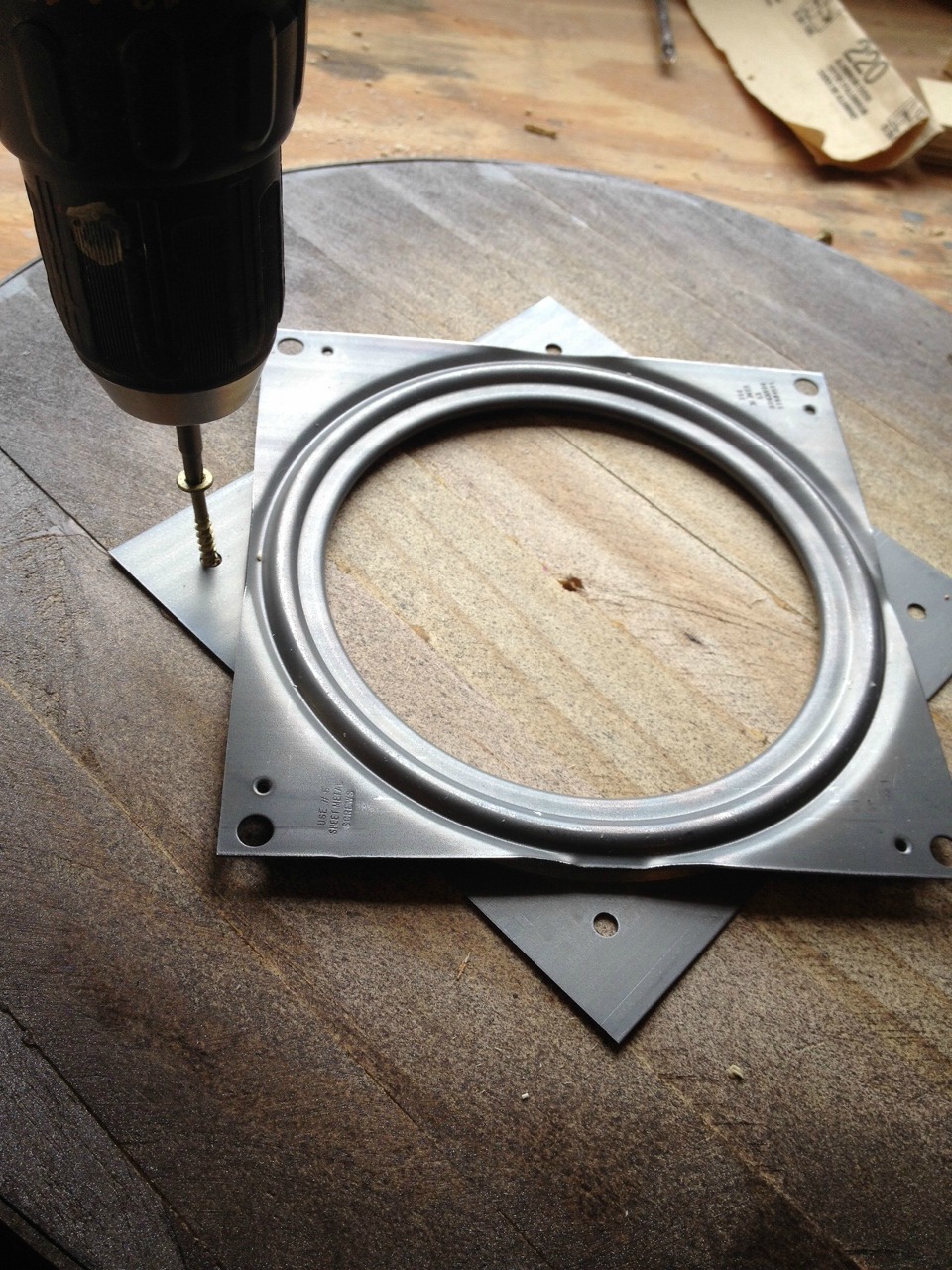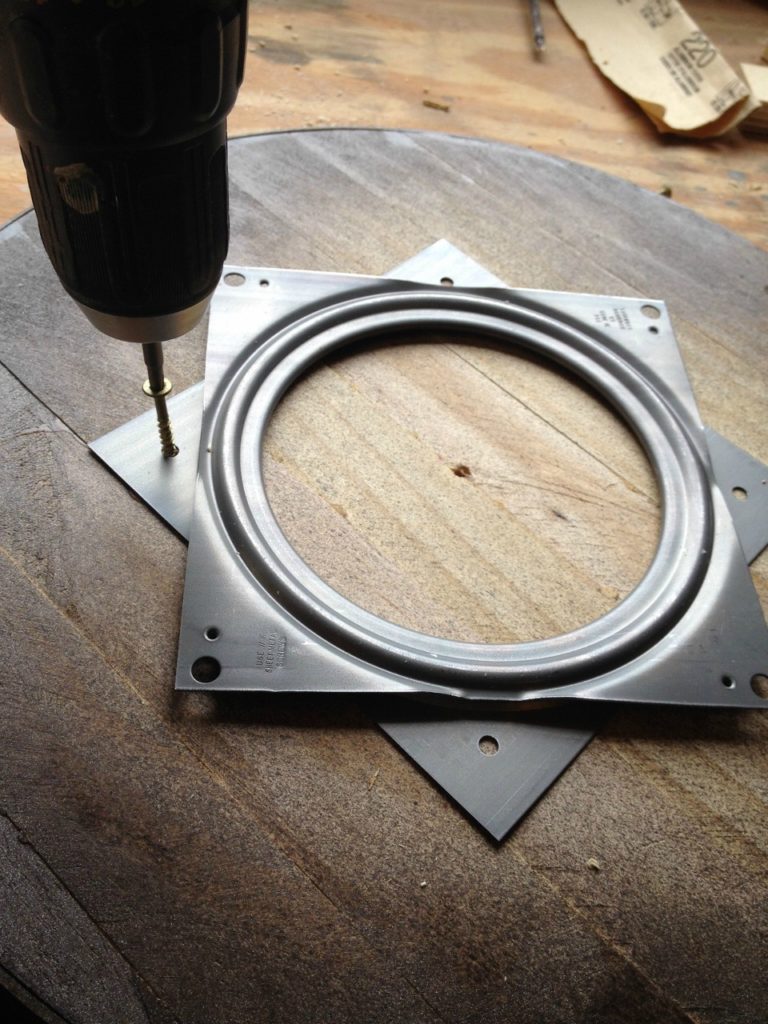 Step 5: Finish Lazy Susan
I added a couple coats of Minwax Polycrylic to the rounds to seal everything before I started putting food on it.
Step 6: Make a Pie to Stage It With
Of course, this step is optional…but it's pie. Who wants to skip pie??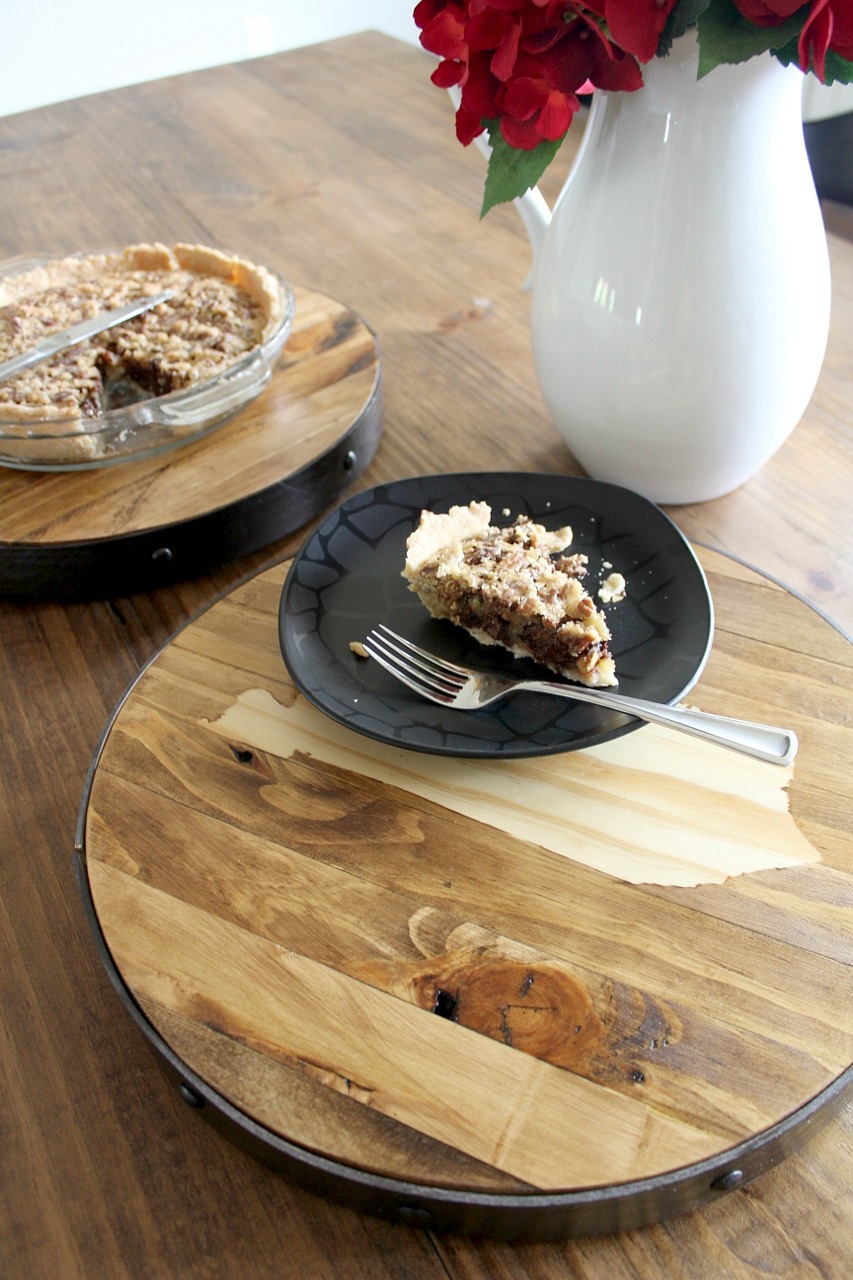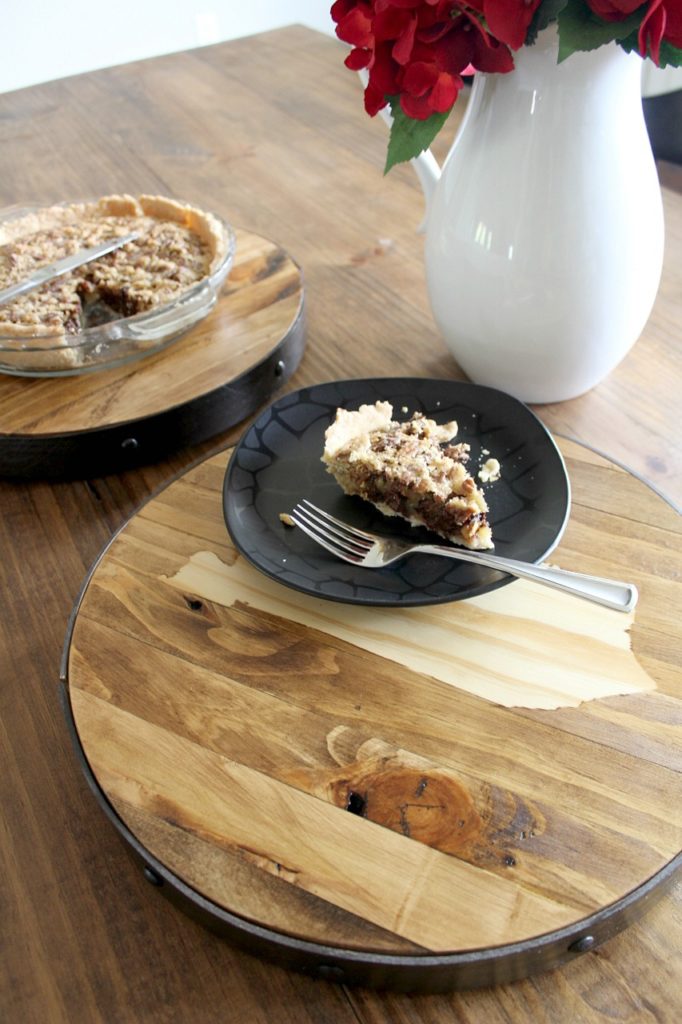 Since this has a Kentucky on it, I made a derby pie (get it? Kentucky Derby??) to stage it with.
.
But any pie will do…or cake…or literally whatever you want to use these for haha. It's such a simple project and you could use it for SO MANY THINGS!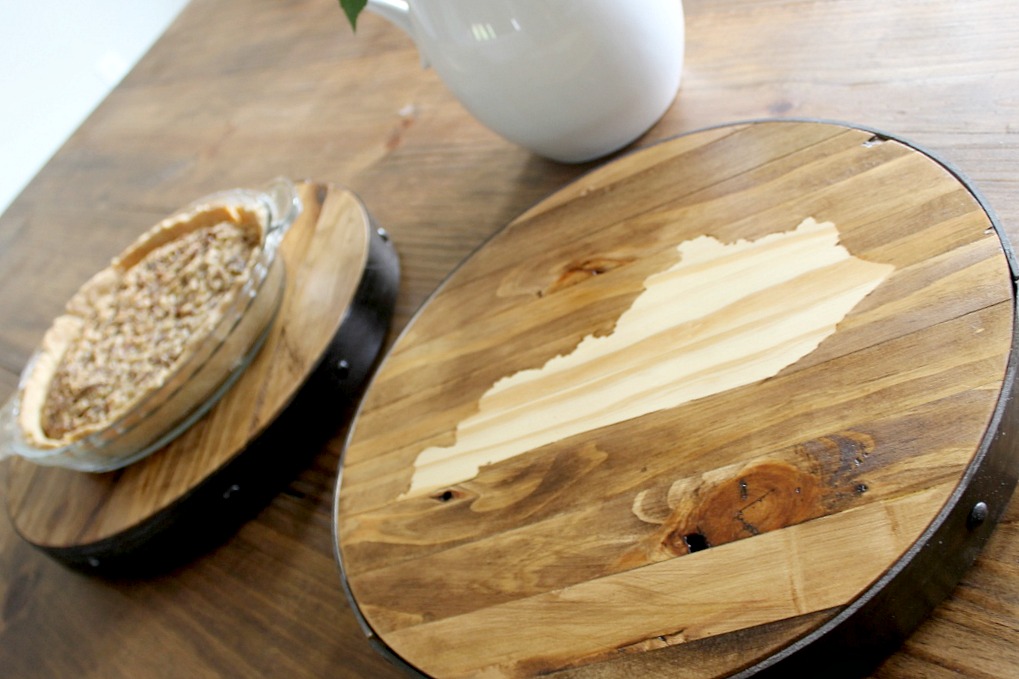 My sister uses hers as a centerpiece on her kitchen table. I use mine on my countertop for a utensil holder.
.
The possibilities are endless!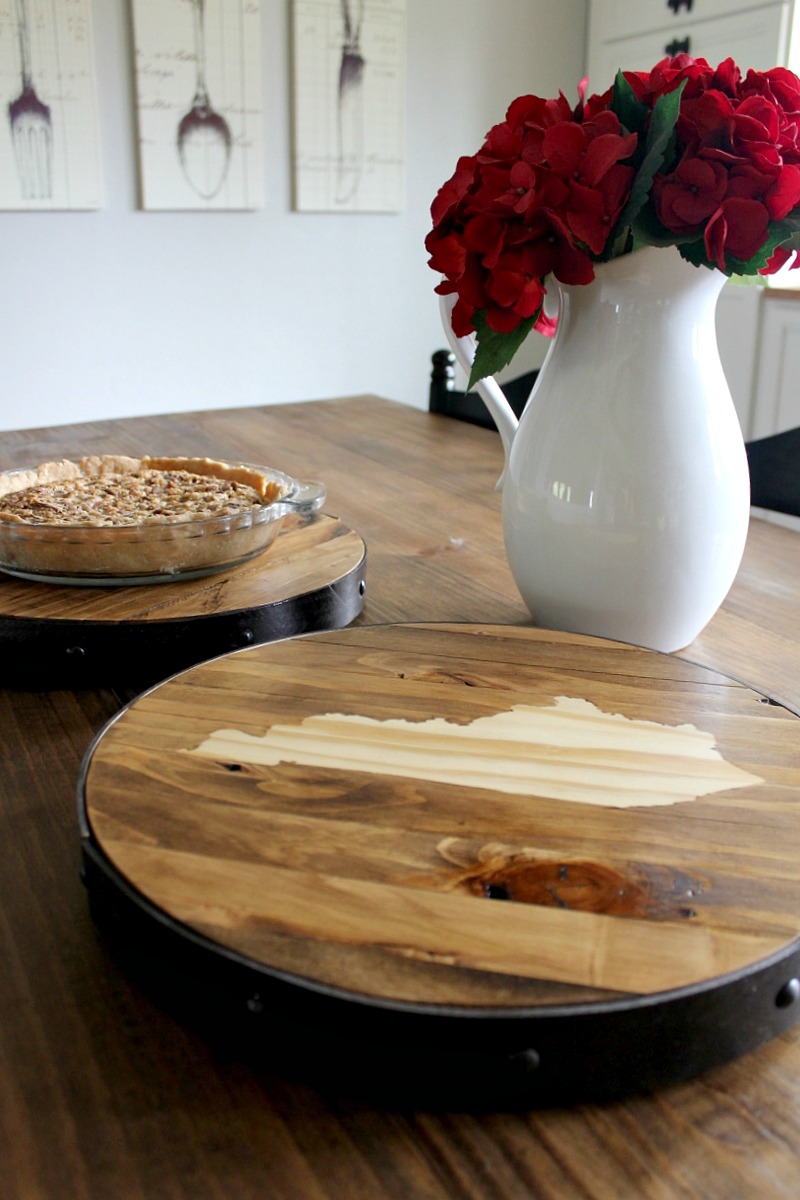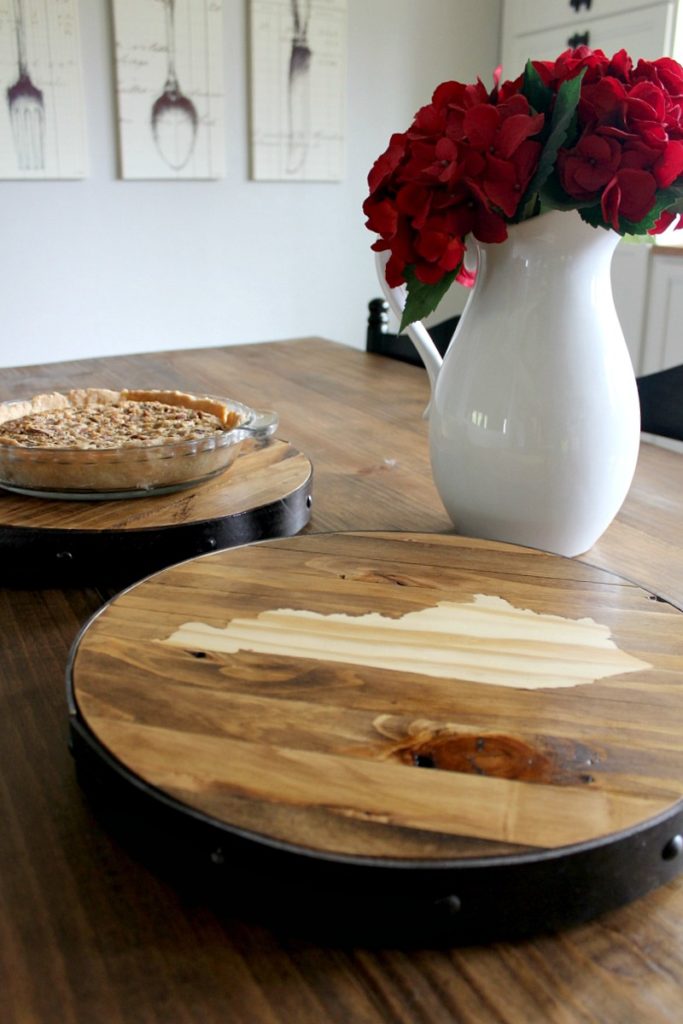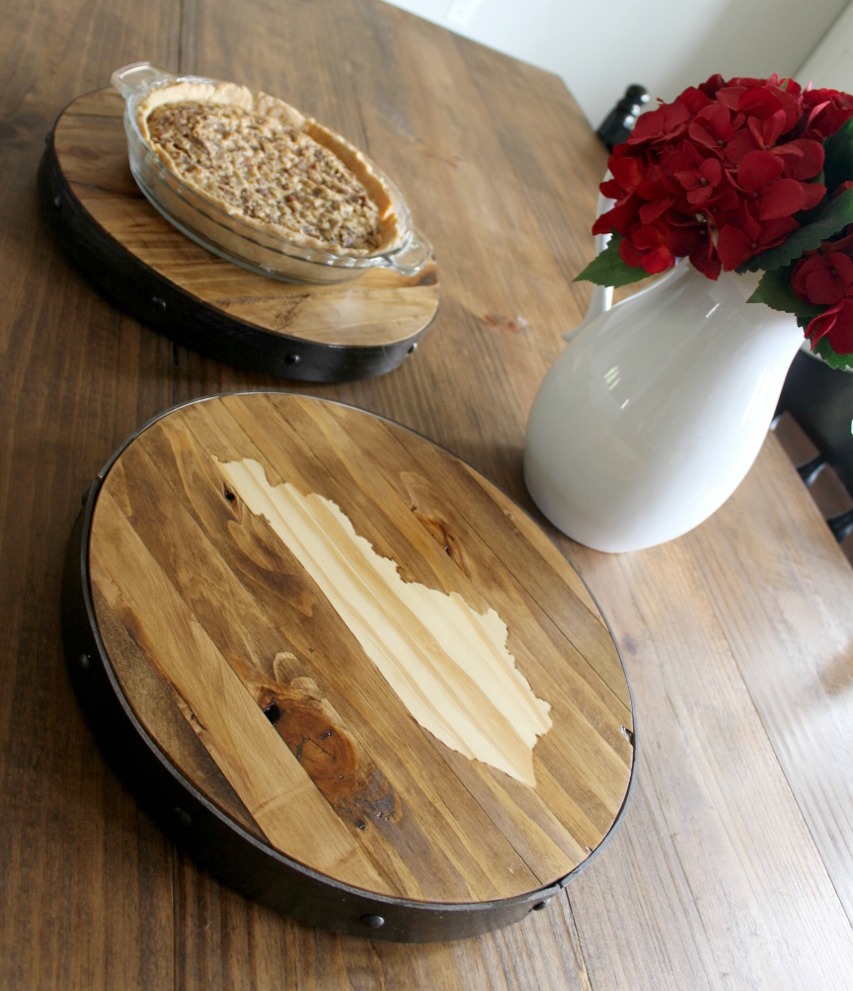 If you loved this project, don't forget to pin for later!!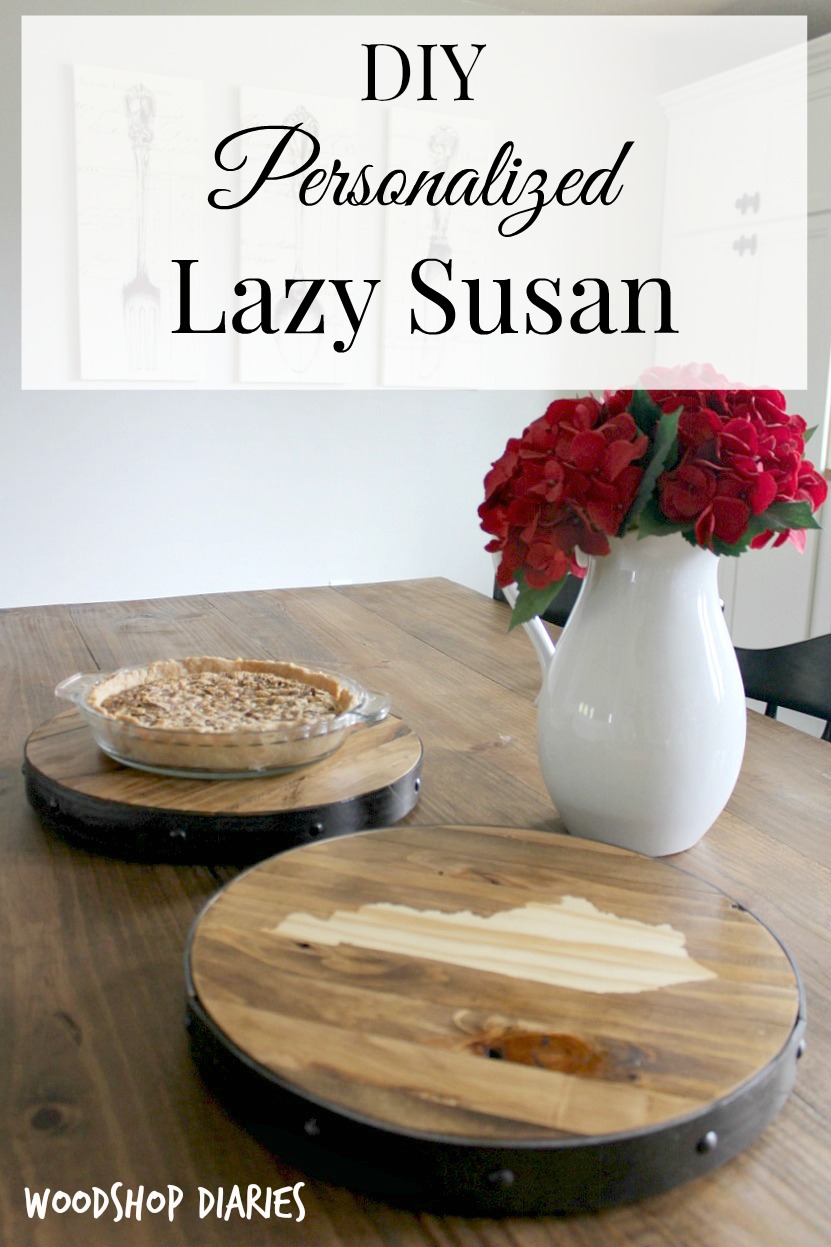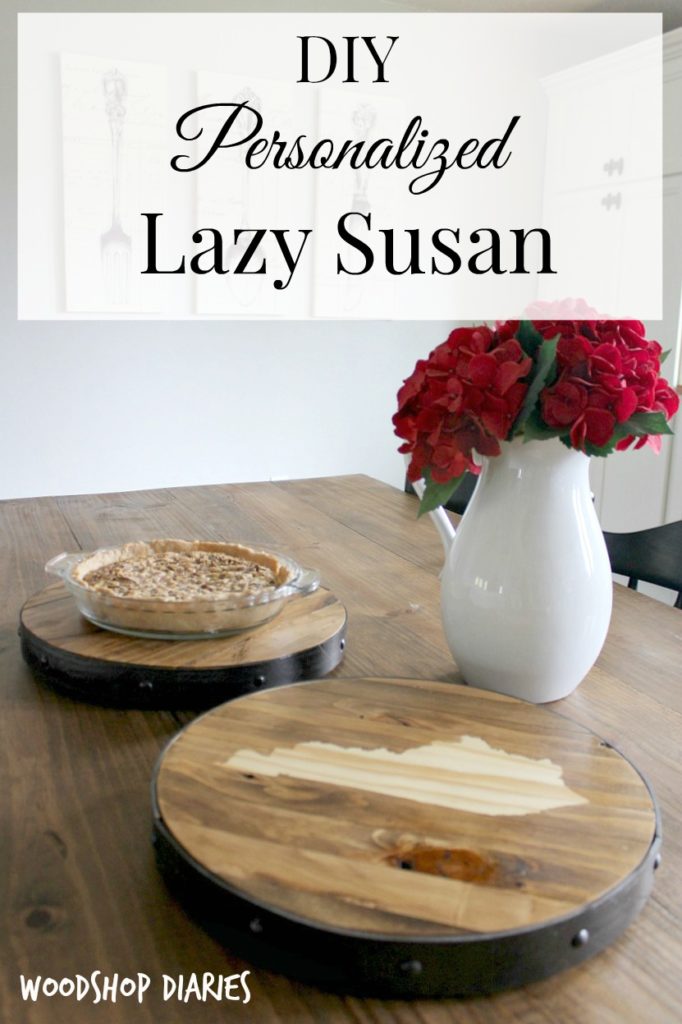 Until next time, happy DIYing!! 🙂