Want to make an awesomely cool DIY modern serving tray with handles like this one?  Keep reading for the complete how to 🙂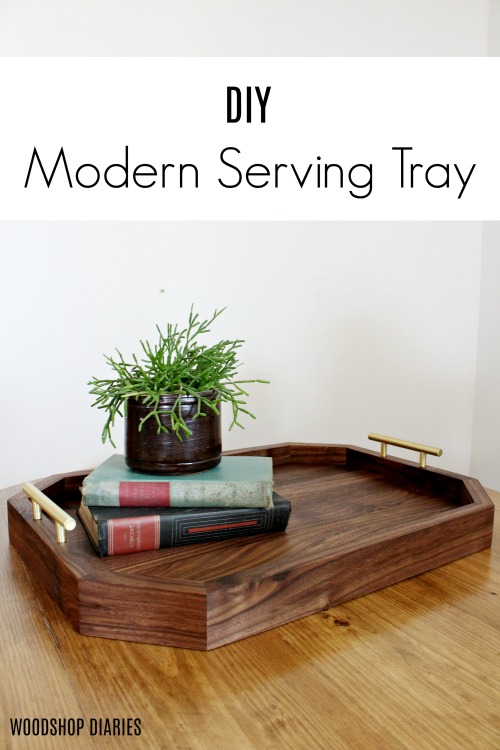 Hey friends!  Lately I have been feeling a little…drained?  Bogged down?  Uninspired?  Tired of building huge things?  I'm like Ron Burgundy on Anchorman–I'm in a glass case of emotion haha.  No, but for real.
.
So I took some time to play around in the shop making some quick, fun, smaller projects to get my head back in the game.  And I think it worked because I've got a few projects to share in the next few weeks with you guys that I am super excited about and they are SO EASY!
.
But before I start rambling about ALL THE THINGS, let's focus in on this project in particular.  It's a simple modern DIY serving tray that's made from walnut.  Mmmmmmm…walnut.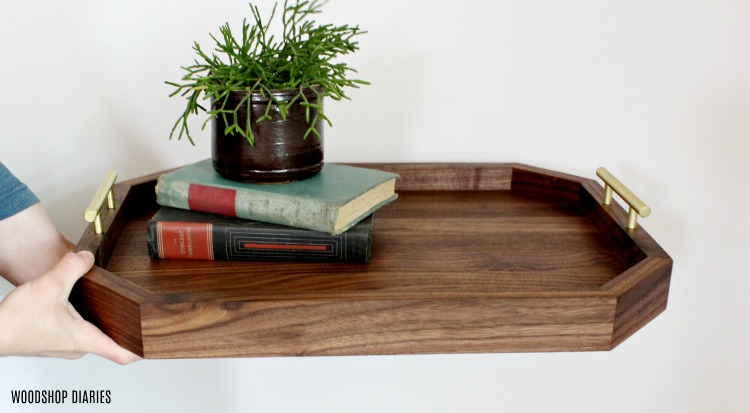 PS have you ever smelled walnut??  It's super weird…almost like a sweet smell.  I dunno.  You just need to sniff it.  But not too hard because I've heard it can be toxic…ugh.  Side note: I think you have to like inhale an entire board to get sick…but I'm no scientist, soooooo… *shrugs*
.
Anyway, a friend from work recently gave me a truck load of walnut with a few cherry and maple boards mixed in because he didn't have room for it in his shop anymore.  SCORE!  So I'm trying to put it to good use in some fun and unique projects and this was the first one.  Stay tuned, though, in the next few weeks to see what else I make with it 😉 I've got some ideas…you can decide if they're good or bad ones HA!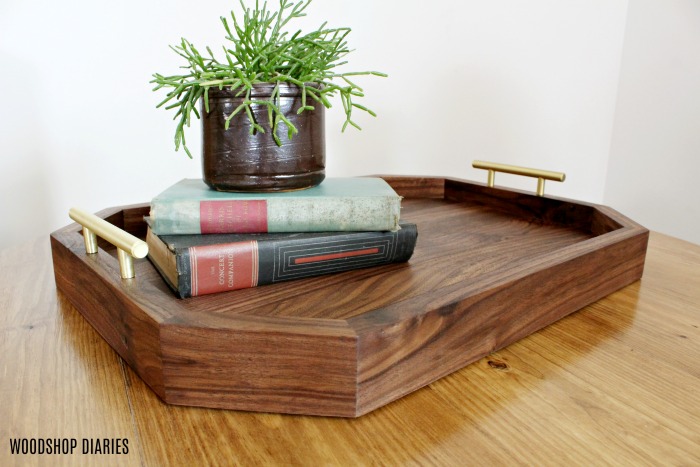 So if you're ready to see how this tray came together, let's get to it.  I've got the step by step below and a video tutorial for you right here.  This post contains affiliate links.  See policies for details. (By the way, if you like videos and you like me (pretty please like me??), I'd love if you'd hop over and give me a follow on YouTube.  I'm trying to grow my channel and I'd love your support over there 🙂 )
[adthrive-in-post-video-player video-id="lZ1HvhSV" upload-date="2019-05-31T23:36:21.000Z" name="How to make a modern walnut DIY serving Tray" description="How to make a DIY Modern Serving Tray"]
For this project, you will need:
Boards ripped to 2″ wide OR 1×2 boards (scraps are great for this! Amount will vary depending on the size tray you want to make–I used about 18′ of 2″ wide board to make this tray about 15 ½″ x 21 ½″)
Side Note: did you know that The Home Depot sells walnut in some stores?  If it's not available at your local store, you can also order it online.  Just in case you don't have a local hardwood store and you'd like to play with some walnut 🙂
(2) handles
Hacksaw or saw to cut metal screw
Step 1: Prep the Boards for the DIY Serving Tray
This step may be different for you, but for me, I had some prep work to do for the wood.  The only downside to the free walnut my friend gave me was that it was rough sawn. Not a big deal, just needed a few extra steps like planning and squaring off the edges on the table saw.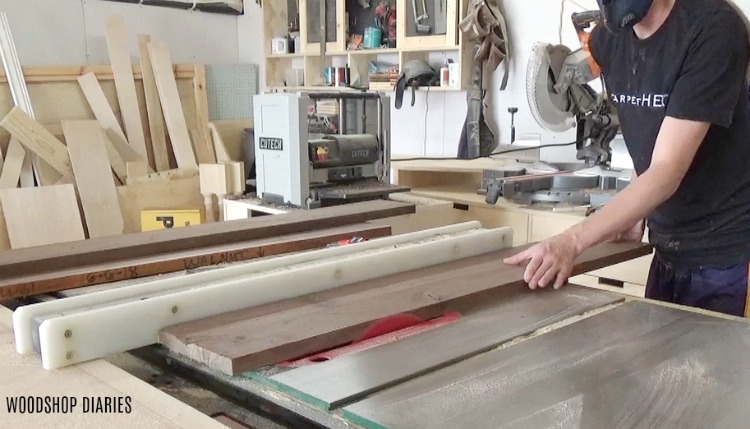 Once the boards were smooth and square, I cut down some 2" wide strips on my table saw. But if you don't have a table saw, don't be discouraged from giving this project a try. You can purchase your lumber as 1×2 boards and make basically the same project just with slightly different dimensions.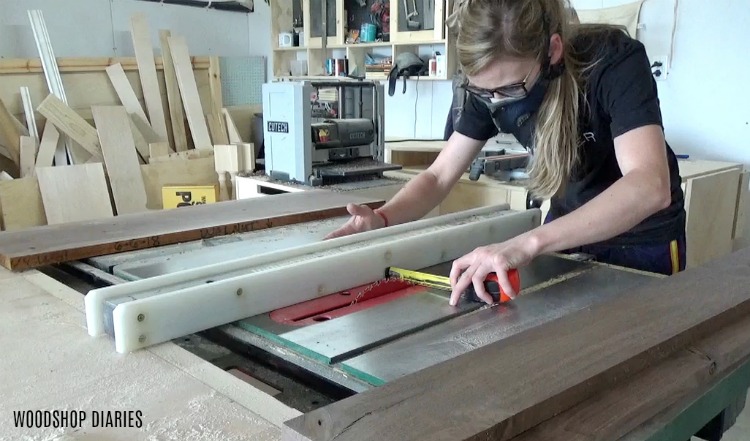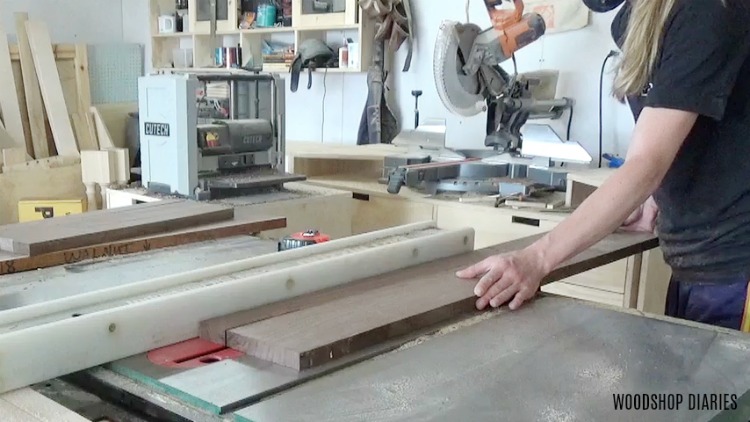 Once I had my strips cut down, I took them to the miter saw and cut 7 pieces to about 20" long to make the bottom of the tray.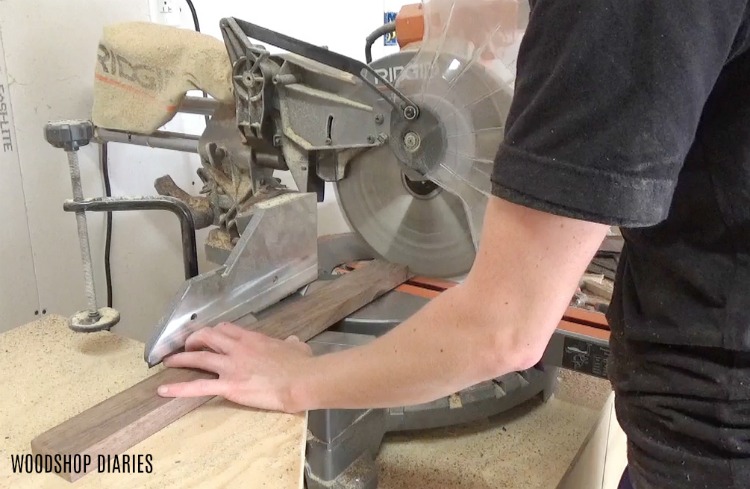 Step 2: Glue up Bottom of DIY Modern Serving Tray
Then I brought these pieces to my workbench, grabbed a couple clamps and glued them all together.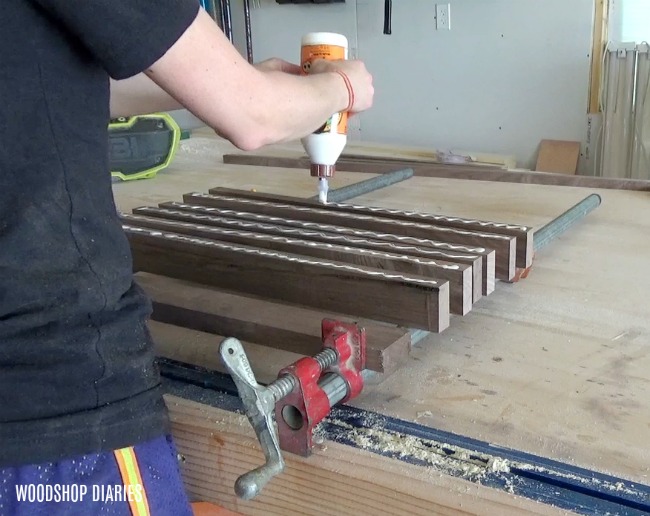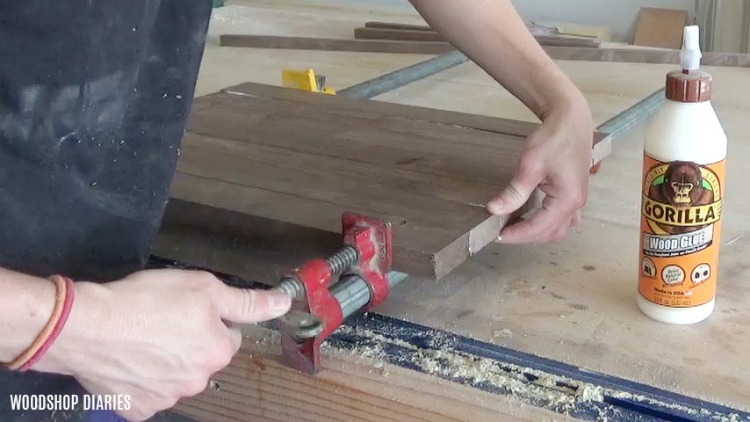 Once the glue was dry, I sanded my life away. No, but seriously, there was a lot of sanding. I wanted this project to be nice and smooth, so I sanded it down flat with my belt sander, then polished it up with my orbital sander.  PS wear your dust mask.  You don't want to get sick AND have dark brown dust boogers.  Trust me…not attractive.
Step 3: Trim DIY Serving Tray Bottom
Once everything was nice and smooth, I took it over to the miter saw to clean and square up the board ends.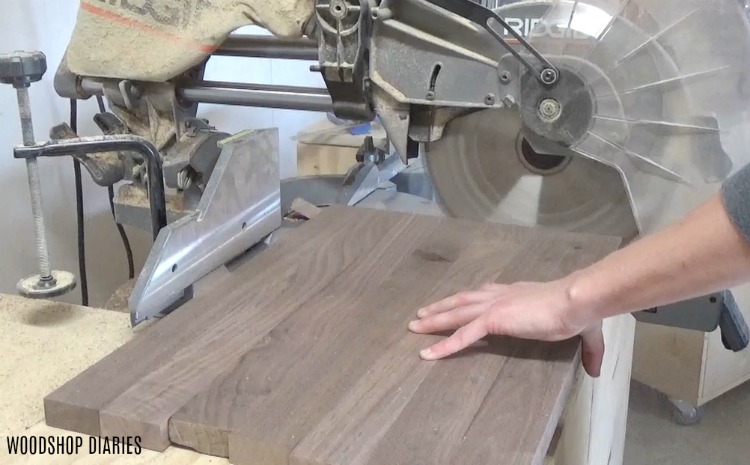 Lately, I've developed a weird aversion to sharp corners.  So I cut these off.  I drew a line 2" in from each corner and used my speed square to mark 45 degree angles on the corners. I took this over to the miter saw, adjusted the miter to 45 degrees, then trimmed these corners off on the lines.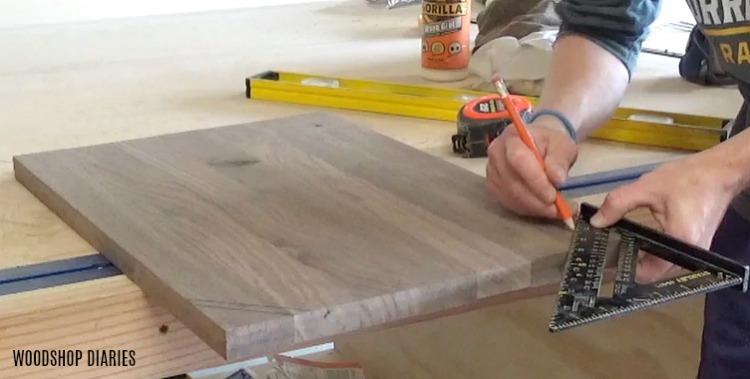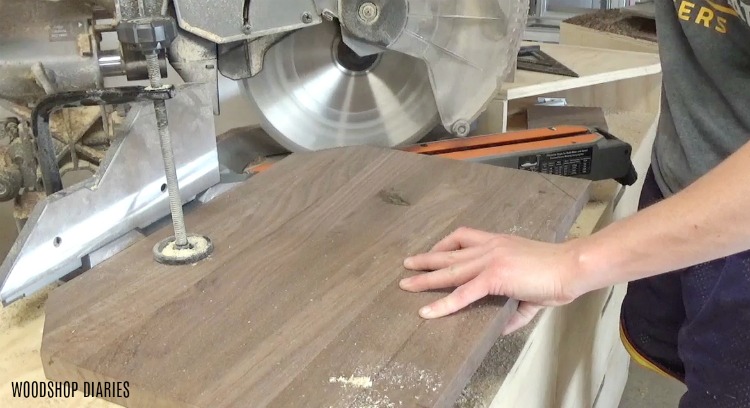 Now, the bottom was finally finished and it was ready for the sides.
Step 4: Glue on Long Edge Sides of Serving Tray
Because I cut the corners off at 45 degrees, the angles on my sides needed to be half of that, so 22.5 degrees.  So I used more of my 2" wide strips and cut to fit them for the long edge of my tray bottom with edges mitered to 22.5 degrees.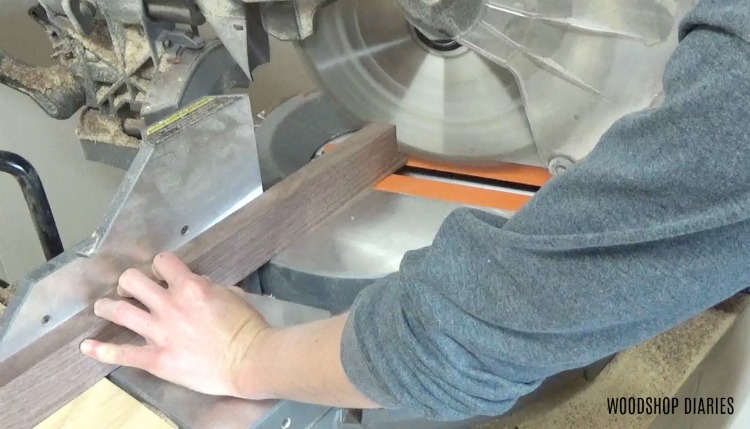 Once I had my two long edge pieces cut to fit (make sure it's a really good fit–not too long or too short), I glued them in place like shown.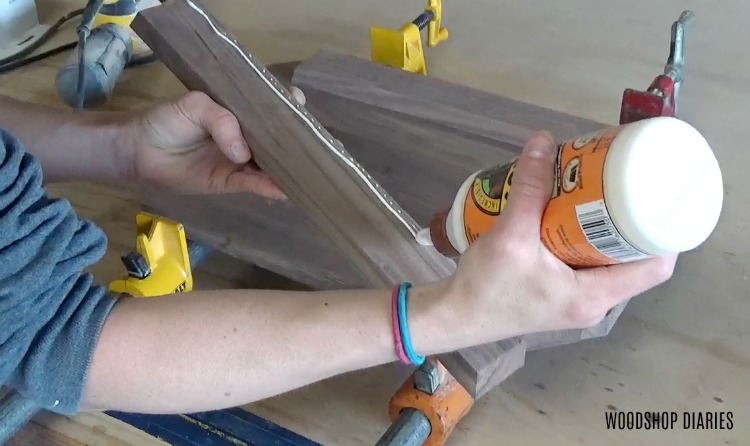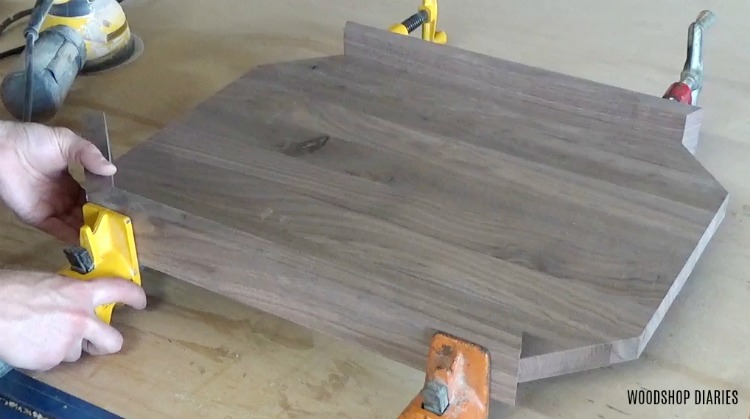 FYI, you can totally glue all the side pieces on at one time instead of in sections, but this was WAY less stressful and glue ups are stressful and I can't even handle any more stress right now.  So sections it is 🙂
Step 5: Glue Short Edge Side Pieces on DIY Serving Tray
Once that was dry, I moved on to cutting the rest of the pieces to fit around the tray. I cut all of them a little long and trimmed down as needed to get a nice tight fit.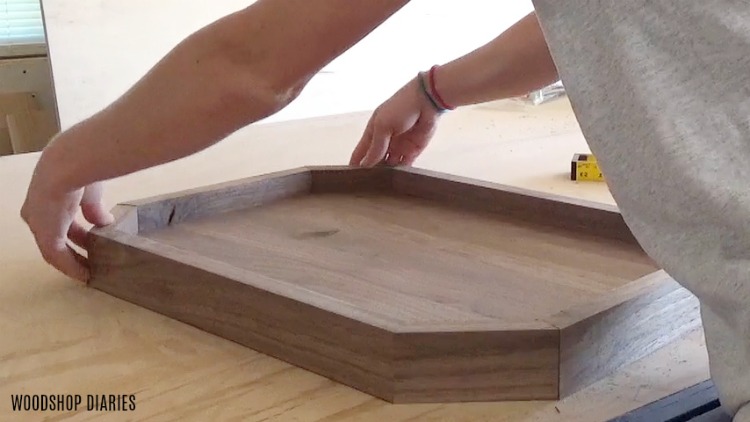 After I had them all cut, I glued the shorter edge pieces on just like the long side pieces.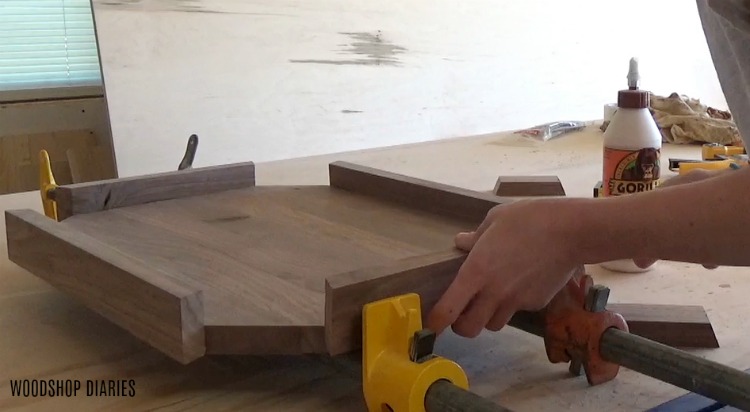 Step 6: Attach Corner Side Pieces on DIY Serving Tray
Then, finally, once that was dry, I used a small ratchet strap clamp to glue on the corner pieces. It was time consuming to do it in sections, but it made it really easy to make 100% sure everything fit together well and it made the glue up process much cleaner and less stressful haha. Glue stresses me out.  Did I mention that already??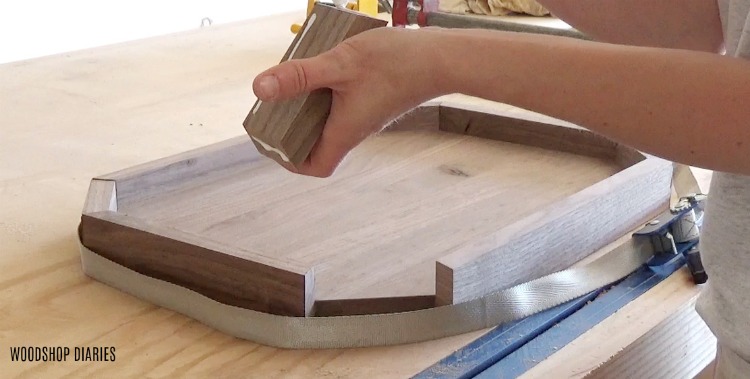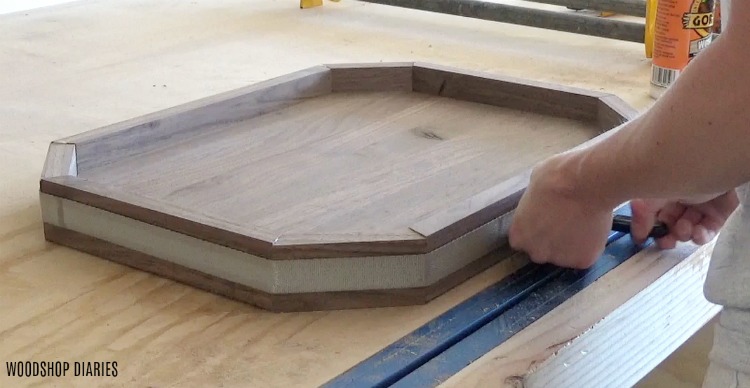 Once it was dry, I gave it a final sanding to get any glue squeeze out off and to level out all the joints.
Step 7: Finish Serving Tray and Add Handles
I finished it with this Fusion Mineral Paints beeswax that a friend of mine sent me to try. I've never used beeswax…or any wax for that matter, but I REALLY LOVED it on this tray. It was satisfying to kind of buff in with a rag (hooray for finishing something and not having to clean a paint brush!!) and it gave it a really smooth, clean finish. Highly recommended. Here's a link to what I used.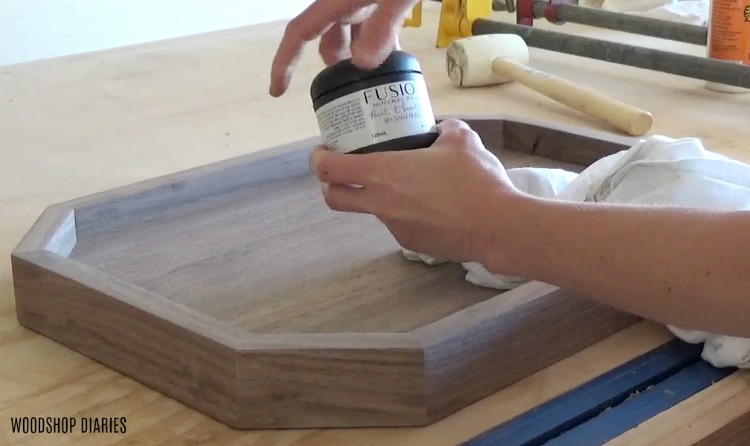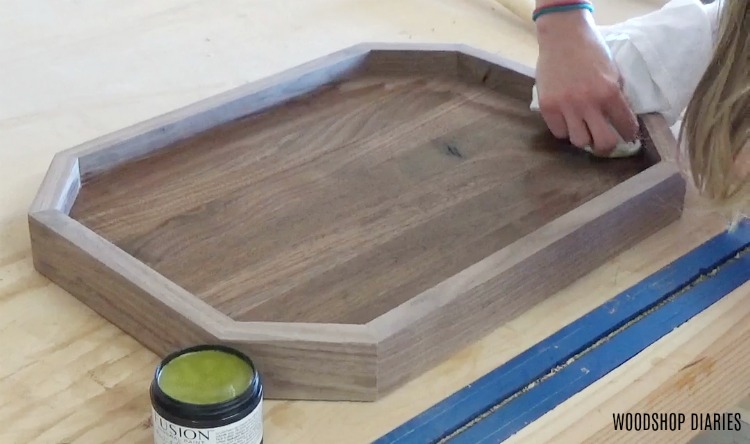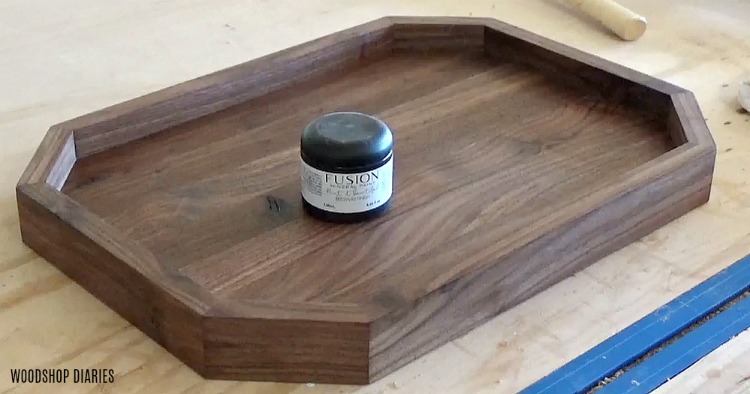 Anyway, once it was dry, I wanted to install some handles. So I drilled holes slightly larger than the screws that came with the handles into the sides of the tray.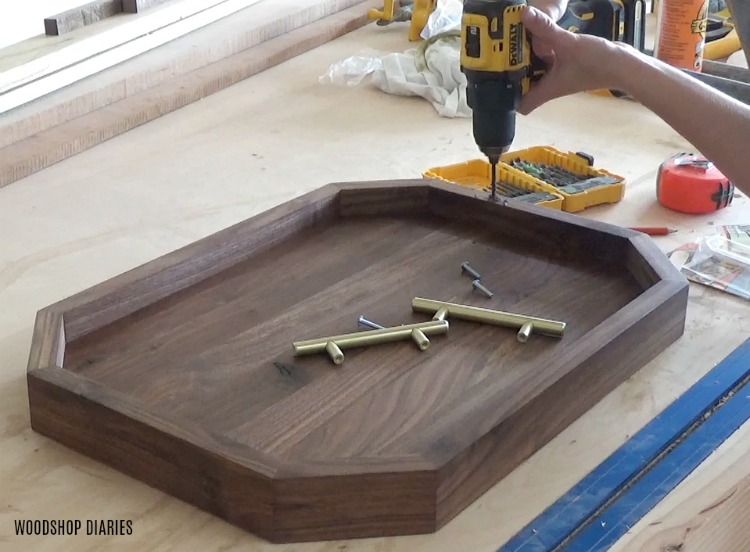 BUT, that wasn't going to work with the screw heads on the end. So I used a hacksaw and cut the heads off of the screws.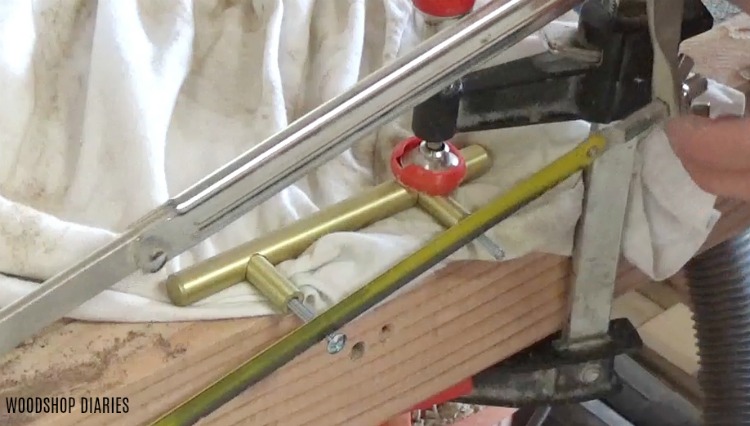 Then I used some Gorilla Glue Epoxy to fill the screw holes and placed the handles in. I used a rag to wipe off any epoxy squeeze out, let it dry and took it inside to show it off.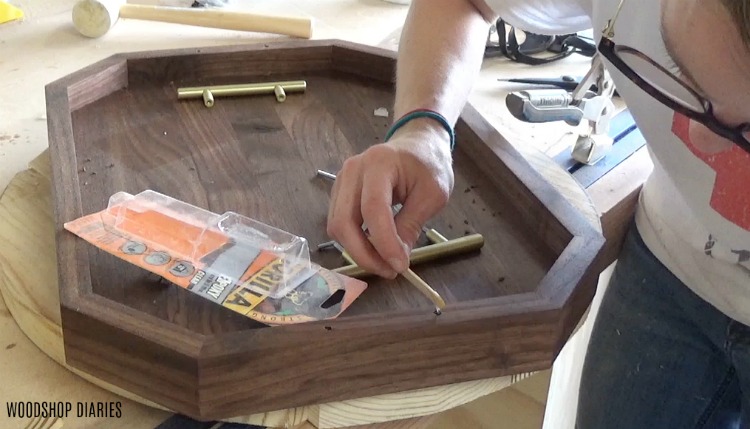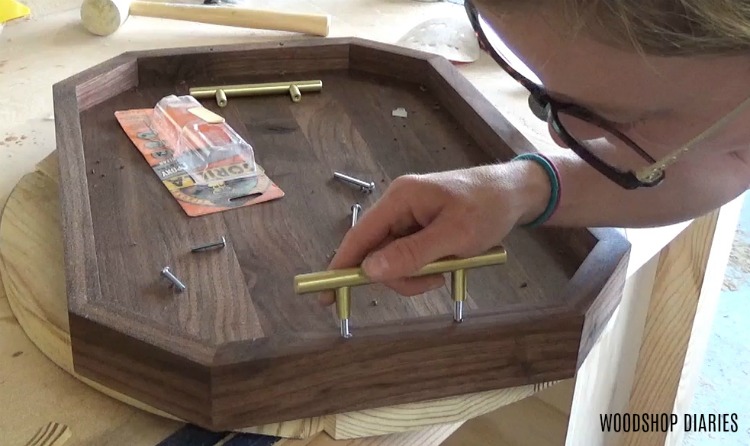 I cannot tell you how much I love this little project. It's so simple, but I'm so proud of it. I've got it chilling out on my coffee table right now and can't wait to use it as an actual serving tray when guests come over.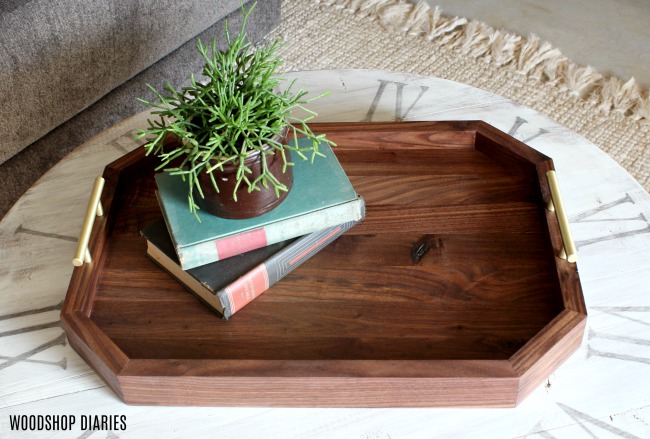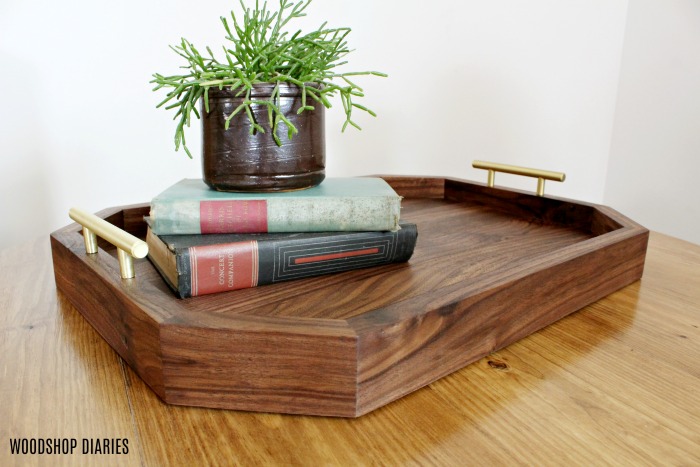 If you've got some scrap wood or some random hand-me-down hardwood lying around you want to do something fun with, I hope you give this one a try.  It would look good in maple, or cherry, or even pine, too!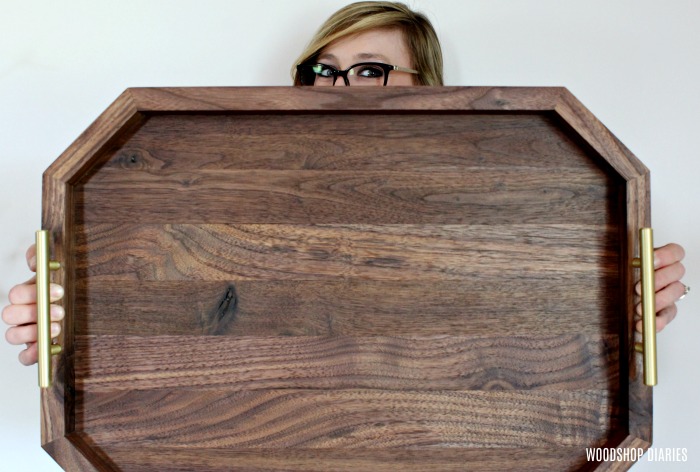 Be sure to check out the video for this project and subscribe to my YouTube channel and follow along on Instagram if you aren't already.  And stay tuned, there's plenty more walnut projects coming soon 😉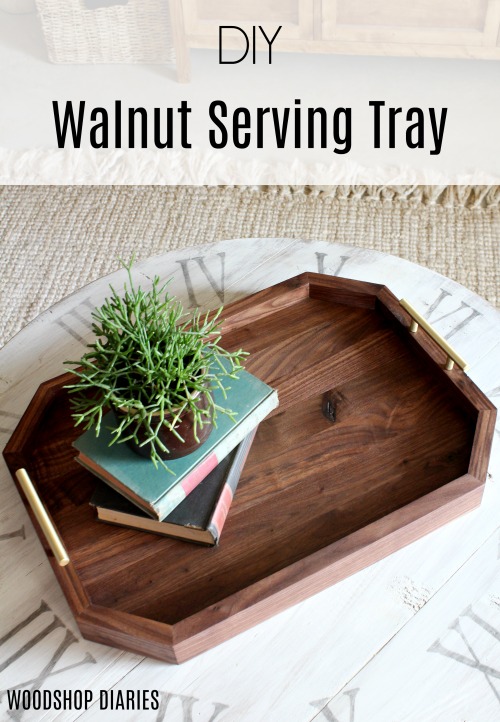 I can't wait to show you what else I put together from this walnut stash. But, that'll have to wait until next time. So, until then, happy building 😊  Oh and don't forget to share this project and pin it for later!