Welcome to Workshop 101! This is part 2 of a five part series I'm excited to be sharing! Part 2 will cover workshop organization and the tools you need to keep your shop running more efficiently.
.
This post is sponsored by The Home Depot. See policies.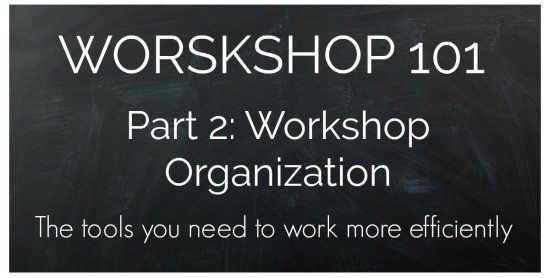 After building my sister's kitchen cabinets a few weeks ago, my shop was a complete wreck. Nothing was organized, everything was covered in sawdust, and I had misplaced several of my favorite tools while transporting them between her house and my shop. #hotmess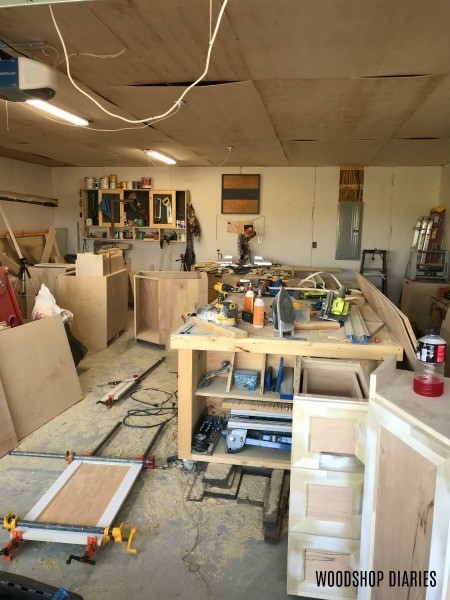 So I decided to get my crap together and get my shop back in shape. And that's what sparked me to write this series. Throughout the month, I'll be covering the topics listed below here on the blog, but I'll also be giving my shop an overhaul behind the scenes so that at the end of the series, I will reveal my own shop before and after.
.
Each Wednesday for five weeks, I'll be posting a new part to this series. Today is workshop organization, but we will be covering the following topics in the series:
Part 3: Workshop Most Valuable Players
Part 4: Workshop On The Go
Part 5: My Before and After Workshop Overhaul
So let's get to part 2—workshop organization.
Last week I mentioned that I started the series off on maybe the most boring topic—maintenance. But this week, things get a little more interesting with a topic it seems everyone is always interested in—organization and storage.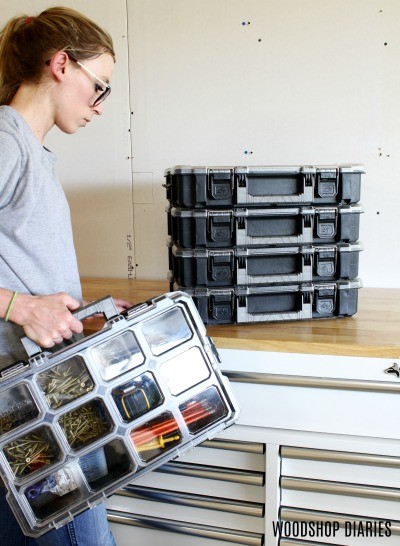 After losing one too many pencils and tape measures in my unorganized chaos of a garage, I decided that though it may never be CLEAN, by golly, it was going to be organized and all things would have their proper place so that things can run more efficiently in here.
.
So I'm sharing some tips about workshop organization and storage solutions in today's post to help you work more efficiently…you know, by not spending ten minutes looking for that thing you know you have but you don't know where you put it 😉
1. Keep Small Parts Organized
I recently got a set of these Husky small parts organizers and I'm loving them for keeping all my tiny parts together and clear of sawdust. They lock together so you can take them with you on the go (more on that in part 4 coming out in a couple weeks).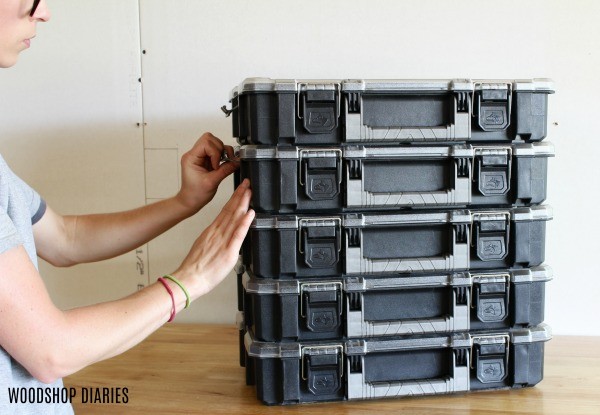 But for use around the shop, I built a simple rack to slide them into for quick access under my workbench.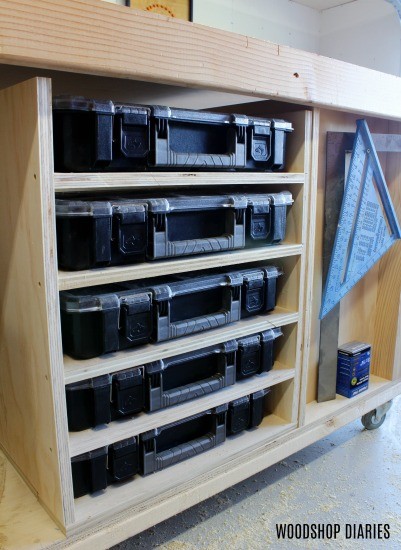 I keep my screws, drill bits, paint can openers, shelf pins, and all my tiny parts organized and out of the way until I need them. And I haven't lost a drill bit yet, so that's a huge plus.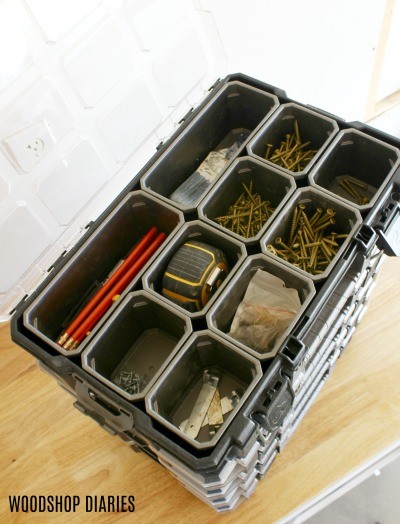 Whether you grab a few of these, or find a different storage solution, keeping small parts in their place and not lost in a pile of dust or between your workbench and the wall will save you a lot of time around the shop.
2. Keep Materials Stored off the Floor
Have you ever noticed that you typically have more wall space than floor space? UTILIZE YOUR WALL SPACE and stack/store your materials on the wall vs on the floor. I built a simple lumber rack from a few 2x4s and some 4" screws to keep my lumber organized and up off the floor.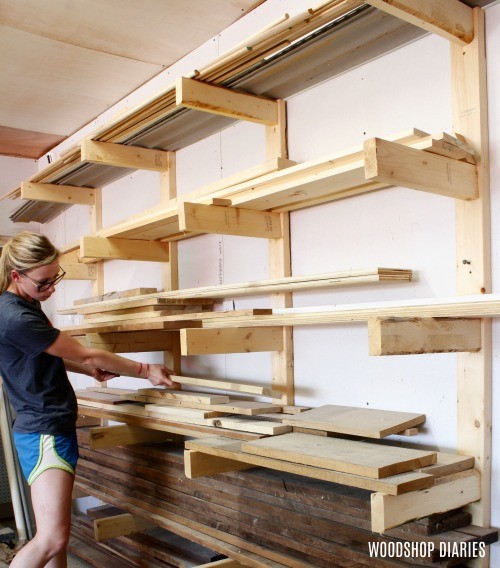 I keep hardwood cut offs on one shelf, walnut on another, trim on another, and standard construction lumber (2x and 1x) material on another. So when I take inventory, it's easy to see what I'm out of and what I've got. Plus, it keeps my floor clean and my lumber easily accessible.
.
Oh, and scraps and plywood? I keep those somewhat organized in my scrap and plywood cart, which I have instructions to build here.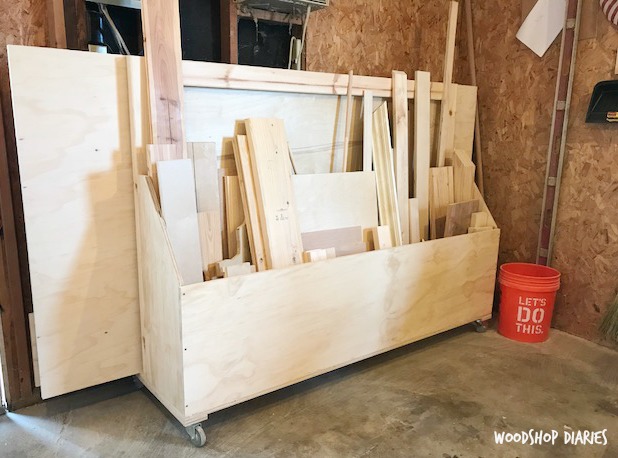 3. Keep Things Mobile
This isn't necessarily an ORGANIZATION tip, but it will help you work more efficiently. I like to keep wheels on my carts and workbenches for easy mobility. It's nice to keep things on wheels so you can roll them out of the way when needed. Which is also helpful if you're building large pieces and need space to work and assemble.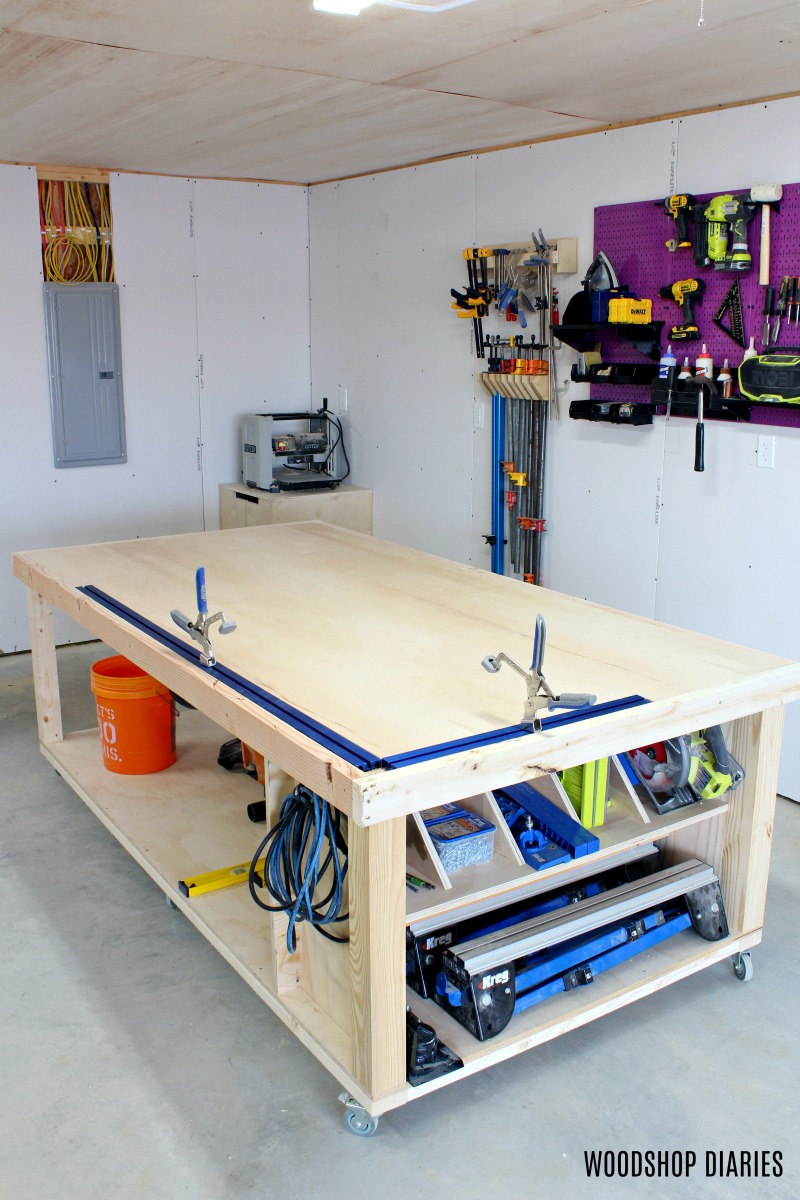 A new addition to my shop this summer was this Husky Mobile Workbench. When I upgraded tool sets, I needed somewhere to organize all my pieces and somewhere to keep my not so often used tools.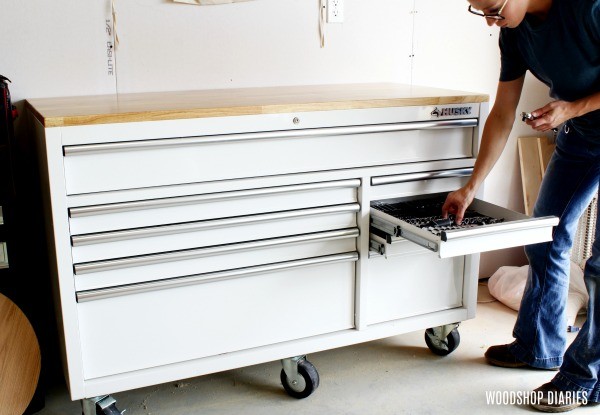 I LOVE THIS WORKBENCH. It's super sturdy, keeps all my sockets organized, has large drawers for my bigger tools, and a shallow top drawer to keep my router bits and saw blades tucked away. It's nice to keep many of my accessories and specialty tools stored away safely and be able to easily roll it out of the way if I need the space.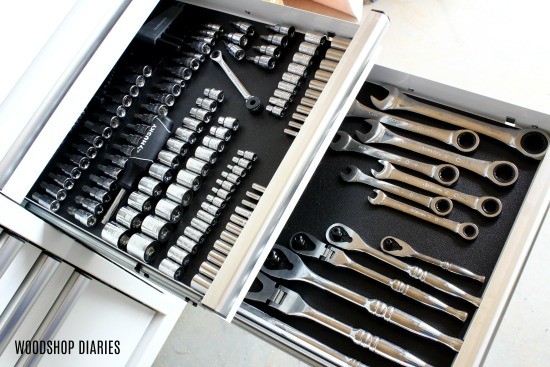 Plus with a power strip on the side, I'm able to charge all my batteries in once location. (And I've noticed it makes a real nice photo backdrop 😉 #bloggerlife)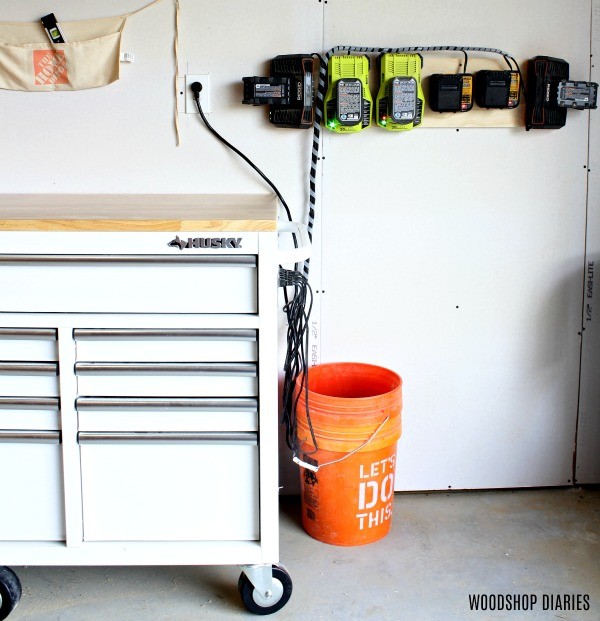 4. Keep Often Used Tools Handy
For tools I use often (like drills and drivers), I like to keep them accessible, but put away on these metal Wall Control pegboards when not in use so they don't get damaged or dirty. I'm not a fan of hanging EVERYTHING on the wall (I feel like it looks cluttered and it's always getting dusty). But for high use tools, it is nice to have them up on the wall for quick and easy access.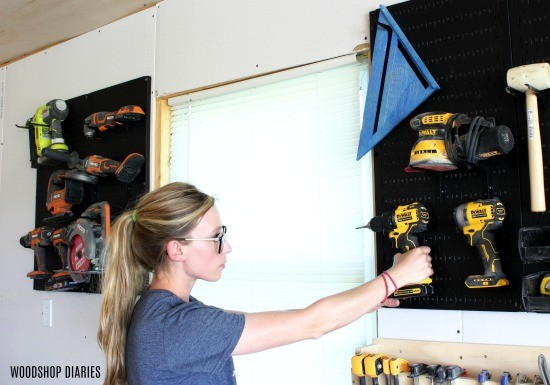 5. Keep Floor Open
Again, not necessarily an ORGANIZATION tip, BUT will help you work more efficiently. Basically keep floors for walking and for assembly when needed. Don't store your tools on the floor or your lumber on the floor. Damp floors can cause tools to rust and can ruin good lumber.
.
I try my best to keep my floor semi clear (sawdust is inevitable) to prevent tripping, having to step over stuff all the time, and just to make it easier to get from one place to the other. This also goes back to number 3…if you keep your floor clean and keep most of your things on wheels, it's easy to move around and make space for you to work.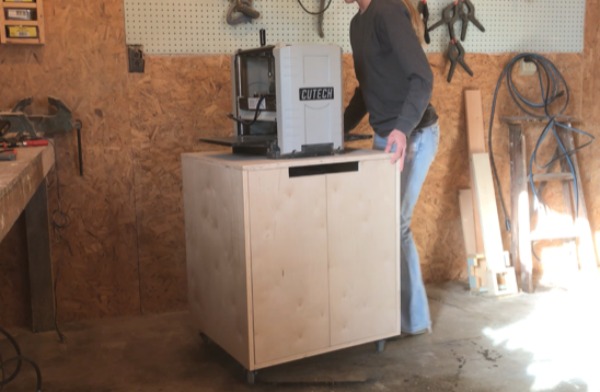 So now that we've covered part 2 of the series, I hope you will see how much more efficiently you can work if things are stored away properly and well organized. That means less time looking for things you know you have around here somewhere and more time doing what you love…like building furniture 🙂
..
I'm excited to share part 3 with you next week about the real workshop MVPs and how a few simple upgrades can improve your work quality. So be sure to check back in! Until then, be sure and pin this for later 🙂
Until next time, happy organizing 🙂