**This DIY cabinets and modular desk project was sponsored by The Home Depot as part of the #THDProSpective program. This post also contains affiliate links. See policies.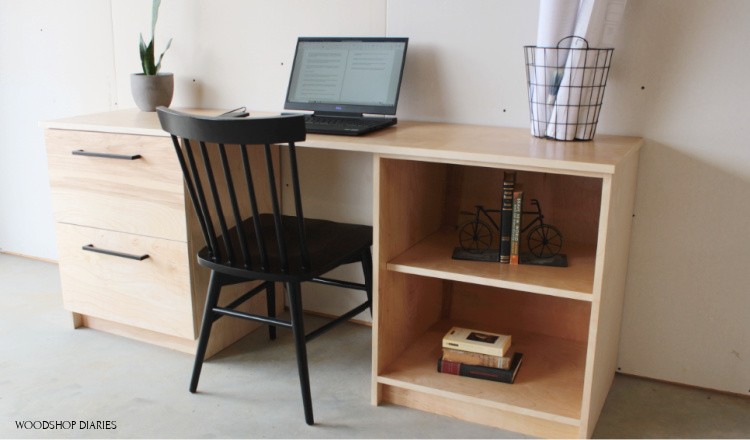 I'm having a really hard time describing this project as one specific thing because it's actually just a simple DIY cabinets tutorial. But, I made it into a MODULAR DIY Filing Cabinet Desk. And since it's "modular," it could be made into so many different things.
.
Since I've been building several desks lately, I thought I'd stick with that theme and share this idea as kind of a modular DIY filing cabinet desk. PS Have you see all the recent desks?? Check them out here.
.
But, I actually built this for my dad's office space in three separate pieces–two filing cabinets and a shelf cabinet–so he can put them together as an office storage console…see how naming this project was so difficult? It doesn't HAVE to be a desk.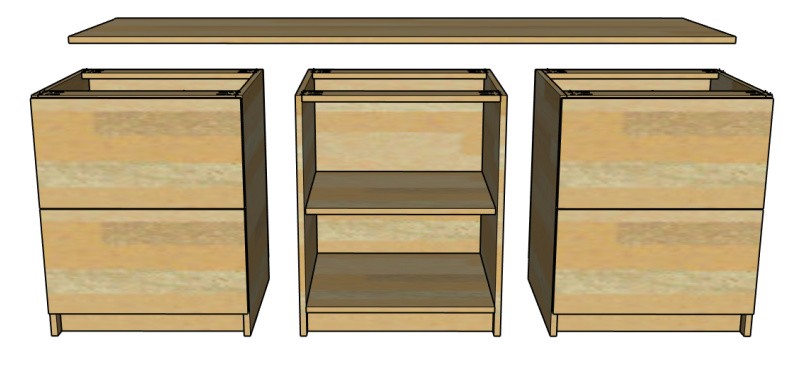 This project is basically just building identical sized cabinet boxes, deciding how many you want and what you want to put inside. You could use them as garage cabinets, a desk, a console, or make them taller and use them as DIY kitchen cabinets as well.
.
So, in this post, I'm sharing how to 1. build the simple DIY cabinet boxes, and 2. how to turn them into either shelves or drawer (with optional supports for file folders) cabinets so you can mix and match as needed 🙂
.
I've got the plans, details and dimensions for these DIY cabinets and various options below and I'll show you how they came together here in this video.
For this DIY Cabinet Desk, You Will Need:
You may like: The Must Have Tools For Cabinet Building
Now, let's get building 😊
Step 1: Build Simple Cabinet Boxes
This project is basically made of three identical plywood cabinet boxes. One has shelves and the other two have drawers. So the first thing I did was build these three cabinet boxes identical in size.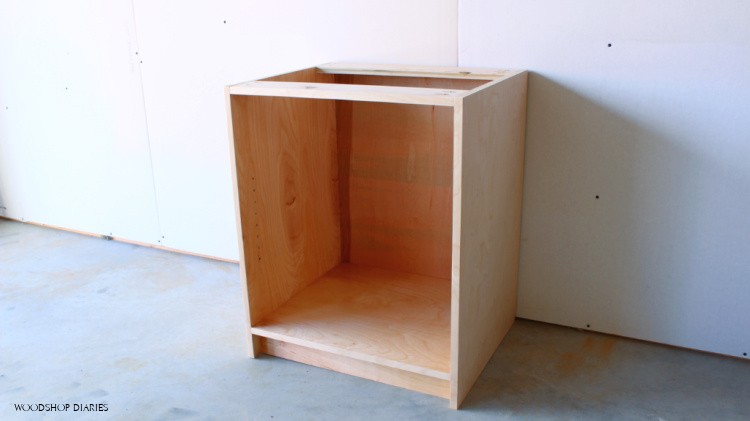 I used my Rip Cut and circular saw to first rip my ¾″ plywood sheet down into strips 20″ wide. You can cut two (29 ¼″) sides and a (22 ½″) bottom from one strip, so you need one 20″ strip for each cabinet box you're building.
.
NOTE: With a ¾″ top added, the overall height of this cabinet is 30″. If you wanted to use this design as DIY kitchen cabinets, they'd need to be taller. See this tutorial for kitchen cabinet sizing.
RELATED: If you're interested in learning more about how I cut down my plywood sheets, I've got a detailed tutorial here.
.
Then, I ripped a 3″ strip from the remaining plywood sheet to give me a piece for the toe kick at the bottom and the two support strips at the top. I trimmed these down to 22 ½″ long on the miter saw, but you could also trim them on the circular saw if you'd rather.
.
I edge banded all the exposed plywood edges that will face the front once assembled, then I used a pocket hole jig to drill ¾″ pocket holes into the edges of the bottom panel and the ends of the top supports and toe kick.
.
Then, I assembled the cabinets with wood glue and 1 ¼″ pocket hole screws.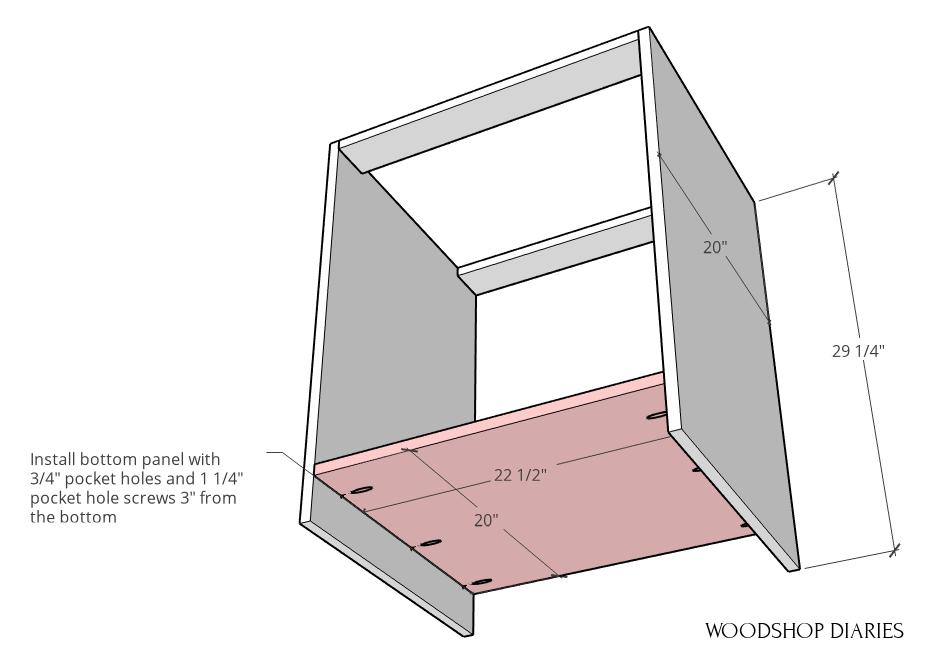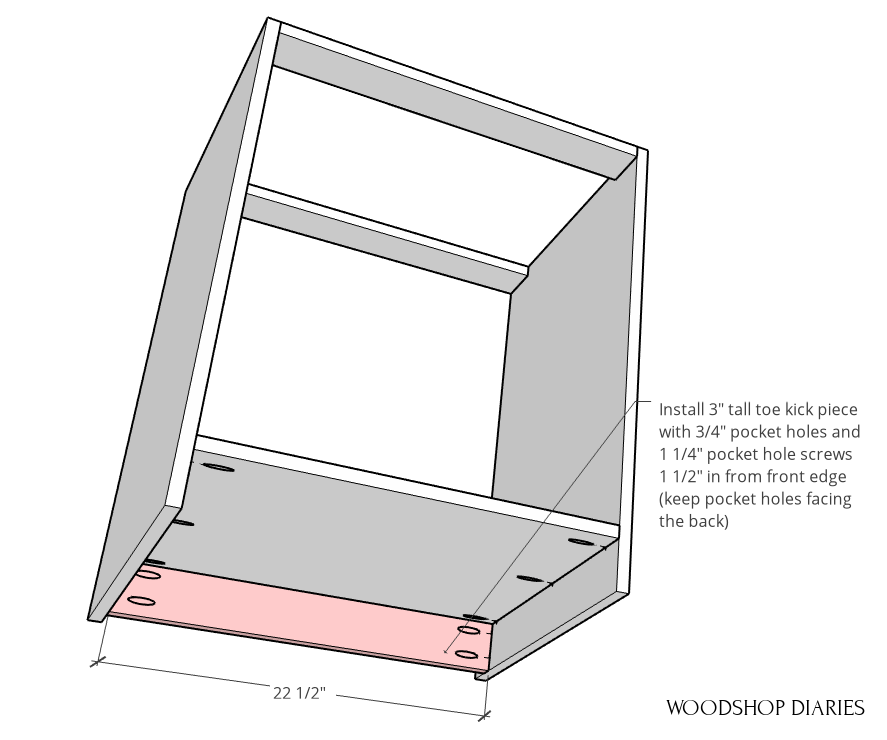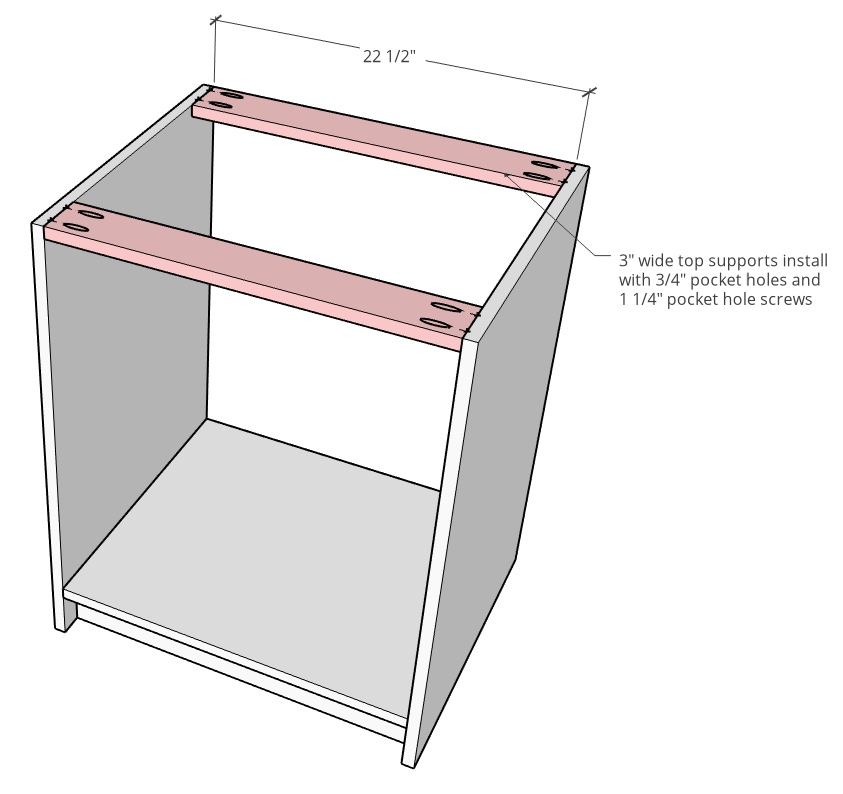 Lastly, I nailed (you could also just screw or staple) a ¼″ plywood back onto the cabinet. You'll notice, these modular cabinets are 24″ wide overall. So if you want to fill a 6ft. space, you can just put three side by side, or 8ft, you can use four, etc.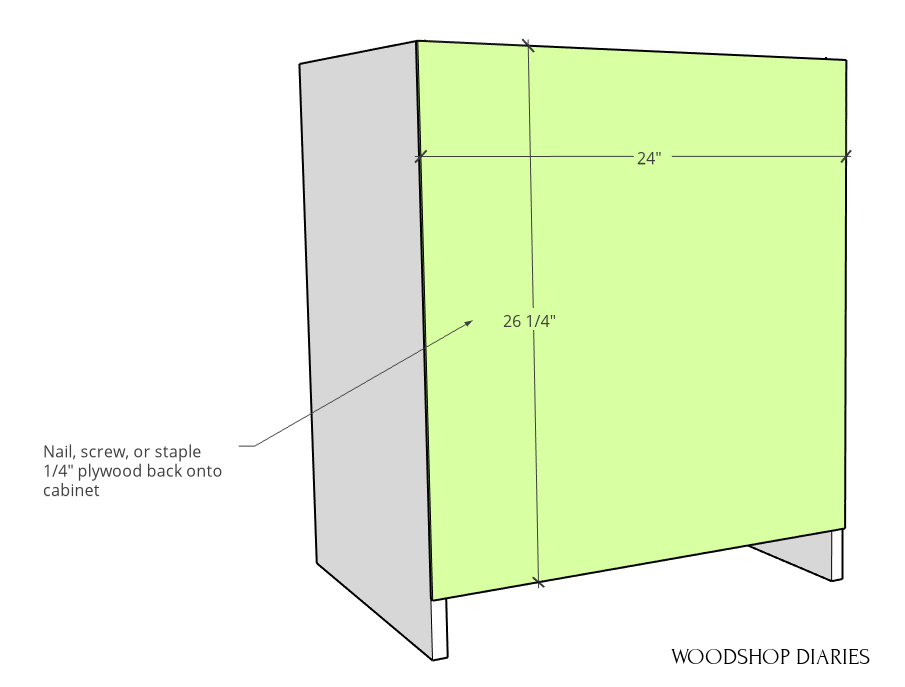 I repeated this process twice to give me three total cabinet carcasses. Build as many as you want, then decide how you want to fill them–shelves or drawers 🙂 For shelves, see step 2 and for drawers, skip to step 3.
A Note About the Drill & Driver
For this DIY filing cabinet desk project I tried out the new Ryobi ONE+ HP 18V Brushless Compact Series Drill and Driver to see how they performed. These are not the older Ryobi drill and driver you may be used to seeing. Old in the back, new in the front below.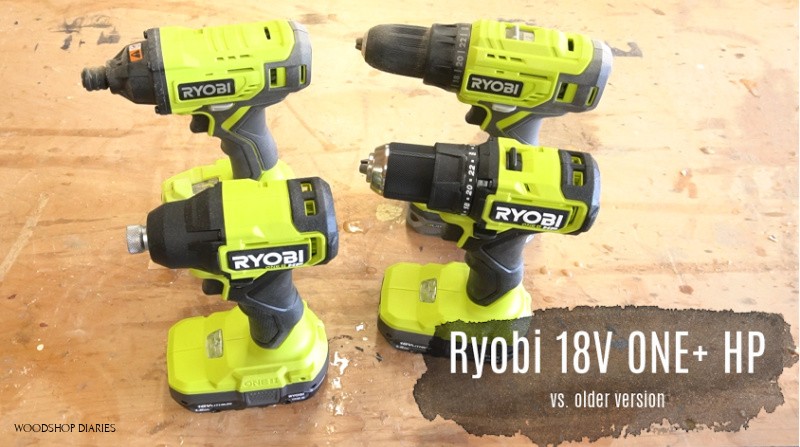 The new Ryobi ONE+ HP (HP = high performance) line is brushless, compact, and packs a NOTICEABLE upgrade in performance in a 30% smaller and 23% lighter weight package. (Seriously…check out the YouTube video above for a close up side by side comparison.)
.
My super quick 100% honest personal opinion: When I say these aren't the old Ryobi tools, I mean it. The Ryobi ONE+ HP drill & driver set is a VAST (do you see those all caps??) improvement over the older, heavier, and bulkier ONE+ set.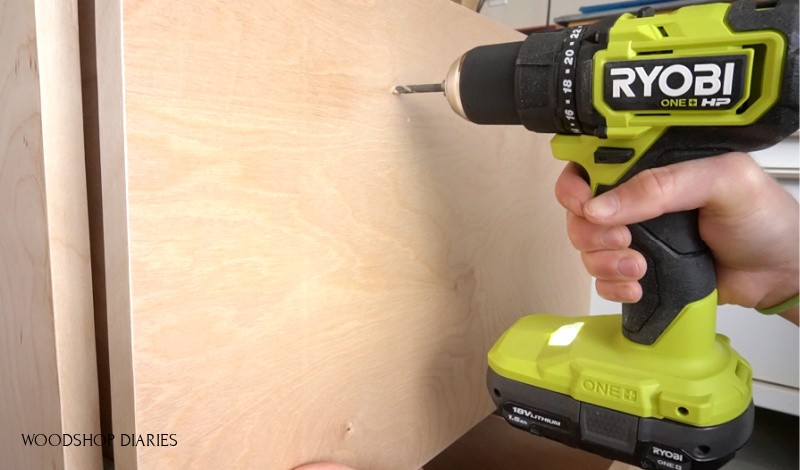 I honestly enjoyed using them on this project and you'll definitely be seeing more of these in my future projects…keep an eye out in future projects so I can prove it to you 😉 These are legit.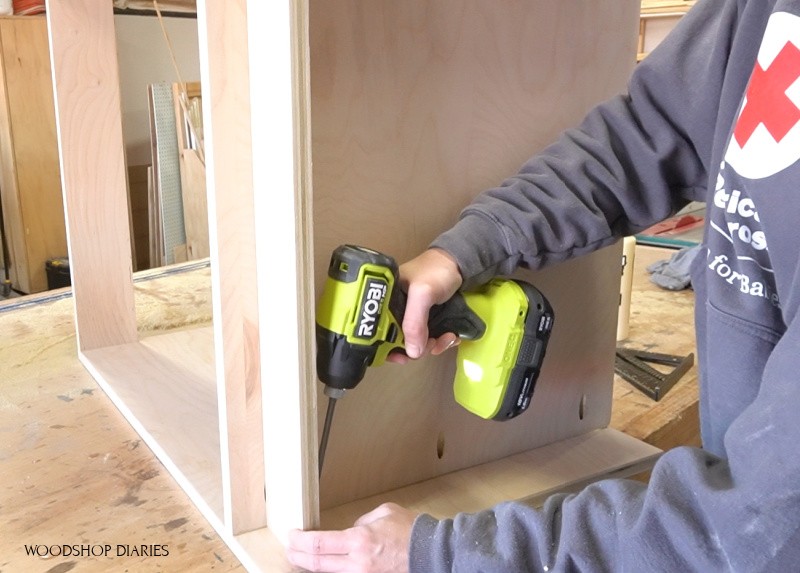 You can check out all the details on the Ryobi ONE+ HP 18V Compact Drill and Driver Kit (comes with drill, driver, 2 batteries and a charger!) on the Home Depot website here.
Step 2: Add Shelves to Cabinets
Now back to the build 🙂 If you want to make one (or more) of your DIY cabinets from step 1 into a shelf, it's pretty simple.
.
For the shelf cabinet, I used a shelf pin jig to drill holes along both sides to give me the option of an adjustable shelf.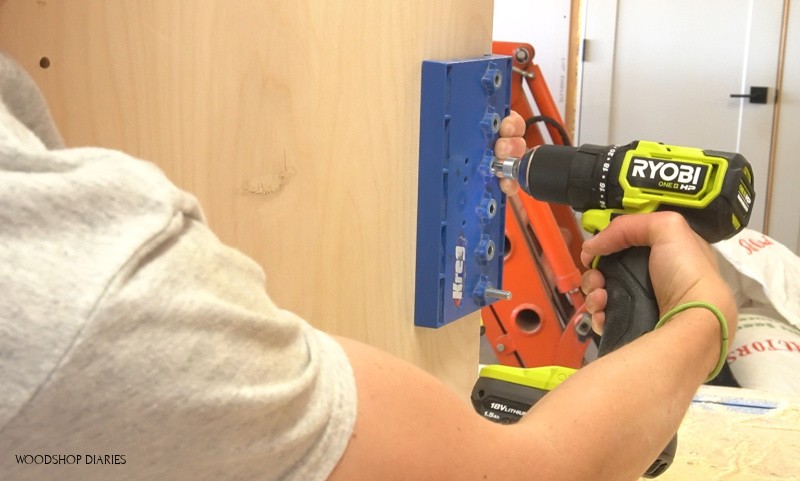 Then, I just used shelf pins to install a ¾″ plywood shelf. You can place this as low or high as you want. But I simply cut my shelf 18″ deep x 22 ¼″ wide.
.
Helpful tip: when cutting adjustable shelves like this, cut them about ¼″ shorter in length than the width of the inside of the cabinet to give you some wiggle room when sliding them in and out.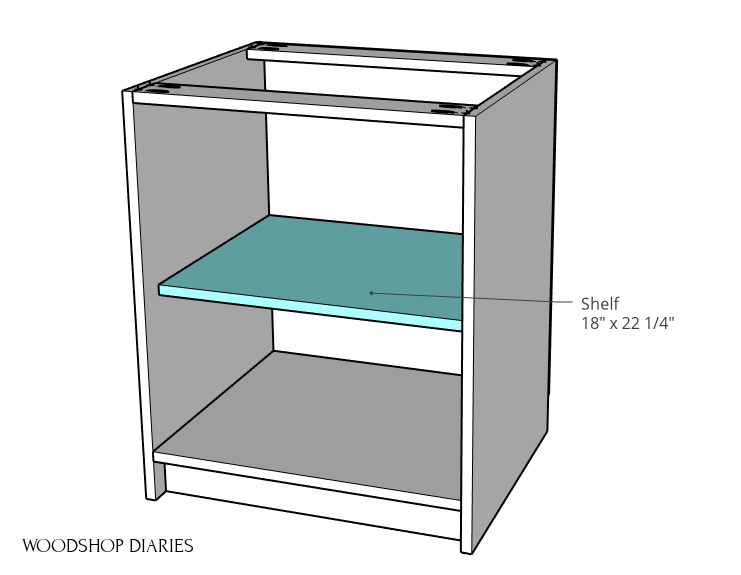 At this point, the shelf cabinet is pretty much complete, so I set it to the side and began work on the drawers. If you don't want drawers, skip to step 5.
.
NOTE: If you wanted to also add doors to this cabinet, check out this tutorial for cabinet door sizing and installation.
Step 3: Build File Cabinet Drawers
I installed two pair of ball bearing drawer slides into two of the cabinets with wood screws. I've got a super detailed drawer building guide here if you'd like more info on exactly how I build drawers and install slides.
.
I installed the bottom slides all the way at the bottom of the cabinet and the top slides, 12 ½″ up from the bottom. This gives plenty of room above each drawer for the file folder tabs.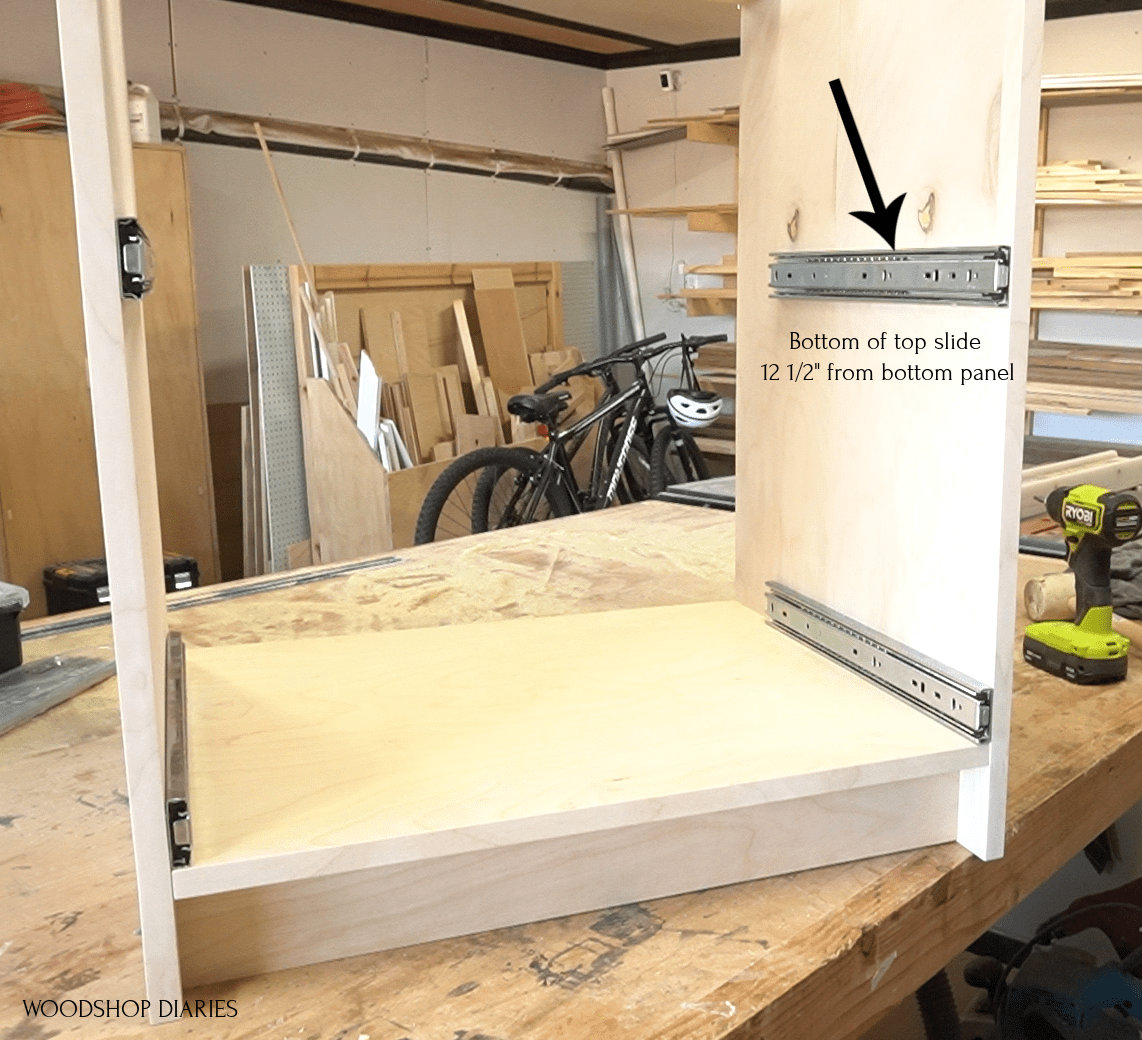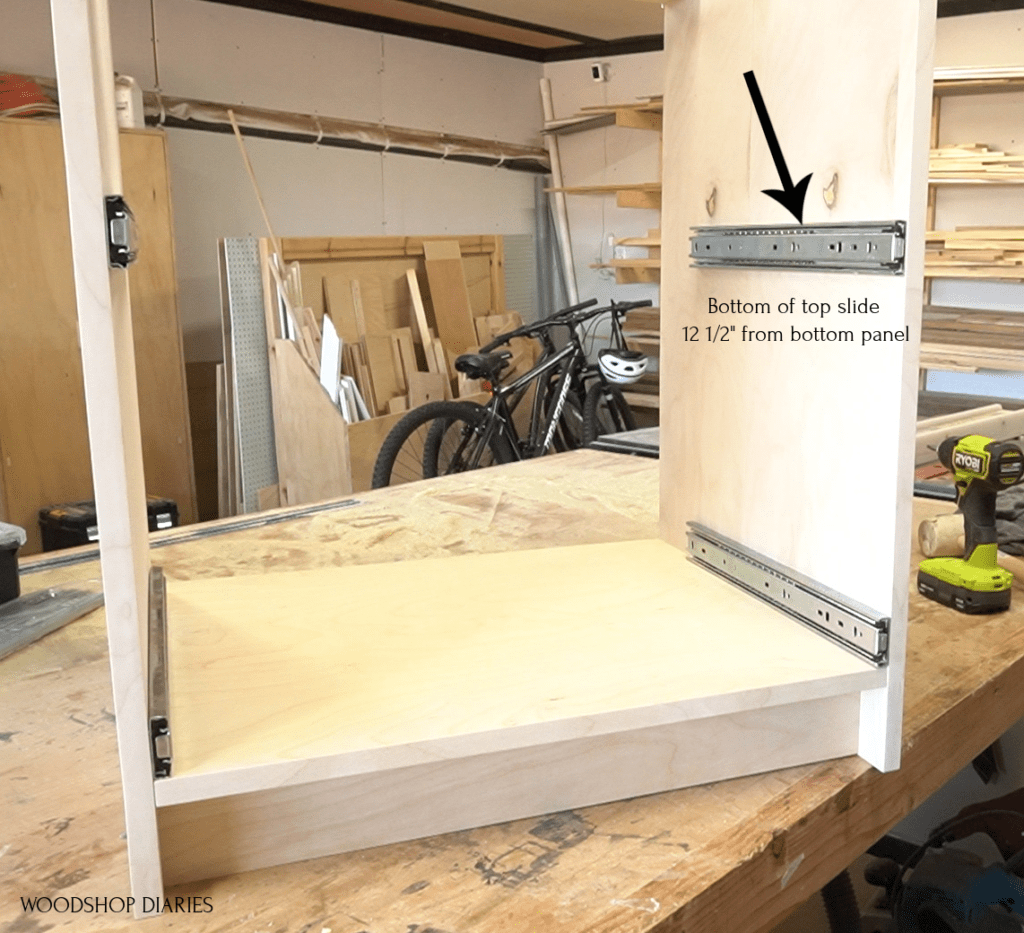 I ripped down some ¾″ plywood strips to use for the drawer boxes to 10 ½″ wide, trimmed them down to size (shown below), and cut a dado ½″ from the bottom to install the ¼" plywood drawer bottom. You can get more details in my drawer building guide here.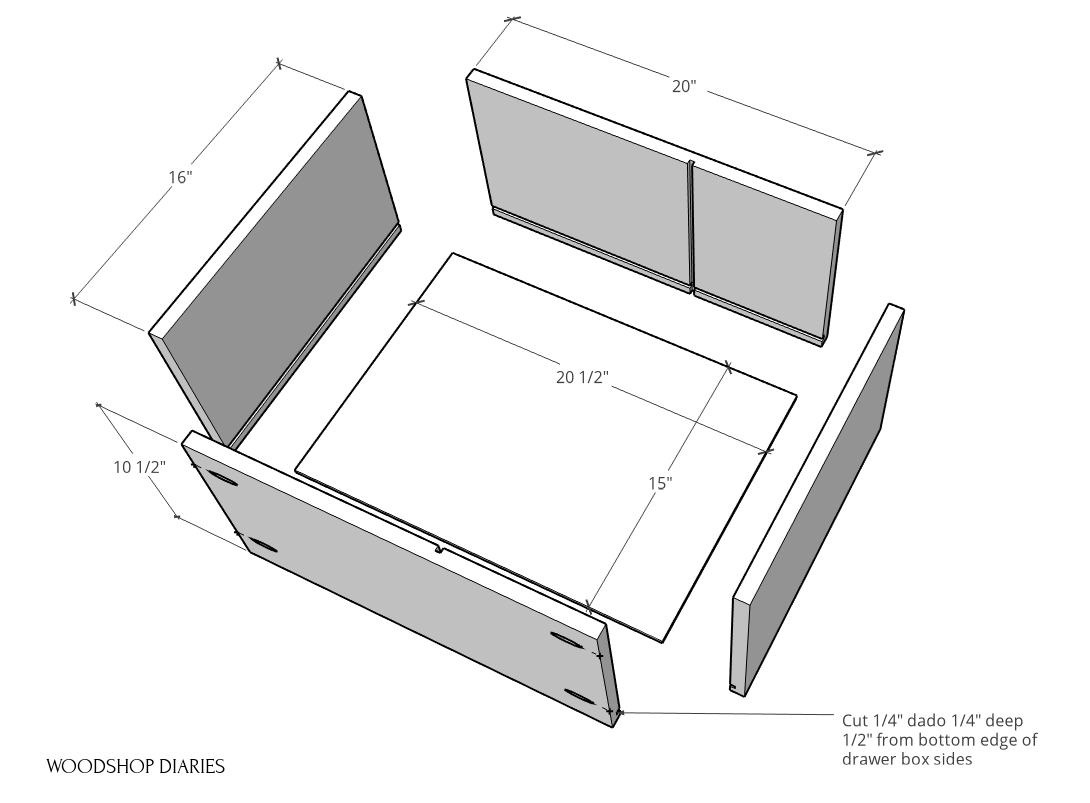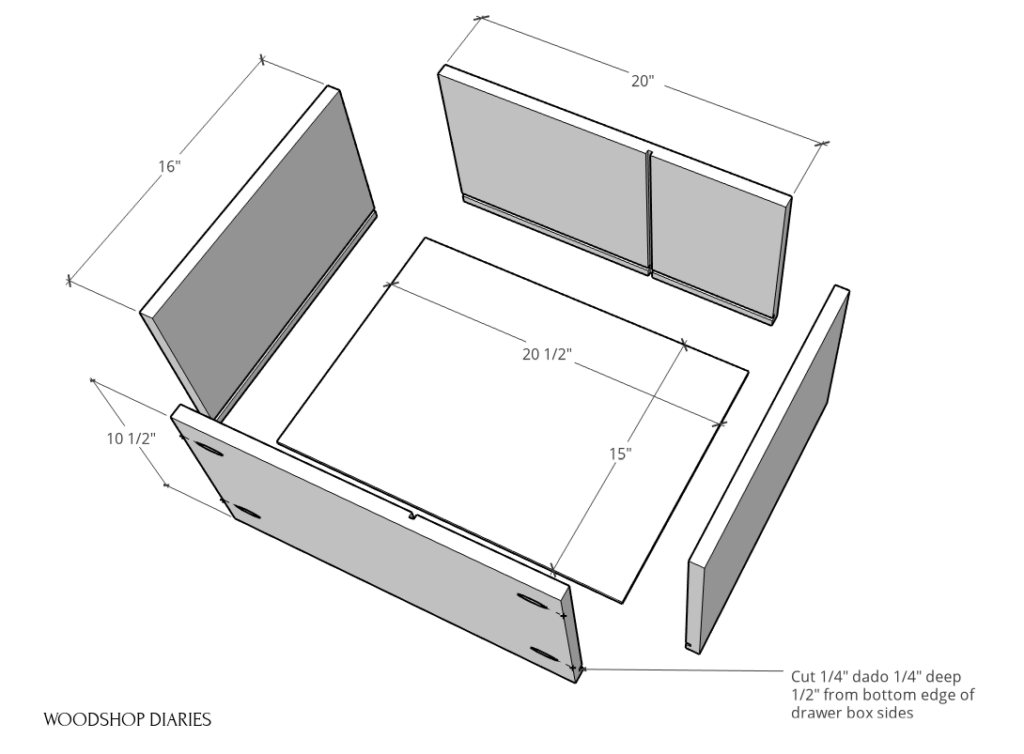 Once all the drawer pieces were cut down, I drilled pocket holes into the ends of the front and back pieces for assembly like shown above.
.
But, before attaching anything, I needed to cut dadoes to insert the file folder rails. If you just want regular drawers, you can ignore this part.
.
I basically used ¼" plywood as the rails for the file folders like seen below. I glued and screwed scrap ¼″ plywood onto one side of the drawer box, then cut a dado to slide the other piece in place for the other side of the file folder.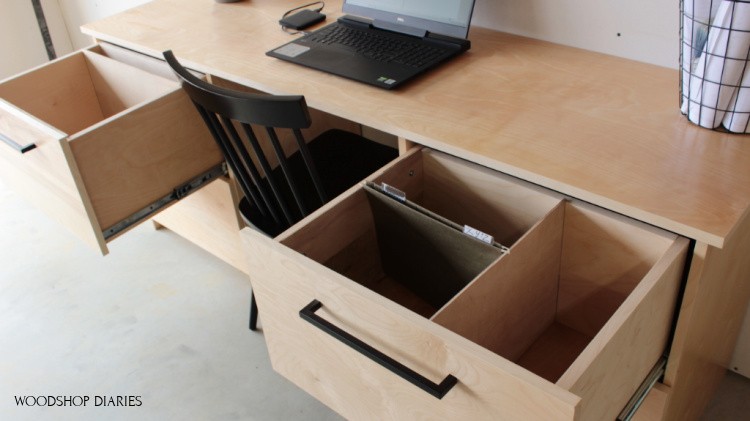 That way, if they decide they don't need file drawers, they can remove the plywood in the dado and use the whole drawer for regular storage.
.
To do this, I measured out the file folder and marked where to cut to slide the plywood in place. In my particular case, I needed exactly 12″ gap between my two plywood rails. So here's the dimensions for my dado (I cut out between 12 ¼″ to 12 ½″ from the edge to make a ¼″ dado).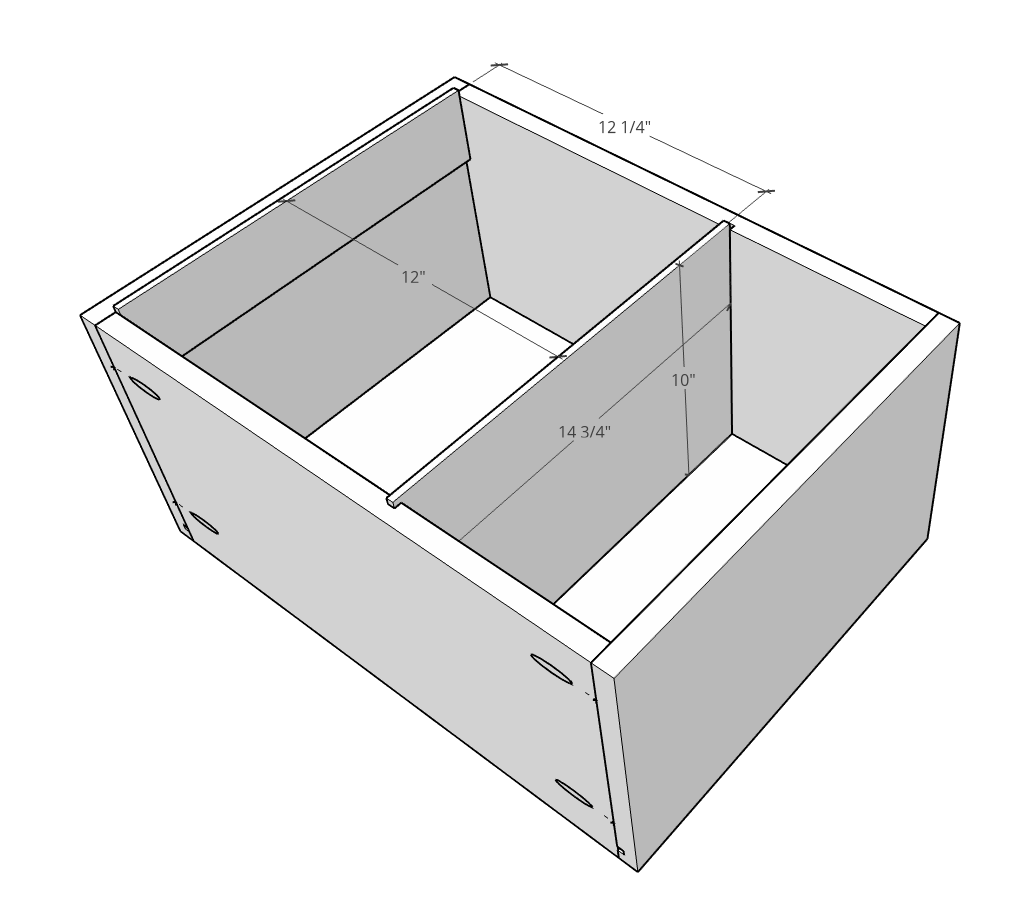 Do note that different style folders may require different measurements so double check yours before cutting.
.
To cut the dadoes, I used my AccuCut and circular saw (if you don't have an AccuCut, you can just use a straight edge clamped to the piece to guide the saw) to make a cut ¼" deep on my marks. I moved the track over slightly and cut again until I had a dado wide enough to accept the ¼" plywood. (I used a similar method in my DIY Pie Box Carrier project.)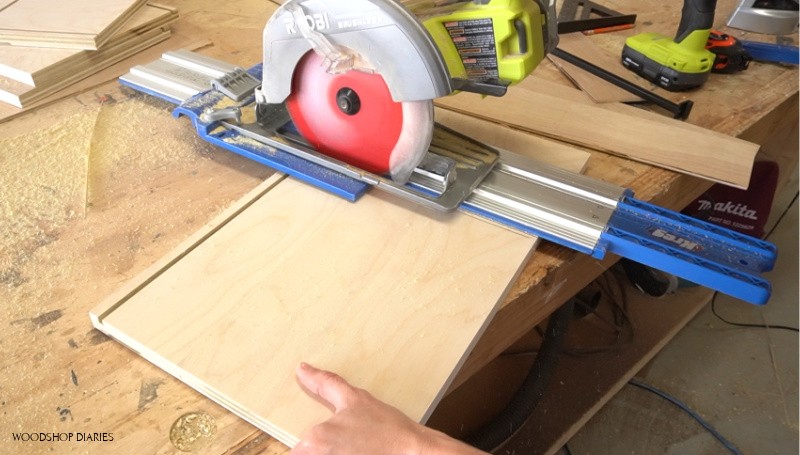 Once one side was cut, I cut the opposite side of the drawer box, then, I assembled the box with ¾″ pocket holes and 1 ¼″ pocket hole screws, installing the ¼" plywood bottom into the dadoes cut earlier.
.
As a side note, I cut two drawers so the files will go side to side and two so they'll go front to back. I wasn't sure which my parents wanted, so I mixed and matched. Either way works fine…you can cut them whichever direction you prefer.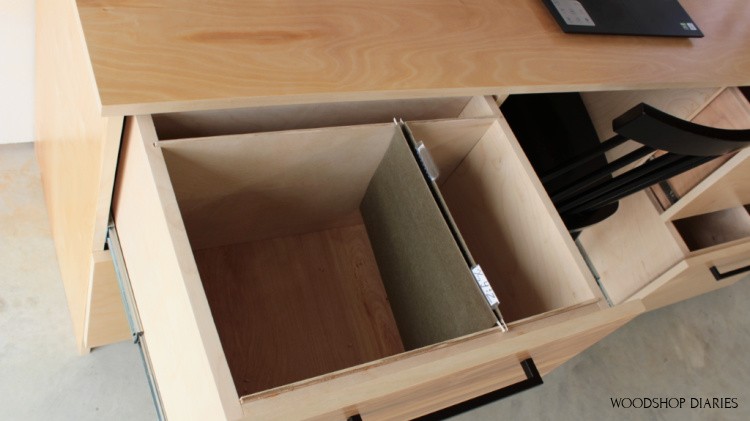 Here's the dimensions for turning them the opposite way.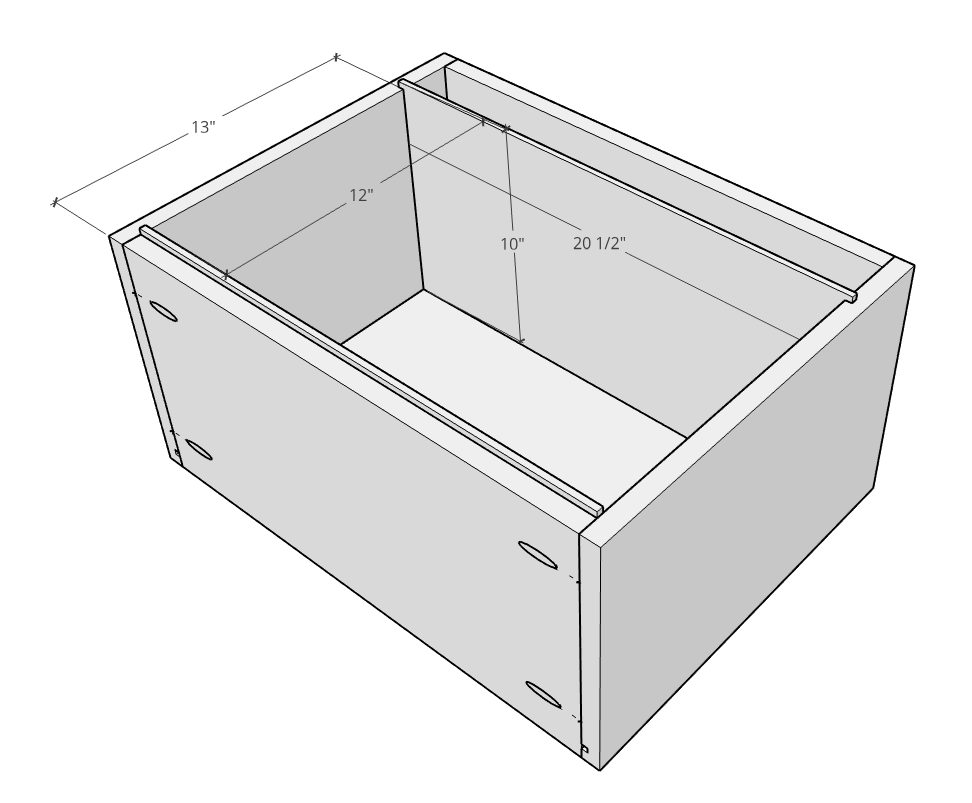 I cut the scrap piece of ¼" plywood to glue and screw into the side of the drawer box, leaving about ¼" sticking up for the folder to hang on. Then, I cut another piece of ¼″ plywood to slide into the dadoes, leaving ¼" sticking up from the top edge of the drawer.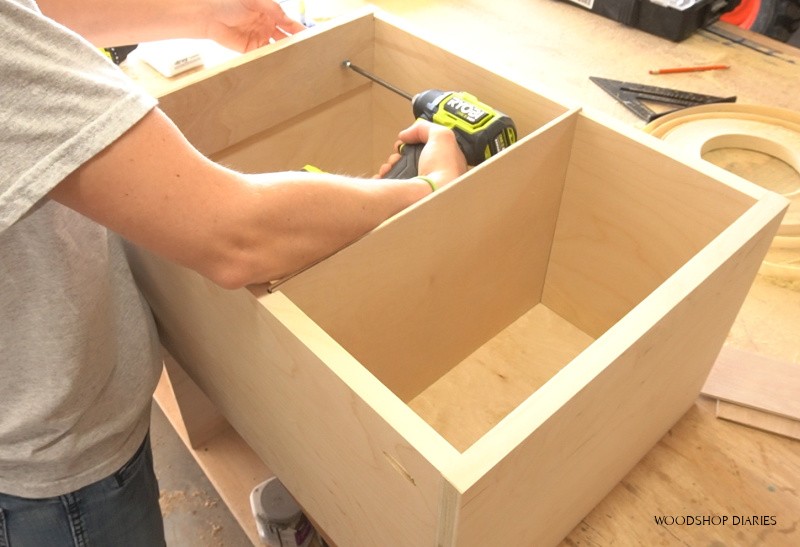 Step 4: Install Drawers into Cabinets
After all the drawers were together, I installed them into the two other filing cabinet carcasses.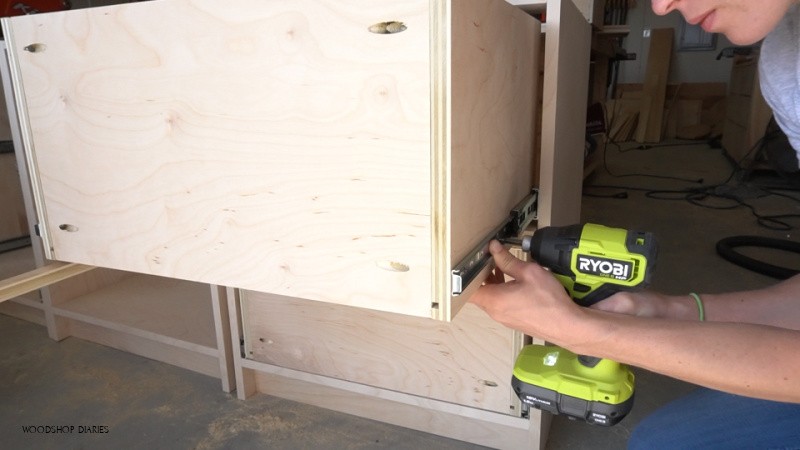 As a note, since file folders can get heavy, I made sure to install the slides with several screws in holes that won't allow for vertical movement. That way, when they're weighted down, they shouldn't sag causing misalignment.
Check out my drawer building guide for more information.
.
Then, I cut and installed the ¾″ plywood drawer fronts using 1 ¼" wood screws from the inside of the drawer boxes, leaving ⅛″ space around all sides.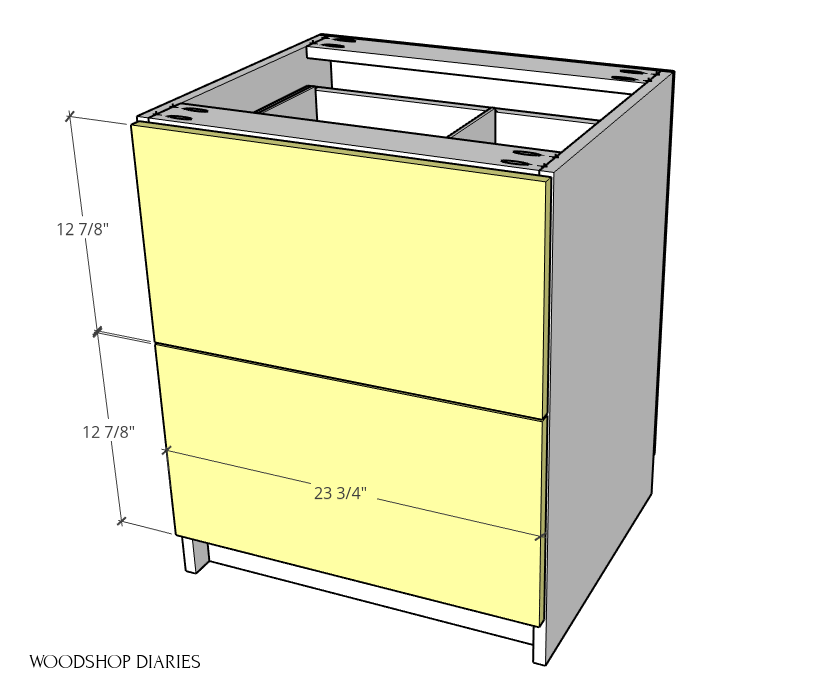 Step 5: Add Top to Cabinets
The last thing to do before finishing was cut the top.
.
Because these cabinets will be going side by side in my dad's office, I cut a single top piece from ¾" plywood to stretch across the entire set. However, if you are just building one cabinet or two, you can cut the top to fit your own needs.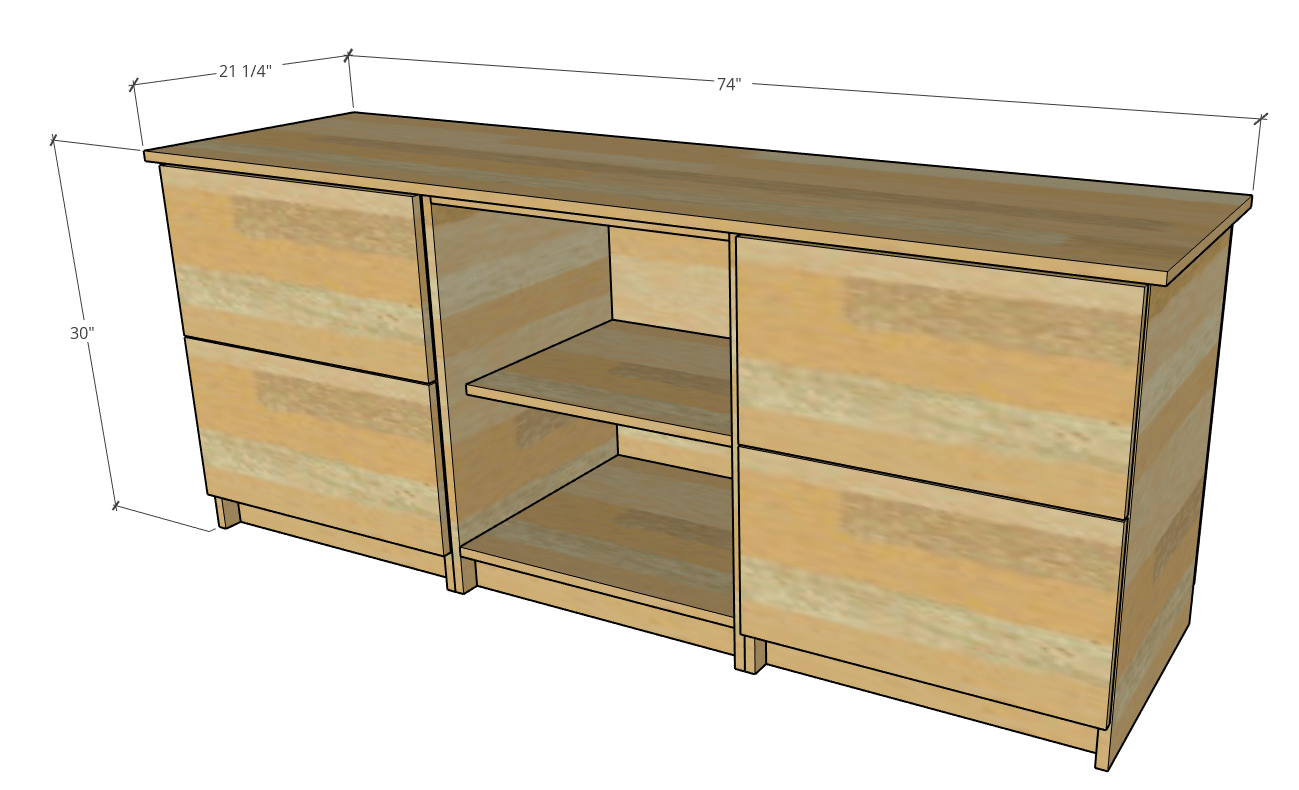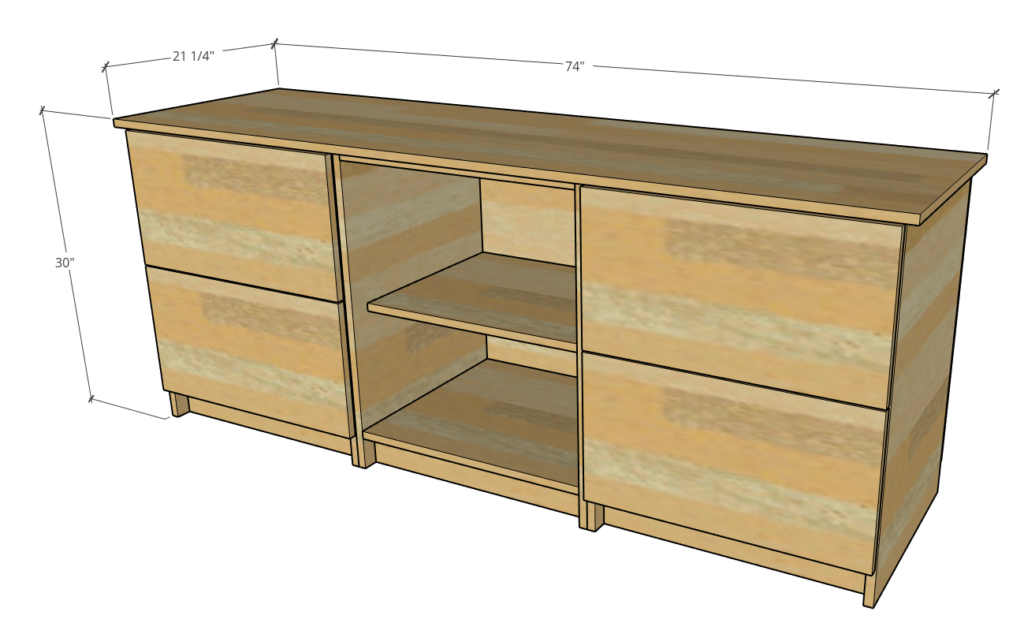 I edge banded the top to cover the plywood edges–that's an optional step.
.
To finish, I gave everything a couple coats of clear poly (but you could stain/paint as you wish), then installed some modern handles onto the drawers.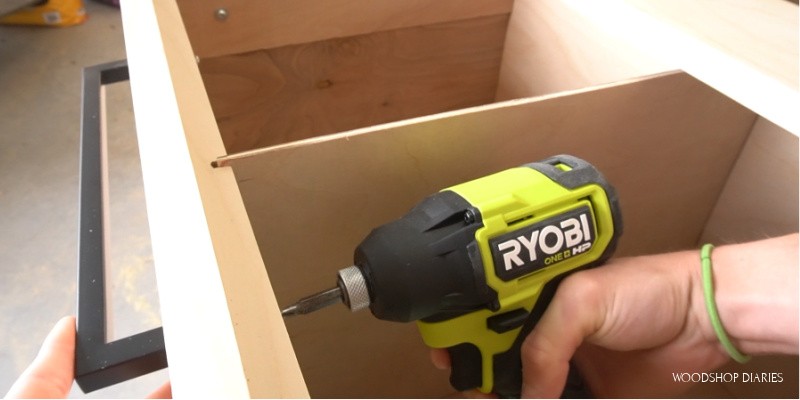 Then I set it up to stage in my garage. I didn't attach everything together yet because I will be loading these up to take to my dad's shop. I just needed some quick pics to share 🙂 haha.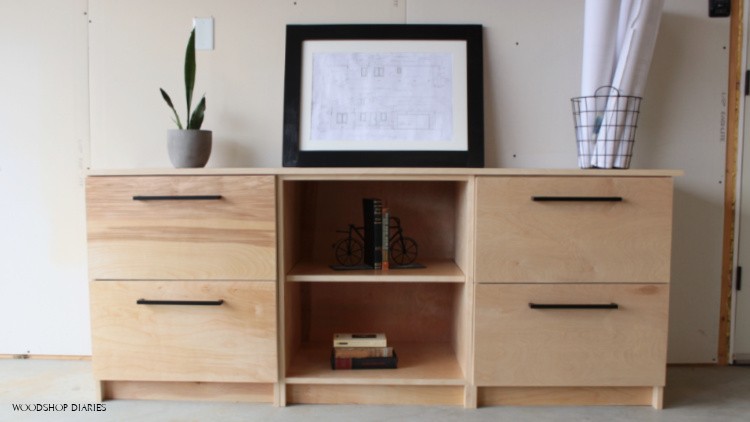 But, once you get them where they are going, you can simply screw the cabinets together (if placing them side by side), center the top in place and secure through the top supports of the cabinets with 1 ¼″ screws.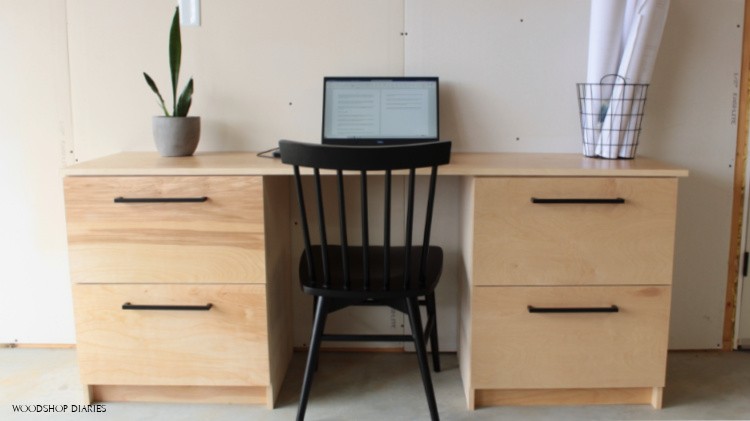 NOTE: If you load these drawers down with file folders, they could potentially tip over if you pull both drawers out at the same time. I'd recommend anchoring them to the wall if that's a concern.
.
And now you have a modular desk or basic DIY cabinets idea that you can EASILY build and customize as you wish.  Shelves and drawers.  Just shelves.  Just drawers.  You could even cut some simple doors to go on those shelf cabinets, too to change things up even more.
.
If you enjoyed this easy modular cabinet project, be sure to subscribe to my newsletter below so you don't miss out on what's next.  And pin this project for later for easier reference 🙂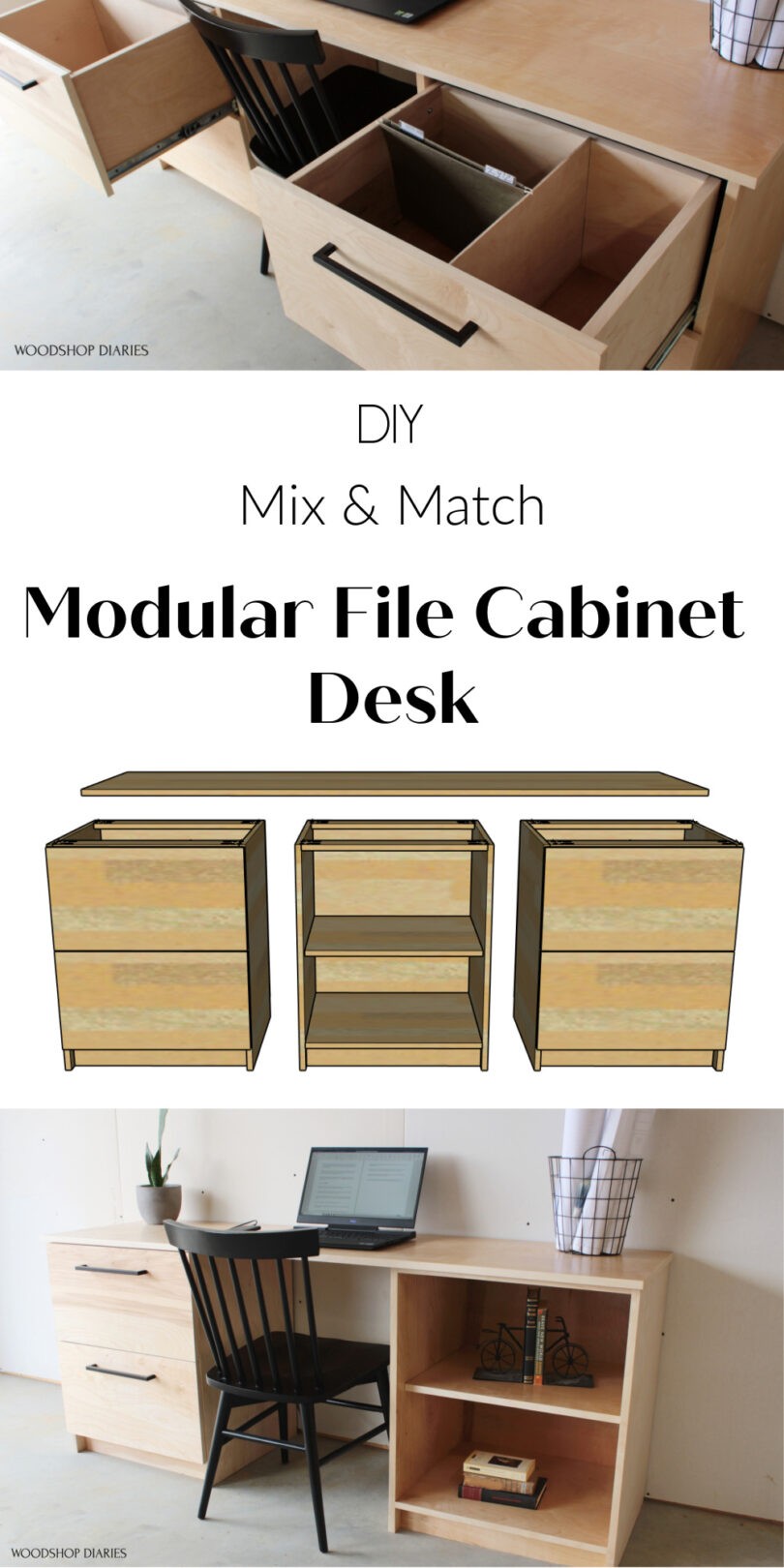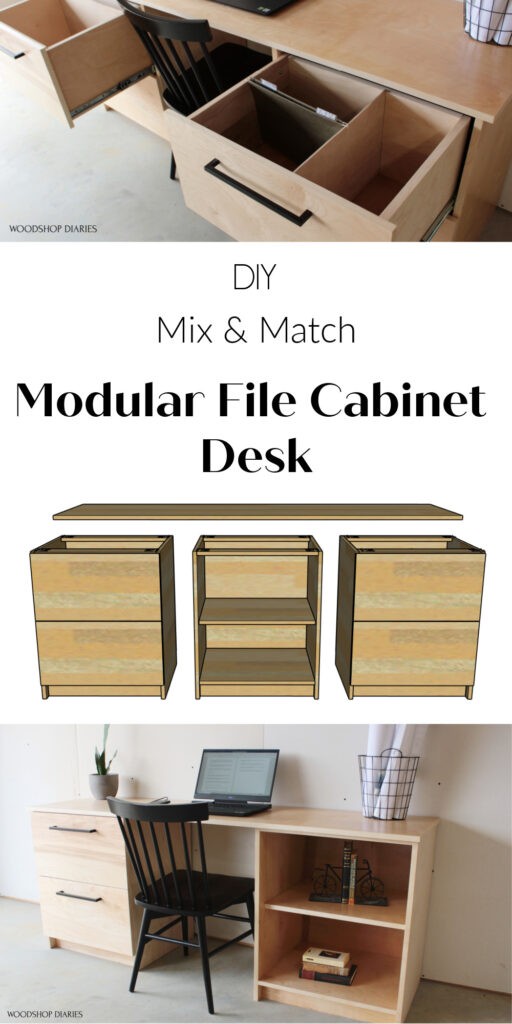 Until next time, happy building 😊