It's really saying something that this DIY contemporary dining table has been on my "to build" list for over two years.  I mean, after two years, normally I would have either built it already, or changed my mind on the design I wanted (because, hello, my middle name is Indecisive), and this wouldn't even be a thing anymore.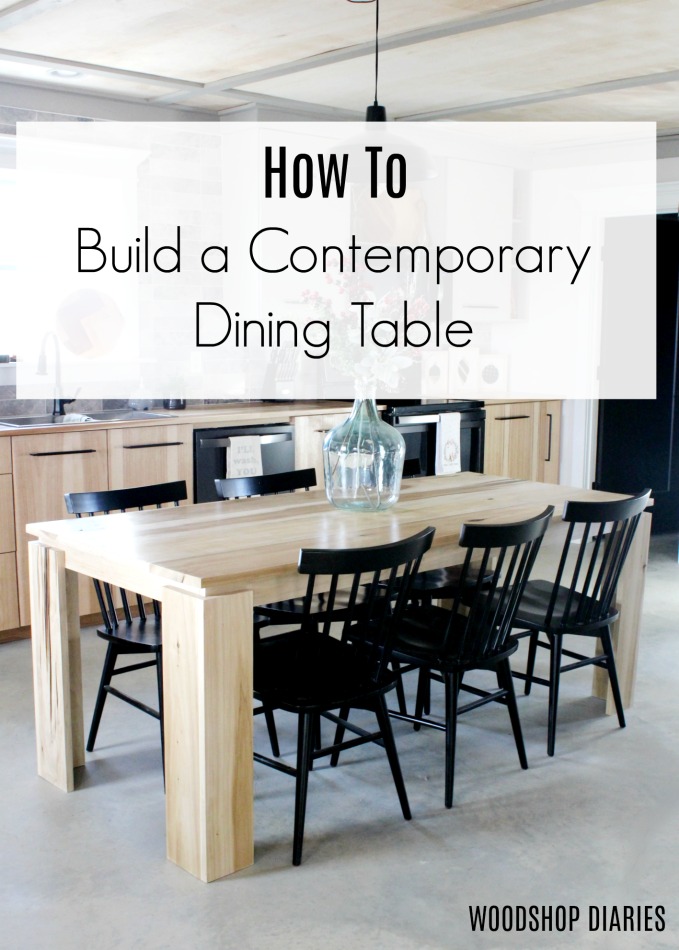 But since we had a perfectly good dining table at the old house, Danny wasn't about to let me build a new one any time soon, so I just tucked the idea away for "someday."  And surprisingly, after two years of waiting for "someday" I STILL hadn't changed my mind on the design I wanted for my next dining table.  And that's how I knew this was "the one."
.
So after we sold our old house and the buyers wanted to keep our old dining table with the house (HALLELUJAH because the thing was a BEAST and I did NOT want to have to move it), I figured this was my chance!  I was going to build this modern style dining table ASAP before I changed my mind last minute haha.  That happens sometimes and it's ALWAYS a bad idea.
.
So as soon as we got to the point in our garage apartment build where I could make the table, I jumped on it.  We were actually in the middle of the Jeffrey Court Fall Renovation Challenge and I decided that before I took my "final reveal photos," I really needed the table finished so it looked like a real life kitchen.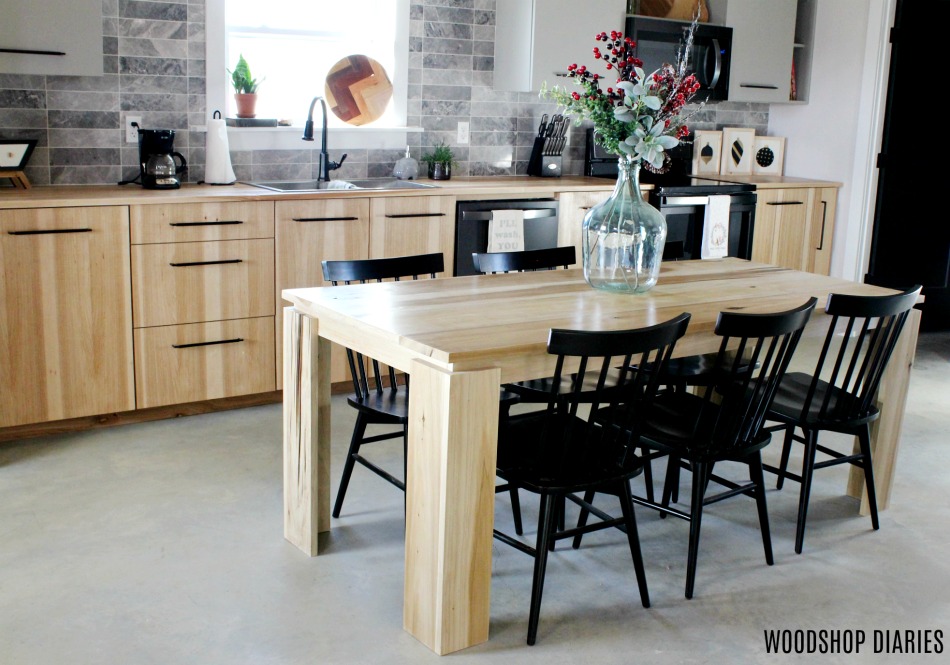 I didn't really have time to be building a table when I needed to be finishing trim and paint touch ups, but I mean, there's never really a good time for anything, so I just jumped in at the most inconvenient time.  Makes sense…
.
During my trip to the hardwood place to get the hickory to make the countertops in the kitchen, I just grabbed some poplar, too, for the table.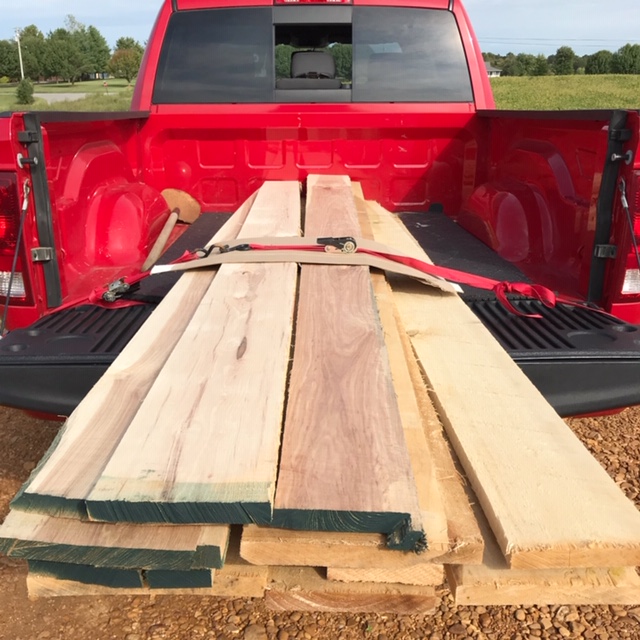 Lots of people have told me poplar is ugly.  That's cool.  I'm not offended.  But, personally, I love it.  So if you want to go with a different wood type, feel free.  But I like poplar and I liked that since our new garage apartment is so open, that the dining table would match the bed and nightstands I made from poplar right before we moved, too.  (Also, stay tuned for a "house tour" of our little studio apartment space so that it makes more sense when I say it's all open 😉 ).
.
Anyway, so now that you have the whole backstory here, let's get to the tutorial, shall we?
.
Of course, I made a video tutorial for you and I've also got the step by step below 😉  This post contains affiliate links.  See disclosure policy for details.
For this build, you will need:
(4) 1x10x8 boards
(3) 1x6x8 boards
(3) 1x4x8 boards
*NOTE: I made mine from rough sawn poplar.  I bought 1x rough sawn material, which is actually a full 1" thick.  I planed it down to about ⅞" thick, so mines a little thicker than an actual 1x which is ¾" thick.  If you are using spruce or pine boards for this, you may want to consider getting 2x material since it's a little softer than poplar and using 2x would strengthen it up a little better.
Table Saw and Planer (optional, but necessary if milling down rough sawn lumber)
Miter Saw
Kreg AccuCut (optional)
1 ¼″ wood screws
.
Step 1: Prepare Your Lumber for the Contemporary Table Build
So if you decided to build yours from 1x or 2x pine or spruce boards, you don't really have to do anything to your boards to prepare them UNLESS you want to go ahead and plane them and square off the edges anyway.  Totally up to you and your OCD level haha.
.
But I got my lumber rough sawn.  So first, I planed all my wood to the same thickness.  Then, I sorted through my boards to find some pretty wider ones that I wanted to use for the top.  When you get lumber from the hardwood place (at least the one that I go to, anyway), you don't get to specify the board widths.  You kind of get whatever you get.  So before you start cutting, it's good to decide which boards will work for each piece of whatever you are building so that you can have the least amount of wasted material.
.
So I chose four wider boards that I could use together to build a 36" wide table top.  I cut them down to about 7 ½ ft long, then ran them through the table saw to get two nice, smooth, square edges to glue up.  I did the same thing for the leg pieces—found some that were at least 7" wide, trimmed them to 8 pieces 32" long, and ran them through the table saw to get square edges and to make them all the same width of about 6" wide.  And finally, I did the same for the table apron, only these were about 3" wide—two were  cut to about 7 ½ foot long and 2 about 36" long.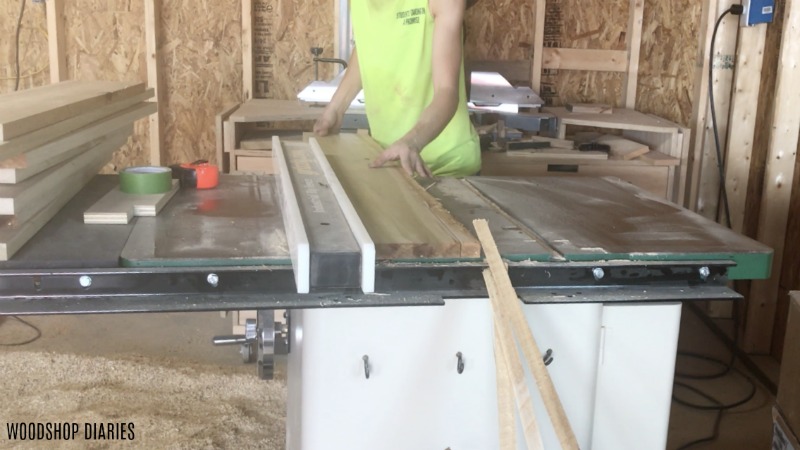 Step 2:  Prepare Table Legs
Now that I had all my table pieces chosen and sorted through, I focused on the legs first.  Once I had all my leg pieces ripped down to about 6" wide (a standard 1×6 or 2×6 board will be 5 ½" instead of 6".   That's fine…it'll work either way for this), I trimmed them down to their final length of 29" on my miter saw.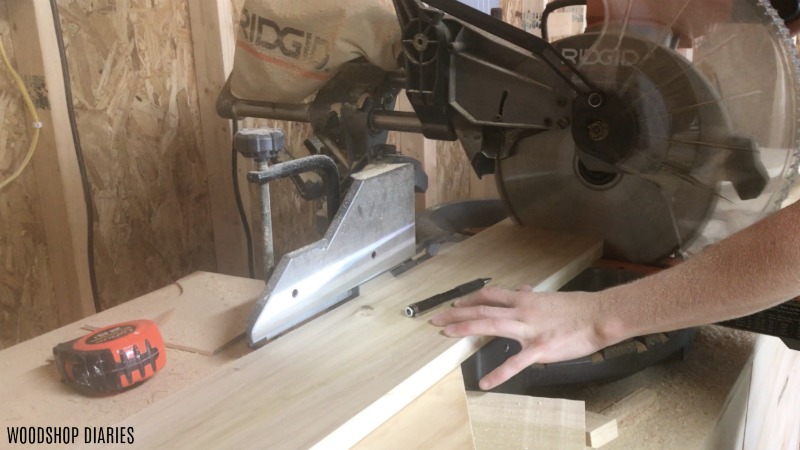 Then I paired them up and assembled using dowels.  In each pair (each pair will become one leg), I drilled ⅜" dowel holes using my dowel jig IN one edge of one piece and ALONG the edge of the other.  It makes more sense when you look at the pictures below.  It doesn't really matter where you drill your holes as long as they line up on both pieces.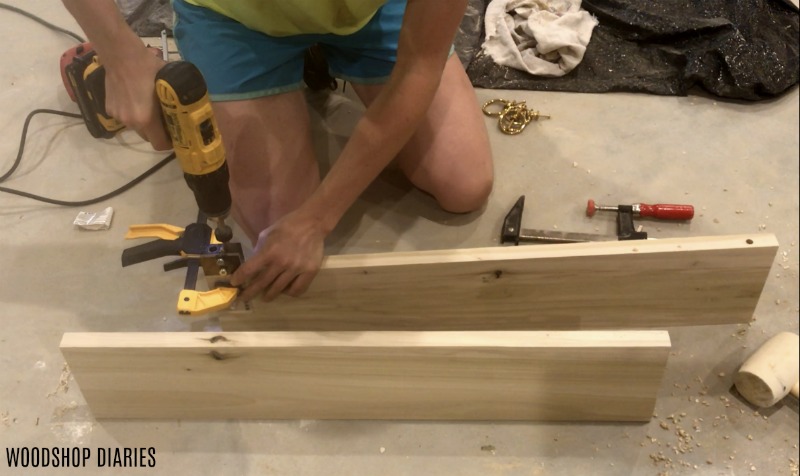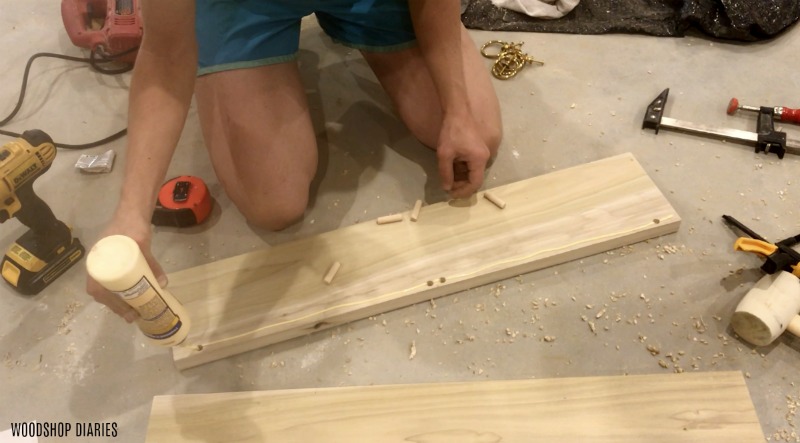 Once the dowel holes were drilled, I applied wood glue along the seam and inside the holes, placed ⅜" dowels in the holes and glued and clamped together.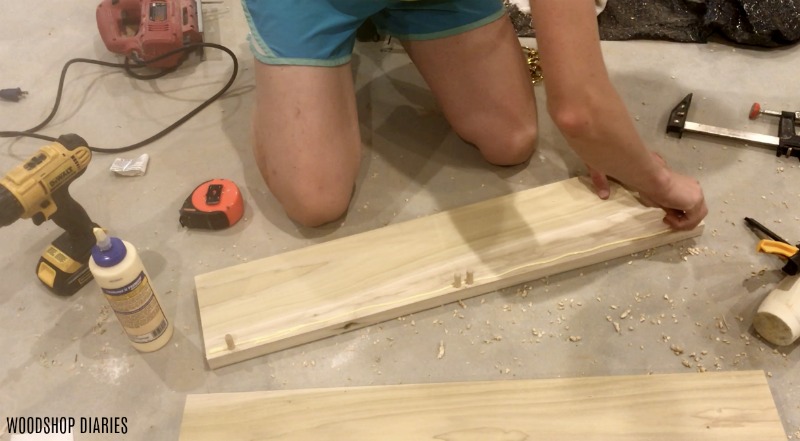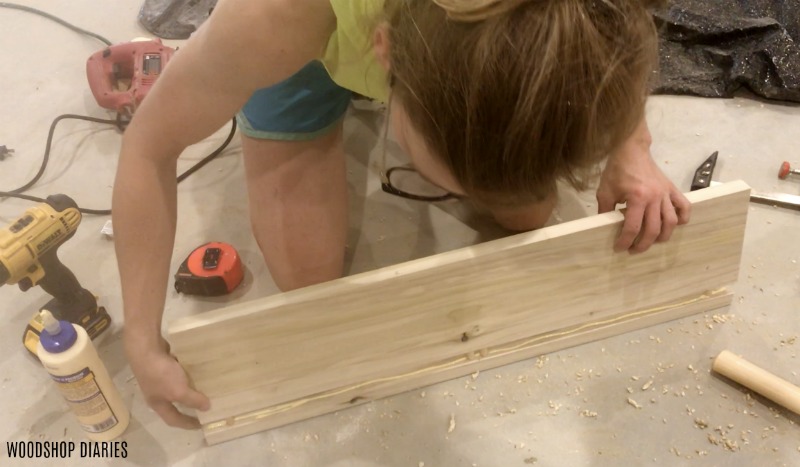 Once all four legs were assembled, while the glue dried, I moved onto the next steps.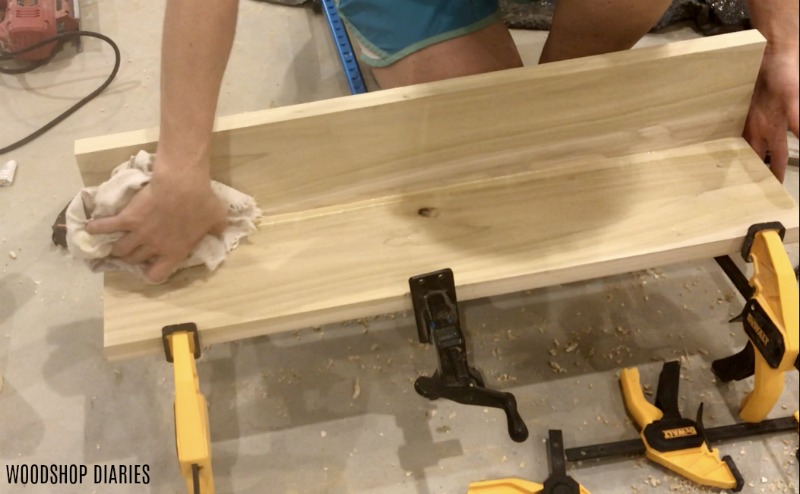 Step 3:  Assemble the Table Top
Okay, so things got really busy about this time, so I don't have a ton of pictures for this part, but it's straightforward.  Next, I glued up the table top.  It's a simple process, but I show you how I do it in this post.  Simply apply glue to the edges of the table top boards and use pipe clamps to clamp in place until the glue dries.  You can see it clamped up drying here.  The table apron from the next step is also gluing and drying here as well.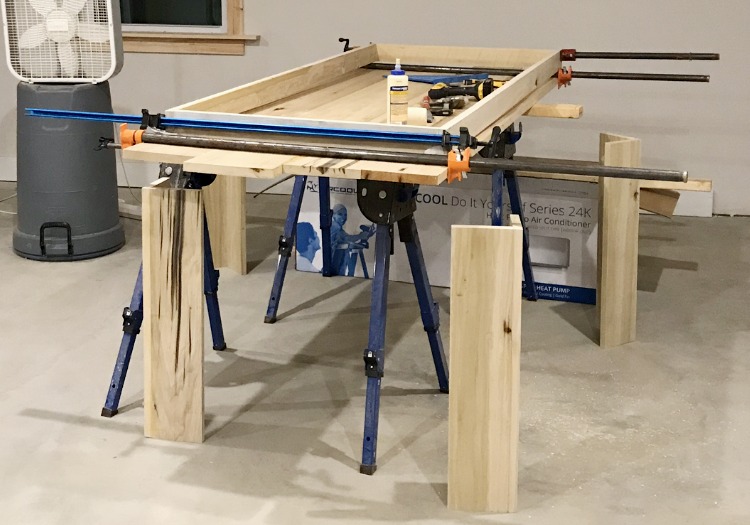 Once I had my table top glued together, I trimmed the short edges to make them nice and flush using a circular saw and a straight edge like my Kreg AccuCut.  I trimmed mine down to 6 ½" foot.  Then I sanded…and sanded….and sanded….and sanded.
Step 4:  Assemble the Table Apron
Now that the legs are glued, and the top is glued, the final piece is the apron.  This is very simple as well.  Basically, here, I'm creating a wooden rectangle that's overall size is 1" smaller on all sides than the table top.  See above picture.
.
So, my table top is 36" x 78" and my apron needed to be 34" x 76".  So I cut two pieces of 3" wide (or if you are using x4 material, 3 ½" wide is fine), board to 76" and two at 32" long.  Using dowels again, I glued this together so that the shorter pieces were INSIDE the longer pieces to make a rectangle 34" x 76" overall.  I could have/should have used a few more supports throughout the middle, here.  But I don't plan on dancing or standing on my table top, so I really didn't think it needed a ton of extra support in the middle.  But feel free to add some more if you'd like.
.
You can see a picture here of my table top gluing and my apron gluing on top of it.  I apologize for the lack of pictures during the table top and apron assembly.  I was in a hurry—I actually came back to the construction site after Danny's nephews birthday party late that night just to glue up this apron so that the glue would be dry the next morning to work on the next steps.  There was no time to be wasted.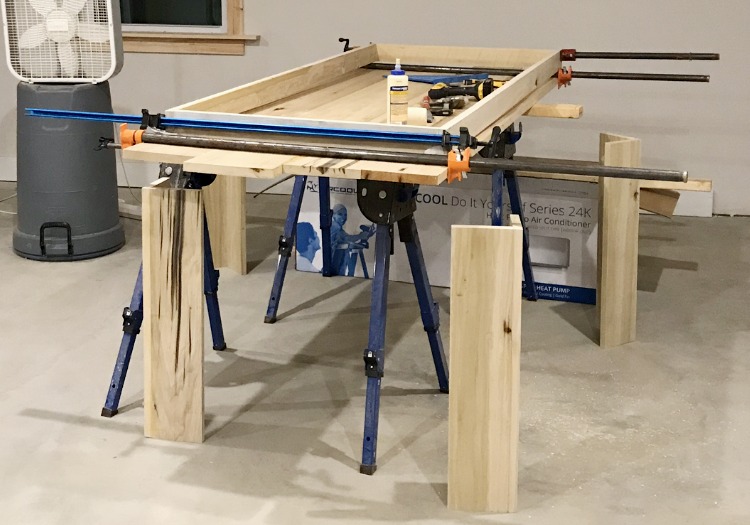 Step 5:  Assemble the Table
Now for the fun part—putting all the pieces together.  So I had the legs, the top , and the apron all ready to go.  All that was left was to put the three together.
.
You can see from the pictures and the video, that I simply glued and screwed the legs in place on the outside corners of the apron so that the top of the leg was about 1" from the top of the apron.  It's easiest to lay the legs on the ground and the apron on top, but it's also helpful to do this from the top side, and just have a helper hold the leg in place while you drive the screws.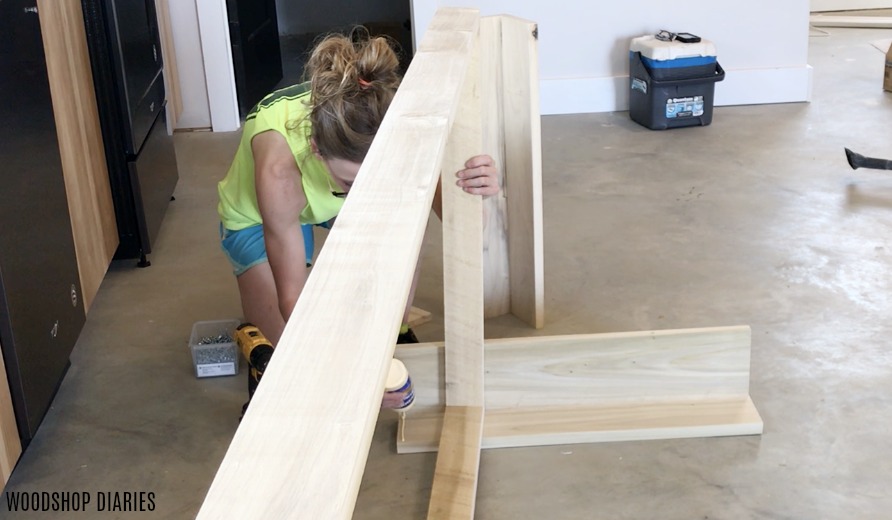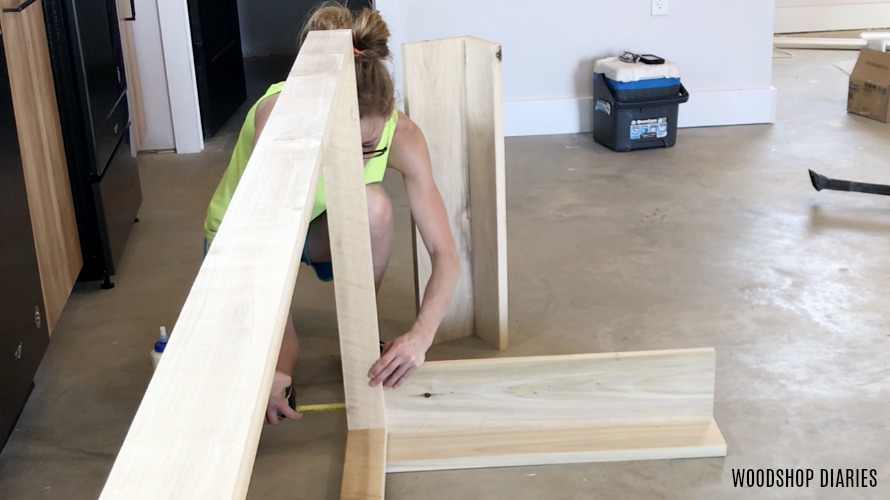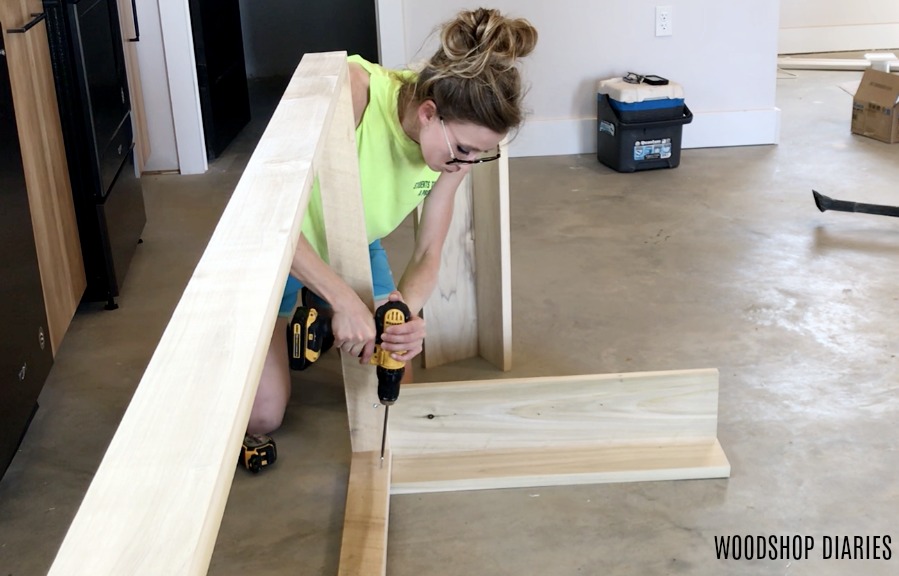 Once the legs were attached, I clamped them tight until the glue dried just for kicks and giggles.  The screws should hold them fine, but glue is always good too.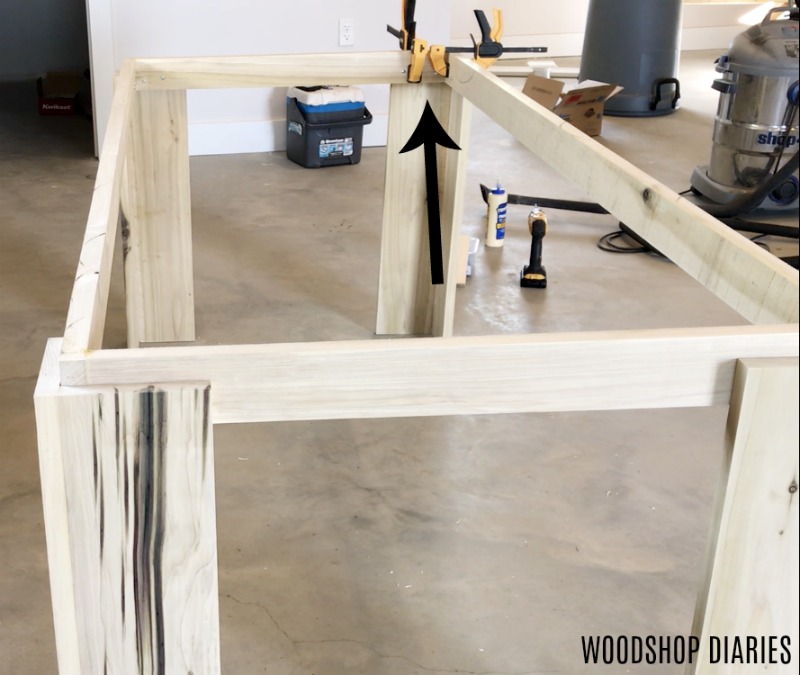 Once the glue dried from attaching the legs, I just applied glue around the top of the apron and centered the table top on it and clamped like shown here.  I didn't use any screws to attach the top.  I have no idea if this is right or wrong, but it's held up fine so far without cracking or splitting.  If you wanted to use screws to attach, that's fine, or if you wanted to use brackets to allow for wood movement, that's fine, too.  I just glued 🙂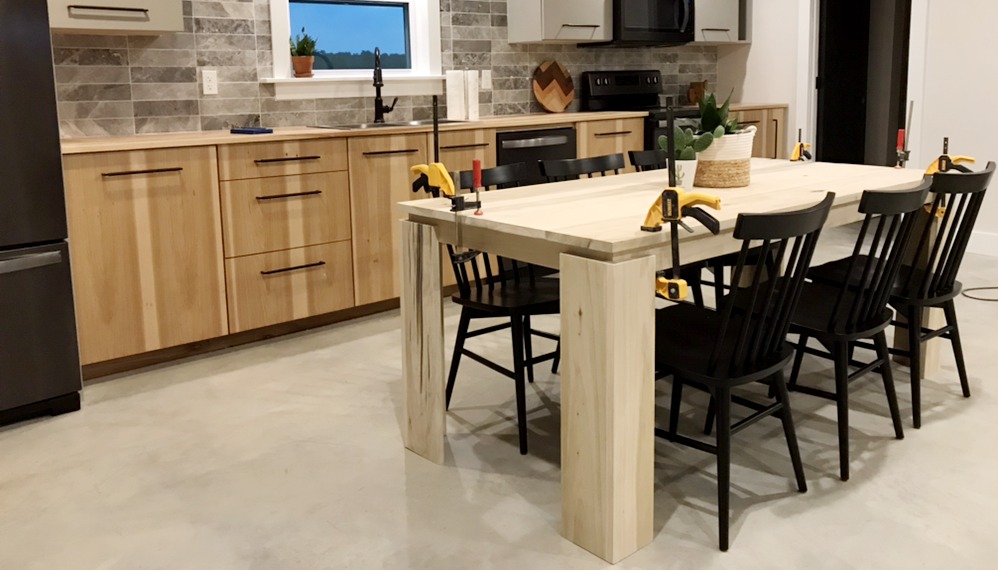 Once that glue was dry, I removed the clamps and finished in a few coats of Minwax Polycrylic to protect the surface from spills and such.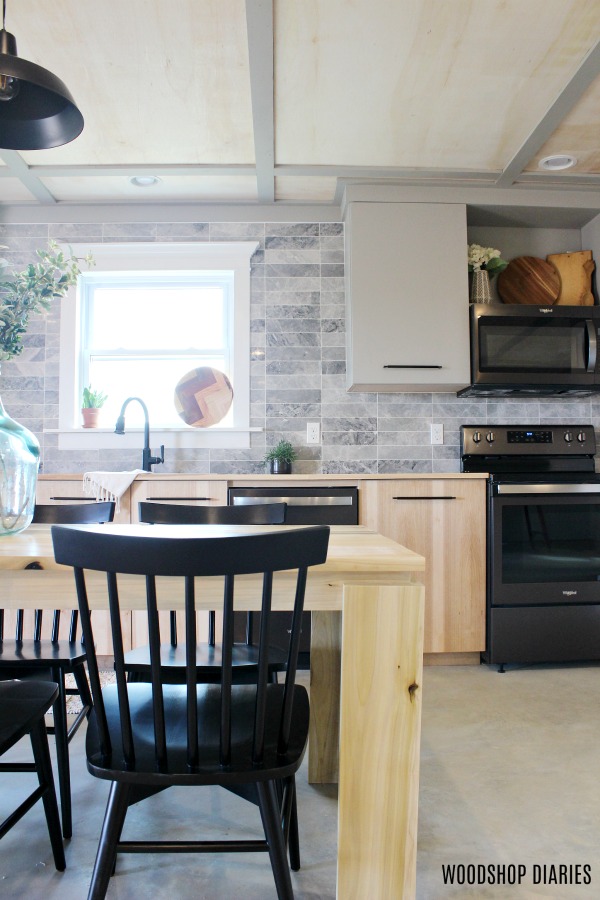 I just love this design.  It's simple, but not boring.  Modern, but not too "out there."  It fits perfect in our new garage apartment kitchen, and will hopefully go just as well in our new house when we build it.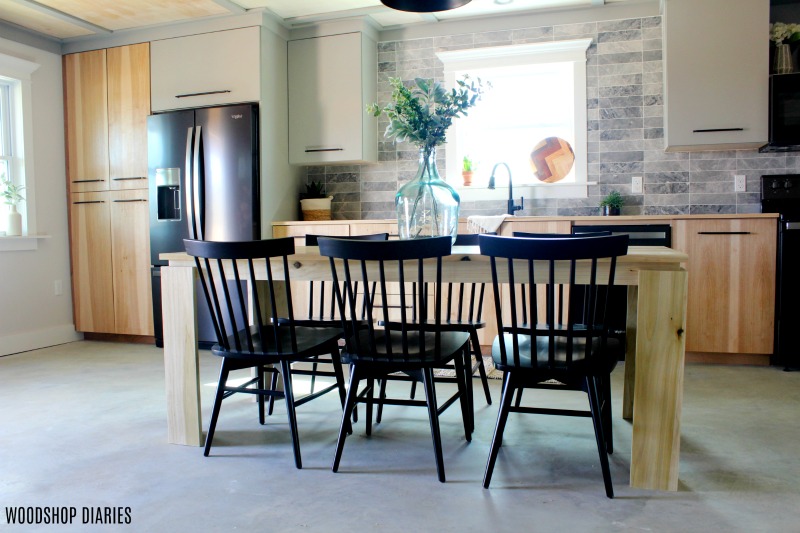 I added these chairs from Target and three fit perfect on each side, with room for two more on the ends as well, if you wanted.
.
And if you're curious about the kitchen cabinets here, I have a tutorial for those as well so you can build your own here.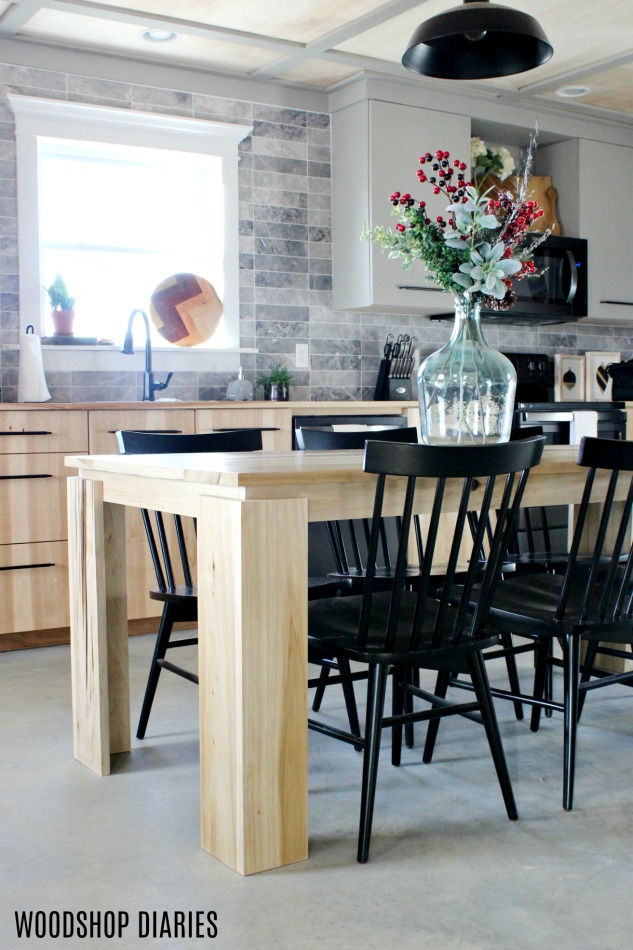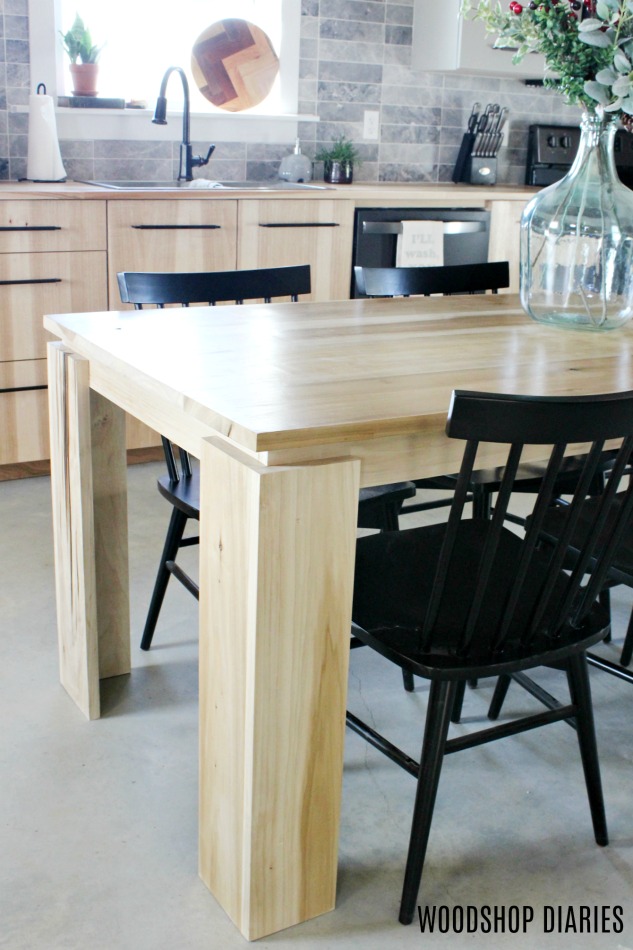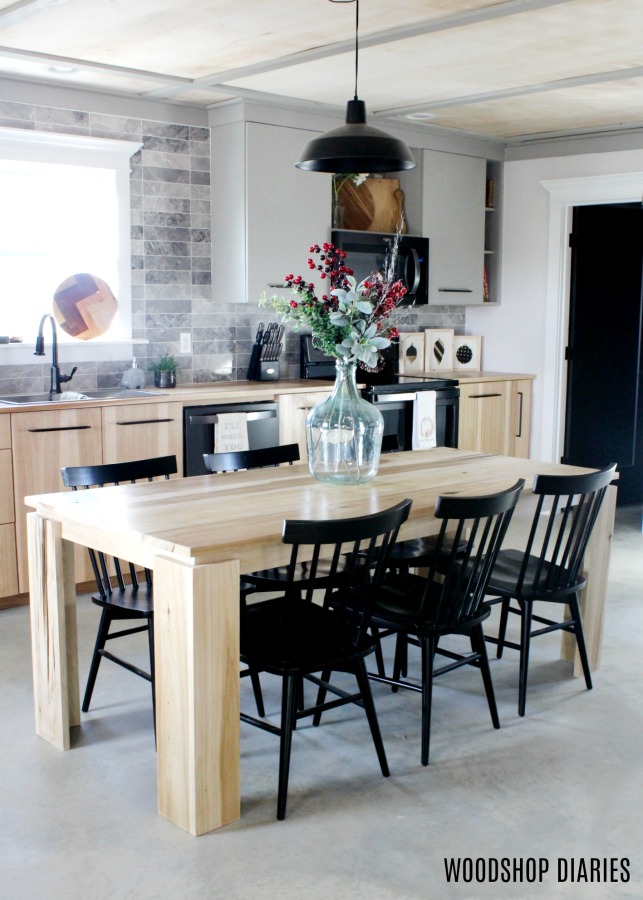 Now that was simple enough, right?  If you love this design, too, I would LOVE for you to pin this for later and share with your DIYer friends 😉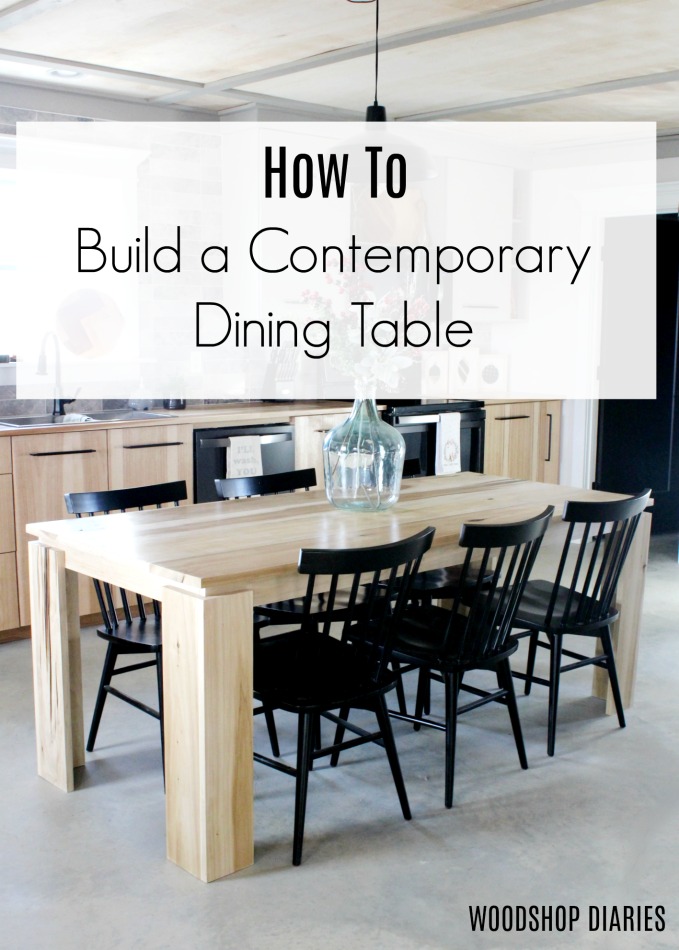 And if you aren't already subscribed, I would also love if you would become a part of my YouTube community by subscribing to my channel 🙂
.
So, here's the part where I tell you to get out there and get building 😉  Until next time, happy building 🙂