This review of the Multi-Max Dremel Blades for Oscillating Saws is sponsored by the Home Depot and is part of the ProSpective Tool Review Program. It contains affiliate links. See policies.
Last year, I added a battery powered oscillating saw to my shop. At the time, I knew I would use it for occasional (not very often) tasks like when we needed to trim door trim when installing new flooring.
.
RELATED: Check out how and why we installed vinyl plank flooring in our garage apartment in this post.
.
But over the last year or so, I've found myself grabbing it for SO MANY odds and end cuts. It's really become a very (surprisingly) valuable tool in my tool box.
.
Check out how I used it to make this modern industrial wall clock here.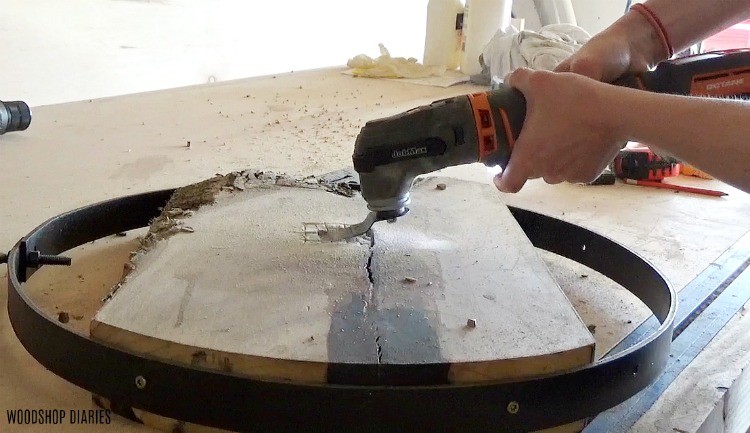 I also used it to trim pocket hole plugs on my plywood bookshelf and to trim dowels from accidental holes I drilled in my recent dresser build (check out the video to see it in action).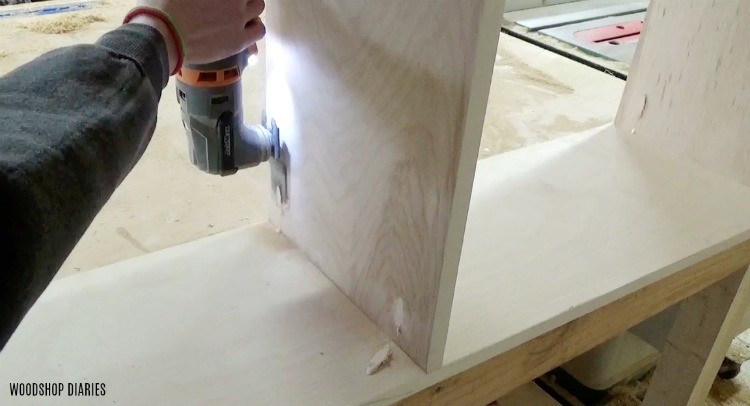 But, just like any cutting tool, the tool itself is only as good as the blades. Earlier this year I got some of these Dremel Universal Carbide Oscillating Tool Blades to replace my existing worn out one.
.
Although they are Dremel blades, they're designed to fit most oscillating tool brands including Rockwell, FEIN, Makita, Ridgid, Milwaukee, Bosch, DEWALT and Porter Cable. These blades and tools have a handy quick change feature that makes changing and interchanging blades easy.
.
These blades are designed with carbide teeth material for high-performance hard material cutting applications–like wood, metal, and cement.
.
I've used them on metal–to cut proud or protruding nails or screws (both in the shop and in my parent's recent bathroom remodel).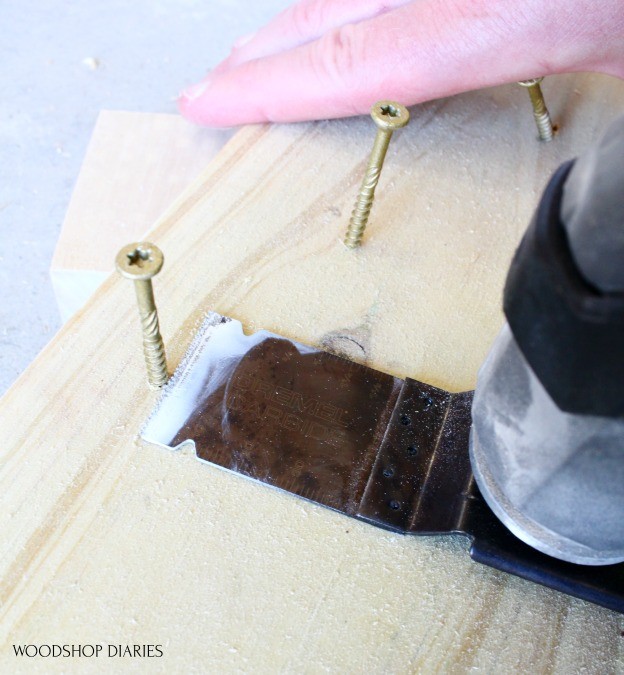 And I've used them to flush cut some wooden dowels and pocket hole plugs.
.
So I knew they could stand up to cutting through metal and wood. But, I'll be honest, I was a bit skeptical this would cut through much more–especially cement….I mean…It's CEMENT.
.
But, when we started remodeling my parents master bathroom recently, we put these to quite the test. We used these blades to cut through fiberglass tub to remove it during demo.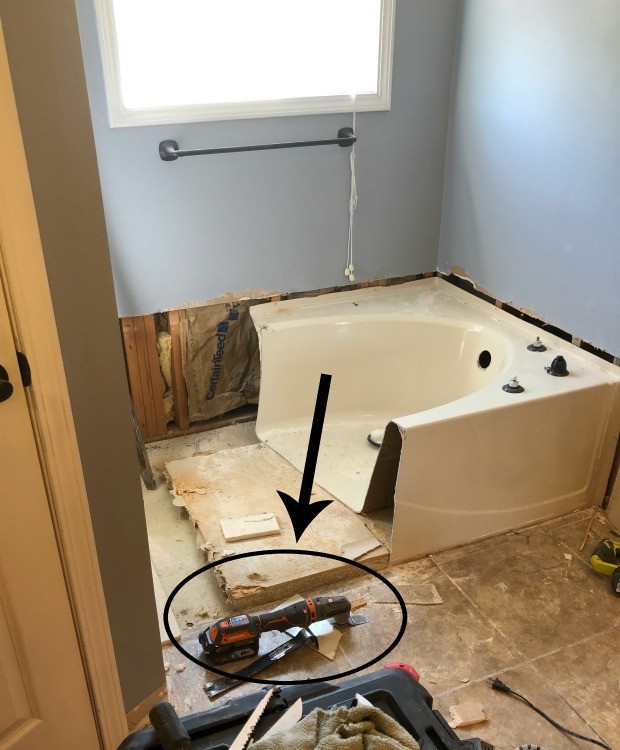 We used it to cut plumbing pipes when we had to move some supply and drainage lines.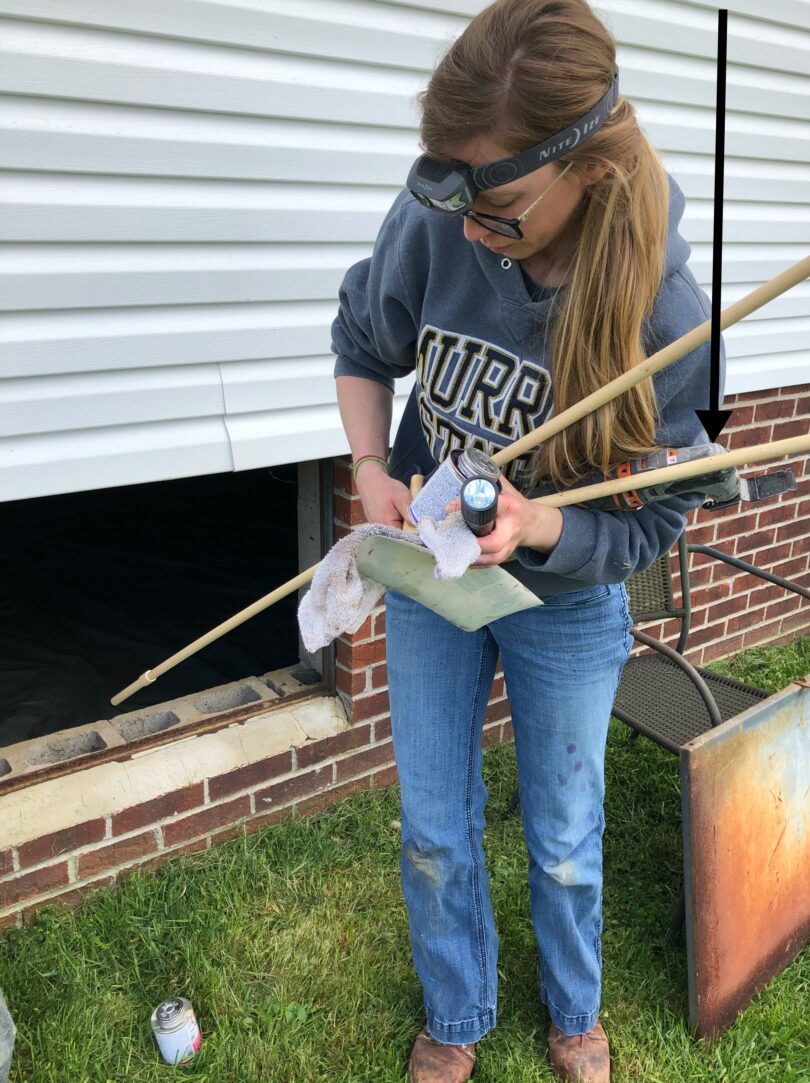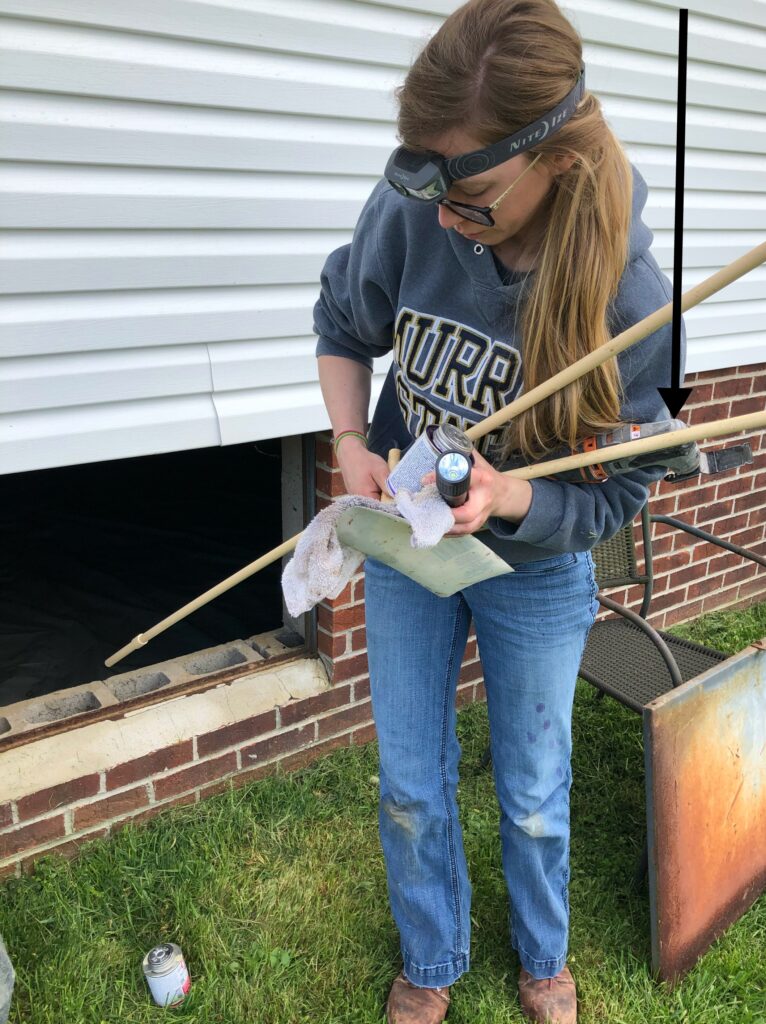 But it was the MOST valuable when it came time to cut the cement board for the shower and the floor. If you've ever cut cement board, you know that it'll dull a good utility knife blade with just a couple scores and it's brittle and challenging to cut holes if they're not on the edge of the board.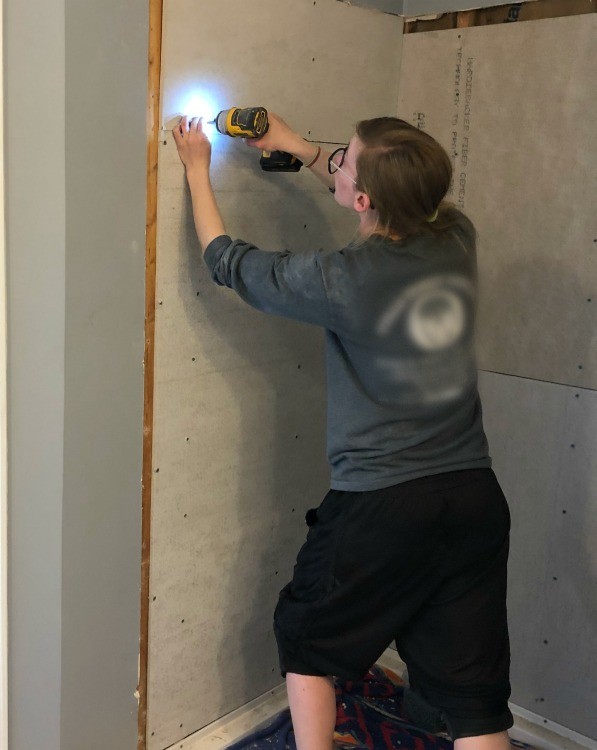 These blades claimed they could cut through cement, so I put them to the test. I used them to cut out the cement board to go around the shower valve, and was thoroughly impressed with how easily it cut right through.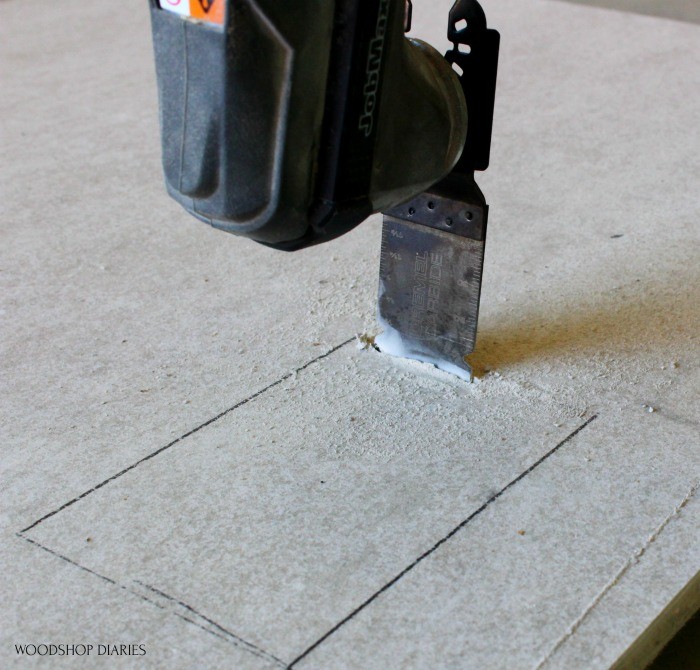 Then I used it again to cut the cement board out for the floor around the hole for the toilet, the tub drain, and around the air vent in the floor. So if you have any doubts about it cutting through cement, trust me, they aren't lying. That said, this would also work really well for cutting drywall as well.
.
What I like about these blades is that it can cut through tough materials, but it's also a really good all around blade…I don't have to change it if I want to cut wood, metal, etc. This one blade covers all of those, so I can save time changing blades and spend that time actually working.
.
If you don't already have an oscillating saw in your shop or tool box, I highly recommend picking one up as you won't realize how handy it is until you have one. BUT, while you're at it, make sure to pick up a pack of these blades...I think you'll be as pleasantly surprised by them as I have been.
.
If you're interested in checking out other tool reviews, head over to my tool review page here and if you'd like to know what other cutting blades I'm using in my shop, check out this post as well.
.
Stay tuned for more building projects coming soon! And be sure to follow along on the master bathroom remodel here, too.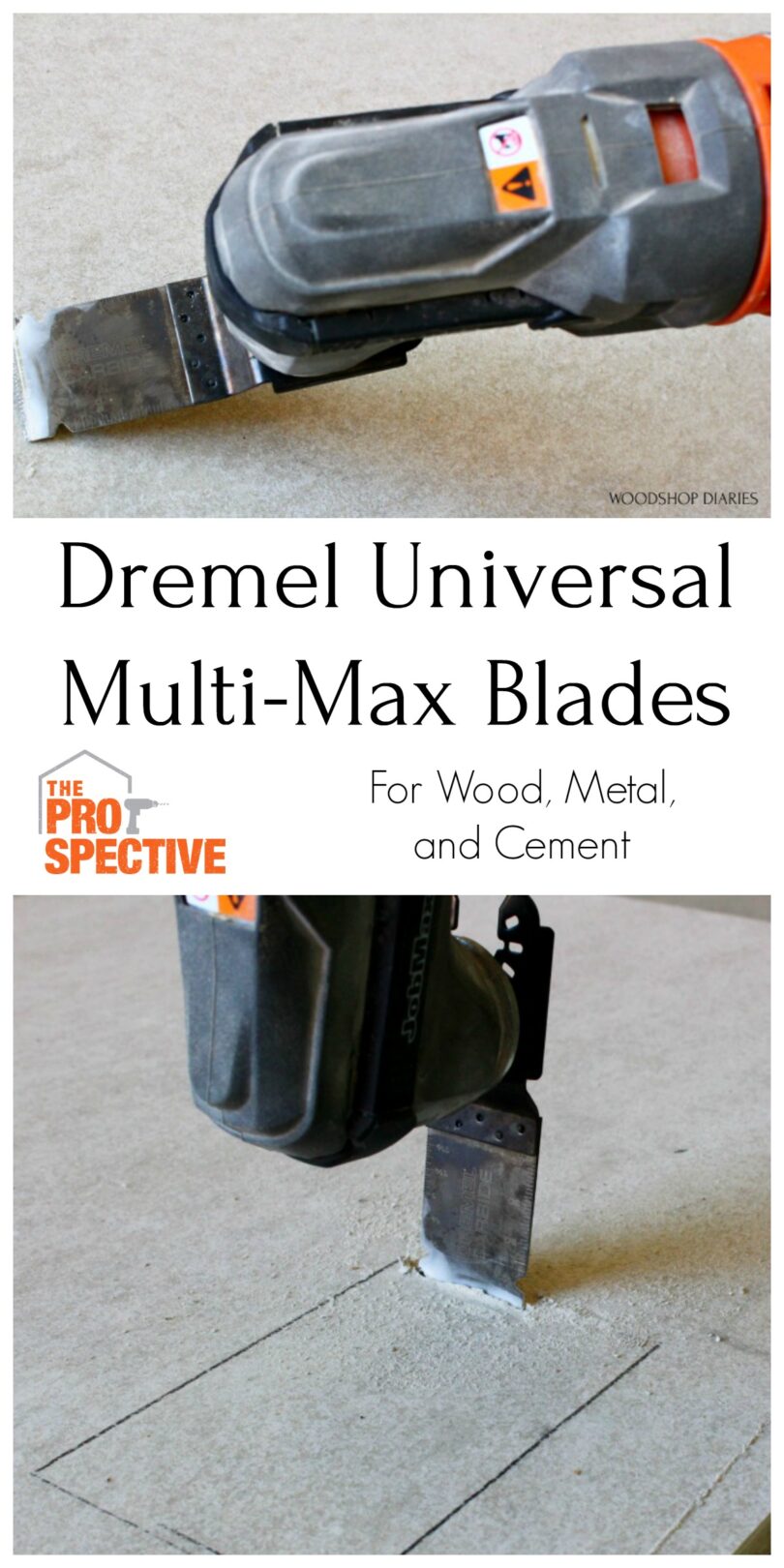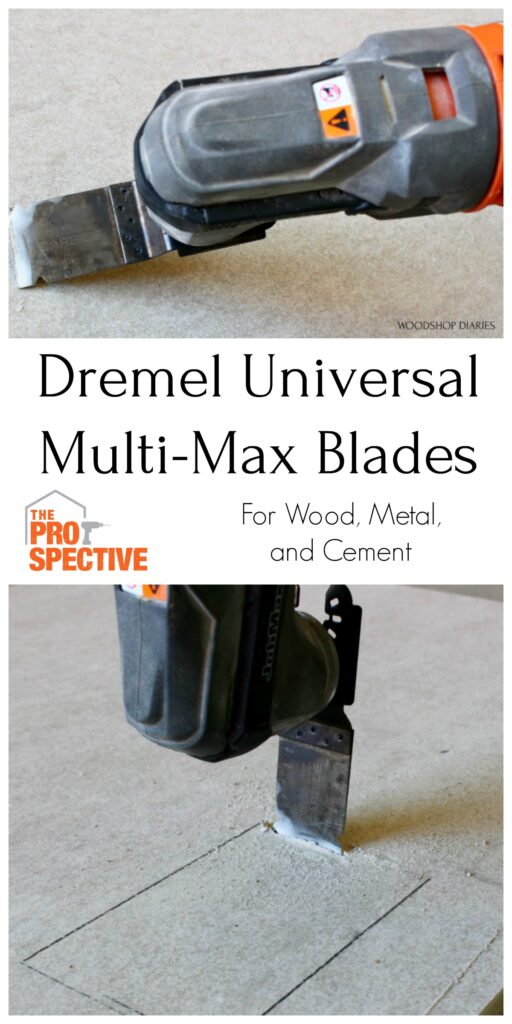 Until next time, happy building 🙂
I acknowledge that The Home Depot is partnering with me to participate in the promotional program described above (the "Program"). As a part of the Program, I am receiving compensation in the form of products and services, for the purpose of promoting The Home Depot. All expressed opinions and experiences are my own words. My post complies with the Word Of Mouth Marketing Association (WOMMA) Ethics Code and applicable Federal Trade Commission guidelines.